Discover Hawaii's third-largest island beyond the sun-kissed beaches and delve into its captivating history and culture on a day trip to Dole Plantation in Oahu.
For centuries, Oahu's unique climate, with a mix of volcanic soil, ample rainfall and sunshine, has made it the perfect place to grow tropical fruits. Dole Plantation is the pinnacle of this longstanding lineage, celebrating heritage with a variety of activities and tours for visitors of all ages.
Beginning at a fruit stand back in 1950, the plantation has blossomed into a sprawling complex with tens of thousands of pineapple plants spread among diverse flora.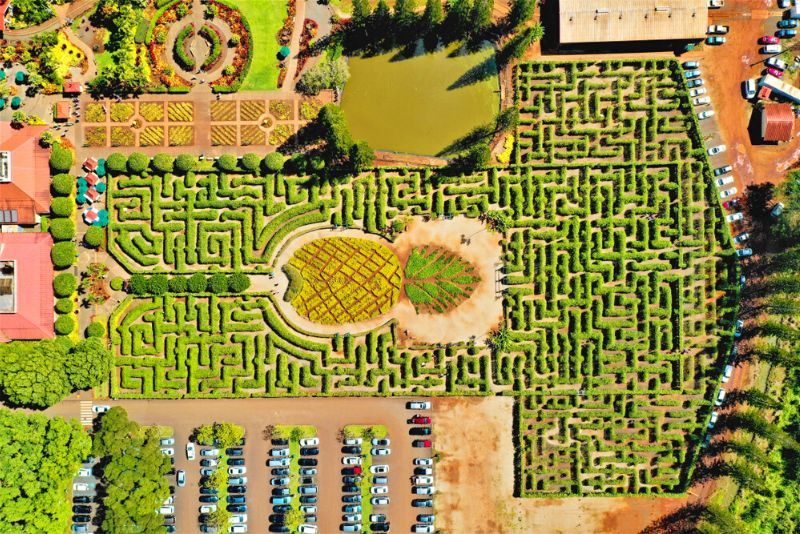 With its sweet pineapples, fascinating harvesting insights, and relevance to local traditions and customs, you will find below all you need to know about Dole Plantation, one of the most popular destinations for day trips from Oahu.
Where is the Dole Plantation Located in Oahu?
A relatively easy commute from Waikiki and Honolulu, The Dole Plantation is located a few minutes north of Wahiawa – one of the island's most central towns.
How to reach the Oahu Dole Plantation by car
If you're driving from Honolulu or Waikiki, simply take the Queen Liliuokalani Freeway north until it becomes the Kamehameha highway.
After passing Waipio and the Wheeler Army Airfield, the plantation will be on your right. All up, the most direct route takes about 30 minutes from Downtown Honolulu and 40 minutes from Waikiki.
How to reach the Oahu Dole Plantation by bus
For those looking to combine their Dole Plantation visit with a trip to one of Oahu's other North Shore attractions, there are a number of different bus routes that will get you there with little fuss, such as the 52 and 88A.
If you want a more comprehensive island experience, the 60 bus starts and ends in Honolulu, doing a loop up the eastern coast via the Dole Planation — this long/scenic route is close to 3.5 hours.
Guided tour to the Oahu Dole Plantation
The most hassle-free way to experience all that the plantation has to offer is on a guided tour, which can be easily booked in advance online.
A handful of companies offer different variations of the tour, but all will include a couple of hours at the plantation itself with plenty of time to explore the grounds and available activities.
While en route your knowledgeable guide will tell you everything you need to know about the natural and manmade landmarks as you pass them by. Additionally, most tours will also include pick-up and drop-off from your accommodation as well as extra stops.
How much does the entrance ticket to the Oahu Dole Plantation cost?
Access to the Dole Plantation grounds and visitors center, where you can watch pineapple-cutting and chocolate-making demonstrations and see the fish-feeding pond, is free.
However, if you want to take part in any extra activities, like the Pineapple Express Train Ride, the Pineapple Maze, or the Plantation Garden Tour, there is a small charge.
Plantation Garden Tour
Adults: US$7.25
Residents/military: US$6.75
Children (4-12 years old): US$6.50
Pineapple Maze
Adults: US$8.75
Residents/military: US$7.75
Children (4-12 years old): US$6.75
Plantation Train Tour
Adults: US$13
Residents/military: US$12.25
Children (4-12 years old): US$11
Pineapple Maze and Plantation Garden Tour
Adults: US$13.50
Residents/military: US$12.50
Children (4-12 years old): US$10.50
Plantation Garden Tour and Pineapple Express Train Ride
Adults: US$18
Residents/military: US$17
Children (4-12 years old): US$14.50
Pineapple Maze and Pineapple Express Train Ride
Adults: US$19
Residents/military: US$17.50
Children (4-12 years old): US$17.50
All Activities combo
Adults: US$26
Residents/military: US$24
Children (4-12 years old): US$22
Infant up to 4 years old can enjoy any activity free of charge, as longs as they are accompanied by a paying adult.
Keep in mind that ticket sales will end 30 minutes prior to closing time.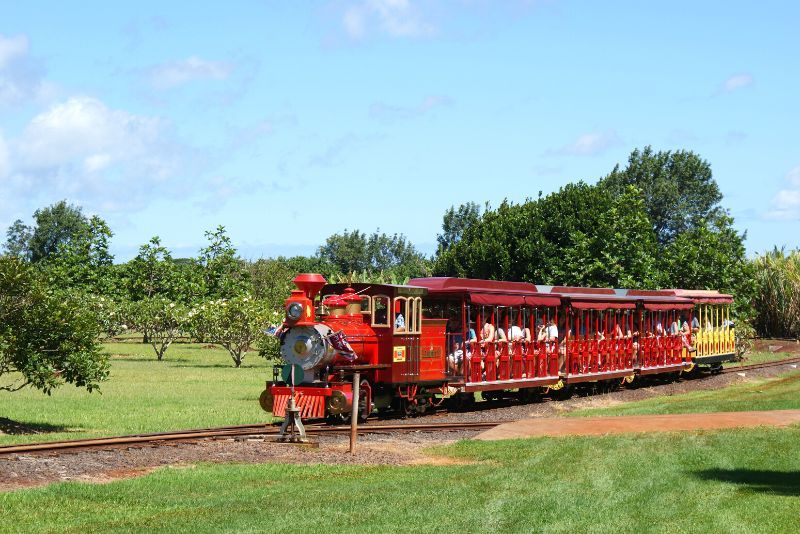 What is the typical itinerary of a Dole Plantation day tour in Oahu?
Your tour provider will usually pick you up from your accommodation in the morning, then make the short journey to Green World Coffee Farms for the morning pick-me-up before continuing to the plantation.
Expect to spend around 2 hours at the Plantation, during which you'll taste pineapple straight from the fields, take a bus around the grounds, witness the harvesting and packing processes, and receive a complimentary ​Dole Royal Hawaiian Gold Pineapple to take home!
Thereafter, you'll be whisked off to see the next destinations on your tour or a combination destinations, depending on your tour provider.
What kinds of tours are available to go to the Oahu Dole Plantation?
If you're driving or taking public transport for an Oahu Dole Plantation day trip, your options are straightforward: visit the attraction free of charge, and pay for the Pineapple Maze, Pineapple Express Train Ride, or Pineapple Farm Guided Tour on site.
If you're joining a pre-organized guided tour, however, you're blessed with several options that can cater to every interest, schedule, and budget. Let's look at them individually:
Guided tours to the Oahu Dole Plantation
Typically lasting around five hours in total, these are the most basic Oahu Dole Plantation day trip option, including round-trip transport from your accommodation, entrance to the plantation grounds and visitors center, a guided tour of the pineapple fields and factory, and often other activities such as exploring historic Haleiwa Town or stopping at the Green World Coffee Farm.
Private tour to the Oahu Dole Plantation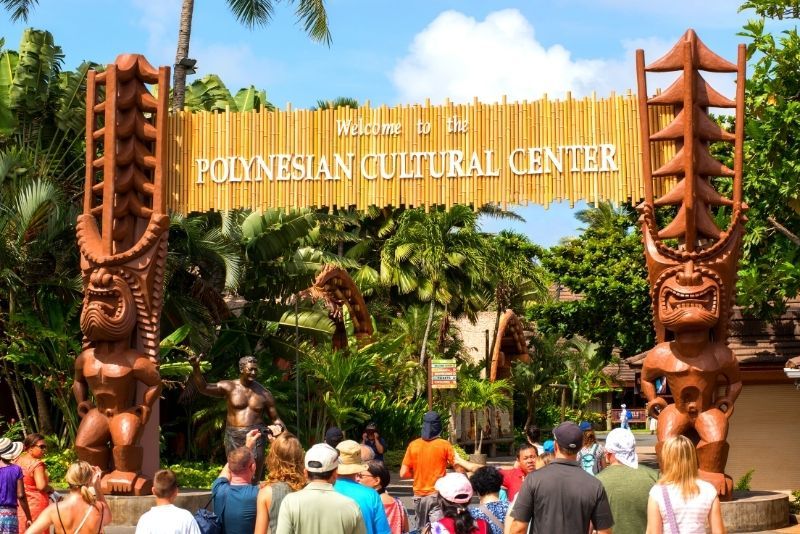 Suited to travelers who prefer a more intimate and customized experience, these private tours to Dole Plantation include all of the inclusions of the guided group tour, but with the addition of a private driver and vehicle for your group only.
This option is ideal if you're traveling with young children or have limited mobility, as it allows you to move at your own pace and make use of the driver's local knowledge to create a more personalized itinerary.
Private tours come with pre-set itineraries, like the Dole Plantation and Polynesian Culture Center tour, however, you can also request your own schedule in advance.
Keep in mind that private tours are usually priced per vehicle, not per person, so can be an affordable alternative if traveling as a group.
Day trip to the Oahu Dole Plantation plus the Oahu North Shore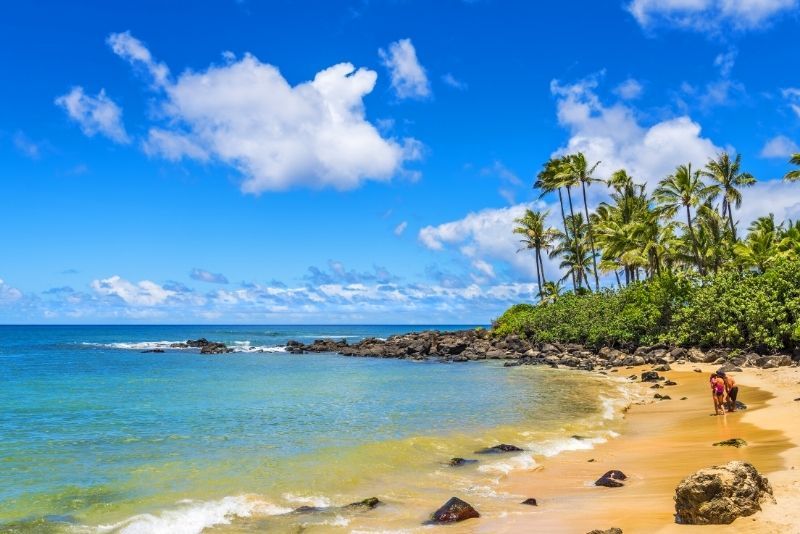 If you're looking to add a little more excitement and adventure to your Dole Plantation day trip, consider adding on a stop at the Oahu North Shore.
In addition to the inclusions of the regular guided tour, this option throws in an action-packed visit to some of the world's most famous surf spots, like Banzai Pipeline and Sunset Beach, plus the Waialua Sugar Mill, now a soap factory, a coffee farm, the streets of Old Haleiwa Town, where you'll experience local cuisine, a macadamia nut shop, and Matsumoto Shave Ice stand, widely considered to have the best shave ice on the island.
You'll find a variety of North Shore excursions, many of which include time for hiking, snorkeling, and stand-up paddleboarding – just be sure to check with your tour operator in advance to see what's included.
Day trip to the Oahu Dole Plantation along the East Coast
The scenic way to reach the Oahu Dole Plantation from Honolulu is along the East Coast, a route that takes you past famous landmarks like the Diamond Head Beach Park lookout, the Halona Blowhole, Sandy Beach Park (a hotspot for bodyboarding competitions), Tropical Farms, the and the Haleiwa Town Center (where you'll enjoy a famous shrimp truck lunch), before stopping at the Dole Plantation on the way back to Honolulu/Waikiki.
Because of the longer driving route, expect an early start and a long day, with hotel pickup before 7 AM and a total activity time of approximately eight hours.
Day trip to the Oahu Dole Plantation as part of the Grand Circle Tour
The most comprehensive option, the Grand Circle Tour is a full-day excursion that covers all of the major Oahu sights, from Honolulu and Waikiki Beach to the North Shore, East Coast, and beyond - with the Dole Plantation being merely the cherry on top.
Led by a private guided, with hotel pickup and drop-off service at selected hotels included, you'll be whisked away around the island, stopping at notable locations like Sunset Beach, Turtle Beach, Chinaman's Hat, Hanauma Bay Lookout, Halona Blowhole, Nuuanu Pali Lookout, and the Byodo-In Temple, in addition to many of the places mentioned in other tour options.
You'll also have the opportunity to enjoy a traditional Hawaiian buffet, at places like Waimea Valley's Ke Nui Kitchen.
While this option is certainly the most expensive, it's also the best way to see everything that Oahu has to offer in one day without having to lift a finger.
Day trip to the Oahu Dole Plantation plus the Waikele Outlets
Located in Waipahu - about halfway between Honolulu and the Dole Plantation -  the Waikele Outlets is Hawaii's only outlet center, offering a great opportunity to do some shopping for designer brands and discounted prices.
The outlet is home to over 50 stores, including designer brands like Nike, Michael Kors, and Tommy Hilfiger, with eateries and an open-aired food court.
A great option for shopaholics, this tour combines a visit to the Dole Plantation (with Pineapple Express Train Tour and the Garden Maze) with some retail therapy, with round-trip hotel transfers from the Waikiki tourist area included.
Day tour to the Oahu Dole Plantation plus Pearl Harbor and the Polynesian Cultural Center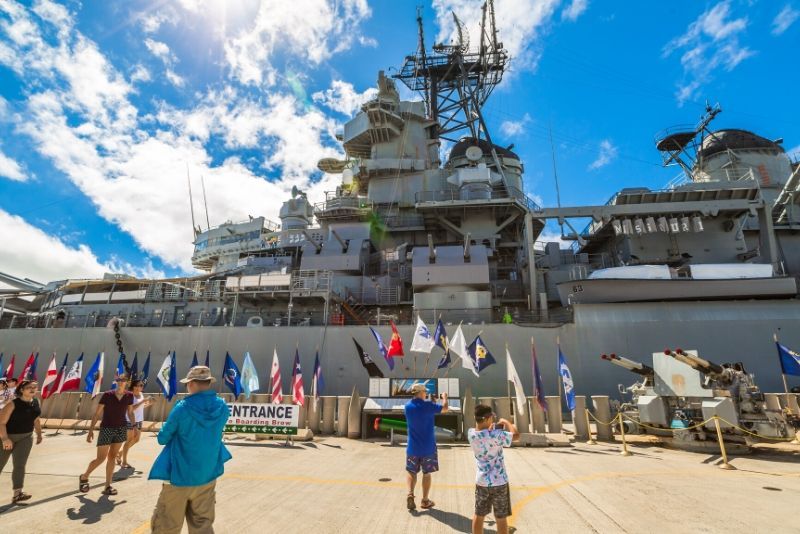 One of the most popular Oahu tours, this day trip covers all the major bases, starting with a visit to Pearl Harbor where you'll see the USS Arizona Memorial and step aboard the USS Missouri Battleship museum.
Afterward, it's on to the Polynesian Cultural Center for an immersive experience in Hawaiian culture, where you'll get to try your hand at traditional activities like canoeing, hula-dancing, Tahitian spear throwing, and Samoan cooking. A delicious barbecue lunch is included too.
After driving along the North Shore, the day ends with a visit to the Dole Plantation before you're dropped off at your Waikiki-area hotel.
How much does a tour to the Oahu Dole Plantation cost?
The most basic tours cost between $80 and $100 per adult. These typically include round-trip transport from your hotel in Honolulu/Waikiki, entry to the Plantation Gardens, and a stop or two in the North Shore area.
More comprehensive, multi-stop tours cost between $120 and $200 per adult, and often include other activities such as stops at Pearl Harbor, the Polynesian Cultural Centre, or the Waikele Outlets. Lunch is sometimes included in the price of these more comprehensive tours too.
Private full-day tours cost between $500 and $800, however, these are not per person – they're per vehicle, so prices will be lower if you have a group. These tours are fully customizable and flexible, so you can make them work with your schedule.
What will you see and do on an Oahu Dole Plantation day tour?
Every tour is different, but most will include a visit to the plantation gardens, where you can learn about the history of pineapple cultivation in Hawaii and see how pineapples are grown.
Far more than just a farm, the plantation offers several tours for visitors to learn about the fruit's cultivation and get an up-close look at the harvesting process, and the world's largest maze, with 4 kilometers of paths crafted from 14,000 colorful Hawaiian plants.
Besides the Plantation, day tours also stop at landmarks like the Polynesian Cultural Center, Pearl Harbor, the North Shore Beaches, and the Waikele Outlets.
The longer tours will include an authentic meal – either a picnic lunch, food truck visit, or a barbecue – so you can get a taste of the local cuisine.
Tours that go along the East Coast will stop at natural lookouts like Diamond Head, Hanauma Bay, and Sandy Beach.
On the North Shore, you might visit popular spots like Waimea Bay and Sunset Beach, where you can even plan a surfing lesson for the day.
The most comprehensive tours will include all of the above, plus round-trip transport from your hotel in Honolulu or Waikiki.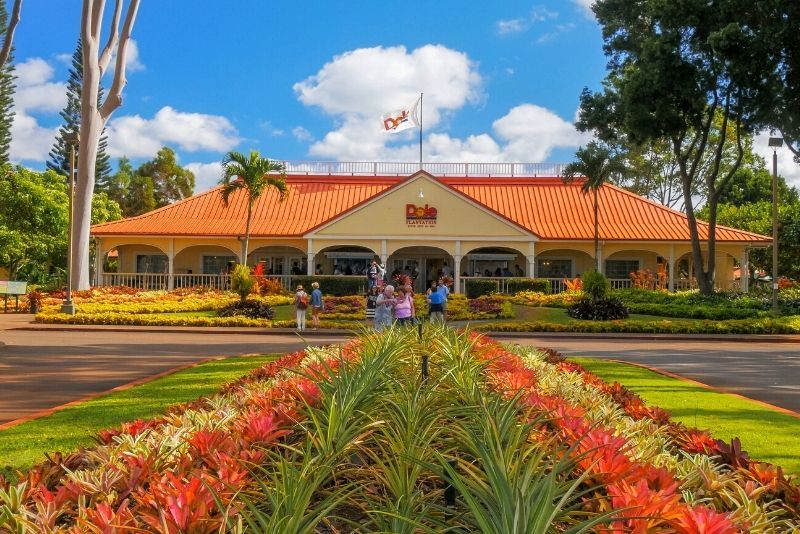 When is the Oahu Dole Plantation open over the year?
The plantation is open every day from morning to afternoon throughout the year, with different activities available depending on the time of year.
What are the opening times?
The Oahu Dole Plantation is open from 9:30 AM to 5:30 PM, seven days a week.
Ticket sales end 30 minutes before closing time at 5 PM.
When is the best time to visit the Dole Plantation in Oahu?
Thanks to its vibrant colors, the plantation is a wonderful destination year-round. In Spring, in particular, is when the plants and flowers bloom and the plantation is especially beautiful.
Travel tips
Try the Dole Whip — it's a pineapple-flavored dairy-free soft serve nearly impossible to come by outside of Hawaii.
Take plenty of water and sunscreen, as it can get pretty hot during the summer months.
Wear comfortable shoes for walking, especially if you join a Dole Plantation tour that visits the beaches of the North Shore.