Nestled between idyllic mountains and lakes in the Bernese Oberland, you will find the traditional town of Interlaken.
The alpine resort is one of the country's most popular destinations throughout the year, offering spectacular views and plenty of opportunities for outdoor adventures.
A day trip to Interlaken from Lucerne is a great way to escape the hustle and bustle of the city and explore the Swiss countryside.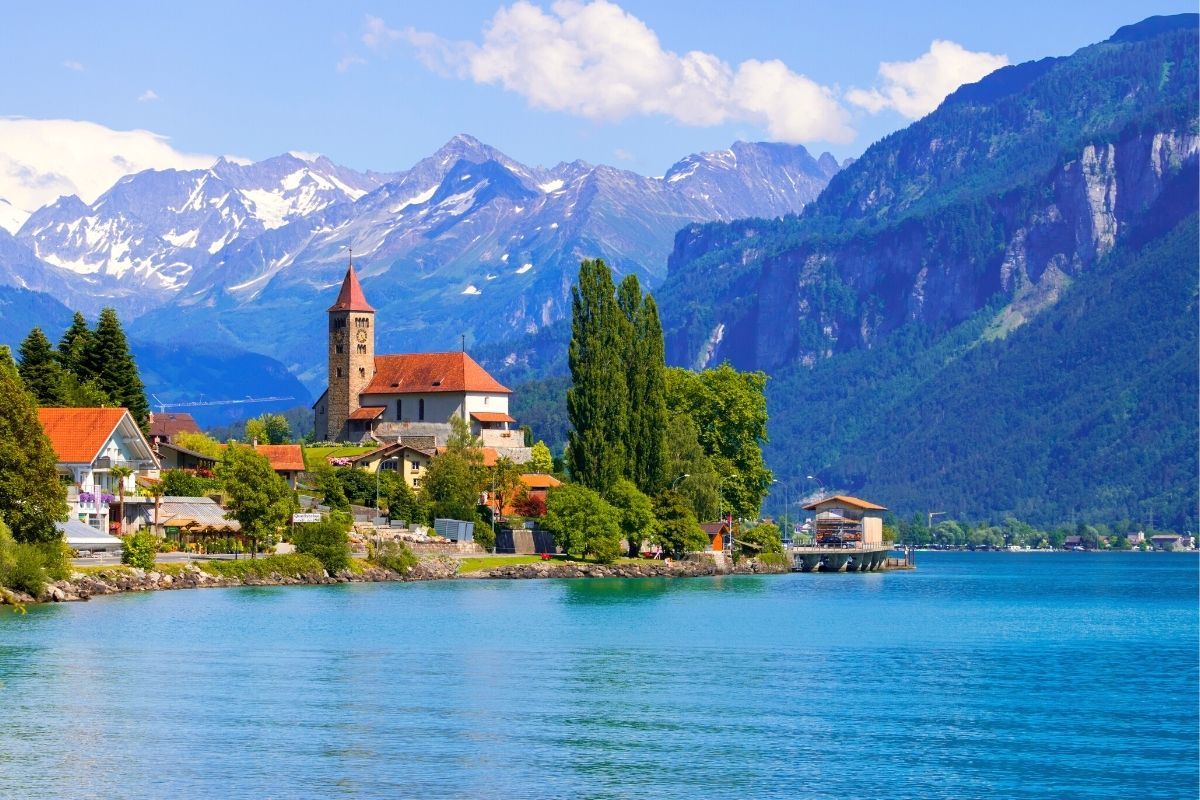 Here's all you need to know about Interlaken, one of the most exciting day trips from Lucerne.
How to get to Interlaken from Lucerne?
The lakeside resort town of Interlaken is located about 65 kilometers southwest of Lucerne and is easily accessible by car and public transportation.
From Lucerne to Interlaken by car
The most direct route to Interlaken from Lucerne by car is via the A8. The scenic drive will take you by the Wichelsee, Sarnen, Lungern and Brienz lakes. Under normal driving conditions, you should reach Interlaken in about an hour.
From Lucerne to Interlaken by public transport
There are multiple direct train services from the Lucerne station that go to Interlaken Ost. The train journey should take just under 2 hours to complete.
For a more scenic, albeit less direct route, you can take a train that changes at Bern or Olten. These train services take 2 to 2.5 hours.
Guided tour to Interlaken from Lucerne
If you would like to avoid having to deal with trains schedules or driving out yourself, you can book a guided tour to Interlaken. These excursions usually depart from a central meeting point, but a hotel pickup may also be offered for an even greater hassle-free experience.
What is the typical itinerary?
Your journey by coach begins at your designated meeting point in Lucerne, or your hotel if your tour includes it. On the way to Interlaken, you will be treated to spectacular views of the Swiss countryside and lakes.
Once you arrive there, you will be free to explore the resort town at your own pace. After you have done some shopping and some sightseeing, there are a few options for outdoor activities for some thrills. Canyoning, whitewater rafting, paragliding and bungee jumping are very popular.
Depending on your itinerary, you may then continue to the resort town of Grindelwald. There you will find many lookout points offering an astonishing view of the alpine landscape. Some tours may also include a visit to Jungfraujoch itself. After a day in the mountains, you return to Interlaken by train and then back to Lucerne.
What kinds of tours are available to go to Interlaken?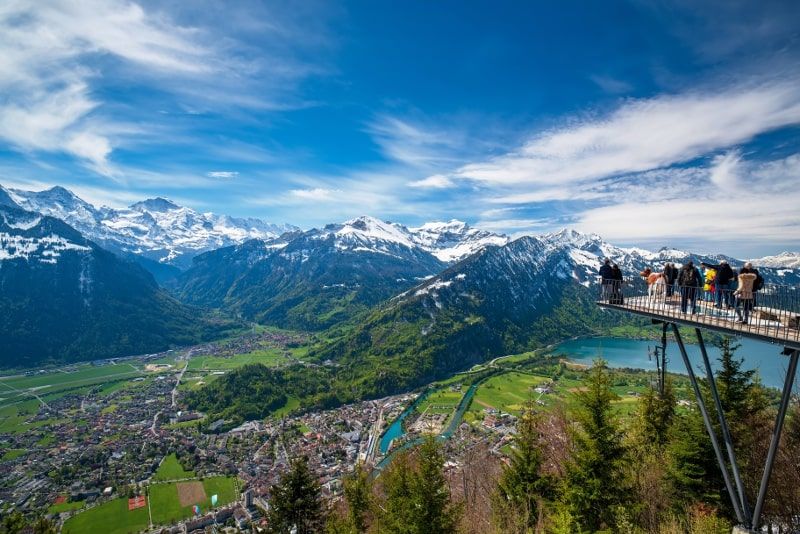 Day trip to Interlaken plus Grindelwald from Lucerne
The most straightforward and affordable way to visit Interlaken from Lucerne is with a day trip that also includes a stop at Grindelwald. Your journey starts in Lucerne by a coach and is partly guided. The first stop is in Interlaken, where you can go for shopping on an outdoor adventure.
The day trips then continue to Grindelwald, which is surrounded by the Eiger, Mönch and Jungfrau peaks. You can also go on a cable car ride, hiking or on a bike tour in the summer. These full-day excursions usually last about 10 hours.
Canyoning or rafting tour to Interlaken from Lucerne
The resort town of Interlaken should be on your shortlist, if you would like to spice your excursion with some canyoning or rafting. These tours typically begin with a journey to Interlaken by coach, where you can explore on your own.
After your wander in town, you will meet again with your experienced instructor to embark on an adventure in the many gorges, waterfalls and rock slides in the area. Alternatively, you can go for some whitewater rafting in the Lütschine River. The duration of these tours is usually about 10 hours.
2-Day tour to Interlaken plus Jungfraujoch from Lucerne
If you would like to combine your exploration of Interlaken from Lucerne with a trip to Jungfraujoch, also known as the Top of Europe, you can arrange a 2-day tour of the Bernese Oberland.
These tours are ideal for small groups and allow plenty of time for any additional activities, such as hiking or culinary experiences.
Private tour to Interlaken from Lucerne
For a more intimate and relaxed experience in the Swiss countryside, you can join a private tour from Lucerne. Whether you are interested in exploring the alpine villages off the beaten path, or would like to reach the Top of Europe at Jungfraujoch, you have the option of customizing your excursion.
Private tours from Lucerne typically last an entire day, from 7 to 11 hours, depending on the itinerary.
How much does a day trip to Interlaken from Lucerne cost?
A day trip to Interlaken plus Grindelwald from Lucerne usually costs around €80 to €90 per person. This includes transportation by coach and train fare between the two towns.
Day tours to Interlaken with canyoning or rafting usually costs around €230 per person. This includes transportation by coach, the services of certified guides, the necessary canyoning and rafting equipment, as well as access to changing rooms and hot showers.
For a 2-day tour to Interlaken and Jungfraujoch from Lucerne, expect to pay about €500 per adult. This includes overnight accommodation at 3-star hotel, breakfast and travel fare for the cogwheel train and cable car in the mountains. Hotel pickup in Lucerne or other activities are not included.
The cost of a private tour to Interlaken will depend on the other destinations on your journey. For a guided tour that visits Jungfraujoch, the cost is between €600 and €900 per person, depending on the group size. It includes a rail ticket and a priority pass up the mountain.
A private tour to Interlaken and other alpine villages in the region, usually costs about €1,500 for a group of up to 7. These highly customizable tours offer hotel pickup and include the services of a professional guide.
What will you see and do?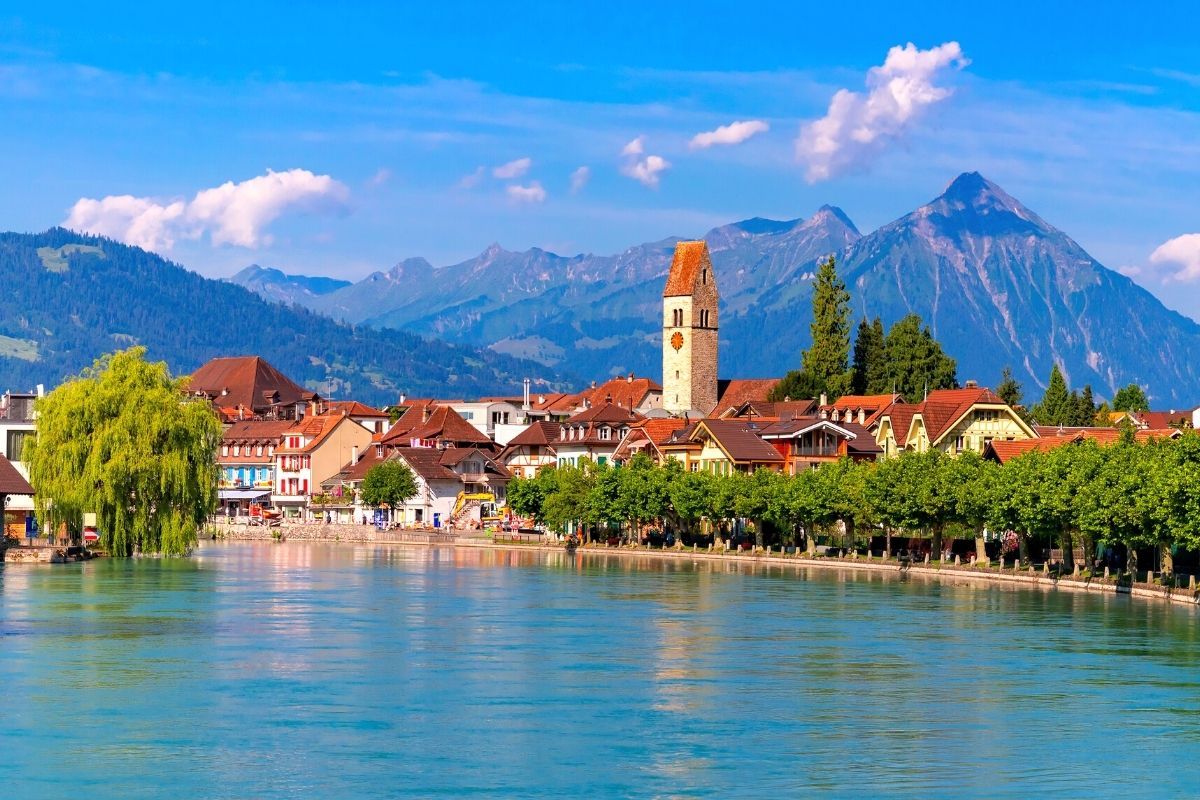 The resort town of Interlaken is one of the most popular destinations in the Bernese Oberland. Surrounded by many mountains and lakes, Interlaken offers many opportunities for exploring the Swiss countryside.
The Harder Kulm peak has a great hiking trail and offers a spectacular view of the two main lakes around the town, Thun and Brienz. During the summer months, you can go for a swim, kayaking or a relaxing boat cruise.
The impressive rivers, gorges and valleys around Interlaken are also great spots for more intense outdoor activities, such as canyoning, rafting and bungee jumping. In the winter, you may also want to visit the nearby ski slopes or go for a toboggan run.
If, however, you are after a more relaxed experience in Interlaken, the town has a fabulous shopping district. Whether you are after a locally produced cheese or chocolate, a classic watch or something more extravagant, chances are you will find it.
When is the best time to visit Interlaken?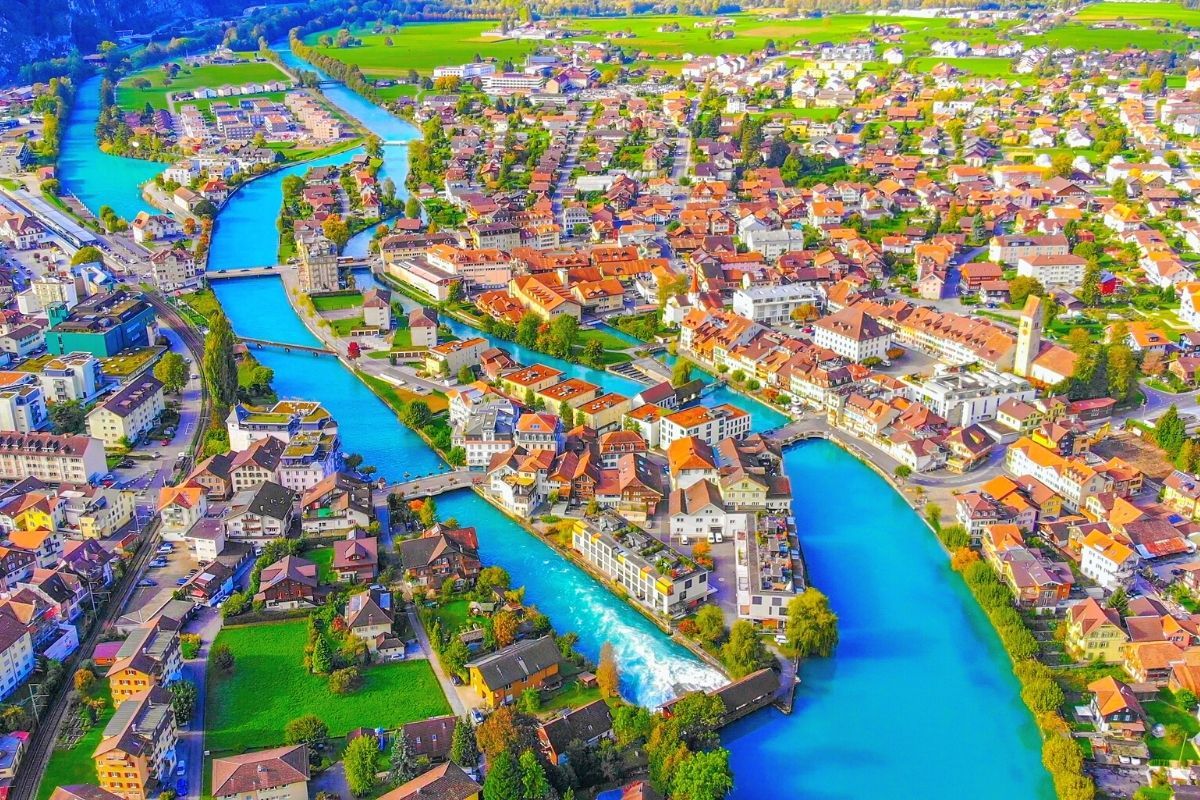 The best time to visit Interlaken is between June and August, when the weather is pleasant and temperatures are warm. If you prefer a more relaxed and less crowded experience, consider visiting in spring or autumn.
The winter months can be cold, but it is an ideal period to admire the snow-capped peaks or try some winter sports.
Are there any tours to Interlaken from other cities in Switzerland?
Yes, there are tours departing from other cities in Switzerland:
Travel tips
Wear comfortable shoes to get around easier when exploring the town.
Warm, layered clothing is necessary during the winter.
Don't forget sunblock and sunglasses during summer, as the sun can get intense.
Pack a towel, if you intend to do any water-based activities.