The Jungfraujoch is a glacier saddle in the Bernese Alps, standing at over 3,400 meters above sea level. Affectionately known as the "Top of Europe," it is one of the best places in Switzerland to take in the breathtaking alpine view.
Joining a day trip to Jungfraujoch from Lucerne is an ideal way of exploring the vistas of snow-capped peaks in the area.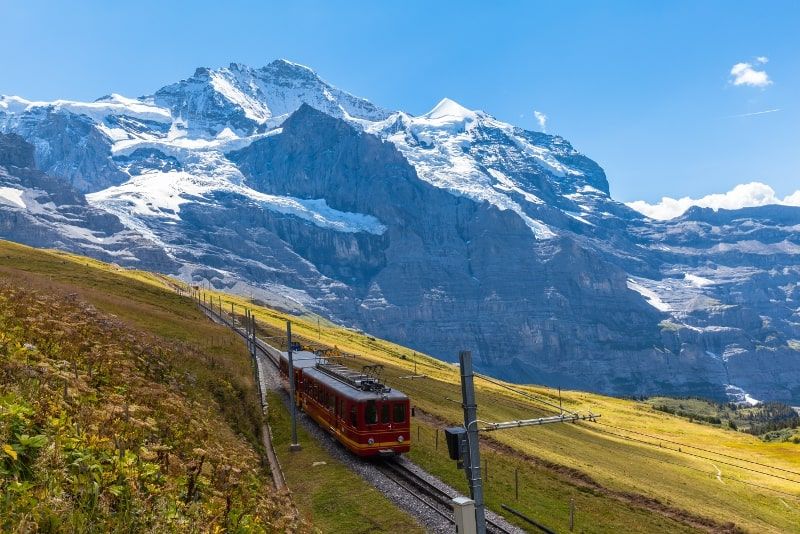 Below you will find everything you need to know about Jungfraujoch, one of the most exciting day trips from Lucerne.
How to get to Jungfraujoch from Lucerne?
Jungfraujoch is located about 80 kilometers southwest of Lucerne. It is primarily accessible by train, although you can cover part of the journey by car.
From Lucerne to Jungfraujoch by car and train
You can cover the distance to Grindelwald by car and from there, you must continue with the train to reach Jungfraujoch. Heading out south from Lucerne on the A2, you take the exit towards Interlaken/Sarnen and continue on the A8.
After the Lungern Tunnel you take the A4, going through Brünig and merge back on the A8 heading towards Bern/Thun/Interlaken. Next you take exit 25 towards Wilderswil and pass by Gsteigwiler, Gündlischwand, Lütschental, Burglauenen, before arriving at Grindelwald.
From Grindelwald Terminal, you take the cable car to Eigergletscher, where you change and get on the train for Jungfraujoch. The car journey should take about 1.5 hours, with the train rides taking a further 1.5 hours.
From Lucerne to Jungfraujoch by train
There are multiple trains in the day departing from Lucerne to Jungfraujoch, however, you will have to make a few changes along the way.
From Lucerne station, you take the train to Interlaken and then switch to the train to Grindelwald Terminal. There you take the cable car service to Eigergletscher, and there you take the cogwheel train to Jungfraujoch.
The entire journey usually takes about 3.5 hours.
Guided tour to Jungfraujoch from Lucerne
The easiest way to go on a day trip to Jungfraujoch from Lucerne is with a guided tour. Often, these tours will pick you up from your hotel and take you by coach to Interlaken.
Aside from a guide and necessary train fares, these excursions may also include additional activities for a more rounded experience, like hiking and professional photography.
What is the typical itinerary?
Your day trip to Jungfraujoch from Lucerne will begin at a meeting point in town (usually near the train station) or at your hotel, if a pickup service is offered. On your way to Interlaken, you will drive by the Brünig Pass and the shores of Lake Brienz.
The journey continues to Grindelwald, where you will board the cable car for the Eiger Glacier. From there, you take the cogwheel train for Jungfraujoch, where you can admire the alpine landscape beneath you.
Depending on the tour you book, there may be additional activities, such as hiking and walking tours. When it is time to return to Lucerne, you may also take a different route, so that you pass by Lauterbrunnen.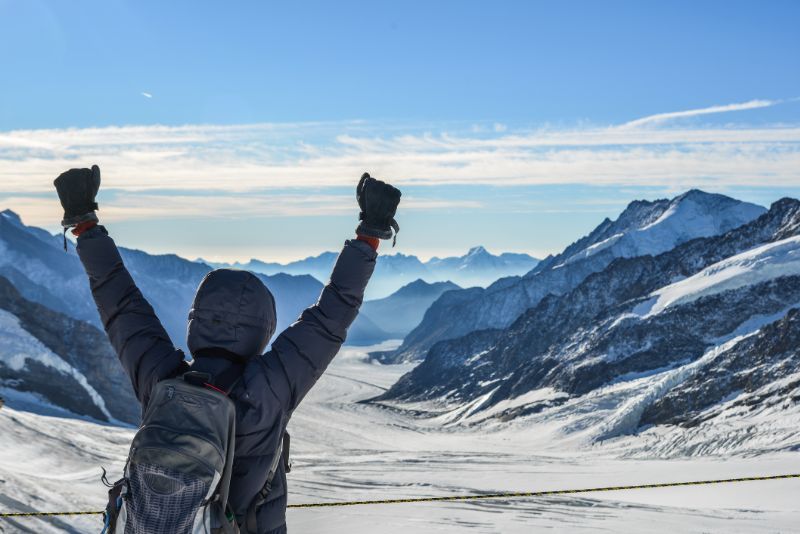 What kinds of tours are available to go to Jungfraujoch?
Guided tours to Jungfraujoch
A guided tour is the most straightforward way to visit Jungfraujoch from Lucerne. These tours include a professional guide, transportation by coach for part of the journey, as well as fare tickets for the trains and cable cars to reach the summit.
The typical duration of a guided tour from Lucerne is about 10 hours.
Private tour to Jungfraujoch
If you would like a more relaxed experience and to avoid larger crowds, your best bet is a private tour to Jungfraujoch. These tours cover all the main sights, giving you the flexibility to explore at your own pace in comfort.
Included in the price of a private tour are luxury transportation and travel fare for the summit, while the duration is typically about 10 to 12 hours.
2-Day tour to Jungfraujoch
While it is possible to journey out from Lucerne to Jungfraujoch and back within a day, you will get a better taste of the alpine landscape with a 2-day tour.
These excursions are ideal for small groups and include select meals and accommodation in Interlaken or Grindelwald. Crucially, you will have more time to explore the Jungfrau region at your own pace.
Helicopter flight over Mount Pilatus and Jungfraujoch
If you are pressed for time and would like to get a truly unique view of Jungfraujoch, you can take to the skies with a helicopter tour.
First you fly over Mount Pilatus and the Aletsch Glacier, and then continue for a spectacular view of the Eiger and Mönch mountain peaks in the Jungfraujoch region. Helicopter tours typically last 3 hours, which includes 75 minutes of flight time.
Day trip to the Bernese Oberland and Jungfrau region
The most affordable way to get a taste of the alpine landscape is with a day trip to the Bernese Oberland and Jungfrau region from Lucerne. They are also ideal for ski trips or paragliding and last about 9 to 10 hours.
These include transportation by coach with commentary and the freedom to pick your own activities. If you would like to climb to the top of Jungfraujoch, you will have to pay for the train ticket separately.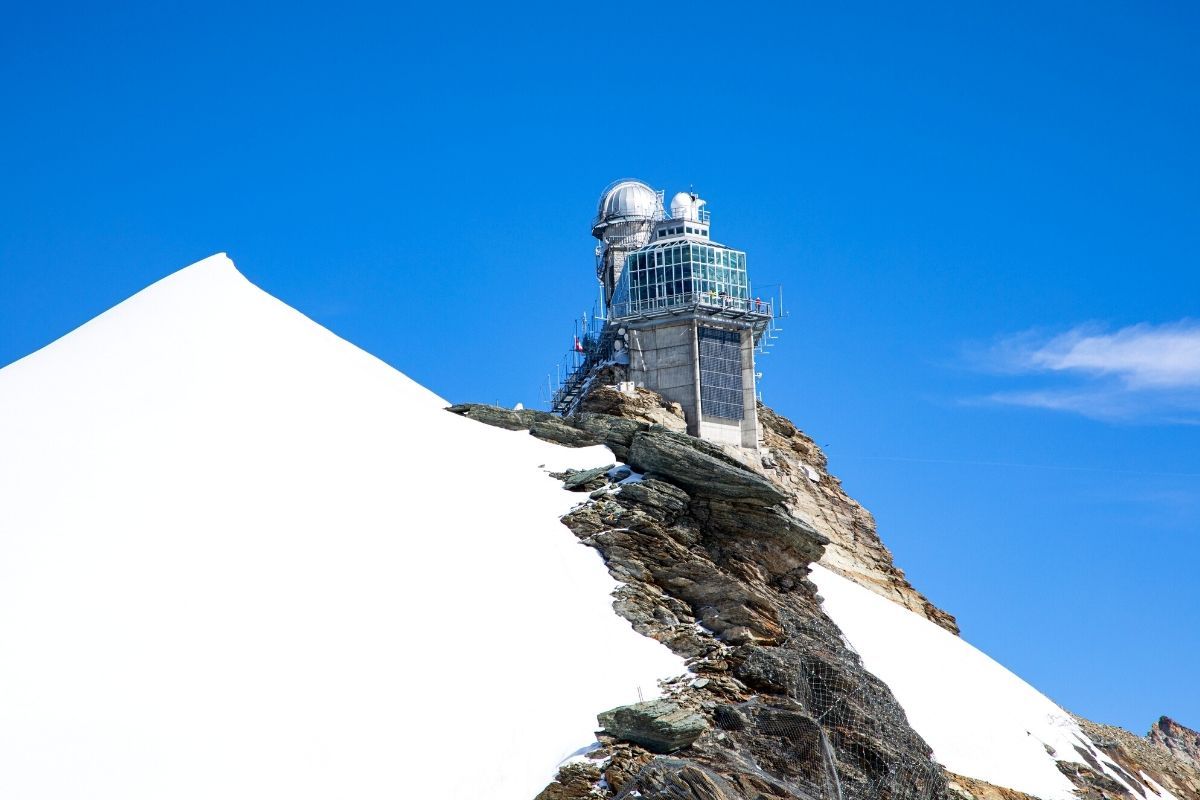 How much does a day trip to Jungfraujoch from Lucerne cost?
The price of a day trip to the Bernese Oberland and the Jungfrau region is usually between €90 and €130 per person. The final cost depends on the areas that you will visit.
For a guided tour to Jungfraujoch from Lucerne, expect to pay €250 to €300 per person, depending on any additional areas you may visit along the way, such as Grindelwald and Lauterbrunnen.
A 2-day tour to Jungfraujoch from Lucerne typically costs about €500 per person. Included in the price is transportation, overnight stay at 3-star hotel and select meals.
For a helicopter tour over Mount Pilatus and Jungfraujoch from Lucerne, the cost is about €750 per person. Transport from your hotel to the heliport is provided upon request.
The cost of a typical private tour to Jungfraujoch from Lucerne is about €750 per person and can increase to €950 and more, if you include a tour of the Interlaken region or professional photography services.
What will you see and do?
Enjoy the train ride
One of the greatest and enjoyable parts of climbing to the Top of Europe is the ride itself. This unforgettable experience on the cable car and cogwheel train will take you 3,454 meters above sea level, offering an incredible view of the Bernese Alps.
Sphinx Observation Deck
Once you reach the "Top of Europe," you can get the best view of the snow-covered Bernese Alps from the Sphinx Observation Deck. Unlike its legendary namesake, you don't need to solve any riddles to proceed. Don't forget your camera!
Ice Palace
The freezing temperatures at Jungfraujoch are the ideal environment for a spectacular art gallery carved from ice. In the icy halls of the Ice Palace, you will find many impressive life-like sculptures and intricate murals that you can examine up close.
Hiking
Having reached Jungfraujoch and taken in the impressive landscape, you are then free to explore the mountain. By following the signposted hiking routes and trails, you will visit the many summits, mountain lakes, streams and valleys in the area.
Snow Fun Park
For a fun day on the mountains that will please children of all ages, make sure you visit the Snow Fun Park. There you can play and try out many winter sports, such as skiing, sledding, zip-lining and snow tubing.
Keep in mind that the Snow Fun Park operates from mid-May to mid-October.
When is the best time to visit Jungfraujoch?
The best time to visit Jungfraujoch is late spring and early autumn, when the weather is clear and the crowds are thinner. If you are interested in winter sports, then January to March is also ideal.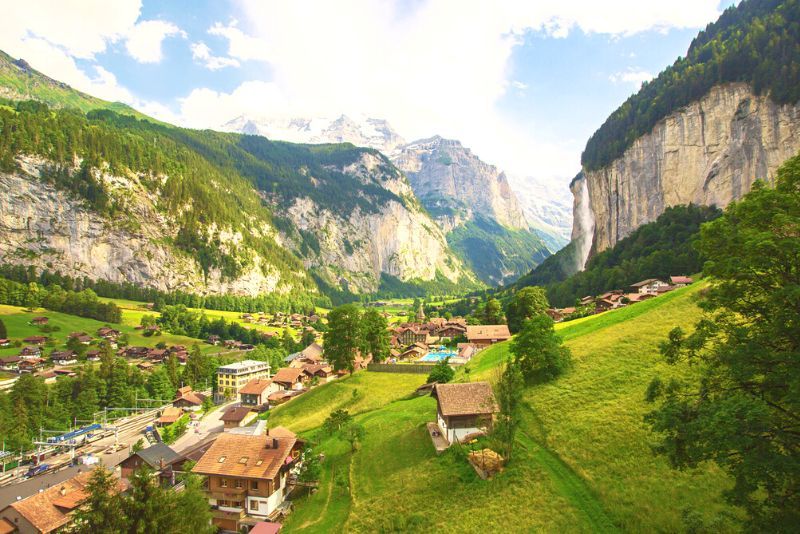 Are there any tours to Jungfraujoch from other cities in Switzerland?
Yes, there are tours departing from other cities in Switzerland:
Travel tips
Slip-resistant hiking boots are essential if you want to explore the area.
Dress warm, as the weather can be freezing even during the summer.
Take sunglasses with you because the snow can be blinding on a sunny day.
Jungfraujoch is an extremely popular tourist destination, so make sure to book your visit ahead of time, especially in the summer.