Overlooking Lucerne Lake, in central Switzerland, lies imposing Mount Pilatus. The highest peak of this mountain massif in the Emmental Alps is Tomlishorn, measuring over 1,100 meters.
This mountain has been the birthplace of many local legends involving dragons and offers a spectacular panoramic view of the region. A day trip to Mount Pilatus from Lucerne is an absolute must for every visitor.
Here's all you need to know about Mount Pilatus, one of the most exciting day trips in Lucerne.
How to get to Mount Pilatus from Lucerne?
Mount Pilatus is located about 10 kilometers southwest of Lucerne and is accessible via car and public transportation.
From Lucerne to Mount Pilatus by car
There are two main routes to Mount Pilatus from Lucerne if you decide to drive there by car. Your first option is a 10-minute drive out to Kriens via Autobahn 2a and take the "Luzern Süd/Kriens" exit.
From there, you get on the cable car to Mount Pilatus, with the ride taking a further 30 minutes.
Your second option is to take Autobahn A8 in the Sarnen/Interlaken direction and exit at Alpnachstad. This journey takes about 15 minutes. From there, you continue to Mount Pilatus with the cogwheel train, which takes about 30 minutes.
From Lucerne to Mount Pilatus by public transport
Bus and cable car
From the main bus station in Lucerne, you take the number 1 service to Kriens/Obernau and get off at the "Kriens, Zentrum Pilatus" station.
This ride takes about 15 minutes and then it's a 5-minute walk to the cable car station. From there, the cable car will take about 30 minutes to reach Mount Pilatus.
Train
From Lucerne's main station, you take the S5 train to Alpnachstad, which takes just over 15 minutes to arrive. There you board the cogwheel train for Mount Pilatus, which takes another 30 minutes.
Guided tour to Mount Pilatus from Lucerne
If you would like to avoid driving or the stress of navigating a public transportation system on your own, consider booking a guided tour to Mount Pilatus.
These tours will typically provide transportation to Kriens or Alpnachstad by coach or minivan and include tickets for the cable car and cogwheel train.
What is the typical itinerary?
Your day trip to Mount Pilatus will begin at a designated meeting point in central Lucerne (usually the train station) or you will be picked up from your hotel. Most tours will head to Kriens, where you will take the panoramic gondola to reach the mountain.
After arriving at Fräkmüntegg, you take the Dragon Ride cable car for the final length of the journey to the mountain. Once there, you have a variety of hiking options and trails to explore the area and admire the view.
After you have had lunch, your excursion will continue with a descent of the mountain via the cogwheel train. This will take you to Alpnachstad, where you can go on a cruise in Lake Lucerne (weather permitting), before returning to the city.
What kinds of tours are available to go to Mount Pilatus?
There are a few different kinds of tours available to explore Mount Pilatus. Most tours follow a similar path, but there are a few different options.
Self-guided tour of Mount Pilatus
The most straightforward and affordable way to explore Mount Pilatus is with a self-guided tour from Lucerne. All travel fares are included and tours usually last about 5 hours. No hotel pickup service, meals or other activities are included.
These types of tours offer the greatest freedom on a budget, allowing you to explore the alpine landscape at your own pace, without being pressured by time.
Guided tour of Mount Pilatus with cruise
For a more comprehensive experience on Mount Pilatus, you may be interested in a guided tour that also includes a cruise in Lake Lucerne.
The so-called "Golden Round Trip" typically includes all travel tickets, an experienced guide and in some cases snacks. These tours usually last about half a day.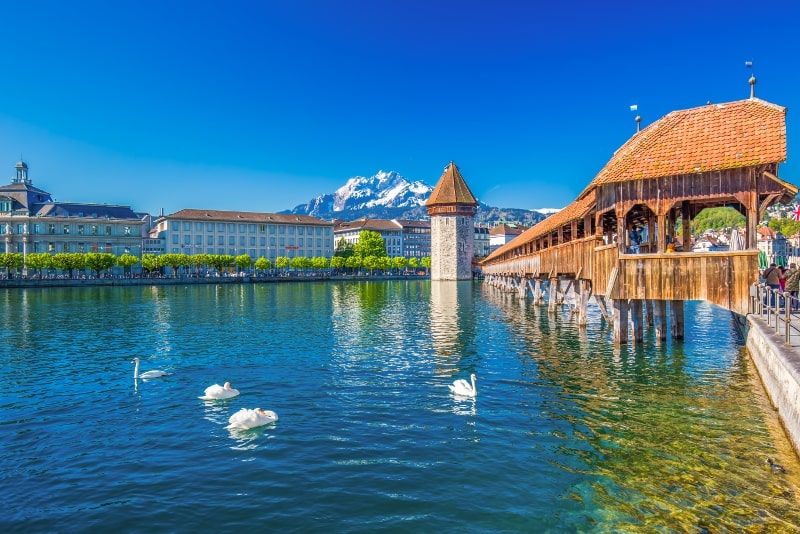 Helicopter tour of Mount Pilatus plus Mount Rigi
If you would like to get an even better look at the Swiss Alps from a unique vantage point, your best bet is booking a helicopter tour from Lucerne.  During the helicopter flight you will go over Mount Rigi, Mount Pilatus and Lucerne.
Headsets are provided so that you can listen to commentary from the pilot, with a total flight time of about 30 minutes. Transportation is not always included, so you may have to make your way to the airport.
Private guided tour to Mount Pilatus from Lucerne
The most relaxed and flexible way of exploring Mount Pilatus is with a private guided tour. These are ideal for smaller groups, as you will have the undivided attention of an experienced guide who will show you around during the trip.
Typically, private guided tours follow the "Golden Round Trip" route, namely riding the cable car and cogwheel train, while finishing off with a cruise in Lake Lucerne.
These tours also offer hotel pickup and professional photography services. A private guided tour usually lasts 6 or 7 hours, or 10 hours if you also travel to Mount Rigi.
How much does a day trip to Mount Pilatus from Lucerne cost?
A self-guided tour to Mount Pilatus from Lucerne costs about €90 per person and €110 per person if you also decide to take the cruise in Lake Lucerne. The cost can increase to €170 per person for the Golden Round Trip route with a printed guide.
The cost of a guided tour of Mount Pilatus with a cruise can range from €130 to €140 per person. For smaller groups, the cost can increase to €260 per person.
Helicopter tours over Mount Pilatus, Mount Rigi and Lake Lucerne usually cost €260 to €400 per person, depending on the size of your group and whether there is a pickup included. You will also have to pay an airport fee of CHF5 (€5).
For a private guided tour to Mount Pilatus from Lucerne with a cruise, expect to pay about €280 to €300 per person in a group of four. Without a cruise, the cost drops to €200 per person.
Private day tours that also include a visit to Mount Rigi cost about €950 per person.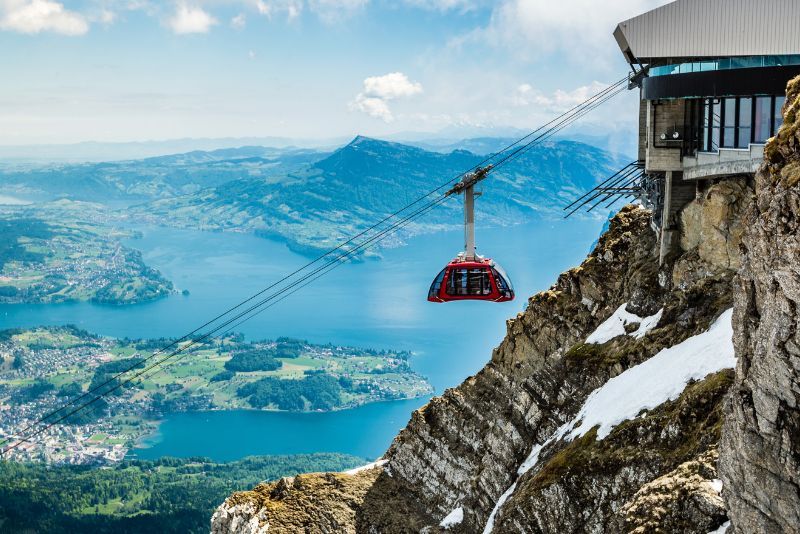 What will you see and do?
Hiking on Mount Pilatus
Towering over Central Switzerland, the snow-tipped Mount Pilatus is one of the tallest mountains in the area, with many hiking trails. At the top of the mountain there is an observation deck with a spectacular panoramic view of the region.
More experienced hikers, however, may want to go on the trail to Tomlishorn, the tallest peak on Mount Pilatus. The paths are all well maintained and have safety rails, but caution is required and the trails get busy during the summer months.
Lake Lucerne
One of the highlights on the Golden Round Trip tours to Mount Pilatus is the cruise in Lake Lucerne. Connecting four cantons, boat tours in Lucerne are a popular way to take in as much as possible in one go.
Due to the water and wind conditions, water sports are rather popular. The lake is a great destination for rowing, diving and windsurfing, particularly during spring and summer.
Paragliding
Once you have reached the top of Mount Pilatus, you would normally climb down with the cable car or cogwheel train. If you are look for a more adventurous descent from the mountain, then look into the available paragliding tours.
With the help of a professional paragliding instructor, you will take to the skies and gaze upon the Swiss Alps. Although most can participate, those with heart problems or other serious medical conditions should avoid paragliding.
When is the best time to visit Mount Pilatus?
The best time to visit Mount Pilatus is between spring and autumn, from May to late November. During this period, the weather is relatively pleasant and ideal for sightseeing.
Winter time can also be a perfect time for a visit, if you are interested in snow sports.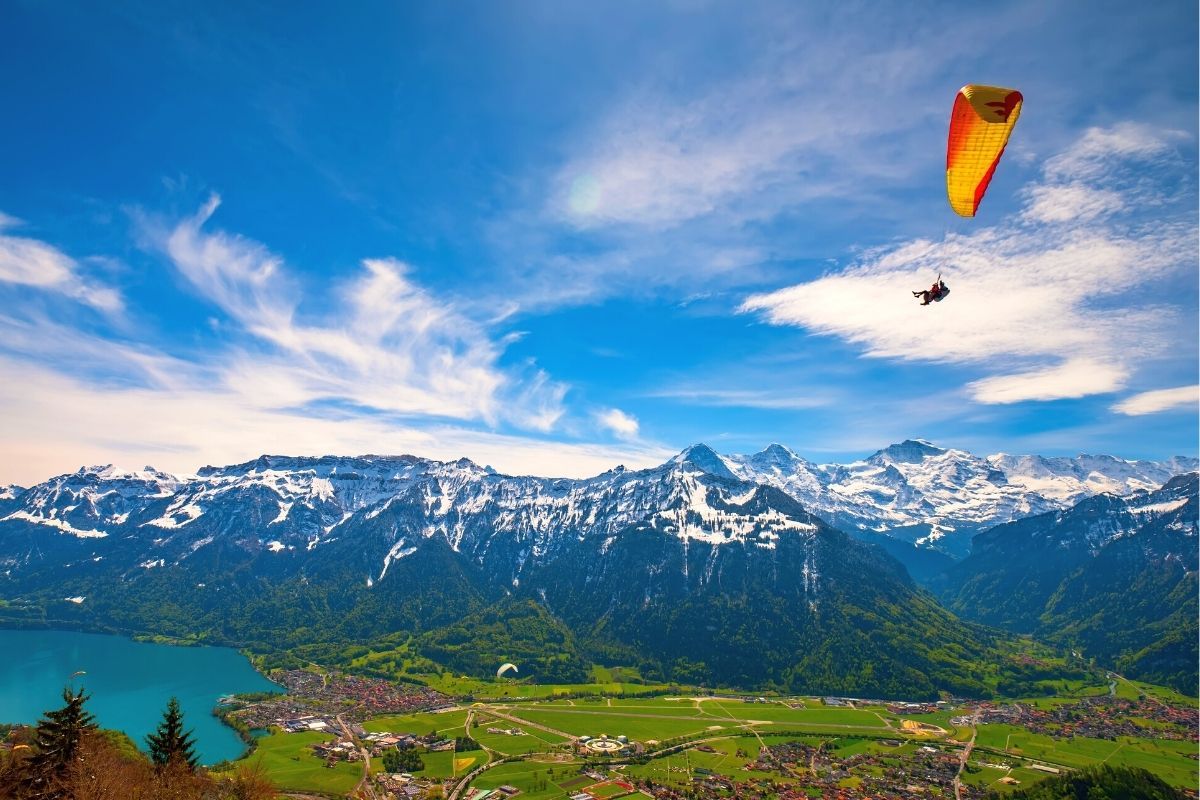 Are there any tours to Mount Pilatus from other cities in Switzerland?
Yes, there are tours departing from other cities in Switzerland:
Travel tips
The weather can be wet all year long, so don't forget to pack a raincoat, even if you intend to visit in the summer.
The air gets thinner the higher you climb the mountain, so don't overexert yourself. Take your time to catch your breath and adjust to the change.
Hiking boots are essential if you want to explore Mount Pilatus.
Don't forget your camera to immortalize your trip!