A Zakopane day trip from Krakow is the perfect way to escape the hustle and bustle of the city, and enjoy some fresh mountain air. Zakopane is situated in the heart of the Tatra Mountains and is known as the winter capital of Poland.
It's one of the country's most popular ski resort towns and offers a wide range of activities and attractions.
On a Zakopane day tour, you can enjoy the thermal springs, take a cable car to the top of Gubalowka Hill for panoramic views and visit the famous Wielka Krokiew ski jump. You'll also be able to explore traditional Polish villages and sample authentic local dishes.
Whether you're a winter sports enthusiast or simply looking to relax in a beautiful mountain setting, a Zakopane excursion is sure to please.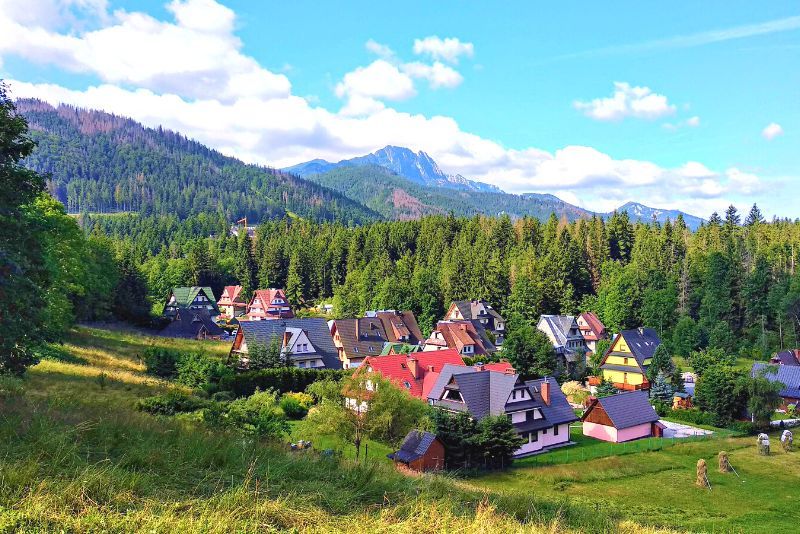 How to get to Zakopane from Krakow?
Zakopane is located 110 kilometers south of Krakow. The easiest and most popular way to get there is by car or private transfer. The journey to Zakopane takes around two hours each way.
From Krakow to Zakopane by car
The fastest and most convenient way to get from Krakow to Zakopane is by car or private transfer. The journey takes around two hours each way.
If you're driving, take the Zakopianka route south of Krakow. The route runs along National roads 7 and 47, and is clearly signposted. From here, the drive is easy and straightforward.
From Krakow to Zakopane by bus
You can also reach Zakopane by public bus and the journey takes around three hours each way. Buses depart daily from the Krakow MDA bus station or the Borek Falecki station.
Tickets can be purchased at the station or online in advance and cost €5 to €10 each way. Make sure to arrive at the bus station with plenty of time to spare, so you can purchase a ticket and find your bus.
Guided tour to Zakopane from Krakow
If you don't want the hassle of planning your own Zakopane day trip, you can book a guided tour from Krakow. Guided tours include round-trip transportation, an English-speaking guide and entrance fees to most attractions.
A Zakopane day tour from Krakow typically lasts around 10 hours, with plenty of time for sightseeing. Hotel pickup and drop-off are usually included.
What is the typical itinerary of a day tour to Zakopane from Krakow?
A typical Zakopane day tour starts from your hotel in Krakow, where you'll be picked up by the coach.
On the drive from Krakow to Zakopane, your guide will provide commentary about the scenic places you're passing through. You may even stop off in Chochołów, a small village known for its traditional wooden architecture.
When you arrive in Zakopane, you'll have free time to explore the town at your own pace. Get a feel for life in the Polish mountains on Krupówki, the main street which is teeming with traditional cafes and shops.
Next up, you'll enjoy a ride on a funicular railway to the top of Gubałówka Hill. From here, you'll be treated to panoramic views of the Tatra Mountains.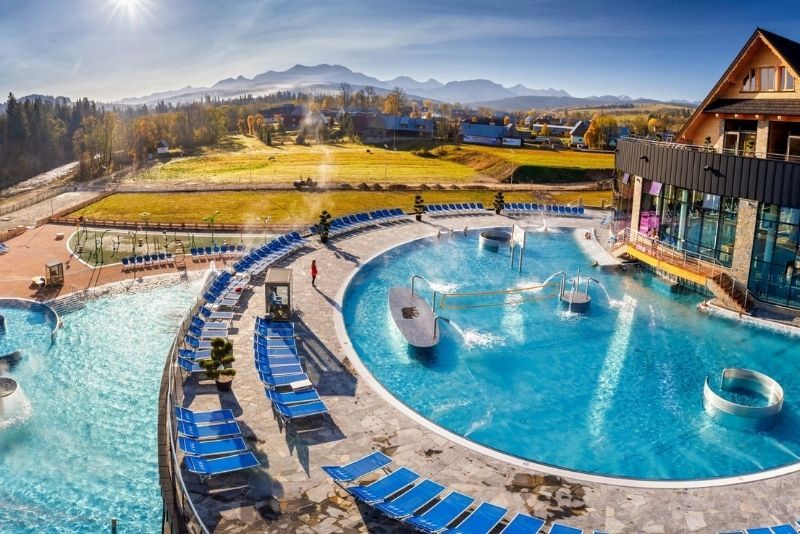 Later on, you will have time to soak in Zakopane's famous thermal pools. The pools are fed by natural springs and are said to have therapeutic properties. There are both indoor and outdoor pools to explore, not to mention water slides and whirlpool baths.
For winter sports enthusiasts, a Zakopane excursion could also include a visit to the Wielka Krokiew Ski Jump, or a dog-sledding adventure in the Tatra Mountains. Alternatively, you may be able to visit the Gubałówka Mountain on your Zakopane day trip for excellent views of the valley.
After a full day of sightseeing, you'll board the bus for the journey back to Krakow and be dropped off at your hotel, concluding your jaunt to Zakopane.
What kinds of tours are available to go to Zakopane?
Group guided tours to Zakopane from Krakow with thermal pool access
This type of tour includes transportation, an English-speaking guide, entrance fees to the thermal pools, and free time to explore Zakopane.
Private day trip to Zakopane plus Tatra Mountains from Krakow
For a more intimate experience, consider a private Zakopane excursion plus sightseeing of the Tatra Mountains. You'll travel in a private minibus with Wi-Fi access and have a personal guide and driver for the day.
Private tour to Zakopane from Krakow
This private sightseeing Zakopane day trip is perfect for those who want to avoid the crowds. You'll be picked up from your hotel in Krakow and driven straight to Zakopane, where you'll enjoy the area's highlights. This tour also includes lunch at a traditional mountain restaurant and samples of local cheese and liquor.
Day trip to Zakopane plus Dunajec river rafting from Krakow
In addition to the highlights of Zakopane, this tour also includes a two-hour rafting trip down the Dunajec River. You will pass through the Pieniny Gorge and see the limestone formations, mountains and forests of the UNESCO-listed national park. Rafting equipment and English-speaking guides are included.
Day trip to Zakopane plus Slovakia treetop walk from Krakow
On this tour, you'll take the Slovakia treetop walk, which is a series of suspension bridges above the Pieniny National Park. At the end of the walk, you'll have the option to take a slide down to the Zakopane resort village.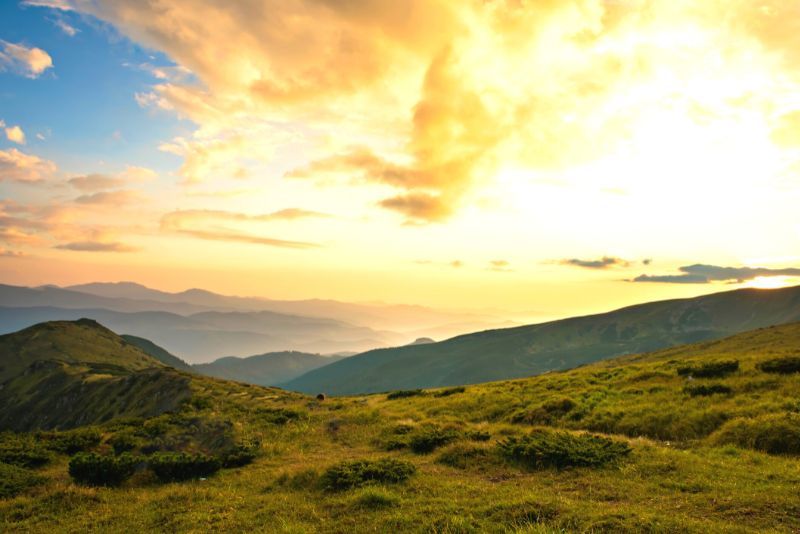 How much does a tour to Zakopane from Krakow cost?
The cost of your Zakopane day trip from Krakow will vary depending on the tour type, size of the group and any optional extras.
However, you can expect to pay around €50 to €100 for a group tour with thermal pool access, or €70 to €150 for a private tour. Additional costs may include lunch, tips for your guide and driver, and souvenirs.
What will you see and do in Zakopane?
Krupówki
This is Zakopane's main street and the perfect place to do some people-watching and shopping. There are also plenty of traditional cafes and shops to explore. If you have the time, you should have a refreshing drink or a hot coffee in one of the many small restaurants.
Gubałówka funicular railway
This is one of the oldest cable railways in Poland and will take you to the top of Gubałówka Mountain for panoramic views of Zakopane and the Tatra Mountains. The ride is not suitable for those with a fear of heights.
Morskie Oko
This is the largest lake in the Tatra Mountains and is a popular spot for hiking, swimming and enjoying the views. The water is usually quite cold even during the summer. Don't forget to bring a towel if you're brave enough to swim.
Thermal pools
Zakopane is home to several thermal pools which are said to contain therapeutic properties. There are several pools to choose from, including the Białka Tatrzańska Thermal Baths and the Chochołowskie Termy Thermal Pools.
Zakopane Góral Folklore Museum
This museum is dedicated to the traditional culture of the Zakopane region and is a great place to learn about the local customs, music and architecture.
Treetop walk
If you're looking for something a little different, consider trying the Treetop Walk Bachledka in Slovakia, about an hour drive from Zakopane. This allows you to see aerial views of the area's mountains and valleys.
Dunajec river
You'll cruise down the Dunajec river in a raft, passing through the Pieniny gorge and soak in the natural beauty of the Pieniny National Park.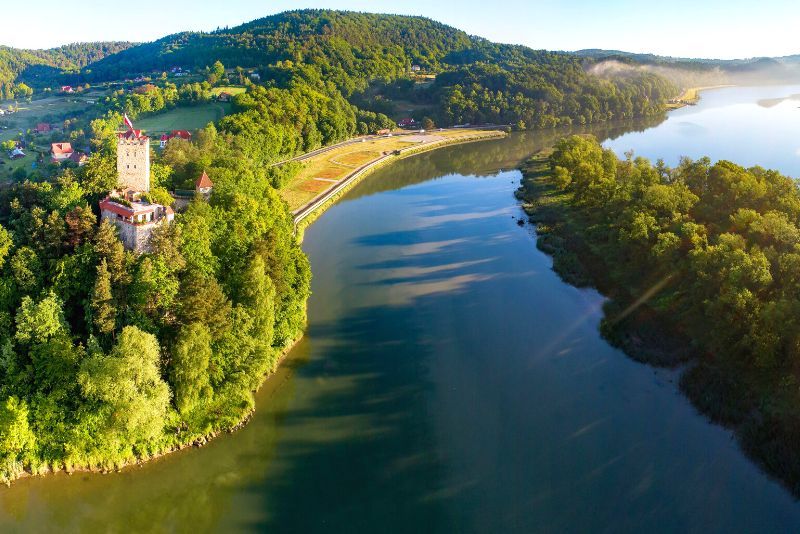 When is the best time to visit Zakopane?
Zakopane is a year-round destination, so the best time to visit depends on your interests.
The summer months are from June to August and this is the busiest time of year. The weather is warm and sunny, making it perfect for hiking, swimming and enjoying the outdoors. However, this also means that attractions are busier.
If you're looking to avoid the crowds, consider visiting in the shoulder season months of April, May and September. The weather is still pleasant at this time, and you'll find better deals on accommodation and tours.
Winter is from December to February, and this is when Zakopane comes alive for winter sports enthusiasts. The ski season usually runs from mid-December to early April. Zakopane and the surrounding mountains transform into a winter wonderland during this time, and there's a festive atmosphere.
Travel tips
Book your Zakopane excursion in advance, especially if you're visiting during the summer months. This is a popular region among local families so accommodations and tours fill up fast.
Zakopane is a famous location for winter sports, so if you're visiting during the ski season, make sure to pack your winter gear. If you don't know how to ski there are plenty of lessons available.
Bear in mind that the currency in Poland is not the euro but the Polish złoty (PLN). Exchange some cash before you go or get PLN at an ATM.
The official language in Poland is Polish, but you'll also find many people who speak English, especially in the tourist areas. Still, knowing a few basic words of the local language will be very helpful.
If you're visiting during the summer, remember to drink plenty of water and wear a sun hat. Don't let your jaunt to Zakopane be ruined by an unnecessary sunburn.
When hiking or enjoying outdoor activities in the mountains, be prepared for changing weather conditions.
It's a good idea to pack sunglasses for your journey to Zakopane at any time of year as the sun can be quite strong, even in winter.