Energylandia is the largest amusement park in Poland. It is home to over 120 attractions, ranging from gentle children's rides to towering coasters, designed with one thing in mind — to exhilarate you!
You can explore its many themed zones and discover its water park delights in a single day. Whether you're a thrill-seeker or not, booking Energylandia tickets will guarantee you and your loved ones a fun-filled day out.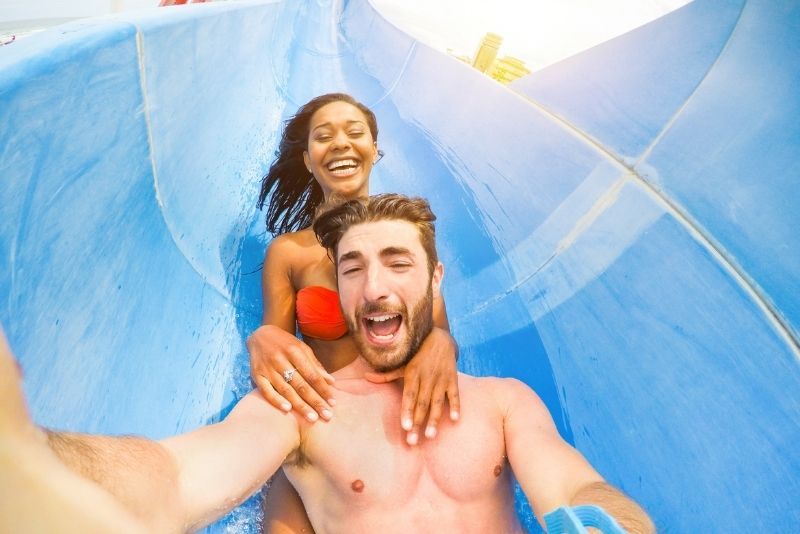 How much do Energylandia tickets cost?
Day passes
Full ticket: €38
Children (under 140cm): €27
Seniors (65+): €27
Children under 3: €0.20
2-Day passes
Full ticket: €68
Children (under 140 cm): €48
Seniors (65+): €48
You can purchase skip-the-line Energylandia tickets for €42 per adult and €39 for children. These enable you to bypass the queue and spend more time exploring the theme park on arrival.
Who is eligible for discounts?
Persons with disabilities are entitled to a discounted Energylandia rate of €23 if they are under age 12, and €27 for those age 12 and up.
Pregnant persons also benefit from a reduced fare of €27. Those under age 18 can enter the park for €0.20 on their birthday.
Energylandia tickets also cost €0.20 for newlyweds who wish to participate in a wedding photography session inside the theme park.
How to get to Energylandia?
You can take a direct coach from Kraków bus station to Energylandia. The journey takes just over an hour and departs twice daily.
Alternatively, you can board a train at the Kraków Glowny station which will get you to Zator in around 50 minutes. From there, you can catch the Energylandia Choo Choo Train from the station to the park entrance.
Are there any Energylandia tickets with transfer included?
Energylandia amusement park tour
On many excursions to Energylandia, you'll have the opportunity to choose between a shared or private transfer. With five hours of free time to discover the park at your leisure, you'll have a hard time deciding which ride to race to first.
Whether you spend your day watching the kids light up in the family zone or experiencing knuckle-whitening roller coasters, you're sure to have fun.
Full-day trip to Energylandia
On this day tour, you can enjoy extended time in Energylandia — between seven and eight hours in total. You'll be transported from your hotel in Kraków and the extra time will allow you to discover all that the park has to offer.
You can spend your day zooming down water slides, witnessing magic shows and screaming on adrenaline-filled roller coasters. There's no need to worry about navigating public transportation after a busy day at the park, as you'll be comfortably transferred back to your accommodation.
Should you book Energylandia tickets in advance?
By purchasing Energylandia tickets in advance, you'll ensure that passes aren't sold out for your chosen day. You'll also have the opportunity to buy skip-the-line tickets which will save you time and enable you to enjoy more attractions.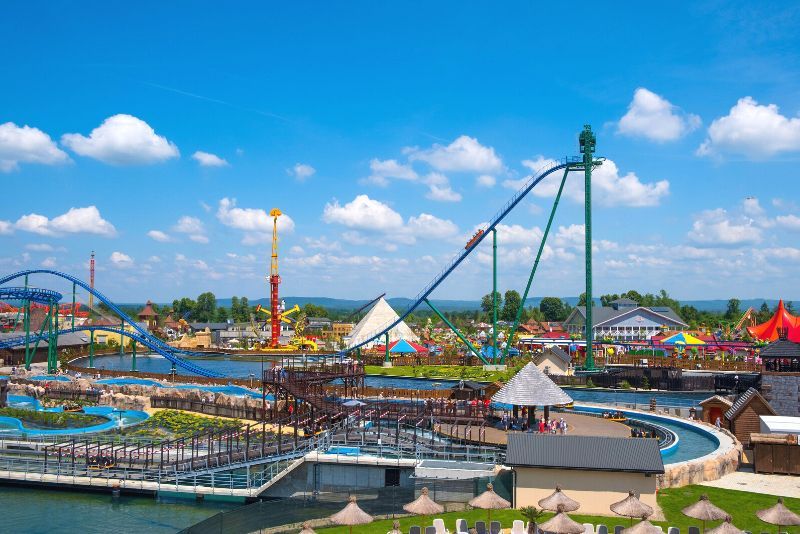 What will you see inside Energylandia?
Energylandia is the largest amusement park in Poland, spanning 35 hectares, and is home to the tallest hybrid roller coaster in the world. The park is broken up into different sections which cater to different ages and interests — family, little kids and extreme zones.
The dedicated area for small children includes fun-filled rides for all the family, including bumper cars, a dwarf train and a jeep safari.
On the other hand, the extreme zone is aimed at daredevils who will find its many spine-tingling roller coasters offer up maximum thrills. Some of the most popular rides include Tsunami Drop, Aztec Swing and the water coaster spectacular — Speed.
There are 36 water slides throughout the park, as well as water themed rides such as the Whirlpool Water Fight. Alongside 18 roller coasters, the park runs several shows which display skillful water acrobatics and captivating fire tricks.
If you visit Energylandia during seasonal events, you'll see the park fully decorated, whether that's with hundreds of pumpkins for Halloween or Bavarian touches during Oktoberfest. You can also take part in competitions, play themed games and enjoy novelty food items during these times.
When is the best time to visit  Energylandia?
The theme park can get exceptionally busy during the weekends and school breaks. If you prefer to avoid the crowds, try to plan your Energylandia visit on a weekday during term time. Arrive a few minutes before opening time to be at the front of the queue.
Travel tips
Take your swimwear and beach towel with you to enjoy the Energylandia water park.
Buy your Energylandia tickets in advance to ensure you can visit the popular theme park during your time in Kraków.
Plan a longer trip which will enable you to spend more time exploring all 123 attractions.
If you're visiting for a child's birthday, be sure to bring their passport or ID card to benefit from a significantly reduced rate.