The Gallipoli Peninsula is best known today as being the site of the Battle of Gallipoli, an unsuccessful attempt by the Allied forces during World War I to gain control of the sea route between Europe and Russia.
A day tour from Istanbul to Gallipoli is definitely a worthwhile trip to take, due to its a historically significance.
Located in the southern part of Turkey, Gallipoli lies in the European part of the country with the Aegean Sea to the west and the Dardanelles strait to the east.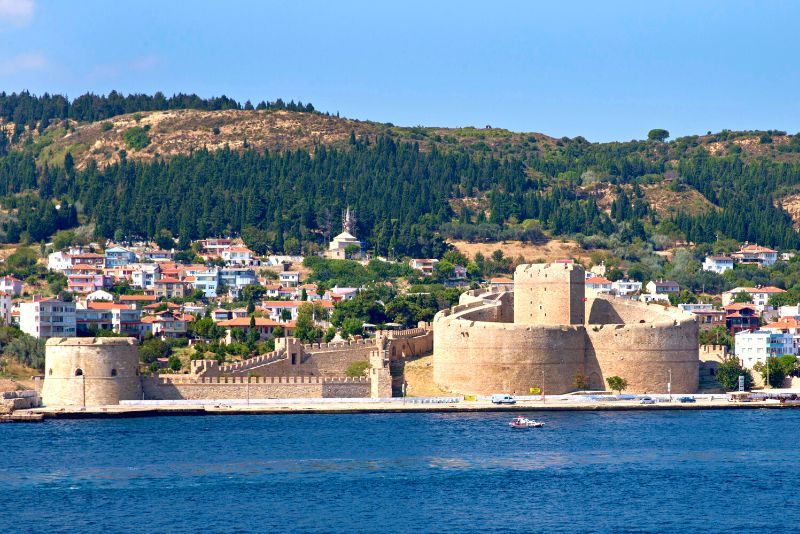 You will find below all you need to know about visiting Gallipoli, a striking destination for day trips from Istanbul.
How to get to Gallipoli from Istanbul?
Gallipoli is located roughly 235 kilometers southwest of Istanbul. You can reach the area by road, ferry, or by air.
From Istanbul to Gallipoli by car
The roads in Turkey are relatively well maintained and you can drive between Istanbul and Gallipoli in about 4 hours. Follow the E84 and Malkara Canakkale Otoyolu (O-6) to reach your destination.
You will need an international driving license and can hire a vehicle from one of the major car rental companies based at the airport or major centers.
From Istanbul to Gallipoli by air
It is possible to catch a domestic flight between Istanbul and the town of Canakkale on the Gallipoli Peninsula. From here you can join a local tour or make your own way in a rental vehicle.
Guided tour to Gallipoli from Istanbul
A guided tour is the best way of ensuring that you make your most of your time in the region. You can join a full day or multi-day tour from Istanbul to Gallipoli and see all of the important and notable sites on the peninsula.
Guided tours can consist of small or medium sized groups or can be booked on a private basis.
How much does the entrance ticket to Gallipoli cost?
Some of the sites on your tour may charge an entrance fee, however, these will be included in the price of your tour and will be settled by your guide.
What is the typical itinerary of a day tour to Gallipoli from Istanbul?
You can expect to have a long and busy day if you book a day tour to Gallipoli. Day tours last between 14 and 18 hours including the 10-hour round trip to Istanbul.
Most day tours to Gallipoli begin with an early morning pickup from your Istanbul hotel. If you are staying outside of the pickup zone, you will be asked to make your way to a central meeting point.
Travelling by air-conditioned minibus your guide will spend some time on the drive talking about the history of the region that dates back to the Ottoman empire. There will be a refreshment stop enroute.
On the Gallipoli peninsula you will visit several significant battlefields and war memorials. If you are on a multiday tour, you will continue on to your next destination for example Troy, Ephesus, Pamukkale or Cappadocia.
At the end of your tour, you will return to your hotel or meeting point in Istanbul.
What kinds of tours are available to go to Gallipoli?
Single or multi-day guided tours are the best way to visit Gallipoli from Istanbul. It is possible to self-drive, but having a knowledgeable guide ensures that you make the most of your time in the area.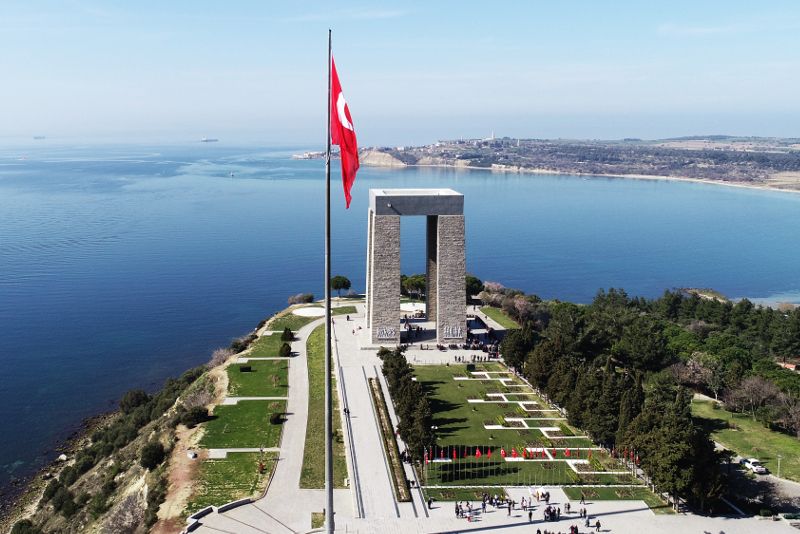 Guided tours to Gallipoli from Istanbul
Guided day tours to Gallipoli are usually limited to small groups with a maximum of 25 participants. You are collected from your hotel or a central meeting point and take your tour in a comfortable minivan.
Private tour to Gallipoli from Istanbul
If you want to explore Gallipoli on your own, but do not want to self-drive, a private day trip with a guide is the perfect option. Most tours visit similar sites, but private excursions offer some flexibility.
Private day tours to Gallipoli usually base costs on a minimum of two people but some can accommodate between six and 12 guests.
2-Day trip to Gallipoli plus Troy from Istanbul
A 2-day guided day tour from Istanbul to Gallipoli and Troy takes place in a small-group with a maximum of 15 participants. You will visit Gallipoli with an overnight stay before moving onward to Troy for the second day of your tour.
Overnight Gallipoli plus Troy landing beaches tour
This tour provides visitors with the opportunity to visit historically significant sites in Gallipoli on the first day followed Troy on the second. After the land-based touring, you get to experience the Gallipoli landing beaches by sea with an afternoon boat trip.
Multi-day tour of Turkey including Gallipoli from Istanbul
With so much to see and do in Turkey, you can book a multi-day tour from Istanbul including Gallipoli and several other cities and sites of significance.
In a small group of between 15 and 20 people, you will tour in a comfortable minivan with an experienced and knowledgeable guide.
How much does a tour to Gallipoli from Istanbul cost?
Each type of tour described is offered at a range of prices depending on the length of tour and what is included. Private tours and multi-day tours are more costly.
Full-day guided tours to Gallipoli from Istanbul start at US$85 per person including lunch and refreshments enroute.
A private tour to Gallipoli from Istanbul costs from US$350 per person with at least 2 people required for the tour to confirm.
A small-group 2-day tour to Gallipoli and Troy from Istanbul including an overnight stay in a 4-star hotel costs from US$175 per person.
For an overnight Gallipoli plus Troy landing beaches tour expect to pay from US$200 per person including overnight accommodation, a boat trip, lunches and breakfast on the second day.
Multi-day tours of Turkey including Gallipoli from Istanbul cost between US$1,050 for a 4-day tour and US$1,800 for an 8-day tour.
What will you see and do on a Gallipoli day trip from Istanbul?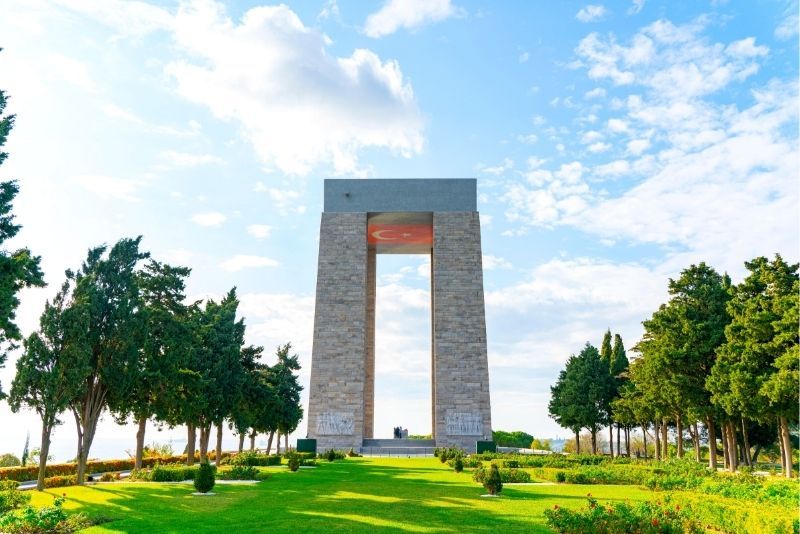 On Gallipoli day trip you can expect the focus of your tour to be on the history and wars that have been fought in this region.
Eceabat is the town closest to the World War I Gallipoli battlefields and here you will see several examples of architecture dating back to the Ottoman Empire including Bigali Castle and Kilitbahir Castle.
There are over 50 memorials, grave sites and cemeteries in Gallipoli that serve as places of remembrance. Cemeteries that are often included on tours of the peninsula include Beach Cemetery and Amzak Cemetery.
Memorials include the Cape Helles Memorial to the Missing, the Canakkale Martyr's Memorial and the Turkish War Memorial at The Nek. At Johnson's Jolly you will view the Allied and Turkish trenches and learn about the war from multiple perspectives.
On your tour, you will stop at Anzac battlefields, a small cove that became the famous landing site of the Australian and New Zealand army corps (ANZAC) on 25 April 1915.
On your way to or from Istanbul to Gallipoli you might stop in the city of Tekirdag. The city dates back to 4000 BCE and houses several museums including the Tekirdag Museum of Archaeology and Ethnology.
When is the best time to visit Gallipoli?
Spring and autumn are considered the best times to visit Gallipoli as the temperatures are the most moderate. Commemorations for the landing of Australian and New Zealand troops in 1915 take place in April.
Travel tips
Wear comfortable walking shoes.
Bring a hat and sunscreen in the summer months.
Pack a raincoat if you are travelling in autumn.
Advise your tour operator if you have any allergies or dietary requirements.