Lavishly built in the 15th century by Sultan Mehmed II, Topkapi Palace was the official headquarters of the powerful Ottoman Empire for many decades until its fall in 1923.
Since then, the palace has been turned into a popular museum— attracting thousands of visitors every year and housing a plethora of Ottoman artifacts.
Secure your Topkapi Palace tour so that you can visit one of Turkey's most famous attractions during your trip to Istanbul! Stroll through the ornate palace, named a UNESCO World Heritage Site, and marvel at its artworks, gardens and intricate architecture.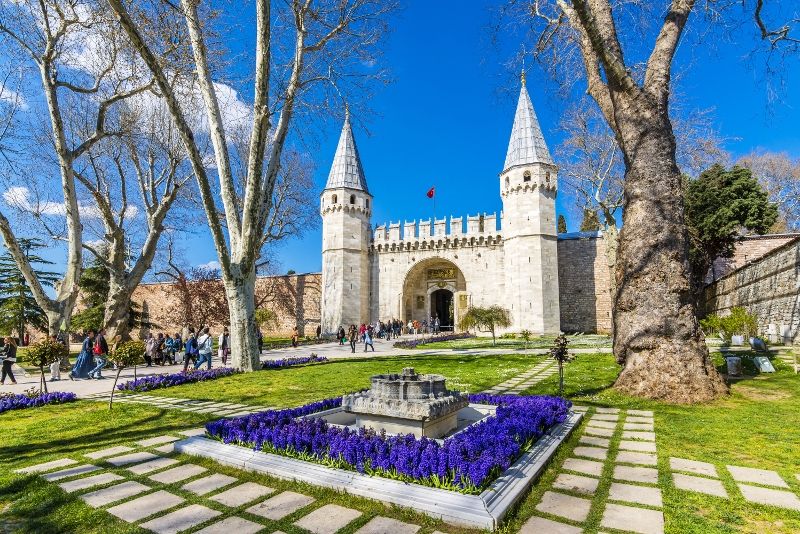 Here's all you need to know about Topkapi Palace tickets, one of the most exciting attractions in Istanbul.
How much do Topkapi Palace tickets cost?
Entrance tickets to Topkapi Palace grant you access to the main parts of the palace as well as the c. Ticket prices are as follows:
Adults: TRY320 (US$17)
Children under 12: Free
If you want to visit Topkapi Palace's Harem section, you'll need to pay an additional TRY150 (US$8). Children under 6 enjoy free entry to the Harem.
An audio guide is included in the price of your ticket, and these guides can be picked up from the box office in the courtyard.
There is also the option to purchase the Museum Pass Istanbul. This pass costs TRY700 (US$38), but grants you access to several museums in Istanbul for 5 days.
There are many guided tours, by verified operators that allow you to optimize your time spent at Topkapi Palace by allowing you to skip the line.
Should you book in advance?
Topkapi Palace entrance tickets do not need to be booked in advance as it is easy and simple to purchase them at the ticket office outside the palace.
However, if you're wanting to participate in a tour or buy skip-the-line tickets, it is recommended that you book your spot in advance to avoid disappointment.
What are the best Topkapi Palace tours?
Topkapi Palace skip-the-line tickets
By purchasing a skip-the-line ticket to Topkapi Palace, you get to visit one of Istanbul's most famous attractions without waiting hours in line to purchase tickets. Keep in mind that you will still need to wait at the palace doors to enter the palace itself.
While you won't have a professional guide leading the way, you'll still get to enjoy the audio guide that you can pick up in the palace's courtyard. This is an affordable and convenient way to visit the palace.
Topkapi Palace guided tours
Join a group tour with like-minded tourists led by a professional local guide. Being led by a professional tour guide ends up being a lot more insightful than using the audio guide alone.
Meet your tour guide at a nearby landmark, and skip the line as you head over to Topkapi Palace. You'll learn so much about the history and cultural importance of the palace, gaining insight into the Ottoman Empire.
Topkapi Palace private tours
Make the most of your time at Topkapi Palace by booking a private tour, where a tour guide will cater to you and your group. This is the ideal way to fully experience the palace and ask all the questions you've always wanted to ask.
With private tours, you'll get to skip the ticket queue and start enjoying the palace as soon as possible.
Are there any combined tickets or tours including Topkapi Palace and other attractions?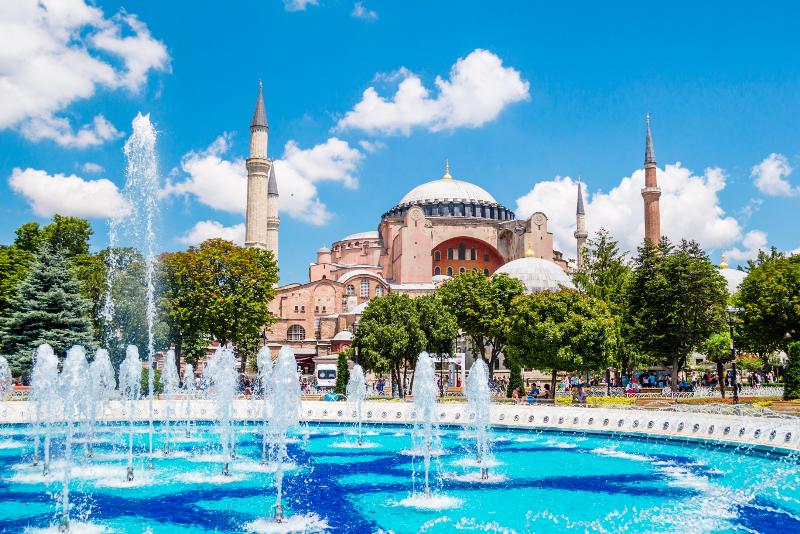 Combined tours are a great way to experience various attractions in Istanbul in one day, saving you both time and money. With the plethora of culturally-important attractions in Istanbul, it is no surprise that there are many combined tours on offer.
Full-day tour: including Blue Mosque, Hippodrome, Hagia Sophia and Topkapi Palace. Get the most out of your time in Istanbul by visiting the city's top-rated attractions with a professional guide leading the way.
Topkapi Palace, Hagia Sophia and Basilica Cistern tour: Climb the famous steps of the Basilica Cistern and learn about the Ottoman Empire at Topkapi Palace on this shared or private tour.
Topkapi Palace and Grand Bazaar tour: A trip to Istanbul is incomplete without visiting Topkapi Palace and the Grand Bazaar. Stroll through these two famous attractions with your professional guide, asking as many questions as you want.
What will you see inside?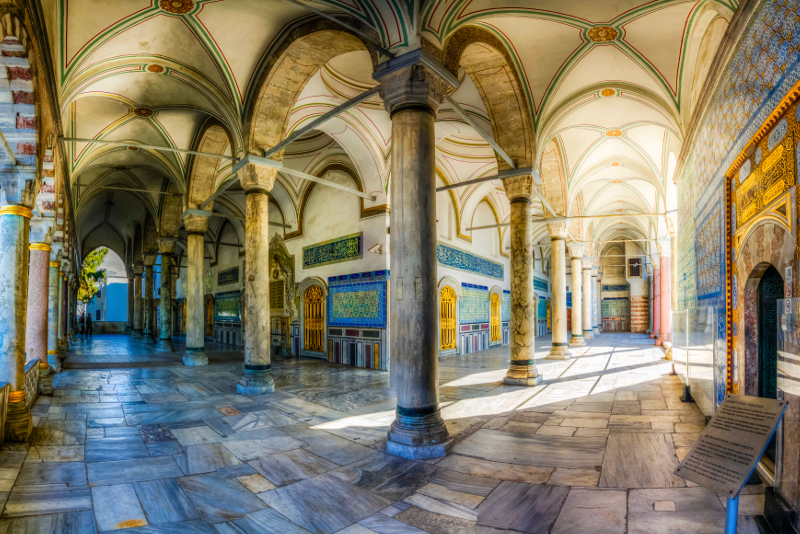 Topkapi Palace in Istanbul is home to the world's largest collection of Ottoman Empire manuscripts, belongings and artifacts. The palace acts as a library and museum and is known for its incredible architecture and massive courtyards.
The palace spans over 700,000 square meters and is made up of various quarters. Inside the palace, you'll get a glimpse into how the Ottoman Royals used to live. You'll experience the lavish luxury of their exquisite furniture, ornate artworks and lofty rooms.
While you need to pay an additional fee to enter the palace's Harem, it is well worth it as this is where you'll see how the Sultans lived in the 16th century and beyond. The Imperial Hall is truly magnificent and is considered to be an architectural wonder.
Inside the museum, you'll see an incredible collection of Ottoman weapons, pottery, jewelry and more. By visiting the Topkapi Palace, you'll gain immense insight into what life was like during the reign of the Ottoman Empire.
How to get there?
The palace is conveniently located in Istanbul's old town, and you can get there by tram or bus if you are not staying in this part of the city already.
There are many signposts leading you toward the palace, which is set on a hill and easily visible from all directions.
What are the opening times?
Topkapi Palace is open every day of the week except for Tuesdays and is open from 9 AM to 6 PM during the summer months, and from 9 AM to 4:45 PM during the winter months.
When is the best time to visit the Topkapi Palace?
Topkapi Palace is a very popular attraction and for this reason, it tends to get crowded. If you want to avoid the crowds, it is best to go as soon as the palace opens, preferably on a weekday instead of on the weekend.
Which other attractions can be visited in Istanbul?
Travel tips
Book your preferred Topkapi Palace tour ahead of time to avoid disappointment.
Wear comfortable walking shoes as you'll cover a lot of ground during your time at the palace.
Dress conservatively when visiting the palace, wearing clothing that covers your shoulders and knees.
Keep in mind that photography is prohibited in the Topkapi Palace Museum, but you are allowed to take photos in other parts of the palace.