Looming over the French city of Chamonix at 15,777 feet above sea level, Mont Blanc is the highest peak in the Alps.
Intrepid mountaineers can summit the "Roof of Europe", but you don't need crampons and ice axes to be able to appreciate its majesty. Cable cars and train rides will do the job just fine!
Taking a day trip to Mont Blanc from Geneva is a popular and easy way to see this famous mountain first-hand.
How to get to Mont Blanc from Geneva?
Mont Blanc is 50 miles southeast of Geneva and is accessed by visiting the Alpine city of Chamonix.
From Geneva to Mont Blanc by car
It takes an hour to drive to Chamonix. You will need to drive south on the A40 before coming off on the N205. Be aware that there are some road tolls on this route.
From Geneva to Mont Blanc by train
The train offers a leisurely trip between Geneva and Mont Blanc. For the easiest ride, take the Leman Express from Geneva Cornavin Station to Saint Gervais-Les-Bains. This leg lasts 1 hour 45 minutes.
Then hop on the Mont Blanc Express for a scenic 45-minute trip through to Chamonix.
From Geneva to Mont Blanc by bus
The journey to Mont Blanc from Geneva by bus is less scenic than the train, but you can travel direct. It takes 1 hour 25 minutes one way, with several departures each day.
Guided tour to Mont Blanc from Geneva
Make the most of your time in Chamonix by joining an organized day trip to Mont Blanc from Geneva. You won't have to worry about transport schedules and will be traveling with an expert insider who knows all the best spots.
Hotel pick-ups and drop-offs are often included for a stress-free experience.
What is the typical itinerary of a day tour to Mont Blanc from Geneva?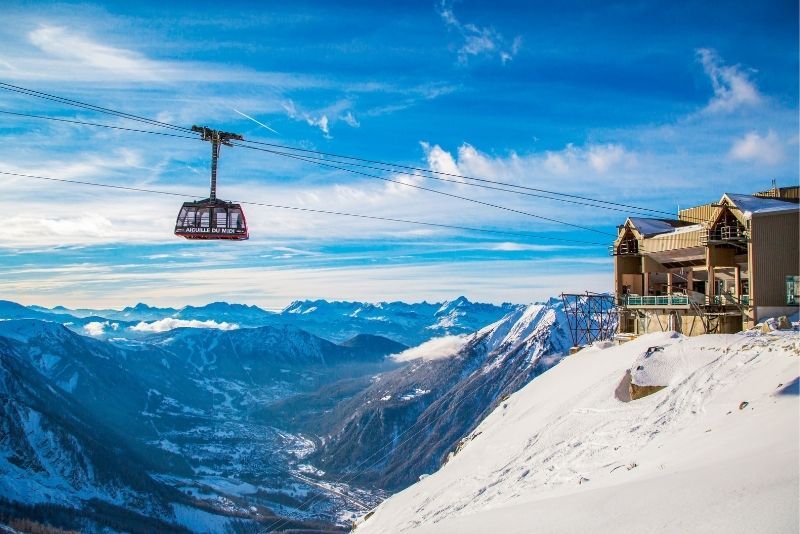 Most Mont Blanc day trips from Geneva last 9-10 hours, giving you plenty of time to see the sights. Travel is by minivan or bus, and there is sometimes an option for a hotel pick-up to start your tour in style.
Marvel at the Alpine countryside as you journey to Chamonix, and then explore the town at leisure. Once you're in the shadow of Mont Blanc, there are several ways to experience the mountain including cable car rides, cog railway trips, and even paragliding.
After a fun-filled day, you'll be driven back to Geneva in time for dinner.
What kind of tours are available to go to Mont Blanc?
Guided tour to Mont Blanc from Geneva
The most cost-effective way to discover Mont Blanc is on a shared group tour. Round-trip bus transfers are provided, with optional activities available once you are in Chamonix. You will have free time to explore at leisure.
A knowledgeable guide will point out the best photo spots and tell you about the natural history of the valley.
Private tour to Mont Blanc from Geneva
Private Mont Blanc day trips from Geneva are the ultimate way to make the most of your time. You can help plan the itinerary according to your interests and spend as long as you want at panoramic viewpoints.
Your personal guide can answer all your questions, and make sure you are in the right place for cable car rides and train excursions.
Paragliding trip to Mont Blanc from Geneva
Calling all adrenaline seekers, this one is for you! A Mont Blanc jaunt with a difference, this tour will have you on the edge of your seat, literally.
Soar across the mountain slopes on a thrilling tandem paragliding flight and see the Alps from a new perspective. No experience is necessary as you will be accompanied by an instructor.
You can add optional extra activities to this tour.
Day trip to Mont Blanc plus Annecy from Geneva
If you want to pack in as many locations as possible during your day tour from Geneva to Mont Blanc, this trip ticks all the boxes.
As well as riding the cable car up the Aiguille du Midi for those iconic mountain views, you'll also stroll through the historic streets of Annecy. The tour is self-guided with round-trip bus transport included.
How much does a tour to Mont Blanc from Geneva cost?
Mont Blanc day tours from Geneva can be as low as €66 per person, for a standard shared excursion with return transport. Activities like the cable car and train ride are then added as optional extras.
The standalone cost for the round-trip Aiguille du Midi cable car is €67, while the Montenvers train is €35.50.
Private Mont Blanc excursions from Geneva start at €333 for the transport and a guide. Meanwhile, paragliding experiences cost €283 for a tandem flight, including travel to and from Geneva.
For a day trip to Mont Blanc from Geneva that also includes a visit to Annecy, expect to pay €243. This includes bus transport, cable car tickets, and an audio guide in Annecy.
What will you see and do at Mont Blanc?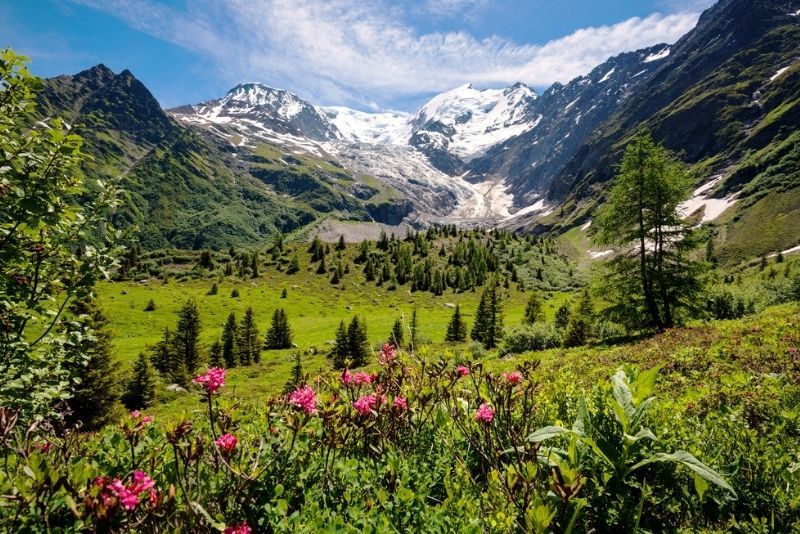 There are many ways to experience Mont Blanc and each tour offers a different perspective. Whether you glide to lofty heights by cable car or delve deep into the heart of a glacier, you'll have an experience to remember.
Aiguille du Midi Cable Car
One of the most dramatic ways to see Mont Blanc is from the summit of the needle-shaped Aiguille du Midi. The cable car ride is spectacular, carrying you high into the mountains with no climbing skills required!
The panoramic views from the top are out of this world. You can see the whole Chamonix Valley as well as most of the highest Alpine peaks, including Mont Blanc, and even the Matterhorn on a clear day!
Montenvers Railway and the Mer de Glace
The famous Mer de Glace train at Montenvers is your ticket to an icy adventure at one of Europe's most famous glaciers. At over four miles long and 656 feet deep, the Mer de Glace is one of the region's top attractions.
You can explore inside the ice caves and discover interactive exhibitions at the Glaciorium, as well as soak up spectacular views from the train itself.
Chamonix
The city of Chamonix is a worthy attraction with bags of Alpine charm in one of the best rural settings in the country.
There are traditional restaurants for all your fondue and hot chocolate needs, and several museums dedicated to historic mountaineering endeavors as well as local wildlife.
When is the best time to visit Mont Blanc?
Day tours to Mont Blanc from Geneva are possible, and indeed enjoyable, all year-round. However, if you want sunny skies and warm temperatures, come in summer. May, June, and September are the best months for avoiding the crowds.
If you want to see this magnificent mountain in all its snow-covered glory, winter can be stunning, albeit rather chilly.
Note that the Aiguille du Midi cable car closes for maintenance for a couple of weeks each November.
Travel tips
Try and book your day trip from Geneva to Mont Blanc in good time. It's one of the country's most popular adventures and tours often sell out weeks in advance.
Don't forget your sunglasses and sunscreen - the glare of the sun reflecting off the snow can be very intense.
It does get cold up on the Aiguille du Midi and at the Mer de Glace so remember to wrap up warm.
You will be crossing the border from Switzerland into France so take your passport.
Carry a spare camera battery so you can take as many photos as you like.