Alpine Chamonix, France, is close enough to Geneva for an adventurous day trip from the Swiss city. Located a little over an hour from Geneva, Chamonix is home to some of Europe's most impressive natural phenomena.
A day trip to Chamonix from Geneva gives you access to this charming corner of France and the dramatic peaks that encircle the town.
Here's all you need to know about Chamonix, one of the most exciting day trips from Geneva.
How to get to Chamonix from Geneva?
From Geneva to Chamonix by car
A scenic drive of around 70 minutes from Geneva, reach Chamonix by taking the A40 southeast from Geneva. The 80-kilometer drive includes two toll stops, adding to a little over €6.
From Geneva to Chamonix by bus or train
Coach travel is convenient between Geneva and Chamonix. The bus station (la gare routière) is located in central Geneva, and a day pass for trips outside the city costs 18.50 CHF (€18.50) per adult and 9.30 CHF (€9.30) per child aged 6 to 16. The trip takes around 90 minutes each way.
Train travel is possible, but less efficient. The shortest journey is 2.5 hours. Train tickets are priced the same as coach tickets. There are several train stations ("les gares") throughout the city. The most centrally-located station is Gare Cornavin.
Guided tour to Chamonix from Geneva
Arguably the most trouble-free way to make a day trip to Chamonix, a guided tour from Geneva, leaves the details to a tour company. Travel by coach, minivan or private vehicle. For even more convenience, book a tour that includes tickets to attractions.
What is the typical itinerary?
After a scenic drive through the Arve Valley, arrive in central Chamonix for some free time to wander the town's flower-lined streets and the banks of the Arve River.
Visit museums, artisanal shops and parks before heading toward some of the natural sites that draw thousands of visitors each year. Next, get ready for some altitude.
Float up the side of behemoth Mont Blanc in a cable car. Absorb 360 degree views from the summit of one of its sub-peaks, Aiguille du Midi. For more views, take the train to la Mer de Glace to watch a glacier in action.
Few tours include food, but restaurants in Chamonix serve up hearty mountain fare like pot-au-feu, fondue and raclette. Don't miss the chance to taste Haute-Savoie's cuisine before your return to Geneva.
What kinds of tours are available to go to Chamonix?
Whether you want a slow-paced day absorbing French mountain charm, an action-packed outing or an intimate private tour of Chamonix and other nearby villages, you have a wealth of choices for day tours from Geneva.
Guided and self-guided tours to Chamonix from Geneva
Hop on a coach or minivan for a breathtaking drive over the border into France. The 90-minute drive takes you through France's Arve Valley replete with mountain views, green hillsides and turquoise lakes.
In Chamonix, take advantage of your free time to explore the town, or ride the cable or cog railway to dizzying elevations for views of Mont Blanc and the Aiguilles Rouges range during your 8- to 10-hour excursion.
Private tour to Chamonix from Geneva
Enjoy the luxury of just the company of your group and the full attention of a guide. Follow your guide to the best spots in Chamonix, take the cable car to Aiguille du Midi and the train to Europe's largest glacier, la Mer de Glace for unparalleled views.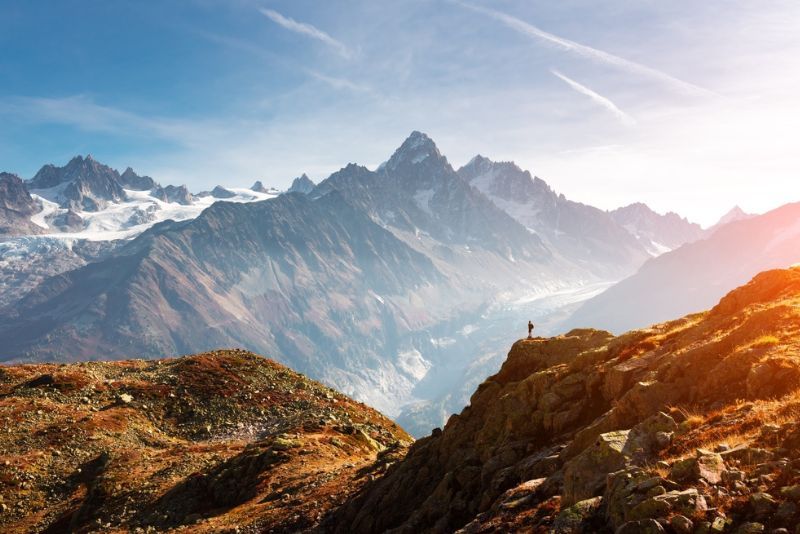 Chamonix ski trips from Geneva
Bundle your transportation, lift pass and gear rental for a worry-free day on some of the world's most famous slopes. Opt for a full day of skiing at Brevet or Les Grands Montets or a half-day of skiing plus a ride up the Aiguille du Midi cable car.
Chamonix paragliding trips from Geneva
Add a major adrenaline rush to your visit to Chamonix. Experience the best views in alpine France on a tandem paragliding adventure from the side of Mont Blanc. Follow the thrills with a leisurely stroll through the town, a cable car trip up Aiguille du Midi or a train ride on Montenvers to la Mer de Glace.
Day trip to Chamonix plus Yvoire from Geneva
Experience the best of Chamonix before heading to Yvoire, one of France's most beautiful villages. This peaceful hamlet played a surprising role in military history. Its 14th-century military dungeon was an integral part of controlling the road from Geneva to Rome. Return to Geneva on a "Belle Epoque Cruise" on Lac Leman.
How much does a day trip to Chamonix from Geneva cost?
Day trips to Chamonix from Geneva start as low as €80 per person for a self-guided tour that provides round-trip coach travel between the towns.
Guided tours cost from €100 per person to €195 per person, depending on the duration of the tour and whether it includes a cable car ride to Aiguille du Midi or a train ride to Montenvers.
Private tours cost from €190 per person to €485 per person, depending on the level of service provided by the guide and whether a multi-pass for the cable car and train are included.
What will you see and do?
Chamonix town
Experience the authentic alpine charm that ski towns around the world emulate. Chamonix boasts wide squares lined with balconied alpine buildings overflowing with flowers. Explore the shops in search of regional delicacies and crafts.
Europe's highest mountain, Mont Blanc, reaches 4,300 meters into the sky. The mountain and its neighbors played an important role in developing winter and extreme sports. In 1924, Chamonix hosted the first Winter Olympics, and many famous alpinists began their careers here.
Aiguille du Midi
Board a cable car to the 3,842-meter Aiguille du Midi. The 20-minute ride takes you nearly to the summit of the mountain, and an elevator or path leads you to the summit.
Vistas from the viewing platform reach into Switzerland, Italy and well into France. Dare yourself to "Step into the Void" in the glass-bottomed box perched 1,000 meters over the mountainside.
La Mer de Glace
Translated to "the sea of ice," la Mer de Glace is a must-see river of ice and stone that carves out the valley below Montenvers. Seven kilometers long and 200 meters deep, it is France's largest glacier.
A cog train leads to the glacier for pristine views and access to the ice caves. If conditions are safe, take the small gondola and 500 steps to the caves and venture into the otherworldly tunnels of ice.
When is the best time to visit Chamonix?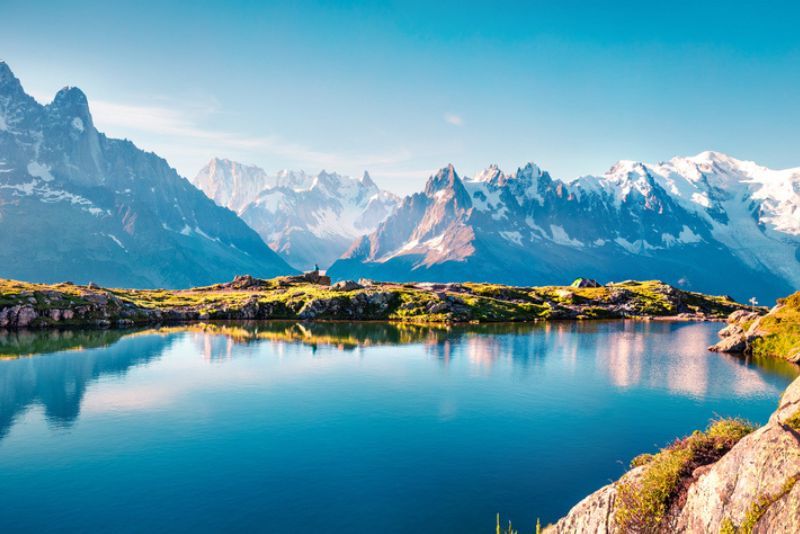 Chamonix is a great place to visit any time of year. Skiing and other snow sports have made the town a top winter destination, but there is plenty to do in the other seasons. Try biking, hiking and extreme sports in spring through fall.
Travel tips
Wear clothing appropriate for an active day.
Bring your passport, as you will be crossing an international border.
Weather in the mountains can change quickly, so pack a jacket and extra layers.
Businesses in Chamonix use the euro and will not accept Swiss francs.