Glacier 3000 is an alpine wonderland, offering adventurous activities high up in the mountains during both summer and winter.
Soak up those jaw-dropping views from the cable car, then test your nerves on the thrilling glacier walk. Adrenaline junkies love skiing or dog sledding, and there's even a hillside coaster to get your heart pumping.
Want to take a day trip to Glacier 3000 from Geneva? Then read on.
How to get to Glacier 3000 from Geneva?
Glacier 3000 is at the highest point of the Vaudois Alps, half an hour from Gstaad. It is accessed by cable car from Col du Pillon and can easily be visited on a day trip from Geneva.
From Geneva to Glacier 3000 by car
The journey to Glacier 3000 from Geneva lasts 1 hour 45 minutes and takes you along the side of the lake via the A1 and A9 roads.
You can park at the Col du Pillon station before jumping on the cable car up to the Glacier 3000.
Guided tour to Glacier 3000 from Geneva
If you want a hassle-free day out with all the hard work done for you, then a day trip to Glacier 3000 from Geneva is the answer. Hotel pick-ups and a guide make for a super smooth experience.
Guided tours usually last a whole day so you can make the most of your visit.
How much does the entrance ticket to Glacier 3000 cost?
There are lots of activities to enjoy at Glacier 3000. Some are included in the price of your cable car ticket while others can be purchased separately.
Standard ticket
This includes a return cable car ride from Col du Pillon, as well as entry to the Peak Walk, Glacier Walk, Ice Express Chairlift, and Fun Park for sledding.
Adult: 80 CHF ($87)
Child (6 – 15 years): 40 CHF ($44)
Infants (up to 5 years): free
Optional activities
Other activities can be added to your standard ticket:
Alpine Coaster: 9 CHF ($10)
Dog Sledding: 40 CHF ($44)
Day Ski Pass: adult - 70 CHF ($76), child – 46 CHF ($50)
What is the typical itinerary of a day tour to Glacier 3000 from Geneva?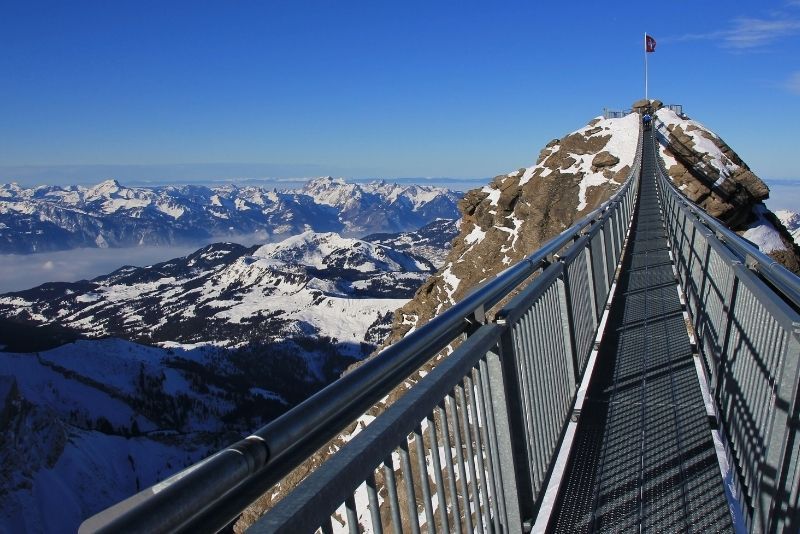 A day tour from Geneva to Glacier 3000 begins with a pick-up from your hotel or a convenient meeting point. Sit back and enjoy the scenery during the drive, which lasts around 1 hour and 45 minutes.
On arrival you'll board the cable car and glide smoothly up to the summit station of Glacier 3000. You will then have free time to enjoy some of the activities and experiences on offer, including alpine walks and lunch in the panoramic restaurant.
After your adventures, you'll ride the cable car back down into the valley and your driver will return you to Geneva.
What kind of tours are available to go to Glacier 3000?
There are several different types of Glacier 3000 jaunts to choose from, including shared group excursions and private tours.
Most tours provide round-trip road transfers, with the option to add your chosen activities at extra cost.
Guided tour to Glacier 3000 from Geneva
Organized tours are a fun way to discover the delights of the Swiss Alps. By sharing transfers with other travelers, you can keep costs to a minimum on your day trip to Glacier 3000 from Geneva.
Access to the cable car and your preferred mountain activities can be added to your tour for an-inclusive experience. At the end of the day, you will be driven back to Geneva.
Some tours also offer free time to explore the picturesque village of Les Diablerets at Col du Pillon. This is a good option if not all your group wish to ascend the glacier.
Guided day trip to Glacier 3000 plus Montreux from Geneva
These Glacier 3000 excursions include a stop at the lakeside town of Montreux so you can make the most of your day out.
Travel is by air-conditioned minivan or bus, often with hotel pick-ups included. As a bonus, some tours offer the opportunity to enjoy a wine and cheese tasting.
Private tour to Glacier 3000 from Geneva
Private tours are a great choice if you want to tailor your experience to your preferences. You can take as long as you want at key photo locations and enjoy first-hand insights from your guide.
You will be treated to exclusive round-trip road transport and a choice of optional activities on arrival at Glacier 3000.
How much does a tour to Glacier 3000 from Geneva cost?
The guided day tour to Glacier 3000 from Geneva costs $97 per person, including bus transport and bottled water. The cable car ride and mountain activities can be charged as optional extras.
If you want to include a visit to Montreux on your Glacier 3000 tour then expect to pay $199, with bus travel and a guide provided.
For a private day trip to Glacier 3000 from Geneva, prices start at $386 per traveler for road transport, guide, and cable car ride. You can then add on mountain activities at an extra cost depending on your requirements.
What will you see and do at Glacier 3000?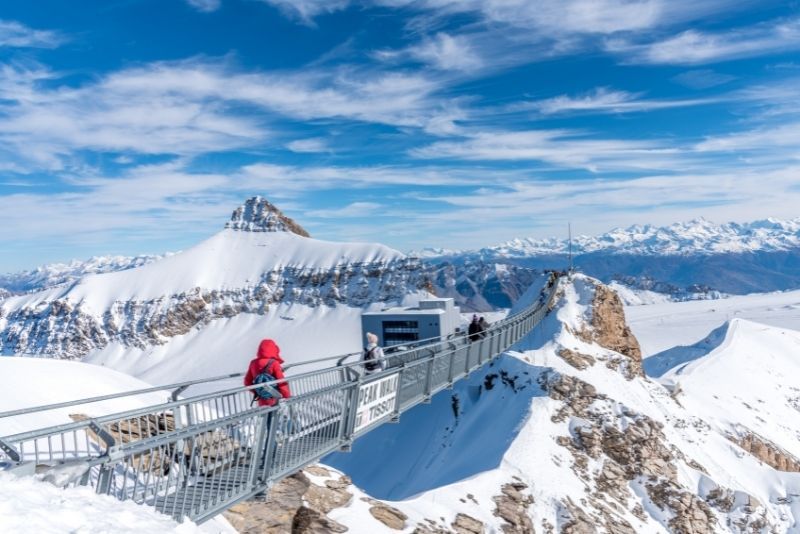 A day trip to Glacier 3000 from Geneva opens up a whole world of adventure, with several activities to enjoy in both summer and winter.
Glacier Walk
This epic hike takes you right across the glacier, where crevasses and dramatic ice formations keep you on your toes. The walk takes an hour and finishes at the mountain restaurant Refuge l'Espace where the views are superb.
You can ride the Ice Express Chairlift to the start of the hike for added adventure.
Peak Walk
You'll need a head for heights on the first suspension bridge in the world that links two mountain summits.
At 350 feet long the bridge offers incredible views of the surrounding snow-capped peaks. See if you can spot famous mountains like the Matterhorn, the Eiger, and the Jungfrau. Even Mont Blanc can be seen in the distance.
Snowsports
There's nowhere better than Glacier 3000 for trying out some thrilling winter sports. Skiing and snowboarding are popular pastimes up here in the snow park, but dog sledding across the glacier will keep you on the edge of your seat too.
Alpine Coaster
A real highlight of a Glacier 3000 day trip from Geneva is the Alpine Coaster. It's the highest toboggan run in the world, with a heart-pumping outdoor track that will have you zooming across the hillsides.
You will travel up to 40 miles per hour as you take on the turns, waves, and even jumps on this high-flying adventure.
When is Glacier 3000 open over the year?
While Glacier 3000 is open all year round, some of the activities are seasonal so do plan your day accordingly.
Here are the opening times for the main attractions:
Peak Walk and Glacier Walk: open all year-round
Alpine Coaster: open 9.15 AM – 4.30 PM from May to September
Snow Park: open from November to May
Dog Sled Rides: available when conditions allow and must be pre-booked
When is the best time to visit Glacier 3000?
Glacier 3000 is blessed with year-round snow, and you can enjoy the hikes and views at any time.
Winter is a great time for day tours to Glacier 3000 from Geneva as this is when snow activities are in full swing. Meanwhile, summer offers sunny days and glorious scenery for those all-important photos.
Travel tips
Wear comfortable outdoor clothing and remember to wrap up warm – it does get cold up on the glacier, especially in winter.
Take sunscreen and sunglasses during summer to protect yourself from those intense rays.
Book tickets for your Glacier 3000 day trip online so you can compare prices and find the cheapest deals.
Feeling hungry after all your adventures? The summit restaurant Refuge l'Espace serves up Swiss favorites with a view – make sure you reserve a table in advance.
Charge your camera batteries the night before so you can snap away to your heart's content.