Colorful Annecy is a relatively unknown alpine destination. Located less than 1 hour south of Geneva, a day trip to Annecy is a peaceful escape from the bustling Swiss metropolis.
Wander the medieval streets, shop for local specialties and spend time on Lake Annecy in this jewel box town.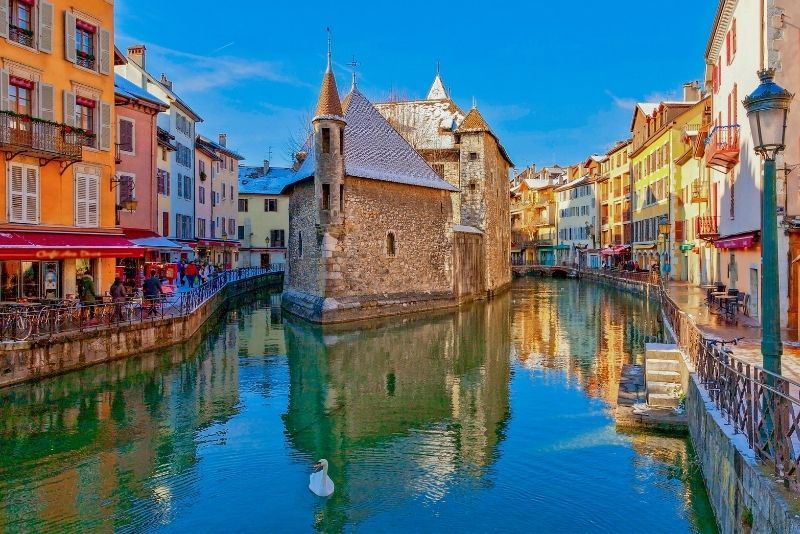 Here's all you need to know about Annecy, one of the most exciting day trips from Geneva.
How to get to Annecy from Geneva?
Annecy, France is located a little over 40 kilometers south of Geneva, Switzerland. At less than an hour drive, Annecy is a delightful destination for a day trip from Geneva.
From Geneva to Annecy by car
To get to Annecy by car, take the A41 south from Geneva. There are tolls of around €8 each way.
From Geneva to Annecy by bus/public transport
Combinations of train and bus travel from Geneva to Annecy takes around 1.5 hours, and public transportation tickets are reasonably priced. A day pass for trips outside of Geneva costs 18.50 CHF (€18.50) per adult and 9.30 CHF (€9.30) per child aged 6 to 16.
Guided tour to Geneva to Annecy
Take all the worry out of planning a day trip to Annecy by booking a guided tour. Travel by coach, minivan or private car, and leave the tolls and traffic to a professional driver. A guide will usher you to the best sites and tell you tidbits that you might otherwise miss.
What is the typical itinerary?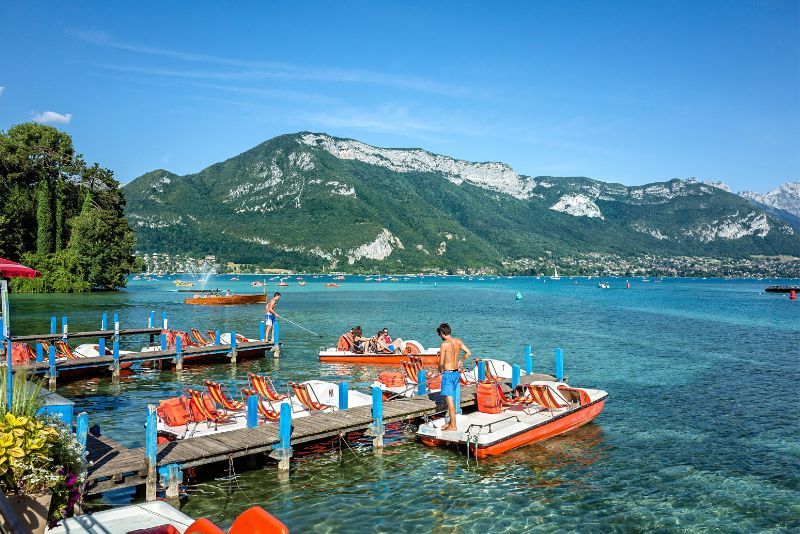 Take in alpine views on the short ride from Geneva to Annecy. Learn facts and fables about your surroundings from your knowledgeable guide. Once you arrive in Annecy, engage in a guided tour of the town before some free time to explore on your own.
What kinds of tours are available to go to Annecy?
Simple and easy guided tours to Annecy eliminate the hassle of planning a day trip on your own. Leave the transportation and itinerary to professionals, and enjoy a worry-free visit to this colorful French town.
Guided tours to Annecy from Geneva
Whether you have a full day or just a handful of hours to fill, you can squeeze in a visit to Annecy during your stay in Geneva. Book a 4- to 10-hour tour that ushers you to the must-see spots in town, fills you with facts and allows you free time for shopping, dining and outdoor fun in this mountain paradise.
Private tour to Annecy from Geneva
Create an outing just for yourselves and your choice of people. Travel in a private vehicle round-trip between Geneva and Annecy with the undivided attention of a guide. An expert tour leader will orient you to the town and customize the day's agenda according to your interests.
How much does a day trip to Annecy from Geneva cost?
Small-group guided tours from Geneva to Annecy cost around €70 per person for a half-day tour, which includes transportation and a guide. Private tours cost between €280 per person and €350 per person, depending on the duration of the tour.
What will you see and do?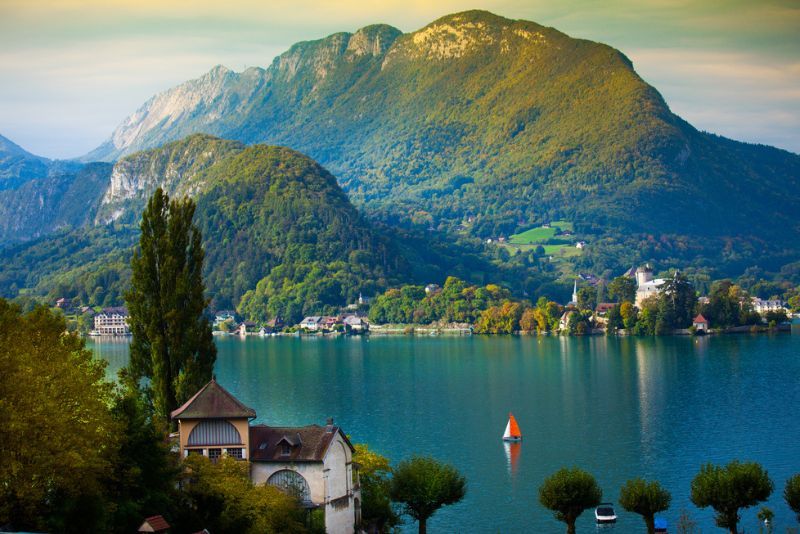 Annecy's natural beauty and ancient architecture offer endless photo ops. Snap pictures of the mountains that enclose the town, and stroll along the canals lined with structures from centuries past.
Add a tour of Le Palais d'Isle, the "emblem of the city" that dates to the 1100s and a visit to the 13th-century Chateau d'Annecy which houses a museum. Outdoor lovers have a wealth of diversions to choose from. Lake Annecy is ideal for boat cruises, and mountain trails weave hikers up the hills from town.
When is the best time to visit Annecy?
Annecy is ideal in the summer and winter, although its idyllic mountain setting is beautiful year-round. Lac d'Annecy's beaches and pure waters beckon to swimmers and boaters in the summer, and the abundance of ski stations nearby make a winter visit exhilarating.
Travel tips
You must bring a passport on all-day tours to Annecy from Geneva for border crossings between France and Switzerland.
Wear shoes and clothing appropriate for an active day.
Mountain weather can be unpredictable, so pack or dress in layers.