Experience Scottish traditions, spectacular landscapes and local folklore on a Loch Ness day trip from Edinburgh.
Head for the Highlands in search of Nessie, the mythical Loch Ness monster. See the iconic Highland cows, known as "hairy coos," as you meander through mountains and valleys to visit the legendary lake.
Sample the whisky of the Isle of Skye and behold the towering Ben Nevis – the tallest mountain in the UK on a tour that celebrates the culture, history and nature of the Scottish Highlands.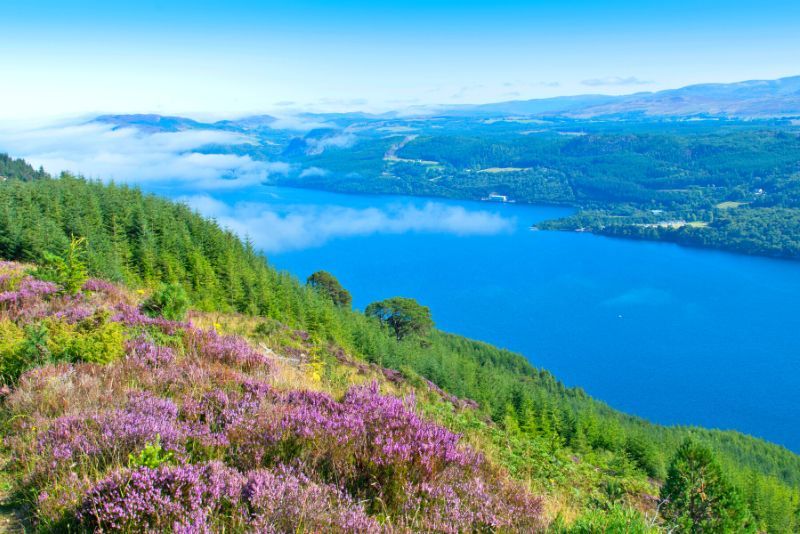 You will find below everything you need to know about the Loch Ness, one of the best destinations for a day trips from Edinburgh.
How to get to Loch Ness from Edinburgh
Loch Ness is situated around 270 kilometers northwest of Edinburgh. It can be reached by road.
From Edinburgh to Loch Ness by car
By car, It takes approximately 3.5 hours to reach Loch Ness from Edinburgh along the A9 road. There are no direct public transport routes from Edinburgh to Loch Ness.
Guided tour to Loch Ness from Edinburgh
Day trips to Loch Ness take around 12 hours, with several stop-offs along the way. Guests can be picked up from their accommodation in Edinburgh.
What is the typical itinerary of a tour from Edinburgh to Loch Ness?
All guided tours offer pick-up services from accommodation in Edinburgh. Tours offer several stop-offs throughout the Loch Ness day trip for food and coffee, to meet Highland cows and to take in the spectacular scenery at viewpoints. Bottled water is provided.
The route runs through Cairngorms National Park, and there are historical sites dotted along the way, including Glencoe and Stirling Castle. A guide will offer commentary and insights along the journey.
Multi-day Loch Ness tours include accommodation and breakfasts, and many of these tours are flexible and can be customized to the client's requests.
What kinds of tours are available to go to Loch Ness?
Trips vary from single-day excursions, if you're in a rush, to experiences that offer five days of exploration of the Scottish Highlands, including a stay on the Isle of Skye and visiting parts of Scotland by rail.
Choose between private tours just for your party and group tours with other travelers. This array of offers allows you to choose how busy your itinerary is and how much Scottish heritage and landscapes you'd like to discover.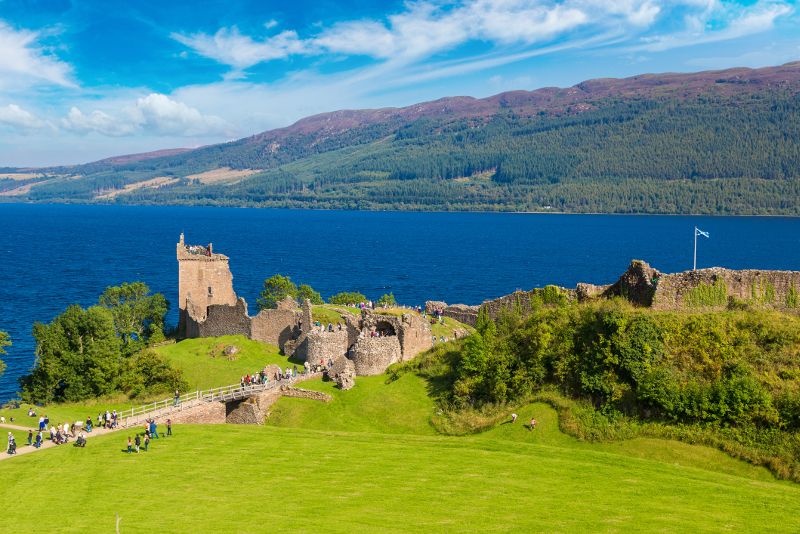 Single-day Loch Ness excursions will have you back in Edinburgh at the end of the day, whereas the multi-day trips allow you to experience village life in Scotland as you travel around the Highlands.
Whatever suits your time and budget, these tours offer a chance to immerse yourself in the region's folklore and natural wonders. They include all transport, accommodation and itinerary for your trip.
Guided tours to Loch Ness from Edinburgh
Day trips by bus will take you in and out of Edinburgh as you explore the iconic lake, Loch Ness. Visit Kilmahog and snap a photo of a Highland Cow when you stop for a cup of coffee. Meander through the road to Glencoe and stop for an unforgettable view of the famed Highlands.
Have lunch at Fort William and take in the view of Ben Nevis before traveling on to the main feature — Loch Ness. Here, you can customize your experience and take a boat ride in search of the mythical Nessie, visit Urquhart Castle or wander around the pier and take in the views of the lake.
Stop for snacks at the quaint village of Pitlochry on the journey back home.
Private 1-day tour to Loch Ness from Edinburgh
Private tours offer the luxury of traveling with your party only and a customized itinerary that suits your needs. Listen to tales of ancient wars, folklore, local legends and history as you make your way in VIP comfort to Loch Ness.
See the shimmering lakes at the town of Callander, stop off at Stirling Castle and visit Ben Nevis and Glencoe before reaching Loch Ness. Here, you can take a boat cruise on the loch or learn the stories of this enigmatic lake at the Loch Ness Center and Exhibition.
Take in the scenery on the way back to Edinburgh as you pass through Cairngorms National Park.
2-day tour to Loch Ness from Edinburgh
Adding another day to your Loch Ness trip allows you to take more detours and stop-offs in the Scottish Highlands. These two-day trips from Edinburgh include overnight accommodation and allow you to visit two of Scotland's most popular spots — Loch Ness and Inverness.
Depart from Edinburgh and enjoy a scenic drive through pine forests, ancient castles and charming villages. Take an optional boat ride on Loch Ness and spend the night in Inverness, the capital of the Highlands or explore the ruins of Urquhart Castle.
Enjoy a complimentary breakfast, and then it's on to Culloden Moor to learn about the Jacobite Uprising and admire Jacobite artifacts. There are optional stops for a walk at Blair Atholl or a whisky tasting at Dalwhinnie Distillery before heading back to Edinburgh through Cairngorm National Park.
3-day tour of Loch Ness, Isle of Skye and the Highlands from Edinburgh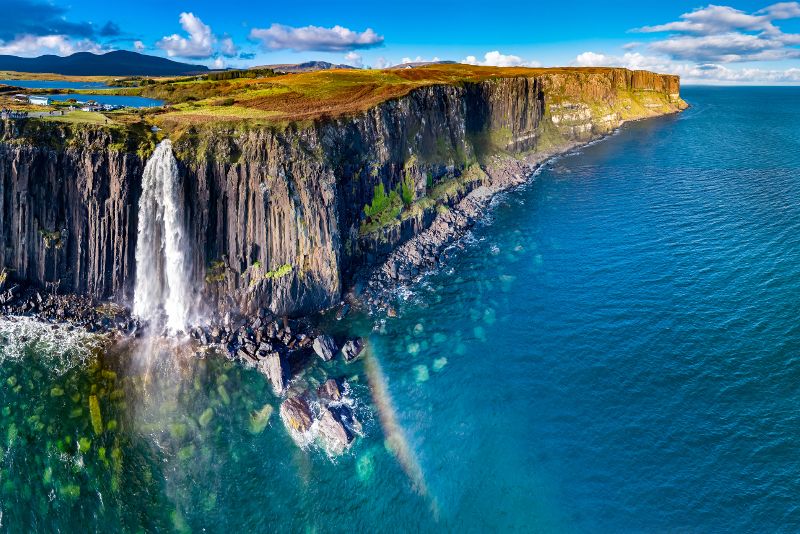 Enjoy a three-day tour from Edinburgh of all the dramatic scenery and fascinating history the Scottish Highlands offers. On these Glencoe, Isle of Skye, and Loch Ness tours from Edinburgh, you'll stop at the village of Luss, traversing the Glencoe Valley.
Stay overnight in picturesque Portree and enjoy the Isle of Skye highlights on your second day, including Kilt Rock, the Old Man of Storr and Lealt Falls. On your final day, you'll travel south to see the Eilean Donan Castle, as featured in the movie "Highlander" before making a stop for refreshments at Pitlochry.
5-day tour of Loch Ness, Isle of Skye and the Jacobite Steam Train from Edinburgh
Experience the dramatic scenery of the Scottish Highlands on this five-day luxury coach trip. Enjoy the landscapes of Cairngorms National Park on your trip to mysterious Loch Ness.
Visit famous sites like Stirling Castle and Eilean Donan Castle, and learn the histories of the battles of William Wallace and the tales of Glen Coe.
Journey on the famous Jacobite Steam Train, as featured in "Harry Potter" movies. This trip includes four nights with accommodation and breakfast, with stop-overs in Oban, the Isle of Skye and Inverness. The trip includes a boat cruise on Loch Ness and a visit to the Tomatin whisky distillery.
How much does a tour to Loch Ness from Edinburgh cost?
Most Loch Ness day tours from Edinburgh cost £40 to £60 and include the highlights of the Highlands, including a visit to Loch Ness.
Private Loch Ness day trips start at £300 per person or £600 per group, making them an affordable option for large families or groups.
Two-day Loch Ness trips from Edinburgh cost £100 to £250 and three-day tours from £170.
Five-day Loch Ness tours range from £370 to £830 for a more extended experience that includes a trip by rail.
How much does the entrance ticket to Loch Ness Centre and Exhibition cost?
There is no cost to visit the lake, but there is a fee to enter the Loch Ness Centre and Exhibition.
Adult tickets for the Loch Ness Centre cost £9.95 per person.
Senior tickets (65+) cost £8.95 per person.
Children and young adults tickets (6 -15) cost £5.95 per person.
Children under 6 are free.
The center is open from 10 AM to 3 PM in winter and from 10 AM to 5 PM the rest of the year.
What will you see and do on a Loch Ness Trip from Edinburgh?
Callander
North of Edinburgh lies the town of Callander, in a region where Scotland's past heroes, William Wallace and Robert the Bruce, laid the foundation for the country. You will see royal palaces, statues of giant mythical kelpies, and the ancient stronghold of Stirling Castle en route to Callander.
The town is the gateway to the highlands and sits on the boundary of the Loch Lomond and Trossachs National park, an area of outstanding natural beauty
Loch Lomond and The Trossachs National Park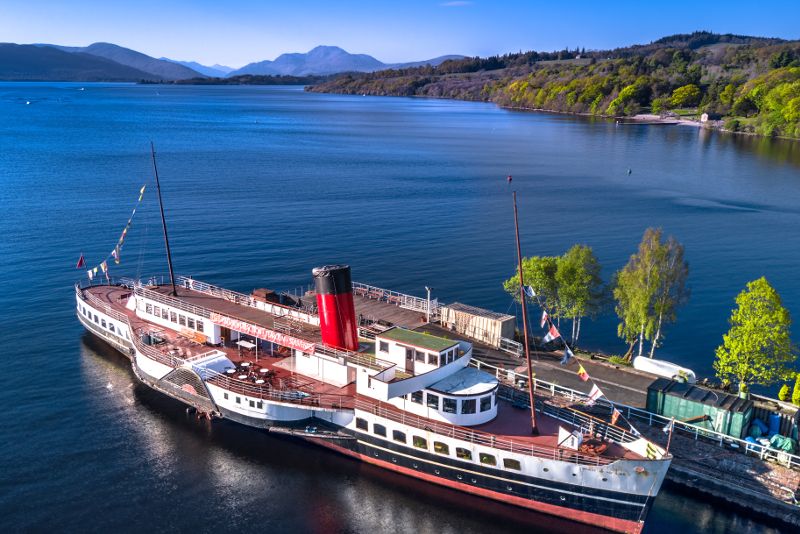 Most tours travel through the Loch Lomond & Trossachs National Park, giving guests views of hills, mountains and glens. This remote and scenic region was once inhabited by Scotland's most famous outlaw, Rob Roy MacGregor. There are plenty of hairy Highland Cows here to stop for a quick selfie.
Glencoe
Famed for its turbulent past, Glencoe was the site of an infamous betrayal in Scotland's dramatic history. Your guide will recount these spectacular events for you. Despite its sorrowful stories, Glencoe is one of Scotland's most beautiful landscapes.
Fort William
The road leads through Fort William and past the UK's tallest mountain, Ben Nevis, which you will see rising in the distance. The Nevis Range looms over the route and along your journey to Loch Ness.
Cairngorms National Park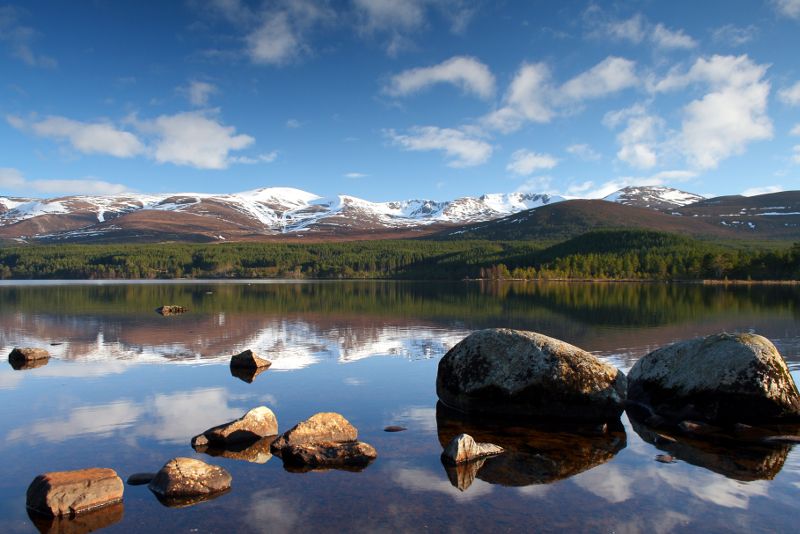 Visit the picturesque Cairngorm National Park, where you can look for fascinating wildlife, including red squirrels, roe deer, red deer, buzzards, pine martens, golden eagles and ospreys.
Pitlochry
The quaint town of Pitlochry is nestled in the heart of Highland Perthshire beneath the famous mountain Beinn Bhracaigh (Ben Vrackie). It is situated beside the River Tummel and is an ideal starting point for nature hiking trails.
Forth Bridge
Upon returning to Edinburgh, you will see the Forth Bridge, one of Scotland's proudest pieces of engineering and a UNESCO World Heritage site. When first constructed in the 19th century, it was the world's longest cantilever bridge.
When is the best time to visit Loch Ness?
The driest months in Scotland are April and May, making spring the ideal time to visit Loch Ness. It is usually quite cold at this time of year, so if you prefer a warmer trip, consider visiting between June to September.
Are there any tours to Loch Ness from other cities in the United Kingdom?
Yes, there are tours departing from other cities in the UK:
Travel tips
Bring warm waterproof clothing and umbrellas as the weather here is usually cool and can be unpredictable.
Pack in a selfie stick for those moments with hairy Highland cows.
Remember your camera as the landscapes here are spectacular.
Wear hiking boots with a good grip for strolls in nature.