Crowning the city from its perch on top of Castle Rock, Edinburgh Castle is one of the most recognizable sites in the city. The castle is a must-visit destination in Scotland and visitors from around the world flock to explore its historic grounds.
By purchasing Edinburgh Castle tickets, you can spend hours discovering its many splendors, from the battery and dungeons to its priceless jewels.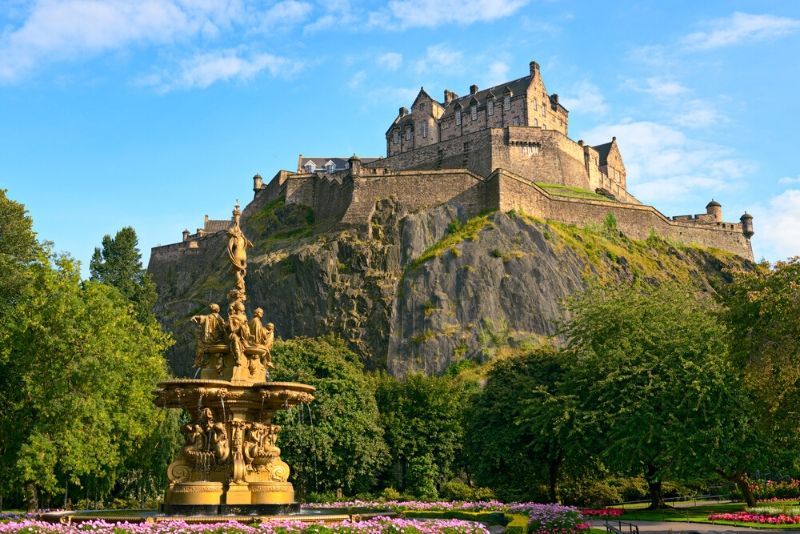 How much do Edinburgh Castle tickets cost?
One of the must-see attractions in Edinburgh, these tickets offer full admission to Edinburgh Castle.
Adults (aged 16-64): £18
Seniors (65+): £14.50
Children (aged 5-15): £11
Children under 5: Free
There are also several family passes available which can save you money on your Edinburgh Castle entry fee.
Family tickets
One adult and two children: £35.50
Two adults and two children: £52
Two adults and three children: £61.50
Persons with disabilities must pay full price on their Edinburgh Castle tickets though two companions can escort them around the grounds for free.
Members of the British Armed Forces can visit Edinburgh Castle for free with a valid ID card.
What are the best Edinburgh Castle tours?
Edinburgh Castle skip-the-line guided tour
Saunter past the crowds and immerse yourself in the deep history of Edinburgh Castle on this guided tour.
You'll learn about the Argyle Battery and the Hospital Square, and see first-hand where traitors and criminals were locked away, in the castle dungeons. You'll also discover the long line of monarchs that ruled Scotland from the royal palace within the castle grounds.
Edinburgh Castle skip-the-line private tour
If you want greater opportunity to ask your guide questions about things you see in the castle grounds, choose a private Edinburgh Castle guided tour. Your knowledgeable guide will be able to fill you in on the castle's background and cater the tour more specifically to your interests.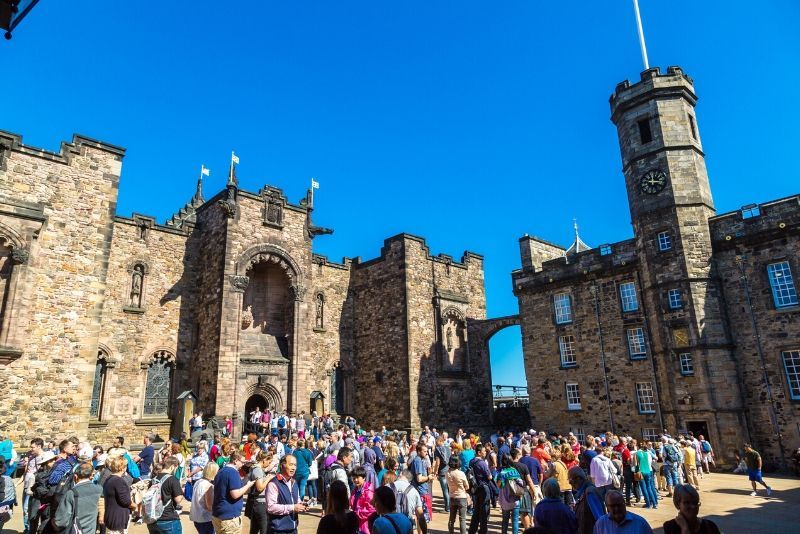 Are there any combined tickets or tours including Edinburgh Castle and other attractions?
If you want to save yourself time and money, opt for a combined tour. This allows you to see several sites in a few short hours. Those with only a day or two to spend in the city will find a combined Edinburgh Castle tour the perfect way to explore Scotland's capital.
●    Royal Mile walking tour with optional entry to Edinburgh Castle: Amble along the city's cobbled streets and check out fascinating landmarks along the way, such as St. Giles Cathedral, before you head into Edinburgh Castle.
●    Edinburgh Castle to Arthur's Seat tour: From Eocene to Medieval history, this tour visits the remains of Scotland's ancient volcanoes, as well as the castle that sits proudly on top.
Should you book Edinburgh Castle tickets in advance?
By booking your Edinburgh Castle tickets online in advance, you'll save over 10% on your admission fees. You also won't need to waste precious time in the city queueing for tickets. Instead, you'll be able to walk straight in and explore the grounds almost immediately.
What will you see inside Edinburgh Castle?
Perched atop an extinct volcano, Edinburgh  Castle has been a focal point of the city's skyline for centuries.
The first recorded mention of the castle dates back to the 11th century. Since then, it has been occupied by a succession of Scottish kings and queens, including Mary Queen of Scots and James VI. The latter of the two became Scotland's ruler at only 13 months old.
There are many rooms for visitors to explore on a tour of Edinburgh Castle, including the Great Hall which stands out in a brilliant shade of fiery red and was the location of many banquets.
You can see traditional medieval armor and weapons on display in the Great Hall, including the notorious Lochaber axe that was feared by many.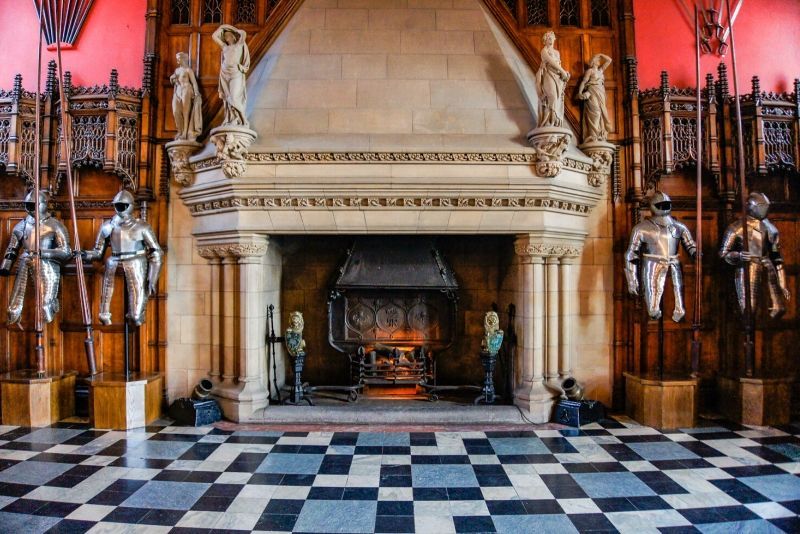 You can also look out over the city from the Argyle Battery which was used to protect the castle from invaders. Another important part of the castle is its military prison which held soldiers captive for a number of reasons, including being drunk on duty.
There are several museums and exhibitions on site, including the "Fight for the Castle" exhibition, which transports you through history to the Wars of Scottish Independence that occurred in the late 13th and early 14th centuries.
If you are drawn in by precious gems, you'll want to stop and see the crown jewels. These crowns are made of gold and silver among other precious materials and were originally crafted for King James V. They have had a tumultuous history and were locked away for many years to protect them against wartime thieves.
How to get to Edinburgh Castle?
The castle is situated a short walk away from Edinburgh's main rail station, Waverley. It is easily visible as soon as you step out of the station which makes it easy to locate without the need for a map.
If you're using a tram to get around the city, you'll need to disembark at Princes Street and walk for 10 minutes to reach the historic site.
When is the best time to visit Edinburgh Castle?
If you wish to avoid the crowds, book your Edinburgh Castle tickets for 9:30 AM, when it first opens. There is a gun firing event at 1 PM which is held every day except on Sundays. The firing is a spectacle to behold, however, you should be prepared that it attracts a lot of tourists.
Edinburgh Castle is one of the most iconic sites in the city and it's worth heading there on the first day of your trip.
Which other attractions can be visited in Edinburgh?
Travel tips
Wear comfortable shoes when you visit the castle, as it's set on top of a steep hill, which you'll need to climb.
Edinburgh Castle tickets get booked up quickly, especially during the summer months. Book your passes as far in advance as possible to secure your ideal time slot.
Aim to arrive at the castle up to 20 minutes before opening time to be at the front of the line when the gates open.