If you enjoy culture, history and magnificent scenery, these day trips to the Scottish Highlands from the city of Edinburgh are for you.
Experience the serene grandeur of the legendary Loch Ness and charming Scottish towns amidst the spectacular scenery of the Highlands.
Explore historic and picturesque locations such as the valley of Glencoe and the Victorian town of Pitlochry. See historic forts such as Urquhart Castle and Fort William and maybe even spot a "hairy coo" on these Scottish Highlands tours.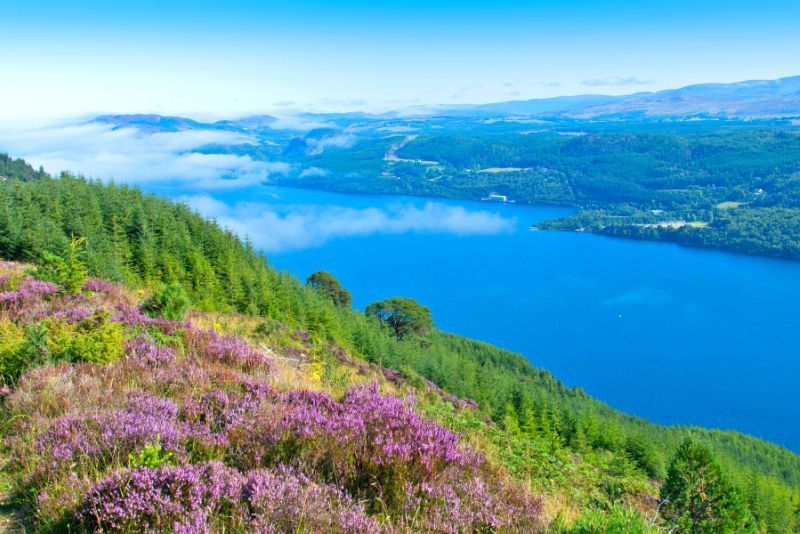 You will find below everything you need to know about visiting the Scottish Highlands, one of the best day trips from Edinburgh.
How to get to the Highlands from Edinburgh?
The Scottish Highlands makes up Scotland's northernmost region and is characterized by mountains, moorlands, and mist-shrouded lochs. It includes the highest mountain in the British Isles, Ben Nevis.
Though very sparsely populated, the Highlands is a historically rich area of Scotland, and there's plenty to see and do. Scotland's relatively small size means it's easy to visit from Edinburgh.
By car
To get to the Highlands, take the M9  from Edinburgh and further along the A84 and A82. The route will take you past Kilmahog, Glencoe, Fort Augustus and Fort William to Loch Ness. Glencoe is roughly 193 km from Edinburgh, and the drive takes approximately 3 hours.
Most destinations within the Loch Ness region are a four to five-hour drive from Edinburgh. Returning from Loch Ness, drive back to Edinburgh along the A9 via Pitlochry.
By mini-bus or coach
One of the easiest ways to reach the Scottish highlands from Edinburgh is on a day tour. These full-day trips include all transportation for the day with a professional guide who will point out exciting locations along the way.
Choose between small-group, group, and private tours and select the best Highlands day trip experience for you.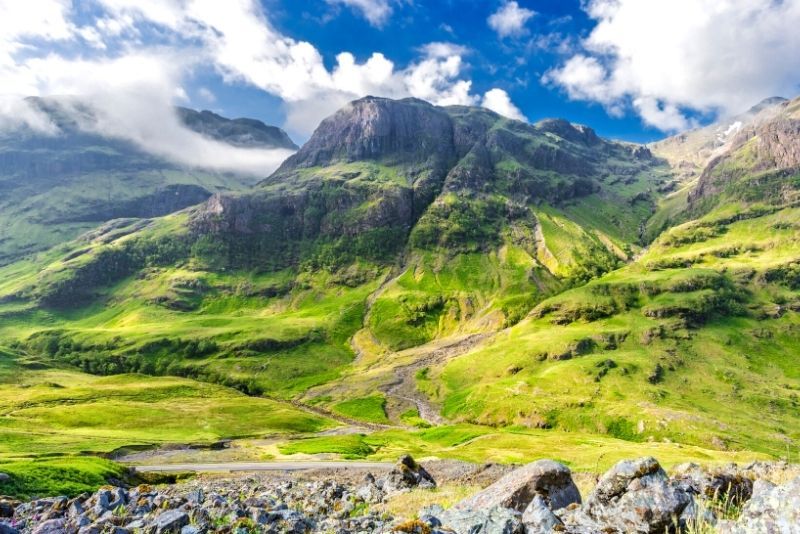 What is the typical itinerary of a day tour to the Highlands from Edinburgh?
Meeting points vary, some are at bus stands or other points in central Edinburgh, or there are hotel pickups. From central Edinburgh, you will head northwest, where you will enjoy views of Stirling Castle and the Wallace Monument on your way to the Highlands.
The first stop is at Kilmahog for an introduction to the famous Highland Cows and to discover what a 'hairy coo' really is. Then travel over the dramatic landscape of Rannoch Moor to Glencoe, where the Jacobite uprising of 1689 took place. Stop here for a 10-minute photo break to capture glorious Highlands views.
Have lunch in the major tourist center of Fort William, and also get an introduction to the mysteries of the Scottish kilt. The route then passes beneath Britain's highest mountain, Ben Nevis, before reaching the attractive village of Fort Augustus.
Further on lies the famous Loch Ness where you will spend about two hours. You can choose to visit the historical Urquhart Castle or take a boat trip to spot the legendary 'Nessie' maybe.
On the return journey, you will pass Rannoch Moor, about 130 square kilometers of boggy moorland known for its unique wildlife. Before returning to Edinburgh, you'll make a short stop in the beautiful Victorian village of Pitlochry. These tours typically take approximately 12 hours.
What kinds of tours are available to go to the Highlands?
Guided tours from Edinburgh to the Highlands
Guided tours are available from Edinburgh to the Highlands in a 16-seater mini-van or 34-seater coach. The round trip duration is about 12 hours. These tours include pickup and drop-off at your hotel or a central location in Edinburgh.
2-Day small group tour to the Highlands from Edinburgh
Two-day tours from Edinburgh to the Highlands via Inverness — Britain's northernmost city, are available in small groups of up to 16 persons. In Inverness, you will enjoy the city's pubs, cafes and restaurants. The tours include accommodation, some food and drinks and may include entrance fees to some attractions.
3-Day tour to the Highlands and Isle of Skye from Edinburgh
These 3-day tours from Edinburgh for small groups take you to the rugged peninsular of the Isle of Skye and the Scottish Highlands. Experience the spectacular lochs and landscapes of the Highlands, as well as the breathtakingly beautiful Isle of Skye.
These tours include hotel pickup and drop-off, transportation by 16-seater mini-van, and two nights in Portree, Skye's capital, with your choice of a 3-star hotel or B&B.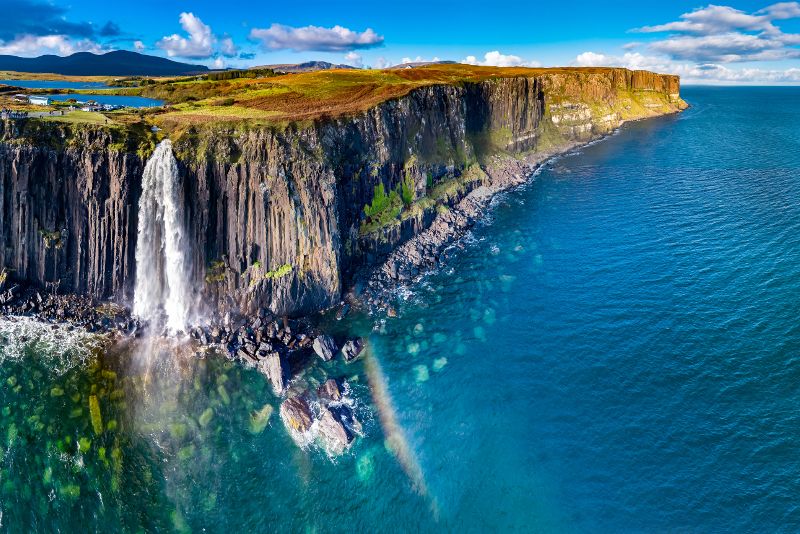 Day trip to Scottish Highlands plus "Hogwarts Express" from Edinburgh
The Scottish Highlands trip that includes the "Harry Potter" themed tour offers transportation from Edinburgh to Fort William by bus and then transportation by the Hogwarts Express steam train.
It includes hotel pickup and drop-off, packed breakfast and lunch and a tour guide. Note that this tour is not exclusively Harry Potter-themed and includes a general history of Scotland.
One-day tour from Edinburgh involves a small group tour of the Western Highlands and historic castles. It includes transportation by 16-seater mini-van, tour guide, lunch, refreshments and entrance fees to castles.
Day trip to Scottish Highlands plus whisky tour from Edinburgh
The Highlands are the largest of Scotland's whisky-producing regions, with over 30 whisky distilleries, so some tours include visits to these locations. These tours are usually in smaller groups of up to 16 persons and include hotel pickup and drop-off, transportation, food and drinks.
How much does a tour to the Highlands from Edinburgh cost?
A one-day tour to the Highlands from Edinburgh costs around £60 per person.
Two-day Highlands tours cost from £100 to £200, with the more expensive tours offering visits to whisky distilleries.
Three-day tours from Edinburgh to the Highlands and the Isle of Skye cost from £250 to £400.
The Harry Potter-themed Scottish Highlands tour costs around £130 per person.
On a Edinburgh to the Highlands trip, entrance tickets to Urquhart Castle and the cruise on Loch Ness are optional. Admission tickets for Glencoe and Fort Augustus Abbey are usually free with these tours, but be sure to check before booking. For distillery visits, tickets are reserved for you and can be bought while on tour.
What will you see and do on a Highlands day trip from Edinburgh?
The Scottish Highlands offers majestic mountain ranges, moorlands, and serene lochs. The towns are also rich in culture and history with a lot to see and do. Knowledgeable tour guides will entertain you with fascinating stories of castles, kings and heroes while you travel.
Kilmahog  
Visit the hamlet of Kilmahog to look at the famous Highland Cows — also known as 'hairy coos.'  Kilmahog also boasts the woolen mills of Trossachs National Park and Kilmahog Woollen Mills. On the historical side, Roman ramparts can be seen in the fields east of the former railways.
Glencoe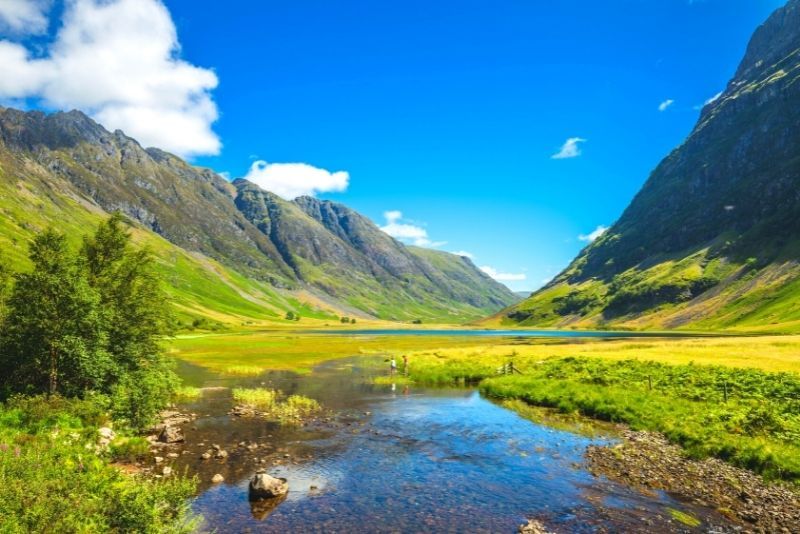 Glencoe is regarded as the home of Scottish mountaineering. Its natural setting is astounding, dominated by the Aonach Eagach Ridge on one side and flanked by the rugged cliffs of the Three Sisters on the other.
Glencoe is also known for the Massacre of Glencoe in 1689 when government forces killed 38 men from Clan MacDonald for not pledging allegiance to monarchs William and Mary.
Fort Augustus  
Located on the southern tip of Loch Ness, this hamlet is loved by tourists for its scenic views. The early settlement was known as Kiliwhimin but was renamed Fort Augustus after the Jacobite Rising of 1715. General Wade built the fort from 1729 until 1742.
Fort William
Fort William is a major tourist center, especially for hillwalking and climbing, due to its proximity to Ben Nevis and other Munro mountains. The original fort was established in 1654 by Cromwell's General Monck to pacify the restless Highland clans. The town is also well-known for its kilts.
Loch Ness
A famous large freshwater loch extending approximately 37 kilometers southwest of Inverness, Loch Ness is best known for the alleged sightings of the legendary Loch Ness Monster.
Here you can customize your experience by choosing to visit the majestic Urquhart Castle or hop on a boat tour for a memorable trip on the loch.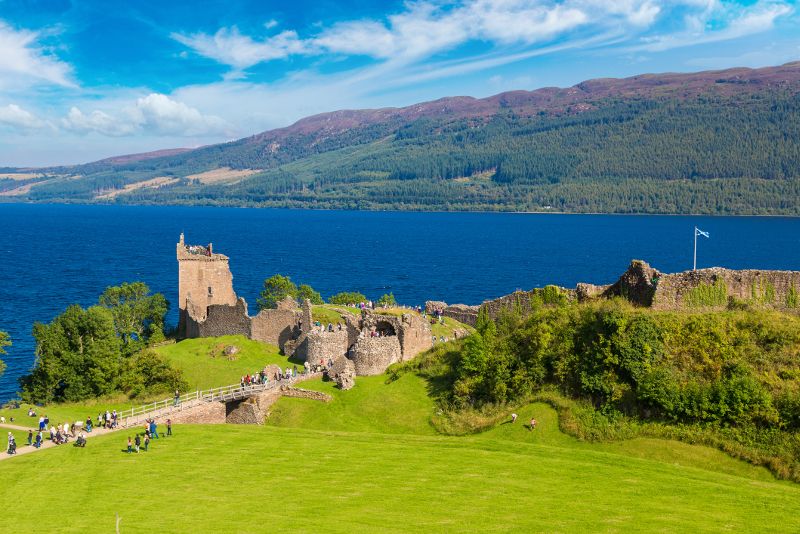 Urquhart Castle
The castle ruin sits beside Loch Ness. It dates from the 13th to the 16th centuries and played an essential role in the Wars of Scottish Independence in the 14th century.
Rannoch Moor
Rannoch Moor consists of around 130 square kilometers of boggy moorland and is notable for its wildlife. It is known as the setting for Robert Louis Stevenson's famous novel "Kidnapped" and as a filming location for the TV series "Outlander".
Pitlochry
A picturesque Victorian town, Pitlochry developed into a tourist resort after Queen Victoria and Prince Albert visited the area in 1842. Pitlochry has retained many stone Victorian buildings and has two whisky distilleries, Edradour - the smallest legal distillery in Scotland - and Blair Athol.
The "Hogwarts Express"
Also known as the Jacobite Steam Train and described as one of the most impressive railway trips in the world, this train takes you past many impressive attractions. From mountain landscapes to impressive lakes, Harry Potter's Hogwarts Express is a train ride with a magical touch.
When is the best time to visit the Highlands?
Spring is glorious for a Scottish Highlands day trip from Edinburgh as the landscapes start coming alive with yellow daffodils and colorful wildflowers. The summer months have the warmest weather and longer days, with June to August the best time.
A downside is that it's more crowded. Autumn is best for autumn foliage and spotting wildlife. Winter is the wettest time of year but the best time for fewer crowds and winter sports.
Are there any tours to the Highlands from other cities in Scotland?
Yes, there are tours departing from other cities in Scotland:
Travel tips
Bring comfortable shoes and weather-appropriate clothing.
These tours are long, so bring a packed lunch (although there will be a chance to buy food on the day).
Be prepared for up to 2 hours between stops.
The minimum age for travel is usually 5 years.
Check luggage allowance.
Some attractions and accommodations may close in October for the low season.