Glencoe is a historic village in a nature reserve in the Scottish Highlands. It is a perfect location for outdoor enthusiasts and travelers that enjoy mountain biking, hiking, skiing and photography. Breathtaking scenery, wildlife and several enjoyable attractions await you on a day trip to Glencoe from Edinburgh.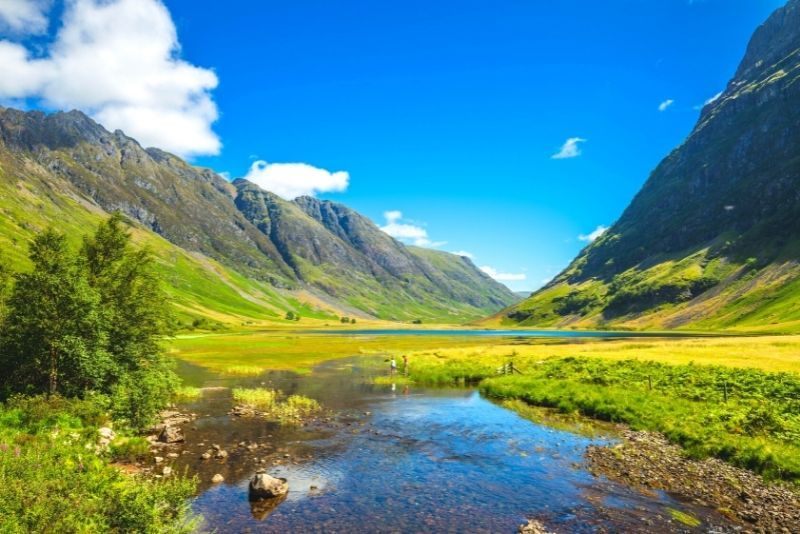 You will find below everything you need to know about Glencoe tours, one of the most popular destinations for day trips from Edinburgh.
How to get to Glencoe from Edinburgh?
Glencoe is located approximately 195 kilometers northwest of Edinburgh. The duration of your day trip to Glencoe from Edinburgh depends mainly on your method of transport.
From Edinburgh to Glencoe by car
It takes approximately 2.5 to 3 hours to travel to Glencoe by car. You need to take the M9 motorway from Edinburgh, followed by the A84 and A85. Make your way onto the A82 and take the B863 turn to Glencoe.
From Edinburgh to Glencoe by bus/public transport
Trains travel directly from Edinburgh to the Bridge of Orchy. The station is a 30-minute taxi ride from Glencoe.
Buses leave daily from Edinburgh to Glencoe, but this has one stop in Glasgow. The journey takes approximately 4.5 hours one way.
Guided tours to Glencoe from Edinburgh
One of the easiest options to journey to Glencoe is to book a guided tour. To save you the hassle of navigating the roads on your own, join guided tours that include transport for the day and an organized itinerary to ensure that you see even more of the Scottish Highlands.
What is the typical itinerary of a day tour to Glencoe from Edinburgh?
Most tours pick up passengers at a central meeting point in Edinburgh at approximately 8 AM before embarking on the 2-hour drive to Glencoe.
Guided day tours from Edinburgh to Glencoe make several stops in the Scottish Highlands along the way, such as the town of Callander, Loch Lomond and the Trossachs National Park and Fort William, home of the UK's largest mountain, Ben Nevis.
Once you arrive in Glencoe, you will have some free time to explore, visit some of the museums, memorials and famous sites, including several "Harry Potter" movie locations.
After exploring Glencoe, your guide will usher you back into the minivan to travel to the next destination. Most tours stop at Loch Ness, where you will have the opportunity to take a boat cruise. You may also visit the ruins of Urquhart Castle.
Some Glencoe excursions include stops at Britain's highest mountain, Ben Nevis or making a stop to see the famous highland "hairy coos." All of the Glencoe tours offer a fantastic opportunity to see some of the most beautiful landscapes of the Scottish Highlands.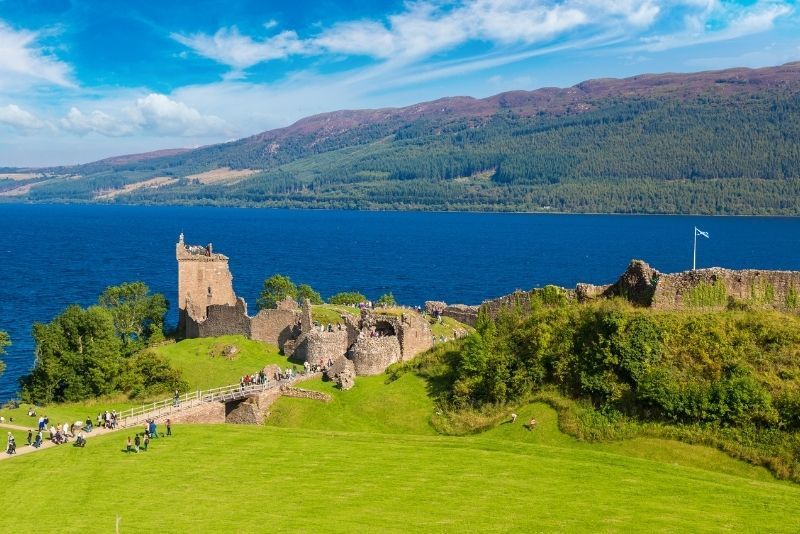 What kinds of tours are available to go to Glencoe?
There are different guided tours available that include a jaunt to Glencoe in their itineraries. You will spend a full day ticking off destinations in the Scottish Highlands with your tour guide.
Small group tour to Glencoe plus Loch Ness and the Highlands from Edinburgh
Full-day trips to Glencoe from Edinburgh are very structured. The first stop is in Pitlochry, where you can sample some baked goods before continuing your journey through the dramatic landscapes of the Cairngorms National Park.
Upon arrival in Glencoe, you will be greeted with scenery fit for the movies. Get your camera ready to take pictures of this mesmerizing town. Learn about the sad history of Glencoe by visiting some of the memorials and museums.
Your tour includes a stop at Loch Ness, where optional river cruises or a visit to Urquhart Castle are available at extra cost. Enjoy some free time here to explore Loch Ness at your leisure.
Your final stop on tour is Stirling Castle. You can use your free time to wander this castle and learn more about the legendary Scottish hero William Wallace who called Stirling Castle his home.
Depending on the tour you choose you may also visit stops along the way, including Fort Augustus Abbey, Loch Lomond, the Trossachs and Cairngorms National Parks and the impressive mountain, Ben Nevis, near the town of Fort William.
Private tour to Glencoe from Edinburgh
Private tours ensure that you receive VIP treatment in the form of comfortable transport, snacks, beverages and hotel pickup and drop-off. These day trips to Glencoe from Edinburgh are limited to only friends and family, so you have an exclusive tour of the Scottish Highlands.
Glencoe tours also stop at Loch Ness and allows you to enjoy free time to visit historical monuments and museums, or take a stroll through nature.
Customized tour to Glencoe from Edinburgh
Customizable private tours to Glencoe allow you to create your tour itinerary of the Scottish Highlands. You can add stops, make detours and extend your time at different locations. Travel in a luxury Mercedes van while you direct your Glencoe trip and create a bespoke experience.
How much does a tour to Glencoe from Edinburgh cost?
Day trips from Edinburgh to Glencoe vary in price, depending on which tour you choose.
Small group tours to Glencoe cost between €50 and €80 per person, with stops at unique destinations, such as Ben Nevis and the town of Pitlochry.
Private tours usually cost approximately €360 to €870 per group of up to six persons, covering regular itinerary but allowing some room for flexibility.
Customizable tours to Glencoe cost between €1,200 and €2,000 per group of up to six people, which allow you to choose your stops and travel in a luxury vehicle.
What will you see and do on a Glencoe day trip from Edinburgh?
You will not be short of adventurous activities in Glencoe. The village and nature reserve surrounding it is a special place for outdoor enthusiasts.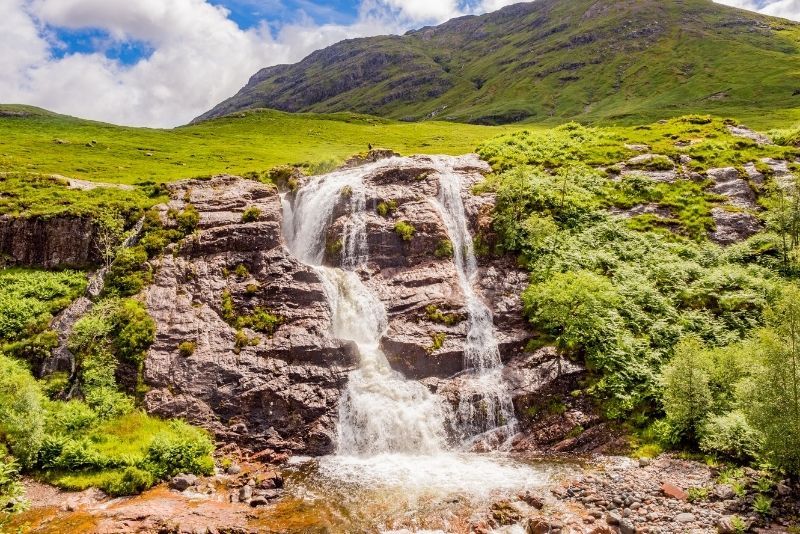 Landscape Photography
The picturesque mountains of Glencoe are a sight worth capturing. Whether you are a professional or novice photographer, the views of Lagangarbh Hut, Buachaille Etive Mor and Three Sisters should not be missed.
Outdoor activities
Glencoe is home to spectacular hiking trails perfect for all fitness levels. The endless wilderness and scenic landscapes are something out of a movie — which some of them actually are.
You can hike to famous locations where the "Harry Potter" films were shot. There are beautiful waterfalls that are easily accessible through nature trails. You can also rent bikes in local shops and do cycling or mountain biking.
Kayaking and canoeing in Glencoe are also popular outdoor activities, with local guides providing lessons.
Glencoe Mountain is the oldest commercial ski resort in Scotland and offers fun activities such as skiing, snowing and sledding in the snowy winter months.
Wildlife in Glencoe
Spotting the unique and indigenous wildlife in Glencoe is a great way to spend your day. There are red deer, hares, golden eagles, and so many more that have made this nature reserve their home. Those who love bird watching will not be disappointed, as there are many species of birds to keep your eyes out for.
The wildlife in Glencoe includes beautiful wildflowers and trees that are a sight to behold in this natural wonderland.
Historical sites
Glencoe is home to historical monuments and museums. Monuments include the famous Signal Rock, and the museums worth visiting include the Folk Museum and War Museum. These sites are moving and educational, teaching you more about the history of this beautiful village.
When is Glencoe open over the year?
Glencoe is open to visitors year-round. As a national park, it attracts outdoor enthusiasts during all seasons. However, the ski resort and slopes are only open in winter when the weather permits. Hiking and bike trails, water sports, museums and famous landmarks are open to visitors year-round.
When is the best time to visit Glencoe?
For the purpose of a day trip to Glencoe from Edinburgh, it is best to book your trip in summer or mid-spring if you want to avoid crowds. These seasons are warmer and bring with them clear skies and better visibility of the landscapes.
You should aim to arrive in Glencoe between mid-morning and noon. During the cool mornings, you will have more of a chance to spot some of the wildlife. You can also enjoy quieter tours of the museums before more visitors frequent them.
Are there any tours to Glencoe from other cities in Scotland?
Yes, there are tours departing from other cities in Scotland:
Travel tips
Bring binoculars to spot wildlife.
Do not forget to bring a camera.
Bring a rain jacket and warm coat, as it can get cold even in the summer months.
Wear comfortable outdoor shoes. You might find yourself on a spontaneous trail walk and will want to be prepared.