Glencoe is considered one of the most uniquely beautiful parts of Scotland and has been featured in many films such as "Harry Potter and the Prisoner of Azkaban." The village is known for its ancient volcano and glen valley carved out by centuries of glaciers.
The journey can be done via car or public transport, making a day trip to Glencoe easily attainable. The valleys of the Scottish Highlands are perfect for nature-goers or those looking for stunning scenic views.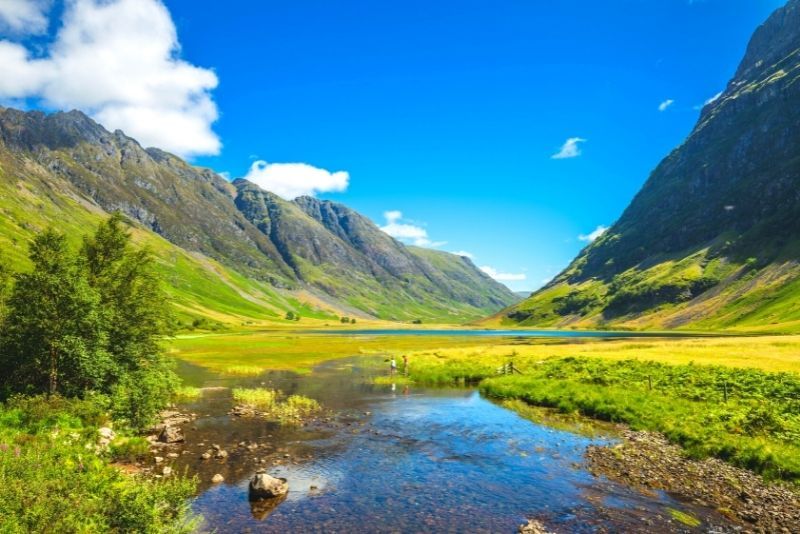 How to get to Glencoe from Glasgow?
Glencoe is located in the Highlands of Scotland in the County of Argyll. The city is around 140 kilometers from Glasgow.
From Glasgow to Glencoe by car
The jaunt to Glencoe from Glasgow by car takes over two hours and starts on the M8 motorway west out of the city. After about 24 kilometers, you'll reach the A82 where you'll continue for the rest of the drive to Glencoe.
From Glasgow to Glencoe by bus and train
It is not possible to get a direct train from Glasgow to Glencoe, so if you choose this route you must transfer to a bus at Fort William. Trains depart four times a day, and buses leave once every four hours.
In total, it takes approximately four hours to reach Glencoe and tickets cost around £15.
Guided tour to Glencoe from Glasgow
Private Glencoe day trips will save you the hassle of a self-guided trip while conserving your money and time. They will start around 8 AM and last about 12 hours.
What is the typical itinerary of a day tour to Glencoe from Glasgow?
For most day trips to Glencoe, you'll meet in central Glasgow before traveling by air-conditioned coach to Glencoe. Many excursions make a stop to see one of the famous Lochs of the Highlands. Some will also visit the fascinating ruins of Kilchurn Castle.
When choosing a private tour of Glencoe from Glasgow, you'll start the day with a private pickup at your hotel. From there you'll stop at the Falls of Falloch where you'll enjoy the serenity of a Highland glen. Later you'll have the opportunity to do some shopping in the villages nearby.
Once you arrive in Glencoe, you'll take a walking tour of one of Scotland's most breathtaking valleys. You'll experience the site of the 1692 massacre of the MacDonald clan and take in the beauty of Glencoe mountain.
A private day trip will allow you to experience one of the Lochs of the Highlands before visiting Fort William.
Before the end of the day, you'll do some shopping in Inverness or spot castle ruins at Cairngorms National Park.
As evening arrives, you'll board your bus and set off towards Glasgow where your excursion ends.
What kinds of tours are available to go to Glencoe?
Glencoe day tours from Glasgow vary in itinerary and group size. Some travel directly to Glencoe Mountain, while others meander through the Scottish Highlands.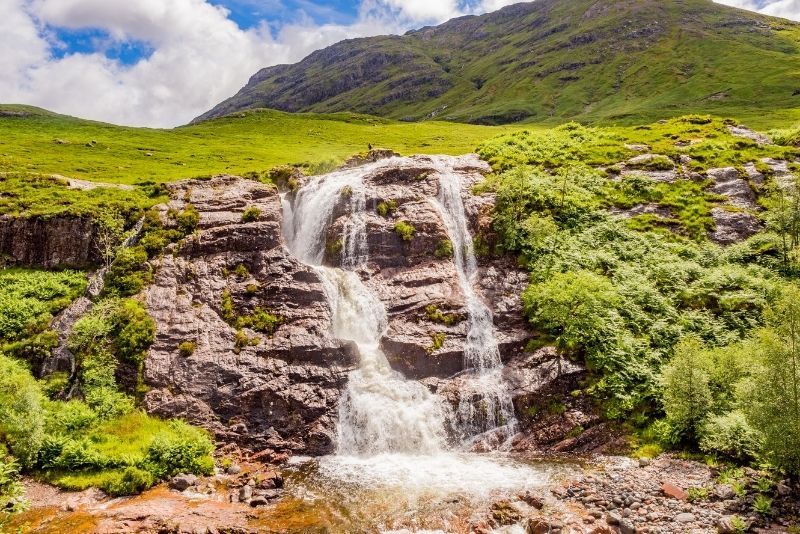 Small group day tour to Glencoe plus Loch Ness and the Highlands from Glasgow
Glencoe day trips often happen in small groups with stops at Loch Ness and in the Highlands. You'll visit a number of historical battle sites, and have the opportunity to take a cruise around the infamous Loch.
Small group day tour to Glencoe plus the Highlands, Loch Ness, and Oban
A small group day trip to Glencoe and Lake Ness from Glasgow will stop at the charming town known as the Gateway to the Isles. You will have a chance to try the local delicacies in what's considered to be the Seafood Capital of Scotland.
Day trip to Glencoe plus the Highlands and Oban from Glasgow
Alternatively, some day tours go to Glencoe, the Highlands and Oban. Although these tours will not stop at Loch Ness, you'll have the opportunity to visit others like Loch Lomond.
Bus and walking tour to Glencoe plus the Highlands from Glasgow
A bus and walking tour of Glencoe will allow you to fully immerse yourself in nature in the Scottish Highlands. These day trips allow you to learn about the rich history by bus before breaking for short walks along the way.
Luxury private day tour to Glencoe from Glasgow
A luxury private day trip to Glencoe allows you to travel more comfortably while you explore the region with a Scottish local. The tour ranges from 12 to 14 hours and will include complimentary water and Wi-Fi.
Day trip to Glencoe plus Mallaig and Glenfinnan from Glasgow
Some Glencoe day tours will include stops in the towns of Mallaig and Glenfinnan. On these routes, you will enjoy a seafood lunch and catch harbor views. When arriving in Glenfinnan, you'll have the opportunity to snap a photo of the iconic Jacobite steam train.
How much does a tour to Glencoe from Glasgow cost?
A small group day tour to Glencoe that includes Loch Ness and the Highlands will start at around £55. If you forgo the Loch for a stop in Oban, you can expect to pay about £50. To see all three iconic places, prepare to pay £60.
To escalate your day trip with a bus and walking tour of Glencoe and the Highlands, estimate a cost of £65 per person. If you'd like to add the lovely towns of Mallaig and Glenfinnan, you should budget about £65 a ticket.
For a luxury private tour, prices can reach £1,600, but you'll experience the comfort of door-to-door pickup in a Mercedes Benz vehicle.
What will you see and do in Glencoe?
If you're planning a day trip to Glencoe, be sure to prepare for an outdoor adventure. The Scottish Highlands are known for their beauty and there is ample opportunity for hiking and sightseeing.
Make sure you visit Glencoe Mountain, where the bottom of the valley has been the set of many feature films, including "James Bond."
Visiting a Loch while in the Scottish Highlands is a must, so take your pick from several options. When exploring Loch Ness, you'll be immersed in the eerie legend of the monster "Nessie," and, at Loch Lomond, you'll enjoy views of the Falls of Falloch.
Glencoe Visitor Centre
Glencoe holds a unique impact as one of Scotland's most famous gems, known for both its rare beauty and heartbreaking past. The Glencoe Visitor Centre is the perfect way to start your tour of the region, where you'll learn about the history and wildlife of the glen.
You'll be able to discover information on hiking trails, one-of-a-kind landscapes, and must-see areas of the park as you wander in the woodland glade.
The Glencoe Visitor Centre is open between 9:30 AM and 4:30 PM from Wednesday to Monday and is closed on Tuesdays and for the holidays.
Fort William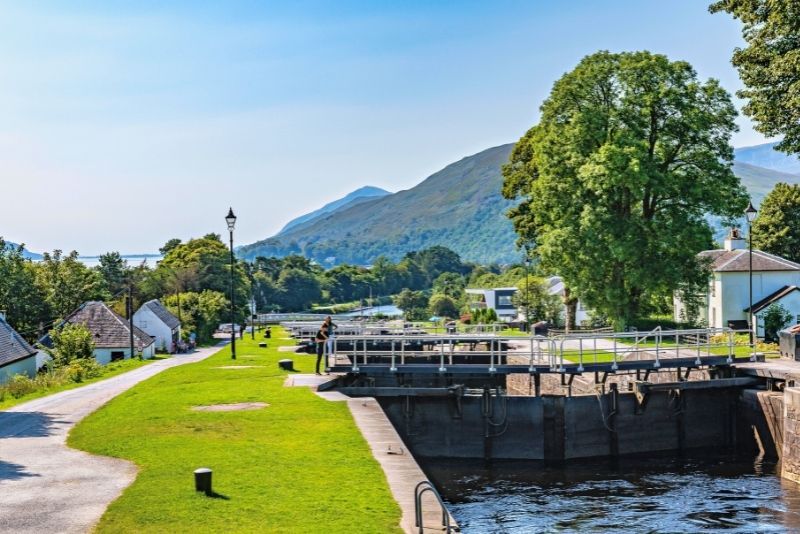 Fort William is located in the West Highlands and is considered the Outdoor Capital of the United Kingdom. The area contains the highest mountain in all of Britain, Ben Nevis, and holds some of the most jaw-dropping scenery in the UK.
You'll have the opportunity to adventure through abandoned castle ruins, hike mountain trails, grab photographs and shop for souvenirs when visiting Fort William.
When is the best time to visit Glencoe?
The best time to visit Glencoe is June to August when summer temperatures warm the region. The Highlands are so far North that even in August, the highs rarely surpass 21 degrees Celsius.
The colder months will mean lower prices and fewer crowds, but you'll need to bring layers to bundle. The rainy season reaches its peak during winter, meaning rainboots will be necessary.
Are there any tours to Glencoe from other cities in Scotland?
Yes, there are other tours departing from other cities in Scotland:
Travel tips
Glencoe is known as a rainy destination. While the winter season experiences the most showers, you can get caught out at any time of year, so pack an umbrella, rain boots and a waterproof jacket!
The weather can be unpredictable even in the summer months, so make sure to dress in layers. Hats are helpful for sunny days.
Day trips almost always include a hiking tour through the mountains, glens, and lochs, so it's important to have comfortable shoes.