Step into the realm of Westeros with an exhilarating Game of Thrones tour in Dubrovnik.
You can experience the thrill of walking through iconic filming locations, all brought to life by expert guides who will share behind-the-scenes anecdotes and stories about the TV show's production!
From the grandeur of Fort Lovrijenac to the charm of the Old Town, it's a mesmerizing journey that transports fans and adventurers alike straight into their favorite series, all while exploring this Croatian city and its history.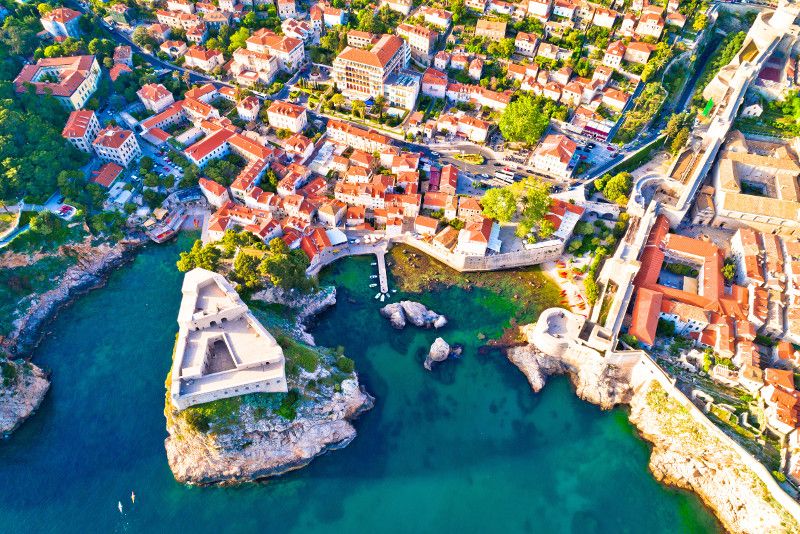 Here's all you need to know about Game of Thrones tours, one of the most captivating sightseeing tours in Dubrovnik.
What are the best Game of Thrones tours in Dubrovnik?
Game of Thrones walking tour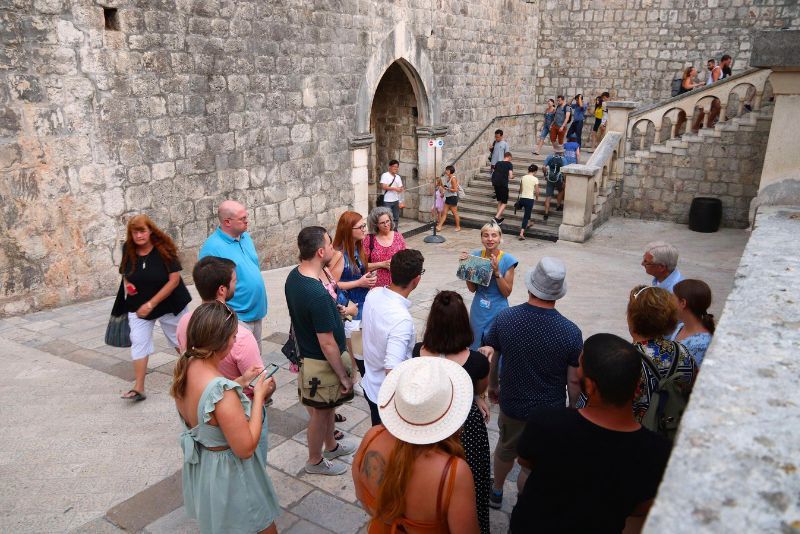 Delve into the world of the HBO series Game of Thrones on this guided walking tour of Dubrovnik, the real-life King's Landing. Explore iconic filming locations in the city's Old Town with local experts who reveal secrets from the series.
With the help of photographs, you'll recognize famous spots where the story unfolded, including the impressive Fort Lovrijenac, which served as the Red Keep, and the fortified walls where Tyrion Lannister and Varys shared important moments.
You'll encounter the Pile Gate, the site of a riot against Joffrey, and retrace Cersei's infamous walk of shame. Your guide, potentially a Game of Thrones extra themselves, will share insider anecdotes giving you a fresh perspective on the series.
Not only that, you'll have a chance to take a photo on a replica of the coveted Iron Throne and claim your crown.
Lokrum Island tour with original Iron Throne
This Game of Thrones tour in Dubrovnik offers a unique experience, extending beyond the typical filming locations in Old Town and venturing to Lokrum Island, which featured as Qarth in the series.
This tour is particularly enticing for Game of Thrones enthusiasts, as it offers the opportunity to sit on the original Iron Throne, which was gifted to Croatia after the series concluded and is now housed on Lokrum Island.
In addition to exploring key highlights in Old Town and on Lokrum Island, which is just a short boat ride away from Dubrovnik, your guide will ensure you don't miss out on any lesser-known filming spots.
The tour culminates with the chance to visit the original Iron Throne, surpassing the replica located in Old Town. You won't want to miss taking your photo here!
Private Game of Thrones tour
Avoid the rush of large group tours and opt for a private Game of Thrones tour in Dubrovnik, tailor-made to highlight your group's preferences.
This tour blends the historical charm of Old Town with notable Game of Thrones scenes, unveiling filming locations that you may otherwise miss, all while revealing the chronicles of the city.
As part of this personalized Game of Thrones tour, you'll navigate the labyrinthine Old Town with your own guide, who will be ready to answer any queries and share insider details. Don't forget to capture a memorable moment on the replica Iron Throne.
Are there any combos available with Game of Thrones tours in Dubrovnik?
Game of Thrones boat tour in Dubrovnik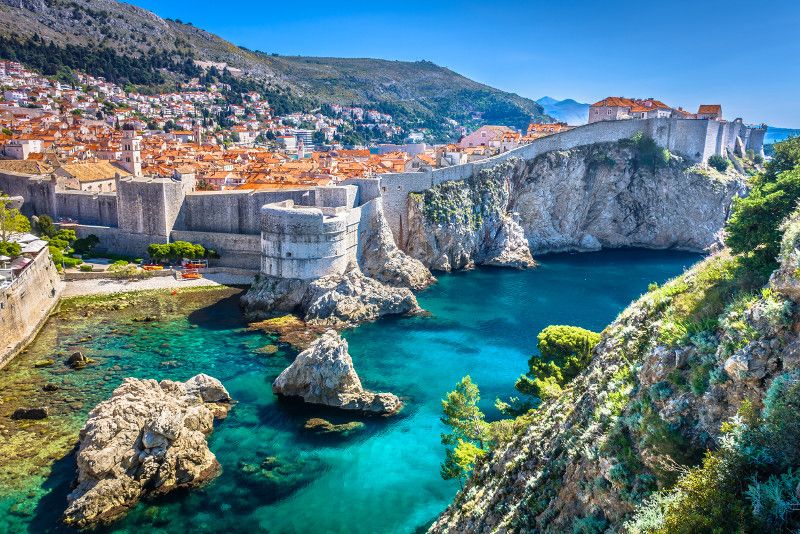 Board the Karaka ship that was featured in Game of Thrones and cruise along the Dubrovnik coast with a Dragon Blood cocktail in hand.
On this unique themed boat tour, you'll spot recognizable landmarks such as St. Dominic Street, Lokrum Island, the Rector's and Sponza Palaces, Fort Lovrijenac, Fort Bokar and Minčeta Tower from the same ship Daenerys Targaryen sailed on.
Back ashore, embark on a guided walking tour of the Old Town, visiting iconic filming locations. Delve into behind-the-scenes stories about the characters and plot from your knowledgeable guide.
Game of Thrones escape game in Dubrovnik
Join an exhilarating game that will see you puzzling your way through King's Landing. Explore the filming locations through this outdoor, private experience, which combines the experience of an escape room and a treasure hunt.
You'll meet the Game Master at a designated meeting point, who will provide you with a mysterious wooden book secured with five padlocks. As you follow the book's instructions, you'll traverse the Old Town, unlocking new locations and unveiling major filming sites.
Which places are visited?
Fort Lovrijenac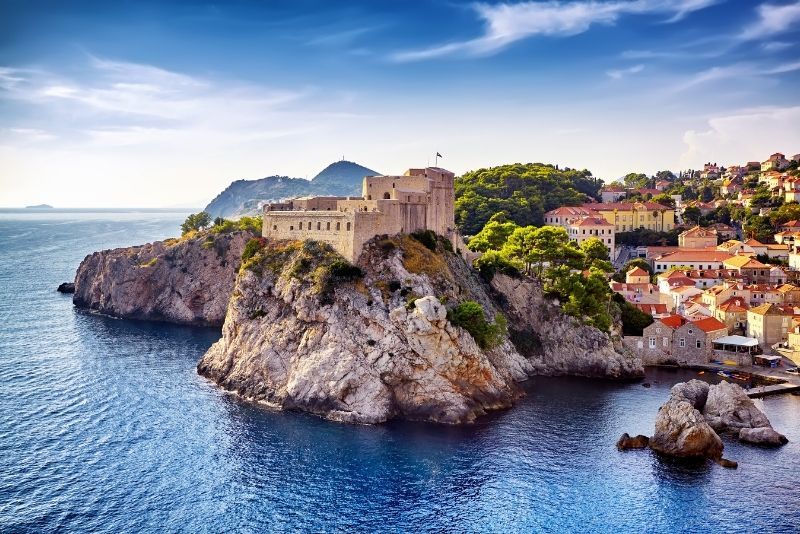 Also known as the Red Keep in Game of Thrones, Fort Lovrijenac is a stunning 11th-century fortress located just outside the western wall of the Old Town of Dubrovnik.
It towers 37 meters above sea level on a rocky cliff, offering spectacular views of the city and the Adriatic Sea. Within the series, it is the residence of the King of the Andals and the First Men.
Pile Gate
Pile Gate, one of the entrances to the Old Town, is another recognizable site for Game of Thrones fans. The drawbridge-style entrance is where King Joffrey was hit by a rioting citizen's dung. It sets a medieval tone as the main entry to the city, surrounded by imposing stone walls.
Old Town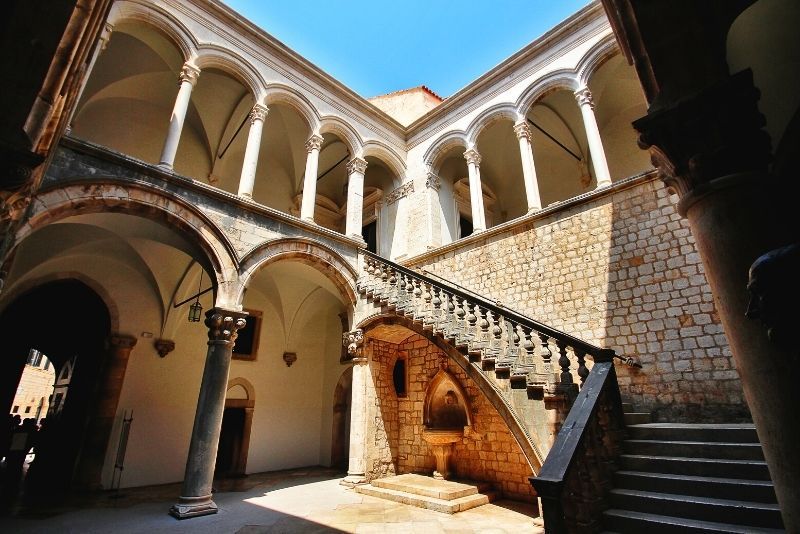 Dubrovnik's Old Town, a UNESCO World Heritage Site, is the main filming location for King's Landing, the capital of the Seven Kingdoms.
Its cobblestone streets, Baroque buildings and high stone walls transport visitors to the world of Westeros. Landmarks such as St. Dominic Street, the Rector's Palace and Sponza Palace are frequent backdrops for major scenes in the series.
Lokrum Island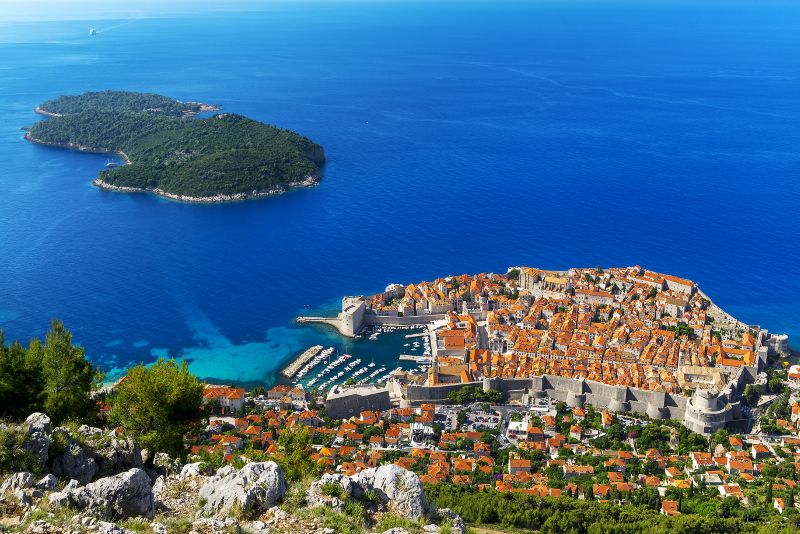 Just off the coast of Dubrovnik is Lokrum Island, which doubles as the city of Qarth. This enchanting island is a nature reserve with botanical gardens and a historic Benedictine monastery. It's also home to the real Iron Throne, which was gifted to Croatia by the HBO network after the series ended!
How much do Game of Thrones tours in Dubrovnik cost?
Game of Thrones tours in Dubrovnik ranges in price depending on the size of the group and the activities included.
A Game of Thrones walking tour will cost from €25 per person for a group of approximately 15 individuals. A tour to Lokrum Island increases to about €35 per person, and a combination boat tour costs the same.
For a Game of Thrones escape game experience, you can expect to pay €40 per person for a private group of maximum 15 people. A general private tour can cost from €130 per group of up to 8 people, with the price per person broken down according to group size.
What is included?
The majority of Game of Thrones tours will include a guide who will lead you on your tour. For many of these tours, the guide is typically someone who was an extra or worked behind the scenes on the show.

Most Game of Thrones tours will also include a photo opportunity on the Iron Throne, whether the replica in Old Town or the original on Lokrum Island.
Many tours do not include entrance fees to Fort Lovrijenac, and Lokrum Island tours may not include the ferry ticket to the island.
Where does it start?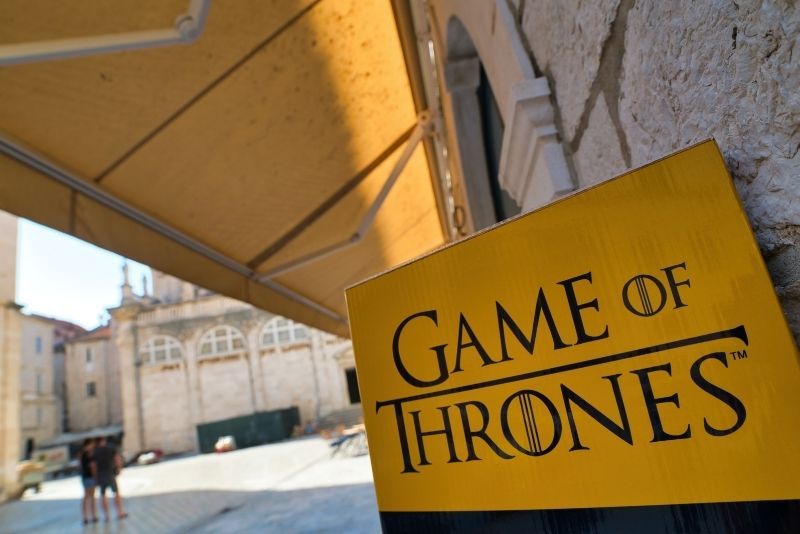 Game of Thrones tours will typically start at a central location in Dubrovnik. You can check on the booking page of your tour for the meeting point, which will also be confirmed after booking. You should be provided with details on how to identify your guide at the meeting point.
How long does it last?
Tours range is duration depending on what activities are included. Game of Thrones walking tours typically last around 2 hours, while tours that include a boat cruise or ferry ride last between 2.5 and 3 hours. An escape game will keep you and your group entertained for about 1.5 hours.
When is the best time for a Game of Thrones tour in Dubrovnik?
The best time of year to go on a Game of Thrones tour in Dubrovnik is during the shoulder seasons of spring (April to June) and autumn (September to October). These periods offer mild weather and fewer tourists compared to the summer months, allowing for a more comfortable and less crowded exploration.
Mornings are typically the best time to start your tour, allowing you to avoid the midday sun and larger tourist crowds that tend to gather as the day goes on. Plus, the morning light can make the locations look even more like they do in the series!
It's recommended to take the tour at the beginning of your stay in Dubrovnik, as it will provide a great orientation to the city and its history, both in reality and within the Game of Thrones universe.
What other sightseeing tours can you enjoy in Dubrovnik?
Travel tips
Dubrovnik's Old Town is known for its cobblestone streets. Wear comfortable shoes suitable for walking, as you'll be on your feet for much of your tour.
Depending on the time of year, bring sunscreen, a hat and water for hot summer days, or a rain jacket for unexpected showers during the shoulder seasons.
Don't forget your camera — the locations visited on these tours are incredibly picturesque, and most tours include a photo op on the Iron Throne.
To fully appreciate the tour, it might be helpful to refresh your memory by re-watching the series or some of the scenes set in King's Landing.
Some tours can be lengthy, so bring water and snacks to keep you fueled.
To see even more Croatian locations from the iconic show, consider a Game of Thrones tour in Split.