Adventure across the Emerald Isle on a 4-day trip from Dublin. Hit all the highlights of Ireland's west coast, including lively towns and cities, mysterious castles and towering cliffs.
Stop for a pint in the pubs of Galway, stand atop the epic Cliffs of Moher and kiss the famous Blarney Stone to inherit the "gift of the gab!" See Ireland's wild and beautiful landscapes, such as Killarney National Park, The Burren and Connemara.
4-Day Trips from Dublin: West Ireland including the Cliffs of Moher and Blarney Castle
This comprehensive 4-day tour from Dublin takes in some of Ireland's most idyllic scenery, including a stretch of the Wild Atlantic Way. You'll be heading across the country in search of coasts and castles, with historic sights and natural wonders capturing your imagination along the way.
Highlights include the dramatic Cliffs of Moher, the Dingle Peninsula and Killarney National Park. Kissing the stone at Blarney Castle and exploring the Rock of Dunamase are the icing on the cake.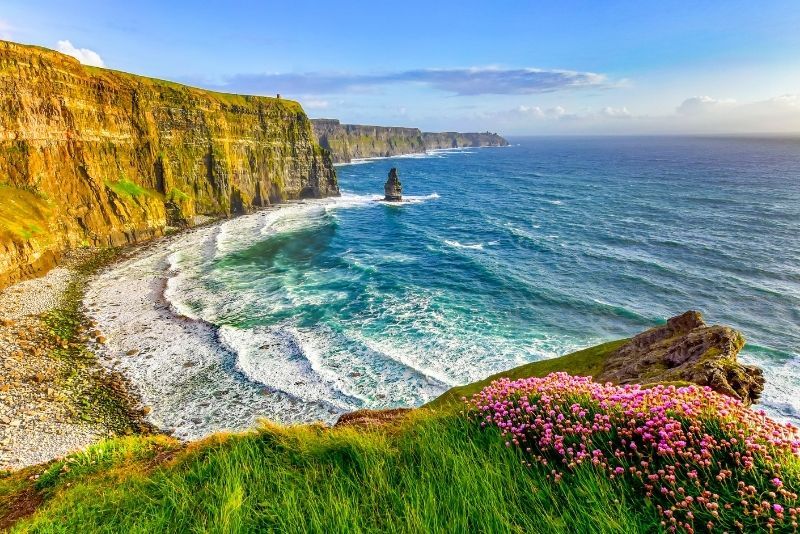 What is the typical itinerary of a 4-day trip to West Ireland including the Cliffs of Moher and Blarney Castle?
These 4-day tours from Dublin are available by coach, or a combination of rail and coach travel.
Day 1 – Connemara, Cong and Galway
Leaving Dublin behind, you'll journey through the lush Irish countryside. Enjoy the mountainous scenery before stopping in Cong, which is the home of Ashford Castle.
Visit Cong Abbey before continuing past lakes and valleys through the Connemara region. Your first day ends in Galway, with leisure time to explore the historic center. Street performers, seafood restaurants and Irish bars are all on the agenda.
Day 2 – The Burren, Doolin and the Cliffs of Moher
After spending the night in Galway it's time to hit the Wild Atlantic Way, which is a favorite destination on all multi-day trips from Dublin. First up is The Burren – an otherworldly landscape famed for its flowers. Eat lunch in the village of Doolin before continuing your quest for adventure at the Cliffs of Moher.
On the afternoon you'll journey through Limerick and explore  on foot the heritage town of Adare. Then it's on to the remote Dingle Peninsula where you will be staying the night.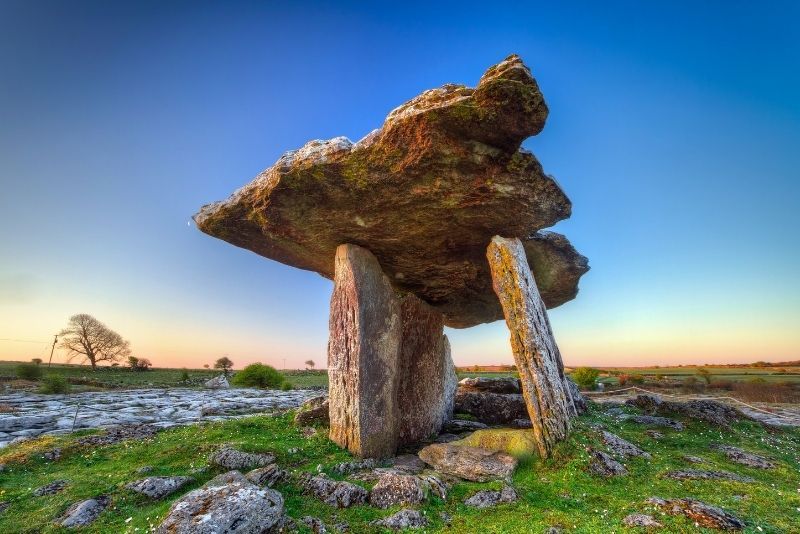 Day 3 – Dingle Peninsula and Killarney
Today kicks off with a wander on the longest beach in Ireland, at Inch on the Dingle Peninsula. Then there's time for a scenic drive around Slea Head where you'll see ancient beehive huts and island views.
Enjoy a traditional pub lunch in Dingle, followed by some souvenir shopping. Back on board the coach, it's time to continue south on your 4-day trip from Dublin. Killarney is your next stop, and you'll be staying the night.
Day 4 – Killarney National Park, Blarney Castle and the Rock of Dunamase
Start your final day with a horse and cart ride in Killarney National Park. If you're feeling adventurous, horseback excursions can also be arranged for an additional fee.
Carry on your road trip from Dublin through the Cork and Kerry mountains and stop at Blarney Castle. The last point of call is the Rock of Dunamase — a dramatic castle ruin overlooking Leinster. Then it's back to Dublin in time for dinner.
Which places are seen during a 4-day tour to West Ireland including the Cliffs of Moher and Blarney Castle?
Cliffs of Moher
These dramatic Cliffs of Moher stand tall on the rugged coast of County Clare. There are pathways along the clifftops and viewpoints so you can snap some impressive photos. Standing near the edge you can feel the force of nature as the waves crash down below.
Blarney Castle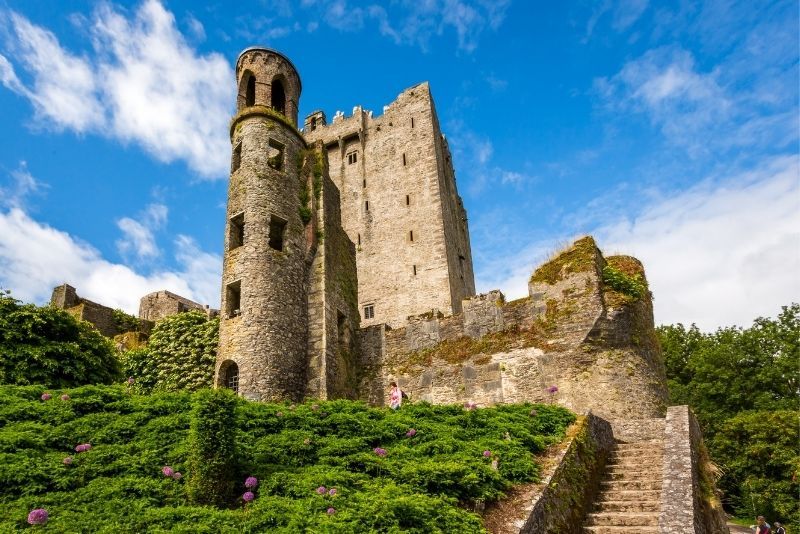 Medieval Blarney Castle is one of the most famous destinations on 4-day tours from Dublin to western Ireland. This County Cork stronghold is the stuff of legends and is home to the famous Blarney Stone. If you kiss it, the gift of eloquence will be bestowed upon you!
The Burren
This unusual landscape looks like it belongs on the moon. The crevices and rocky plateaus of The Burren are home to fossils and archaeological sites, as well as a huge variety of endemic plants. It's eerie but photogenic, and a popular stop on 4-day tours from Dublin.
Adare
Purposely designed as a heritage town, Adare is full of thatched cottages and rural charm. Known as the prettiest settlement in Ireland, Adare has plenty of medieval landmarks to discover. There are archaeological sites too, some of which date to 1200 A.D.
Dingle Peninsula
The Dingle Peninsula is one of the most beautiful parts of the Wild Atlantic Way. Famed for its beaches and cliffs, Dingle is as spectacular as it gets. The Irish culture is strong here, and it's the place to go for an authentic pub vibe.
Killarney
Sitting on the shores of Lough Leane, Killarney is historic and hospitable. It's the jumping-off point for the Ring of Kerry and boasts many sights in its own right. Killarney National Park is another coveted destination on 4-day trips from Dublin. Punctuated by castles, this mountain wilderness is all about quintessential Irish scenery.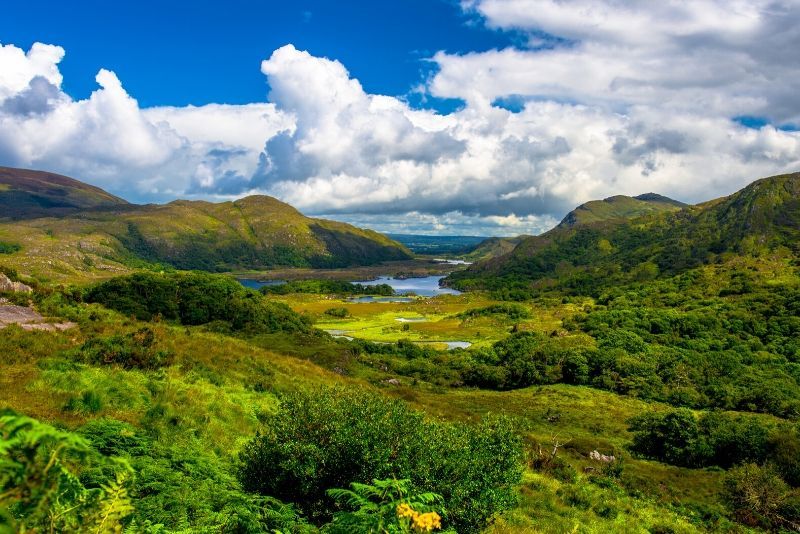 Rock of Dunamase
The Rock of Dunamase is a Celtic fort perched on a rocky outcrop overlooking the Valley of the O'Moores. While the castle itself is a worthy landmark, it's the views that will take your breath away.
Which activities can be done during a 4-day tour to West Ireland including the Cliffs of Moher and Blarney Castle?
Horse and cart rides
Horse and cart rides are an optional activity in Killarney National Park. They offer a fun and unusual way to explore and are great for travelers with a sense of adventure. You'll trot past lakes and venture down trails where other vehicles can't go.
Horseback rides
Intrepid explorers can discover the delights of Killarney National Park on a horseback riding tour. This is another optional extra that can be added to your 4-day itinerary from Dublin. Your guided excursion will take you into the heart of the countryside, along rugged trails with sweeping mountain views.
Which types of 4-day trips to West Ireland including the Cliffs of Moher and Blarney Castle are available?
Coach tours: On these group excursions you'll travel by air-conditioned coach. There will be live commentary to give you insights into the areas you'll be visiting.
Rail and coach combined tours: These 4-day trips from Dublin use both train and coach to travel between the different destinations. You'll journey by train to the main towns, and then enjoy guided group coach tours of the local areas.
Travelers are provided with reserved train seats, and there will be a host on board to ensure the trip runs smoothly.
Private tours: If you prefer to travel with just your own party, then these 4-day tours from Dublin are the way to go. Your itinerary can be personalized and you'll have a dedicated driver throughout the tour.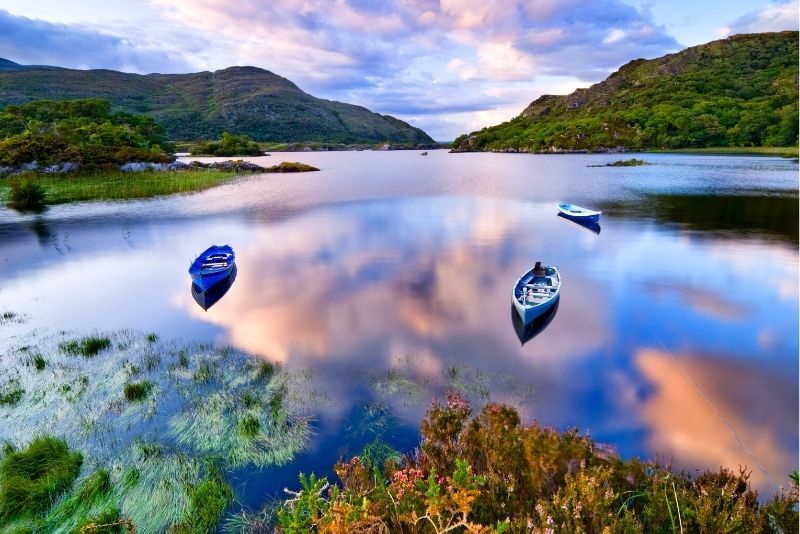 What is the price of a 4-day tour to West Ireland including the Cliffs of Moher and Blarney Castle?
For 4-day coach tours from Dublin, you can expect to pay €440 per person. You will be traveling as part of a group. The fee includes transport, hotel, guide, breakfasts and one dinner. Pickups are not provided.
For combined rail and coach group trips, prices start at €720 per passenger. Train fares, coach transportation, hotel and breakfasts are all part of the package.
A private chauffeured tour for five passengers costs €3,150. A personalized itinerary, air-conditioned vehicle, train station pickup and a guide are included. Accommodation and train tickets are at your own cost.