The striking natural vistas and lively culture of Connemara make for a captivating day trip from Dublin. Connemara, which means inlets of the sea, offers natural beauty, history and adventure around every turn. Experience the best of County Galway and the rugged western coast of Ireland on a day trip to Connemara.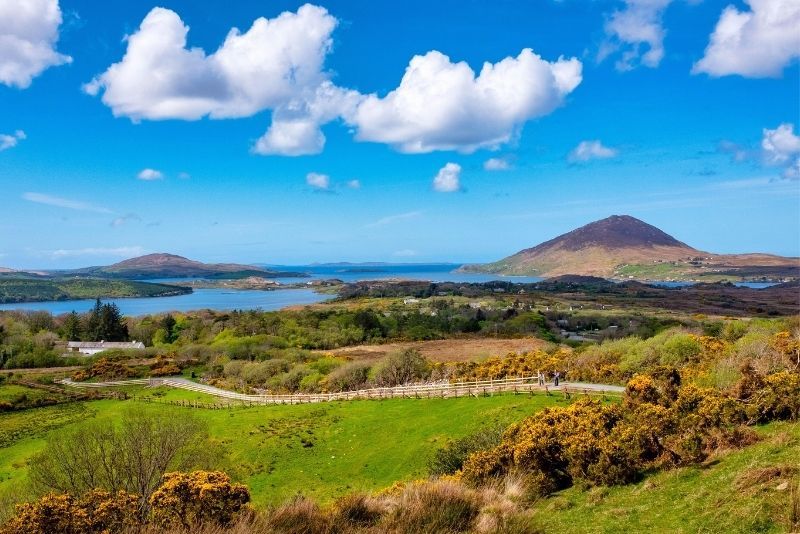 How to get to Connemara from Dublin?
Located in the west of Ireland, Connemara is a region of County Galway. Its main town is Clifden, which is located about 280 kilometers west of Dublin and over 70 kilometers northwest of the city of Galway.
From Dublin to Connemara by car
The route from Dublin to the Connemara town of Clifden is straightforward. Simply follow the M4 from Dublin to the M6 and then the N59. This journey takes just over two hours by car and uses toll roads.
From Dublin to Connemara by bus/public transport
It is possible to travel from Dublin to Connemara via public transport. You must first travel from Dublin to Galway which can be done by rail or bus.
By rail, the journey takes 2.5 hours from Dublin Heuston station via Irish Rail's Galway service. Alternatively, take the Route 706X express bus, which takes 2.5 hours from Dublin to Galway. You must then take the Route 923 bus from Galway to Clifden.
Guided tour to Connemara from Dublin
If you don't want to plan the trip yourself, book a guided day tour to Connemara which offers transport to and from Dublin.
What is the typical itinerary of a day tour to Connemara from Dublin?
A regular day trip to Connemara departs from Dublin Heuston station to Galway in the early morning. Upon arrival in Galway, you will journey aboard a coach or minivan to the Connemara region. The area has a range of scenic views on offer, including seascapes, cliffs and mountain ranges.
You'll travel through the town of Leenane, located along Ireland's only fjord. Connemara day tours frequently make a stop at Kylemore Abbey and its Victorian gardens. After touring this historic site, you'll travel through the Inagh Valley before stopping for a hike and photo shoot in the mountains.
During this day tour to Connemara, you will explore both the Twelve Bens and the Maamturks mountain ranges. After a full day of sightseeing, dining and shopping, you will return to Dublin Heuston via Galway, on an evening train.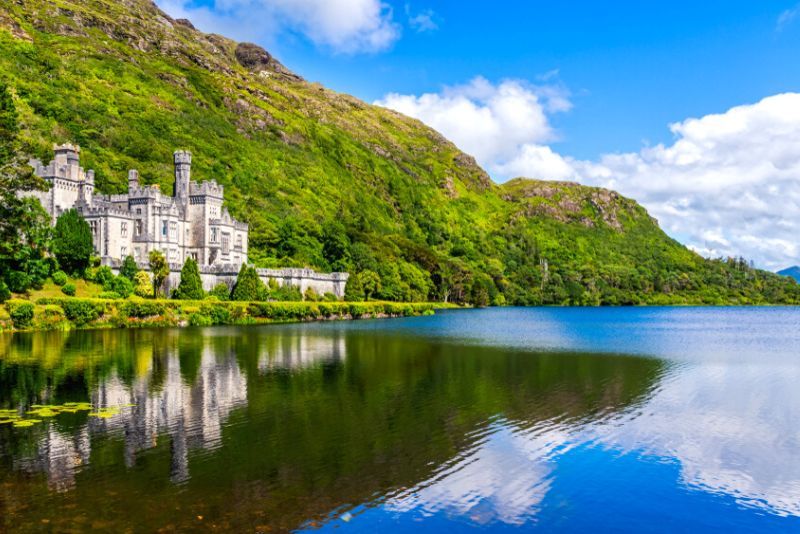 What kinds of tours are available to go to Connemara?
Tours around Connemara vary in length and by mode of transportation. Most trips departing from Dublin begin with a train ride to the city of Galway. From there, you will board a coach who will take you on a tour of the region.
You can also take a cross-country coach directly from Dublin. While most of the tours last from one to three days, there are options for 4-day trips from Dublin as well.
Rail tours to Connemara plus Galway Bay from Dublin
The two most common guided tours to Connemara from Dublin are via direct coach or by rail. Whether the journey to Connemara begins by rail or by bus, a dedicated guide will accompany you during your sightseeing excursion.
The rail tours include train tickets and all transport fees, travel via air-conditioned coach with Wi-Fi, and pickup and drop-off from a central location in Dublin.
Multi-day trips to Connemara plus the Cliffs of Moher from Dublin
There are various multi-day tours from Dublin options if you want to see more of the Connemara countryside during your time in the region. One option is a 2-day excursion from Dublin to Connemara, where you will board a coach in central Dublin and head west toward Galway.
On a 3-day guided journey from Dublin to Connemara, you venture around the region's striking cliffs and islands by rail, bus and ferry. Both 2-day and 3-day tours include an overnight stay in Galway. All accommodation, a guide and transportation are covered in the cost.
How much does a tour to Connemara from Dublin cost?
A Connemara day tour from Dublin ranges from approximately €60 to €120. Tours which are primarily outdoors are more affordable. These tours visit scenic sites like Lough Corrib and the Cong Abbey ruins.
Trips lasting two days start from €170 and 3-day trips, which cover more ground, start from €720.
What will you see and do in Connemara?
Connemara is a coastal region of County Galway in the far west of Ireland. The region offers a rare balance of diverse natural landscapes, lively cultural experiences and historic sites. The gateway to the district is Galway City and the nearby Galway Bay, which offer picturesque views of the Atlantic Ocean beyond.
Killary Harbour is a popular feature on many tours and is thought to be one of the only fjords in Ireland. The city of Galway is a must-visit place to experience Irish music performances and enjoy a hearty meal before exploring the rest of the Connemara region.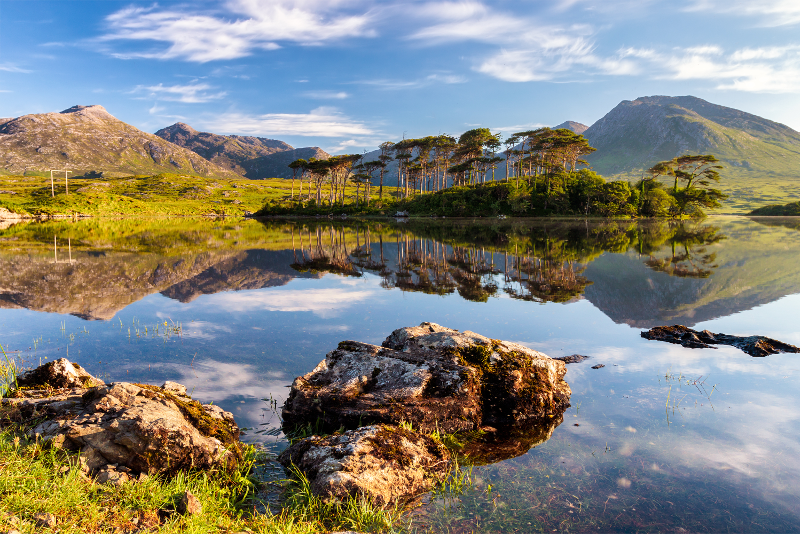 Upon leaving Galway, you will enjoy views of the various mountain ranges throughout Connemara, including the Maumturk range and the Twelve Bens. Most tours traverse the adjacent Inagh valley, which features the tranquil lake of Lough Inagh.
Complementing the natural beauty of the region, you can also experience historic man-made sites along the tour. The charming village of Cong, featured in the John Wayne classic "The Quiet Man," is a frequent stop for tours in the Connemara region. The ruins of the town's historic Cong Abbey are another highlight of the area.
Finally, Kylemore Abbey and its Victorian Walled Gardens are one of the region's most picturesque destinations. The site, founded on the area of Kylemore Castle and managed by Benedictine monks, is a serene location packed full of history.
When is the best time to visit Connemara?
The best time to take a day trip from Dublin to Connemara is late June through early October. The warmer months are an excellent time to stretch your legs and explore Connemara's shoreline, lakes and mountain ranges. You can avoid the worst of Ireland's infamous rainy weather if you visit during June and July.
Are there any tours to Connemara from other cities in Ireland?
Yes, there are tours departing from several other cities in Ireland:
Travel tips
Dress in layers and bring a waterproof jacket or coat. Ireland is known for its rainy, windy and foggy weather, so plan your wardrobe appropriately.
Bring comfortable walking shoes to explore the parks and ruins.
Bring water for outdoor hikes, but be sure to pack light, as there is plenty of walking during the tour.
Have local currency available for tips to drivers and guides, and to buy lunch on a day tour of Connemara.