Killarney is a lively town in the south of Ireland that is known for its breathtaking scenery and historic monuments.
Multi-day trips to Killarney from Dublin embark on a loop around a selection of Ireland's most incredible sites. This includes the beloved Killarney National Park, where you can climb mountains, frolic in waterfalls and spot ample woodland creatures.
If you're looking to see as much of the country as possible in a short amount of time, consider a multi-day excursion.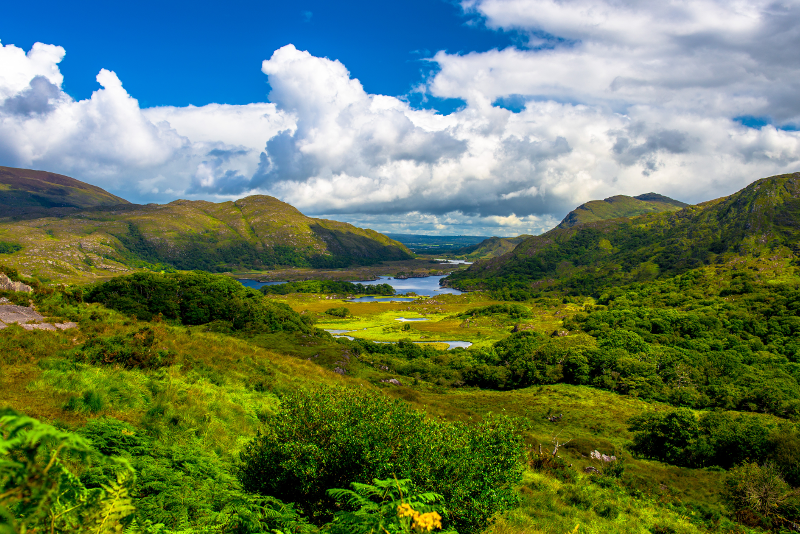 How to get to Killarney from Dublin?
Killarney is located in the southwest of the Republic of Ireland, approximately 300 kilometers away from the capital city of Dublin. It is around 80 kilometers away from Cork city.
From Dublin to Killarney by car
It's just over a 3.5-hour jaunt to Killarney by car. The route is easy and follows the M7 South until Limerick when you'll change onto the M20/ N21. This takes you all the way to the town.
From Dublin to Killarney by bus
There is a direct bus that makes the journey to Killarney from Dublin several times a day. It leaves from Dublin City South Station and takes approximately 4.5 hours to travel the 300-kilometer distance. Ticket prices range from €18 to €22.
Guided tour to Killarney from Dublin
Guided Killarney multi-day tours either travel by minibus or train. Those that rely on public transportation meet at Dublin's Heuston station around 3 PM.
Tours that travel by road often meet at the Kilkenny shop in the center of Dublin, around 8:30 AM.
Whichever type of Killarney excursion you choose, you'll be transported back to your meeting point once the tour ends.
What is the typical itinerary of a multi-day tour to Killarney from Dublin?
Multi-day tours vary in which attractions they visit. You'll usually meet in the center of Dublin and travel by train, coach or minibus towards Killarney.
You'll often make several stops along the way at other well-known tourist hotspots such as Glendalough Monastic Settlement or Dingle. You'll spend your nights in local B&Bs and there is occasionally the option to upgrade your room for a more luxurious experience.
Killarney National Park is the main attraction in the area and you'll always visit the natural treasure. The Ring of Kerry is a scenic route that all tours drive along.
Once your tour is over, you'll be transported back to Dublin via the Rock of Cashel.
What kinds of tours are available to go to Killarney?
Killarney multi-day trips vary in length and itinerary. There are several to choose from that show you some of the incredible sites that Ireland has to offer.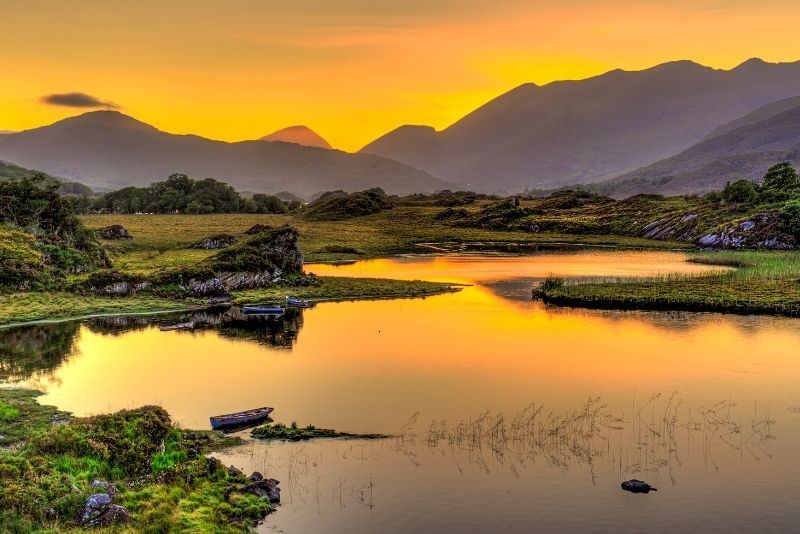 2-Day tour to Killarney plus Ring of Kerry from Dublin
On this 2-day tour to Killarney from Dublin you will travel by train. You'll arrive in the town just in time for an evening meal and a few pints of Guinness before retiring to your B&B for the night.
On the second day, you'll board a coach to drive the Ring of Kerry where you'll have plenty of opportunities to take photos. You'll also visit quaint villages and a museum that dives deeper into the history of 18th-century Ireland.
You'll see sandy beaches and tranquil lakes throughout the drive that's widely considered one of the best in Ireland, before heading back to Dublin.
3-Day trip to Killarney plus Dingle from Dublin
This 3-day trip to Killarney travels by minibus to the southern region of Ireland, stopping at many points of interest, including Glendalough Monastic Settlement and Adare village.
You'll stay overnight in Dingle for the duration of the tour and explore the town, as well as the broader Dingle Peninsula. You'll also head to Killarney, the Rock of Cashel and other popular locations before the tour ends.
4-Day tour to Killarney plus Cork and Ring of Kerry from Dublin
This Killarney 4-day excursion includes the city of Cork in its itinerary. You'll visit Killarney itself, as well as tourist favorites such as the Ring of Kerry and the Rock of Cashel. You'll also head to Cork city, as well as the villages that surround it and the foodie haven of Kinsale.
You can expect to explore fairytale castles, wander the stalls of an English market and take a boat trip to see a flock of seals. You'll stay in Killarney for two nights, and spend your final night in Kinsale.
How much does a tour to Killarney from Dublin cost?
The shortest multi-day trips to Killarney last just two days and are a great option for those with limited time in the country. You'll pay approximately €349 and this includes meals, accommodation and a local guide.
Three-day tours include round-trip transportation by minibus. The trip takes place in a small group that numbers fewer than 16 participants and costs €547 per person. You'll also have accommodation and a professional driver-guide included in the price.
Four-day trips to Killarney and the surrounding area cost €573. Accommodation is included, as well as round-trip transportation from Dublin and a driver-guide. Entry fees are at your own expense. You can choose between staying in a B&B or a hotel and you'll pay a single supplement if you're traveling alone.
What will you see and do in Killarney?
Killarney National Park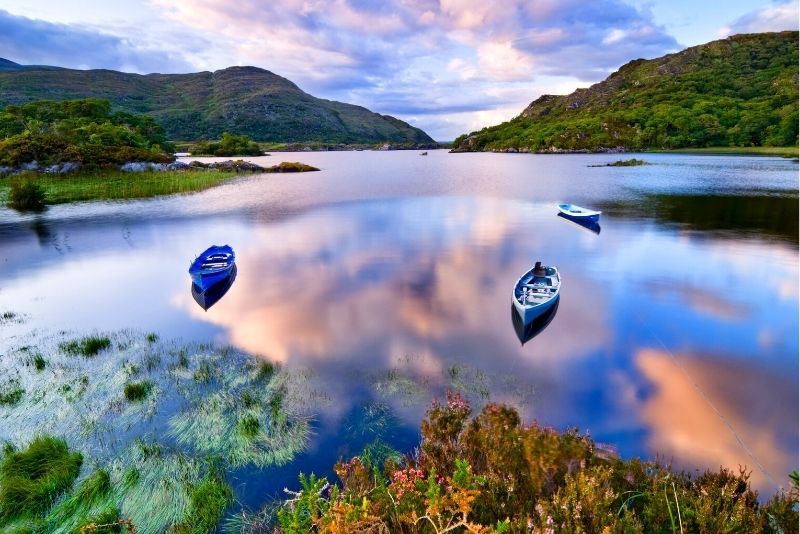 Killarney National Park is home to several lakes, including Lough Leane, which is the largest stretch of water in the park. It also boasts a number of peaks, including the famous Torc Mountain which is over 500 meters tall and offers panoramic views over the park.
All Killarney multi-day trips spend time in the national park. There are several walking and hiking trails in Killarney National Park, as well as canoeing and horse riding.
One of the most popular attractions in the park is Torc Waterfall which is 20 meters high and lies at the bottom of Torc Mountain. In addition, there are a number of historic buildings in the park, including the 15th-century Ross Castle.
Gap of Dunloe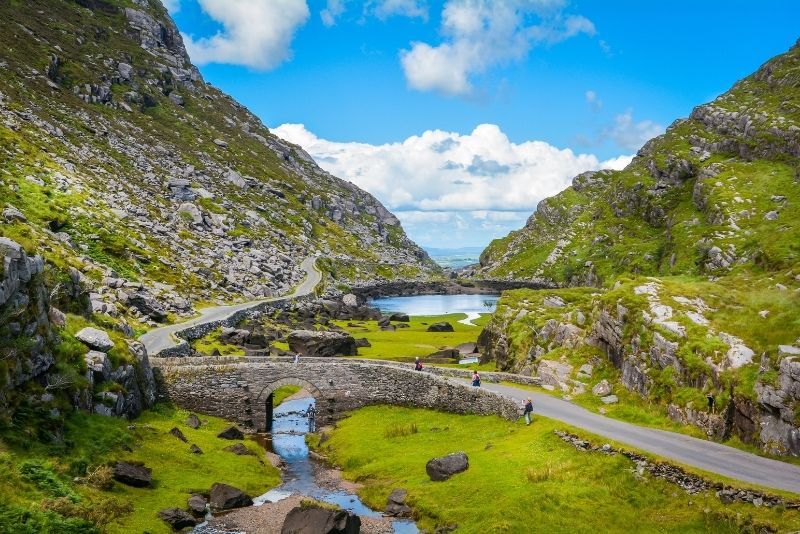 The Gap of Dunloe is a narrow passageway between the MacGillycuddy's Reeks mountain range and the Purple Mountains and was formed over 25,000 years ago. The Gap is about 11 kilometers long and can be accessed easily from the town of Killarney.
The route starts at Kate Kearney's Cottage and travelers can walk the journey to Lord Brandon's Cottage where the hike ends and back in around five hours.
Along the way, you'll pass by five shimmering lakes and towering hills on either side. While the above hike is the most popular, there are also several walking trails in the area that lead to other scenic locations, such as the Black Valley and Carrauntoohil, the highest peak in Ireland.
When is the best time to visit Killarney?
Killarney is full of outdoor sights and activities, which means it's best to visit during the spring and summer months. While the weather in this part of Ireland is chilly year-round, you'll experience the highest temperatures and least rain during this period.
Bear in mind that the busiest months for tourism are July and August so consider April, May, June or September for your Killarney multi-day trip.
Travel tips
Spaces are limited on Killarney multi-day tours. Book your place in advance to ensure availability for the dates you're interested in.
Most excursions have a luggage allowance of 14 kilograms. Check this with your provider before you book your trip.
If you like a little more comfort than a basic B&B provides, check whether you can upgrade your room to a more luxurious option.