Poble Espanyol is an open-air museum that showcases some of the traditional architectural styles found in villages throughout Spain. Located on Montjuïc Hill in Barcelona, this unique attraction is sure to be one of the highlights of your trip.
Book your Poble Espanyol tickets and tours to get an authentic feel of the Spanish countryside without ever having to leave the big city! Not only is the village home to full-scale replicas of typical homes, but you'll also find restaurants, cafés and even craft workshops.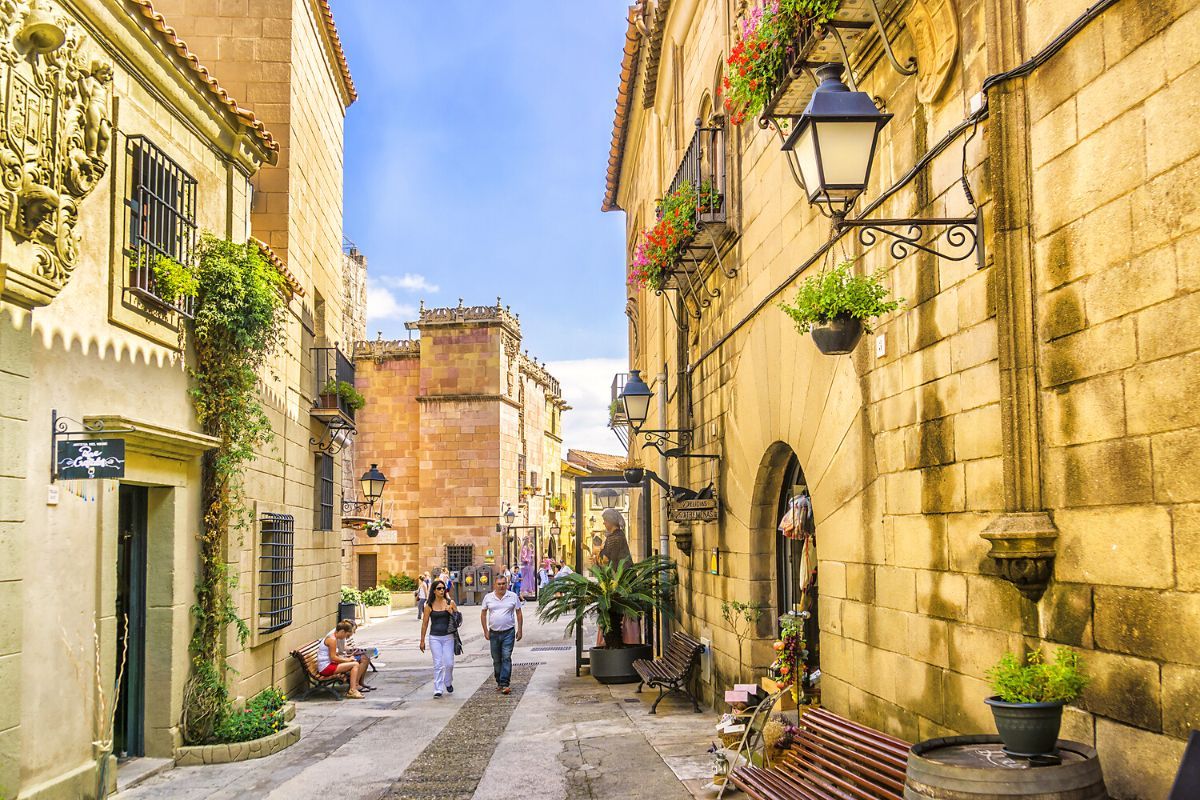 Here's all you need to know about Poble Espanyol, one of the most exciting museums in Barcelona.
How much do Poble Espanyol tickets cost?
Resident of Catalonia adult: €10 per person
Resident of Catalonia child: €9 per person
Foreign adult: €11.20 per person
Foreign child: €9 per person
Children under 4: Free
There are also nighttime tickets available, which cost €7 per person, that grant you access to Poble Espanyol from after 8 PM.
Who is eligible for discounts?
Seniors over 65 pay €10 per person, while students pay €10.50 per person, so long as they present the correct documentation. There are also various family tickets available at discounted rates, which are perfect for those who are traveling with children.
Should you book in advance?
If you are planning to visit Poble Espanyol during your time in Barcelona, it is essential that you book your tickets online ahead of time. Not only do advance bookings allow you to skip the line, but you'll also save €1 per child and €3 per adult, compared to paying for your tickets at the onsite ticket office.
What are the best Poble Espanyol tours?
Private tours of Poble Espanyol
Visiting Poble Espanyol with a private guide allows you to make the most of your time spent at the open-air museum. Not only will your licensed tour guide be there to answer all your questions and ensure that you don't miss a thing, but they'll also pick you up from your hotel.
Receive a comprehensive introduction to Spanish architecture as you stroll through one of Barcelona's most-loved attractions. You can customize the tour to your liking, and at the end, you'll be dropped back at your accommodation.
Are there any combined tickets or tours including Poble Espanyol and other attractions?
Flamenco show and dinner with Poble Espanyol entrance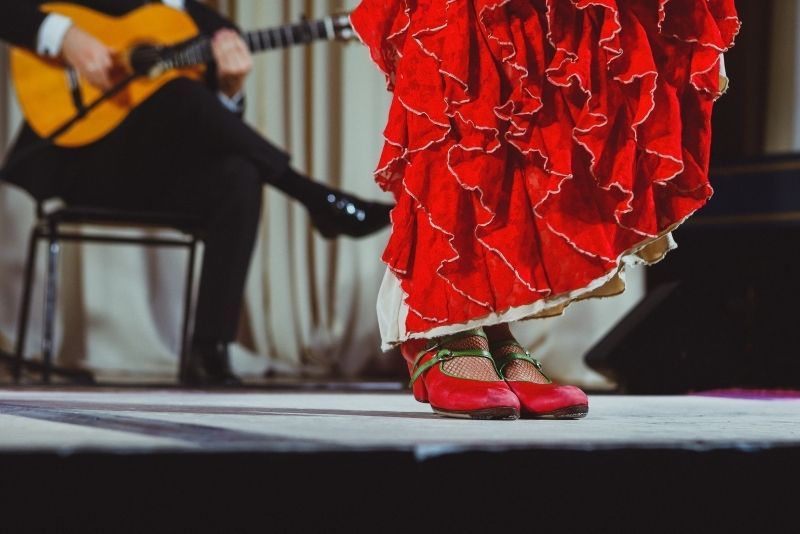 Watch the incredible performers of the Tablau de Carmen as you enjoy a delicious dinner in Barcelona, at one of Poble Espanyol's very best restaurants. Choose from three different menu options as you marvel at the skills of the flamenco dancers.
Once the flamenco show is over, you can stroll through Poble Espanyol's picturesque streets and squares.
Poble Espanyol and the National Art Museum of Catalonia tickets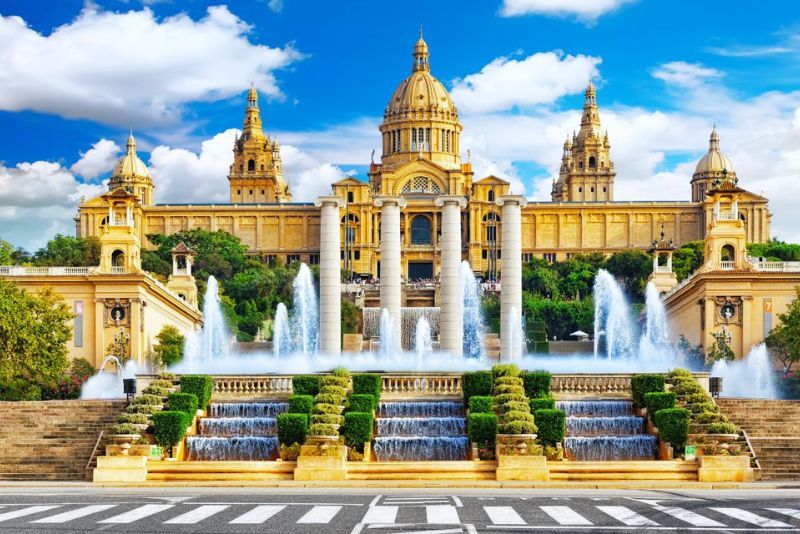 Save money by purchasing a combo ticket that grants you access to two of Montjuïc's most emblematic sites. As the museums are within close proximity of one another, it is easy to visit both in one day.
Visit the National Art Museum of Catalonia, where you'll see artworks by some of Catalonia's most iconic artists. You'll also get to visit Poble Espanyol and see the incredible full-scale replicas of traditional Spanish buildings.
What will you see inside?
Built in 1929 for the World Fair, Poble Espanyol was originally meant to be torn down at the end of the event. But thanks to the huge success of the full-scale replicas, the open-air museum is still open to the public to this day.
Poble Espanyol is best known for its recreations of the buildings, squares and streets that are found in typical Spanish villages. You'll see examples of the architectural styles found in Catalonia, Galicia, Cantabria and other regions.
Many of the buildings have been turned into restaurants, cafés, souvenir shops and theaters—ensuring that you'll never have a dull moment. There are also a variety of craft workshops that you can participate in, should you want to learn a new skill.
How to get there?
Poble Espanyol is conveniently located on Montjuïc Hill, very close to the famous Montjuïc Magic Fountain, in Barcelona.
You can get to Poble Espanyol by making use of the L1 or L3 metro lines, and getting off at the Espanya stop. From here, Poble Espanyol is just a 10-minute walk away. Taking the bus is also an option, and you can exit at the Poble Espanyol stop on lines 13, 53 and 150.
What are the opening times?
Poble Espanyol is open from 10 AM to 8 PM on Mondays and from 10 AM to 12 AM during the rest of the week.
Is it wheelchair friendly?
Poble Espanyol is 100% wheelchair-friendly and people with wheelchairs receive free admission when visiting the open-air museum.
When is the best time to visit Poble Espanyol?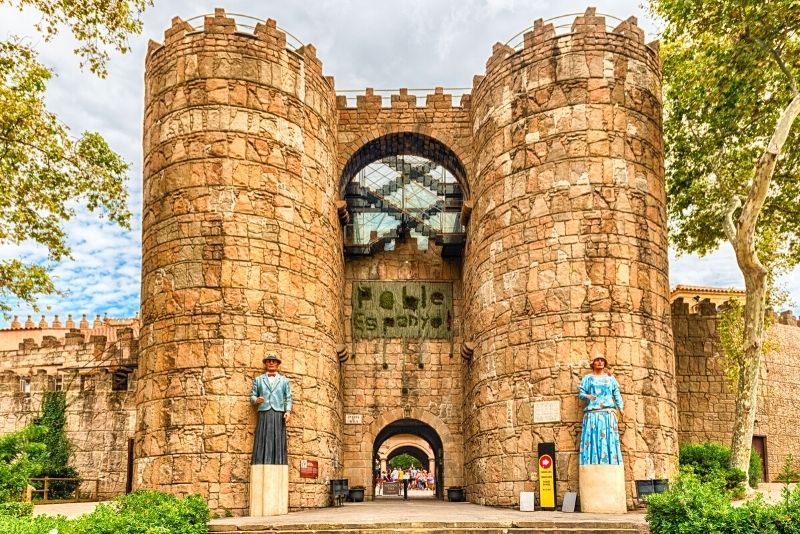 The best time to visit Poble Espanyol is typically during the spring (April to May) and autumn (September to October) when the weather in Barcelona is pleasant and the open-air museum is less crowded.
While Poble Espanyol is open year-round, visiting during the week, rather than the weekend, can also help avoid crowds. Evening visits are special, too, as the museum frequently hosts concerts, festivals and other cultural events.
Which other museums can be visited in Barcelona?
Travel tips
The area at Poble Espanyol is pedestrianized and there's a lot of walking involved, so make sure you wear comfortable shoes.
With over 100 buildings to explore, the open-air museum is rather large. Make sure to plan enough time for your visit.
There isn't a lot of shade on-site, so protect yourself from the sun on hot days with sunscreen and a hat. Don't forget to bring along a water bottle to stay hydrated.
If you forget to pack any snacks, there are several restaurants and cafés within Poble Espanyol for some tapas.