Soaring over the city from extreme heights, you'll experience a truly remarkable view of the ancient metropolis on skydiving tours in Athens.
Skydiving not only provides an adrenaline rush like no other, but it also gives you a bird's eye perspective of Athens that you can't get anywhere else.
With a professional instructor strapped to you at all times, you can concentrate on enjoying the exhilarating activity and admiring the cityscape from above.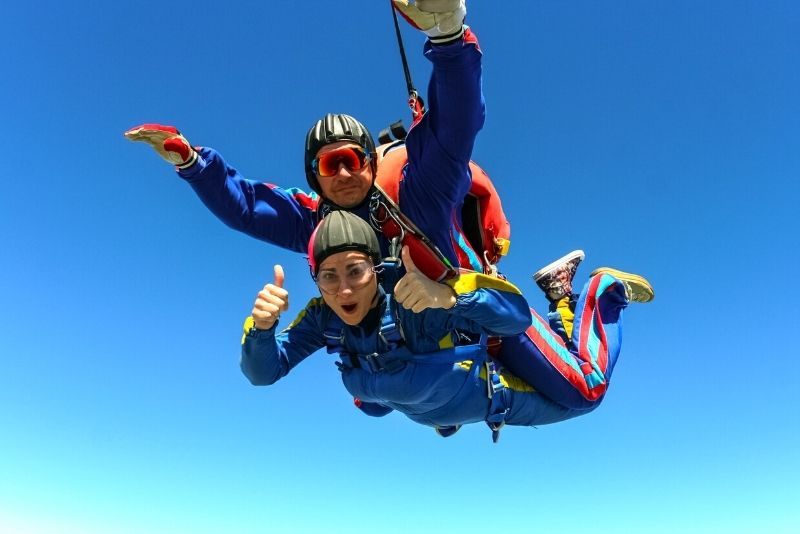 What are the best skydiving tours in Athens?
Skydiving is without doubt the most exhilarating adventure sport in Athens if you're looking for something wild to try. There are a couple of different locations you can start from which both offer their own unique views.
Tandem skydiving from Athens
Tandem skydiving tours take place just outside the city center where you'll be strapped to your instructor, ready to experience a serious thrill. You'll jump from a height of 3,500 meters and hurtle through the sky at adrenaline-spiking speeds of almost 220 kilometers per hour.
After approximately 45 seconds of freefall at this lightning pace, your parachute will open and you'll float gently above the city of Athens. From the air, you'll have a unique and unbeatable view of the city and its surrounding area.
Tandem skydiving in Kastro
If you want to experience even greater heights, this skydiving tour enables you to jump from over 4,200 meters. You'll travel approximately an hour north of Athens to make your jump, which gives you a varied view of the landscape in Greece.
For reassurance on this nail-biting excursion, you'll be secured to an instructor who will allow you to freefall for a minute before opening the parachute.
If you want to see aerial views in a more serene experience, why not try paragliding in Athens?
How much do skydiving tours in Athens cost?
Skydiving tours in Athens that take place close to the city at Megara Airport, cost approximately €210.
Excursions that are held at Kopaida Airport, slightly further north, are a little cheaper at around €200.
What is included in a skydiving tour in Athens?
Everything you need is provided for you on a skydiving tour in Athens. All tandem skydiving equipment, a trained instructor and airplane flight up to the jump zone are included in the price.
Where do skydiving tours in Athens start?
Your meeting point for skydiving tours in Athens is at the airport where your jump takes place. Depending on your excursion, this will either be Megara Airport, 20 minutes outside the city center, or Kopaida Airport, roughly an hour away.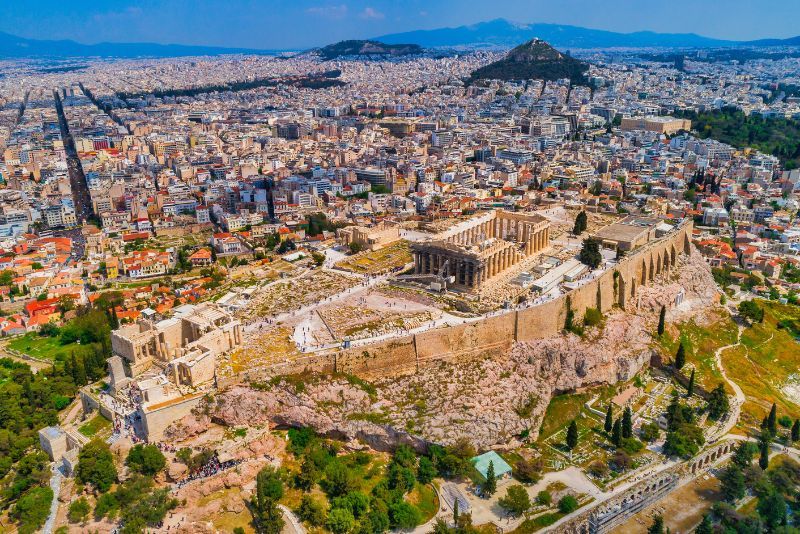 How long do skydiving tours in Athens last?
Skydiving tours in Athens take roughly two hours from start to finish. While your jump lasts around 15 minutes, you'll take part in a safety briefing beforehand and have to fill in the necessary paperwork.
It also takes a few minutes to travel by plane to the correct altitude for your jump to take place.
When is the best time for a skydiving tour in Athens?
Skydiving excursions in Athens take place throughout the day. The best time to participate in a jump is whenever you feel brave enough to!
Skydiving is an unforgettable experience and is sure to be the highlight of your Athens vacation. Consider booking your trip for your final day in the city.
Is it safe to take a skydiving tour in Athens?
Skydiving tours are extremely safe, and you'll be strapped to an experienced professional instructor at all times. It is, however, not recommended for pregnant travelers, those with vertigo or other health conditions to participate.
Are children allowed on a skydiving tour in Athens?
Children under 18 are allowed to take part in a skydiving tour but must have the consent of their parent or guardian. It is a requirement that all jumpers are at least 1.2 meters tall.
What happens in case of bad weather?
The timing of your skydiving trip in Athens may change slightly depending on the weather on the day. If the conditions make jumping impossible, you'll be offered a change of date or a full refund.
Travel tips
It is possible to have your jump captured on camera. If you wish to purchase this evidence of your electrifying adventure, you'll pay between €35 and €60 for a video and a range of photos.
Wear comfortable clothing and sneakers for your skydive.
Ensure you eat as normal before any skydiving tours in Athens. Eating a light snack or meal beforehand will help prevent you from feeling faint or lightheaded.