Athens is full of countless historical, adventurous and cultural tourist attractions that you can enjoy. Most visitors make stops at the Acropolis, the Parthenon or one of the numerous museums in the city.
If you're looking for something that will get your adrenaline pumping, paragliding in Athens might be the perfect activity for you! The city provides stunning views of beautiful landscapes and islands that are on show.
Paragliding in Athens will make you feel weightless and peaceful, as you maneuver through the air while watching stunning views of the Greek capital city.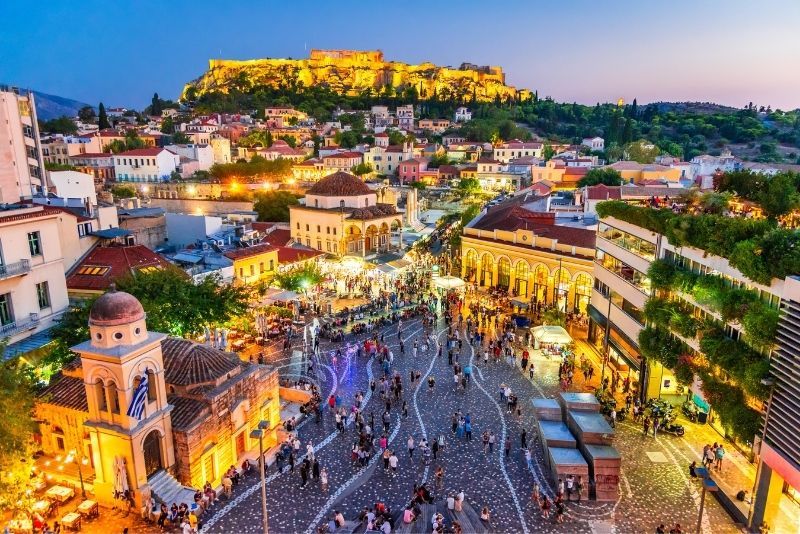 What are the best paragliding tours in Athens?
Tandem paragliding flight in Plataies near Athens
This paragliding flight near Athens is the perfect way to make your flying dreams come true. You can fly over the Attica region while taking in the picturesque views of the mountains and the valley.
On this outdoor experience, you will be attached to a tandem paraglider that seats two people. You can rest comfortably knowing that you have an experienced paragliding instructor right behind you.
The flight takes place between Plataies in Boeotia and Kandili in Megara located just about one hour away from Athens. This paragliding flight uses state-of-the-art equipment to ensure that your experience is as safe and effortless as possible.
Paragliding flight outside of Athens
You can experience the beautiful terrain of Greece with a bird's eye view. This is a great way to get your adrenaline rushing, as you glide through the air. You are harnessed to an experienced instructor to ensure that you stay relaxed while admiring the amazing view of Greece.
Before your flight, you will meet with a certified pilot who will explain all the safety procedures and equipment to ensure that you have a seamless paragliding experience. Then you will get your helmet and harness before the parachute is set up.
The meeting point is determined before the flight by the pilot, but the takeoff point is about one hour away from Athens in Plataies and Megara. This particular experience usually lasts for about 20 minutes, although this depends on the wind conditions.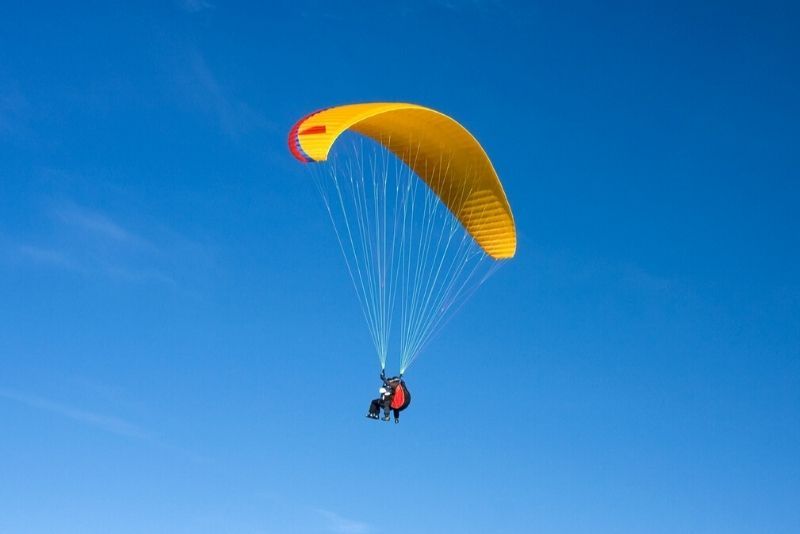 How much do paragliding tours in Athens cost?
Paragliding outside Athens usually costs around €100 per person for a 20-minute tandem flight.
For paragliding near Athens, the shorter flight costs €115 per person and takes about 15-20 minutes, depending on the weather conditions. The longer flight costs about €175 per person and takes about 40 minutes, depending on the weather conditions.
What is included in a paragliding tour in Athens?
Every paragliding booking provides you with stunning views of Greece. Apart from the flight, you will also receive a helmet, harness, tandem paraglider, licensed pilot, video coverage and local transportation to and from the takeoff and landing locations.
Where do paragliding tours in Athens start?
Many of the paragliding tours in Athens take off from Megara, a beautiful coastal town that sits just an hour's drive away from the bustling capital city of Athens. Some other paragliders take off from Plataies, just over an hour's drive located towards the northwest region of Athens. Taking off from here will give you a great opportunity to see the Greek mountains!
How long do paragliding tours in Athens last?
Most paragliding tours offer about 15 to 20 minutes of flight time. The wing strength, direction, other weather factors and the reaction of the passenger to the whole experience can also impact the length of the flight. This is the perfect amount of time for your first paragliding experience, but you can also opt for a longer trip if you prefer.
When is the best time for a paragliding tour in Athens?
The best period of the year to paraglide in Athens is in February, March, April, October or November. During these months, the winds blow very favorably for paragliding and the skies are usually clear. This weather allows you to paraglide through clear blue skies, further improving the overall experience.
You can typically paraglide at almost any time of the day, but the best time is usually around noon when the sun is high and the skies are clear. Paragliding is a great way to get a scope of the city, so it could be a great choice to take the tour at the beginning of your stay in Athens.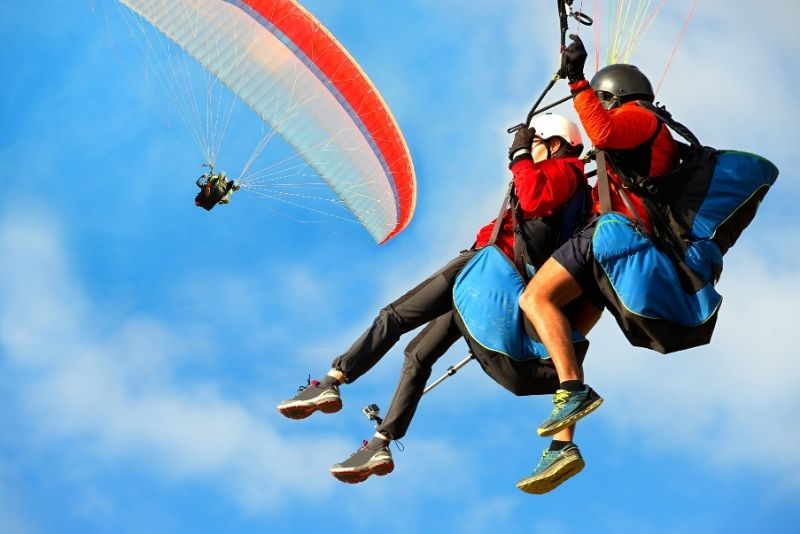 Is it safe to take a paragliding tour in Athens?
The tour providers always put everything in place, so your safety is assured. However, there is a maximum passenger weight of 105 kilograms, and people with previous health problems that could be triggered like vertigo or heart attacks are advised not to paraglide.
Are children allowed on a paragliding tour in Athens?
The minimum age for most paragliding tours is 8 years old. People under the age of 18 usually have to sign a declaration of consent before the paragliding tour begins.
What happens in case of bad weather?
Passengers usually receive updates about the weather forecast shortly before the trip, so they will know ahead of time whether or not the flight can take off. If the weather conditions are not ideal for the tour, your flight will be canceled and you should receive a refund of your payment.
Travel tips
Guarantee your spot by booking your tour in advance!
Dress in warm clothes because it always gets pretty chilly up in the skies.
You should bring a camera, close-toed shoes and a jacket, if possible.
Bring money if you would like to buy any food or water.