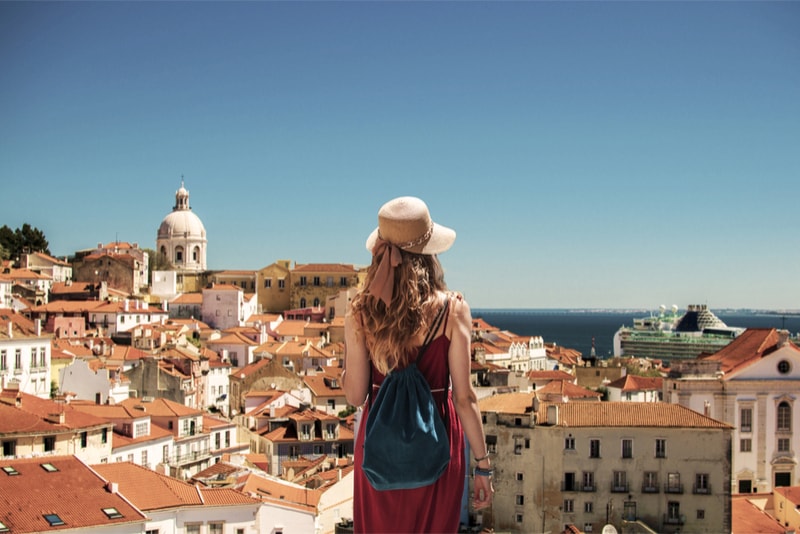 Lisbon is one of the most vibrant cities in Europe. It offers to its visitors endless interesting places to discover.
Check out this ultimate list of 30 best places to visit in Lisbon – a definitive guide of the must-visit tourist attractions and local spots, and find out why people love this city!
1. Jerónimos Monastery – A
Memorial of the Age of Discovery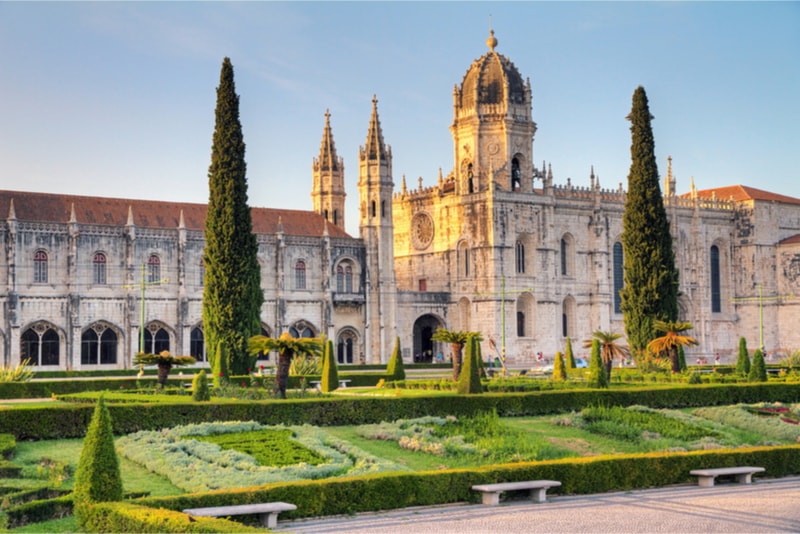 The Jerónimos Monastery was built in honor of Vasco de Gama's historic voyage to India, and is now acclaimed as a UNESCO World Heritage site.
In this exquisite monument to Portugal's Golden Age of Discovery, you will enjoy admiring its unique Portuguese Manueline architecture and visiting the Chapel of St Jerome, where you may find the tombs of Vasco de Gama as well as other historical Portuguese figures.
2. Castelo de São Jorge – The Towering Ancient Castle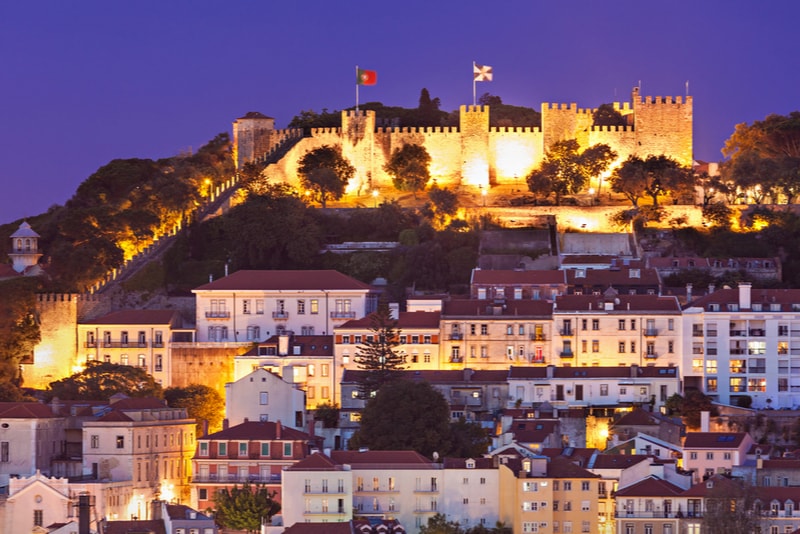 The Castelo de São Jorge (St George Castle) sits atop of the highest hill in the Alfama neighborhood and can hardly be overlooked as you stroll around the city. N
ot only does this ancient 11th century Moorish castle provides you with abundant history and stories, it also offers stunning vistas over the historic center of Lisbon and the Tagus River, making it a must see for every first-time visitor.
3. Belém Tower – A Tribute to the Age of Discovery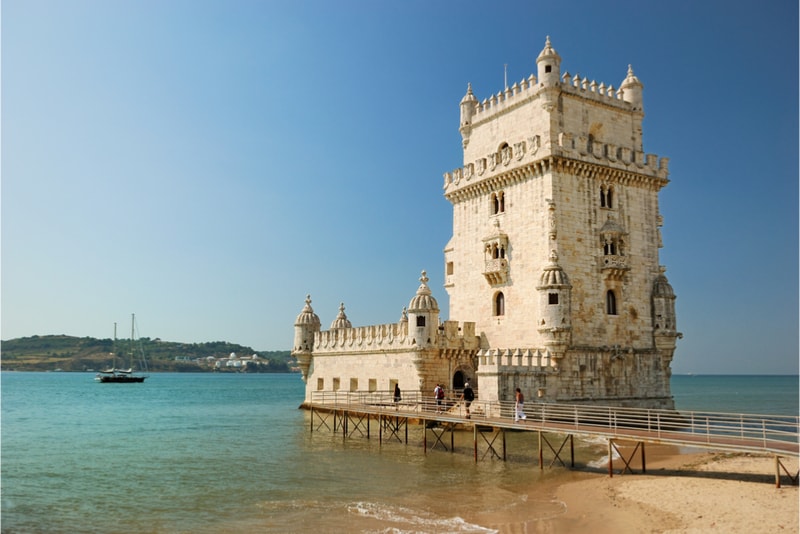 One emblematic monument of Lisbon not to miss out is the dazzling Belém Tower, the landmark of the Belém neighborhood, which can be enjoyed by joining one the free walking tours.
Built in the 16th century as a fortress to protect Lisbon's port, the Manueline edifice now serves as a monument to that prime in history and is titled as a UNESCO World Heritage site. It is THE place that tops the must-see list of every tourist in Lisbon.
4. Calouste Gulbenkian Museum – Lisbon's Treasure Chest

The topnotch Calouste Gulbenkian Museum is home to an abundance of priceless artworks from all over the world, including ancient Egyptian treasures, Qing porcelain, Marie Antoinette's armchair, and European masters' paintings.
A visit to this museum will easily make you spend a half day to indulge yourself in the city's treasure chest. The ticket costs only 10€.
5. Berardo Collection Museum – A Supreme Modern Gallery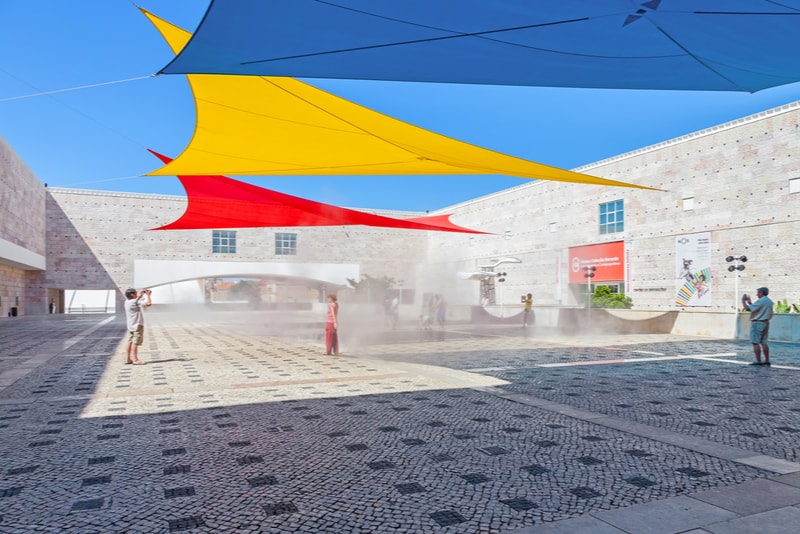 The Berardo Collection Museum hosts one of the most acclaimed modern art collections in the world and is the most visited museum in Portugal.
Founded by the Portuguese millionaire José Berardo, the well-designed gallery displays a compelling constellation of abstract, surrealist and pop art works including originals by Andy Warhol, Pablo Picasso and Jackson Pollock.
It is undoubtedly a must-see for any modern and contemporary art lover. The entrance ticket costs only 5€.
6. Carmo Convent Ruins – The Withstanding Arches in the Earthquake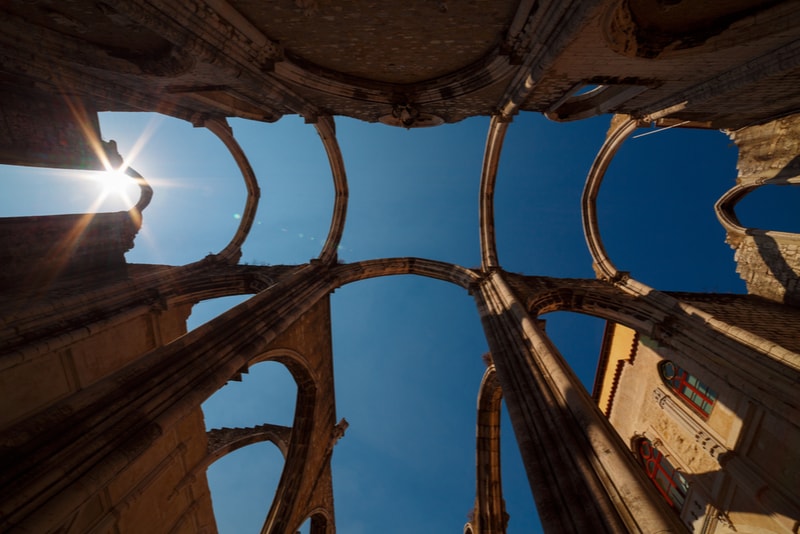 The skeletal ruins of the Carmo Convent is indeed among the most reminiscent of all Lisbon's historical monuments.
Demolished by the 1755 earthquake, the once prominent church now contains but the bare bones of surviving arches and pillars, along with the undestroyed chancel that houses Carmo Archeology Museum today. The peculiar presentation of Carmo Convent is what makes it so captivating, thus earning it a top-tier place on every traveler's wish list.
The church is a symbol of the devastating earthquake and stands in an important square for the city: the square where the Carnation Revolution which ended the dictatorship has started. Learn more about Lisbon history by joining a free walking tour.
7. Sé de Lisboa – The Must-See Oldest Cathedral in Town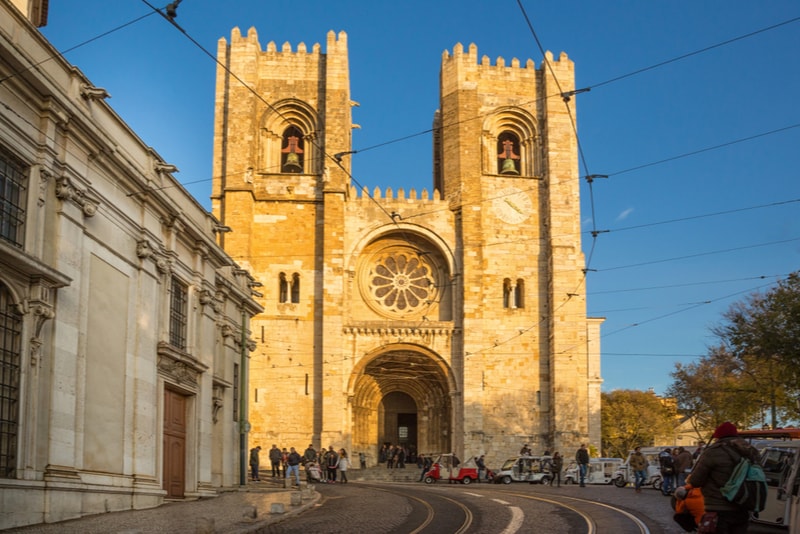 Sé de Lisboa (Lisbon Cathedral), the cathedral with an imposing exterior, is the oldest and most important cathedral of the city, built in 1150 soon after Christians reclaimed the city from the Moors.
Having survived multiple earthquakes and been rebuilt several times, the cathedral today is a mix of different architectural styles and includes an impressive Gothic cloister. It is an iconic ancient complex that every visitor should not miss.
8. Igreja de São Roque – The City's Jewel Box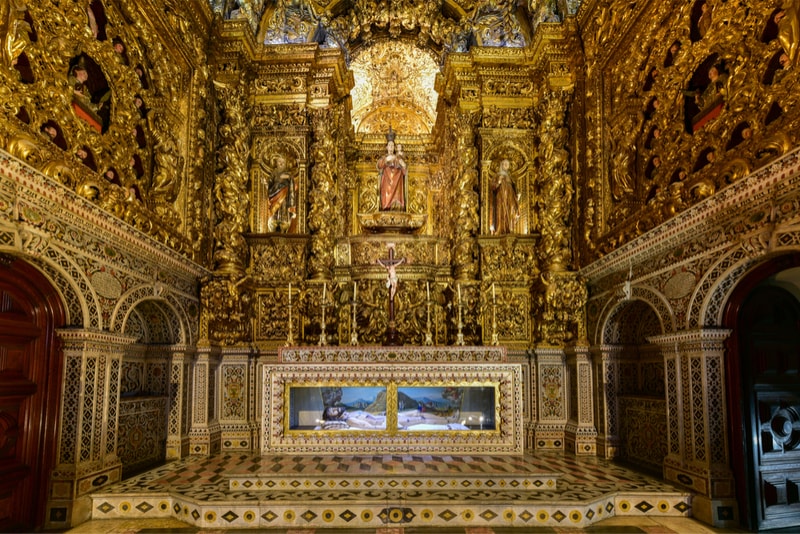 The Igreja de São Roque (Church of Saint Roch) might deceive you with its modest façade. But once you enter, its extravagant interior embellished with gold, marble and azulejo tiles will render you speechless.
It is home to the world's most expensive chapel, which was constructed in Rome and blessed by the Pope, then disassembled and shipped to Lisbon in 1742. Simply a generous gathering of gold, gem stones and mosaic paintings. The Igreja de São Roque will afford you a unique church visit experience.
9.  Play a game to discover Lisbon's hidden gems!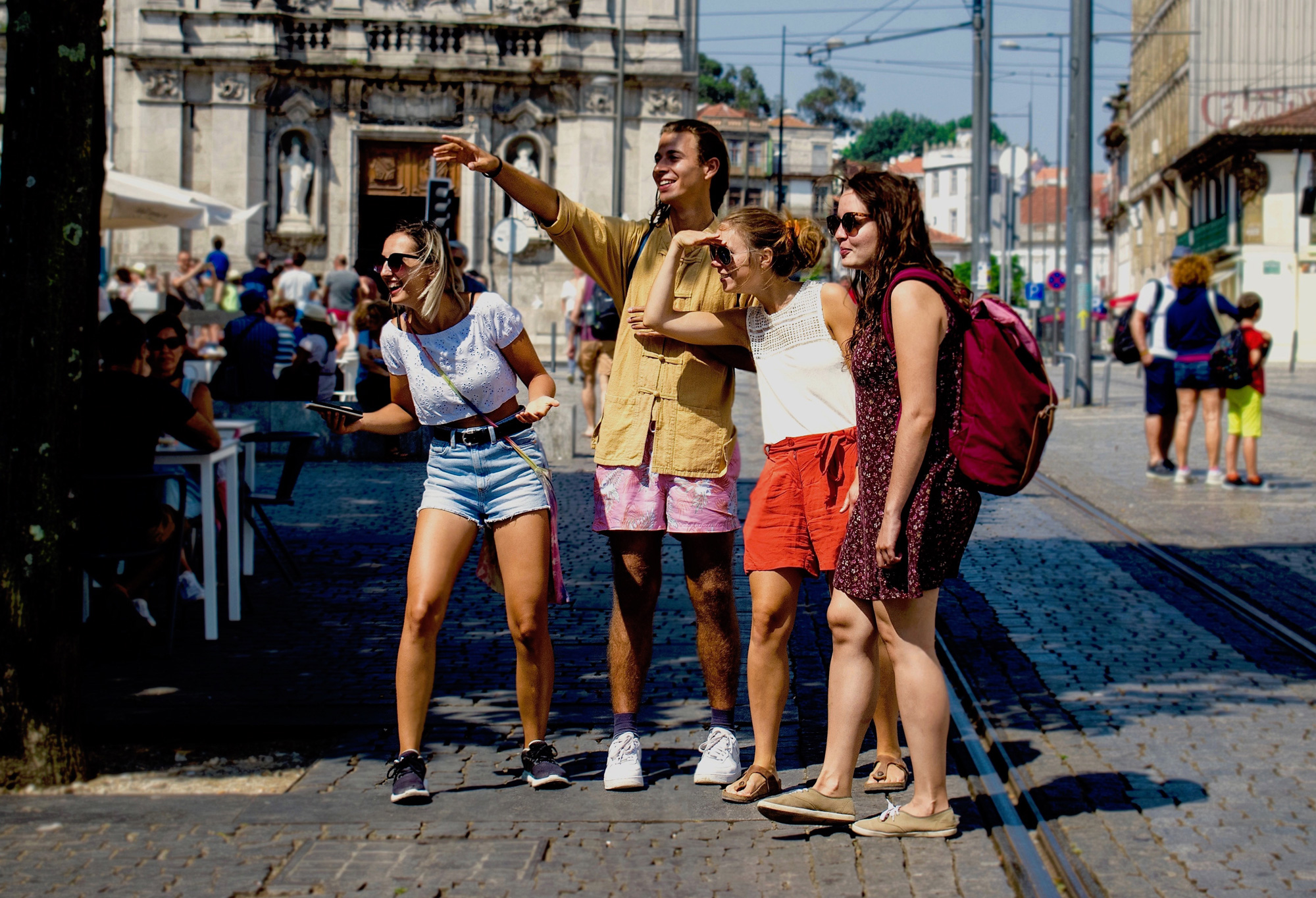 Done following maps? Not really one for following a tour guide? Still want to experience the best of Lisbon?
Play a riddle game to see the city's hidden gems and unlock forgotten stories! Secret City Trails offers 5 different adventures in city's historic neighbourhoods + another one in Belem! What are you waiting for?
10. Ponte 25 de Abril – The Red Ribbon across the Tagus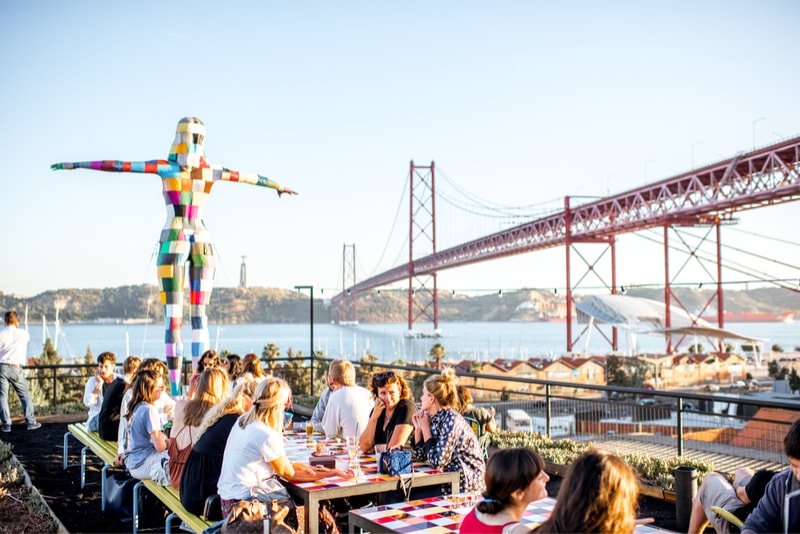 The Ponte 25 de Abril is a spectacular suspension bridge that connects the city of Lisbon and the municipality of Almada. It is often compared to San Francisco's Golden Gate Bridge due to its resemblance in color and structure.
Nevertheless, looking at the scenery of the bridge and the Tagus River by the banks is absolutely enjoyable.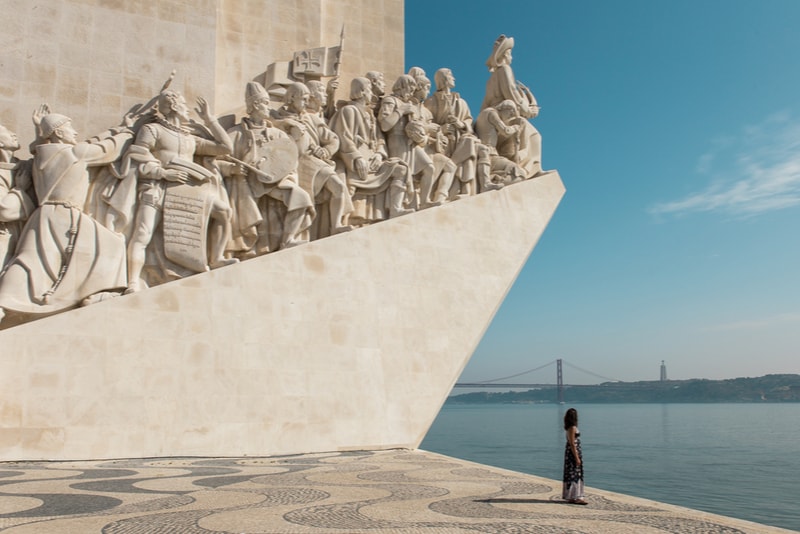 Just next to Ponte 25 de Abril is Padrão dos Descobrimentos, a stone-sculpted monolith to commemorate the Age of Discovery.
The sculpture includes important Portuguese navigators, monks and cartographers. It would be an extra bonus to your snapshots of the bridge.
11. Sintra – Where Fairytales Exist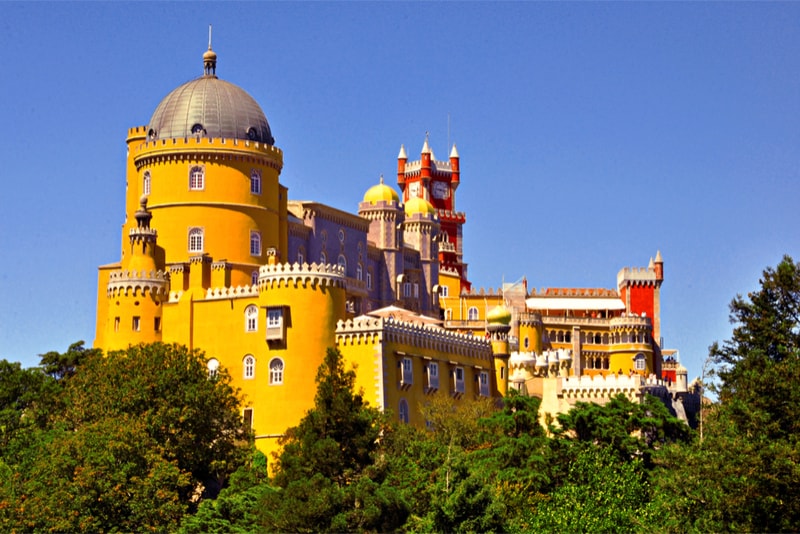 Sintra is a picturesque town full of colorful villas located northwest to Lisbon. The entire city is named a UNESCO World Heritage site, and is famous for its fairytale-like Palácio da Pena and Palácio Nacional de Sintra.
They are among the best places to see in Sintra and would make extremely instagramable snapshots!
It would be a perfect day trip to just stroll around this mesmerizing town and admire the lush green landscapes along the hill. Sintra can be visited also with many day trips from Lisbon.
12. National Azulejo Museum – An Insight to Portuguese Tiles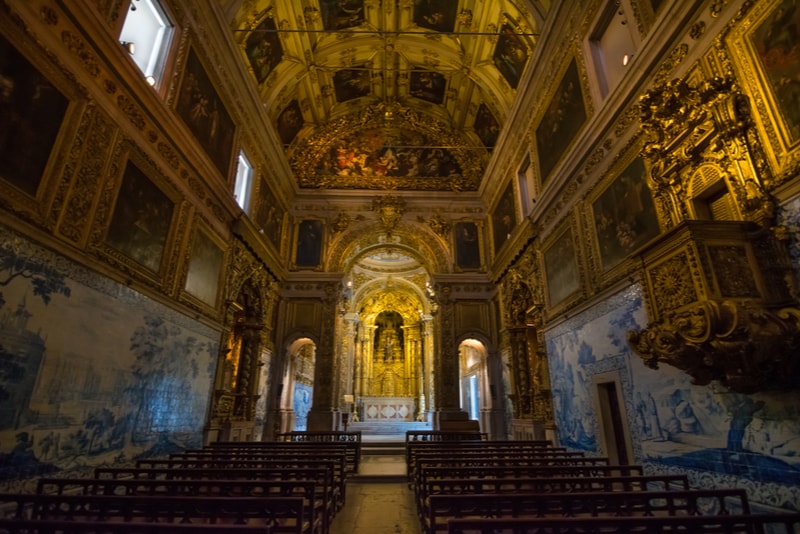 The National Azulejo Museum is the perfect place to admire the beauty of azulejos – decorative tiles.
Housed in the church and cloisters of the sublime Igreja e Convento da Madre de Deus, the museum has every kind of azulejos imaginable.
What is more, entry to the museum also includes access to the gold-smothered baroque chapel. It is definitely an exceptional museum unique to Portugal.
13. National Pantheon of Santa Engrácia – A Striking Symmetry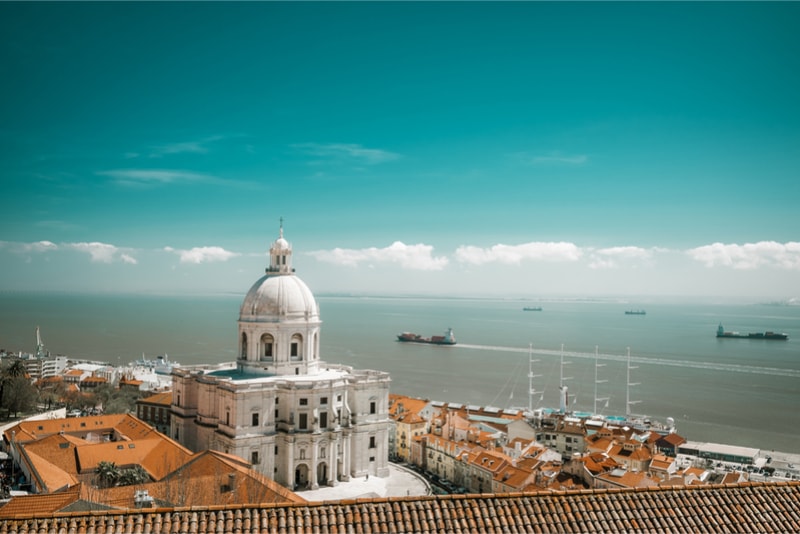 The exquisite National Pantheon of Santa Engrácia has a beautiful interior that will make you awe at its design by the second you enter.
From the highest points of the dome, you can have the best views over the stunning symmetrical interior.
While at the Pantheon's terrace, you can enjoy a fantastic panoramic view over the ancient Alfama and the Tagus River. Absolutely a place of grandeur and a must go in Lisbon.
14. Santa Justa Lift – Get High in Downtown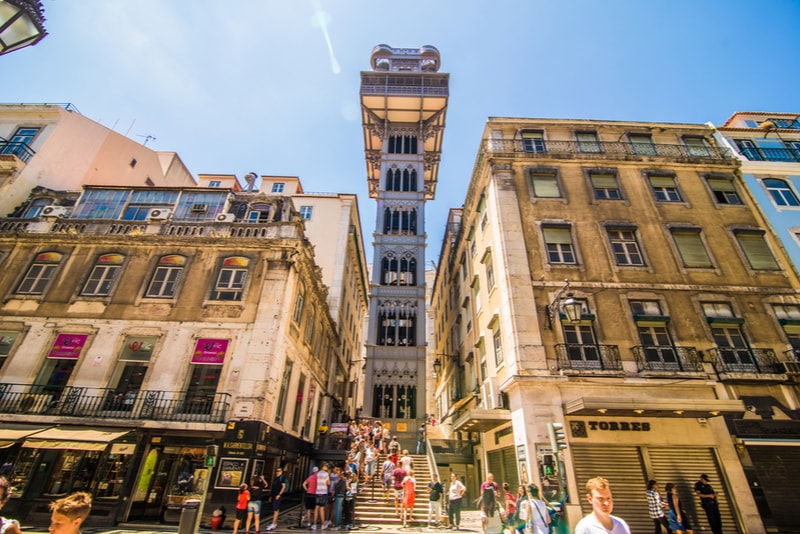 Soaring somewhat strangely among the bustling Baixa neighborhood, the Santa Justa Lift is a neo-Gothic elevator that is more than a century old and used to be powered by steam.
The purpose of it is more than to merely absorb a panorama, but rather to serve as a public transport for commuters to get to Bairro Alto without climbing the hill.
When you come to Lisbon, do not miss this exclusive elevator experience and enjoy the wonderful view over the city's skyline!
15. Lisbon Oceanarium – Visit the World-Class Aquarium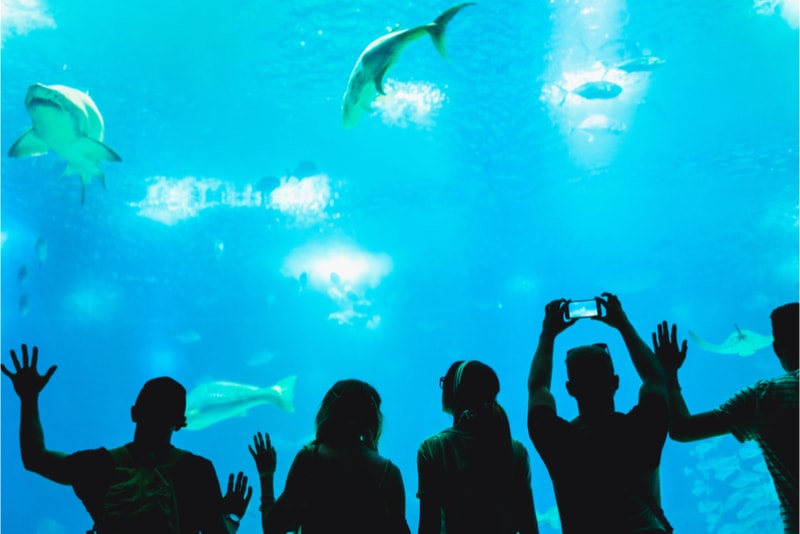 The Lisbon Oceanarium is among the best and the largest aquariums in the world.
With 8000 marine creatures and 7 million litres of seawater, it is home to an inconceivable array of fish and marine animals, including curious creatures such as grey nurse sharks, devil fish, sunfish and clownfish.
The Oceanarium offers a mind-blowing experience with its gigantic tank that makes you feel as if you are underwater. It is the most popular attraction for families, and most of all an all-time must do in Lisbon.
16. Bairro Alto – Live the Night in Lisbon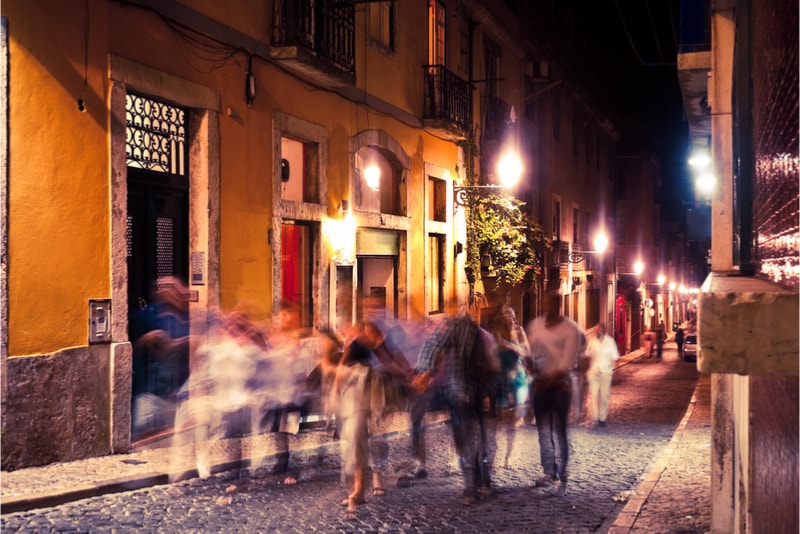 Bairro Alto is the core of Lisbon's nightlife. Once the hub for Lisbon's bohemians, Bairro Alto today has a high concentration of bars and clubs.
From traditional wine bars to glamorous rooftops, there is always a place for you.
Otherwise, you can also just chill in the streets where you will never find yourself alone. After midnight, the streets are always full of people. The extremely friendly atmosphere will show you a good time.
17. Cascais – Relax on a Pristine Beach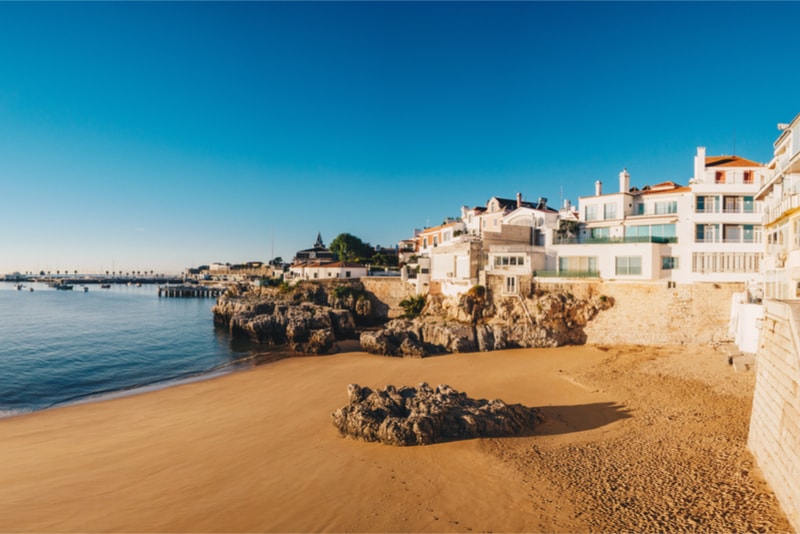 Cascais and the other neighboring beach towns along the Cascais train line are the best seaside suburbs of Lisbon. Once a small fishing village, Cascais is now a hot spot for weekend getaways.
Whether you want to stroll around the colourful old town, or enjoy a sunbath on a fine dazzling beach, this place will not disappoint you.
A holiday to Lisbon without visiting Cascais is far short of being complete. Don't forget to put it on your must do list!
18. Tram 28 – Explore the City on a Vintage Tram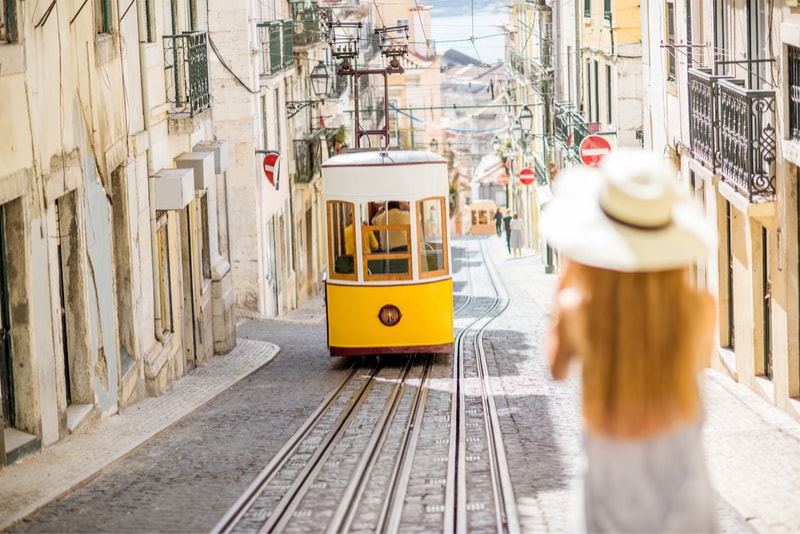 Riding the famous Tram 28 has to be one of the most charming ways to explore the city of Lisbon.
The vintage carriage will take you on a tourist-friendly route which passes through renowned neighborhoods such as Alfama, Baixa and Bairro Alto as well as popular attractions like Castelo de São Jorge.
Besides, riding the old tram itself is part of the experience. It is absolutely the top thing to do in Lisbon.
19. Arrábida Natural Park – Get Close to Mother Nature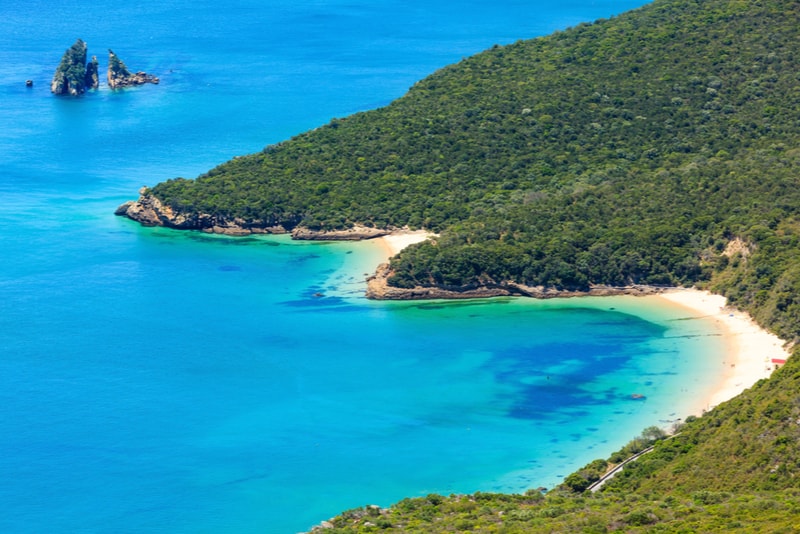 If you love nature, fine beaches and wildlife, the Arrábida Natural Park is perfect for you in every way.
Recognized as an UNESCO World Heritage site, the Arrábida National Park offers breath-taking mountain views, extremely clean white sand beaches and a unique flora and fauna to discover. You will fall in love with its magical panoramas!
Moreover, it is a great place for outdoor activities like trekking, cycling and snorkeling. All in all, it will make an ideal weekend trip for your Lisbon visit!
20. Praça do Comércio – 
Climb the 18th Century Arch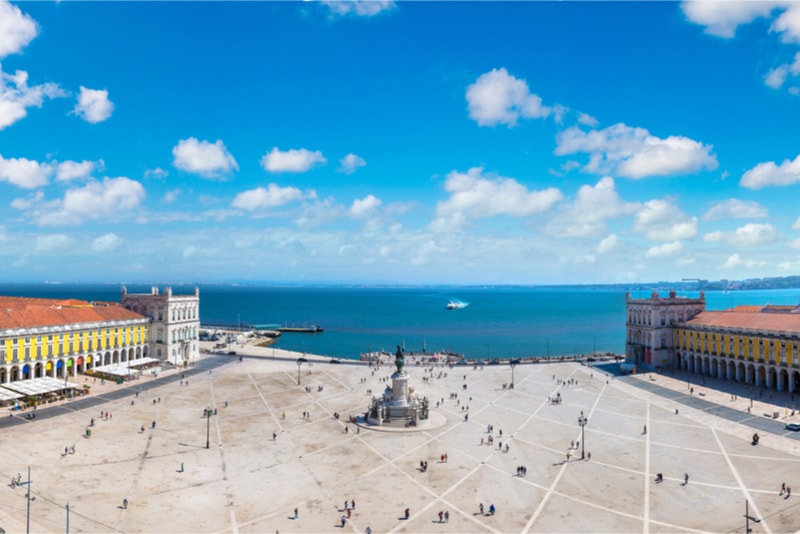 One of Lisbon's iconic sites – Praça do Comércio – is a beautiful square bonding the scenic views of the seaside and the grand Rua Augusta Arch.
A walk from the plaza to the waterfront would afford one with many interesting sights.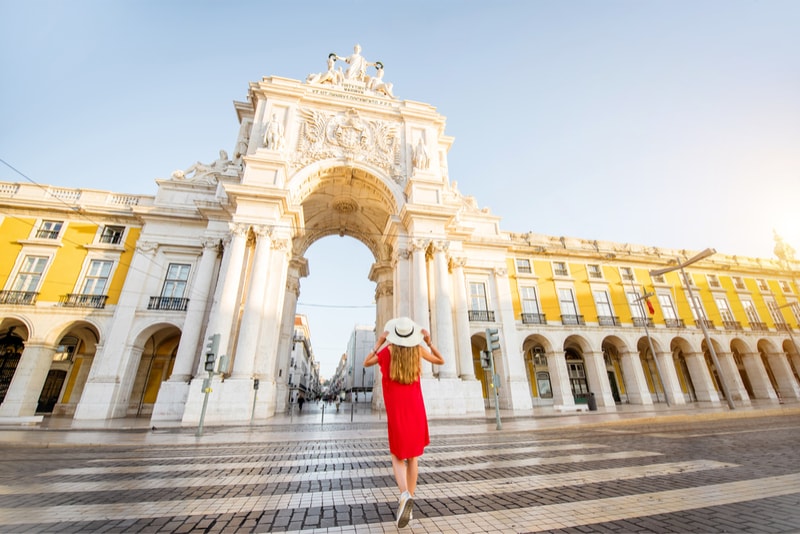 If you are ambitious, climbing the Rua Augusta Arch will ensure you a nice bird-view over the plaza and the water.
21. Alfama – Get Lost in the Ancient Maze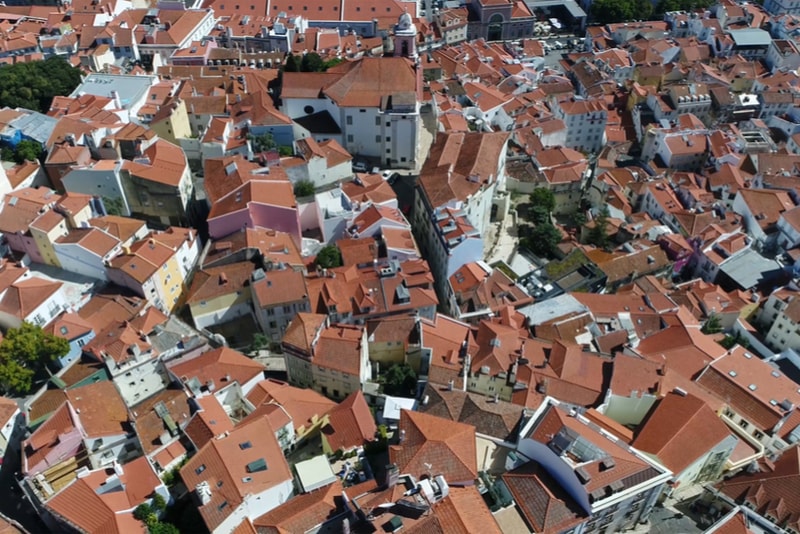 The oldest and most traditional neighborhood in Lisbon, Alfama, is characterised by narrow winding streets ribboning the hill that leads to Castelo de São Jorge.
Alfama is one of the only neighborhoods that wasn't destroyed by the detrimental earthquake in 1775, and has kept the essence of old Lisbon.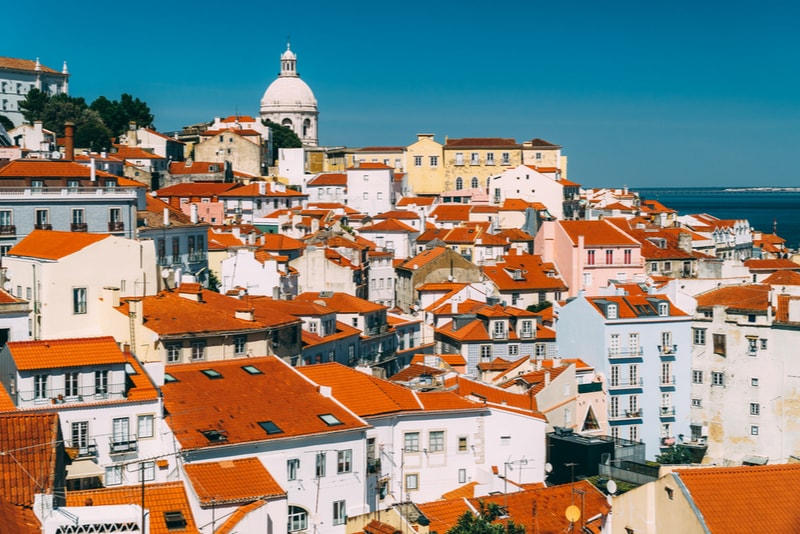 Here you will find dozens of small shops, restaurants and some traditional Fado clubs. For every visitor in Lisbon, Alfama is the top place to visit in Lisbon which can be enjoyed on a free walking tour.

One best vantage point is the Miradouro da Senhora do Monte, where you can enjoy an amazing panorama over the city and the Tagus River.
22. Fado – 
Listen to Traditional Portuguese Tunes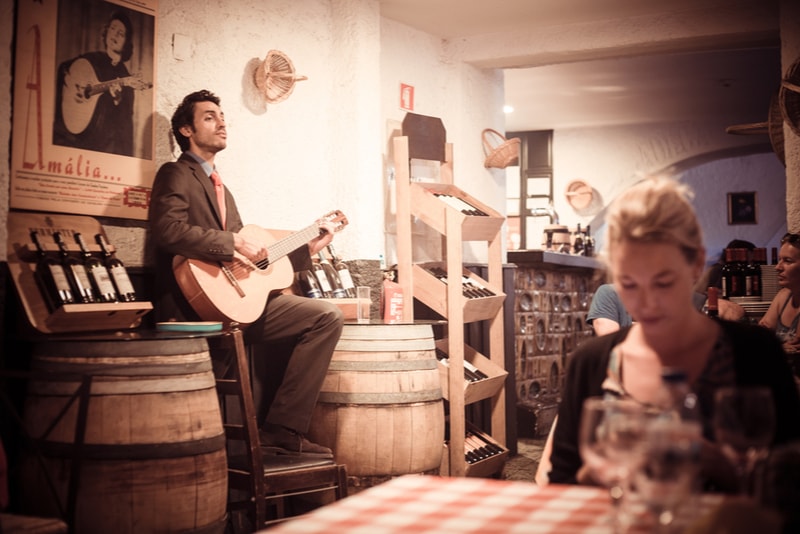 Fado is a traditional Portuguese art, mixing the soulful tunes of singers and the expressive flows of classical guitars.
The music is loosely captured by the Portuguese word saudade, symbolizing a feeling of loss. There are several locations where you can enjoy a Fado show, mainly located in the center of Lisbon (Chiado – Alfama).
It can be a great opportunity to taste a proper Portuguese dinner and also admire the surroundings by simply walking around the narrow streets.

23. Estádio da Luz – 
Watch an Exciting Soccer Game
Portuguese people are passionate about soccer. A trip to Lisbon during a soccer season will let you see the city behind its touristic façades.
Watch a local game at Estádio da Luz, one of the best football stadiums in Europe located in the north of Lisbon, is an exciting experience that you wouldn't want to miss. It is possible to visit the stadium. 
24. Pastéis de Belém – The One and Only Pastry You Need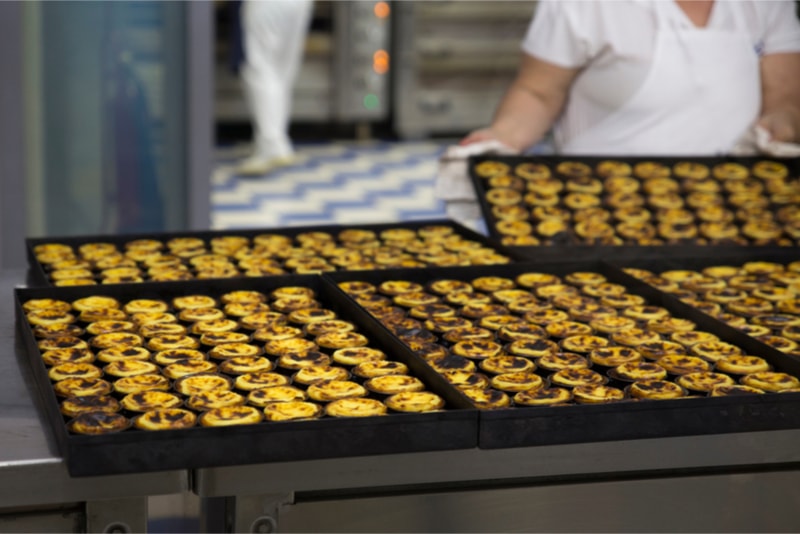 There is nothing like Pastéis de Belém. It makes you nostalgic of its taste as soon as you finish it.
The moment you take a bite – crispy crunch, lusciously rich mixture of custard, sugar and egg – you know you are gonna have more than just one.
You may find other custard tarts all over the city, but only Pastéis de Belém is the original and the best.
It is a perfect place for breakfast or brunch and always a must eat no matter how many times you visit Lisbon.
A tip is to get there before 10am to avoid the long queue, especially during weekends.
25. Bifana – The Best Sandwich in Town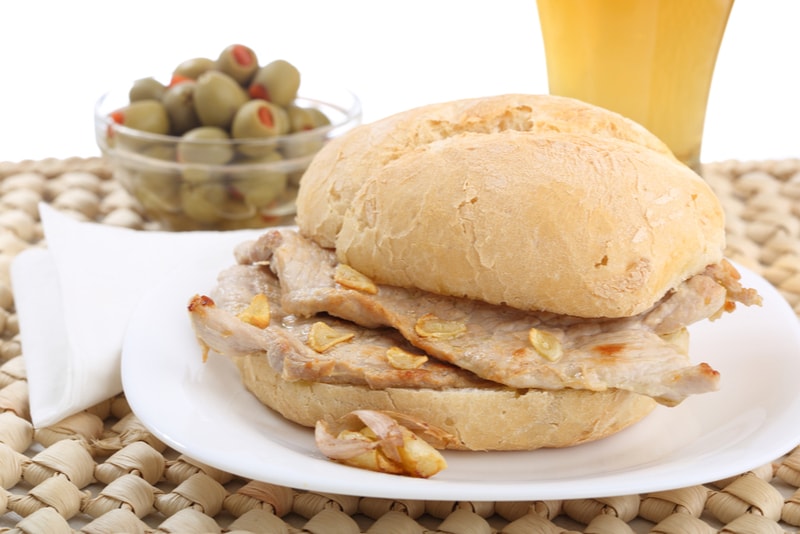 Speaking of the most typical sandwich in Portugal, you would not want to miss the tasty bifana.
Usually enjoyed as a snack with beer, it is a pork sandwich comprises of a crusty bread roll with a juicy pork chop seasoned with spice and garlic – a perfect mix of crisp and mush.
The Bifana is so popular that you can find it almost everywhere across the country. Forget burgers, grab a bifana while you are in Lisbon!
26. Ginjinha – The Portuguese Favorite Liqueur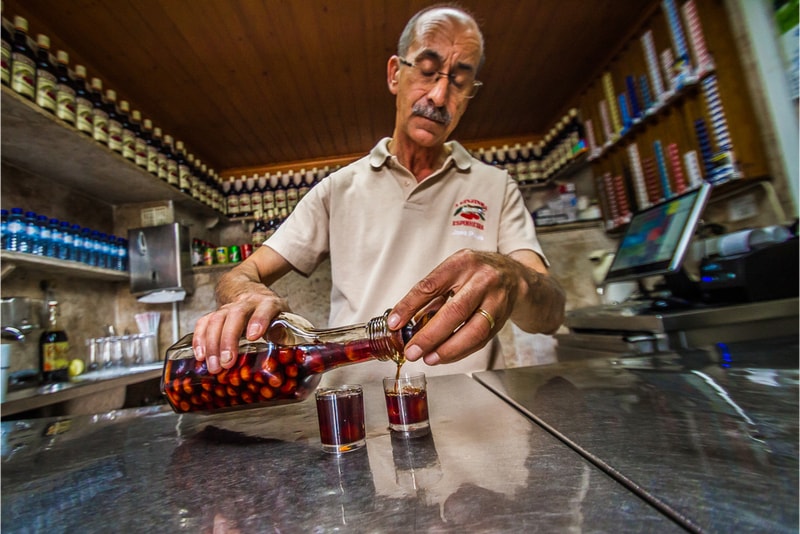 Ginjinha, or simply Ginja, is a sour-cherry liqueur made with infusing ginja berries, usually served in a shot glass.
It is a very typical drink in Lisbon and the favorite liqueur of many Portuguese people. You can choose to order one with a cherry inside – "ginjinha com ginja", or one without – "ginjinha sem ginja".
Another choice is to have it served in a chocolate cup. Simply an amazing drink.
27. Bacalhau à Brás – The Must Eat National Fish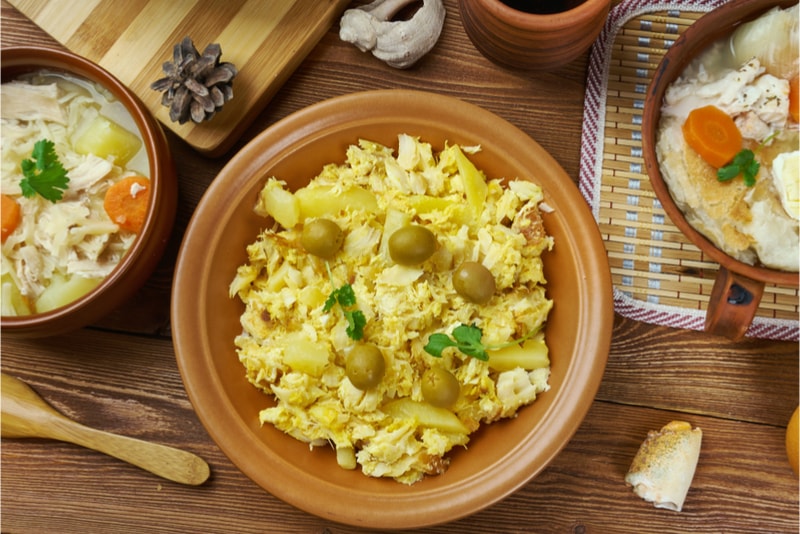 Bacalhau (dried codfish) is THE fish of Portugal. They have hundreds of ways to prepare bacalhau and you can simply eat it every day in a year without repeating the recipe.
One of the most traditional bacalhau dishes is Bacalhau à Brás – shredded codfish with scrambled eggs, olives and thin potato fries – which is great comfort food.
It would be a mistake if you come to Lisbon and don't try this extremely typical dish. 😉
28. Arroz de Marisco – Delicacies from the Atlantic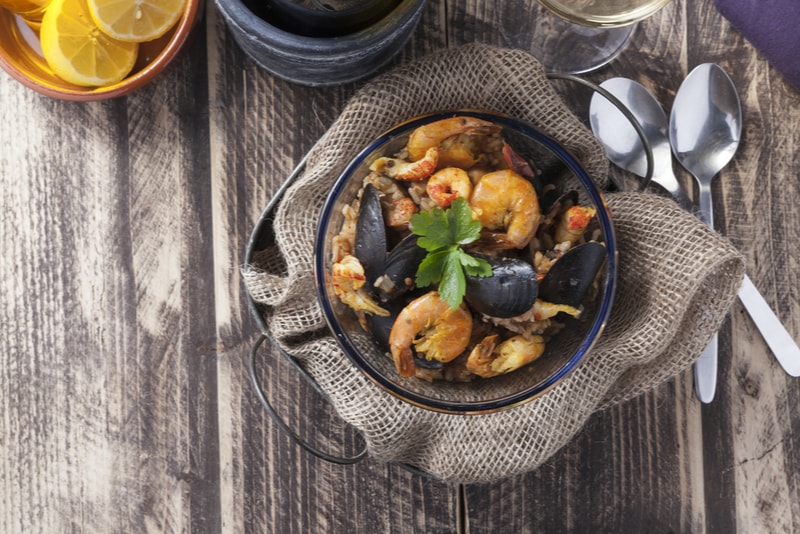 The long coastline on the Atlantic makes Portugal abundant in fresh seafood.
One of the must try seafood dishes in Lisbon is Arroz de Marisco, a saucy Portuguese seafood rice prepared with typical Portuguese spices like garlic and piri-piri.
It usually includes crabs, clams, shrimps and mussels and has more sauce than the Spanish paella. If you love seafood, this is the dish to start with.
29. Polvo à Lagareiro – The Freshest Way to Eat Octopus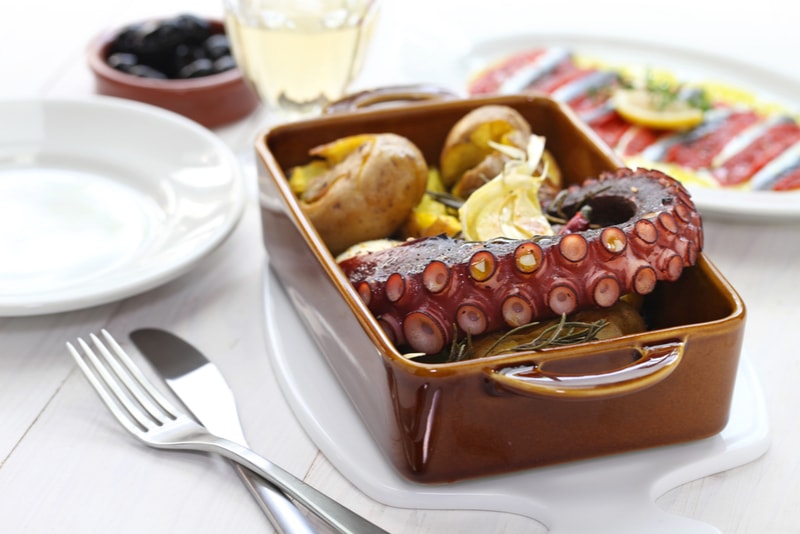 Octopus is another common seafood in Lisbon. One of the main dishes is Polvo à Lagareiro, with à Lagareiro meaning "in the style of the olive oil presser".
Fresh octopus tentacles are grilled in drizzles of olive oil, flavored with garlic and salt, served with grilled potatoes on the side.
The recipe is simple, but it draws out the best freshness from the sea.
30. Time-Out Market – The First-of-Its-Kind Gourmet Market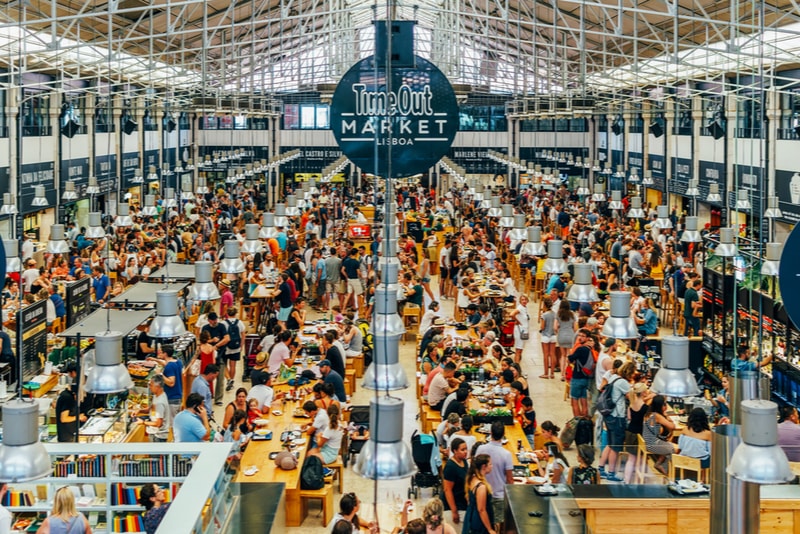 If you are a foodie, Time-Out Market is the place for you! Every restaurant, café and every dish has been tasted and tested. You can really tell by the quality.
They are the essence of the best foods in Lisbon. With more than 30 restaurants and bars and dozens of shops on offer, Time-Out Market is the first market in the world where everything is selected.
It offers all the tastes of Lisbon just under one roof. Definitely, a must-try!
Which one is your favorite? Have you visited or tried any one before? Leave a comment below and let us know what you think!
If this list is not enough for you and you'd like to discover other activities to do in the city, take a look at our article on the top things to do in Lisbon!
If you find this article useful, don't forget to share it with your friends. We wish you a fantastic holiday in Lisbon!
Share it on Pinterest 🙂