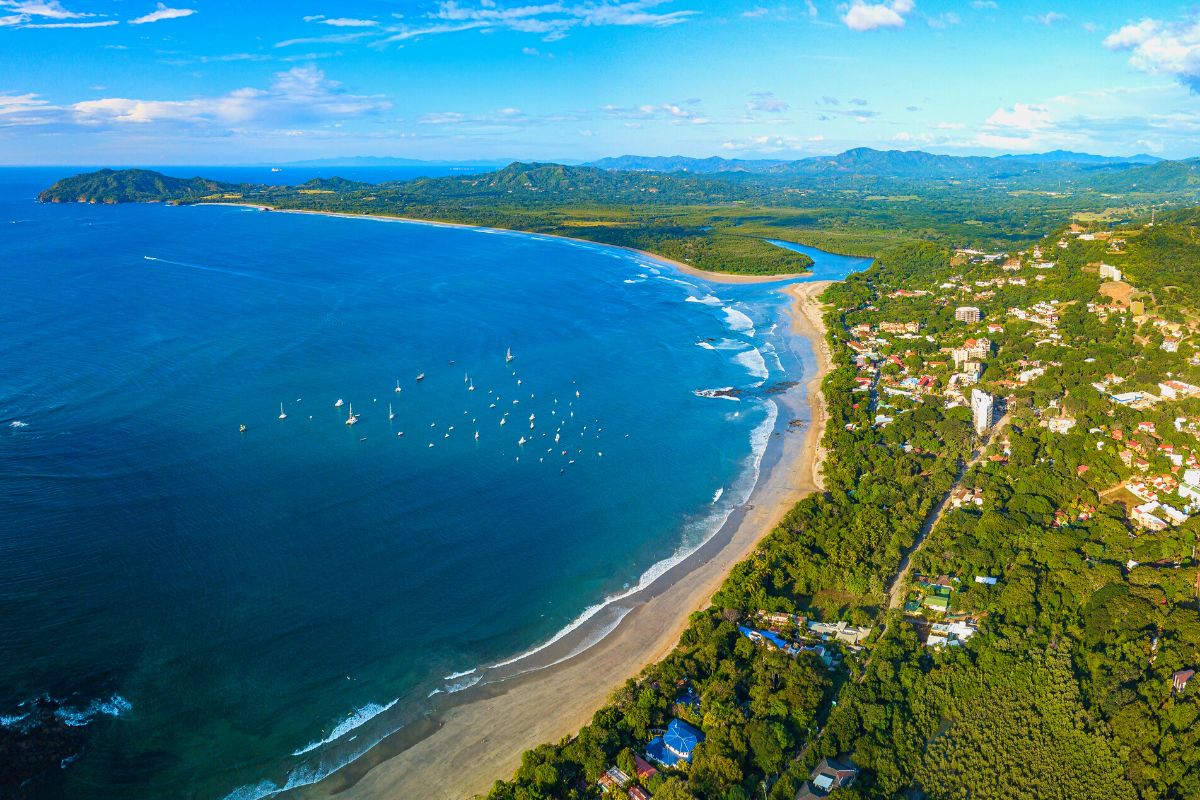 If you're looking for a mega city urban escape, you've come to the wrong place, however, sun-worshippers and ocean-loving souls, you'll find yourself in true paradise!
Cue all the laid-back vibes that any typical surfing beach town exudes; Tamarindo is a small Costa Rican oasis situated in the Guanacaste Province, offering a reprieve for travelers wanting to escape the Santa Cruz crowds.
Naturally, surfing is the word on everybody's lips, and the local markets, eateries, beach bars and boho-inspired oceanic stays are designed to suit the atmosphere. Idle away your days on endless stretches of powder-soft beaches, work on your tan and sip back on cocktails with your toes in the sand.
It's the perfect place to learn how to surf, or make friends with the locals and hunt down all the secret spots and bays littering the coastline.
Favored for its oceanic adventures, sail the Pacific Ocean and spot dolphins, pretend to be a mermaid and go snorkeling or dive deeper with scuba diving, cruise the seas at sunset, or kayak to deserted islands.
As most of Costa Rica comprises lush rainforest, the areas around are privileged spaces for native wildlife and flora — which you can expect to see in abundance. Whilst there are many things to do in Tamarindo, ventures centered around nature and animals are a top priority!
Here are the best activities and places to explore where everything is groovy!
1 – Grab a board and go surfing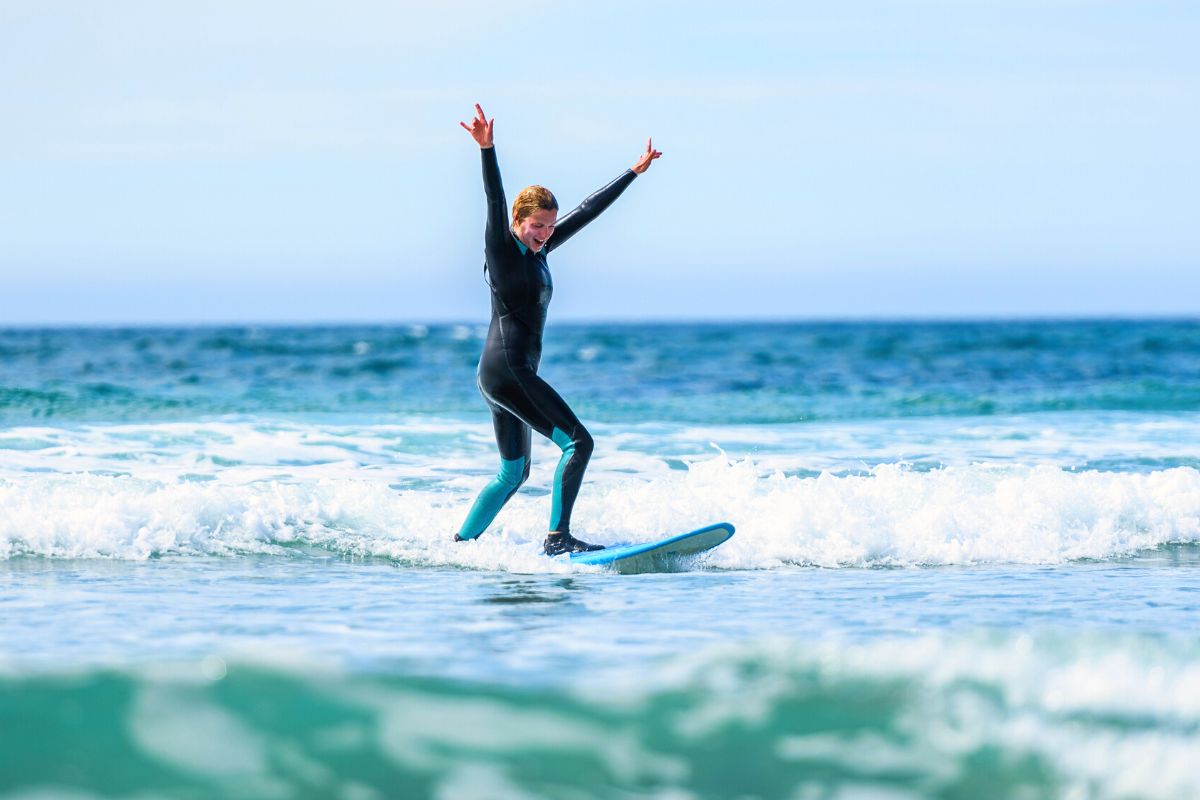 No matter where you go in Tamarindo, or wherever you look, surf culture lives strong, and hundreds of travelers flock to the coastal town just for the waves!
Renowned for owning some of the best surf in Costa Rica, there are tons of beaches, bays and breaks to hunt down — and to suit all level surfers, from beginner to intermediate to pro!
If riding the waves is second nature, hit Witch's Rock. Massive waves break off and in front of the boulder in the middle of the ocean. The rock sits behind Playa Naranjo (there is also a surf school at this beach: Witch's Rock Surf Camp).
Also suitable for the experienced type, Pico Grande has some of the top right-hand side waves, but beware of the shallow reef in front. Speaking of, there is another surf spot along the reef, Pico Pequeño. Suitable for mid to high-tide rides, it's closer to the shoreline.
Looking for a locale to first test out the waters? Henry's Left and Henry's Right surf spots are suitable for beginner to intermediate surfers. Also with a reef underneath, save Henry's Left for high tide, or choose Henry's Right where waves break away from the reef and head toward the shore.
Are you only just starting out? Situated at a river mouth, El Estero is a great option for beginners. For travelers who have never tried surfing before but are keen to learn how whilst in Tamarindo, there are private surf lessons available and many surf schools around town.
2 – Swim with fish during a snorkeling tour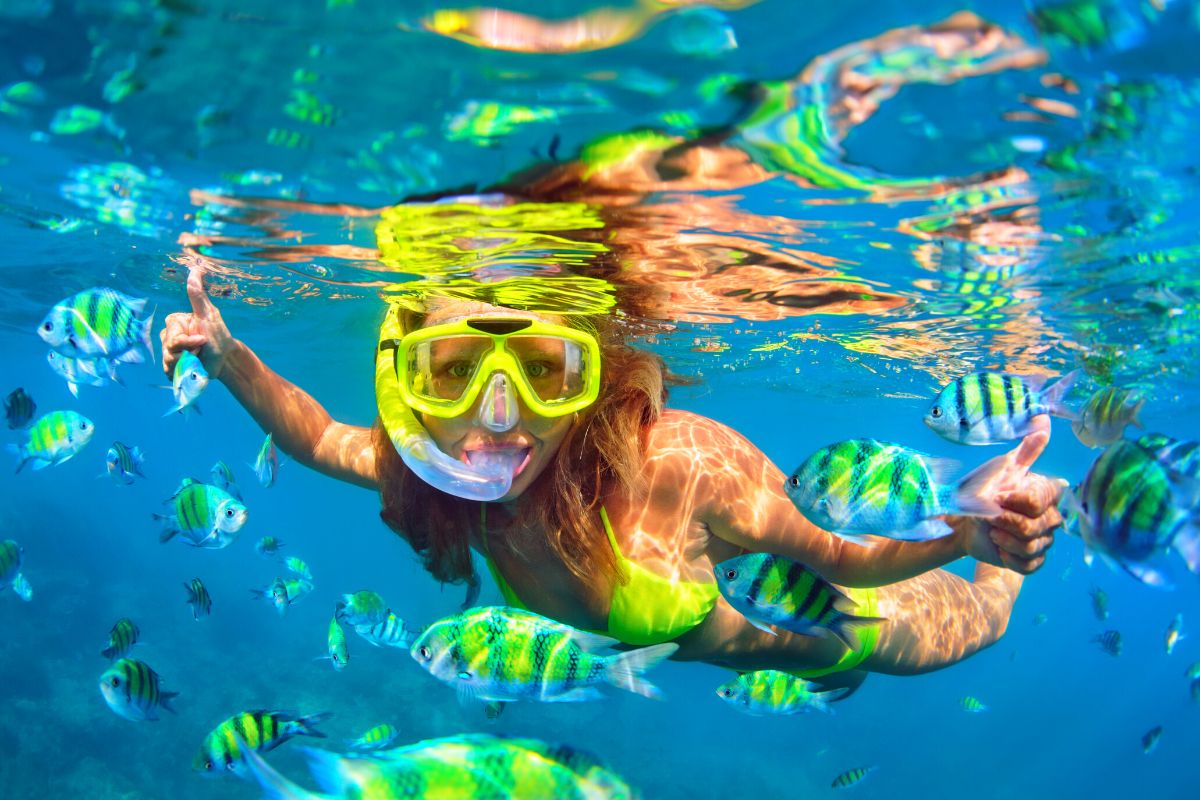 Boasting the most idyllic, clear-blue waters in the Santa Cruz region, the underwater opportunities in Tamarindo are incomparable. Pretend to be a mermaid for the day during a snorkeling tour around the islands and to deserted beach bays.
First, decide whether a private charter suits you or you'd prefer to join a tour group (often the more affordable option). Cruise the north of Tamarindo for a couple of hours, anchoring to snorkel and explore the tropical fish surrounding you (some expeditions include lunch and refreshments).
Or embarking as the sun rises, head off around 6 AM and spend the morning on a half-day snorkel venture around the Catalina Islands, stopping at two locations for around one hour of snorkeling at each.
There are special sunset endeavors too. Departing in the afternoon, sail the Guanacaste coast where you'll get the chance to see dolphins, sharks and manta rays if they're out to play. Swim, snorkel and cruise back into Tamarindo as the sun begins to set for the most incredible ocean scenery!
All snorkel equipment and gear are provided. Some boats are stocked with an onboard bar but do enquire prior to your snorkel tour.
3 – Feel the adrenaline on a quad tour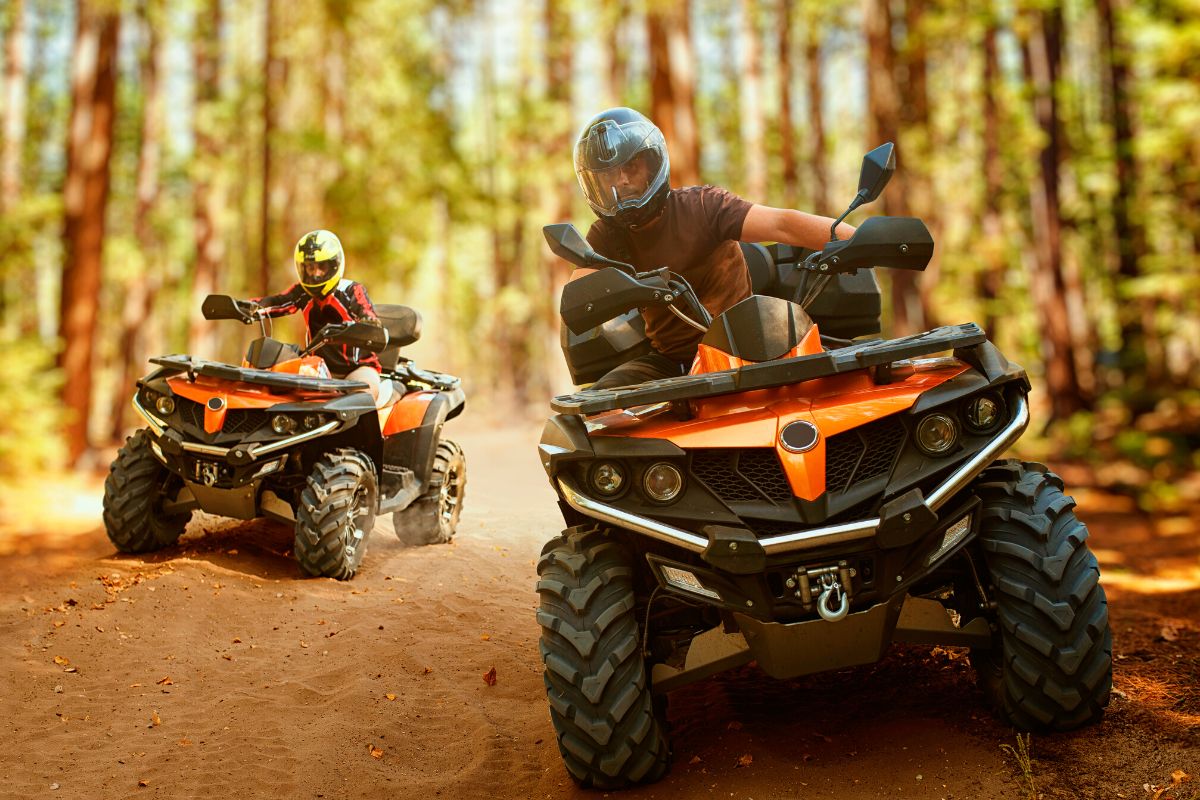 For the most part; if you've chosen Tamarindo it's because of its outdoor makeup and closeness to Mother Nature. With the wind in your hair and the open landscapes surrounding you, hop onto an ATV and take a quad tour through jungles and across sands.
There are a couple of ATV operators around. Pininos Adventures offers two-hour excursions, crossing Playa Real and Playa Conchal, into the rainforests, past rivers and over streams.
Action Tours have rides that last between two to three hours, zooting through the jungle or to a combination of beach, forest and mountain tracks in the Guanacaste region. En route, spot native flora and fauna like iguanas and varying bird species.
For families on holiday in Tamarindo, consider buggy tours. Fitting up to four passengers, you sit inside an open-air caged vehicle, and these tours often follow the same route as a quad tour.
Many tours can include snorkeling opportunities or a kayaking stint with your ATV adventure!
Fun tip: Although the rainy season is wet, it's also the most fun to ride quad bikes as you zoom through muddy tracks and rip up the puddles.
4 – Shop the Tamarindo Farmers Market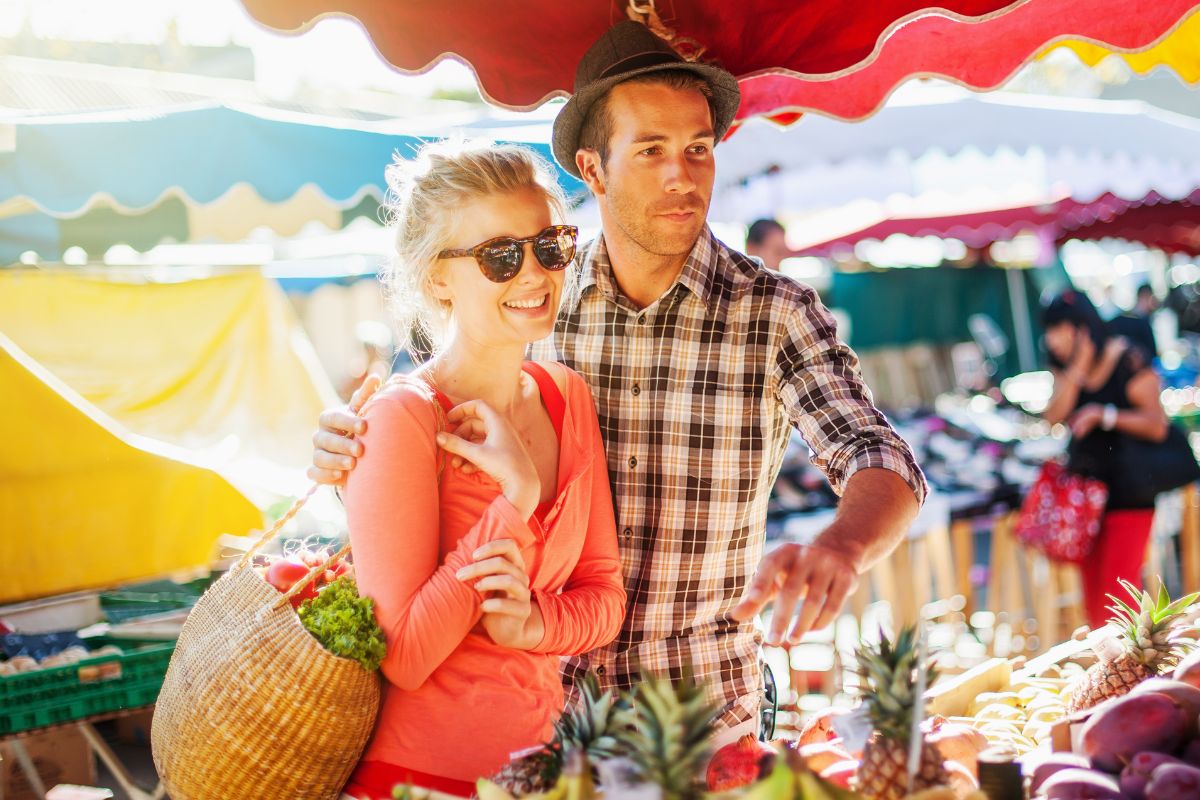 Everywhere you look, greenery surrounds you in abundance in this part of Costa Rica — an already evergreen oasis! Smell, taste and savor the fruits of her labor during an expedition to the Tamarindo Farmers Market.
With colorful stretch tents providing shade, all the organic products and produce, and smells of incense in the air, it's got a distinct "hippy vibe" adding to its popularity.
On the foodie front, shop for homemade treats and snacks like coconut caramel squares, homebrewed kombucha or cold brew coffee, ground herbs and spices (from raw cocoa to special blends) and so much more!
Stop by a food truck and munch down on açai bowls or cut-out pineapples filled with fruit salad inside.
It's the perfect place to buy unique souvenirs and one-of-a-kind pieces crafted by local artists and creatives. Find amazing handmade jewelry (like necklaces, pendants, bracelets, anklets, earrings, rings, statement pieces… you name it!), crystals and precious stones, stunning hand-woven bags in Aztec prints, woven trinkets and handfuls of other artisanal goods.
Locally known as just 'Tama Market', the shopping destination only opens Saturdays from 8 AM to 2 PM.
5 – Marvel at Llanos de Cortes Waterfall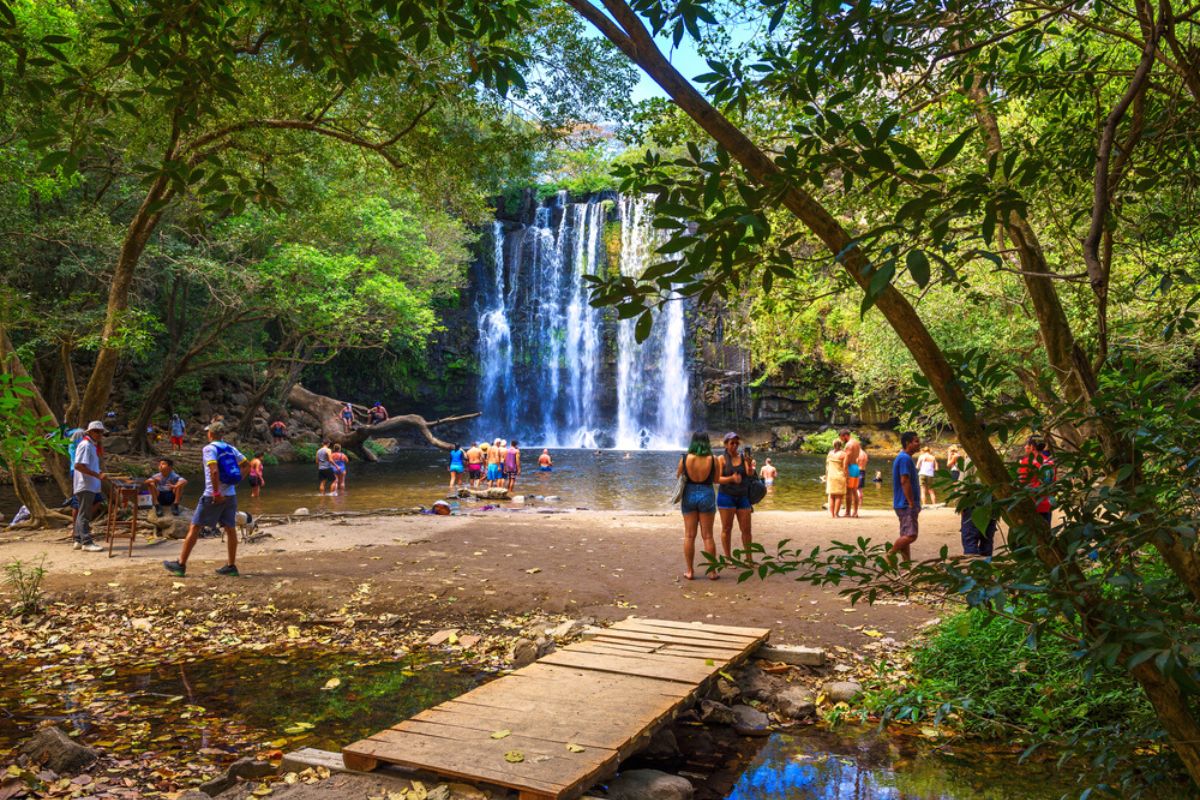 Do go chasing waterfalls in Tamarindo, and with just one small peak at the 19-meter-high cascading Llanos de Cortes Waterfall, you'll quickly be on your way!
The best part about this waterfall is not just its striking beauty and power, but it's super easy to reach and there's no real trekking involved. In less than five minutes from the parking lot, follow a set of concrete stairs downhill until you reach Llanos and her multiple cascades.
Swimming is allowed in the rock pools underneath the falls, and many families enjoy this waterfall. Do take caution in some parts where the water becomes deeper.
To reach Llanos de Cortes Waterfall you need to travel outside of town and Santa Cruz into the lush forested areas. There are plenty of tours that bring travelers to the fall, offering a convenient way to reach it, with all transport taken care of.
6 – Hike to mythical Rio Celeste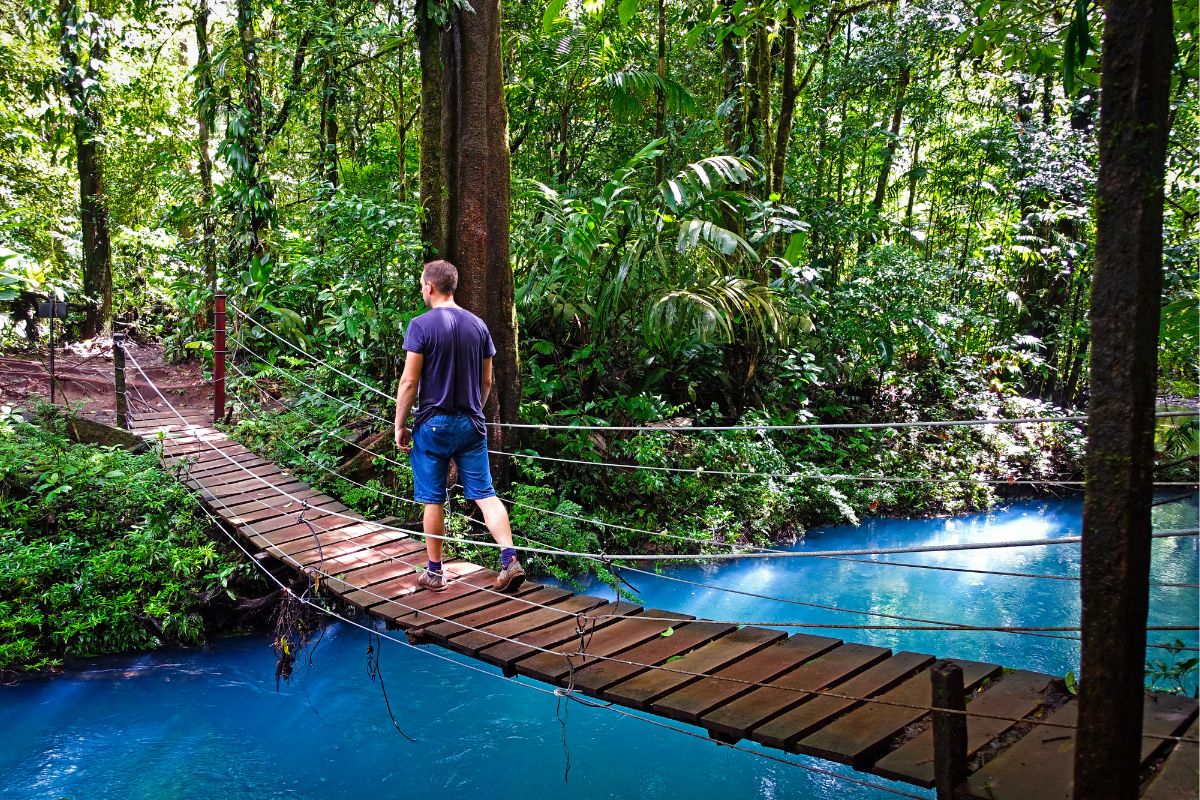 Whilst Llanos de Cortes Waterfall is easy to reach, the hike to Rio Celeste is totally worth it once you gain sight of this mesmerizing natural shower… plus, the myths and legend surrounding it make it all the more magical!
The story goes that when the world was first created by the gods and they were busy painting the sky blue, they dipped their paintbrush into a river inside the Tenorio Volcano National Park where the falls flow, creating its striking blue color.
To see this in real life, you first need to embark on a six-kilometer-long round trip inside the national park, and the hike takes roughly three hours there and back. For the most part, it's relatively flat, but there are some hilly sections and stairs to tackle.
Reaching the top of spiraling wooden stairs leading to the magnificent pool with dense rainforest shrouding the fall looks like a scene out of Avatar! As one of the most beautiful sites in the area, hiking tours in Tamarindo often choose this waterfall as a main destination to trek to.
Take caution in the wetter months when it's been raining a lot as the trail gets muddy and slippery. Wear closed, sturdy walking shoes.
7 – Walk among a natural sloth sanctuary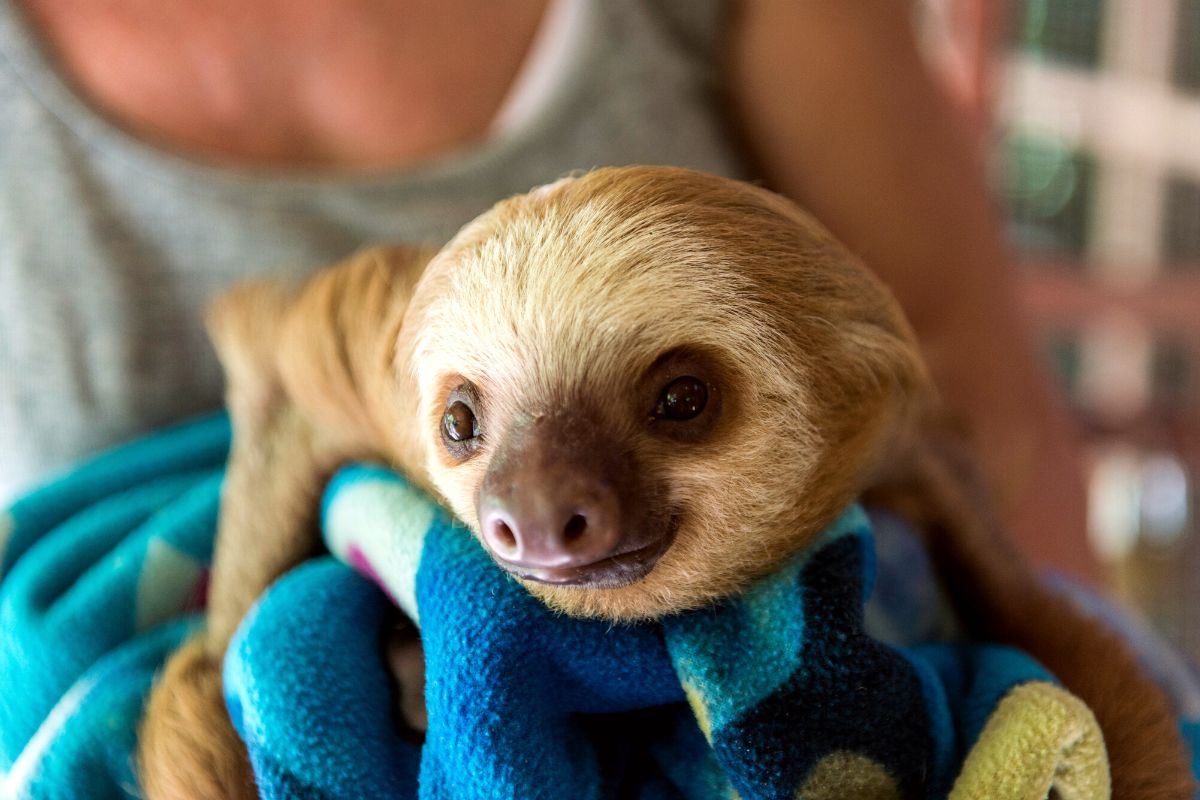 These absolutely adorable nocturnal creatures are never given enough credit, usually only spoken of when mixed with a simile. Calling tropical rainforests in Central and South America their native home, sloths live in the wild in Costa Rica.
For the chance to witness these sleepy cute animals in person, book a dedicated tour through the forests — and their natural habitat! (Forget about any zoos in this case… Yay!) The rainforests in Costa Rica are protected, forming natural sanctuaries.
Living within the treetops, and sleeping for most of the day, during a guided venture your expert local will point out the sloths as they know where to look, sharing useful information about the mammals.
You can also visit the sloth sanctuary at Bijagua Ranas; a private estate and organic farm in Bijagua. Walking through garden trails, look out for two and three-toed sloths scrambling up tree trunks or catching a chill in the treetops.
Out of all the things to do in Tamarindo, this is one of the best ways to get in close contact with animals in the wild. Remember to be respectful of the sloths at all times.
8 – Have fun in the sun at the best beaches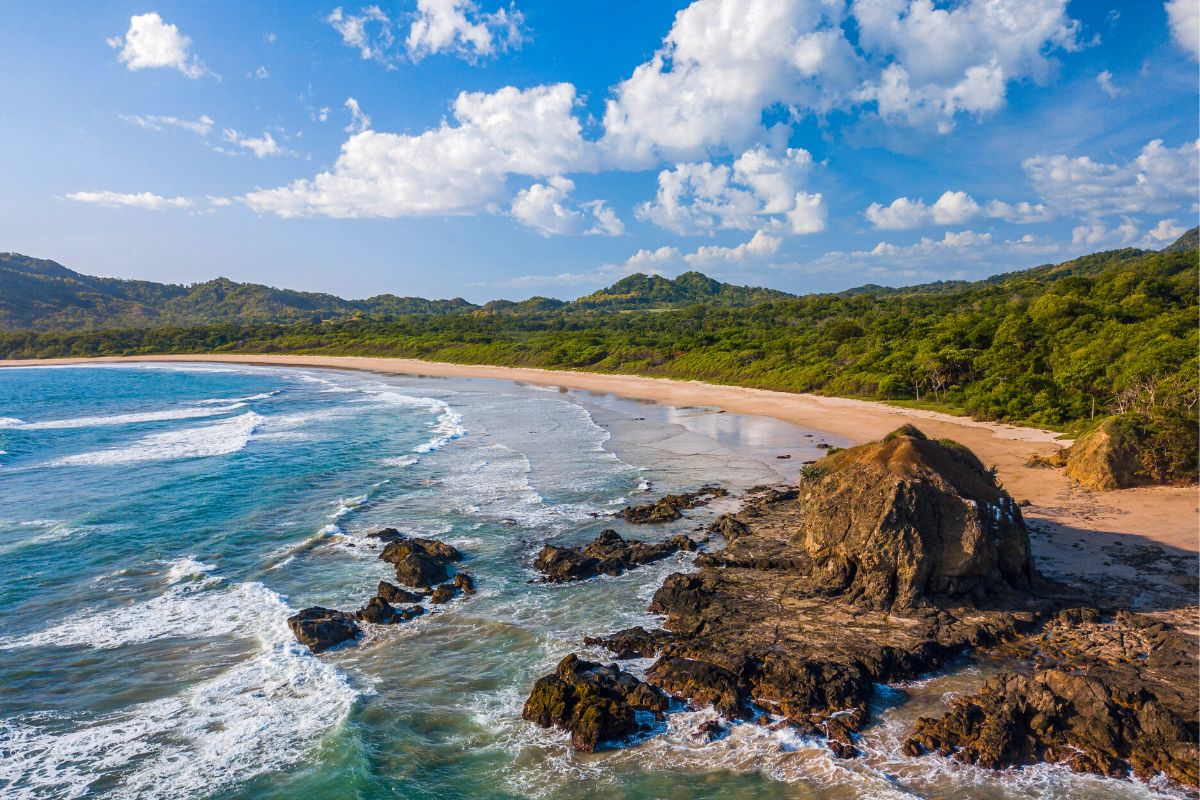 Real talk; Tamarindo's powdery soft sands and paradise-blue ocean are ultimately what wins hearts over, and a major reason why plentiful travelers chose to holiday here. Blessed with a string of coastal bays, here are some of the best beaches.
The most popular of them all is Tamarindo Beach, thanks to its fully equipped beachfront and a plethora of water activities to try out. Low tide is a great swimming time, or when the waves start to roll in, the surfers come out to play. If you're an early bird, one of the most beautiful times of day at Playa Tamarindo is sunrise.
The kids love fishing with play nets in between the rock pools down at Playa Langosta, and this quiet stretch is well-favored by families. Take note, the ocean past the rocks can get quite rough, so it's not the best swimming beach, but is great for surfing!
For the chance to see leatherback turtles make your way to Playa Grande — another excellent beach for surfing as well. Work on your tan, or have a picnic under wispy trees on the shore banks at Playa Conchal. Unlike most beaches around, the sands here constitute crushed sea shells and aren't as soft as others.
Boasting some of the softest sands around town, Playa Avellanas manages to escape the usual tourists' radar (except if you're a surfer or bodyboarder), and there is a small surf school here.
Looking to escape all crowds and in search of a beach with a more exotic feel? Directly translating to 'Sugar Bread Beach' (also called Playa Azucar or just Sugar Beach), Playa Pan de Azúcar is a sweet spot.
9 – Pretend to be Tarzan and Jane when ziplining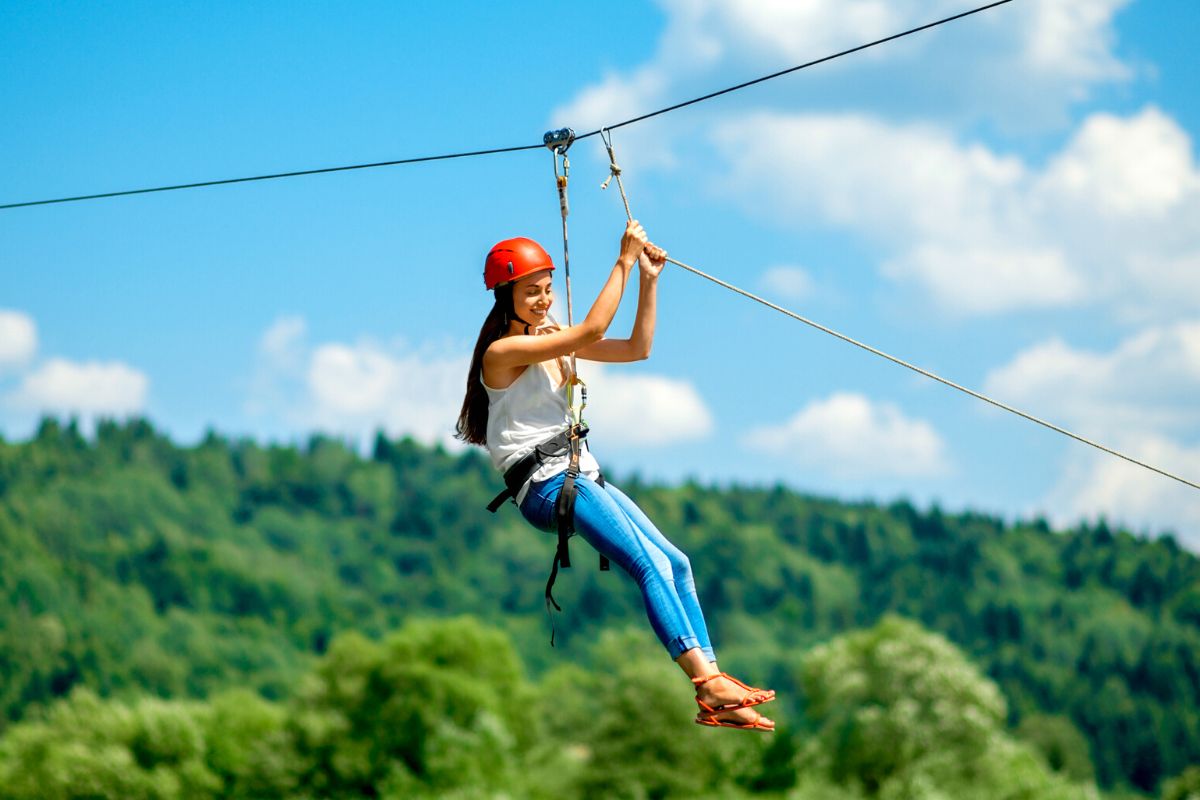 With so much rainforest enclosing Tamarindo, it's hard not to imagine a zip-lining excursion across the canopies — where you'll really feel like one of the Costa Rican howler monkeys! And because of the abundance of forestry, there are plenty of ziplining adventures out there.
Go zip lining for two hours in a dry forest in the Guanacaste province or spend half the day (usually around four hours) zipping from one elevated platform to the next. Swap jungle plantations for coastal scenes and choose to zipline at Playa Flamingo. Crossing seven cables across nine platforms, swoop in the ocean and aquatic landscapes around you.
Many zip-lining ventures combine other thrilling activities, for example, enjoy ziplining inside the Rincon de la Vieja Volcano National Park (boasting a whopping 18 platforms), and the obstacle course also includes Tarzan swings, hanging bridges to cross and a cable rappel. Then, move on to horseback riding and river rafting topped with a relaxing mud bath.
Before any ziplining happens, undergo a briefing and safety instructions, and all protective gear like helmets is provided. Wear closed, comfy shoes.
10 – Go turtle watching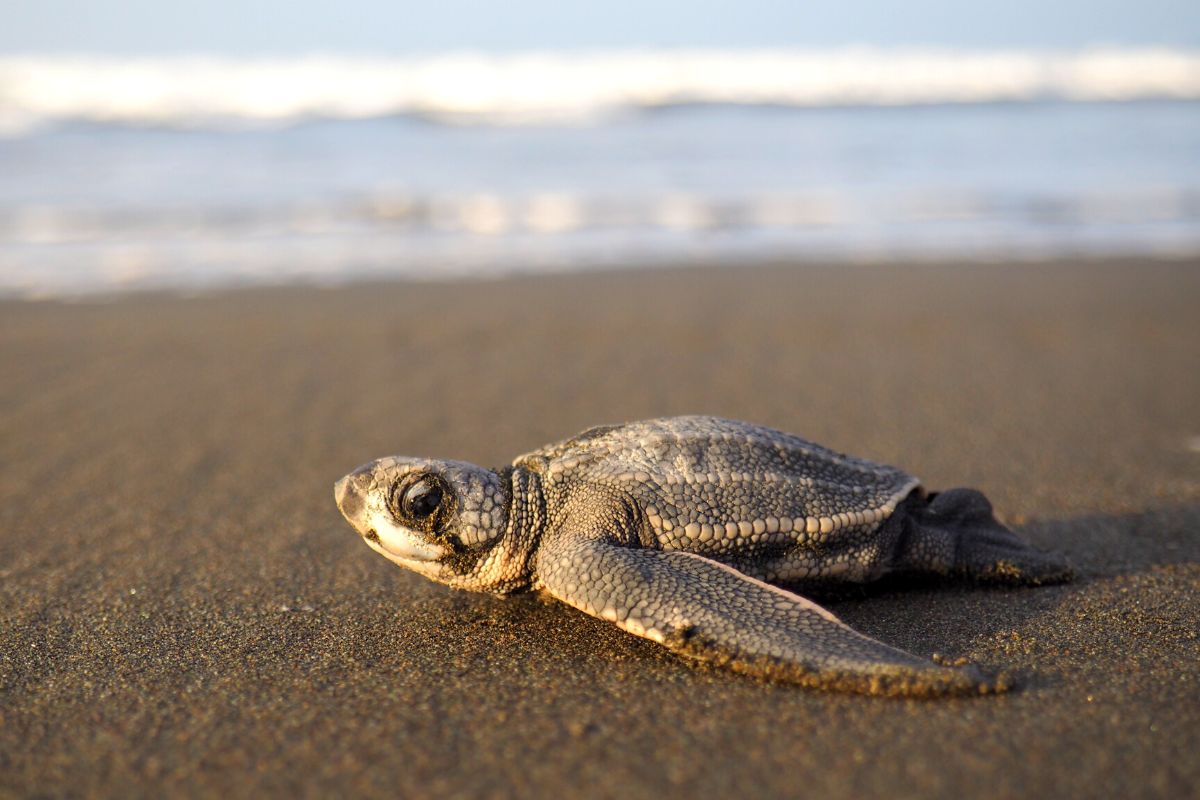 Did you know that turtles lay their eggs and nest along the beaches in Costa Rica for nearly six months out of a year? It's not uncommon to spot turtles around Tamarindo, but you won't find them at every beach locale.
Playa Minas is one of the best beaches for turtle-watching, and this is where leatherback turtles are known to nest. Traveling to the beach on a solo mission, be careful not to touch or hurt these special species — turtles have become endangered in some parts of the world!
Opting for a tour is recommended as guides know exactly where to find the turtles. These commence in the evening from 6 PM and using infrared lights, hike along the beach to the scene of the leatherbacks.
If you're here at the right time, baby turtle eggs might even hatch! Leatherback turtles are dark in color, their shell a midnight black. A tour often guarantees a chance of spotting them at night as guides know where to look along the beach.
The best time to go turtle-watching in Tamarindo is from October through to late March/early April.
11 – Feel like a bird during a gyrocopter tour
Ever heard of a gyrocopter before? Smaller than a normal helicopter but with no actual engine turning the main rotor and propelling the plane, the gyrocopter tours offered in Tamarindo use crafts with open roofs too!
There are a few operators around town that offer these incredible flights.
Choose between a 20-minute, 30-minute or one-hour adventure through the sky with Gyro Tours, sweeping over rainforest and oceanic typography. Depending on the duration of your flight, some of the beaches to fly over include Tamarindo, Flamingo, Conchal, Playa Grande, Potrero and Playas del Coco.
A safety briefing is mandatory before boarding the two-seater gyro! All tours depart from Tamarindo Airclub.
SeaBreeze Aviation also offers tours all around the Tamarindo landscapes for the perfect bird's eye view of the natural habitats. Not only offering tours, but you can also travel across Costa Rica as they offer private flights from one destination to the next.
12 – Explore Rincón de la Vieja National Park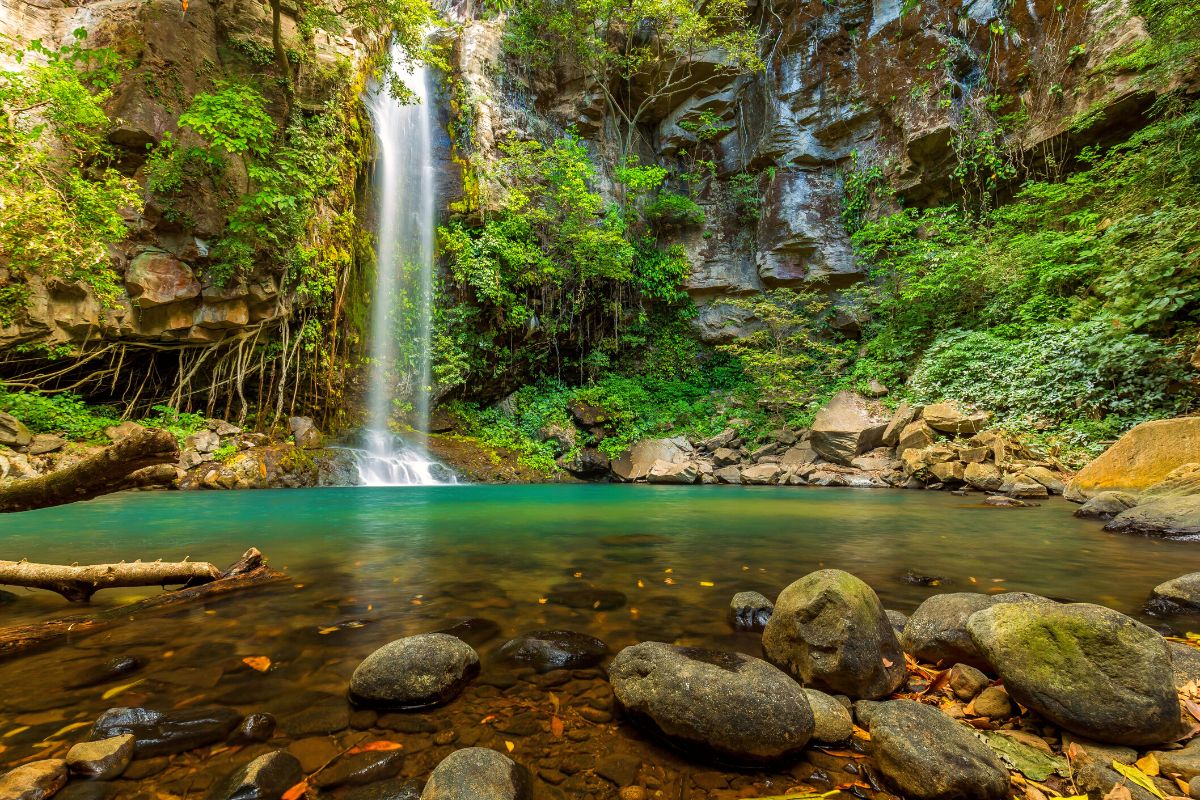 The best word used to describe this incredible national park is unique… Divided into two landscapes that scope both the Caribbean and the Pacific Oceans, and home to two volcanoes and a multitude of waterfalls, it's easy to understand why.
Travelers staying in Tamarindo usually choose Rincón de la Vieja National Park as part of a day trip, located past Liberia and with so much to see and do. Split into two sectors: Las Pailas and Santa Maria, there are varying activities across both.
Naturally, hiking is a top priority, with trails through its rainforest makeup and across the mountains to the volcanoes on both sides of the park.
From Las Pailas, make the summit the top of the 1,916-meter-high active Rincón de la Vieja volcano — which last spat out lava in 1991 but has remained asleep ever since. Among its nine craters, Von Seebach is the main one. Or, In the Santa Maria area, trek to the dormant Santa Maria Volcano.
Enjoy a horseback ride through the luscious forests, hunt down hidden waterfalls spewing from rivers or locate the more obvious ones, like La Cangreja Falls. Take a dip in the pools around the fall, or discover the natural hot springs in the park to enjoy a therapeutic bathe.
There are three more waterfalls you can visit on your way to the park, situated just outside the entrance. These are Oropéndola, La Victoria and Las Chorreras Waterfalls. Overnight camping inside is available too, and for the wildlife enthusiasts you're in for a treat!
13 – Head out to sea and go fishing
If fishing is one of your serious pastimes, enjoy a half or full day of reeling in Pacific beauties during a fishing expedition out on the Great Blue.
Home to species like Mahi Mahi, wahoo, yellowfin tuna and crevalle jack, set aside five hours for a guided excursion along the coastline where your accompanied experts show you the fishing hotspots for a guaranteed bite. Snacks and beers on board are included as well as all the necessary fishing equipment.
If you'd prefer a more privatized fishing experience, book a private charter instead and these boats can seat up to eight enthusiasts.
A full-day endeavor sets sail for seven to eight hours out at sea where you can enjoy deep-sea fishing. Further out into the ocean, have the chance to catch some big boys like billfish and cubera snapper or even giant marlin and sailfish — if you're lucky.
Go sportfishing onboard the Rhino Charger (rods, reels and gear provided as well as demonstrations for those that have never tried sportfishing before), and a popular spot for the sport is from Flamingo Beach where the depths of the ocean drop 600 meters below you.
14 – Cruise the rapids when rafting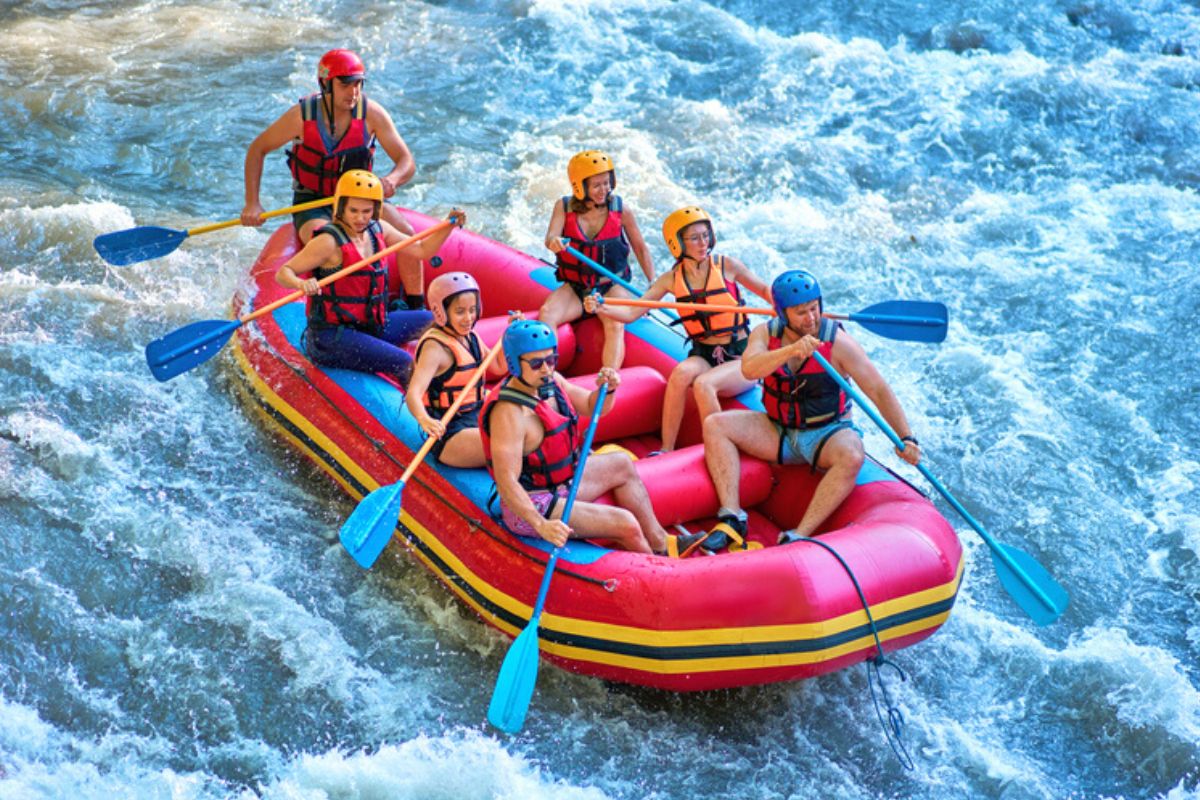 A golden pot of outdoor adventures; rafting down rivers through evergreen scenery and ripping over rapids is one of the most fun things to do in Tamarindo and a way to immerse yourself in nature.
The Tenorio River (inside the Tenorio National Park) is one of the best places for rafting, boasting Class III to Class IV rapids. Some excursions combine 12 kilometers worth of rapid riding, whilst others are a bit longer crossing just under 20 kilometers of water.
Some sections of the river are slightly trickier than others, but your expert white rafting pro is there to provide safety and assistance the entire route. One of the most thrilling features is the 3.5-meter-high Class V drop, Cascabel Falls. If you don't feel comfortable enough to attempt it, you can sit this one out.
Does river rafting sound a bit too adrenaline-pumping for your liking? There are super fun tubing tours around Tamarindo, where the rivers are slightly more chilled-out to cruise down. Float down the Azul River (in Rincon de la Vieja) or twist and turn down the Rio Colorado River from Playa Flamingo.
15 – Show the animals some love at Monkey Park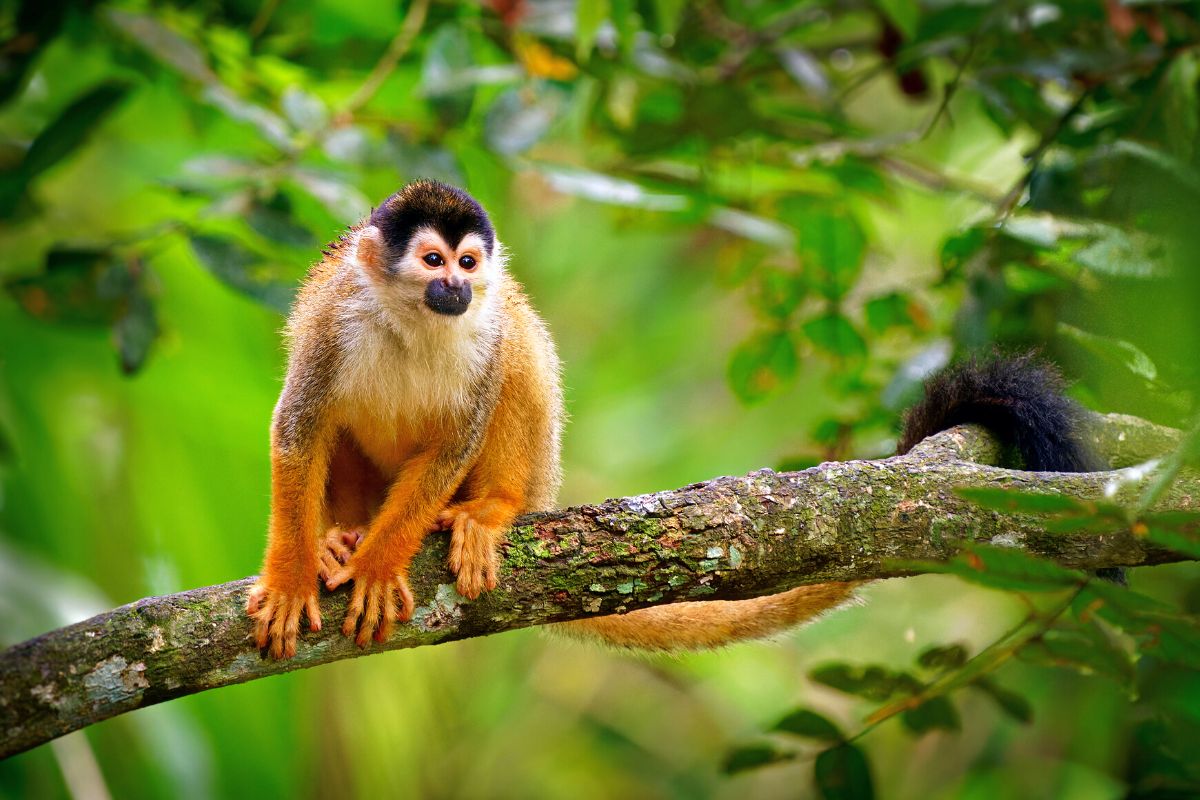 Animals lovers; Costa Rica is a true oasis, and one of those countries that care and preserve its wildlife and natural habitats.
As a dedicated rehabilitation and release center, Monkey Park is a non-profit with a focus on taking care of and nurturing hurt or endangered animals back to health in a natural environment.
Arriving at the sanctuary, the space is divided into different exhibits, or more aptly animal zones, designed to replicate the varying species' native habitats.
The adorable prehensile-tailed porcupine, wise spectacled owl, primary-colored scarlet macaw, crested caracara bird of prey, rare black-handed spider monkey, American crocodile and bright yellow-naped amazon parrot are some of the different animals to see.
A guided tour around the park is available and is an insightful way to learn about the creatures that call Monkey Park home. The park has a special breeding program to encourage the continuation of certain animal species, and once grown and ready, they release the animals into the wild.
16 – Enjoy the scenery whilst horse riding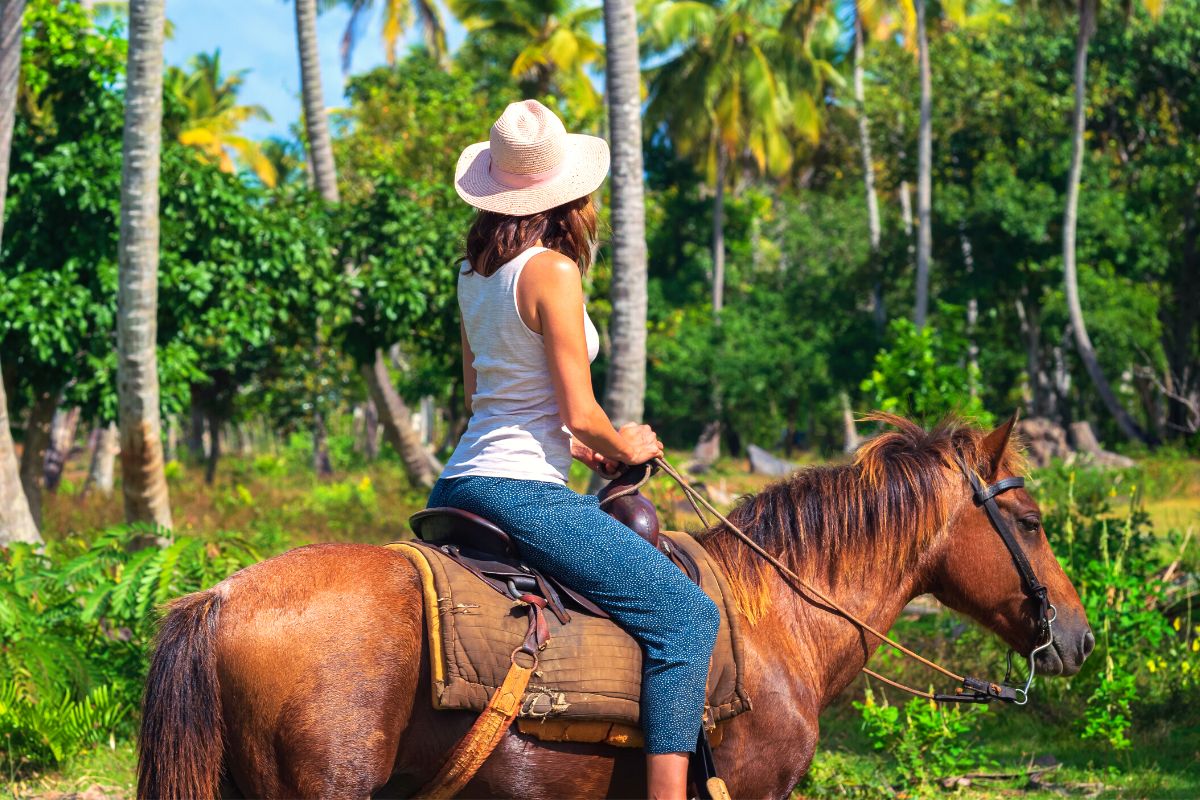 For couples, a horseback ride along the beach sounds utterly romantic, or for traveling families, horse riding might spark your interest for something to enjoy with the kids.
With different time slots available, choose to embark early in the morning as the sun rises, during the daytime, or later on in the afternoon around Golden Hour when the sun starts to set. Rides begin from Langosta Beach, down the shoreline and through coastal forestry.
Enjoy the stunning scenery around you of oceanic sites and wildlife, and you will have ample time for photo-taking. Before your horse riding venture, you will be shown how to ride your horse — if you've never tried before — and then it's time to saddle up and hit the trail.
There are also many tours in Tamarindo that combine horse riding with a secondary outdoor activity, sometimes even a multitude of them. For example, go ziplining, and then horse ride to natural thermal springs or mud baths.
17 – Grab beers at Volcano Brewing Company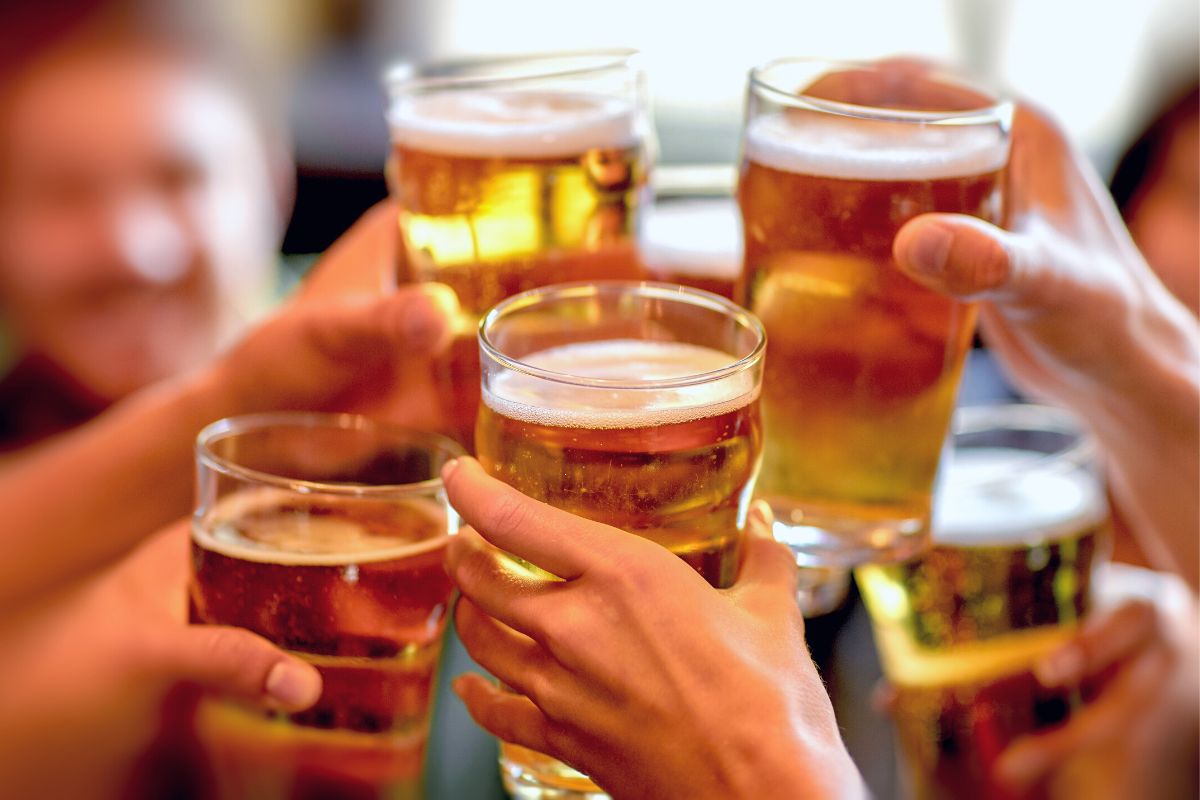 Beach and beers — what could be better? Throw in a visit to a local microbrewery and you've hit the jackpot experience for all craft connoisseurs! It's a total vibe with the ocean in front, tables and chairs spewed on the lawn and live music day or night adding even more ambiance.
Operating since 2011, there are local brews to sample on tap like tropical and fruity Witch's Rock Pale Ale, Gato Malo (a brown ale) and Volcano IPA. Enjoy direct beach access straight from the tasting room, and if you're feeling hungry, their famous nachos go down a treat!
Suiting its beachfront locale, this drinking joint is laid-back and fuss-free.
18 – Count how many birds you can see inside Palo Verde National Park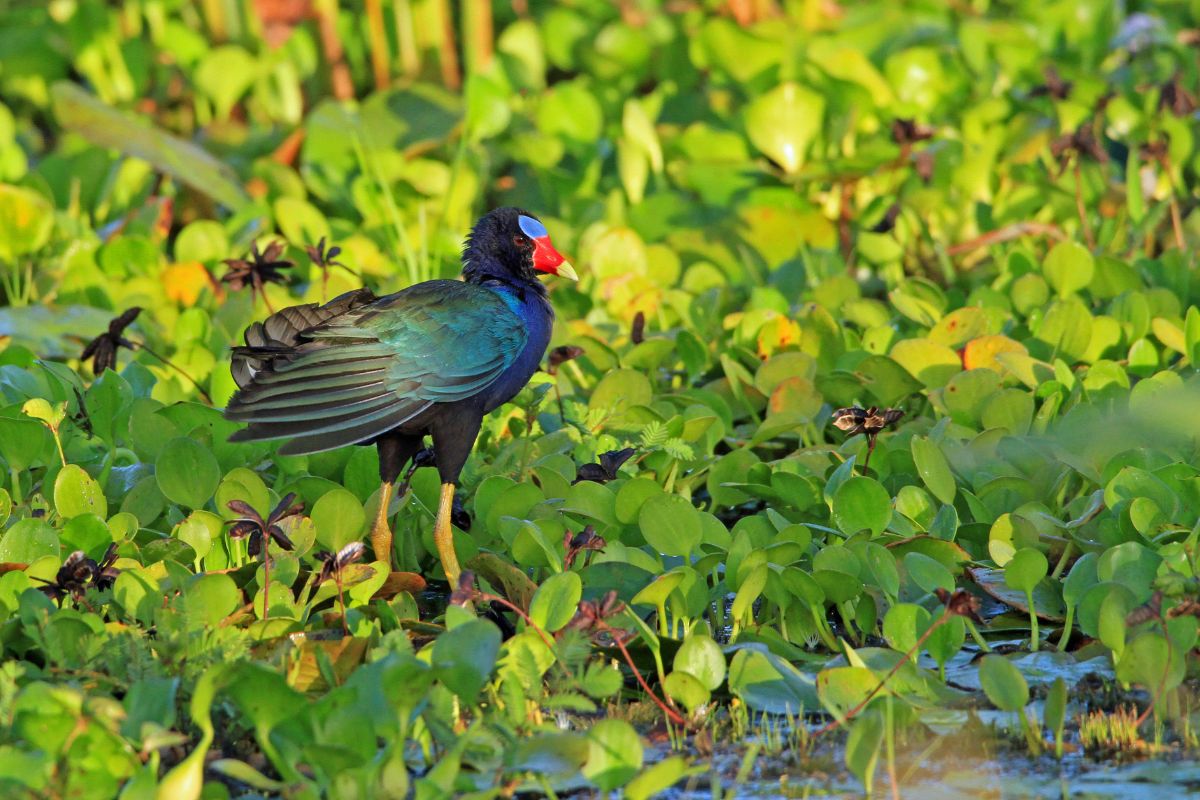 Mangroves, grasslands, dry evergreen forests, dense lowlands and limestone hills… A trip to Palo Verde National Park encompasses vast terrain and is one of the best places for birdwatching, as well as sporting some incredible walking and hiking trails.
Fun facts: More than 50% of the park comprises wetlands and the biggest group of waterfowl and wading bird species in Central America call the area home. There are more than 280 species that have been spotted flying, nesting or migrating here.
Or if plants have the key to your botanist's heart, discover over 750 different kinds such as palo verde and Spanish cedar. Identify both plants and animals along one of the designated walking trails.
Look out for iguanas, alligators, coral snakes, long-tailed manakins, grey herons and plenty of others. Circling 540 meters, the Sendero La Roca trail has a lookout point over the lagoon, or tackle the 1.4-kilometer Sendero El Guacayán route which leads to the Guayacán lookout point.
The Sendero La Cantera is roughly the same distance but is not as steep as the El Guacayán trail. The longest out of all the trails is the La Venada route, clocking in at just over two kilometers.
For something more relaxed, walk the 710-meter-long El Mapache trail through three types of forests, or the Sendero El Pizote (with part of it crossing the La Jacana boardwalk) is just 650 meters long and fantastic for bird-spotting.
Other highlights in Palo Verde to explore include Isla Pajaros (where colonies of black-crowned night herons come to nest), Laguna Palo Verde (a lake with a 20-meter-long boardwalk for birdwatching), and the Bebedero and Tempisque Rivers.
19 – Dip in the hot springs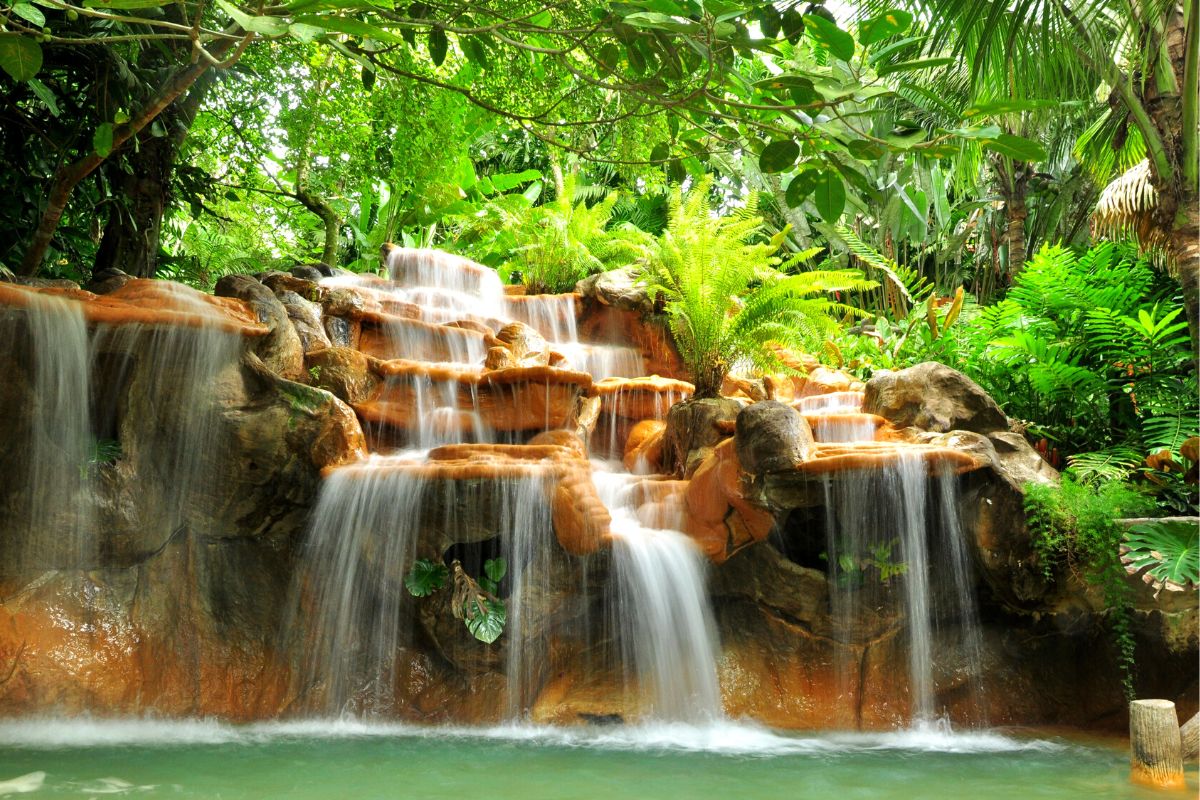 Hot springs have been utilized for thousands of years for their therapeutic benefits. Find these natural thermal baths around Tamarindo, and there are multiple hot springs around the volcanic-dotted landscapes.
Utterly rejuvenating; the springs in these parts are heated from the underground volcanic activity. There are natural thermal baths near the Arenal Volcano, for example, or visit the springs inside Rincon de La Vieja National Park.
Or, if you prefer a private experience, visit a hot spring spa. Blue River Resort & Hot Springs boasts three healing pools, as well as mud baths and an on-site spa where you indulge in a massage afterward for an even more relaxing time. There is also a butterfly garden here too.
Tours are available in Tamarindo to these hot springs and are usually combined with a full day of outdoor activities, like volcanic hikes.
20 – Clock in your golfing time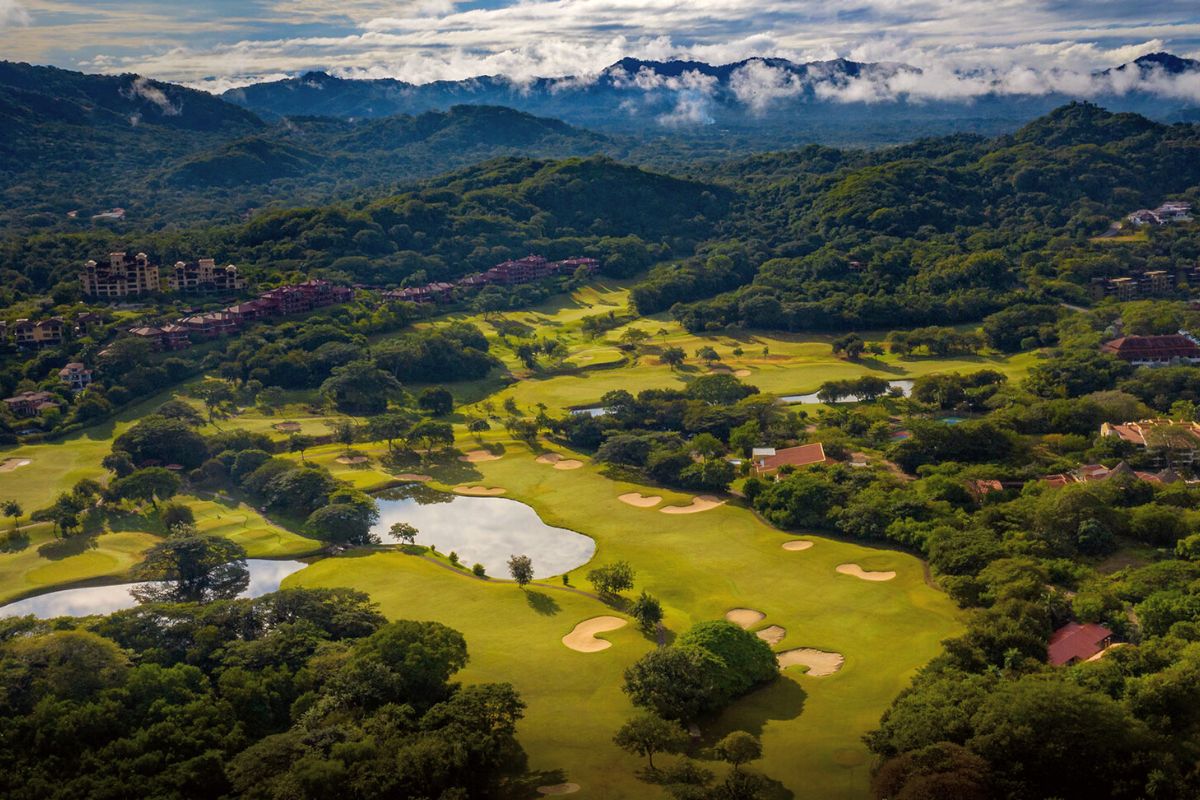 Perfect your backswing at the golf courses around Tamarindo with the most stunning scenery as a backdrop.
Not only the premier golfing range in town, but the Hacienda Pinilla Golf Course is also one of the top playing courses in all of Costa Rica! Designed by Mike Young, make your way through 18-holes (a nine-hole round option is available too) with a Par 72.
It isn't just the course layout and features that make Hacienda Pinilla a crowd-favorite, but the natural topography surrounding you as you play, mixing lush rainforests with coastal edge settings.
Play your way through the 18 holes at Reserva Conchal Golf Course with its Robert Trent Jones-designed course. Golfers appreciate its tranquil tropical setting, and there is a golf shop here too.
Important to note: there are no golf courses in the dead center or town, and both are 30 minutes from Tamarindo. If you're a major player, both golf courses are located at resorts, so you can stay and play endlessly.
For the serious type who doesn't mind a drive, the Arnold Palmer-designed Ocean Course At Peninsula Papagayo (Four Seasons Hotel and Resort) is top-notch. It holds the title of "Top 100 Courses Outside the United States."
21 – Head underwater when scuba diving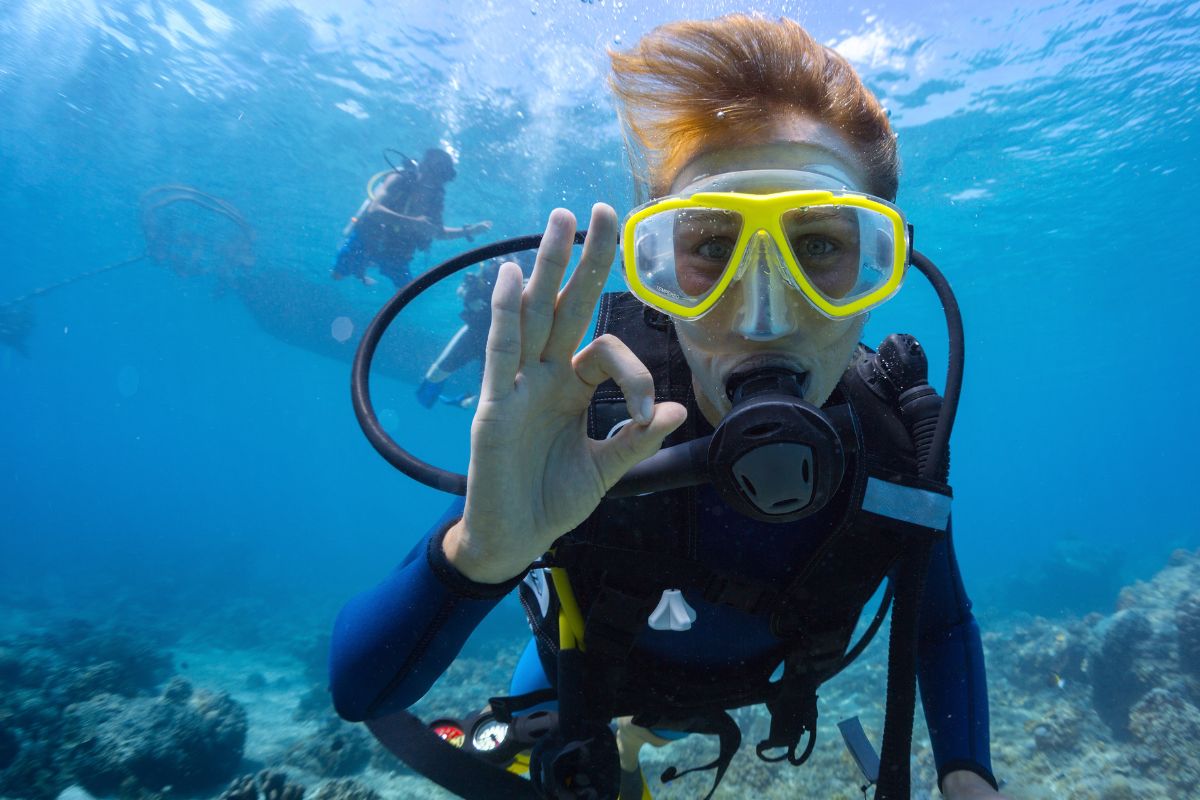 Whilst you are able to witness schools of tropical fish close to the shoreline at many beaches around Tamarindo, for an in-depth exploration under the sea a scuba diving expedition is a no-brainer!
The further you veer into the aquatic animals' natural habitats, the better your chances are of seeing sea creatures both big and small.
Starting bright and early between 6 AM and 7 AM, many scuba diving tours venture off to the Catalina Islands where there are some fantastic diving sites. Lasting six hours, visit two dive sites — where you can see manta ray if there at the right time — and look out for other species en route, like dolphins gliding through the waves.
If you aren't certified but are desperate to experience dive-time, there are some centers that offer a short day course, with real dive-time included. You won't get your PADI, but the intro course explains the basics and teaches you all you need to know to scuba dive!
Tamarindo Diving and TamaDive Tamarindo both offer these options. If you are already PADI-certified, up your certification with an Advanced Open Water Dive certification course, or if you haven't gone diving in a few years, there are also refresher courses available.
22 – Grab cocktails at the best beach bars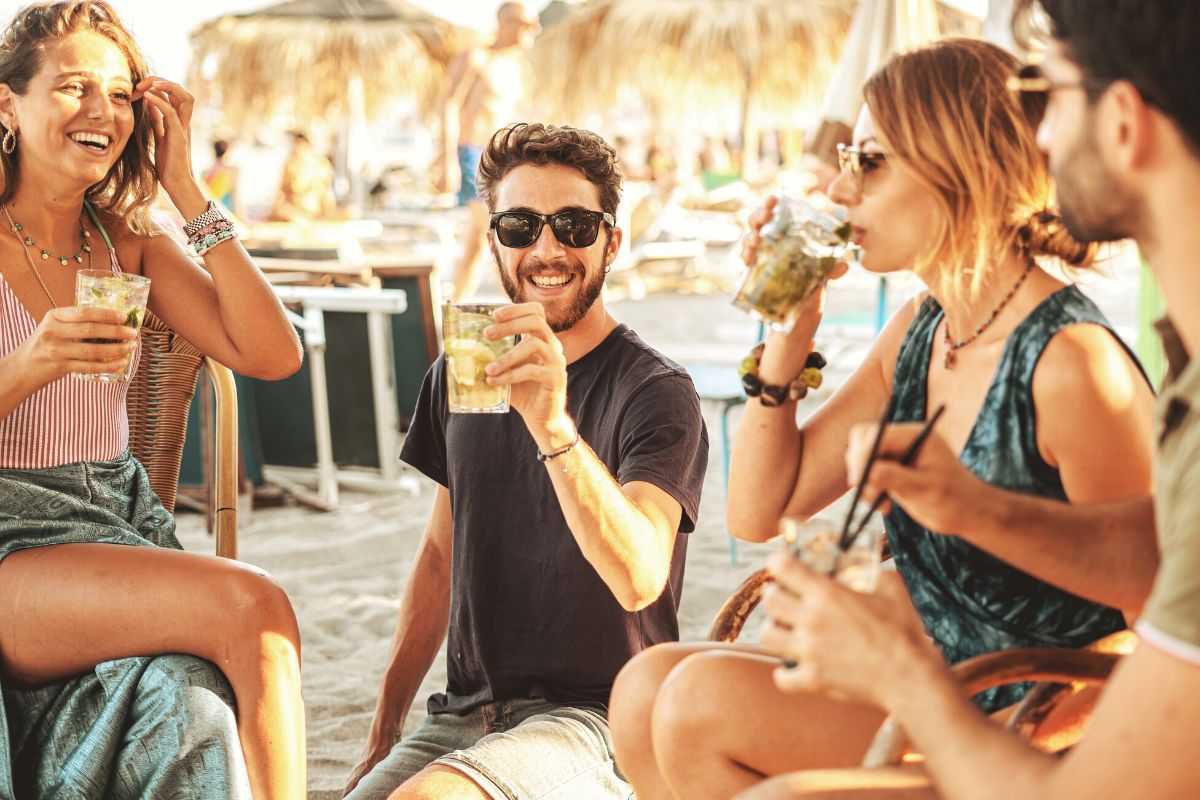 With your feet in the sand and the ocean breeze kissing your cheeks, what better setting to kick back, relax and enjoy a delicious cocktail than down at a beach bar?!
El Be! Club is the place to be for sunset (get here in time for Golden Hour and don't leave your camera far behind), but even if here during the day, their Coco Loco cocktail served straight out of the coconut tastes just as good!
In the evenings, fairy lights hanging from the trees light up the space and there is live music on weekends, including DJs some nights and even fire shows!
The bright tropical craft cocktails go down a treat at Ocho Beach Bar and Restaurant. It has a laid-back feel, but is quite romantic in a bohemian kind of way. Enjoy drinks (and yummy food) right on the sands, and it's also very pretty here come dusk.
Always open with a crowd, El Vaquero is loved by travelers looking for a cool spot to hang out on the beach during the day, moving into the evening, and they stay open until 12 AM. There is also a microbrewery on-site (Volcano Brewing Company).
Technically not a "beach bar", if you're in search of a bar/club where you can boogie a bit, the Crazy Monkey Bar is very popular.
23 – Venture on a dolphin-watching trip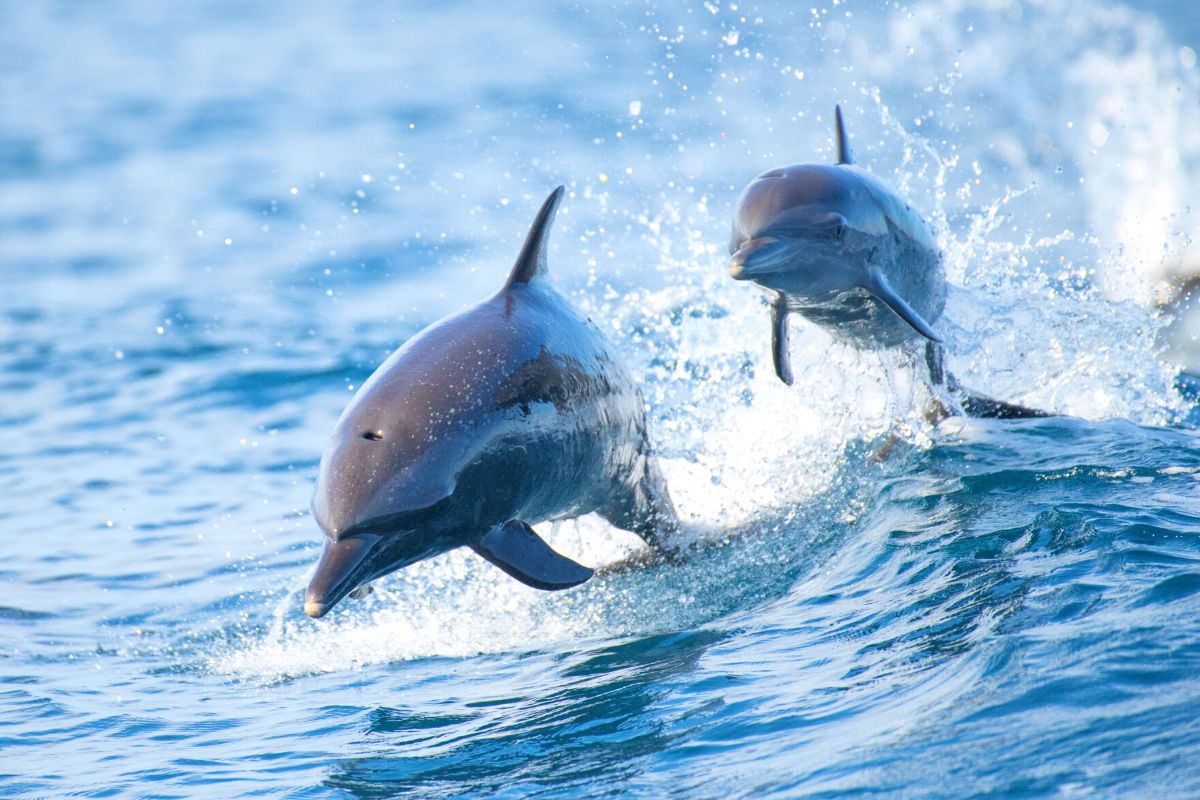 Surrounded by the ocean at all times, you can't help but feel a personal connection to the deep blue when traveling to a beach destination. Act on those feelings, head out to sea and enjoy a dolphin-watching cruise around the Guanacaste coastline.
The waters in these parts are home to bottlenose, spinner and spotted dolphins, and you can spy them playing in the waters when you join a boat tour.
For example, boarding a 40-foot luxe catamaran (aptly named the Blue Dolphin), set sail north of Tamarindo for a couple of hours in the afternoon. Stopping off for activities like snorkeling and swimming, the captain steers you in the right direction at points where dolphins are known to roam.
Return back to Tamarindo just in time for sunset hour! If you're extra lucky, and here in the right migrating seasons, you might even witness humpback whales breaching the waters (in Tamarindo it's between August and September)!
24 – Experience kayaking through lush wetlands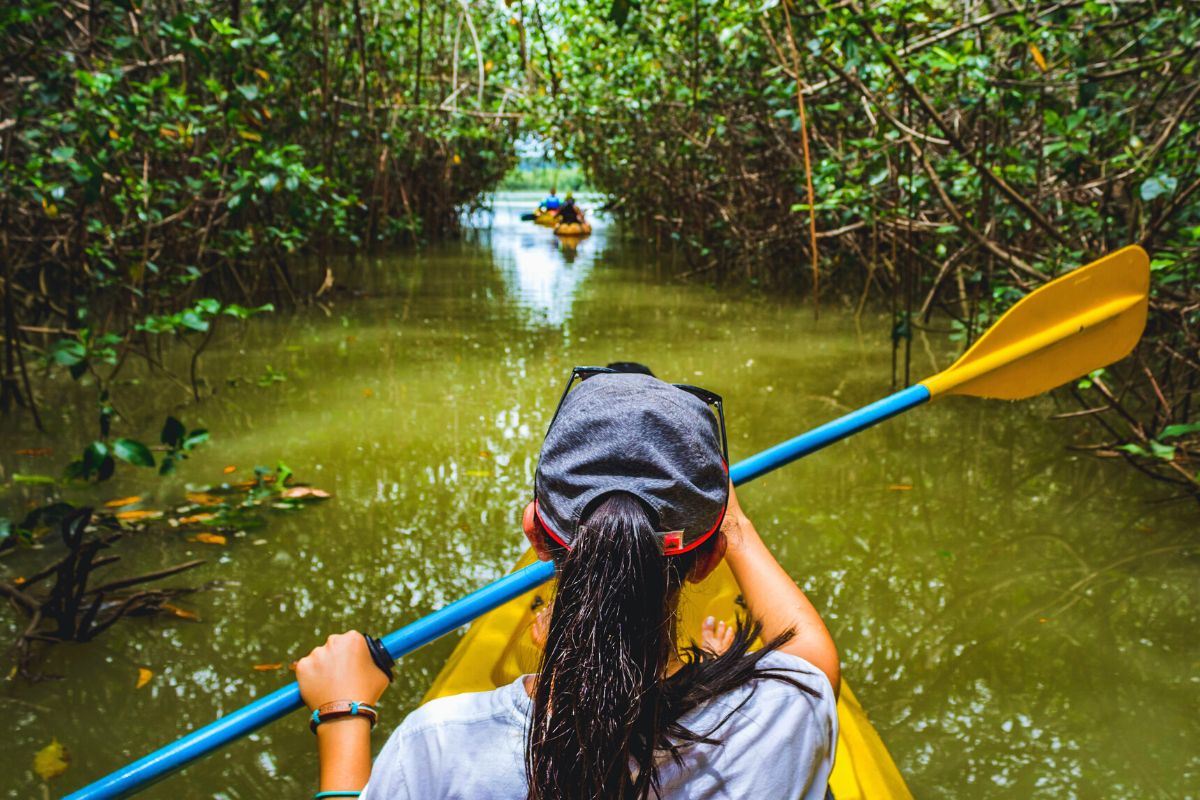 Grab a paddle, get a comfortable seating position on the two-seater watercraft and then make your way down the river and through the mangroves during a kayaking expedition at Las Baulas National Marine Park. This protected reserve boasts an abundance of wildlife and unique flora.
Before you embark on the relaxing water cruise, a mandatory briefing is included, demonstrating how to pilot the kayak and paddles. During your 30-minute to one-hour journey, appreciate all of the animals peeking out to say hello from the trees and out of the water like fish, herons, howler monkeys, squirrels and plenty of others!
If you'd prefer a kayaking adventure that's more thrilling than calming, choose to kayak over oceanic waves instead, heading via a sea route to Isla Capitan (Captain Island).
Beginning from Tamarindo Beach, enjoy a 30 to 40-minute paddle until you reach the island, where you'll anchor off, bring in the kayaks and can snorkel and swim for a while. Next to this deserted isle is a popular surf break too.
Lasting 2.5 hours, instructions on how to maneuver the kayak in an ocean setting are included, and all gear and equipment are provided.
25 – Learn to make your own at Reina's Chocolate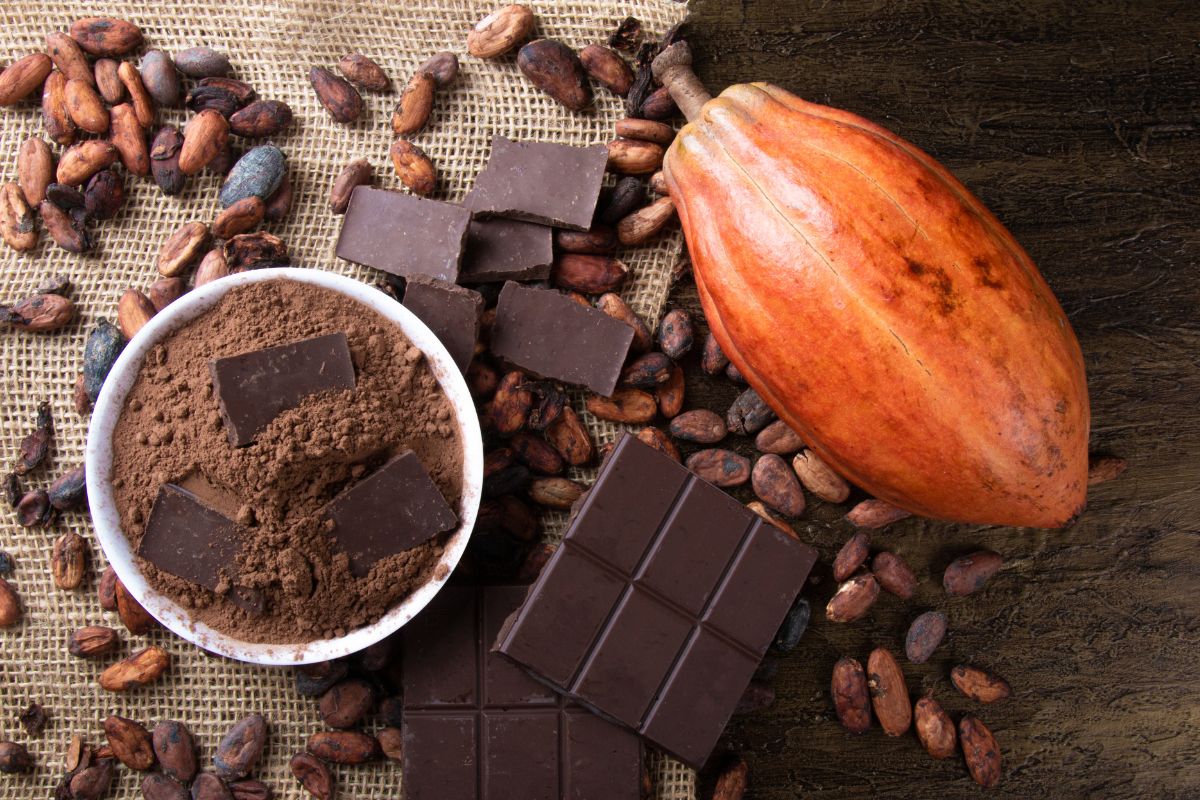 Interesting fact: The cocoa bean originates from Central America, and the fruit was first discovered in these parts of the world in the Amazon. An oasis of luscious rainforests itself, Costa Rica is an ideal growing ground for the fruit tree.
Yup, cacao is actually a fruit and NOT a bean… Mind blowing stuff, right? Learn cool facts like this and more during a visit to Reina's Chocolate. Unassuming from the exteriors, let your senses lead the way inside as the smell of rich cacao fills the air.
Then, it's time to get your hands dirty and join a chocolate workshop! Epic for families and couples, get to make your own chocolate bar from scratch! Plus, you can conjure up your unique original flavorings, tasting different samples in between.
Or, there is even a Chocolate Boot Camp for the serious sweet teeth! Spanning three hours, take home a new set of skills with you, including how to produce your own sweet treat as well as how to taste chocolate and identify its keynotes, flavor profile and bean.
Sample between 15 to 20 varying choccies, as well as four+ chocolate-infused drinks. With their own in-house chocolate factory, they produce their artisanal bars, as well as hot drinks and powders — which are available to purchase.
26 – Experience the joys of freediving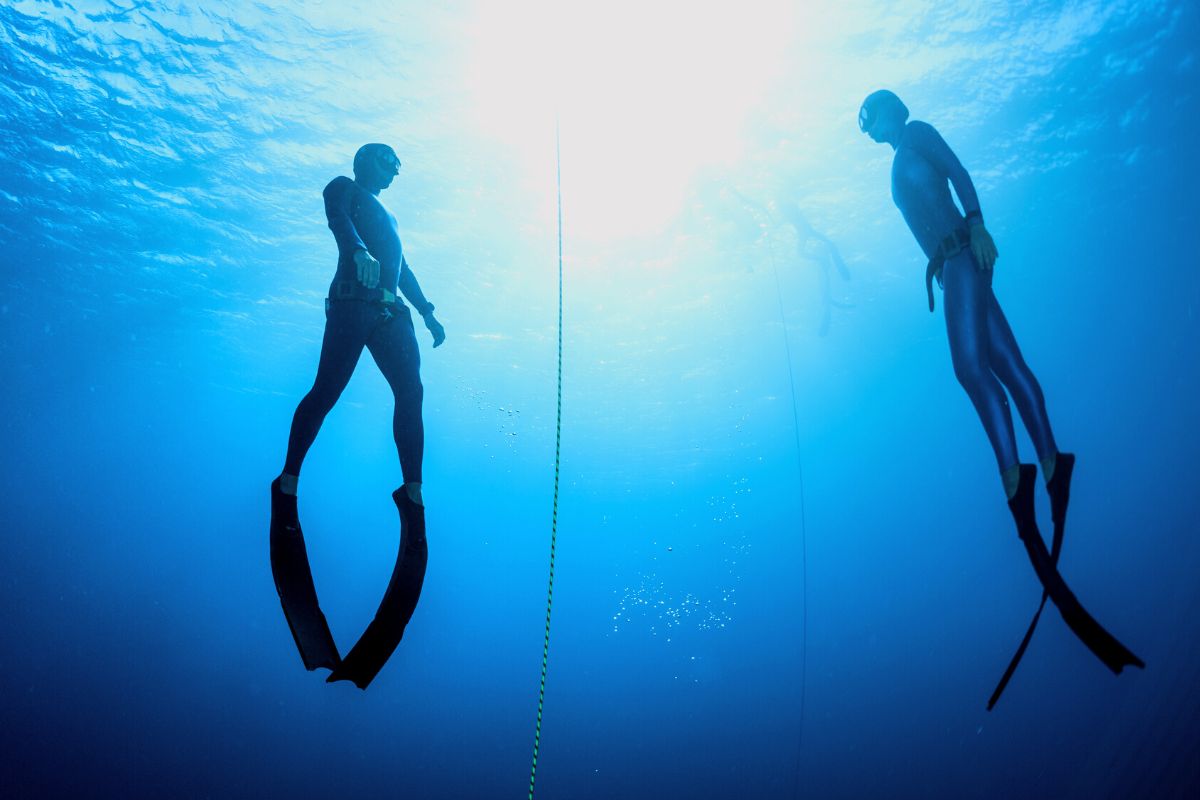 There's something so surreal about plunging meters down below the surface of the sea… perhaps because the ocean is still so undiscovered… It can seem intimidating at times.
Scuba diving isn't the only way to deep dive, and without the constraints of tanks and PADI certifications, freediving is an awesome opportunity to sightsee an underwater world.
In order to free dive, there are some basics you need to know and learn, including breathing techniques and body positioning to submerge yourself. Join a half-day freediving course in Tamarindo with classroom time and diving activities included.
The course is divided into three parts: theory (focusing on freediving equipment and techniques); breathing and relaxation techniques; and open-water: finning techniques, duck diving.
After theory lessons and practical experience in the swimming pool, board a boat and then set sail for your diving locale.
Accompanied by a certified pro instructor, once you reach the dive site, jump into the ocean and start exploring! Depending on your lung capacity/breathing strength, descend the depths of the sea up to five meters down.
27 – Join a yoga class on the beach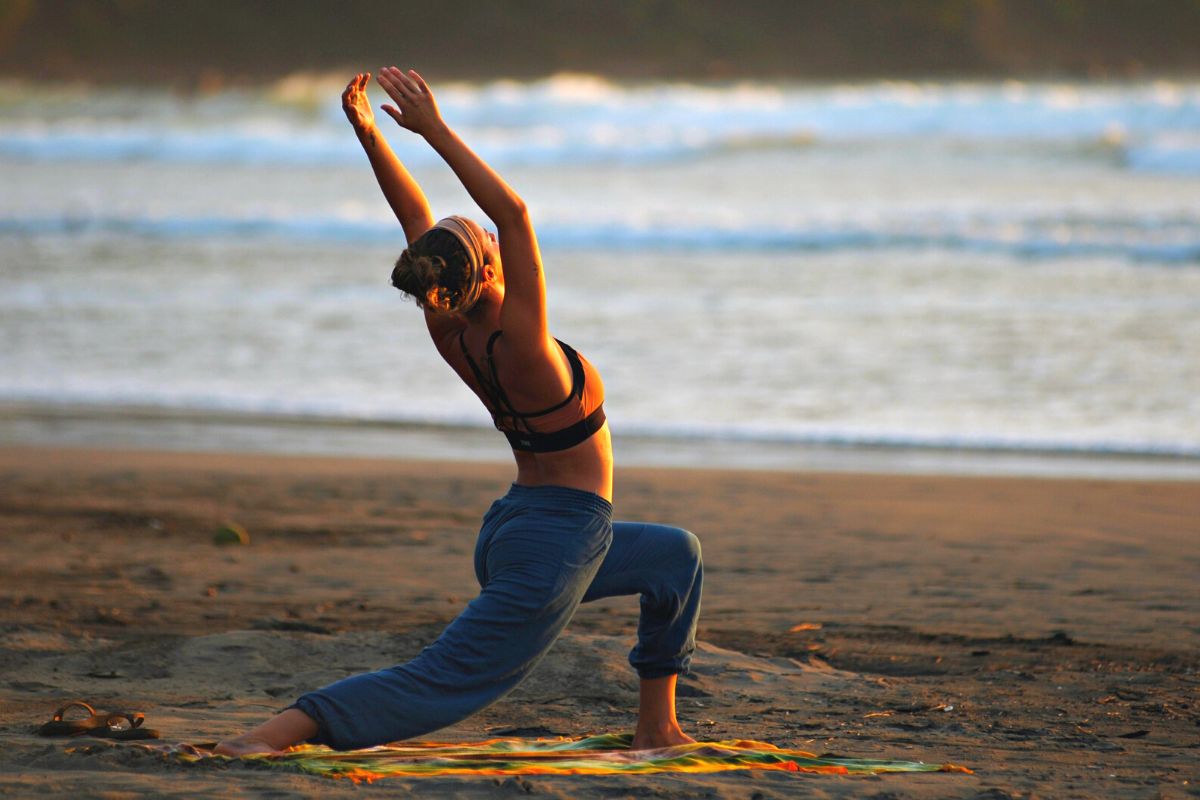 It's true you can continue your practice even from the comfort of your bedroom, however, when there's a chance to do yoga in a setting like Tamarindo, it can make all the difference and add to those zen-feels.
There are a couple of studios and private classes offered in the beachy town, so pick the one that sings to your soul the most.
With over 20 years in the yoga game in Tamarindo, SER OM SHANTI YOGA STUDIO offers a vast amount of group classes, private lessons and yoga workshops, with both open-air beach classes and indoor studio classes as options.
Choose between hatha, vinyasa, restorative and yin yoga classes, yoga therapy, yoga for athletes, or a private class tailored to suit you. Workshops include Chakra Yoga and Master Yoga classes.
Reflexion Yoga Tamarindo also offers beach yoga classes (on Playa Grande) with both private and partner lessons available. You can also try AquaYoga or Yoga Massage Therapy, or book a couple of days of rejuvenation and join one of their yoga retreats.
They host free meditation and yoga classes every Sunday morning at Las Tortugas Hotel, Playa Grande.
28 – Spot wildlife on an Estuary boat safari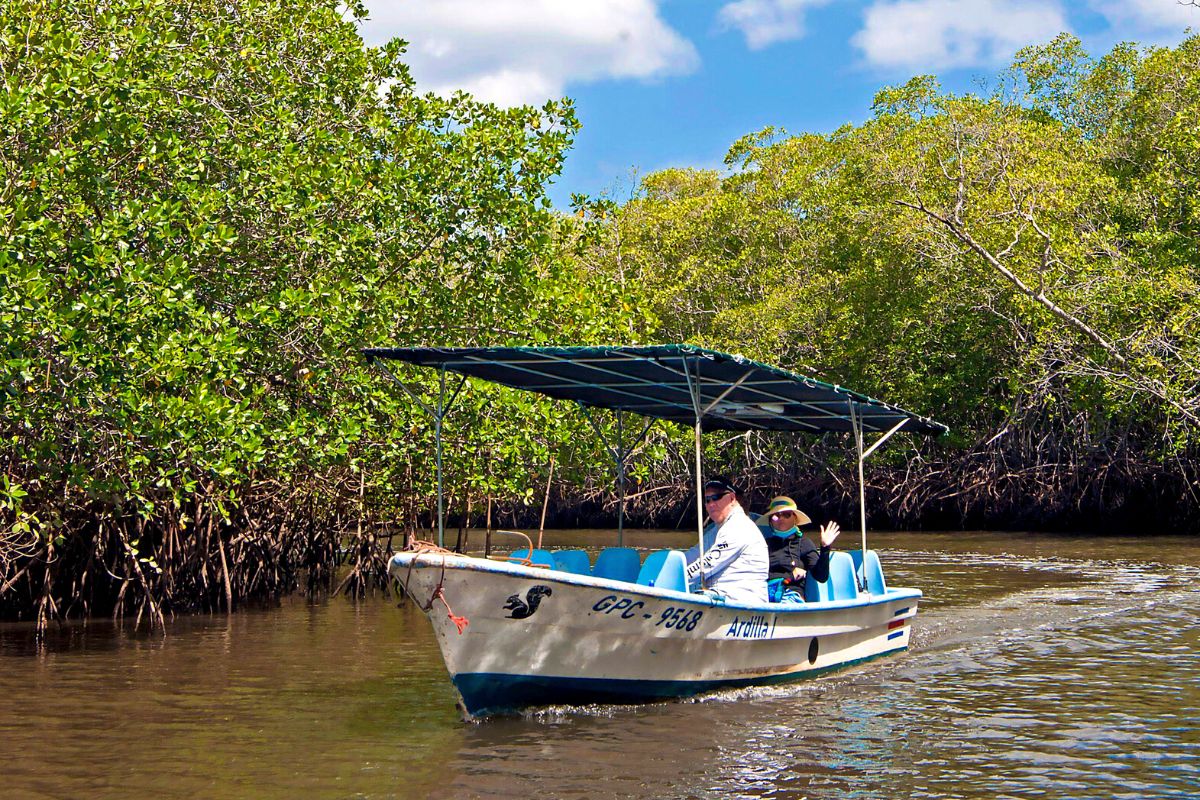 More than 50 percent of Costa Rica is made up of rainforests, and so, no matter where you are, you're fortunate enough to experience bountiful amounts of wildlife scenery! One of the most magical ways to witness many of the native animals, as well as plants, florals and trees, is during an estuary boat safari tour through the mangroves.
Boarding a boat at the start of the river mouth inside the Las Baulas National Marine Park, chug down the river and through the coastal wetlands here where an overflow of animals live in natural habitats.
Over the course of two hours, grab your binoculars and enjoy the sweet satisfaction of spotting tons of different bird species, and avid bird watchers especially love this part of the tour.
Frigatebirds, pelicans, and the brown booby are some of the water birds to tick off your list. Not just the bird type, spot iguanas running up trunks or howler monkeys in the trees, or crocodiles bathing on the banks or peering their heads out the waters.
Palo Verde National Park is another popular destination for boat safaris, cruising the Tempisque River bordering the park.
The birdwatching opportunities here are next level and everywhere you look you'll notice a new creature flying past or wadding on the waters. Egrets, spoonbills, grebes, storks and scarlet macaws are a few to see.
29 – Treat yourself to the best spas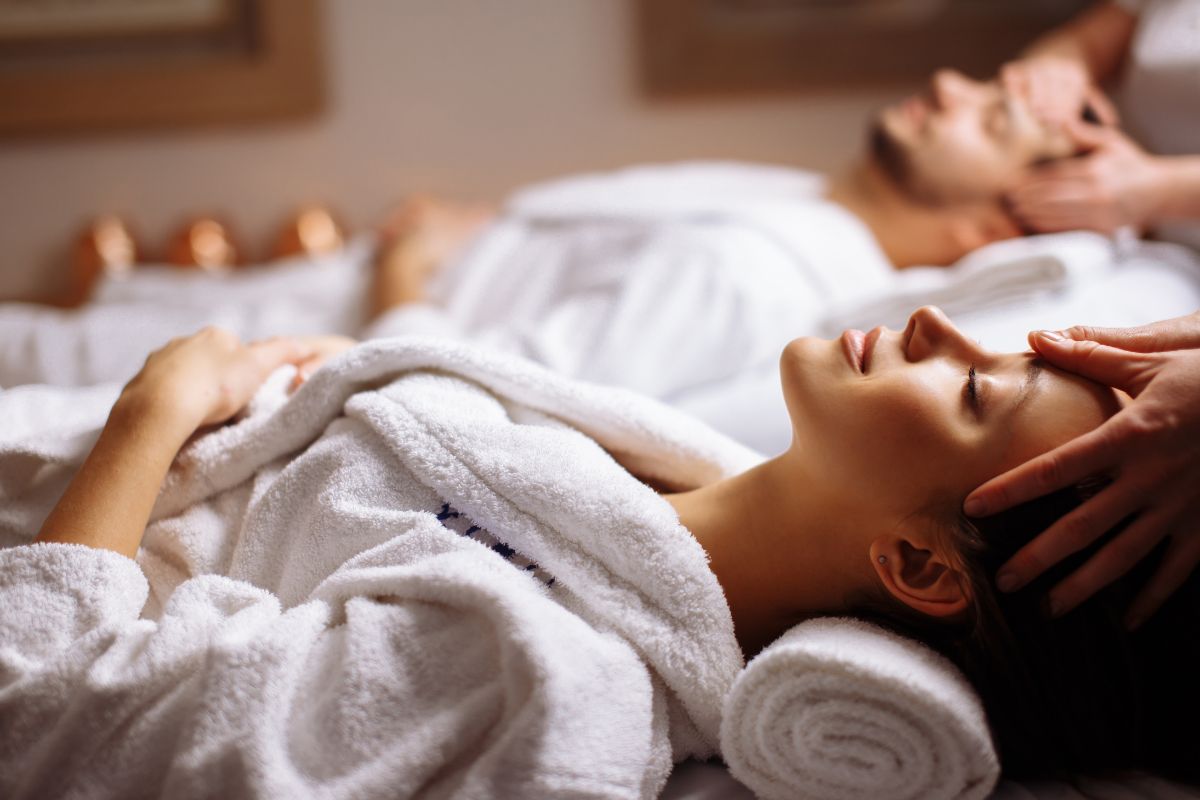 After long salty beach days, or when the kids are preoccupied, add extra moments of relaxation to your coastal holiday with a visit to the best spas in Tamarindo.
It's impossible to leave the award-winning Spa de Eros and not feel completely relaxed and rejuvenated afterward, thanks to the ocean and jungle views, and healing therapies. There are eight private open-air treatment rooms, Indonesian soaking tubs and a heated hydro-therapy pool, and they offer special sunset massages.
Away Spa (at W Costa Rica – Reserva Conchal) is defined by luxury. Indulge in a couples massage, body wraps, scrubs, facials and more in the stylish tropical setting.
You can't go wrong with Coco Beauty Spa's signature Cocó Massage (combining a deep-tissue and Swedish massage), but their body wraps are also a winner. Using natural ingredients only, choose between a delicious papaya body wrap, chocolate wrap, aloe vera wrap or an arenal mud coconut oil body wrap.
30 – Attempt stand-up paddleboarding to nearby isles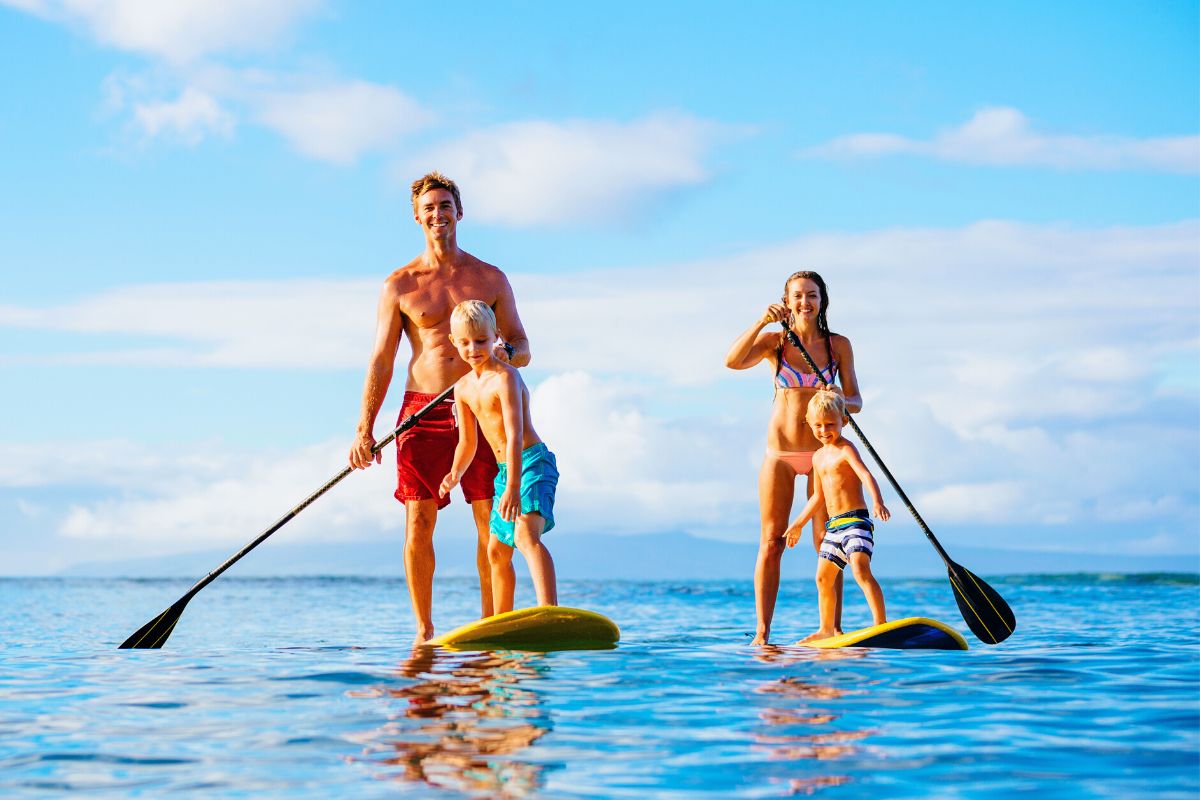 Combining the concept of surfing with kayaking, you get SUPing, also known as stand-up paddle boarding.
If you've never tried surfing before, SUPing is a great way to start getting comfortable on the waves and with your balance on a board. Using an oar to keep you upright and to steer, glide across the ocean whilst standing on a special flat stand-up paddle board.
Rent out a board and oar and find one of the beaches in Tamarindo that boasts relatively calm waters, or pick a bay to SUP at low tide.
There are stand-up paddle boarding exploits that head all the way over to Captain Island lasting 2.5 hours. Not only is this a super fun way to try the watersport, but it offers an alternative way to reach the tiny inhibited isle.
For first-timers, booking a dedicated SUPing tour guarantees you an instructor, who will demonstrate and teach you everything you need to know about stand-up paddleboarding before you hit the waters.
Once you reach Captain Island, jump off your board and break for some snorkel time around the area… This way, you get to experience a few outdoor activities and things to do in Tamarindo in one shot!
31 – Dine at the best restaurants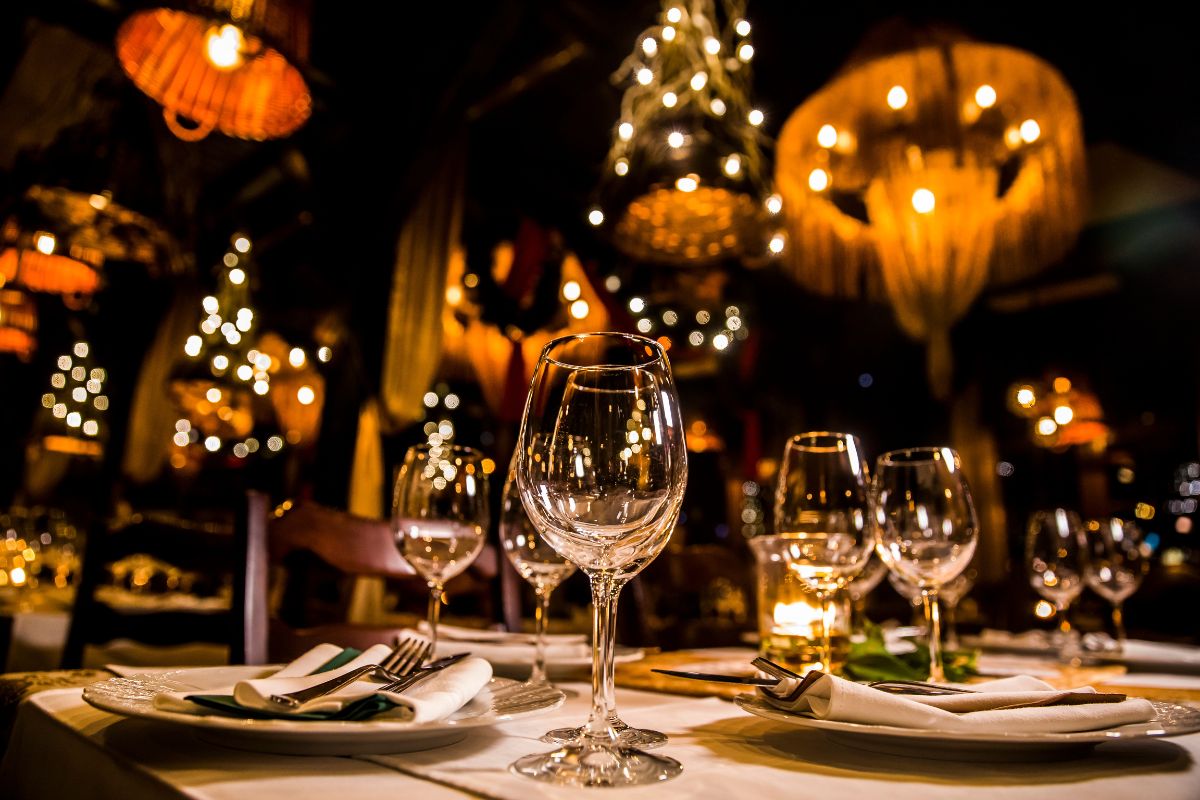 You're certainly going to build up an appetite from all the water sports, playing and exploring outdoors! Wondering where the best spots are in town for a bite to eat or a romantic date night? Take your pick from these top restaurants in Tamarindo.
Uniquely set up at the chef's own home, a night at HiR Fine Dining is an intimately romantic affair. Reservations are essential and the dining experience lasts around three hours. Expect a fusion of flavors, stunning presentation and plates that pop with color.
Another great option for couples; El Pelícano has a lovely outdoor seating area, as well as indoor tables. Order sushi, teppanyaki or other plates that compile varying cuisines, with a strong focus on seafood.
Rustic, charming and all about foods cooked over fire, Black Stallion is super popular! Providing for you a feast of meats, seafood and veg done on the barbeque, group bookings are required for the Gourmet BBQ Fiesta buffet.
Right on the beach, with stunning vistas and a relaxed atmosphere, Ocean Restaurant & Beach Lounge serves plates bursting with local flavor and a taste of the sea.
32 – Fill your cases after boutique shopping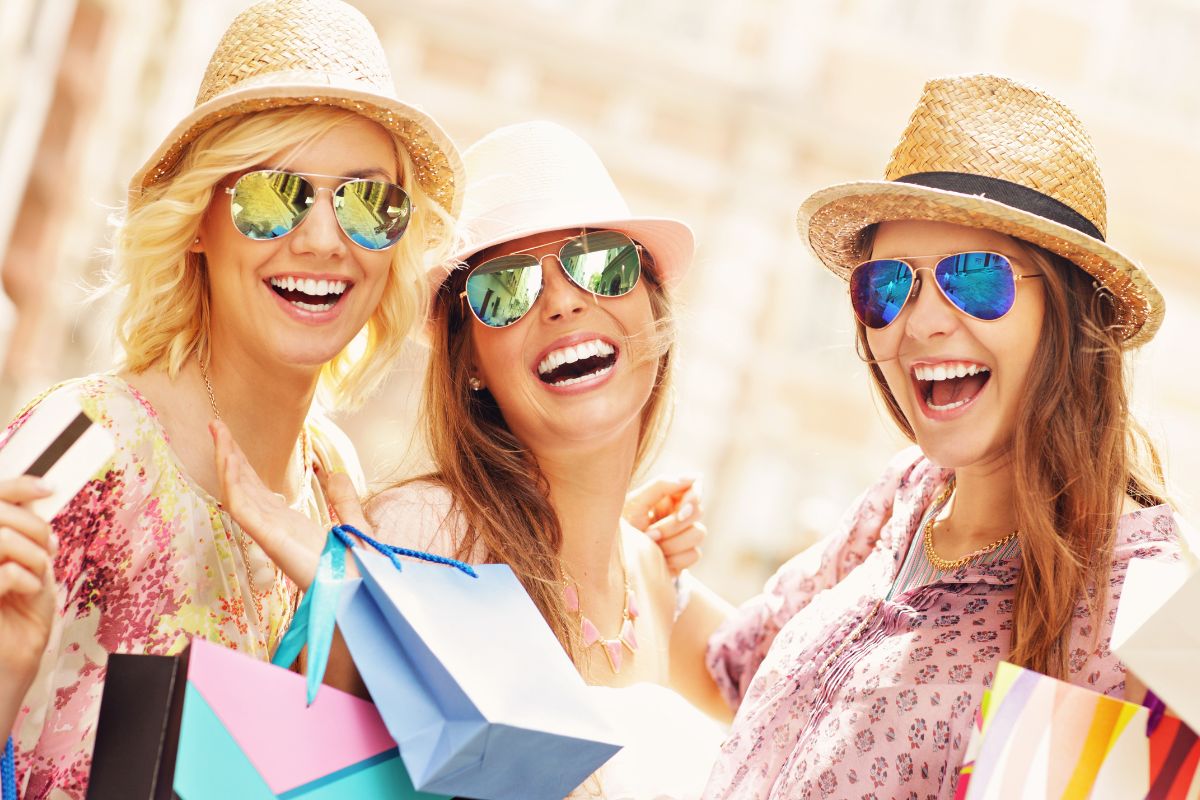 Don't arrive in Tamarindo and expect to find a plethora of mega malls or even large, independent shopping complexes. Instead, local creativity is always in the air, evident at the many local art and craft stalls, and the vendors to find at the local market.
However, there are a few boutique-style shops around town, where you can shop for fashion-related items, swimming gear, art and more! For trendy, timeless pieces like linen dresses and leather sandals, Áurea Concept Store is where to shop.
All about sustainability and with its flagship store in Tamarindo, stock up on swimwear inspired by Costa Rica's 'green lifestyle' at Morena. Find bikini tops, bottoms, beach accessories and activewear in stores.
The handmade bags (from the embroidered type to painted ones in all sorts of shapes, sizes and designs) from Buena Nena are really eye-catching, and they sell a bunch of boho-inspired clothing too.
What sets Papaya con Leche apart is its customizable service. At the swimwear boutique, the staff takes your personal measurements and can tailor-make a style to suit you. A long-standing boutique is Azul Profundo where women, men and kids can shop in one space!
 33 – Calling the romantics, opt for a sunset sailing tour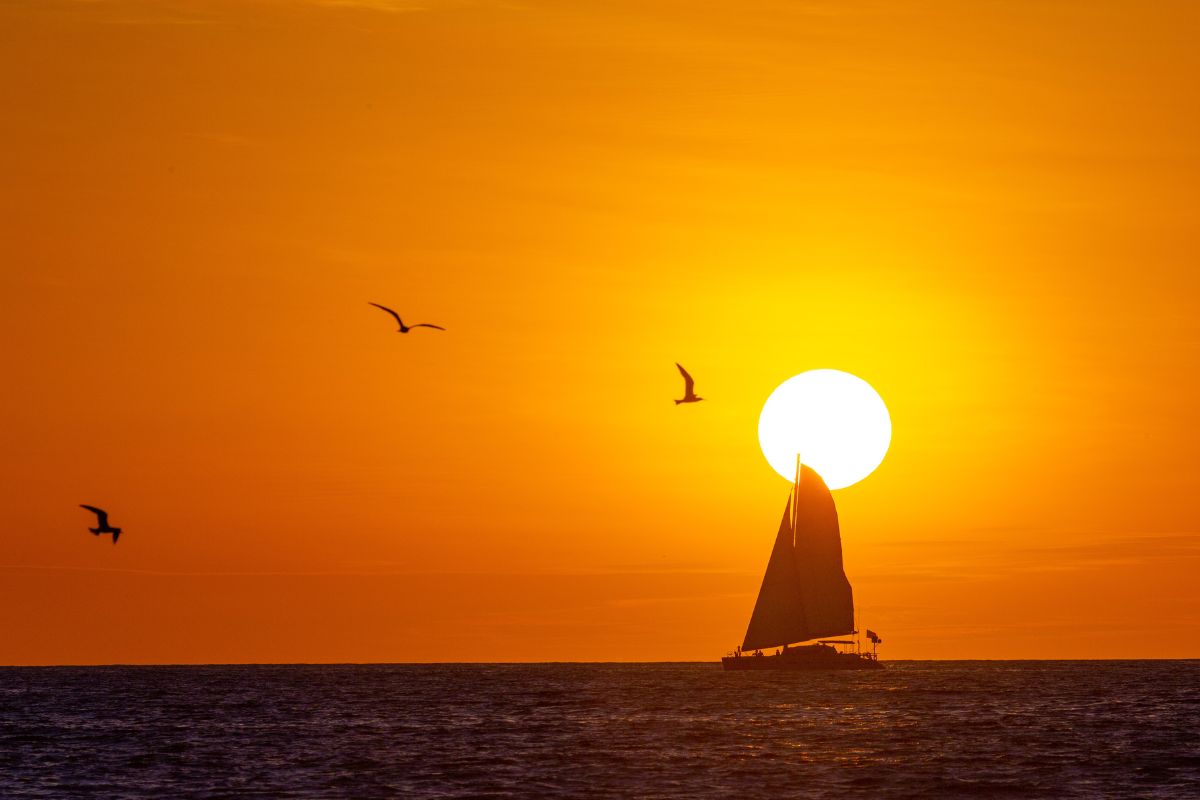 If the ocean sets your soul on fire, make sure you get to witness her around Golden Hour when the waters become streaked in oranges and reds and the sunlight glistens off the waves. Join a sunset sailing tour for this incredible experience!
Most sunset tours in Tamarindo depart in the mid-afternoon. Four-hour trips leave Playa del Coco at 2 PM, while five-hour cruises depart from beaches like Tamarindo, Playa Minas or Piratas Bay at 1 PM.
Sailing the Pacific Ocean on board a luxe catamaran, enjoy the chance to stop for snorkeling and water fun, like swimming, playing with pool noodles in the ocean, visiting secluded bays, kayaking and more.
Lunch is included, and some tours have an open bar, whilst others serve complimentary drinks like rum punch just in time for the main event… sunset!
Speaking of, these sailing tours are timed perfectly so that your boat returns to Tamarindo shores just as the sun begins to set and the local landscapes glow. Don't forget your camera, or make sure your phone is fully charged! Book a private tour or join a group fleet.
34 – Shop and eat at the Tamarindo Night Market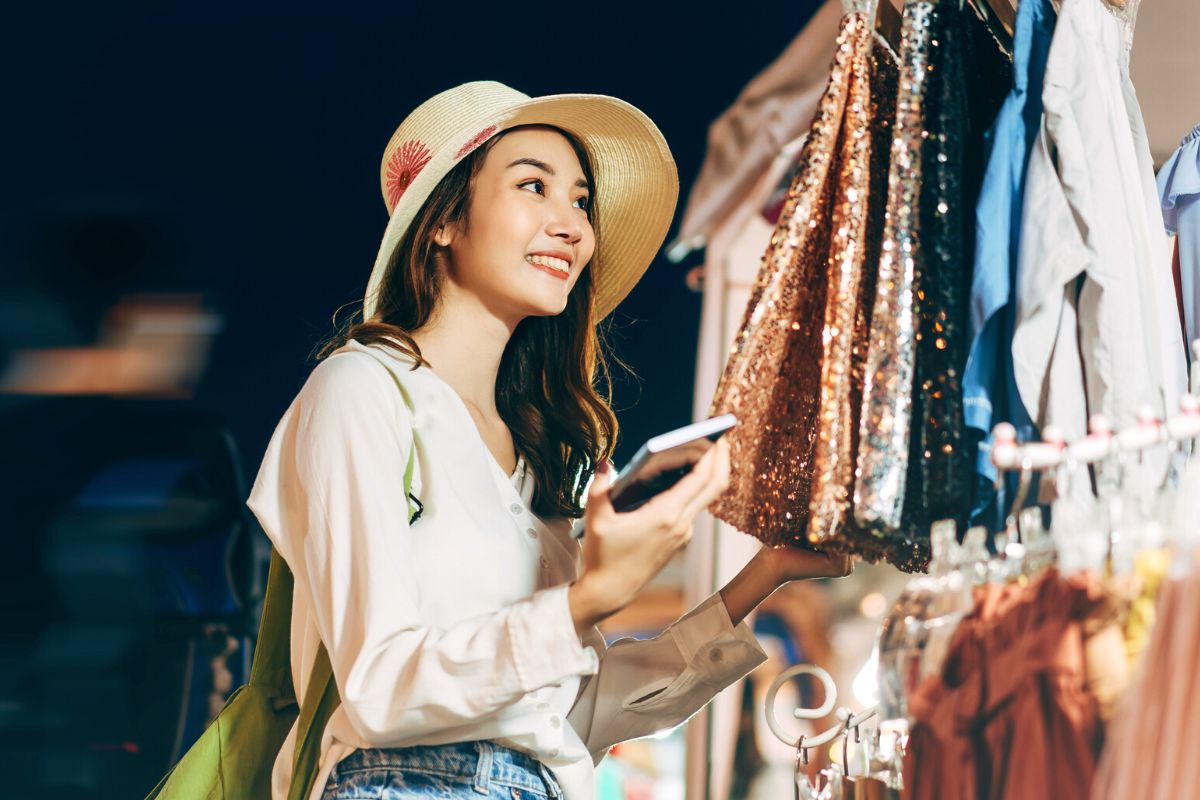 Set up in an outdoor plaza space every Thursday evening, technically the Tamarindo Night Market is the only true "night market" vibe and is a spectacular showcasing of local talent, foodies and horticulturists.
This is the type of market where you'll only find unique gems, all crafted and created by local artists and vendors alike.
Find beautiful jewelry made from precious stones and crystals, pillow covers, bright hand-stitched drawstring bags, leather wallets, dyed scarves and throws, artwork on canvas, dreamcatchers and so much more!
On the food-front, there are local snacks like empanadas, hummus dips and mini pizzas; fresh produce including fruit and veggies, food trucks selling burgers, or ones selling banger cocktails!
Live entertainment is always featured, like DJs or traditional dance performances. The night market opens from around 6 PM to 9 PM.
35 – Join a Sunday Funday Beach & Pool Crawl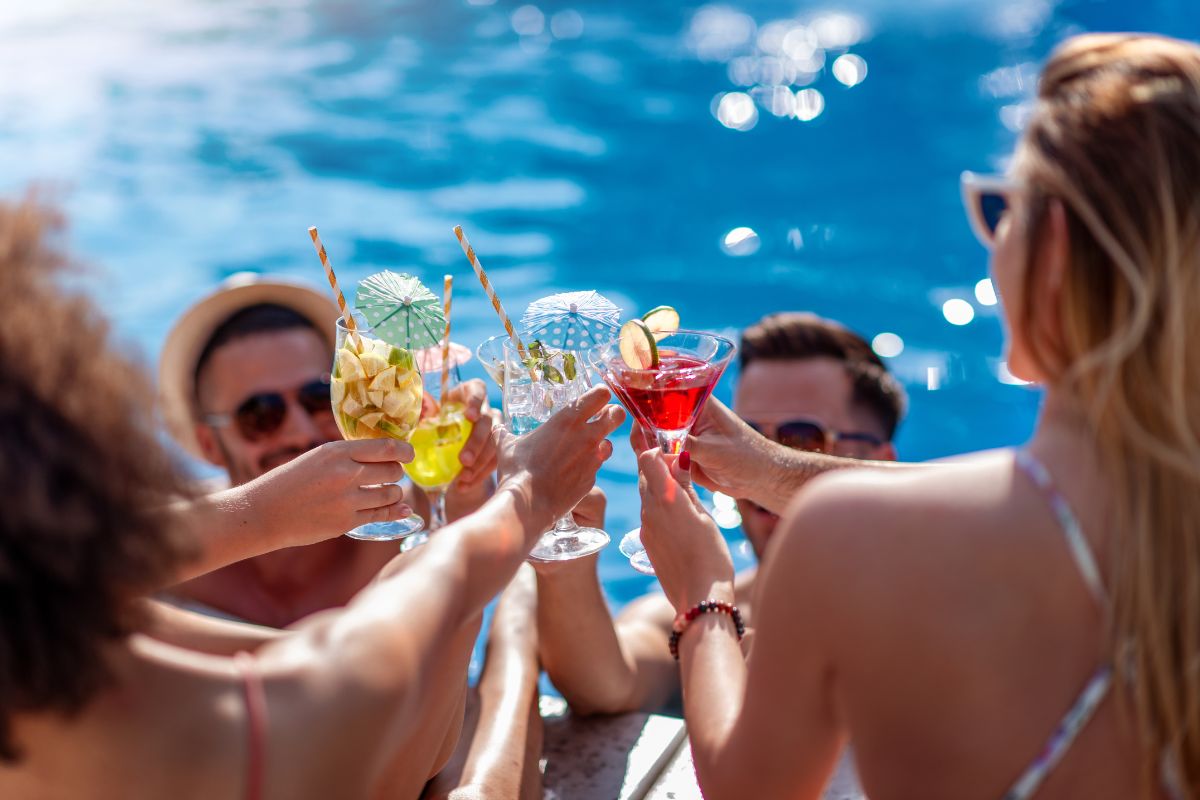 It's time to put on your party pants and head out for a day of fun in the sun, day drinking and pool parties!
Complimentary welcome cocktails are served upon arrival at El Be! Club, then you'll board an old-school American school bus and hop around to three secret locations during an epic Sunday Funday Beach & Pool Crawl.
Funky tunes accompany you the entire time, whether you're cruising around in the magic bus or mingling with other travelers at each party stop destination.
The drinking continues at every locale (prepare for the shots), play beach volleyball and other games in between, rock out at a pool party and sit back for sunset around a beach bonfire. You'll arrive back at El Be! Club around 8 PM.
The crawl starts at 1 PM, but guests are encouraged to arrive for the pre-party between 12 PM and 1 PM.
Where to stay in Tamarindo?
With the beach never far from sight in Tamarindo, choose between hotels and resorts that are some of the best in town for an all-rounded comfortable time!
Wake up to tropical jungle paradise every day at Jardin del Eden Boutique Hotel, overlooking its own private beachfront. The rooms are bright, beautiful, fully equipped and boast balcony views.
Calling all couples; Pacific Kalokairi is an adults-only stay and away from the center buzz. The individual wooden bungalow-style suites on stilts are contemporary, yet remain in touch with nature.
With all units built on the beachfront, rise to the sounds of the waves and then spot a plethora of wildlife whilst drinking your morning coffee from your garden. Hotel Capitán Suizo offers guests tons of activities to do as well.
Designed as a traditional hacienda-style resort, JW Marriott Guanacaste Resort & Spa has all the amenities from guest pool to restaurant to beach club access to spa. There are rooms with options of garden patios or balconies with ocean views, and if available, the one-bedroom presidential suite is the one to snag!
Guests find it hard trying to leave Cala Luna Boutique Hotel. With a super organic feel to the place, from the interior design to the hotel grounds, the atmosphere is trendy, tropical boho vibes!
Bali or Santa Cruz? Checking into the lovely Les Voiles Blanches feels like an amalgamation of both oceanic destinations. The bungalows are light and cozy and well-maintained.
A great pick for families, or couples, Hotel Tamarindo Diria Beach Resort is a massive property and is donned with four restaurants, four bars, a spa, an outdoor pool, a beachfront setting and its own casino! Check into the spacious rooms or suites opening up to a garden.
Where to go next?
Remember, Tamarindo is a small town that is part of Santa Cruz, and is just one speck of the places to explore. There are a lot of fun things to do in Costa Rica, so it could be a wise choice to consider venturing off to another destination in Costa Rica whilst you're already here!
Some of the most famous places to visit are not too far away and are doable as a day trip, whilst longer locales are fit for an overnight, weekend, or week's holiday. The nearest city to Tamarindo is Liberia — a 1.5-hour drive away. Located inland in the central north, hunt down waterfalls, canyons, natural pools and volcanoes! It's ideal for a day-trip, or any overnight endeavor.
Travel across the country, passing Santa Cruz to Monteverde (just under three hour's drive from Tamarindo). Travelers flock here to witness its famous cloud forest, where you can walk across hanging bridges through the canopies.
Both La Fortuna and Jaco take 3.5 hours to reach by car but are located in different parts of the country. The tiny town of La Fortuna is situated at the foothills of the Arenal Volcano National Park and Jaco is a coastal town where surfing is a top priority.
Costa Rica isn't the biggest country, and San Jose, the capital city is only four hours away. Dive into the pre-Columbian era at museums and historical sites, visit rainforests and national parks and tour local villages.
Quepos is furthest from Tamarindo, clocking in at 4.5 hours. Completely different from the rest, fishing is a major sport here.
Final thoughts
Feeling super relaxed in the laid-back beach town, you'll hardly notice the hours slipping by. An eden of wildlife, and an oasis of oceanic beauty, the things to do in Tamarindo leave travelers with a full heart and cup overflowing.
Have you ever had the pleasure of visiting this surf city before? What were some of your most memorable moments? Share with us in the comments.
As always, happy and safe travels!