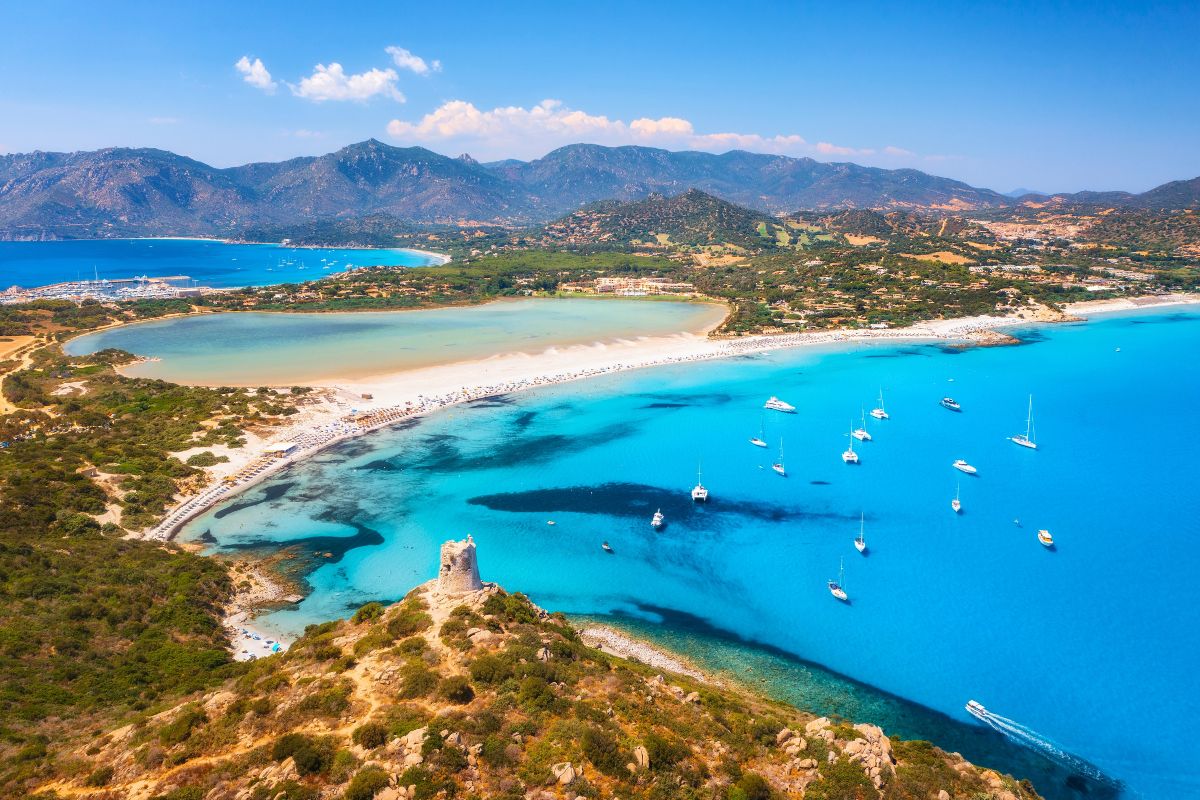 Just off the western coast of Italy, there's a place that seems straight out of your wildest fantasies – but it's very real, and very welcoming to visitors!
Sardinia has long been known for its distinct flavor; not just the food and beverages, but also the climate, the ancient sites, and the many festivals and artistic events where locals fire up their creativity as only they can.
Tucked snugly into the middle of the Mediterranean – in fact, it's the second-largest island in that region -, this charming spot has long been known for its mixture of cultures.
While it certainly boasts a strong Italian pedigree, its local customs and styles are still very much on display, giving you the chance to enjoy two holidays in one!
And don't forget about the great outdoors; after all, you could easily spend a whole trip just exploring the mountains, shorelines, breathtaking rock formations, and hiking trails that bring it all together.
So get ready for a culture like no other, and delve into the coolest things to do in Sardinia!
Want to dive straight in? Browse our catalog now!
1 – Wander the streets of Cagliari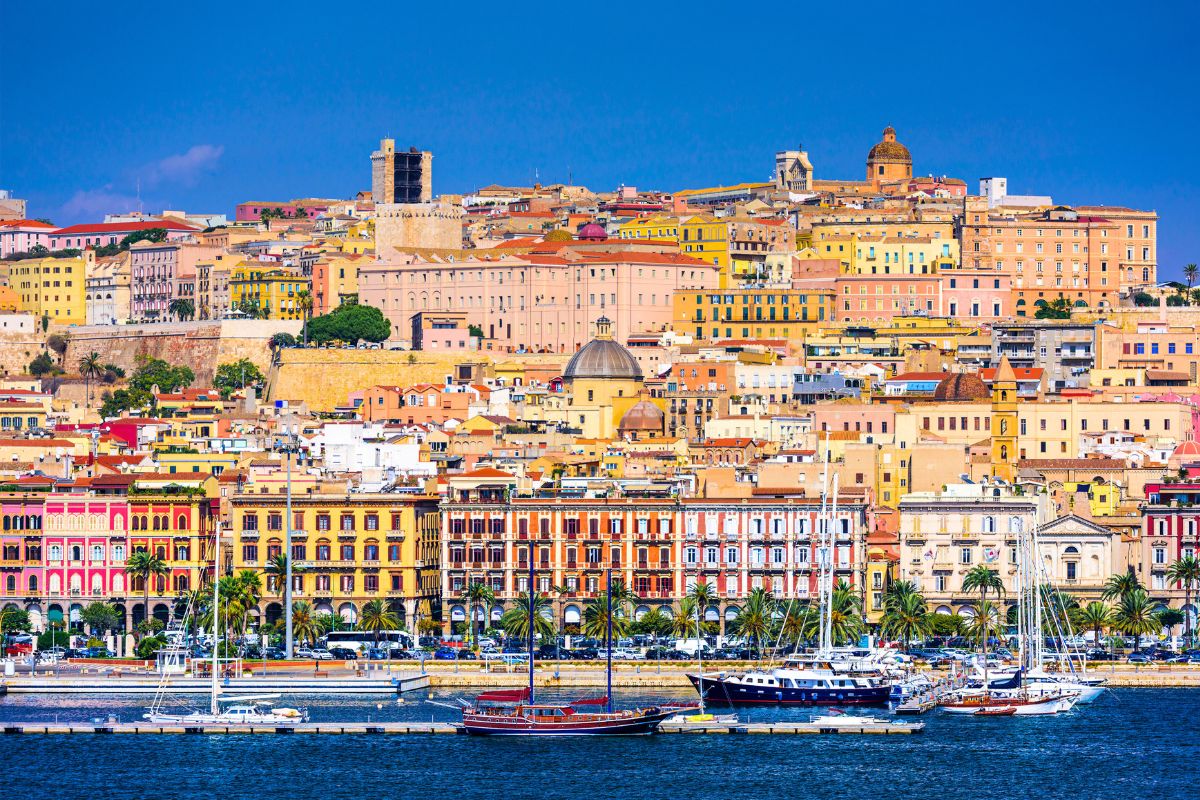 Castles, monuments, and wild birds… you're certainly spoiled for choice in Cagliari! Stroll around the Neoclassical structure of Bastione di Saint Remy, a gorgeous archway that has been central in many public events.
Then swing by the Castle of San Michele, which was originally built in the 1100s as a defense mechanism, and is now living a new life as a thriving culture center
Old Town beckons next, with its aged streets and a whole labyrinth of underground tunnels and crypts to discover; it's little wonder that there are so many walking tours that pass through!
And just outside of town, you can explore the surreal world of Parco Naturale Molentargius Saline, where flocks of flamingos form a brilliant pink ribbon along the salt pans.
And if you want to get even more in touch with nature, grab a helmet and embark on some bike tours, cruising through town, past preserves, and everywhere in between.
By the time you've clamored to the top of Sella del Diavolo (Devil's Saddle) – a breathtaking peak filled with remnants of human societies from the age of the cavemen all the way to the world wars -, and taken a look around, you'll be thoroughly in love with this classy town!
2 – Relax like a superstar at Costa Smeralda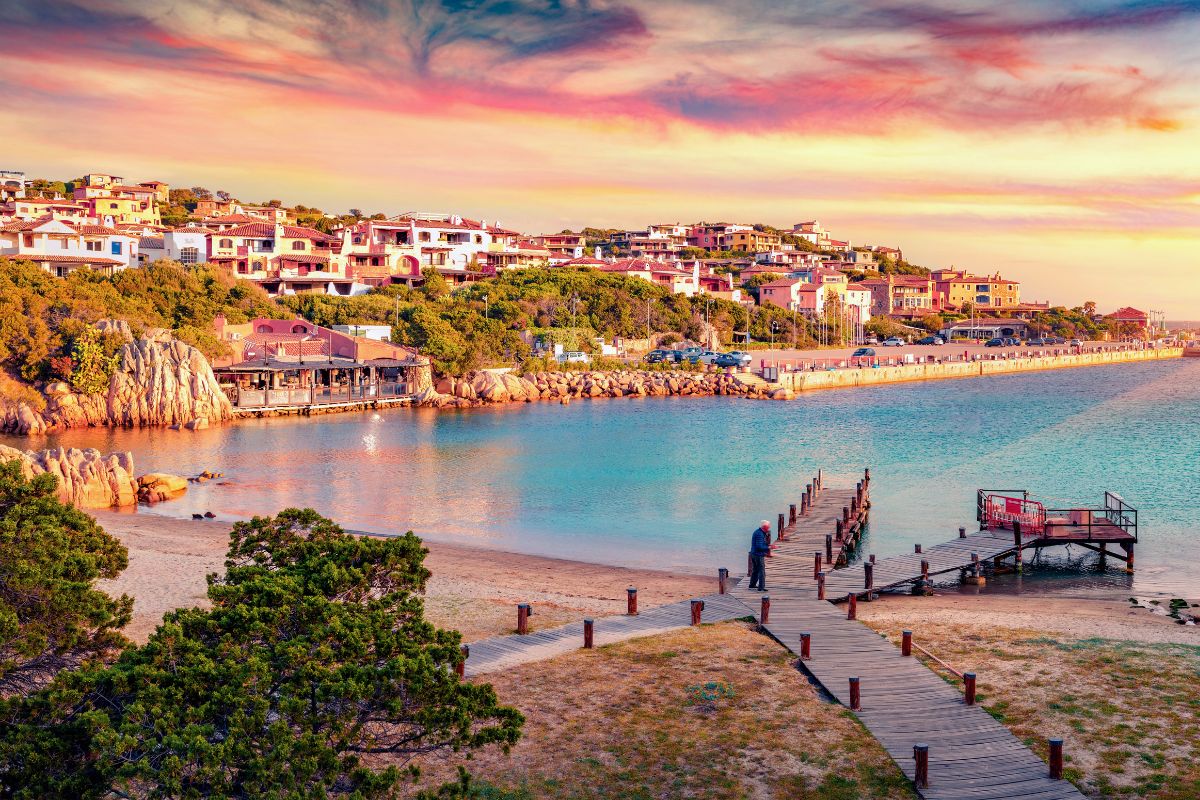 If you've never spent time in this piece of paradise before, you're in for a treat!
This magnificent length of coastline between the Gulf of Cugnana and the bay of Arzachena has become something of an international hotspot in recent years, lined with vibrant resorts where you may catch sight of some A-listers lounging on the sand.
Porto Cervo makes for a great home base; as one of the fanciest of these spots (which is really saying something!), it has plenty of top-notch places to eat, drink, and hang out, maybe even catching a glamorous sporting event or a yacht sailing by.
And there are even some older sites to explore as well; don't miss the remarkable Li Muri necropolis, a fascinating set of Bronze Age ruins centered around graves that were constructed roughly 6,000 years ago!
3 – Switch between land and water in Alghero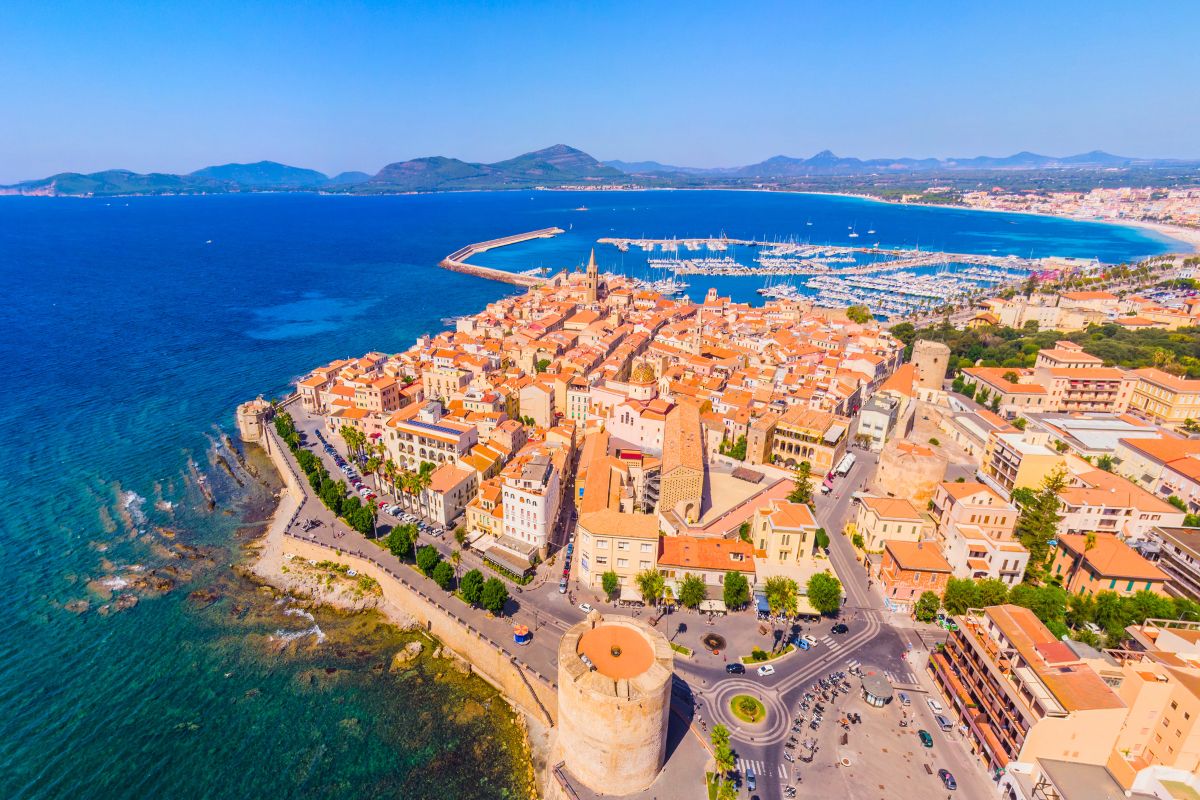 From the sea, you'll get an eyeful of charming earth-toned buildings; from the streets, you can enjoy the gorgeous blue water, dotted with passing ships. And wherever you are, you can enjoy the lively, lovely Alghero!
White this charming village thrums with culture, it's also a perfect place to get in touch with the natural side of the island… especially if you're feeling a little adventurous!
From the gorgeous hiking trails and scenic views of Porto Conte Regional Natural Park to the sea-soaked beauty of the Neptune Caves to the stunning churches and walking paths of the old town area, every inch of the city drips with charm.
And for a particularly eye-catching souvenir, stop into some of the stores to pick up jewelry made from bright red coral directly from the sea!
Naturally, you'll want to explore this area further, whether on foot or by boat… or by swimming!
The walking tours in Alghero are a perfect way to see every part of this charming town, from its historic neighborhoods to its religious sites and medieval remnants.
Then follow it up with some of the excellent boat tours in Alghero, where you can relax on a traditional vessel and enjoy the beautiful seascapes.
Or hop into the warm waters for some snorkeling, and meet some of the colorful creatures that call this gorgeous place home!
4 – Get some serious beach action in Stintino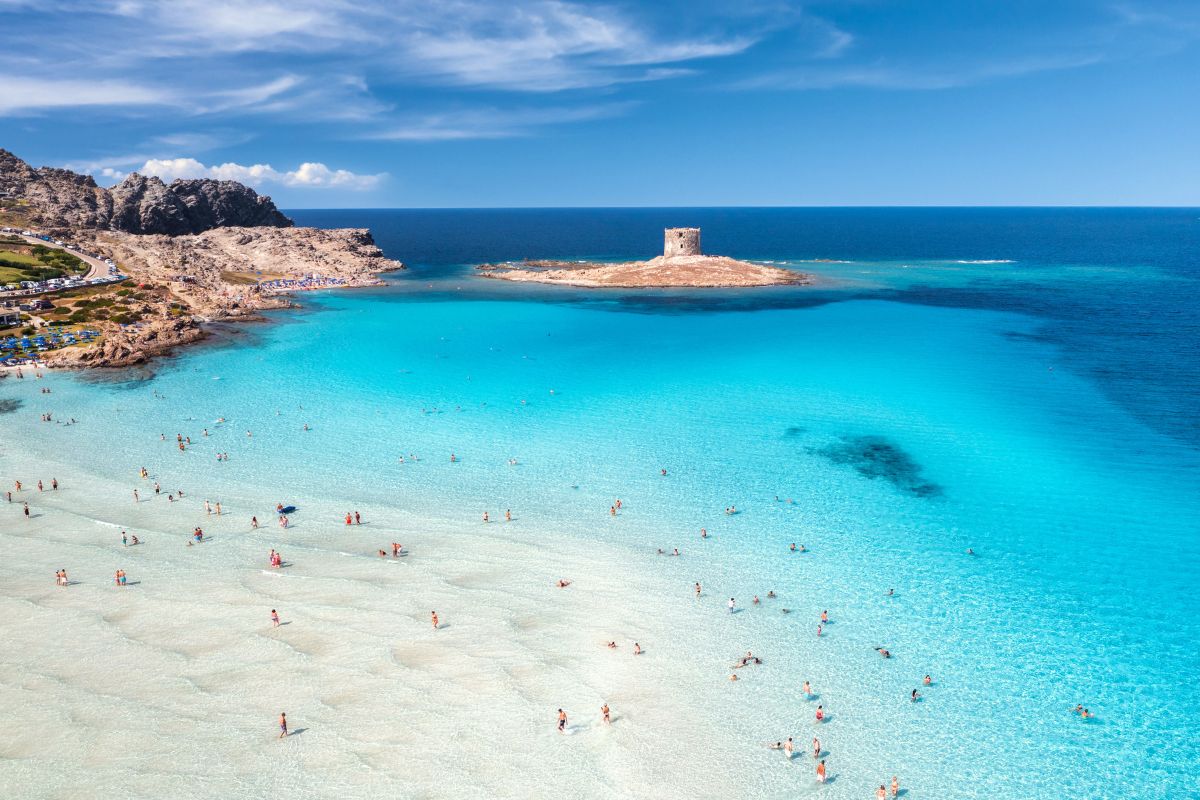 Another great little seaside spot, Stintino provides a mellow spot to sunbathe and swim, courtesy of its many picturesque beaches.
Spiaggia La Pelosa is one of the best stretches of sand, and a perfect launch point if you want to get seriously into watersports!
Kayak or windsurf across the waves, enjoying the breezes; or get a little deeper (literally) with some snorkeling or scuba diving.
Or keep things traditional with a bit of sailing, and let the invigorating sea breezes whip across your face as you look out over this watery wonderland!
Bring your favorite towel and enjoy a bit of leisure time!
5 – Have an aquatic adventure in La Maddalena Archipelago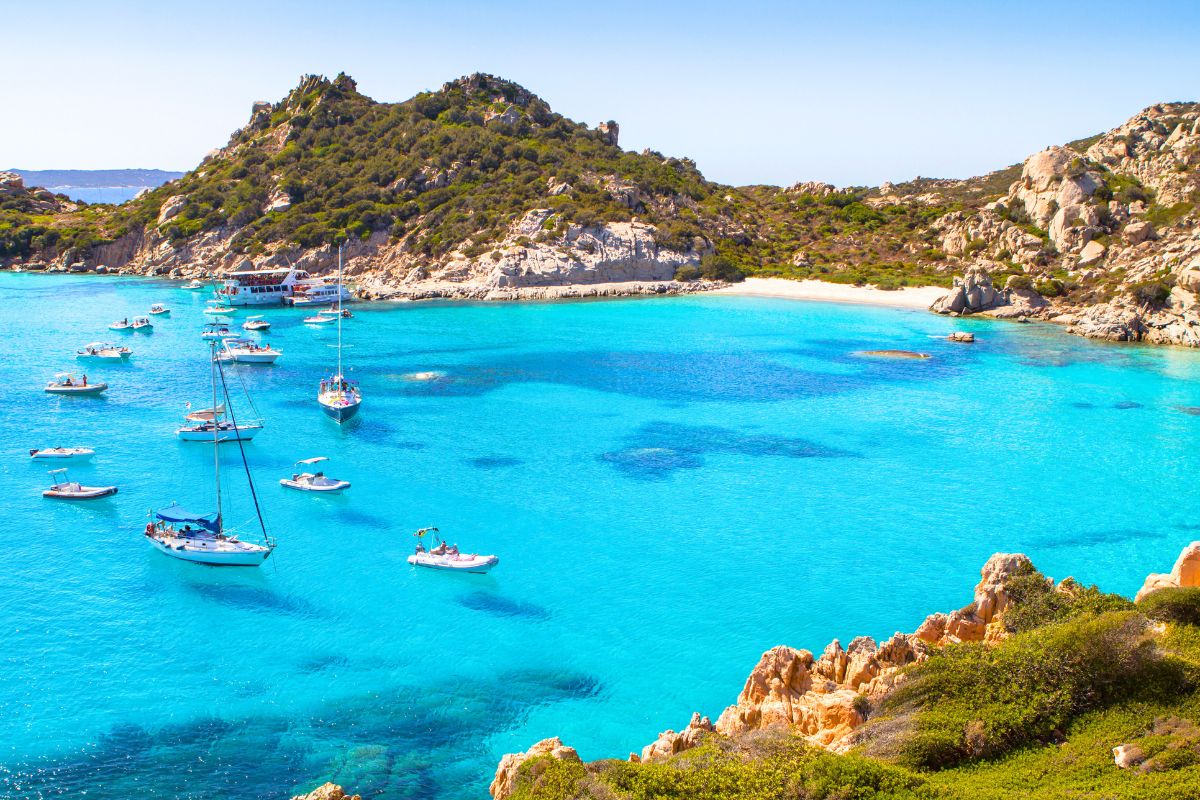 And while we're on the subject of snorkeling and scuba diving… This string of islands offers an aquatic scene worthy of National Geographic, with rainbows of coral and fish weaving through the endless blue.
Paddle through soothing natural pools, or descend even further below the waves, coming face to face with remarkable creatures like lobsters, eels, and maybe even an octopus or squid!.
And if you want to spend even more time out on the water, there are tons of awesome boat tours running throughout the islands!
See also: Best La Maddalena Boat Trips
6 – Visit a Nuraghe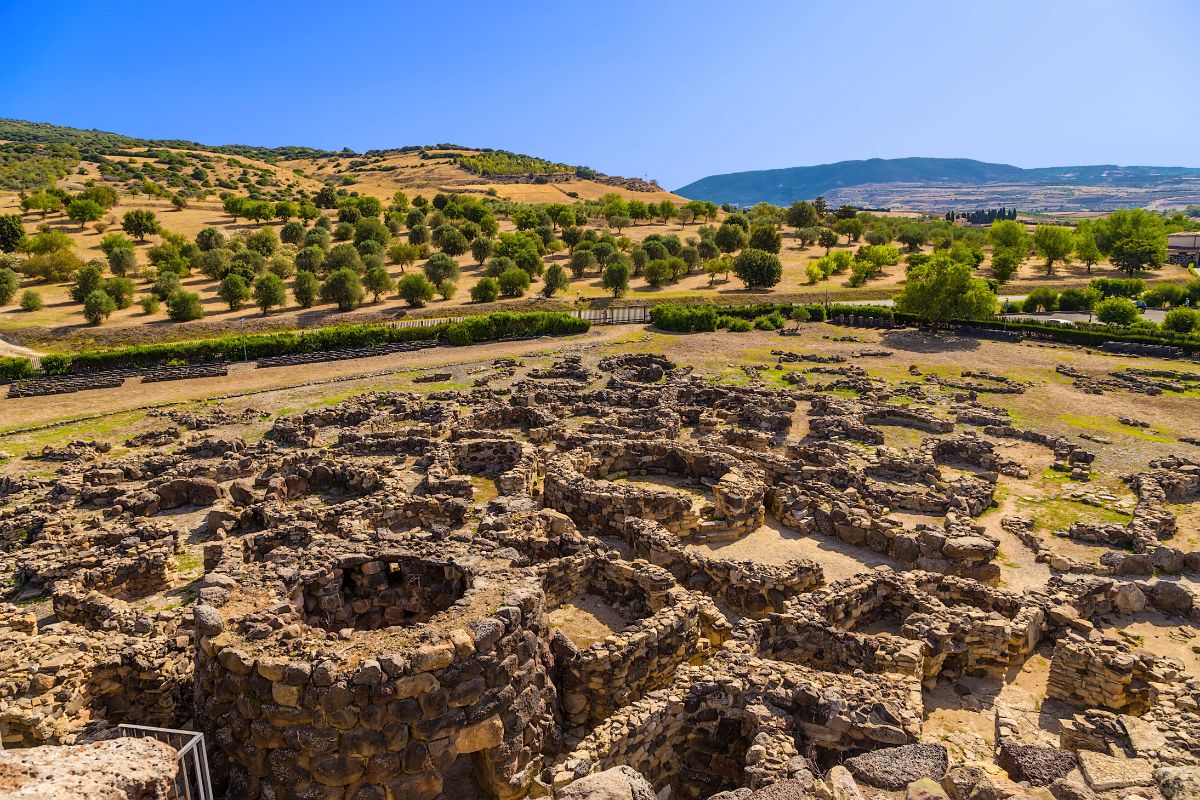 If you spend any time out and about on the island, you'll start spotting some fascinating structures right away; and each ancient stone in these towers tells an amazing story!
These multi-layered structures were built throughout the area by the Nuragic culture, which flourished some 5,000 years ago. And amazingly, there are still tons of them around to be admired!
While there are over 7,000 spots to be admired, there are some particular highlights that really show off the distinctive culture of the island.
Su Nuraxi di Barumini is a great place to start; as one of the largest and most comprehensive of the complexes, it showcases the many facets of these unique defensive structures, and it can easily be accessed with a Barumini day trip from Cagliari.
And there are many other prominent spots to enjoy around the island! Nuraghe Arrubiu features 21 distinct towers and a beautiful scattering of red lichen, while Nuraghe Losa showcases the influence of Roman designs.
You can also explore the small chambers and larger public areas of Nuraghe Santu Antine, and the gorgeous remains of Nuraghe Palmavera, perfectly tucked between the sea and the mountains.
See as many as you can, because paying a visit to these marvelous works is one of the most iconic things to do in Sardinia!
7 – See the wonders of Castelsardo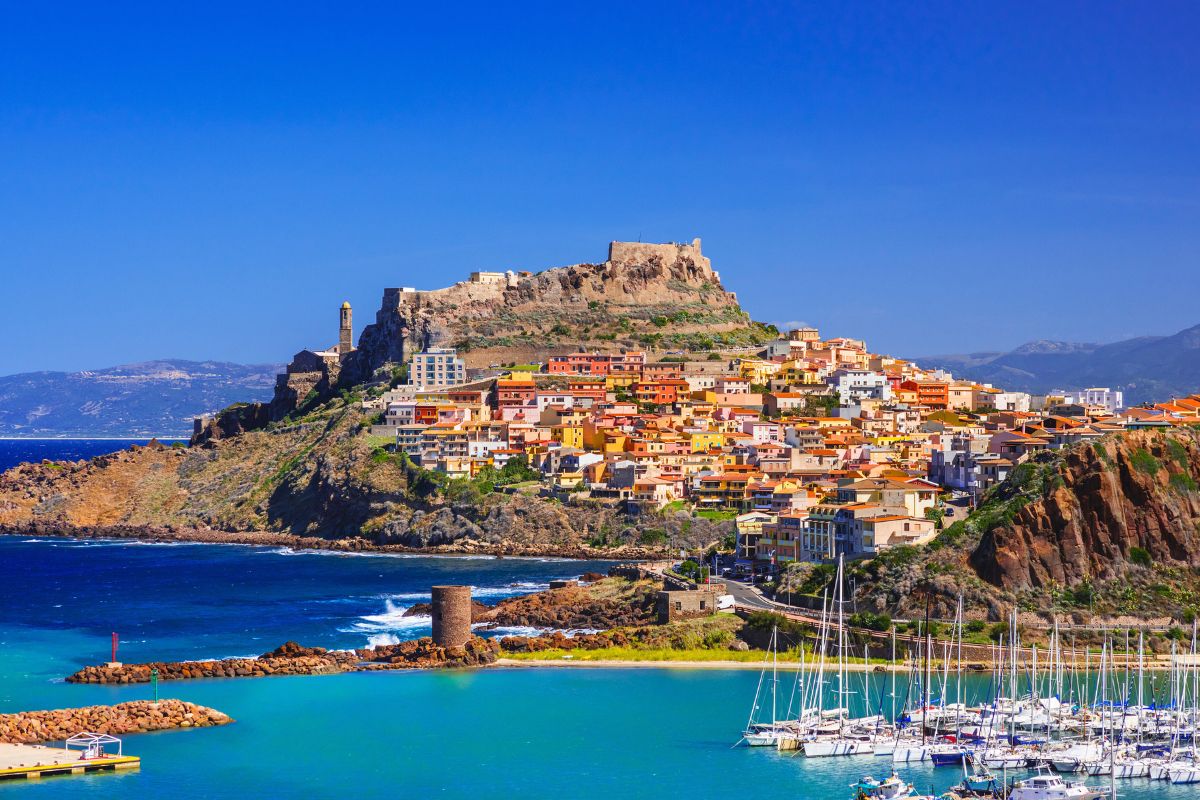 There's no such thing as an ugly side to Sardinia, but Castelsardo is particularly spectacular!
Originally founded by the powerful Doria family in the 1200s, this lovely little town has a great culture and fantastic scenery to match, and its streets are lined with educational delights.
Castello dei Doria provides a link between the town's noble past and the present, its ruins and the attached museum still providing great insights into the past – plus killer views!
And don't miss Roccia dell'Elefante, a fascinating stone formation that is shaped uncannily like an elephant; it's both a perfect photo op and a wonderful excuse for a hike!
8 – Visit a cave
Sure, there are lots of amazing things to do in Sardinia at the ground level; but you can also head below the earth to enjoy the wonders of the area's many caverns!
Explore the underground lake of Neptune's Grotto, or explore the spacious limestone interiors of Grotta Su Marmuri.
Trek past ridged floors of stalagmites at Grotte di S. Giovanni, or gape at the spindly crystals at Grotte Is Zuddas.
Follow a path past winding rivers and ever-shifting calcium deposits in Grotta di Su Mannau, or check out the massive stone columns and otter fossils of Grotta di Ispinigoli.
And don't miss Grotta di Santa Barbara, a former mineshaft whose many chambers and tunnels perfectly capture the complex human interactions that take place in these subterranean worlds.
9 – Dish up some fun with a few cooking classes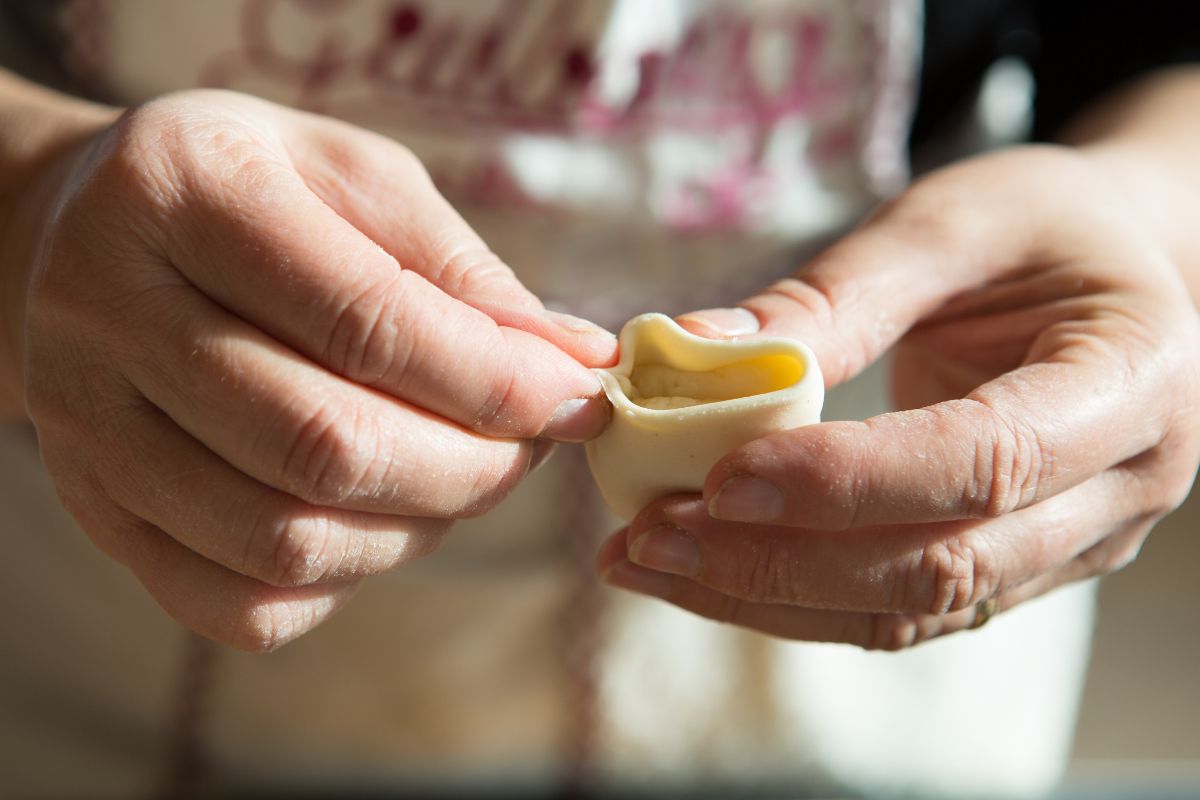 Cooking classes are always a good time… especially in a place with such fabulous food!
From pasta to seafood and everything in between, you'll be able to make some remarkable meals with fresh ingredients – not to mention plenty of locals to teach you!
While you can find these in various spots around the island, cooking classes in Cagliari and in Alghero have the most options.
Whether you're carefully crafting pasta by hand, preparing traditional culurgiones (a type of ravioli), or whipping up more unique offerings like desserts made from cheeses, you'll get to discover a whole range of culinary experiences… and best of all, you get to eat the results!
So grab an apron and get started!
10 – Take the SP71 Scenic drive from Chia to Teulada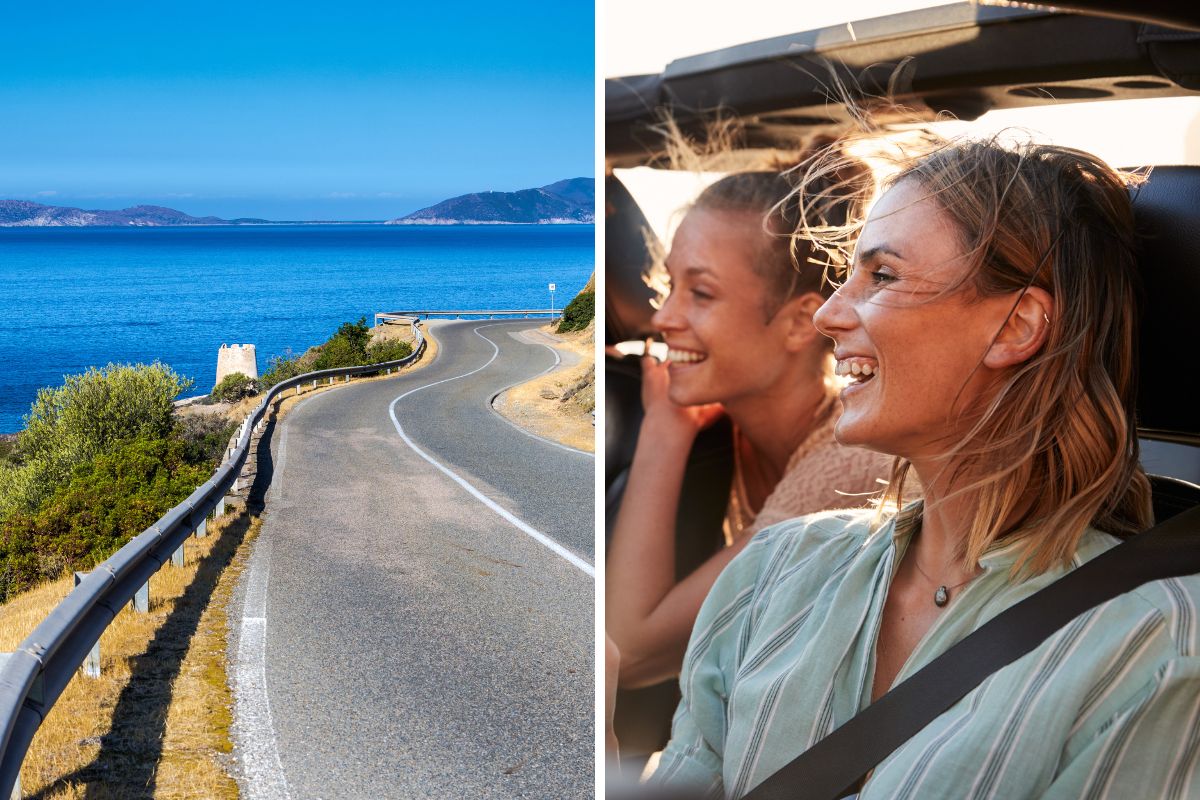 Sometimes, the journey itself is as important as the destination; and that's certainly the case when you ride along SP71!
This magnificent stretch of road winds from Chia to Teulada, hugging the coast almost the entire way.
Along with being a spectacular form of transit, it's packed with little stops that will motivate you to take your time on the drive.
If you want to wander through lush fields or get uncrowded views of some of the many archaeological spots around the island, this road will offer up treasures in spades.
Stop for a swim, a picnic, and some quality time on secluded beaches… you'll almost forget where you're headed!
11 – Swing by Capo Testa & Santa Teresa Gallura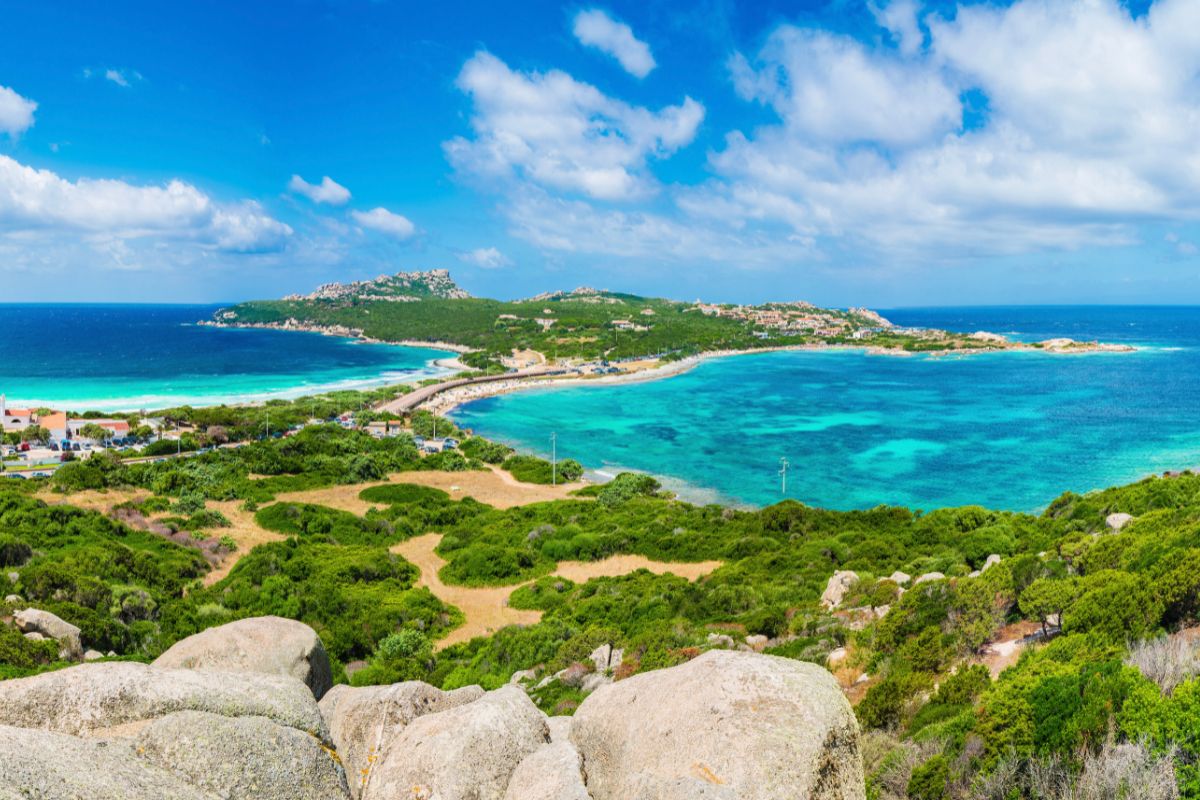 If you're looking for a home base with lots of outdoor treats to enjoy, this nice little burg and neighboring seaside area have got you covered! These two intertwined burgs are perfect for a bit of beach time – make that a lot of beachtime – and some amazing trips into the hills.
Snorkel along the rustic, granite-lined shores of Spiaggia Zia Culumba; watch the reflections off the rocks at Spiaggia Valle della Luna; let the kids frolic in the picturesque shallows of Rena di Ponente; or wrap up a day in the sun with a drink at the bar at Spiaggia Rena Bianca.
Slightly inland, you can wander through the breathtaking Cala Grande, a former hippie hangout nicknamed "Valley of the Moon" for its incredible evening scenery.
Or take a trip to Torre di Longonsardo o Torre Spagnola, remarkable medieval towers that still keep watch over the town. And while you're at it, why not indulge in a bit of hiking in Sardinia?
From the remarkable terrain of the Lanaitho Valley to the thrilling slopes of the Devil's Saddle, you can easily spend a day – or several! – traversing the wild terrain of the surrounding area.
When you're ready to check out the wilderness at length, rev up a four-wheeler and enjoy some of the excellent ATV tours in Santa Teresa Gallura.
Or try the boat tours in Santa Teresa Gallura, and enjoy the nautical traditions of the island up close and personal!
12 – Get a healthy dose of history at Arzachena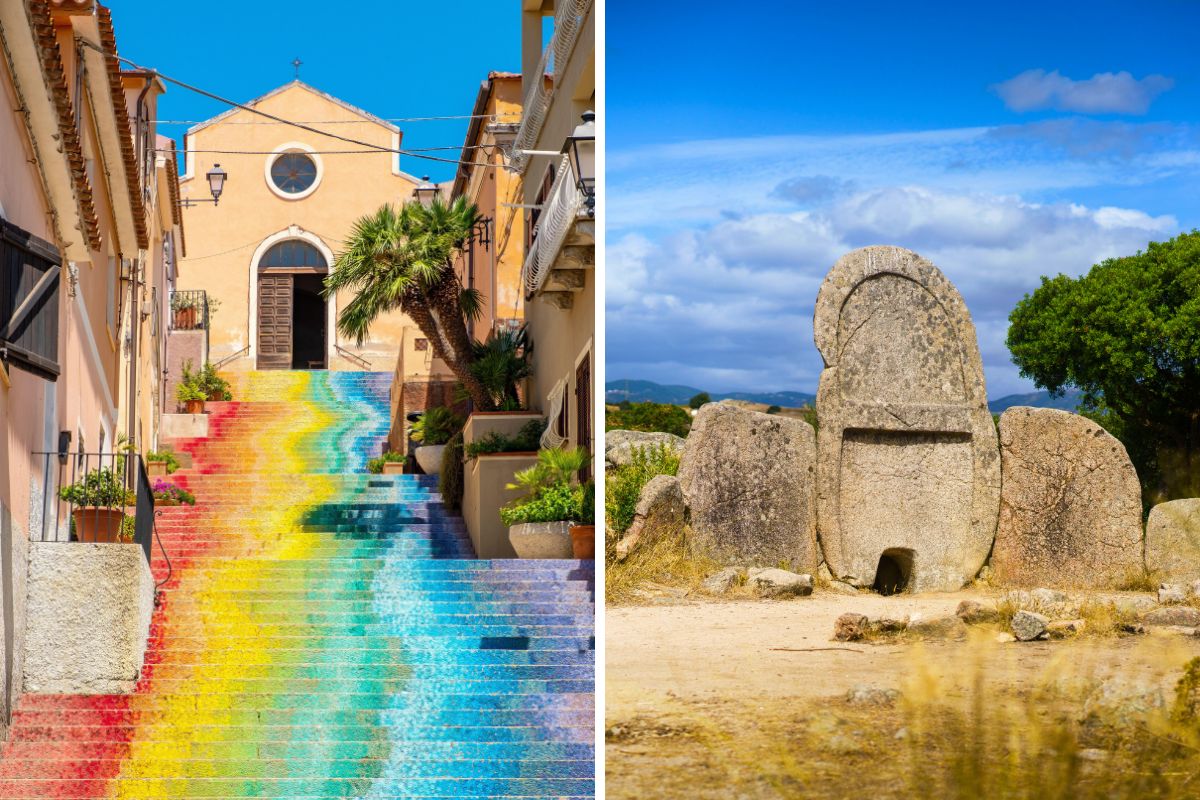 Ceremonial sites, churches, and ancient villages long past their prime – in Arzachena, it's all about the past!
While there are plenty of great beaches around here, it's also filled with well-preserved monuments to the island's past, from the earliest civilizations up through the medieval era.
Start with the somewhat more modern era with a visit to the Church of Saint Lucia, which has gained new fame in recent years for its bright, rainbow-colored steps.
Then go back further – much further – to some of the island's greatest archaeological spots. This is another great place to see some of the iconic Nuraghes, including Nuraghe La Prisgiona and Nuraghe Albucciu; but it also offers some fascinating burial grounds.
Check out the stone circles and distinctive burial mounds of Necropolis of Li Muri, where scores of citizens – and their most precious belongings – were buried.
Then swing by the Giants' grave of Coddu Vecchiu, a series of community tombs field with distinctive stone decorations. At the end of it all, stop by the Michele Ruzittu Civic Museum to learn even more about these amazing relics – you'll feel as if you were there!
13 – Get two for one with some wine and food tours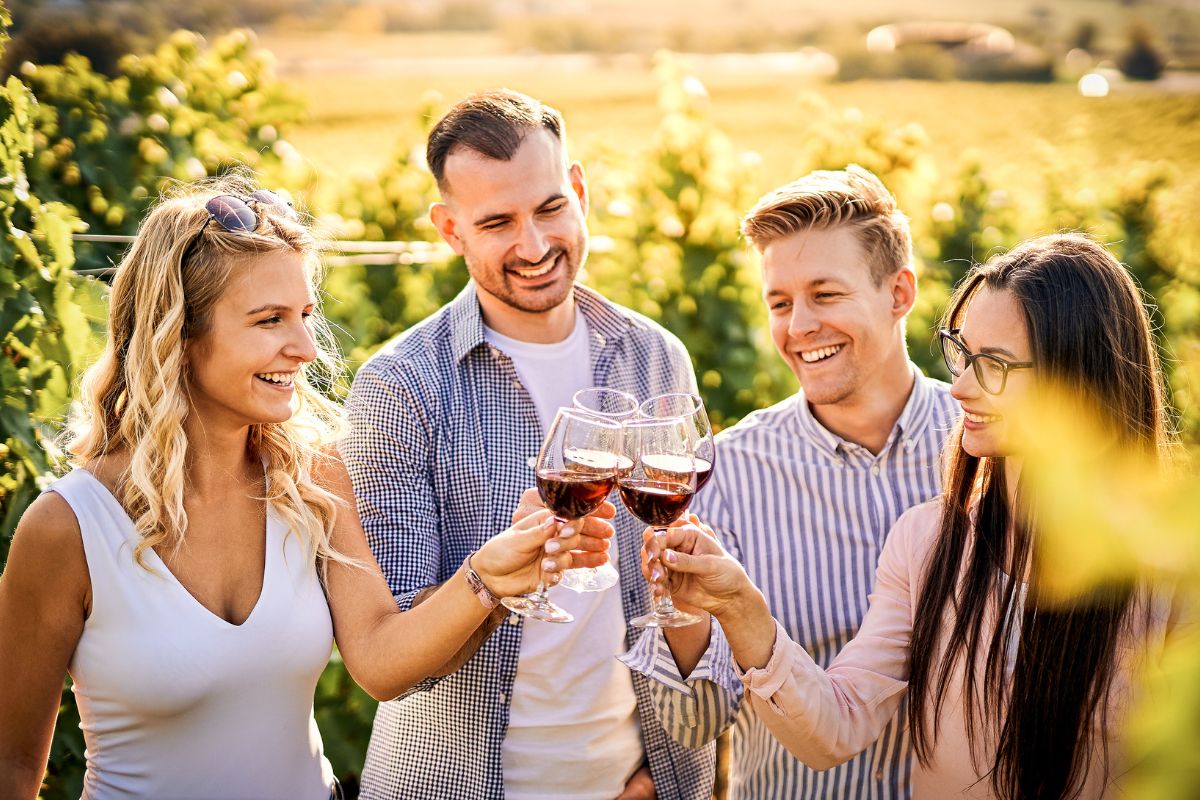 A trip to Italy is all about eating, drinking, and being merry – so why not get started with some amazing wine and food tours in Sardinia?
The many incredible tastes of the region will welcome you at every turn, from hearty meat dishes to light, scrumptious glasses of vino.
There are few better ways to really enjoy Sardinian cuisine in all of its glory; as you munch on fish and savor some gelato, you'll be able to learn all about the little towns around you, and how the culinary traditions interweave with them.
And if you're particularly geared towards dairy, there are some excellent cheese tastings where you can nibble your way through all of the finest handmade products!
14 – Party and go beachcombing in Sassari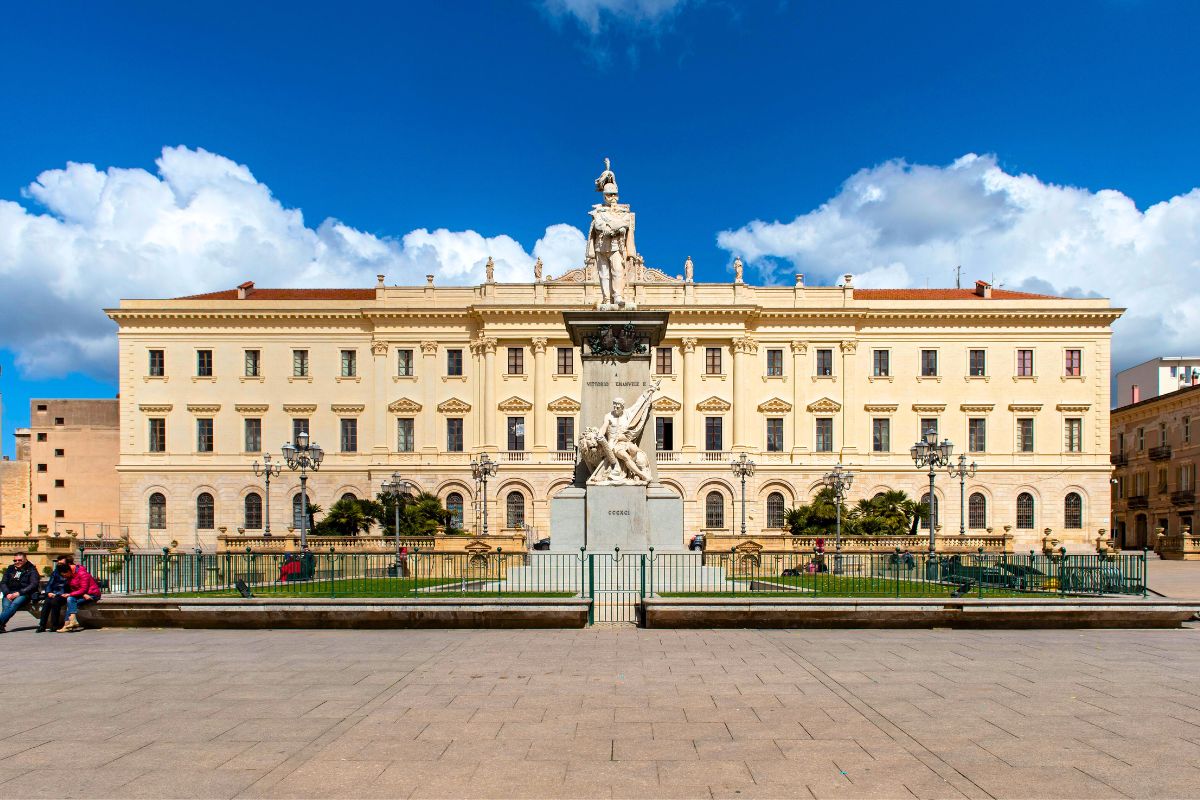 The coast is the big draw here, and rightfully so; but some of the loveliest parts of the island lie a little bit further in!
Nestled on the Asinara Gulf, the charming town of Sassari has been a thriving hub since prehistoric times – and it just keeps getting better with age!
Its public plazas are a large part of its appeal; take a stroll through Piazza Italia and Piazza Castello and enjoy a wonderful mixture of cool monuments and active people-watching.
You can also enjoy some of the region's most beautiful religious buildings, including Santa Maria di Betlem Church and San Nicola da Bari Cathedral.
And don't miss the lively festivals that take place all year round; from the Cavalcata Sarda celebration in May, where some of the finest traditional equestrian riders (and their horses) strut their stuff, to the reverent Candelieri Festival, where elaborate candles are paraded through town as tribute to Our Lady of the Assumption, you'll always be able to find some reason to celebrate!
15 – Discover castles, tanners, and more in Bosa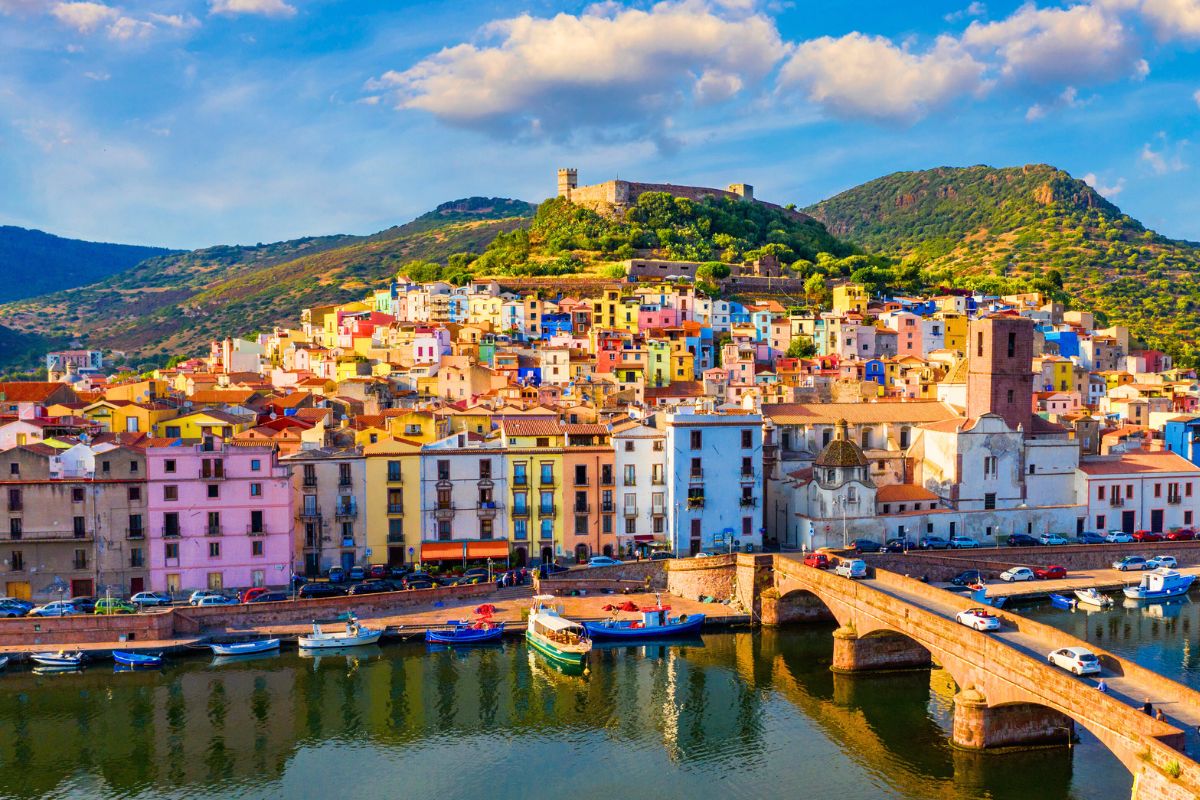 What Bosa lacks in size, it more than makes up for in beauty and character!
Intersected by a gorgeous river, and filled with equally stunning houses painted in any number of bright, friendly hues, this gem dates all the way back to the Phoenician era, and still thrives with the energy of a thousand different legacies.
One of the less savory ones was an unfortunate habit of getting invaded by pirates, resulting in one of the town's greatest attractions: the Castle of Serravalle.
Built to protect against marauding forces, it's more of a shadow of its glory days; but you can still explore its former chapel and infrastructure, and even peek out of the same watchtowers that once kept the town safe!
On the intellectual side of things, you can explore the town's many fascinating museums, including Museo delle Conce, which provides amazing insight into the tannery industry that once thrived here.
Throw in festivals, boat tours, and some truly wonderful delicacies (wine enthusiasts will love the super-sweet Malvasia), and you have a fantastic spot to set up camp for a while!
16 – Go roaming through Gennargentu National Park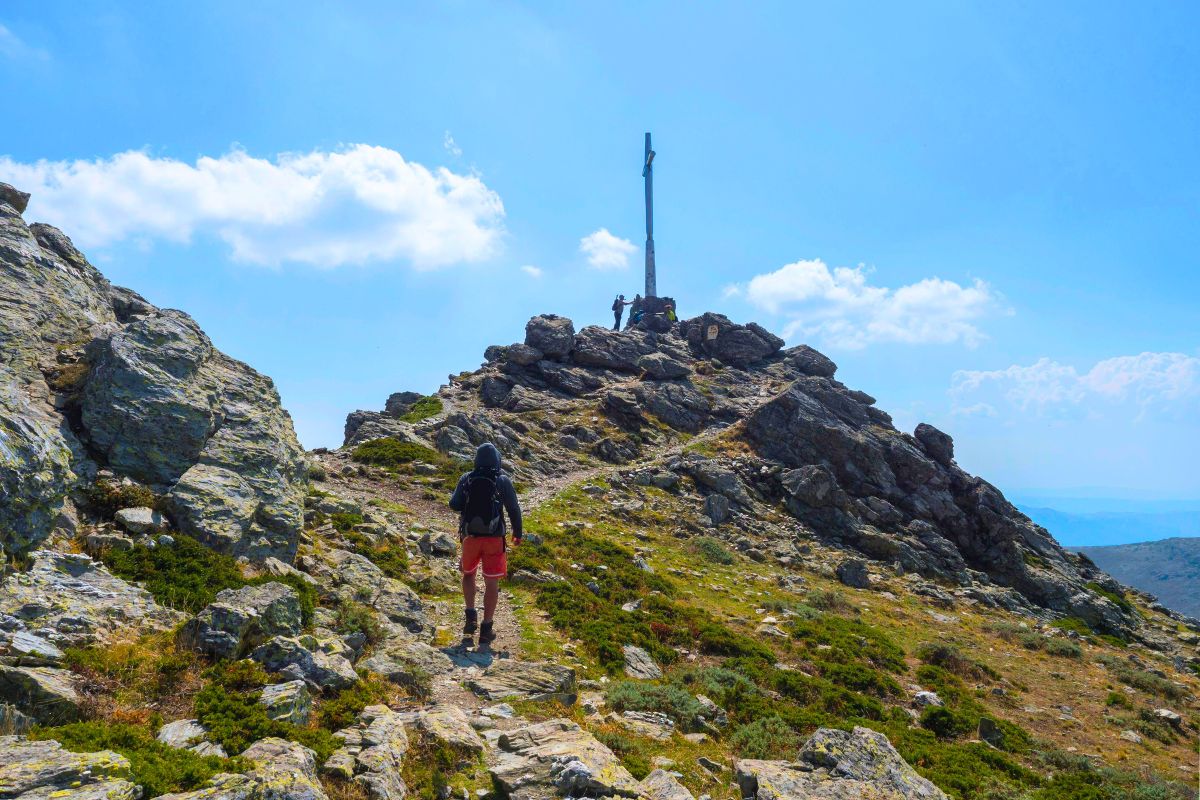 Awe-inspiring mountains, postcard-worthy lakes, and abundant animals in every nook and cranny… it's little wonder that a trip to this natural gem is one of the best things to do in Sardinia!
On any given trip to Gennargentu National Park, you might come across golden eagles and peregrine falcons gliding through the air, dormice and wildcats moving along the ground, or even dolphins and monk seals out at sea!
And of course, the natural views are no slouch either – after all, this park is home to Punta La Marmora, the tallest peak on the whole island!
As diverse and stunning as the rest of the island, this massive tract of land is one of the greatest gems of the east coast; hike, birdwatch, or just absorb the terrific scenery unfolding around you.
17 – Catch a glimpse of innovative ancient creations Archaeological Park of Santa Cristina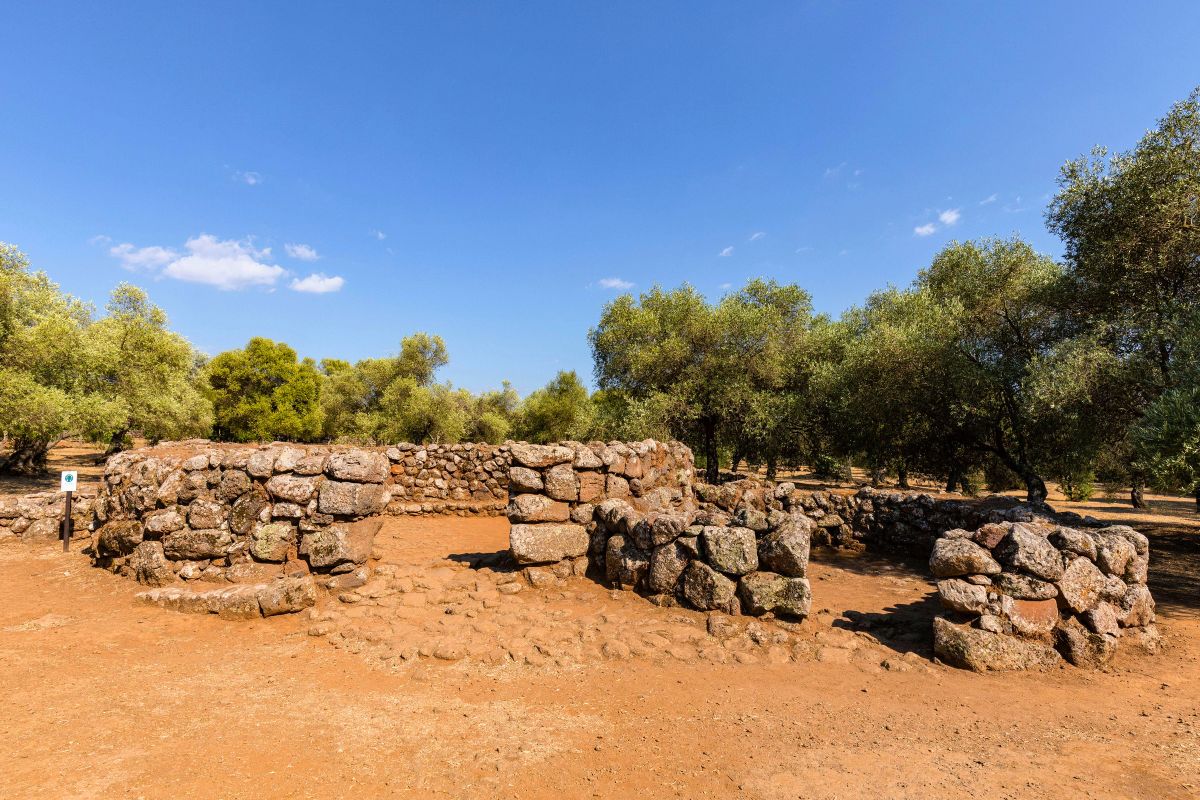 If you still haven't fully indulged your Indiana Jones side, then a stop at this complex is a must!
Like its contemporaries, the park includes several eras of history mixed together in one space; but as usual, the Nuragic culture is featured prominently here.
Pozzo Sacro di Santa Cristina is a stunning well carefully built to follow seasonal patterns and astronomical phenomena as well as providing water; it's little wonder that it's said to have been a sacred site for the tribes that built it!
And nearby, you can also enjoy an even older form of tribute in the form of Nuraghe Santa Cristina, another prime example of Bronze Age designs.
18 – Get joyfully lost in the cultural offerings of Nuoro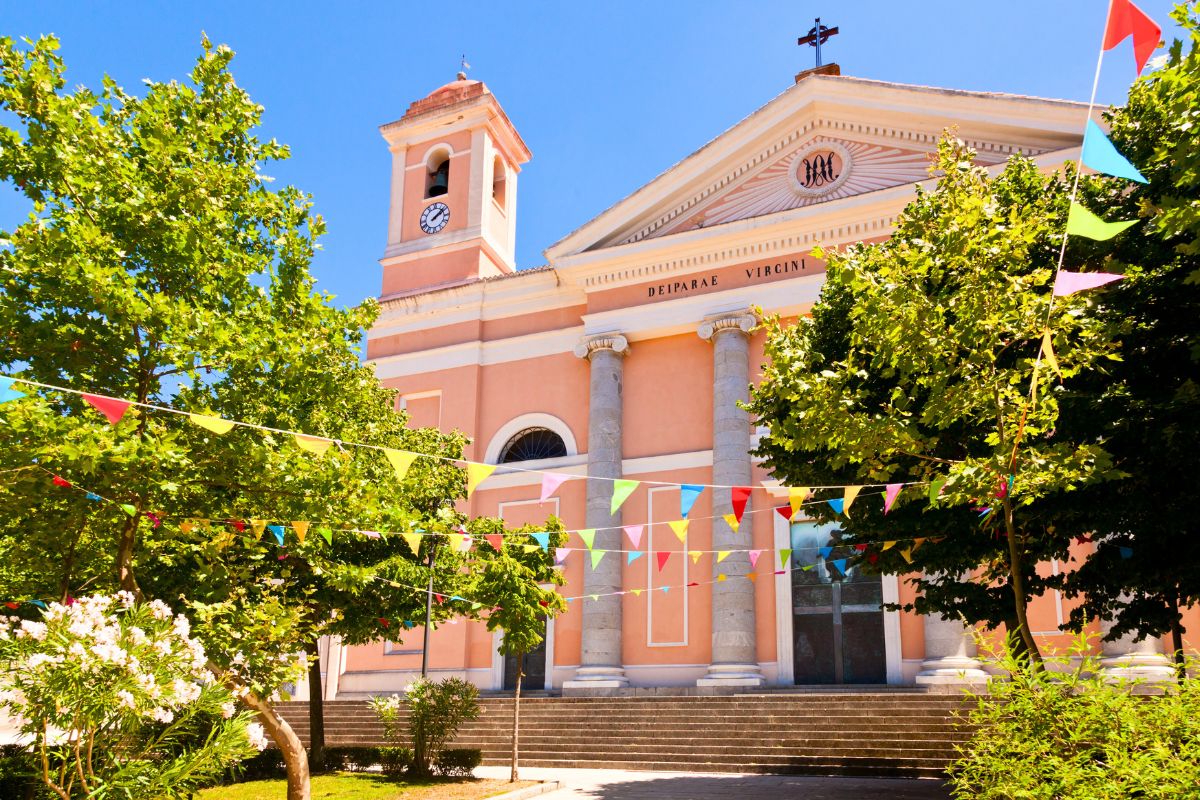 Alright, museum nuts… time to party! Nuoro is known for its lively atmosphere and rich artistic and intellectual heritage, and the many great institutions in town make it all the better.
Fans of fashion and anthropological study will love Museo del Costume Nuoro, packed with ethnographic artifacts from across the ages – their collections of textiles and traditional clothes are especially spectacular!
Meanwhile, at MAN Museo d'arte della Provincia di Nuoro, you can absorb yourself in some of the country's best contemporary art, with fantastic works by avant-garde artists.
And for a narrower focus, check out Museo Nivola, where you can discover the life and works of renowned local creator Costantino Nivola.
Of course, it's well worth stepping out of these traditional structures as well; with galleries, shows, and a thriving creative scene, you'll always be able to find some exciting and innovative afoot!
19 – Take a spin through Burgos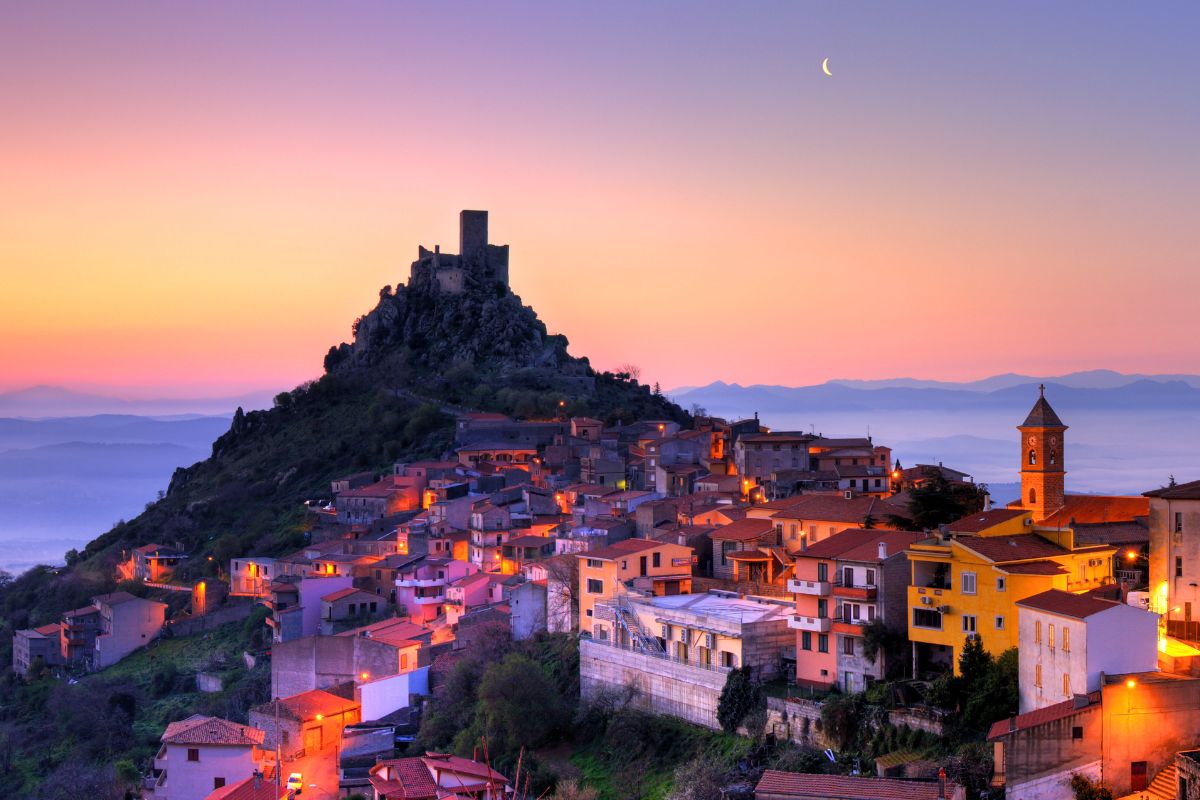 The towering vantage point of Castello Di Burgos makes it hard to miss… and it's the perfect anchor for the town itself!
In fact, the village was originally built as a settlement surrounding the structure; and what started as a small collection of families has blossomed into a lively little spot!
One of the coolest elements of this tiny town is the way that it incorporates two distinct eras into one; depending on which street you're strolling along, you might feel like you're in the midst of modern culture, and the next, you're right back in medieval times!
And as you venture out of town, you'll immediately be surrounded with some fantastic landscapes, including pristine forests and vibrant mountains – and you might even spot some wild ponies traipsing through the fields!
20 – Get out into the many different realms of Olbia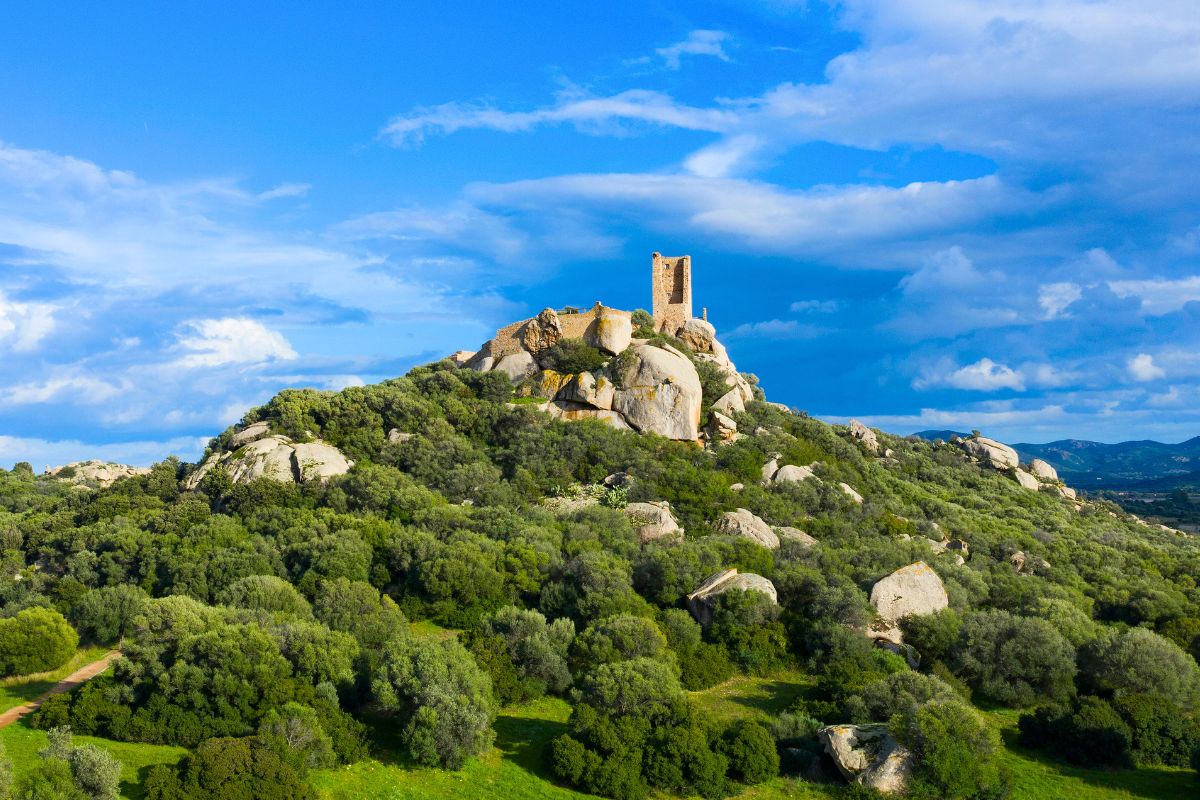 Back at the water, we have the vibrant port of Olbia – as a matter of fact, it's one of Sardinia's most important harbors!
While there are some great churches and other cultural attractions in town (plus a Ferris wheel!), it's the water that's really the start here – not just for the many ships passing through, but also for travelers seeking adventure!
When you go snorkeling in Olbia, you'll be treated to some of the best wildlife-watching opportunities and clearest waters around; you never know when a pod of dolphins might race by while you're busy admiring scores of shimmering fish!
Then it's time to dry off and do some more exploring on land, with stops like Castello di Pedres, whose impressive tower can be reached on a nice hike.
21 – Take the scenic route along the Tharros & Sinis peninsula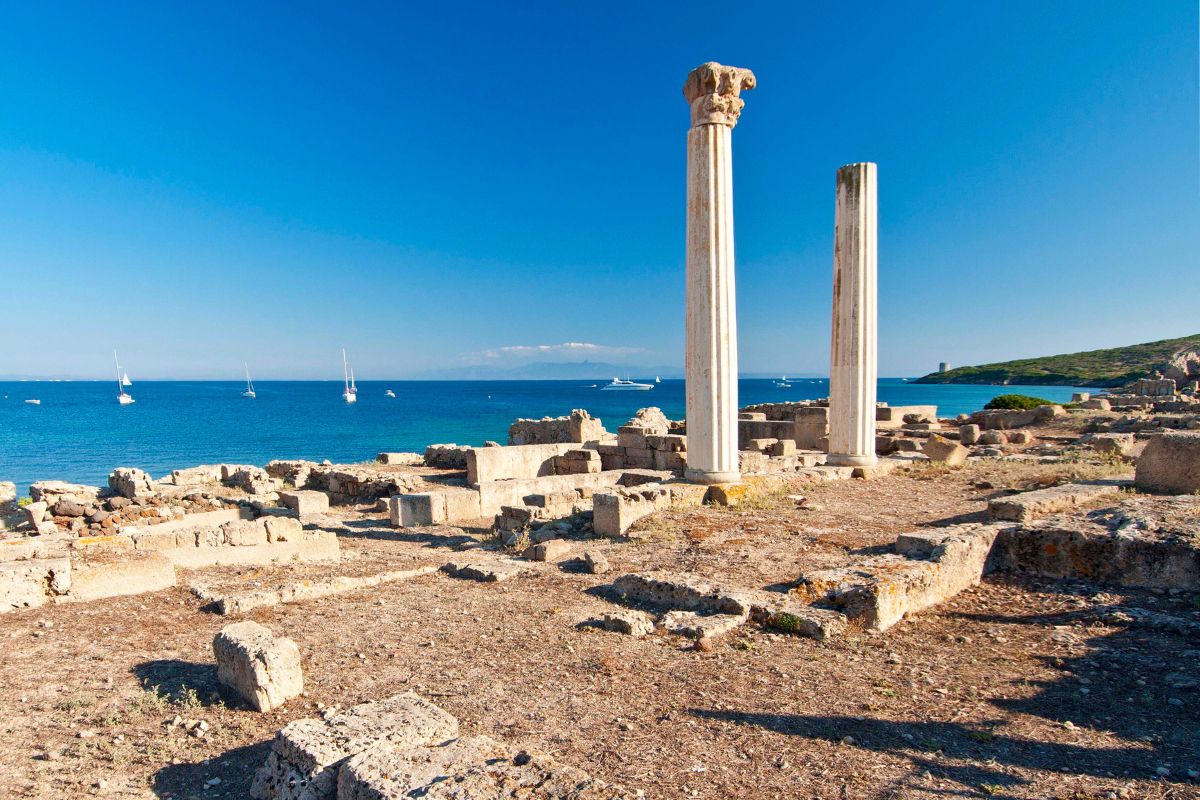 As you start winding your way down the gorgeous Sinis peninsula, you'll be able to feel all of your tensions easing. And if you get out to look around the splendid town of Tharros, that feeling will magnify tenfold!
For two millennia, this town has been a place of cultural gems and remarkable ruins, and there's nothing quite like a leisurely day of exploring here!
The aptly named Archaeological Site of Tharros has the majority of the big sites; you could easily spend a whole day just roaming around the different, wonderfully preserved relics in each spot.
Then cool off with a dip at Capo San Marco, one of the best beaches in the region, with plenty of soft sand to relax in after all of that fun.
22 – See the sea (and everything else) around Sant'Antioco island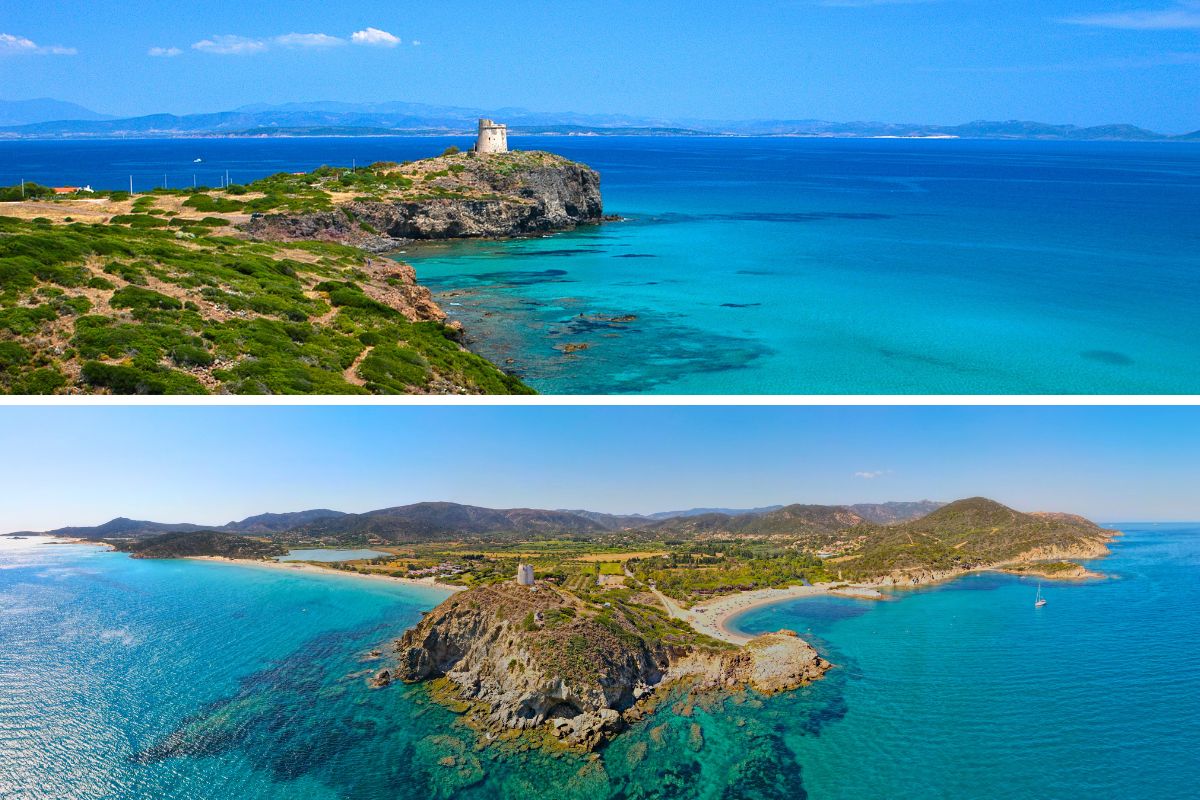 Just imagine: you're floating in the middle of the Mediterranean, the world unfurling before you, and a particularly fabulous island looming ahead. That's all par for the course when you go kayaking in Sant'Antioco!
Paddle out and savor the wonders of the coast, using these active little boats to better discover the hidden sides to the terrain.
Little caves, coves, and swimming holes form a rugged, compelling scene that will tempt you to dive right in – and when you moor up the boats for a bit, you can even go for a swim!
But of course, there's more to this spectacular island than just the water around it; it was once a commercial hub thousands of years ago, and you can still find plenty of traces of that in its many monuments.
From the hidden stories of catacombs and Roman ruins to the stunning views atop Capo Sperone, a former lighthouse, there's an eon's worth of charm here!
23 – Go kayaking
Kayaking isn't just for one or two destinations; it's the perfect watersport for this wonderful marine island!
Float down the scenic Coghinas and Cedrino Rivers, or savor the shifting atmosphere of evening as you move through the lush Bidderosa Oasis, where many waterways converge into one.
And if you're feeling more adventurous, you can always embark on a Devil's Saddle kayaking tour from Cagliari. With unique vantage points and fantastic landscapes (and seascapes), there are few better ways to see this region than from behind a paddle!
24 – Make your way around the Gulf of Orosei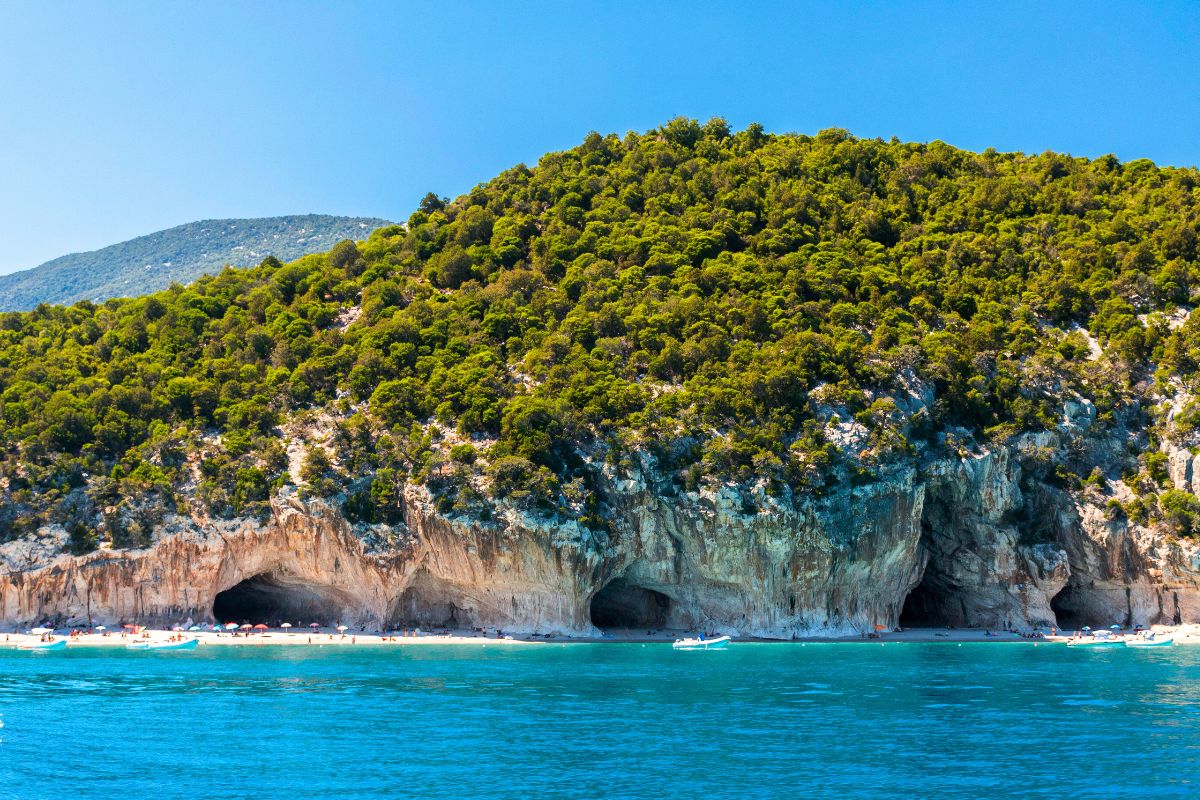 If you're focusing on the eastern coast of the island, you can't miss this splendid gulf – and you won't want to! The beaches here are truly phenomenal, whether you prefer an active trip or a mellow one.
Sail out to Grotta del Bue Marino, a cave perfectly tucked into the cliffside; you can wander through it and admire the beauty!
Then it's off to Acquario di Cala Gonone, a vibrant aquarium where all the creatures of the world's great waterways cavort before your eyes.
To really absorb the beauty of this area, we suggest some scenic boat tours – in fact, you can even get closer to nature and enjoy some lovely animal sightings on a few dolphin watching cruises!
And when you're ready to head back to the shore, you're in luck; Cala Luna beckons, with its soft sands and floral scents creating an utterly enchanting atmosphere. Add in some of the other coastal realms, such as family-friendly So Barone and the rocky, rural shores of Cala Goloritzè, and you have all the makings of heaven on earth!
25 – Try some dolphin watching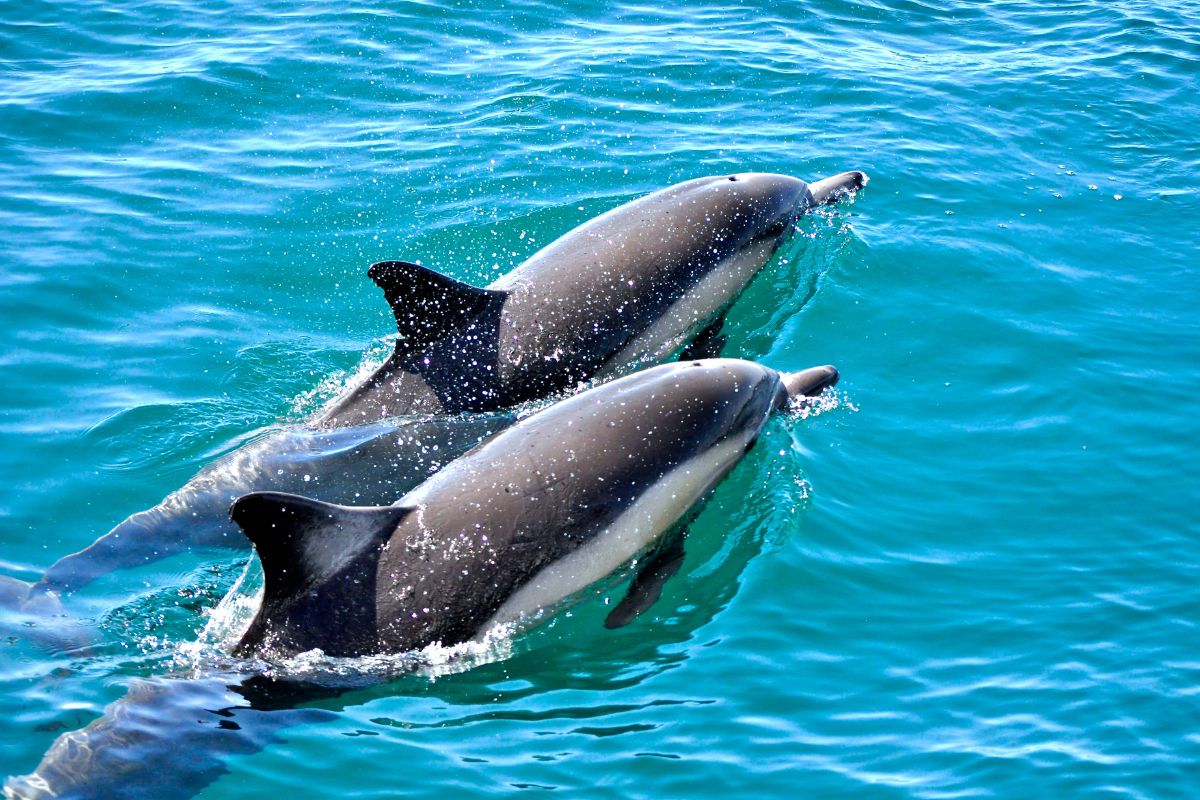 Their playful antics and streamlined forms have long made them icons of the sea; so take some time for a bit of dolphin watching!
With dolphin watching tours from Olbia and Alghero, you'll have no trouble spotting these dynamic creatures on the go; but truthfully, the cruise itself is half the fun!
As you set out on your voyage, your guide will fill you in on all of the different quirks and natural attributes of your aquatic friends, making the eventual sightings even more thrilling.
When you're not watching your new finned friends at play, you can snorkel, check out nearby beaches, or settle in with an authentic snack and enjoy the views – and keep looking for Flipper, of course!
26 – Spend some time discovering Palau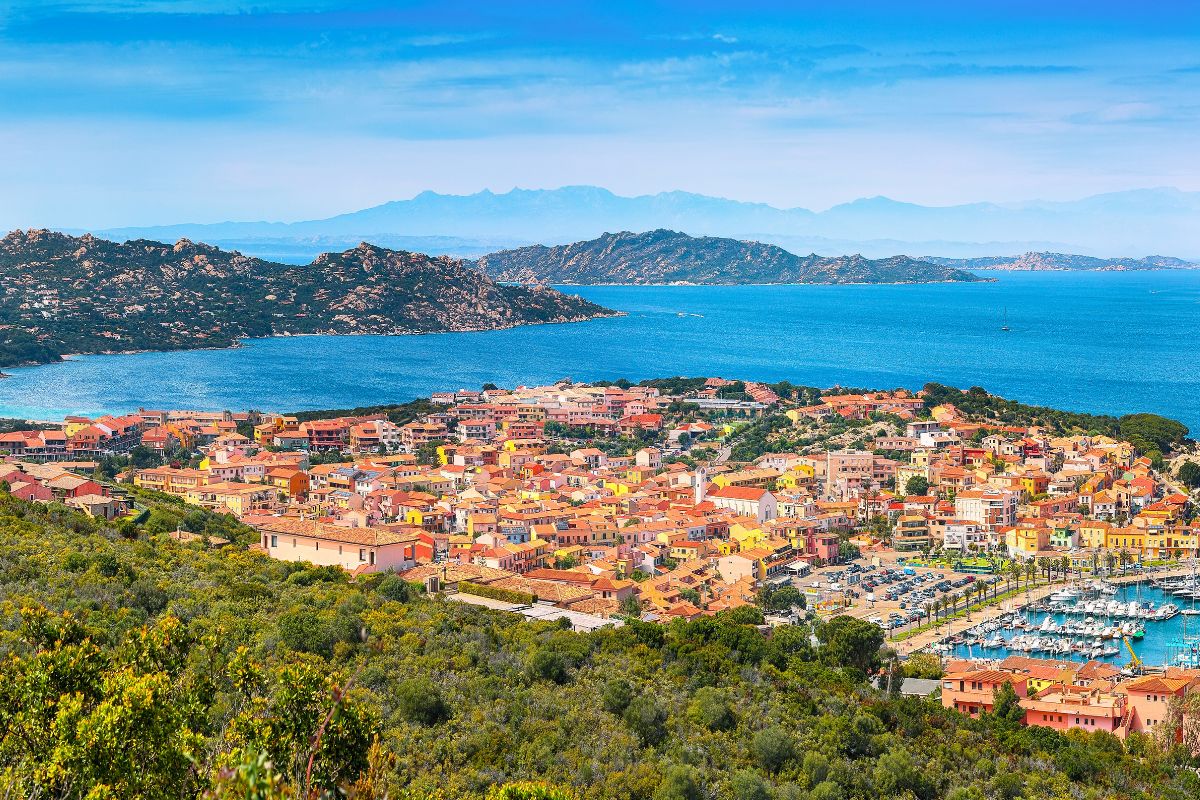 Palau is a perfect spot for those seeking convenience, with easy access to the airport and surrounding towns. But of course, this little resort area offers plenty of its own delights!
It offers another contribution to the geological menagerie in the form of Roccia dell'Orso ('Bear Rock'), which takes its name from its eye-catching shape – well worth hiking up to!
And you can enjoy fabulous views from Fortezza di Monte Altura, which was originally built in the 1800s as a local bastion, complete with watchtowers.
You can also lounge on the many fabulous coastal areas, or pop over to the nearby La Maddalena Islands to enjoy the cute cafes and distinctive pink buildings.
27 – Get a taste of the wilderness at Asinara National Park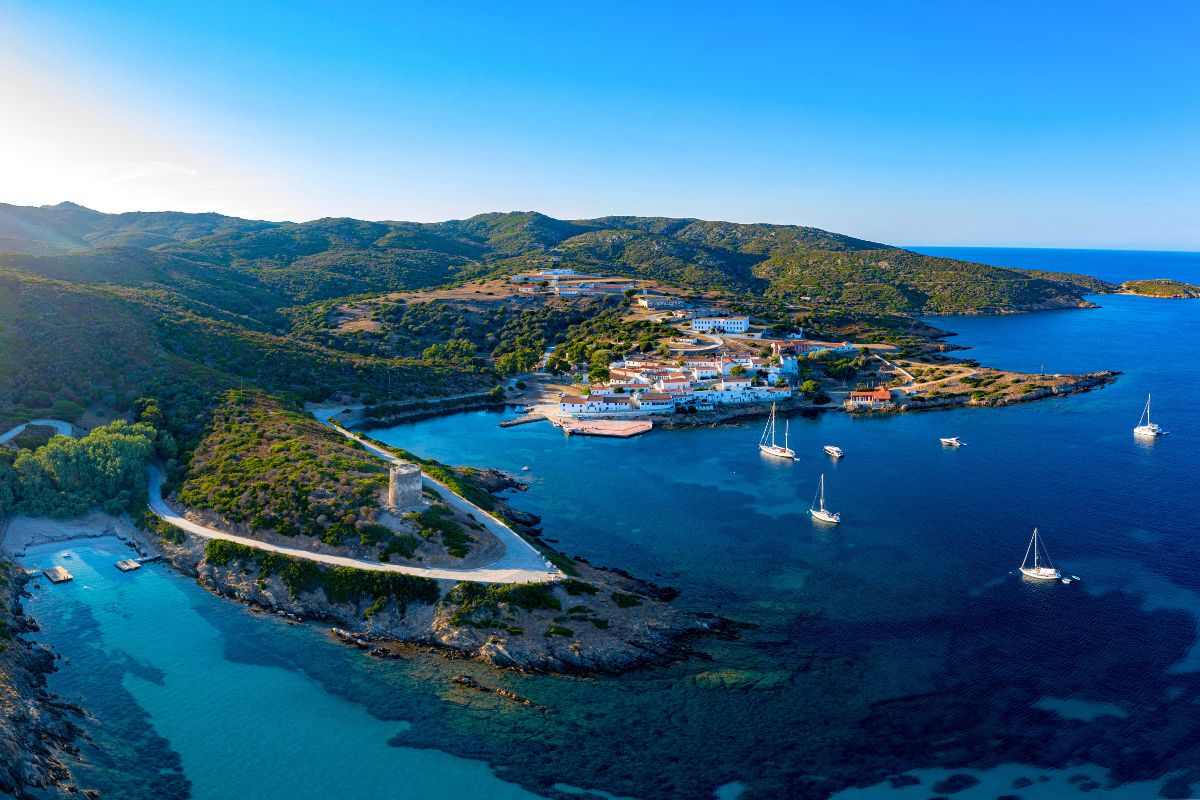 As you stand on a windswept hill, feeling a thousand miles away from the hustle and bustle of life, you might suddenly be joined by some pretty unusual hiking buddies… donkeys!
That's the kind of joy you can expect with a trip to this gorgeous landscape, which underwent many evolutions before becoming a popular place for outdoorsy types.
Originally, the rural terrain was used for isolation purposes; first as a quarantine site, and later as a jail.
Today, its natural beauty has been preserved for future generations; and while you can still see some remnants of the facilities that once flourished here, the focus is more on bringing people together to connect with the local plants and animals… especially those industrious little burros!
28 – Ponder the enigmas of Tiscali
If you don't know where to look, you could almost miss the entrance to this Nuragic settlement; but trust us, it's worth searching for!
Much of the history of the village – which is built directly inside a crevice in Mount Tiscali- is mysterious, but the evidence shows that some of the remaining homes may have been built several thousand years ago!
Over thousands of years, the population ebbed and flowed, and the resulting structures are suitably unique, spanning generations and differing significantly from the other nearby towns.
The only thing more fun than exploring this rich vein of archeology is getting to the site in the first place!
29 – See the underwater joys of Cala Goloritzé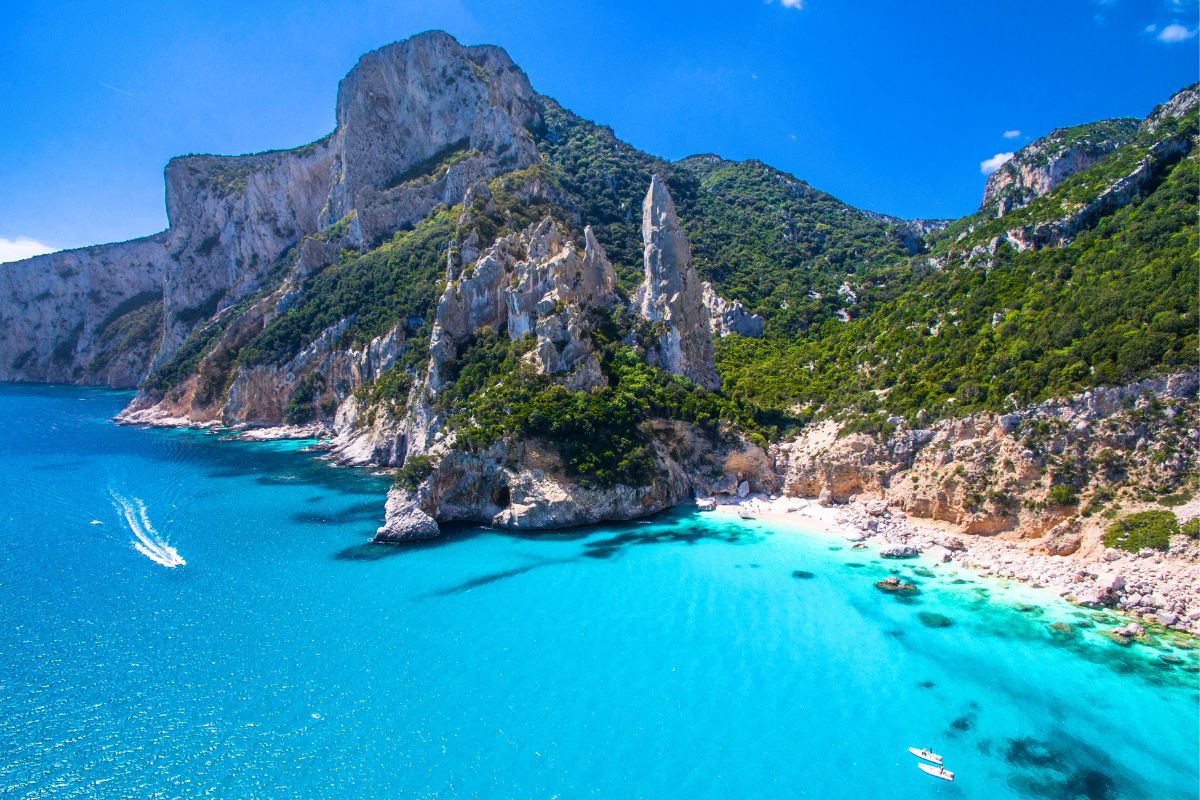 The sun is shining, the water is great, and the views are spectacular… welcome to Cala Goloritzé!
This spectacular beach is a classic bit of Sardinia; tucked into the bottom of a ravine, you can only reach it by sailing or hiking … but the scenery makes it well worth the journey!
And if you're a snorkeling fanatic, you're in luck; the climate here is spectacular, and you'll get to see plenty of cool fish as you explore… and maybe even some octopus!
And with secretive caves and the hulking remains of shipwrecks scattered around the space, you'll never run out of adventures in this little realm!
30 – Hang around San Pietro island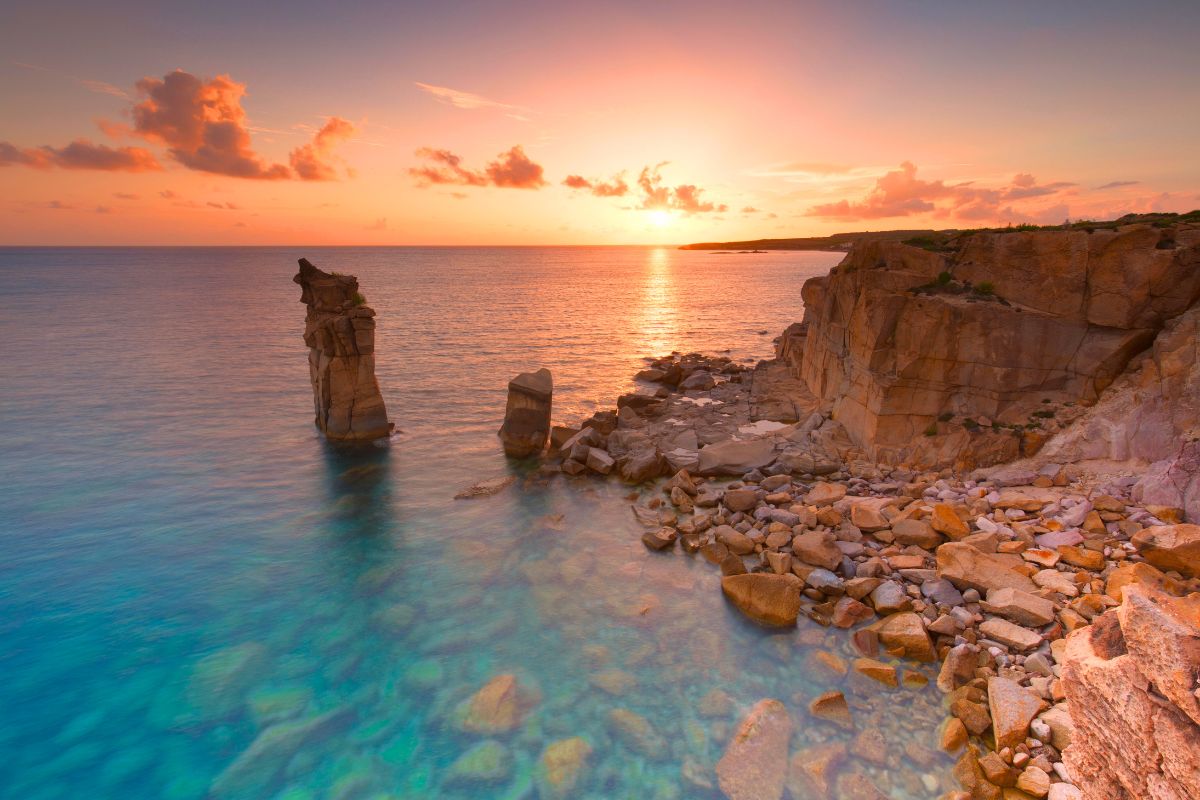 Looking for some quirkier things to do in Sardinia? What about going to an island… within an island?
Another hidden gem on the Sulcis Peninsula, this charming spot is filled with its fair share of legends; its name comes from a legend about Saint Peter washing safely ashore here after a shipwreck.
Stop by to stroll the vividly colored streets of Carloforte, the one inhabited town; be sure to leave plenty of time to try some of the delicious food, which has plenty of influences from the Ligurian culture to the north.
But rest assured, this is a lovely little world all its own!
31 – Explore the distinctive Domus de Janas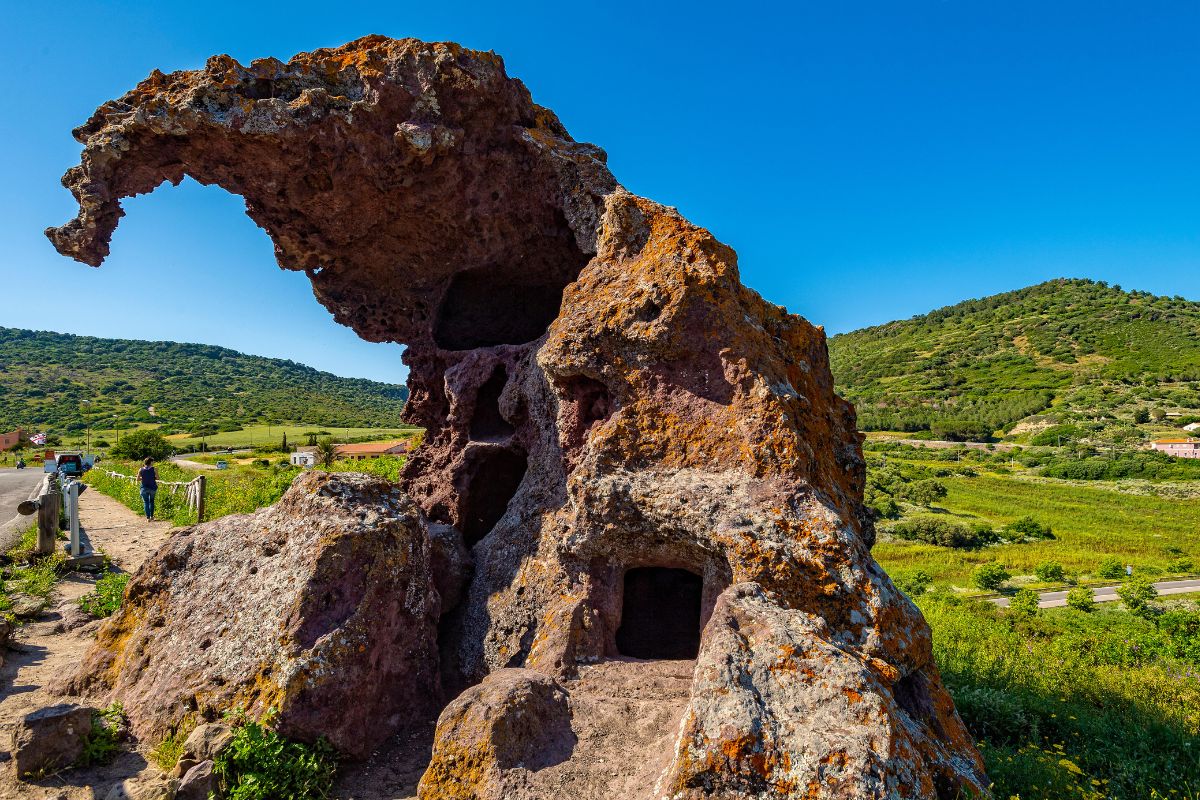 Another unparalleled archaeological gem? You'd better believe it!
The Nuragic society was not the only prehistoric culture that made its home here; several other distinct civilizations have left their mark on the island, including the Ozieri, creators of the fascinating Domus De Janas structures.
These beautiful burial sites, which are built directly into the surrounding rock formations, were used for individuals and groups, and hold many of the remains of the civilization.
It's the personal touches that make these burial spots famous; they were modeled after the homes of the deceased, and feature many artifacts and details that provide insight into these long-ago lives.
Explore the 14 chambers of Genna Salixi, the remarkable religious art of Mesu 'e Montes, or the site tucked below Roccia dell'Elefante. Admire the vivid colors of the paint in Monte Siseri, the spacious complex at Anghelu Ruju, and the tombs in various conditions at Sant'Andrea Priu.
Or check out the 40 finely decorated tombs of Montessu, the tombs of varying sizes in Pottu Codinu, and the centrally located Sedini, perched atop a large stone. It's an amazing way to explore this culture in-depth!
32 – Get out and about on Tavolara Island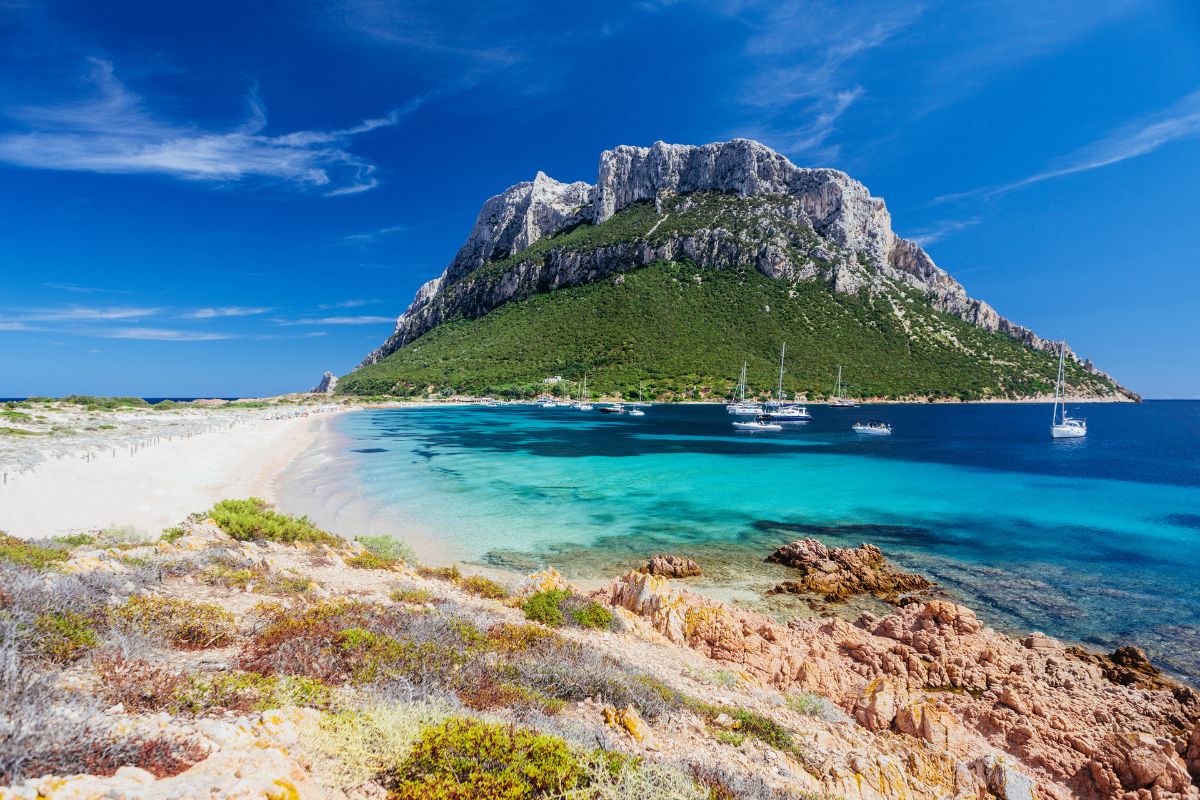 Although it's filled with the same rich cultural amenities as the rest of the area, Tavolara Island actually used to be its own kingdom!
It wasn't until 1934 that it officially became part of Italy, and it's been a crucial part of the local society ever since.
When you're not snorkeling or sailing, you can get out in the sun and do some hiking in Sardinia; the lovely, winding trails are a great way to enjoy the scenery and get a bit of exercise.
After all of the fun, you can settle in at one of the traditional restaurants and enjoy a filling meal – the perfect way to get ready for the next adventure!
33 – Commune with the trees at Is Cannoneris Reserve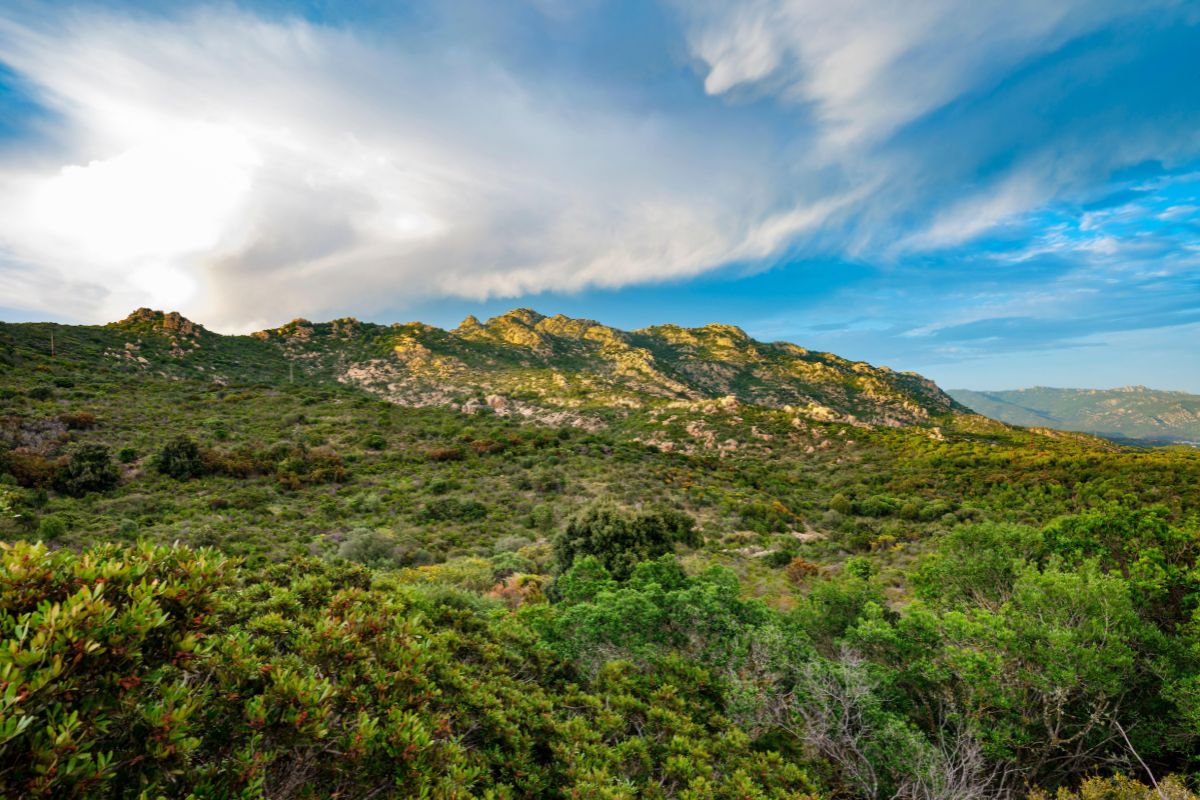 If you want to spend some quality time amongst the trees, this place has got you covered!
Filled with conifers, oaks, and scrub brush, this vibrant stretch of woodland has bounced back from near extinction to form a magnificent ecosystem for everyone to enjoy.
As you hike around, you can admire the lush scenery and the interplay of the different trees – a true Sardinian success story!
There are also some fantastic jeep tours in Sardinia if you want to explore an even wilder side of this space; there's nothing quite like a wild ride through a great stretch of forest!
34 – Get your adrenaline up with some quad tours in Chia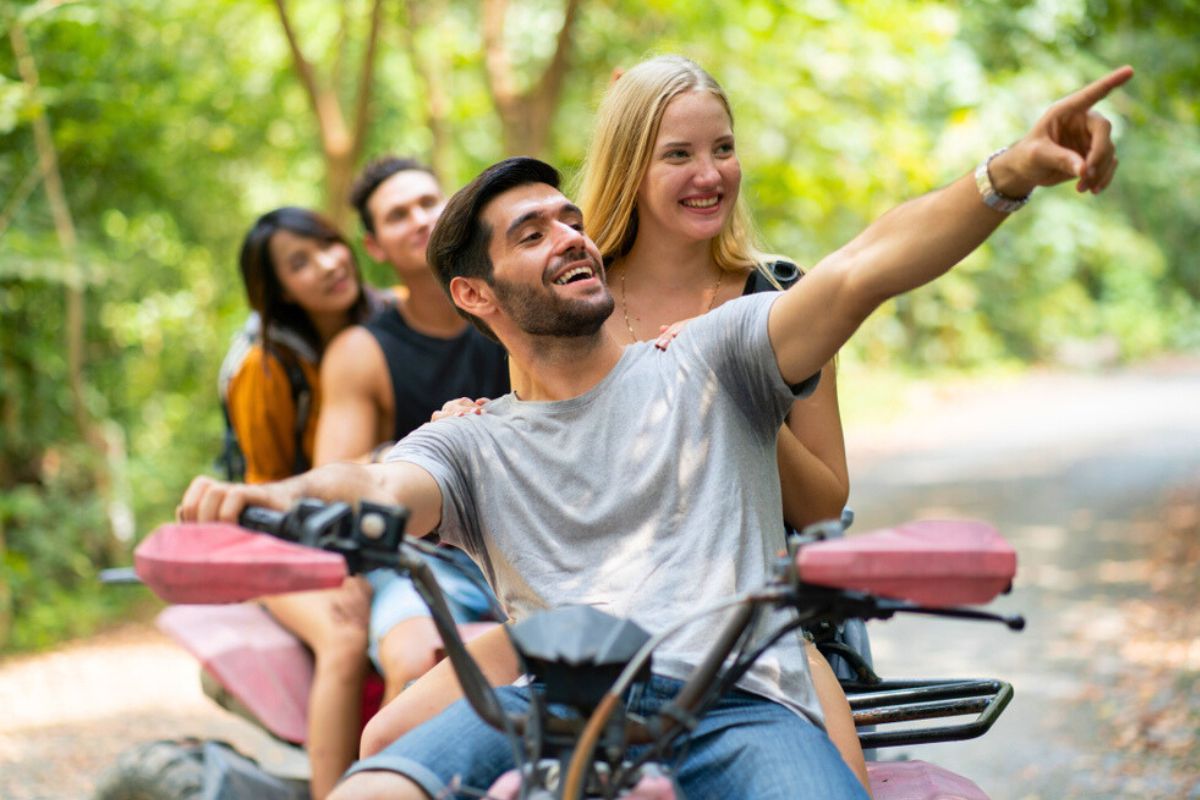 And speaking of getting off the grid…
The marvelous village of Chia is packed with beaches, dunes, and strands of junipers, and it's an ideal spot for some exploring.
Nestled in the southern section of the island, this lovely little town is well-known for its ample watersports, but it also offers plenty of adventures inland as well!
With quad tours from Cagliari, there's no need to worry about missing something; your sturdy, speedy vehicle will easily navigate every inch of the varied terrain… and to make the whole thing even cooler, you'll get to be in the driver's seat!
35 – See a different side of history in Carbonia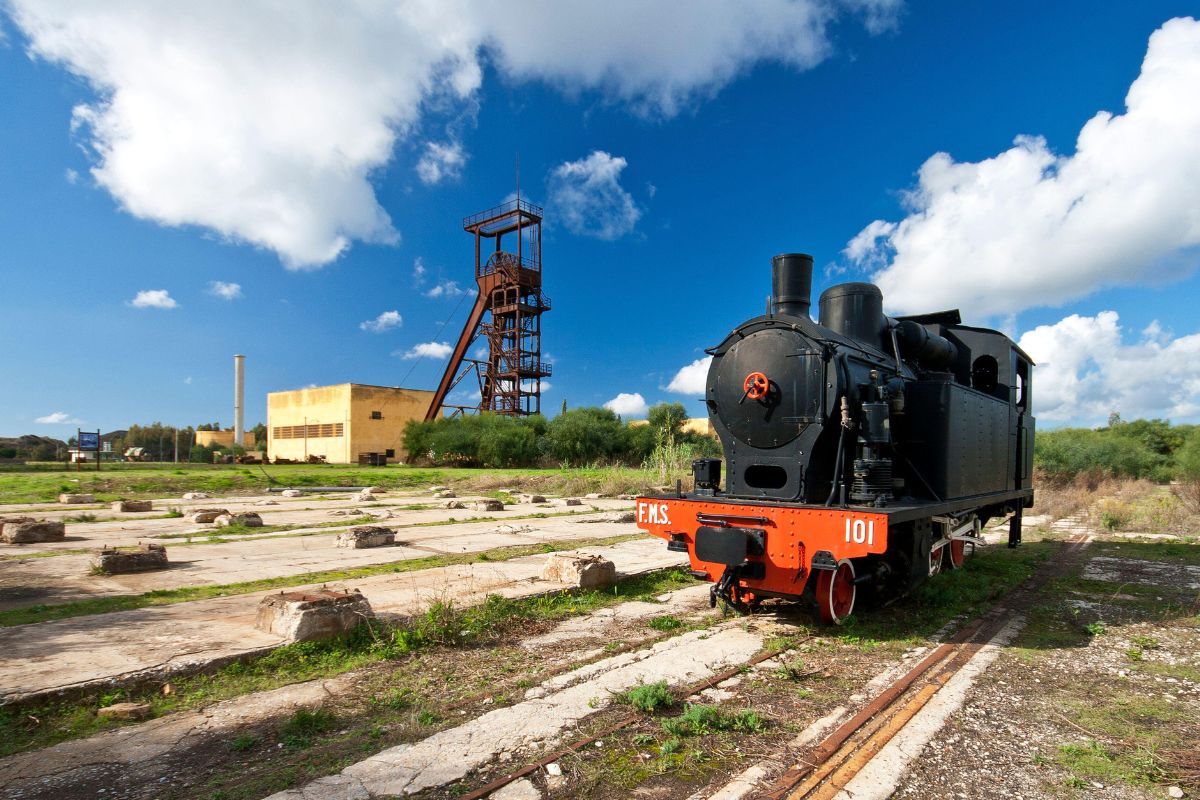 Mine shafts, monuments, and museums – there's nothing quite like a day in Carbonia!
While the town itself was only built in 1938 to support the workers at the nearby coal mine, the older civilizations in the area certainly left their mark; everywhere you turn, you can see historic churches and settlements from antiquity.
Monte Sirai Archaeological Park is the perfect place to explore all of these pieces of the past; with roughly 40 ruins stretching from the Neolithic all the way to the Punic Wars, it's a walkthrough time capsule of different building modes and cultural norms.
And of course, we can't forget about the more recent past; stop by the Coal Museum (Sito Minerario di Serbariu) to explore the compelling stories of the people who lived and worked in this intense industrial zone.
36 – Try a whole range of watersports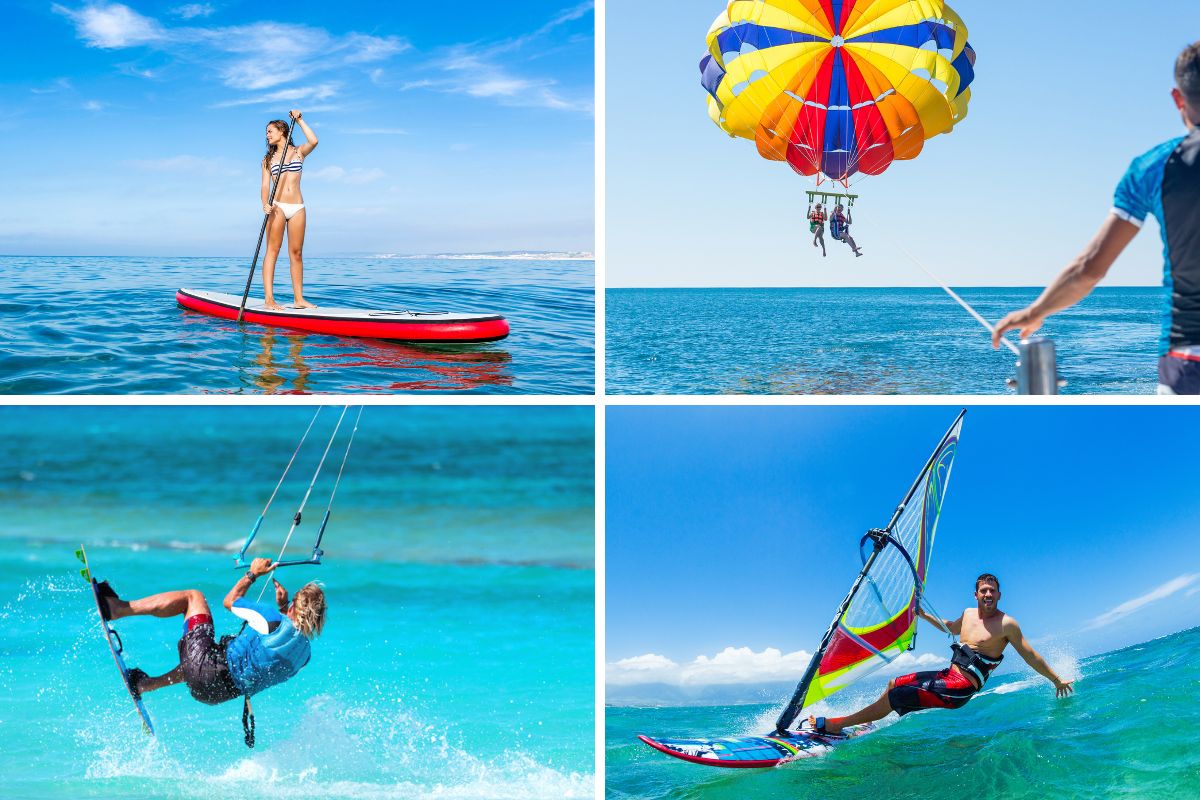 The local waters aren't just great for sightseeing; they're the perfect place to try a new activity or two! Whether you're looking for classes or just want to work on your pre-existing skills, you can mix and match some of the coolest sports around for a terrific experience.
Paddleboarding is great if you want to move at a slower pace, while still getting a great workout and seeing tons. And windsurfing will make you feel like a proper action hero, as you zip across the waves using the power of the breeze.
On that note, this is also a great place for some kitesurfing lessons; you'll be catching some major air in no time! And if you really want to head skyward, book some parasailing, and hover high above the sea for a memorable little flight!
37 – Try a via ferrata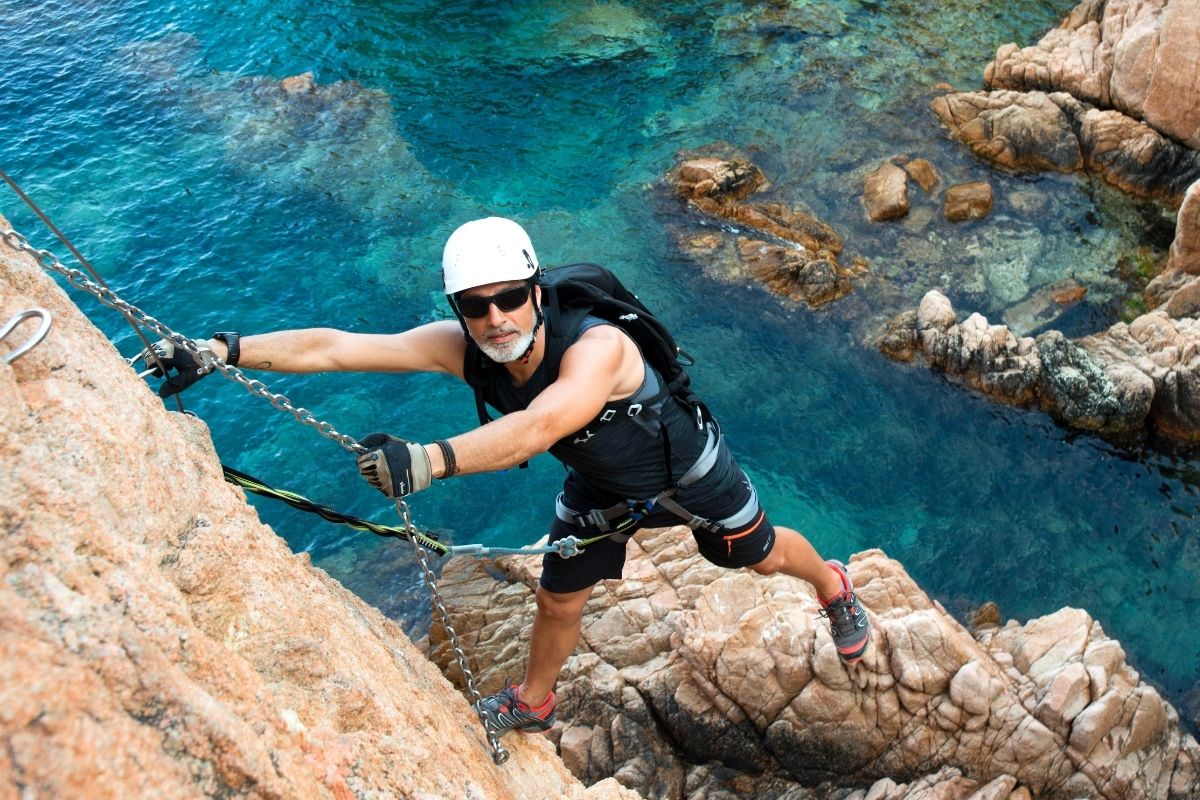 Pan di Zucchero is one of the most iconic rock formations around, but why just look at it?
Jutting proudly out of the sea, this formation – whose name is "sugar loaf" in English – certainly cuts an impressive figure; and luckily, there are some wonderful via ferratas cut into its crevices!
Scurry to the top using these specialized climbing routes, where you'll be able to try new skills every step of the way.
Then linger at the summit to enjoy the amazing ocean views – a perfect reward for your journey!
38 – Get a little wild in Domus de Maria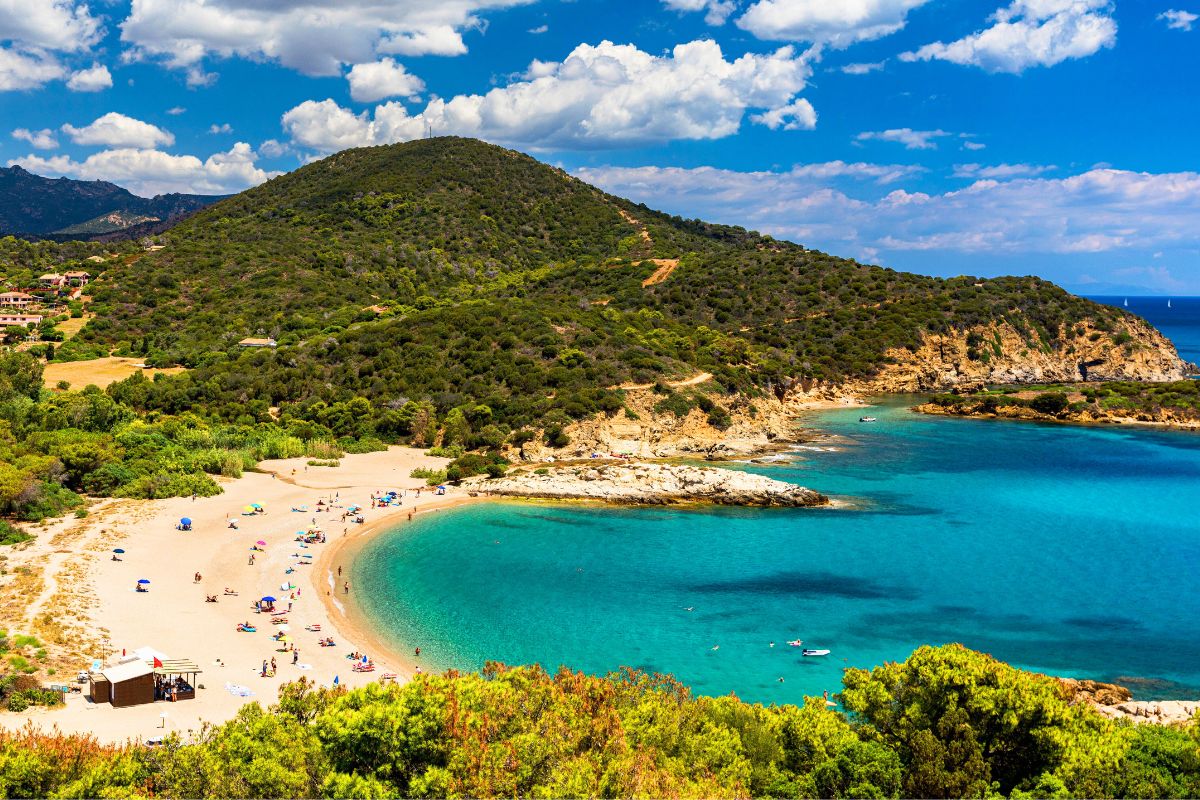 For thousands of years, Domus de Maria has been known for spectacular views and unique opportunities to connect with wildlife; and it still provides those same delights in the modern era!
At any given moment, you might encounter deer or wild boars on the move, or find yourself traversing powder-white dunes that look like something from another world.
And that's before you've even gotten to the beaches!
From the foliage-ringed Cala Cipolla to the welcoming shallows of Piscinni, the snorkeler's paradise of Tuerredda to the white sands of Porto Campana, every stretch of sand has something lovely to offer… and they're all ripe for exploring!
39 – Mix culture with thrilling treks in Villacidro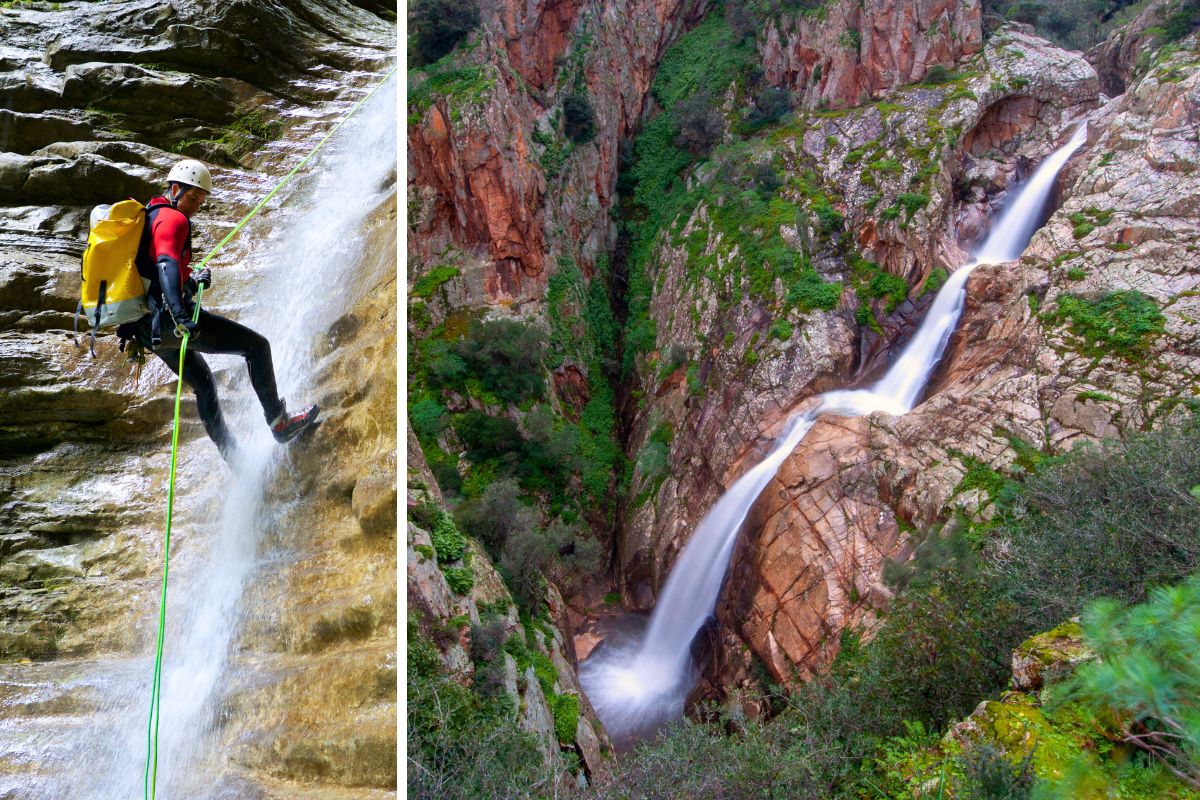 After all of those excellent beaches, it's time to see what the mountains have to offer!
And there's no better place to start than this dynamic town, which offers everything from lively festivals to fine olive oils, wine, and cherries for sampling. And the natural surroundings are equally splendid!
Check out the jaw-dropping sight of Cascata di Sa Spendula, the island's tallest waterfall, which is especially magnificent in the summer.
Or get even more in touch with nature with a bit of canyoning in Sardinia, where you can swim, climb, hike, and even zipline your way through some truly marvelous landscapes.
Then it's back to town for a good dose of culture and hospitality!
40 – Rock climb on some classic cliffs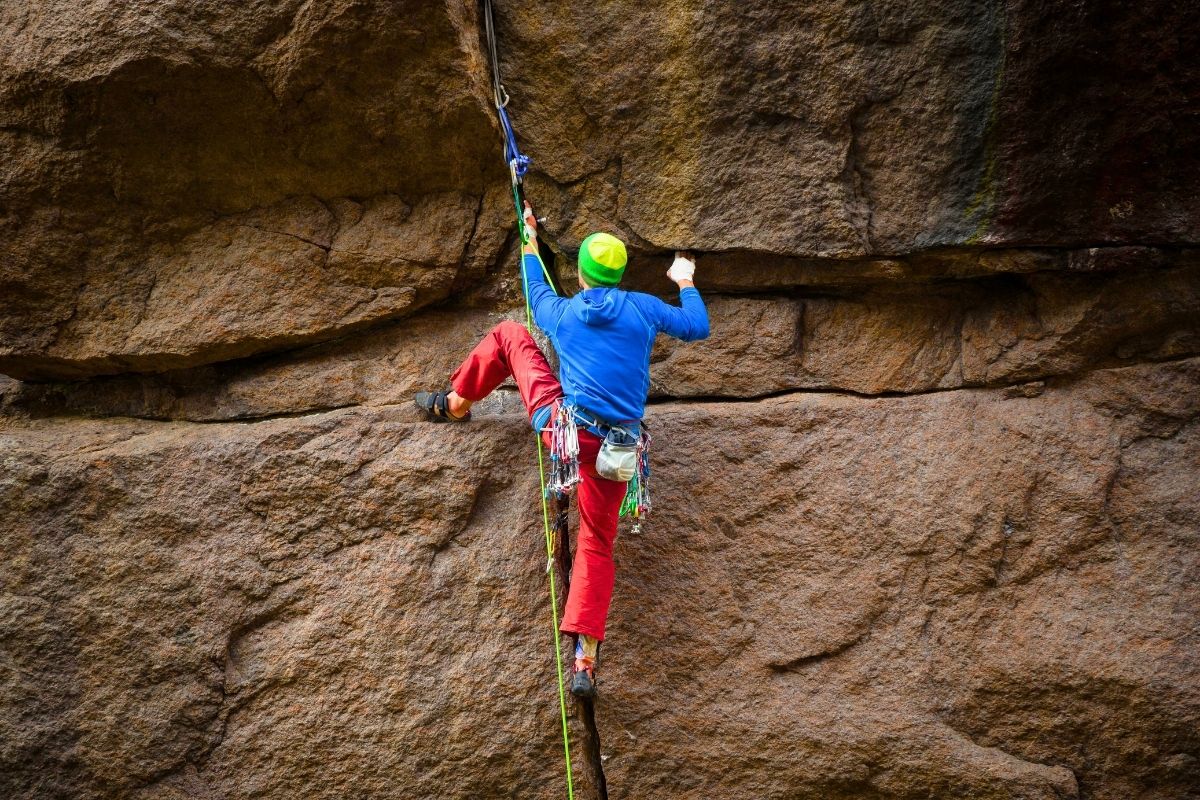 The southwestern section of the island is acclaimed for its climbing culture, and the many facets of the cliffs and boulders will certainly prove their merit!
Choose the path and skill level that suits you, then join your instructors in the delightful challenge of making your way up the route, with the crash of the ocean as your background noise.
This will put your regular gym to shame!
41 – See behind the salt at Saline Conti Vecchi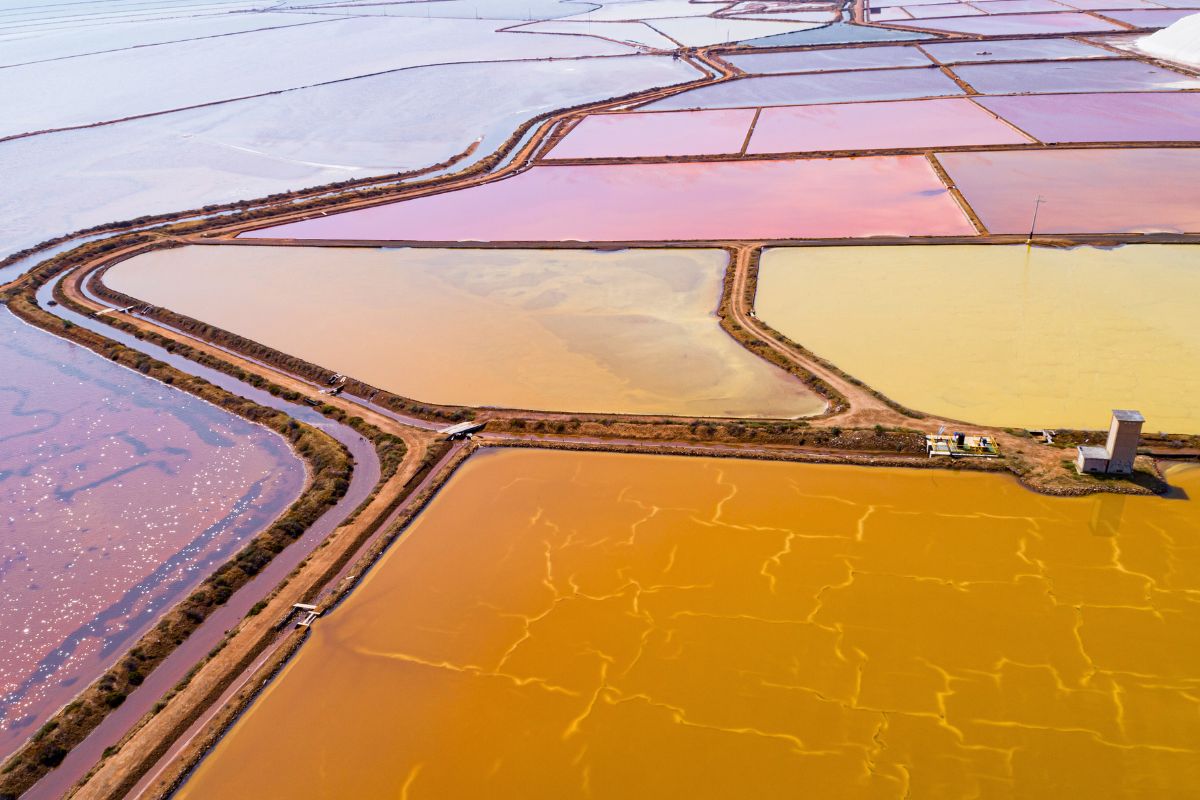 During your trip, you'll be seeing a lot of places that look classically Italian… but how about one that looks lunar?
A trip to Conti Vecchi Salt Flats is sure to have you seeing stars – and feeling like you've landed on one!
After all, the stunning white mounds and vast expanses really look like few other places on Earth – ironic, considering that they contain one of the world's most popular products.
Tours depart regularly from Cagliari, and offer plenty of time for you to learn all about the amazing history of salt mining in the region – complete with some utterly unreal visuals!
42 – Look around the remains of Nora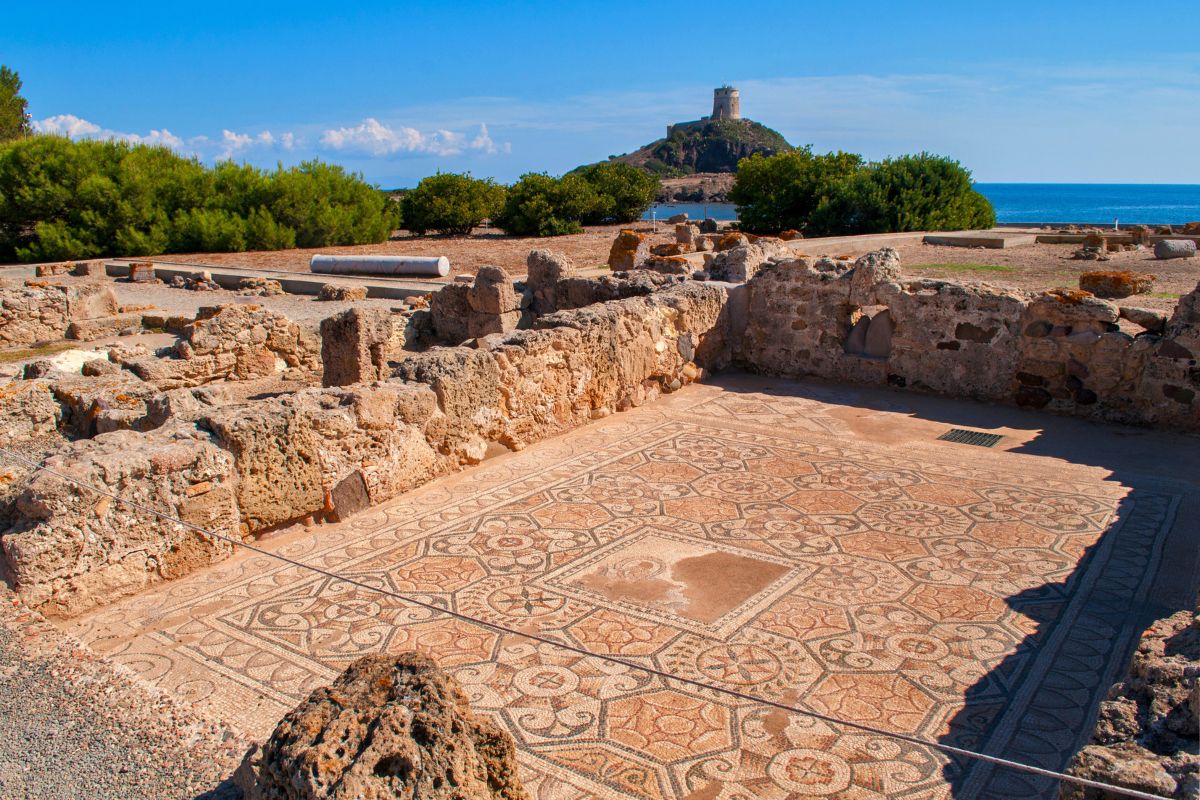 Although its heyday was several thousand years ago, this little town still has a lot to offer – even though it's partially underwater!
While it's hosted numerous cultures over the years, the beautiful seaside location also caused some problems; large storms submerged some of the different sites over time. But rest assured, it still has a lot to offer!
In fact, Area archeologica di Nora is one of the most interesting sites in the region, with 800 years' worth of various societies all showcased in one space.
Take some time to take it all in!
43 – Explore some cities the fun way on a tuk tuk tour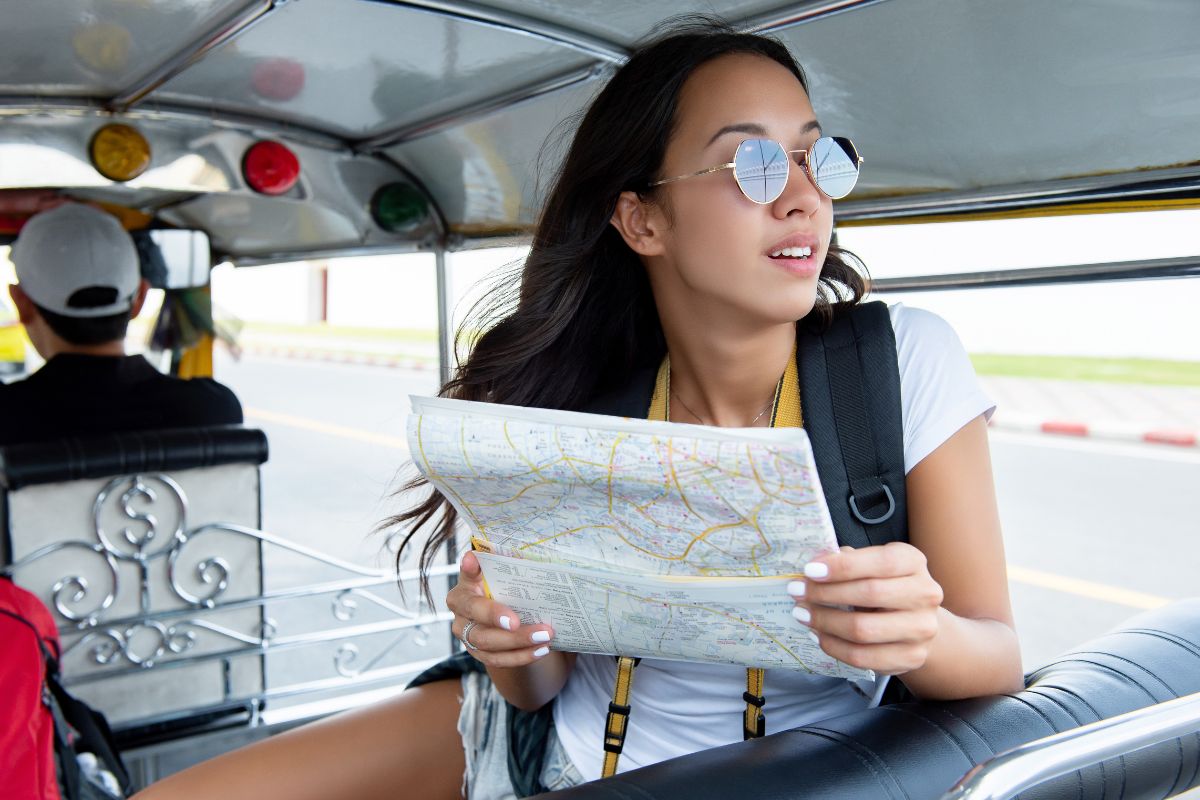 They're small, they're zippy, and they're tons of fun… there's nothing quite like a tuk tuk tour!
When you climb aboard one of these beauties, you'll be able to enjoy the area in a whole new way, seeing all of the little hidden gems along the streets.
Make your way through the historic districts on a tuk tuk tour in Cagliari, or bounce from city to shoreline to historical spots on a tuk tuk tour in Olbia.
It's a wild ride, and worth every second!
44 – Sightsee and explore mining history in Porto Flavia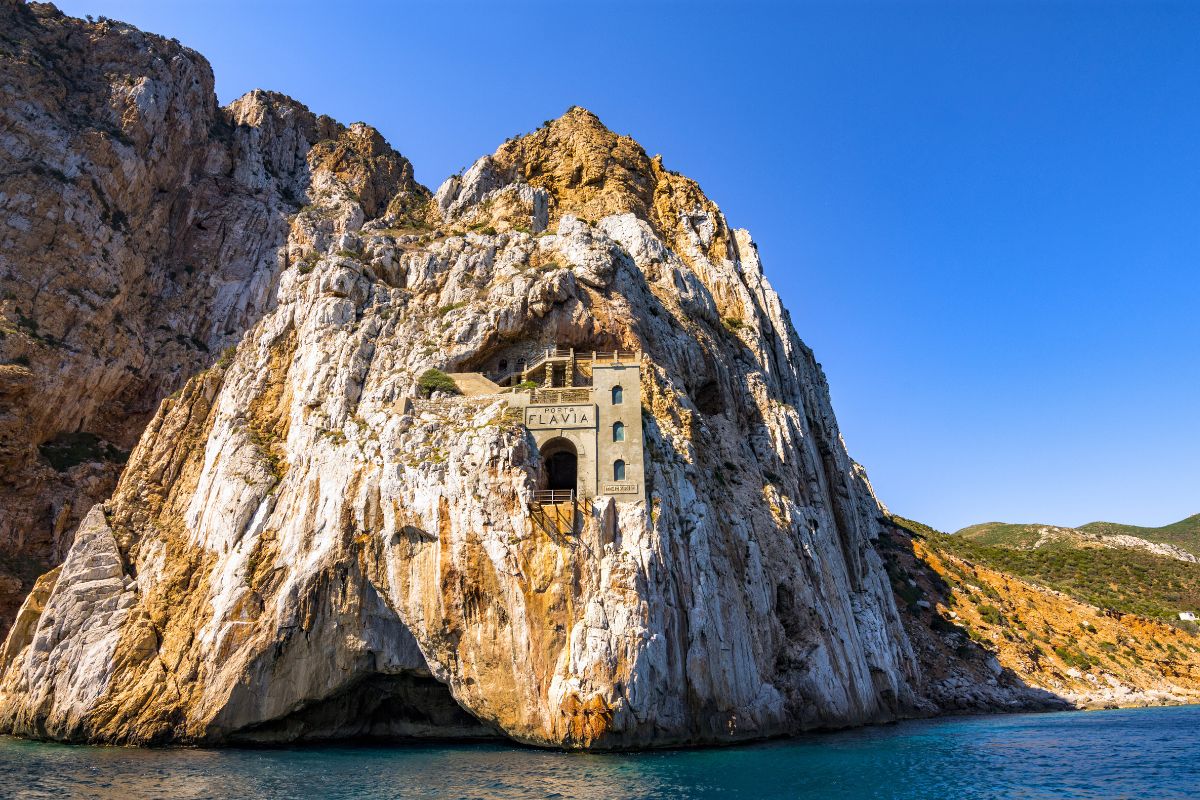 From stunning caverns to idyllic seascapes, the beauty of Porto Flavia never ceases to amaze!
While this harbor would be notable for its visuals alone – with an intricate system of tunnels and a shipping port carved directly into a stony ledge-, it's also played a major role in the industry of the island, helping move a wide range of precious metals from the mines to the wider world.
Venture out to visit the magnificent Caves of Is Zuddas, which were carved deep into the rock face as part of a massive mining project.
Or cruise along the Iglesiente Coast, where the mountains and sea come together to form a magnificent visual gem.
You'll never see the area quite the same way!
45 – Enjoy the many charms of Arbatax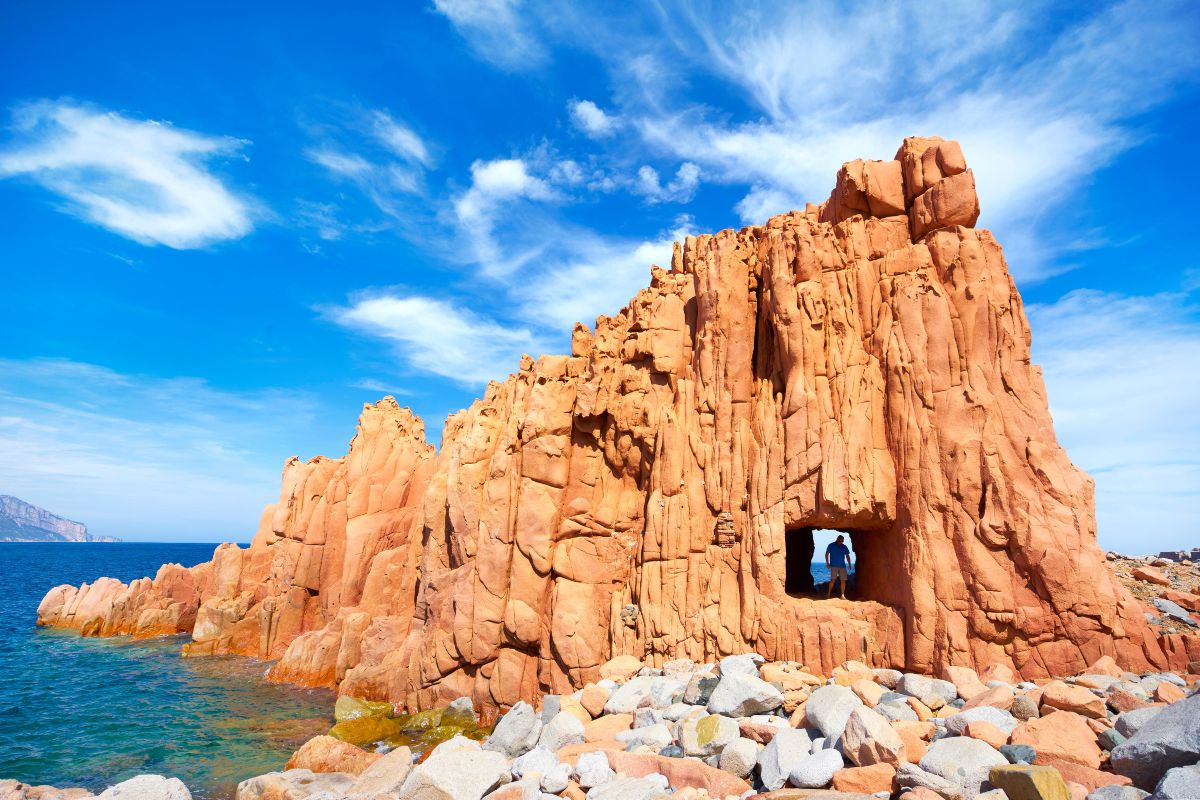 It's the colors in and around this former fishing town that will catch your eye, from the emerald shade of the Little Green Train, which chugs along a scenic route cutting through the area, to the distinctive ochre hue of Rocce Rosse (red rocks), one of the area's coolest natural formations.
Jutting towards the sky and perfectly bridging the gap between the water and the shore, it's little wonder that these striking spires are frequently used as a backdrop for concerts and other events!
And while you're at it, take a look at all of the historic towers and other fortifying structures, which are scattered throughout the town, or do a bit of hiking – this is the sort of place that welcomes a bit of everything!
46 – Get a little artsy in Orgosolo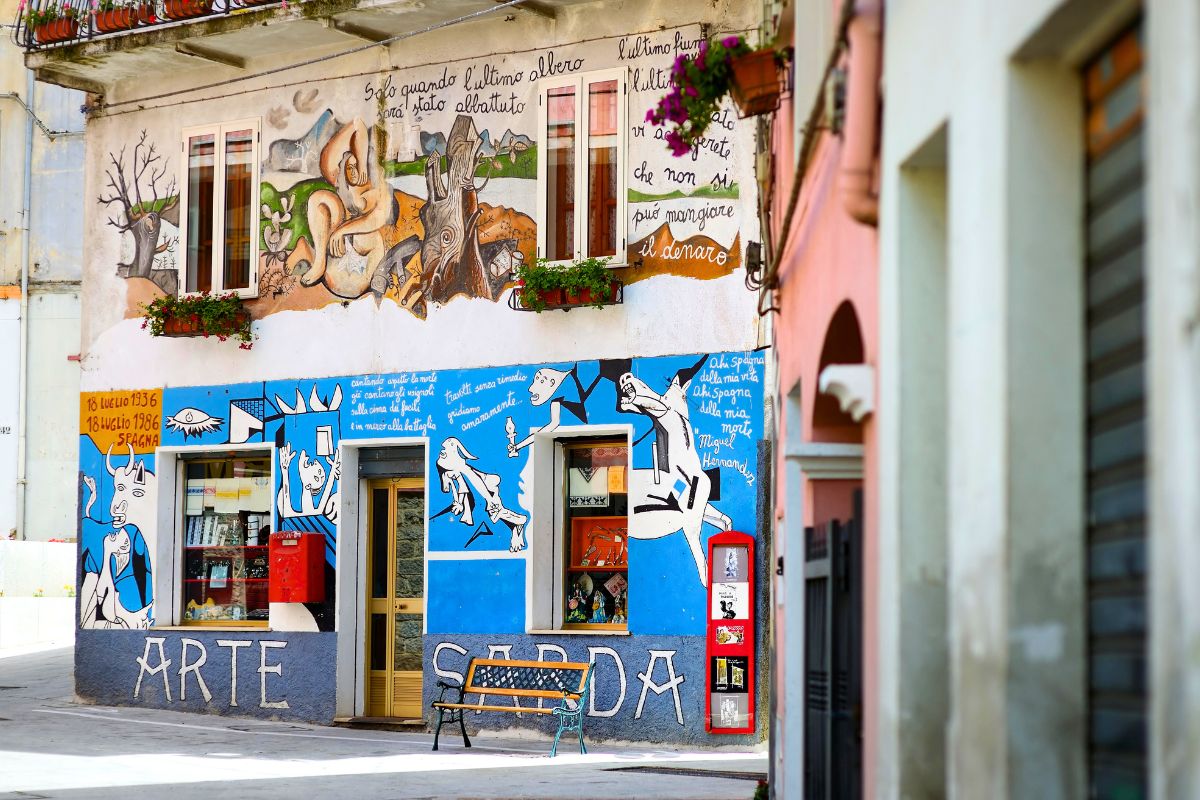 Sometimes, the best works of art are the ones that live out in the midst of everyday life – and that's certainly the case in this town!
All over the city, you can see the remarkable works of art known as Murale di Orgosolo, which vividly depict the different political protests and social movements of decades past.
And the longer you hang around town, the more cool cultural experiences you'll be able to enjoy!
From tenor singing performances to silk worm farming demonstrations to festivals where daring acrobatic feats are performed on horseback, this town is home to some of the most fascinating things to do in Sardinia!
47 – Get a great dose of the great outdoors while exploring San Teodoro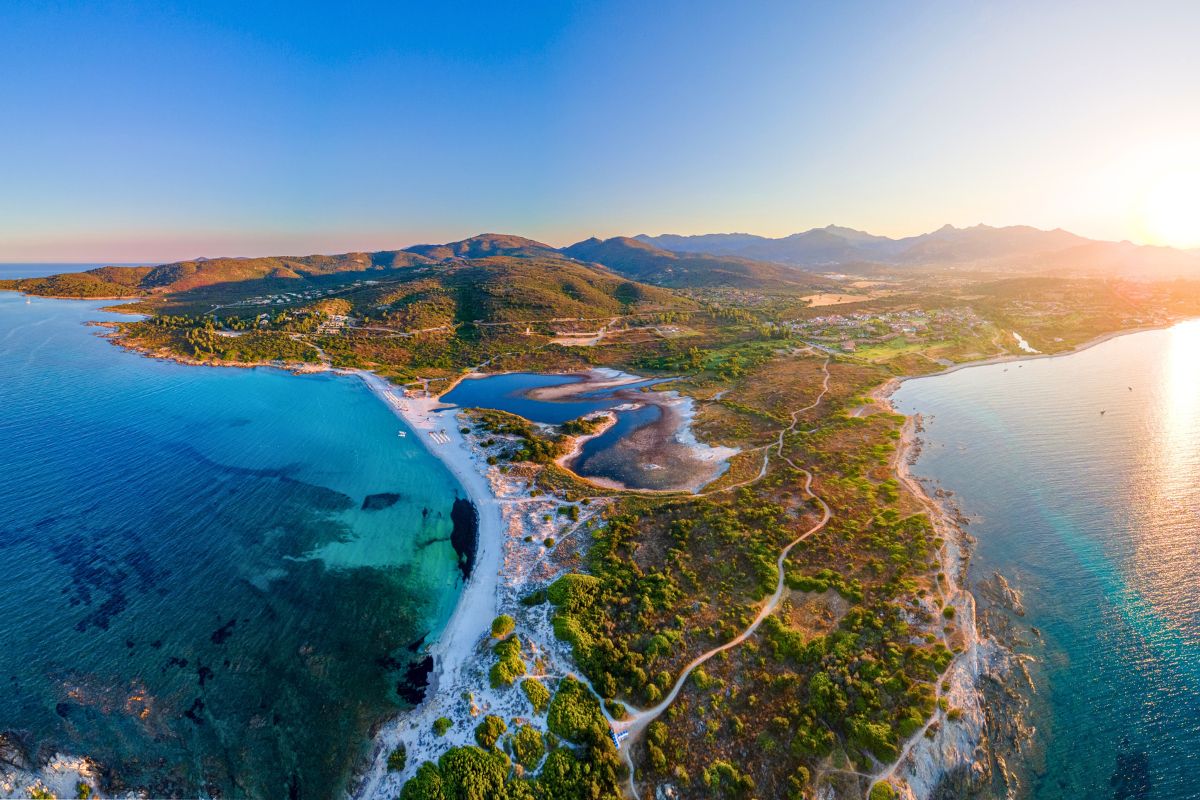 If you want to stay on and around the water, San Teodoro is an ideal base; packed with kayaks, paddleboards, and immaculate snorkel spots, it'd be easy to spend your whole holiday joyfully splashing around.
But it's also a paradise for land-based fun, from biking and hiking paths to rigorous canyoning routes that will have you feeling at one with your stunning natural surroundings.
And when you need to give those muscles a rest, you can stop in for a bite at one of the many little eateries around town, or swing by the San Teodoro Lagoon to admire all of the feathered residents… including an impressive flock of flamingos!
48 – Hike around Gola di Gorropu (Gorropu gorge)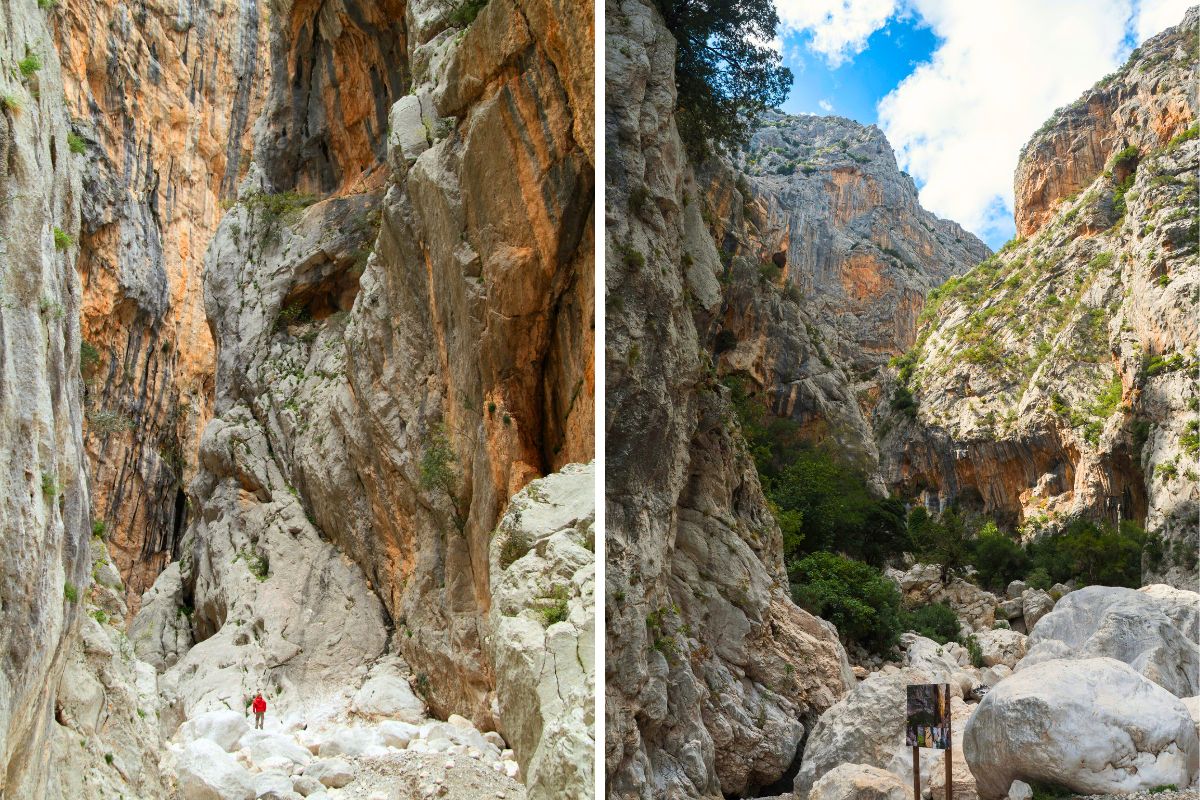 Lace up those hiking shoes and get ready for a full-fledged adventure!
Gola di Gorropu is a slice of mountainous terrain at its finest, with jaw-dropping scenes and shifting elevation creating a million little details in one ecosystem.
With a guided hike, you can discover every nook and cranny of these trails, from tiny ponds to fruit trees to powerful birds gliding above you
And of course, you'll be rewarded with an up-close view of the deepest gorge in the country; take some time to stand at the ledge and feel the power of eons at work!
49 – Hop between the shores of Costa Paradiso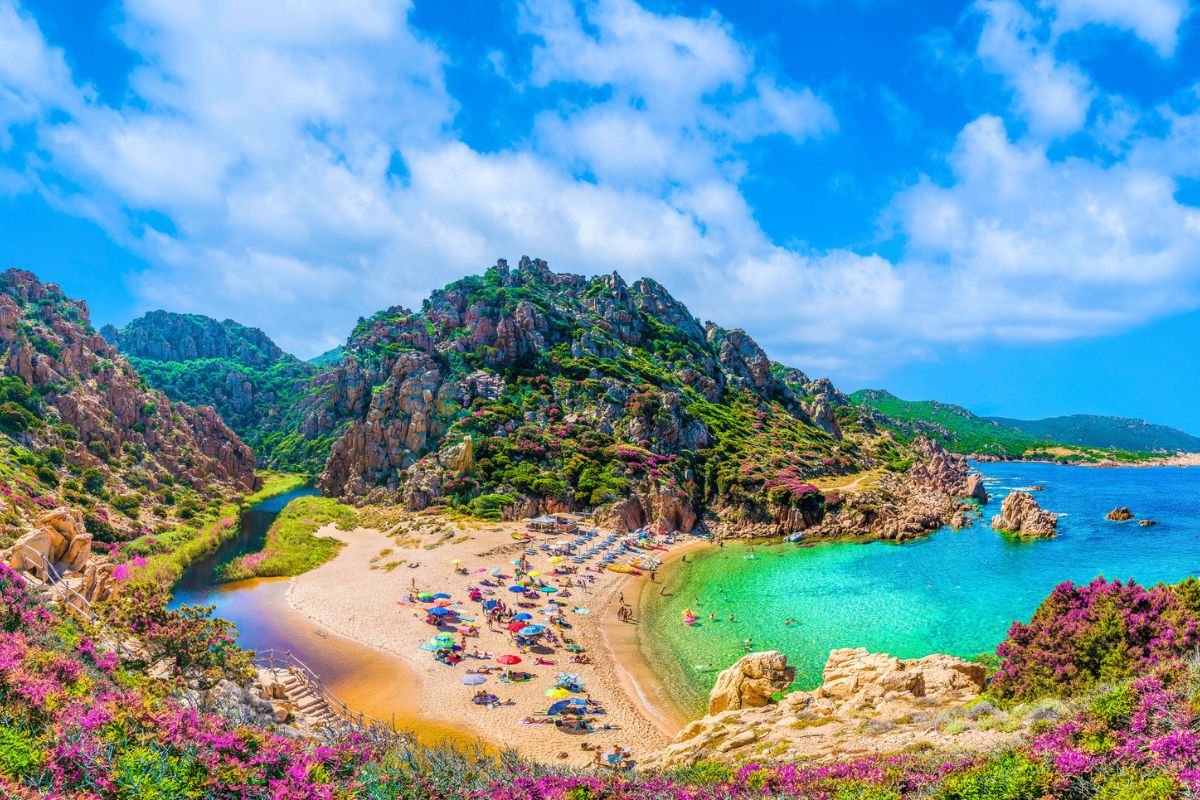 C'mon, "paradise" is right in the name… you know that these beaches have to be pretty epic!
And while the town itself is small, it's always buzzing with excitement, as folks flock to these fabulous shores.
Catch a sunset bouncing off of the pink granite rocks at Li Cossi, or catch some waves at Isola Rossa, a prominent surfing spot.
Do some snorkeling at Li Baietti, or pop over to Cala Le Sorgenti to do some cliff diving.
And if you'd prefer some quieter spaces, hike out to Tinnari, where a sheltered cove offers a bit of a breather, without sacrificing any of the great sights!
50 – Attend a festival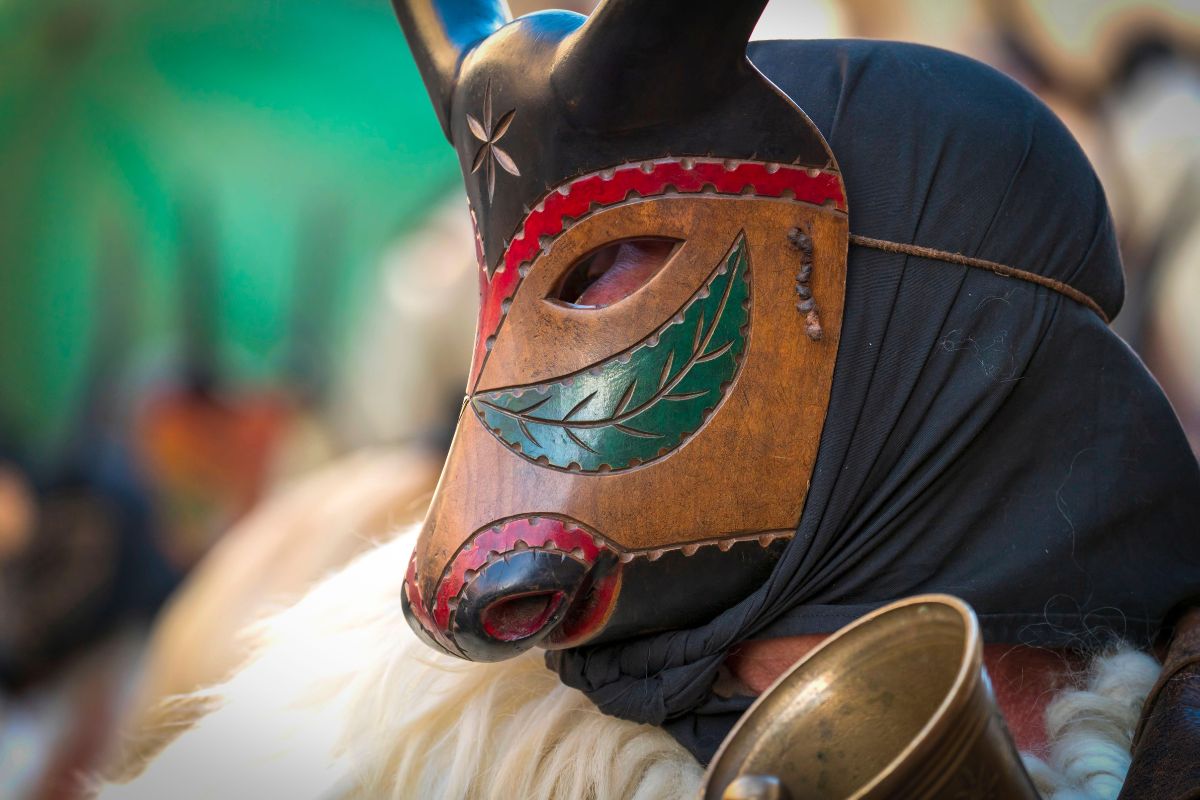 Sure, it has plenty of contemplative spaces and tranquil stretches of wilderness; but this is one island that certainly knows how to party! If you're looking for cool things to do in Sardinia, you can almost always count on a party, with a hearty bit of local culture thrown in.
Carnevale di Mamoiada is one of the biggest and best, with thousands of revelers dressing up in elaborate traditional masks that reference ancient traditions surrounding the rituals of life and death cycles.
And at Sartiglia of Oristano, you can watch a race like no other, where horse and rider are equally elaborately decorated.
On the other end of the spectrum, there's the Ottana Carnival, where the costumes (and matching choreography) depict the many myths exploring the sometimes complicated roles of farm animals in society.
But wait, there's more! Why not cheer on the painstakingly crafted papier-mache creations at Tempio Pausania, or follow a religious effigy on a raucous parade through the streets during the Festival of Sant'Efisio?
With lively, unique events in nearly every town, you'll have tons of fun diving into Sardinian life!
How to get to Sardinia?
Given its lovely island location, it's no surprise that flying or sailing are the best options to get here; and there are some excellent options for each!
You can catch a plane from many of the major cities in Europe and mainland Italy, and arrive and depart from airports in Olbia, Alghero, and Cagliari.
And if you're traveling by sea, there are ferries running from the mainland, as well as from France and Spain.
Where to stay in Sardinia?
In Cagliari, Palazzo Doglio puts you right in the thick of beaches, basilicas, and other local delights, while also providing an elegant and comfortable home away from home.
And in Cala Gonone, Club Esse Palmasera will make you feel like you're in your very own sports club, with basketball courts, lawn bowling, swimming pools, and tennis courts to keep you occupied.
Oristano offers up Mariano IV Palace Hotel, conveniently located right in the midst of town, and filled with gorgeous decorative accents worthy of its name.
And in San Teodoro, you can book a stay at Hotel Onda Marina, where you can easily walk to and from the coolest parts of town, and spend the time in between relaxing in the spacious garden.
Meanwhile, Stintino offers up its own piece of paradise in the form of Park Hotel Asinara, where you can swim, chow down at the fabulous onsite restaurant, then swing by the front desk to book your next thrilling journey.
Visiting Sardinia on a budget?
Free walking tours in Sardinia offer up the best of both worlds: tons of awesome information without the big expense!
Not only will you get to see some of the coolest sites on the island, but you'll be led by a local guide who can infuse their own knowledge and passion into the process.
Come ready with plenty of questions, and some cash for tips!
Where to go next?
Practically next door (but technically in another country, you'll find a million amazing things to do in Corsica! As the birthplace of Napoleon and home to scores of historical events, it's long been popular with intellectuals; but with its beaches and spectacular cuisine, it's great for laid back vacations as well!
And if you want to stick to the Italian side of things, you can check out another amazing island, and discover endless things to do in Sicily!
Packed with ancient sites, beautiful natural areas, and a lively culture all its own, it's a perfect paradise for indoor kids and outdoor kids alike.
Then you can head to the mainland and check out some of the other phenomenal places to visit in Italy, from the artworks of Florence and the romance of Verona to the magic of Venice and the intrigue of Pompeii.
Final thoughts
From the tops of mountains to the bottom of the sea, and everywhere in between, you'll never run out of things to do in Sardinia!
And of course, it's the culture of this unique island – fascinating, jam-packed with legends, and utterly welcoming – that makes it a truly special destination.
Pack your bags and set a course for fun!