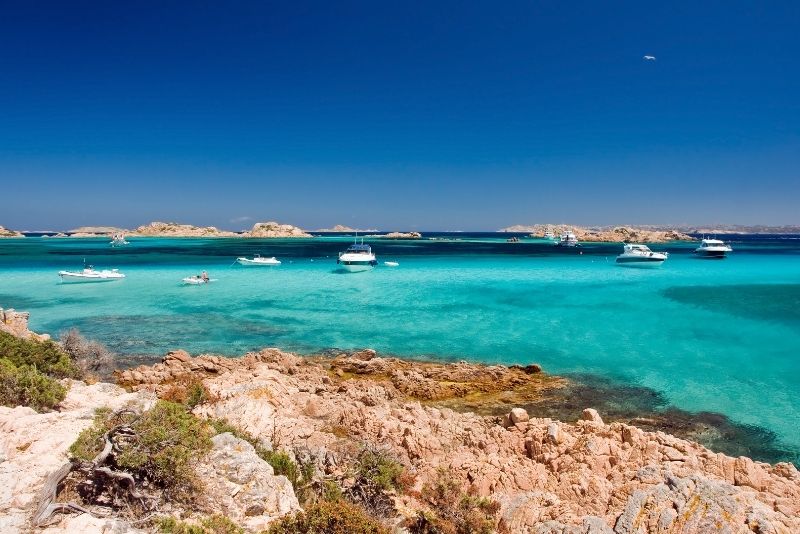 Looking for the best boat trips in La Maddalena? On this post you will learn everything you need to know about the best places to visit in Maddalena Archipelago.
Before we dive into the best La Maddalena boat trips, take a moment to familiarise yourself with the map. Navigating is easy, just scroll and click on any of the numbered dots to learn more about each spot. Likewise, feel free to zoom in and out as you please.
Sitting in the shadows of Italy's big cities, the La Maddalena archipelago is a place of natural beauty that's often overlooked. But with its dramatic cliffs, crystal-clear waters, and sandy beaches, it's easy to see why this Sardinian paradise is fast becoming a popular tourist destination.
You'll find the sun-kissed and heavenly white-sand beaches of La Maddalena well and truly off the beaten track. Despite most people's assumptions, this slice of paradise isn't on the Italian mainland; La Maddalena sits on the northern side of Sardinia, the second-largest island in the Mediterranean about 116 miles off the coast of Italy proper. And just above La Maddalena is the Mediterranean's third-largest island, the French island of Corsica, another natural wonderland full of beautiful surroundings worthy of a visit (but that's for another day).
On land, the twisting 20-kilometer-long scenic road which skirts the edges of the largest of the seven islands is considered the prime way to check off all the quintessential (and beautiful) spots of La Maddalena. On water though, the excitement and allure are turned up another level entirely; with access to hidden coves, secluded beaches, pink sand(!), and world-famous snorkeling sites, a leisurely boat trip is the best way to explore all that this enchanting set of islands has to offer.
From the white sands of Spiaggia del Cavaliere to the peaceful emptiness of Cala Soraya & Cala Granara, the lively bar and restaurant at Spiaggia I due Mari (on Caprera Island), or the historic WWII bunkers on display at Spiaggia di Cala Canniccio, there's far more variety to this smorgasbord of islands than meets the eye.
How should you get around?
Well, there are a host of boat tours available if you prefer for someone else to arrange everything and simply escort you to the most Insta-worthy spots.
These tours – private, small-group, or social – typically depart from La Maddalena.
If you are staying in Sardinia mainlaind, there are also boat tours departing from Palau.
On the other hand, if you prefer to explore on a whim, going about your journey at your own pace, you can also rent your own boat. From small motorboats that fit a family of 4 to luxury yachts where you can live like the 1% for a day, and plenty of stylish sailboats and catamarans to boot, there's something for every budget and interest.
Now that we've got all that out of the way, let's get started exploring some of the best La Maddalena boat trips!
1 – Spiaggia del Cavaliere, Budelli Island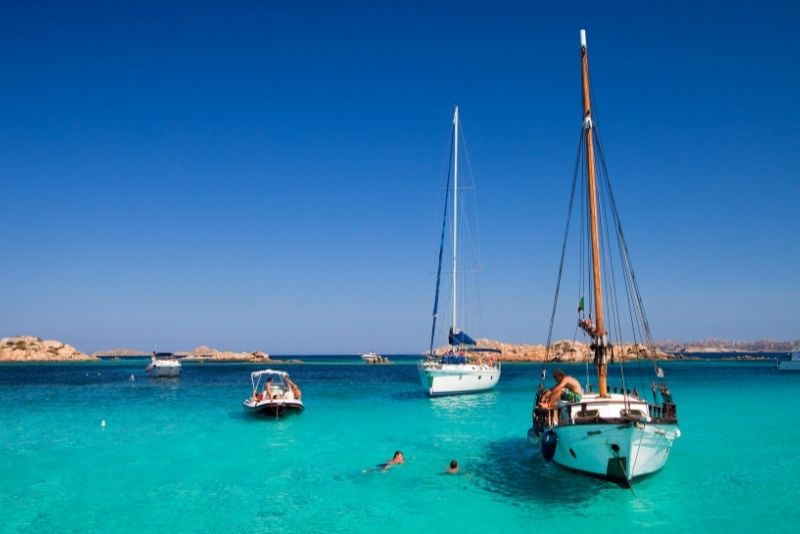 If you're looking for a beach that's a little bit off the beaten path, Spiaggia del Cavaliere on the northern part of Budelli Island is the perfect spot. With its gentle waves and sandy shores – distinctively picturesque white sand, if you don't mind – the beach is ideal for swimming, sunbathing, and paddling. And because it's located in a sheltered cove, it's also great for those who are not confident swimmers.
To get to the beach, you can take a boat tour from one of the nearby towns or hire a private boat and sail around at your own pace, working on the tan and sipping a Prosecco or two along the way. Once you arrive at Spiaggia del Cavaliere, you'll find that there are plenty of things to keep you occupied.
Even if that activity is nothing but lounging around and soaking in the sunshine, with such a large, open space, plenty of vibrant blue waters, and seldom a crowd, you'll feel like you have an entire slice of paradise to yourself.
2 – Spiaggia Rosa on Budelli Island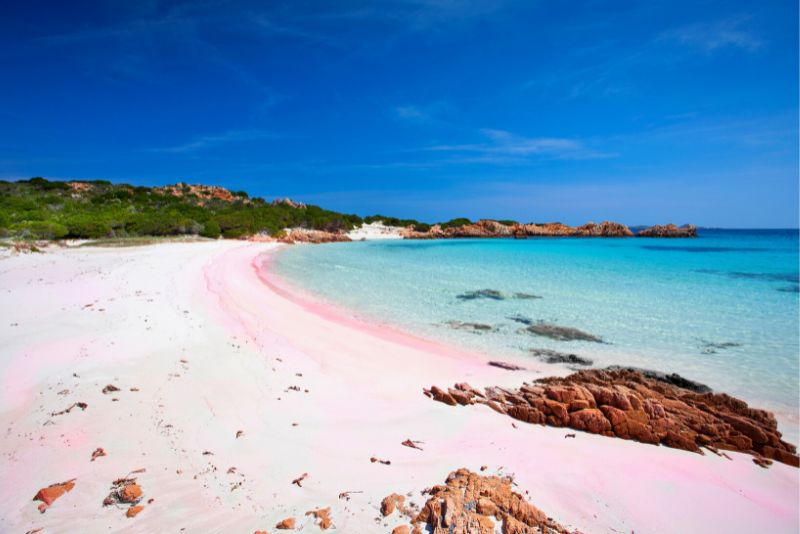 Translating to "pink beach" – and it's not hard to see how this slice of paradise got its name, is it? – Spiaggia Rosa serves up something rather unique, taking the beauty of the region up to new heights.
Pretty in pink and only accessible by boat, the best time to visit is either early in the morning or later in the afternoon/evening when the majority of tour groups have left for the day.
The spellbinding hues of this gem are the result of a mishmash of crushed fossils, crystals, and coral, all fused together over time. The result? Sands which have been tinted with a dramatic rosy blush.
To ensure this unique landscape remains preserved for generations to come, and because people once stole the sand, visitors are restricted to looking but not touching it during the summertime, meaning that a formal boat tour is the best way to see this world wonder up close.
If you're looking for a once-in-a-lifetime experience, look no further than Spiaggia Rosa on Budelli Island – one of La Maddalena's most popular tourist attractions (and definitely one of its most jealousy-evoking).
3 – Spiaggia di Santa Maria, Santa Maria Island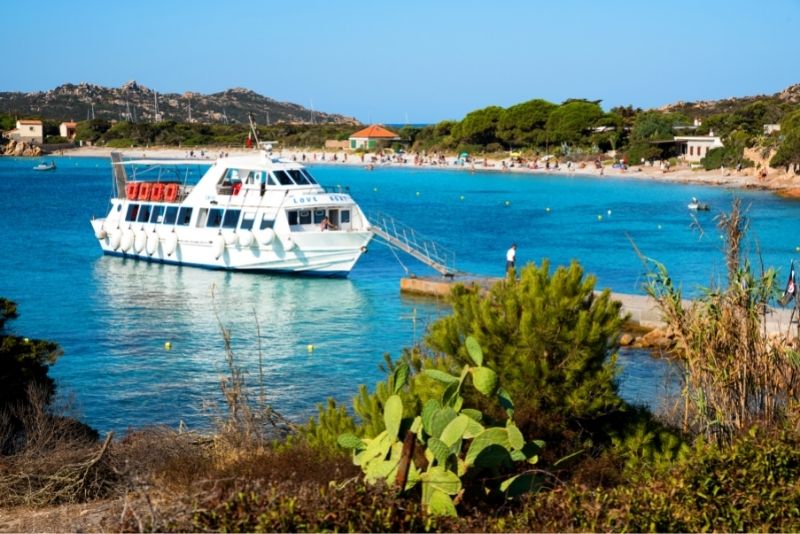 Far more popular than Spiaggia del Cavaliere is Spiaggia di Santa Maria, located on the eponymous island – a slice of land just two square kilometers large and only accessible by private boat. As you approach the shoreline, it's easy to see why this spot is has become one of the top spots for locals looking to escape from the more built-up Isola La Maddalena; with its gentle turquoise waters and fine white sand, Santa Maria looks like something out of a postcard (or Instagram feed).
And it's not just this beach; with a perimeter of ​​about 10 km, there remains plenty of untouched coastline to admire and unwind in.
But what makes Spiaggia di Santa Maria really special is its location. The beach is situated in a remote and sheltered bay which provides calm waters that are perfect for swimming, canoeing, and stand-up paddleboarding – making it a great spot for families with youngsters in tow.
Since the island is mostly uninhabited you'll find that the beach is mostly empty – providing you with plenty of space to relax, sunbathe, and take in the natural beauty of your surroundings. That said, since it's a popular spot on boat trip itineraries during the summer, you might run into a few more faces in August and September,
4 – Cala Bonifazzinca, Spargi Island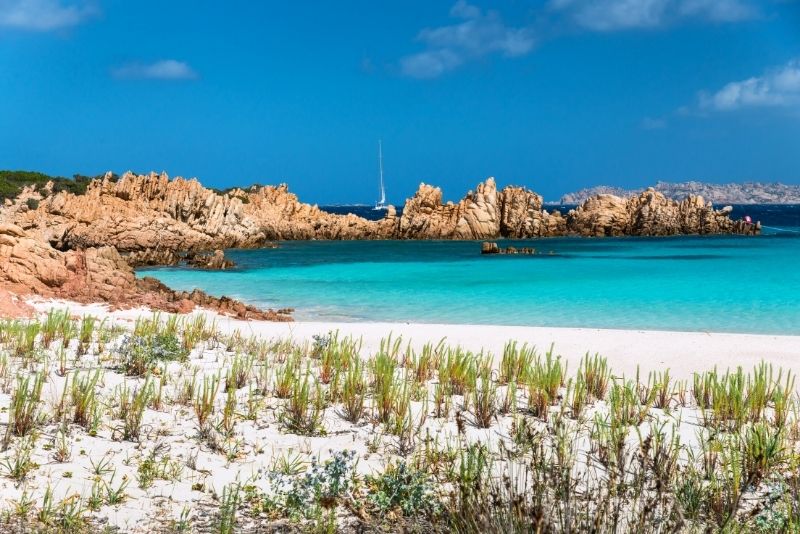 One of the La Maddalena boat trips tailored to those on smaller boats – and for that reason, a much-beloved spot for locals thanks to the lack of large tourist-carrying vessels – Cala Bonifazzinca sits on the northern side of Spargi Island and, thanks to its picturesque rock wall and bright, aquamarine waters, is considered a must-visit for anyone venturing through this sunkissed archipelago.
The cove is only accessible by small boats, and only a handful of them, for that matter. While this limits the number of people who can visit, it makes for a much more intimate and relaxing experience. Once you arrive, you'll find that the water is crystal clear and perfect for swimming; if you're not one for getting your hair wet, there are plenty of rocks to lounge on and soak up some sun.
Keep in mind that because of the seclusion and exclusivity, it's not built up; so you'd be wise to bring along plenty of water, sunscreen, snacks, and maybe a sun umbrella.
Hot tip: after enjoying the seclusion, rev the engine and take a short trip to Spiaggia di Cala Canniccio (Spargi) or Cala dell'amore (Spargi) just around the corner where there's more sand and more space to lounge around on, and a handful of WW2 bunkers and hiking trails to check out.
5 – Spiaggia di Cala Canniccio, Spargi Island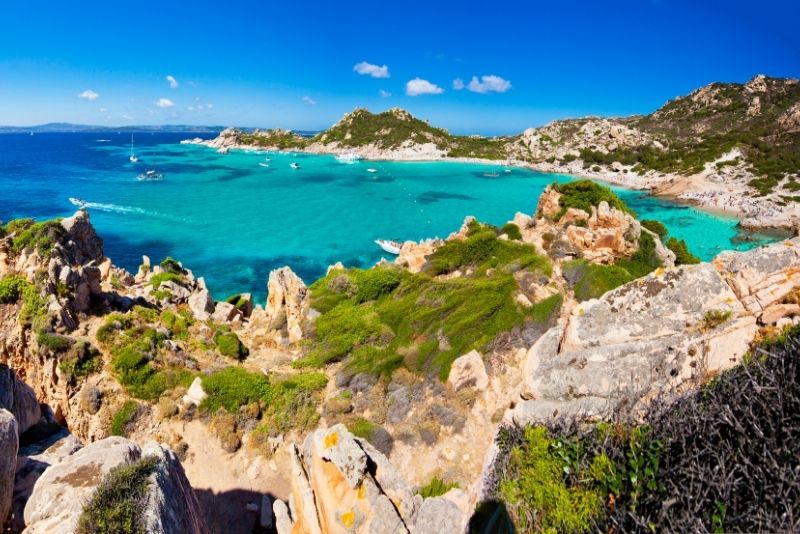 Perhaps one of the most beautiful beaches in Italy, Spiaggia di Cala Canniccio is a small but perfectly formed cove located on the north-eastern side of Spargi Island.
The beach is only accessible by boat and, as such, remains relatively untouched; which means that if you're looking for a place to relax and soak up the sun in peace and quiet, this is the spot for you.
Something truly special about Spiaggia di Cala Canniccio is its unique seabed – with rocks jutting out above the water in a shallow inlet characterized by some of the most transparent waters in the world, it's become a hotbed for diving and snorkeling enthusiasts.
There's plenty to love outside of the water too; history buffs can check out the small WW2 bunkers, while adventurers can tackle one of the treks up the dense and rocky Mediterranean scrub vegetation.
Since the inlet is protected, it's a perfect spot to spend a night in calm waters, and it's easy enough to disembark into shallow waters or at the pontoon if you want to wander around on the island itself.
6 – Cala Soraya & Cala Granara, Spargi Island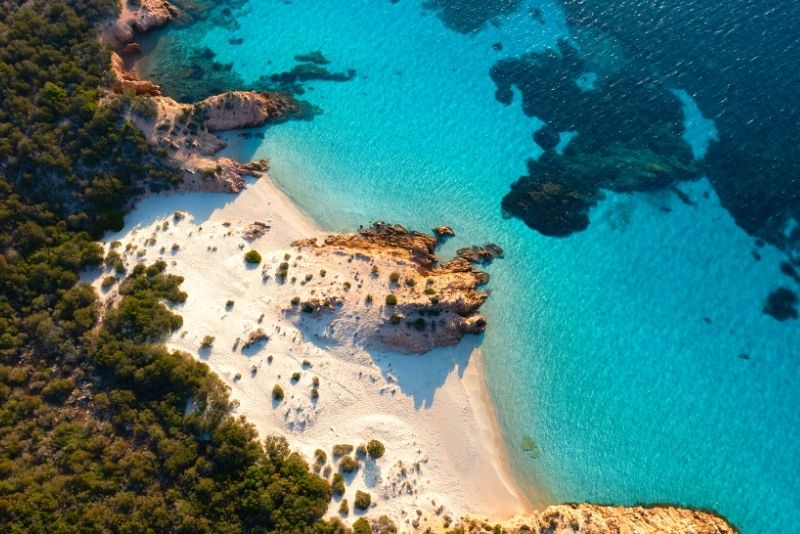 A stunning and rare slice of Italian paradise, neighboring Cala Soraya and Cala Granara dish up golden sands, translucent waters, lush Mediterranean vegetation, and a whole lot of tranquil privacy.
They're both located on the southwest side of Spargi Island and, because they're only accessible by boat (and not many boats at that), remain relatively untouched by tourists.
Cala Soraya is slightly larger than Cala Granara, but both offer the same natural beauty and serenity, about 500 meters apart from one another.
One of the things that makes these two coves so special is the variety of fish that swim in their waters; thanks to the rocky sea beds, clear water, and lack of humans disturbing their habitat, you'll find rich biodiversity. Nature aside, both Soraya and Granara are popular for windsurfing, kiteboarding, SUPing, and kayaking.
Over on Cala Soraya, you'll find a sand dune too, making this one of the more unique Sardinia beaches, and therefore one of the essential La Maddalena boat trips.
7 – Cala Corsara, Spargi Island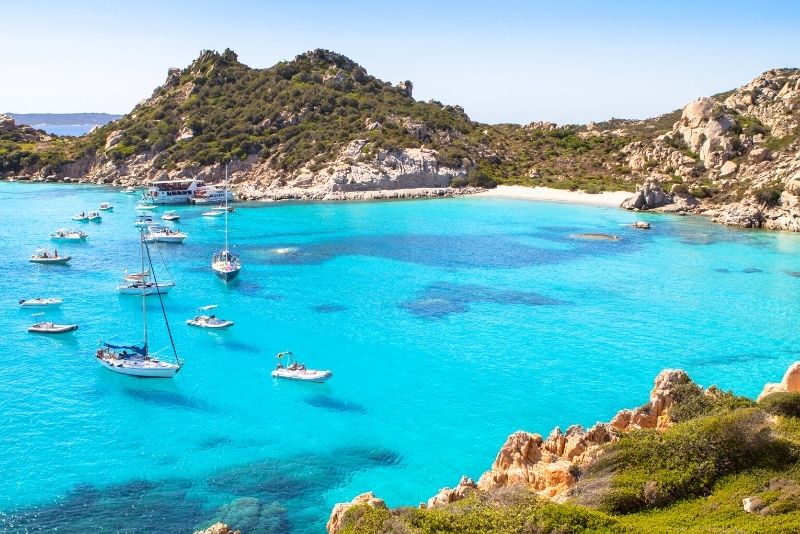 Easily one of the most famous beaches in this wonderful archipelago, Cala Corsara is an idyllic cove located smack-bang at the southern tip of Spargi Island.
As the largest natural cove on the island, almost shaped into a full semi-circle, towering cliffs provide natural protection and seclusion from the wind and the waves, while the crystal-clear water and soft white sand make it a perfect place to enjoy the natural surroundings with an apertivo in hand.
With four different pockets of sand spread across the area, Cala Corsara is one of those places that looks too good to be true, but trust us – it's very real. And very beautiful.
Don't miss the chance to check out Scoglio del Bulldog – a unique rock that mirrors the shape of a bulldog (with some imagination, perhaps) and provides an enchanting contrast to the intense blue water which surrounds it.
8 – Cala Francese, La Maddalena Island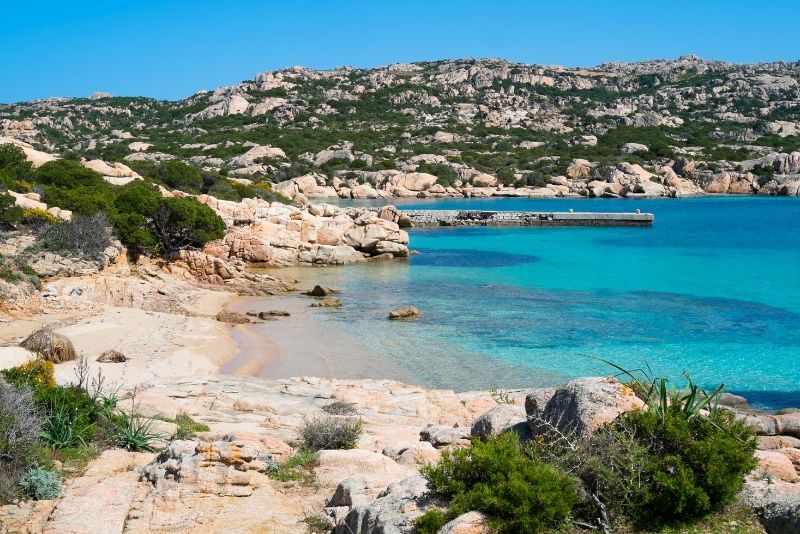 While you might not find a whole lot of sand at Cala Francese, what you will find is a stunning natural backdrop of granite rocks, crystal-clear water, and epic views.
The cove is located on the southwestern side of La Maddalena Island and, unlike many of the beaches on this list, doesn't require a boat to reach (providing you're already on La Maddalena) – you will need to take a dirt road to reach the shoreline, but it's a lovely drive and traffic isn't part of the local vocabulary.
One of the things that makes Cala Francese so special is its dramatic landscape; the shoreline is surrounded by interesting rock formations, many of which have become popular spots for sunbathers.
With a cafe on-site, hotels not too far away, the Altare della Madonnetta (Madonnetta church) on a pier-like walkway by the cliff, and the open-air Cava Francese museum which tells the story of the area's granite-mining past, it's easy to spend half a day soaking in the sun and swimming in the azure water, before drying off to explore more of what this wonderful island has to offer, coffee and cannoli in hand.
9 – Spiaggia di Bassa Trinita, La Maddalena Island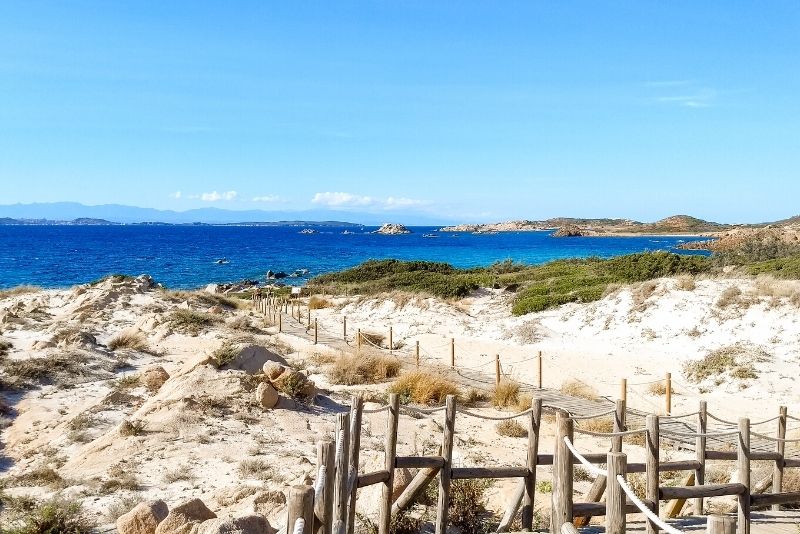 About halfway up the western side of La Maddalena Island, the most built-up in the archipelago, you'll find Spiaggia di Bassa Trinita. Located about 5km out of the main town, it's far enough to rarely draw a large crowd yet easily accessible by land or by sea.
The water here is crystal-clear and the sand is soft; it's a great place for swimming, sunbathing, and paddleboarding (are you sensing a pattern here?).
With a lovely view of the sunset any day of the week – an experience that's about as serene as you can get in this part of the world, this is one of the most coveted places in the archipelago to transition from the afternoon to the evening, especially when you've got a snack in hand from the nearby eateries.
Snack Bar Trinitá, sitting on the sand and looking like it came straight out of an island postcard, serves up excellent paninis and pecorino burgers with ice creams and beers to boot. Just around the corner and a little inland is Eolo Ristobar – known for its fresh seafood, it's a formidable place to watch the sun go down.
To stretch the legs before a feed, take a wander down the nature trail – home to an array of native flora and fauna, it's a welcomed change of scenery from the beaches and coves.
10 – Spiaggia Monti D'A Rena, La Maddalena Island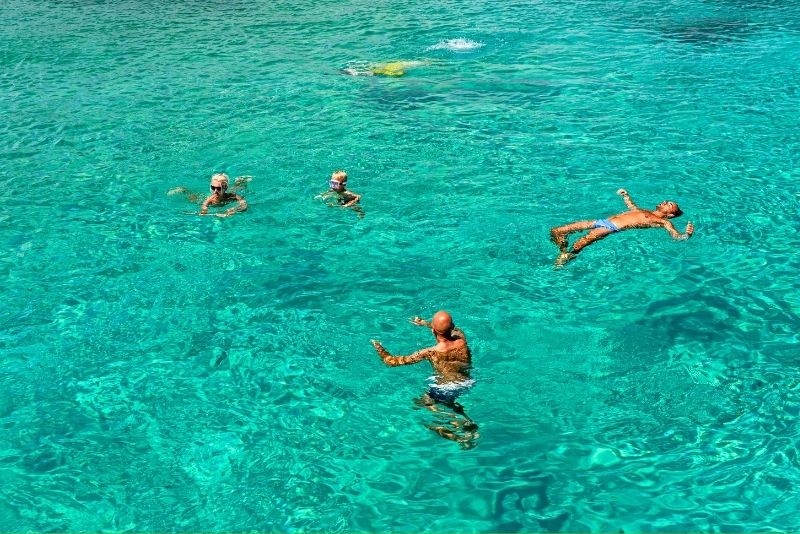 Tucked away on the northern end of the area's main island, Spiaggia Monti D'A Rena is a bit of a hidden gem.
Even though it's only about a 7-minute drive from the main town of La Maddalena (or a leisurely 10-20-minute boat trip, this small cove feels like a world away.
It's one of those places where you can sit on the sand for hours, completely lost in thought, or take a swim in the clear water and feel like you're in your own little world. And thanks to its sheltered position, rarely does a gust of wind swing through.
The best part? You don't have to share it with too many people; even on the busiest days, there's enough space for everyone to find their own little slice of paradise.
Accessible by road, and with a few restaurants, cafes, and hotels located nearby – not to mention some excellent gelato – it's easy to make a day of it.
11 – Spiaggia di Cala Spalmatore, La Maddalena Island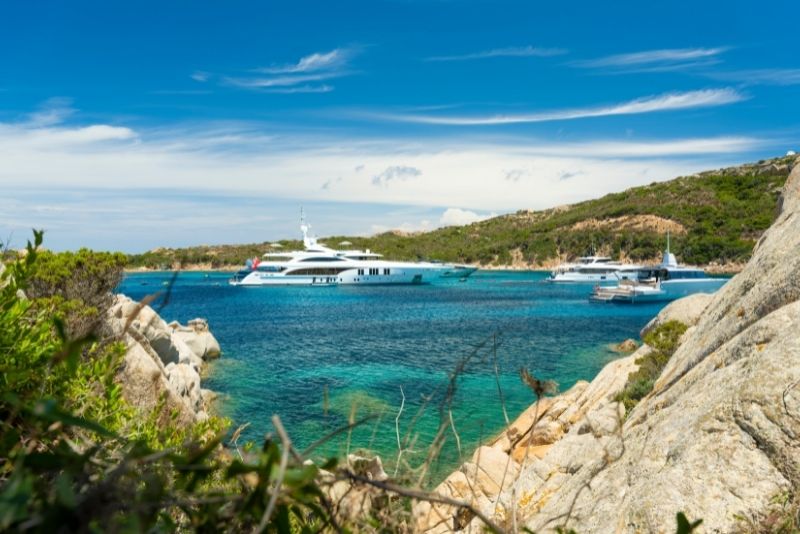 Regularly welcoming luxury yachts, the waters of Spiaggia di Cala Spalmatore are as blue as they come.
Since this is one of the more popular beaches for those on La Maddalena boat tours of the area, you'll be able to rent sun umbrellas and sunbeds if you're planning on spending your day lazing in the sun – there's both a serviced part and a free part of the beach, so pick your own style for the day and roll with it!
If your idea of a great adventure is a little more activity, then be sure to walk the path up to the Guardia del Turco lookout point. From here, perched high above the landscape, you can admire the stunning contrast of lush, green vegetation and vibrant aqua waters.
For all of you swimmers and snorkelers, this area is a prime spot for sealife viewing thanks to its transparent waters. If you prefer to stay dry, grab a drink from Cafe Oasis and meander down the jetty to admire the hefty vessels anchored at the beach.
12 – Cala Napoletana, Caprera Island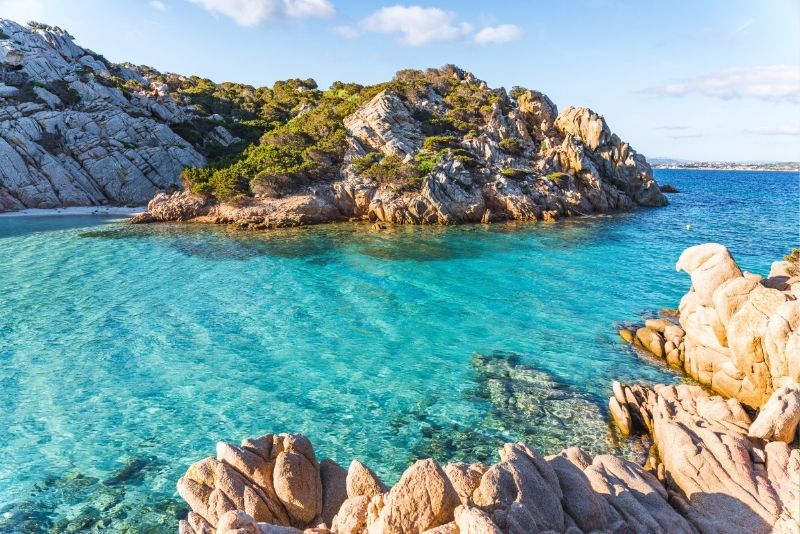 Moving off of the main island and over to slightly larger Caprera, you'll find the blissful and remote Cala Napoletana – essentially two small bays located next to one another, nestled in between a slew of rocks.
If you're exploring the area with one of the La Maddalena boat tours, you'll have no trouble finding this spot from the water. If you're coming from land, however, it's a different story. Pack your walking shoes, because, after parking close to the fortification at the top of the hill, you'll need to meander down the path for about 30-45-minutes (a wonderful trek – and a great alternative to spending all day tanning) before reaching the secluded cove.
The main trail – called path 14 – is the easier and more popular of the two hiking options (it's more of a leisurely walk, really). The other option is a little trickier because there's not much signage (and likely a few distracting mountain goats), but it's worth it for the secluded swimming spots found en route to Cala Napoletana – to get there, walk straight ahead from the carpark where the road ends and follow it over the rocky trail.
While Cala Napoletana is smaller than most, since the beach is unserviced without any facilities, it's never crowded. It's beloved by the locals yet rather secretive among tourists – that means you've effectively got your own very private slice of paradise. And once you've worked up a sweat on the walk, with its warm Mediterranean waters beckoning, it's a great spot to jump in for a swim or a snorkel to cool off.
13 – Cala Serena, Caprera Island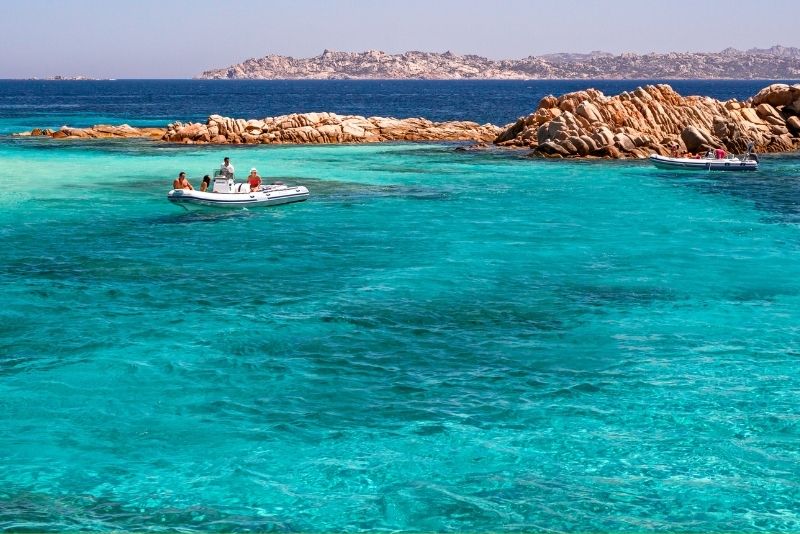 A wonderful beach sitting on the western edge of Caprera Island, ringed by a thicket of trees and with a dramatic rocky backdrop, Cala Serena is one of the most beautiful spots in the archipelago.
While it may not be the easiest beach to get to – you'll need to walk for a few minutes from the parking lot so wear sneakers or water shoes – it's more than worth the effort.
As soon as you catch your first glimpse of the sparkling water through the trees, with minimal tourists to spoil the natural beauty, it's picture-perfect. If you're arriving by boat, on the other hand, keep in mind that this tranquil inlet is rather shallow and best suited to smaller boats
While Cala Serena is also a great spot for swimming and snorkeling (there are plenty of fish, sea urchins, and hermit crabs to see, and if you're lucky you might even spot a friendly octopus or two), it's also known for being a favorite locale and historic meeting place for the local gay community. So be aware that you might find a few naturists lounging on the sand!
14 – Spiaggia di Cala Coticcio, Caprera Island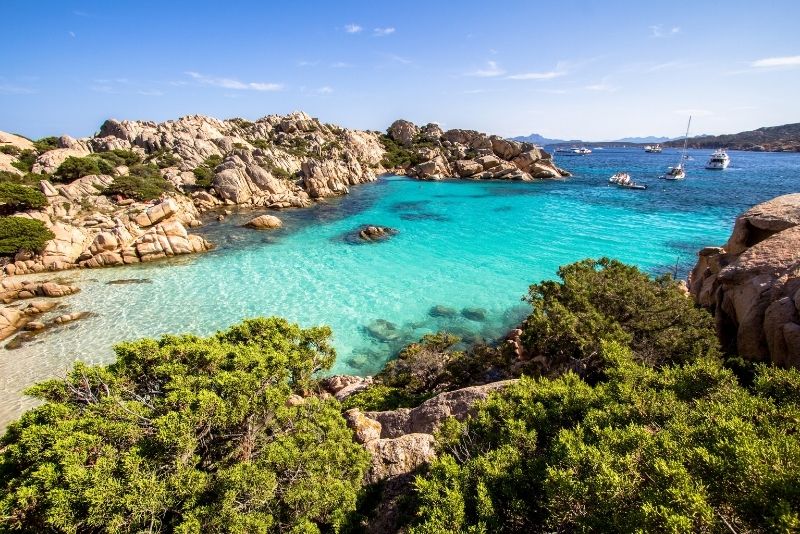 Arguably the most famous of not only all the Caprera Island beaches, but all the beaches in the La Maddalena archipelago, the picture-perfect, pristine Spiaggia di Cala Coticcio on the eastern side of the island is a quintessential stop for anyway wandering through the area. Despite being one of the smallest beaches on the island – at just 10 meters long – thanks to its gentle waves, soft white sand, and mesmerizing turquoise waters, it's easy to see why this place is so beloved.
Cala Coticcio can be reached by land or by sea (many La Maddalena boat tours make a stop here), but if you're planning on coming from the mainland, note that the last bit of the journey involves a rather steep and rocky path down to the beach – so wear appropriate shoes! Starting at the Arbuticci fortress (where you'll also find the Memoriale di Giuseppe Garibaldi), the trek takes about 45 minutes and is relatively straightforward, except for a short and sweet passage where you need to maneuver on all fours! (with that in mind, it's best to bring a backpack for your beach gear as you'll need your hands to climb).
If you're joining one of the La Maddalena boat trips that depart from Palau, La Maddalena, Cannigione, or Baia Sardinia, however, you'll need to be a confident swimmer in order to reach the shoreline. The boats anchor 50m offshore, requiring a decent swim across 5-meter-deep water (all boat tours will have life jackets on board which make this far easier).
Besides the trekking opportunities and great panoramic viewpoints along the way, Spiaggia di Cala Coticcio is also noted for its snorkeling, with schools of silvery fish called Saddled seabream frequenting the bay daily!
15 – Spiaggia di Cala Brigantina, Caprera Island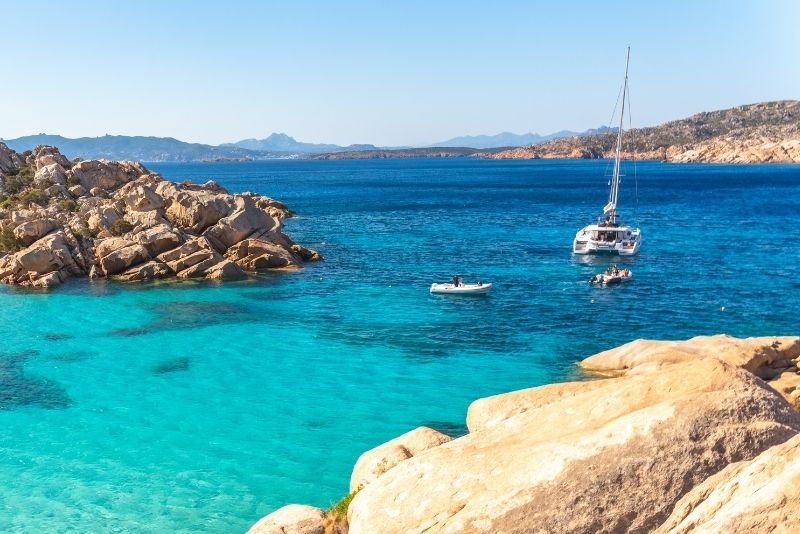 Just in case the aforementioned Spiaggia di Cala Coticcio is overcrowded during the peak tourist season, this vibrant-hued inlet is an excellent alternative option as it's just a few minutes boat ride south – less than 2 kilometers away as the crow flies.
Although the beach itself doesn't boast the same dramatic views, with its clear turquoise waters (amazing for snorkeling), soft white sand beaches, and tranquil vibe, Spiaggia di Cala Brigantina is still very picturesque and usually isn't as busy as Coticcio to the north.
For those coming from land, you'll need to meander down a rather steep path for close to 25 minutes, with plenty of rocky obstacles along the way – so wear comfortable shoes. Expect the walk to take anywhere from 15-40 minutes depending on your fitness level – but in this case, the journey is just as lovely as the destination (and you'll probably spot a few mountain goats along the way).
With no cafes, wifi, or facilities, this beach is one you'd visit if you want to seriously unwind and get back to nature.
Keep in mind: as of 2021, there is a special entry system so you'll need to call a council number beforehand and book a guide for access.
16 – Spiaggia I due Mari, Caprera Island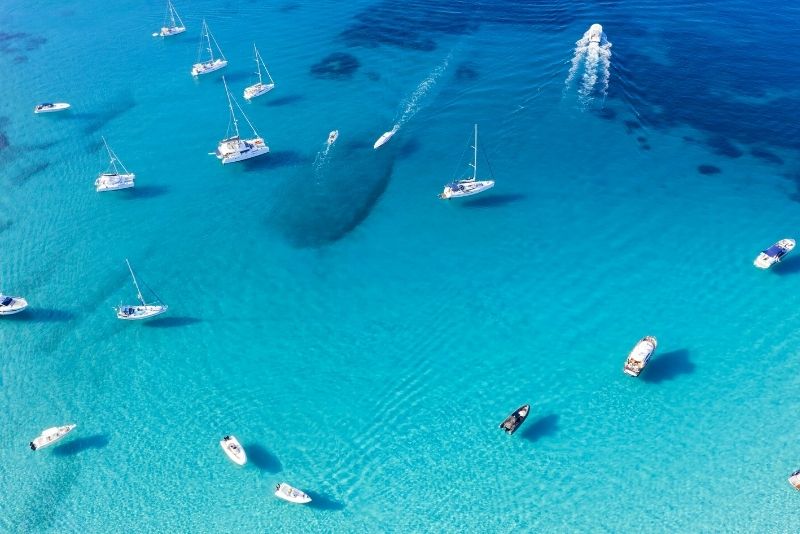 Definitely one of the more well-known beaches in the region (and for good reason) Spiaggia I due Mari on the southern side of Caprera Island covers all things outdoors and adventure. With several different water and land-based activities to choose from, and plenty of facilities, restaurants, cafes, hiking trails, and soft white sand to lounge around on, there's something for everyone here!
The water is clean and clear, making it great for swimming, snorkeling, and scuba diving, and there's a wonderful walking route that makes its way up north, connecting to a handful of more secluded beaches before joining up with one of the main roads.
Since becoming somewhat of a tourist hotspot in recent years, Spiaggia I due Mari can become quite busy during the peak season – so if you're looking for a more secluded spot, you might want to try one of the other beaches on this list. However, that doesn't mean it should be overlooked. If, for nothing else, grab a table at the Chiosco i Due Mari beach club, enjoy a glass of Prosecco, and watch the dramatic sunset as its bold colors light up the long stretch of sand.
17 – Cala Velica, Caprera Island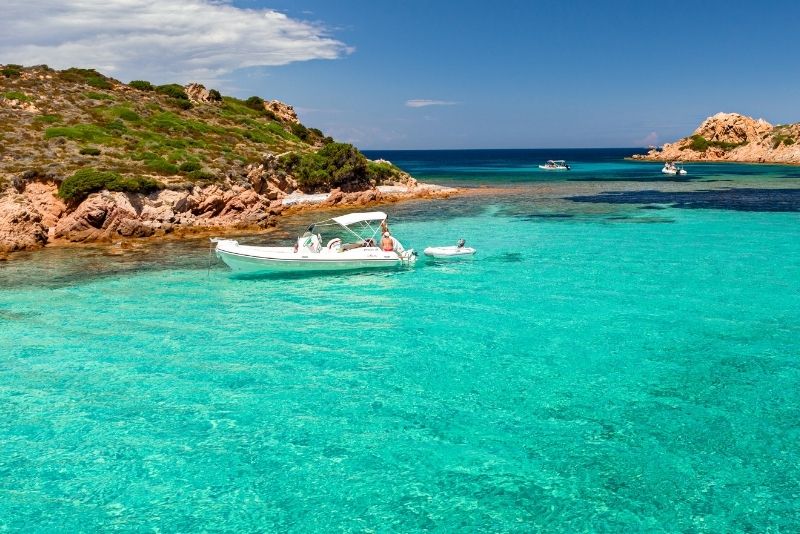 Found on the southwestern side of the archipelago's second-largest island, Cala Velica is well and truly a hidden gem. Tucked off the beaten path, and difficult to reach on foot (while you could make the trip from the località Punta Coda road, it would require a lot of scrambling). Mindful of its isolation, this untouched cove is best reached as part of a La Maddalena boat trip (whether a tour or renting your own).
Like many of the other beaches on this rundown, Cala Velica serves up crystal-clear waters great for snorkeling (and great for the Instagram feed), tranquil surroundings, and a perfect place to relax and recharge your batteries.
And because there are no restaurants or cafes on-site (or direct roads), there's a good chance you'll have the whole beach almost to yourself – making it one of the best beaches in La Maddalena Archipelago.
How to get to the beaches? Book a boat tour or rent your own boat!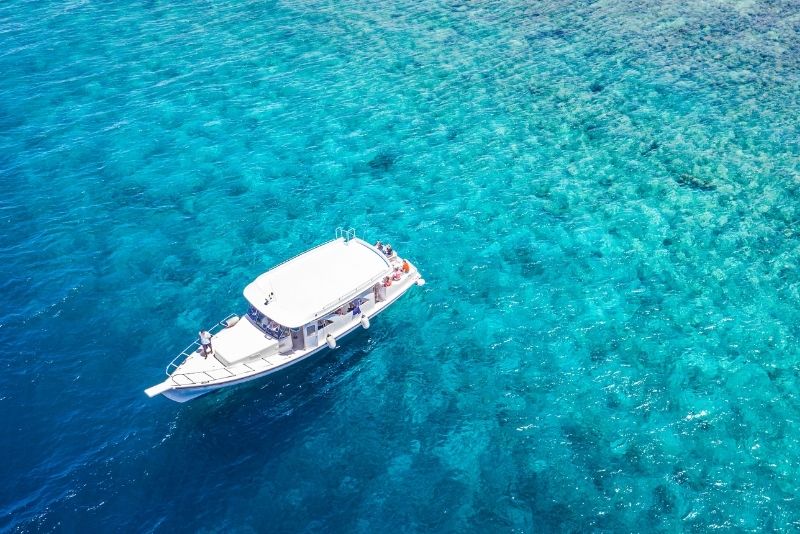 Unless you restrict yourself to what's accessible by car on La Maddalena or Caprera islands (connected by a bridge), you'll need to take a ferry or boat to get around.
The most popular option is to book a tour from one of the many companies offering half or full-day trips, which will whisk you away to some of the more difficult-to-reach destinations (like Cala Velica or Caprera Island, or the stunning Spiaggia Rosa on Budelli Island). Myriad tour options await, departing from both La Maddalena island and Palau on the Sardinia mainland.
If you're looking for something more low-key, or if you prefer to have a little more freedom to explore at your own pace, the other option is to rent your own boat. Whether you're after a small motorized dingy, a charming sailboat or a luxury yacht fit for royalty, you'll find something to suit your budget and needs.
Whichever way you choose to explore, make sure you keep your camera handy – these beaches really are something else.
Final thoughts
Well, there you have it, 17 of the very best boat trips in the La Maddalena Archipelago! Have you visited any of these places before? What are your favorite beaches? Or do you have any other La Maddalena hidden gems you think should be added to the list? Let us know in the comments below!
Looking for more things to do in Sardinia? Check out some of the most popular tours and excursions in Cagliari, the island's capital city.
As always, happy travels!