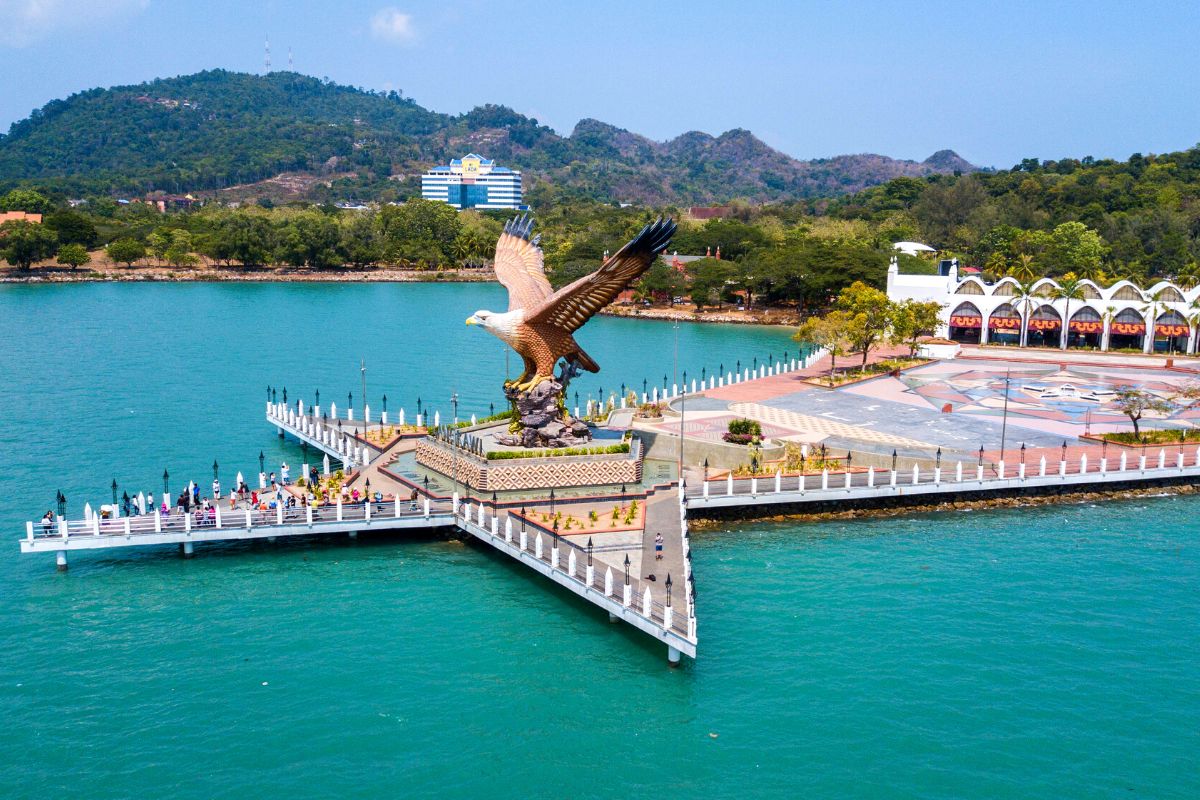 Made up of rainforests, ocean, mangroves, mountains and rice paddies, the Jewel of Kedah, as it's affectionately called, feels like you're on an island in the middle of the jungle  — wait, you are!
Known as a gateway to nearby island countries, like Thailand and Singapore, Langkawi offers travelers something extra special.
There are many things to do in Langkawi that revolve around nature and being outdoors. Go chasing (14-tiered) waterfalls or spend a day out at sea island hopping and snorkeling.
One big rainforest, there are many parks to explore …
Summit to mountain peaks, kayak through mangroves, spot an abundance of wildlife and take in the fresh air.
Consisting of over 100 islands, the waters in this part of Malaysia are a spectacular crystal clear blue color.
Sundowners and ocean views at one of the island's beach bars will set you straight into the holiday mood.
When not on the beach or trekking through jungles, take a cultural day trip to rice fields, local villages and countryside landscapes.
So, what are you waiting for; here are fun and magical things to do in Langkawi for an epic island vacation.
1 – Stroll along Langkawi's SkyBridge suspended 660 meters above sea level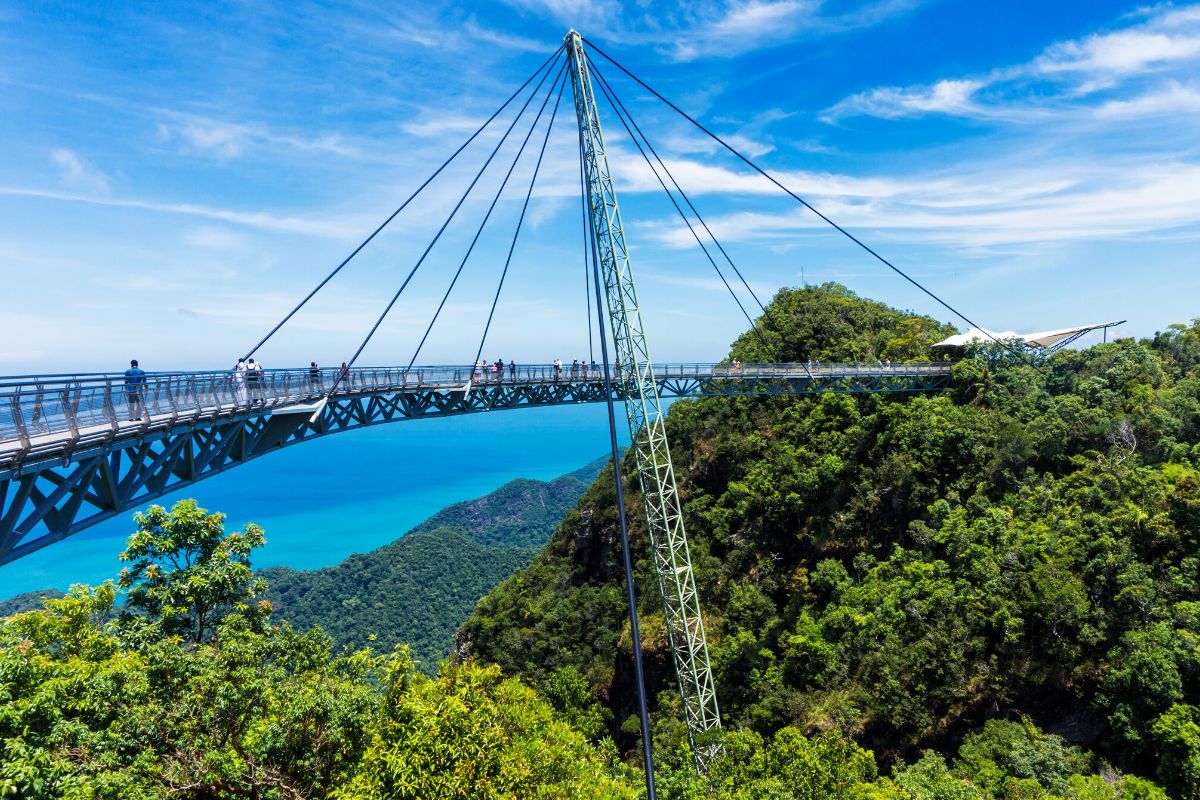 Walk across the world's longest curved bridge, the SkyBridge, situated at the peak of Mount Mat Cincang.
As you meander along the 125-meter-long walkway, take in the scenes of the island around you as the bridge winds through lush bushes and tall trees.
There are certain parts on the pathway with glass cutouts so you can see directly below your feet and the world beneath you.
To reach SkyBridge, enjoy a short 10-minute scenic walk via their jungle trail from the main center.
Alternatively, if you're not keen on walking, take the SkyGlide ride. It's a glass cabin elevator that sails along a track.
2 – Drink in the 360-degree views from SkyCab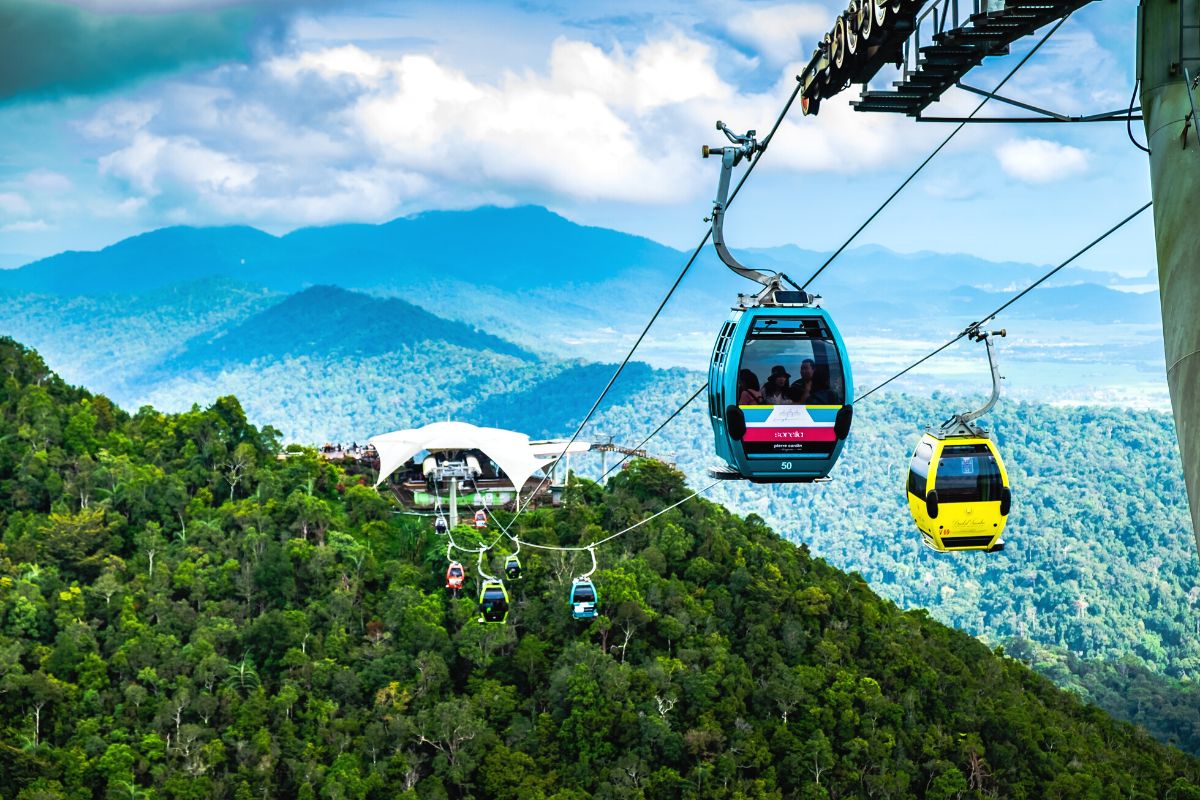 Located within the same center as the SkyBridge, hop inside a cable car at the Base Station at the start of Mount. Mat Cincang and make your way up the mountain.
From ground level, you will ascend into the sky in the SkyCab, stopping at Middle Station for panoramic island views.
Now 700 meters above sea level, the Top Station is the final and highest point in this journey. There's a stairway to two more viewpoints and the SkyBistro is here too.
Apart from the cable car and sky bridge, there's also a boutique shop and gallery, or try the immersive experience at SkyRex, as well as at the SkyDome.
Visit the Sri Kandi store where you can dress up in traditional clothing and take some beautiful photos.
Also, visit the first outdoor 6D cinema experience in Asia, 6D Cinemotion and feel as if you're part of the movie, or a character on screen.
Not only will you watch a 3D film, but the theatre chairs have special effects built into them. Move from side to side, feel the vibrations underneath you during action scenes and other cool cinematic features.
3 – Visit the Masjid Al Hana, the biggest temple in Langkawi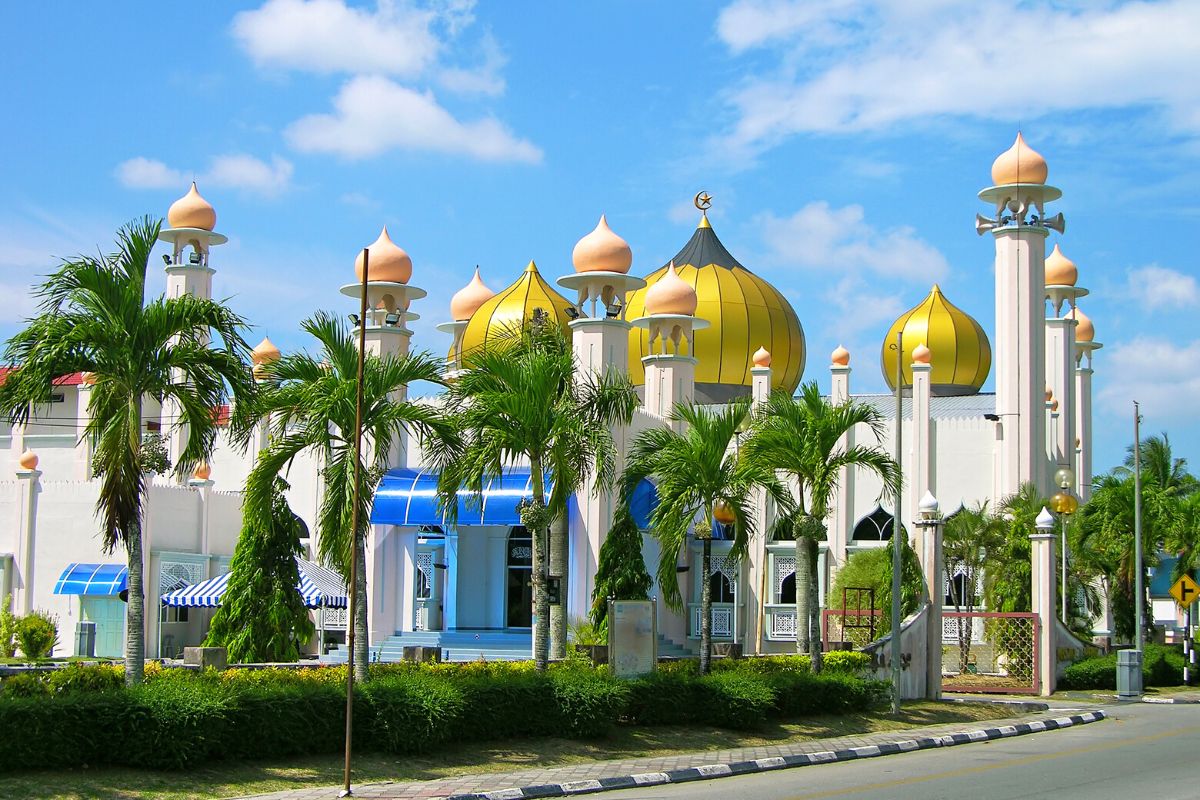 If you've ever visited countries such as Uzbekistan before, you'll pick up on the similarities in building style at Masjid Al Hana mosque.
Much of the design, like its golden qubbas, took inspiration from the grand mosques seen in Uzbekistan.
The shimmering qubbas outside look like flowers in the sky about to bloom, or, more typically described as onion-shaped domes.
Inside, the walls are filled with gold inscriptions from the Koran, and different motif patterns are used in the design.
With its mix of traditional Malaysian and Islamic architecture, it's an excellent spot to take photographs showing off the historic and cultural side of the city.
4 – Take a jungle-inspired day trip out to Kilim Mangrove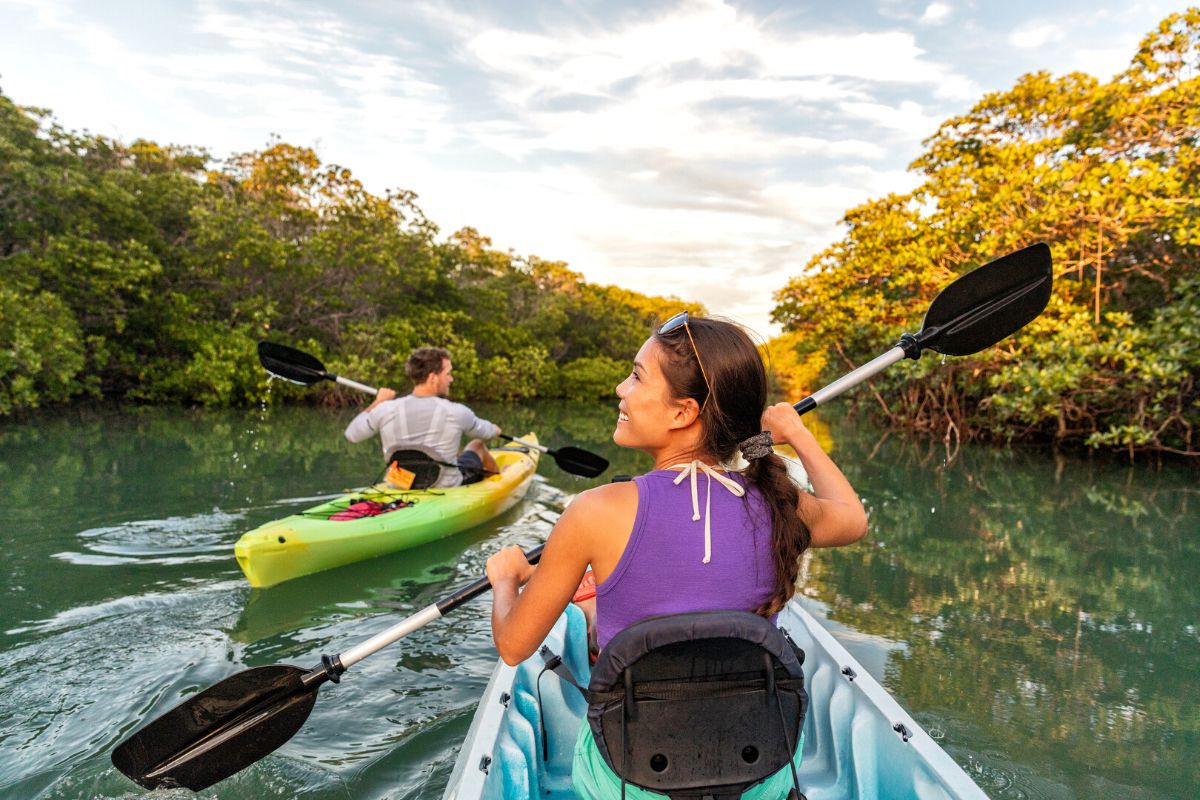 If you've ever wanted to see what Malaysia was like hundreds of years ago, a day out among the mangroves transports you instantly.
Located inside the Kilim Geoforest Park, one of the most popular activities to do here is to kayak through the jungle groves.
As you cruise along the river, stop by local fishing villages, and spot magnificent wildlife from eagles to fish.
Along the journey, learn about the local vegetation, including the natural fauna and flora, as well the ecosystem in these parts.
5 – According to local legend… Kota Mahsuri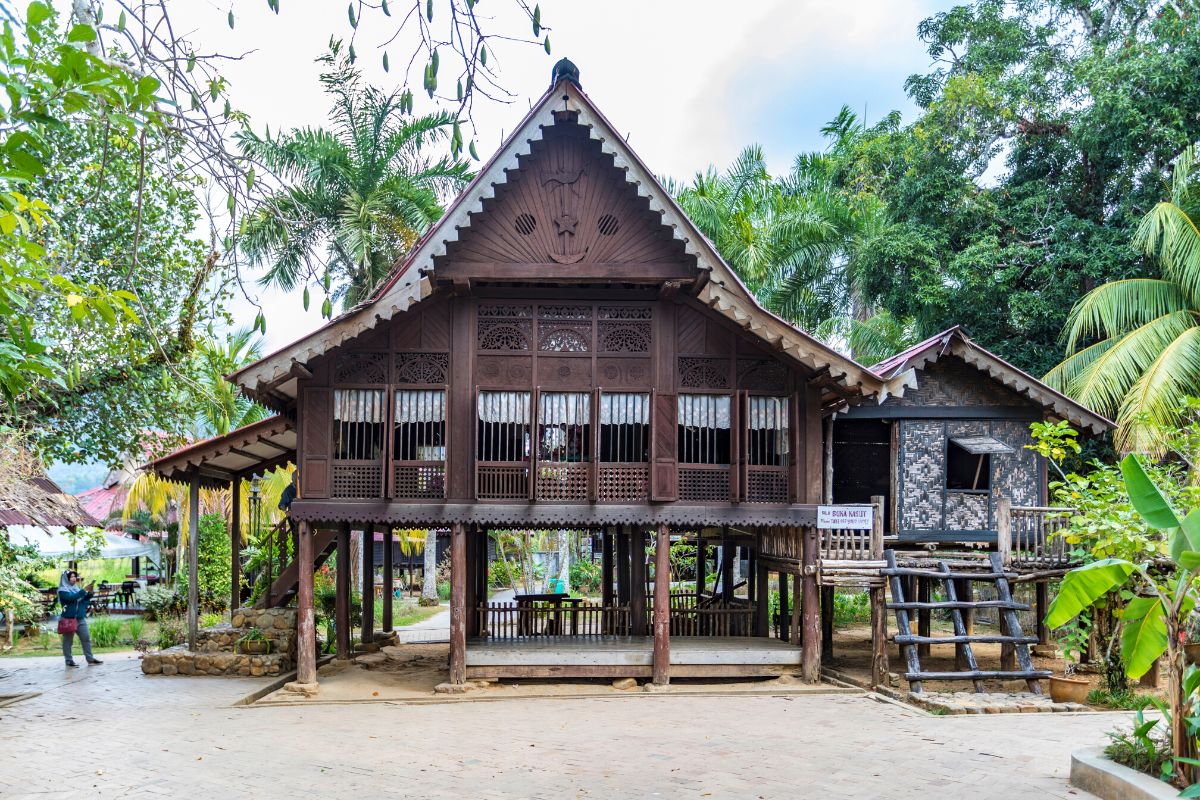 It was believed that Langkawi Island was cursed by a beautiful woman named Mahsuri many years ago.
The story goes that the island was doomed to suffer seven generations of bad luck, and weirdly, Langkawi''s tourism boom started when the curse ended…
Visiting Kota Mahsuri, walk around a man-made cultural village designed to reflect a traditional settlement from the time when Mashsuri was alive.
Inside the museum of her home is a mausoleum, also known as 'Mahsuri's Tomb'.
Stroll around the grounds and inspect the old-school wooden stilt houses, a local theatre and other educational displays showcasing local life.
Partake in games, enjoy a Batik workshop, pull water from Mahsuri's magical well, or watch a live performance show.
6 – Calling all animal lovers to Langkawi Wildlife Park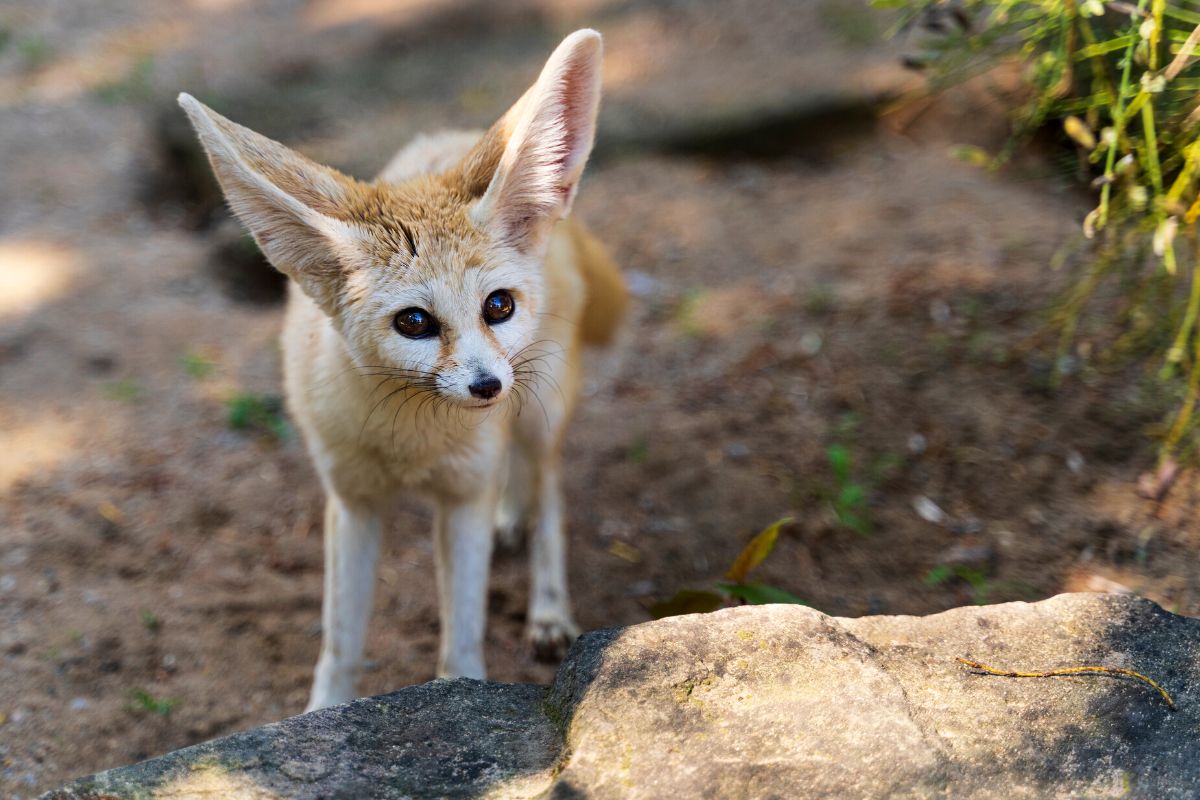 See an entire habitat of 150 different wildlife species at Langkawi Wildlife Park.
Interact with raccoons, feed the porcupines or play whistling games in a massive Budgerigar full of colorful parakeets (also commonly known as budgies).
Originally opening as a bird park only in 2002, today the grounds are divided into four main themed animal sections.
Visit the Ostrich & Allies, say hello to monkeys in the Primates Section, or stop by the Reptiles.
Apart from the Avery and Prey Birds sections, you can spot white peacocks roaming and pink flamingos standing on one leg.
Enjoy the Animal Talk Show, hit the Education Corner and the kids will have a blast at the interactive Kids Zone.
7 – Spend the day on a private island at Paradise 101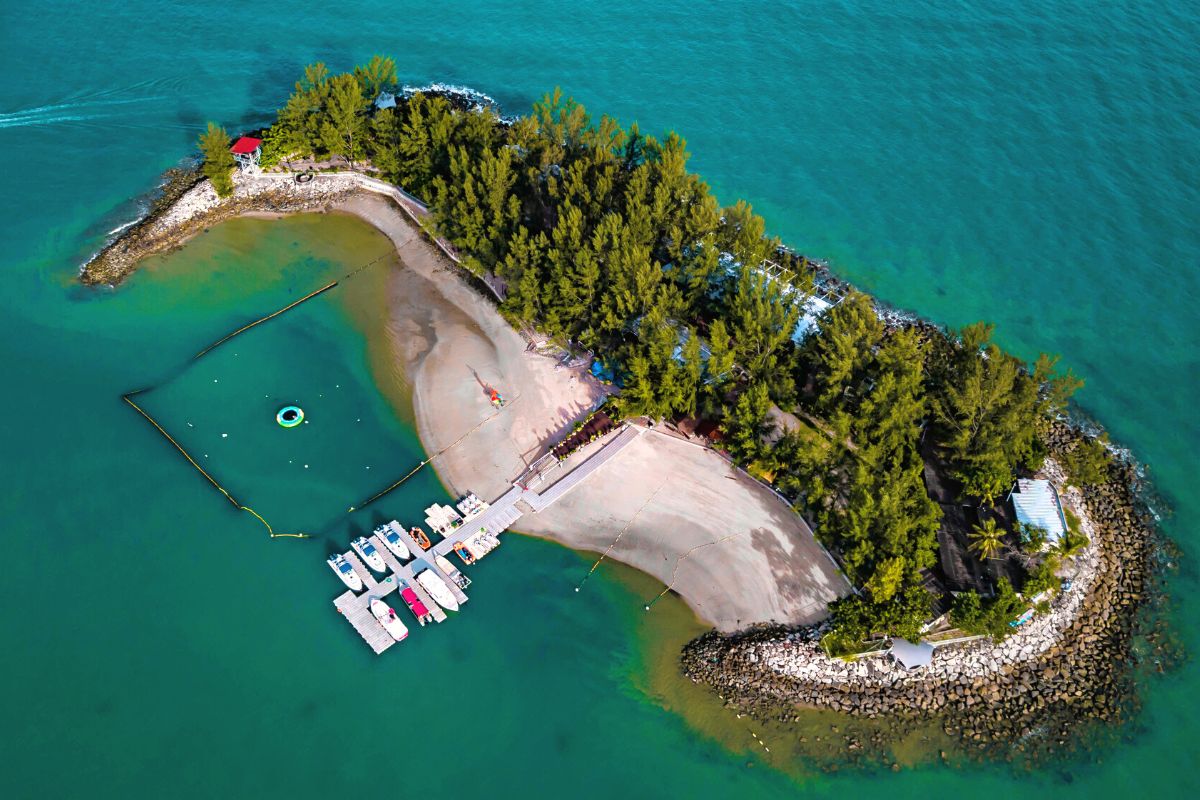 Ever heard of a private island day resort?
Just off the shoreline of Pantai Kok beach in Langkawi, travelers can visit this eco-friendly secluded isle, but only during the daytime.
Although guests cannot stay overnight at Paradise 101, spending the day here enjoy a myriad of outdoor activities, as well as unending photo ops.
Zoom around the ocean on a jet ski, or have all the fun riding banana boats. Cruise the waters on a kayak, or take in the views from above with a parasailing adventure.
Whether young or old, maneuver your way around the Aqua Park with inflatable rides and obstacles.
If you're just keen on chilling, spend the day on Paradise 101 beach working on your tan, or building sandcastles with the kids.
Spend a few hours snorkeling, explore the private island by foot, and there's a restaurant here too.
8 – Take a picture of Dataran Lang (Eagle Square)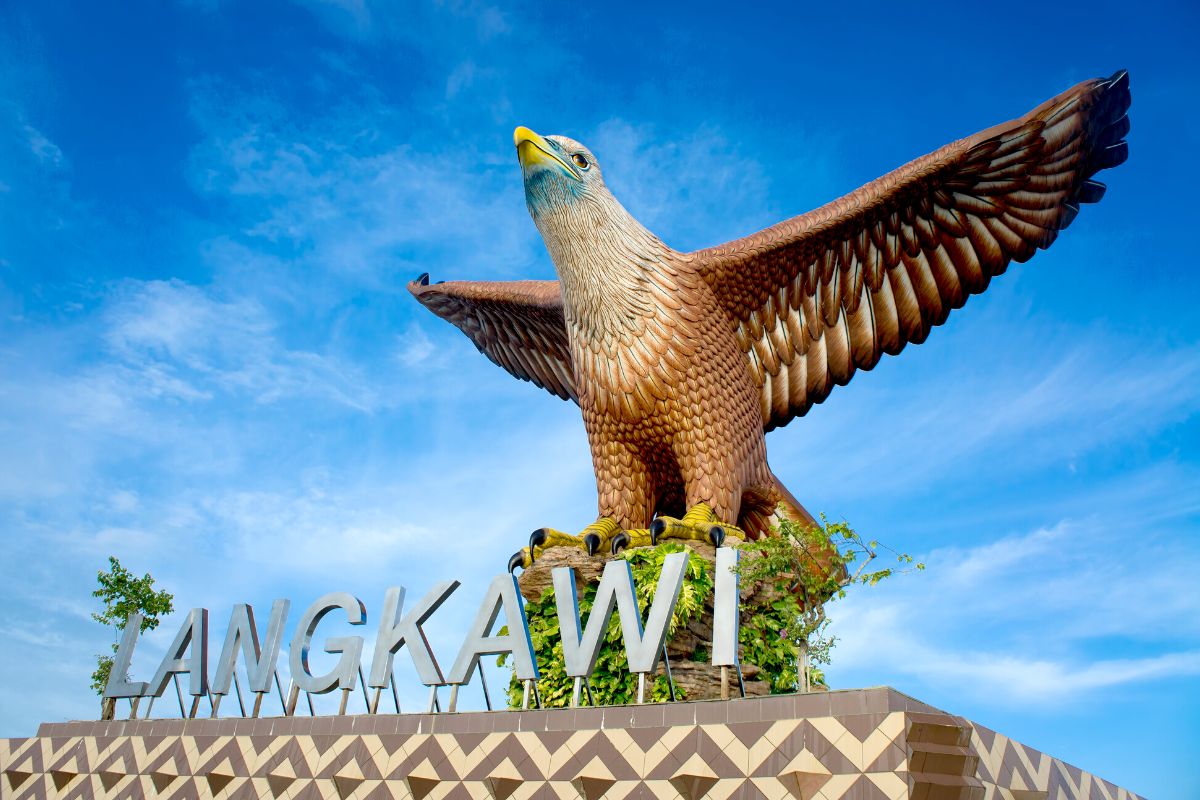 It's pretty impossible to miss the gigantic statue of the red and brown-colored eagle on the edge of the water as you arrive by boat to Langkawi.
Located at Dataran Lang, also known as Eagle Square, the 12-meter tall statue inside the star-shaped plaza is positioned to appear as if it's about to take flight, soaring into the sky.
Against its backdrop of green mountains, it takes on the illusion of being mid-air.
So why is the eagle so important? Langkawi derives its name from two Malay words. 'Helang' means eagle, and 'kawi' translates to reddish-brown.
If you're on a city tour, the revered town symbol is always included as a must-see attraction along the way. Arrive for the views of Kuha Bay in front, and take photos with the water fountains.
9 – The trek is so worth it at Telaga Tujuh Waterfall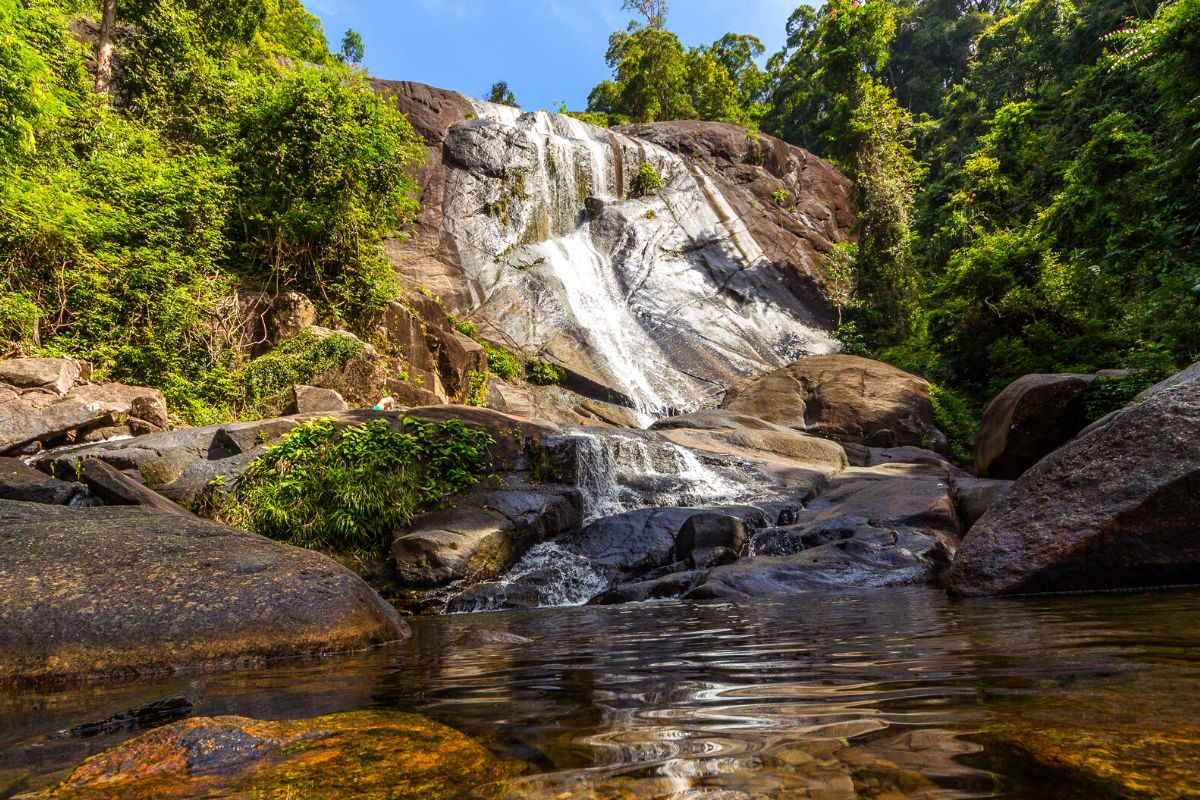 Also known as Seven Wells Waterfall, Telaga Tujuh is not for the faint-hearted, but the views and natural pools are so worth it.
Stemming from high up in the mountains inside Machinchang Cambrian Geoforest Park, a bit of trekking is required — 600 steps to climb included!
Divided into two main sections, even though its nickname is 'Seven Wells', there are multiple clusters of waterfalls inside the seven main waterfall pools.
The lower pools are the easiest to reach and the most popular, and once you've made your way up around 200 stairs, you'll hit the upper pools.
A standout feature, but a dangerous one to reach, is a natural infinity pool at the edge of one of the falls.
10 – Explore Dayang Island, also locally known as Pulau Dayang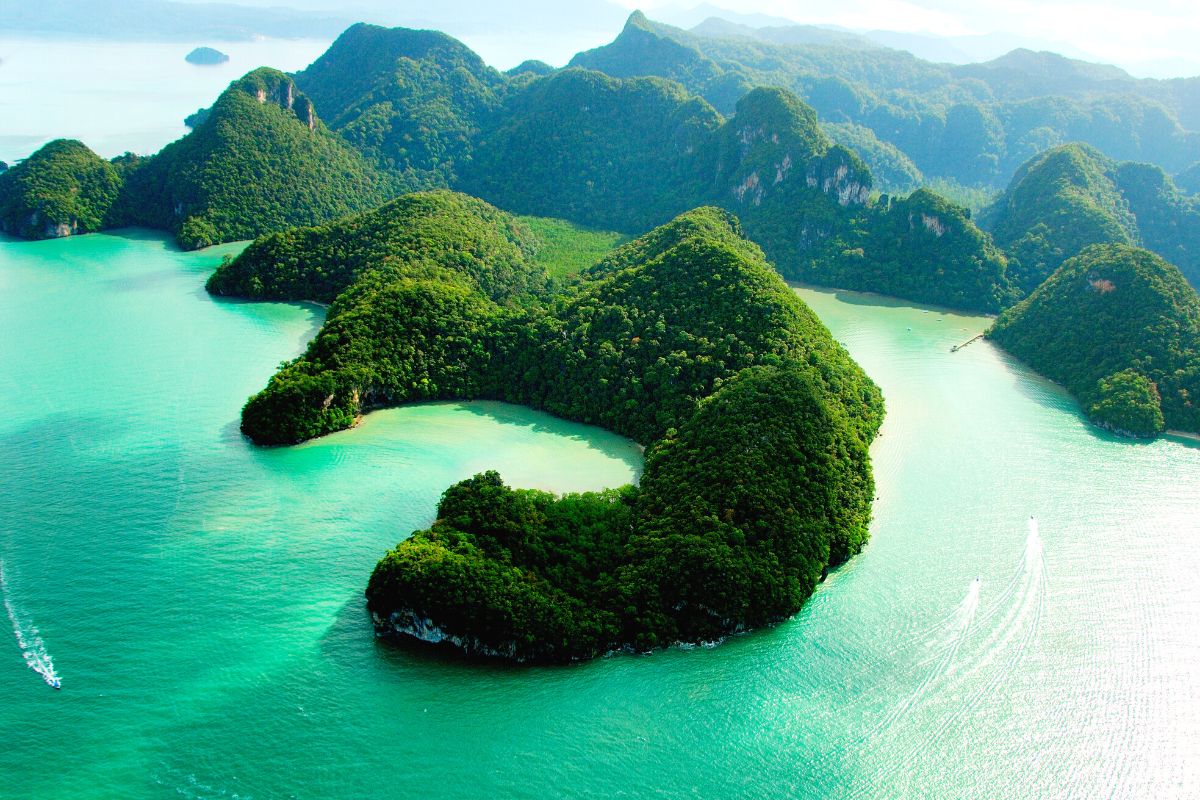 Out of the many things to do in Langkawi, if you have the time, a day trip to Dayang Island is a must.
It looks and feels like you're somewhere in Thailand, such as the Khao Sok National Park, also dubbed 'Little Guilan'.
Known locally as the 'Island of Pregnant Maiden', Langkawi's second-largest island is reachable via boat from the mainland.
A popular scuba diving and snorkeling site, travelers have the option to stay overnight on Pulau Dayang.
Day-trippers visit a local fishing village, and the Black Marlin (the fastest fish in the world) calls these waters home. Thanks to this, the isle draws avid sporting fishermen in.
One of the island's most unique features is the special Dayang Bunting Lake (officially  Tasik Dayang Bunting).
Following local myths, it's believed that women battling to conceive should submerge themselves in these waters.
Other popular lake activities include kayaking.
11 – Feel like you're stepping back in time at Oriental Village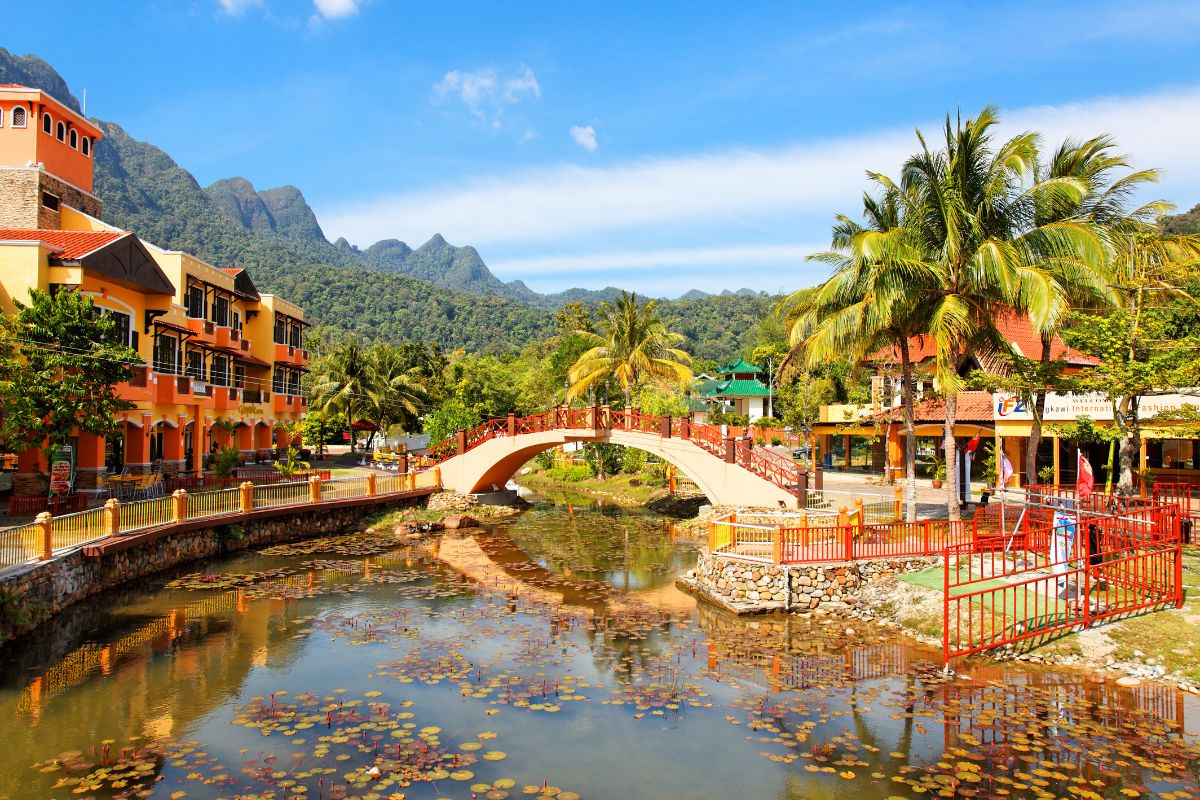 Don't be fooled — this isn't an actual village, but thanks to its man-made setup, the Oriental Village will have you fooled.
It's specifically been designed to replicate a local Malaysian village. Nestled at the foothills of Machinchang Cambrian Geoforest Park gives it a very authentic feel.
Crossing bridges over ponds with lily pads, and walkways covered in colorful umbrellas above you, there are so many insta-worthy moments to capture!
Lined with 95 stalls, shop for traditional attire, souvenirs, handicrafts and gifts, plus there are multiple food stores and kiosks.
FYI: All of Langkawi Island is a duty-free zone, including the shops here. The Oriental Village is located in the same center as the SkyCab.
12 – Standing 881 meters tall, it's Gunung Raya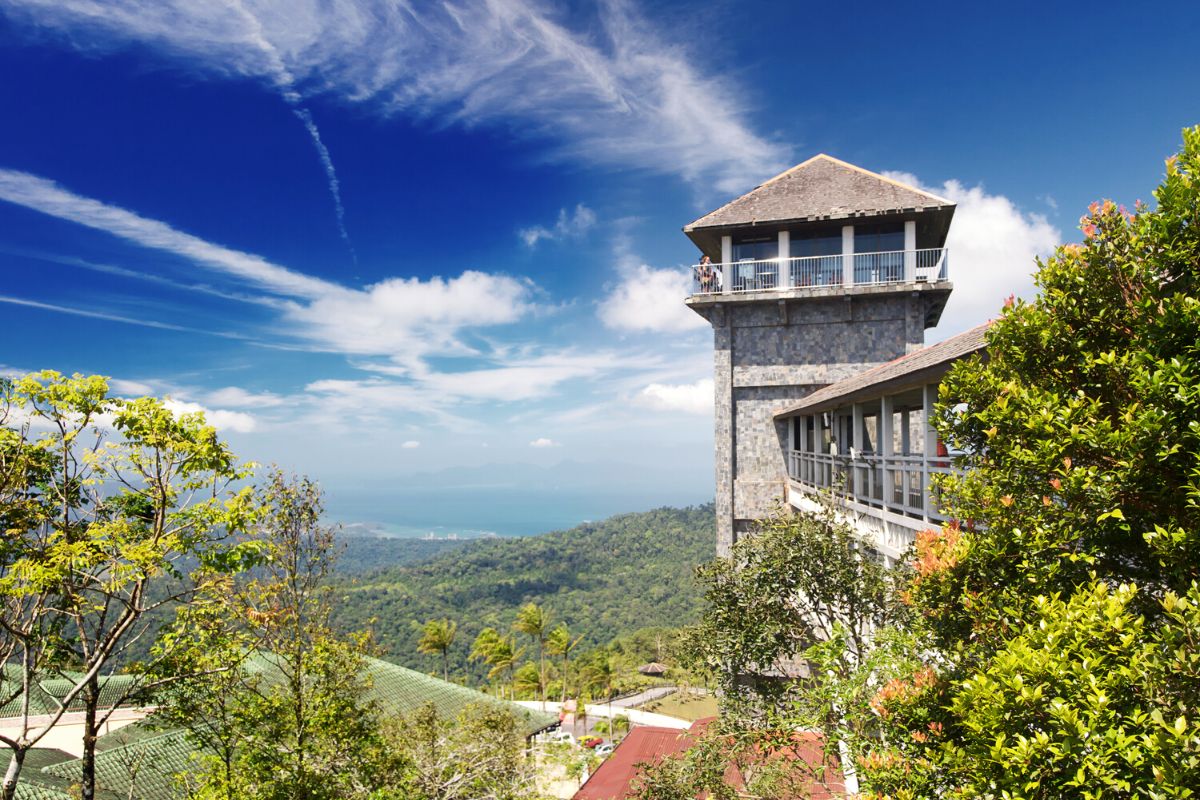 Swap the ocean for mountains and head for the highest peaks in Langkawi … The views from Gunung Raya are insane.
Speaking of, there are multiple designated viewpoints as you make your way to the top, and a few ways to ascend the mountain.
The easiest is taking a car drive up, or if you're comfortable, a motor-bike ride with the open air around you is bliss.
To really get a true feel of the mountain range and its landscape, make the summit to the top, known as 'Thousand Memories Eagle Stairs' (or locally as Tangga Helang Seribu Kenangan).
Why the name? To reach the peak, first, climb 4,287 steps… It takes around two hours in total.
Along the way, look out for the local wildlife and investigate the natural fauna growing in these parts.
Cyclists take note: a popular activity includes biking up the mountain road if you're game
13 – One of Southeast Asia's largest freshwater aquaria, Underwater World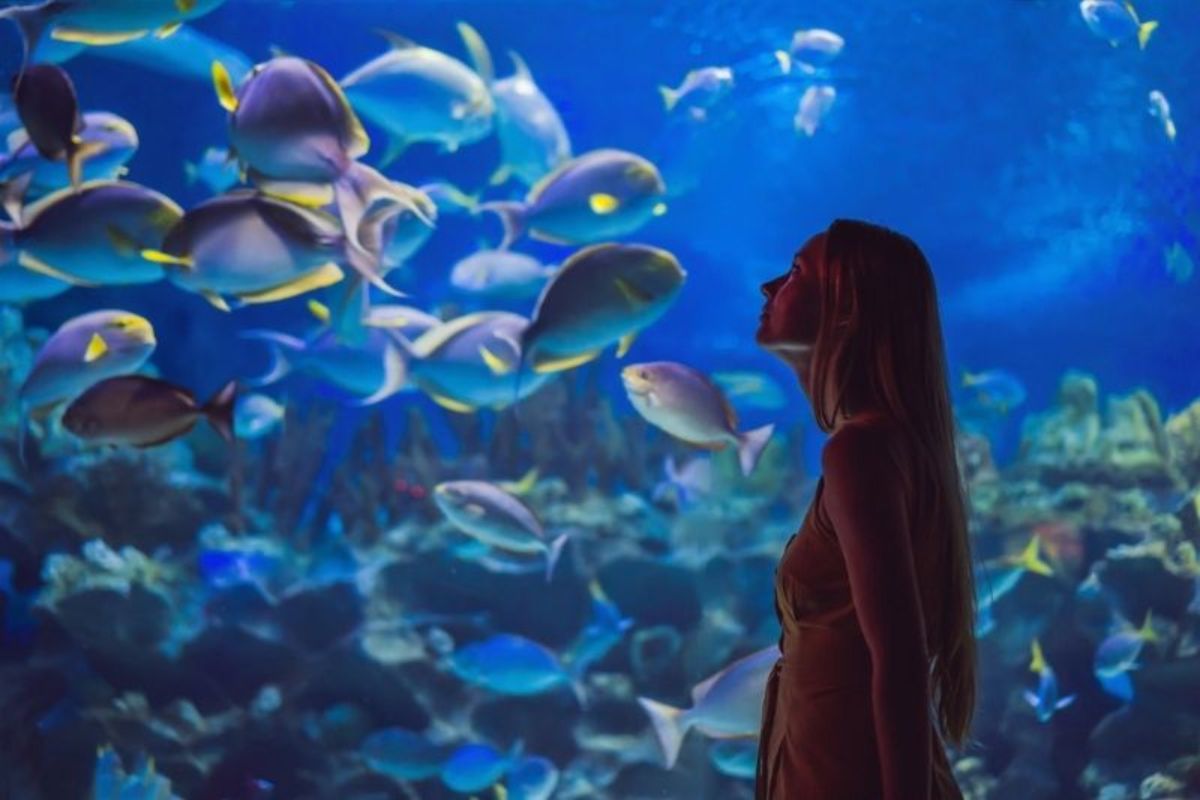 As part of Underwater World's mission statement, the concept and theme are "geared towards Knowledge, Education and Entertainment."
Standout features are walking under the two tunnel tanks as penguins or Giant Stingray swim above you. The Tunnel Tank is 15-meters long, and the other walk-through tunnel is 8 meters.
Visit the River Ecosystem where freshwater fish swim in the flowing streams, and the Tropical Rainforest is where the flamingos and other birds live.
Spot a prehistoric Arapaima fish (the biggest freshwater fish in the world), and visit both the Blacktip Shark and Whitetip Shark.
Other interesting tanks to discover include the Invertebrate Section, Venomous & Poisonous Section and the Coral Reef Section.
14 – Explore the UNESCO-listed Kilim Geoforest Park – the first of its kind in SEA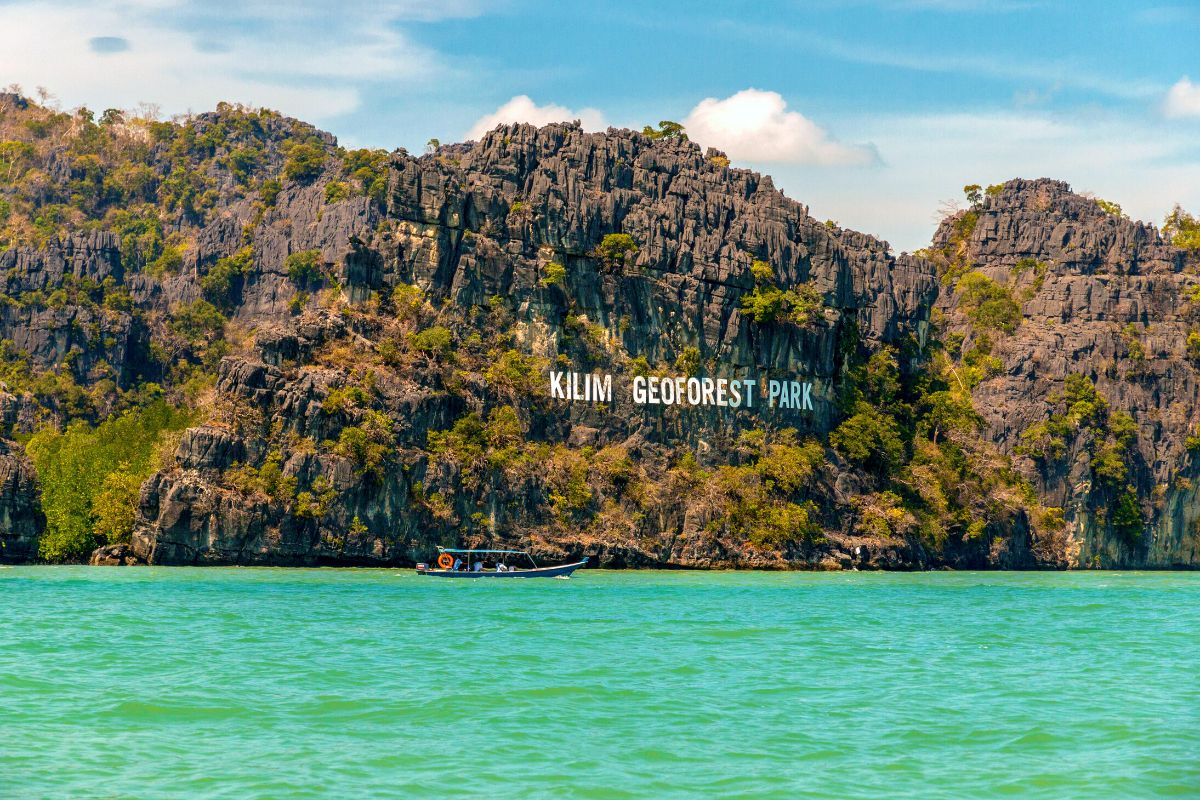 It's believed that the limestone rocks inside Kilim Geoforest Park are around 500 million years old.
Inside, you can explore the ancient formations and enjoy a boat trip on the waters. There are nine geo-sites to discover, and boat tours venture into some of the caves.
Spot otters and sometimes even dolphins, and hop off-deck for a dip in the sea.
Continuing by boat, venture into the dense mangroves, or you can kayak the coastal area instead.
15 – Feel like Lewis Hamilton go-karting at Morac Adventure Park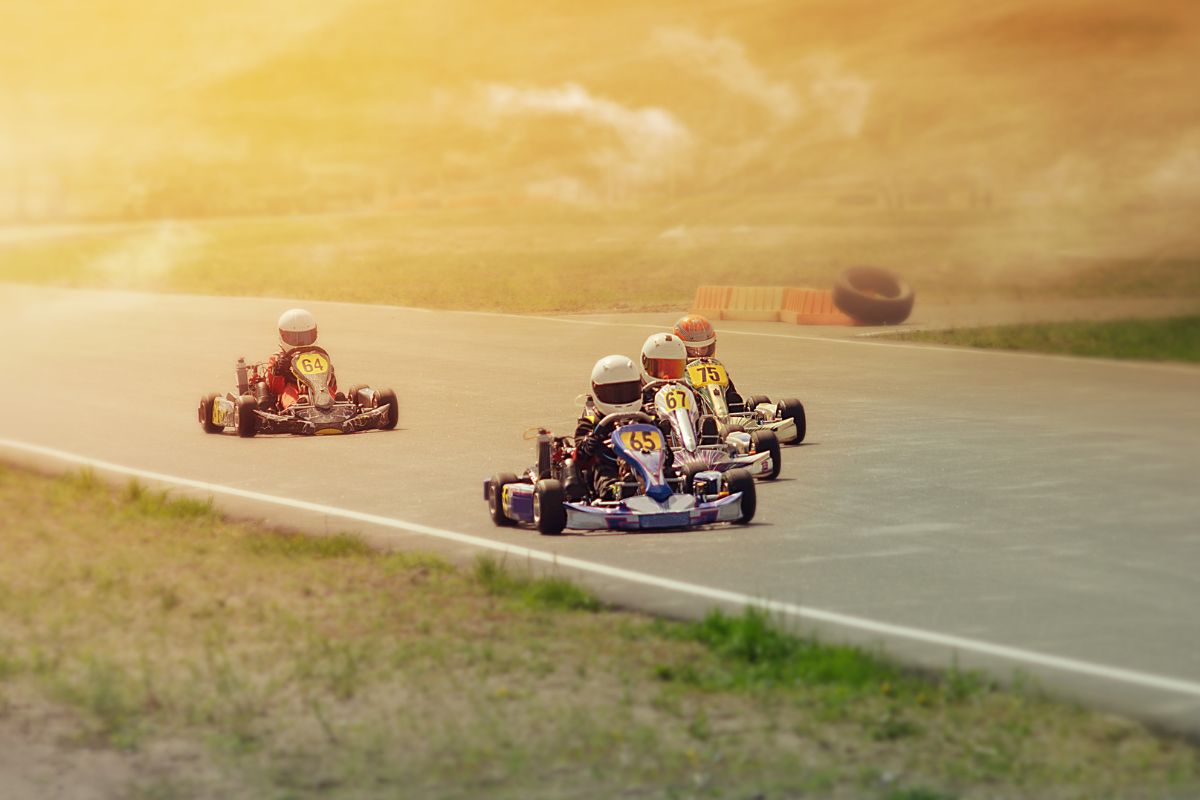 Open for both day and night sessions, put the pedal to the metal at Morac Adventure Park for an epic go-karting expedition.
The track is built to international standards and the karts that you drive are modernized SODI SR4 racing models, which are designed for indoor and outdoor driving.
Officiated by MAM (Motorsport Association of Malaysia), you'll feel safe and secure riding the course.
After a few adrenaline-inducing laps, grab a bite to eat at Hot Laps restaurant. Choose from a menu of Japanese, local delicacies and western favorites.
16 – Spend the day hunting down the best beaches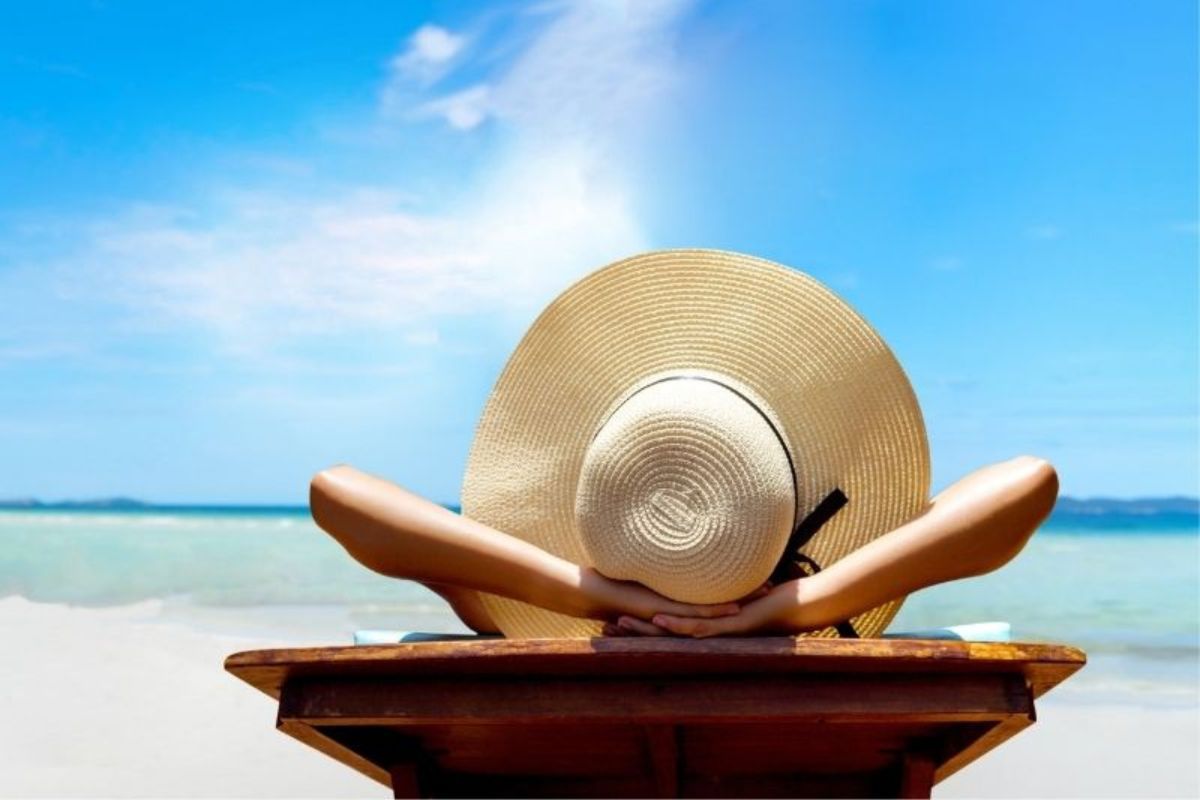 Langkawi is an island after all, and so the beaches are plentiful. With many to choose from, spend the day visiting the ones that tickle your fancy, and travel needs.
A small bay lined with Palm trees, Pantai Kok Beach is ideal for travelers looking for peaceful seclusion.
Beach-out where it's quiet at Pantai Tengah, but there are some activities around and places to eat. As the longest beach stretch, it's popular for surfing.
Pantai Cenang is undoubtedly the busiest and you'll find a plethora of typical beachy things to do and multiple dining options, including street food stalls.
For some of the softest sands and shores lined with wispy trees, Pantai Tanjung Rhu is dreamy.
Filled with rocks and surrounded by lush jungle, Pantai Pasir Tengkorak has a very stuck-on-a-deserted-island vibe offering complete privacy.
Visit Black Sand Beach (locally called Pantai Pasir Hitam) where, unlike the other beaches in Langkawi, the crystalized sands are charcoal colored!
However, it's not recommended for swimming, instead, jump into the clear ocean at Datai Bay beach.
Families head to Shark Bay Beach (Teluk Yu), for lunch and a swim in the super shallow waters — don't worry, there are no sharks around.
17 – Take stunning photos at Laman Padi Langkawi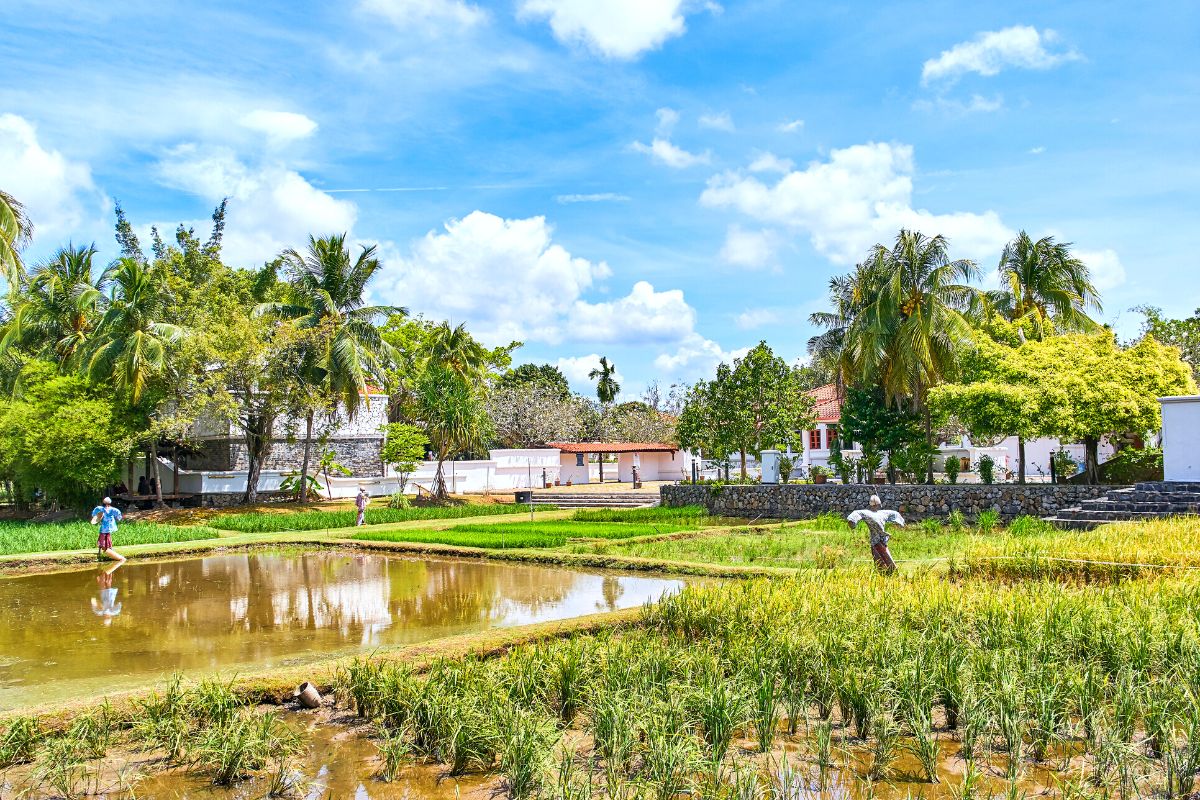 The word 'laman' translates to 'field' and 'padi' means 'rice' in the Malaysian dialect.
This eco-tourist attraction lets visitors freely roam unending green rice paddies, snapping gorgeous photos in the fields and breaking for tea in the middle of it all.
The open-air space serves as a museum where you can learn about the cultivation of rice harvesting.
Watch the local farmers at work or take an educational tour inside the Heritage Gallery.
Other photogenic spots include the rooftop herb garden.
Spoil yourself after the exploring and check into the spa for a rice-husk exfoliation treatment!
18 – Go island-hopping via a boat tour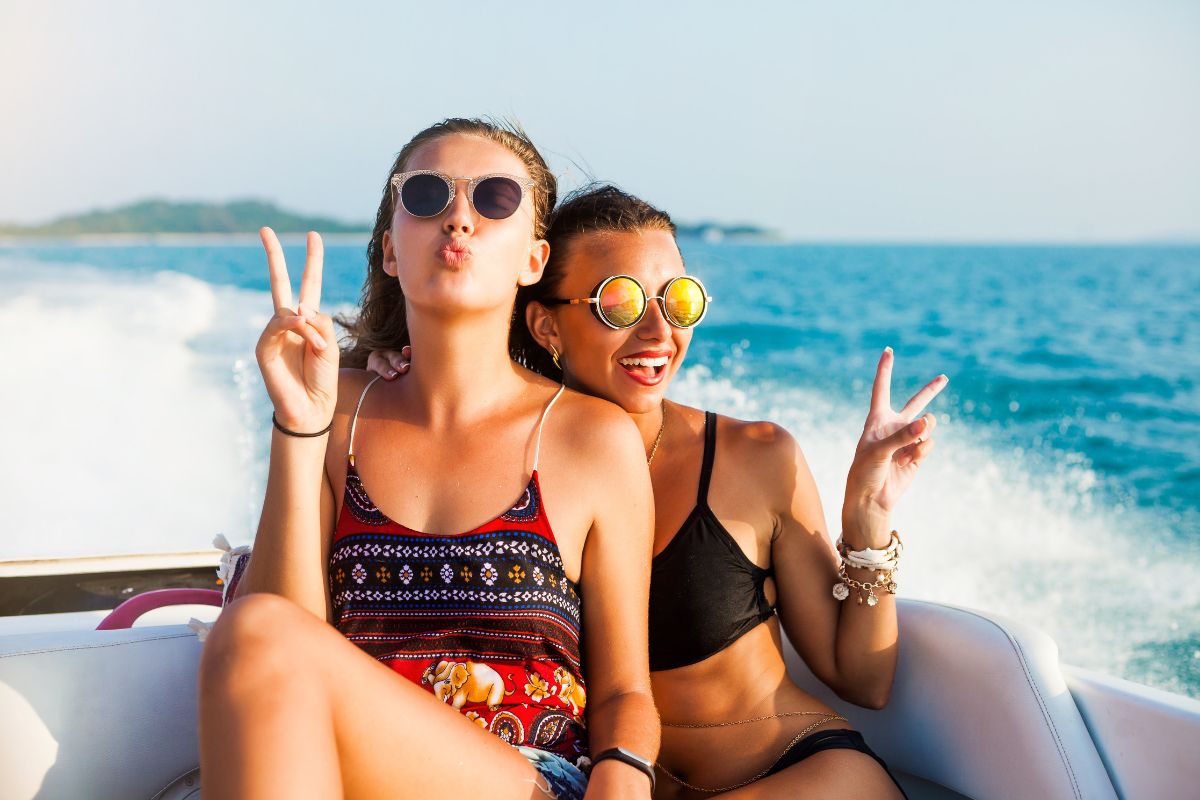 With an archipelago consisting of 104 islands, discover Langkawi and spend the day out at sea sightseeing.
You can specifically book a boat tour that goes island-hopping around various islands.
Popular destinations to visit include Pulau Beras Basah, Pulau Singa Besar and Pulau Dayang islands.
Stop off to cool down in the ocean, explore the islets and take short boat rides around each.
Instead of island-hopping, opt to spend an afternoon fishing the deep sea, choosing a Fishing Boat Tour.
Swap coastal scenes, and take a boat tour along the Kilim River, heading into the tropical mangroves.
19 – Discover Temurun Waterfall – the tallest one in Langkawi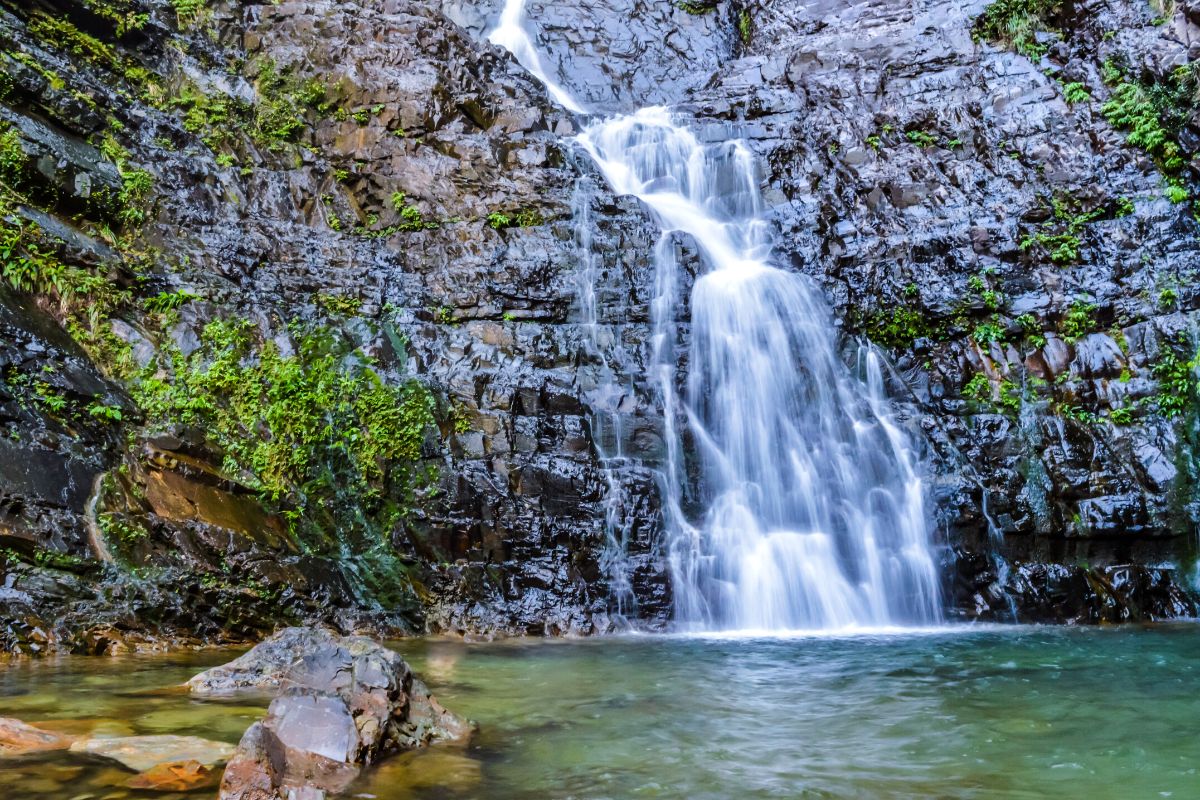 Falling from 200 meters above the ground of Mat Cincang Mountain, the three-tiered Temurun Waterfall is an impressive sight.
The waterfall is easy enough to reach, and the first level is located just a five-minute walk from the parking lot area.
This pool is the most popular and in between swimming, zen out and take in the natural surroundings under one of the wooden gazebos.
To reach the other tiers, climb some stairs and pathways, each getting slightly more difficult to trek the further up you go.
Adventurers beware… To get to tier three you will need to walk a staircase with no supporting rails, so take caution.
20 – With seafood in abundance and many pretty locations, feast at Langkawi's best restaurants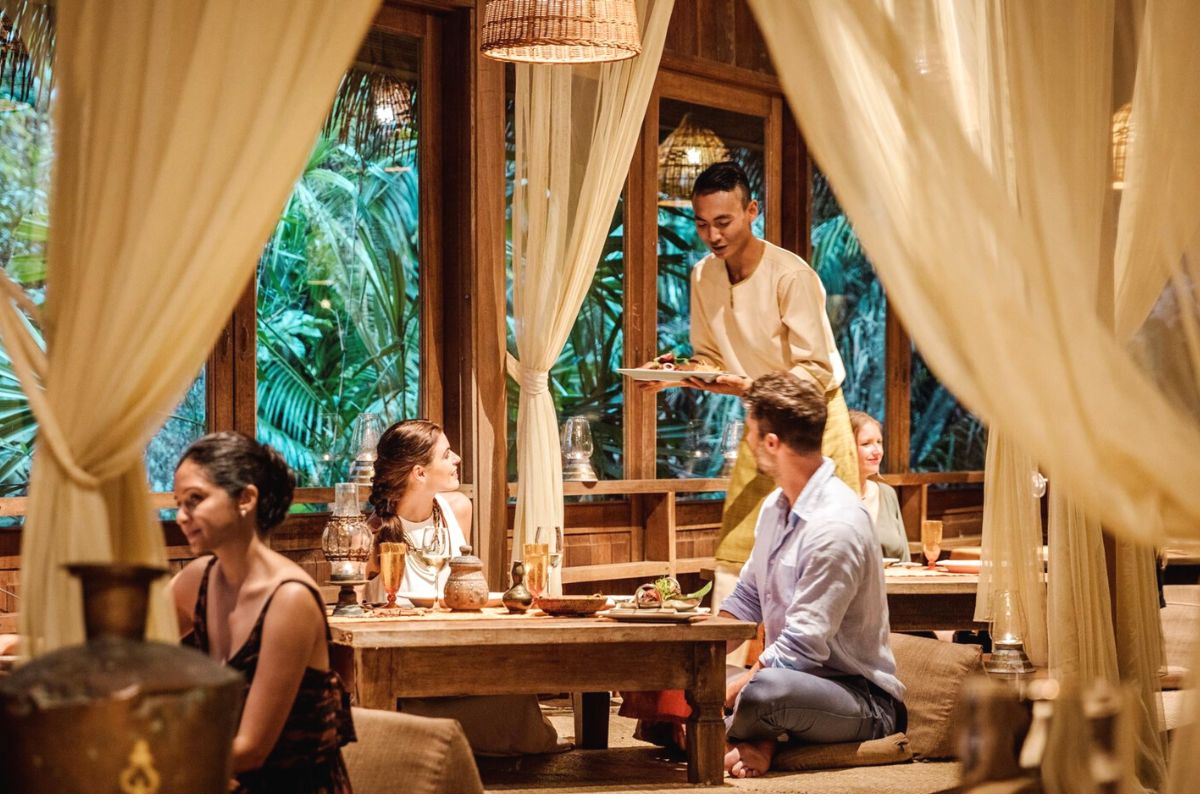 Enjoy a fine time dining around Langkawi, with a variety of cuisines to choose from.
Indulge in spectacular Thai food in the middle of the jungle under The Pavilion's open-air canopy.
Overlooking the ocean, the views at Kayuputi are a deal-breaker and enjoy a stylishly romantic fine-dining experience.
Feast on classical Malaysian and Indian dishes at The Gulai House and the restaurant has been designed like that of a local kampung for extra authenticity.
For more restaurants with ocean locations, The Cliff restaurant is perched over the rocks, and dine with your feet in the sand at the relaxed and delicious, Scarborough Fish & Chips.
Craving Japanese food? Get your fix at Unkaizan Japanese Restaurant and Langkawi Fish Farm Restaurant is renowned for its fresh seafood.
21 – Put on your hiking boots and head into the Langkawi Rainforests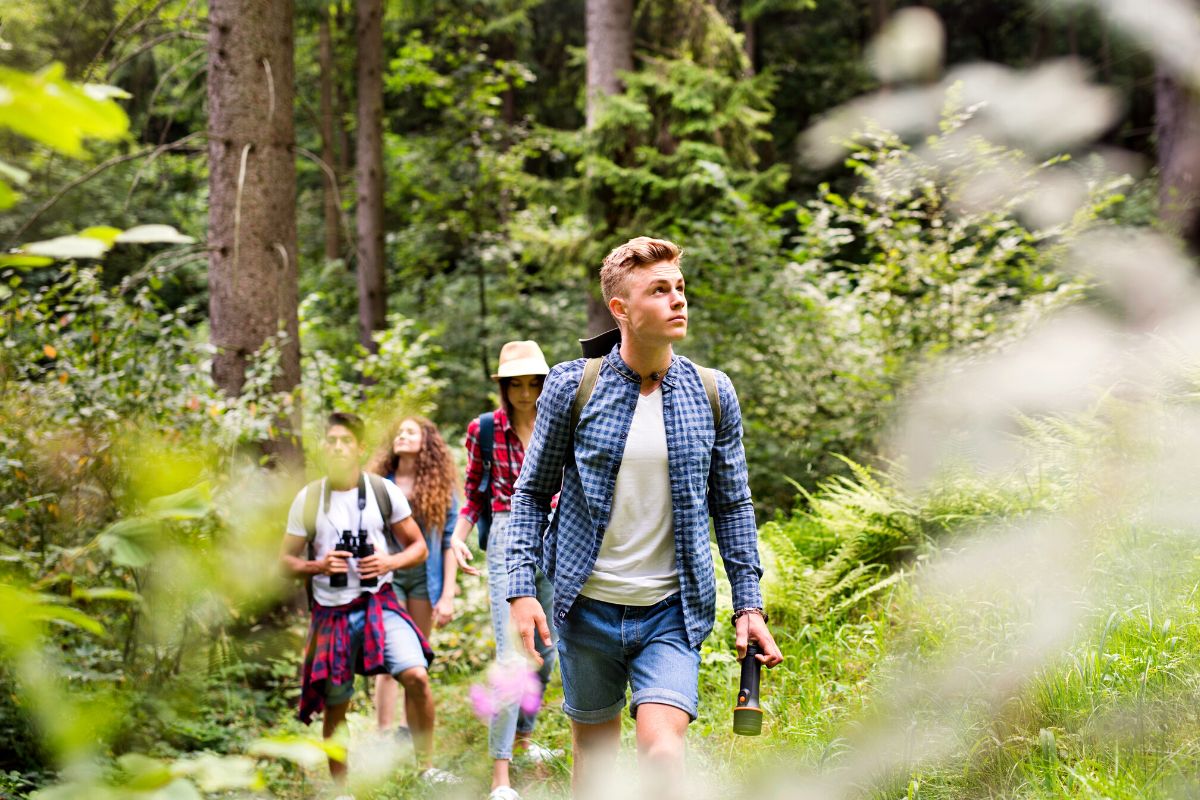 While it seems like Langkawi is just one big rainforest, technically it's made up of a few major reserves.
These are mainly Matcincang Forest Reserve, Gunung Raya Forest Reserve and the Bukit Malut Forest Reserve.
Jungle trekking and hiking are popular activities throughout all three.
Spend the day in the freshest air, listen to the birds and insects chirp and sing, and spot exotic butterflies or cheeky monkeys in the trees.
To get the most educational experience, choose a guided hike through one of the rainforests where you'll learn about the natural vegetation, flora and fauna.
22 – If you enjoy the need for speed, try jet skiing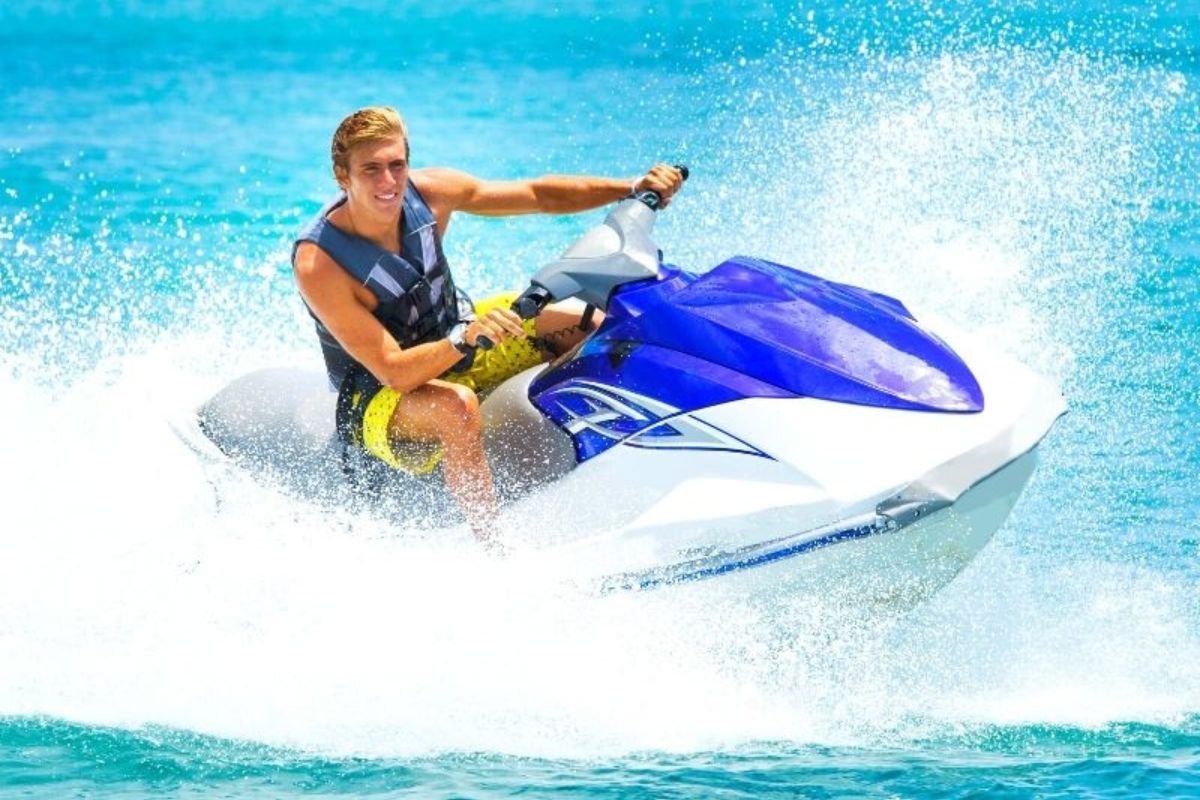 Hop on the back of a jet ski and ride around the Andaman Sea.
Popular locations to do the watersport are the beach at Paradise 101 and Dayanga Island, among others.
It's a popular outdoor activity to do in Langkawi and jetski adventures vary.
Choose a jetski island-hopping tour where you can make the most of your time, zooting on water from one isle to the next.
For a moment you'll never forget, head out onto the ocean at sunset hour and play on the waters as the sun begins to dip.
23 – Gasp at the color of the ocean at Pulau Payar Marine Park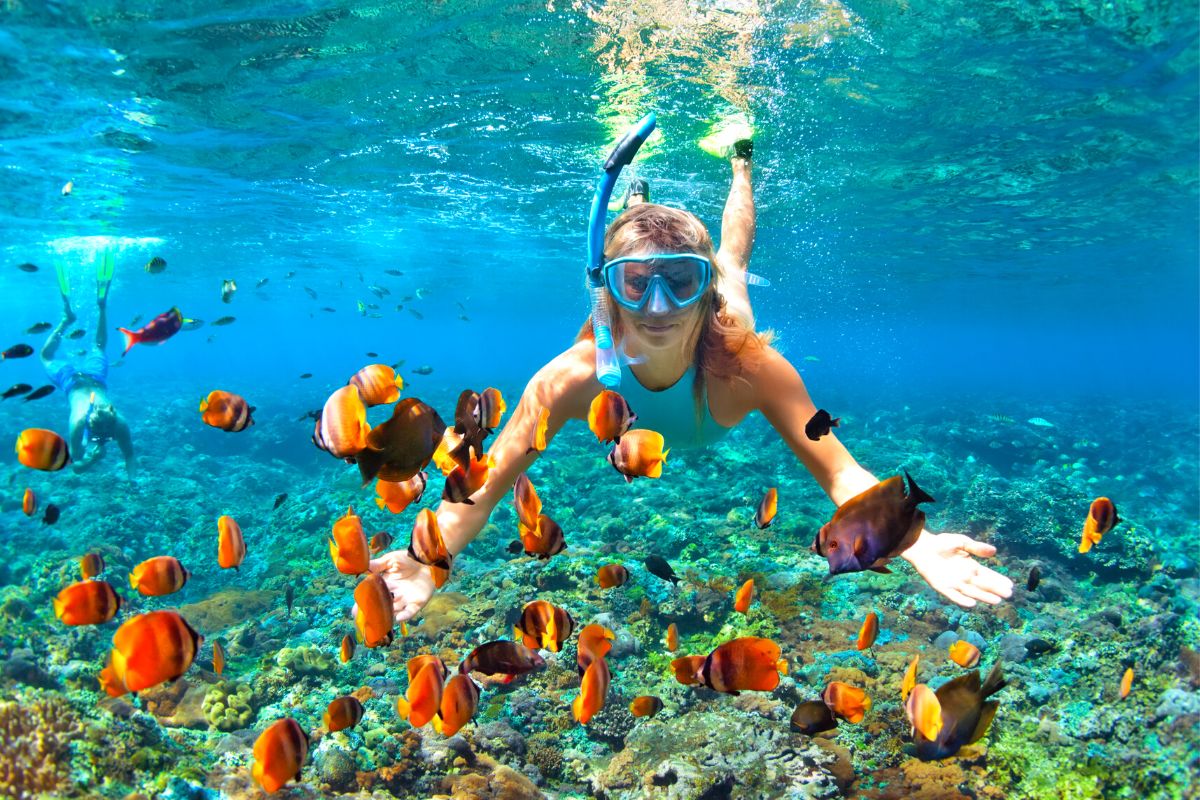 For some of the most beautiful waters in all of Langkawi make your way to Pulau Payar Marine Park.
The oceanic reserve is made up of four islands: Payar, Kaca, Lembu and Segantang.
At Payar Island (the largest of the four islands) is the Marine Park Center where visitors can find information about what to see and do.
Unsurprisingly, snorkeling and diving the underwater world are the most popular things to do on a day trip to Palau Payar.
The crystal-clear waters provide excellent clarity for spotting schools of marine life and colorful coral.
Reachable by boat only, stay dry during your day trip and hike one of the island trails or enjoy a beach picnic.
P.s. For those wanting to explore inland, you first need to get permission from local authorities.
24 – You don't need to cross the border to check out Wat Koh Wanararm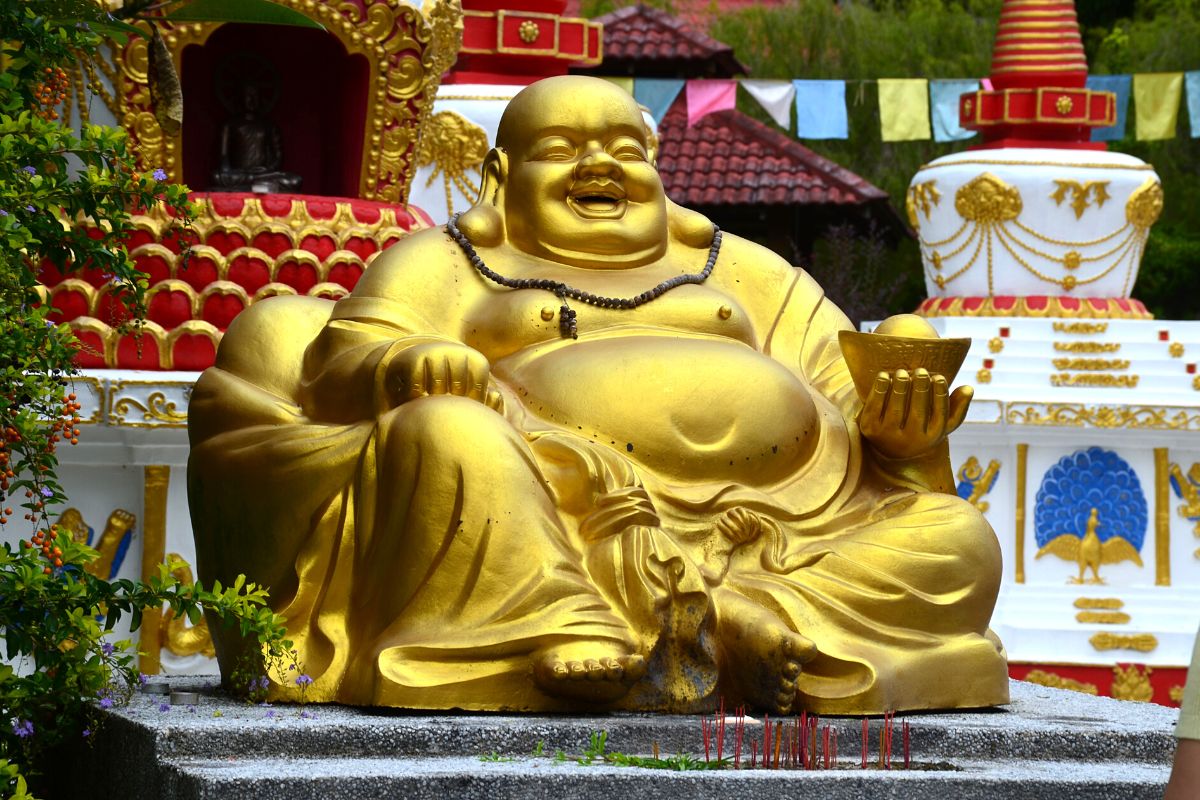 When traveling to Thailand and there's a 'wat' involved, you know it's temple sightseeing time!
While not in Thailand, Wat Koh Wanaram is a Thai Buddhist temple located on the island of Langkawi.
A standout feature is the breathtaking white marbled statue of the Buddhist bodhisattva (an awakened or enlightened being), named Kuan Yin.
The goddess of compassion, kindness and mercy looks like it's carved into the mountain rock — although it isn't.
There's also a large gold statue of the sitting Buddha, and inside the main prayer hall, marvel at smaller models depicting different Buddhas.
Wander around the manicured gardens, take photos of the giant green nagas, and investigate the eight stupas. Each has a unique inscribing and meaning.
FYI. This temple is called many names, such as Wat Koh Wanaram, or referred to as Luang Phor Khoon (named after the temple's founder).
25 – Known locally as "The Field of Burnt Rice", explore Beras Terbakar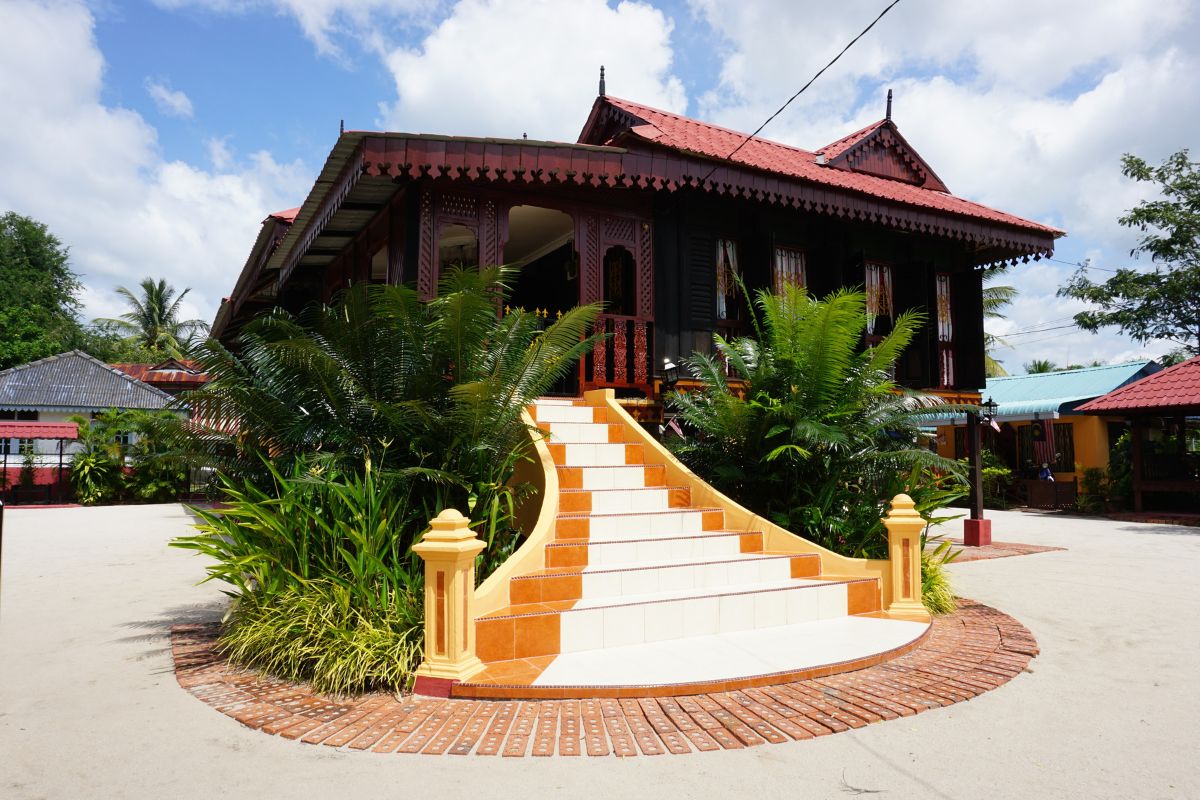 Fun fact: Back when Langkawi was still known as 'Keda', it was invaded by Siam, the country we today know as Thailand.
A historical site more than anything, during this time in 1821, the local villagers gathered all of their rice harvests and burnt it all in this exact location.
(When Siam invaded, they wanted to conquer the island's biggest-producing food supply, rice! To prevent this from happening, the village chief ordered the local folk to burn it all instead.)
Visit the spot where it all went down and on exhibit at Beras Terbakar is a small glass cabinet that contains real grains of burnt rice from the event.
On the short walk from the car park to the museum attraction (built to replicate a traditional Malaysian house), there are a few souvenir stalls to mosey over.
26 – Pretend to be in the circus at Langkawi Adventure & Xtreme Park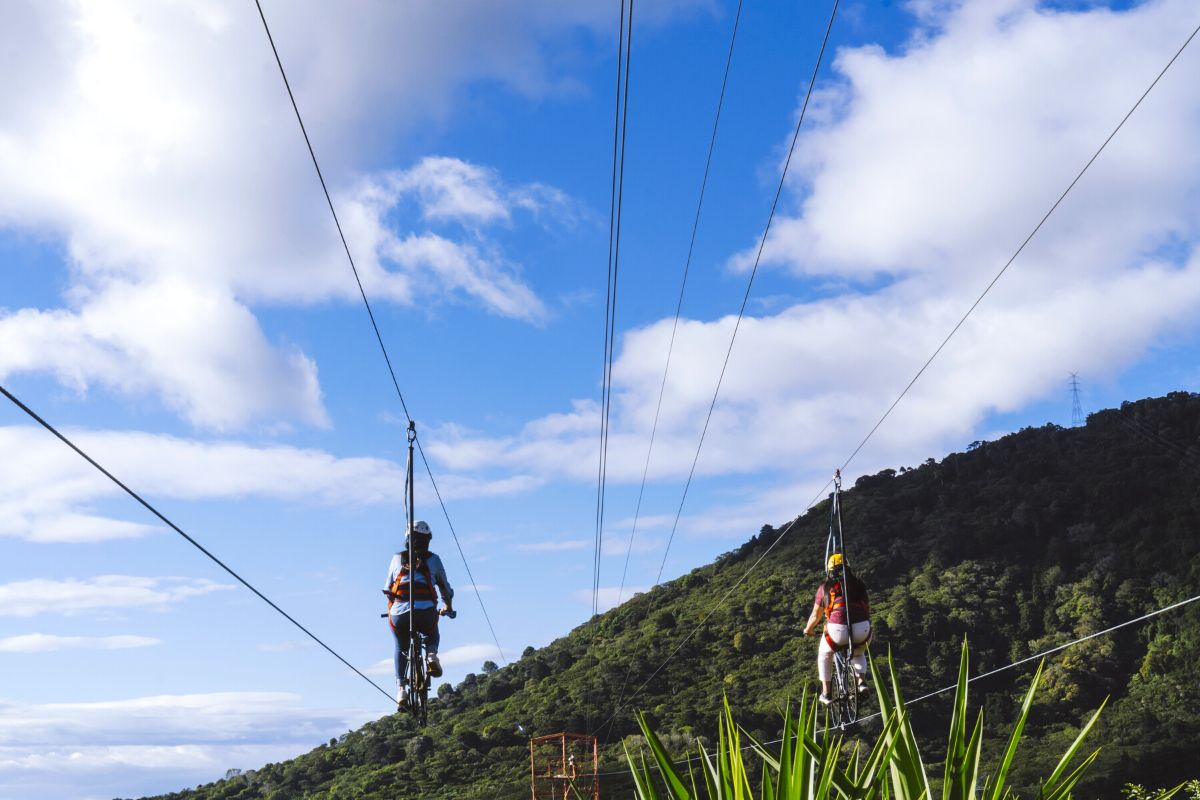 Filling adrenaline-junkies needs since 2005, Langkawi Adventure & Xtreme Park is the place for all things thrilling!
There's a list of fun and exciting outdoor activities and sports to participate in such as go-karting, paintball, archery shooting, and ATV rides.
Trek through the jungle on horseback or zipline through the treetops instead.
One of their latest attractions is the SkyBike. In mid-air, put your balance to the test and cross a tightrope on a bicycle whilst strapped in and supported by suspension ropes!
It really is extreme!
27 – The perfect chance to finally try parasailing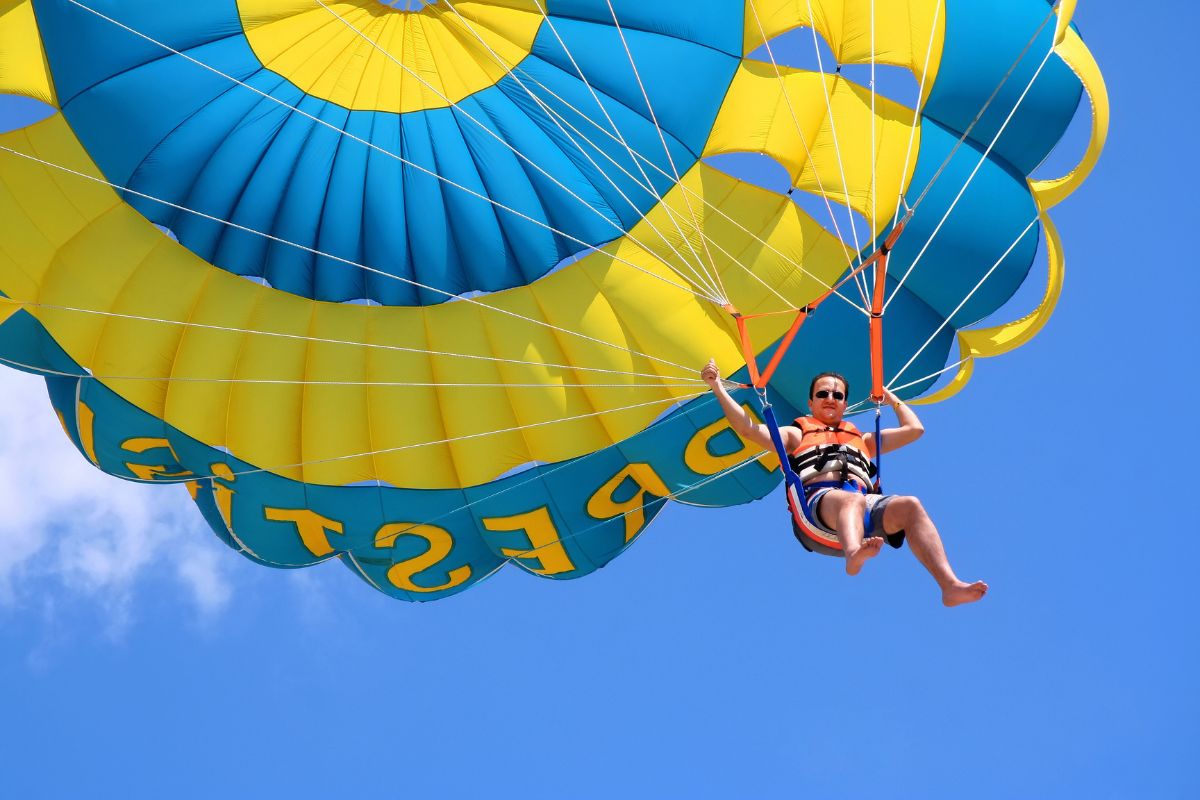 This activity is ideal for couples, friends and even families as you have the option to choose between a single, double or triple flyer.
Unlike a lot of parasailing adventures, flyers don't free-sail through the air. Instead, you're clipped onto the back of a boat by a metal extension rod.
This type of parasailing ensures a super safe journey and a secure landing afterward. It also makes it suitable for younger ages.
When it's time to take off, fly 152 meters above the waters, and it's the perfect chance to get a bird's eye view of the landscape below.
28 – It's hot spring time at Ayer Hangat Village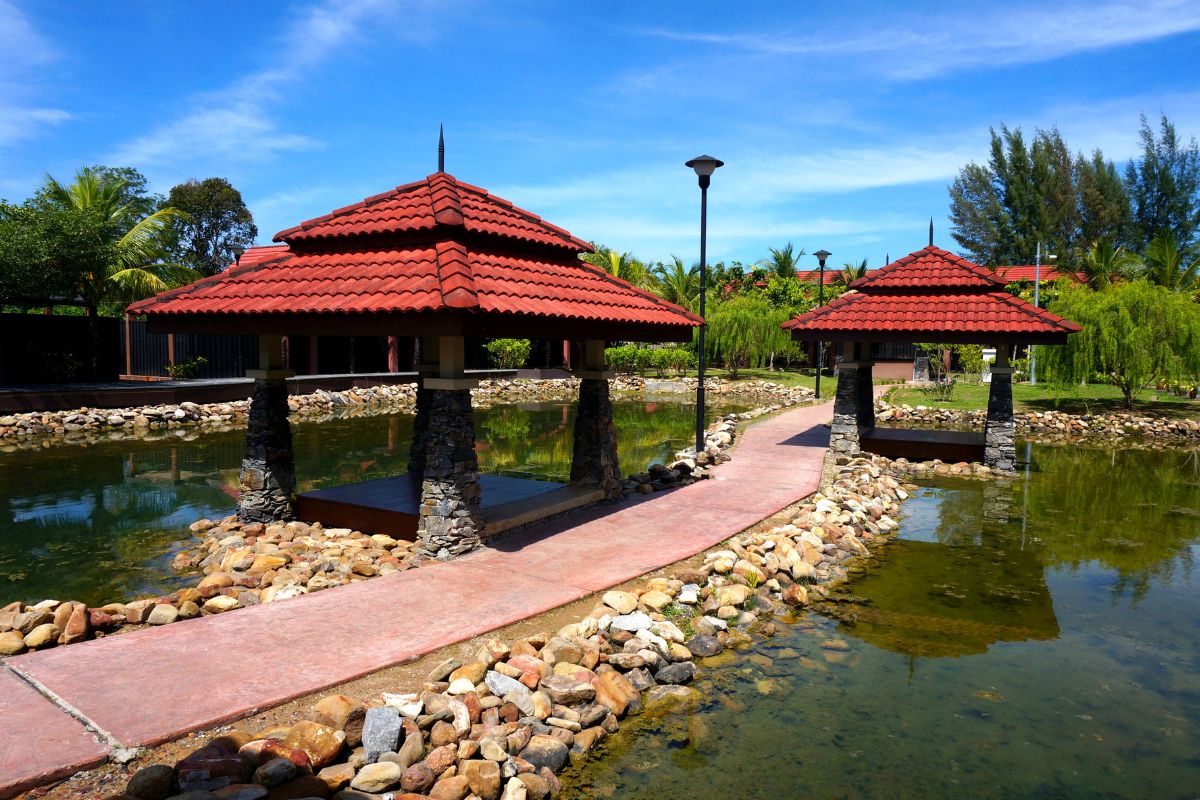 Relax and rejuvenate at Ayer Hangat Village, surrounded by greens and with all the tropical jungle feels.
This tourist village offers many unique activities that focus on well-being and the cultural side of Malaysia.
Take a dip in the natural salt hot springs, or unwind at the Malay Wellness Spa & Treatment Langkawi.
If here with kids, or if you want to learn something new, try making traditional crafts.
Interestingly, around the village, there are healing wet and dry reflexology pathways with stones that target pressure points in your feet as you cross over them.
Learn about the cultivation of mushrooms in the Mushroom Village, and the Permaculture and Herbal Garden is a must-visit.
29 – Spend the day snorkeling, swimming and sailing around Beras Basah Island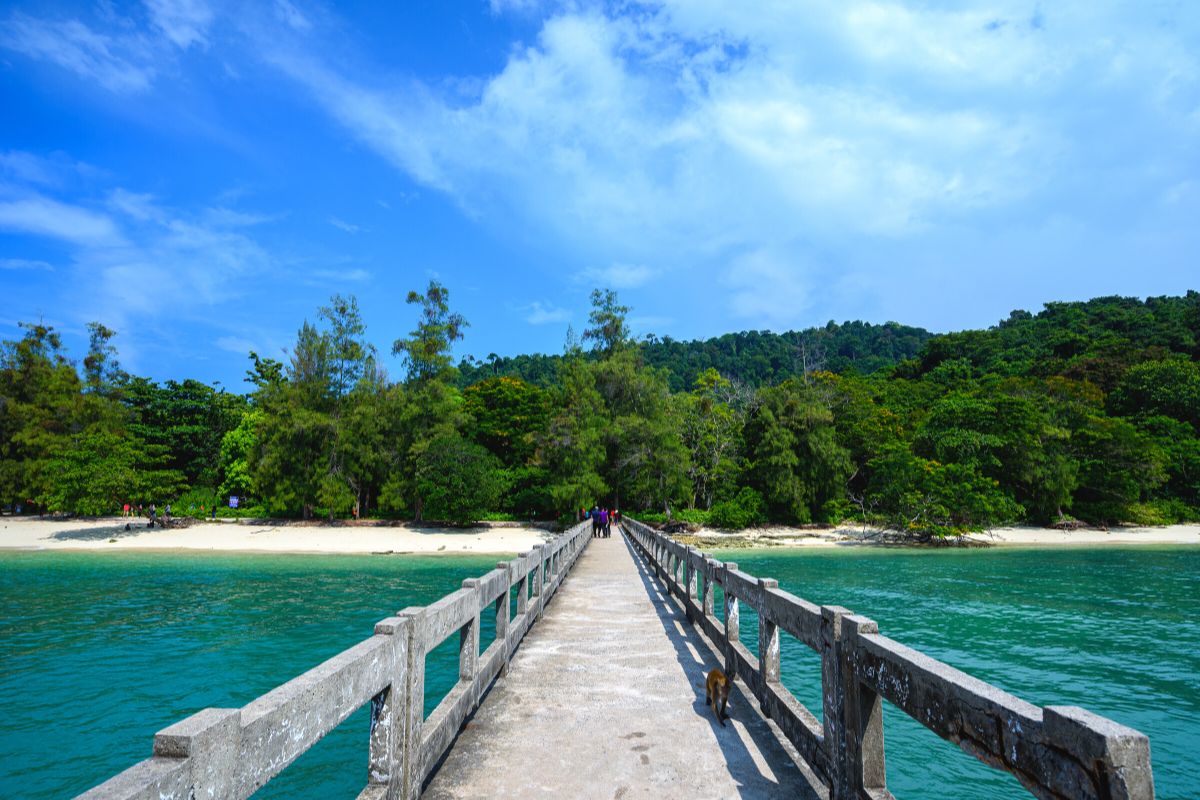 The super-flat, see-through waters surrounding Beras Basah Island make it a must-see day trip from Langkawi.
Officially named Pulau Beras Basah, the land here feels completely untouched, like it could be the destination for the next season of Survivor.
Although you cannot stay on the Island, it's very popular for day excursions and there are many outdoor activities to do.
Ride banana boats, go parasailing or take a high-speed ride on a jetski.
30 – Home to over 1,000 bats inside Gua Kelawar (i.e. Bat Cave)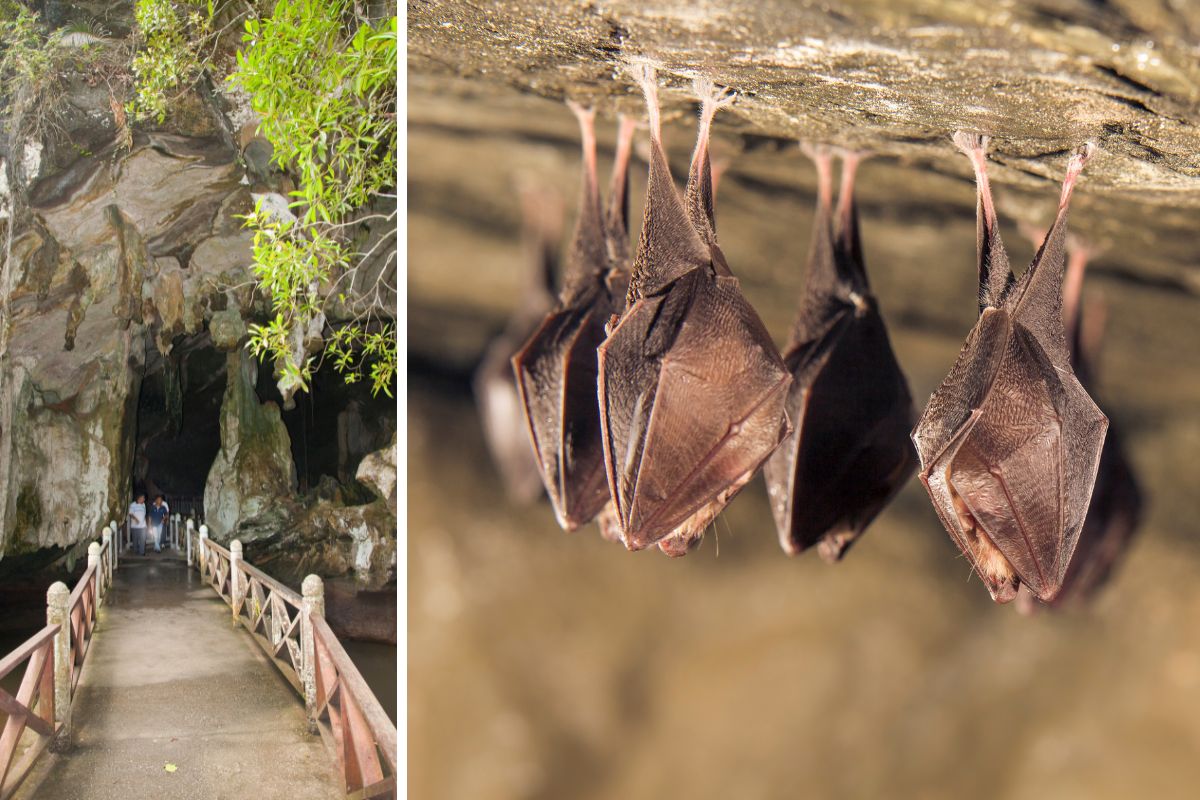 Staying true to its name, if you've ever wanted to be the real Batman, Gua Kelawar (directly translating to bat cave), is the spot to visit.
Heading through mangroves along the Kilim River, you'll spot the 60-meter-long pitch-black cave where Malaysian fruitbats reside.
To see the bats hanging upside down, you will need to make your way into the cave and have a flashlight in hand
(There are locals outside the Gua Kelawar entrance selling torches if you don't have one.)
Once inside, shine the light towards the high ceiling and witness the spectacle… if you dare…
To visit Gua Kelawar, you have to take a 90-minute boat ride. Along the journey, sit back and enjoy the natural Langkawi landscape scenes.
31 – It's time to unwind at the island's spas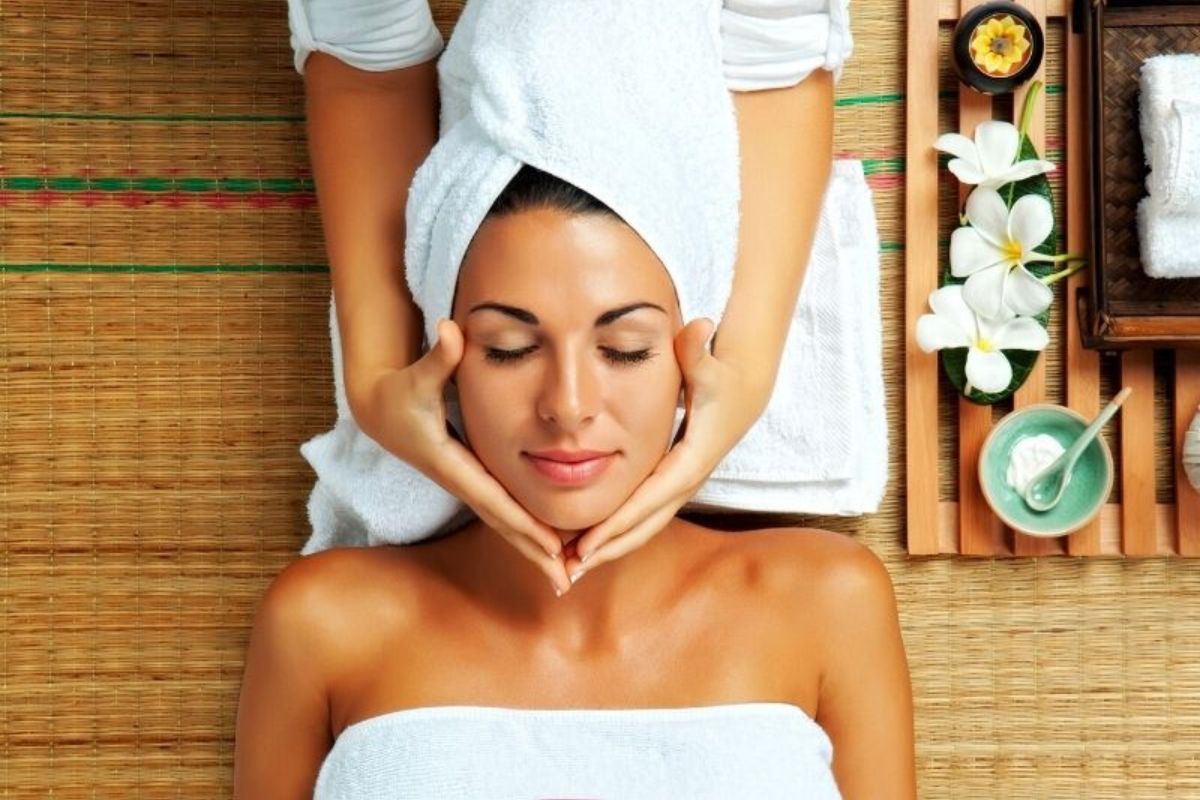 Add the cherry on your island vacation cake and enjoy a few hours pampering yourself at one of Langkawi's spas.
For the best couples treatment, book a package at the award-winning, luxury Geo Spa at the Four Seasons Resort.
Located smack bang in the middle of a forest, Rumah Holistic (also known as House of Holistic) offers wellness programs and treatments, including reiki and meditation classes in the most tranquil setting.
Grab a facial or Ayurvedic massage at the Heavenly Spa by Westin Resort.
If you feel like splurging, take yourself to cloud 9 at the Iridium Spa at the St Regis Langkawi.
32 – Create your own batik artworks at Atma Alam Batik Art Village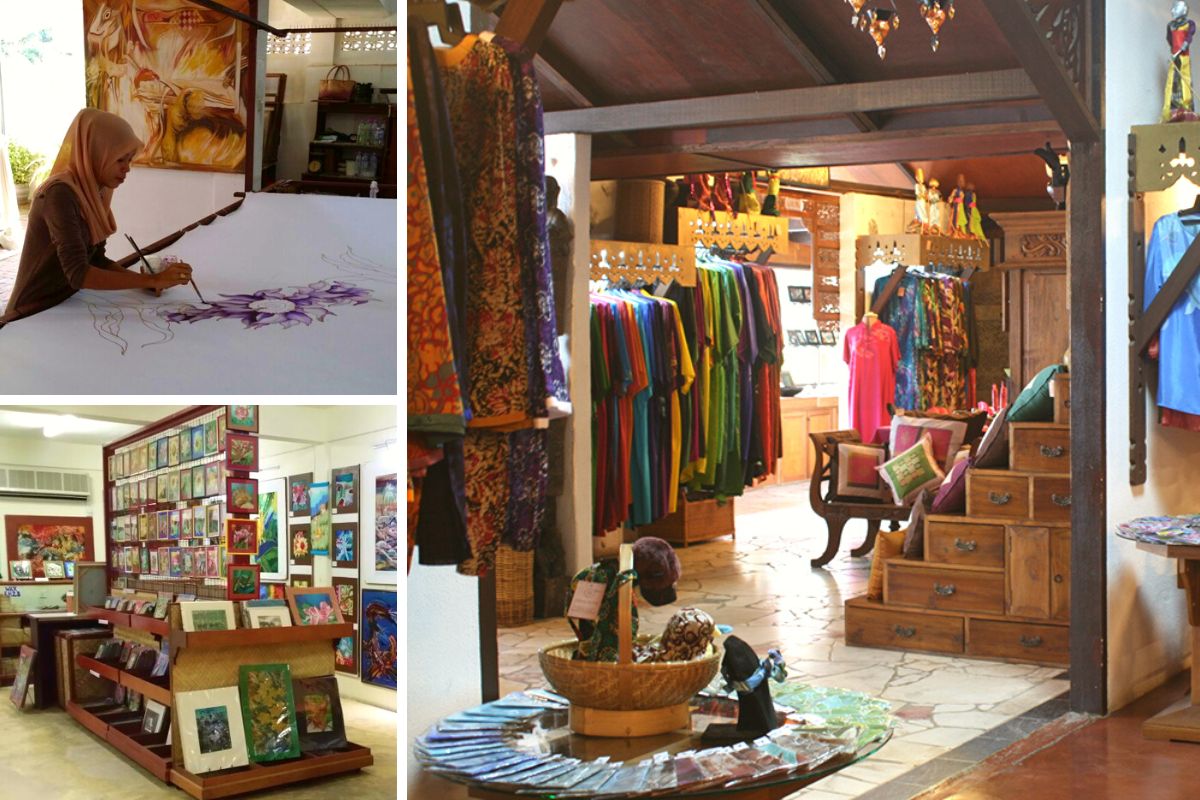 If you've been wondering what the name of the traditional printed fabrics seen all over Malaysia is, the art style is called Batik Art.
Come and learn the rich history of Batik, and get to create your masterpieces to take home with you at Atma Alam Batik Art Village.
At the Batik Workshop, there's an exhibit of the various Batkik artworks, like handicrafts, clothing and souvenirs.
Here, you can see the artists at work and learn how to recreate the block prints.
Inside the Art Gallery, the owners (and husband and wife duo) have their Batik oil paintings on display.
If you're obsessed with all things Batik, take home your own art which you can shop for inside the Batik Showroom. Browse a collection of fabrics made by local artists which are up for sale.
33 – Wander among the orchards at MARDI Agro Technology Park Langkawi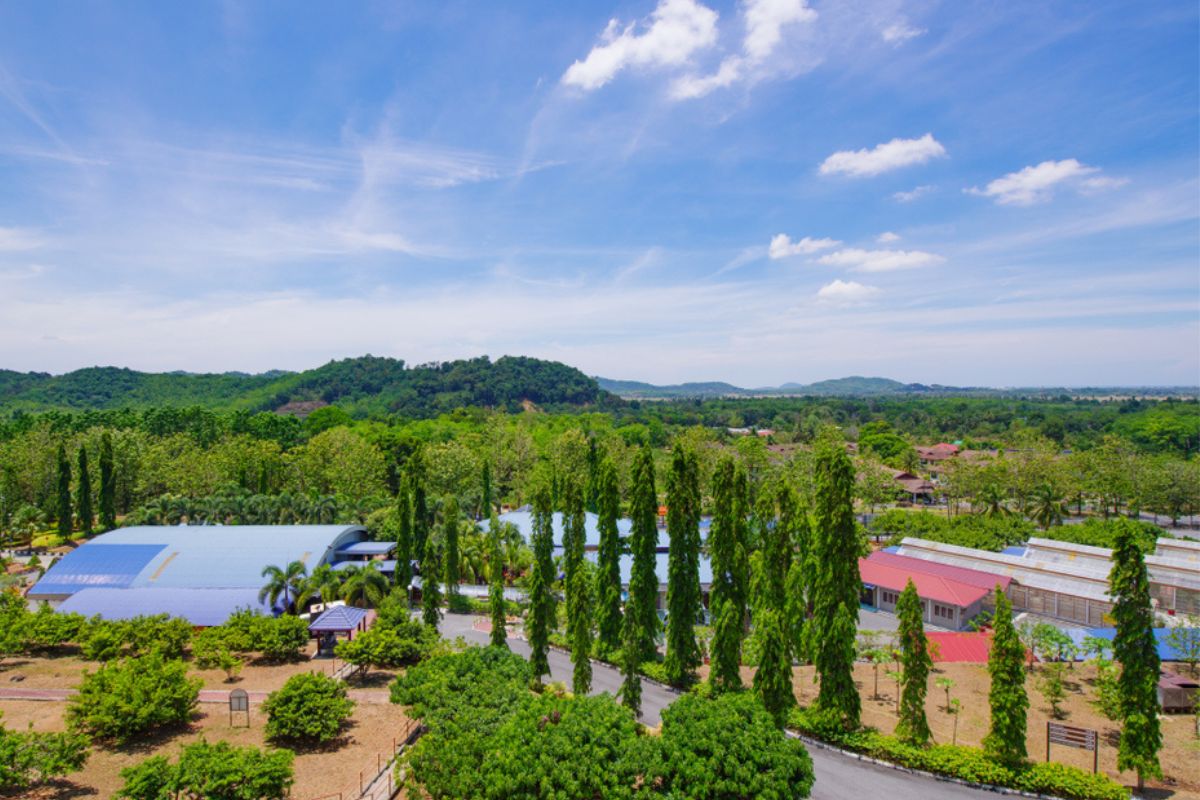 Originally set up back in the 90s by the Malaysian government, get lost among the fruit orchards at MARDI Agro.
Hop on board the tram and take a 30-minute ride through the farm, exploring its variety of 20 different kinds of fruit trees, or you can wander the gardens on foot.
Growing both seasonal and non-seasonal produce, different fruits you can find here include mango, durian, rambutan, star fruit, guava, longan, cempedak, jack fruit, pulasan and more.
There's a cute pond with a bridge crossing and a view tower within the park for some great photo moments.
Useful to know for directions, it's local name is Taman Agroteknologi MARDI Langkawi.
34 – Lagenda Park (Taman Lagenda) means the 'Park of Legends'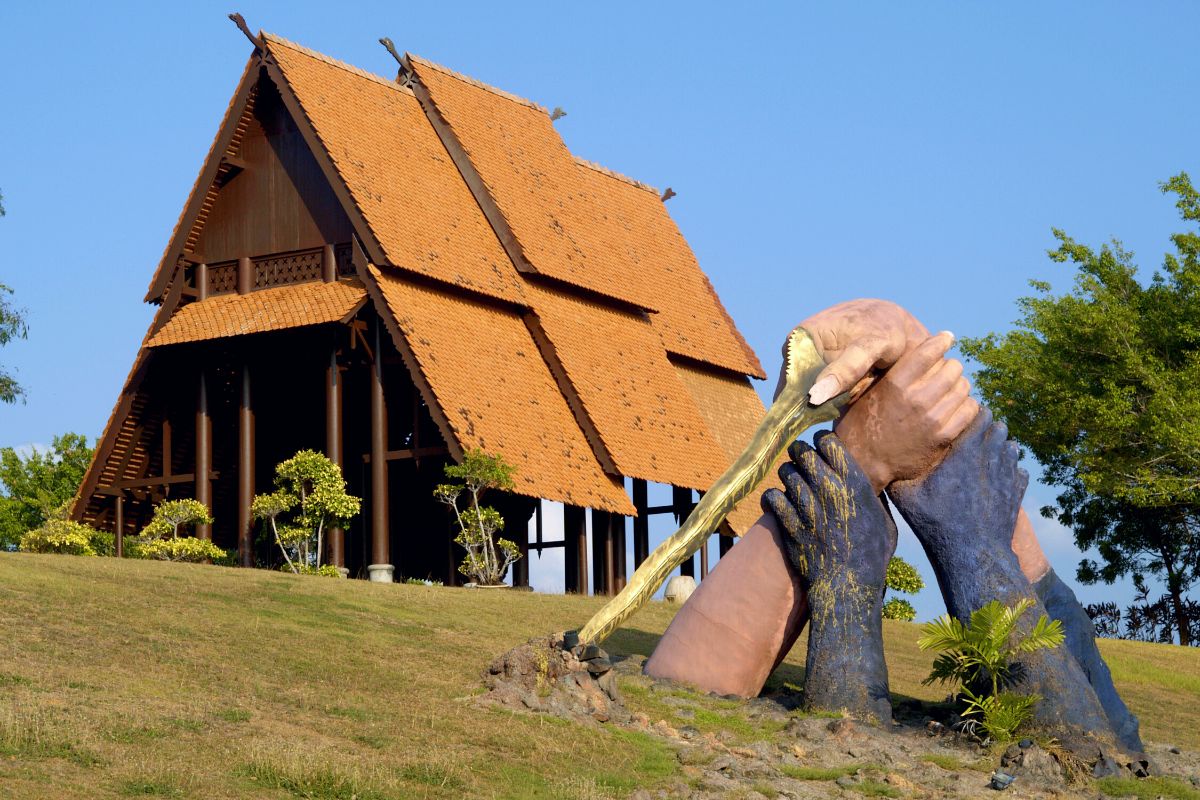 Themed on folklore and myths from the past and modern times of Langkawi, wander through Lagenda Park filled with larger-than-life statues.
The open-air garden museum features four lakes and it's a popular spot for picnicking.
Learn about the legends and stories locals grew up hearing of in the form of stone carvings, displays and statues.
Conveniently located right near Kuah Waterfront, Eagle Square acts as a backdrop to the park.
35 – Durian Perangin Waterfall is situated at the highest peak inside Gunung Raya park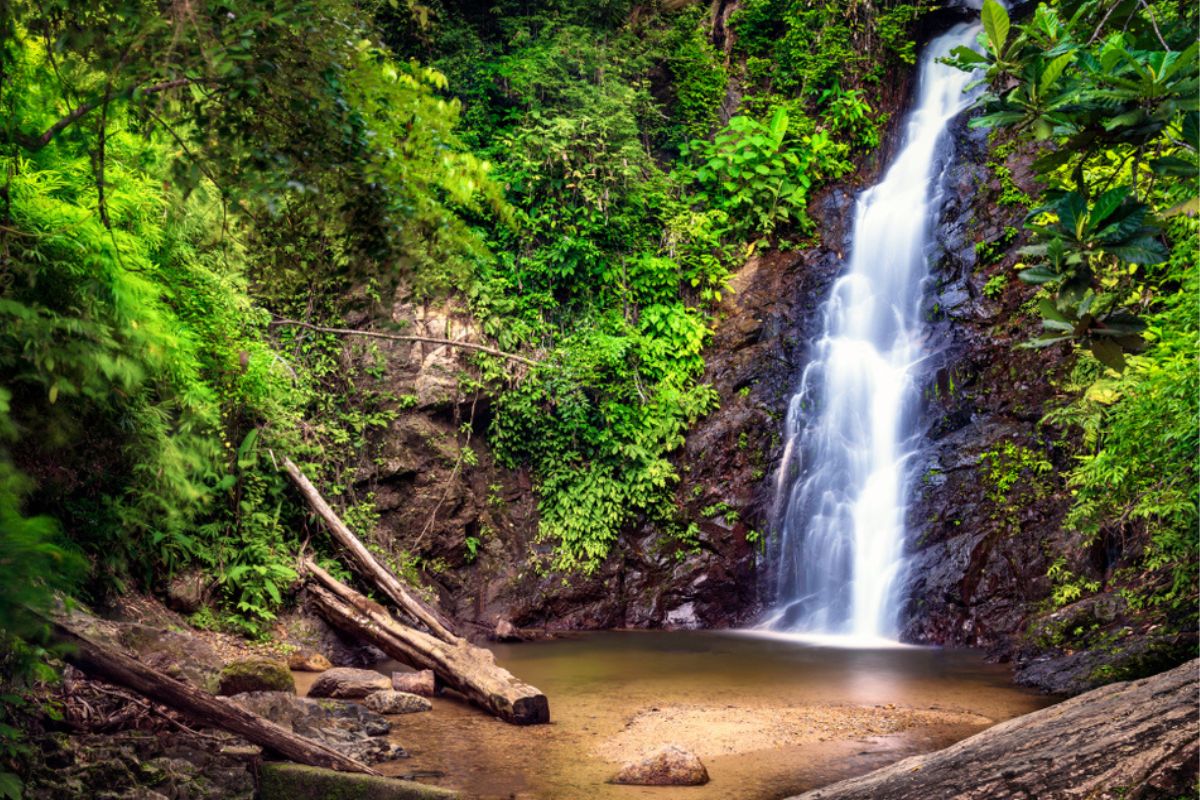 Forget three tiers, or even seven, Durian Perangin Waterfall sports an impressive 14 levels.
Pre-warning, it's surrounded by Durian trees and the fruit is infamous for its stinky odor.
You can journey up the cascading waterfall and there are outlined pathways to guide you.
Break along the summit and cool off in its natural pools, or take comfort away from the sun under one of the designated hut structures.
Officially part of the International Organisation of Book Towns, there's a Malaysian Book Village here where you can find second-hand and new books for sale.
Yup, a library in the middle of the jungle, how epic!
36 – Enter virtual realities at VR Universal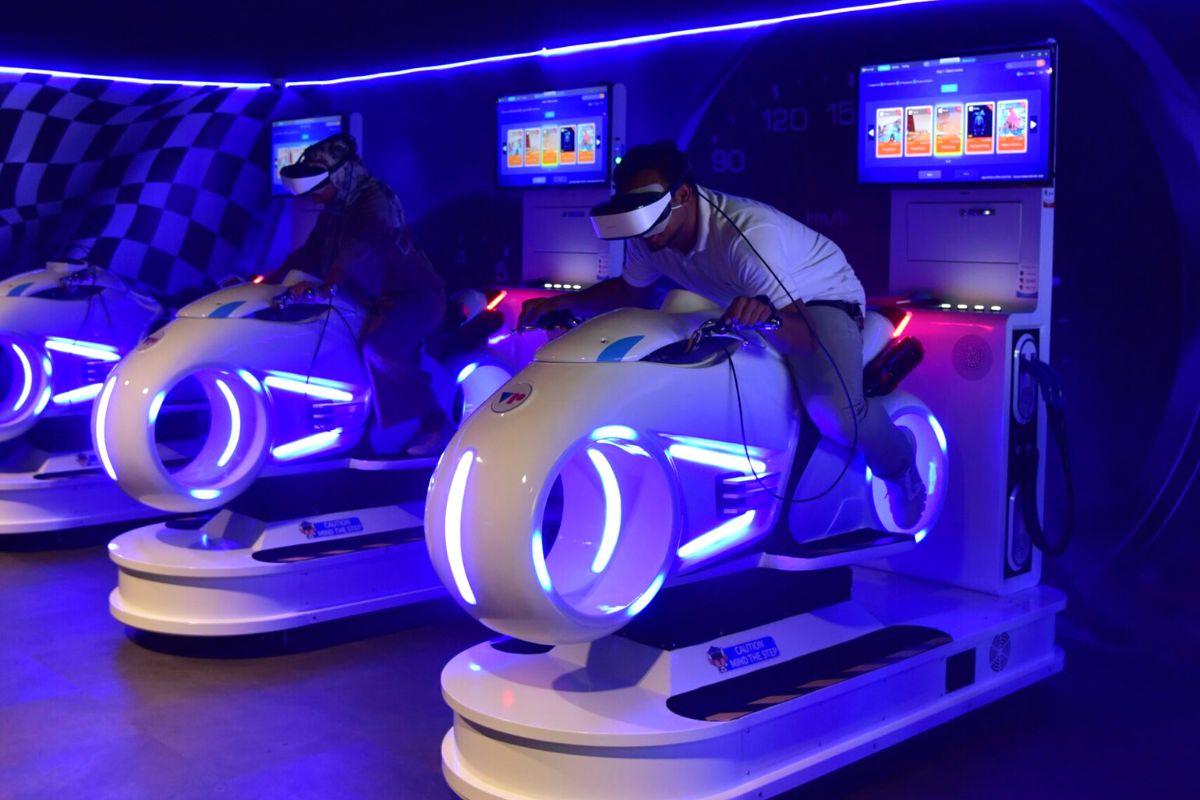 Ever felt like escaping to a fantasy world for a few hours?
If you've never tried a virtual reality experience, VR Universal in Langkawi is an epic VR park, with a whopping 12 different interactive attractions to try!
Divided into four main themes, choose the VR experience that suits you.
Test your racing skills, or try sky gliding at The Speed zone.
For that butterfly-feeling in your stomach, The Trill zone has experiences that defy gravity and ones that will send shivers down your spine.
Test your agility, skills and endurance with The Beat's experiences. Go to battle as a warrior in the Kuda Kingdom, tackle an Esports exercise or take part in an AirStrike mission.
Most suitable for younger kids, but adults too, put on your dancing shoes or play Fruit Ninja at The Hype.
37 – Enjoy bird watching in the jungle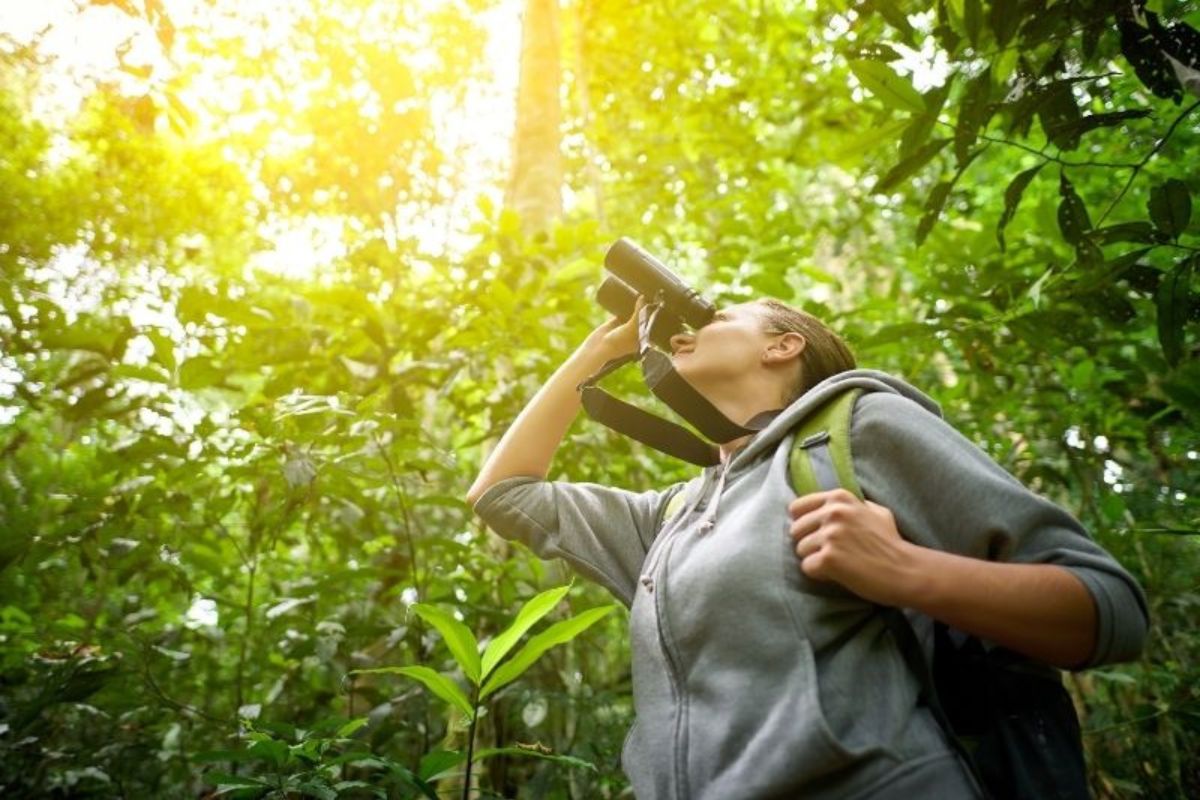 Now is your chance to finally spot a myriad of rainforest bird species in Langkawi.
As the island is surrounded by dense lush rainforests, there are multiple areas to enjoy bird-watching, however, for super keen enthusiasts, experience an educational bird-watching tour.
Spend a solid few hours visiting local villages, rainforest parks and mountain ranges that are renowned as home to the feathered friends.
Popular destinations include the start of the Gunung Matcincang and Gunung Raya mountains, Datai Bay and Darulaman Sanctuary.
A knowledgeable guide explains and helps to point out the different species – so don't forget your binoculars and camera!
Some birds to find include the rare Blue-winged Pitta, Great Hornbills and Chestnut-breasted Malkohas.
38 – Experience an adventurous quad tour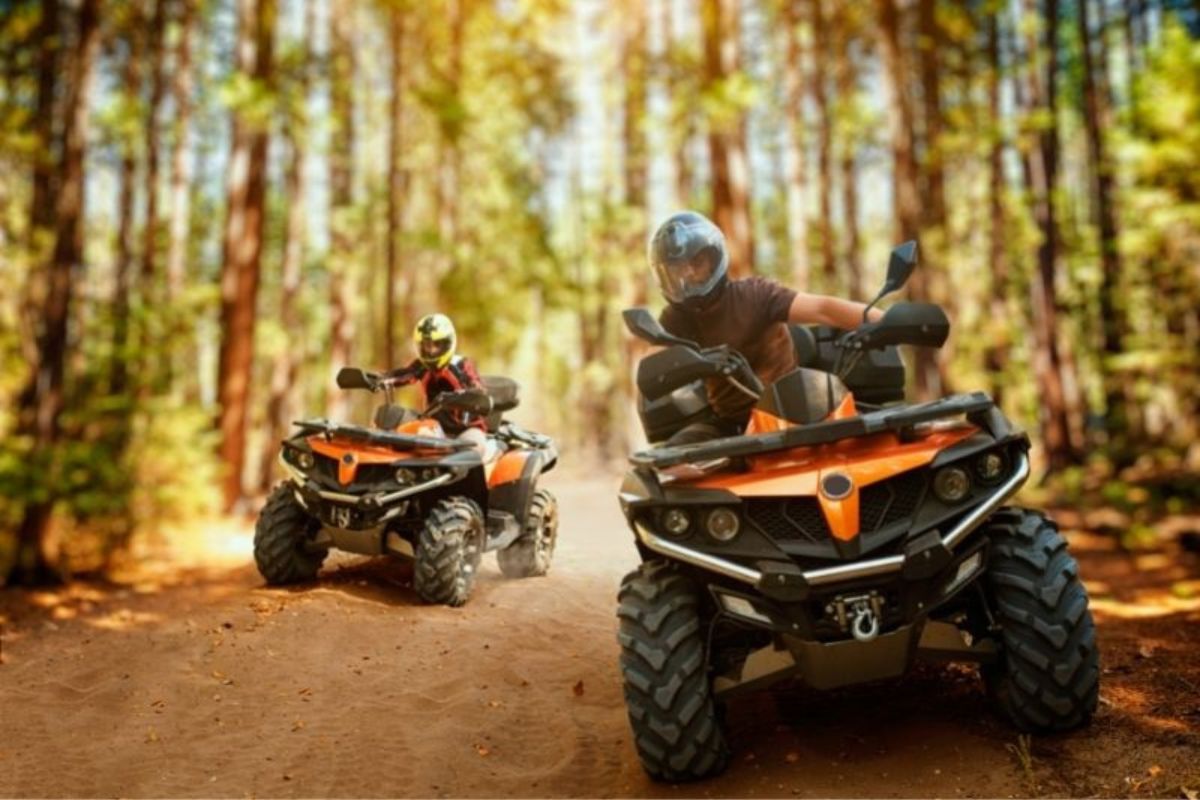 Explore the ins and outs of Langkawi, taking a unique quad biking tour through its rainforest and rice fields.
Crossing rivers and streams, wheel spin through muddy terrains and stop off at local villages along the way.
Some quad tours head to waterfalls or visit a fruit farm.
You have the option of driving the ATV bike yourself or jumping on the back of an expert guide. Whether you're in control of the wheel or not, the entire tour is guided.
If you've been on a quad bike excursion before, Langkawi's unrivaled landscape makes this one extra special.
39 – Meet Albert Einstein at the 3D Art Langkawi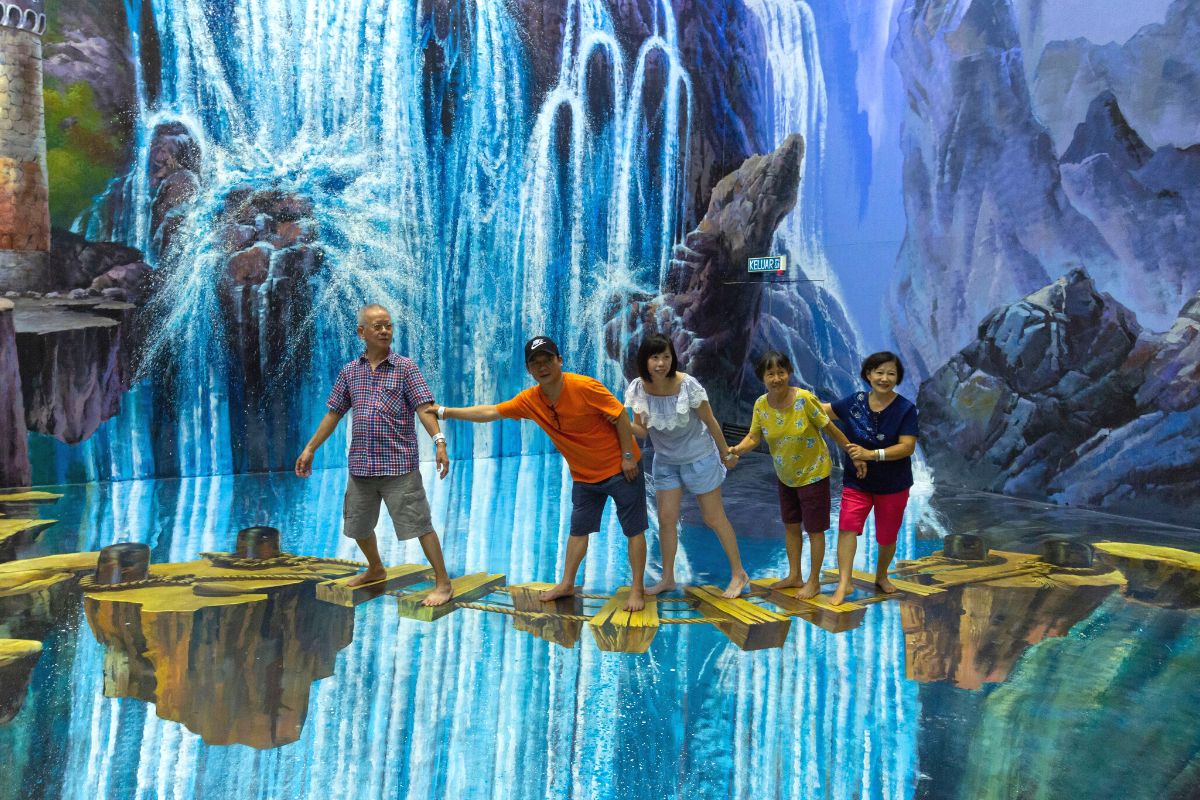 Well … the 3D version of him anyway. Your eyes will be fooled by the art illusions at 3D Art Langkawi.
Divided into nine zones, each has its own theme and there are over 200 interactive paintings to discover.
Have the most fun posing in, around, and alongside each artwork, which gives off the impression that the characters are alive and objects are real.
The Fantasy Zone, Safari Zone, Optic Illusion Zone and the Glow in the Dark Zone are just a few of the magical spaces to meander through.
Find the world's second-largest 3D museum right at Langkawi's cable car station, the SkyCab.
40 – Go zip lining through a rainforest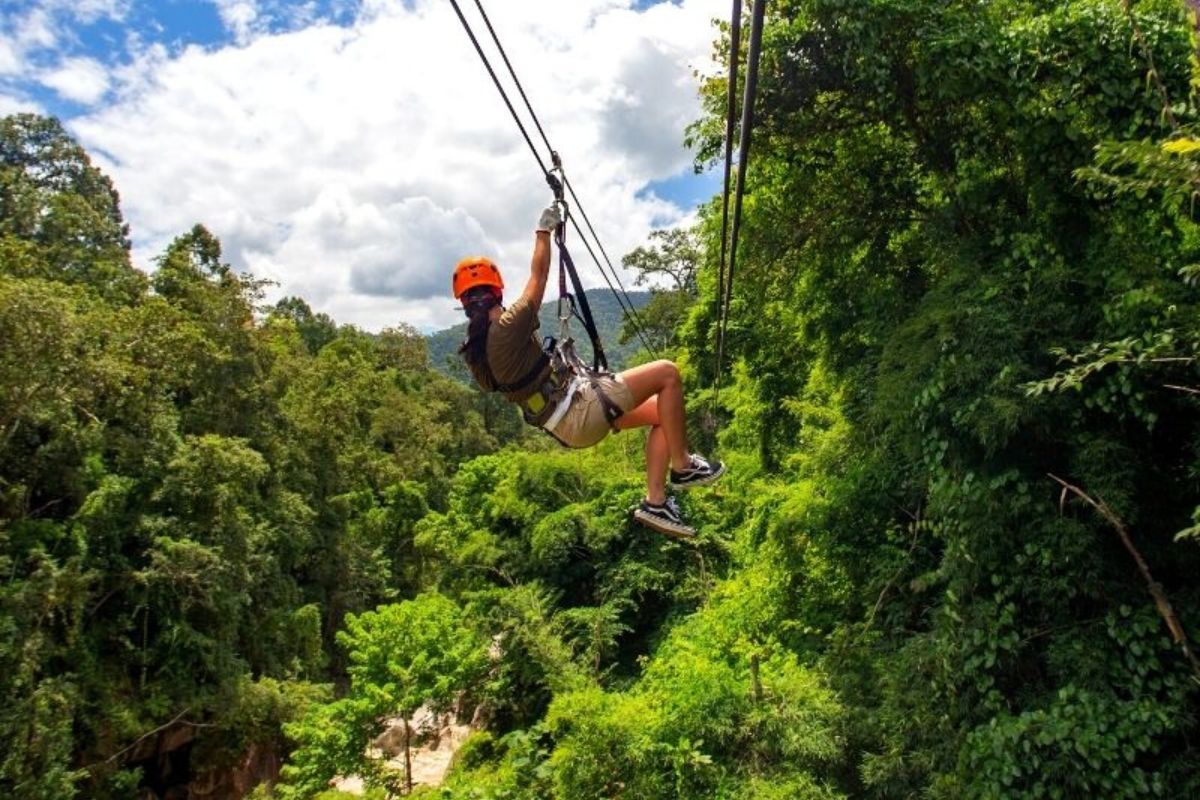 Pretend like you're Tarzan and Jane as you glide from treetop to treetop inside Langkawi's tropical forest.
Spend an hour or two rope sliding across six zip lines, taking mental snaps of the views from above the trees.
For something extra special, put your skills to the test at SKYTREX Adventure.
Filled with obstacles built among the forest trees, you'll have to glide, fly and swing between obstacles in mid-air.
As you pass each level, the obstacle course becomes a bit more difficult to complete.
Not to stress though, they have courses designed for all levels; Little Legend is for beginners or adventurers with enough endurance, tackle the advanced Island Extreme level.
41 – Enjoy horse riding along the ocean shore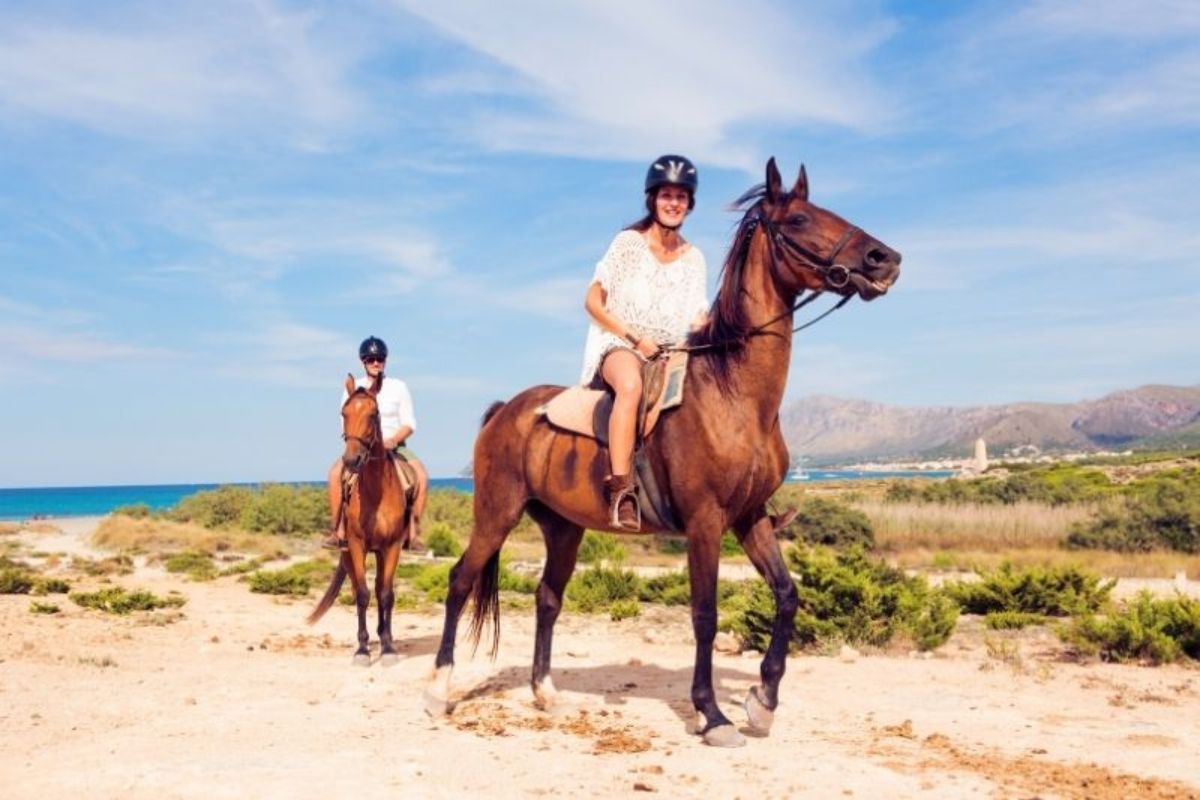 What's more romantic than a horseback ride at sunset? — Or at any time of day for that matter.
From beach scenes to the jungle, and even heading into the mountains, choose the landscape you wish to trek across.
There's an equestrian center in Langkawi and it's registered with the national Equestrian Association of Malaysia.
The horses that you will be riding call the stables at the center their home.
Kids and adults can all enjoy horse rides, and if you're inexperienced and feel slightly nervous before the ride, the trainers and guides will help you get comfortable and are there throughout the entire ride.
42 – Have fun golfing surrounded by unending greens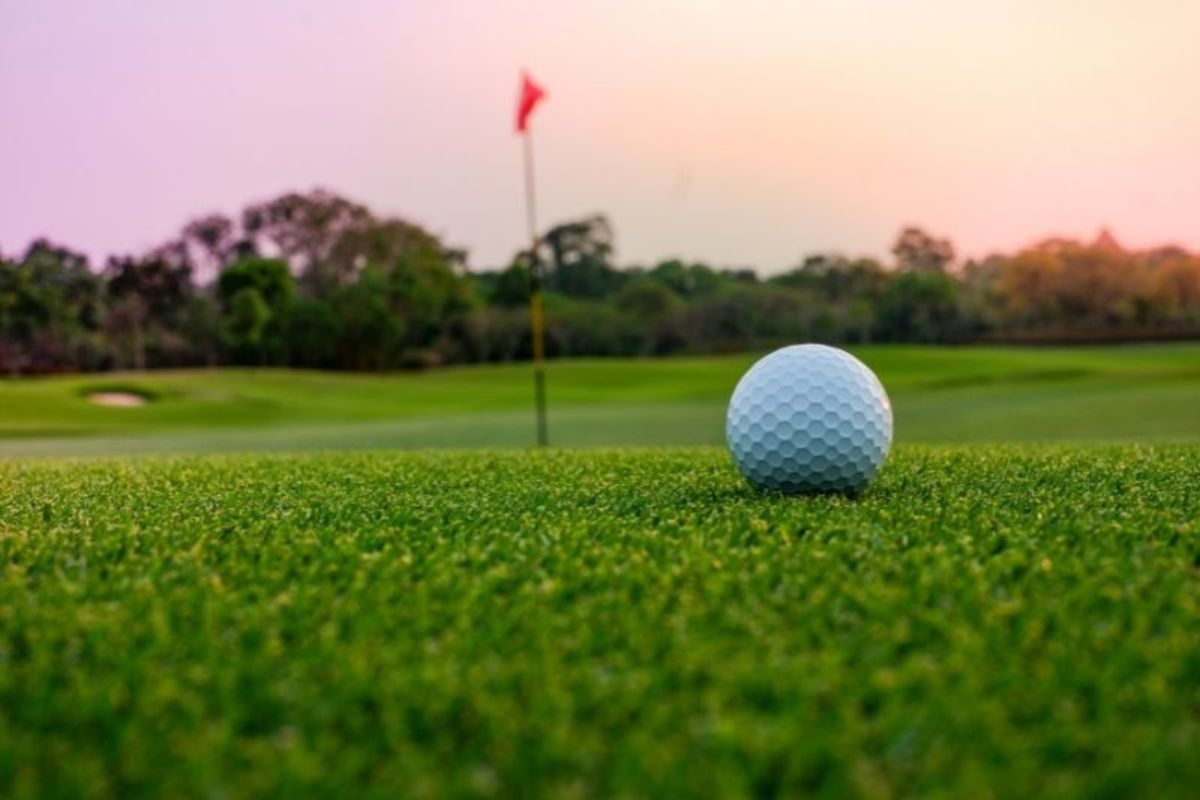 Put your golfing skills to the test at one of Langkawi's lush golfing ranges.
Renowned for its picturesque landscapes, the recently renovated The Els Club is one of Malaysia's finest courses.
Located next to the ocean and surrounded by tropical trees, enjoy playing the 63-hole course in style.
Designed by Max Wexler, Gunung Raya Golf Resort is fit to international standards, and practice sharpening your skills at the driving range and putting green.
With 18 holes and a par 72, 99 East Golf Club boasts an exciting layout and is conveniently located 10-minutes from Langkawi airport.
43 – Beat the heat at Splash Out Langkawi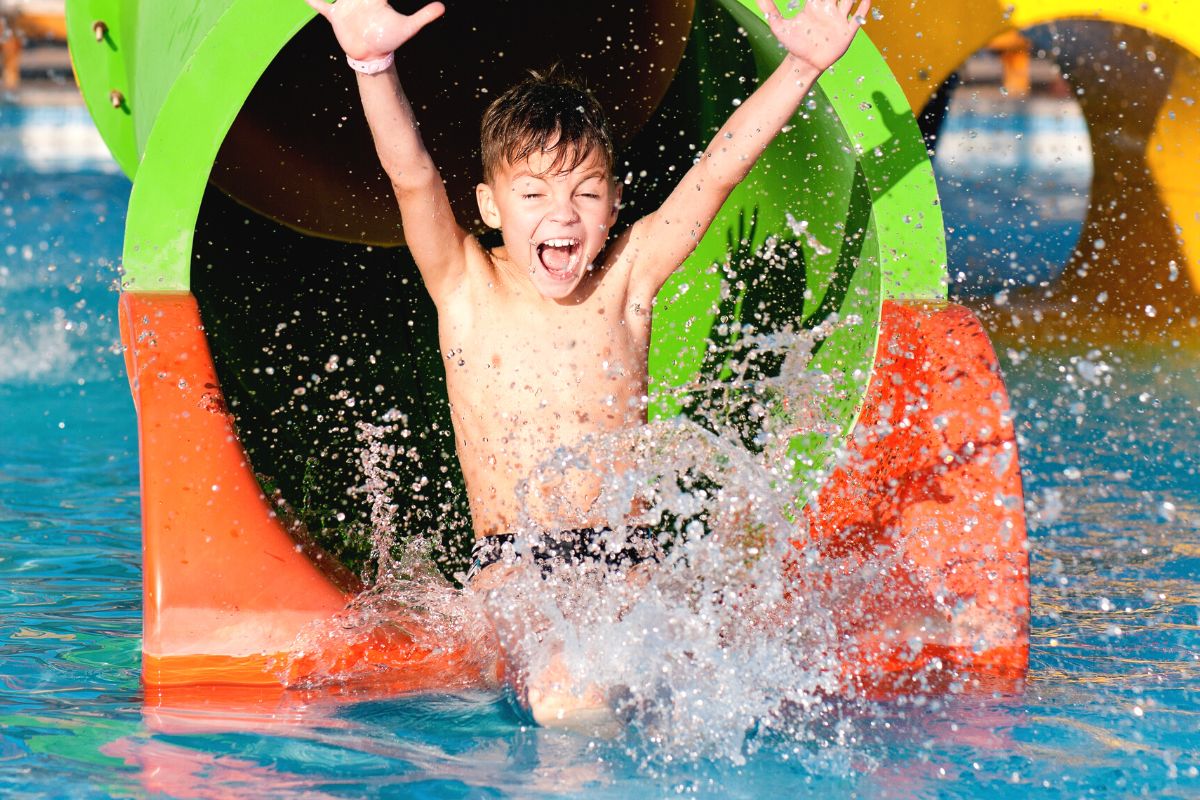 Get ready for a day of fun in the sun coupled with many thrilling rides at Splash Out Langkawi.
Inspired by sea explorers and adventurers, the water park is suitable for all ages, offering different rides and themed areas to explore.
Laze down the family-friendly River of Life or let the kids play at Sprinkle Island.
Splish and splash at the wave pool at Wild Water, featuring man-made 1.5-meter waves, and race your friends (or siblings) down the Ragin' Racers.
Adrenaline-pumping, whizz down the Perfect Storm, and test extremities on Shipwreck Falls.
In between all the energy-exertion grab a bite to eat at the Seafarers Haven Food Court.
44 – Share a bonding fishing trip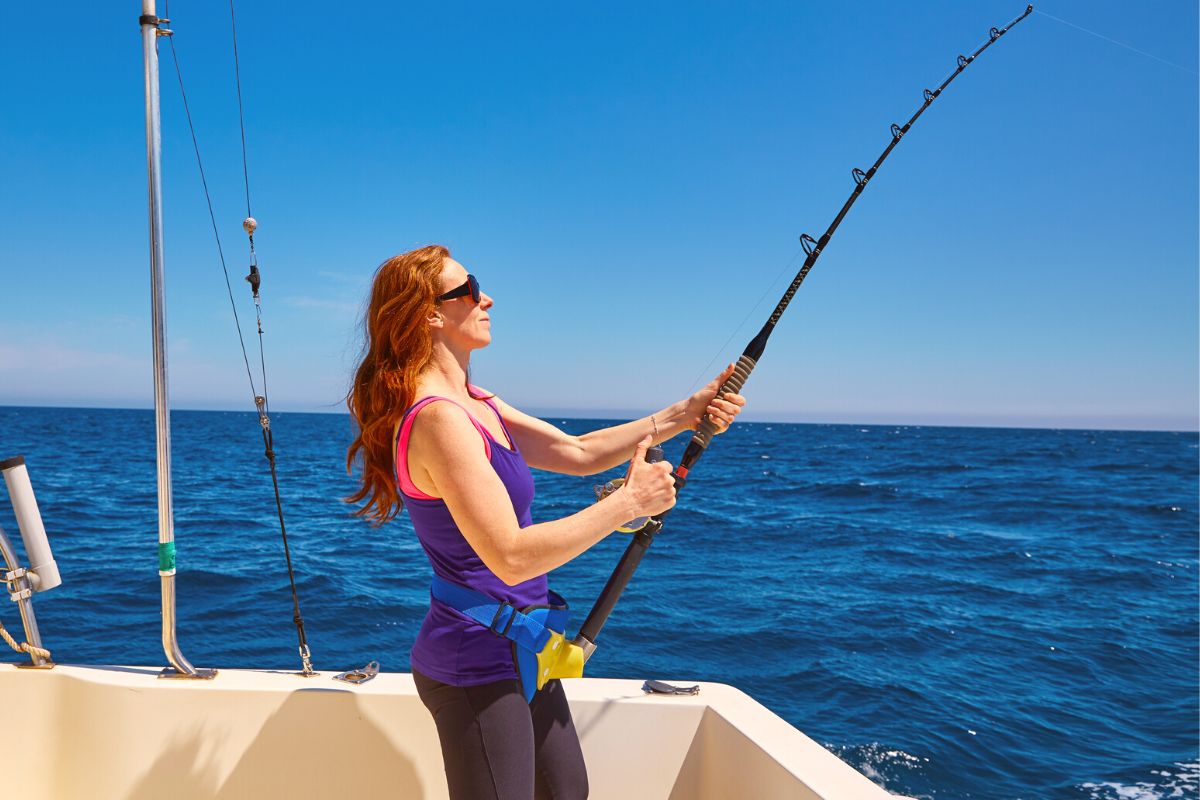 There is marine life in abundance around Langkawi Island!
Although there are certain areas and islands where fishing is prohibited, there are tons of incredible fishing spots to discover.
The waters around here are home to many fish species that are found in these parts of the world only.
Instead of fishing from land, take a fishing expedition out to sea and spend a couple of leisurely hours anchored out in the deep blue.
Some fishing excursions in Langkawi make numerous stops at different locations around the island.
Some popular fishing spots are around Teluk Baru and Kilim Geoforest Park. Fishermen often reel in Groupers, Barracuda, Snapper, Wahoo and King Fish.
45 – Feel real fancy enjoying a helicopter tour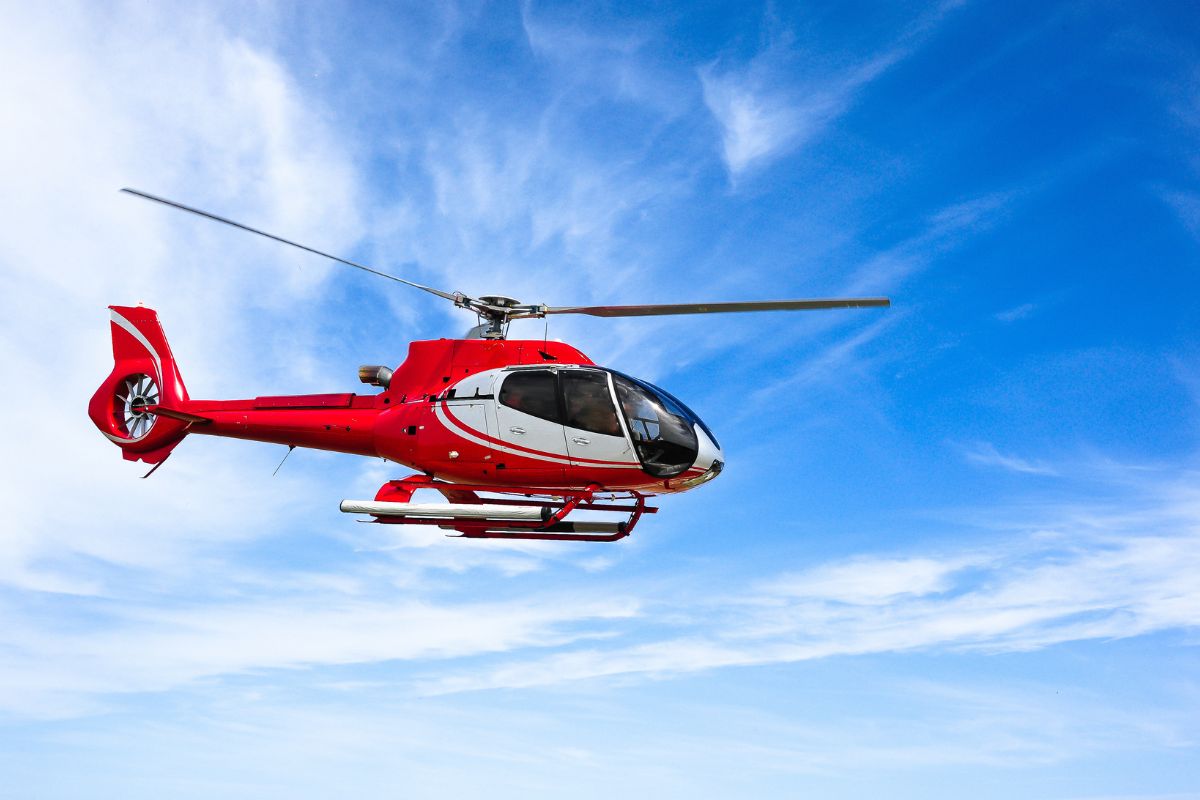 Explore the island and its neighboring isles via helicopter!
It's one of the most unique ways to take in the views, and the photos you'll get from this angle are unremarkable.
Cross over the ocean and mountain tops, fly past beaches and islands, and look out for must-see Langkawi city attractions, but from the sky!
If you've never been inside a heli before, the tours in Malaysia are relatively affordable in comparison to certain countries.
It's a great option if your time in Langkawi is limited and you want to see everything — literally.
46 – Discover, shop and eat at the night markets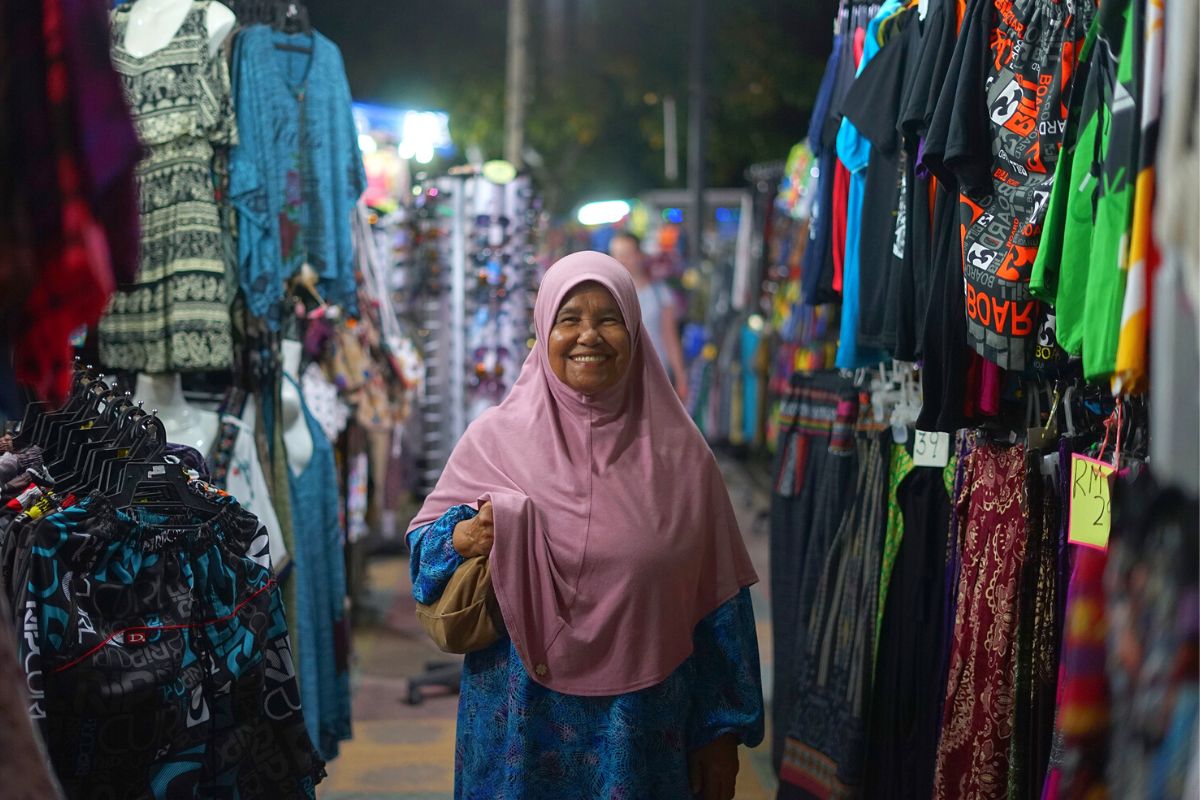 A fabulous way to end the evening, there are numerous night markets in Langkawi that each open on different days of the week. From big to small, here's a list of them all.
On Friday nights head to Ayer Hangat Night Market famous for its delicious street food, especially traditional Malaysian dishes.
Apart from the food, pick up nick-nacks, crafts, accessories and more.
The market with it all, at Pekan Kuah Night Market you'll find all sorts of typical market finds at super affordable prices.
Shop for everything from clothing to toys to local handicrafts, and the market is open every Wednesday and Sunday.
Looking for the best Durian in town? Find some of the biggest and juiciest fruit at Ulu Melaka Night Market, open every Monday evening.
Slightly smaller than some of the other night markets, the 40-odd stalls sell mainly food and fresh goods.
Kedawang Night Market is a popular spot that locals visit just for its mouth-watering food options.
Many stalls sell different street food, including many Malaysian delicacies. Don't miss trying one of the country's famous dishes, Ikan Bakar (chargrilled fish) at this Tuesday market.
End the weekend off at Padang Matsirat Night Market, open Sundays. The parking lot of the must-see attraction, the 'Field of Burnt Rice' transforms into a shopping space.
Find affordable bags, clothing, shoes, sunglasses and hair accessories at Padang market, munching on satay sticks as you meander around.
47 – Take a sunset cruise around the island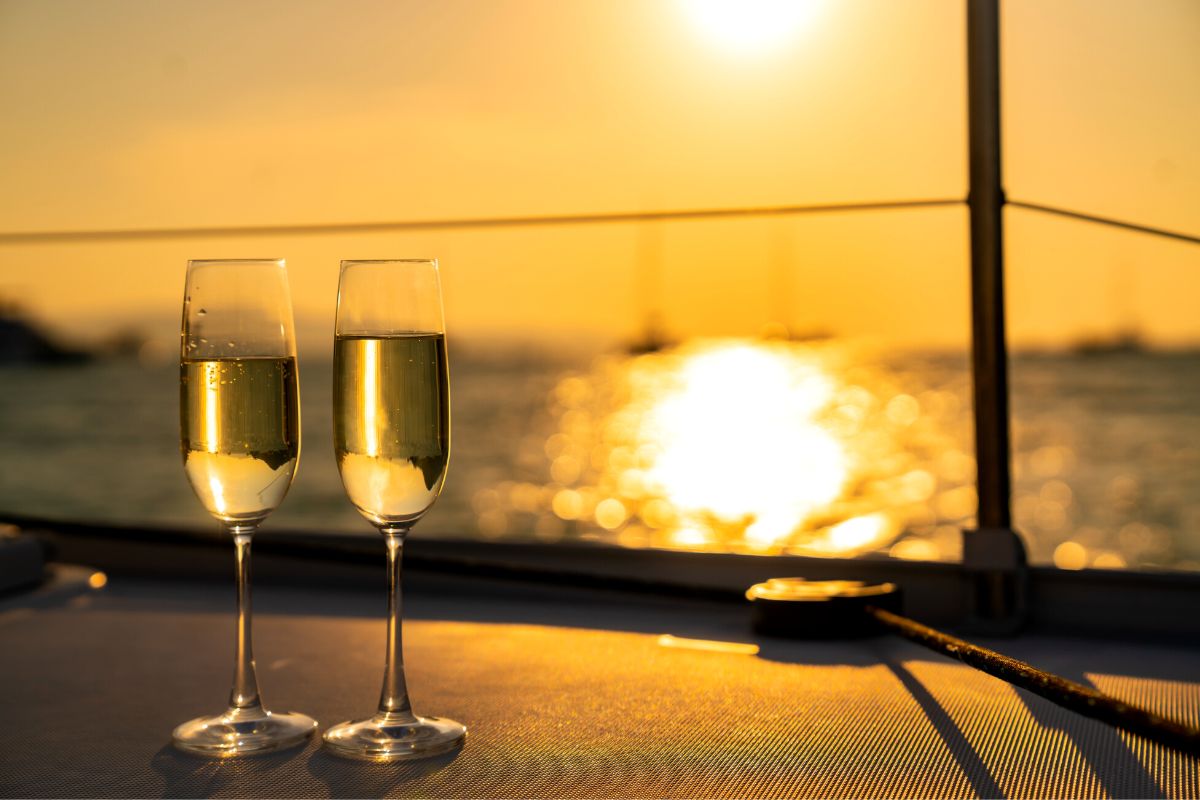 Looking for something extra special to try in Langkawi with your sweetheart?
Enjoy a sunset cruise and drink in the views of the sun dipping behind mountains, casting gleaming silhouettes over the ocean.
There are many different types of sunset cruises to choose from in Langkawi.
Depending on the scenery and sites you'd like to see along the way, book the one that best suits your needs.
You can choose to sail the Andaman Sea or cruise through mangrove rivers as dusk starts to set in.
Make a whole evening of it and book a sunset dinner cruise. Enjoy a traditional BBQ on the waters and under twinkling stars … How idyllic?
48 – 6D Cinemotion is the first of its kind in Asia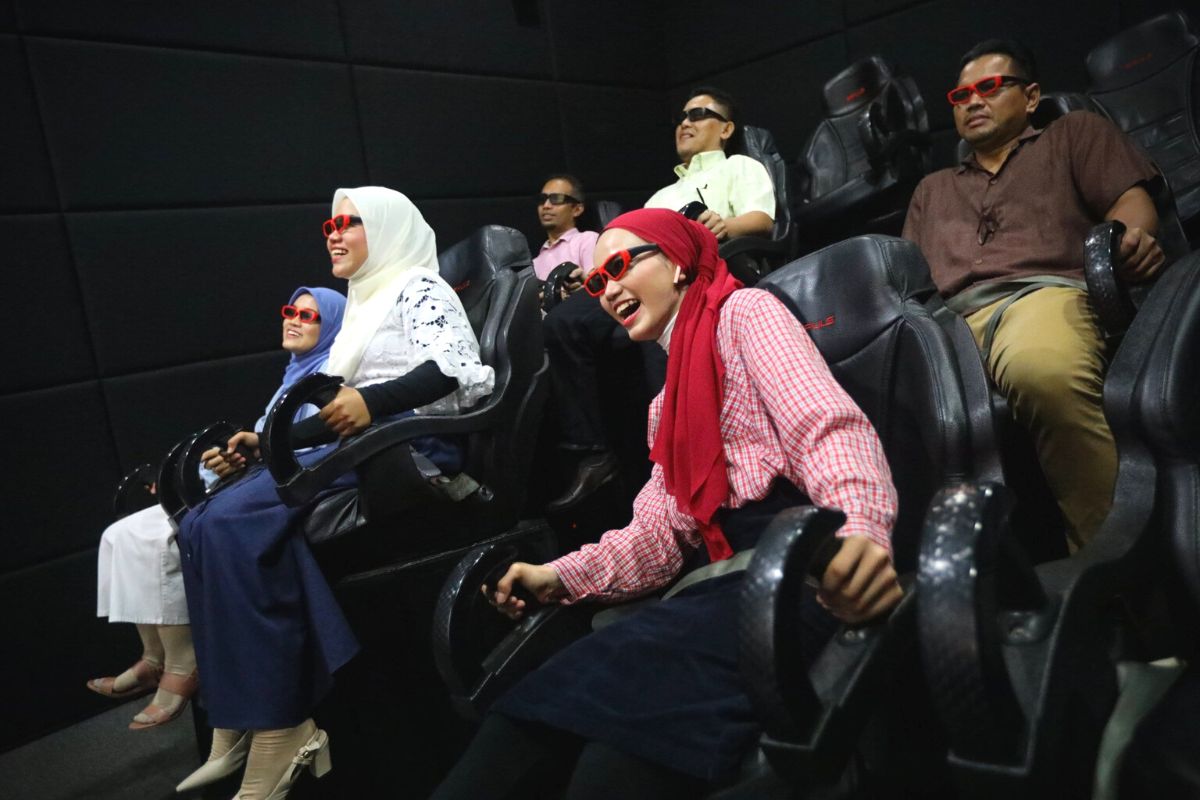 Looking for a break from all the outdoor adventure?
Whilst still an exciting attraction, all you need to do is sit back and enjoy 6D Cinemotion's unique movie experience.
So what's the deal? As the first outdoor 6D cinema in Asia, you'll feel as if you're part of the movie, or a character on screen!
Not only will you watch a 3D film, but the theatre chairs have special effects built into them. Move from side to side, feel the vibrations underneath you during action scenes and other cool cinematic features.
It's conveniently located by Langkawi's cable car and is one of the things to do at the center.
49 – Enjoy the island vibes at the best bars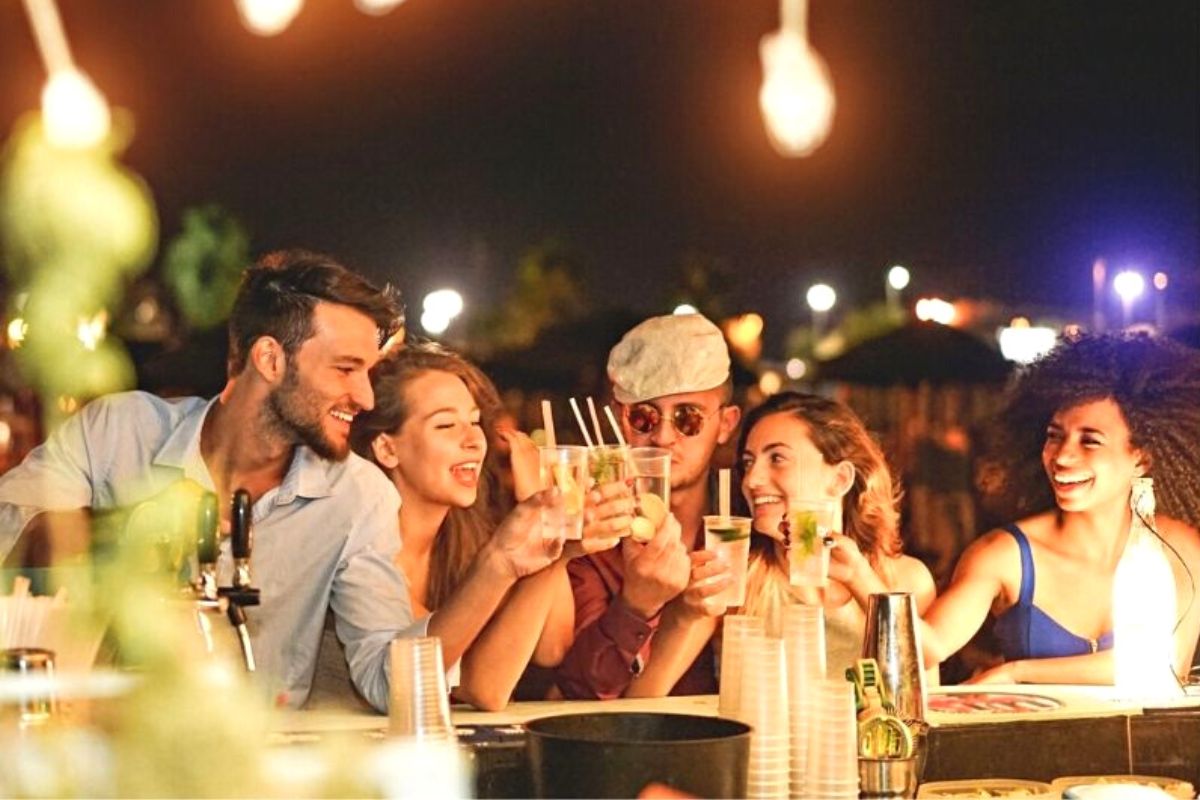 It's cocktail o'clock!
You can't miss (literally speaking here) the bright Yellow Cafe where you can enjoy drinks with your feet right in the sands.
Its beachfront location is super vibey and great for all sorts of travelers hunting drinks and a good time.
Try one of the St. Regis Bar's signature cocktails, including their famous 'Lang Mary' (their rendition of a Bloody Mary).
It's a really elegant affair too, and the setting is super stylish at the St. Regis Hotel.
Right next to the ocean is D'Reef, located at The Cliff restaurant. It's a great spot for sunset hour.
Feel like you're sipping drinks in Istanbul at the Four Season's Rhu Bar, or travel back in time to the flapper girl era of the 1920s at The Verandah Lounge.
For breathtaking views, and a romantic setting, enjoy an intimate evening of craft cocktails and ocean views at Rimba Sky.
Where to stay?
There are many stunning stays in Langkawi either right on the beach or in the middle of the jungle. Here are some of the best and most unique places to stay.
Surrounded by trees and a private beach, The Datai is simply stunning and its setup and design feel like you're somewhere in Indonesia like Ubud.
Choose between both rainforest and beach villa options at The Ritz Carlton, and the stylish Four Seasons Resort Langkawi also offers guests ocean, mountain and jungle forest views.
Island-lovers, The St. Regis Langkawi and The Westin Langkawi Resort & Spa are both situated on their own private beachfront.
You'll never want to leave your private pool villa with crazy-beautiful views at Ambong Pool Villas.
Right next to the ocean is Dash Resort styled in oceanic blues and whites, or choose to stay at the affordable Camar Resort Langkawi.
For a true taste of authenticity, the wooden and thatched villas at Kunang Kunang Heritage Villas are lovely, including the most gorgeous spa tubs in the rooms.
If you enjoy resort-type stays with all the bells and whistles, and extra facilities, check into The Danna Langkawi Luxury Resort & Beach Villas.
How to get to your hotel?
Arriving in Langkawi for the first time? Pre-organize an airport transfer for when you first land at Langkawi International Airport.
Your private driver will already be there ready and waiting to collect you and take you to your accommodation.
Where to go next?
If you're looking for a holiday in Malaysia amidst nature and away from city life, Langkawi is the place for you.
Referred to as the gateway to many Southeast Asian countries, you can easily reach Singapore as well as Thailand from Langkawi.
Langkawi is a popular weekend getaway for Singaporeans, and there are direct flights between the two countries most days of the week.
Travel to the Maldives of Thailand, Koh Lipe, by catching a direct 1.5-hour boat ride from Langkawi to Koh Lipe.
Once in Koh Lipe, you can take another boat to mainland Phuket, Krabi, or other islands around the south.
Another option is to fly from Langkawi International Airport to Phuket. The flight is not direct though, and you will first fly to Kuala Lumpur International Airport.
Speaking of, the fastest way to reach Langkawi if you've arrived in KL is via a direct flight.The flight is one-hour or alternatively, take a five-hour drive.
Finally, after exploring Langkawi, don't miss out on Penang. Just a short hop away, Penang offers a rich blend of history, culture, and delectable street food, especially in the UNESCO-listed George Town. It's the perfect next stop on your Malaysian adventure.
We hope you've loved our diverse list of fun things to do in Langkawi, Malaysia.
If you have anything you'd like to add to the list, feel free to leave a comment below.
As always, happy travels!