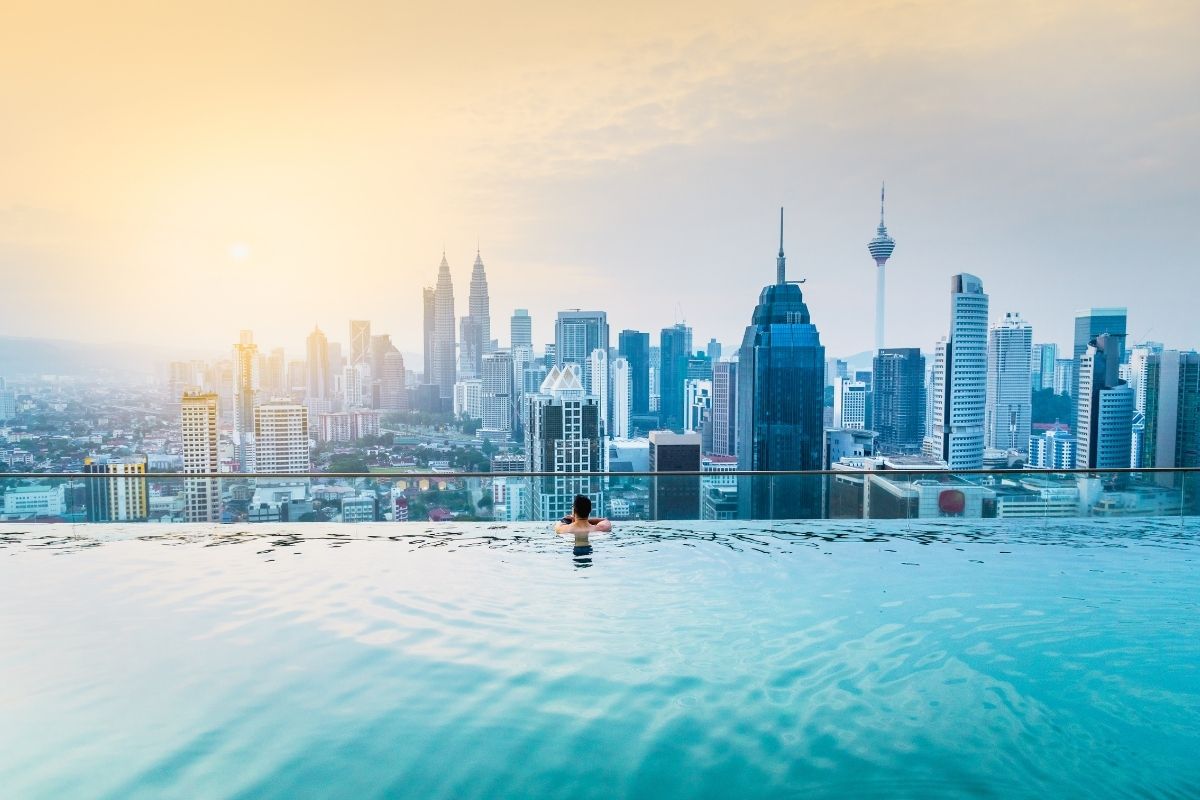 One of the things that make Kuala Lumpur so special is the diverse mix of cultures that call the Garden City of Lights home. With so many things to do in Kuala Lumpur, set aside a few days to discover Malaysia's capital city.
You'll notice its melting pot of different ethnic backgrounds, with evidence of this in all facets of the city, from the street food to the varying districts, like Chinatown and Little India. Speaking of, foodies take note — KL is a culinary extravaganza!
Enjoy sunset hour at a stylish rooftop bar, shop the local markets and scout the city's crazy-cool street art scene. Revel in the views from its most-famed skyscrapers, like the Petronas Twin Towers.
Surrounded by lush trees and natural rainforests, even though Kuala Lumpur is a bustling city, feel at peace among all its greenery. Escape the hustle at one of the many parks, like the Perdana Botanical Garden.
Looking for more things to do in Kuala Lumpur outdoors? Heading just outside KL, venture to the hillsides and take in the countryside landscapes around the Genting Highlands. It leaves much for travelers to explore and discover!
1 – Explore 14 different types of gardens at Perdana Botanical Garden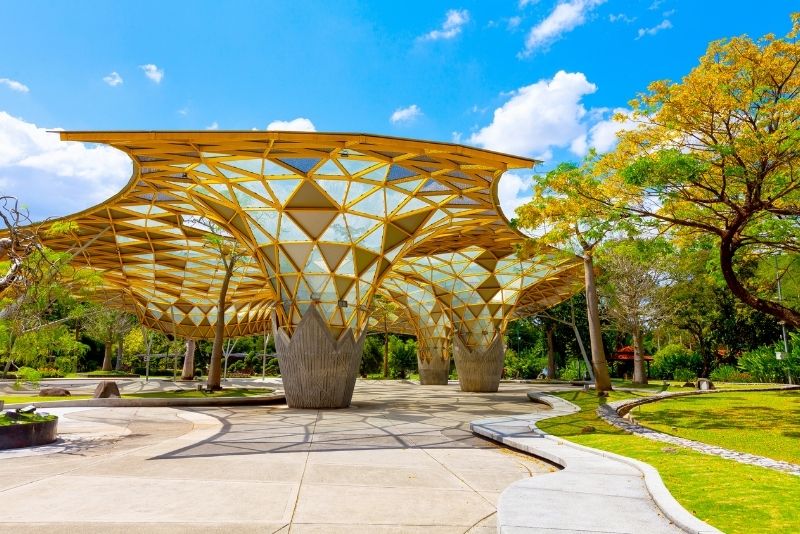 One for the nature-enthusiasts or anyone looking for a zen moment among the florals, the Perdana Botanical Garden (also known as the Lake Gardens) is an ideal spot to unwind from the city buzz.
Visit an entire area dedicated to the country's national flower at the Hibiscus Garden… waterfall included! Or, if Orchids are your favorite, head to the Orchid Garden.
Enjoy a romantic picnic around the lake and Cycade Island, and learn about uncommon fruits at the Lesser Fruit Tree Collection.
A perfect place to spend the afternoon wandering through the different green spaces, take a segway tour around the botanical gardens. This way, you can make the most out of your time and have the chance to check out every inch of the gardens.
Other must-see features are the Sunken Gardens, Forest Tree Collection, and the Herbarium.
2 – See the views from Kuala Lumpur Tower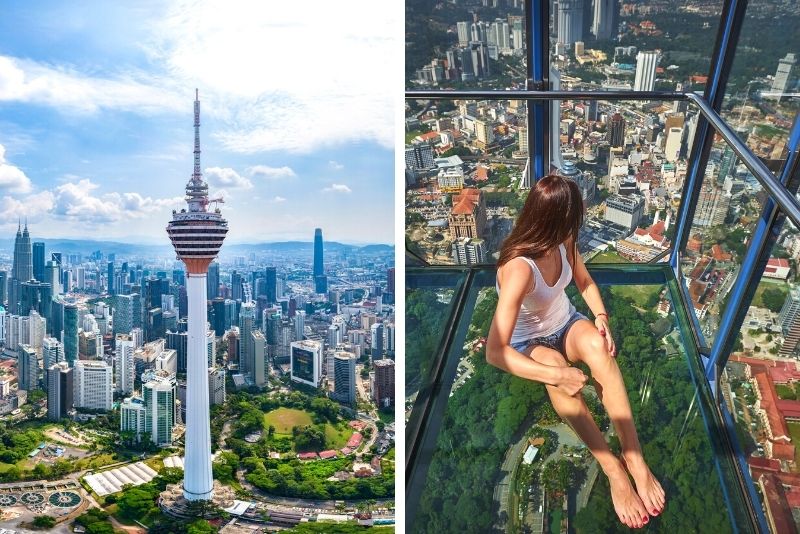 Did you know that the Kuala Lumpur Tower, also known as the KL Tower, is the World Base-jump Centre?
Apart from the adrenaline-seeking adventures and panoramic city views from 276 meters high, there are other things to do.
Built in the Bukit Nanas Forest Reserve, you can visit the original rainforest via a canopy walk, and the tower also features a small aquarium with exotic fish, as well as a mini zoo.
From ground level, take an elevator ride up to the Skydeck featuring a transparent glass box on the edge for photo-ops … It literally looks like you're standing over the whole of KL!
You can also take in 360-degree city views from the Observation Deck located a few floors below the Skydeck, followed by a magical dinner at the revolving restaurant aptly named ATMOSPHERE 360.
Travel Tip: Arrive early on in the day to avoid the mega crowds.
3 – Shop for local souvenirs at the iconic Central Market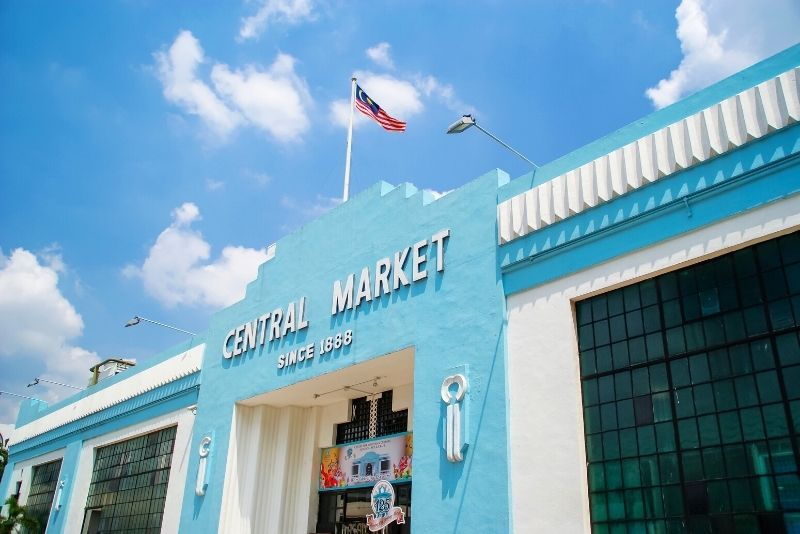 Located right near Petaling Street, this local market has been around since 1888 when it originally began as a wet market in Kuala Lumpur.
However, the Central Market was relocated in the 1980s to its current home where it's been serving customers ever since.
Not overly large, it's the perfect sized indoor market to spend a good hour or two meandering the little shops and carts found across the two levels.
The amazing thing about shopping at Central is that you'll find many hidden gems and handicrafts that you don't find at the other street markets in town.
Shop for crystals and powerful gemstones, ancient brass ornaments, or bags and purses made from Batik fabrics.
There's a gallery towards the back of the market on level one, and pick up perfumes, handmade soaps, and flower-pressed jewels en route. Upstairs is lined with many colorful clothing shops, as well as a food court.
4 – Cross the highest two-story bridge in the world at Petronas Twin Towers
In a city full of skyscrapers, head 88 floors above ground level to the tallest twin towers in the world, and take in the sweeping views of Kuala Lumpur below.
Reaching 450 meters, the Petronas Twin Towers are hard to miss but don't just stare at its impressive architecture from below.
Visit the Observation Deck on the 86th floor for panoramic city scenes from above the clouds, followed by an informative visit to the Digital Display on floor 83.
The famous Skybridge connects the two towers on levels 41 and 42, and if you're keen for a round of shopping afterward, hit Suria KLCC Shopping Centre (located on the basement level of the Petronas).
P.s. There's also a telescope for anyone to use at the Observation Deck.
5 – Admire the Federal Territory Mosque's stunning architecture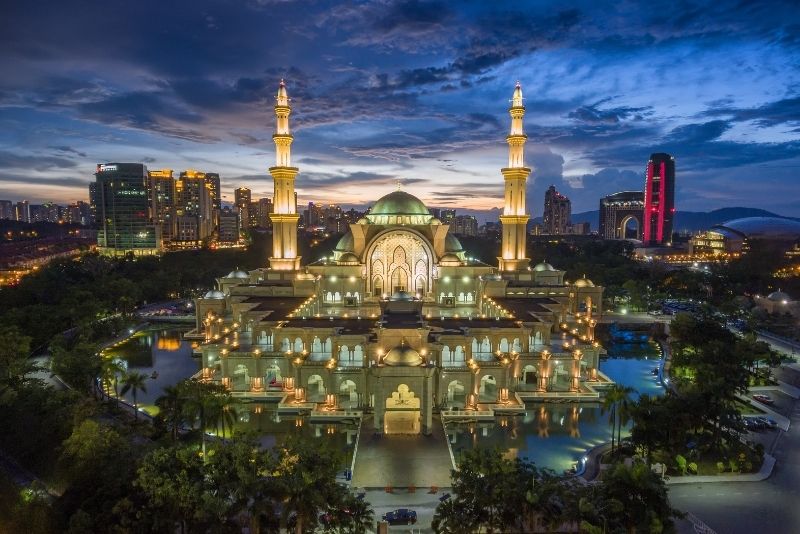 Although the Federal Territory Mosque is still in use, many travelers pay the worship grounds a visit simply to revel in its beauty and architecture.
There are curved archways, patterned entrances, and different tiers to explore. Wander around the serene water pond feature surrounding the entire mosque, which creates magical reflections across the floors.
The blue 'qubba' (domes) are really striking and are lit up at night. With the capacity to fit up to 17,000 worshippers, it's all quite regal — not to mention a mega photo opportunity!
6 – Climb 272 steps at the Batu Caves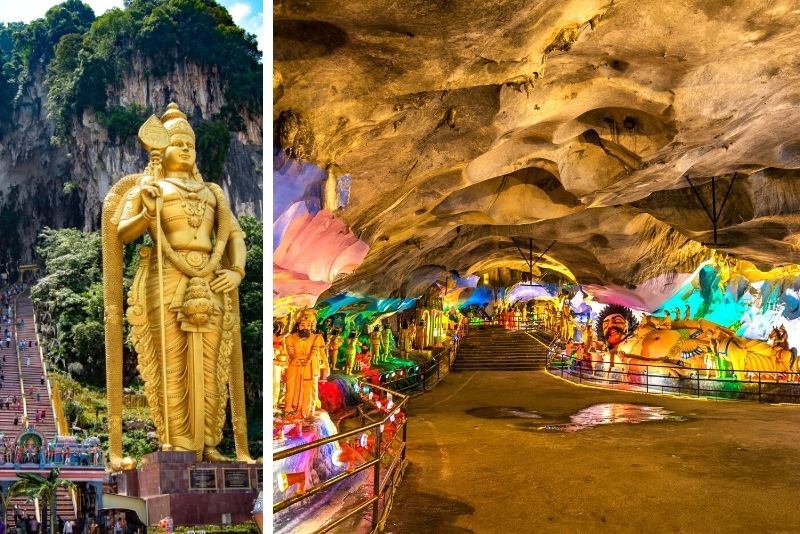 From the 42-meter-high golden statue of Lord Murugan to the rainbow-colored steps leading up to ancient caves, you'll feel totally transported the moment you arrive at the Batu Caves site.
(Lord Murugan is known as the chief deity of the Tamil, and he is the God of yoga and religion.)
There are four main limestone enclaves that most tourists visit. However, to reach any of them, you'll first need to ascend the 272 steps, passing the Vedic god at the start, and local monkeys along the way.
Explore paintings of Hindu gods inside the Ramayana Cave, or trek through the pitch-black Dark Cave located close by.
While there isn't much visitor information on-site, book a guided city tour and enjoy an educational and enlightening experience to the Batu Caves from Kuala Lumpur.
7 – Escape big city life and head to the hillsides of the Genting Highlands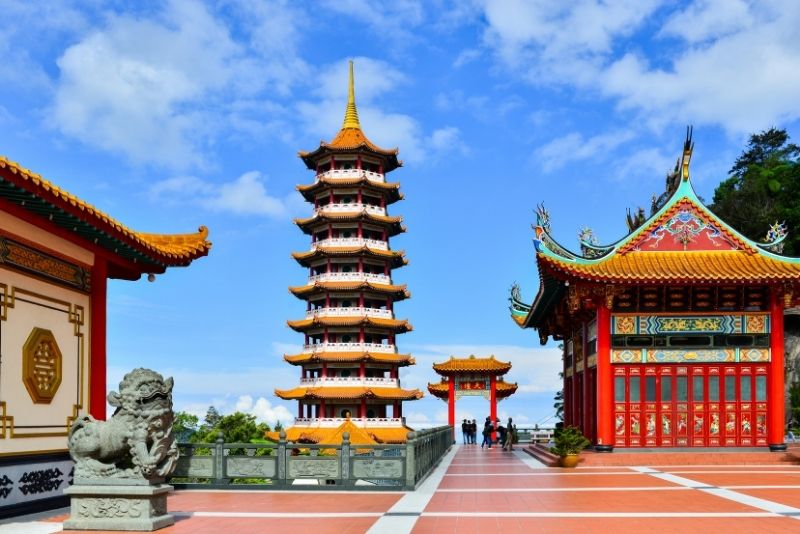 Hello Genting Highlands, where the weather is cooler and the scenic views are unending. It's the perfect place for a day trip outside of KL.
Although the town inside Genting has been built as a resort city filled with casinos (including its very own mini Las Vegas), shopping malls and theme parks, the areas just outside of the city are simply magical.
Stay in a homestay or a glasshouse villa and wake up to a sea of clouds, visit traditional villages nearby, and feast on local culinary delights typical to the region.
Travel up to mountain peaks via the town's cable car to glimpse some of the best views of Genting from above — don't forget your camera!
8 – Be amazed by the architecture of Dataran Merdeka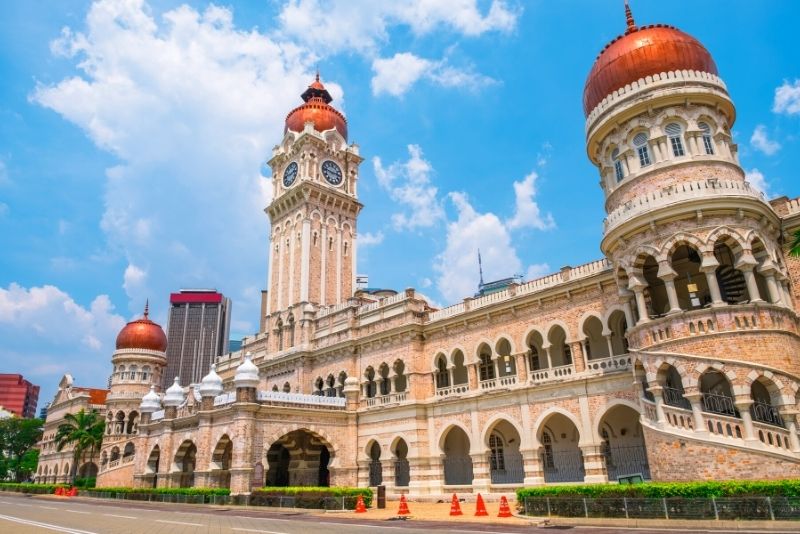 The Sultan Abdul Samad Building building at Independence Square is steeped in history and was originally built when Malaysia was still under British rule.
In fact, it was only in 1957 that the country gained its own freedom.
Every Independence Day, the people of the city all congregate at Dataran Merdeka for festivities and celebrations, and it's a popular point of interest for travelers as many must-see sites and buildings are located close by.
The architecture is really interesting, celebrating a mix of colonial and traditional design. Visit Kuala Lumpur's very own 'Big Ben" tower clock, topped with a brass dome, and check out the light brick hallways and spiral staircases.
As the sun sets, the building is lit up in warm red lights and it takes on the appearance of a castle.
9 – Take some time out to rejuvenate at KLCC Park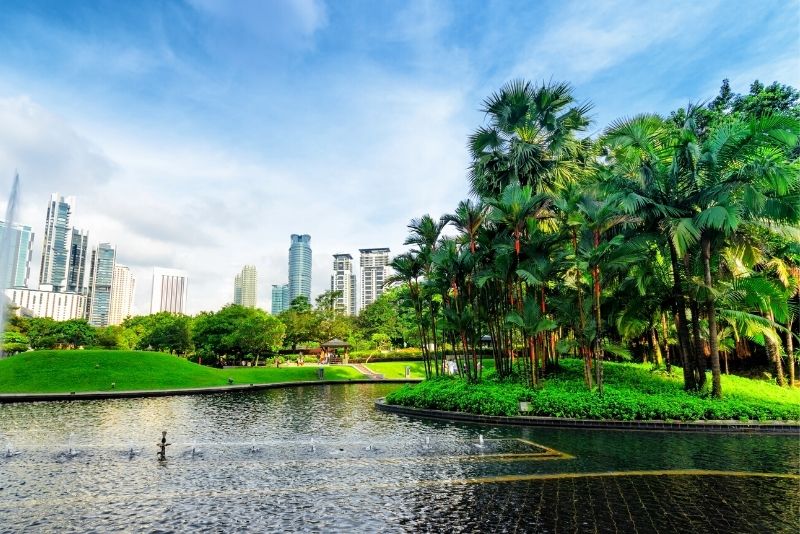 Looking for a place to picnic? Chill out on the soft green grassy banks, or take a seat around KLCC Park's water feature fountain, which lights up at night!
Speaking of lights, the Petronas Twin Towers are right in front of the park, and the entire area sparkles in the evenings.
With an allocated jogging pathway, you might prefer to exercise at this time of the day, once the blazing Malaysian sun has set.
If traveling with little ones, there's a kid's playground here, and the As Syakirin Mosque (also known as the KLCC Mosque) is located within the park.
10 – Explore the vibrant Chinatown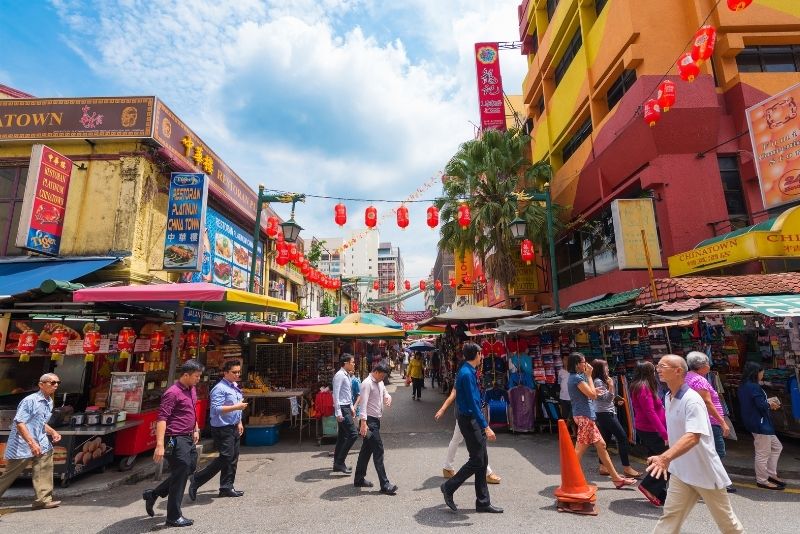 It's busy and bustling and full of life in Chinatown.
Comprising of the area around Petaling Street, as well as Central Market, eat and shop until you drop, and spot some of the coolest street art that KL has to offer around this neighborhood.
Lined with red lanterns, visit Chinese shophouses and shop for souvenirs, herbs and traditional remedies. Go temple-hopping (Chan See Shu Yuen, Guan Di and Sri Maha Mariamman temples are in this area) or grab tea at a boutique cafe.
Try out a walking tour, stopping at various hawker stalls where your guide explains and translates for you. It's also a convenient area to book your accommodation in and is close to many city attractions.
11 – Feel like royalty at the National Palace (Istana Negara)
When the impressively large grounds were first built in the early 1990s, it wasn't the royals that resided at the National Palace.
Originally home to a Chinese tycoon who made his fortune selling tin, it was only in 1957 that the royal family took over the site.
The family called the National Palace home up until 2011. Today, guests can explore the palace gardens and hallways, and Istana Negara has now been converted into the Royal Museum.
Many city tours include a stop-off at the National Palace to visit the museum, and checking out the palace's different rooms.
12 – Visit an incredible pink mosque at Putrajaya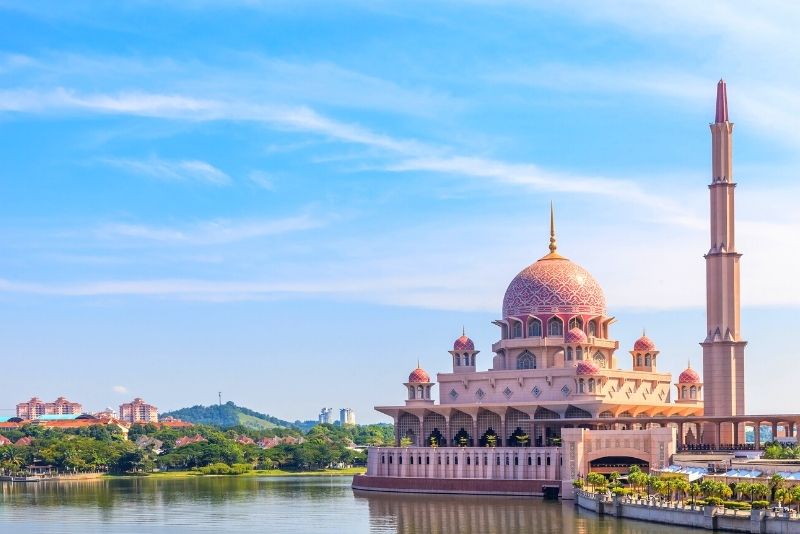 Take a day trip to Putrajaya, a one-hour drive from Kuala Lumpur, and explore the former marshland that's now home to a modernized city.
As the official administrative and judicial capital of Malaysia, Putrajaya runs super efficiently and part of the city's mission policy is environmental sustainability. Hence, it's been dubbed the "Green City".
The natural environment is made up of wetlands, so the area is ultra lush. Take a boat tour on Putrajaya Lake, stopping off at famous attractions on the waters like the Iron Mosque.
World-famous, visit the Putra Mosque where many flock to take photos of (and with) its glowing-pink exteriors. The city is filled with nature parks like Taman Botani Putrajaya and outdoor activities, including flyboarding and even a skate park.
13 – Discover various animals and habitats at Farm In The City
Farm In The City is exactly as its name states and you'll get the chance to see, interact and feed the animals up close up.
The conservation park was designed to replicate a traditional Malaysian village, known as a 'kampung', and is divided into different areas where tribes of different species call home.
Give the Giant Tortoises an afternoon snack or try bird feeding inside the free-flight bird aviary. Is your child obsessed with lizards and snakes? Stop by Reptiles Cavern, or for something more cutesy, the Pet Village is filled with bunnies and guinea pigs.
Other epic attractions include a tropical fruit orchard, a veggie farm of local produce, a jungle walk as well as a traditional Longkang Fishing Village.
14 – Explore more than 12 galleries at Islamic Arts Museum Malaysia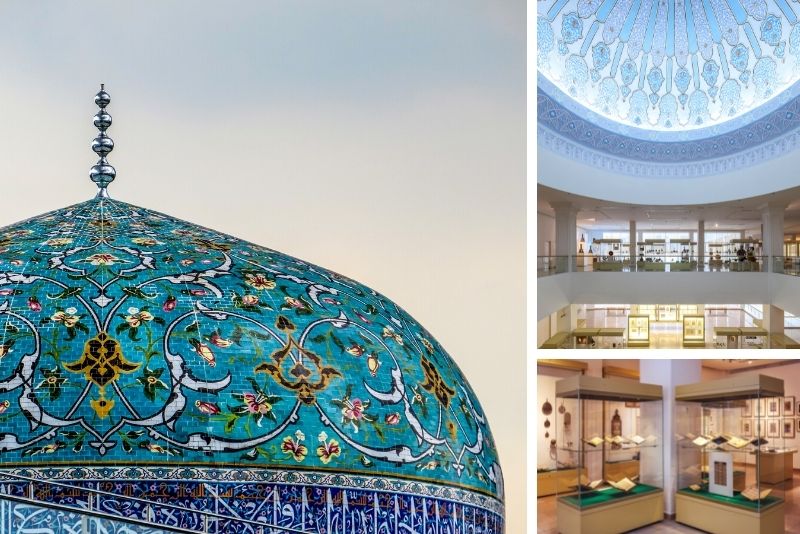 Take a look into Malaysia's rich cultural past inside the Islamic Arts Museum Malaysia.
Unlike many museums, the building is bright, white and modern which really lets the artifacts and collectibles on display shine.
As you arrive, look up! An upside-down dome greets guests as they enter, and there is also a beautiful blue engraved qubba outside the building.
The permanent displays include the Textile Gallery, Architecture Gallery, India Gallery, China Gallery, and the Jewellery Gallery among others. There are also rotating exhibitions that change every few months.
15 – Meet Spongebob and the gang at Sunway Lagoon Theme Park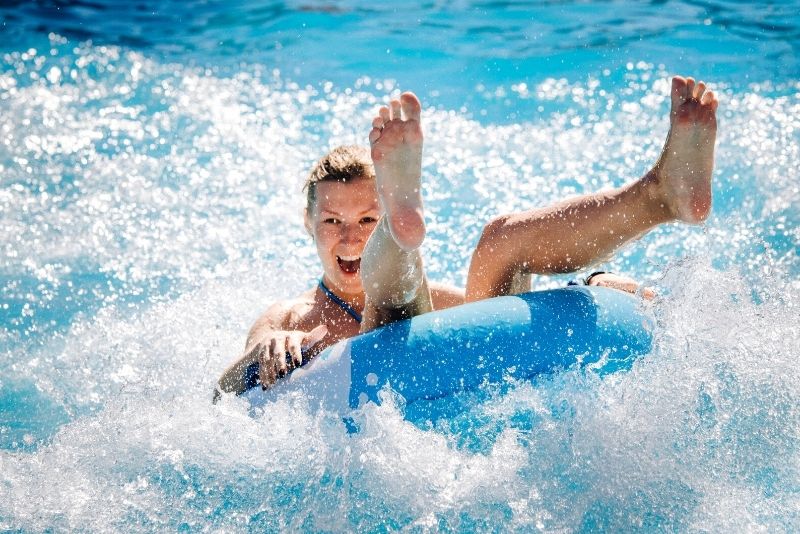 What better way to beat the heat than spending the day swishing and whirling down water rides at Sunway Lagoon!
Catering for all ages, this exciting park is unlike many, and it's no ordinary setup. There are six areas to discover, including the Water Park and Amusement Park. Ride the world's largest vortex ride, the Vuvuzela, or hit the man-made Surf Beach.
Play games at Fun World, ride an old-school carousel and there are meet and greet shows starring your favorite Nickelodeon characters.
Get your adrenalin pumping and try bungy jumping or go-karting at the X Park. For those that dare, Scream Park is loaded with live-action thrills and shrills.
16 – Learn about the goddess Mazu at the Thean Hou Temple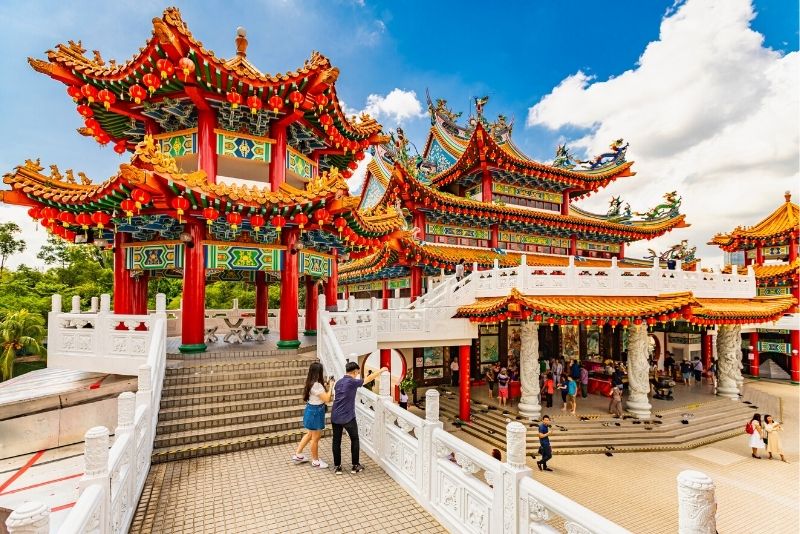 This six-tiered temple will take your breath away.
With its swooping design, each of the six levels of Thean Hou Temple has a curved bright red rooftop (known as swallowtail roofs) with ornate statues adorning its edges, like the protective Naga snake.
Although the temple is of Chinese design, there are activities and celebrations for those that practice Buddhism, Taoism and Mazu culture.
Explore the main hall on the top floor, and meander through the Zodiac Statue Park and Yixin Garden.
17 – See fairies, we mean, fireflies, up close and personal in Kuala Selangor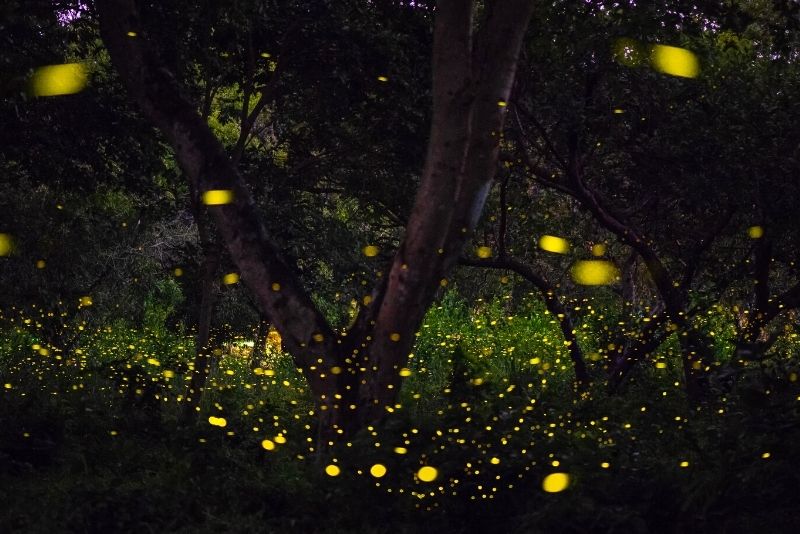 Situated right where the river mouth and sea meet, Kuala Selangor is a gorgeous amalgamation of oceanic and riverside vibes.
Trek through nature parks, take a dip in the ocean at one of the beaches and visit the different temples found in this part of Malaysia, like the Monkey God Temple.
Day-trip to this part of Selangor and venture through rice paddies at Sekinchan, and thanks to its geographical location, there's seafood in abundance in these parts — so be prepared to feast!
The most special part is as night falls. Take a boat trip into the Kuala River's mangrove and witness hundreds of fireflies lighting up the riverbanks.
18 – Imagine what it must be like to fly at KL Bird Park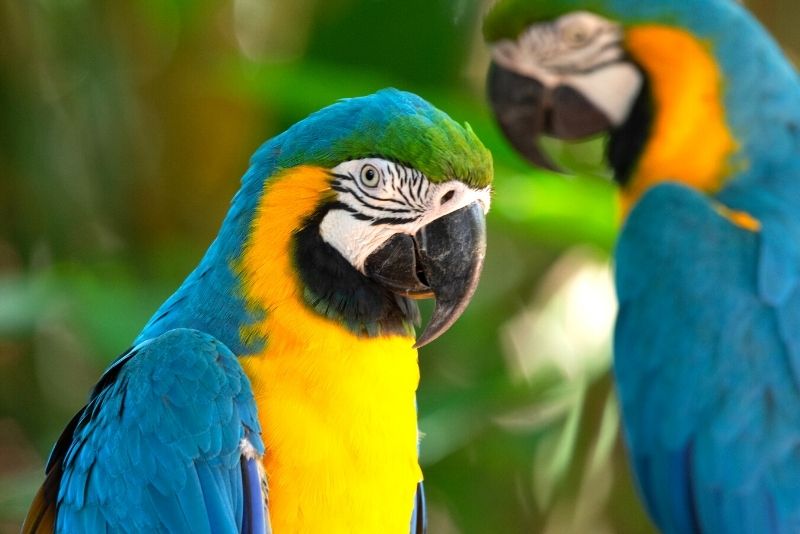 Bird-watchers, marvel at over 200 different kinds of bird species that call KL Bird Park home (also known as Taman Burung Kuala Lumpur).
The park is divided into zones, and zones one to three are massive free-flight aviaries, designed to resemble the birds' natural habitat as much as possible, with acres of open space for them to roam.
There are daily bird shows and feeding sessions of the different species, from ostrich to eagles.
19 – Explore the modern National Mosque of Malaysia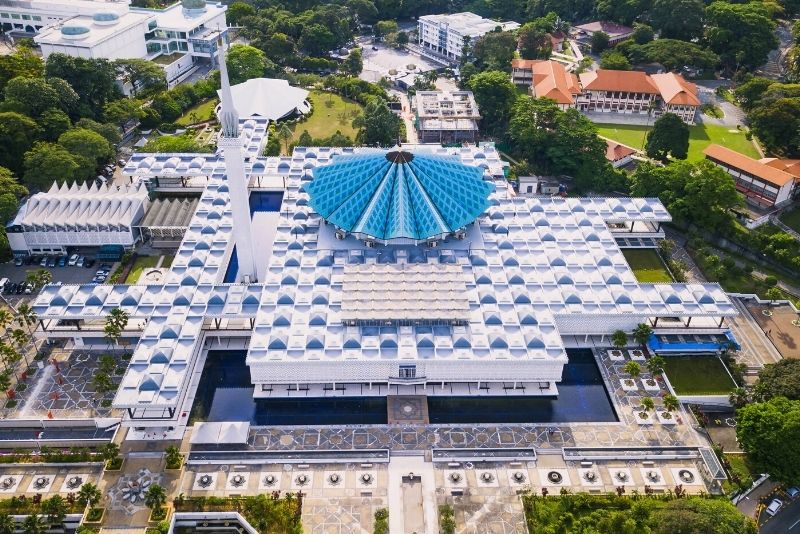 Known locally as Masjid Negara, the grounds attract non-worship goers because of its striking architecture.
When it was first built in the 1960s, it took inspiration from countries like Turkey, India, and Saudi Arabia in its design. After undergoing an upgrade in 1987, the mosque today has a more modern feel.
If you look closely enough, you will notice that the building's impressive 73-meter high minaret looks like a closed umbrella, while the 16-pointed blue star shape roof resembles an open umbrella from a bird's eye view.
20 – Savor the flavors of different cultures on a food tour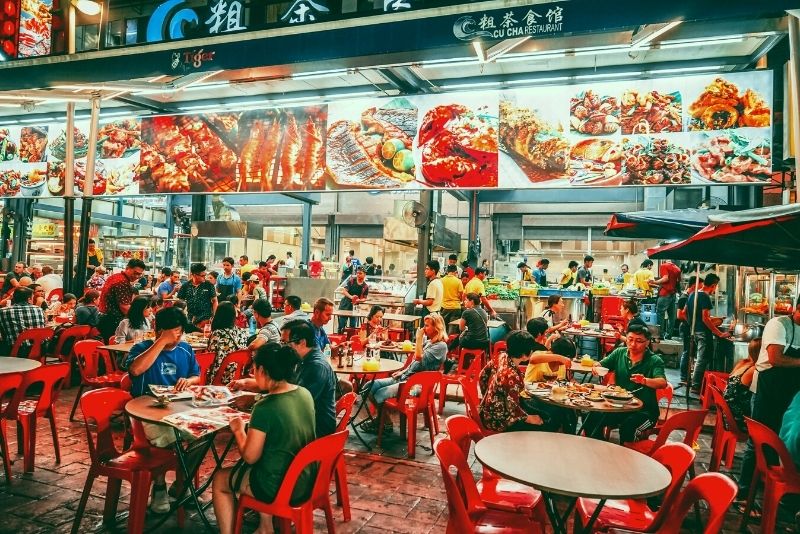 The beautiful thing about visiting Kuala Lumpur is you really get a sense of diversity, and the cuisine around these parts represents the same feeling.
From curries to dim sum, there's an assortment of foods and dishes to try. Some must-try local favorites include nasi lemak and Ikan Bakar (a chargrilled whole fish dish).
There are night markets, food courts and tons of hawker stalls open during the day, plus certain areas are known for their street food.
Instead of taking a bunch of taxis around the different locations, hop on the back of a Vespa scooter and spend the day, or night, eating with a preorganized foodie tour around Kuala Lumpur.
Don't miss Jalan Alor, KL's most famous street-food road filled with an assortment of smells and local culinary delights.
21 – Visit the oldest Hindu temple in Malaysia: Sri Maha Mariamman Temple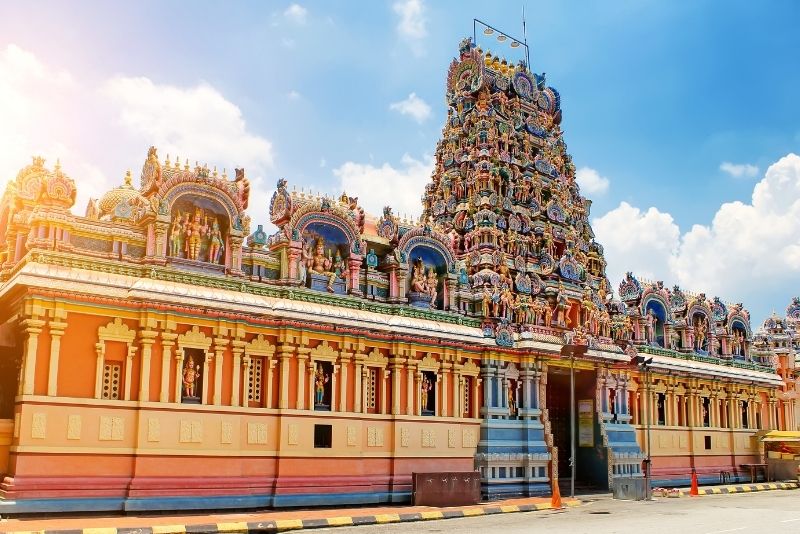 Located in Chinatown, you can't help but feel naturally drawn inside the temple grounds with its colorful gopuram (tower entrance) overflowing with statues of 228 Hindu deities.
Inside Sri Maha Mariamman Temple, the grounds are not massive and it takes 10 to 15 minutes to walk around the entirety of it.
First constructed in 1873, the temple is reminiscent of South Indian design. As you enter, you can pray, meditate or make an offering at the Prayer Hall, or walk around and discover the different murals and intricately designed statues.
You'll want to have a camera close by for this one!
22 – Find affordable goods and delicious street food on Petaling Street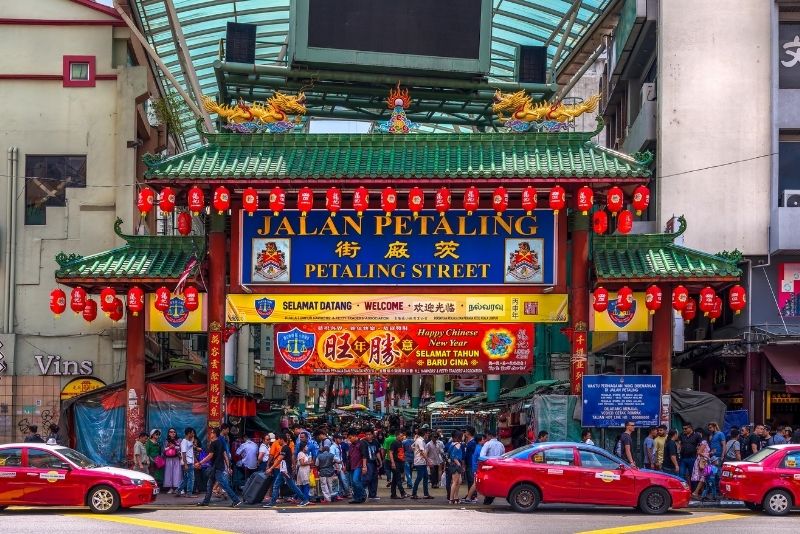 In the heart of Chinatown is Petaling Street featuring its glorious street market. Straight off the bat, we recommend dedicating a few hours here to discover, eat and shop.
You can enter Petaling through both ends of the street and start shopping from either side. Don't miss the dumpling soup at a local street vendor at the beginning of the top entrance – they'll have you going back time and time again.
Stock up on all sorts at the flea market, like cashmere scarves, trendy sunglasses, (knock-off) make-up brands, perfume, smoking accessories, shoes, clothing, bags, toys, … you name it!
23 – Visit the city via a hop-on hop-off bus tour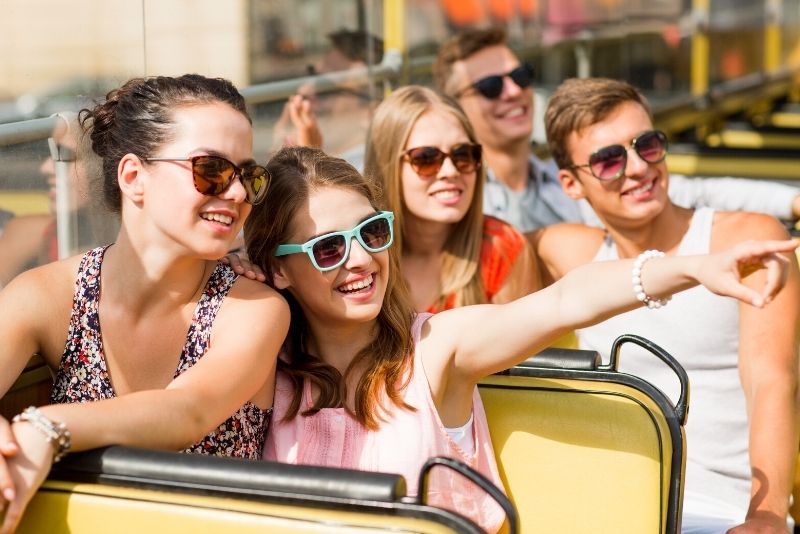 An affordable option instead of organizing and paying for a hundred Grab taxis, consider a hop-on-hop-off city tour on a double-decker bus instead!
Choose to do the tour in the daytime or evening (depending on your preference), and each time offers a unique experience and differing city vibes.
Drive comfortably through the streets (grab seats on the second level for the best views) and take in the local scenes and sights. Most tours stop by at least 15 must-see city attractions.
Popular stops include the Petronas Twin Tower, Aquaria KLCC, and Chinatown. As it's a hop-on-hop-off bus, you can jump on and off at any of the designated stops around Kuala Lumpur.
24 – Breaking records at the new Warisan Merdeka Tower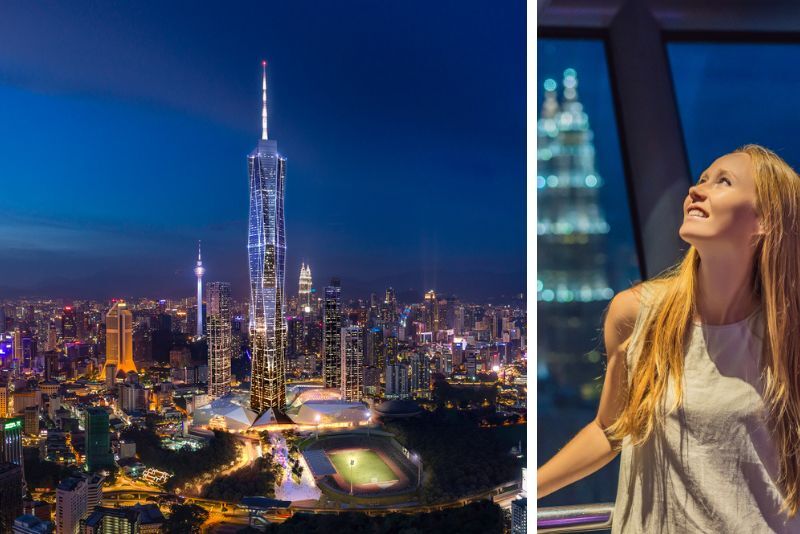 While technically the Merdeka Tower is still under completion, once it's finished construction it'll top world lists as the second tallest building IN THE WORLD!
With 118 levels and standing 679 meters tall, it will officially take the cake for the highest building in all of Malaysia and the spire (which is the tallest part of the building), is officially complete.
Its name, 'Merdeka' means 'freedom' in the native Malay language and the tower will be open to the public at the end of 2022.
25 – Witness the (free) light spectacle at Lake Symphony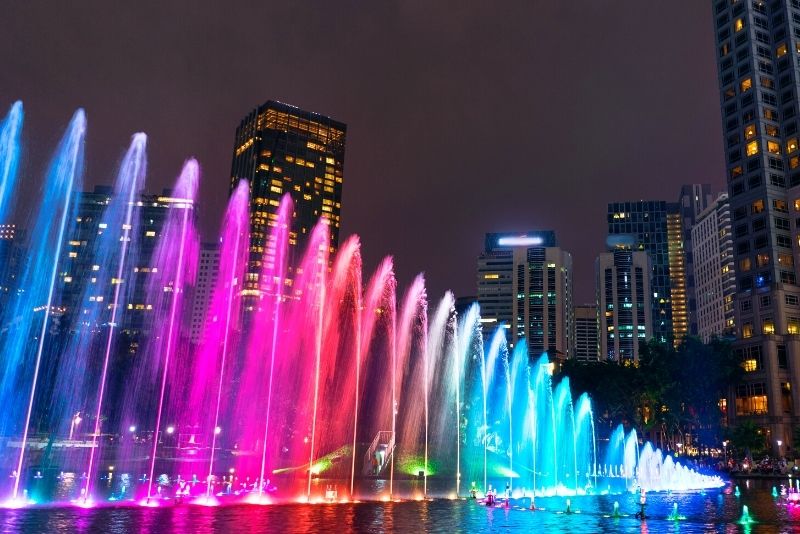 If you've ever traveled to Kuala Lumpur, you can't help but notice how lit up at night the city is, and it seems like every skyscraper has LED neon light features, or puts on a light-picture display.
After all, its nickname is the 'Garden City of Lights'. It's no different at Lake Symphony, except swap buildings for fountains.
Enjoy a water-light show and the display showcases over 150 one-of-a-kind animations in light form, accompanied by musical sounds.
The best part is that it's free and shows are put on daily. Plus, it's super easy to find and is conveniently situated in front of the entrance to Suria KLCC shopping center, a six-story mall at the famous Petronas Twin Towers.
26 – Shop 'til you drop at Pavilion Kuala Lumpur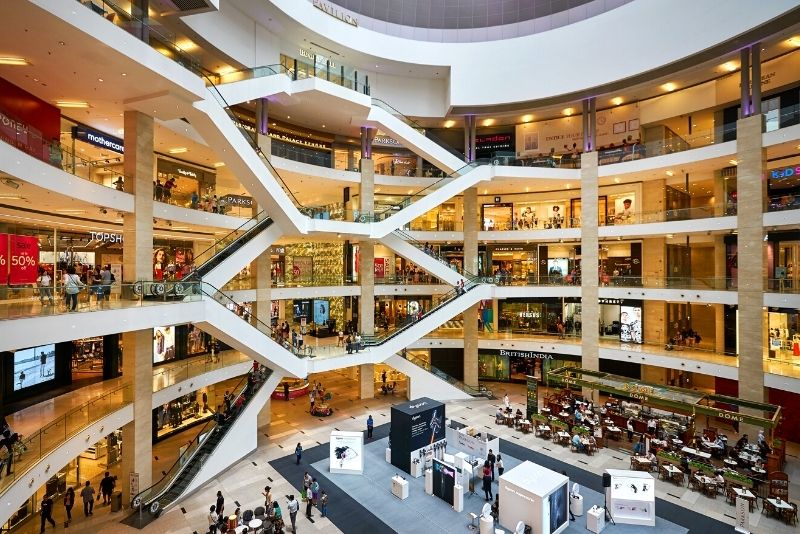 The award-winning mall features over 700 retail stores and restaurants and you'll find everything you need under the sun at Pavilion Kuala Lumpur.
But unlike the local markets, this is the place to find boutique shops and brand name outlets. Visit Michael Kors, stock up on beauty products at Yves Saint Laurent Beaute, or go gaga for all things tech at Gadget Hub.
Shop the latest fashions at Prada or Fendi, update the kids' wardrobes at CottonOn Kids, or spoil them with collectible plushie toys from Karafu.
There's a salon and art museum inside the center too. After all the shopping, choose from plenty of dining options from Tokyo Mik Cheese Factory to Burger King.
27 – Get teleported to France at Bukit Tinggi
Day tripping towards the Genting Highlands region, you do feel worlds away at Bukit Tinggi, otherwise known as Berjaya Hills.
If you've never visited a themed village before, Colmar Tropicale is a must-see and the manmade resort town has been built to replicate a village somewhere in the French countryside.
"Travel" through three countries in one day … Don't leave back to the city without checking out the Japanese Gardens either.
28 – Improve your skills with a local cooking class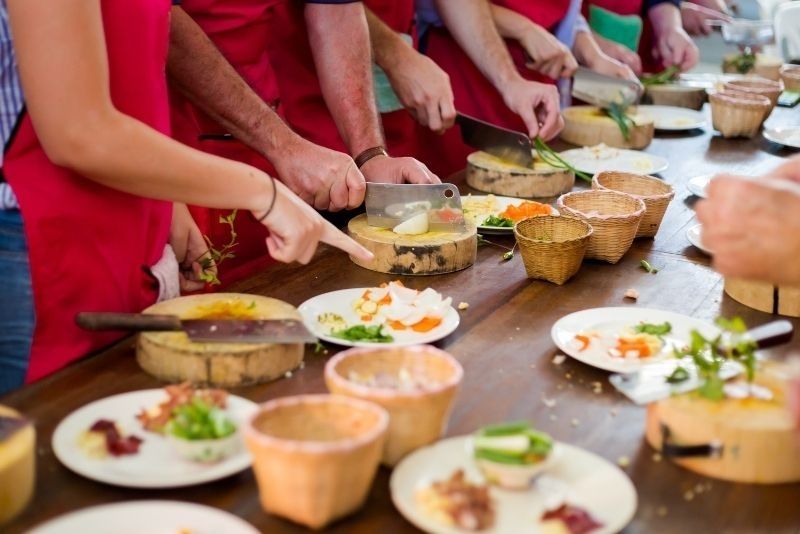 Kuala Lumpur celebrates a plethora of cultures, and the same can be said about the food. You will see a variety of cuisines from local curry houses to Chinese restaurants.
Taste the traditional flavors of Malaysia and enjoy a cooking class where you'll learn to recreate Malaysian dishes and the recipe to take home with you.
Begin the day at a local fresh market where you'll grab (and get to know) the ingredients, and some cooking classes happen at a home with its own farm.
Here, lavish in the feeling of picking your own produce to cook with, and the satisfaction that follows after creating something scrumptious to eat.
29 – Admire the colorful inhabitants of Kuala Lumpur Butterfly Park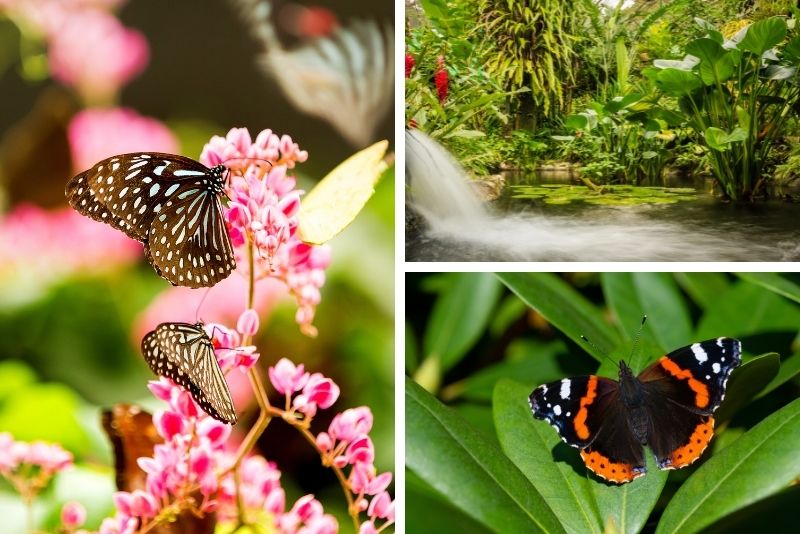 Home to more than 5,000 butterflies, it feels like you're walking through a magical forest world inside the Butterfly Park.
Fluttering among wispy ferns, scented florals, and ever-green plants, spot the different shapes, colors, patterns and sizes that the different butterflies display.
You might even find that you're a butterfly whisperer and if you hold out your hands, some might land on you.
Although the Butterfly Park is located within the Lake Gardens, i.e. Perdana Botanical Garden, it's accessible directly from the roadside so you can make a sole trip here without missioning through the gardens.
Travel tip #2: Skip the waiting lines and prepurchase your Kuala Lumpur Butterfly Park tickets in advance.
30 – Feel like you're in Morocco at Masjid Al Bukhari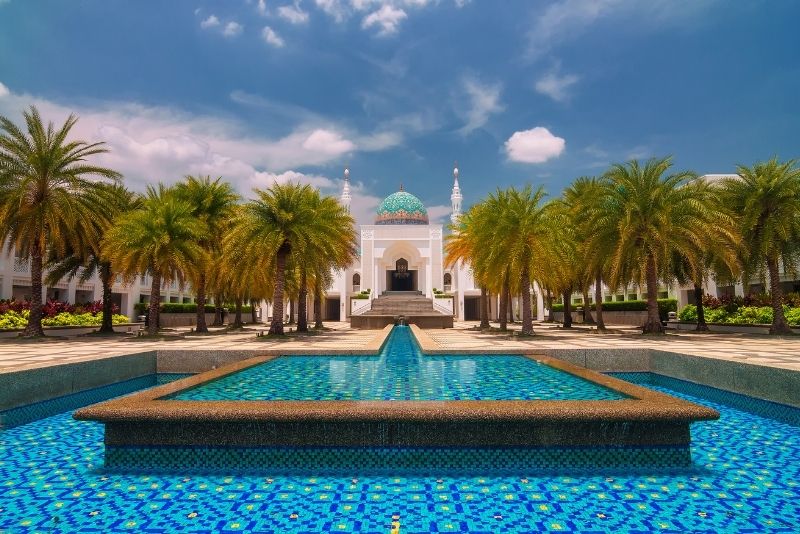 You'll know you're approaching Masjid Al Bukhari when you see the ornate blue rooftop domes sitting in the sky.
Upon arrival, feel like you've landed in Morocco, or even Dubai, as the exterior of the building is surrounded by tall tropical Palm trees and a gorgeous blue, star-polygon-shaped pool lies in the garden.
It's a fantastic place to wander the peaceful grounds, as well as take some snaps of the intriguing architecture.
31 – Spend the day walking through nature at Templer Park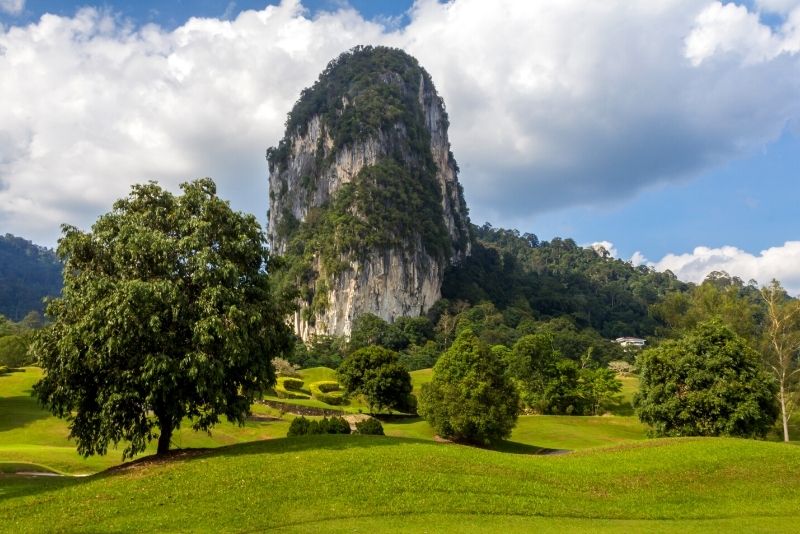 Malaysia's natural vegetation is made up of rainforests, and if you head just outside of the city, you can experience it too.
Templer Park is a nature park, a 30-minute drive from the city, and it's renowned for its various hiking trails. Cross pathways lined with indigenous fauna and flora and fresh river streams.
There are treks suitable for all levels, but if you're looking for a challenge, try your hand at the Bukit Unyang trail. It's recommended for experienced hikers and trail runners.
32 – Take a step back in time at the National Museum of Malaysia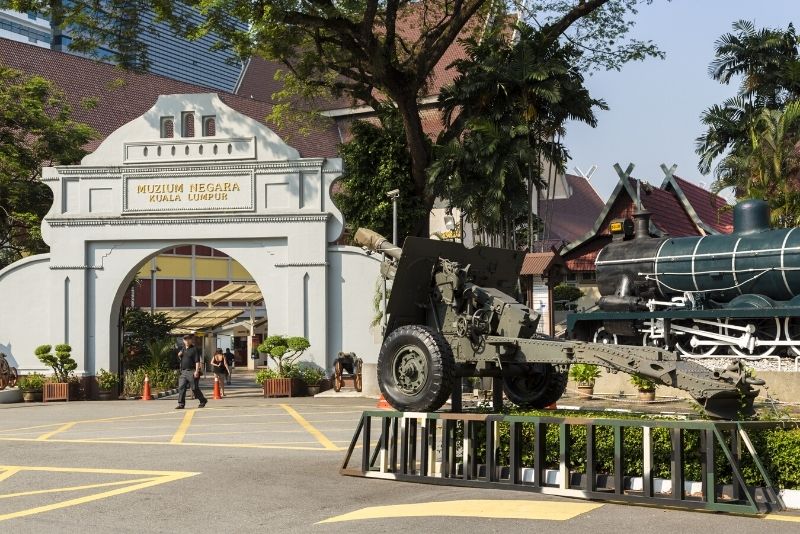 Known by locals as the Muzium Negara, discover and investigate Malaysia's history and parts of time long-forgotten.
Comprising of three levels, there are four fascinating permanent exhibitions for guests to check out.
The Prehistoric Gallery dates as far back as the beginning of the Malay Archipelago, whilst the Malaysia Today Gallery hones in on more recent years, including its 'road to independence'.
The other two galleries cover the Malay Kingdoms and Colonial Era periods, but throughout all four exhibits, uncover maps, ancient texts, scrolls, sculptures, and traditional clothing among many other artifacts from the past.
33 – Take the young ones to KidZania Kuala Lumpur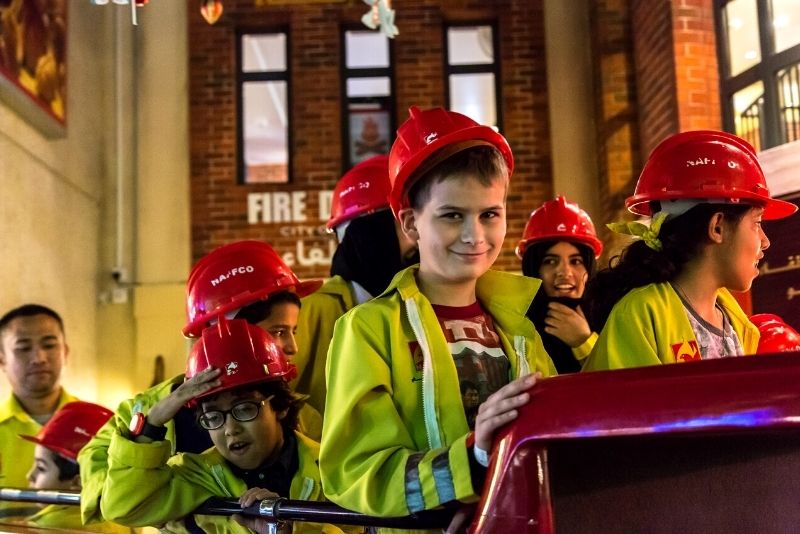 Hey kids! Ever dreamt of being a doctor one day, or how about a professional chocolatier?
Moms and dads, your tots, toddlers and younger children will have an absolute blast as they get the chance to play dress up for the day at KidZania.
With over 70 different types of role-playing activities to choose from, kids can experience "real-life adult" activities, chores, and day-to-day life lessons. It's fun, interactive, educational, and an eye-opener for their future, all set in up in an epic environment …
What's not to love?
34 – Explore the longest underwater tunnel in Malaysia at Aquaria KLCC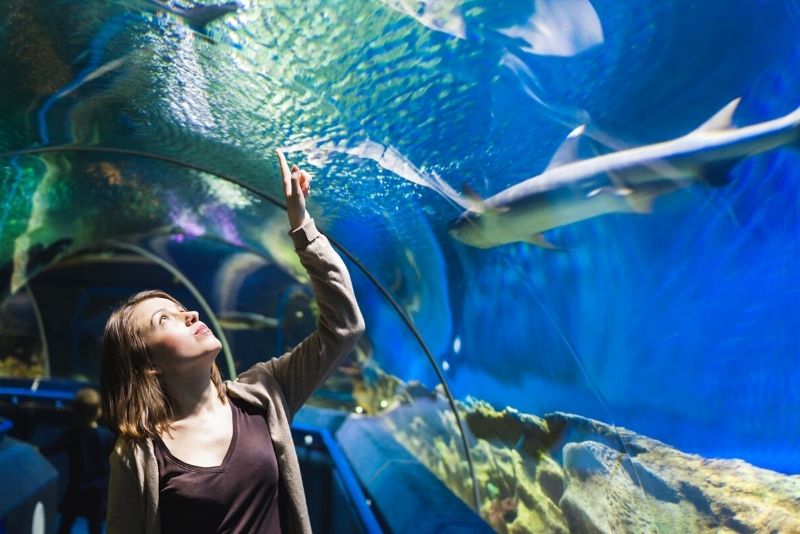 Make your way beneath KL's Convention Centre and discover an underwater paradise at Aquaria KLCC.
The perfect activity for families or couples, spend a few hours admiring the amazing marine animals that are native to the waters around Malaysia.
The aquarium is divided into exhibits that each focus on a different species, or aquatic environment.
As you wander through the underwater tunnel, spot Sand Tiger Sharks or Green Turtles swimming by — it's a real Instagram moment!
Exhibits include the Evolution Zone, Shipwreck, Deep Forest, The Coast, Living Ocean, Station Aquarium and the Weird & Wonderful. Here, spot the Giant Pacific Octopus or Pinecone fish whose gills look like the outside of a conifer!
35 – Visit 99 Wonderland Park's lucky Golden Waterfall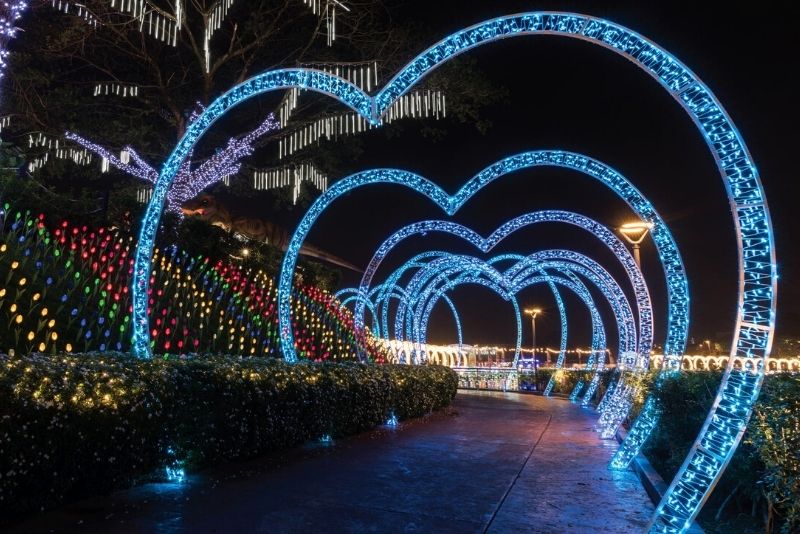 It's been named as one of the most "unique recreational landmarks" in the city and for good reason.
99 Wonderland Park is unconventional featuring differing areas and things to do and see. It's really a mix of attractions, rides, and photo opportunities.
Cross the Magical Bridge (lit up at night), or the Boardwalk above the lake where you can spot wildlife animals nearby.
As an open-zoo concept, look out for peacocks or ducks waltzing past, or head to 99 Buaya Tembaga where the crocs live!
What's your star sign? One of the coolest features has got to be the 12 Zodiac Walkway, a path lined with the different animal statues of the zodiac.
36 – Take a day trip to "Orang Utan Island"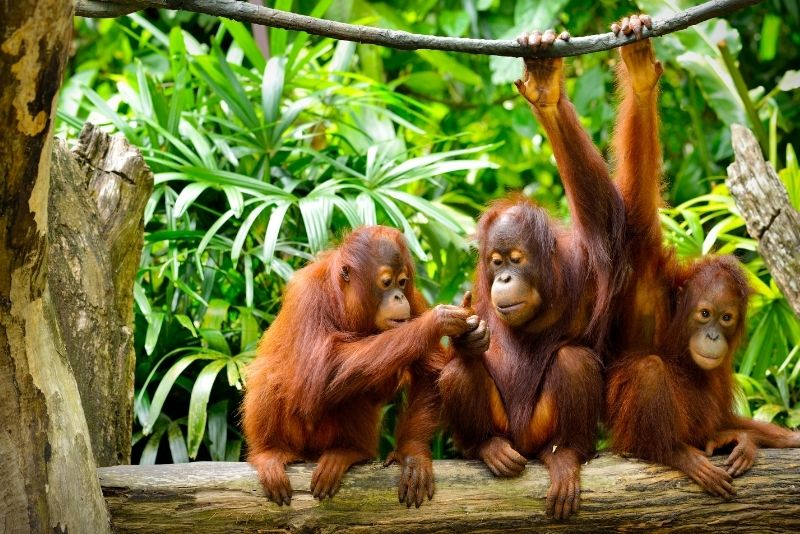 When you visit Pulau Orang Utan, you can rest assured knowing you're visiting a fantastic organization.
The rehabilitation initiative is built alongside a lake and the orangutans live freely, with plenty of space to roam and swing from tree to tree.
In fact, the humans are the ones that feel "caged in" as the tour through the conservation park has a confined walkway for visitors among the animals' sanctuary.
You will also have the opportunity to feed the orangutans fruit through here if they come close enough.
FYI, to reach Orang Utan Island, you need to take a 15-minute boat ride across the lake.
37 – Make a trip to Taman Negara, a nature enthusiast's delight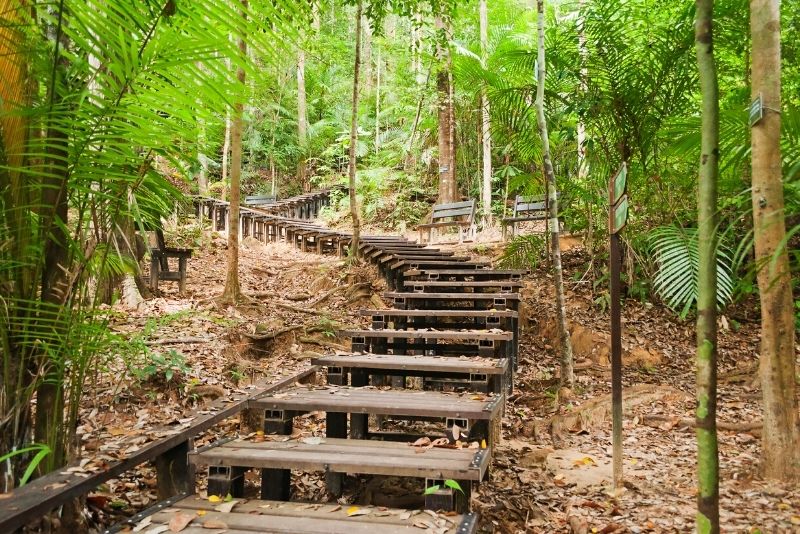 The fantastic thing about calling KL your home base for your vacation is that there are loads of beautiful national parks and areas to visit not far from the city.
Each offers a completely different experience.
Take a day trip to Taman Negara and wander among its rainforest, believed to be 130 million years old!
But that's not all …You can also walk the world's longest rainforest canopy walkway and stay overnight among the trees.
Popular activities include fishing, boat cruises, bird watching, rock climbing, rapid shooting and jungle trekking.
Plus, explore the caves located within the national park, and visit Kg. Orang Asli, (an Aborigine settlement).
38 – Visit the centenary Sultan Abdul Samad Jamek Mosque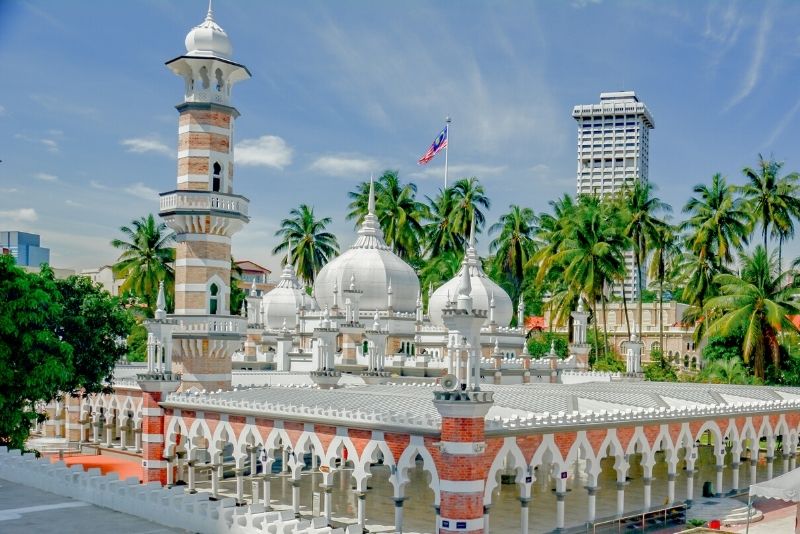 Not only is the building an architectural beauty, but the Sultan Abdul Samad Jamek Mosque is built where the Klang and Gombak Rivers meet.
These rivers play an important part in Malaysian history and it's said to be the birthplace of Malaysia.
It was the first mosque in Malaysia constructed using light bricks, and its design showcases other traditional Moorish features. It's also well-known in the city as 'Masjid Jamek'.
39 – Unwind surrounded by nature at KL Forest Eco Park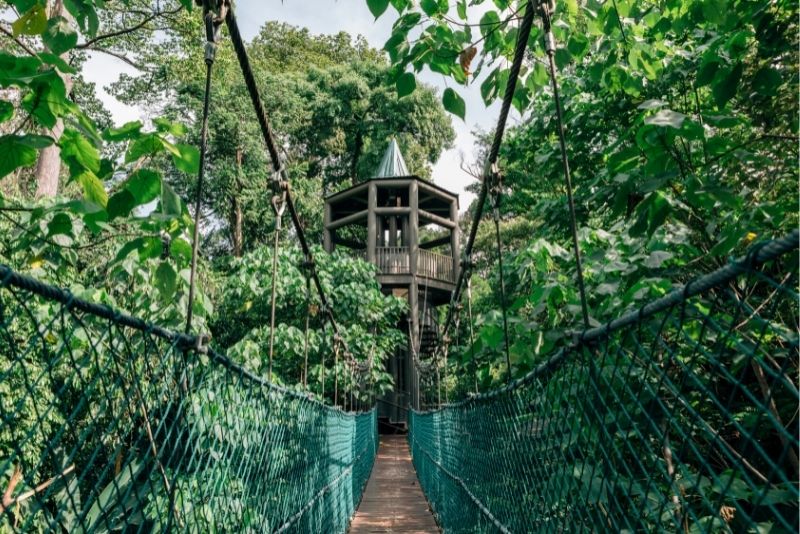 Whist you need to head a bit out of the city to reach most rainforests, KL Forest Eco Park is the only natural rainforest left inside Kuala Lumpur itself.
Walk across the bridged canopy through forestry of trees and take a refreshing break after a long day of shopping and city sightseeing.
Along the walkway are designated birdwatching/view towers and it's an amazing spot for photos too. If you're up for some trekking, hit one of the nature trails like the Jelutong trail.
40 – Check a different type of museum at the National Textiles Museum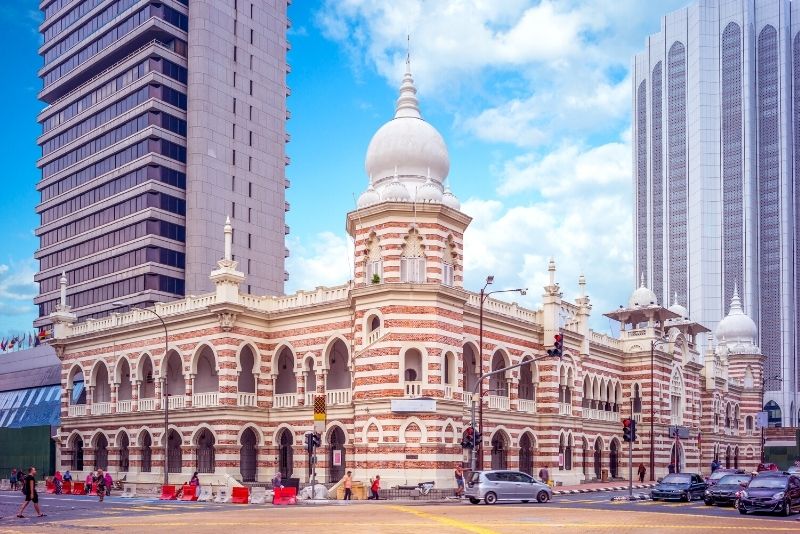 Located inside the Sultan Abdul Samad Building at the Independence Day Square is the National Textile Museum where you can wander the hallways of four exhibition rooms.
Explore the different textiles used throughout Malaysia's past to create fabrics, tools and works of art.
The Pohon Budi Gallery has textiles on display from prehistoric eras, like traditional silk and cotton clothes and garments. Or, learn about the colorful origins of Batik fabrics and design inside the Pelangi Gallery.
41 – Discover why the Kuala Lumpur Railway Station is a famous landmark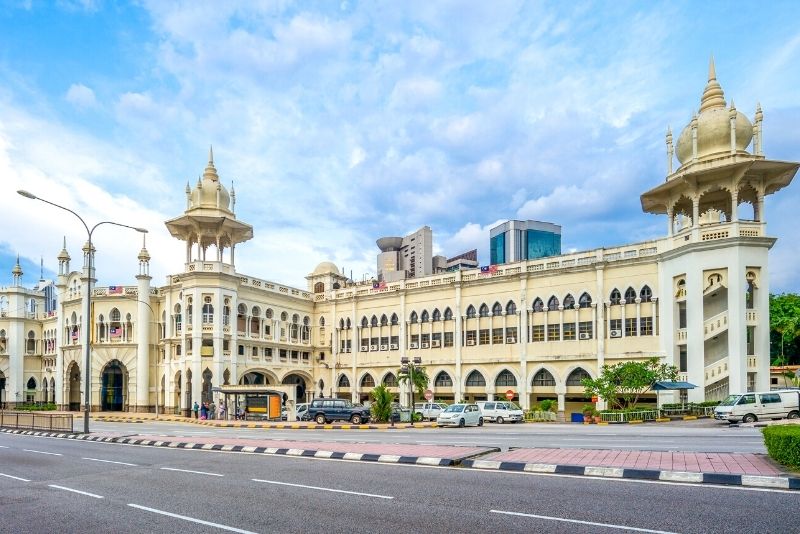 Still in operation for trains doing the daily commute, the exterior of the Kuala Lumpur Railway Station is the real showstopper here.
Constructed back in 1901 when Malaysia was governed under British reign, the building mixes colonial, Mughal and Moorish design elements.
Snap some original photos outside the building and explore its interesting architecture.
Inside the station, visit the KTM Mini Museum where some of the very first train tickets and carriage items are on full display.
42 – Take a look at one of the city's great urban parks, Taman Tasik Titiwangsa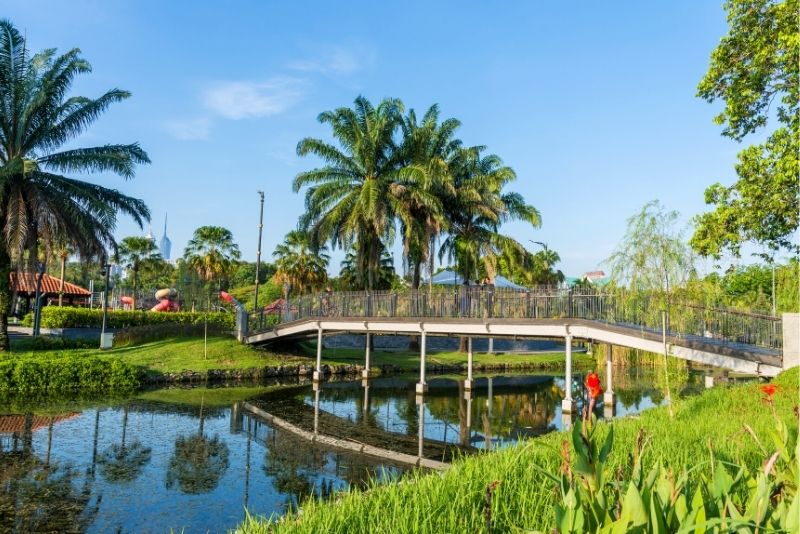 If your accommodation doesn't come equipped with a fitness center or gym facilities, a great option to get in your round of exercise is at Taman Tasik Titiwangsa.
Rent a bike and cycle the pathways around the lake, play a round at the on-site tennis courts or jog along dedicated runner's tracks whilst taking in the views of the Twin Towers.
Kids can have fun at the children's playground, and enjoy a family picnic under one of the large trees.
Another unique feature at the park is the Remote Control car track, which the little ones will love, as well as anyone who wants to let their inner child come out to play. Plus, in some parts of the world, it's a serious sport.
43 – Follow the brightly decorated street lamps and alluring smells of Little India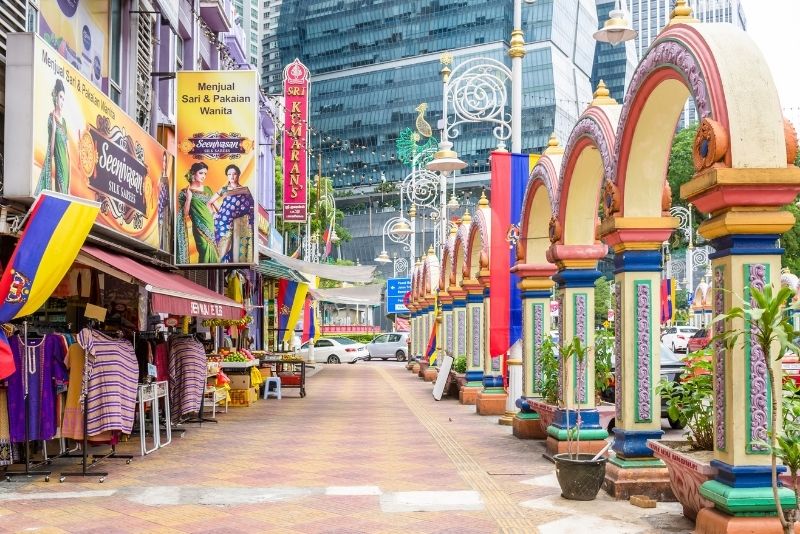 You'll realize soon enough that you're in KL's Little India district, a short 10-minute drive from popular areas such as Chinatown.
Other than falling in love with the colorful local scenes, friendly faces and all of the delicious sweetmeats, shop for all sorts of goods and products imported from India, as well as Sri Lanka, or produced by the local Indian communities.
Find traditional clothing like bright saris and harem pants, stock up on beauty products and traditional Ayuverdic medicine, herbs and spices, as well as souvenirs and artworks of deities, gods and goddesses.
44 – Discover cultural exhibitions and art for sale at Kuala Lumpur City Gallery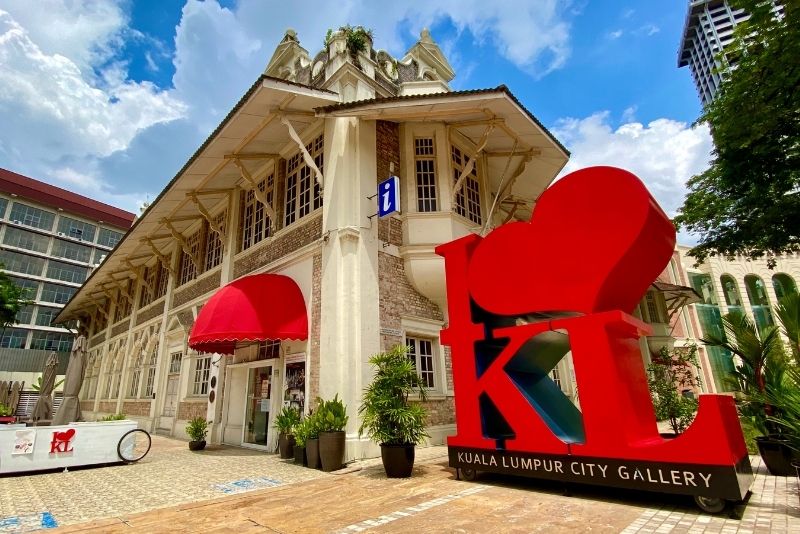 How's this for a complete bird's eye view over Kuala Lumpur city?
Inside Kuala Lumpur City Gallery, discover a 3D scaled-down model of the entire city of Kuala Lumpur, supported by an informative presentation.
Wandering through the gallery, discover old-school maps and photographs of KL dating back in time, and shop for souvenirs at the gift shop.
If you're intrigued, you can also visit the workshop area where the staff creates the 3D models.
45 – Admire the stunning Blue Mosque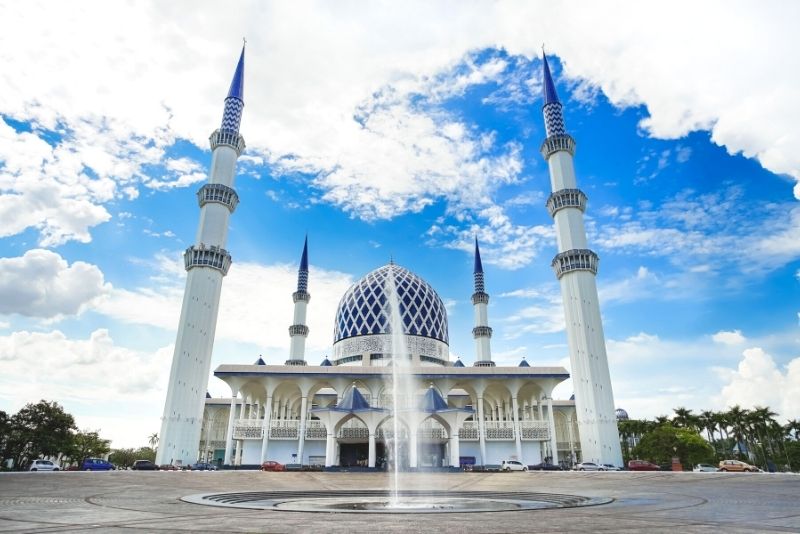 Travel 20 minutes outside of Kuala Lumpur to the Selangor district where you can spot one of Southeast Asia's largest mosques from a mile away.
Its official name is Masjid Sultan Salahuddin Abdul Aziz Shah, or locally, Masjid Biru.
Apart from the blue and silver checkered dome, it's the building's four minarets that make it unmissable.
Reaching a whopping 142 meters, you can see the tips of Masjid Biru in the sky from any part of Selangor.
Don't leave without snapping a pic in front of the beautiful stain-glassed windows.
46 – Get your fortune read at Sin Sze Si Ya Temple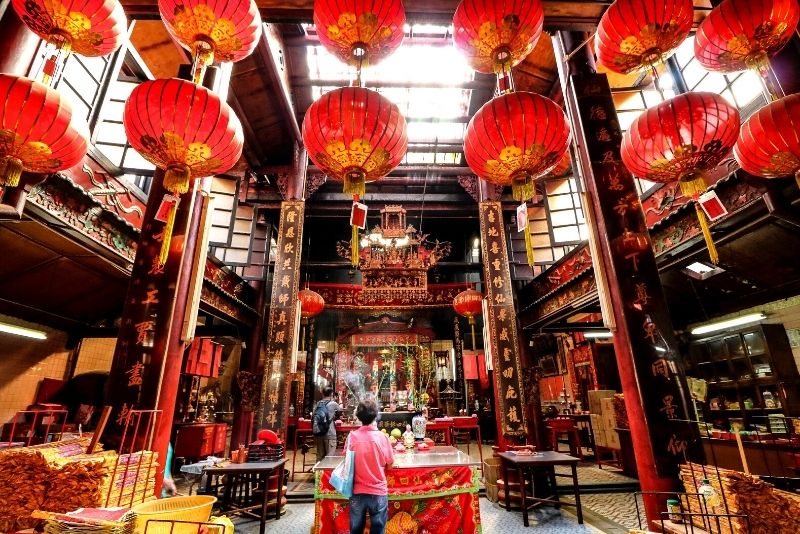 If you believe in such things, this Chinese temple is well known for its fortune-telling reader (located outside the temple) and many local students visit Sin Sze Si Ya when good luck is needed pertaining to academics.
Carved from heavy woods, overflowing with red lanterns and bundles of incense filling the air, among other superstitions it's believed that circling the temple's main altar inside can bring you good fortunes.
Founded in 1864, it's down the street from the Central Market in Chinatown and can be reached easily on foot from this area and Petaling Street.
47 – Have the greatest time at Berjaya Times Square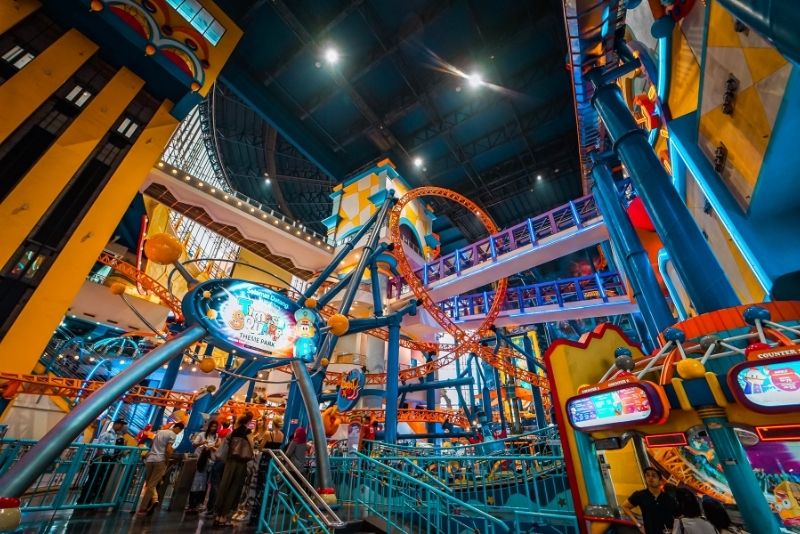 The biggest indoor theme park, Berjaya Times Square Theme Park is designed to suit all ages and it's divided into two areas, Galaxy Station is for adults and older teens and kiddies can have a blast at the Fantasy Garden.
Squeal as you loop the indoor inverted rollercoaster, or try the Spinning Orbit.
Hop onboard the fantasy train and take a ride through Fantasy Garden or design your own avatar and interact with it afterward.
The Cosmo Theatre is also home to the hall of dreams…
48 – Do your sightseeing by taking a bike tour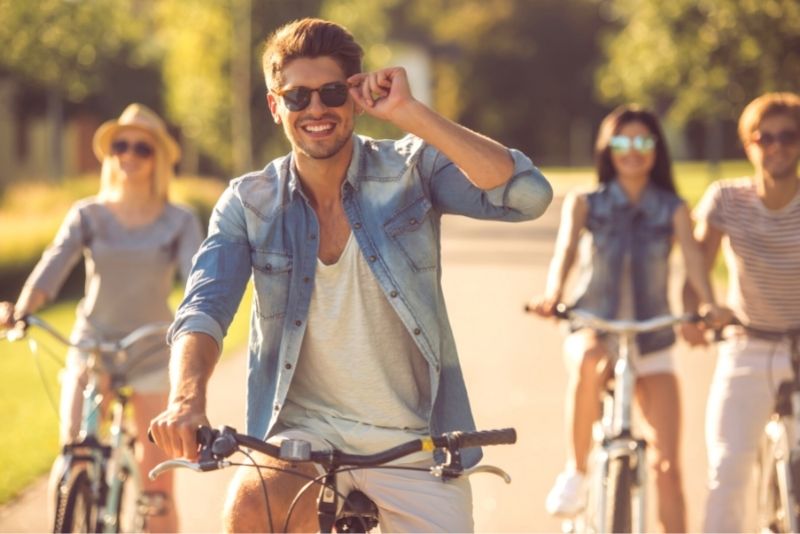 Not only is this a fun and different way to explore the streets, but you'll be sure to clock in your weekly exercise.
Spend half a day traveling to Kuala Lumpur's most famed attractions and sites like Independence Square, Central Market, the Botanical Garden, the KL Tower and the Sultan Abdul Samad Building.
When booking a bike tour in Kuala Lumpur, you can decide at what time you'd prefer, including evening guides.
Make sure to pre-check different tours and the various landmarks that you visit as tours vary.
If there's a particular site you want to see, compare tours and the destinations covered during each bike trip.
49 – Take your loved one for a romantic hot air balloon ride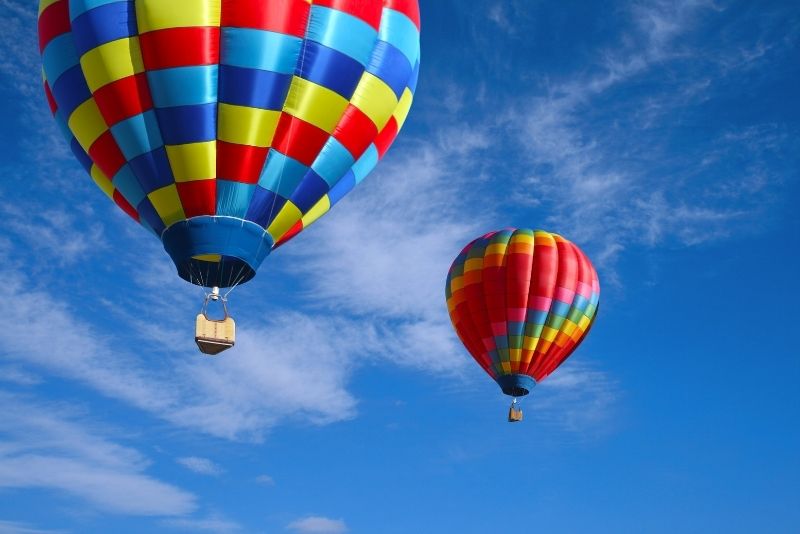 Are you planning on popping the question soon? What dreamier way to spend the afternoon (or morning) than taking a hot air balloon ride across the Malaysian skyline?!
You'll see the various landscapes and districts surrounding Kuala Lumpur from a whole new view, crossing endless green scenes below.
After a scenic flight in the air, land and enjoy a glass of bubbles, followed by breakfast at a nearby hotel.
Not just limited to couples, the balloons are large enough to fit small groups. The flight is around 45 minutes, but the whole experience is three hours.
50 – Learn something new at Petrosains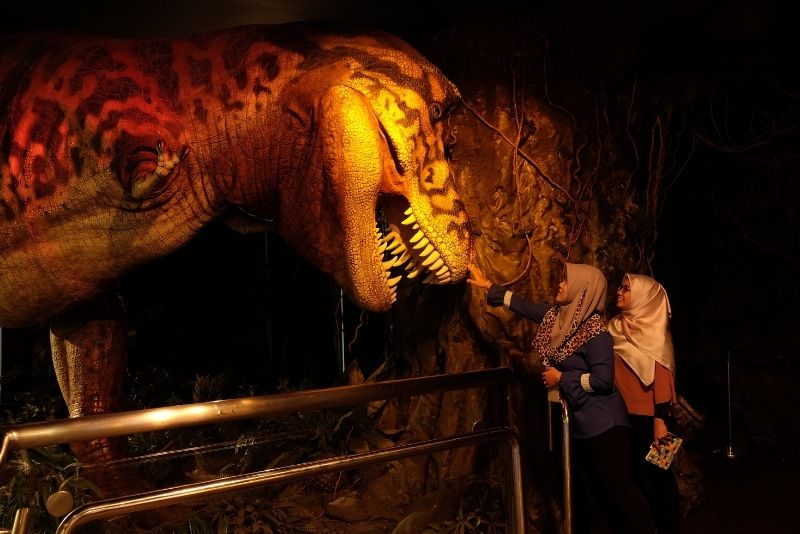 Have you got an affinity for science?
Cleverly creating an educational experience that will interest the young and old, learn all about carbon and how it impacts our environment at Petrosains in a fun and interactive way.
The center setup is super cool and futuristic, entering halls lit up with geometric patterned LED lights and you can say hello to the life-sized dinosaur replica that moves!
Watch a Science Show, and learn something new. There are demonstrations you can just watch, or shows at designated stations that recommend interaction.
Some topics covered include space, future energy and combustion.
51 – See the adorable pandas at Zoo Negara Malaysia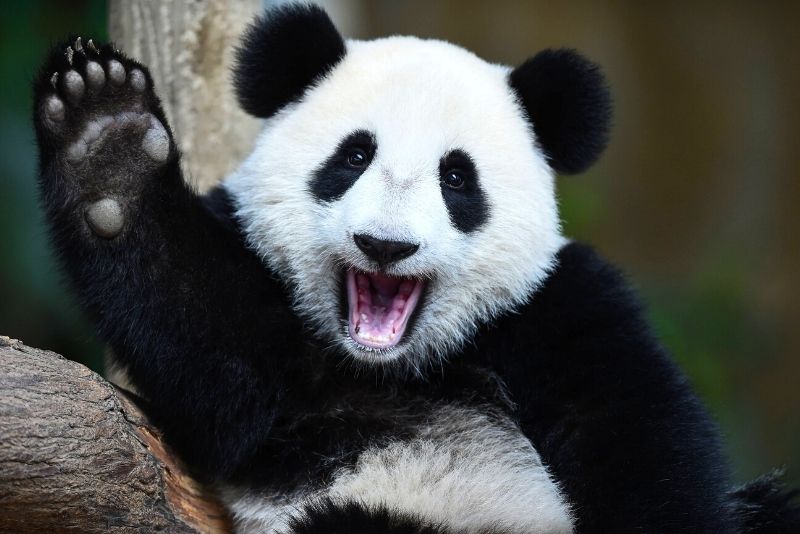 Open since 1963, home to over 476 different types of animal species from reptiles to mammals, it seems like there's an entire kingdom at Zoo Negara.
Set up as an open-zoo just outside of the city, the animals have ample space to live and roam freely and as you walk around the different areas, spot giraffes and tigers in natural grasslands.
The grounds are massive, covering 110 acres, and the animals are grouped and live in different areas across the park.
Visit the Mammal Kingdom, crossing over to the Savannah Walk. Enter the Bird Aviary and don't miss the Bee Museum either.
52 – Try white river rafting at Kampar River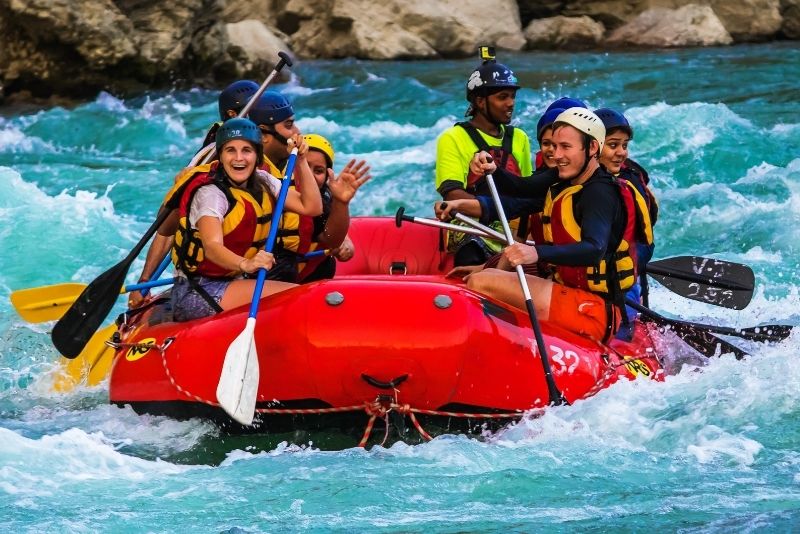 Gushing rapids and swishing streams, maneuver your way down the Kampar River with an adrenaline-inducing river rafting expedition.
Heading 2.5-hours out of Kuala Lumpur where the air is fresher and nature is in abundance, arrive in Perak (Ipoh's capital city) and make your way to the riverside where you'll begin rapid racing.
Before the adventure begins, you are given a demonstration and information about the river, and then it's time to hit the waters.
Cruising down the 7-kilometer stretch, you'll cross nine rapids in total.
53 – Perfect your backswing at the Golf Courses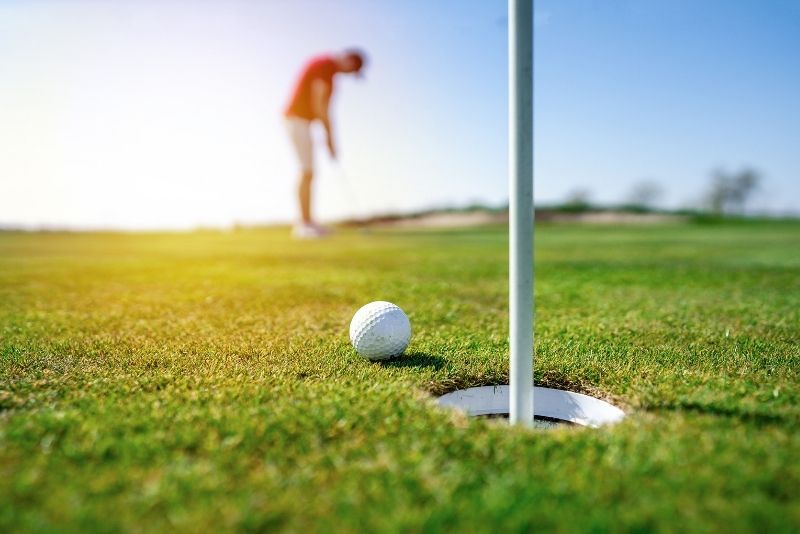 You'd be surprised to learn just how many golf courses there are in Kuala Lumpur and its surroundings.
Play at not one but two courses at the stunning Kuala Lumpur Golf & Country Club, or test the 170-acre grounds at award-winning Kota Permai Golf & Country Club.
If traveling with the family, bring the kids to Kelab Darul Ehsan designed with many water features, and you can hit golf balls off a practice range straight into the lake.
Take a swing at the 18-hole course at Bukit Jalil Golf & Country Resort, designed by Max Wexler.
Not only golfing ranges, if you want to make an entire holiday out of it KL also has many golfing resorts that sport their own private range.
Some popular golfing resorts include Amverton Cove Golf & Island Resort and Bangi Golf Resort.
54 – Try rock climbing at Bukit Takun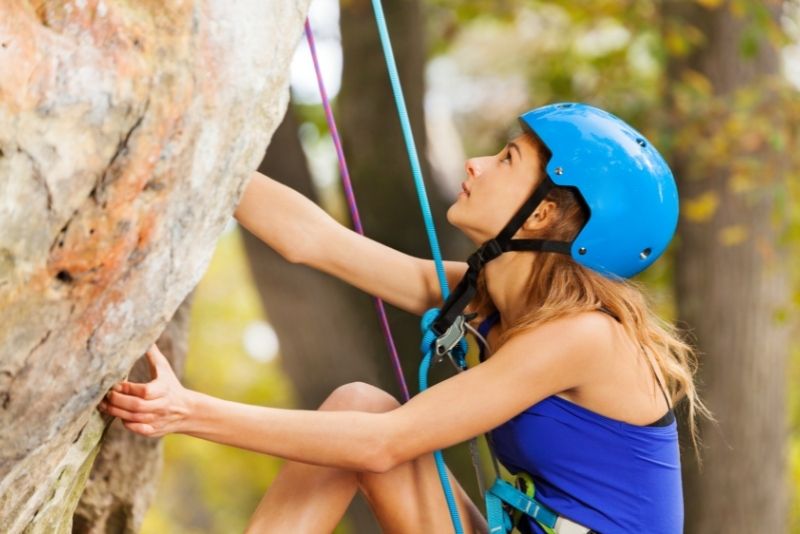 As you've surely noticed by now, the areas outside of the city center are lined with mountains and hillsides, and so it makes sense that you would be able to do some sort of rock climbing activity.
Inside Templer Park stands a gigantic 300-meter high monolith named Bukit Takun.
The single rock formation stands proudly to one side, and you can admire parts of the rock from the road leading towards it.
It's a really popular destination for climbing enthusiasts and has been ever since the 80s when the first routes were bolted. Today, there are around 32 different rock routes to tackle.
You can either choose to rock climb Bukit Takun, or head to the top of the monolith and descend the rock mountain from here, abseiling down.
55 – Take a look at one of the biggest bronze statues, the National Monument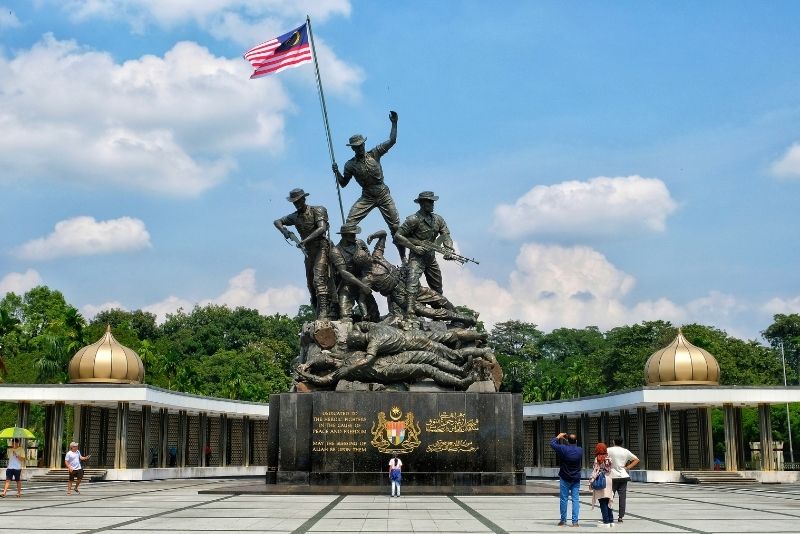 If you ever played cops and robbers with the plastic figurines as a child, the scene at the National Monument gives you all the nostalgic feels.
However, it does in fact pay an ode to the 'fallen soldiers', who lost their lives during the battle for Malaysia's independence during WWII.
(During this period, the country was under Japanese occupancy. As you can see, they've fought very hard throughout their history to gain their eventual independence, and so it's still very deeply celebrated.)
Also known locally as 'Tugu Negara', the bronzed statues comprise seven soldiers who hold the Malaysian flag.
The number seven was chosen to represent seven different qualities of the country during this time: strength, unity, command, wariness, suffering, sacrifice and courage.
56 – Get your next profile picture on a Kuala Lumpur Instagram tour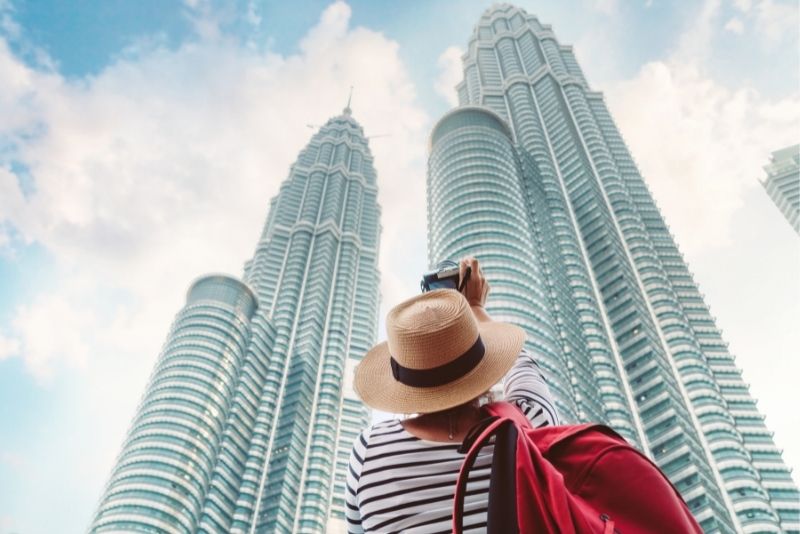 This city is just naturally colorful, so get ready to watch your social media blow up during your KL trip.
There's so much to do, see, and eat that you can't help but want to take pictures of everything!
With tons of insanely cool parts of the city to explore and attractions that are Insta-worthy, why not take an Instagram tour around Kuala Lumpur and learn all the hidden secret spots that will make your photos pop.
There are a variety of Insta tours, and the private tours include more unique locations. If you're obsessed with street art, book a tour that shows you some of the best artworks the city has to offer.
57 – Venture into the jungle than a quad tour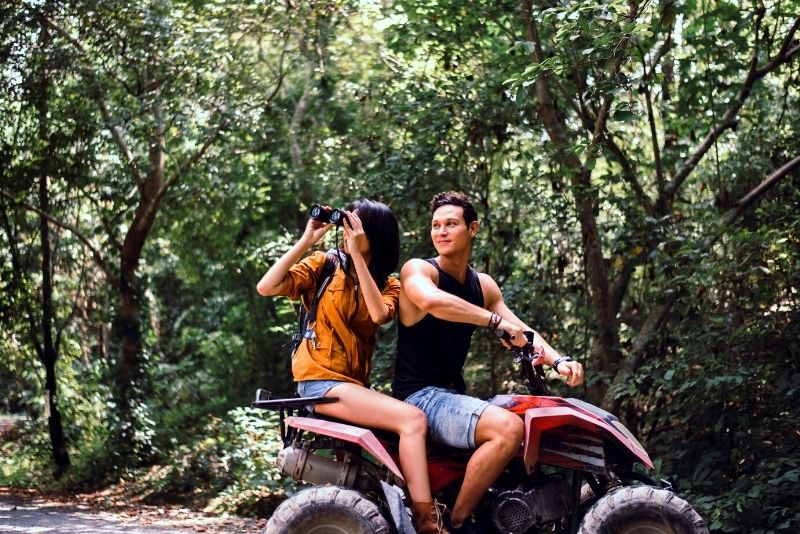 It's not as if you're able to take a taxi through the rivers, rainforests and mountains around Kuala Lumpur.
If hiking isn't really your thing, or you've done a jungle trek already, why not jump on an ATV bike, and with the wind in your hair, explore the natural landscapes by 4×4.
A popular destination is the Kemensah village near Selangor where you'll ride through the jungle and stop to swim in a seven-tier waterfall.
Or head through to Janda Baik village in Bentong instead, zooming through tropical, dense forestry and breaking for a dip in the river.
58 – Enter 'alternative realities' inside the KL Upside Down House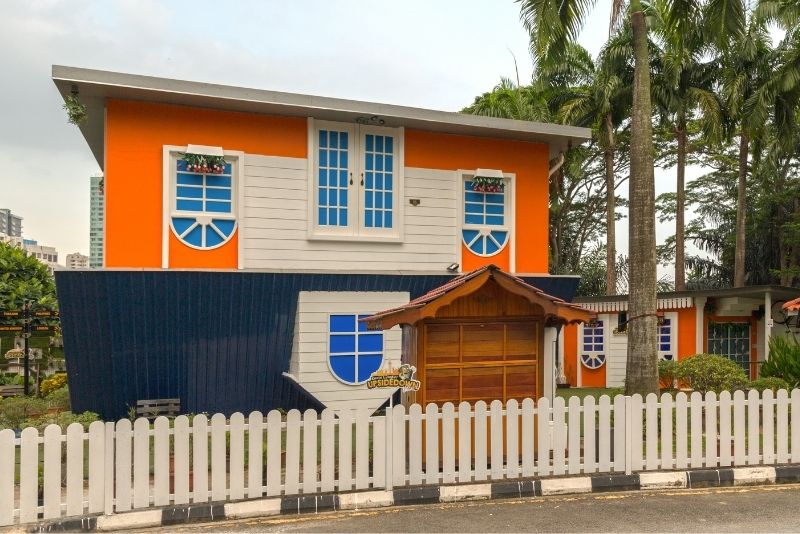 For those that have read Enid Blyton's famous novel, the Faraway Tree, now is your opportunity to experience your very own topsy-turvy land, where everything is upside down, or so it seems…
The museum attraction is divided into different rooms, built to create the illusion that you're standing on the roof, or the wrong way round.
Not only will your kids have a blast, but even for adults, it's a cool experience and the photos you'll take are awesome!
59 – If you're up for a challenge, try an escape room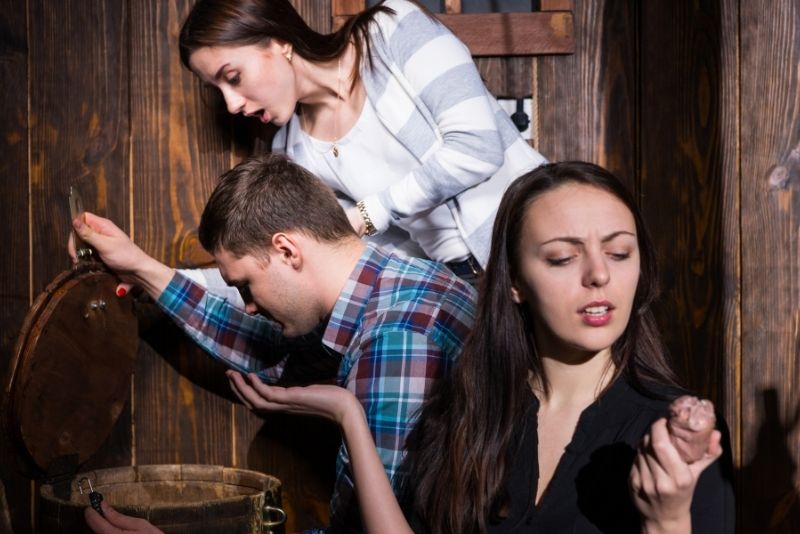 Collectively put your brain powers to the test as you're locked inside a room and have to try and figure out how to escape!
The interactive gaming experience requires players to use logic, patience and some skill in order for victory to be yours.
You'll be given several clues, and each time you crack the one, it brings you closer to the great escape.
There are different puzzles to choose from with unique themes, and the task takes around 45-minutes to one hour to solve.
A popular activity over recent years, there are a few Escape Rooms in Kuala Lumpur.
60 – Put on your fancy clothes for the Golden Triangle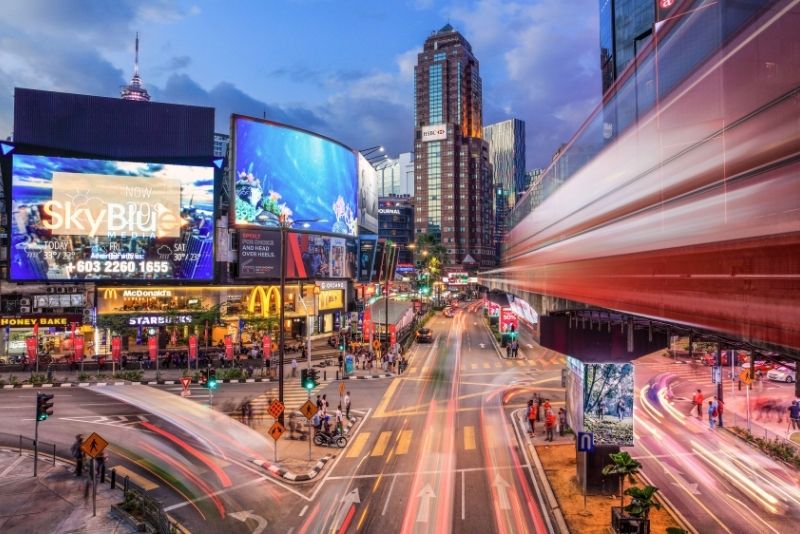 Covering the area of Jalan Imbi, Jalan Sultan Ismail and Jalan Raja Chulan streets, these three main roads are considered the Golden Triangle, or the "CBD" of Kuala Lumpur.
It's lined with a multitude of malls, and boutique shops, and there are many restaurants and cafe options.
Most of the famous skyscrapers are located within the Golden Triangle, including the Petronas Twin Towers and Suria KLCC shopping mall.
This part of the city also comes alive when night falls, and the district is synonymous with an incredible nightlife scene.
For festivities, visit the lively Bukit Bintang street and grab drinks at one of the rooftop bars, or put on your dancing shoes and hit the nightclubs.
61 – Fly above water with Flyboard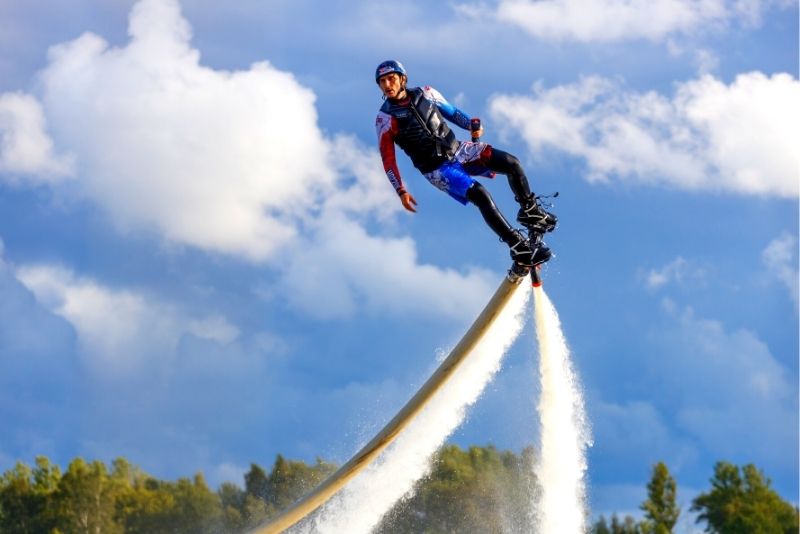 While there may be no ocean in KL, who said you can't still enjoy epic water activities and sports? Take flyboarding for example.
If you've tried surfing or wakeboarding before, it's a completely different experience, and you don't have to have the best balance for this — but it is certainly an advantage.
Thanks to a bit of modern technology, you're powered into the air by pressured water where you fly above the water.
Strap into your board and boots, then hop on a guided jet ski and head out.
Now, it's time to FLY! For those that feel comfortable enough, you can even do tricks on both the water and in the air.
62 – Try a one of a kind experience at Windlab Indoor Skydiving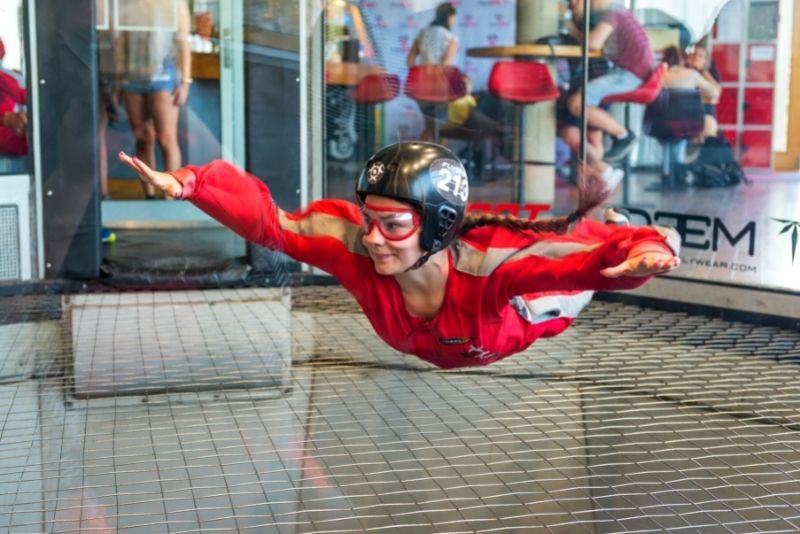 In all honesty, strapping yourself up and jumping out of a plane can sound pretty daunting to some.
If you've always wanted to try skydiving but not to such extremes, test the waters first at Windlab Indoor Skydiving.
Located inside 1 Utama shopping mall, gear up, jump inside a cylindrical glass chamber and feel the forces of gravity.
Using modern technologies known as 'vertical wind tunnels', once you're inside the chamber, air forces reach up to speeds of 250km/h.
You're whizzed towards the sky and playing with gravity, performing stunts like tumble turns whilst in mid-air.
63 – See a corridor full of money at Bank Negara Malaysia Museum and Art Gallery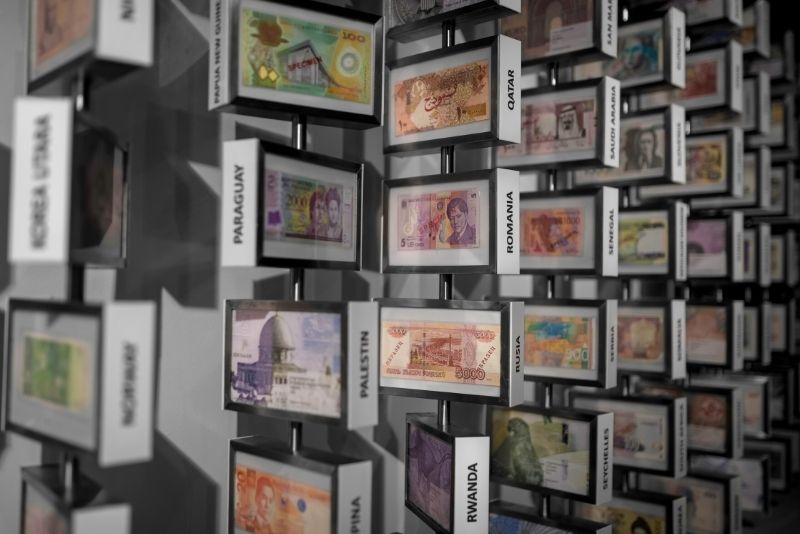 For those that don't consider themselves art fans, you can't help but get swept away by the pretty architecture and exhibition decor that you'll find inside the Bank Negara Malaysia Museum and Art Gallery.
Aiming to make the world of financials seem less daunting to those that aren't economists, Bank Negara has set up the museum to educate its guests in an approachable manner.
There are six permanent galleries to check out. These are the Children's Gallery, the Bank Negara Malaysia Gallery, Economics Gallery, Islamic Finance Gallery, Numismatics Gallery and the Art Gallery.
Plus, the museum's spiral staircase is a picture-perfect moment.
64 – Have a little preview of Thailand at Chetawan Buddhist Temple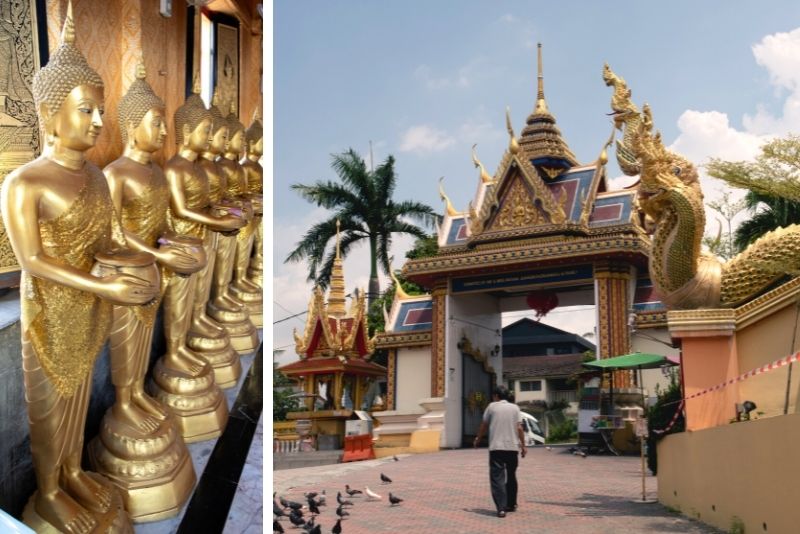 If you've traveled to Thailand before, you'll immediately notice the similarities between the Chetawan Buddhist Temple in Kuala Lumpur and the types of temples you usually find in the Land of Smiles.
In fact, when the temple first opened in 1957, the king of Thailand at the time traveled to Kuala Lumpur and officiated its opening with his blessing.
Marvel at its intricate architecture that resembles typical Thai Buddhist design, from the gleaming stupas to gold standing Buddhas inside.
Spend some time in quiet meditation and there are Thai Buddhist monks who reside here and run the temple.
65 – Go chasing waterfalls at Kanching Recreational Forest
Heading north of KL, enter the nature park at Kanching Recreational Forest and make your way into its luscious rainforest.
Especially popular on weekends, the seven-tiered Kanching Rainforest Waterfall is located within the park and it's really easy to access from the entrance.
The first three levels of the fall are the most popular, as well as being the most accessible. Not much effort is required to reach these tiers, however, the further up the waterfall you go, the more climbing and trekking will be required.
Situated in Rawang district, it's a lovely picnic destination spot.
66 – Make your way to the Secret Garden inside 1 Utama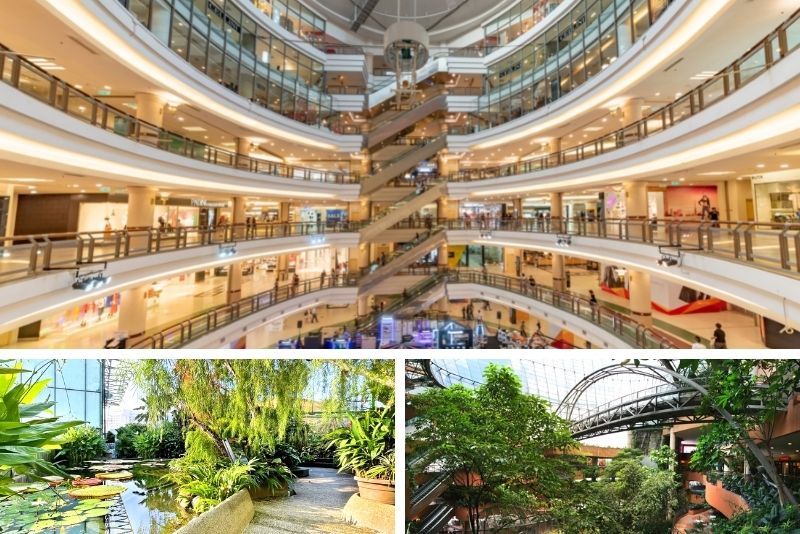 Credit to 1 Utama Shopping CentreDid you know that 1 Utama is the seventh biggest shopping center in the world??
Located 45-minutes away from Kuala Lumpur (in Selangor), you can totally turn an expedition here into a day trip — you're going to need at least a few hours just for the shopping.
They cater to all budgets and you can shop for designer brands or at local fashion outlets.
Find home appliances, beauty products, gifts and shoes, and the mall covers every department.
Feeling peckish? Hit the food court, or if here with kiddies, let them rid some energy at Playtime Kids, or at Sports N' Play.
In need of a moment to rejuvenate after all that shopping? Visit 1 Utama's Secret Garden where over 500 types of fauna and flora are on display.
67 – Finish your day at the best rooftop bars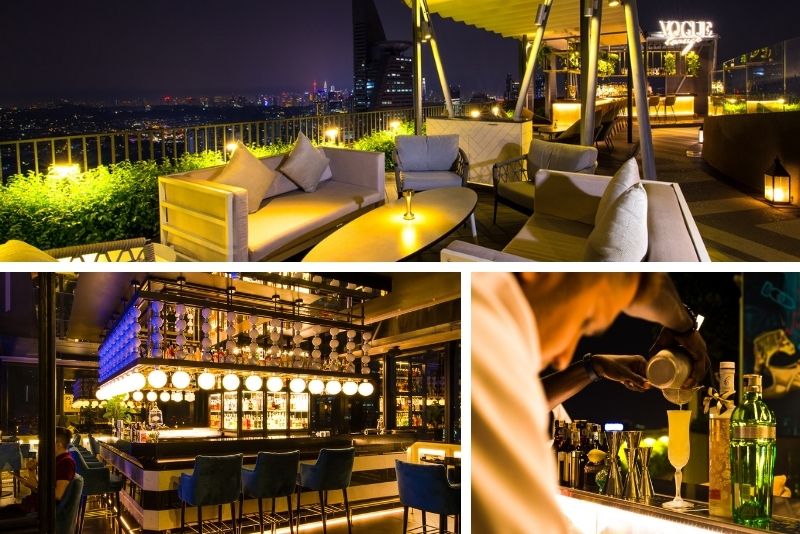 With so many skyscrapers in the city, it makes total sense that the rooftop bar options are endless.
As the red sun starts to dip, lift your feet off ground level and raise your spirits, making your way to an epic urban rooftop.
If you are looking for a 360° views of Kuala Lumpur, the Heli Lounge Bar is the place! This rooftop is a fully functional helipad by day and an incredible bar by night.
For endless views, take your cocktail hour at Vertigo on level 59 at the Banyan Tree, or Fuego Troika Sky Dining is great for couples.
Fashionistas, scout out who's who at  Vouge Lounge, or head to Blue at EQ, an elegant rooftop speak-easy bar.
Indulge in champagne and caviar at Marini's on 57 or try one of SkyBar's signature cocktails around the pool.
LOOP KL is really funky and draws in a younger, hipster crowd with its indoor pool filled with inflatables and Man Tao Bar has striking views of the KL Tower.
Where to stay?
Looking for a place to spend the night (or three) in Kuala Lumpur? Large and boutique hotels are very popular, as well as apart-hotels.
If you're traveling on a budget, some affordable options include ibis Kuala Lumpur, Expressionz Suites By iHost Global and The Robertson and all have swimming pools.
Both the stylish Ascott Star KLCC and Alila Bangsar hotels show off contemporary design, with stunning city views and rooftop pools.
But if you're hunting down the epitome of luxury, splurge at either the St Regis Hotel or Four Seasons Hotel. And yes, they certainly live up to their names' expectations.
How to get to your hotel?
Travel hassle-free. Pre-organize an airport transfer for as soon as you touch down in KL, where a private vehicle transports you to your hotel. Book a shuttle back to the airport once your trip is over.
Final thoughts:
For those that haven't traveled to Southeast Asia before, or you're simply on the hunt for a new country to explore around these parts of the world, Malaysia is an ideal destination.
Thanks to its amalgamation of culture, history and makeup, you'll feel right at home.
With so much to do and see (from culturally-enriching experiences to historic sightseeing), you'll probably need more than one day and night to explore the depths of the city.
Where go next? Consider consider traveling to some of Malaysia' equally impressive nearby destinations, including Langkawi, Penang, Perhentian Islands, Cameron Highlands, Kota Kinabalu, and Malacca City. Make sure to not miss Singapore nearby.
We hope you've loved our diverse list of things to do in Kuala Lumpur, Malaysia.
If you have anything you'd like to add to the list, feel free to leave a comment below.
Happy travels!