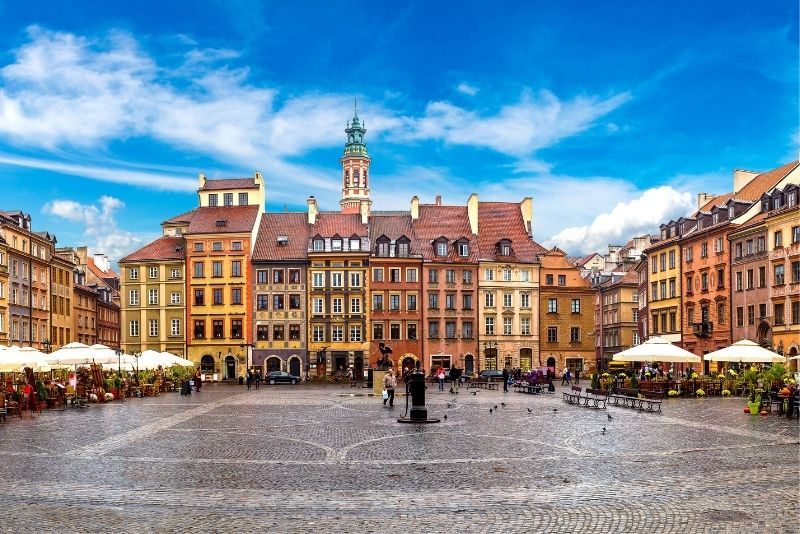 Overflowing with colorful charm, cobblestoned streets, and a history that transitions conjures up all kinds of emotions, the southern Polish city of Krakow is rapidly climbing up the tourist ranks.
From towering castles to snow-capped mountain ranges, and gothic cathedrals to WWII memorials and camps, underground adventures, and plenty more, there's a selection of things to do in Krakow to suit every kind of traveler.
With some of the most influential historical sites in Europe within arm's reach of this small yet mighty city, plus lip-smacking dishes and high-class entertainment at extremely affordable prices compared to its Western European neighbors.
While the city has more than enough to keep you busy, it's also a great spot for a slower-paced excursion; you can soak in some soothing thermal baths, learn how to make stained glass pieces, or test-drive a whole range of pinball machines.
So whether you love the outdoors, history, architecture, or prefer a more culturally-oriented trip, you'll find plenty on offer in one of the oldest cities in Poland.
1 – Wander around Wawel Royal Castle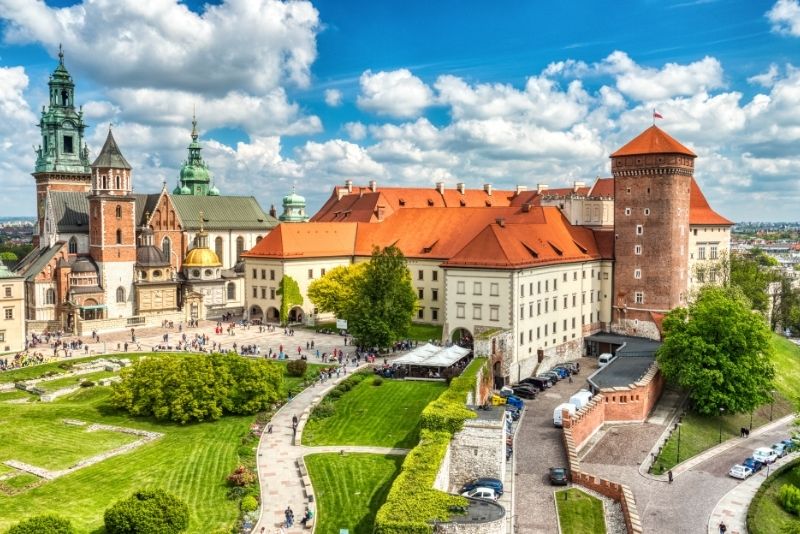 As one of the most famous sites in Poland, Wawel Royal Castle boasts a rich history to complement its stunning facade. The national treasure back to the 13th century, steeped in history throughout its various eras as a coronation site, an administrative center, royal residence, military garrison headquarters, prison camp during WWII, and plenty more.
From the tower bells to the hourly trumpeter, a visit to this iconic landmark is like jumping back into time to experience the beauty of this surviving piece of history.
Start with the Cathedral where Polish kings were coronated or the State Rooms with regal tapestries and ornate decorations — either way, it's a great place for architecture and history lovers to spend an afternoon!
2 – Explore the Rynek Underground Museum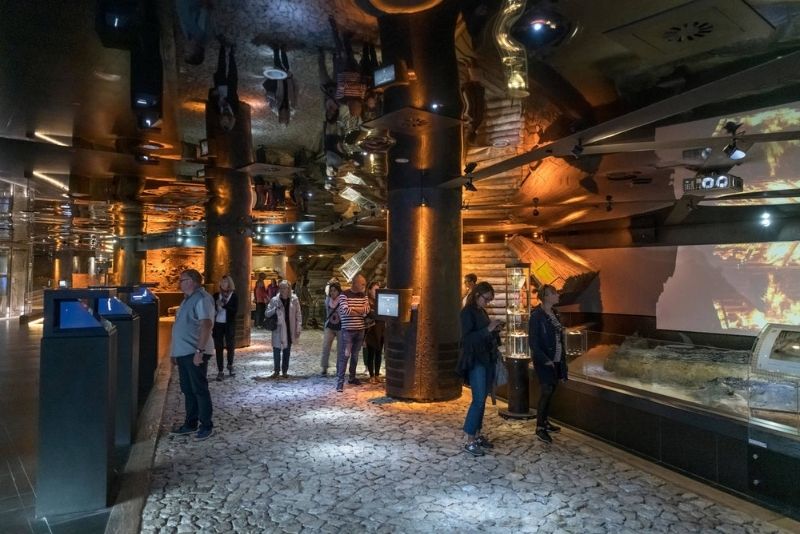 Speaking of the Museum of Krakow, the Rynek Underground Museum is another branch that sits deservedly at the top of many a list of things to do in Krakow.
Four meters underground and full of high-tech exhibits, this museum draws people from all over. Whether you explore at your own pace or join a guided tour, you'll be able to learn about the city's entire history, from early settlers to surviving wars through more than 6,000 meters of fascinating multimedia exhibits.
As a heads up, only 300 people are allowed in at a time, so make sure to book your tickets in advance!
3 – Walk around Krakow Old Town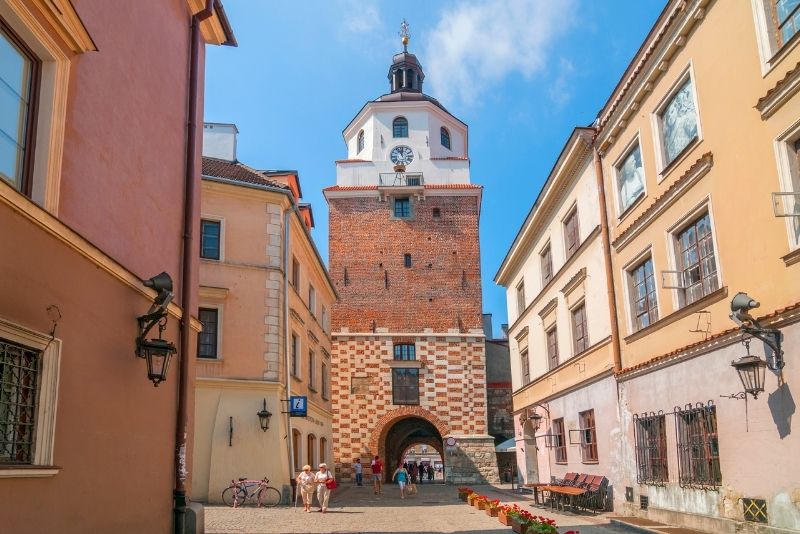 Ready to step back into the Middle Ages? Then make a beeline for Krakow's Old Town, a quaint and well-preserved area perfect for a walking tour, grabbing a souvenir and a bite to eat, and snapping a few touristy pics.
Whether you explore it on foot solo, alongside a knowledgable guide, or as part of a fun Segway tour, the UNESCO World Heritage site makes for a perfect day out.
4 – Pay your respects at Auschwitz-Birkenau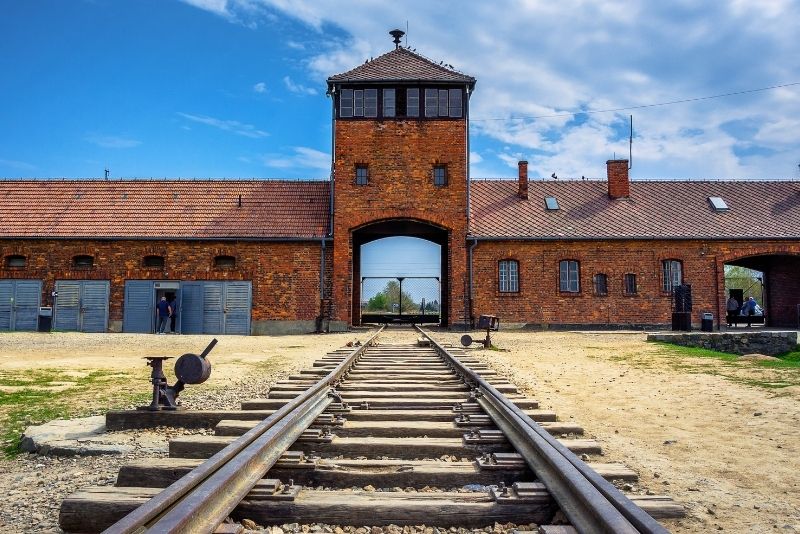 Eerily located just minutes away from modern-day Krakow, a visit to the Auschwitz-Birkenau Memorial and Museum, while confronting for many, is one of those once-in-a-lifetime experiences that will stay with you for years.
For many people, this place can be difficult or emotionally draining (or both), but it's important that we never forget the atrocities that took place here.
A guided tour, full of remarkable stories of both tragedy and survival, is a must.
5 – See what's happening at Rynek, the Main Market Square
A constant hubbub of friendly noise and activity, Rynek, as the largest medieval square throughout Europe (which means you can't miss it), truly is the heart of Krakow.
Boasting a decorated and long history, the evolution throughout centuries is easily visible with old churches and colorful townhouses dotting the square, some of which date back to the 1200s.
After admiring the architecture, people-watching with a drink in hand, or check out out the street performers, be sure to take note of the Town Hall Tower and Krzysztofory Palace — both part of the 17 branches of the Museum of Krakow.
6 – Soak in the history of Kazimierz, the Jewish Quarter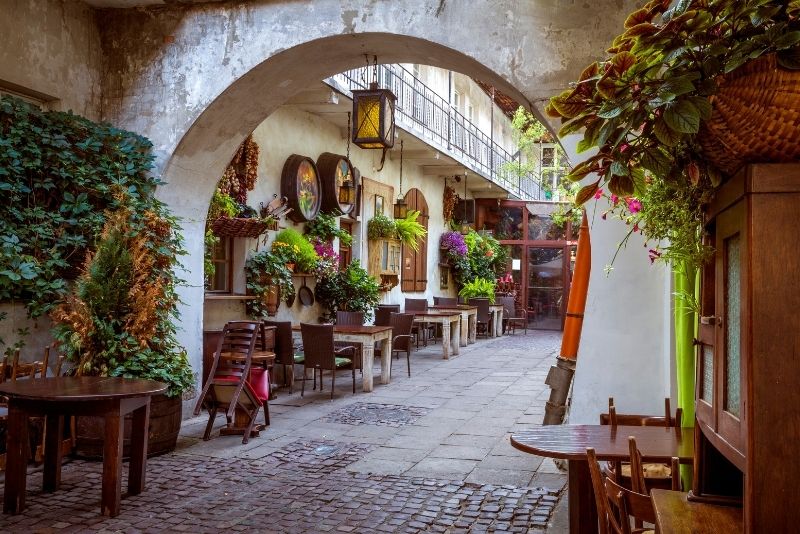 Want a little exercise while you learn about a truly fascinating area of town? Then check out the Jewish Quarter, where history both thriving and troubled is embedded and reflected in the tiny streets.
From knowledge-packed guided free walking tours (just leave a tip) to sobering museums, it's easy to spend an afternoon absorbed in tales from the past.
While you're in the area, be sure to check out the Galicia Jewish Museum, where visitors can learn about the area in decades gone by, from the Holocaust to present-day life, all under one roof.
7 – Soak your tired muscles in the Zakopane Thermal Baths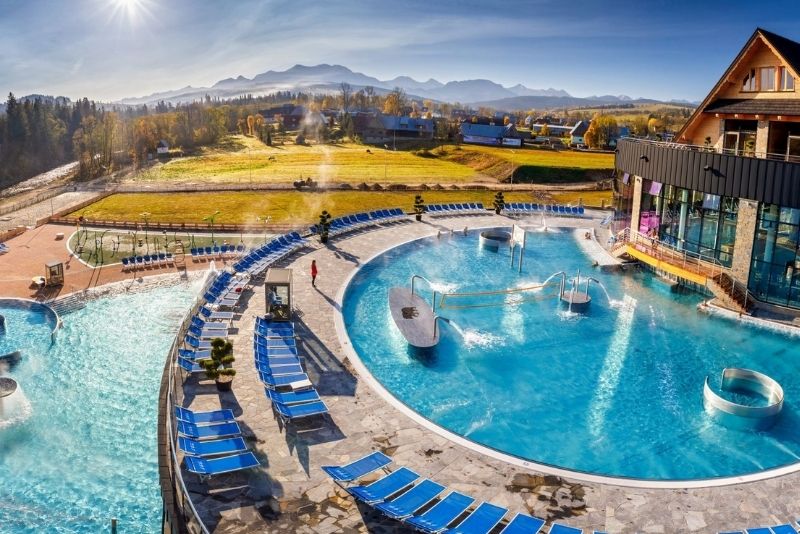 A good vacationer knows to take the time to take care of themselves. With that in mind, a guided tour of the charming town of Zakopane not only gives you breathtaking views of the snow-covered High Tatra Mountains, but brings you to its warm thermal pools, where relaxation and zen are customary.
To really turn the rejuvenation into overdrive, there are also a host of outdoor and indoor swimming pools, water slides, whirlpool baths, restaurants to check out.
8 – Pedal around the Ghetto Heroes Square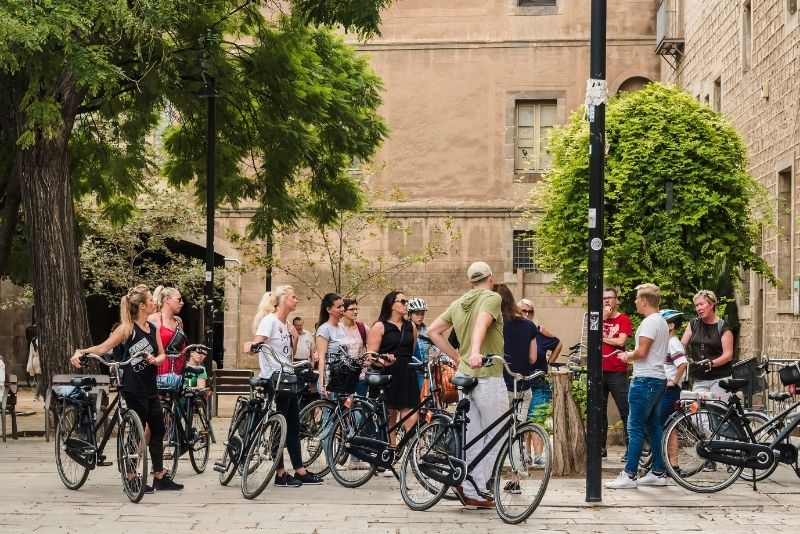 A perfect activity for a sunny day, feel the breeze in your hair as you cycle around the picturesque streets of Krakow on a bike tour, stopping off at a balance of both top-rated sights and locally-adored hidden gems along the way.
Packed into an hour or two, these tours cover everything from historic homes and charming cobbled streets to atmospheric old cemeteries. Not only that but they're a great opportunity to meet fellow travelers!
While schedules change depending on your trip of choice, you'll likely be given the chance to dig into a traditional Polish meal after ticking off sites like Wawel Castle, the Jewish Quarter, and the remains of the WWII Jewish Ghetto.
9 – Zoom around town on a Segway!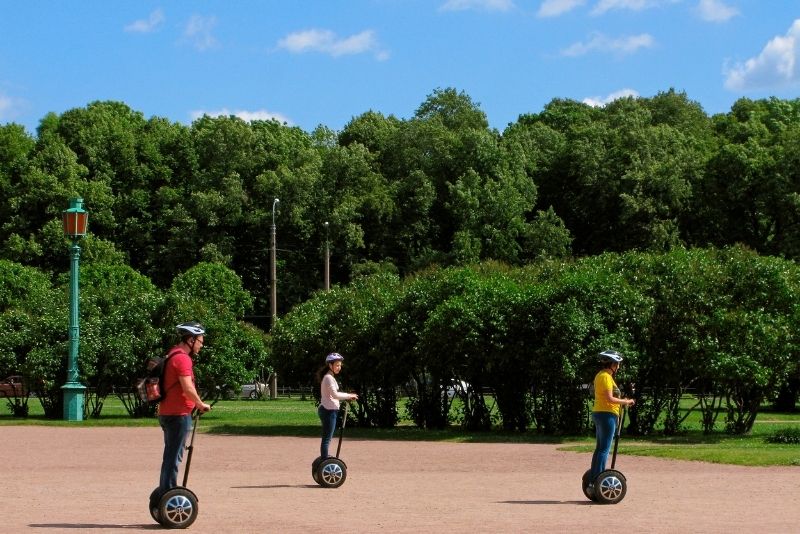 Fed up with walking around on those bumpy cobblestone streets? Then take the smoother path instead and see the city in style by riding a Segway or scooter!
With friendly locals leading the way (which takes the stress out of planning a route), expect to pass by the massive medieval square and charming side streets en route to the grand Wawel Castle and St. Mary's Church, just to name a couple of the typical stops.
10 – Shop till you drop at Sukiennice or Cloth Hall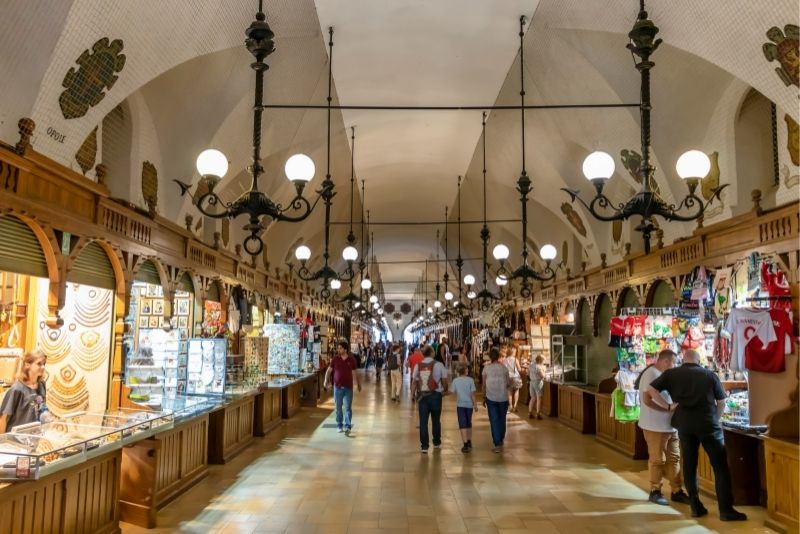 An ideal spot for grabbing a souvenir, Cloth Hall or Sukiennice (as the locals know it) is a top attraction in the historic area of Old Town.
This iconic building showcases flawless art that dates back to the 14th century, as well as rows upon row of crafts and souvenirs vendors.
While there's nothing wrong with exploring at your own pace, many tourists prefer to beat the lines by booking a tour, many of which also include other essential sites like Old Town or Wawel Castle.
11 – Admire the St. Mary's Basilica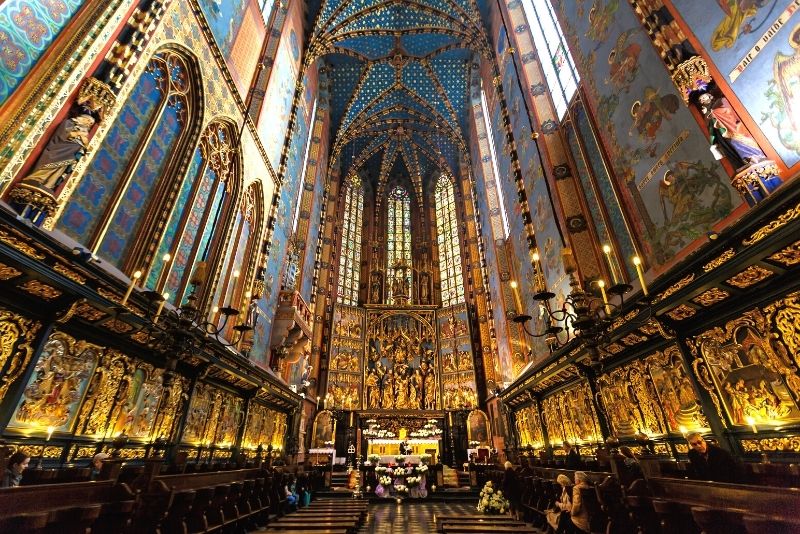 Whether you're an architecture buff or not, it would be hard to not be in awe of St. Mary's Basilica.
This gothic masterpiece, built way back in the 14th century, dazzles visitors year after year with its stunning walls and art, both inside and out.
Step inside to embrace the beauty of the stained glass, starred ceiling, and magnificent wooden altar that still sees worshippers today.
Hot tip: if possible, time your visit a few minutes before the hour so that you can enjoy the sounds of the hourly bugle that echoes from the 80-meter-high tower!
12 – See the city by electric car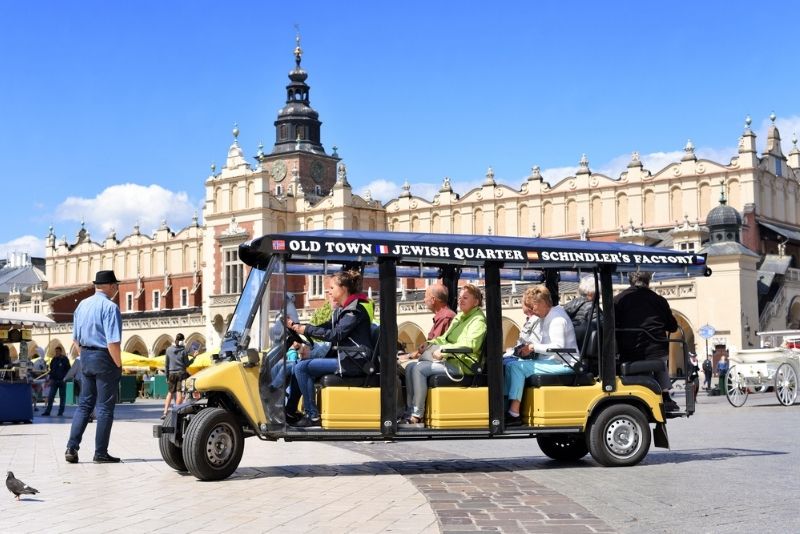 Another great way to explore Krakow's beauty is by chauffeured electric car (slightly bigger than a golf cart).
The city offers a range of tours that take visitors on an in-depth journey around the most popular sites, all while taking into account some of Poland's history along the way!
If you're looking for a unique way to get around, this is definitely one for those who want their trip to be educational yet fun.
13 – Take a hike at Ojcow National Park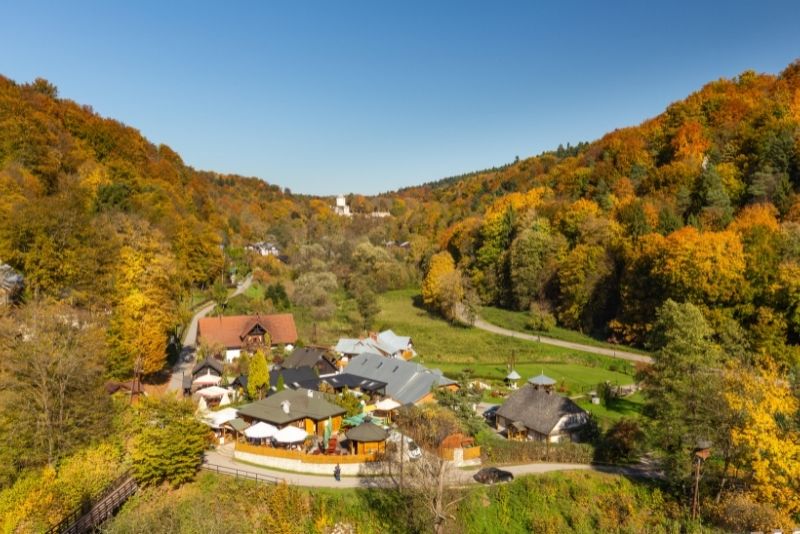 Located just 40 minutes north of Krakow, Ojcow National Park is ideal for those who want to escape the hustle and bustle of city life — which can, admittedly, become a little excessive during the peak tourist season (summer).
With hiking trails through stunning woodlands and quaint villages filled with local cafes serving all kinds of traditional Polish dishes (yes please!), plus limestone caves and fantastic rock formations, this park has everything you need.
Hot tip: For the ultimate day out in nature, climb up to Pieskowa Skala — a cliff-top castle with ancient ruins to boot.
14 – Step back in time on a Communism tour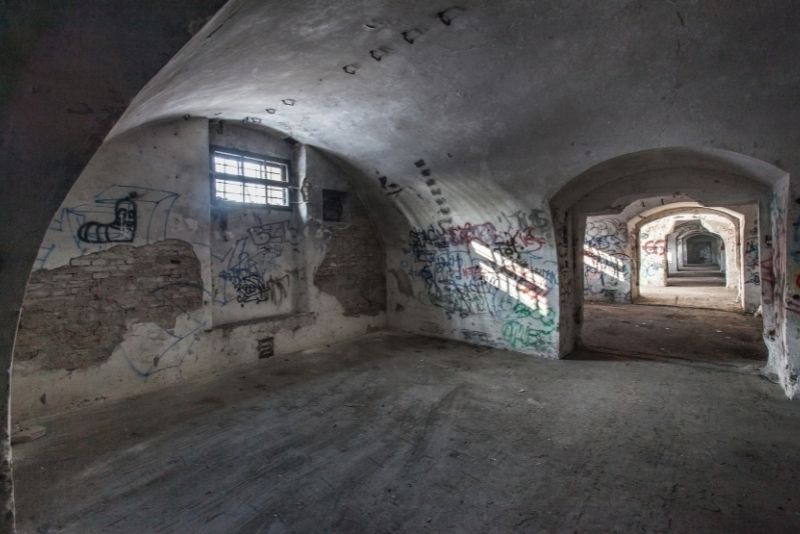 When you're looking for things to do in Krakow, consider taking a tour to discover the city's, and the nation's turbulent past.
Many communist artifacts are still around today (including Cold War bunkers), so hop into a Trabant with a history-savvy guide and head on a 4-5 hour tour full of insights and stories.
Along the way, you'll learn about the dark days of the Soviet Era, and see the clear contrast to Krakow's beautiful Old Town — Nowa Huta, a Socialist Realist city — up close.
15 – See modern masterpieces at the Museum of Contemporary Art in Krakow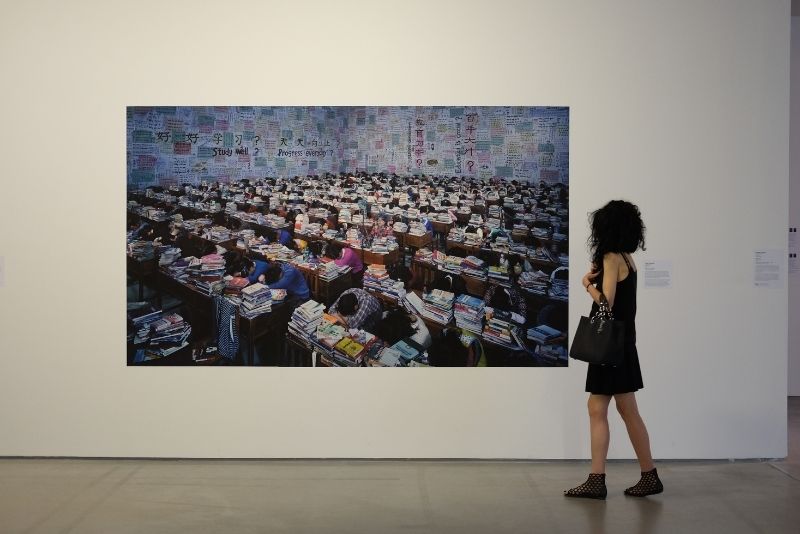 A culture-lover's go-to since its opening back in 2010, the popular Museum of Contemporary Art in Krakow aims to present and support contemporary art, particularly art and artists from the last two decades.
Affordable ticket in hand, step into the neomodern building designed by Claudio Nardi and explore over 43,000 square feet of exhibits on two floors. You'll see not only paintings and sculptures but also excellent examples of literature and film within this collection of 5,000+ works.
16 – Quench your thirst for thrills at Energylandia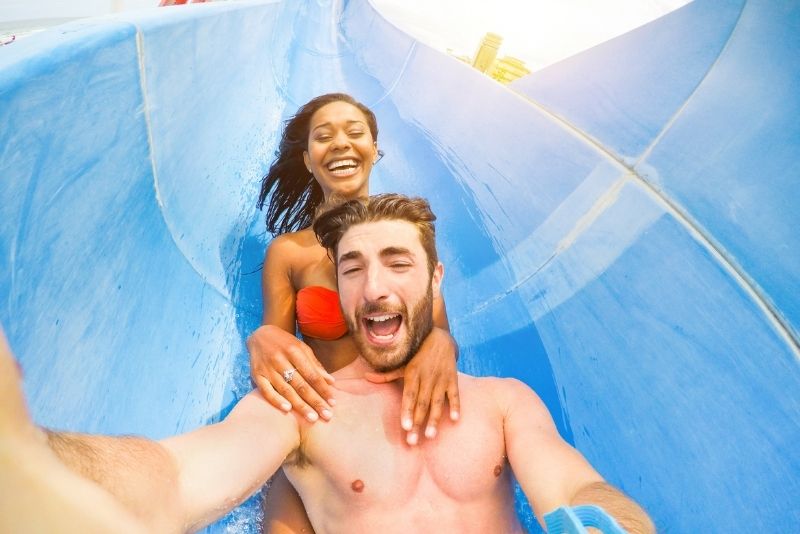 A surefire hit for any adrenaline junkie, why not spend the day at Energylandia, the biggest amusement park in Poland?
Thrill-seekers can enjoy exhilarating roller coasters (read: Hyperion, with an 88mph top speed, is the fastest coaster in the country), while the youngsters can enjoy the Little Kids Zone to burn off some energy!
If rides aren't your jam, simply take a seat and watch any of the beautiful acrobatic shows or jump in for a swim at the on-site water park!
17 – Find the underground lakes at Wieliczka Salt Mine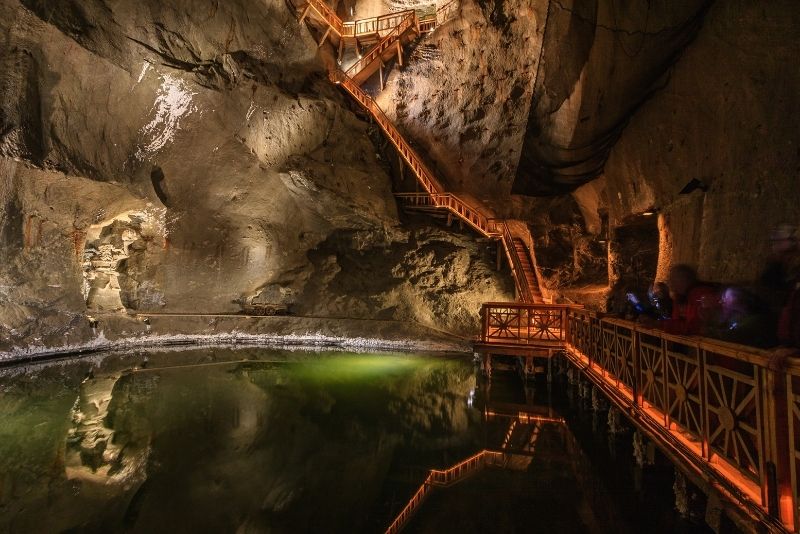 A Krakow tourist staple for anyone willing to drift afar from the main haunts for a day or two, a trip underground to experience the Wieliczka Salt Mine is an absolute must!
Easily one of the most fascinating places in Poland. This site is the world's largest mining heritage museum, consisting of underground trails, galleries, and chambers, where you can uncover sacred art as well as underground lakes.
It's quite a walk down, at 135 meters deep, so thankfully, there's a lift to take back to the surface.
18 – Step inside the Wawel Royal Cathedral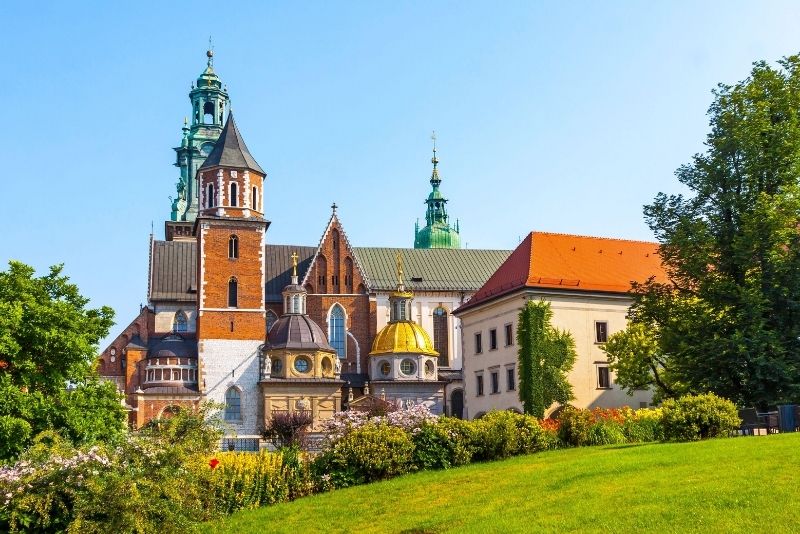 A picturesque piece of history that looks like it appeared directly out of a fairytale, the foreboding Wawel Royal Cathedral is certainly hard to miss. Rich in both history and beauty, there's no excuse not to step inside this architectural masterpiece, especially considering its central location.
Dubbed one of the most important cathedrals in Poland, this revered site plays host to a selection of chapels, burial chambers of Polish kings, and Sigmund's famous bell.
19 – Tick off all the main sites with a convenient bus tour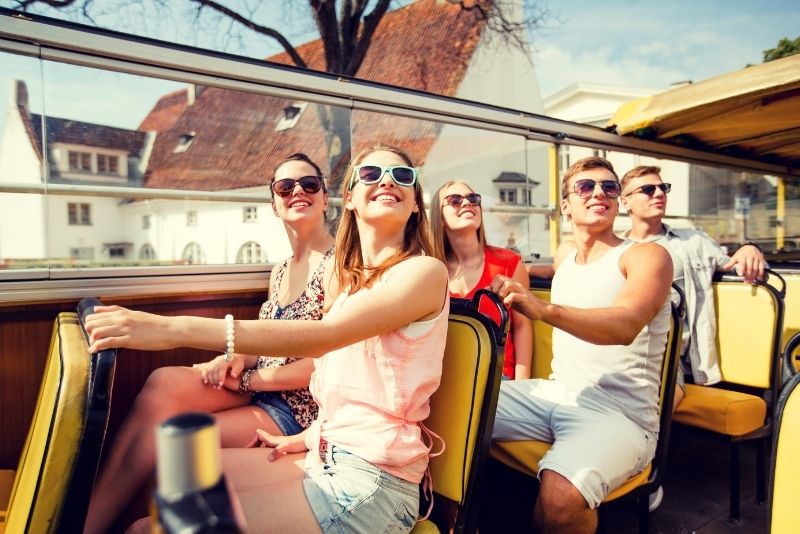 Want to cover a lot of ground but don't know where to start? Then do as the time-poor travelers of years gone by have done and sign up for a bus tour! Specifically, one where you can hop on and off to check out the amazing sites.
The double-decker bus routes cover all the major landmarks, like Main Market Square, the Barbican Gateway, the Schindler Factory Museum, Wawel Castle, and more, and offer high-quality audio narration along the way.
20 – Meet the monks at Benedictine Abbey in Tyniec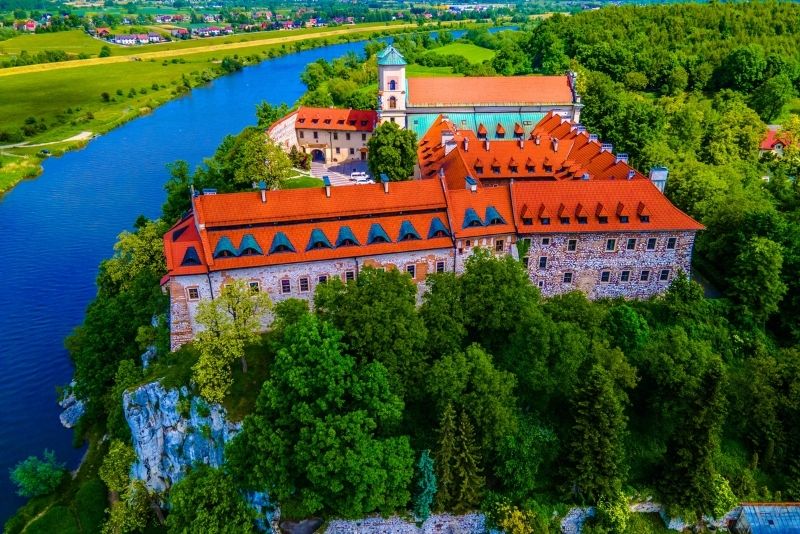 Majestically perched on a limestone ridge overlooking the Vistula River is the Benedictine monastery (or abbey) that was built by monks way back in — ready for this? — 1044.
Visitors will be surprised to discover that the same order of monks still roam the premises and are enchantingly social, gladly sharing stories of the abbey's history and current operation — you'll even find them sitting and chatting at the in-house restaurant or coffee shop where you can stop for a snack.
The building itself, located in the historic Tyniec village, is a monumental structure in its own right.
21 – Chug along the Vistula River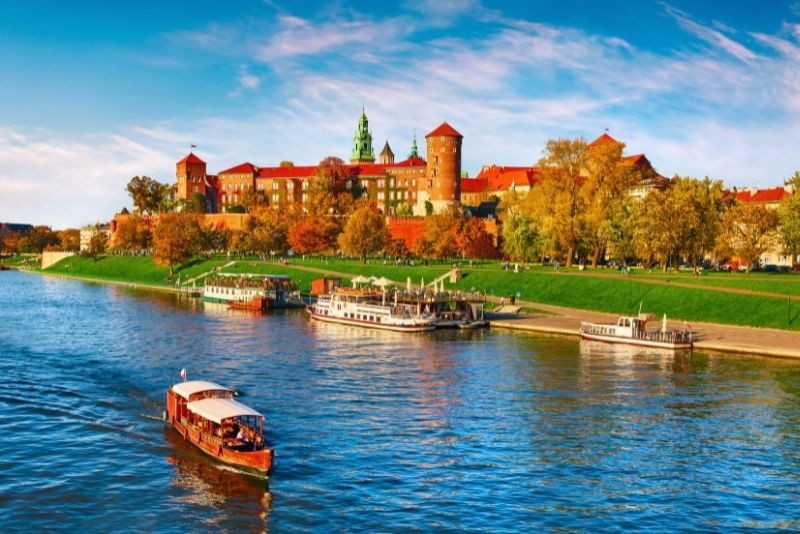 Whether you're looking for a bit of a party, some simple sightseeing from a new perspective, or a romantic dinner date with your better half, you can't go wrong with a Vistula River boat tour.
With the sun shining (or the stars shimmering above), and the glistening Vistula below you to guide your way, it's hard not to fall in love with Krakow when gliding along the water.
22 – Check out the hometown of Pope John Paul II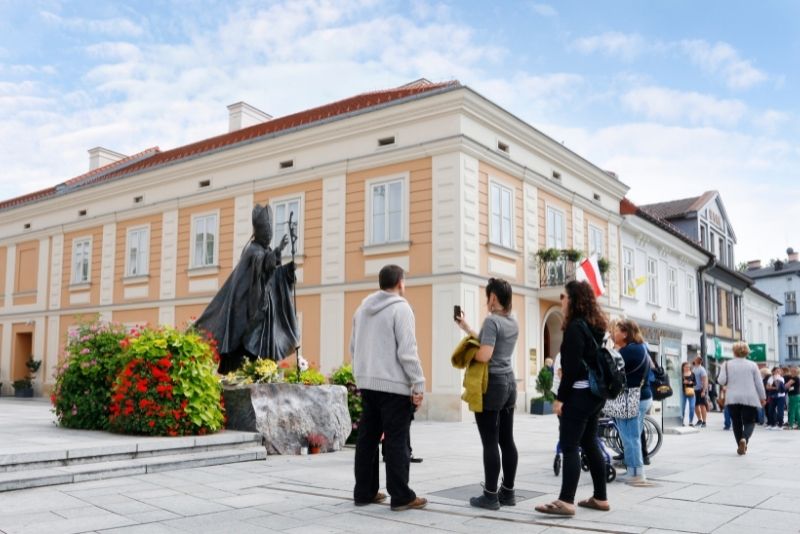 You may not know the name Karol Wojtyla, but you may have heard of Pope John Paul II — after he was ordained as Pope of the Catholic Church, he became an influential religious figure worldwide.
Born and raised in Wadowice, about an hour southwest of Krakow by car, his town and home have become places of pilgrimage for worshippers.
On guided excursions, travelers can see the local basilica, learn all about his story, and even taste the Pope's favorite dessert!
23 – Explore the stories of Czestochowa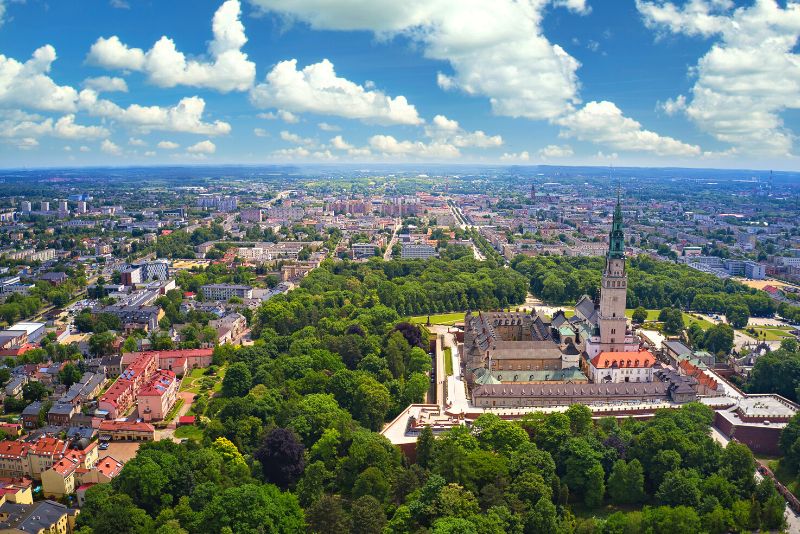 Just two hours from the city, Czestochowa offers visitors a striking glimpse into religion in the country.
It is most famed as the home of the Black Madonna, a magnificent religious painting tucked into the Jasna Gora Monastery.
The striking work is thought to be from the 1300s, and has been revered ever since; according to legend, it once helped protect the monastery from a military siege!
Some excursions also include trips to Wadowice, the historic little town that's best known as the birthplace of Pope John Paul II.
24 – Get some fresh air along the Dunajec River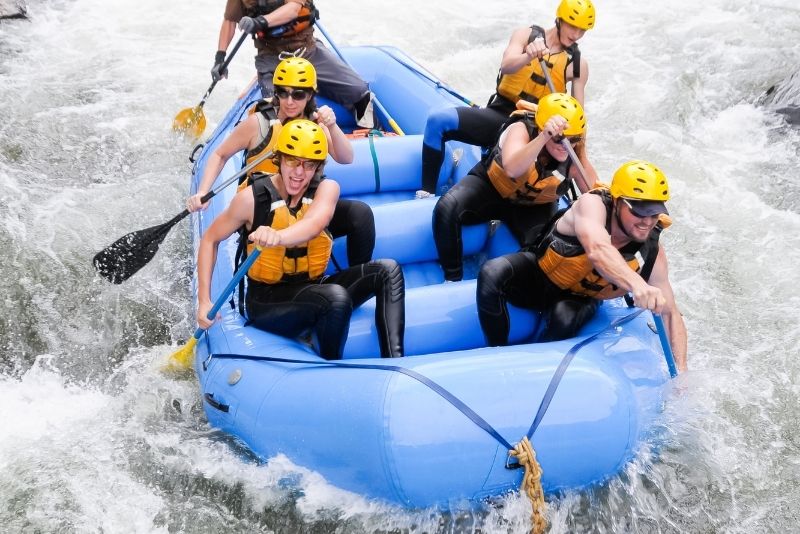 One of the most underrated activities in Krakow, spending some time along the Dunajec River — a haven for hikers, white water rafters, and nature lovers — is an absolute gem for anyone who wants to get away from it all.
With sparkling blue water and gorgeous greenery along the banks, high-thrills rafting tours are is sure to take your breath away.
After your interlude in nature, stop by Niedzica Castle for a dose of culture! This splendid 14th-century structure looks like it was plucked out of a fairytale, and it's packed with enough historical tidbits to keep any learner happy.
After admiring the gorgeous exteriors, step inside to see an impressive showcase of items dating from the 1500s to the 1800s.
You can also peek into some of the original rooms, including a torture chamber!
25 – Put a locker on the Father Bernatek Footbridge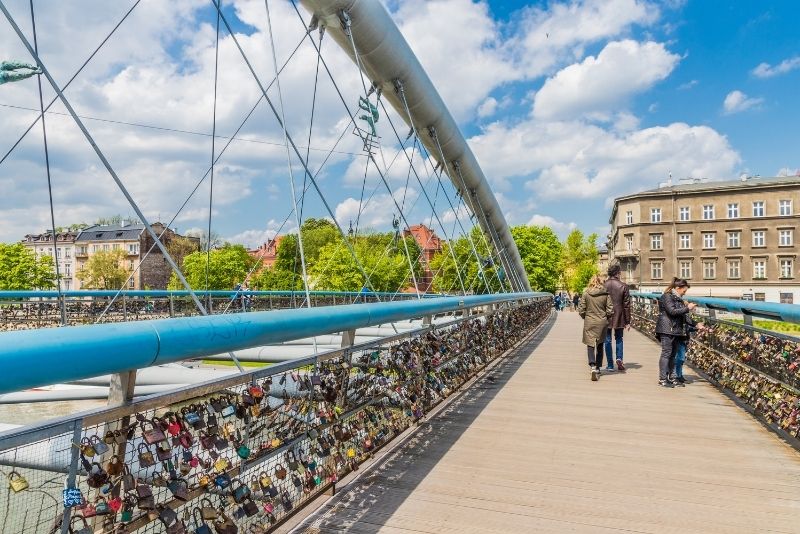 Opened in 2010, this now iconic part of the urban landscape attracts pedestrians and cyclists alike with its highly aesthetic appeal — which, however, is often overshadowed by the vibrant watering holes in the area, with tourists flocking to pub crawls after sunset.
Designed by local architect Andrzej Getter, the bridge re-connects two popular Krakow neighborhoods that were separated for over 80 years.
Feeling romantic? Then feel free to participate in the tradition of attaching an engraved padlock to the bridge's railing before throwing the key in the Wisla River Below.
26 – Fly high at the Polish Aviation Museum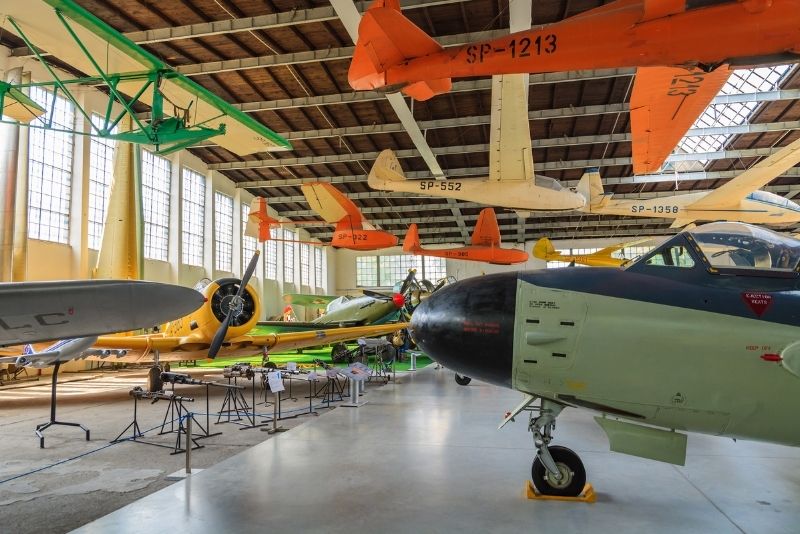 Housed impressively in an old airport, the Polish Aviation Museum is the perfect spot for any budding Mavericks and future pilots!
With an impressive collection of diverse aircraft (over 300!), aviation buffs can marvel at some of the unique parts of Polish history — from the last Russian flying boat in the world to the Polish PZL 130 Orlik (used during the Soviet era), the old-school Albatros B.II, and even gliders and helicopters, there's plenty on offer to keep you entertained for at least a couple hours.
27 – Venture into the Tatra Mountains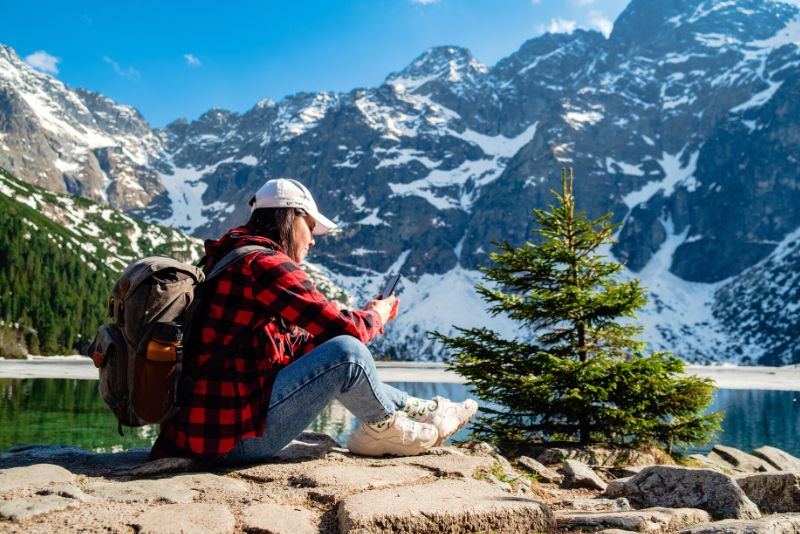 As your vehicle climbs ever higher, you'll soon see why the Tatra Mountains are such a beloved outdoor destination!
Hiking is an excellent option in the warmer months, with a nice mix of trails and some spectacular scenery.
And in the winter, you can get even more adventurous with some dog-sledding, where you and your canine team will embark on a thrilling adventure across the snowy terrain.
No matter which season you visit, your jaunt into the Polish wilderness is sure to be a memorable one!
28 – Create your own masterpiece at the Stained Glass Workshop and Museum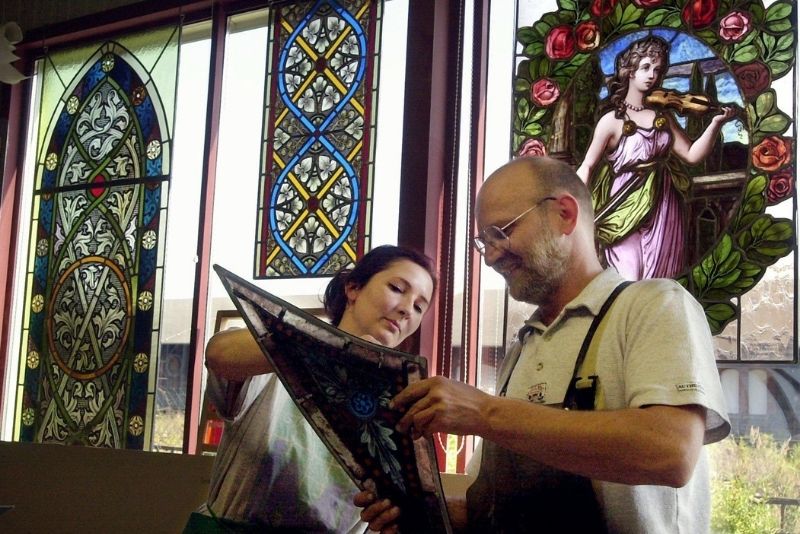 The oldest workshop of its kind in Poland, Krakow's absolutely stunning Stained Glass Workshop and Museum has been in operation since 1902 and delighting visitors ever since.
Not only will guests be able to marvel at multicolored works of art by masters like Józef Mehoffer and Stanisław Wyspiański, but the workshop allows you to build your own kaleidoscopic masterpiece — the perfect souvenir to show off back home!
29 – Tear it up on a quad bike tour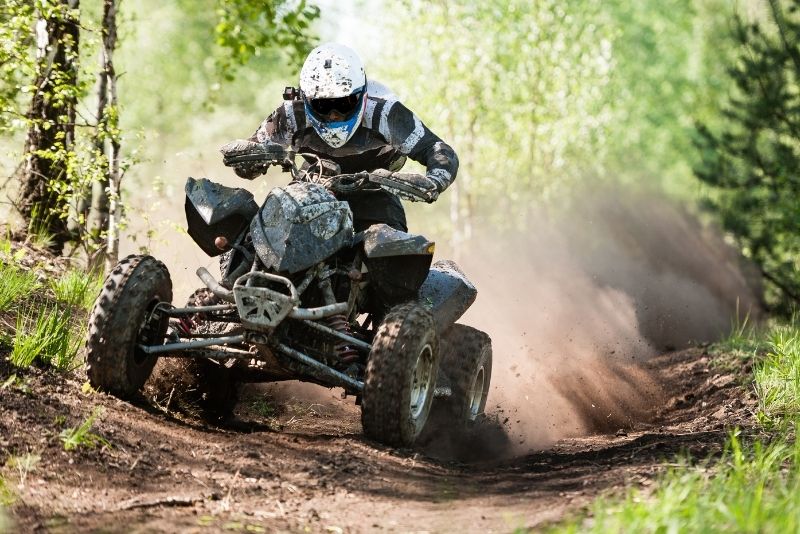 If you're even a little bit of an adrenaline junkie, you'll no doubt consider this experience one of the more exciting things to do in Krakow.
After a professional instructor gives all of the tips and tricks needed to get your gear on and tear it up offroad outside the city proper, you'll be kicking up dirt clouds or mud puddles as you explore the wooded hills of the Polish countryside in no time.
30 – Get some zen at the Church of St. Francis of Assisi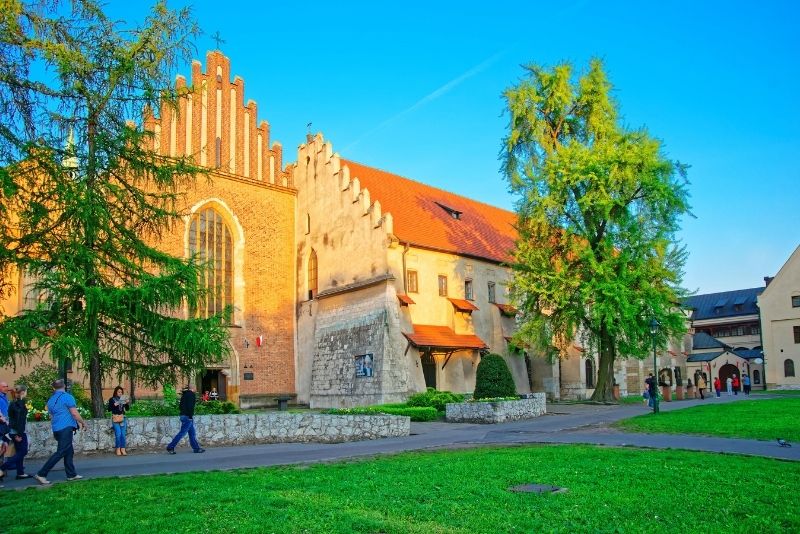 The serene and inspiring Church of St. Francis (with Monastery of the Franciscan Order) is a sprawling Roman Catholic complex that boasts a decorated history tracking all the way back to the thirteenth century.
While the facade is nice, no doubt, the interior steals the show: its inner walls are decorated with several magnificent stained glass windows designed by Polish national, Stanisław Wyspiański.
As expected, guests of this facility are asked to respect the sacred nature of the place by following a few simple guidelines like remaining quiet.
To fully appreciate its history, guided tours are available with English-speaking guides.
31 – Unleash your inner foodie with a Krakow Food Tour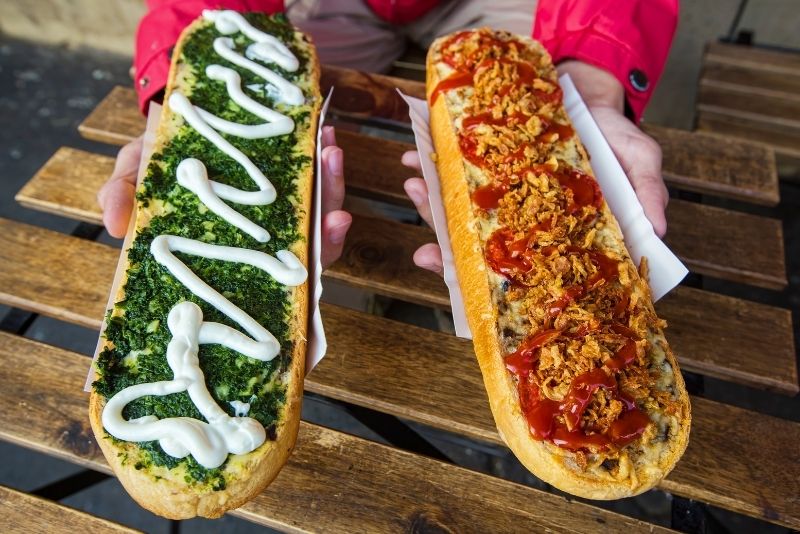 Who's hungry?
For those who love nothing more than stuffing their faces with local cuisine, a guided tour of famous Krakow eateries is high priority.
Enjoy the taste of an authentic Polish kiełbasa, experience mouthwatering pierogi, mountain-style oscypek cheese, and a favorite pastry known as Pope's Cake.
You'll not only delve into all kinds of meats, cheeses, soups, bread, and sweets, but tours usually also include a Polish vodka tasting to wash it all down.
The best part? You'll be skipping the overpriced tourist-trap restaurants and heading right for places the locals frequent!
32 – Try some electric scooter tours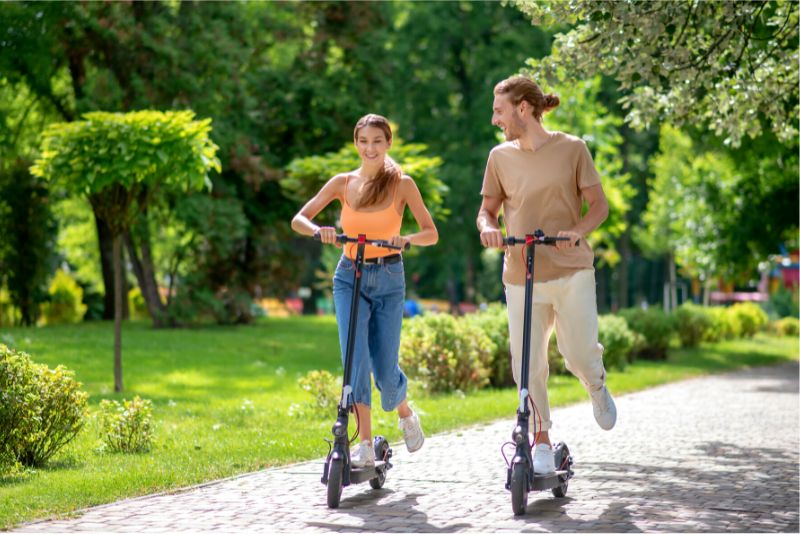 For a fun alternative to normal sightseeing excursions, book an electric scooter tour!
These zippy, eco-friendly vehicles are perfect for exploring the city's unique sites and iconic spots, accompanied by an enthusiastic guide.
Weave through the streets of the Jewish Quarter, or zip past the beautiful outlines of local castles – all while reducing your carbon footprint!
Whether you're rolling past the magnificent buildings of Old Town or cruising between eateries on a food tour, you'll find plenty of adventure on two wheels!
33 – Test your wits in a scavenger game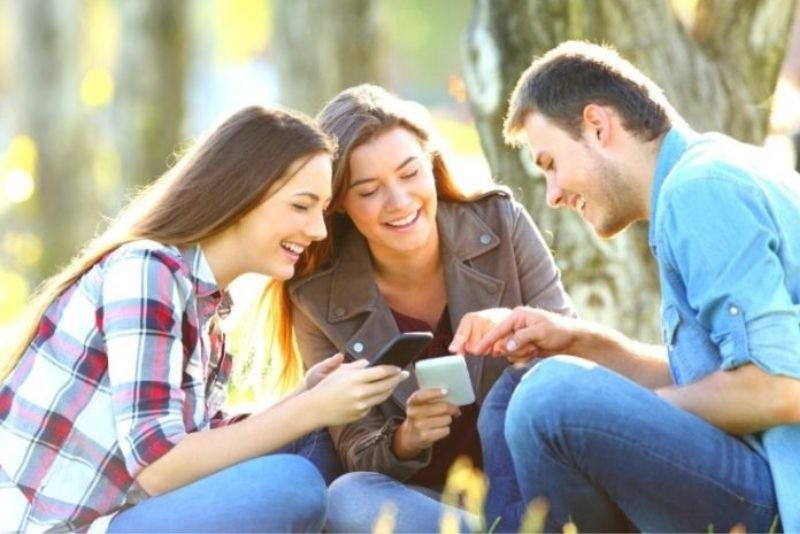 If you've always wanted to star in your very own Amazing Race, now's your chance! What better way to learn all about fascinating local history and legends than through a real-life treasure hunt?
As you explore the cobbled streets of Krakow's Old Town and discover iconic landmarks like St Florian's Gate and Wawel Royal Castle, you'll be forced to search for clues and solve puzzles before time runs out — a wonderful and unique activity for the whole family.
34 – Get a new perspective on WWII at the Eagle Pharmacy Museum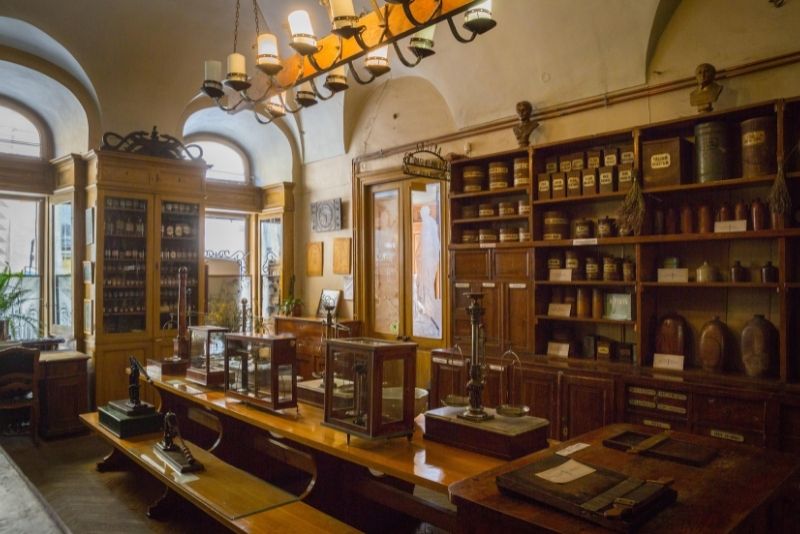 Along with the Hipolit House and a host of others, Eagle Pharmacy Museum is also one of the 17 branches of the Museum of Krakow.
Right next to the Jewish District, this museum is housed in a charming old pharmacy that served Polish Jews during the occupation and doubled as a place where the afflicted could meet in secret without persecution.
Still containing much of its original equipment, and with plenty of fascinating displays on show, it's well worth checking out if you want to learn more about how medicine played its part during the Second World War.
35 – Admire the art at Muzeum Uniwersytetu Jagiellońskiego Collegium Maius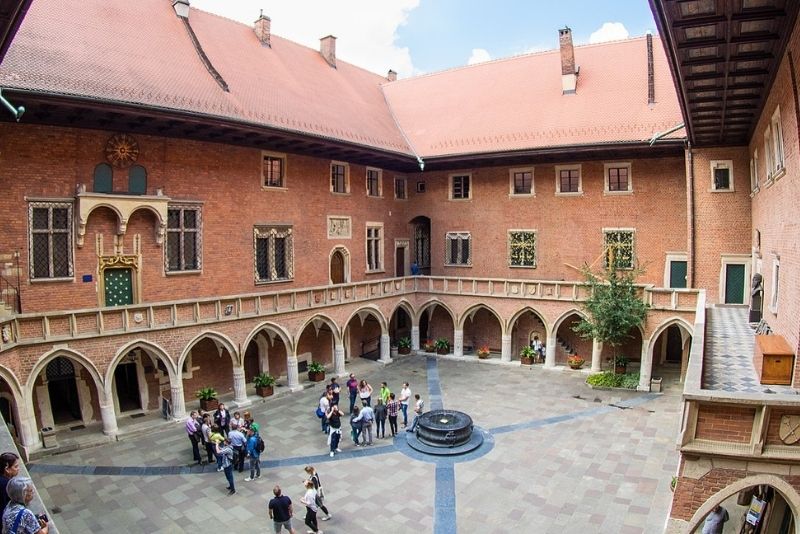 A must-visit for science buffs, located in the oldest collegiate building in Poland (built way back in the fourteenth century), the mighty Jagiellonian University Museum houses several historic and artistic university collections.
You'll not only see intricate artworks, bold sculptures, and antique furniture, but also a diverse collection of wholly unique scientific instruments like astrolabes, globes, sundials, telescopes, vacuum pumps, and microscopes.
36 – See the many castles of the Eagle's Nest Trail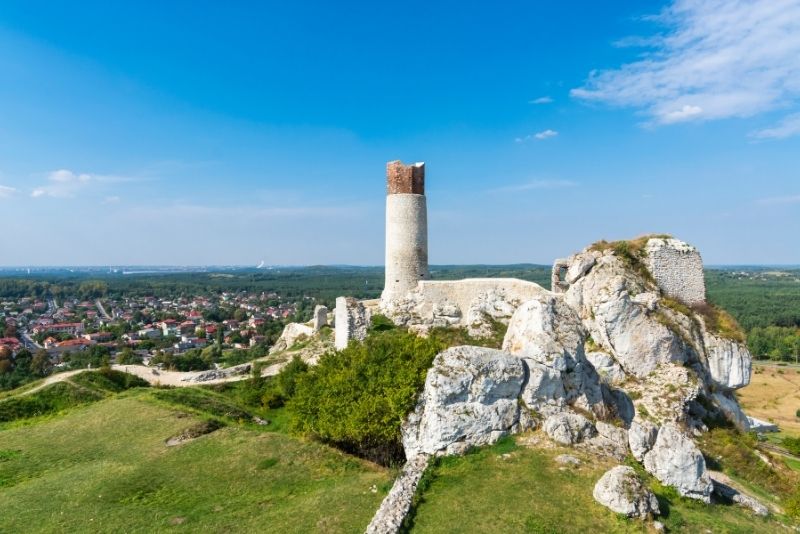 A classic, the Eagle's Nest Trail is a scenic and popular way to get more of an insight into Polish wilderness, culture, and history.
Lengthy but worth it, you can expect to enjoy magnificent views over the mountains of Poland's south-western region as well as some interesting castles along the way — all with a simple entry fee paid at any one of three access points.
While each tour might differ slightly, you will explore some 25 medieval palaces and fortresses, called "Eagles Nests" referring to their countryside's limestone cliffs construction.
37 – Go spelunking at Dragon's Den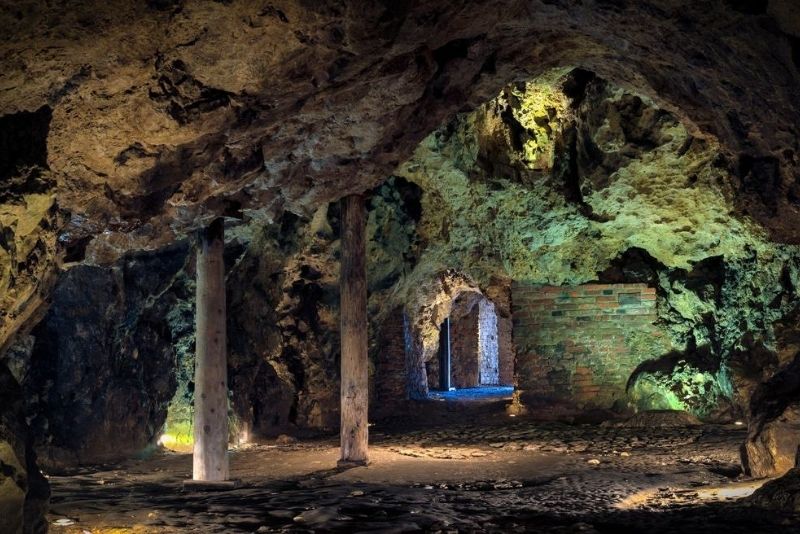 One for the adventure lovers, there are no excuses not to explore Dragon's Den, a legendary cave on the western slope of Krakow's Wawel Hill.
Formed over 25 million years ago, the cave is full of eerie crawl spaces, murky caverns, rock projections, and mysterious niches and fissures.
While exploring, expect a friendly guide to fill you in on all the history of the cave and its use since its discovery.
38 – Try out some beer tastings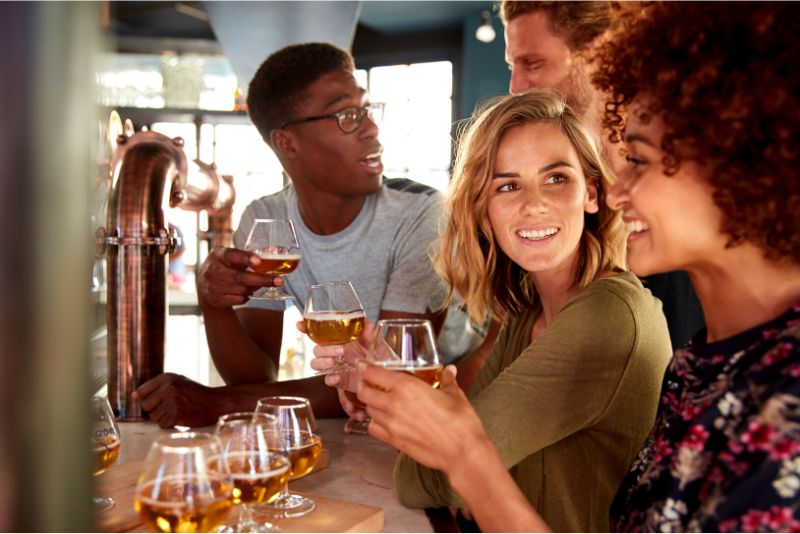 Delicious and decadent, beer tastings are the perfect way to explore the city in-depth.
The craft beer scene has been booming in recent years, and these tours offer a wonderful opportunity to taste some of the unique creations of local breweries.
And if you want to take your experience to the next level, you can also book dinner at a brewery, and complement your beverages with hearty local favorites like ham hocks and soup.
Sip your way through the city – you might even find a new favorite beverage!
39 – Immerse yourself in history at Oskar Schindler's Enamel Factory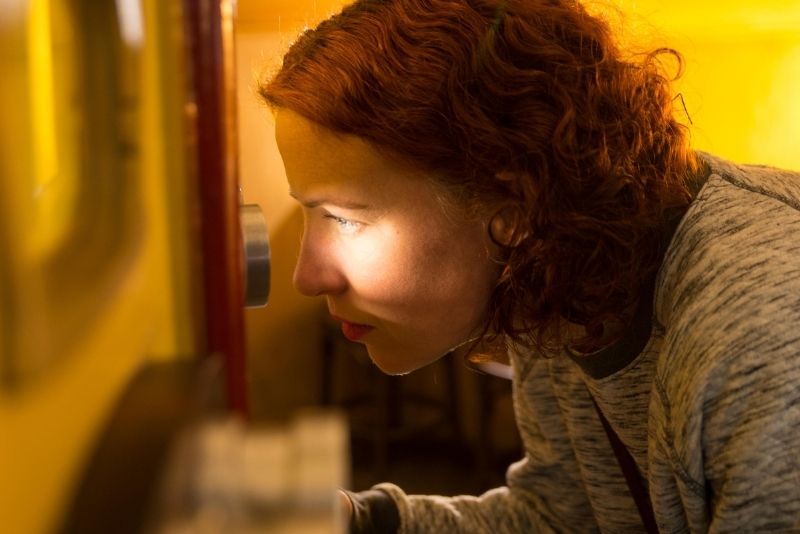 When you enter this museum dedicated to the Krakow experiences of World War II, you're entering the historic building that once served as an enamel factory owned and operated by the famed and heroic Oskar Schindler (as seen in the film Schindler's List).
Rich in information and full of stories to tell, the museum is one of the 17 branches of the Historical Museum of the City of Krakow; other noteworthy branches include the Town Hall Tower, the Podgorze Museum, the Zwierzyniec House, and Eagle Pharmacy Museum.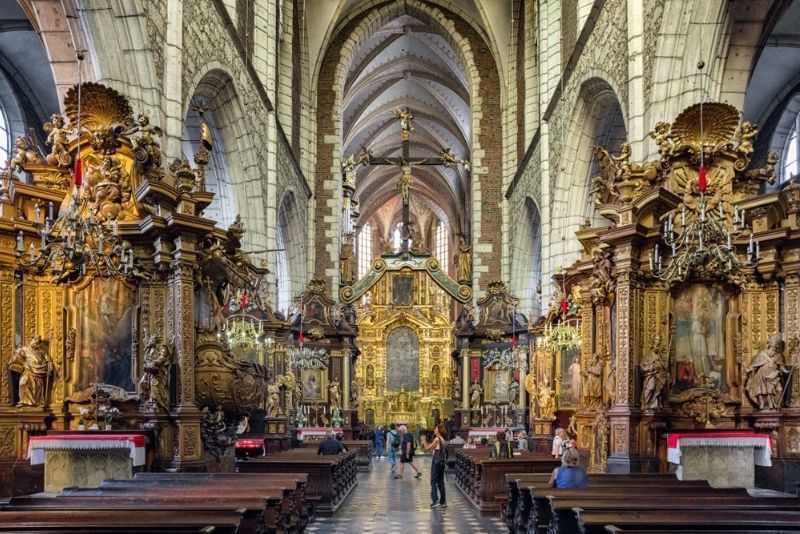 This vast and beautiful basilica is one of the best examples in Poland of Gothic and Baroque-blended architecture, notable for its ornate altars, imposing pillars, and stained glass windows depicting biblical scenes — as such, it's become one of the most popular things to do in Krakow.
Undeniably one of its main features is its organ collection, featuring a main instrument built in 1958 containing elements from an original 1770s organ — even the church itself is almost 700 years old.
41 – Jump out of your skin at Lost Souls Alley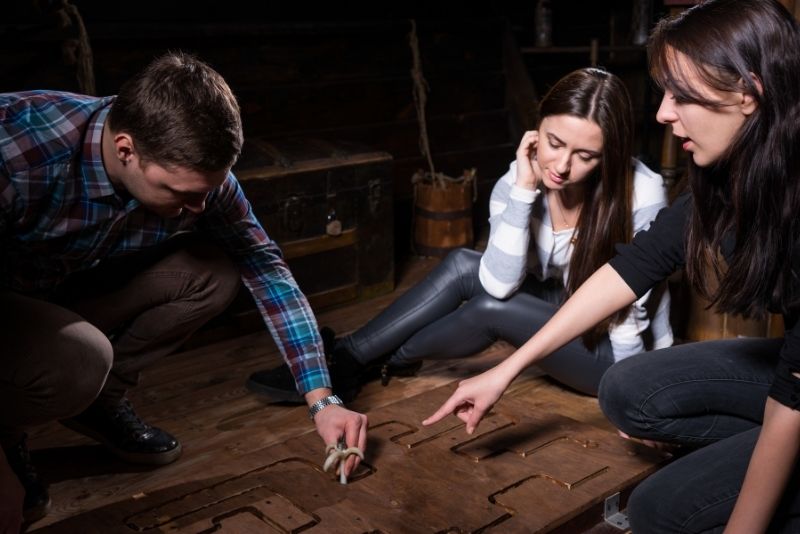 If you're looking for things to do in Krakow when you need a break from museums and Renaissance architecture, why not try this combination haunted house and escape room?
A unique experience fit for the bravest of travelers, at Lost Souls Alley you and a group will navigate through creepy rooms full of macabre clues and work together to make your way to the end of this frighteningly fun experience.
42 – Hang with hyenas at Krakow Zoo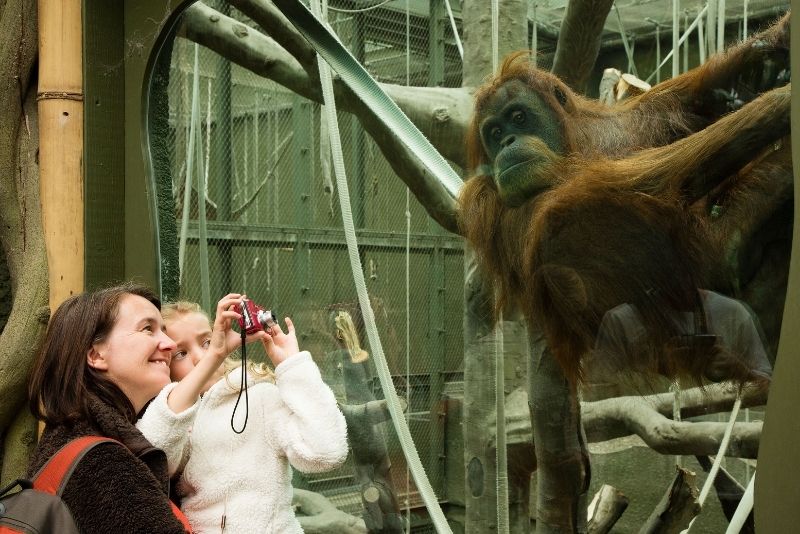 A wonderful day trip suitable for kids and adults alike, Krakow Zoo is located in the sprawling Wolski Forest, a beautiful forest park littered with popular walking trails and lush vegetation.
The family-friendly zoo is home to over 1,500 animals representing about 270 species, with wild animals spanning every class and family imaginable — red pandas, snow leopards, Indian Elephants, pygmy hippos, Rothschild's giraffes, ruffed and ringed lemurs, great condors, Humboldt penguins… the list goes on.
Plus, with daily feeding shows, educational presentations, and plenty of opportunities to feed the animals yourself (for a small fee), there is so much for visitors of all ages to do.
43 – Get terrifically tipsy on a wine-tasting tour!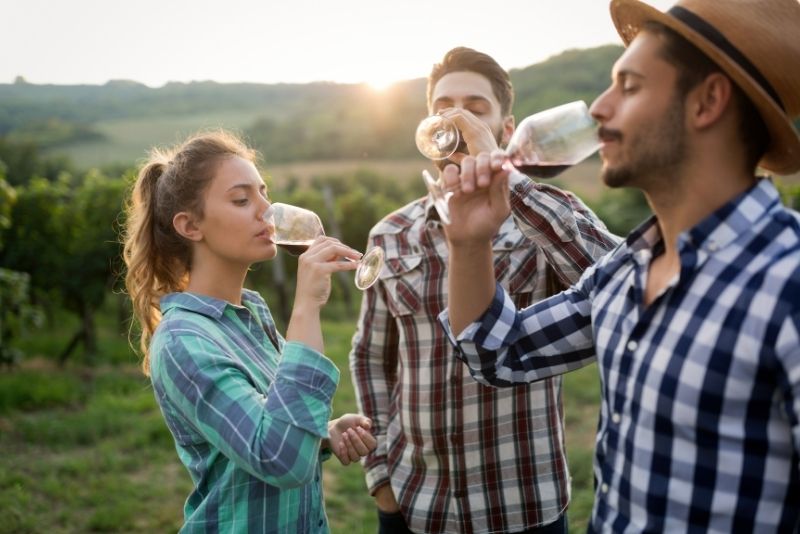 One of the most popular things to do in Krakow for thirsty travelers is to celebrate the fact that you're on vacation with a wine tour and tasting!
A country that doesn't mind a sip or two, Poland boasts over 300 hectares and counting of registered vineyards, and Krakow loves to show them off.
With a range of tours available (with a designated driver provided), you can always find private vineyard tastings, evening wine cruises, and wine-aplenty piano concerts.
44 – Master the national dish with a Polish Pierogi Cooking Class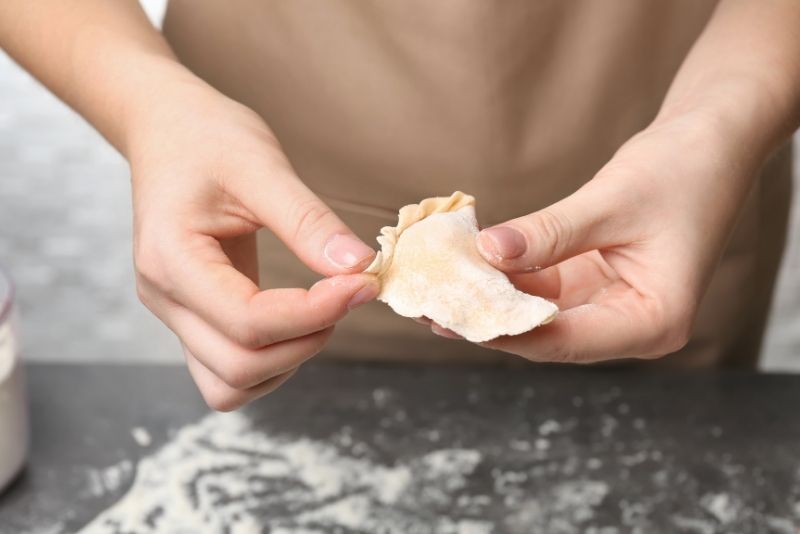 Want to learn how to make your own version of the world-famous Polish potato dumplings?Then look no further than an intimate cooking class hosted in the home of a sweet and friendly local.
Apron on and spatula in hand, your host will share their own story and explore the rich history and culture behind Poland's national dish. Then, following a hands-on lesson of traditional fillings (think meat or vegetables) and cooking techniques, you'll eat what you make together over shots of vodka or glasses of wine!
45 – Button-mash at the Krakow Pinball Museum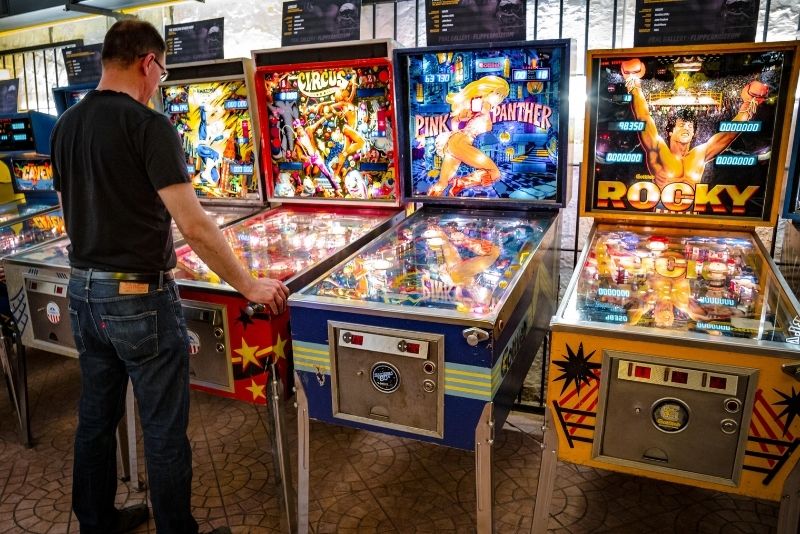 We'll admit it, the term "museum" is used loosely pretty here; nearly 100 pinball machines and other classic arcade games are available for you to play to your heart's content at this gamer's paradise.
To keep things simple, all gameplay is included in the admission price, and you can even grab a drink at the bar.
Full of nostalgia and fun for all ages, you'll flip your flippers over this exclusive collection of vintage pinball machines highlighted by all-star classic titles like Indiana Jones, The Addams Family, Medieval Madness, and Attack From Mars!
46 – Explore the Barbican Museum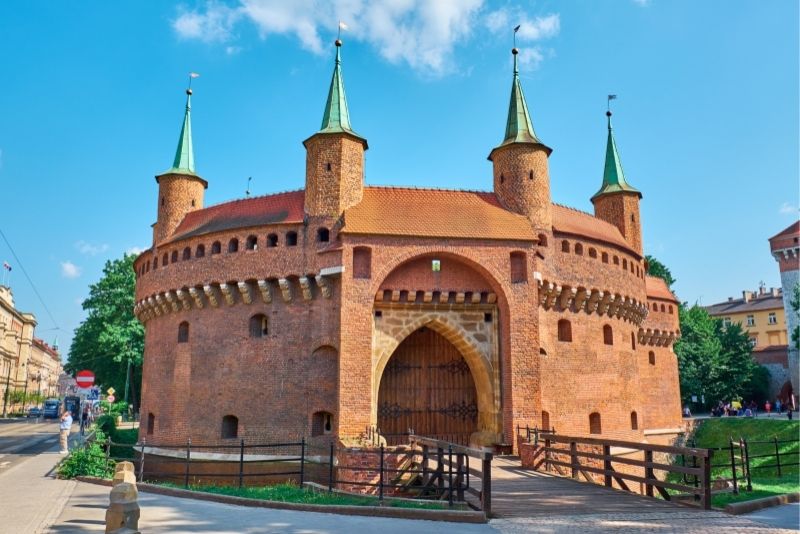 Another branch of the Historical Museum of the City of Krakow, the Barbican is a palatial fortified outpost and one of the few remaining relics of the complex network of defense barriers that once surrounded the city.
Built in an enchanting Gothic style just before the turn of the 16th century, the Barbican now serves as a beloved tourist attraction and museum that celebrates the understated history and architecture of the fortification system.
47 – Climb the Kościuszko Mound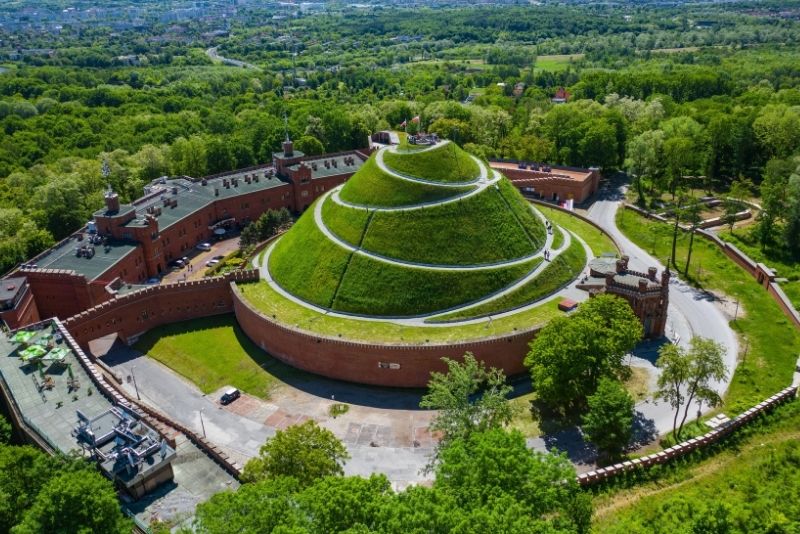 The Kościuszko Mound, named after the hero of Poland's national uprising against Russia in the early 1800s (lieutenant-general Tadeusz Kościuszko), is a site for some amazing photo ops over Kraków.
So long as you've packed decent walking boots, visitors can climb the 1,070-foot serpentine path to the top and take in gorgeous panoramic views of the Vistula River below.
48 – See where east meet west at the Manggha Centre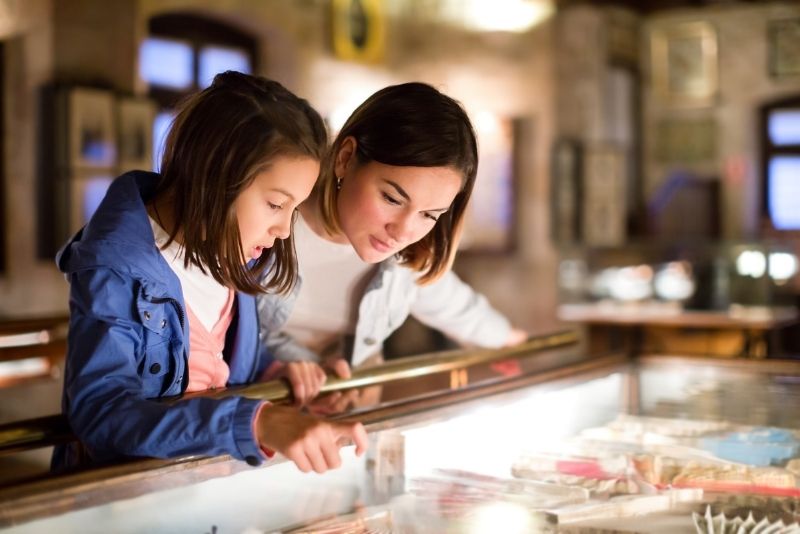 Straddling the banks of the Vistula River, this hidden treasure of Krakow is a stunning building with an equally beautiful purpose.
Manggha was founded in 1994, dedicated to showcasing the mutual cultural relations between Poland and Japan; highlighting how Japanese art has influenced many famous Polish artists over the years.
The impressive collection includes (take a deep breath) Japanese, Korean, and Polish paintings, plus raw sculptures, bizarre installations, archival photographs, enchanting watercolors, and plenty of unique masks and costumes.
49 – Spend the afternoon at the National Museum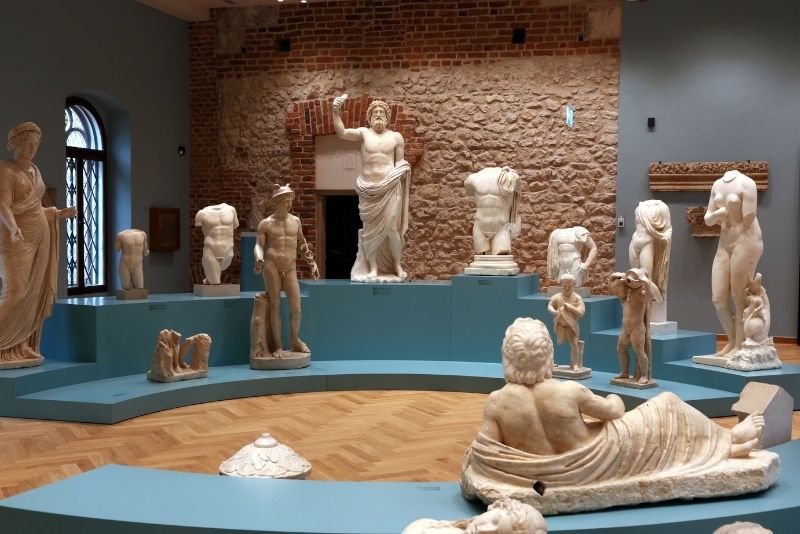 History buffs, take note!
The National Museum, the biggest museum in Poland, contains everything you'd want to know about the Poland of old under one roof. With priceless art collections, wonderful traditional homewares, and Polish military relics, there is sure to be something for everyone at this popular 130-year-old attraction.
With tickets less than $10, it's definitely worth the stop!
50 – See an original Da Vinci at The Princes Czartoryski Museum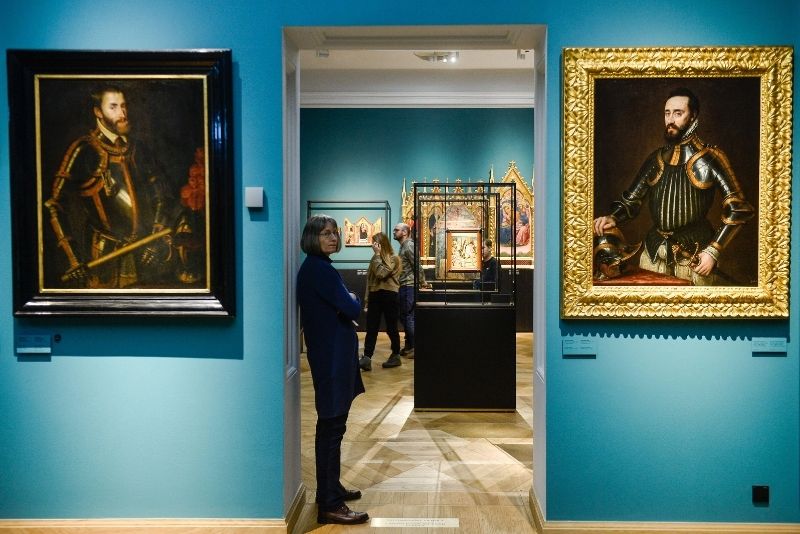 A hidden gem of Polish culture, The Princes Czartoryski Museum has been welcoming visitors and art-lovers alike since it opened way back in 1878, home to some truly impressive collections of Renaissance items such as antiques, sculptures, tapestries, and paintings.
While two works by Rembrandt are always popular, the list of highlights is topped by Leonardo da Vinci's beloved piece, The Lady with an Ermine.
51 – Feel the adrenaline with a shooting range experience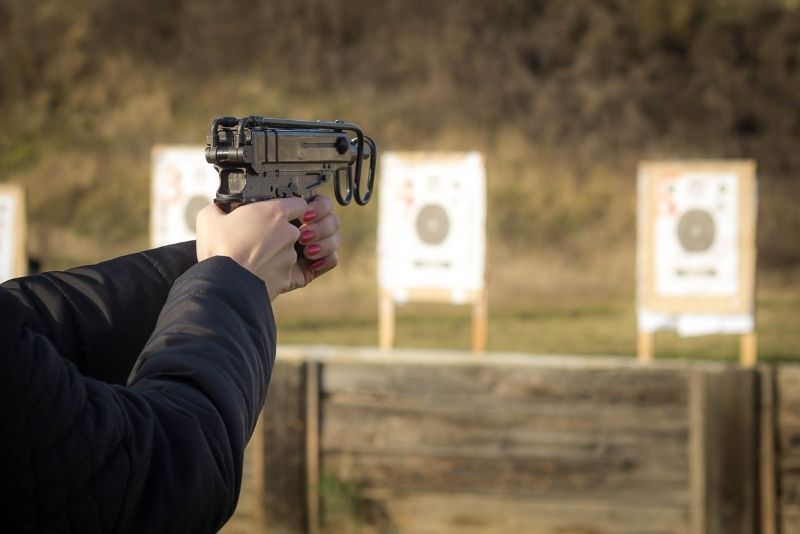 Fancy yourself a bit of a gunslinger? Then put your aim to the test at a shooting range!
Following the safety briefing, and under the guidance of excellent instructors, visitors are given the chance to test-fire a variety of weapons — from pistols and revolvers to a few beefier options.
52 – Indulge at as many of the top Polish restaurants as possible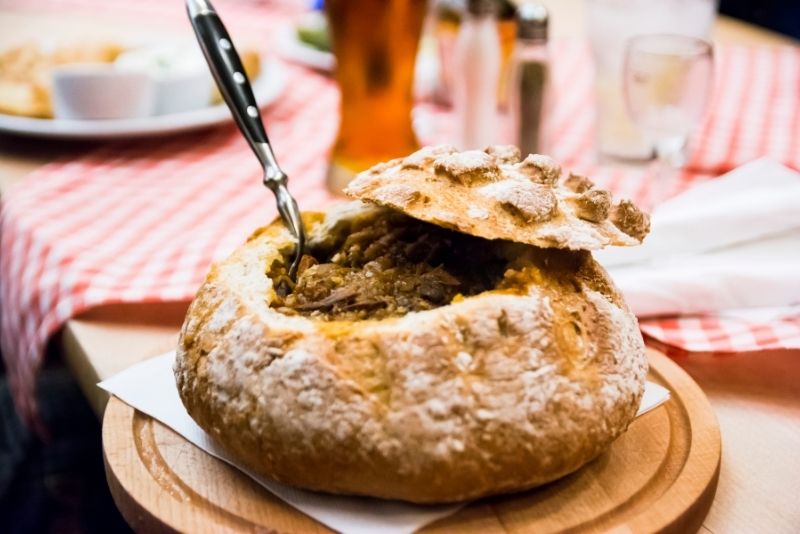 If adventurous travelers agree on anything it's that you can't say you've been somewhere if you haven't tried the food. When in Krakow, savor the beef goulash at Czarna Kaczka (The Black Duck), enjoy pork tenderloin at Starka, melt pierogies in your mouth at Smakolyki, or splurge on the 7-course tasting menu at the eclectic, Michelin-starred Bottiglieria 1881!
With so many great restaurants to choose from, all of which present as incredibly cheap compared to western Europe, you might as well plan on trying them all!
53 – Attend a mass at the Sanctuary of Divine Mercy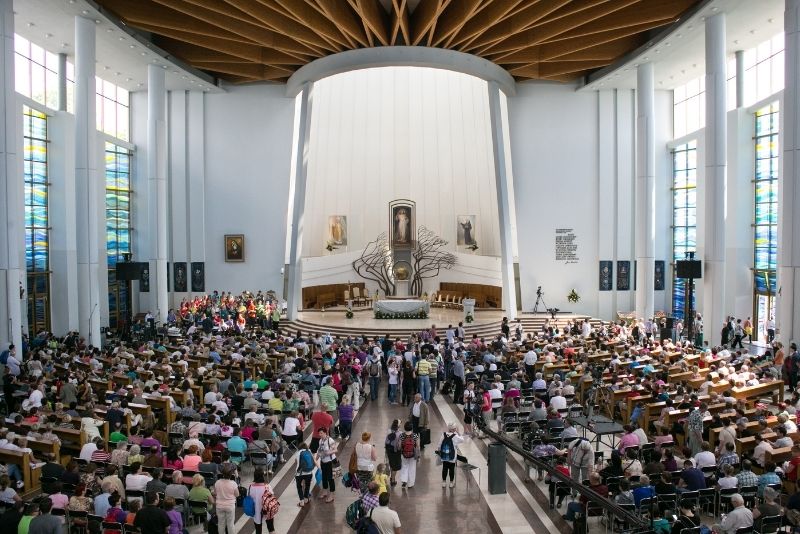 Although it can be a bit tricky to find, this enormous church in the southern suburbs is an important pilgrimage for both Catholics, with visitors of the Sanctuary of Divine Mercy having described having unique, spiritually rewarding experiences — not to mention its stunning chapel and shrines that were enough to inspire three Papal visits.
The basilica hosts masses in both English and Polish, and there's even a moderately priced restaurant and a gift shop offering religious souvenirs.
54 – Get buzzed with a locally-led Polish vodka tasting!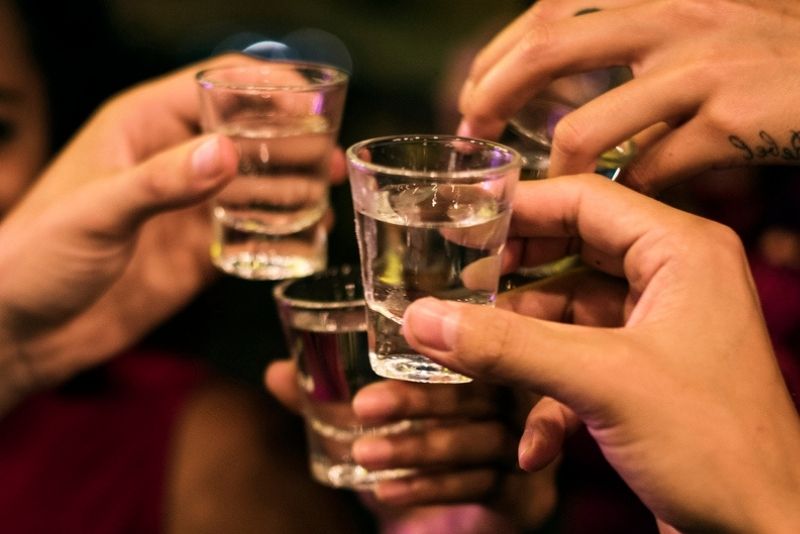 Here's one for the thirsty travelers; you can't go to Poland without sampling the local vodka — that's just how it is.
Polish vodka is best sampled at local haunts like Nadwislanska Resto & Vodka Bar, Wodka Cafe, or Pijalnia Wódki i Piwa — but, in all honestly, you're never far away from a shot or two.
There are plenty of other amazing excursions that you can pair with your vodka tour, including food tastings.
The hearty flavors of traditional Polish meals and snacks pair perfectly with the drinks – and the extra calories will help you soak up some more alcohol!
55 – Relax and unwind at Planty Park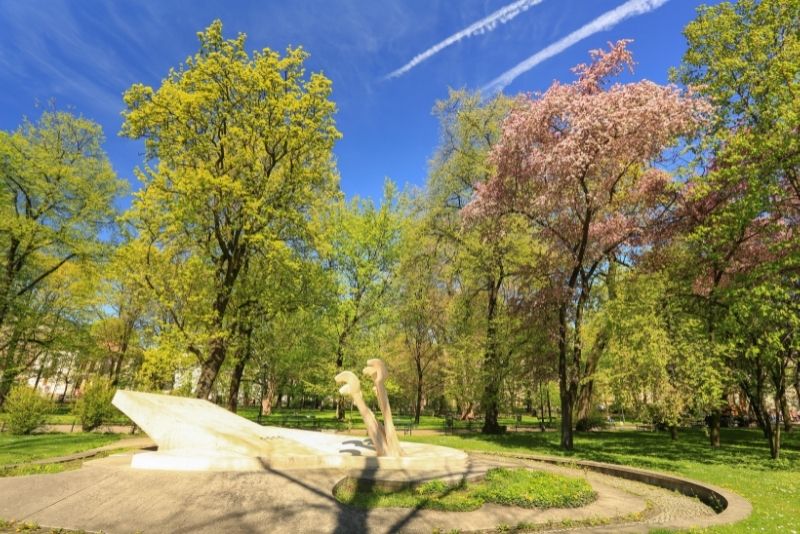 One of the biggest parks in Krakow, the well-kept Planty Park should be at the top of your list of things to do if you're after a picnic or casual stroll away from the tourist traps.
Far more than just some grass, this charming greenscape was once the moats, walls, and towers that acted as the city's primary defense. Today, all of that has drastically changed into a quaint park with lovely walking paths and benches.
56 – Grab a front-row seat at the Chopin Concert Hall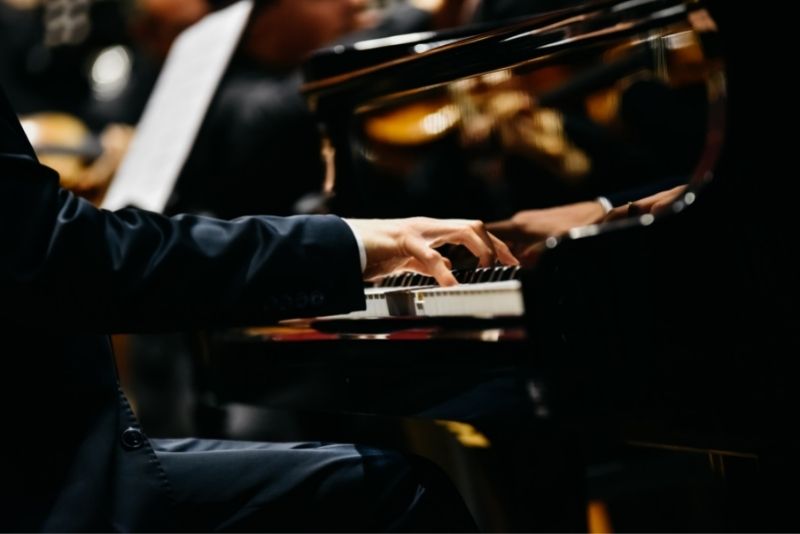 Classical music aficionados and even the casual listener will be delighted to experience a live performance of the works of Poland's most famous composer.
Tall glass of wine in hand, you'll settle into a cozy setting, and listen as award-winning pianists bring the beloved virtuoso to life — it's definitely a great way to experience one of the most important elements of Polish culture.
57 – Amaze (or confuse) yourself at Krakil – Museum of Illusions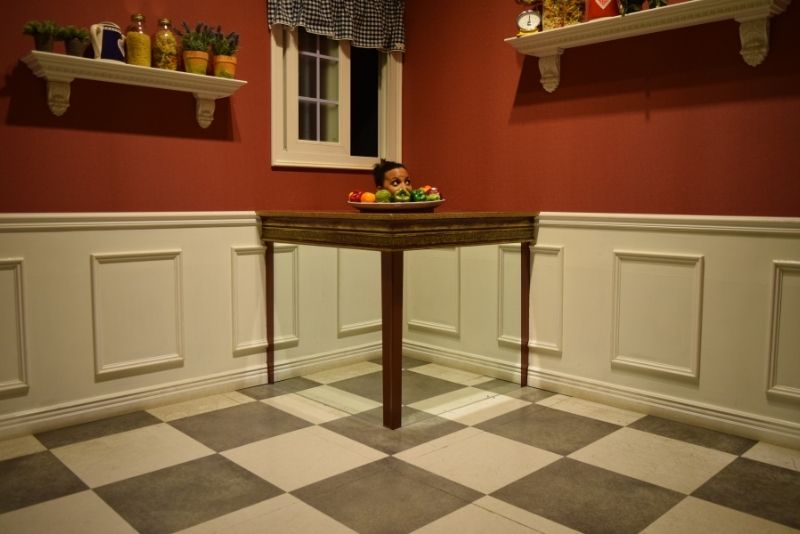 Can you believe your own eyes? There's only one way to find out; at Krakil, a museum full of optical, physical, and historical illusions, you'll be left wondering, "Is this magic?"
The whole family can enjoy the fascinating old mansion, with helpful staff around every corner to tell you about the history and inventions on display!
58 – Spend the evening at a folk-themed dinner show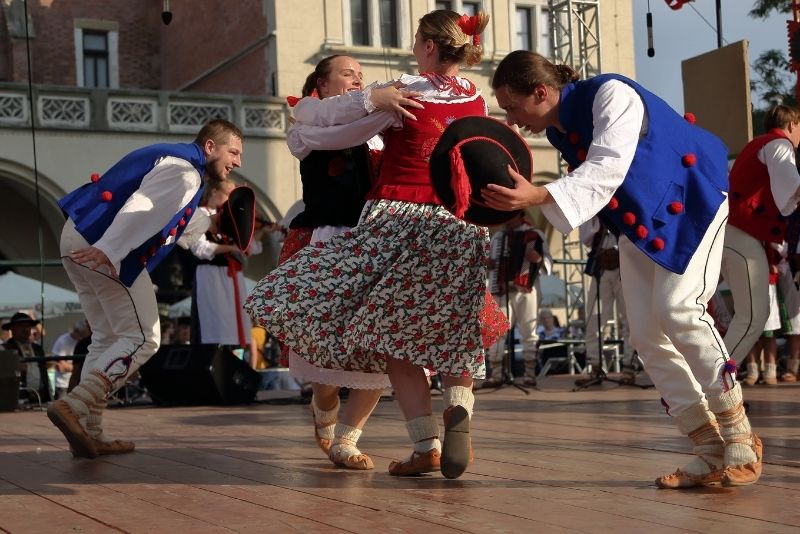 Try as you might, you can't get more of an authentic Polish experience than this all-you-can-eat dinner and folk show!
While feasting on pierogies, kielbasa, and other Polish delights in a 3-course dinner and buffet, you'll be entertained by a professional dance group and accompanying musicians as they dazzle you with traditional Polish folk dancing set to lively and dynamic Polish music.
Don't be surprised if the entertainers interact with you!
59 – Meet fellow partiers on a pub crawl!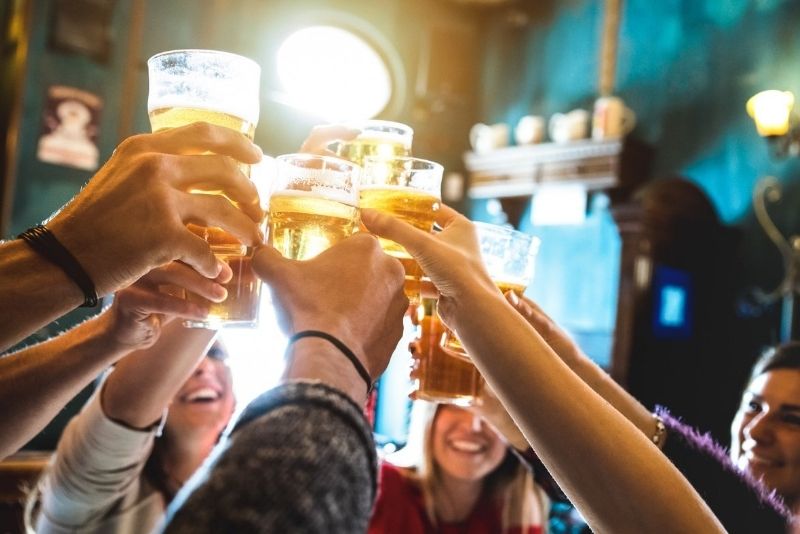 For all the socialites, dancers, filters, and drinkers, the best way to meet people when you travel is to join a pub crawl (who could argue with a little liquid confidence, right?) and, luckily for galavanting partiers, Krakow has no shortage of them!
With so many lively bar crawls going on each night in the city center, with welcome shots, icebreaker games, open bars, and photographers included, it's the ideal way to kickstart any trip.
60 – Enjoy the nightlife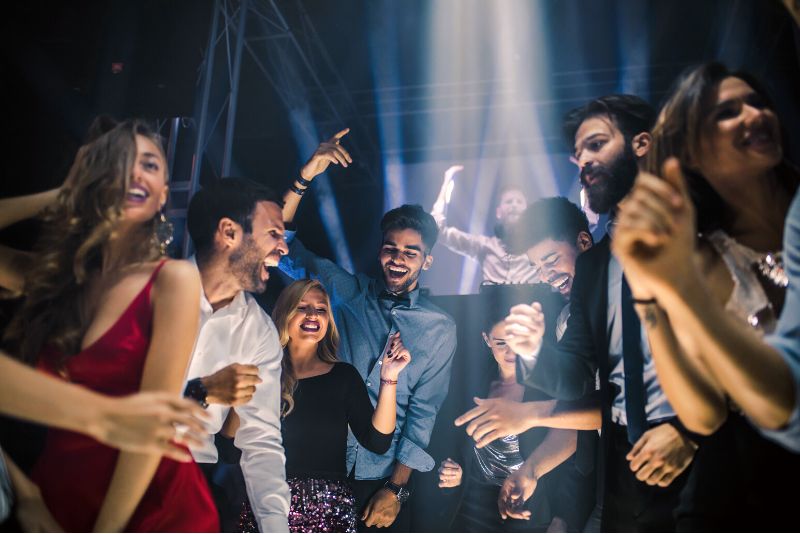 From dusk until dawn, Krakow offers plenty of clubs to keep the party going!
Alchemia offers a varied, sophisticated lineup, with a particular focus on jazz.
On the opposite end of the spectrum, Cybermachina Game Pub blends delicious, creative drinks with a quirky, video-game themed atmosphere.
Choice Club's excellent DJ sets and great beverages are only matched by its unique wood-accented interiors, which add a modern feel to the space.
And at Klub 30, the party lasts all night, every night, dance floors, and music galore – all catering to guests age 25 and up!
How to get to Krakow?
Although Krakow is a little city (at least, compared to some of its western European counterparts), its airport, John Paul II Kraków-Balice International Airport, is a bit out of the way.
So why deal with the hassle of hiring a taxi or attempting to use the public transport system (in Polish, for that matter)? Take the hassle out of your trip — we recommend a pre-booked airport shuttle service for the simplest of arrivals and departures. Plus, if traveling as a group, it's a great way to save on travel costs!
Where to stay in Krakow?
Radisson Blu Hotel Krakow is a short walk away from hotspots like the Royal Wawel Castle and the Main Market Square, but it also offers plenty of its own amenities, such as bike rentals and a beauty parlor.
And Sky Hotel Krakow combines a convenient centralized location with its own elegant style; when you're not making your way past St. Mary's Basilica and Lost Souls Alley, you can work out at the gym or kick back at the bar.
AC Hotel by Marriott Krakow is a perfect all-ages option, with a lovely garden, easy access to museums and sports stadiums, and a kids' club for youngsters to blow off steam.
PURO Kraków Kazimierz welcomes guests with delicious breakfasts and a terrace for relaxing, and even a sauna to kick back in after a day of exploring castles and cultural institutions.
And the scenery at The Bridge Suites is top-notch, with great views of the river and the city that perfectly complement the avant-garde, artsy designs inside.
Visiting Krakow on a budget?
If you're on a budget, why not try a free walking tour? These tours provide a great way to get familiar with a city's history and culture!
Another popular choice for budget-savvy travelers is the Krakow Pass – the best way to see all of the main attractions in Krakow.
The pass includes free entry to up to 40 museums, theatre performances, churches and concerts, and plenty of discounts at bars and restaurants. It also gives you skip-the-line access to hot spots (like Wawel Castle, Schindler's Factory) and it also includes unlimited access to the city's public transport network!
Where to go next?
Just a few hours away, Warsaw is filled to the brim with art and culture, as well as a fascinating history that encompasses monarchies, World War II sites, and more.
Wroclaw, dubbed the "Venice of Poland," boasts idyllic canals and numerous bridges. Visit the vibrant Market Square with its historic Old Town Hall and seek out the city's unique dwarf statues.
From the towering St. Mary's Church to the picturesque Motława River waterfront, the list of things to do in Gdańsk is as rich as its storied past.
Or head to the Czech Republic for a taste of Prague, filled with plenty of fashion, architecture, and unique museums to keep all kinds of visitors engaged.
In Hungary, the charming city of Budapest offers everything from natural baths to world-class clubbing, along with some excellent sports and world-class cuisine.
Meanwhile, Austria greets you with Vienna, where opera, Ferris wheels, dancing horses, and surreal art projects all happily coexist.
And in Slovakia, you can enjoy the underrated city of Bratislava, with its galleries, striking buildings, and rich culture.
There are also some wonderful multi-day trips that you can take with Krakow as a home base; whether you're absorbing history at Auschwitz or exploring the Christmas markets, it's a wonderful way to delve deeper into Polish culture.
Final thoughts
A city filled with its own unique charms and quirks, Poland's capital really has something for everyone!
And whether you're exploring castles, hiking through mountains, diving into art, or throwing back some shots at the club, you'll never run out of things to do in Krakow.
So pack your adventuring shoes and come see this terrific place for yourself!
As always, happy travels!