The bustling, built-up, beautiful capital of Poland, Warsaw is truly a city of contrasts. It has modern business districts, yet remains deeply traditional with its historical architecture and monuments. It's cosmopolitan, but also home to many charming cobbled streets that are perfect for exploring and people-watching. It's refreshing and green, but also full of energy with amazing — scratch that, wild — nightlife.
As you'll quickly discover, whether you're an art aficionado or a beer-drinker, a museum-goer (add Wilanów Palace to the list), or an adventure enthusiast (check out Rope Park), the collection of exciting things to do in Warsaw never ends!
1 – Kickstart your trip with a tour through Old Town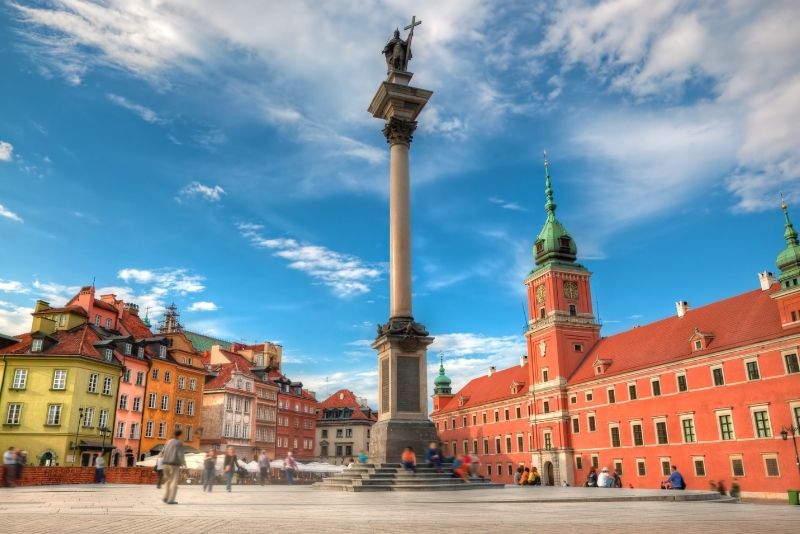 A quintessential destination for any visitor to the city, old or young, the famous Warsaw neighborhood of Old Town was inscribed on the UNESCO World Heritage List in 1980 and has been welcoming travelers ever since (and long before, in fact).
Depending on your preference, you can walk, bike, scooter, or segway your way through the narrow cobbled streets and marvel at architecture dating back to the 13th Century.
Camera at the ready, because highlights include the baroque style Cathedral of John the Baptist and the famous Sigmund's Column located in Castle Square, the former home of the Polish monarchy.
After checking off all the historic sites, the area boasts no shortage of good restaurants and cocktail bars ideal for people-watching!
2 –  Gaze at the monuments of Łazienki Park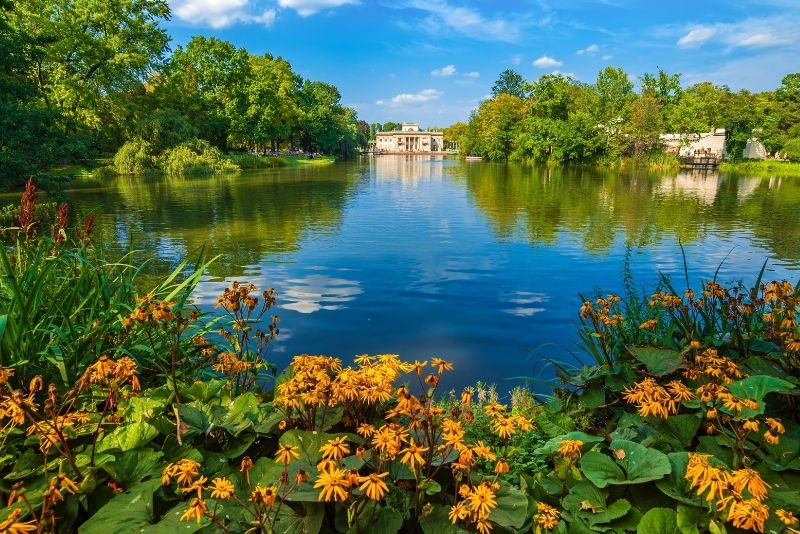 Łazienki Królewskie (otherwise known as Royal Baths Park to travelers) is the beloved site of a bathhouse used by 17th-century Polish nobleman Stanisław Lubomirski — and many famous and non-famous folk since.
These days, you can now roam the grounds and take in the breathtaking art and architecture like Lubomirski's magnificent Palace of the Isle (Pałac Łazienkowski) or the impressive bronze monument of Frédéric Chopin.
Before you leave, be sure to also check out the Zamek Ujazdowski Center for Contemporary Art (the Zamek Ujazdowski building itself is actually a castle) and the Royal Łazienki Museum.
3 –  Climb to the observation deck of St. Anna's Taras Widokowy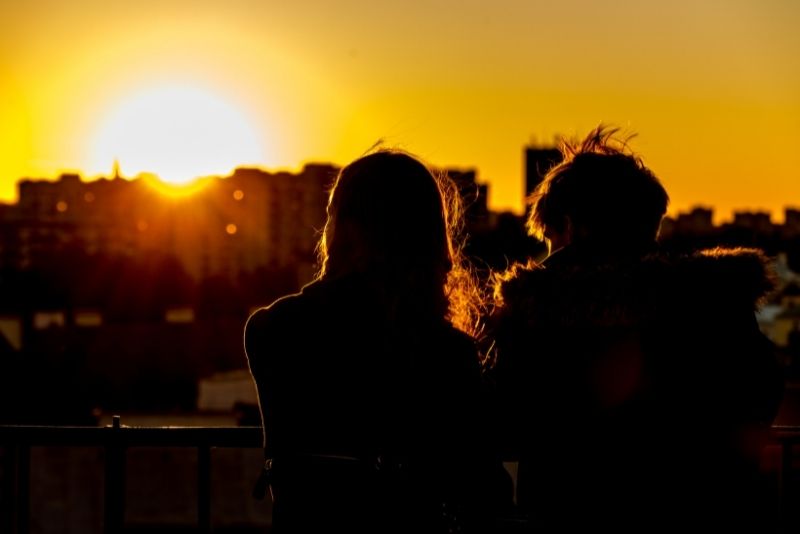 A short walk up to the historic bell tower of the Church of St. Anna brings you to its famous "Taras Widokowy", or observation deck. Here, you can take in breathtaking panoramic views of the city and its ever-lively crisscrossing streets below.
Depending on the time and day, the crowds may lengthen your wait time, but visitors agree it's well worth the 150-step stair climb to get a bird's eye view of Old Town!
4 – Celebrate the cause at the Warsaw Uprising Museum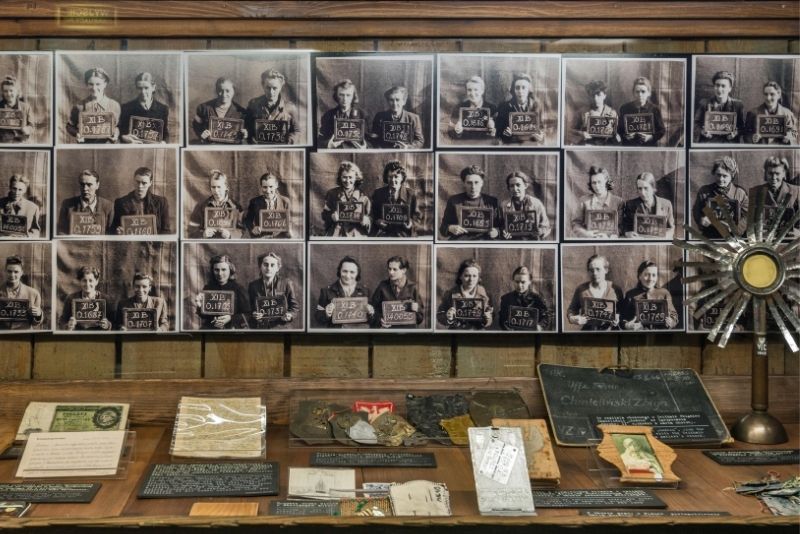 In August of 1944, Poles launched an insurrection attempt to seize back control of Warsaw from the Nazi army. The Uprising Museum was opened sixty years later to commemorate the events.
During visits to this moving, powerful museum, guests are guided through the stages of the Uprising with over 800 exhibit items, approximately 1,500 photographs, and films and sound recordings spanning over 32,000 square feet.
5 – Visit the Museum at Wilanów Palace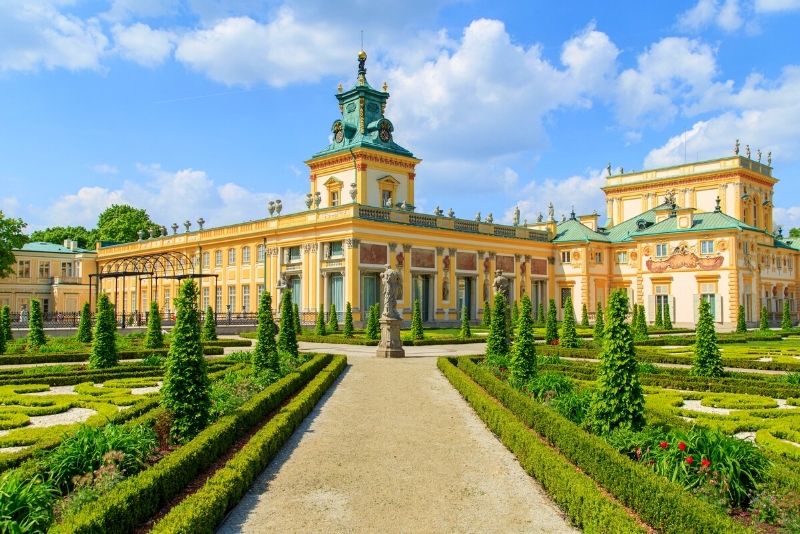 A unique insight into local culture and history, Polish patriotism and tradition are celebrated at Wilanów Palace, a former residence of the revered Polish monarch King Jan III.
Opened originally way back in 1805, it's one of the oldest museums in the nation, displaying a riveting collection of Royal valuables and collected artworks dating back centuries.
Hot tip: The museum is free of charge on Thursdays, but securing a ticket ahead of time is still recommended.
6 – Defend the city at Warsaw Barbican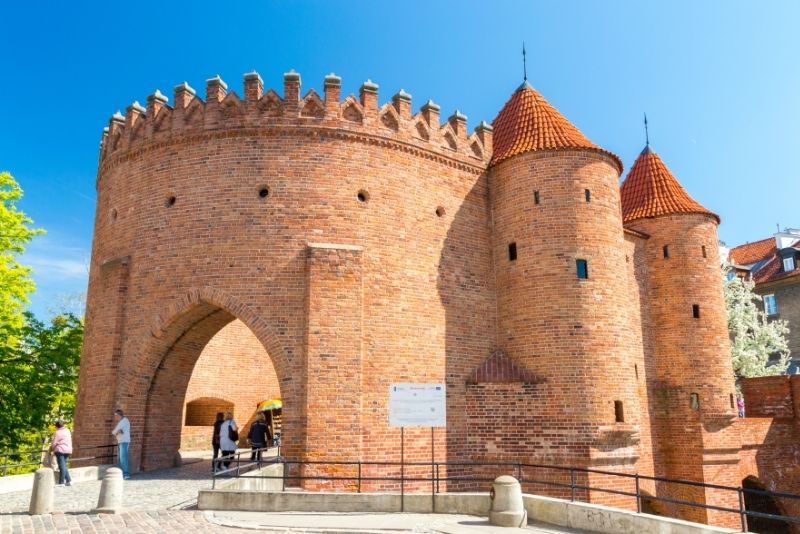 A postcard-worthy attraction in every sense of the term, The Warsaw Barbican is one of few remaining relics of the complex network of historic fortifications that once encircled Warsaw.
Designed and built by an Italian Renaissance architect in the year 1540, the 4-tower barbican fortress was instrumental in a major redesign of the city's 14th century barricade walls.
Today, on self-guided or locally-led tours, visitors can get a real sense of what the palatial city perimeter once looked like.
7 – Explore the POLIN Museum of the History of Polish Jews
One of the essential things to do in Warsaw, this museum celebrates 1,000 years of the history of Polish Jews, whose contributions to Polish life and culture are seemingly endless.
Curious guests can immerse themselves in this important story through a dazzling arrangement of eight galleries packed with artifacts, paintings and interactive installations — all combined, it's guaranteed to quench your thirst for local historic knowledge.
8 – Take a hop-on hop-off bus tour!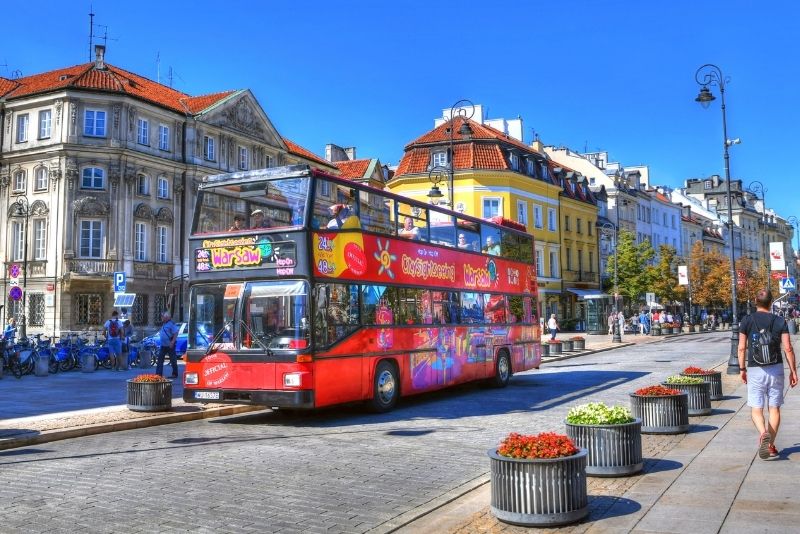 Whether you're feeling lazy or just efficient, why walk when you can hop on or off a double-decker bus that brings you to every major tourist hot spot in the city?
With tour bus passes that last 24, 48, or 72 hours, you can spend as much time as you want at any of the near-dozen major sights including Warsaw City Hall, the Church of Artists, the Chopin Museum, and Bank Square.
9 – Behold the mighty Modlin Fortress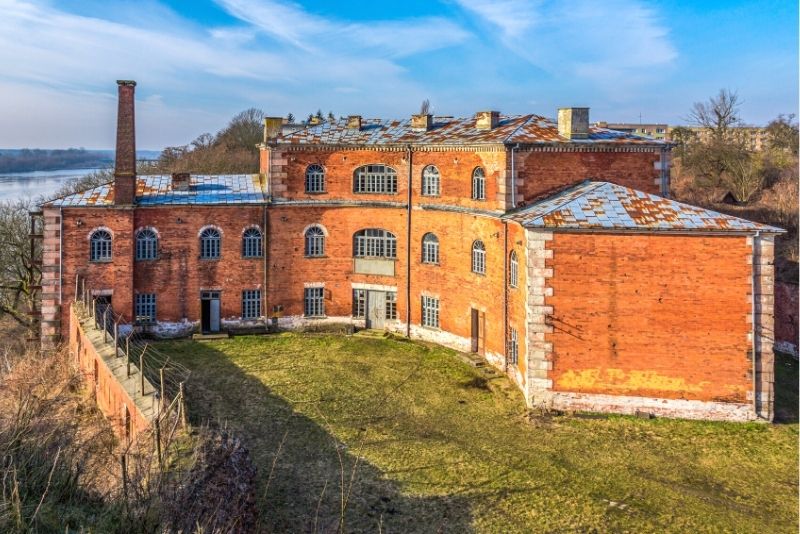 If you're looking for truly impressive things to do in Warsaw, take in the monumental structure that is Modlin Fortress.
Just over 30 miles north of Warsaw proper, this towering fortification was built by the French between 1806 and 1812 on the orders of none other than the one and only Napoleon Bonaparte.
Once you find your way there by hiking through a forest (note: wear comfy shoes), you can imagine yourself as royalty within your very own grand fortress and admire spectacular views of the Narew river and its enchanting surrounding woodlands.
10 – Take in a concert at Multimedia Fountain Park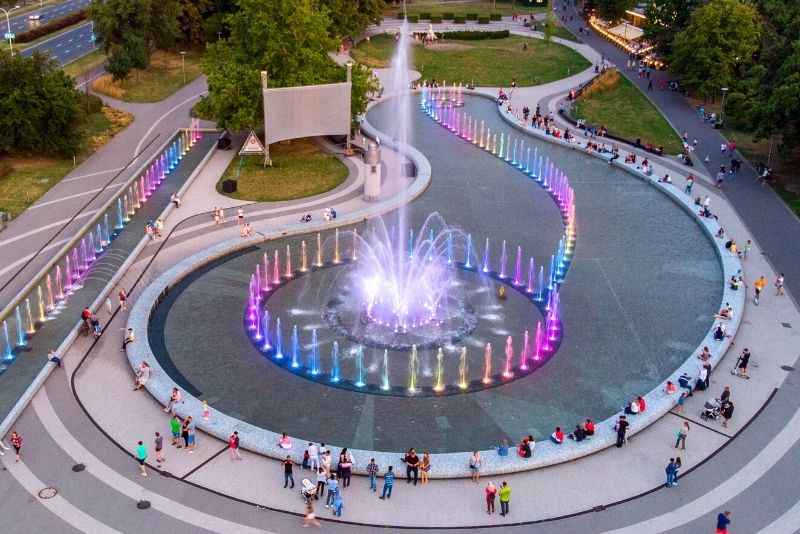 Touted as one of "the most important tourist attractions in Warsaw," Multimedia Fountain Park features two spectacular water fountains from which up to 30,000 liters of water per minute are poured out through 367 nozzles; a sight made even more dazzling at night when lit with 295 LED floodlights — as you can tell, there's a lot of moving parts here, combining for one seriously impressive choreographed display.
Moreover, the park serves as a venue for concerts, live shows, and exhibits from May through September every year!
11 – Support a local small business at Rynek Starego Miasta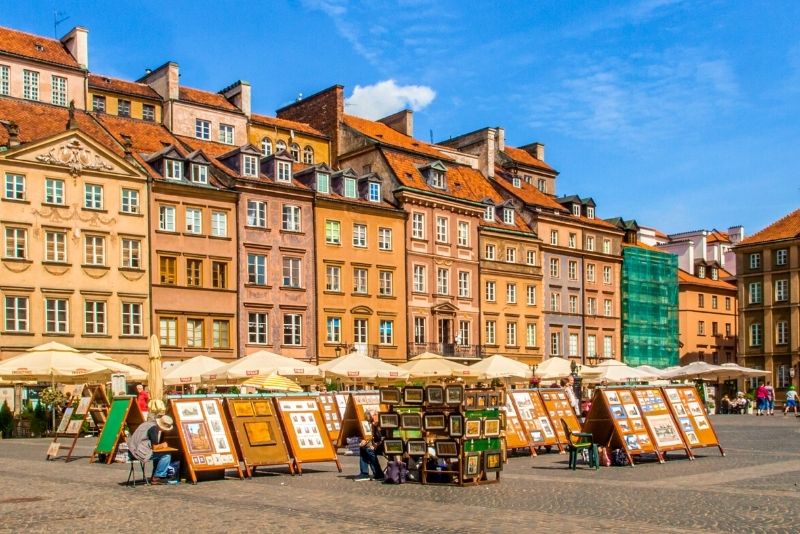 At the center of one the oldest part of Old Town, you'll find the charming Old Town Marketplace.
With every step, you'll feel as though you've been transported back in time — as the area is not only packed with local street vendors, cafes, shops, art galleries, and restaurants but is also surrounded by gorgeous seventeenth and eighteenth-century late-Renaissance and Baroque-style merchant homes.
For the ultimate in-depth experience, walking tours are also available.
12 – Check out the impressive Palace of Culture and Science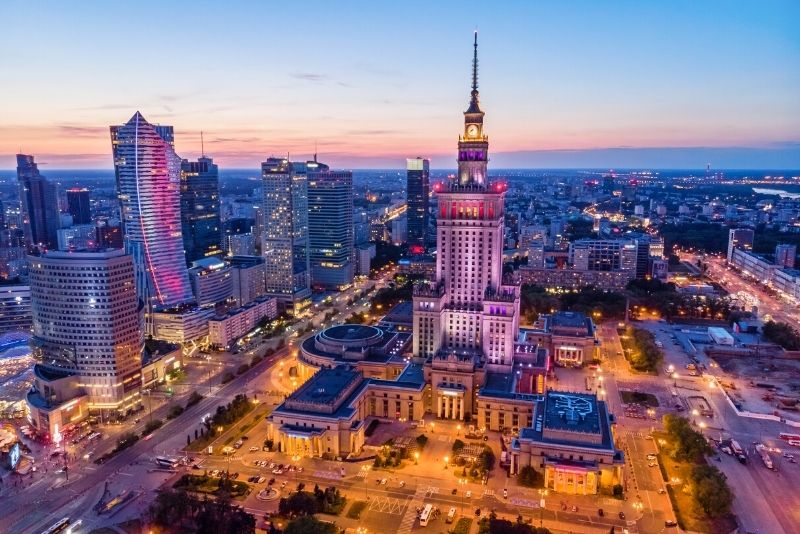 With a towering height of 778 feet, this grand art deco building holds the claim to fame of being the second tallest in Poland and one of the tallest buildings in all of Europe.
The colossal structure houses offices, movie theatres, restaurants, conference and concert halls, and even a swimming pool; meanwhile, beautiful marble and mosaics decorate the interior.
Hot tip: Climb to the 30th-floor terrace to behold some truly spectacular panoramic views of the entire city.
13 – Test your wits and logic in an escape room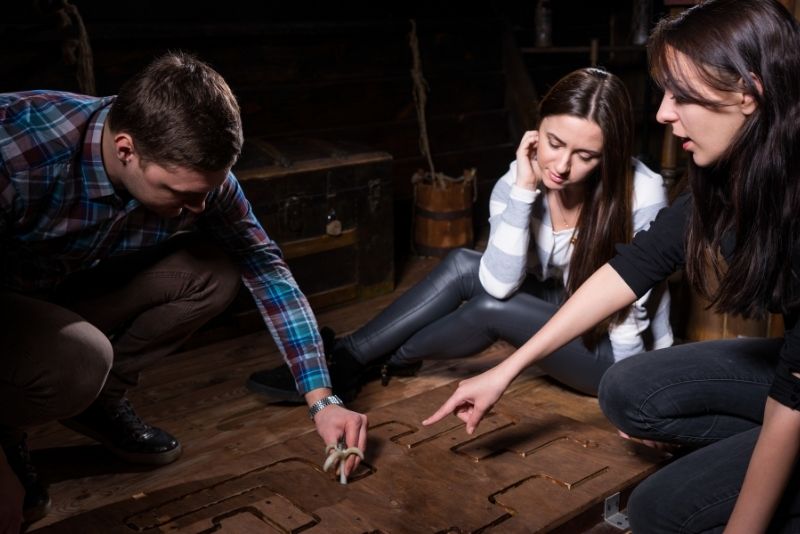 Consider yourself somewhat of a next-generation Sherlock Holmes? Then prove it.
Fun for a romantic couple or even a family with kids, Quest Hunt Escape Games is one of Warsaw's fine escape room venues, where groups of two to five people work together to decipher clues and solve puzzles in one of several themed challenges.
So, will you be smart enough to solve the mysteries that await you before the clock runs out?
14 – Celebrate science at the Copernicus Science Centre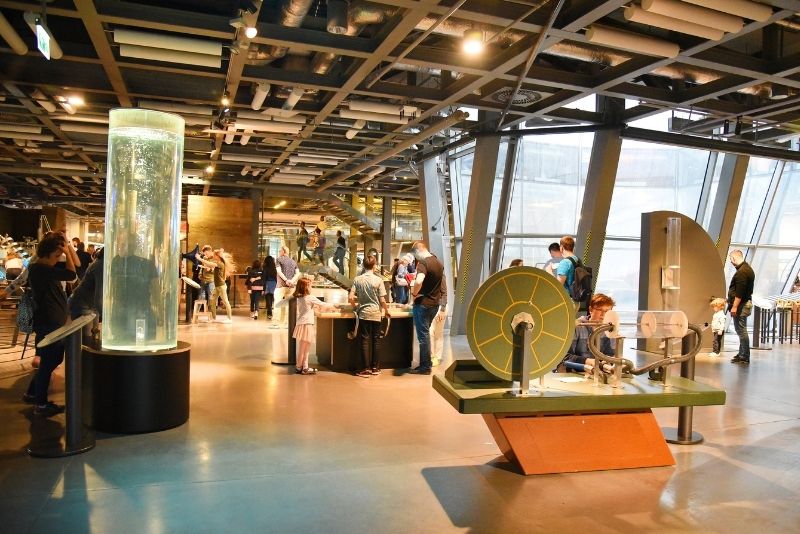 One of the largest science centers in all of Europe, Copernicus Science Center is, of course, named after the famous Polish polymath and astronomer.
With over 450 interactive exhibits, visitors can roll up their sleeves and perform real-time scientific experiments, discovering the fascinating laws of science for themselves.
Don't forget to stop into the venue's planetarium and immerse yourself in the world of astronomy!
15 – Pay your respects at the Auschwitz & Treblinka Concentration Camps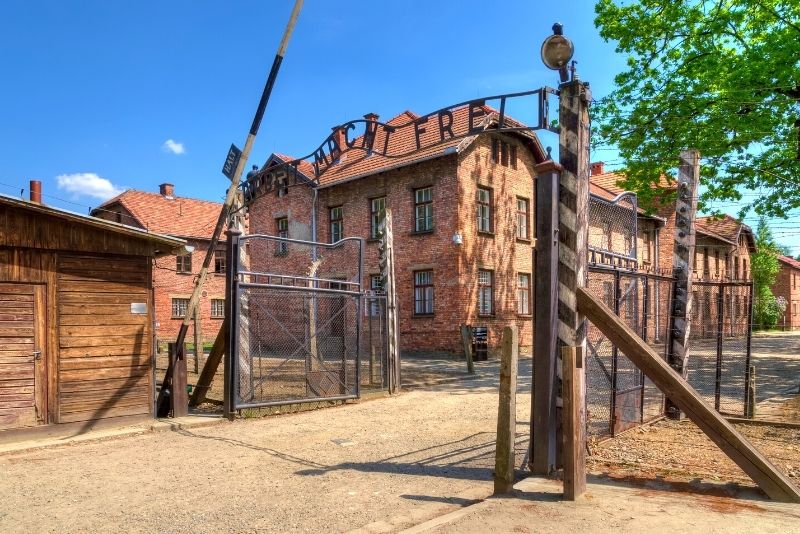 Not for the faint of heart, the Auschwitz and Treblinka Concentration Camps — each very different yet each incredibly sobering — serve as a memorial to more than 800,000 Polish Jews lost at these sites, and a reminder to never let history repeat itself in what was the most significant horror or the modern era.
Sure to evoke emotions no matter how thick your skin, you can take a private tour of these important landmarks, learn World War II history, and hear the powerful stories of survivors.
16 – Challenge your agility at Rope Park Warsaw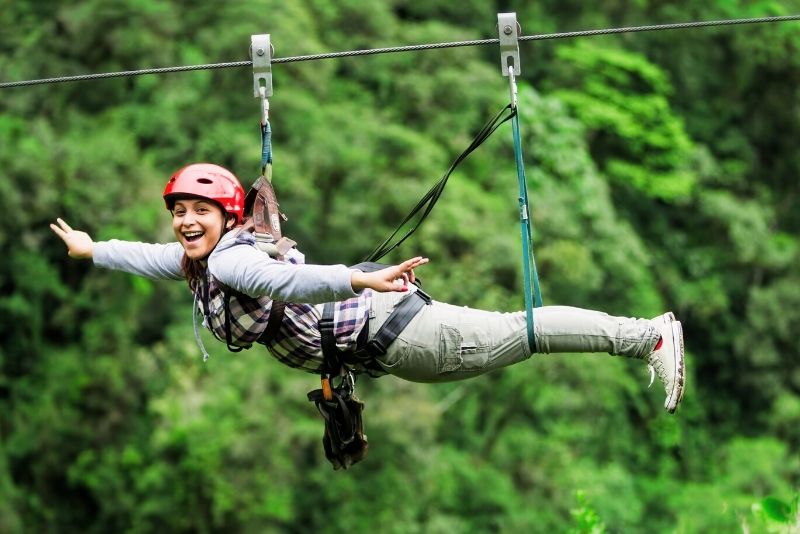 A much more lighthearted activity, and one that the whole family is sure to love, a ropes course is a fun and exhilarating way to strengthen your personal development and team-building skills.
So strap on a helmet and harness and swing, climb, and zip your way through challenging rope-based obstacle courses.
Conveniently located just a 15-minute walk from Old Town, at the Rope Park, adults and children even as young as four years old are welcome to work through courses of varying skill levels.
17 – Float over Warsaw in a hot air balloon!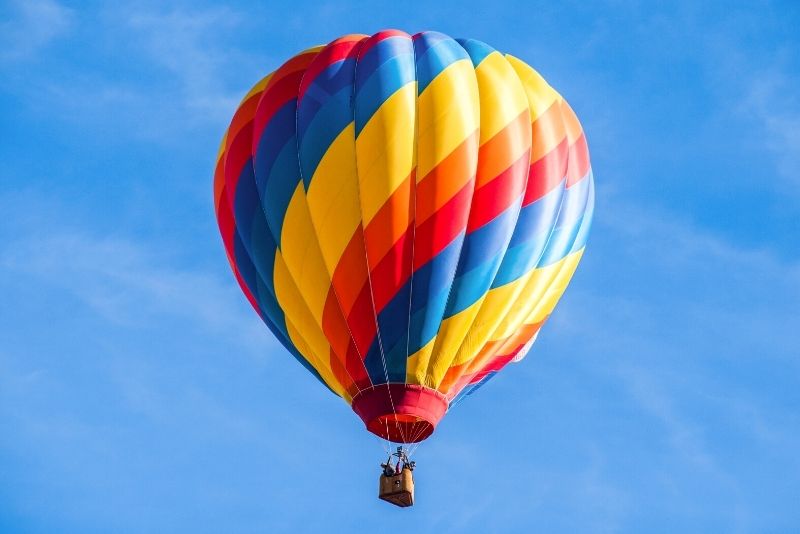 One for the thrillseekers, outdoor lovers, and romantics, take to the skies and get a bird's eye view of the capital city with a hot air balloon adventure!
A short ride outside the city brings you to your launch site, and from there, your pilot will be your guide on a one-hour journey through the clouds over central Poland.
Depending on your adventure, you might touch down at one of two attractions: The lush Narew National Park or the quaint town of Tykocin, known for its baroque-style synagogues.
18 – Stroll through the Krakowskie Przedmieście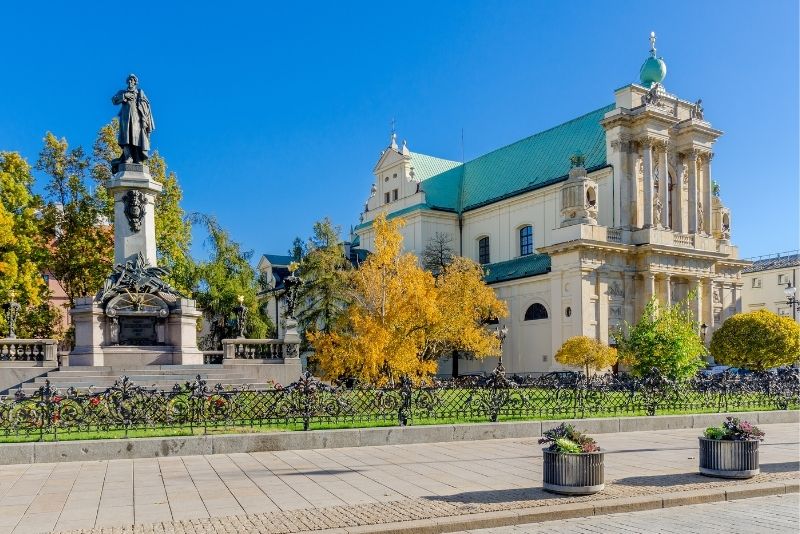 Make no mistake, fans of beautiful architecture could spend a whole day in Krakowskie Przedmieście (or Kraków suburb) and still want to come back for more.
Admire cathedrals like the Neoclassical St. Anne's Church and Carmelite Church, or the Baroque style Holy Cross Church. And, once you're done, there's also the ornamental Rococo of Czapski Palace and the residence of Poland's head of state, the opulent Presidential Palace.
19 – Walk the 'Royal Route'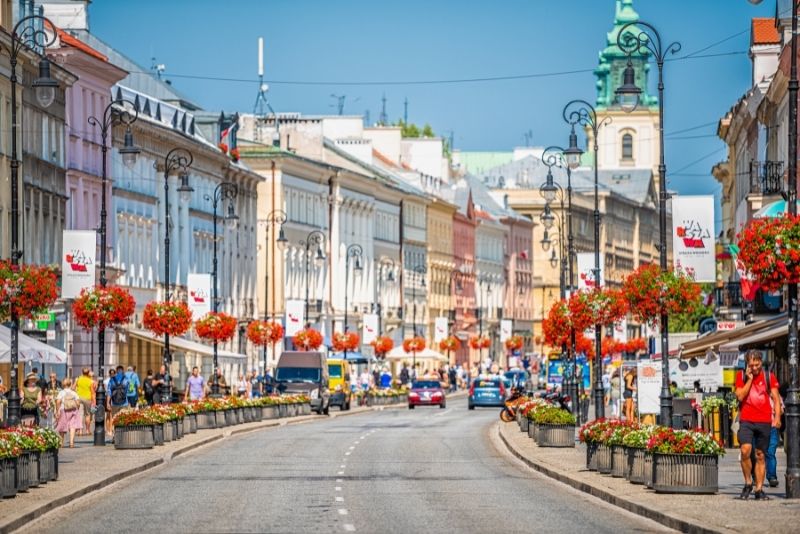 The Royal Route was once a communication route between the Royal Castle and the personal residence of King Jan III — these days, walking tours of the route are the most efficient way for time-saving tourists to visit the aforementioned Krakowskie Przedmieście, making your way through it on your way to Wilanów, the King's residence.
Along the way, expect to check out numerous cathedrals, palaces, and historic monuments, with a notable stop is Lazienki Park, where you might hear a Chopin concert if you're visiting in summer!
20 – Step inside the Holy Cross Church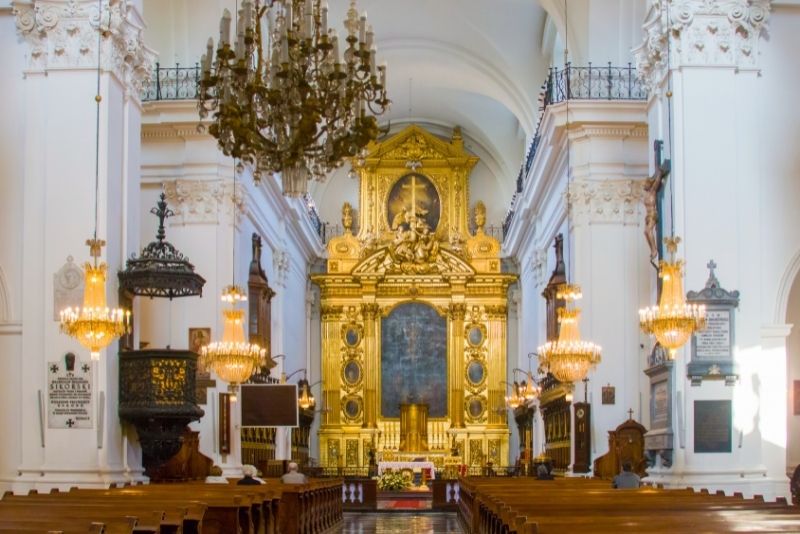 One of the most notable Baroque-style churches in Warsaw and a landmark doused in history and stories, construction of the iconic Holy Cross church began way back in the 17th century on a site where Roman Catholic worship had already been taking place for hundreds of years.
Like much of the city, the structure incurred major damage during World War II — with that in mind, its current reconstructed façade stands as a testament to Poland's resilience.
21 – Float along the Vistula River on a Boat Tour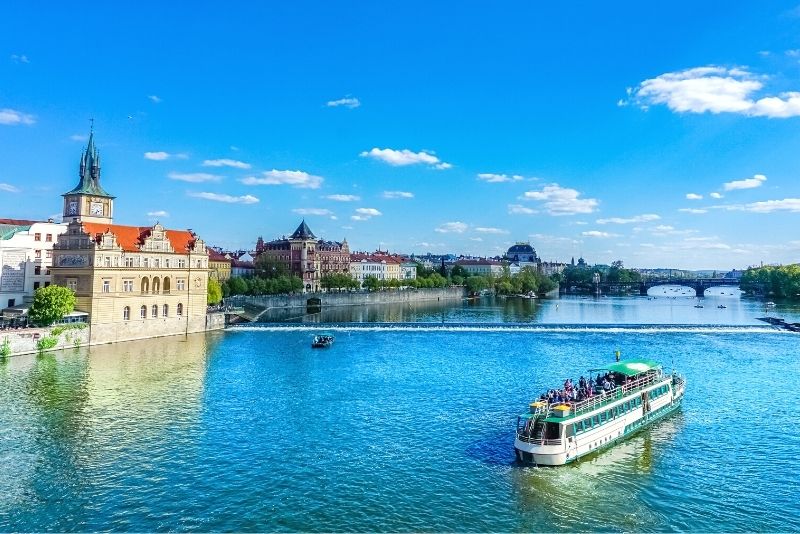 A wonderful way to soak in the sites and skyline from a different perspective, set sail down Warsaw's beautiful Vistula River on a daytime or evening river cruise.
Relax and feel the breeze as you drift past major landmarks like Lazienki Palace or the Copernicus Science Center, and, depending on your boat, perhaps explore the canals of Łazienki Park too.
While several boat types and packages are available, if you're more of a socialite, it's hard to go past the evening tours that include drinks and music.
22 – Get wild at Warsaw Zoo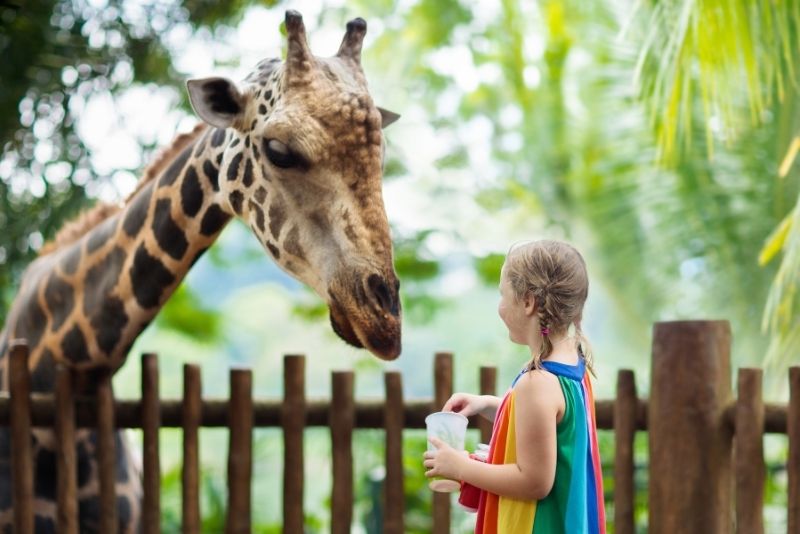 Straddling the banks of the river, Warsaw Zoo is one of those essential things to do in the capital city if traveling with youngsters. Since opening its gates nearly a century ago, the zoo has now become one of the busiest in Europe, serving to help protect nature and all of Mother Earth's beautiful creatures in collaboration with other wildlife parks around the world.
Boasting more than 500 species from alpacas to zebras and everything in between, no animal lover could resist a trip to this house of natural wonder.
23 – Take a day trip to Krakow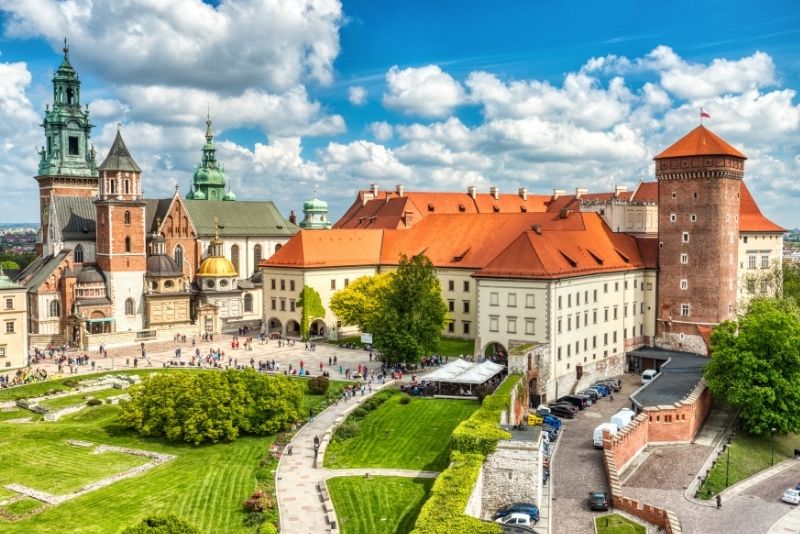 A terrific change of pace, why not leave Warsaw for the day to experience Krakow, the second-oldest city in Poland?
Full of color and charm, its Old Town boasts the honor of being the first UNESCO World Heritage Site in the world. Throughout the day (or a couple of days, if you prefer), you'll wander past beautiful architectural structures that date back centuries, learn the history of the region, which can be traced back to the Stone Age, dig into some handmade ice cream, and probably catch a few street performers in the Rynek Główny (town square).
Feeling fancy? Tours are available for up to six people to travel in style in a luxurious Mercedes with a private driver to boot.
24 – Pay tribute to brave soldiers at Pilsudski Square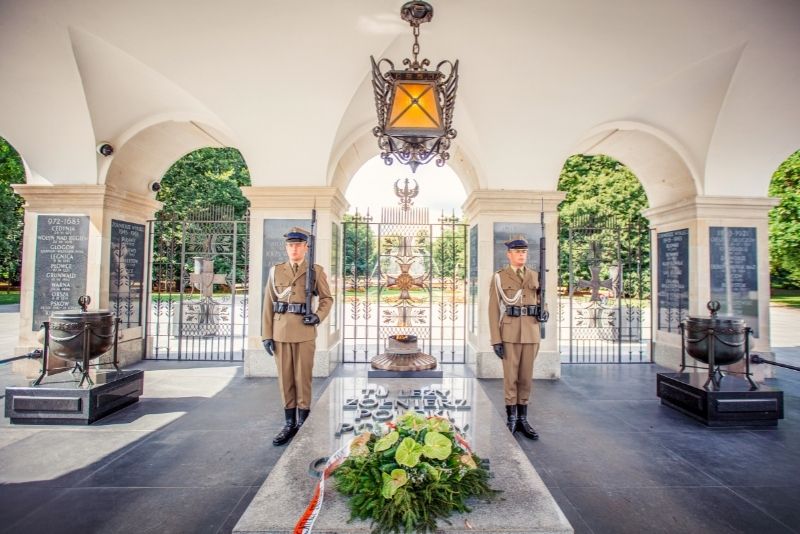 A locale overflowing with tales of conflict, victory, and so much more, this spot simply can't be missed by true history buffs.
This revered city square is named for Marshal Józef Piłsudski, who played an instrumental role in the restoration of Polish statehood after World War I. Then, after World War II, the square served as a tribute to the Allied Victory.
To top it off, it houses Poland's Tomb of the Unknown Soldier, and, as a fun fact, none other than Pope John Paul II popped by in 1979.
25 – Salute national heroes at the Polish Army Museum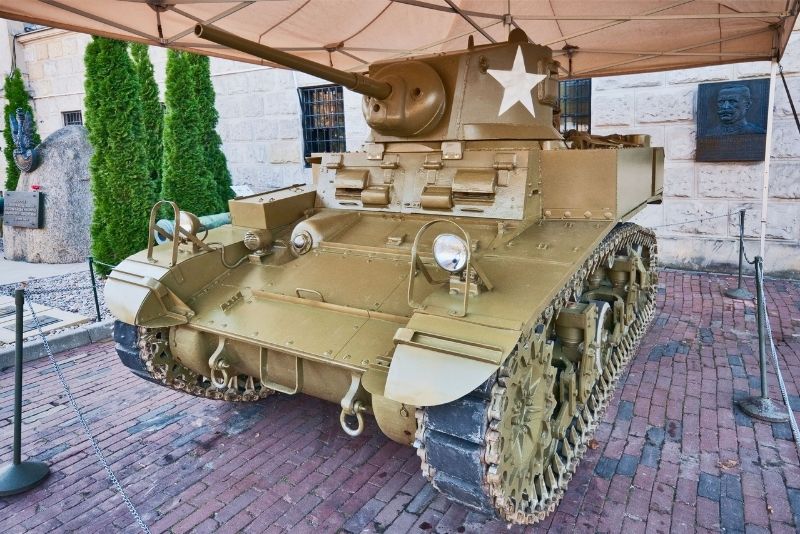 Count this as another one of those unmissable things to do in Warsaw for history buffs.
As one of the largest museums across the country, the Army Museum is dedicated to collecting, researching, and showcasing artifacts deemed to be of significant historic value — spanning 1000 years worthy of Polish military history, from the 10th century up to the Second World War.
With real suits of armor, plus crossbows, muskets, giant tanks, and so much more, it's sure to pique some interest for an hour or two.
26 – Make a splash at Moczydło Water Park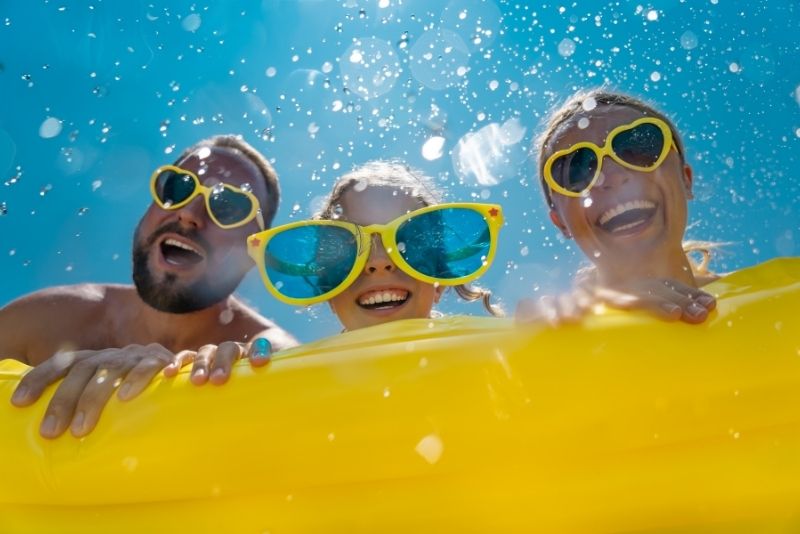 An ideal spot for those sizzling summer days, this water-themed fun park is sure to be a hit with kids as it offers swimming pools, water curtains, drenching overflow buckets, a paddling pool, a turtle-shaped slide, (should we keep going?) water volcano, and a safe mini playground.
The most popular attraction at Moczydło Water Park, however, is arguably the artificial wave pool — a surefire hit for adults and kids alike.
Hot tip: Before drenching yourself, consider a stroll through the nearby Park Edwarda Szymańskiego — a wonderful slice of greenery and fresh air.
27 – Go rack in time with a 'Retro Tour'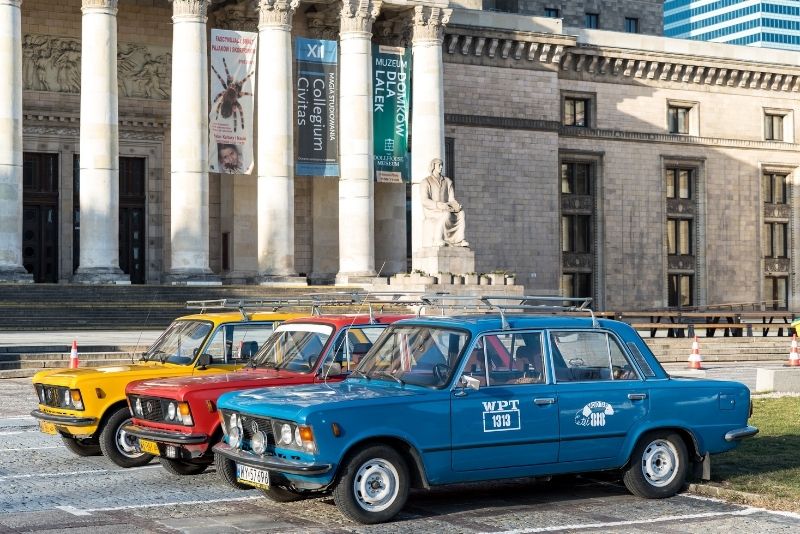 For an opportunity to ​​explore the UNESCO World Heritage site that is Old Town in a way most travelers totally overlook, hop into a vintage Fiat 125p or a Communist-era Zuk van and tour the city, old-school-style!
Go cruisin' down the Royal Route, see the illustrious Castle Square and other architectural beauties, visit the historic Praga district where you can sample authentic Polish delicacies, pastries, vodka, or beer, and so much more.
28 – Visit the Zachęta – National Gallery of Art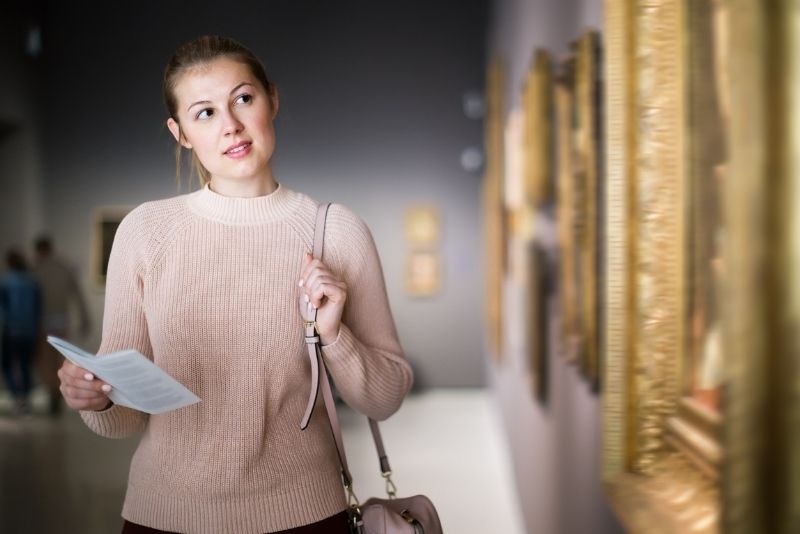 The word "zachęta" means encouragement, and, fittingly, the Zachęta National Gallery of Art is dedicated to encouraging the appreciation and support of Polish contemporary art and artists.
Founded, remarkable, all the way back in 1860, the works displayed are those of outstanding Polish and foreign artists — all up, the fascinating collection comprises some 3600 objects including paintings and videos, and around 100 sculptures and quirky installations.
29 – Take a walk through the Saxon Garden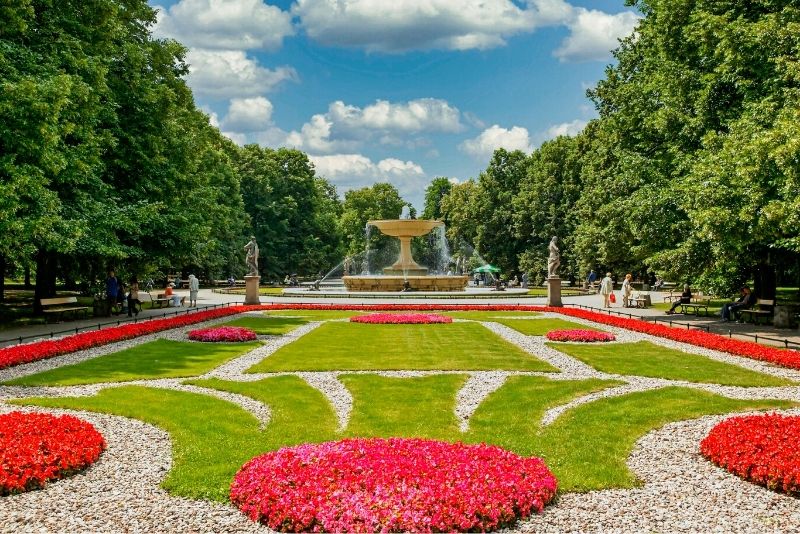 Nature lovers, rejoice!
At the Saxon Garden, a peaceful oasis with tree-lined pathways, Baroque sculptures, and a 19th-century fountain, there's no shortage of colors to appreciate or spots to throw down a picnic blanket.
As one of the oldest parks in the world (and officially the oldest in the city), it's an excellent public park for some outdoor exercise or some sunny relaxation — be sure to check out the Tomb of the Unknown Soldier and the 19th-century sundial while you stroll around!
30 – Wander around Wieliczka Salt Mine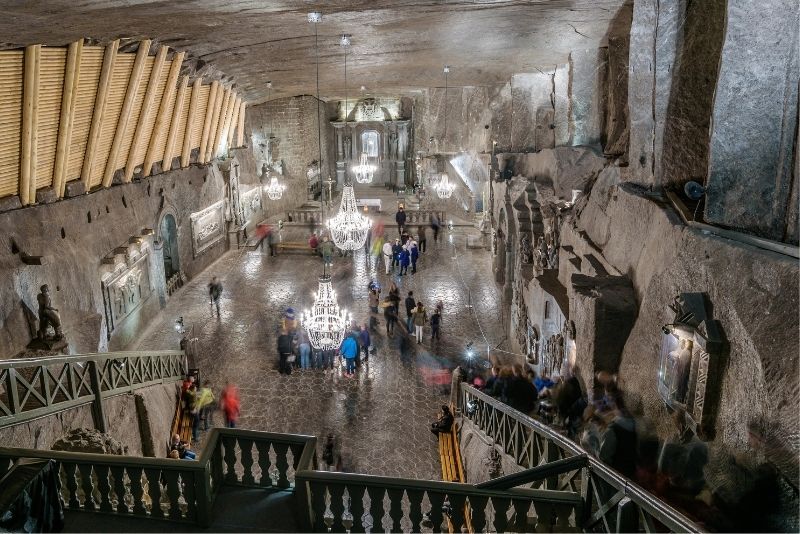 Looking for a unique attraction that promises jealousy-evoking social media snaps? Then look no further than the UNESCO-listed Wieliczka Salt Mine!
The natural wonder draws visitors from all over the world and for a good reason: 700 years of history are packed away in this underground mine.
Due to its immense size, only 2% of the mine is actually available to view. Still, there's plenty of room to admire the beauty of the salt maze, crystal grottos, chapels, and sculptures that make this place truly out of this world. All up, it consists of 9 levels, the deepest point being a whopping 327 meters deep.
Located close to Krakow, about 3 and a half hours drive from Warsaw, it makes for a great day or two-day trip.
31 – Smash some pinatas at Fun Park Digiloo!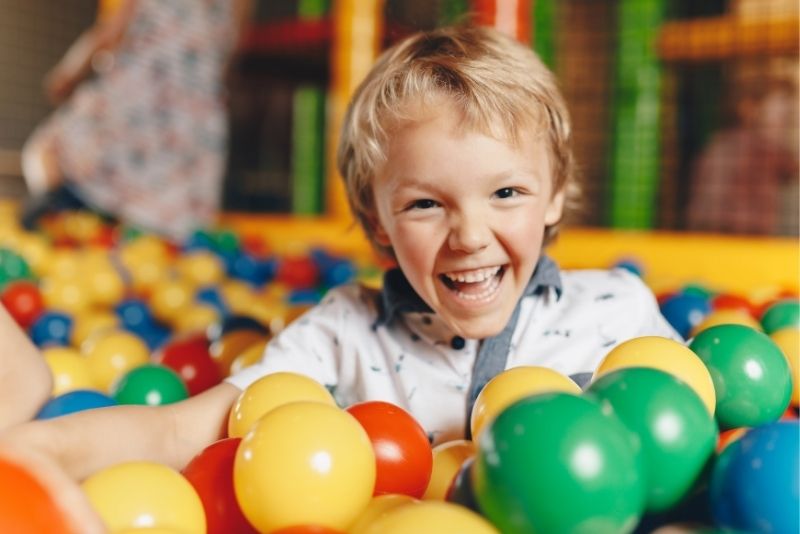 If you're on the hunt for a fun way to wear out the kiddos, let them loose at Fun Park Digiloo!
There is undoubtedly something for everyone here, with laser paintball, smashable pinatas, climbing walls, and a playroom with slides, balls and blocks. There's also a toddler's corner for the youngest of the bunch.
With so much to do, they're sure to sleep the whole way home!
32 – Soak in the history at the Frédéric Chopin Museum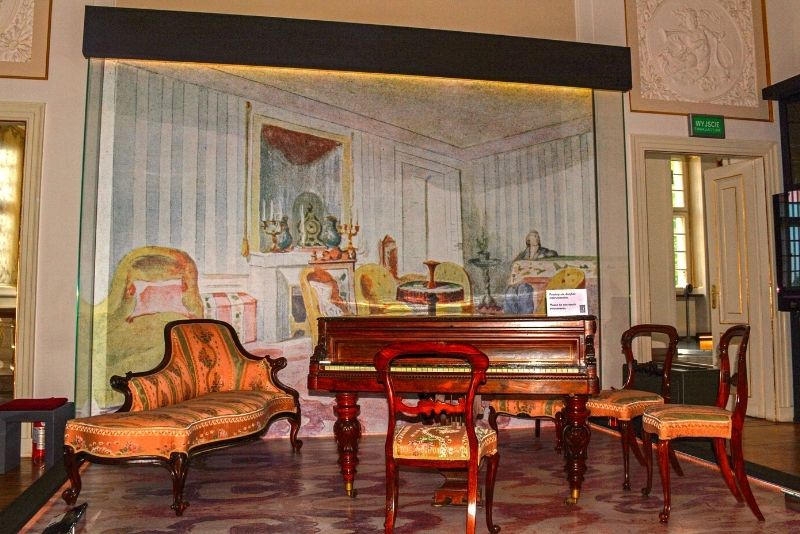 Any music lovers or pianists in your travel group? If so, the Frédéric Chopin Museum is one of the unmissable things to do in Warsaw. With over 7,500 objects linked to the composer's life, including personal items and a collection of his works, the exhibits truly honor the legacy and impact he imparted.
Inside of this beautiful building, you'll find musical manuscripts that to this day are incredibly valuable due to the documentation of his creative process.
33 – Learn about Jewish Heritage and the former Ghetto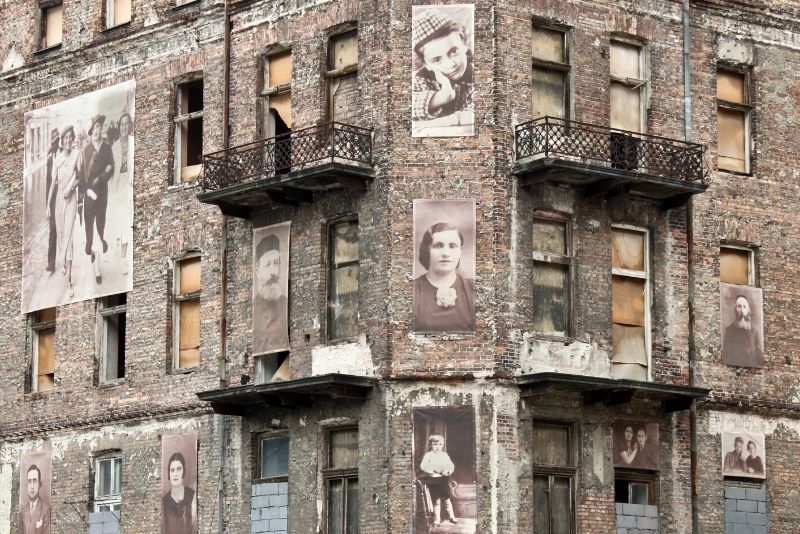 Prior to WWII, Warsaw was a center for Jewish culture. During the German occupation, however, a ghetto was created to hold all Jewish persons and separate them from the rest of the city by an ominous 10-foot wall.
If you're interested in learning more about the history, a historian-led tour of the former Ghetto, which tells the story of the Ghetto Uprising, and includes stops at the Jewish Ghetto Memorial, Mila 18 (the former headquarters of the ŻOB, a Jewish resistance group), and plenty more.
Be sure to visit the Jewish Cemetery as well — the resting place of over 200,000 people, many of whom were the nameless victims of the tragic ghetto.
34 – Admire The National Museum in Warsaw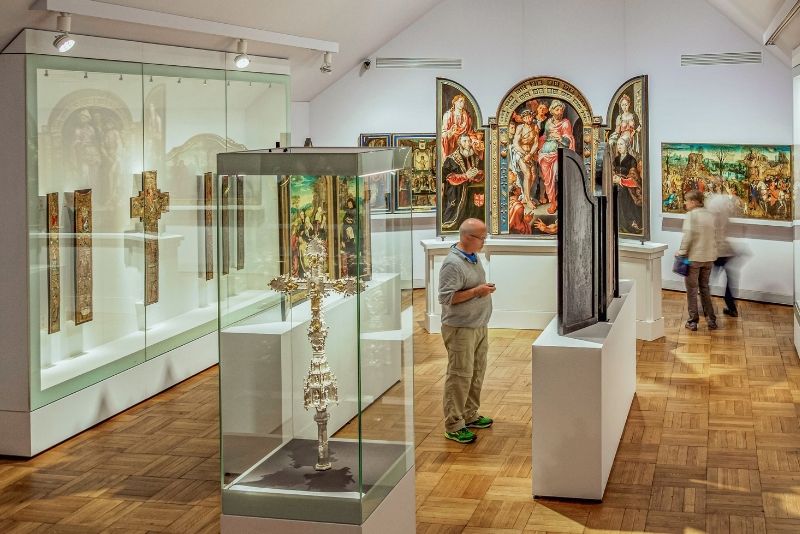 The National Museum in Warsaw is one of the oldest art museums in the country, with beginnings that date all the way back to 1862.
Surviving many phases, along with political unrest and war, this institute has strived to maintain a place to hold Polish legacy and history.
Boasting a massive encyclopedia collection and over 830,000 exhibits from all over the world, this is the perfect place for art and history buffs alike.
35 – Watch a game at the PGE National Stadium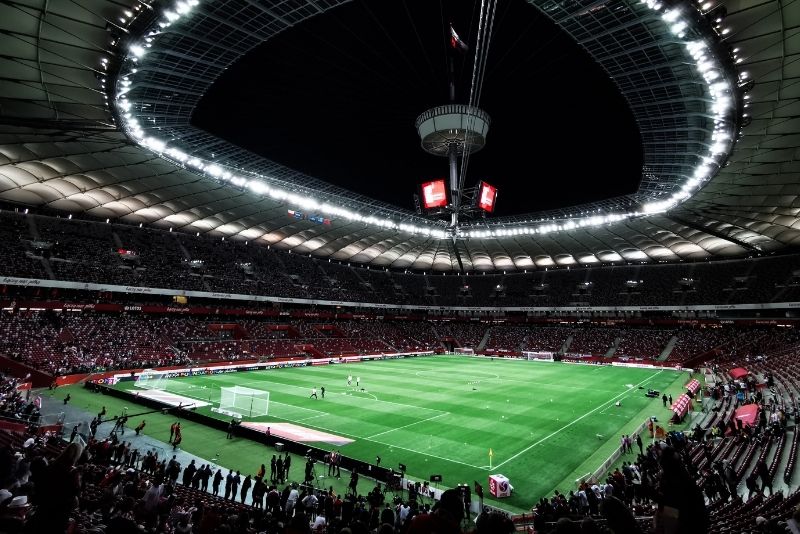 This modern, multi-functional facility has truly seen it all: from football championships and indoor windsurfing to the COP-19 Climate Summit, there is always something going on, no matter the season.
So, why not take an impressive tour to learn about all the ins and outs that make this one of the most modern and visited arenas in Europe – or even watch a game at the PGE National Stadium!
36 – Relax for the day at Wodny Park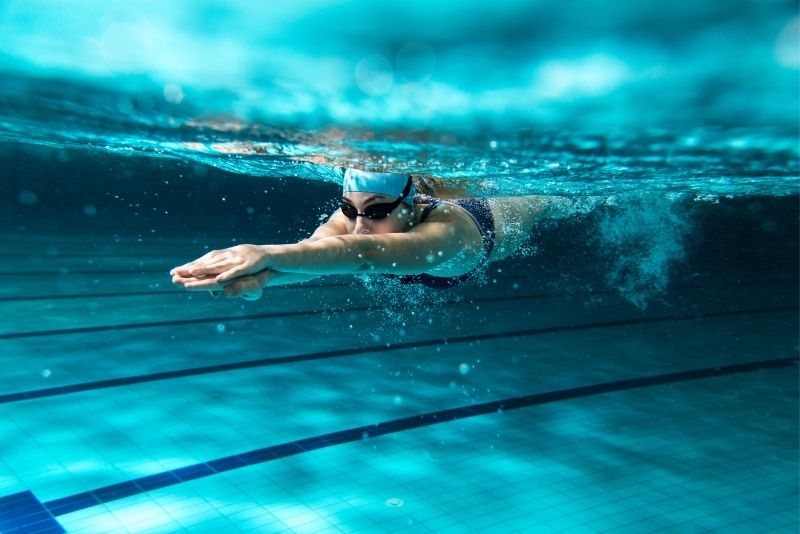 If, after a couple of days of hectic sightseeing and lots of walking, you simply need a moment to relax, then take that moment at the unique Wodny Park complex in the city's south.
Housing an Olympic swimming pool, recreational swimming pool, slides, fitness classes, squash courts, and a children's area (not to mention a solarium if you want to work on the tan) there's some kind of activity for every energy level.
After playing around and getting a good workout, check out one of the many saunas or get a relaxing massage!
37 – Admire the Royal Castle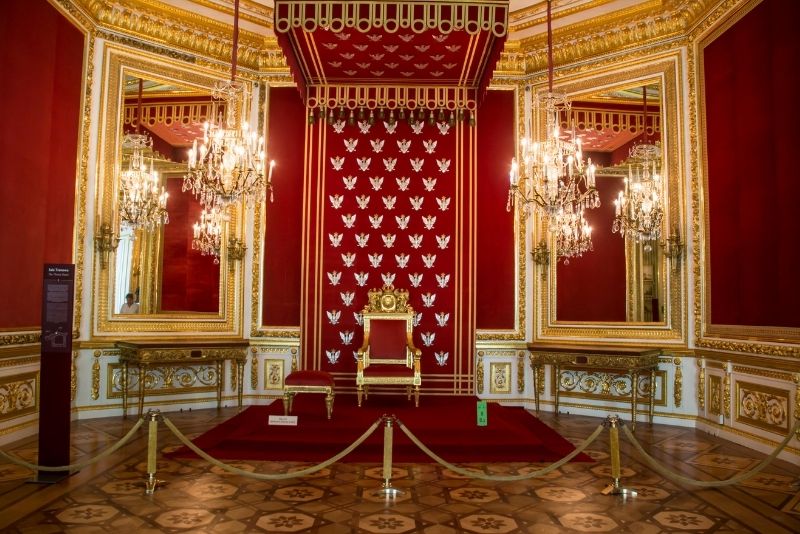 Live like royalty for the day and wander the castle that Polish monarchs roamed for centuries!
The Royal Castle stood firm against many armies but after the invasion in 1939 and the Warsaw Uprising in 1944, it was almost completely destroyed after being burned and looted.
Luckily for modern tourists, it was rebuilt in the 70s and 80s and is now a protected UNESCO World Heritage Site, highlighted by its Rembrandt exhibit and peaceful gardens
38 – Ride carousels at Pepeland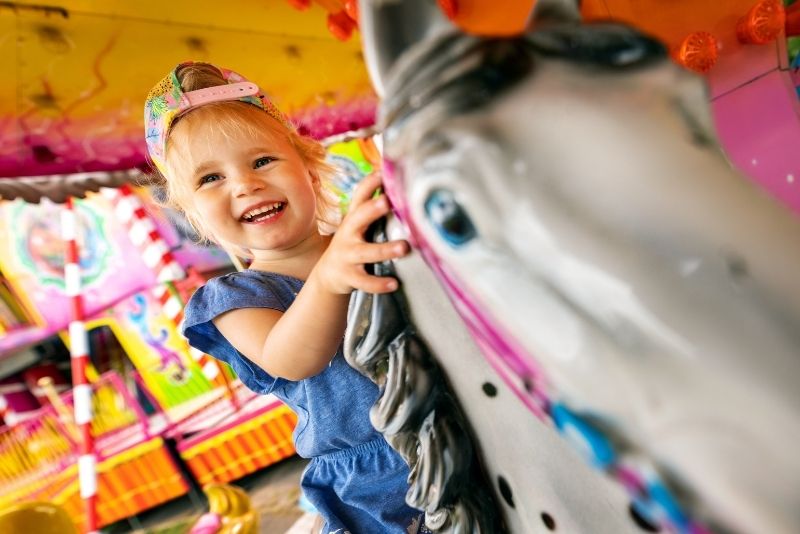 One of the most enjoyable things to do in Warsaw for families, Pepeland is the ideal spot for a picnic, a few rides, and a great day out.
This fantastic amusement park will keep both the young and old busy, with a mini petting zoo, horseback riding, dinosaur exhibits, playgrounds, and sports fields to boot.
Play around the Monkey Grove with swings and slides, or jump on the professional trampoline for a flipping good time!
39 – Experience the rare Warsaw Fotoplastikon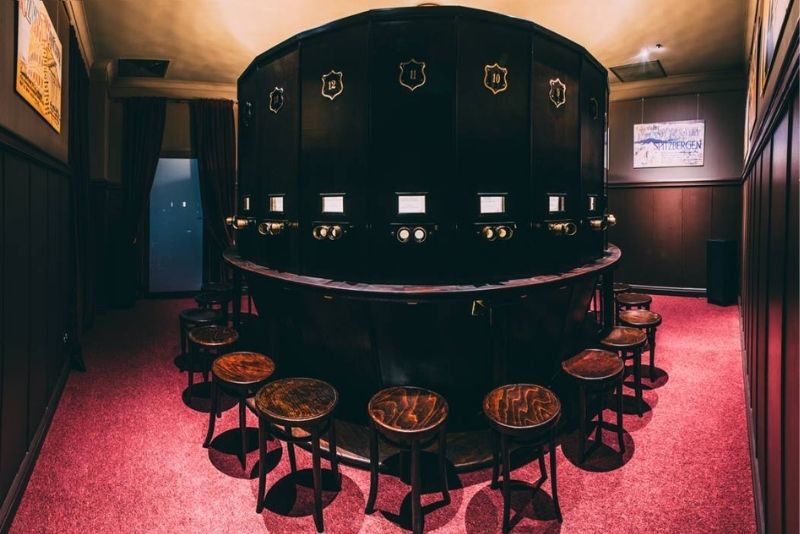 The oldest of its kind in Europe, surviving multiple wars and entertaining visitors of all ages since the early 1900s, the Warsaw Fotoplastikon is a stereoscopic theater — a medium that's largely died out in modern times.
Note: Unfortunately, as of late 2021, the Warsaw Fotoplastikon is temporarily closed. Keep an eye out to see when it reopens, because its historical value and unique entertainment experience is an otherwise must-see, considering the rarity of the technology these days.
40 – Admire the Miniature Park Region Mazowiecki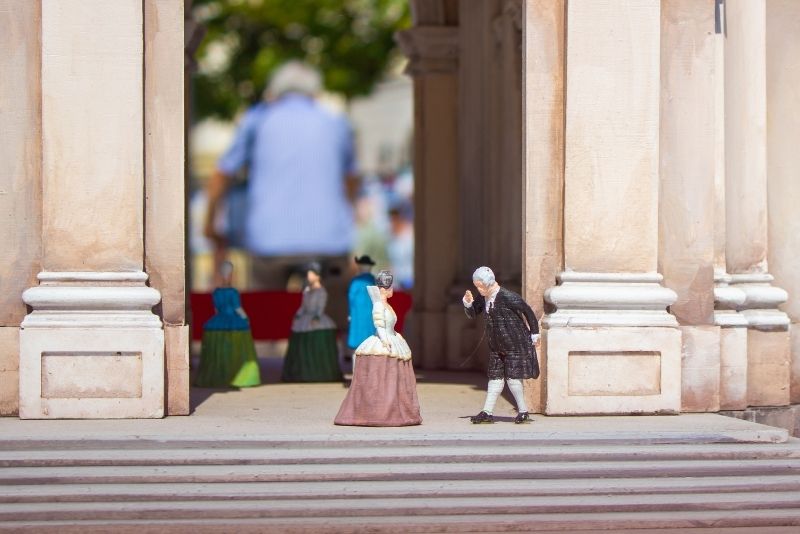 Architecture buffs, take note: this one is just for you.
Built by a group of history and architecture enthusiasts, this park seeks to restore the memory of Warsaw prior to the effect of WWII. Inside exists a truly unique exhibit of detailed miniature buildings that have proved critical throughout Warsaw's history.
Both sobering and awe-inspiring, Miniature Park Region Mazowiecki demonstrates not only the destruction of history but the beauty of what was and still exists.
41 – Hit some targets on a shooting range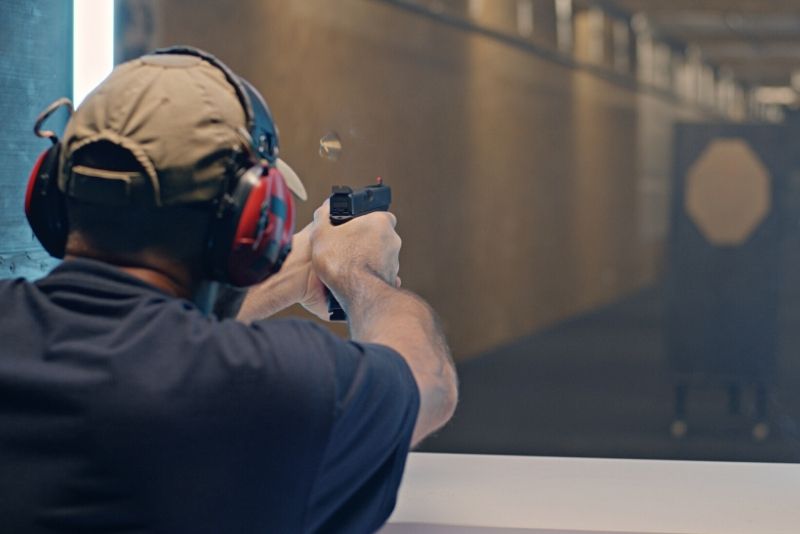 For anyone looking to learn a new skill, pick up a new hobby, or relieve some stress, a shooting range might be the thrill you need.
Unlike a lot of other countries and cities over in Western Europe, in Warsaw, you can try your hand at shooting a variety of firearms, with some ranges even offering automatic weapons.
Thankfully, besides the target shooting, you'll also learn everything about safety and handling with individual or group instructors.
42 – Learn a thing or two at the Maria Skłodowska-Curie Museum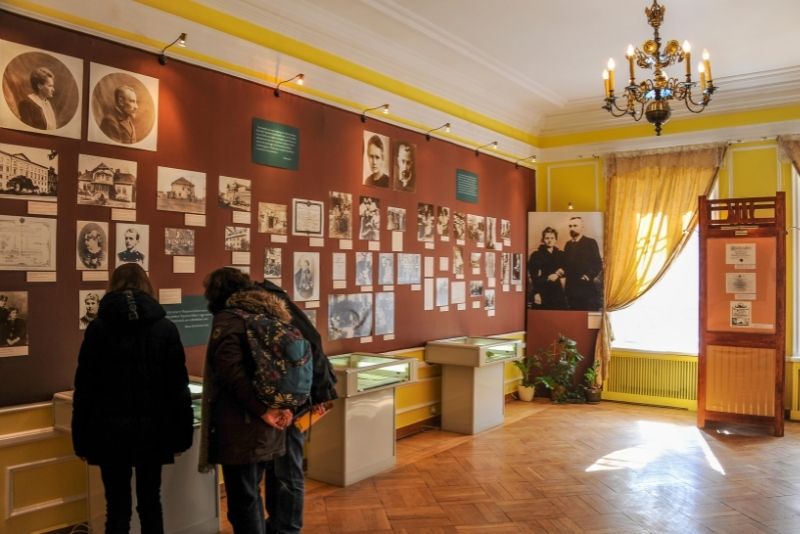 Science lovers, we're looking at you for this one!
For students and scholars alike, this museum acts as an interactive biography of Maria Skłodowska-Curie; as one of the most influential female scientists, she discovered polonium and radium, changing the direction of chemistry and physics.
An easy way to kill a couple of hours, this museum offers both educational and cultural exhibits, as well as films explaining her work.
43 – Take the kids to AIRO Park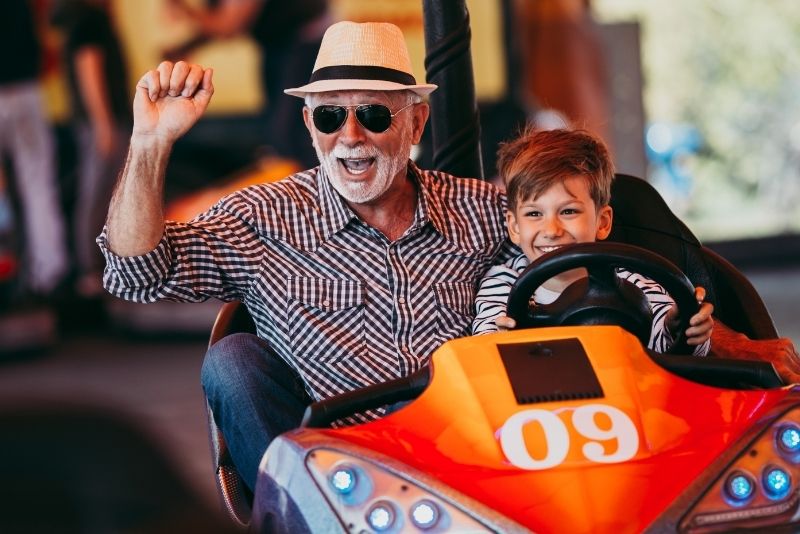 If you're looking for some family fun, look no further than AIRO Park!
This park boasts many different activities so you can jump around to your heart's desire: race with other kids on the mini karts, play with an interactive sandbox in the game's room, defy gravity with a wall run, try your hand (read: feet) at slacklining, or grab a partner and battle on the beams to see who can keep their balance the longest!
44 – Wander around the Praga District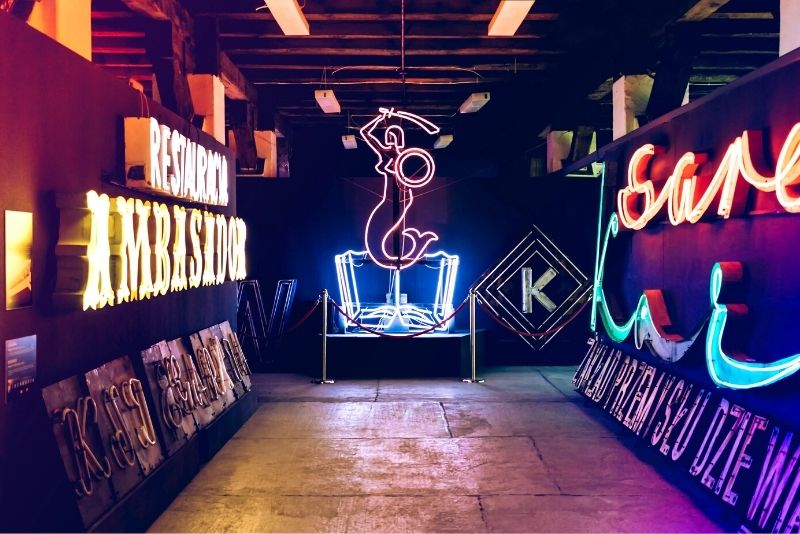 A rare part of Warsaw that wasn't destroyed during World War II, the Praga District is one of the city's charming regions that remain authentic, diverse, and full of historic landmarks.
On guided tours through the area, led by friendly and knowledgable locals, expect to stroll past temples of the variety of religions that have found a home here, before visiting the Praga Museum to learn more about the history.
Finally, take a walk along the quaint streets and finish the stroll at the Neon Museum to see a handful of unique, Cold War-era neon signs.
45 – Step inside St. Florian's Cathedral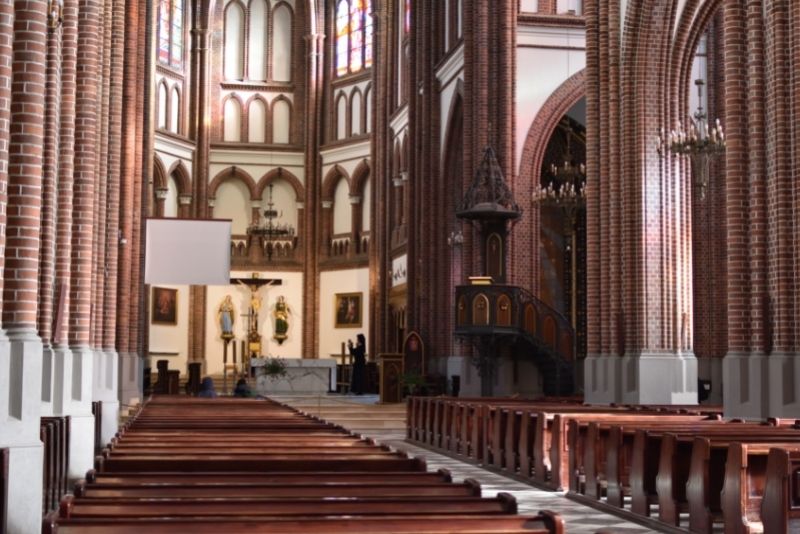 With two mighty towers standing at 75 meters tall, the stunning St. Florian's Cathedral located in the Praga district is a sight to see and a living history museum.
Built back in the 19th century as a form of protest and to maintain Catholic tradition in the area, it was deliberately made to stand out. However, after WWII, it was left in ruins because it had been a hiding place for Jewish persons in the community.
Eventually, it was rebuilt and opened to the public in 1972, drawing visitors from all over.
46 – Squeeze inside the Keret House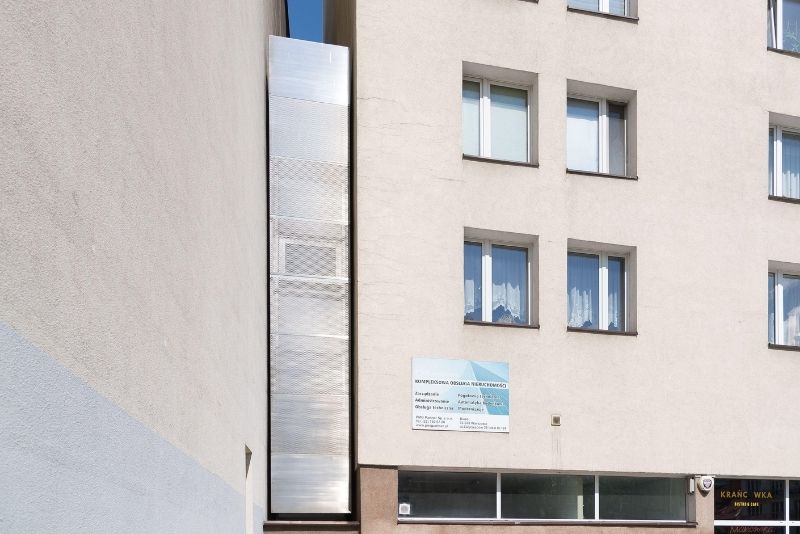 An artistic concept turned into reality, the slender Keret House is the narrowest house in the world – the widest point stretch a mere 122 centimeters.
That may sound a little claustrophobic, but the semi-transparent walls allow ample natural light in, making this small space not feel so cramped. As it exists between two buildings, this fully functional space was built with the idea of combining the present and future with a complicated past.
47 – Eat way too much at Specjaly Regionalne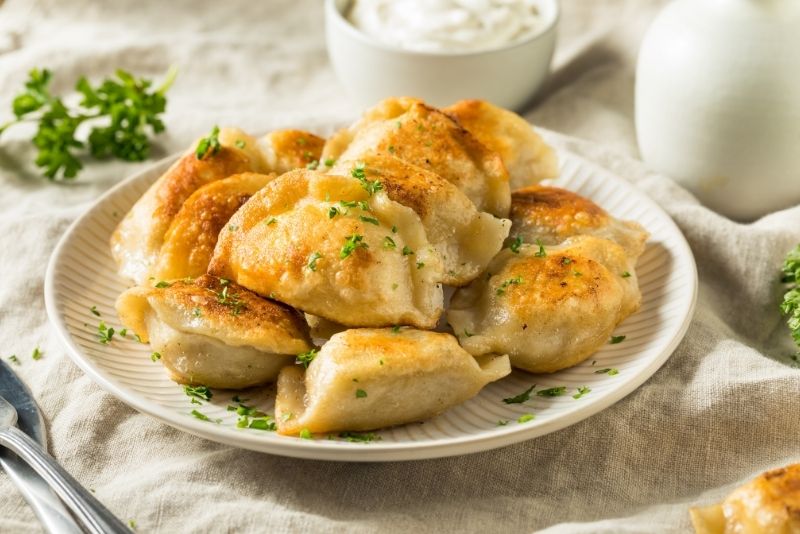 With hundreds of excellent reviews, the Specjaly Regionalne is the perfect spot to experience authentic Polish cuisine. Combining healthy, locally sourced ingredients with authentic tastes, you can find all kinds of delightful dishes.
Can't decide what to order? The beloved eaterie is well-known for its roasted duck and pierogies, so pick either of those and you'll be sure to leave with a full belly.
48 – Admire nature's wonders at the University of Warsaw Botanic Garden
Need a break from the busy city? Then grab a book and head on over to the botanic garden for the afternoon.
With shade-covered benches and thousands of different species of plants, not to mention a small chapel built in the 1700s, there's plenty of beauty to marvel at in this small but diverse garden.
49 – Take a cooking class!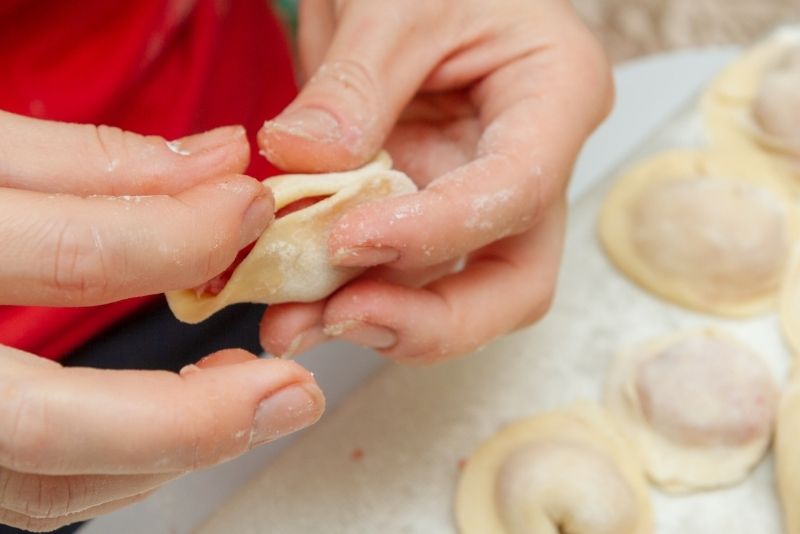 Whether you want to be able to impress your friends back home with your new cooking skills or simply enjoy a lip-smacking meal, a cooking class is one of the more fun and immersive things to do in Warsaw.
Taught by local chefs, you'll get stuck into making authentic Polish pierogies and learn about Polish liquor tastings and traditions. For the extra thirsty, there are even a few liquor-making classes that include a few take-home bottles!
50 – Level up at the Interactive Pinball Museum!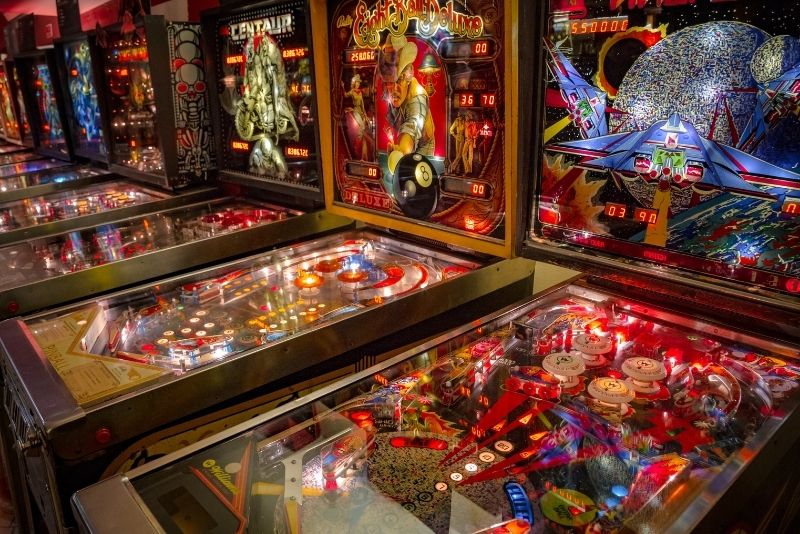 One for the gamers and retro-lovers, why not spend an evening at the Pinball Museum to enjoy a game night with family and friends?
With more than 60 pinball and arcade games, this museum draws game lovers from all over the city with its vintage selection.
The best part? Once you pay the entry fee, you can re-enter throughout the day with the bracelet and don't need coins to play the games, unlike most other arcades.
51 – See a show at Teatr Dramatyczny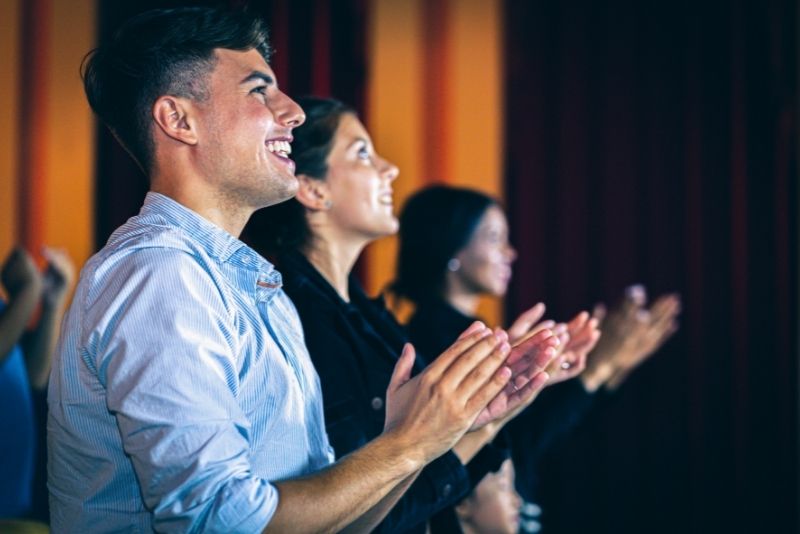 Created in 2013 with a combined influence of two performing arts institutions, this stunning building acts as a cultural hub for Warsaw, showcasing influential performances as well as historical plays and concerts.
No matter what you see, you're guaranteed to get lost in the story with top-notch acting — just check the website to see what's on during your visit to Teatr Dramatyczny.
52 – Get cultured at the Modern Art Museum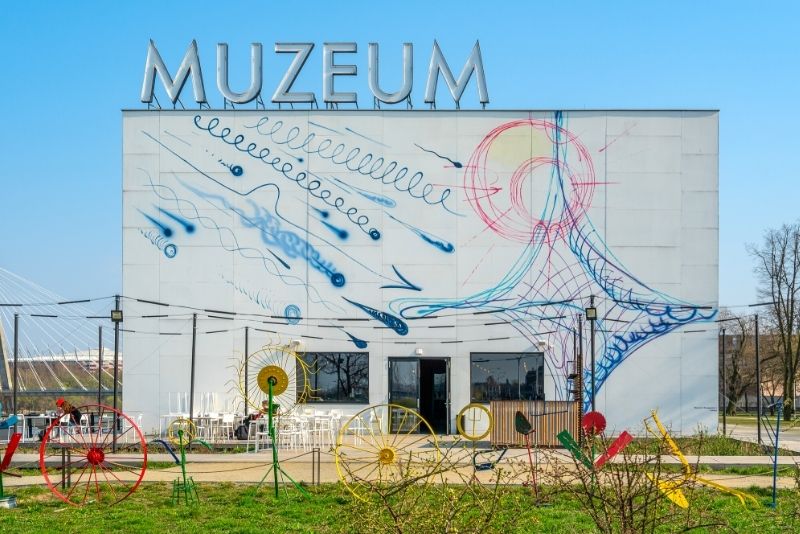 The ideal spot for a rainy day — or any day if you're a fan of Warhol and that ilk — the Modern Art Museum is an excellent place for art lovers with a more experimental and contemporary taste.
This museum focuses on film as a medium for art and holds collections from the late 1990s to the present, tallying up over 700 films from local artists — plus plenty of more traditional styles too, of course.
53 – Say "​​Na Zdrowie" on a Polish vodka tour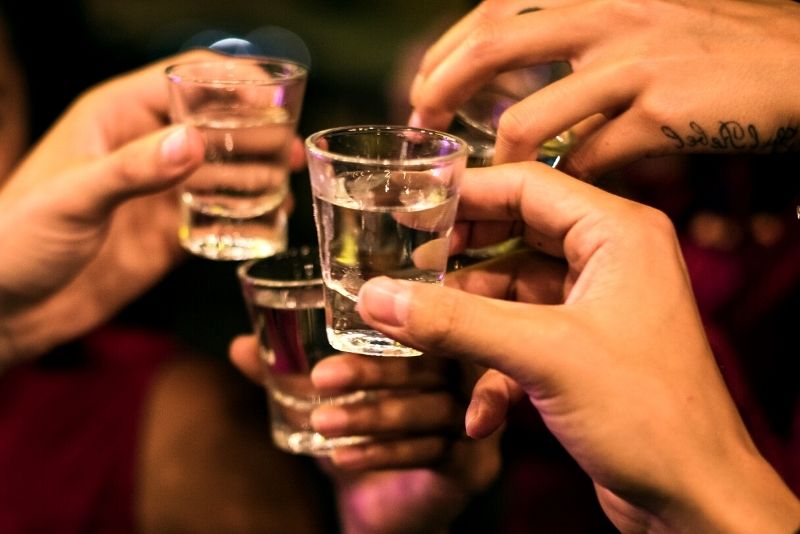 An experience that promises to be both a cultural insight and a jolly good time, a dedicated vodka tour is a wonderful way to break the ice and get to know a few fellow travelers.
We all know that Poland is known for its vodka, but to find the best in the land, you need to know where to look — and that's where a guided tour comes into play!
But if nightlife isn't your scene, you can always take a tour of the Polish Vodka Museum to learn the ins and outs of distilling (plus enjoy a tasting session).
54 – Run around the city with a scavenger game!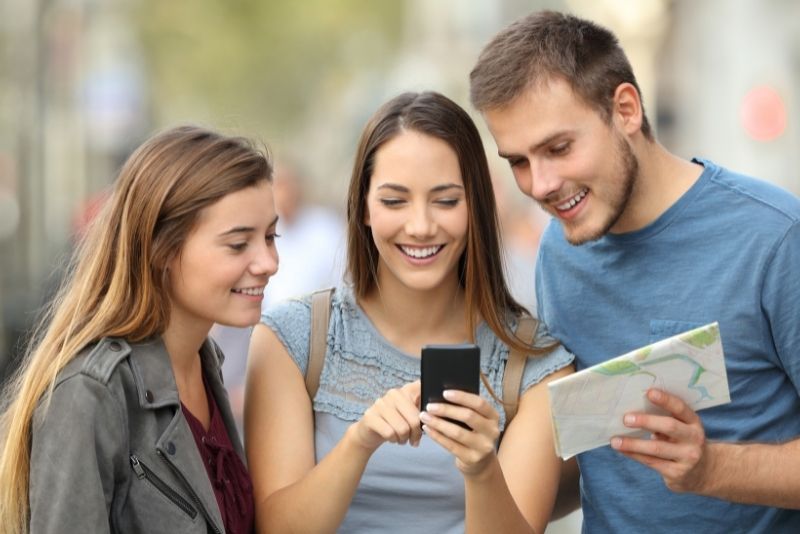 Everyone loves a good scavenger hunt, so why not try one in Warsaw, operated conveniently from your very own phone?
With all sorts of themes and variations on the traditional game, you're sure to find something for your group: from historical hunts around Old Town to tours of original graffiti spots or even pub crawls with puzzles thrown in along the way — there are plenty of ways to keep everyone entertained.
55 – Explore the Warsaw University Library Garden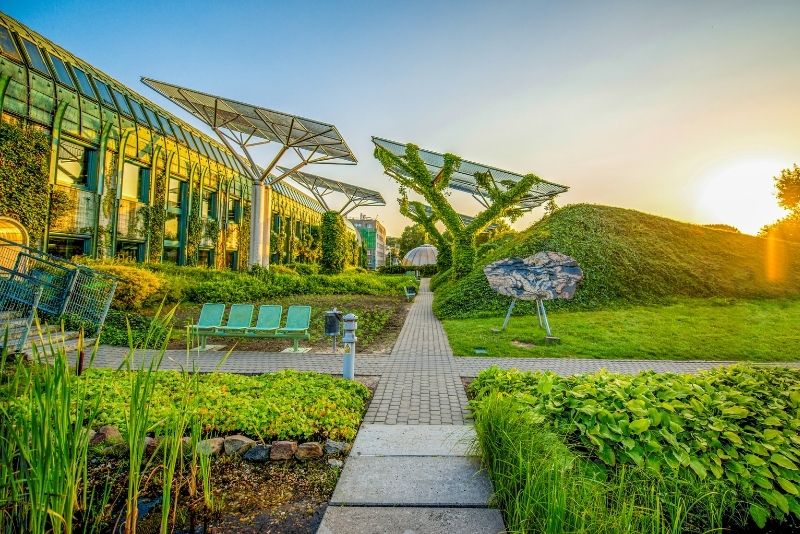 Not to be confused with the nearby Botanical Gardens, Warsaw University Library Garden is small but perfectly formed garden, a hidden gem for those wanting to get off the beaten track and discover more of Warsaw's natural side.
Built across two levels on the roof of a new Library building, away from the streetside tourists, this oasis of calm is truly one to behold, with its greenery, bridges, streams, and offers a nice breath of fresh air.
56 – Take a hike at Kampinos National Park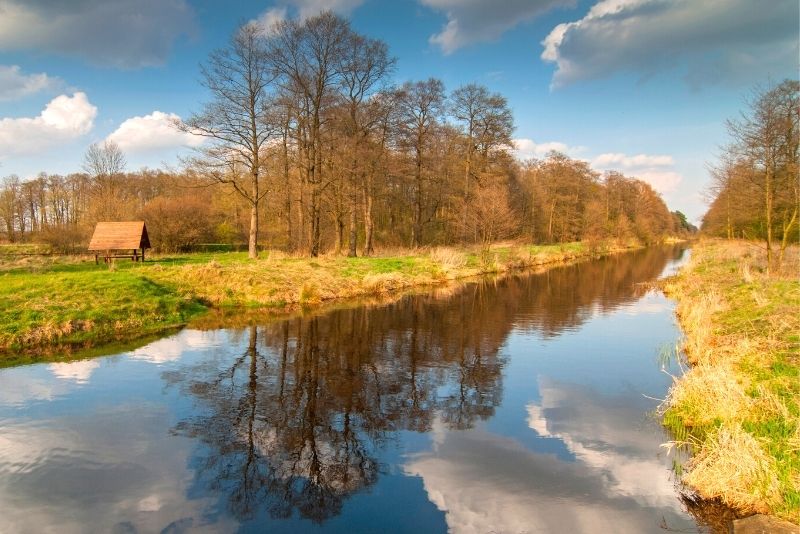 For those who want to enjoy the great outdoors without necessarily roughing it, Kampinos, a UNESCO-listed Biosphere Reserve, is one of Poland's best national parks for organized or solo trips.
With its low-level walking trails that are easy on inexperienced legs and a range of activities including kayaking, cycling, horseback riding, and skiing trails, you can discover the beauty of this park on your own terms.
Despite being a national park, it's only 35 minutes away from the city center by car.
57 – Try traditional Polish dishes at the Stary Dom restaurant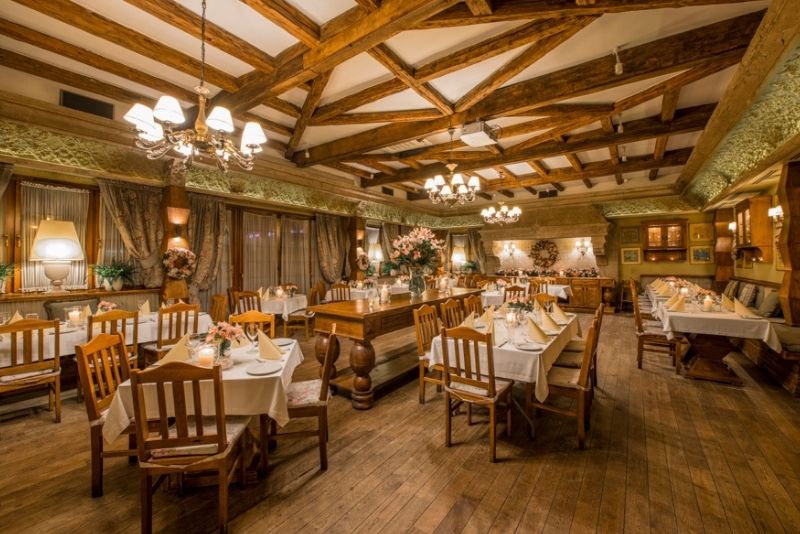 Who's hungry?
This top-class restaurant is a true landmark of Warsaw, with its high ceilings, sophisticated decor, and expansive wine list, conjuring up a wonderful, historic, and friendly atmosphere.
While not centrally located by any means, the beloved eaterie is easily accessible by public transport and, thanks to its huge portions, is well worth the trip to Stary Dom.
58 – Sit front row for a Chopin concert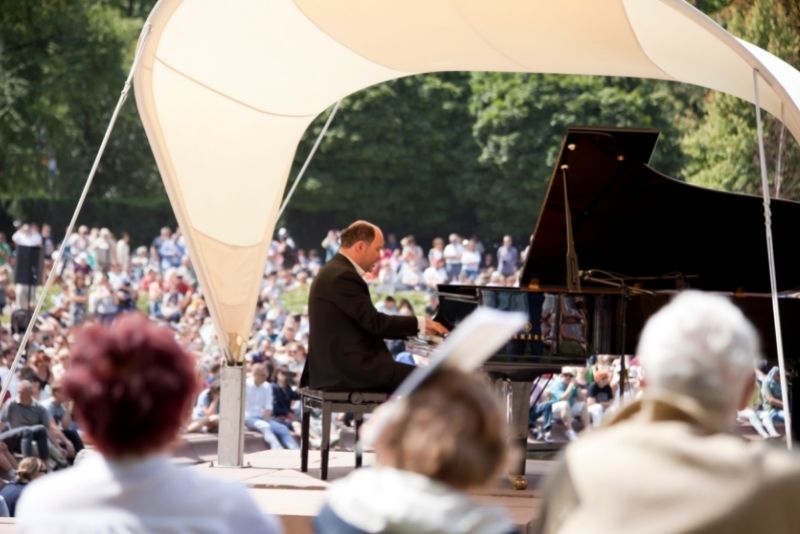 For those wanting to experience the magic of music in historic surroundings, Warsaw is home to a number of unique concert halls.
The best-known and most popular (not only among tourists) is the Fryderyk Concert Hall in Old Town; but if you want something even more intimate, a range of restaurants and theaters put on more low-key, VIP performances.
Combine a listening session with a Chopin-themed walking tour, museum visit, hearty dinner, or, go full romantic and book a private Chopin serenade for you and your special someone.
59 – Sample handcrafted cocktails at the Panorama Sky Bar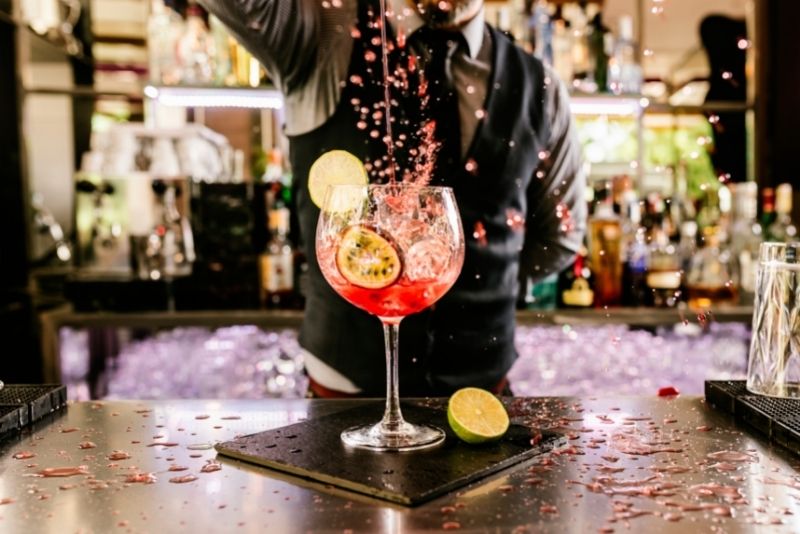 Known as Warsaw's highest bar, the Panorama Sky Bar is a must-do for any type of traveler: the drinker wanting signature cocktails, the tourist wanting spectacular views, or the luxury-seeker wanting high-class service.
Located on top of the Warsaw Marriott Hotel, the esteemed bar boasts panoramic views over the city and beyond from its 40th-floor location — perfect for drinks before dinner!
60 – Walk around Skaryszew Park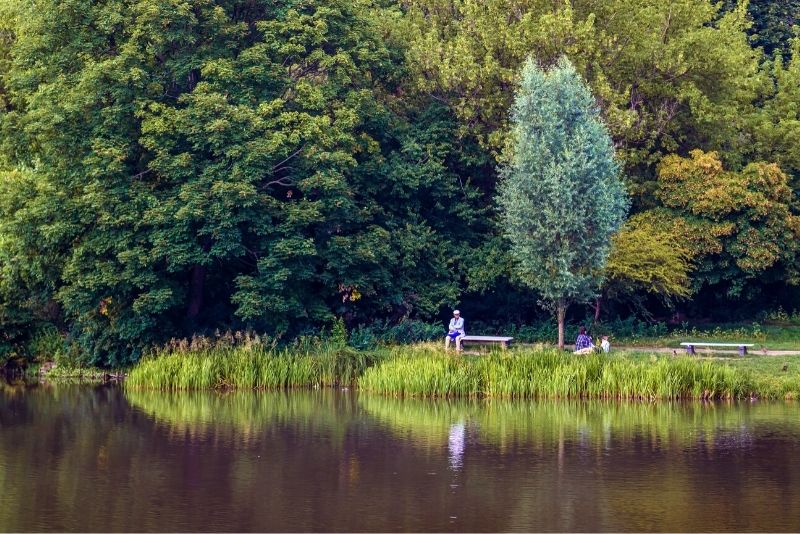 One of Warsaw's largest parks, found on the eastern side of the Vistula in the Praga-Południe district, the picturesque Skaryszew is a great spot for picnics and peaceful strolls.
Covering over 58 hectares, the park also contains lakes ideal for kayaking, a handful of walking trails, and no shortage of friendly wildlife (ducks, squirrels, and birds, to name but a few).
61 – Grab a bite and a beer at the Night Market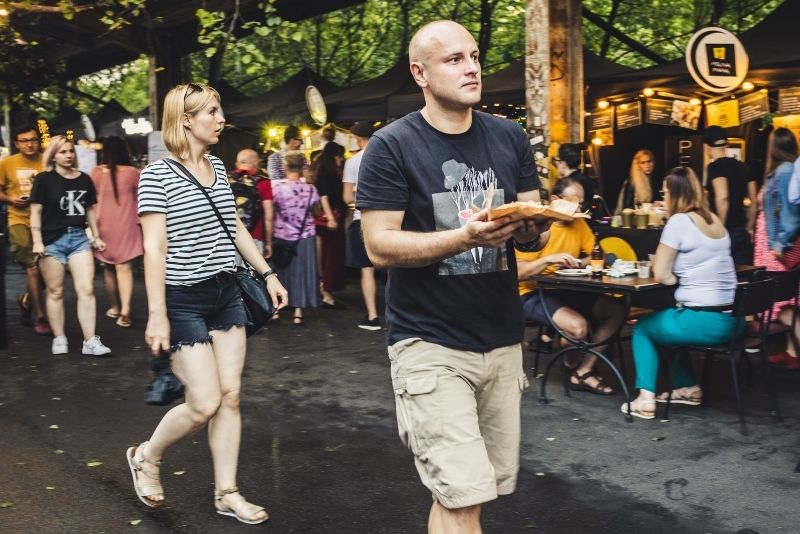 To experience some of Warsaw's finest street food, visit the popular night market (Nocny Market).
Though it's not exactly hidden away, the stalls are set up on the platform of a de-commission train station (Warszawa Główna), largely out of sight from major roads and therefore with a wonderful, calm, yet still vibrant atmosphere.
Open for several hours every Thursday through Sunday, there's plenty of beer, burgers, and sweet treats to get stuck into.
62 – Get lost in Mokotów Field (Pole Mokotowskie)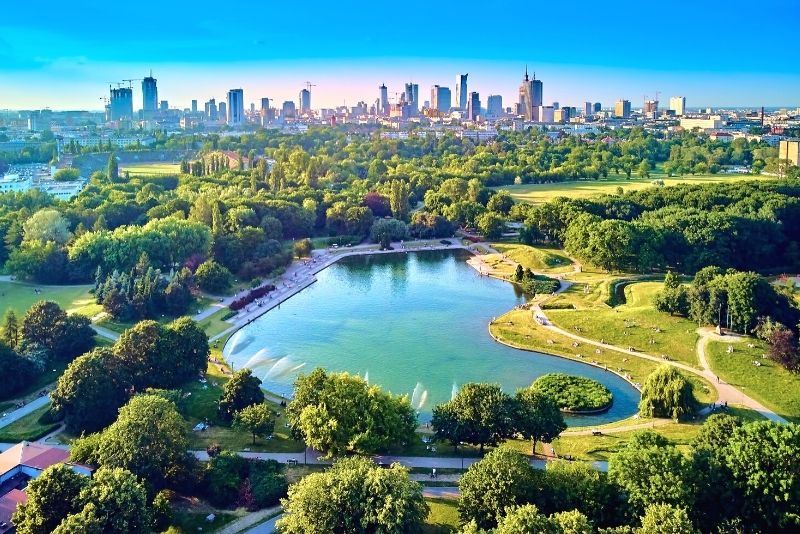 This beautiful green space is a popular spot for both locals and tourists.
The park, which covers an area of over 180 acres (nearly one quarter the size of New York's Central Park), features ponds, wild fields, lakeside pathways accessible by foot or bike, vast grassy expanses perfect for picnics, and a children's play area.
The park is also home to the famous Polish National Library, a handful of bars, and a two-kilometer educational trail.
63 – Cheers with locals on a beer tasting tour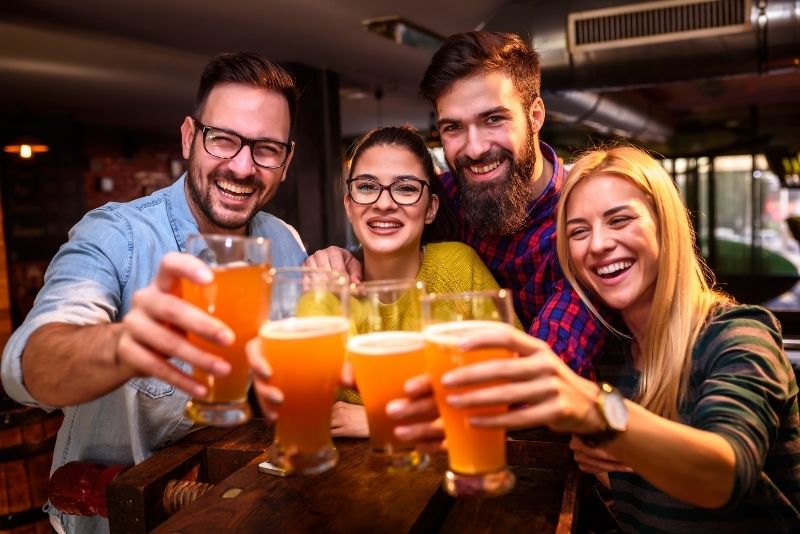 If you're a beer lover, then a tour of Warsaw with one of the handful of organized, locally-led beer adventures is an absolute must.
Centered around the city's fantastic microbreweries and brewpubs, as well as commonly-known beers like Zywiec Biale and Okocim, these two-to-three-hour fun-filled guided tours run year-round (though at different times depending on season or preference).
The informative Eastern European food & drink tours are run by beer aficionados who love to share their passion for great IPAs, ales and lagers, and are all about pairing delicious dishes with equally tasty tipples.
64 – Dance the night away at The View Warsaw Rooftop Bar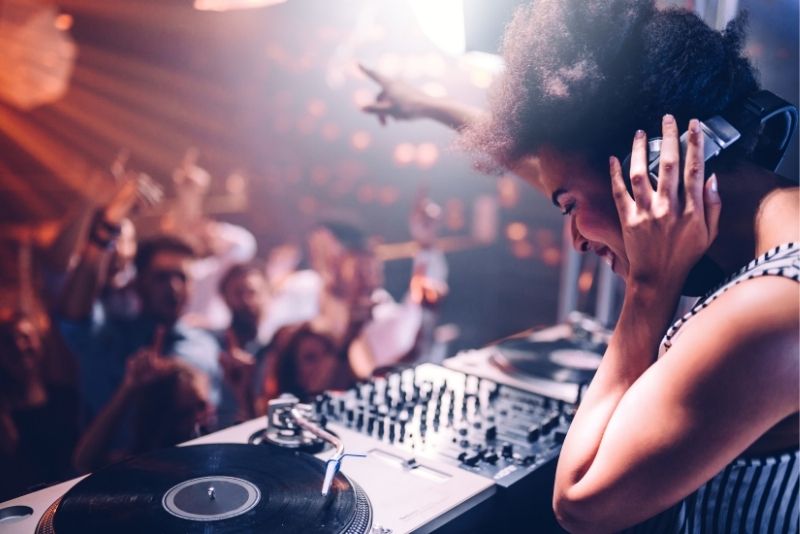 Sitting atop Warsaw's iconic Spectrum Tower, this 32d-floor rooftop club and lounge near Grzybowski Square is dubbed one of, if not the best nightclubs in the city.
With a DJ spinning tunes from 10 pm till 4 am on Fridays and Saturdays, The View Warsaw Rooftop Bar it's an ideal spot for drinks, dancing, and getting a little rowdy.
65 – See a show at the Grand Theatre (Teatr Wielki)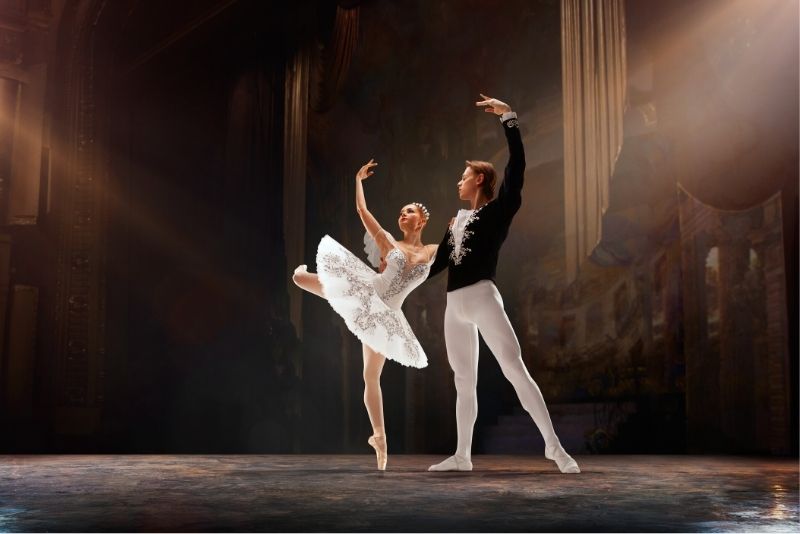 A staple of any theater or opera-lover's itinerary, the coveted Grand Theatre is a must for all Warsaw visitors.
Built in 1833 by famed neoclassical Italian architect Antonio Corazzi, it boasts an eye-catching façade and a magical main auditorium.
Located in the historic Theatre Square opera complex, this stunning venue is one of Europe's most famous opera houses and an essential stop for culture vultures, especially considering the fact that the Polish National Ballet performs here too.
66 – Make some new friends on a pub crawl
One of the most popular ways to get a taste of Warsaw's nightlife is by going on one of their famous pub crawls!
These booze-filled tours take you around the city's best bars and clubs — exploring areas like Saska Kępa, up-and-coming Praga, or Pawilony (where bars are stacked side by side in a Nowy Świat street courtyard), giving visitors an opportunity to meet other tourists, hear live music, while getting plenty tipsy along the way!
While each adventure is different, all the crawls usually include food and drink, transport between bars (if needed), and entry fees.
How to find the best accommodation:
Warsaw is a vibrant city with many different types of hotels to choose from.
If you're looking for something cheap and cheerful, you'll want to look at hostels or budget-friendly guesthouses. If you're just here for a short stay and don't mind sleeping on the floor, then Couchsurfing might be your best option! For those who have a little more cash to spend, there are plenty of luxury hotels that will provide all the amenities one would need during their stay in Poland's capital.
And finally, if you're looking for somewhere family-friendly but still stylish, Warsaw has some great options like boutique hotels which tend to offer child care services as well as other family facilities like kitchens and gyms.
No matter what end of the budget spectrum you fall on — whether you're a penny-pincher or are looking for lavish sophistication — the best range and most competitive price are always found on comparative sites like Booking.com.
Getting to and from the airport:
Ask any former Warsaw visitors and they'll all attest: the fact of the matter is that airport transfers make your trip to the Polish capital much easier.
When you book an airport transfer, you get door-to-door service, don't have to worry about navigating the transport system (in Polish, for that matter) or haggling with taxi drivers.
Plus, if you're traveling as a group or with family, the price typically works out much cheaper on a per-person basis.
Thanks for checking out our collection of things to do in Warsaw! If you want to keep the adventure going, why not head to nearby Budapest or Prague, each thriving with nightlife and history, or hop on a quick plane ride to Berlin, Munich, or Copenhagen?
If you have any other awesome suggestions, feel free to let us know in the comments! As always, happy travels!