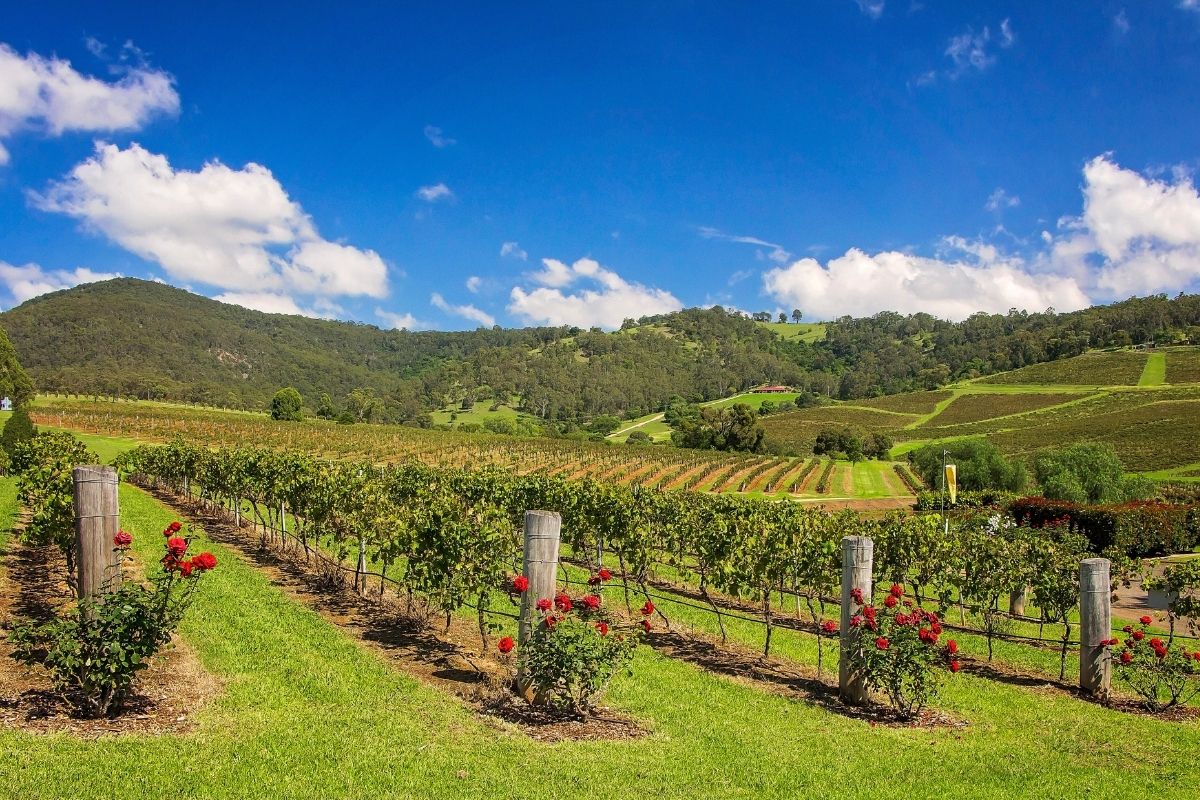 Indulge in world-class wine, and consume a rich supply of regional soft cheeses in the gastronomic region of Hunter Valley! Located in the heart of Australia's New South Wales, Hunter Valley is a picture-perfect image of rolling green hills dotted with world-class wineries and tons of activities that cater to all kinds of travelers.
Participate in a variety of winery activities, from wine tastings to large-scale outdoor concerts, soaring hot air balloon rides offering a bird's eye view of the wine country, and even try your skills at stomping grapes in wooden barrels with your feet!
Get close to the local koalas at the Oakvale Wildlife Park, and view how koalas are cared for in a wonderful open space.
Lastly, pull the windows down as you embark on a scenic and vibrant drive down the emblematic Tourist Drive 33, getting a view of sandstone gorges, dense forests, lakes, and a variety of colorful towns offering their activities worthy of a stop!
Let's not stall any longer, and let's get to the rest of the incredible things to do in Hunter Valley!
1 – Hand-feed the animals at Hunter Valley Wildlife Park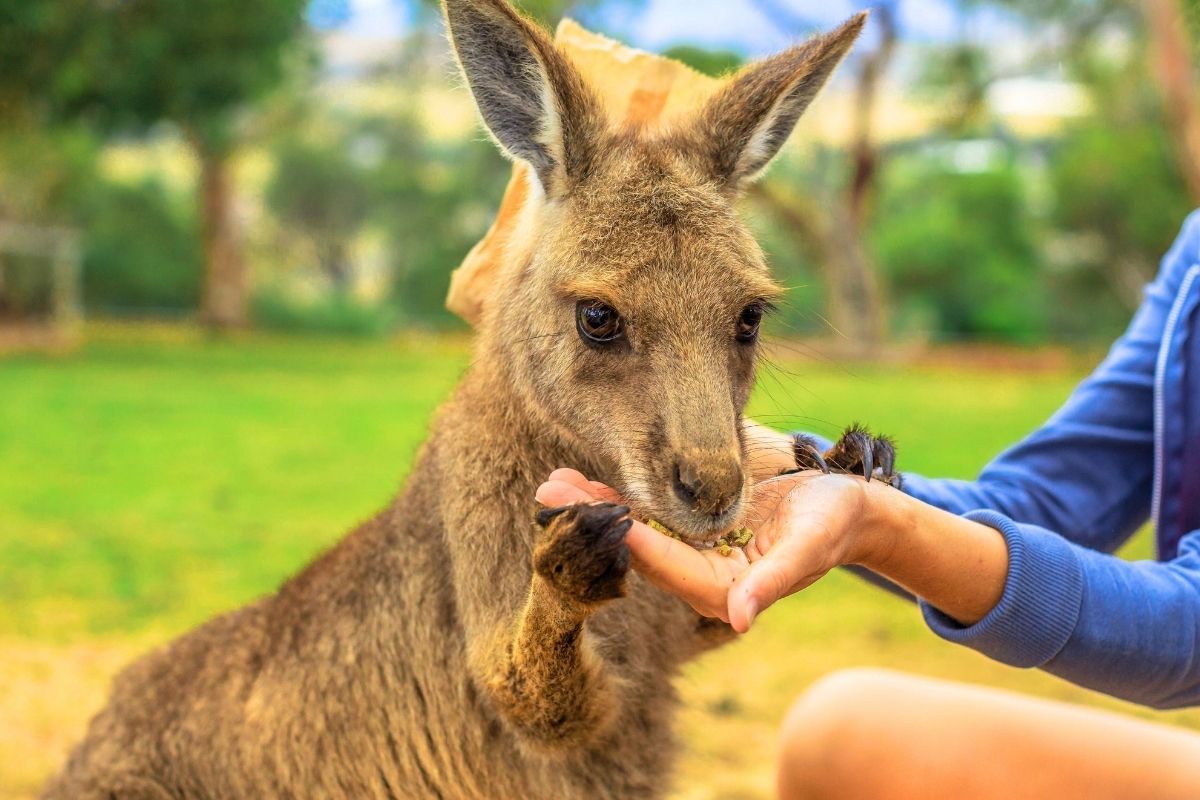 Get in touch with your wild side on a visit to the Hunter Valley Wildlife Park (formerly Hunter Valley Zoo).
From animal feedings to daily shows where you can interact with the resident animals, you'll get up close and personal with everything from squirrel monkeys, meerkats, black and white ruffed lemurs, and even a few lions exclusively on the weekends!
With a guide, step inside the living spaces of these animals with caution while learning more about their habitats, eating habits, and more! To see the animals the most animated, aim to visit in the morning hours!
2 – Make it to Maitland Regional Art Gallery for local art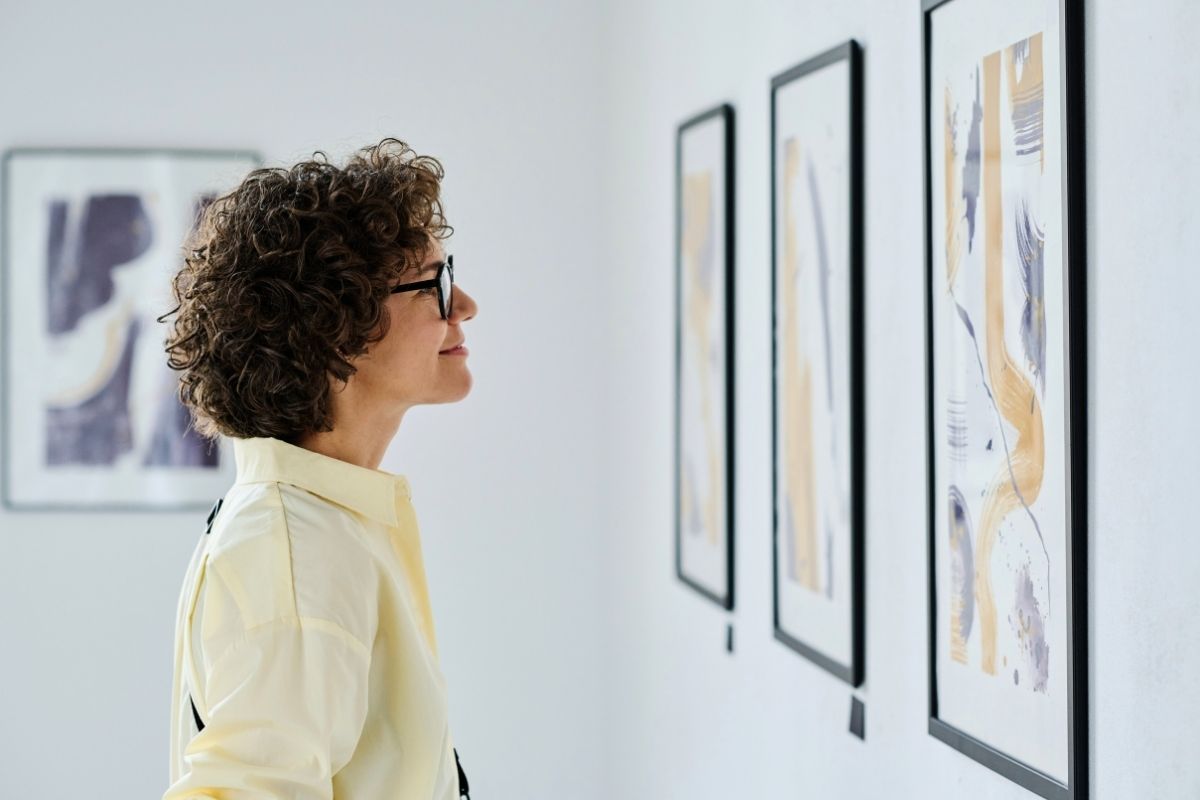 Also known as MRAG, the Maitland Regional Art Gallery is a perfect place to spot some local art, while immersing yourself in the art community of Hunter Valley.
With over 20 different exhibits and a grand collection of 4,000+ pieces including contemporary drawings, sculptures, prints, and photographs, MRAG is the ideal art-filled activity to add to your Hunter Valley itinerary!
Scan the space and all its activities, from workshops to the buzzing Cafe Seraphine, and interesting exhibits, including the famous Les Darcy exhibit honoring the local boxing hero.
Entry is free.
3 – Enchant your palette with a wine tasting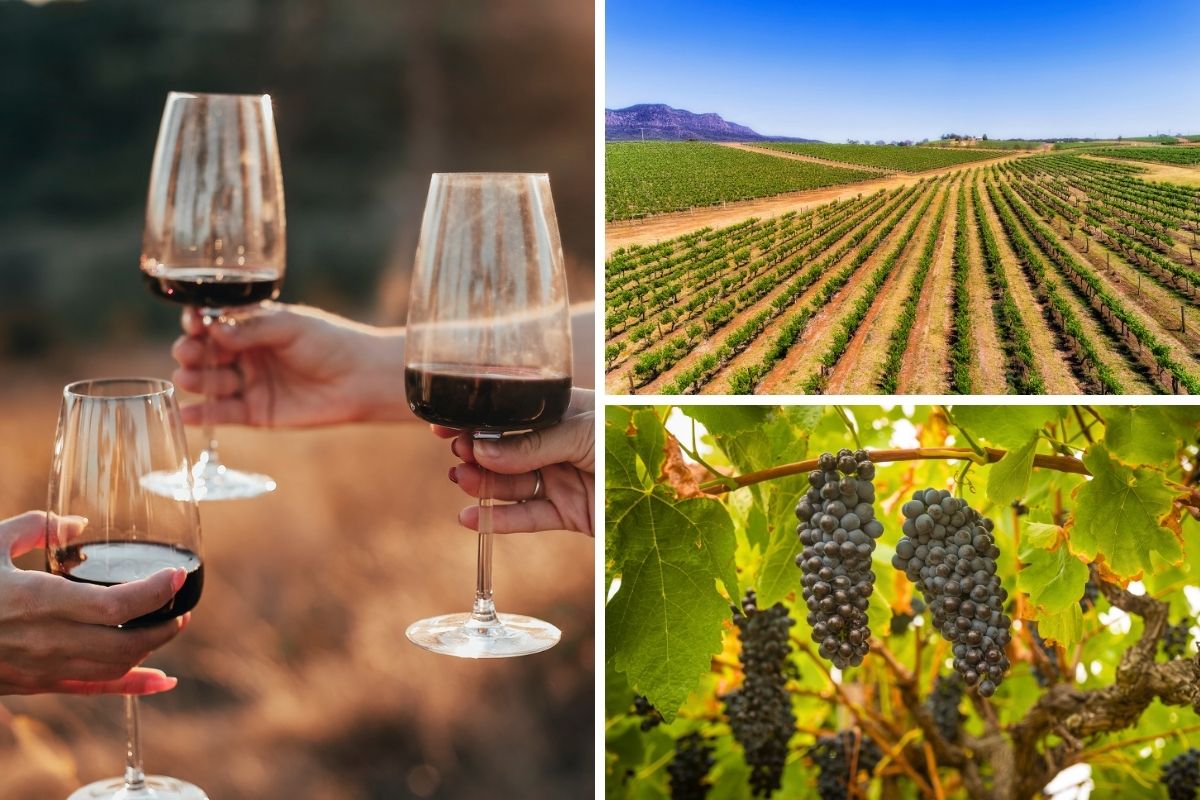 Traveling with family? Visit the award-winning Scarborough Wine Co. offering sips of their delectable signature wines, as the kids play in the children-centered play spaces in the vineyards Everyone wins!
Taste test the volcanic soil elements in the wine produced at Hanging Tree Winery, taking in the vineyard's rolling hills, and even spotting a few hot air balloons above you. Step into the aromatic rose garden afterward!
Enjoy a platter of cheese and salami with an award-winning Semillon Chardonnay blend at the wine holy house of Usher Tinkler Wines, situated inside an old church.
4 – Immerse yourself in pure nature at Blackbutt Nature Reserve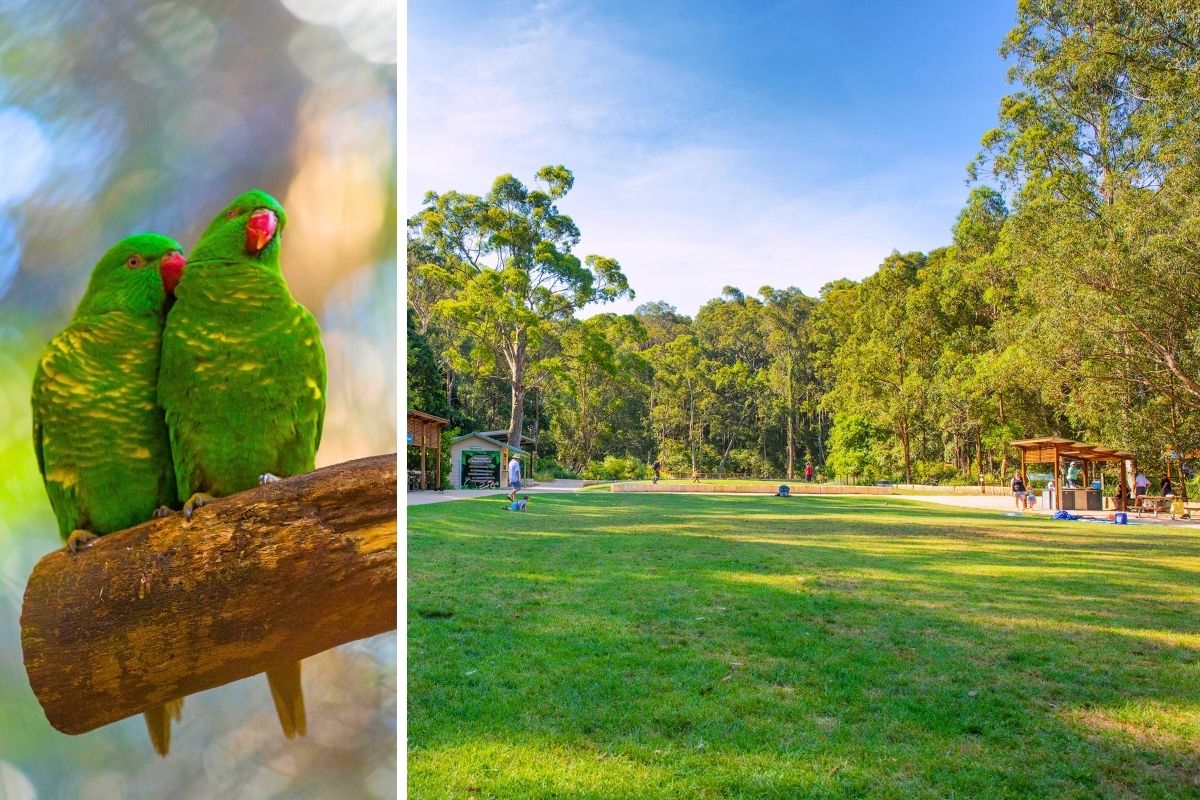 Enjoy a trip to the refreshing and expansive Blackbutt Nature Reserve, brimming with wildlife in its 182 hectares of natural bushland and over 9 kilometers of walking paths for your enjoyment!
Wander through the Blackbutt Reserve Nature Walk, which is 4.7 kilometers, and is considered an easy walk that can be completed in 1.5 hours. On your walk, wander about and enjoy the sights of the local vegetation, from exotic plants to aromatic flowers.
Book a guided tour through the Wildlife Exhibits, touch reptiles, or oversee dozens of exotic birds! Entry to the reserve is free.
5 – Pack your hiking boots for a trek through the national parks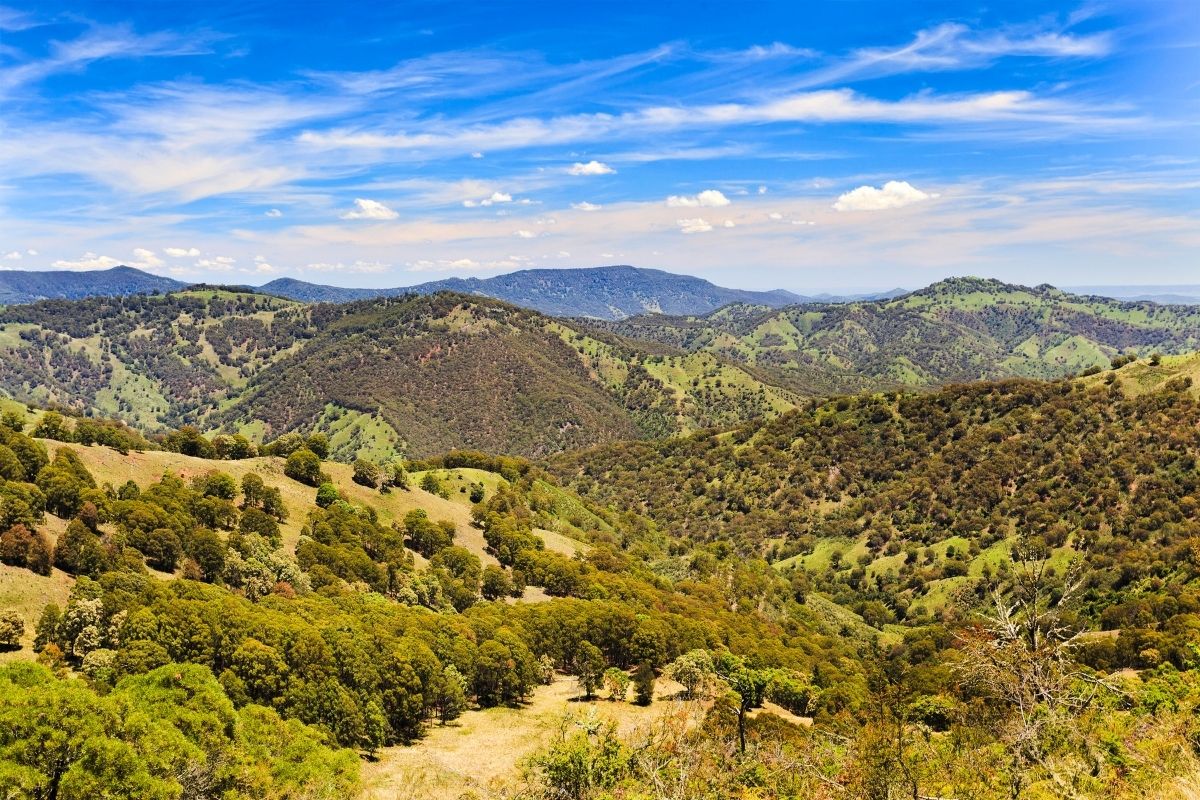 Plan a thrilling trip to Barrington Tops National Park, and enjoy an immersive hike through the Gondwana Rainforest, overlooking historic and lush scenery.
Enjoy picnicking and hiking at Myall Lakes National Park, or kayak through one of the region's largest coastal lake systems! Afterward, walk through the Dark Point Aboriginal Place, a coastal area meaningful to the Worimi people.
From whales to koalas, there are tons of animal spotting happening at Tomaree National Park! If you're feeling up for a 1.5-hour long hike with epic views, climb up Tomarre Mountain!
Hop on a canoe and let yourself wander into the mystical beauty of Wollemi National Park, with sights of cliffs, canyons, dense forests, and wild rivers. Take a nature walk to see pagoda rock figures!
6 – Greet the new day on a hot air balloon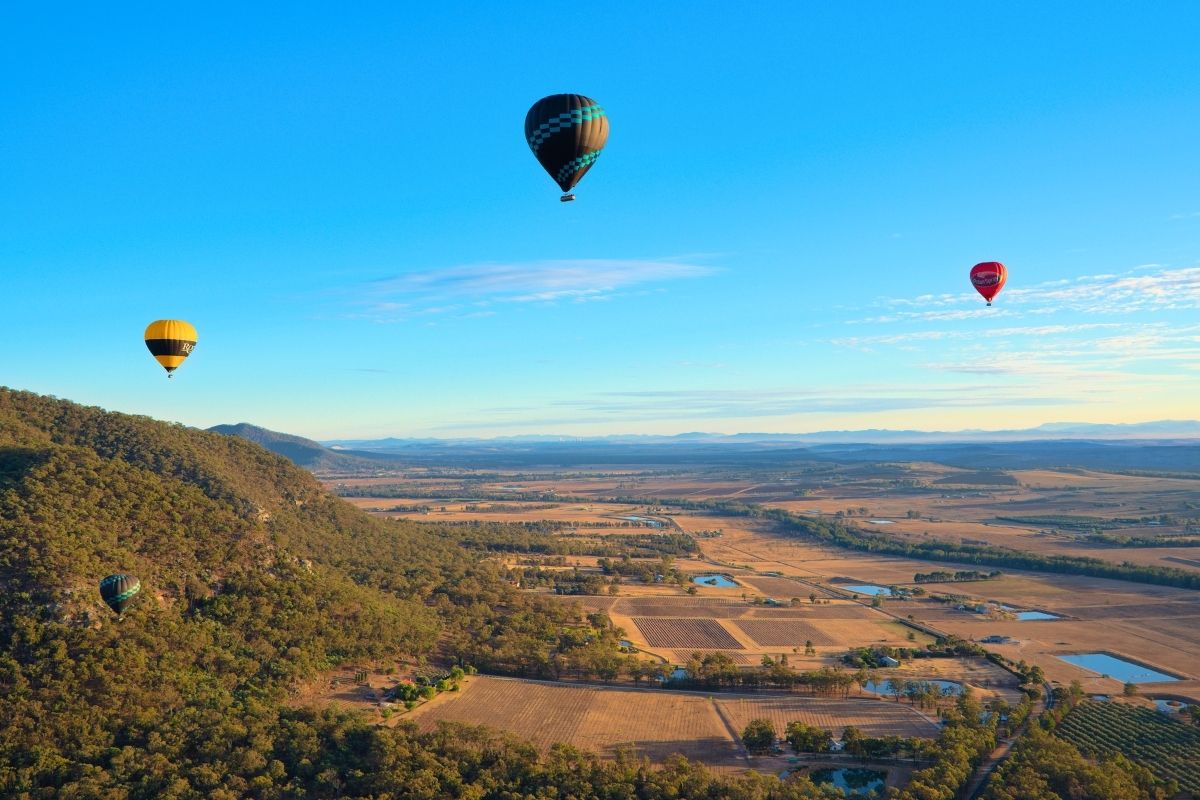 Float over the scenic views that Hunter Valley has to offer, from world-class wineries to incredible lakes, and much more!
After arriving at your departure platform, you'll hop onto your hot air balloon and slowly begin your ascent into the sky, viewing the rolling hills covered in golden sunlight, as the air starts to get a bit chillier.
While on the ride, your guide will share and point out different interesting landmarks to be seen from above! After you land, you'll be escorted to enjoy a lovely breakfast, and taste test some locally-produced wine!
7 – Fire up your engines at Fighter World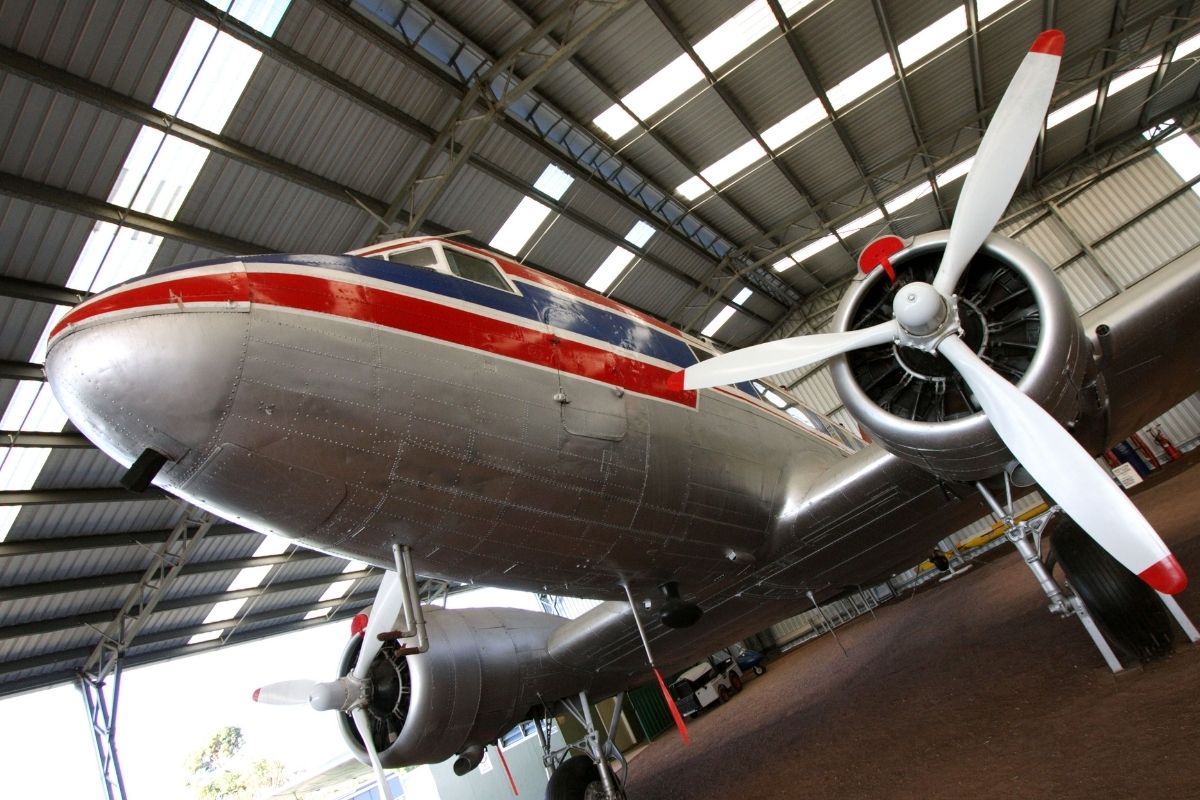 Airplane fanatics, don't miss a chance to view some epic and historical planes at Fighter World – a non-profit aviation heritage center, located south of Hunter Valley.
What was previously an airplane base, today the museum houses some of the most interesting aircraft used in war throughout Australian history! Step inside some of the fighter jets, take a seat inside, and see what the cockpits look like!
See how a multi-barrel aircraft cannon looks like and operates, and learn about some of the best Australian-built aircraft and the stories behind them.
Admission is $12 USD.
8 – Be amused with the wonders inside Hunter Valley Gardens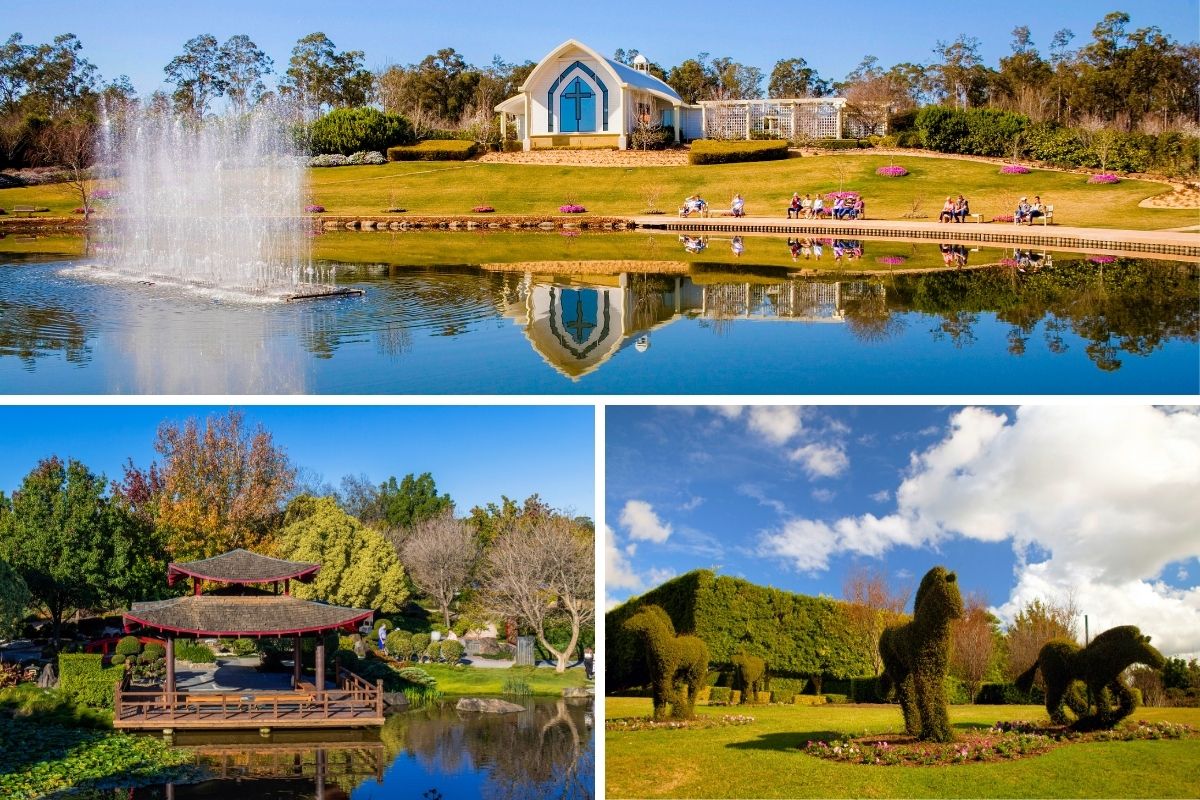 Spend quality time in the thematic and beautiful gardens inside Hunter Valley Gardens!
Trek the scenic Lakes Walk, bless your senses with a walk through the Rose Garden and feel playful in the Storybook Garden.
Take a trip back in time at the British Lolly Shop, and enjoy traditional British candies from 9 different bonbons, nougat, and toffee, and even pick from a variety of flavorful teas!
Afterward, reserve some time for a little golf game at the Hunter Valley Gardens Aqua Golf & Putt Putt, and try to aim straight at the floating targets on the lake!
9 – Steer into all the fun at Toboggan Hill Park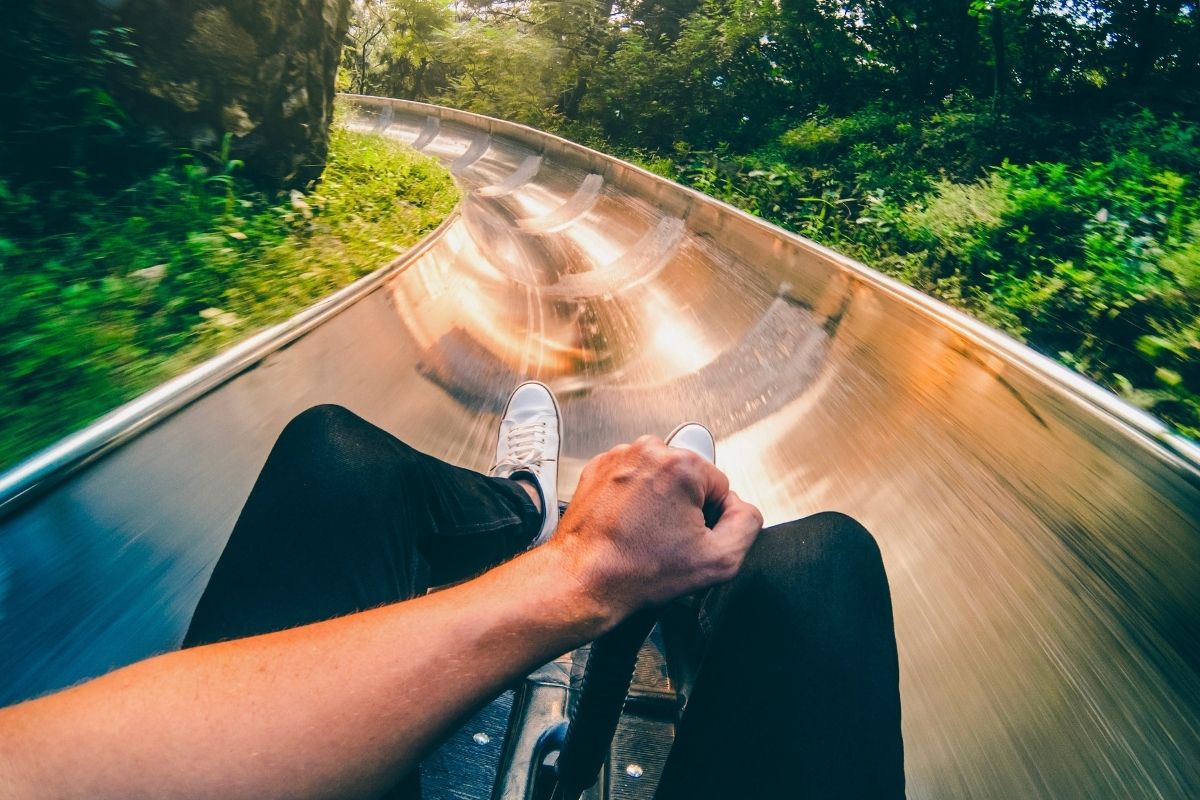 Cut loose and get into all the fun there is at Toboggan Hill Park, full of activities from roller skating, to toboggan riding, rock climbing, mini golfing, and much more!
Set within the beautiful and dense bushland near Salamander Way at Nelson Bay, Toboggan Hill Park has an abundance of activities for everyone in your group, both indoors and out! Whether you're traveling with kids, or it's just you, there's no shame in anyone's game when visiting this thrilling park!
Run down the 1-kilometer-long toboggan ride, hop on a tractor train, and maneuver a crazy fun maze!
10 – Savor a delicious vineyard picnic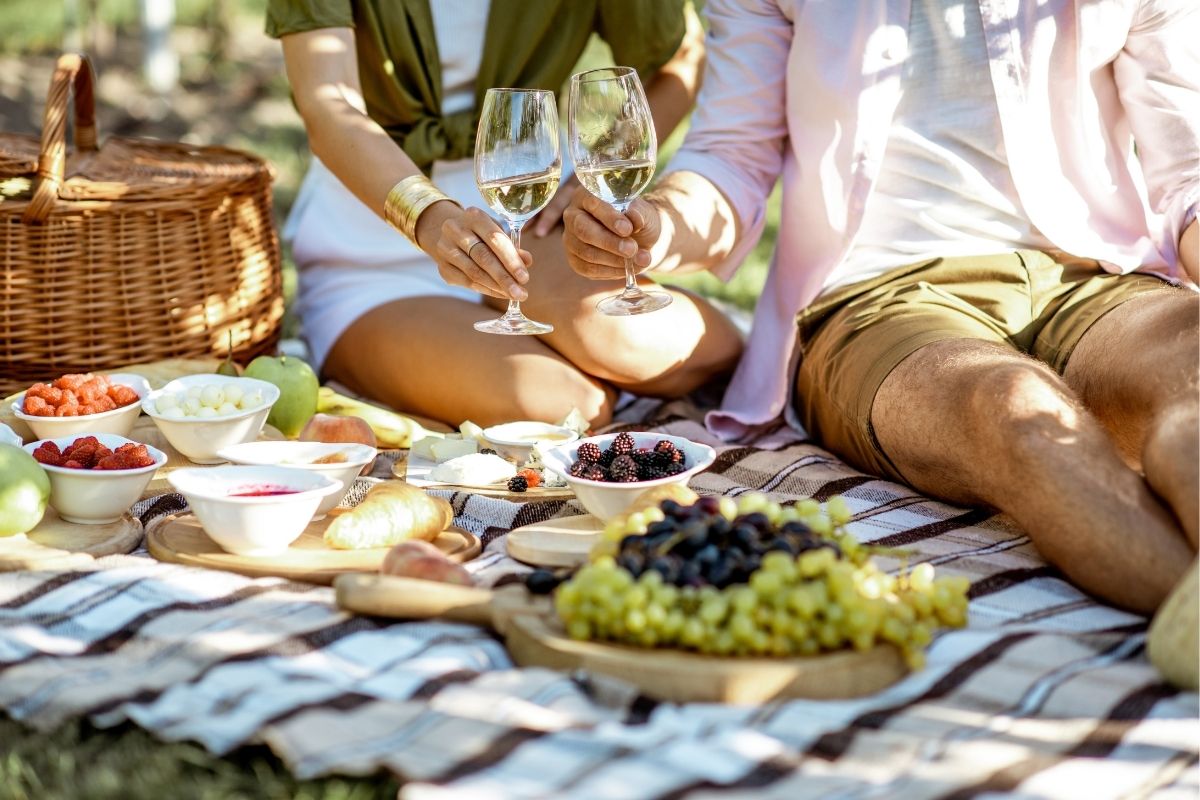 Book a lovely trip to the historic and beautiful Audrey Wilkinson Vineyard for a scenic lunch! Admire the 360-degree views of the vineyard's rolling hills, and sip on world-class Australian wine.
Enjoy touring and learning about the history behind the award-winning vineyard, and then move to a fascinating masterclass showcasing the traditional wine-making process, as well as taste-testing signature wines.
After the education, comes lunch, and this lunch will be spectacular as you'll grab your pre-packaged picnic baskets and pick a seat in the expansive vineyard property to enjoy your meal, with more wine!
11 – Take a dip inside Bogey Hole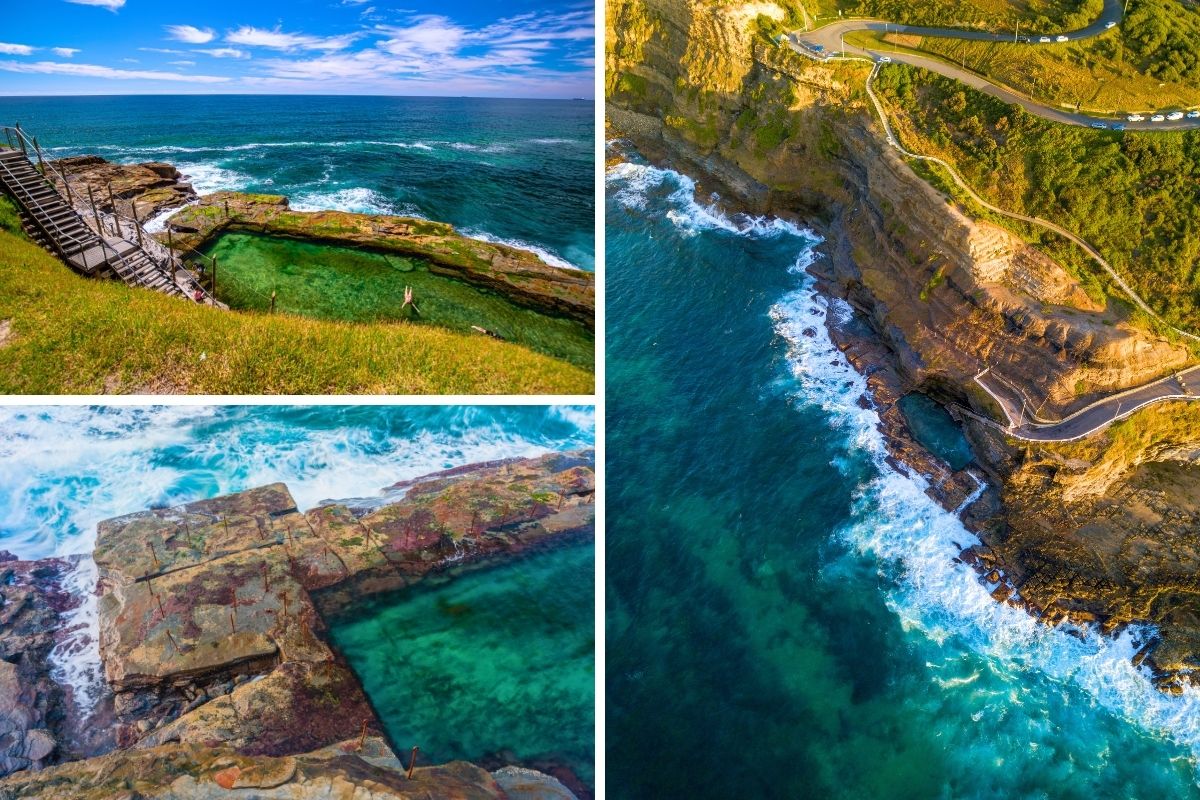 Peek at the historic and beautiful Bogey Hole, a sea bath also known as the Commandant's Baths in King Edward Park in Newcastle.
Carved out of the sandstone of the coast, the Bogey Hole is said to have been one of the first and oldest European-built constructions in the region dating back to 1819 that is still used today!
Make your way to refresh yourself at Bogey Hole, or simply take the highly-coveted photo, on an almost 2-hour road trip south of Hunter Valley. Though it's quite a distance, it's for one of Australia's heritage-listed sea baths worth seeing!
12 – Soar across the sky on a helicopter tour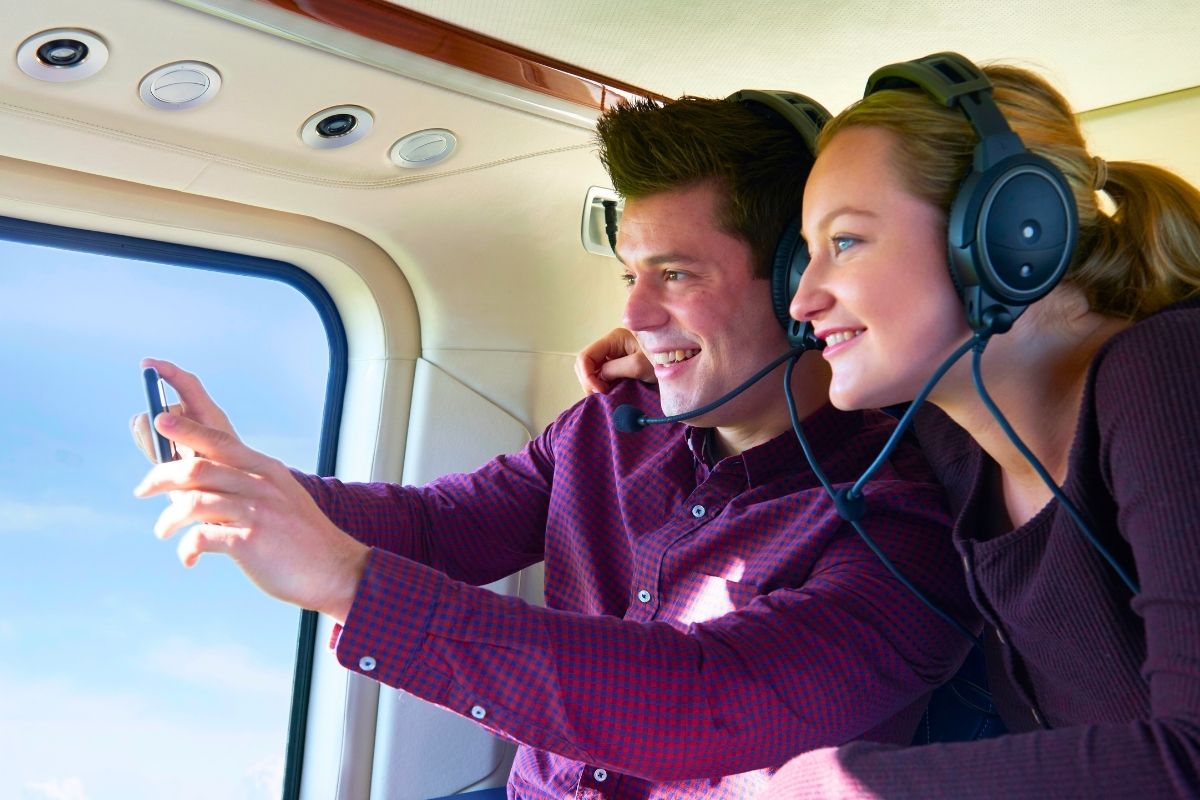 Fly high on a panoramic helicopter tour, and enjoy lunch or wine as you admire the magnificent bird's eye views of the Broken Back Range, the green rolling hills dotted with the region's spectacular vineyards, bushlands, and more!
As you take to the skies, you'll be able to listen to your pilot through your headset the different landmarks to see, so get your camera ready for those epic shots!
Depending on your tour, you'll enjoy a delicious 3-course meal and a tantalizing wine tasting in the middle of your experience, or you'll enjoy a glass of wine onboard!
13 – Spend an afternoon at Hunter Region Botanic Gardens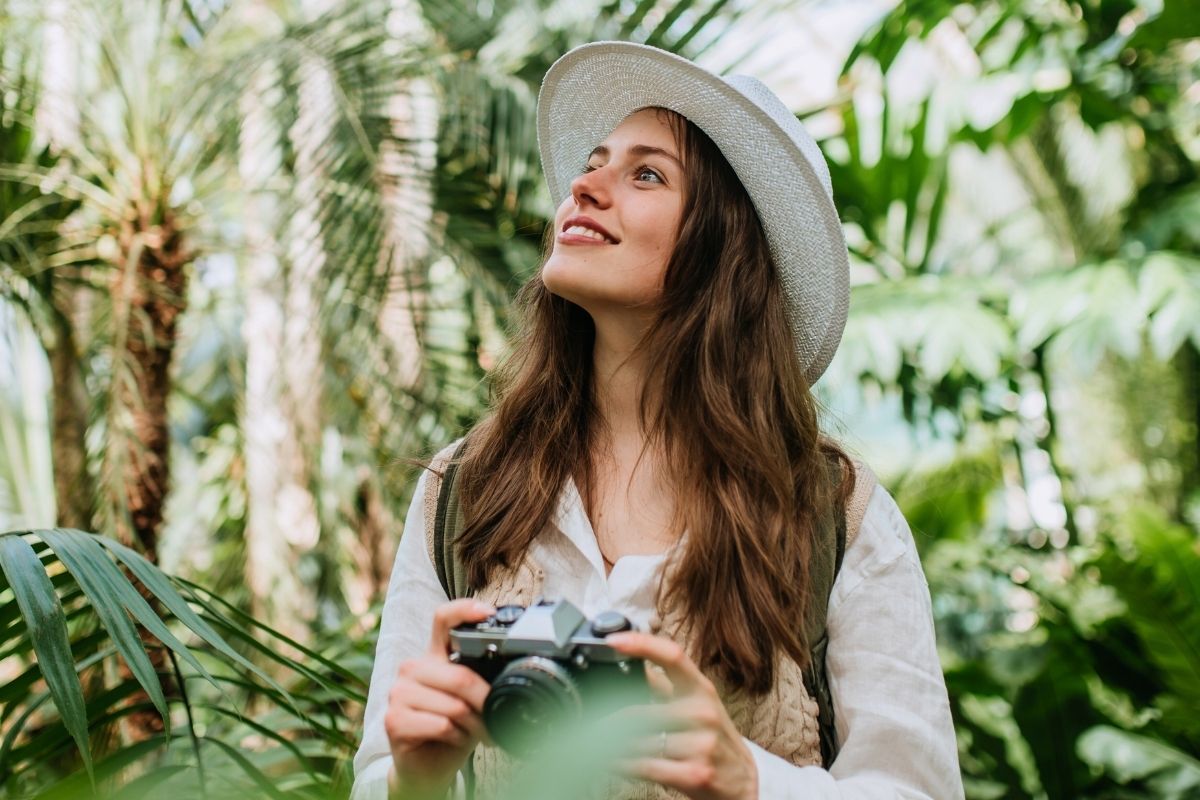 Prepare a wonderful picnic of your own, followed by a picturesque walk around the walking trails of Hunter Region Botanic Gardens!
Hunter Region Botanic Gardens are a beautiful series of gardens that are maintained by local volunteers for all to enjoy, from the orchid houses to the gardens blooming with Australian plant species, to succulents, herb gardens, and much more.
Walk through the natural bushland, and view over 150 different plant species, as well as local wildlife from possums, lizards, wallabies, and even a few koalas!
Entry starts at $5 AUD per person or $10 AUD for families.
14 – Gallop away on a horse ride through wine-country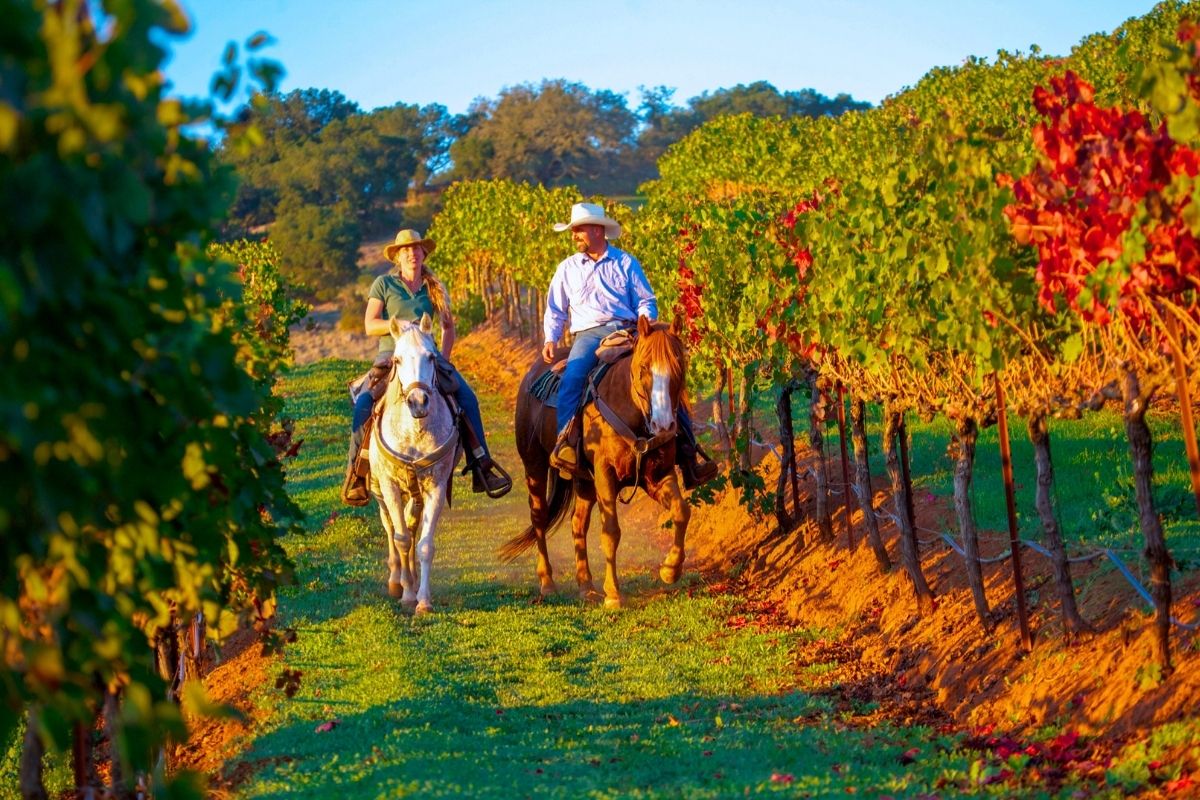 Hit the trails on a fabulous horse riding activity exploring the rugged bushlands and farmlands of Hunter Valley.
Take sights of nearby vineyards and the Broken Back Range on this 1-hour experience, no matter if you've ridden a horse before, or if it's your first time!
The horses are very gentle, and the activity leaders do a great job of matching you with a horse that you will pair well with. However, if you don't want to ride horseback exactly, you could opt for the equally scenic horse carriage wine tour experience!
Horse riding tours start at $65 USD.
15 – Go-kart through Hunter Valley's best tracks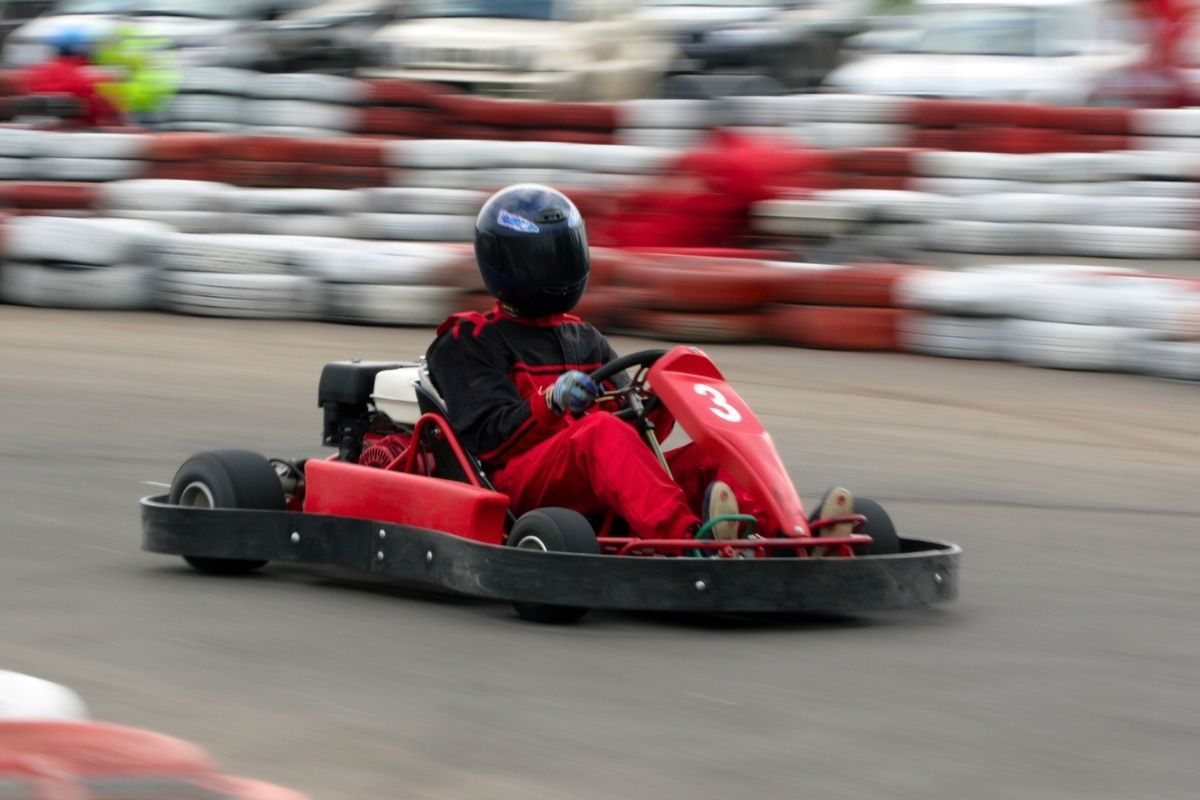 Satisfy your need for speed when you go karting at Go Karts Go! Hit the epic 850 meters long track with turns and swerves on the fastest 4-stroke karts that you won't find anywhere else in Hunter Valley.
If you're traveling with kids, they'll also have a ball with the Junior Go Karts and twin-seat karts! So no matter your age, if you're between the ages of 5-90 – you're in for a great time!
Due to their popularity, make sure to book your go-kart slot in advance by calling the phone number on their website.
16 – Walk along the coast of Nobbys Beach
Whether you're looking to swim, walk, or peek at a few dolphins, Nobbys Beach has to go on your list of the best things to do in Hunter Valley!
Considered to be one of Newcastle's most popular beaches, Nobbys Beach is most notable for its amazing surfing opportunities, scenic lighthouse, and ample amounts of restaurants and cafes seaside with picnic areas. Try a fishcake or a burger while you're there!
Make sure to walk along the Newcastle Breakwater, and try to see if you can view coal ships in the distance! It's about a 3-kilometer roundtrip trek.
17 – Swim a few laps in an Ocean Bath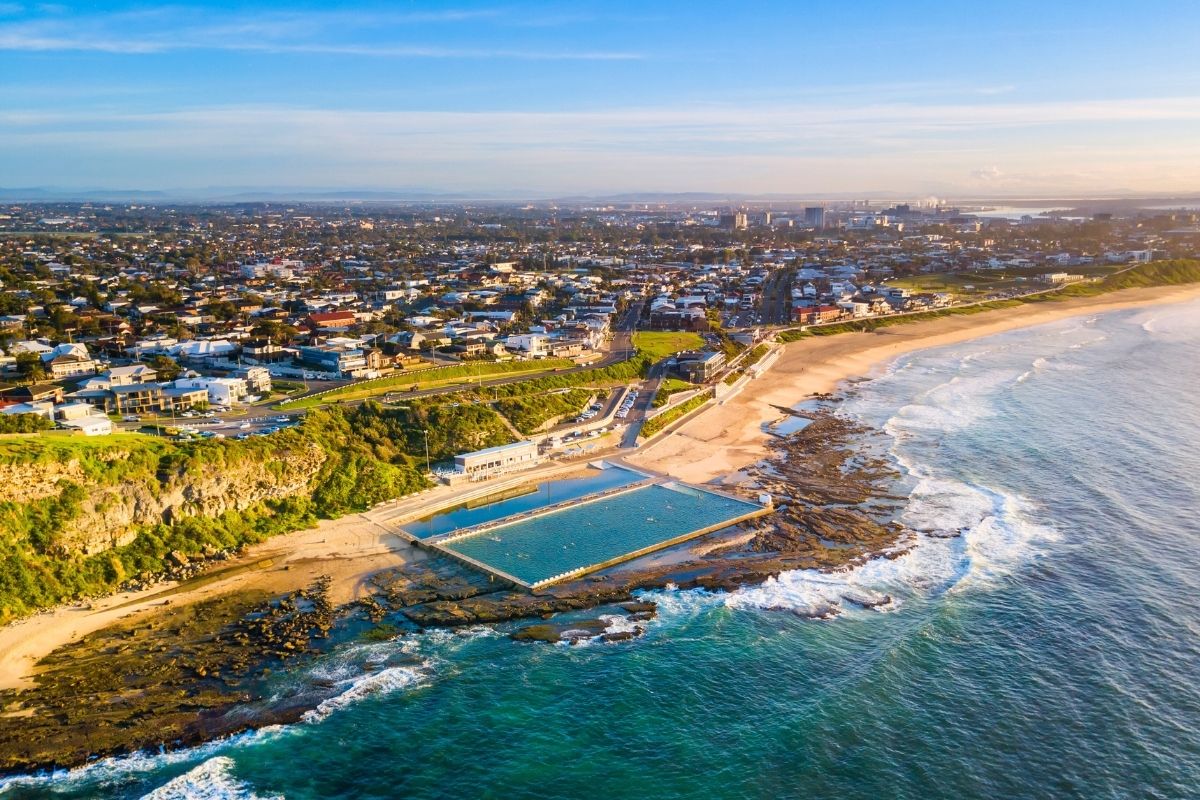 Visit something typical of New South Wales, and visit an Ocean Bath – a rock pool that's carved on the coast of the beach, and naturally filled with seawater!
Practice your swimming laps at Merewether Ocean Baths, popular during the early 1900s for competitive swimmers who wanted to practice their techniques without being crashed by the waves. Just make sure to head to their website to see important beach hours, including low tide times.
Ditch the beach and head to Newcastle Ocean Baths, another local Ocean Bath, with pavilions, a promenade, and even a little Art Deco-inspired bleachers!
18 – Soar into the Australian sky on an airplane tour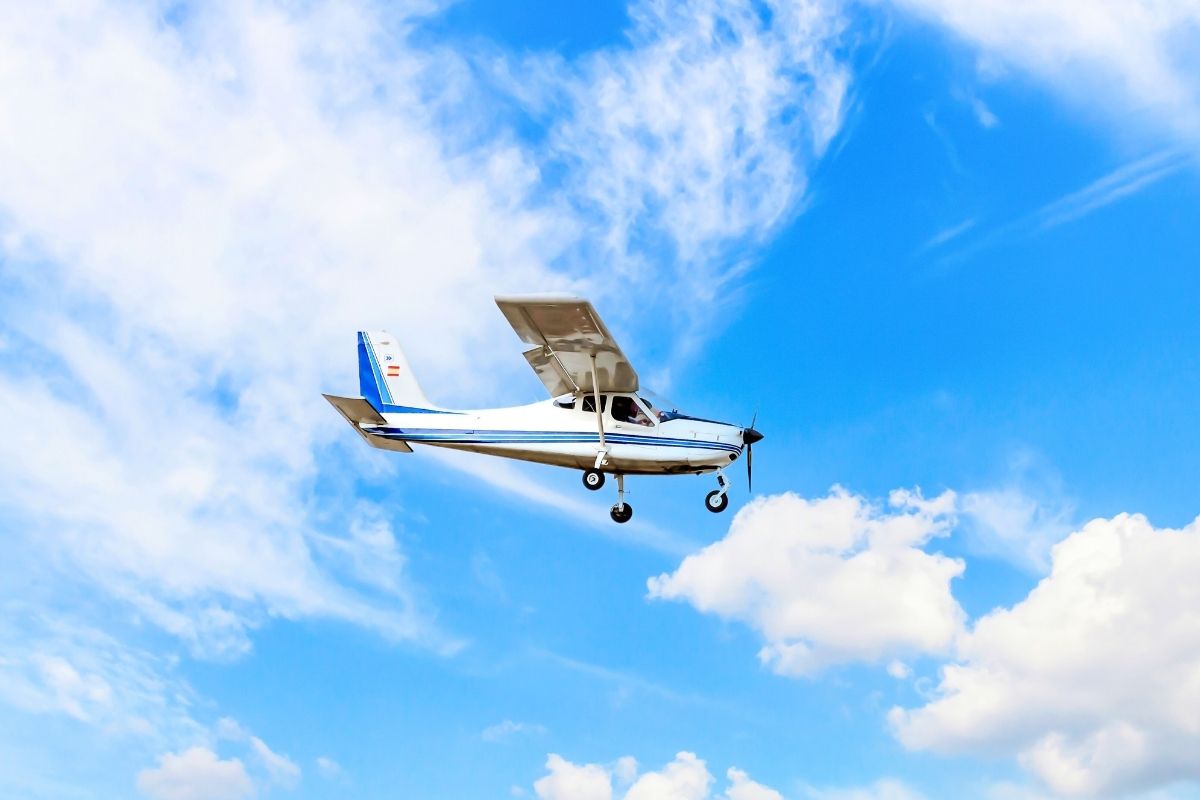 From a picturesque airplane tour to an aerobatic and stunt bi-plane flight in the sky, take your pick on the different ways to enjoy an airplane journey into the sky!
Feel your world turn upside down when you board an aerobatics warbird flight for 15–20 minutes, doing incredible stunts in the air with your trusted and experienced pilot.
If something a bit calmer is more your speed, check out a coast and vineyard flight, taking you over the water to catch sight of jumping dolphins, and even whales! Traveling with kids? This is a child-friendly activity!
19 – Pet a koala at Oakvale Wildlife Park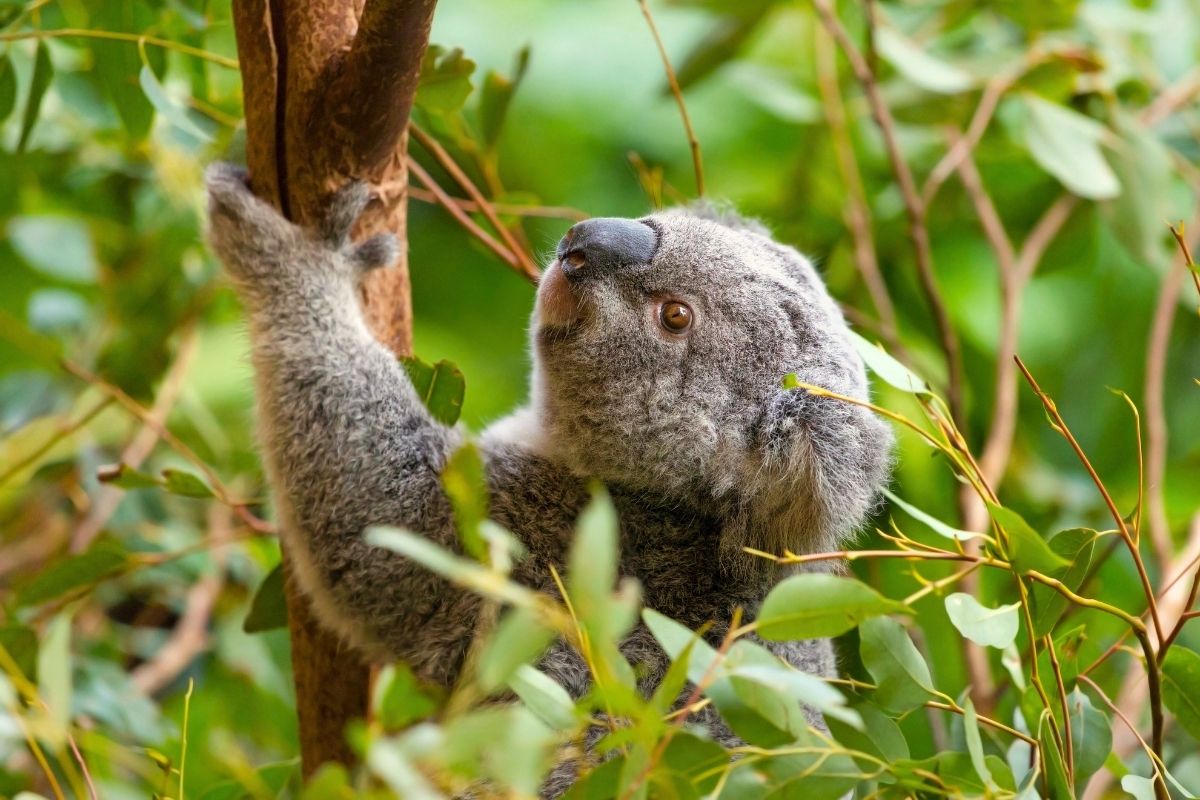 Get to know unique eastern Australian animals at the Oakvale Wildlife Park in Salt Ash, located south of Hunter Valley!
Owned by the Sansom family, the Oakvale Wildlife Park is a fun experience for everyone in your travel group to enjoy a wildlife encounter with lemurs, koalas, alligators, birds, and so many more animals!
Get to feed the farm animals or enter the famous Koala Country, where you'll be able to see 12 different types of koalas, Tasmanian devils, wombats, and wallabies!
Entry to the park starts at $36 AUD.
20 – Make it a museum day at the museums in Newcastle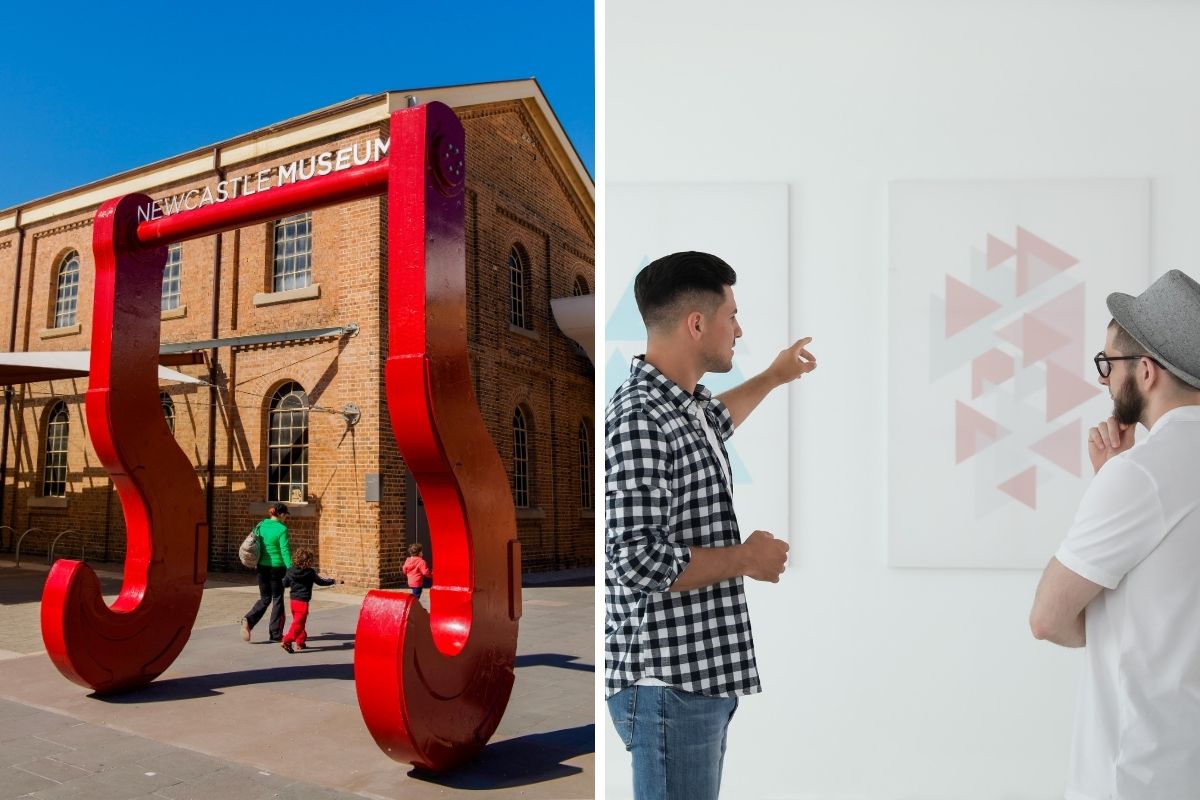 Take a gander through the Newcastle Museum, showcasing interesting exhibits displaying different pieces of Newcastle, in a fun and unique way!
From special exhibits like the Birds of Australia, a digital storytelling presentation in 3D of the different birds of the region, and their significance to discovering the history of Newcastle from its Aboriginal culture to today – the museum is chockfull of fascinating discoveries!
The Newcastle Art Gallery equally allows you access to beautiful works of art, typically modern and contemporary, provoking thought, and reflection. Many even reflect elements of the Australian region.
21 – Journey through Worimi National Park on a sand dune jeep tour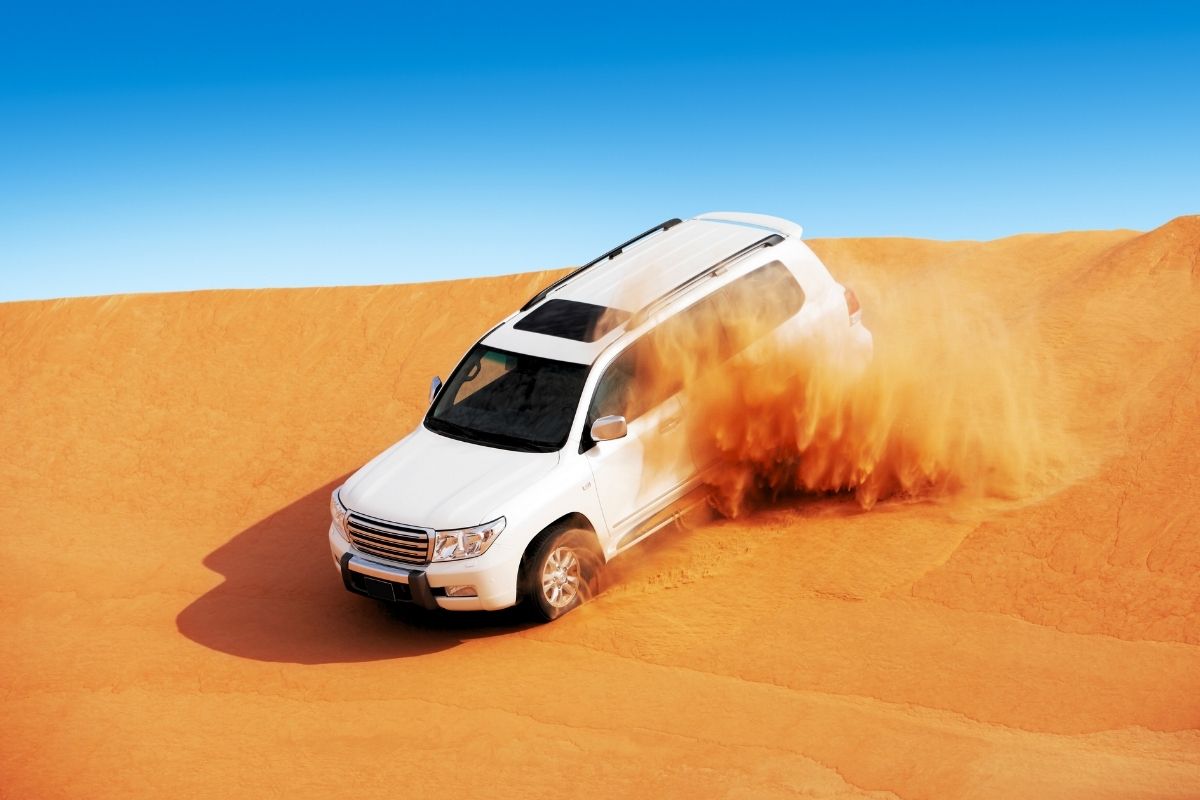 Take the road less traveled on an escapade through Worimi National Park on a thrilling Jeep tour!
Taking place in the stunning dunes of Worimi National Park, you'll witness dozens of exotic birds, and peek at a few people doing some ocean fishing.
On your jeep tour, you'll pass through many sacred and historical sites of the Worimi people, and even get to stop by for a few photo ops!
Similarly, consider a fun sandboarding experience at Birubi Beach! Join a dune quad tour from Newcastle, while looking out for the endemic pipis clams in the sand!
22 – Yell "Choo Choo" on the Steam Train ride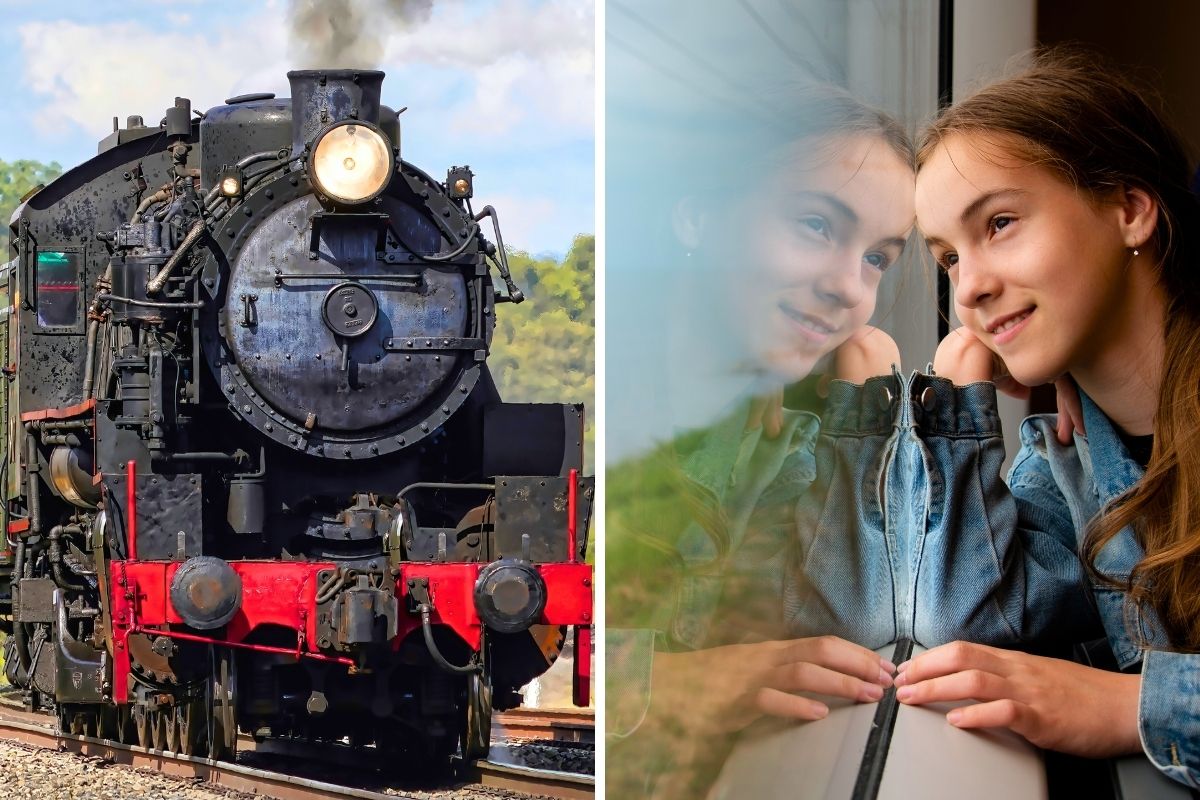 Secure your seat on the next steam train ride in Hunter Valley!
Look out for the Picnic Train, and pick a date to hop on the historic steam-hauled train heading towards various destinations in Hunter Valley! Once you're on the 1930s carriage trains, you'll start to see the coast and national parks!
If you're traveling in late April, check out the famous local celebration called Hunter Valley Steamfest! Explore the Rally Ground display showcasing different types of old machinery, view classic cars, hop on vintage diesel rides, and grub at the delicious food stalls!
23 – Learn about sealife conservation at Irukandji Shark & Ray Encounters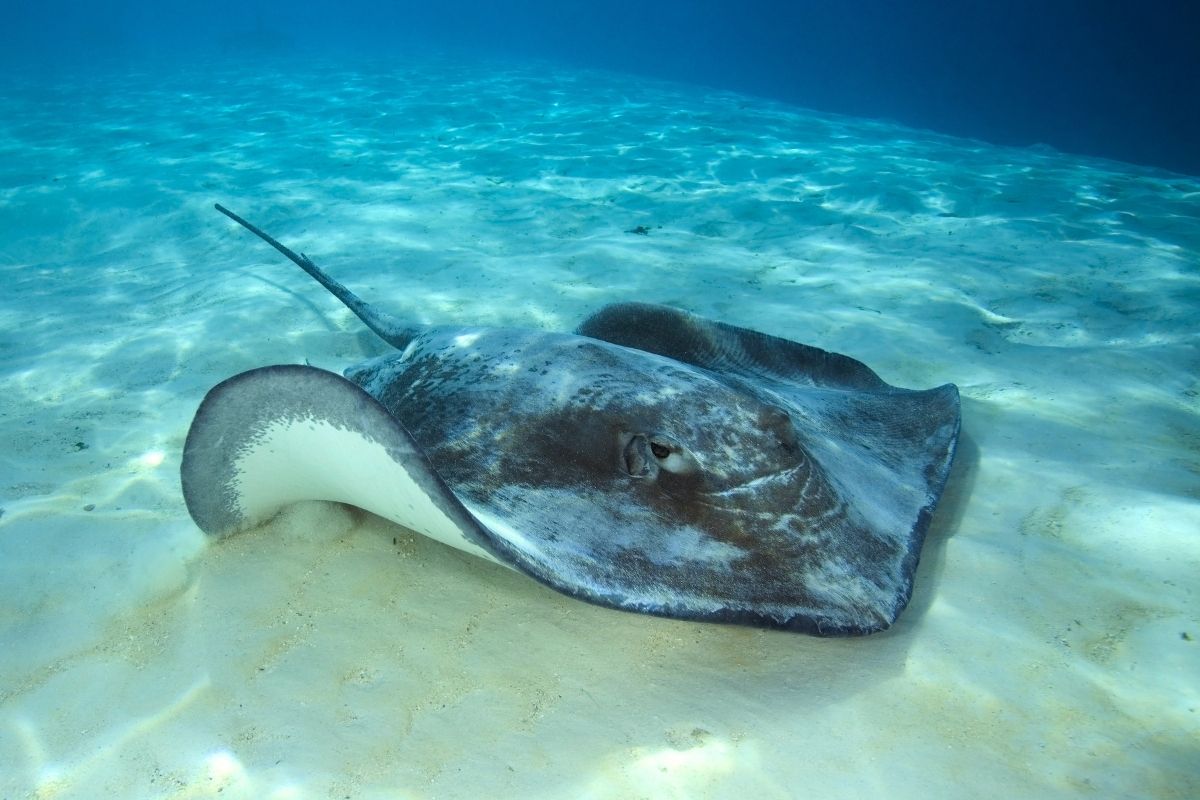 Visit the interactive aquarium at the Irukandji Shark & Ray Encounters, with dozens of ways to help you get in touch (literally) with unique shark species, rays, and other sea life native to eastern Australia!
With your ticket, you'll be able to walk into shallow waters in a special wetsuit and get close to some of these fascinating creatures, whether it's to feed them or pet them.
Looking for a bonus adventure? Consider doing some reef shark snorkeling, or stingray snorkeling, amongst many other experiences! Ticket prices vary based on experience, and include necessary accessories.
24 – Devour some soft brie cheese at a cheese tasting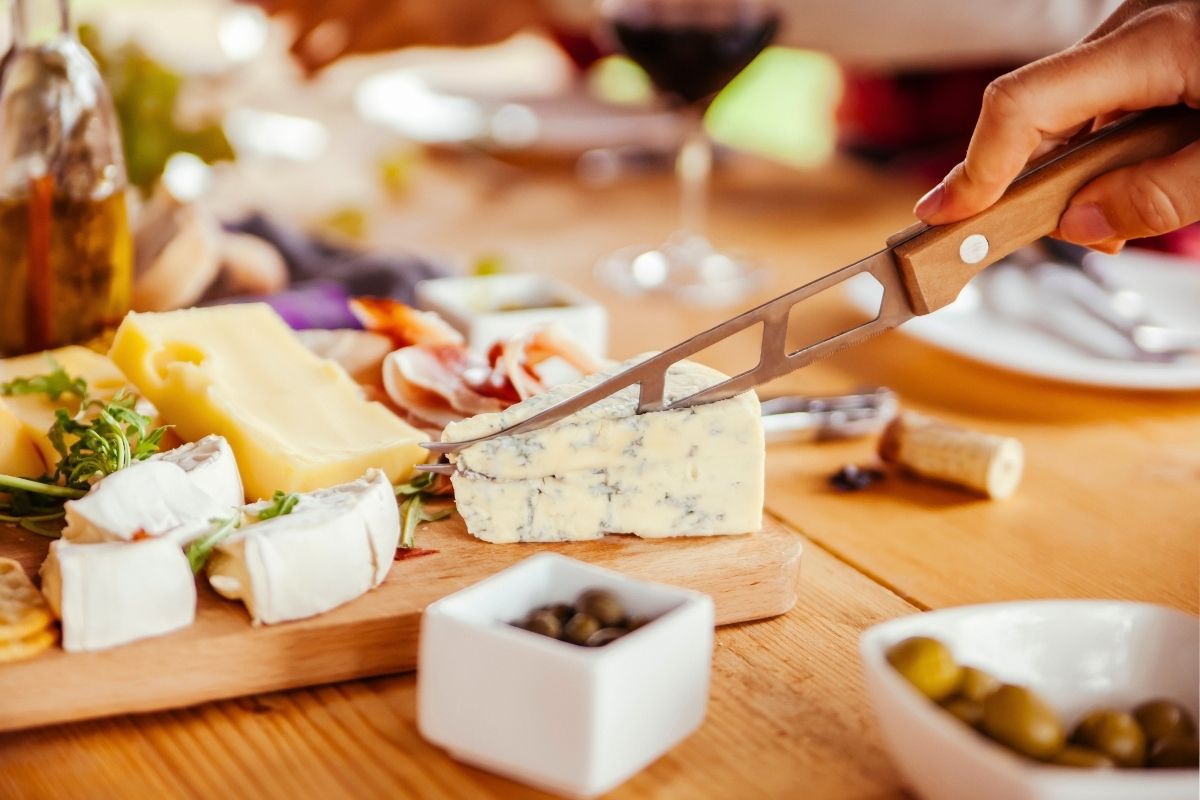 Get your hands on some incredible, local cheese at a cheese tasting, sampling the best that the region has to offer!
Satisfy your palette with different varieties, from the locally crafted soft Brie to Hunter Valley cheddar and blue cheese! On your tour, you'll also receive wine samples that pair excellently with the cheeses as well as something sweet at the end!
If you're a die-hard cheesehead, visit the famous Hunter Valley Cheese Factory and look into their tastings and lunch specialties, or do some shopping for the best cheese in Eastern Australia!
25 – Skydive above the vineyards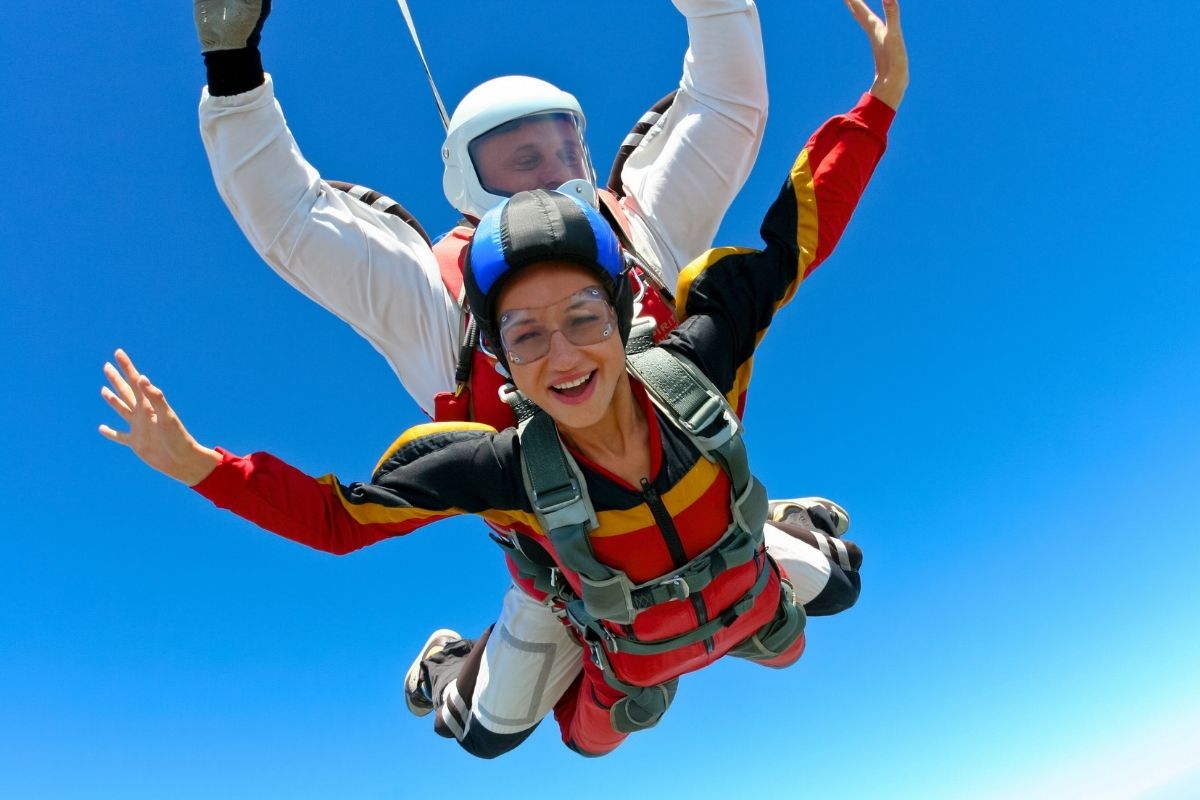 Want to do something truly memorable in Hunter Valley? Sign up to go skydiving!
Check out Skydive Australia, and all their impressive skydiving experiences, catered to those who have never jumped off a plane, and to those with some experience under their belt!
Choose a skydiving experience with your instructor, from a solo skydiving adventure to a group skydiving experience if you're traveling with your best daredevil buds!
Want to film the experience? Consider adding the media package to your activity for high-resolution videos and photos to share on your socials later on!
26 – Get the best views of Newcastle at Fort Scratchley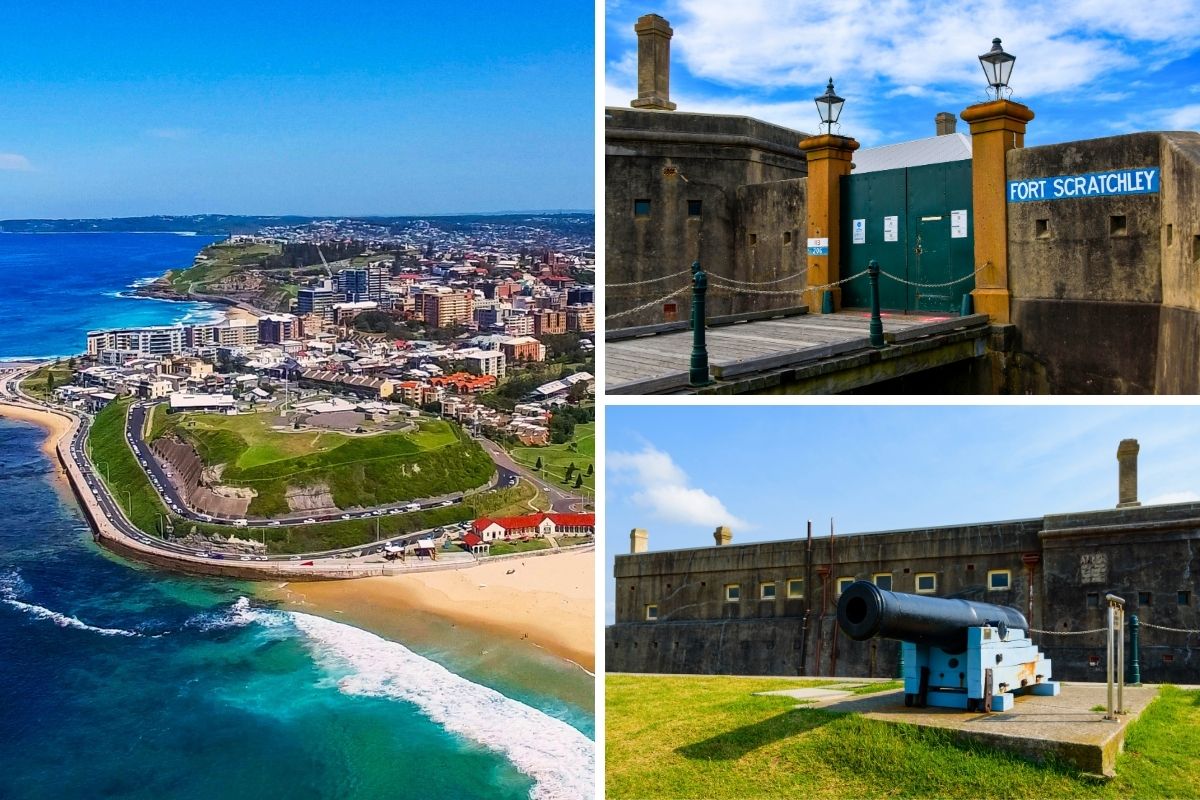 Enjoy the widespread views from Fort Scratchley, a historic defense structure that was built to fend off any possible attacks from Russian armed forces in 1882.
Located in the town of Newcastle, the fort is now a museum that covers the fascinating coal mining industry founded around the fort!
This was considered the first in Australia by the Europeans as well as the defense history and use of guns by its military men. Overlook the Hunter River, and take a look at the historic cannons along with a tour guide wearing historical dress.
27 – Get competitive in a wine barrel rolling game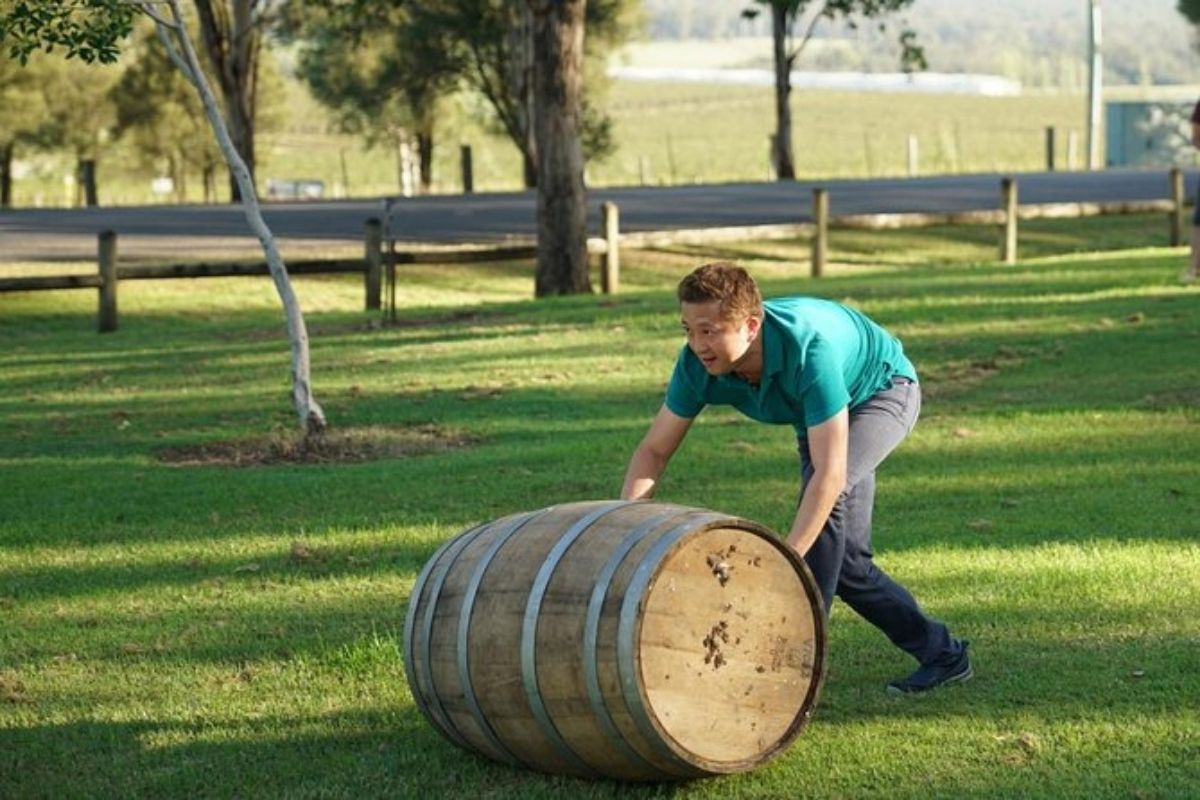 Maybe you've already drunk at the wineries, but have you played in them yet?
Participate in a unique game with your family or friend group when you play a rousing game of Wine Barrel Rolling! Learn how to play this game where essentially you compete with others to see who can roll their barrel the fastest and best down a hill!
Enjoy a free-spirited game with your group, and depending on your tour, you'll also receive coffee or tea, as well as a few photo ops to look back on for years to come!
28 – Stroll the historical and scenic Newcastle Memorial Walk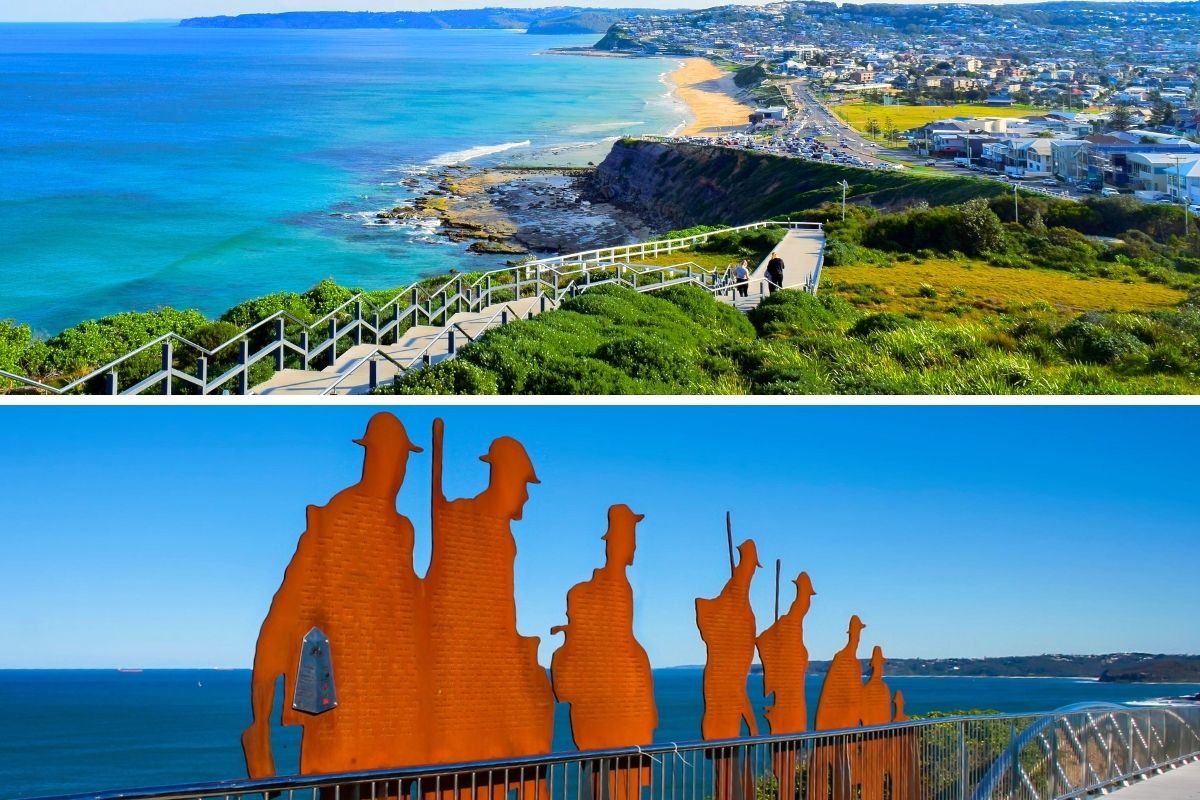 Take a reflective stroll down the Newcastle Memorial Walk, located in Newcastle between Bar Beach and King Edward Park on Strzelecki Headland.
It was built to honor the 108th anniversary of the ANZA landing at Gallipoli in 1915, and the people of Hunter Valley who served in their community and the country during WWl.
Make your way around the winding walkway, offering pristine views of the coastline, along the 450-meter-long bridge, with imagery of soldiers and family names. Linking both the Strzelecki Lookout and Bar Beach, the memorial walk also leads to a few beaches!
29 – Bring your kids to family-friendly wineries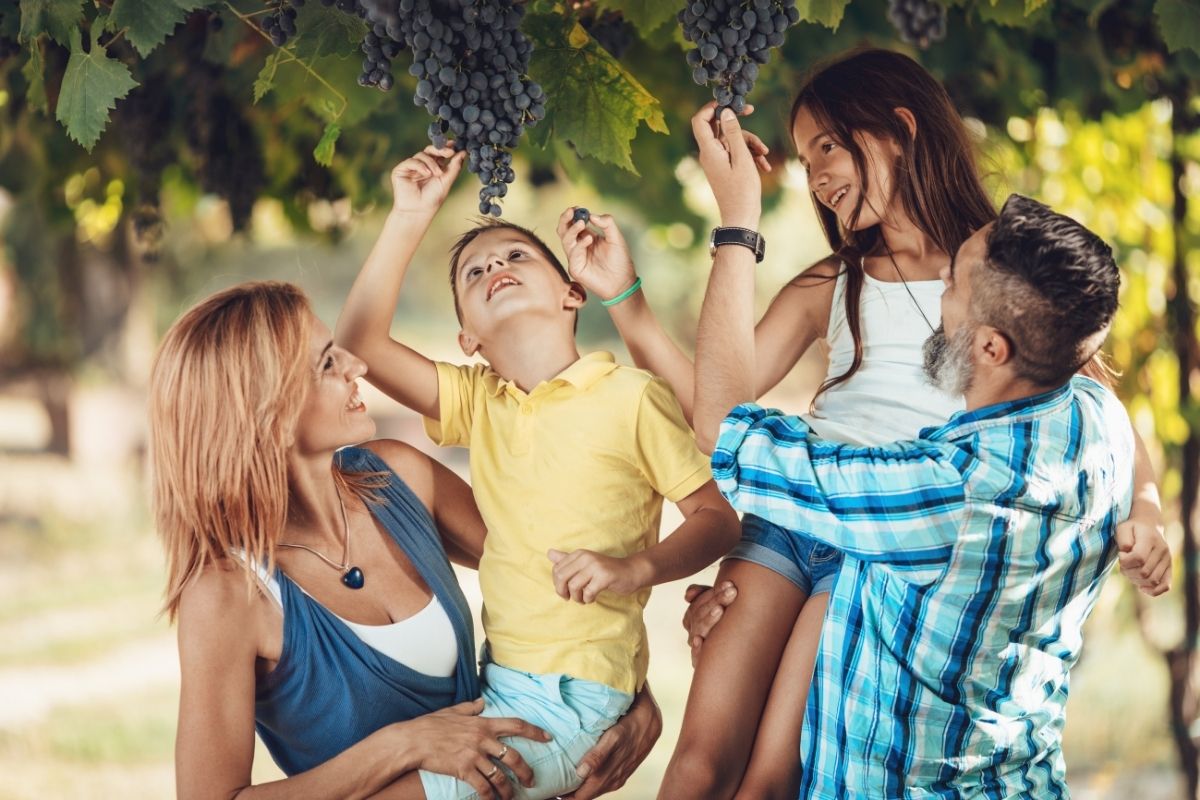 Check out Misty Glen Wines, serving the parents all the best varieties of Chardonnay, Semillon, and Shiraz, while entertaining the kids with outdoor games in the vineyards, coloring materials, and more! Plus, you can bring your dog, as this winery is pet-friendly!
Enjoy a winery experience with the kids at Tulloch Wines, where the kids can sit beside the parents, and sample a variety of non-alcoholic drinks!
Have the kids enjoy some gelato with their games and activities at Roche Estate, while the parents get to enjoy a lovely lunch with wine, and even a concert afterward!
30 – Ride through Oakfield Ranch with a camel ride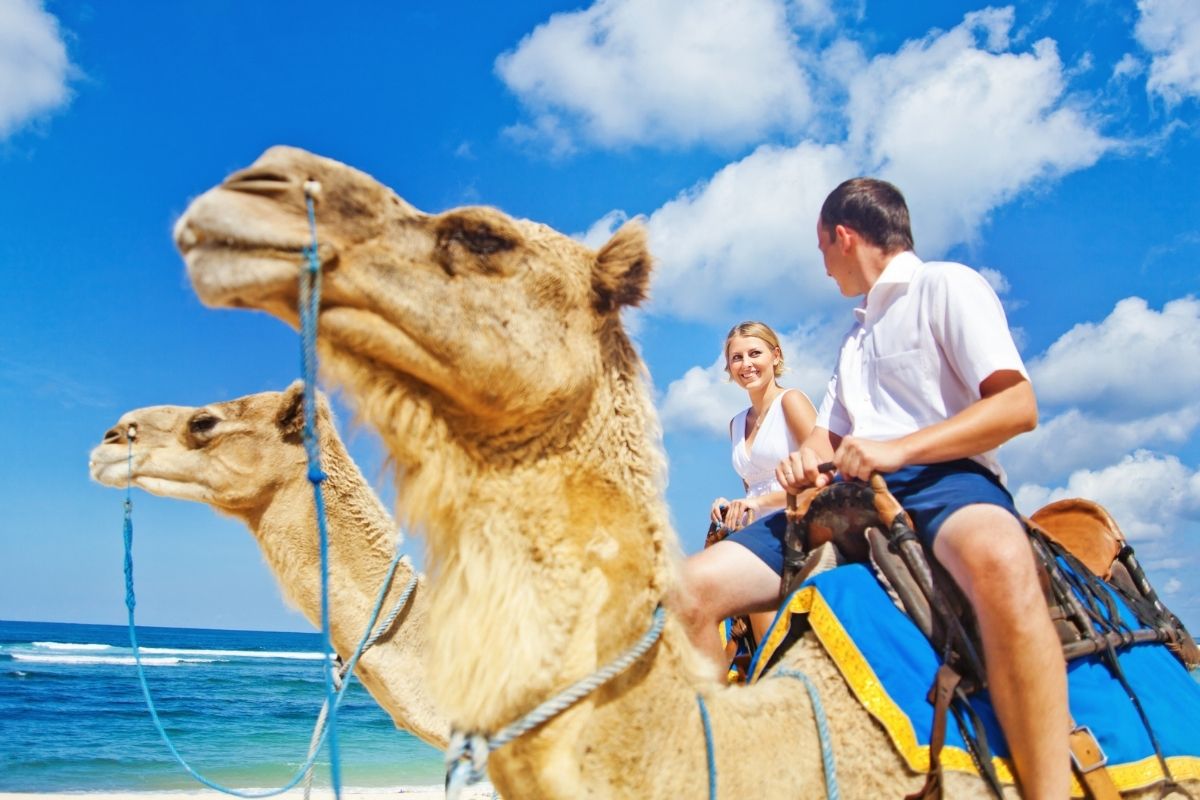 Make it to Oakfield Ranch located near the dunes of Port Stephens for a relaxing and magical Oakfield Ranch Camel Ride!
Choose between your choice of a 20-minute day ride any day of the week or a 60-minute romantic sunset ride, only available on Fridays and Saturdays.
Previous bookings are not necessary for the day rides, so you can just show up and be matched with your camel for your experience!
If you're looking to enjoy the 60-minute sunset camel ride, a reservation is required via text message to the number on the website.
31 – Get a sugar rush at a chocolate tasting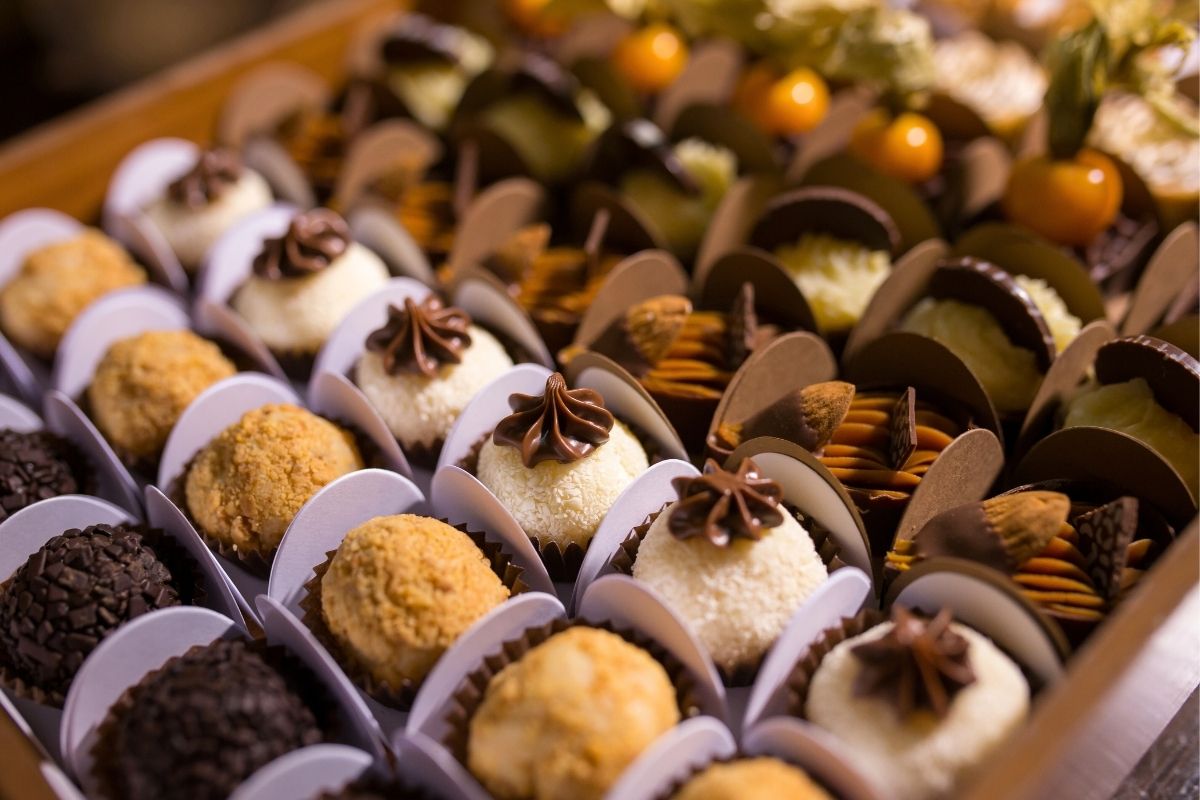 Although wine is the main culinary staple in Hunter Valley, try tempting your sweet tooth with a delicious chocolate tasting! With a side of wine or a beer, and cheese, you're set for a sweet and savory experience!
Check out group tours to a special chocolate tasting, or make your way to the chocolate hub, Hunter Valley Chocolate Company! Known for its rich chocolate samples, stop by to taste test the chocolatey inventions done by the resident chocolatier, right before your eyes!
Don't forget to grab some homemade gelato, fudge, hot chocolate, and more!
32 – Play golf with a view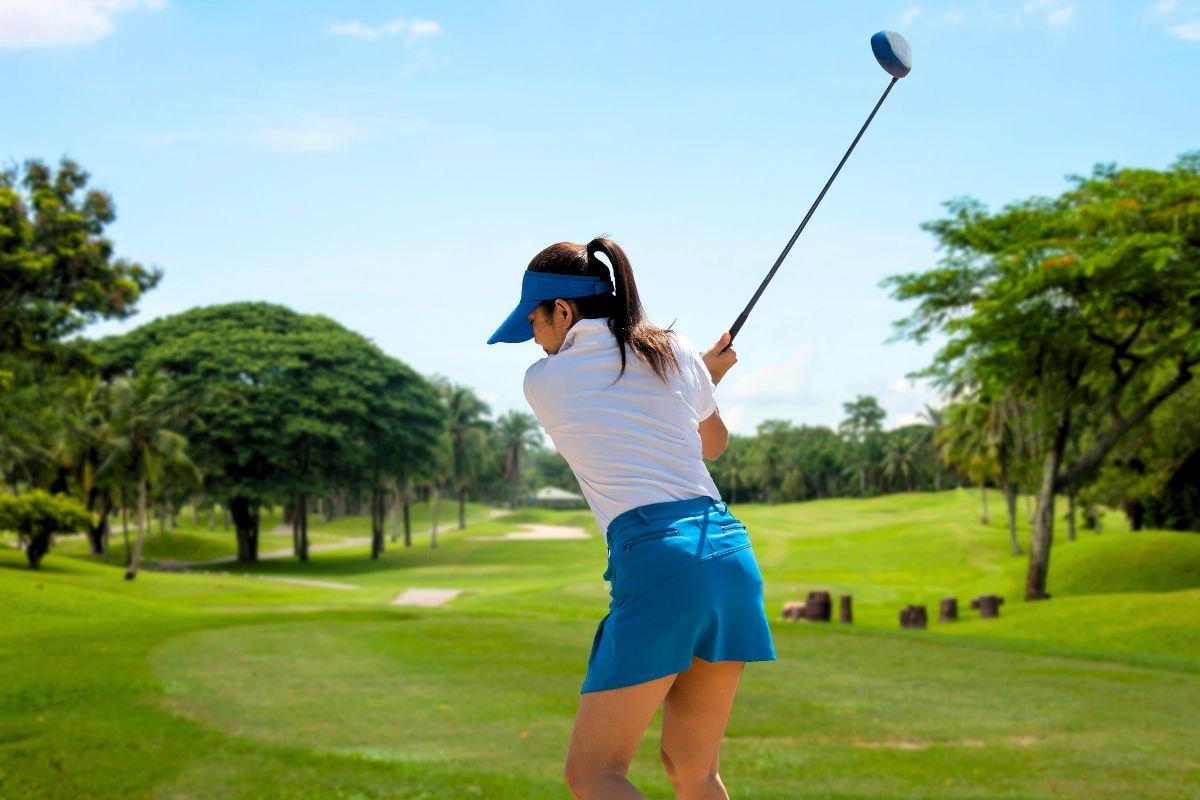 No matter your expertise level, consider visiting Hunter Valley Golf and Country Club for a perfect golf session out on the green! Offering golfing for every level, surrounded by vineyards, beautiful gardens, and luxury hotels and villas, this place is a no-brainer!
Speaking of wonderful views, Cypress Lakes Golf and Country Club is another spectacular golf course, surrounded by views of the Broken Back Range, and the picturesque vineyards! Need extra practice? Inquire about the golfing range or book a lesson!
Don't have time for a longer game? Visit the Branxton Golf Club offering a 9-hole course!
33 – Get acquainted with the local artists at the Museum of Art and Culture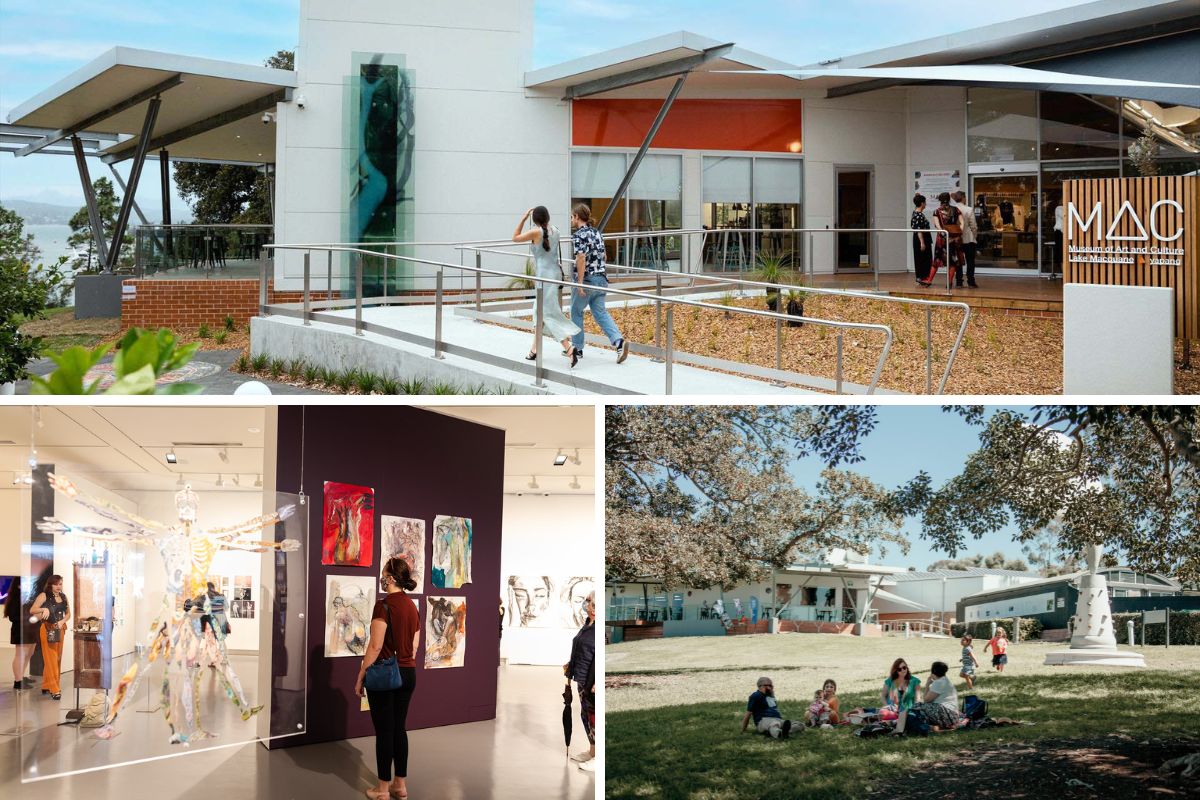 Also known as MAC yapang, the Museum of Art and Culture offers a closer look at local artists making a splash in Hunter Valley's local art scene.From paintings, drawings, and artful arrangements, the museum predominantly focuses on modern and contemporary art pieces. Get in on a free 20-minute tour around the museum, available every Wednesday starting at 11:50 AM!
Have lunch on the panoramic terrace of Three Bears Cafe, or enjoy a visit through the artistic Sculpture Park, where you can sit down for a bit, and enjoy a snack or light lunch beside a masterpiece!
34 – Get the taste of Hunter Valley in a food tour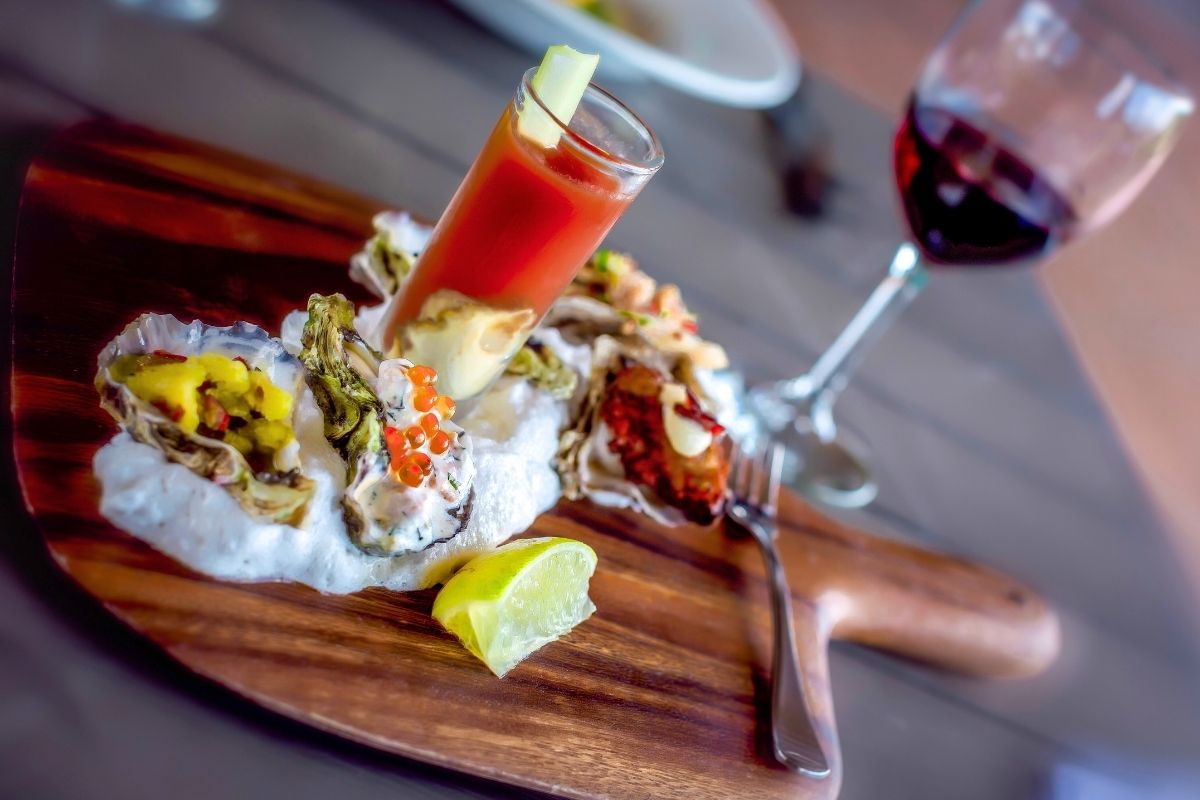 Sink your teeth into the many flavors of Hunter Valley, from creamy cheeses and outstanding dairy products to rich chocolate and world-class wine.
Book your seat for a 3-hour long foodie experience, stopping by a few artisanal shops, wineries, and distilleries around Hunter Valley, offering the best local products!
Best of all, you don't have to worry about how you'll get from place to place as your package includes a driver, comfortable transport, and all the delicious snacks you'll be taste testing along the way.
Food tours start at $90 USD.
35 – Order a scone and enjoy the views at Inner Light Tea Rooms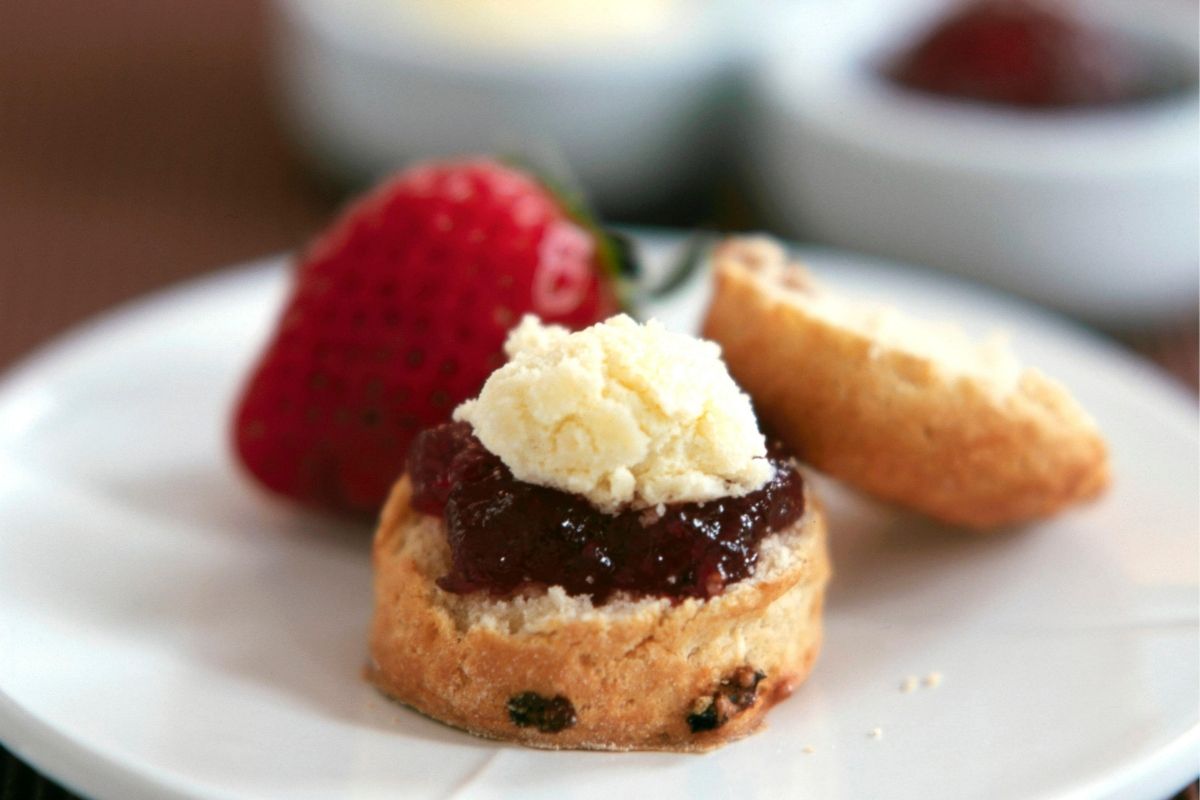 Visit for the views and stay for the food at Inner Light Tea Rooms, a heritage-listed cafe with 20 years' worth of serving the community of Hunter Valley! Equipped with soaring reviews and quality foods, order their famous cream-filled scones!
With expansive views of the beautiful Shoal Bay, Inner Light Tea Rooms offers delectable breakfast and lunch options in a relaxed and scenic space with reasonable prices.
Their menu also offers gluten-free options and vegan as well. Though they don't offer alcohol, you can bring yours in!
Make sure to book your table in advance online!
36 – Bring your market tote to the best markets
See the best artisanal works at Handmade in the Hunter Markets, taking place every 2nd and 4th Saturday of the month! Be amazed at some of the local paintings, pottery pieces, leather goods, and more created and sold, which make perfect souvenirs!
Laguna Markets is another winning market that sells organic fruits, vegetables, and other local produce alongside jewelry, home goods, and clothes. Stop by on the 3rd of every month!
Buy a delicious sourdough bread and jam for breakfast at Wollumbi Village markets, offering a staggering 100 stalls, mostly selling delicious cheeses, produce, and gourmet groceries!
37 – Release any frustrations with some grape stomping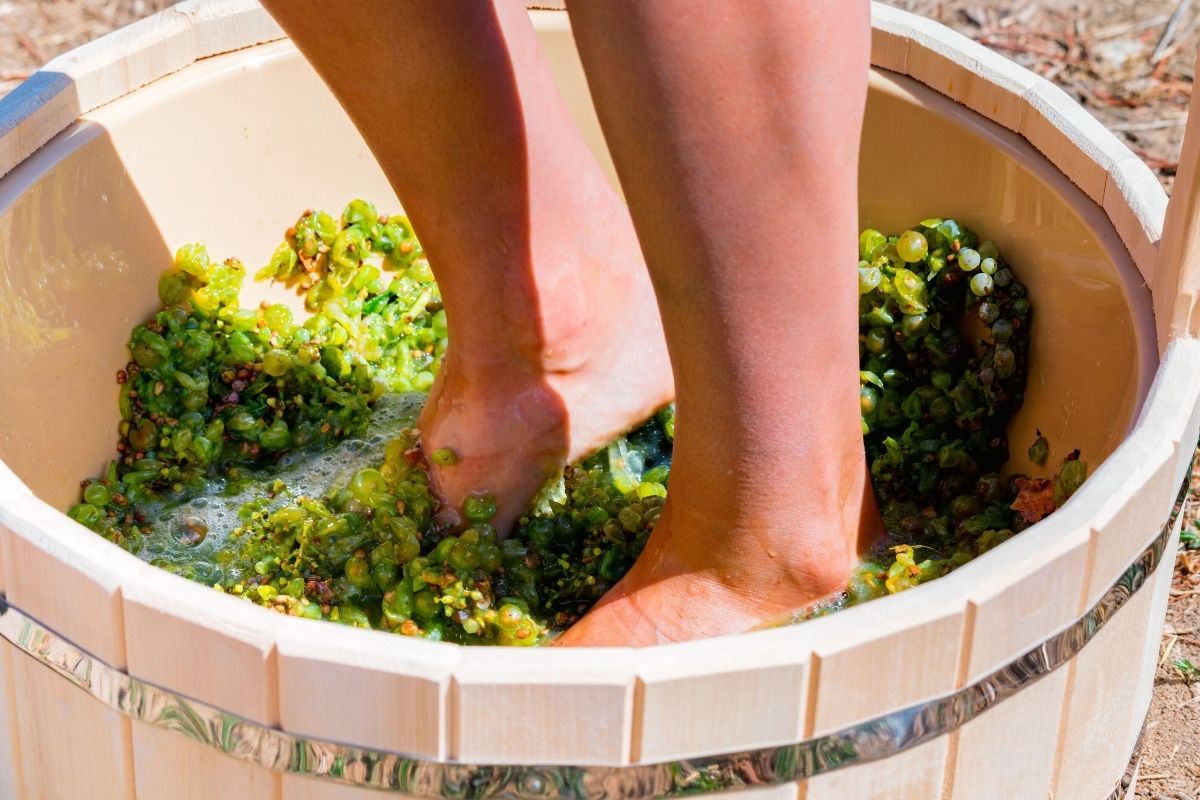 Participate in the time-honored tradition of grape stomping in the stunning vineyards of Hunter Valley!
Get your feet dirty as the barrel fills up with local grapes inside the wooden barrel to crush grapes the way they used to back in the early days! Practice the ancient methods of wine-making in the best Australian wine region, as you learn about how the process has modernized over the years!
As part of the activity, you'll also receive a few samplings of the signature wine of the house, and even get a few awesome photo ops!
38 – Meet some koalas at Port Stephens Koala Sanctuary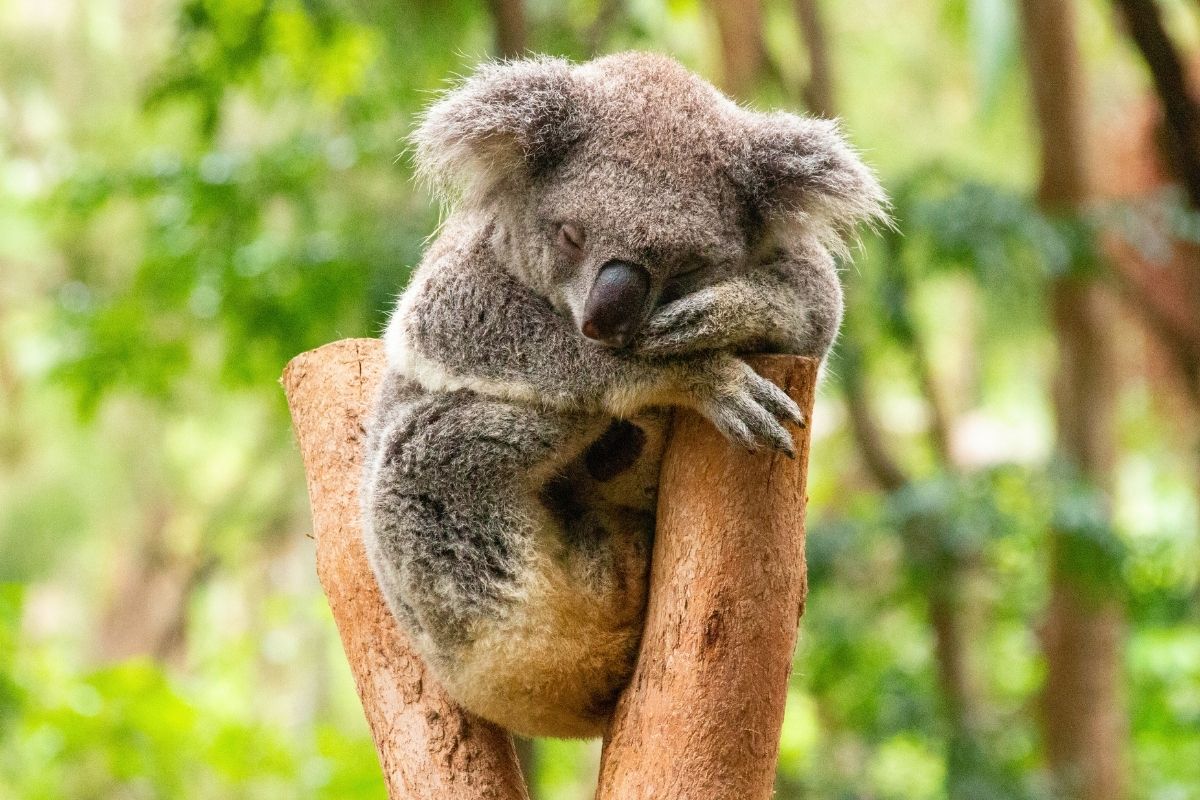 Visit the award-winning Port Stephens Koala Sanctuary where you'll come face-to-face with the furry koalas in their natural habitat while immersing yourself in the beautiful bushland nature of Port Stephens.
During your visit, walk the Sanctuary Story Walk, a 250-meter-long path designed to point out different parts of the koala's habitat, and for a bird's eye view of the whole space, walk the Sanctuary SKYwalk, which is an elevated 225-meter-long path!
Step inside the koala hospital and peek through the window as vets care for the animals in real time!
Admission starts at $28 AUD.
39 – Enjoy to the fullest the best restaurants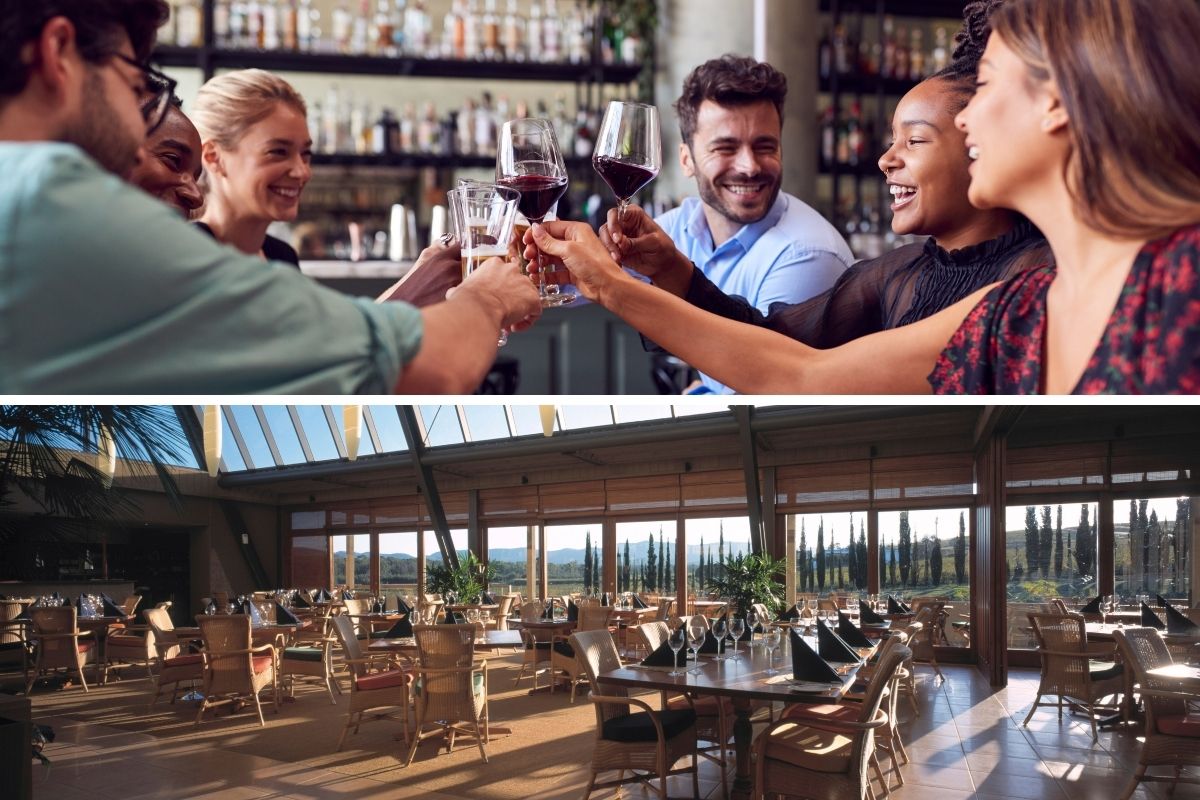 Take pleasure in the dining options at the world-class Esca Bimbadgen Restaurant in Pokolbin! Enjoy their world-class winery serving spectacular wines and offering a taste of modern Australian cuisine prepared with locally sourced ingredients.
Relish an experimentally delicious gourmet dining experience at EXP. Restaurant, offering a 5-8 course tasting meal where you'll sample the best food and wine pairings.
Ready to dine outdoors? Visit Margan Restaurant & Winery, and indulge in a homemade meal on the white-clothed tables, with stunning views of the Broken Back Range! Enjoy the garden-to-plate menu, customizable to vegans, vegetarians, and pescatarians!
Those looking for a romantic dining spot, Spicers Vineyards Estate – Botanica Restaurant won't disappoint with its dreamy vineyard views, delicious modern Australian-French fusion cuisine, and wine options!
40 – Swerve on the dirt tracks while rally driving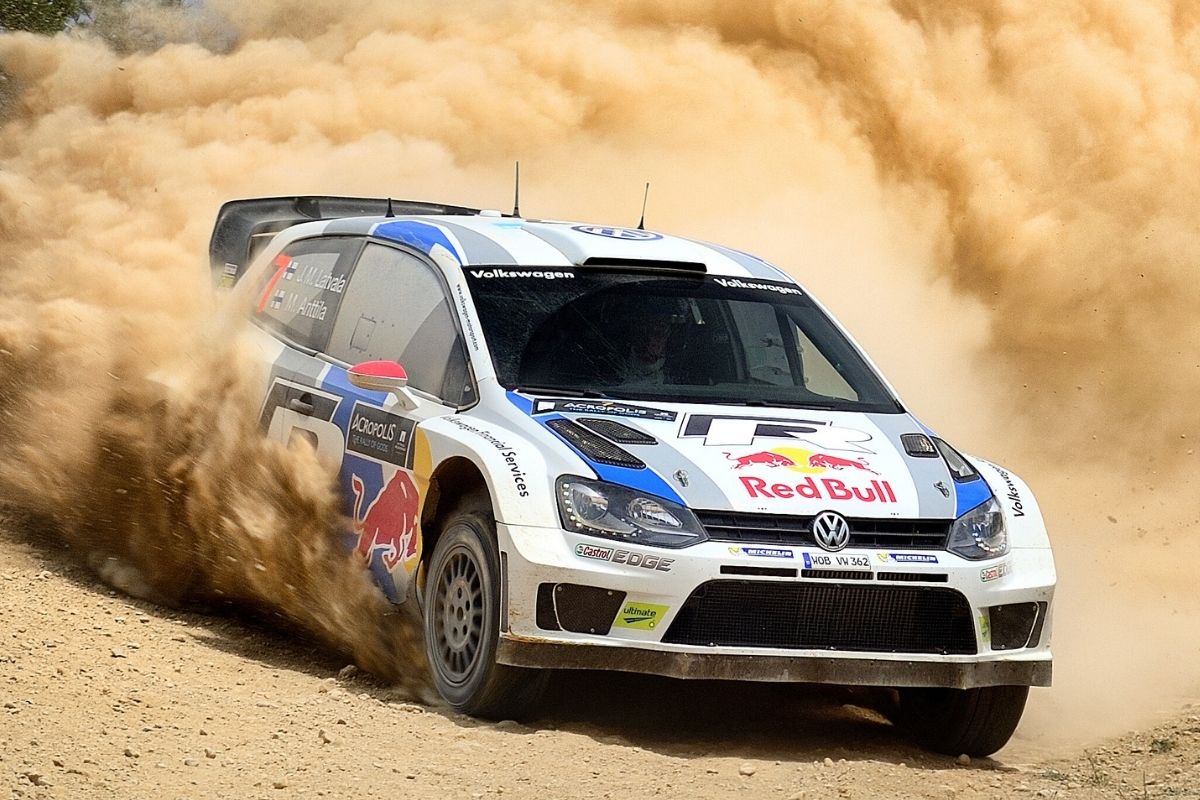 Visit the best dirt rally driving course in Hunter Valley, and drive in the front seat of a rally car with a professional, hanging on tight for the ride of your life! Rally cars are racing cars designed to be lighter than normal cars to go faster.
Before hopping on, learn the recommended safety tips, and some insider techniques to try while you're out there! Whether you drive yourself or hop on as a passenger, you will no doubt enjoy the thrill that comes with driving the dirt rally course for 5-8 laps!
41 – Take the scenic road down Tourist Drive 33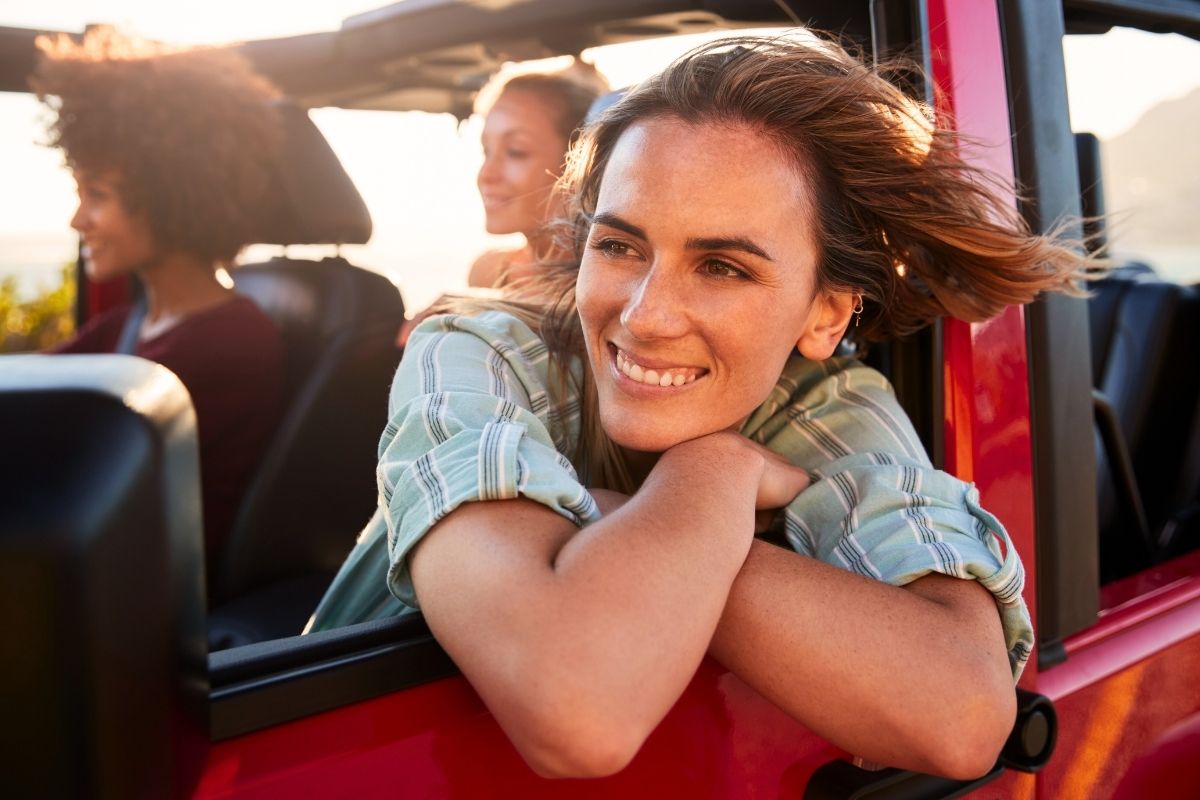 Hit the scenic road, and make your way around Hunter Valley when you drive down Tourist Drive 33, a panoramic drive that originally connected Sydney to Hunter Valley in the 1800s.
Hop in your car, and explore all the incredible natural sights to see in New South Wales, from sandstone gorges to beautiful mountains, lakes, and more!
Stop by the vibrant small towns along the way, each one offering fun activities like horseback riding, art galleries, locally produced fruits and vegetables for sale, wonderful restaurants and cafes, and even a few pearl and oyster farms with tours!
42 – Listen to live music surrounded by vineyards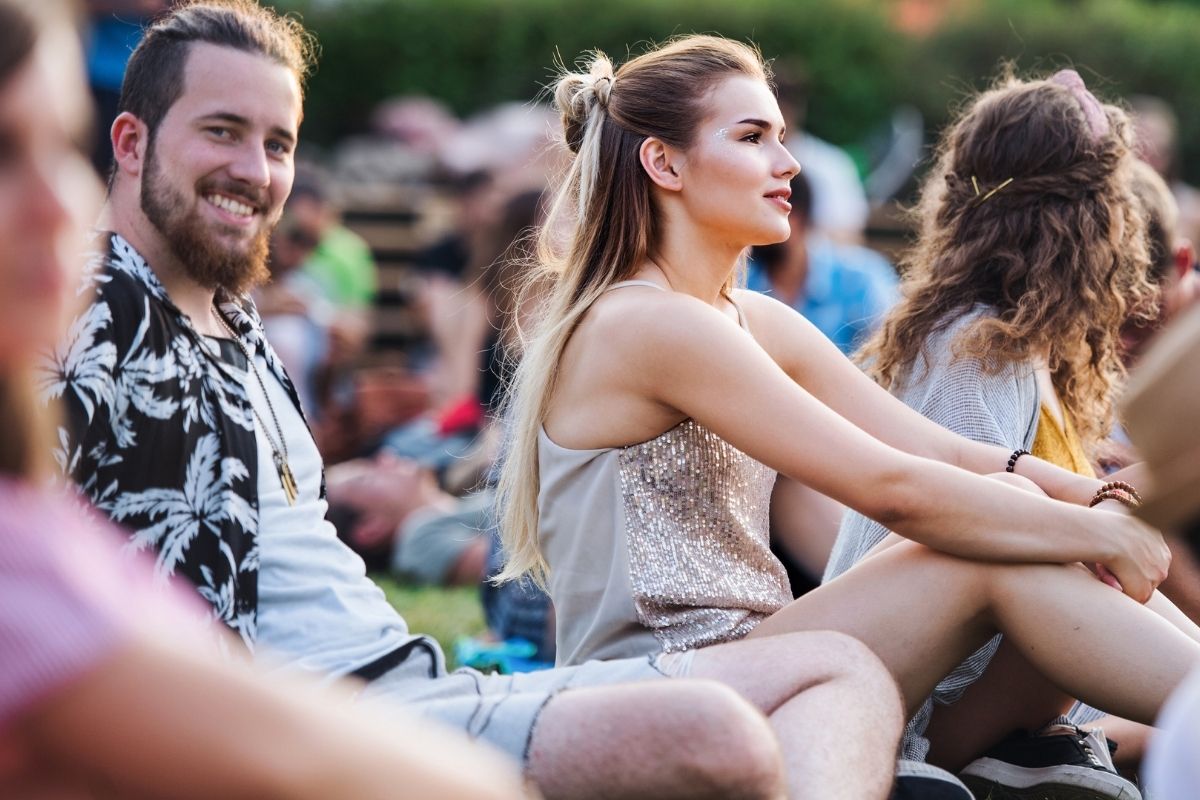 Enjoy a concert in the visually beautiful Bimbadgen Estate! Relish the concert series "A Day On The Green" where you'll find tons of musical acts planned for a great time!
Upgrade to The Vineyard Lounge for an all-inclusive food and beverage pack with your concert experience! Stopping by on a Friday? Stay for the "Live Music Fridays" going on between 4:30 PM – 8:00 PM.
See what concerts are planned at Roche Estate! Offering a world-class amphitheater in their winery's backyard, you'll be in for a night to remember in one of Hunter Valley's main music venues!
43 – Peek at the history of Maitland Gaol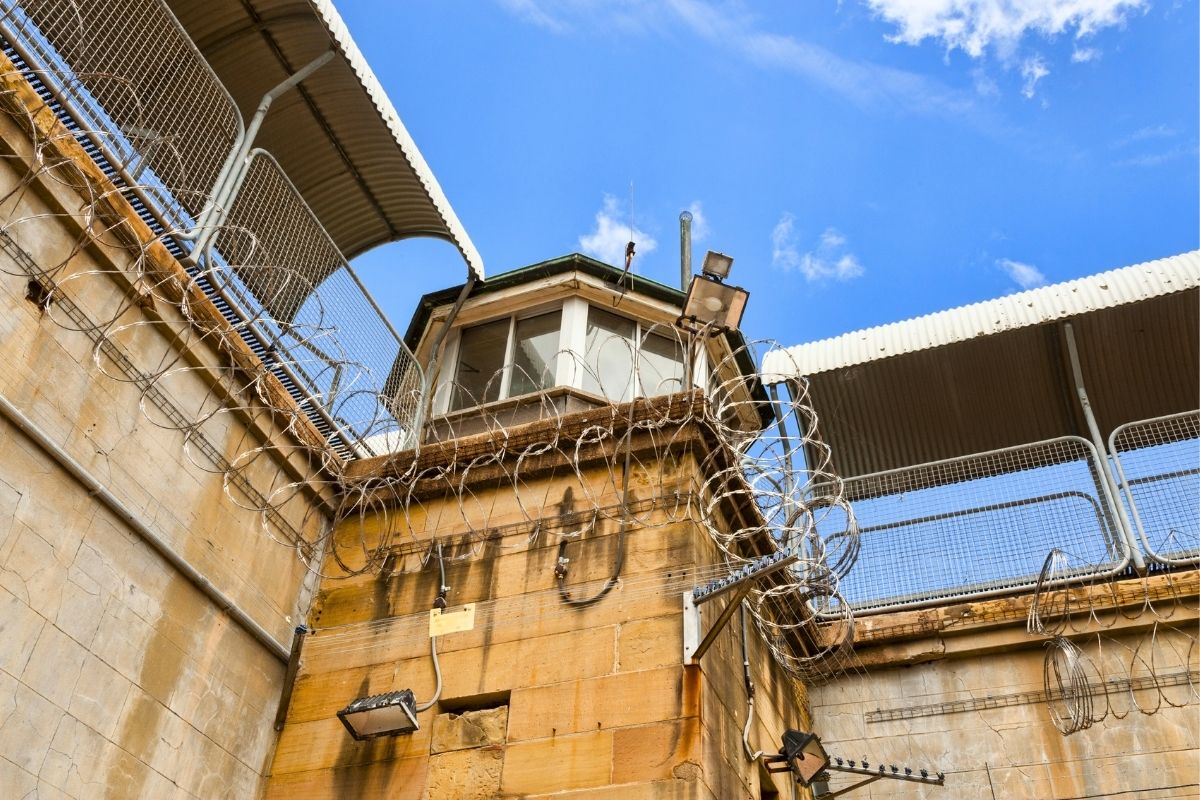 History buffs, make sure to visit Maitland Gaol, a former jail located in East Maitland. Step inside the historic 150-year-old jail, and learn about the high-security jail that took in its first few inmates in 1844!
Set off on your exploration with a guided tour, sharing all the fascinating facts of the jail, or for those looking for a spookier experience, consider a ghost hunting experience or a paranormal tour!
Check out the different events taking place at the jail, like the Bitter & Twisted Festival, which is a boutique beer festival, and even a few concerts!
44 – Sip on the best brews at a beer tasting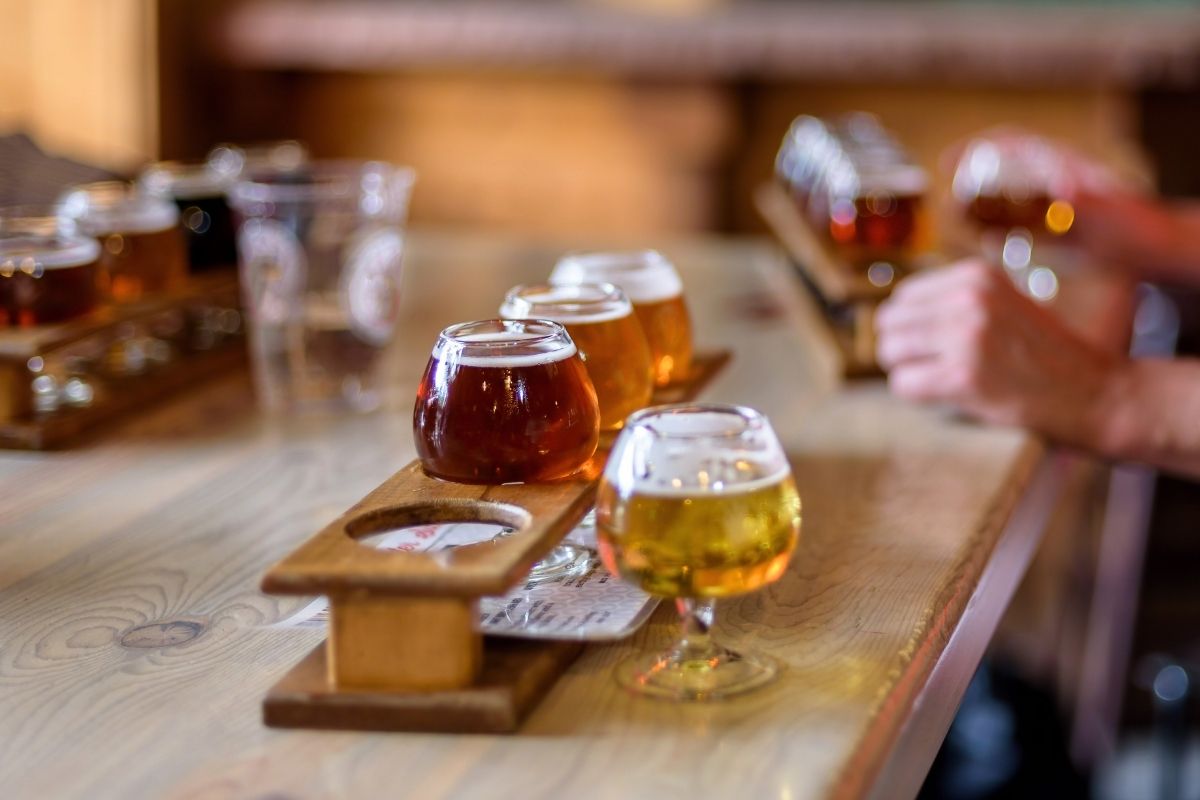 Step into Hope Brewery and relish the different brews concocted on site of this famous winery! Pick your poison from the 22 beers and ciders on tap, and a few other cocktails if you want to switch it up!
Enjoy the variety of beers and ciders with a paddle (flight) of 4 samples at IronBark Hill Brewhouse in Pokolbin, and if you're hungry, you're in luck! Order a delicious serving of house-made pasta, pizza, fish tacos, or a cheese board!
FogHorn Brewery at the Mighty Hunter Valley in Nulaba is where you can catch sight of the beer-making process and try a variety of beers including the crowd-favorite Ginger & Chili and the Slaked Magpie Vanilla Porter!
45 – Make it a movie night at Heddon Greta Drive-In Theatre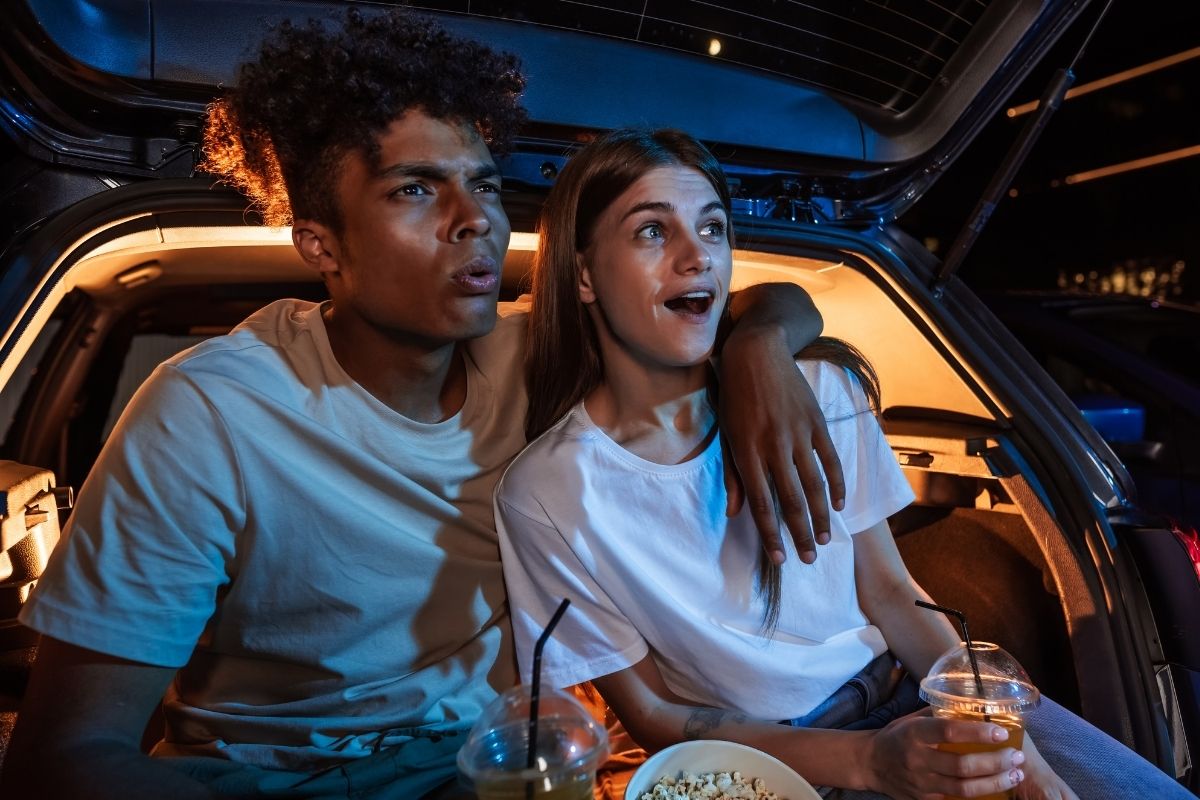 If you're in town on a Friday or Saturday night, enjoy a classic movie or the newest blockbuster at Heddon Greta Drive-In Theater!
To see what's on, make sure to head to their website where you'll also learn about the rules of the drive-in such as how to listen to the movie in your car, what areas are reserved for smokers, and where to park.
To book your tickets, make sure to purchase online, and to buy any food, make sure to make your purchases via the drive-in's website!
46 – Pamper yourself at the spa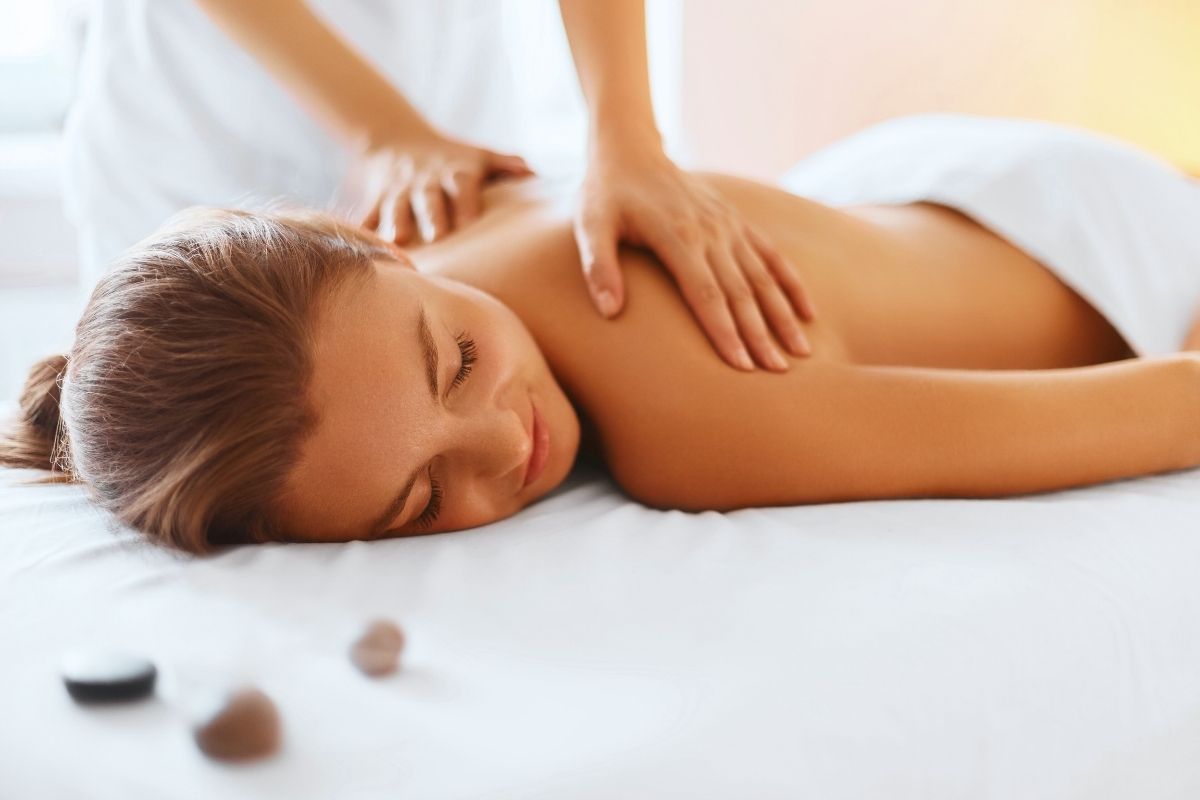 Appreciate the wellness therapies at Heavenly Hunter and treat yourself to a rejuvenating therapeutic massage, or a wonderful facial or feet massage to compliment your experience.
Melt away any tensions with the holistic treatments at The Spa at Château Élan Hunter Valley with unique balneotherapy (a coconut milk-infused whirlpool), a volcanic warm stone massage, or a sugar glow exfoliation for the ultimate skin treatment.
Enjoy the beauty treatments at Ubika Spa, offering hair styling and color, and hair masks for maximum hydration. Give your feet the relaxing treatment they deserve with a pedicure!
47 – Experience glamping in the wilderness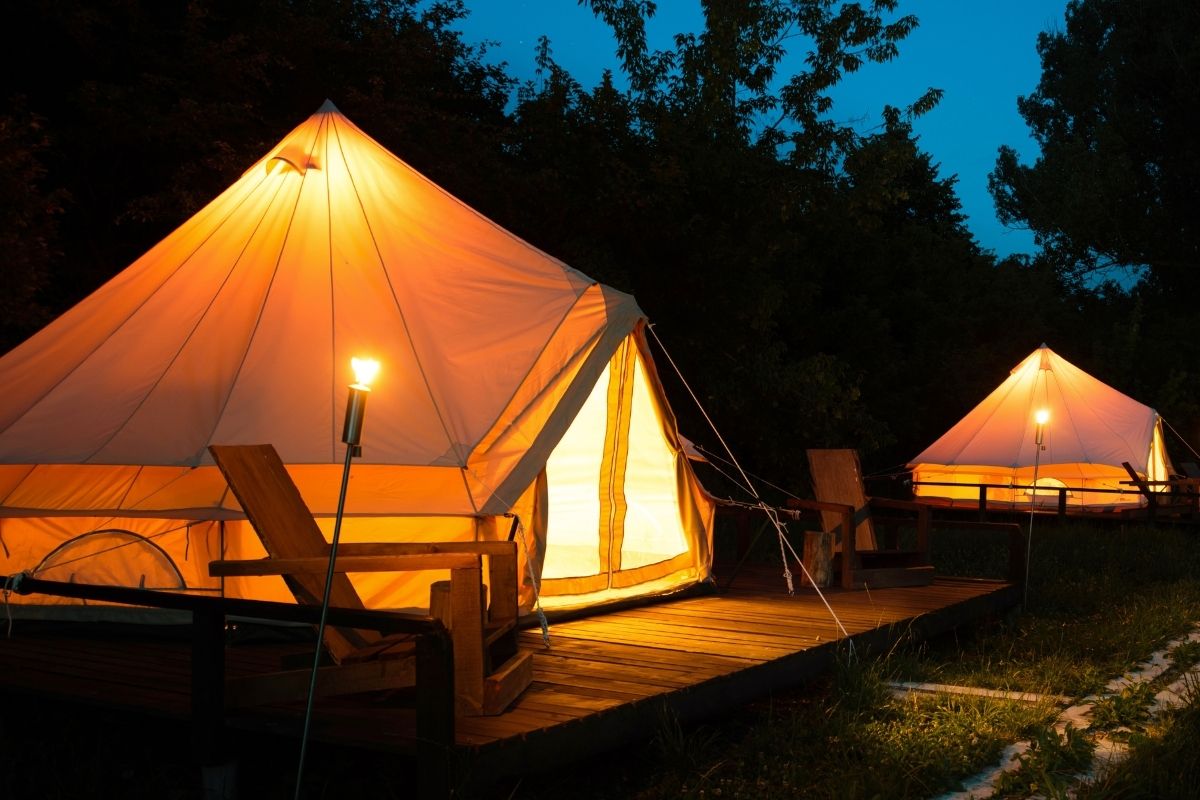 On Bell Glamping features stays in a luxurious tent surrounded by a garden and pristine nature! Enjoy Wi-Fi, a small kitchenette, plus a clean bed with fresh linens and towels. Don't want to cook? This glamping option comes with breakfast!
Stay in the glamourized tent at Two Fat Blokes Moroccan Glamping, offering a beautiful deck with river views, a firepit, and snacks upon arrival.
How to get to the Hunter Valley?
The closest airport to get to Hunter Valley is the Newcastle International Airport, which is around 1.5 hours away from Hunter Valley, or Kingsford Smith International Airport in Sydney, which is 3.5 hours away.
You can also join one of the many Hunter Valley tours from Sydney, offering convenient transportation and a well-planned itinerary for exploring this enchanting region.
Where to stay in the Hunter Valley?
Check-in at Leogate Estate Villas, and be only 2.4 miles away from Hunter Valley Gardens and a few minutes away from some of Hunter Valley's world-class wineries! Enjoy the spacious villas with incredible views of the rolling hills and vineyards nearby. This hotel offers breakfast to its guests including gluten-free options!
Spicers Guesthouse is another wonderful hotel offering incredible amenities and a few bonuses, including an outdoor pool, outdoor lounge spaces overlooking the green hills around, a world-class dining restaurant, and much more! Admire the classical yet modern decor inside the hotel and the incredible attention to detail from the staff.
Enjoy your stay at The Carriages Boutique Hotel and Vineyard inside their classically decorated hotel, featuring wifi in all rooms, private bathrooms, an outdoor pool, and a tennis court! Only a few minutes walk is the famous Roche Estate and delicious restaurants.
Where to go next?
Ready to see the other incredible places to visit in Australia? We got you covered!
Go south and see the incredible things to do in Sydney, from climbing the incredible Harbour Bridge to taking the city's skyline on a boat tour! Check out Canberra, Australia's capital city, and explore Parliament House, followed by a tour of the National Museum of Australia!
Head north to see the whales make an appearance from the scenic SkyPoint Observation Deck on the Gold Coast, and why not? Sign up for a wakeboard session at Gold Coast Wake Park!
Make your way through the colorful HOTA – Home of the Arts in Surfers Paradise, and don't forget to take your picture of the Surfers Paradise sign, or else were you there?
Enjoy a spectacular lunch with a view of the Brisbane River in Brisbane! Then walk it off in the picture-perfect manicured gardens of the Mount Coot-Tha Botanical Garden.
Final thoughts
We hope you enjoyed our list of the best things to do in Hunter Valley, from getting close to the koalas at the Oakvale Wildlife Park, to an escape to the region's best nature parks and devouring all the soft cheeses – your trip to Hunter Valley is looking very promising!
When will you be heading out? Let us know!
Happy travels!