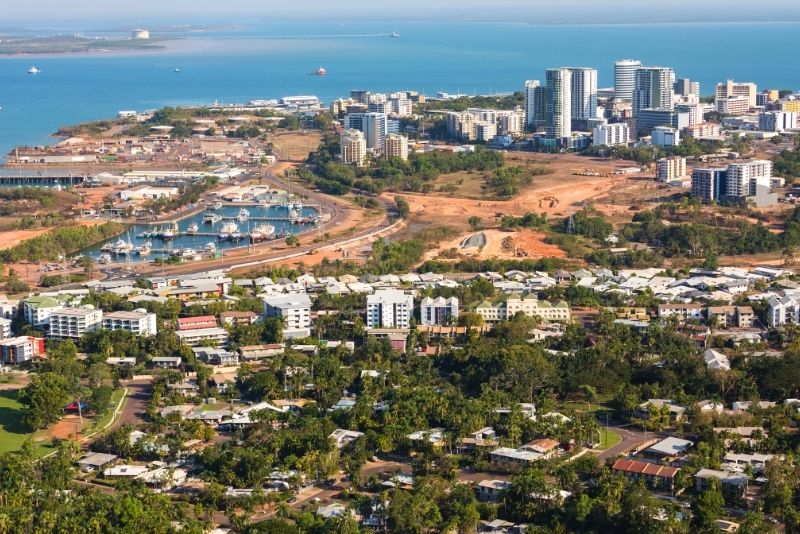 Australia's northernmost city perched in the warm tropical climate of the Northern Territory, Darwin has a rich history — being the traditional home of the Larrakia indigenous Australians, as well as the site of Australia's largest military attack.
A trip to the city will give you an opportunity to learn about the aboriginal Australians, try their traditional food and see ancient cave paintings. There is also a rich military history with many sites and artifacts from the 1942 air raids during World War II.
There's no shortage of natural wonders to discover in Darwin, such as feeding crocodiles and swimming in pristine waterfalls which are some of the things you can enjoy while in town.
Read on to find all the best things to do in Darwin when you take a trip to the capital of the Northern Territory of Australia!
1 – Swim with crocodiles at Crocosaurus Cove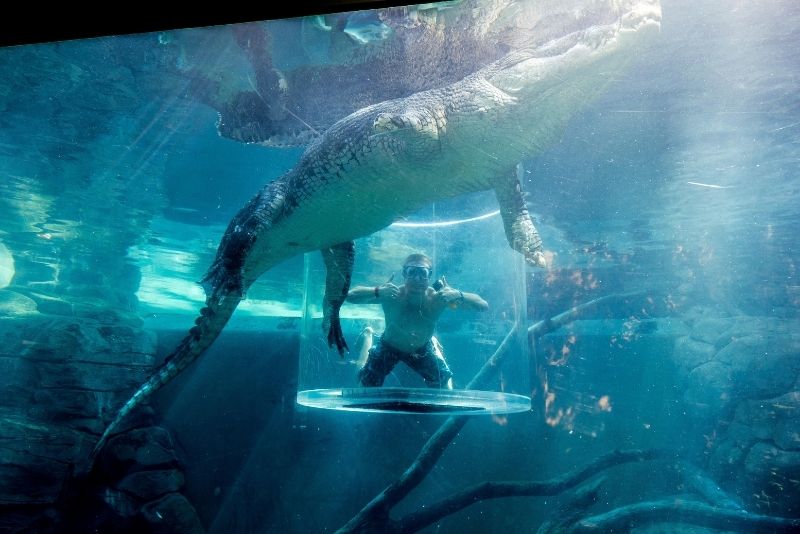 See the country's largest saltwater crocodiles, as well as plenty of other marine life at the world's largest display of Australian reptiles, Crocosaurus Cove right in the heart of the city in Darwin.
One of the most popular attractions here is the Cage of Death, which is the only crocodile dive in Australia, where you swim alongside these reptiles from the safety of a glass cage.
2 – Head over to Mindil Beach
People flock to this shoreline in the Darwin suburb of The Gardens for a perfect sunset view in the central business district.
It also hosts the Mindil Beach Sunset Markets during the dry season between May and October. With over 200 stalls of local craft and produce, as well as live entertainment, the markets are open from 4 p.m. to 9 p.m. on Thursdays and Sundays.
3 – See the city on a hop on hop off bus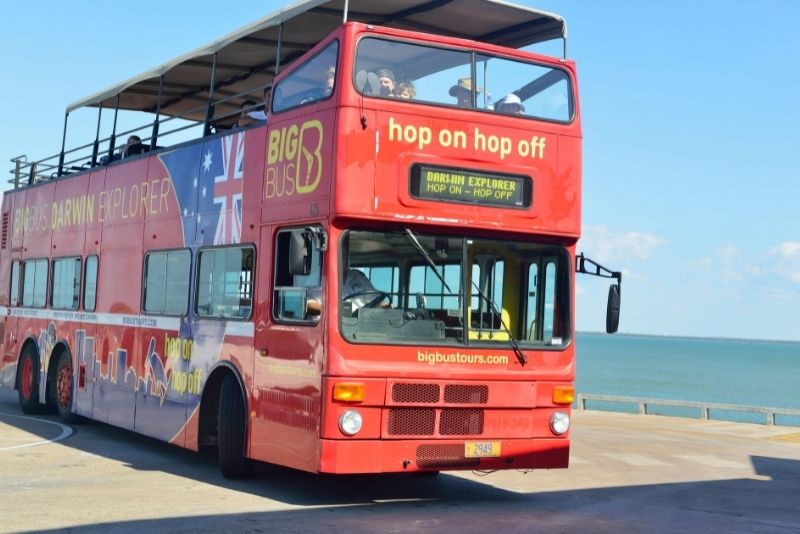 This sightseeing double-decker bus stops at key landmarks around the city, with tickets valid for 24 or 48 hours — a great way to see a lot of the city in a short period of time.
These hop-on-hop-off buses give you access to two different routes, stopping at all the important places around town such as the waterfront precinct and the Darwin Military Museum.
4 – Wander through the George Brown Darwin Botanic Gardens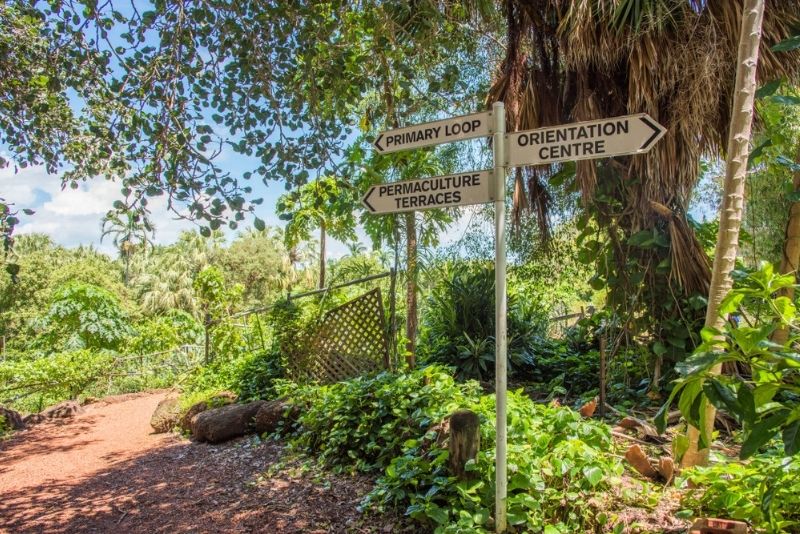 Located 2 kilometers north of the city, this 42-hectare botanical garden houses mostly native Northern Australian tropical plants.
There's a free self-guided walking tour that teaches you all about the various tree species, as well as the traditional uses of native plants by the indigenous people.
5 – Visit the Museum and Art Gallery of the Northern Territory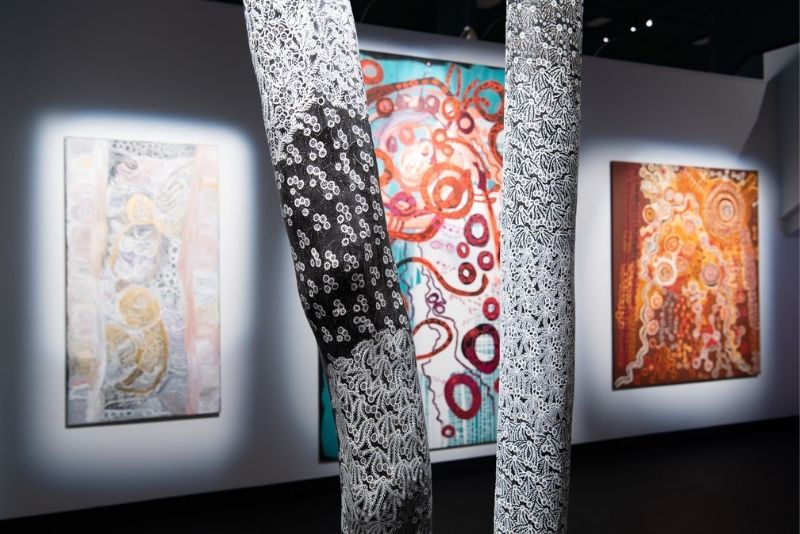 Located in Bullocky Point in Darwin, the MAGNT is one of the best places to see the creations of local artists. It has a vast collection of cultural and scientific artifacts from the Northern Territory of Australia.
The gallery also has exhibitions that showcase the history of flora and fauna and other scientific discoveries in Darwin.
6 – Jump on a World War II walking tour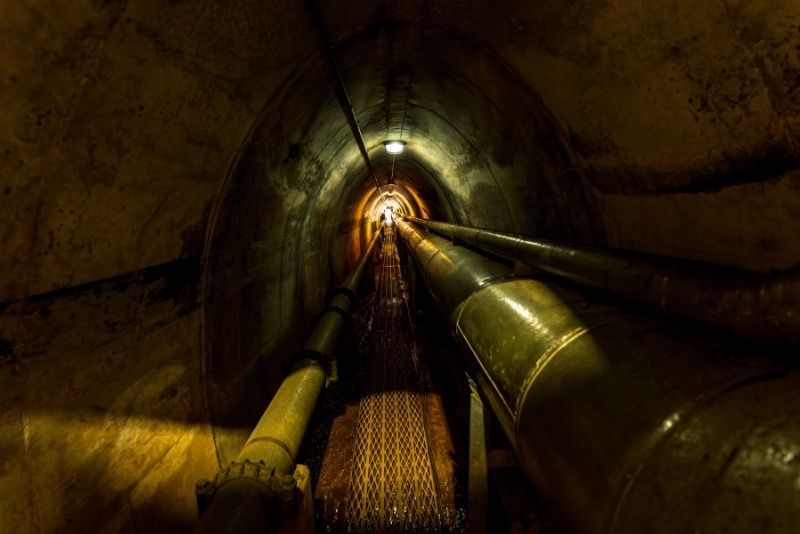 In 1942, Darwin was struck by Japanese air raids in the heart of World War II. A walking tour or a boat tour takes you across all the key sites of the raid, as well as teaching you all about Darwin's role in the war.
Also on a boat tour, you'll see East Point Military Precinct, which is Australia's only wartime battleground, WWII Oil Storage Tunnels and other important military sites.
7 – Relax in the shade of Berry Springs Nature Park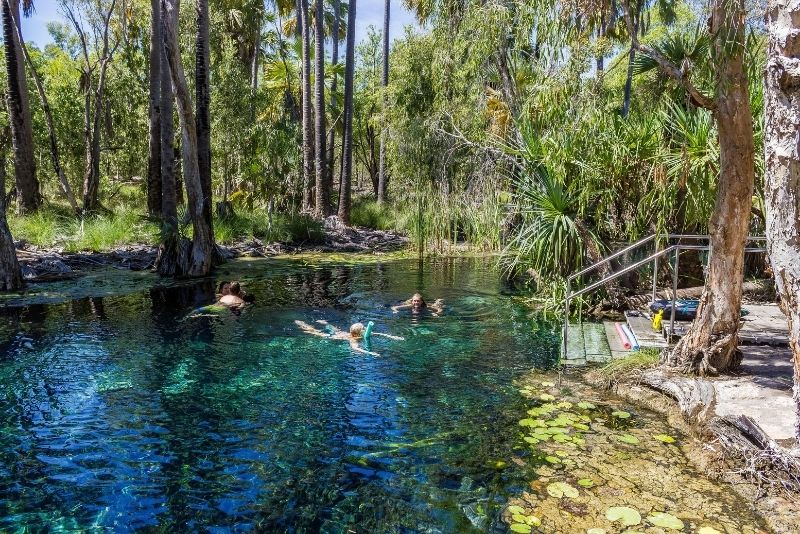 A huge reserve filled with native flowers and birds, Berry Springs has a large number of military artifacts from when there were 100,000 armed soldiers based there during the Second World War.
March to April is one of the best times to visit when all the flowers and plants come into bloom!
8 – Unwind on a Litchfield National Park day tour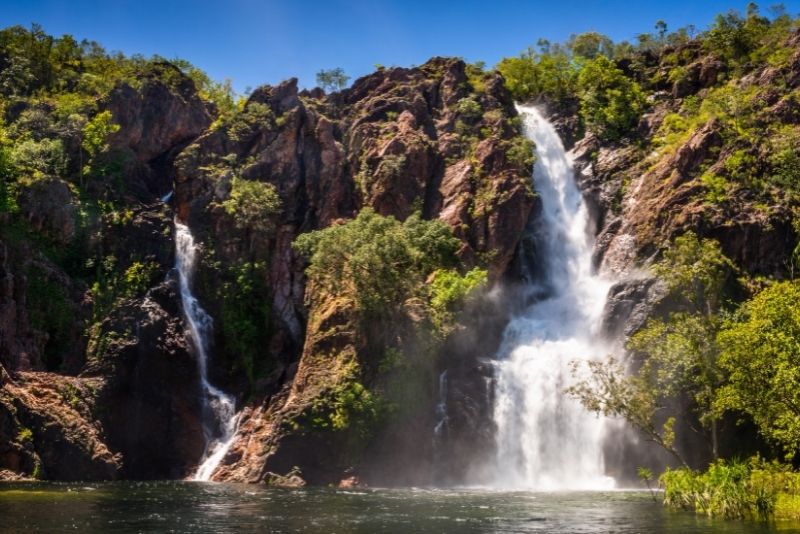 A popular day trip from Darwin, Litchfield National Park, also known as the Lost City, is full of waterfalls, rock pools and rivers.
You can hop on an early morning tour to avoid the crowds and be taken on a cruise down the Adelaide River that passes through the national park, stopping at Buley Rockhole, Wangi Falls and Florence Falls along the way.
9 – Hop on a jet ski at Darwin Ski Club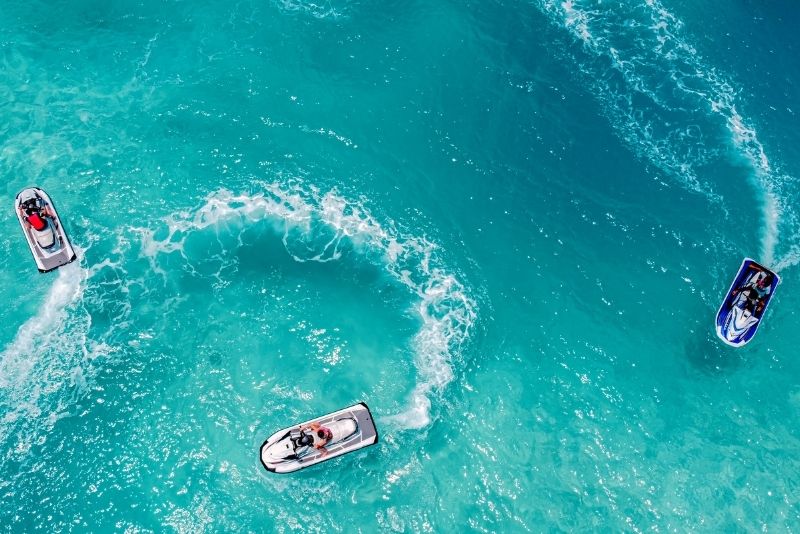 If you want to get involved in water sports in the Northern Territory of Australia, Darwin Ski Club is one of the best-known places to go.
At the club, you can hop on a wakeboard, go scuba diving or even paddle a canoe. There's also a waterside restaurant and bar for refreshments after a day on the water.
10 – Get some waves at Darwin Waterfront Precinct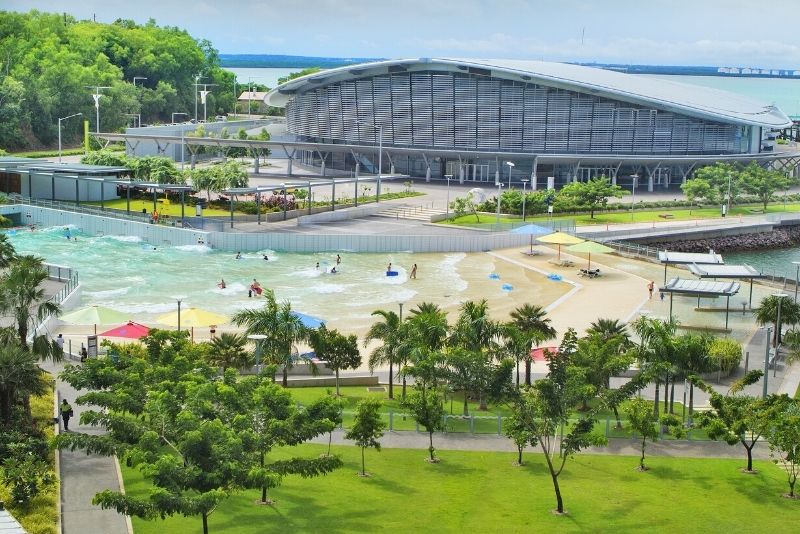 The Darwin Waterfront Precinct sits right alongside the city and is home to Recreation Lagoon, Darwin's only man-made lagoon — with lifeguards from 9 a.m. to 6 p.m. It still contains marine life, but it is built to keep stingers and sharks out, keeping you safe!
There's also the Wave Lagoon, which covers 4,000 square meters of land and conducts regular wave programs for those who enjoy a light surf.
11 – Catch some dinner on a fishing charter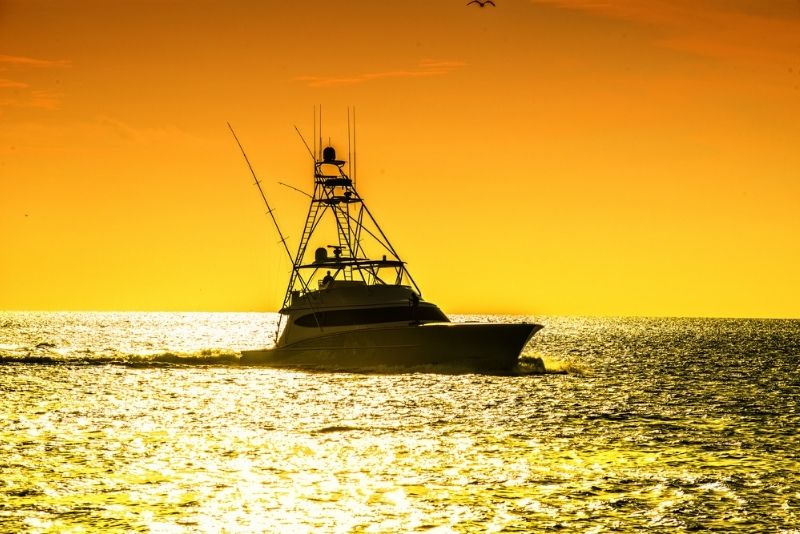 Darwin has a lot of great fishing spots and getting a fishing charter can help get you there quickly and catch some fresh fish.
You can hop on a 21-foot aluminum boat and be taken to all the best spots around town, with all the equipment needed at your disposal.
12 – Explore the Darwin Military Museum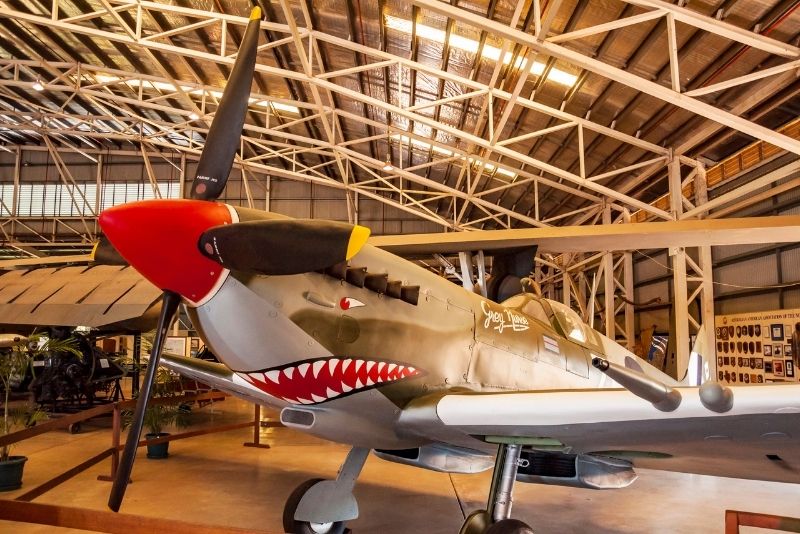 At the Darwin Military Museum, you'll be able to learn all about the city's involvement in the Second World War.
The highlight of a visit to the museum is the interactive "Defence of Darwin" where you can see what happened on the day 188 Japanese air bombers attacked the city.
13 – Leap into a jumping crocodile cruise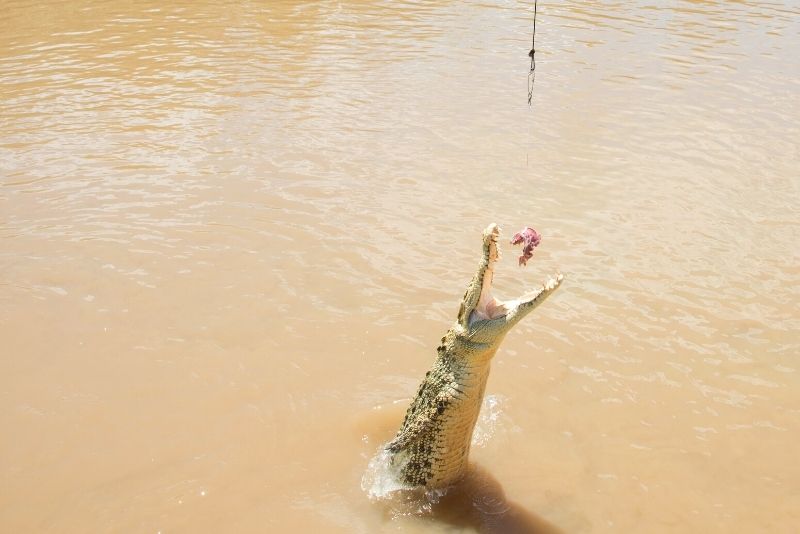 On an hour tour from Darwin along the Adelaide River, you'll be able to find the local jumping crocodiles in their natural habitat.
Transport to and from the city is included in the tour package, and you'll get to see the crocodiles leap out of the water as they are fed!
14 – Head out on a Kakadu National Park & Nourlangie day tour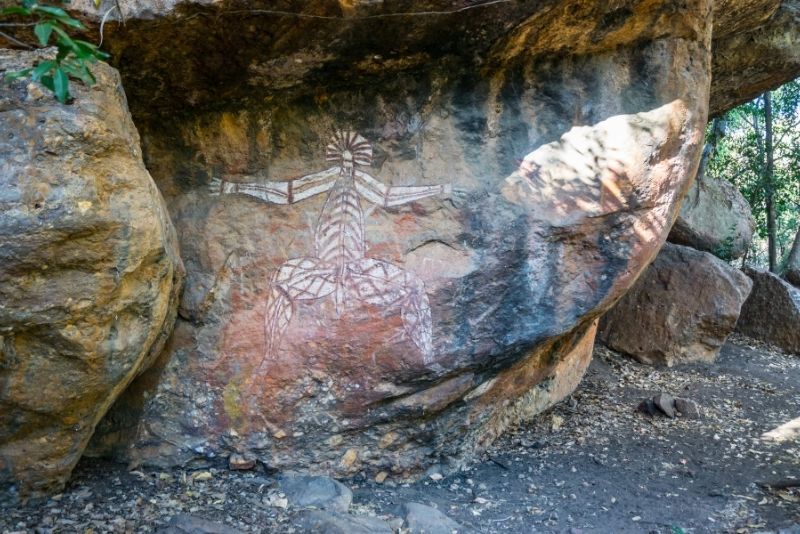 In Kakadu National Park, which is full of indigenous cultural sites and landmarks, you can learn all about the native people of Australia.
As you cruise down the Yellow Billabong through the national park, the key stops include the ancient aboriginal art at Nourlangie, also known as the cave museum.
15 – Spot the animals at Crocodylus Park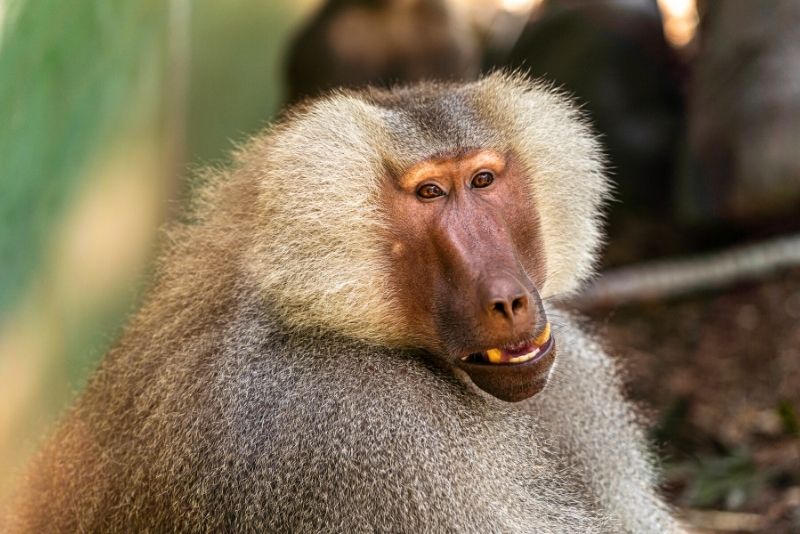 Visiting this premier wildlife conservation center is one of the exciting things to do in Darwin.
Founded by world-renowned Biologist Professor Grahame Webb, Crocodylus Park is home to several species of crocodile, as well as a huge amount of other native Australian animals (and a few from afar as well).
16 – Stop by Saint Mary's Cathedral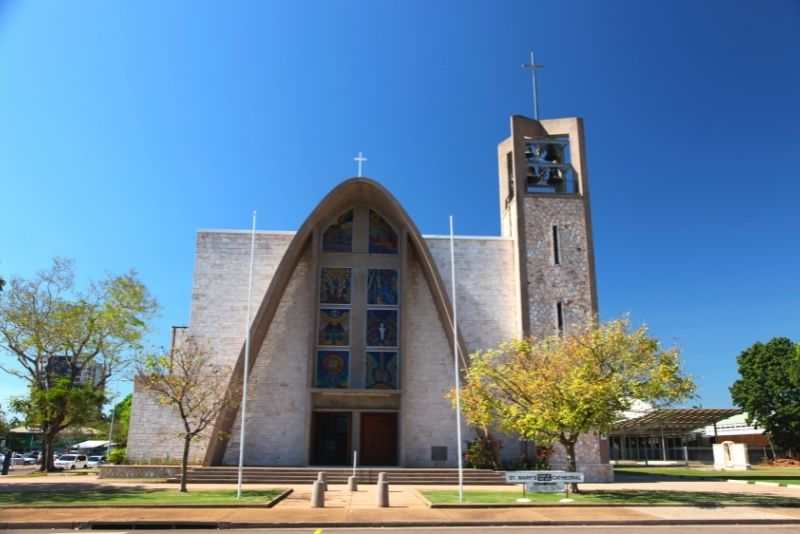 Built in honor of Australian soldiers in World War II in 1958, Saint Mary's Cathedral is one of the centers of Christianity in Darwin, as well as a war memorial to allied soldiers during the wars.
If you love history and architecture, stopping by and seeing the huge collection of stained glass windows is one of the best things to do in Darwin.
17 – Walk around Bicentennial Park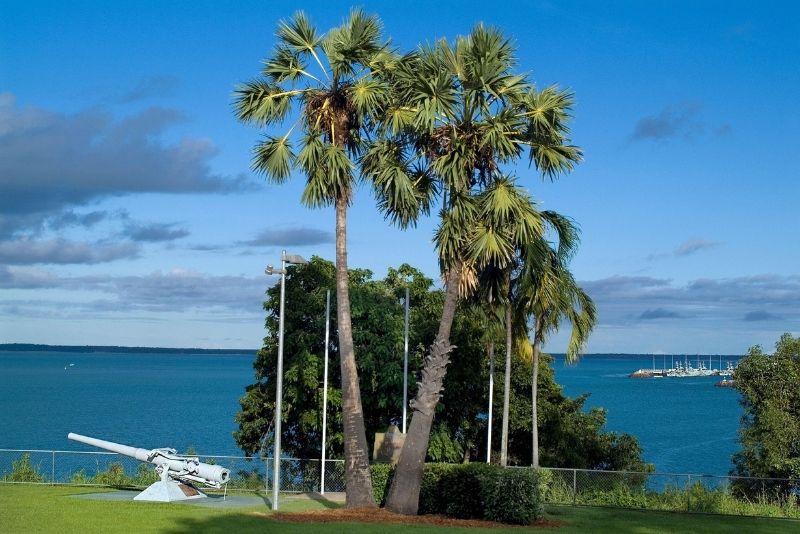 For those looking to work up a sweat, Bicentennial Park has plenty of public exercise equipment, as well as great walking and cycling trails. Children can enjoy the
Be sure to stop by the USS Peary Memorial which pays tribute to the sunken USS Peary ship destroyed in 1942. The memorial consists of a plaque as well as one of the guns recovered from the shipwreck.
18 – Cruise over to Katherine Gorge and Edith Falls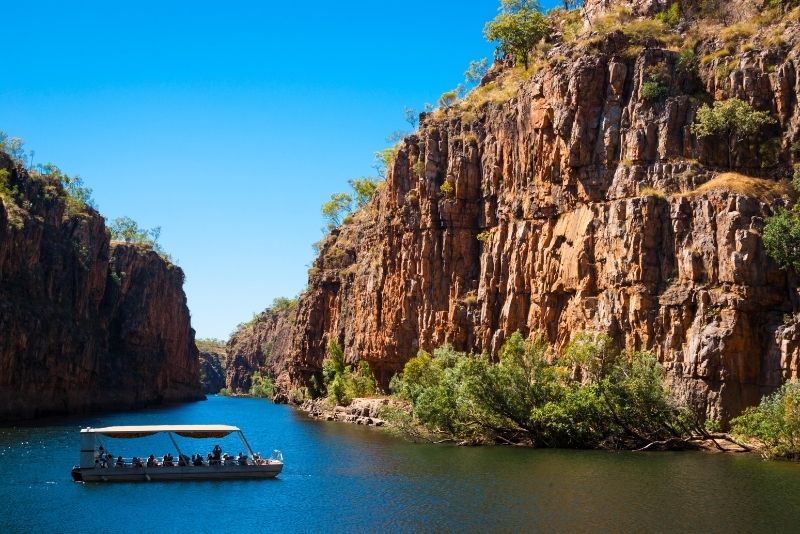 For those wanting to get closer to nature, heading out to Katherine Gorge and Edith Falls on a day trip is one of the best things to do in Darwin. You can take a tour to cruise through Katherine Gorge, where you'll find freshwater crocodiles, and visit the crystal clear waters of Edith Falls where you can go for an afternoon swim.
You'll also get the opportunity to explore the 292,000 hectares of Nitmiluk National Park to observe indigenous rock paintings.
19 – Navigate to the Magnetic Termite Mounds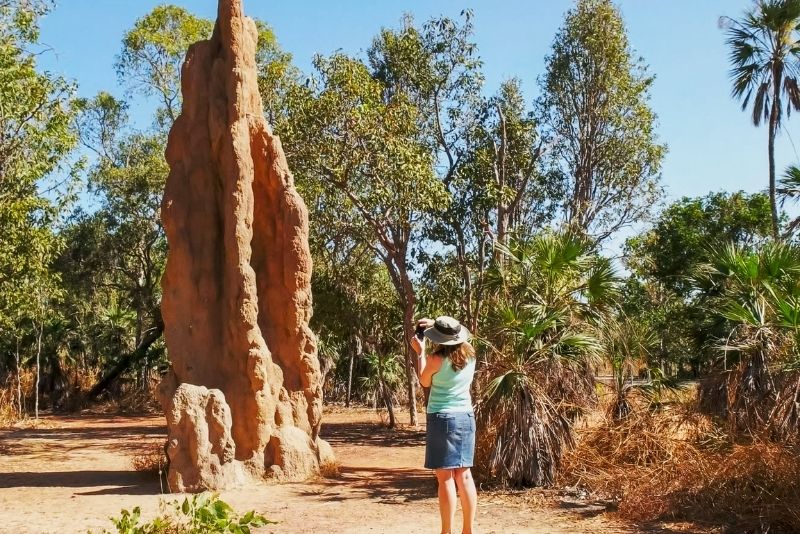 In Litchfield National Park, 120 kilometers south of Darwin, you can find enormous, 2-meter high termite mounds that serve as giant magnetic compasses. Their walls point north and south, and provide a perfect environment for the termite populations.
There are also 4-meter high mounds known as cathedrals found nearby, built by another species of termite.
20 – Learn about the Royal Flying Doctor Service (RFDS Darwin)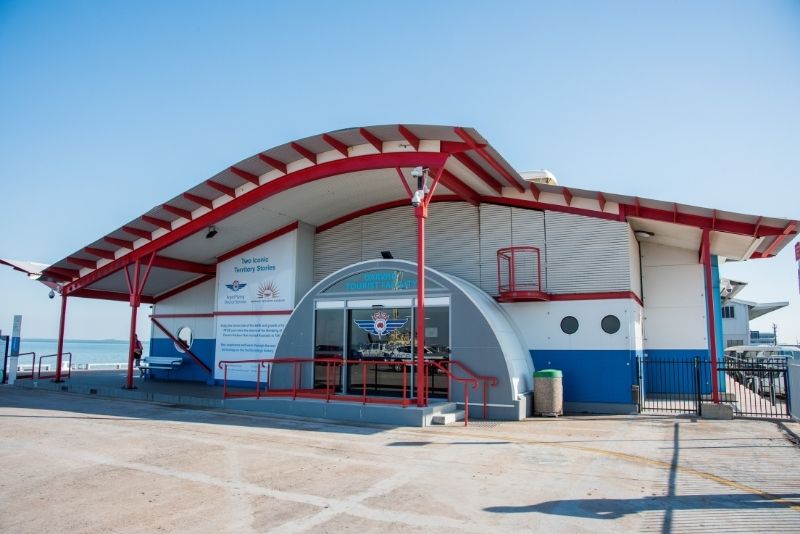 The Royal Flying Doctor Service is a renowned medical service that deploys doctors around remote parts of Australia where patients can't reach hospitals.
At the RFDS tourist facility, you can get a backstage pass to see how this unique service works, and also get a virtual reality experience that shows you the life of a flying doctor!
21 – Take a dip at Tjuwaliyn (Douglas) Hot Springs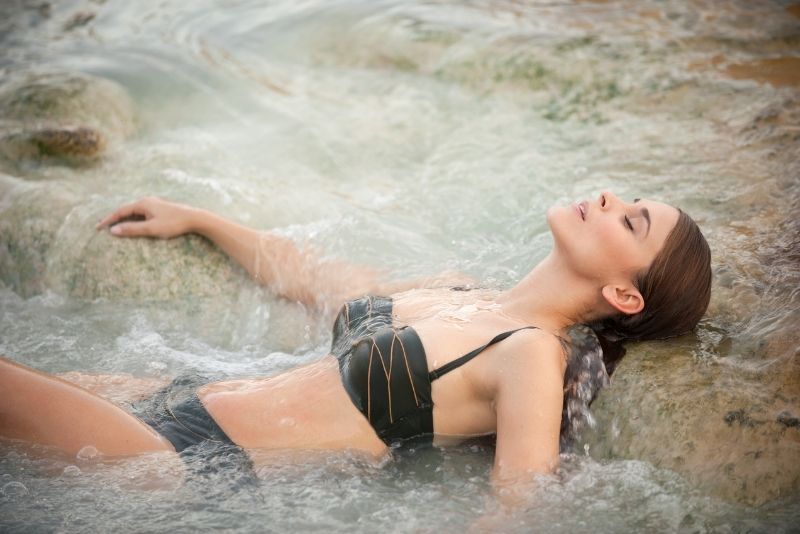 Located in the northern part of the  Tijuwaliyn Hot Springs provides relaxing warm bathing experiences to tourists, with wildlife found along the Douglas River. If you want to experience this nature preserve more, camping is available on site. You can truly escape the chaos of the city and unwind in the Australian outback.
The traditional owners of the area — the Wagiman people — still perform ceremonies around here, so you might be able to learn about the native culture as well!
22 – Learn about indigenous culture on a Tiwi Islands day tour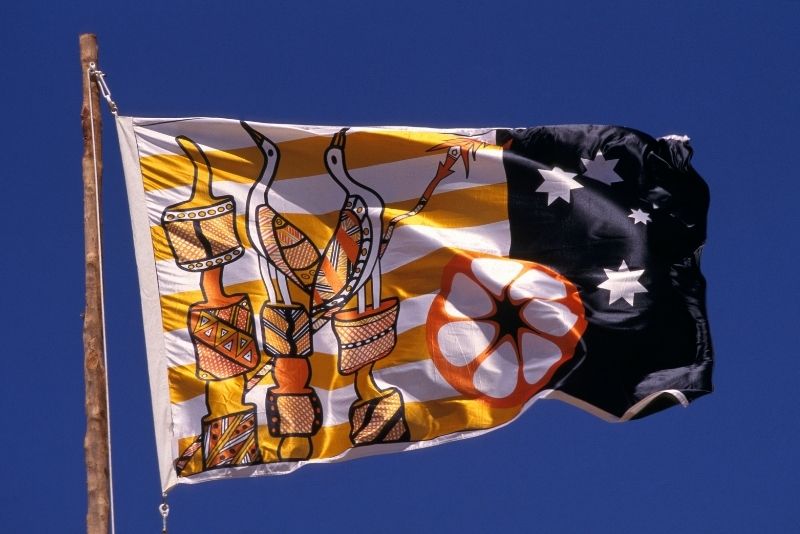 You can find the indigenous community of the Wurramiyanga people on the Tiwi Islands which can be reached on a ferry from Darwin.
A tour will take you to and from the islands, showing you a traditional smoking ceremony, as well as the beauty of the area led by a local Tiwi guide.
23 – Find some local art at the Aboriginal Fine Arts Gallery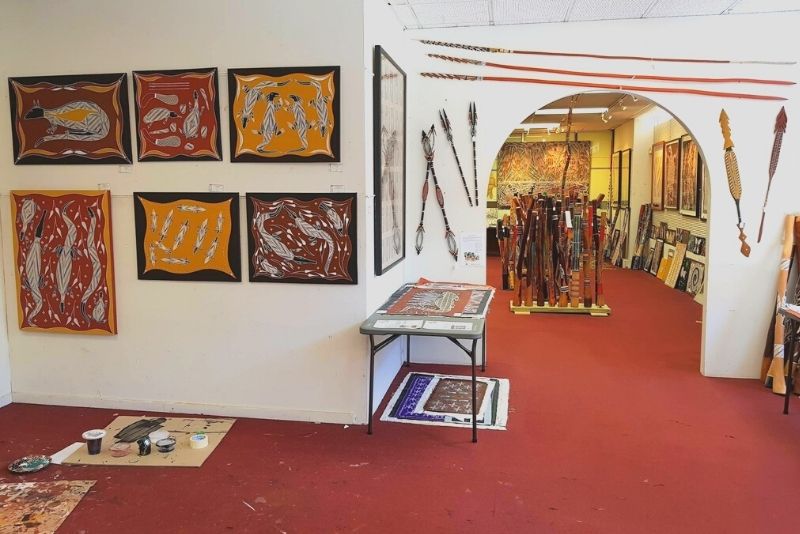 If you want to know more about the indigenous people of Australia, check out their visual art housed at the Aboriginal Fine Arts Gallery.
The aboriginal people have been producing art for over 40,000 years, so you'll find a rich artistic history if you pay this gallery a visit. You can also purchase any of the pieces as a traditional souvenir.
24 – Stroll down Stokes Hill Wharf
Strolling along the Stokes Hill Wharf, which was built in the 1950s, will give you an insight into the city's history and throughout its progress since the war.
This functioning wharf welcomes everyone to walk the seaside platforms and watch cruise ships and yachts come and go. You can also do recreational fishing, shopping, dining and drinking while enjoying live music.
25 – See Darwin from the sky and water on an airboat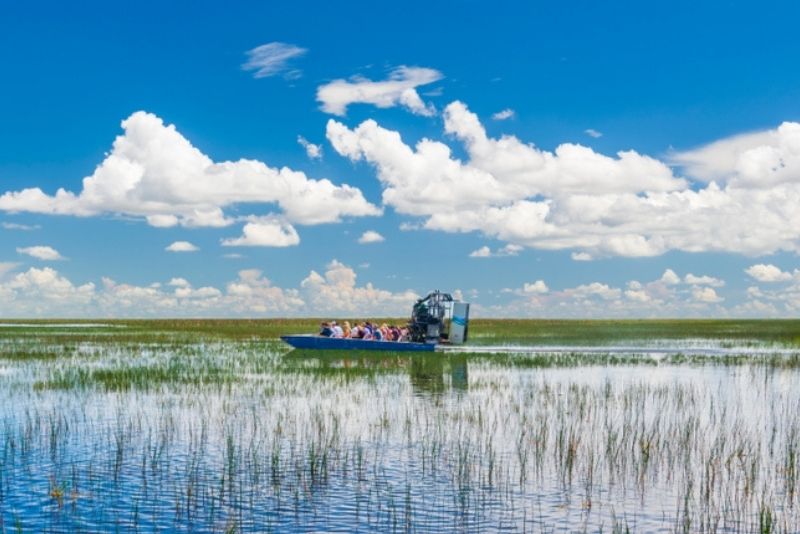 Riding an aircraft that can also travel on the water can be a great way to see Darwin from all angles. On an airboat tour, you can fly over the rocky terrain before plunging down and traveling alongside the crocodiles on the water. The trip lasts an hour and heads out from the convenient location of Stokes Hill Wharf.
26 – Make a splash at Palmerston Water Park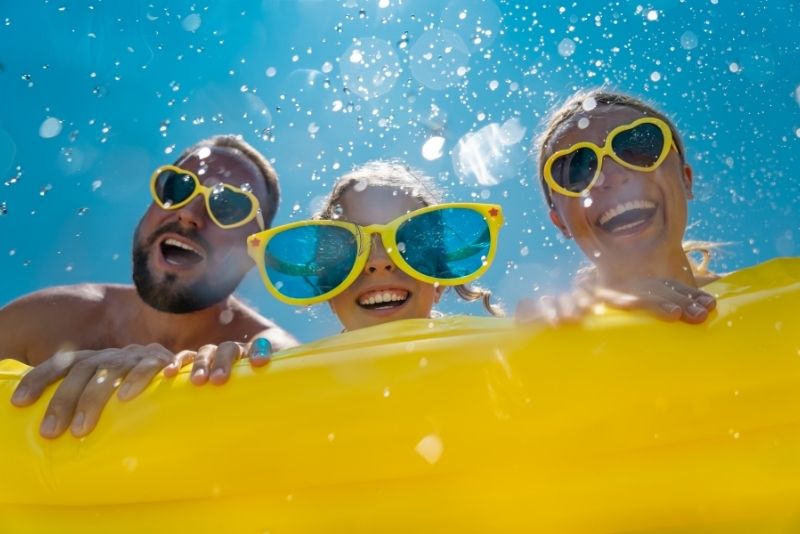 A public water play facility with free admission, Palmerston Water Park has a 14-meter high racing water slide, a paddling pool for the young ones and plenty of barbecues and picnic areas for lunch.
It's only an express six-minute train ride out of Darwin, making it an easy stop to make.
27 – Explore Charles Darwin National Park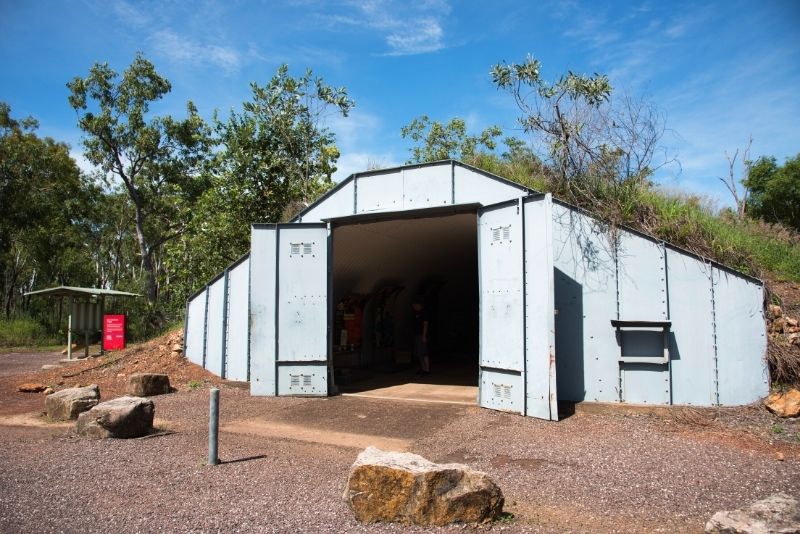 Charles Darwin National Park contains a diverse range of local flora and fauna, as well as Aboriginal and World War II history.
This large nature reserve is home to 36 different species of mangrove trees across the Port Darwin Headland — one of Australia's most important wetlands. There are also great trails for cycling or walking where you can find many historical sites along the way.
28 – Discover the outback on a camping safari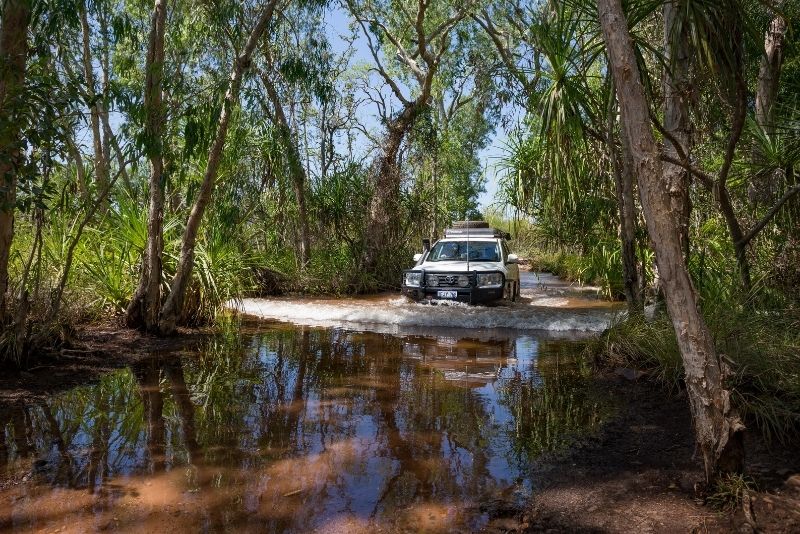 If you hop on a three-day 4WD tour around Darwin, you'll be taken to Litchfield, Kakadu and Yellow Water Billabong.
You'll cover a lot of ground and immerse in the beauty of the Northern Territory, as you camp, swim in waterfalls and see indigenous art.
29 – Have dinner at Cullen Bay Marina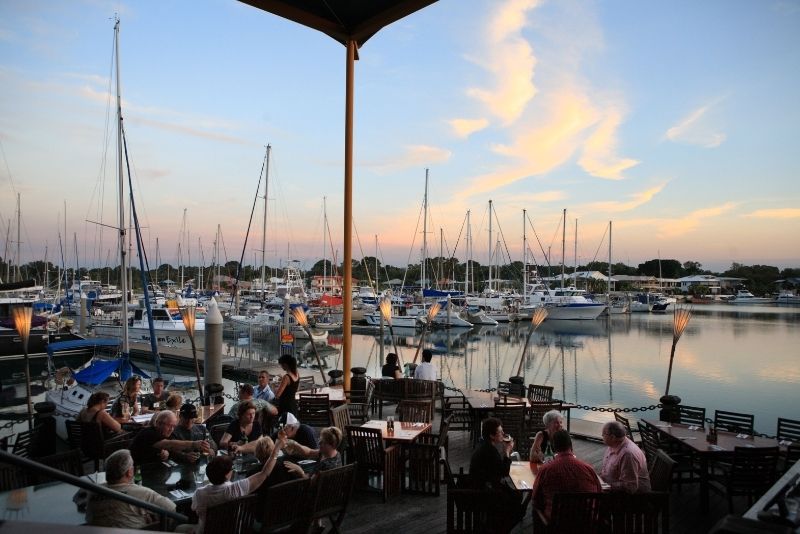 The Cullen Bay Marina, located just 2 kilometers from Darwin's central business district, is where more than 250 vessels moor overnight.
Hosting some of the city's best restaurants,  it's a great place to take yourself out for dinner and watch the sunset over the boats on the water.
30 – Let loose at Leanyer Recreation Park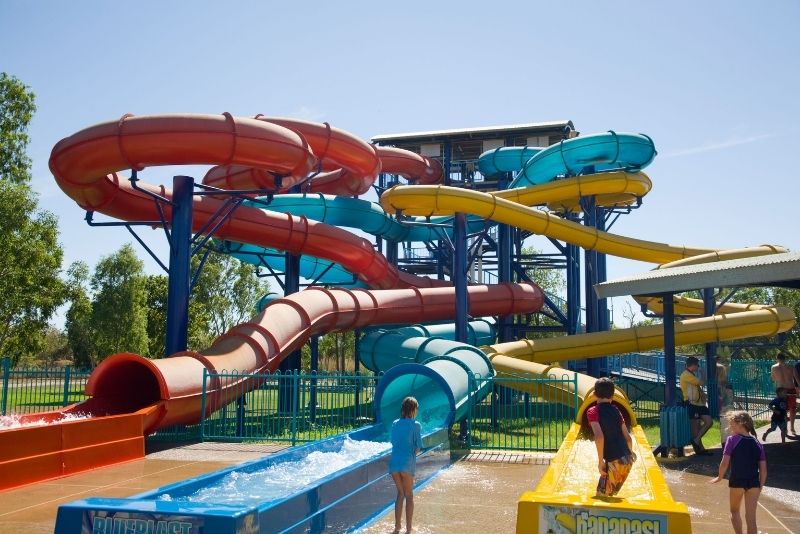 If you want to relax and enjoy your time without spending money, this public park on Vanderlin Drive in the heart of the city can be your best option.
It has water slides, basketball courts and a skate park. There's also an accessible playground and a walking trail, so everyone will have something to do if you head here!
31 – Meet the local animals at Territory Wildlife Park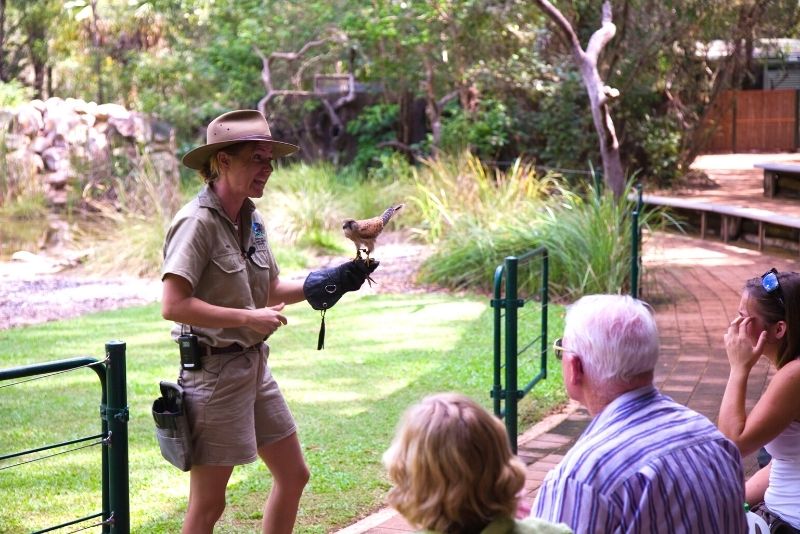 Regarded as the most comprehensive collection of local wildlife in the Northern Territory, this park has habitats that are open to the public.
You can walk through the aviary and wander through the lagoon, watching the animals move past you.
32 – Fly above Kakadu on an airplane tour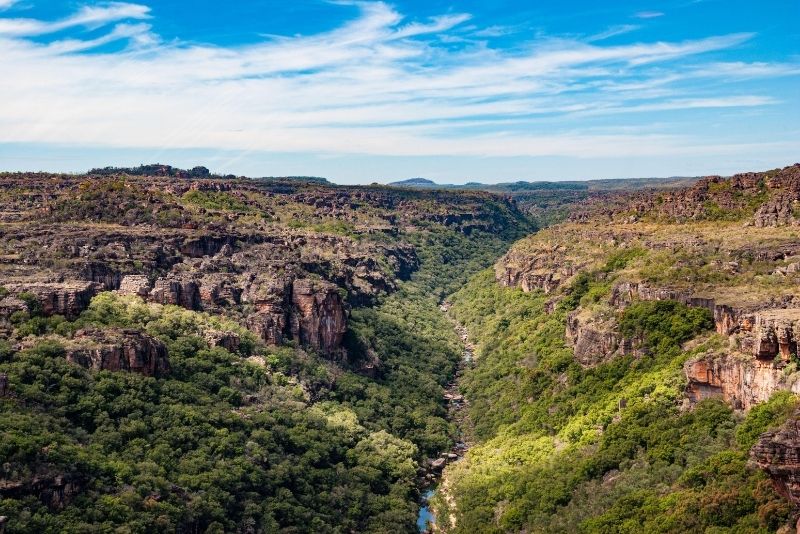 The landscape of Kakadu National Park is so expansive that sometimes it is best experienced from the air.
Hop on an airplane tour that soars over the millions of years old terrain, and spots the flowing waters of Jim Jim Falls and the rocky cliffs of Arnhem Land.
33 – Feed the fish at Aquascene Sanctuary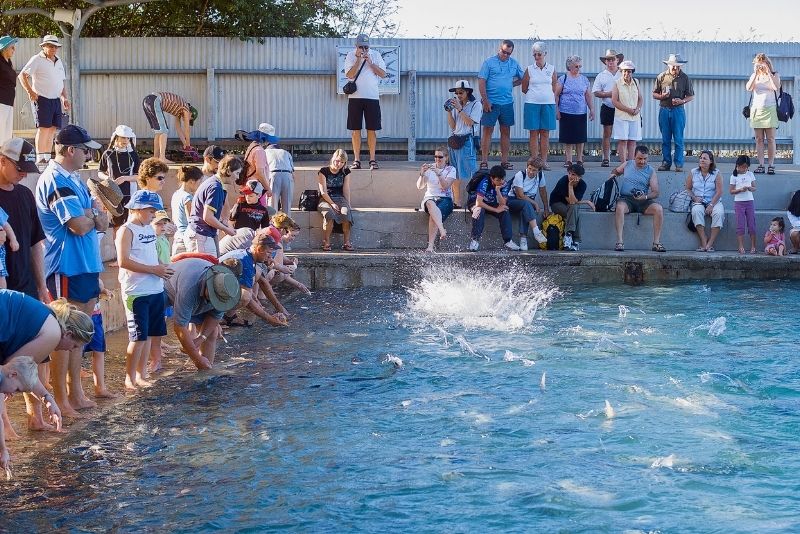 Aquascene Fish Feeding Sanctuary located on the shoreline of Darwin attracts over 70,000 visitors annually.
Feed the local species of fish, which have grown used to human interaction and are more than happy to come right up to you — and eat right out of the palm of your hand.
34 – Discover the history of flight at Darwin Aviation Museum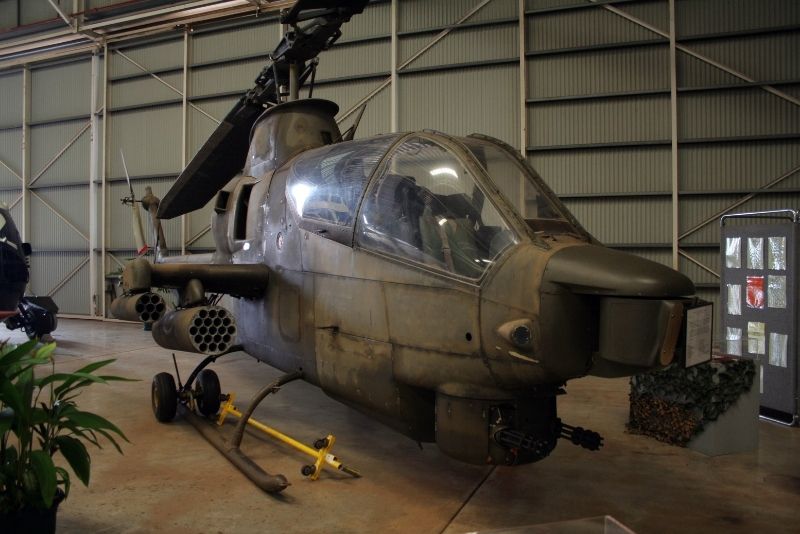 Darwin Aviation Museum documents the history of flight and the development of airborne travel in Australia, with displays of planes and historical exhibits.
Learn all about the great air race from 1919 where the Australian Prime Minister offered 10,000 pounds to whoever could manage to make the trip from England to Australia in under 30 days.
35 – Get your adrenaline pumping on a jet ski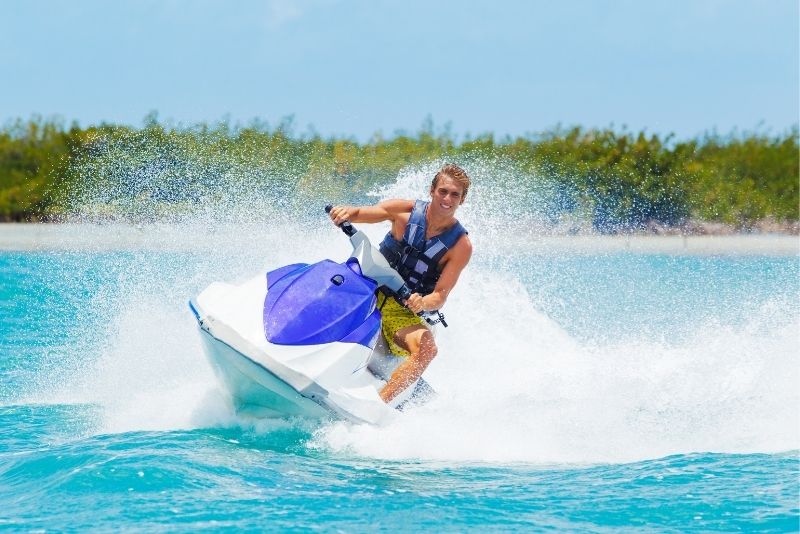 A jet ski tour with a knowledgeable guide is one of the best things to do in Darwin for thrill-seekers.
Your guide not only can race around the shoreline of the city at great speeds, but also point out the passing marine life as you zip around. Everything from sunscreen to refreshment is covered on this tour, making it great for those short on time!
36 – Catch a barramundi at Mary River National Park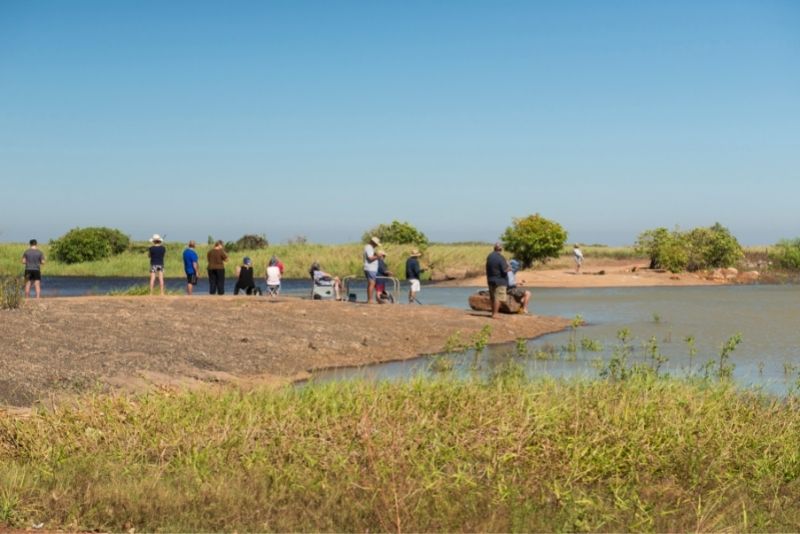 A natural sanctuary for wildlife, Mary River National Park is full of bushwalks and four-wheel driving tracks. One of the highlights of this park is the fishing spot Shady Camp, known for its great barramundi fishing.
For those interested in history, there's also a 6 kilometers walk in Point Stuart Coastal Reserve that heads out to Stuart's Memorial Cairn.
37 – Play a round of golf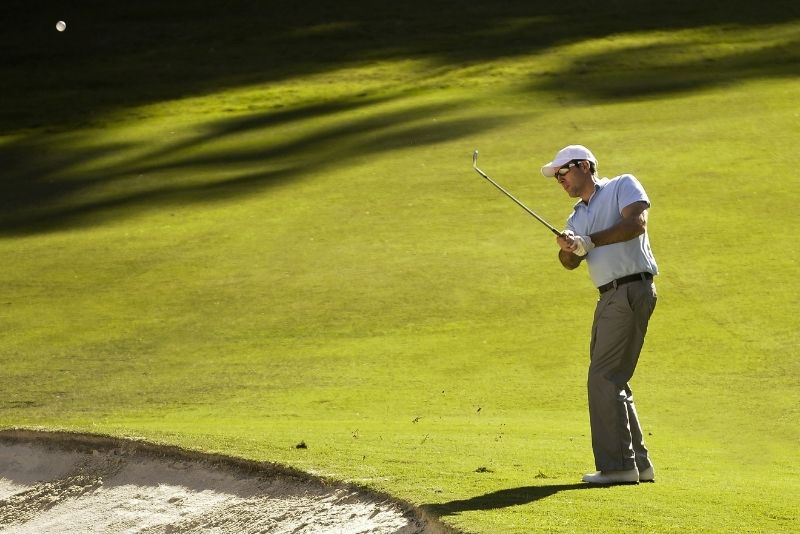 With a lot of open space and countryside, Darwin has plenty of golf courses for players to try out when they are staying in the area.
Palmerston Golf Course has a professional-grade, 18 hole course and pro shop for picking up some golfing gear. Garden Parks Golf Links is famous for its mini-golf course, making it a great family-friendly location. Darwin Golf Club not only has a full 18 hole course but also on-site dining options, providing a full day out.
38 – Crack open some champagne on a sunset cruise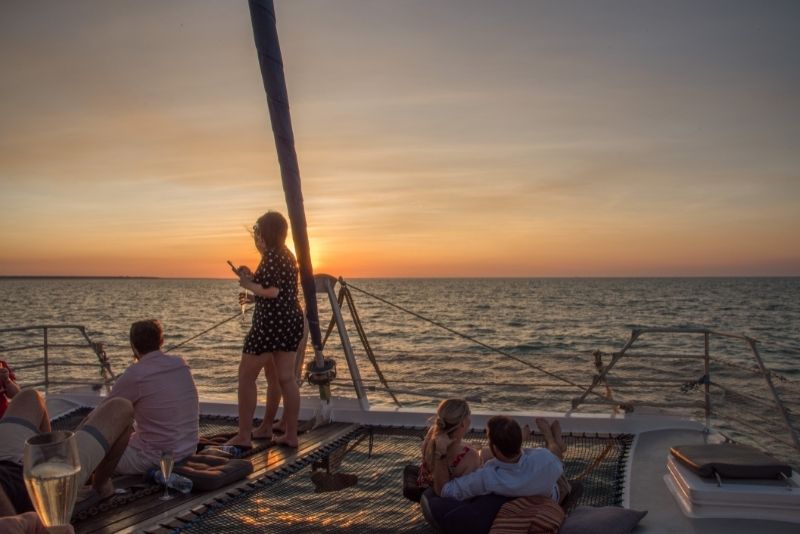 This three-hour sunset cruise takes you out from Darwin just as the sun heads down over the horizon.
Watch the sunset from the deck of the yacht or the comfort of the air-conditioned cabin on extra hot evenings. Sparkling wine and snacks are also provided!
39 – Grab some finger food at Parap Village Markets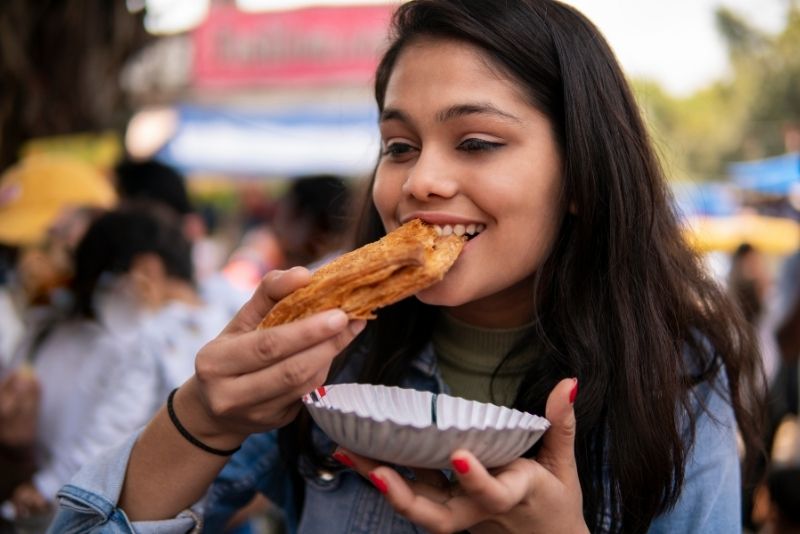 In the heart of Parap Village, just moments from Darwin's center, you can find a market that runs every Saturday from 8 a.m. to 2 p.m. It's a feast of food and drinks with tropical flavors and local produce.
There is also live ambient music and many stalls that sell locally made crafts, making this an ideal place to pick up a souvenir.
40 – Be guided around Arnhem Land on a day trip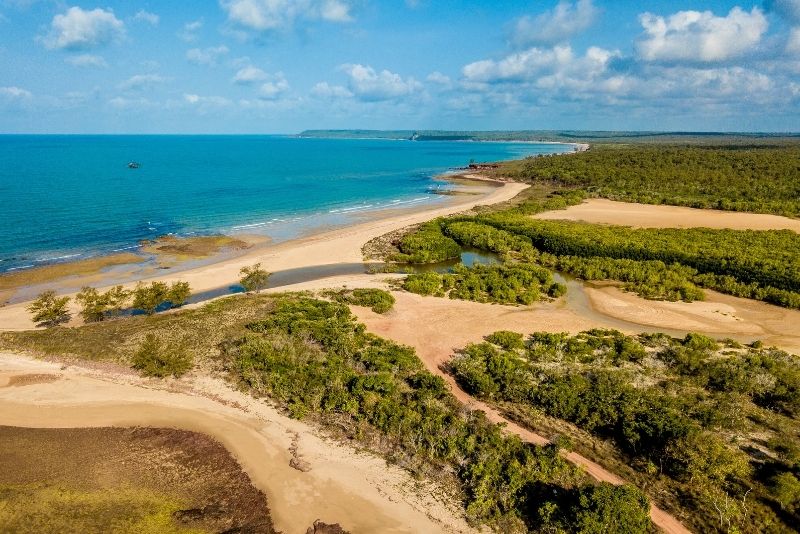 Arnhem Land is a vast wilderness 500 kilometers north of Darwin, right at the top of Australia. Day trips to the area are fully guided by indigenous people, giving you a true insight into the culture of the native people of Australia.
Working with the indigenous population of Darwin and Arnhem Land, it is the only tour to allow you access to the highly protected Injalak Hill, which contains ancient aboriginal paintings.
41 – Unwind at Darwin Trailer Boat Club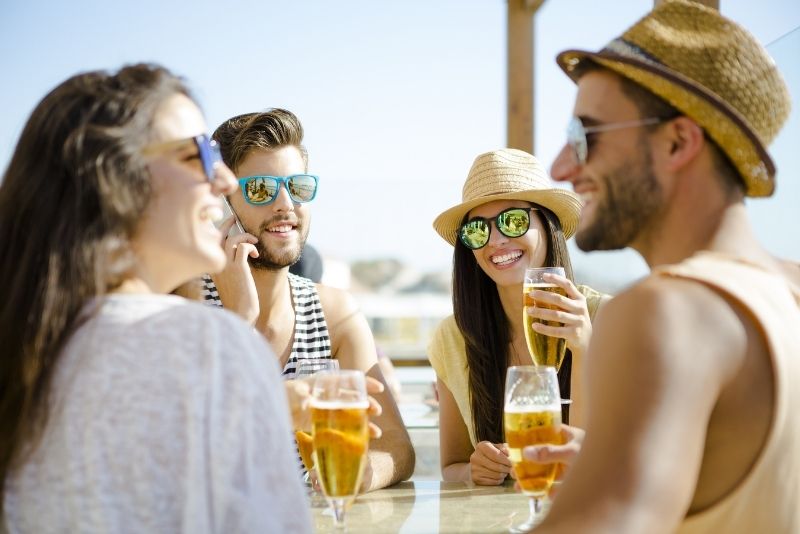 Darwin's oldest seaside club that began in 1958, the Darwin Trailer Boat Club faces west, which makes it a perfect place to watch the sun go down after a day of fishing or sailing around the shoreline.
The food on offer is all inspired by local produce and fresh fish, making it a great spot for dinner or lunch.
42 – Indulge on a food tour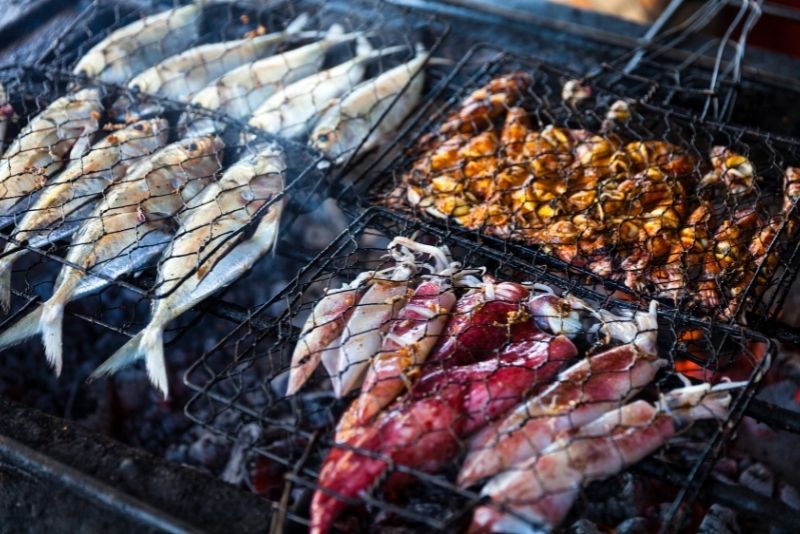 Darwin has a large variety of places to eat and cuisines to try, so a food tour makes it easy to sample them all.
Each tour is different, but you'll always be taken to three of the best places around the city to try anything from fresh seafood to traditional bush tucker. You'll get a sample plate at each destination, so you can be sure you've tasted the best food on offer in Darwin.
43 – Catch an outdoor film at Deckchair Cinema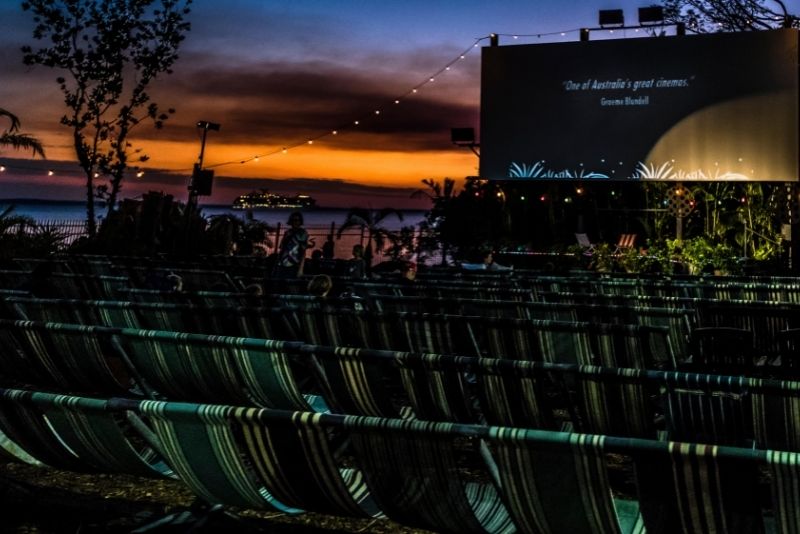 At Deckchair Cinema, Darwin's premier outdoor cinema, you'll be able to watch all the latest releases, all out in the open under the Australian night sky. The lawn in front of the screen is covered in comfortable deck chairs, making for a relaxing experience.
Be sure to check the program for when you're in town.
44 – Have dinner by the water at Pee Wee's at the Point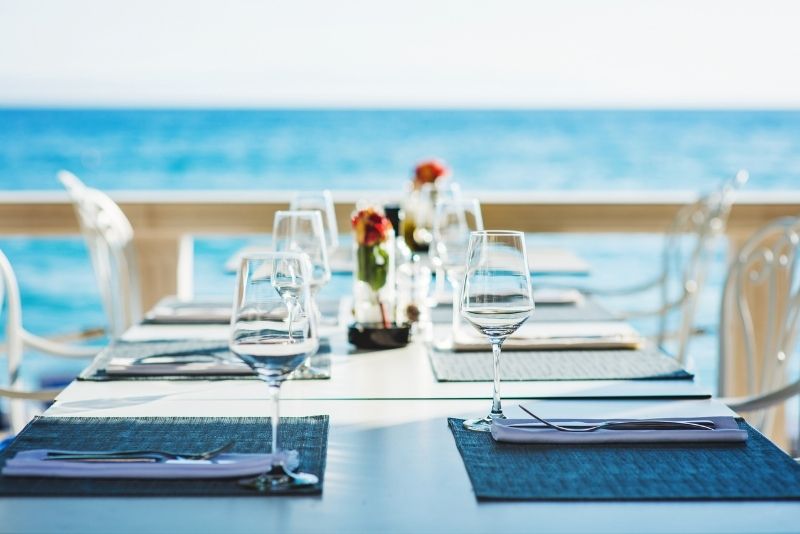 Run by world-leading hospitality professionals, this waterside restaurant was built on a historic 1919 site, originally constructed to protect Darwin from naval attacks.
Pee Wee's today provides a panoramic view of the harbor, while the old building has been listed on the National Estate of the NT Heritage registers
45 – Hop aboard a dinner cruise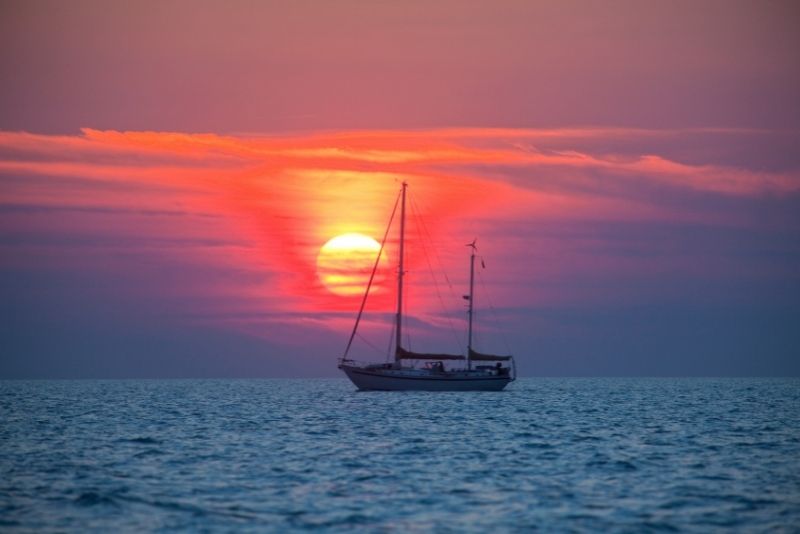 A dinner cruise around Darwin combines the great scenery, picturesque sunset and fresh seafood all in one activity.
The dinner aboard the vessel is four courses, with everything from local Northern Territory bananas to freshly caught fish. You can also bring your own drinks with ice and glasses provided by the hosts!
46 – Watch a production at Browns Mart Theatre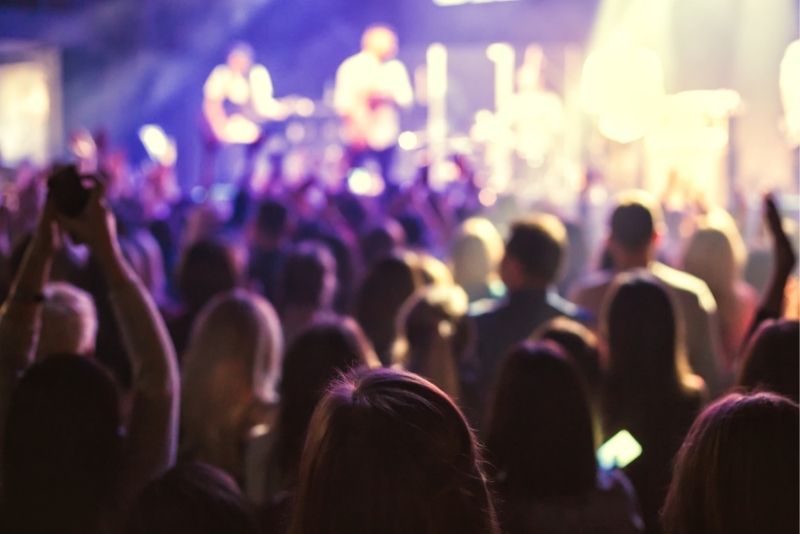 This traditional black-box style theater holds shows all year round, focusing on showcasing local Darwin artists and talent.
With its intimate capacity between 81 to 136 seats, Browns Mart Theatre has shown from traditional plays to indigenous storytelling.
47 – Spend a night out at Mitchell Street bars and nightclubs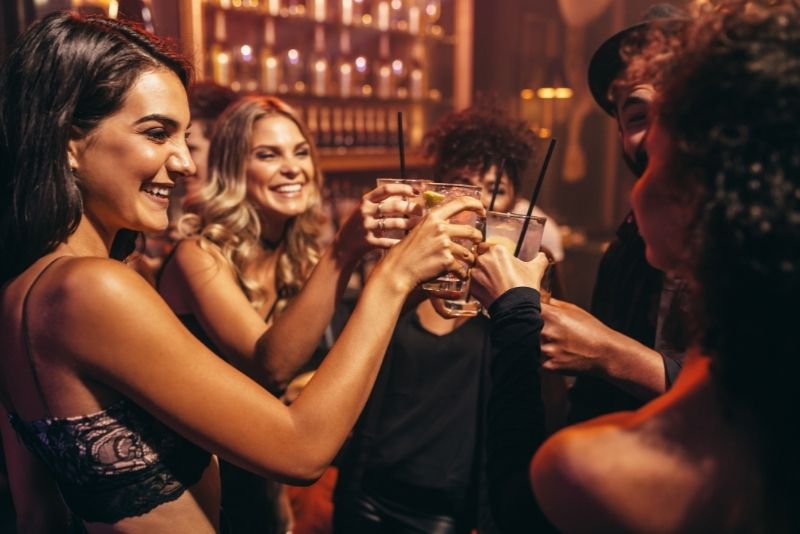 Mitchell Street is the center of nightlife in Darwin, with a high concentration of bars and nightclubs.
This area hosts the best places to go to after the hot sun has set and you need to unwind, including The Precinct Tavern which has 44 beers on tap and Discovery Nightclub which has three levels of dance floors and DJ booths.
48 – Soak up local culture at the Darwin Entertainment Centre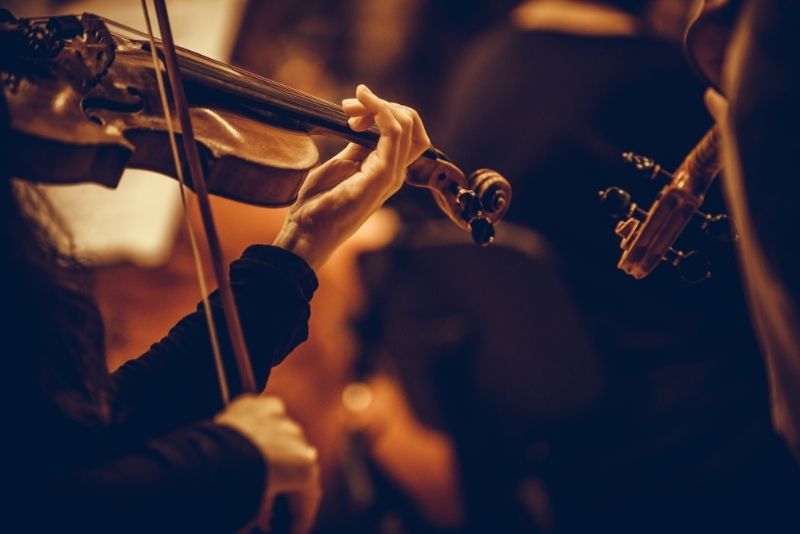 The Darwin Entertainment Centre has hosted a bulk of the theater and shows put on in the city. It also holds the Darwin Fringe Festival, as well as concerts from the Darwin Symphony Orchestra.
While you're in the area, visit the neighboring Shenannigans Pub which serves traditional Irish food along with live music most nights of the week!
49 – Fly to the pub on a helicopter pub crawl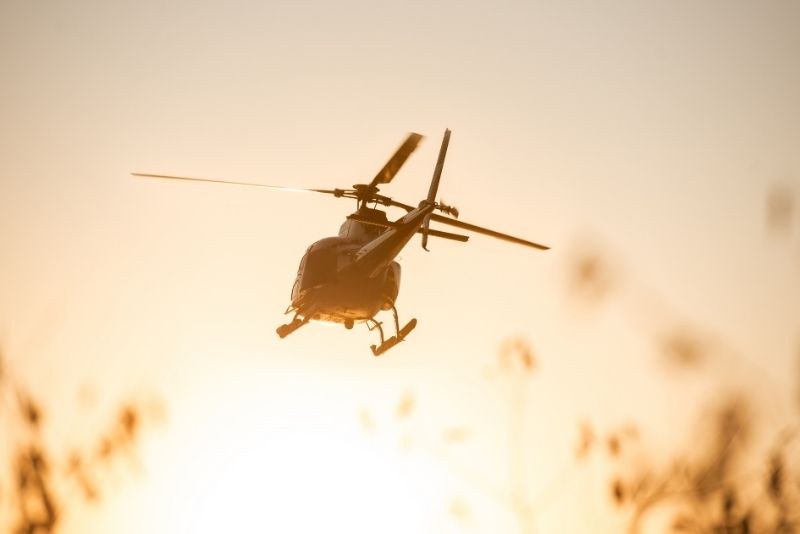 Joining a helicopter pub crawl is one of the unique things to do in Darwin. You will be flown to some of the area's most remote pubs aboard a private helicopter.
You'll arrive at each destination in style with enough time to grab a drink before being ferried off to the next. You'll get a bird's-eye view of Darwin's surroundings, as well as meet plenty of locals along the way.
50 – Try your luck at Mindil Beach Casino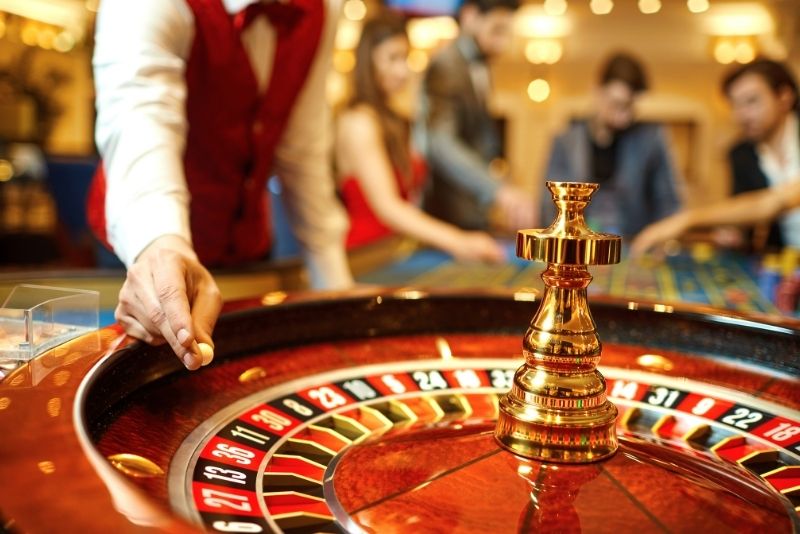 A popular destination for those seeking an exciting night out in Darwin, Mindil Beach Casino Resort has over 600 gaming machines, as well as a large number of table games to play.
The casino is open seven days from 10 a.m. to 4 a.m. and offers accommodation, a spa and plenty of dining options for those wanting to stay at the beachside resort.
This list has hopefully provided you with plenty of things to keep in mind when you're planning your trip to Darwin. If there are any others worth mentioning, feel free to leave them in the comments.
Have a look at all the best hotel offers in the city to make sure you grab a good place to stay while you're exploring the area.
Airport transfers also remove the fuss out of getting to and from your accommodation so be sure to check them out to help your trip run smoothly.
Where to go next? Make sure to check out our list of the best places to visit in Australia!
Happy travels!