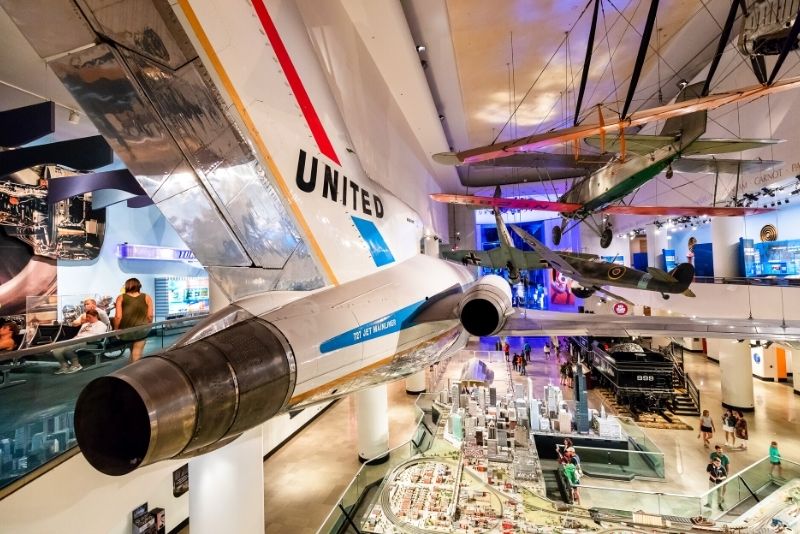 A Midwest melting pot of diverse culture, all things art, some serious sport, and a sprinkle of everything in between — think history, architecture, literature, and leather (yes, we're serious) — Chicago is one of the most significant art hubs in the U.S. and a goldmine for museum-goers, historians, travelers, and socialites alike.
From world-renowned attractions like The Art Institute of Chicago, The Adler Planetarium, and the Field Museum to lesser-known gems like the Elmhurst Historical Museum and the DuSable Museum of African American History, you'll find no shortage of premier places in Chicago to get your culture on and quench that thirst for educational entertainment.
With a bounty of choices when it comes to finding the best museums in Chicago, it can be tough to determine where to kickstart your creativity-inspiring, art-admiring, interactive learning journey. So, to help narrow it down, we've put together a list of 50 of the city's top museums (in no particular order), sure to offer something for everyone.
So what are you waiting for? Start museum hopping!
1 – Art Institute of Chicago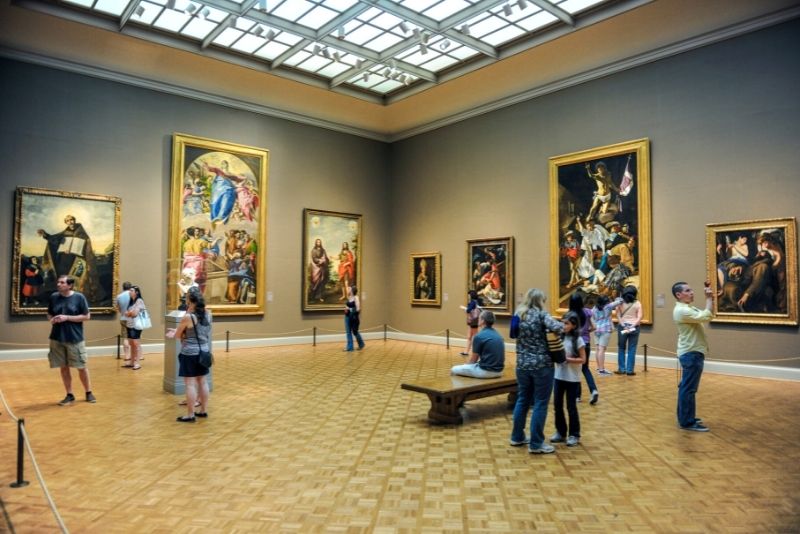 A culture vulture's Mecca, holding the impressive title of America's second-largest art museum after the Met in New York, the Art Institute of Chicago is home to an impressive collection of over 300,000 pieces spanning a whopping 5000 years
Since opening in the late 1800s (yes, even the institute itself is a historic work of art), the vast collection has expanded to now showcase everything from ancient Egyptian and Greek artifacts to iconic impressionist works by masters like Monet and Van Gogh, and contemporary head-turners by the likes of Picasso, Warhol, and Pollock — so, no matter your preferred flare for art, there's something for everyone at this world-renowned institution.
Besides the opportunity to browse the (many) halls at your own leisure, the museum also offers a variety of daily tours and programs, including staff-guided tours (offered in English and several other languages) as well as longer, more specialized behind-the-scenes options.
Located in the heart of the downtown Loop district next to Millenium Park, a wander around the Art Institute is easily combined with other sightseeing adventures in the city; so put it at the top of your list for things to do in Downtown Chicago.
2 – DuSable Museum of African American History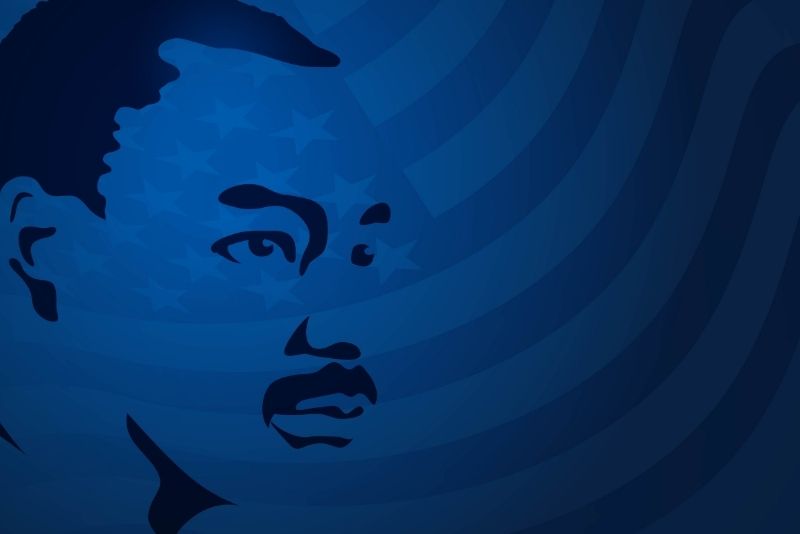 Dedicated to celebrating the accomplishments and stories of African Americans throughout history, from their arrival in North America to their fight for equality in the Civil Rights movement, to modern-day heroes who have helped shape our world, the DuSable Museum is a must for any self-diagnosed history buff.
Founded by historian Dr. Margaret Burroughs back in 1961, the museum houses more than 15,000 artifacts detailing centuries of struggles and achievements. With everything from informative video screening and Civil War memorabilia to exhibits on Harriet Tubman's role on the Underground Railroad, you'll learn about all different facets of black life throughout American history.
The permanent collection is also complemented by a rotating roster of special exhibits and events, so there's always something new to discover; plus, the museum hosts regular film screenings and discussions for guests who want an even deeper dive into African American history.
3 – Peggy Notebaert Nature Museum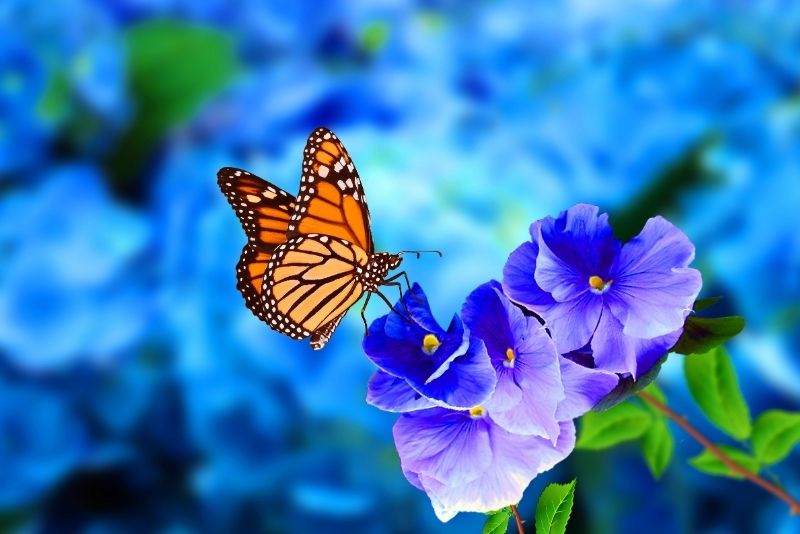 An enchanting slice of Mother Nature that provides a much-needed breath of fresh air in the midst of urban Chicago, the Peggy Notebaert Nature Museum is an ideal spot to spend a few hours with the family learning about the natural world, or just wandering around on your own taking it the sight and smells of thousands of different plant and wildlife species.
Featuring both indoor and outdoor exhibits, you can explore the magical Judy Istock Butterfly Haven, an experiment in hands-on science labs that teach kids about different topics like climate change and animal habitats, wander down nature walks eyeing birds above and animals below, learn about climate change, or join in one of the regular animal feeding, Critter Connection meet-and-greets, or educational programs and events.
With plenty of permanent displays as well as ever-changing seasonal pop-ups, this Lincoln Park institution (right next to the zoo) is easily one of the best museums in Chicago
4 – WNDR museum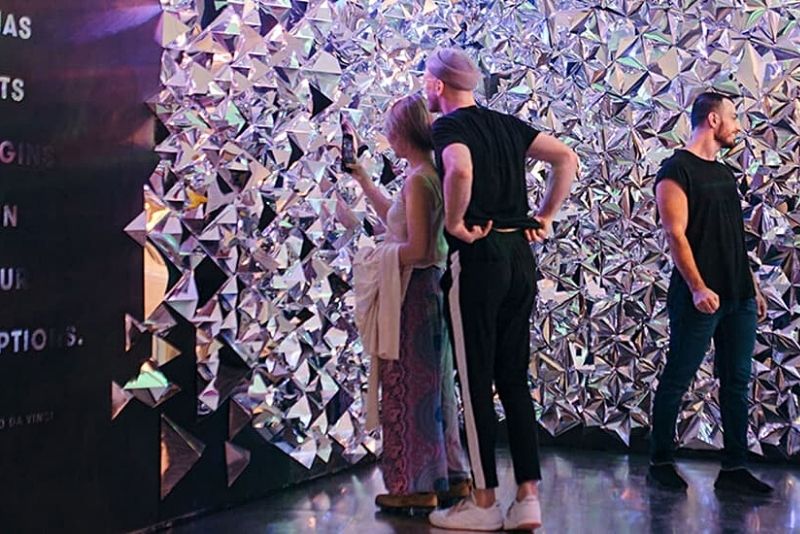 An interactive, walk-through experience guaranteed to spark curiosity, pose questions, and provide more than its fair share of stunning social media photo ops, the WNDR Museum is a relatively new arrival on the Chicago museum scene that's already making waves for its unique (and often puzzling) exhibits.
Designed as a playground for your mind, the museum showcases everything from optical illusions and immersive art installations to rooms full of colorful balls you can play with, all in an effort to get guests thinking about how they see and understand the world around them. Sure to unleash the inner child, this is one museum where you're encouraged to let your imagination run wild.
The Yayoi Kusama Infinity Mirror Room is a crowd favorite, likewise the bubble room!
5 – Field Museum of Natural History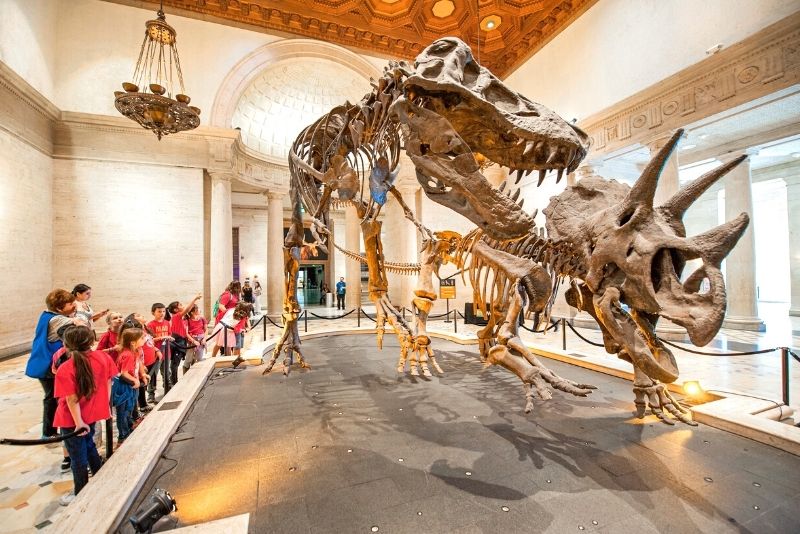 Home to one of the world's largest—and most impressive—collections of natural history and anthropological artifacts, the Field Museum on the southern side of Grant Park is a Chicago staple deserving of at least half a day's worth of wandering.
Incorporating collections from around the globe with more than 40 million items on display, covering everything from dinosaurs skeletons (including Sue, the most complete T-Rex skeleton ever found) and Egyptian mummies to ancient Mayan ruins and early human evolutionary remains, the Museum unpacks geology, evolution, botany, the animal kingdom, archeology, and so much more.
Located in lush and conveniently located Grant Park, on the shores of Lake Michigan, The Field Museum is a stone's throw from both the Adler Planetarium and Shedd Aquarium, two revered indoor attractions that make for the ideal back-to-back itinerary.
6 – International Museum of Surgical Science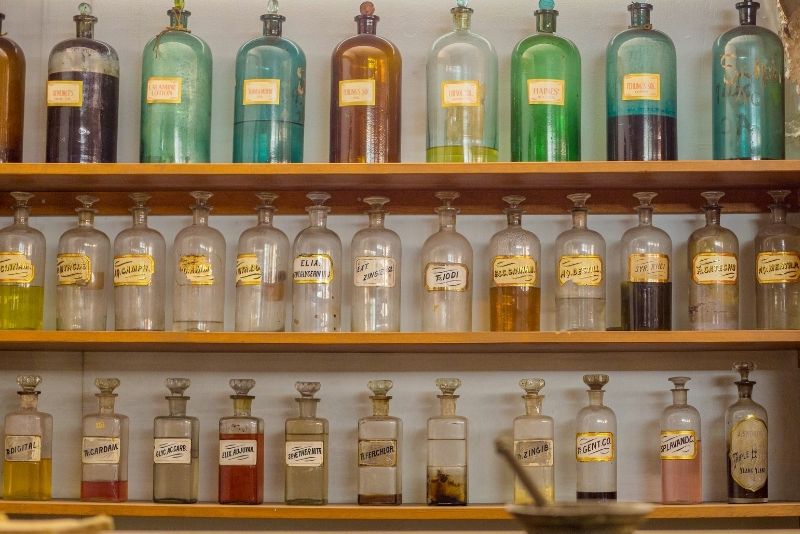 For a more niche but equally fascinating museum experience, check out the International Museum of Surgical Science on the Near North Side.
Dedicated to exploring the history and impact of surgery, and diving into both Eastern and Western medicine, this small but mighty institution is packed with a range of over 7,000 peculiar artifacts most tourists would seldom get the chance to see up close: from acupuncture needles to X-ray machines, ancient medical texts, sculptures made from bones, and interactive exhibits that allow guests to explore different aspects of surgical science, like anesthesia and organ transplants.
Perfect for those interested in medicine or just looking for an offbeat way to spend an afternoon, don't miss the gift shop either, where ample medical and historical souvenirs await.
7 – Chicago Children's Museum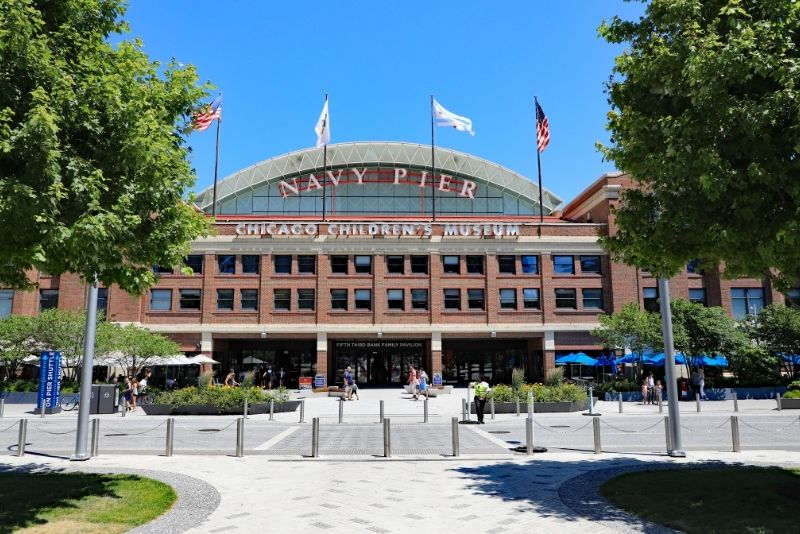 A surefire delight for little ones, the Chicago Children's Museum at the iconic Navy Pier is a must-visit for families visiting the city — it's always free to enter for kids and affordable for parents too.
Home to plenty of hands-on and interactive exhibits designed specifically with children in mind, aimed at sparking curiosity, educating about the world around them, and doing it all with plenty of interactive fun along the way, this family-oriented museum puts smiles on faces with art and crafts activities, water play areas, climbing gyms, colorful sensory spaces where kids can learn about science, sound, light and color, and mini-houses complete with kitchens that allow kids to practice household tasks like preparing a hearty meal.
Navy Pier itself is worth spending some time exploring too – be sure not to miss out on riding both the Centennial Wheel Ferris wheel as well as one of Chicago's historic carousels – before checking out one of the waterfront restaurants for a spot of supper.
8 – Illinois Railway Museum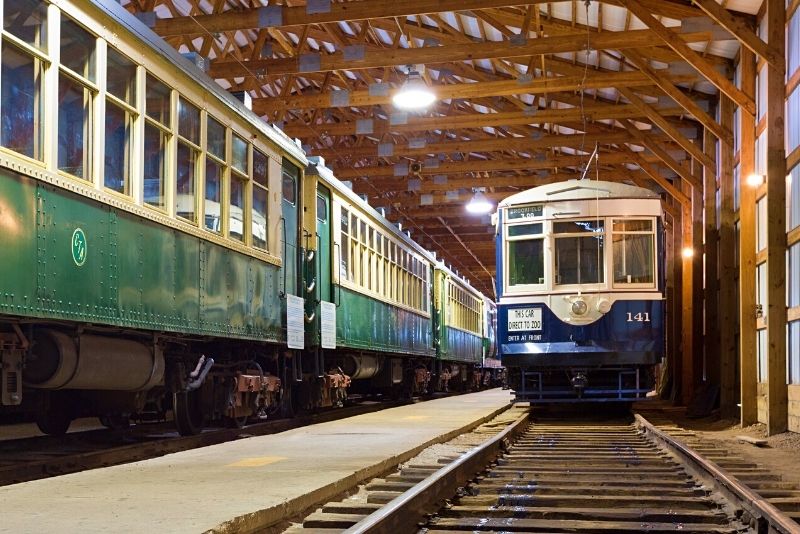 All aboard! A short drive away over in the city of Union (about 55 miles northwest of Chicago) the Illinois Railway Museum unpacks the wonderful world of trains, with a collection of over 450 pieces of rolling stock, locomotives, and railway equipment – many of which date back to the early 20th-century, with plenty that showcase European railway history too!
Spend some time exploring the museum grounds as well as its indoor exhibits – including fascinating displays on steam, diesel, and electric streetcars – before hopping aboard for a real-life experience onboard an authentic vintage train ride along the 5-mile demonstration railroad.
Amongst the oldest and largest rail museums in the world (and, officially, the largest in the USA), it's one of Chicago's most offbeat attractions that'll delight train enthusiasts and history buffs alike.
9 – Chicago History Museum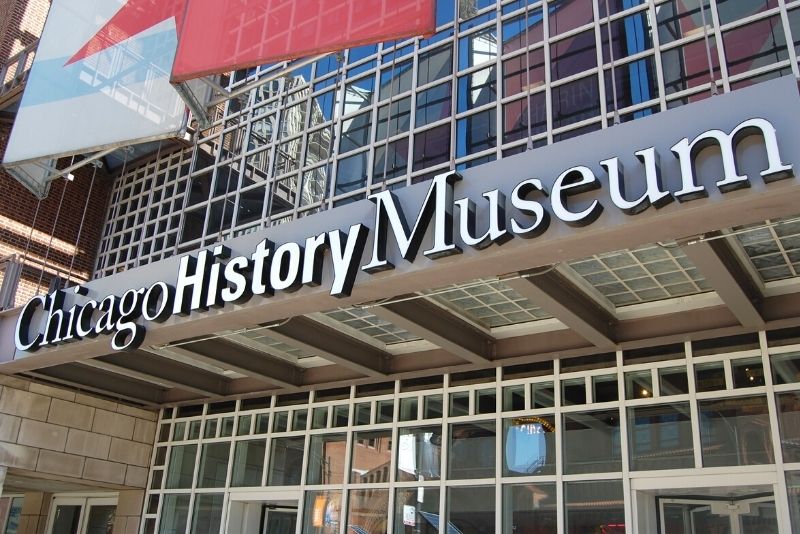 Since Chicago is one of the most culturally and historically rich cities in the United States, it makes sense that there's a museum dedicated entirely to teaching visitors about its past.
Located just steps from Lincoln Park, this museum explores all aspects of life in Chicagoland through bygone centuries: from art and architecture to politics, sports, and more, as well as that of the wider USA.
With some 22 million holdings scattered throughout the complex, spread into sections that dive into themes like the economy, innovation, neighborhoods, conflict, and entertainment – not to mention an exhibit dedicated to Abraham Lincoln that even features his death bed – there's plenty to explore here, as well as several temporary exhibits that rotate every few months.
For an in-depth day of all-out learning, consider a staff-led guided tour.
10 – National Museum of Mexican Art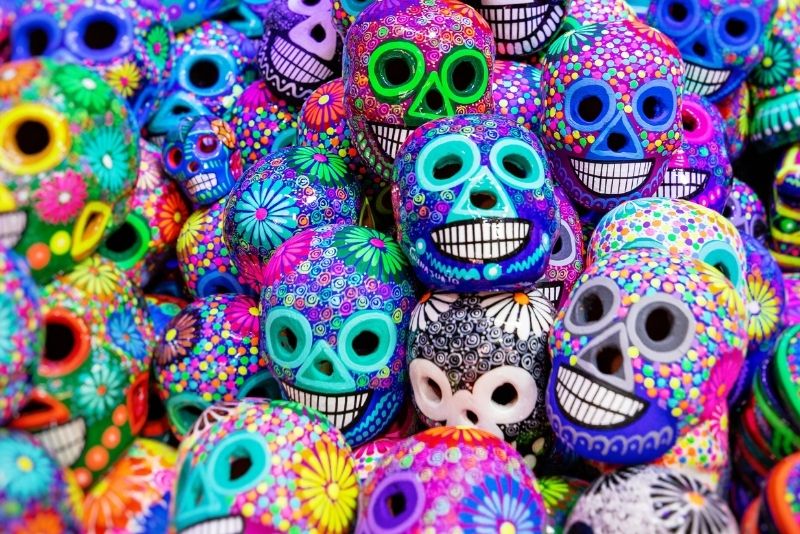 With a detailed focus on the vibrant history and cultural heritage of Mexico, this Harrison Park museum in Pilsen holds one of the largest displays of Mexican art in the United States.
Over 35,000 pieces are housed within its galleries – including paintings, archeological finds, sculptures, traditional costumes, craftwork, and intricate textiles – many of which date back to the B.C. era, as far as 35 long centuries ago.
Collections explore topics like Carlos Cortéz' political art; 3D sculpture covering both religious depictions and satirical contemporary pop art; Mexican dance masks from rural areas along with their regional crafts; and an impressive collection of paintings that display colorful folk art scenes among a sleuth of others, depicting life in Mexico throughout the ages.
Far from just a history lesson though, the Museum has a modern edge, with regular traveling exhibits that dive into photography, pop art, and social issues, as well as inclusive writing classes or impressive guest lectures.
And the best thing? It's totally free!
11 – Museum of Science and Industry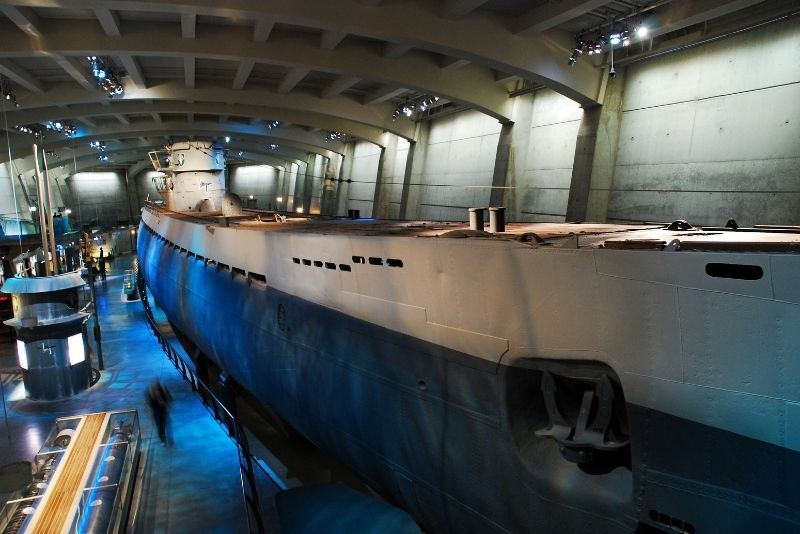 Want to take a spin in a human-sized hamster wheel? How about feeling what it's like to be in the eye of a roaring tornado? Or put your brainpower to the test with a collection of mind-boggling puzzles? Sound fun? Then Chicago's Museum of Science and Industry is where you need to be.
Located on Chicago Park District's Jackson Park, this vast museum contains tens of thousands of artifacts across no less than 35 diverse exhibits — outer space, war, the environment, the dinosaur era, chemistry, and electricity, to name a few — that aim to educate its visitors in innovative ways.
As one of the largest science museums in the world, taking up the equivalent of an entire city block, the museum also features an Omnimax theater, disorienting mirror maze, full-size WWII German submarine, and hosts regular temporary exhibitions that adapt to modern trends (check the website to see what's on during your visit).
12 – Block Museum of Art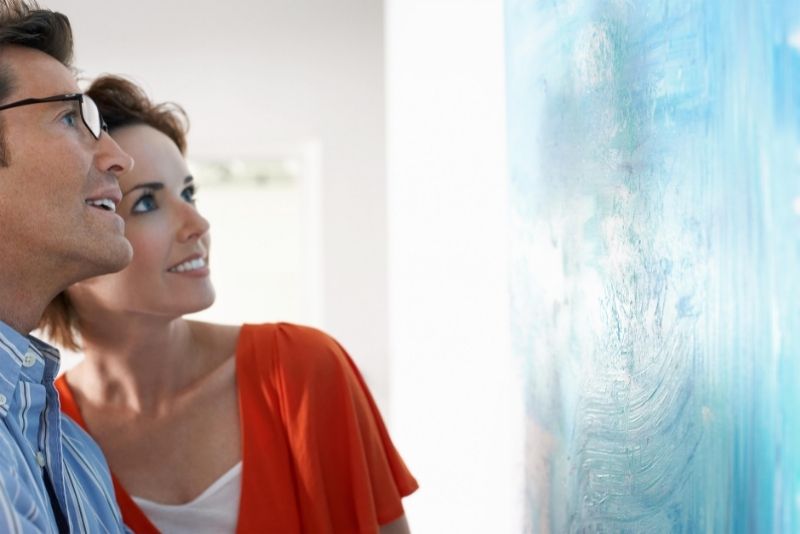 Innovative, inspiring, and totally free to check out, this contemporary art museum on Northwestern University's campus — about 30 minutes drive north in Evanston — showcases diverse and intriguing collections from across the globe.
With over 6,000 pieces of art that date back some three thousand years, Block Museum of Art explores a variety of themes through its permanent galleries — ranging from historical textiles and prints to sculptures, photographs, drawings, and paintings — as well as themed exhibitions that change every few months.
The modern space also hosts regular film screenings, classes for kids and university students, lectures by renowned artists, performances, book readings, and hands-on workshops; making it an engaging place to visit regardless of your artistic knowledge level.
13 – American Writers Museum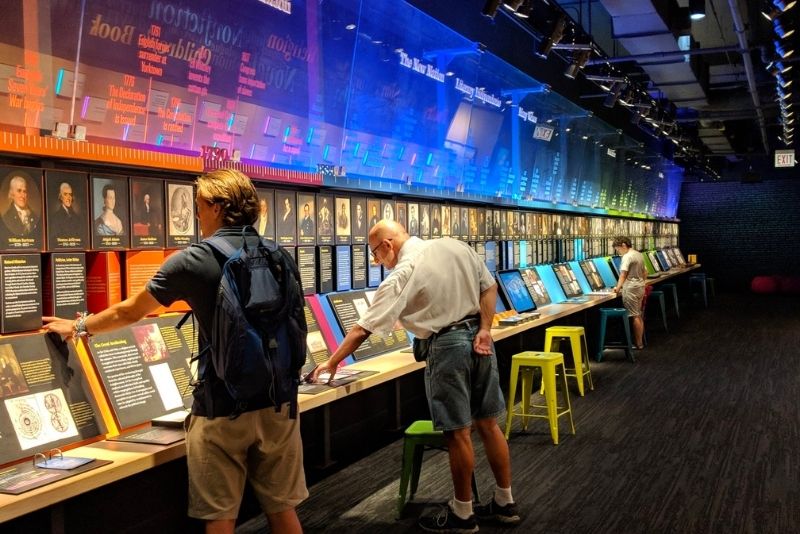 A quintessential stop for literary lovers and history buffs, the downtown American Writers Museum — located just a 15-minute walk from the Art Institute of Chicago  — is dedicated to the wonderful world of American literature and writing.
After opening its doors just recently in 2017, it became the first and only national museum honoring American writers, their work, and their legacies, with state-of-the-art and immersive exhibits the whole way through to tell their stories in remarkable and captivating fashion.
Featuring a variety of fascinating exhibits that offer an up-close look at some of America's most famous wordsmiths over the past five centuries (think: Maya Angelou, Abraham Lincoln, Edgar Allan Poe, Mark Twain, Ernest Hemingway, and Susan B Anthony), visitors are taken on a journey through time by exploring the history behind each author — including what inspired them, how they lived and worked — while also getting the chance to view original manuscripts and become part of the interactive Word Waterfall.
14 – The Richard H. Driehaus Museum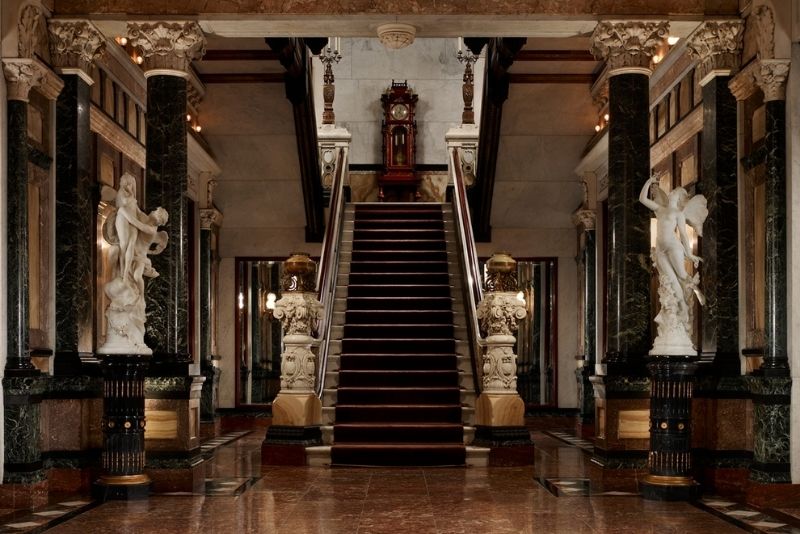 Like stepping back into the Gilded Age, this museum, located in the Gold Coast Historic District on Chicago's Near North Side, is devoted to art and architecture from the late 18th century onwards, with a focus on the Victorian era.
Here, whether solo or under the tutelage of a friendly staff guide, you'll be able to wander the halls and admire a seriously impressive permanent collection of period furniture, decorative arts, paintings, and sculpture from that period (including a rare Chickering and Sons grand piano), as well as a significant archive of architectural drawings and materials.
What makes this place stand out among other museums though? The exquisite mansion itself — The Nickerson Mansion was painstakingly restored to its former glory a few years back and now serves as a stunning backdrop for the exhibits within.
15 – Naper Settlement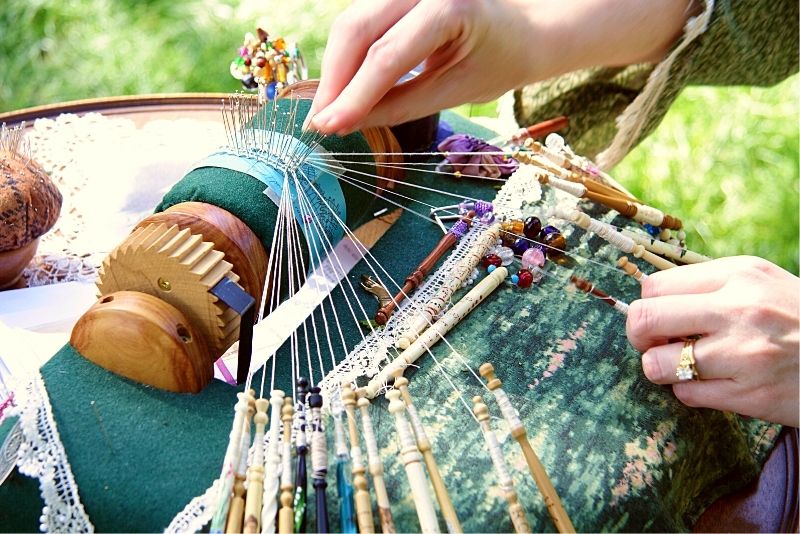 History and nature lovers rejoice, this outdoor living museum — located in the heart of Naperville around an hour's drive west from downtown Chicago — Naper Settlement is a treasure trove of adventure and discovery.
With 13 acres to explore and more than 30 historic buildings to browse (with old-timey costumes worn by staff), visitors can embark on an interactive journey through time as they wander past costumed interpreters demonstrating period trades like basket weaving, blacksmithing and broom making, while serious historians will find intriguing exhibits at every turn that showcase everything from pioneer life to Civil War reenactments.
The grounds also include plenty of green space for picnics or lounging with a good book under the bright blue sky; plus there are dozens of events held throughout the year including trivia nights, festivals, guest speakers, holiday celebrations, and educational activities for kids.
Not sure where to start? The 12-room Martin Mitchell Mansion is emblematic and full of historic detail.
16 – Museum of Illusions Chicago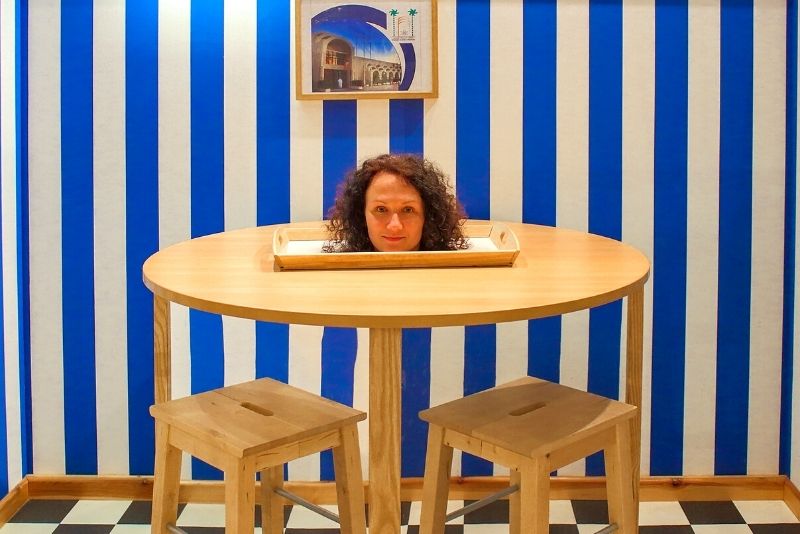 Guaranteed to have you questioning which way's up and what's real and what's fake, this museum — smack-bang in the heart of downtown — is a mind-bending attraction that features more than 80 eye-popping exhibits and optical illusions to keep you guessing all day long (or, more realistically, for about 45-60 minutes).
From an oversized kaleidoscope room and rotating vortex tunnel to infinity rooms with endless mirrors, floor art, holograms, upside-down rooms where the furniture is own the walls, and a sleuth of classic optical tricks sure to have you scratching your head — ideal for visitors of all ages, it's no wonder why this place has earned rave reviews from locals and travelers alike as one of the best Museums in Chicago.
And while many museums require detailed explanations along the way on how each illusion works, here they encourage guests to interact and explore on their own — taking wacky selfies all the way through.
17 – Museum Of Contemporary Art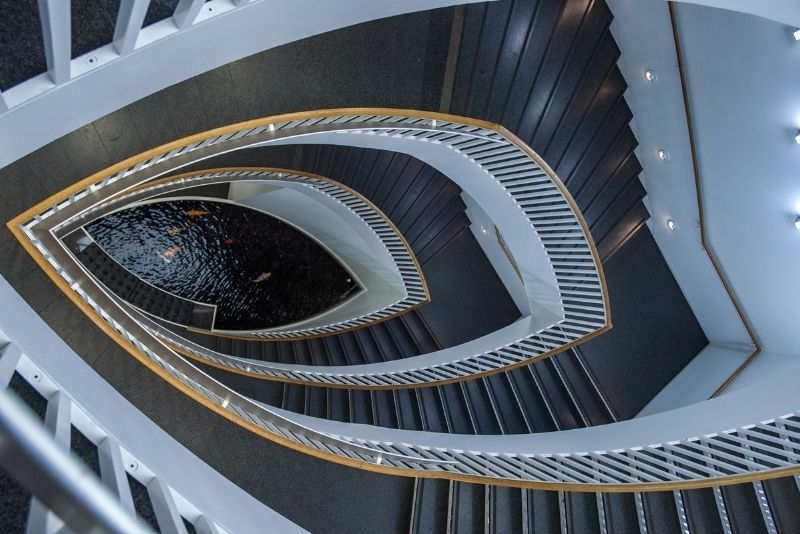 Located in trendy River North, the Museum of Contemporary Art is an absolute must-see for modern art lovers (especially if you're traveling around in July or August when entry is free!).
Since opening to the public in 1967, the always-improving collection has grown to become one the biggest contemporary art venues on the planet, with more than 2,500 pieces from the 1920s to today.
From paintings and sculptures to videos, installations, performance art, and beyond, there's truly something for everyone here (plus a restaurant-café, 34,000-square-feet sculpture garden, and a seriously impressive gift shop), with rotating exhibitions that make each visit feel new.
Highlights include works by household names like Picasso, Jasper Johns, Warhol, and Klimt as well as underrated talents from around the globe (think Frida Kahlo and  Jeff Koons); plus the architecture of the 5-story building itself is pretty darn cool too if you're into that kind of thing.
18 – Volo Auto Museum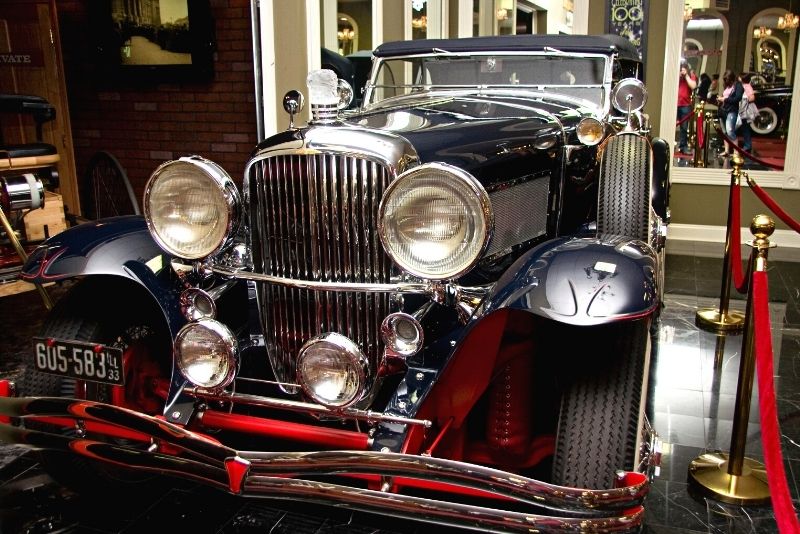 Petrolheads, listen up! Easily the best museum in Chicago (well, technically, it's located around an hour's drive north, which makes for a great day trip), the Volo Auto Museum is a car lover's dream come true.
Featuring the most impressive collections of famous movie vehicles in the country including cars from Back To The Future, Indiana Jones, and Ghostbusters (plus vintage celebrity wheels like Elvis Presley's Cadillac and the Blues Brothers car) as well as other iconic rides dating back to the late 1800s, this place is guaranteed to turn the nostalgia into overdrive.
All up, more than 300 classic, muscle, and Hollywood cars are on display. But make no mistake, this is far from just a garage full of cars. There's a fascinating military museum, train engines, tractors, Disney memorabilia, a merry-go-round, mechanical puppet shows, haunted trolley tours, and an adorable Betty Boop-themed diner!
19 – Medieval Torture Museum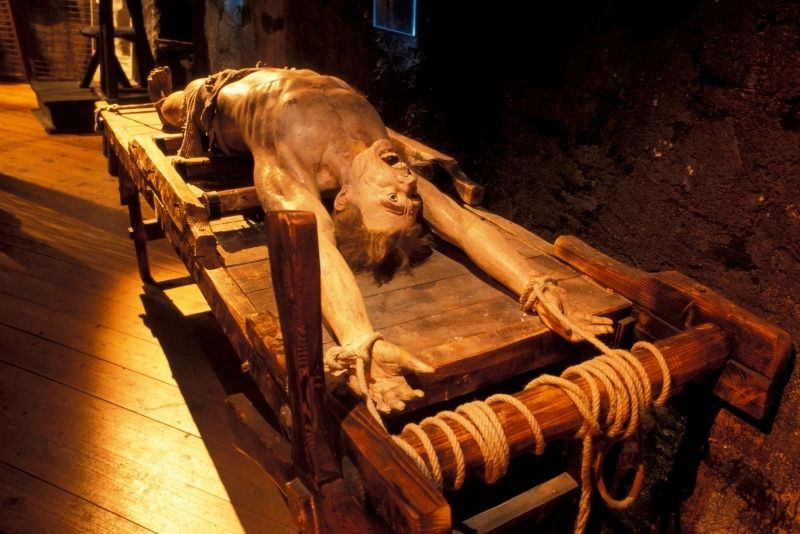 Magnificently macabre, the Medieval Torture Museum is not for the faint-hearted.
Delve into a dark and twisted world of pain, punishment, and perversion as you explore more than 100 gruesome torture devices from the Middle Ages (and a few from before and after too).
From thumbscrews and iron maidens to spiked pits and gallows, this place has it all — plus interactive exhibits that let you experience some of the torture methods firsthand.
Perfect for horror movie fans, history buffs, or anyone with a morbid sense of curiosity, this offbeat museum is one of the most unique places to visit in Chicago.
20 – Shedd Aquarium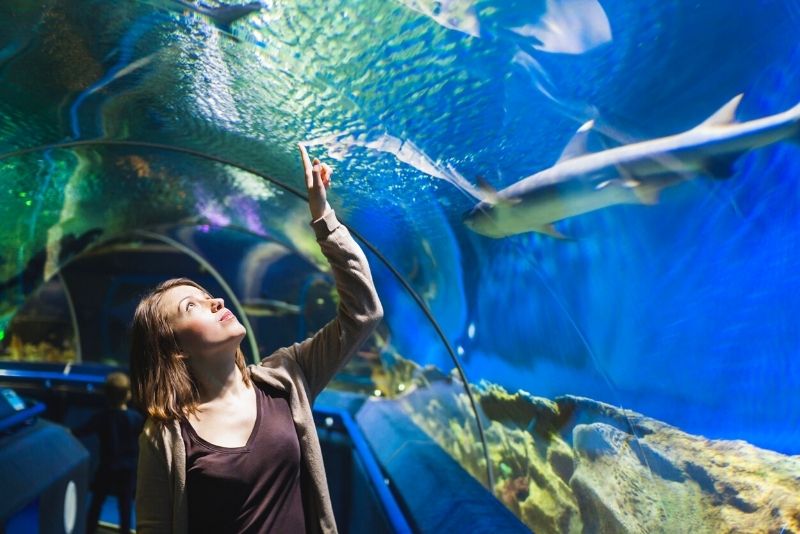 Tucked away at the bottom tip of Grant Park on the edge of Lake Michigan, with stellar views of the water being the norm, the Shedd Aquarium is a Chicago family favorite — with a reputation that precedes it, this magnificent marine life exhibition center is one of the most popular aquariums on the planet.
Home to more than 32,000 animals from nearly 650 species (plus a handful of penguins that you can actually see waddling around in their habitat), Shedd offers something for everyone with its huge variety of underwater creatures, informative exhibits, and up-close encounters (you can even touch some starfish and stingrays!).
Highlights include a 360-degree walk-around replica Caribbean reef, a range of saltwater habitats that dive into the Indo-Pacific reef and the rivers around the world, and Beluga whales that put on quite a show. Plus there's an exciting 4D theater and plenty of live meet-and-greets!
21 – Ernest Hemingway Birthplace Museum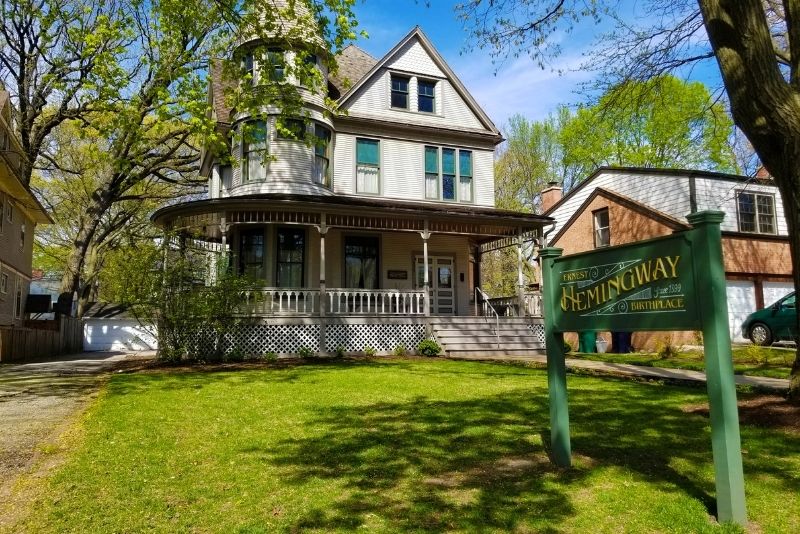 A literary icon, Ernest Hemingway is one of the most celebrated American authors of all time, and you better believe that his long-lasting legacy is on full display at the Ernest Hemingway Birthplace Museum.
Located in Oak Park, a historic suburb just west of downtown Chicago, this small museum is where the famed author spent his childhood and teenage years, and as such is dedicated to capturing the life and work of Hemingway through photos, manuscripts, personal belongings and more.
It's an intimate experience that's perfect for anyone interested in learning more about this fascinating man and his writing process, and is open for regular guided tours.
22 – Illinois Holocaust Museum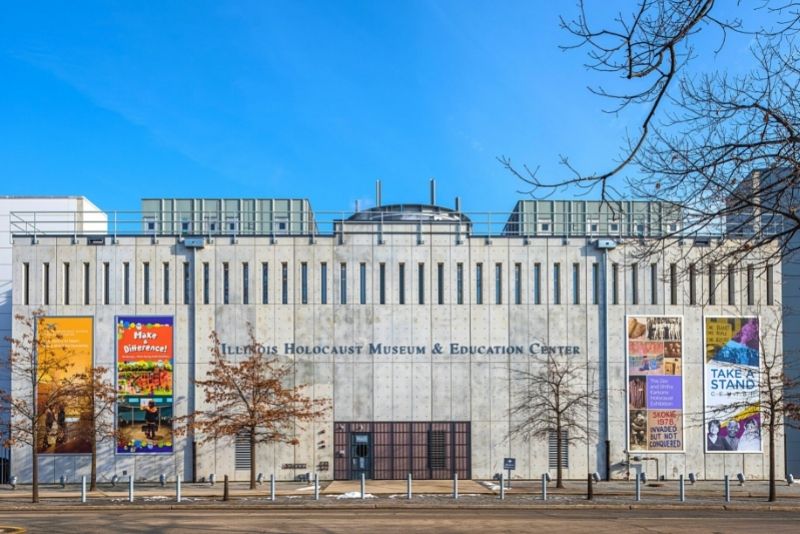 Dedicated to preserving the memory of the Holocaust, sharing the incredible stories of Holocaust survivors, and educating people about the dangers of hatred and prejudice, the Illinois Holocaust Museum is a sobering and eye-opening look at one f humanity's darkest times.
Featuring artifacts, photographs, clothing, letters, personal stories, and more from the Nazi persecution of World War II, this moving museum provides an incredibly powerful insight into the events that led to the Holocaust and its aftermath.
You could say it's an important experience for anyone specifically interested in history or human rights, but in reality, it's an important experience for everyone.
Despite the overarching themes, it's not all doom and gloom though. Through videos, memorials, and interactive exhibits, the museum also celebrates survivors' remarkable stories of courage and resilience, as well as promotes messages of peace and understanding.
23 – Kohl Children's Museum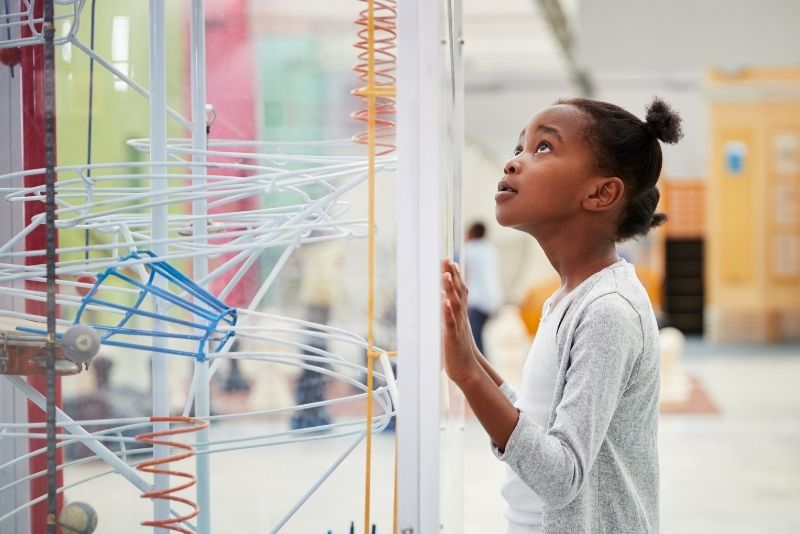 If you've got kids, the vibrant and friendly Kohl Children's Museum is one of the best museums in Chicago for little ones. Aimed at kiddlywinks under 8 years old, the colorful Museum is tucked away just north of Chicago in Glenview and offers a wide range of interactive exhibits that encourage learning through play!
A fun-filled day out that explores everything from art to science, math to health, and literacy to technology, this hands-on museum focuses on educating children about the world around them through creative activities designed especially for youngsters.
Besides the 16 interactive, hands-on exhibits designed to inspire curiosity and develop creative minds, myriad special events and touring exhibitions take place throughout the year, as well as regular classes held throughout each week.
Not sure where to start? Kids regularly make a beeline for the life-sized train car and splash-tastic water room.
24 – Museum of Contemporary Photography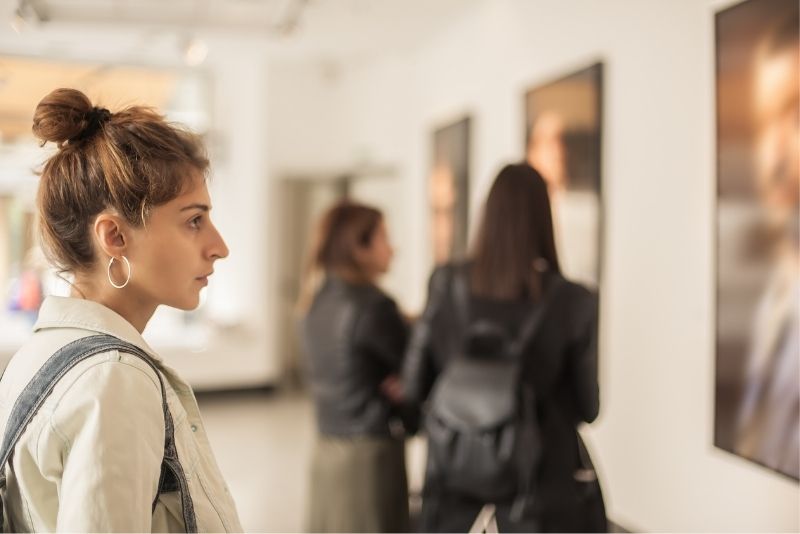 Delivering a fascinating and ever-changing snapshot of photography from the 20th and 21st centuries, the Museum of Contemporary Photography is one of Chicago's most underrated museums.
Located on Columbia College's campus in downtown Chicago, this small museum showcases an eclectic mix of contemporary works by both emerging and established photographers, with a focus on appreciating and highlighting how photojournalism, portraiture, and landscape photography have evolved over time.
It's perfect for anyone interested in modern photography (duh) but also makes for a really interesting stop if you're looking to gain a unique perspective on history and culture too. Plus, located smack-bang next to Grant Park, a leisurely post-visit stroll awaits.
25 – Adler Planetarium and Astronomy Museum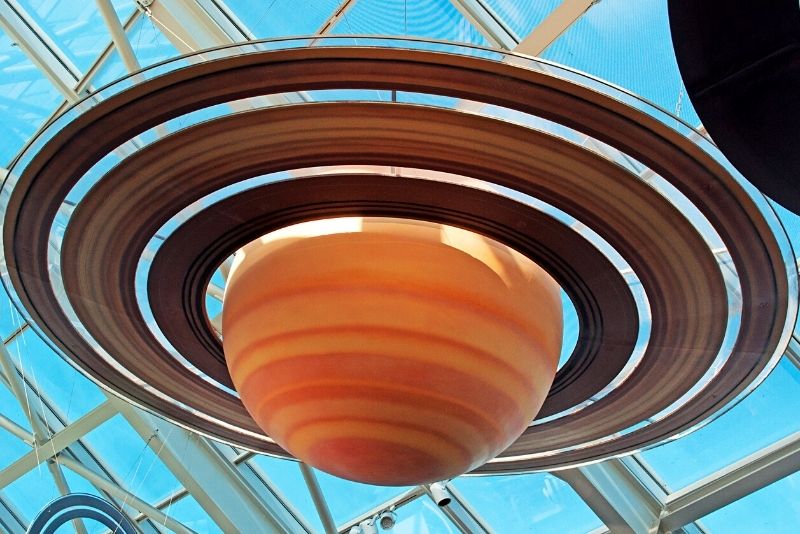 An out-of-this-world experience (sorry, that one was staring us right in the face) for anyone interested in astronomy, interstellar travel, or the mysteries of the Milky Way, the Adler Planetarium and Astronomy Museum is regularly voted one of the best museums in Chicago for families, space buffs, and general tourists alike.
Featuring a range of interactive exhibits that take you on a journey from our planet to the edge of the universe, this curation of exhibitions is perfect for visitors of all ages who want to learn more about astronomy, physics, and everything in between.
Besides wielding the title of the first planetarium in the country, dating back close to a century, and holding America's most comprehensive sundial collection, it also boasts some pretty impressive views of downtown Chicago and Lake Michigan – a wonderful spot for that quintessential Windy City selfie.
Throw in regular special events, lectures, and classes available, and there's something new to explore every time you visit.
26 – National Museum of Puerto Rican Arts & Culture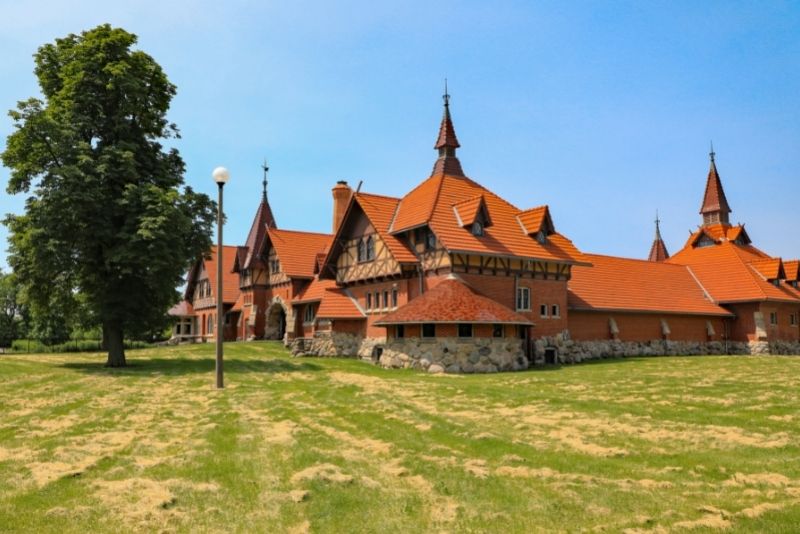 Providing a wonderful insight into the history, culture, and heritage of Puerto Rico, The National Museum of Puerto Rican Arts & Culture is a must-visit for any curious adventurer looking to develop and expand their cultural and artistic prowess.
Located on Chicago's west side in Humboldt Park – known affectionately as 'Chicago's Little Puerto Rico' thanks to its large population of people with roots on the Caribbean island – this small but perfectly formed museum has been designed to celebrate all things PR (both past and present) through a variety of interactive exhibits that explore everything from life in 19th century San Juan to contemporary art and music.
The perfect place to learn more about one of America's most culturally diverse neighborhoods whilst enjoying some beautiful works inspired by it too! And, as you'd expect, take a little stroll around the neighborhood to uncover tantalizing eats!
27 – McCormick Bridgehouse & Chicago River Museum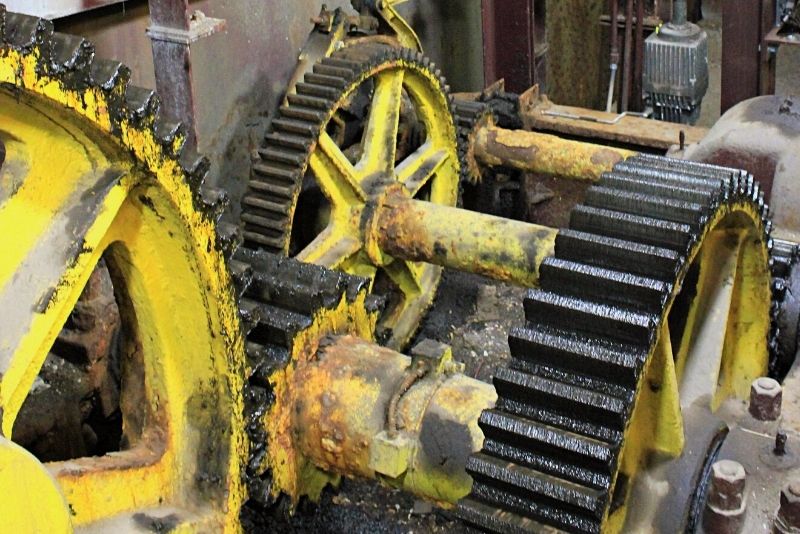 Little-known compared to some of the other entries on this list, but no less deserving, The McCormick Bridgehouse & Chicago River Museum is a fascinating stop for anyone interested in architecture, engineering, or history.
Located at the confluence of the Main and South Branches of the Chicago River (in downtown Chi-town), this unique museum charts the story of the area's infrastructure development over the decades, and how the city's moving bridges have been used to control Chicago's river traffic over time.
From interactive exhibits that show you how bridge operators once worked their magic (and still do!), to stellar 360-degree views from the top of the 5-story tower, it's an engrossing look at one of the city's most important pieces of infrastructure.
Keep in mind: the museum is seasonal, open from May to October, Thursday through Monday.
28 – National Museum of the American Sailor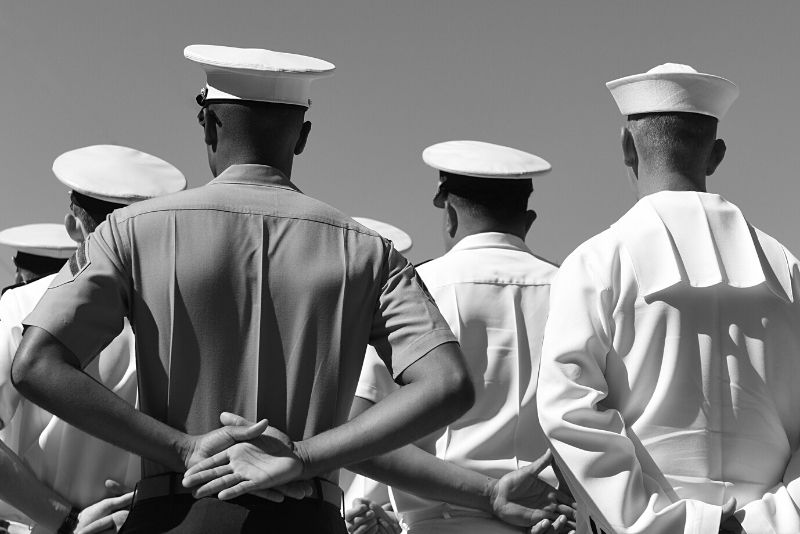 Dedicated to preserving the history and heritage of America's sailors, this museum is like a small slice of maritime magic.
Housed in the Great Lakes Naval Training Center in North Chicago (read: not to be confused with the northern side of Chicago, this is actually an hour's drive north), this comprehensive collection takes visitors through life at sea for US military servicemen and women, with interactive exhibits that explore what everyday life was really like for those who served aboard Navy ships throughout history — from colonial times through to the modern-day.
Featuring some fascinating artifacts – including uniforms, photographs, sails, and other memorabilia – it offers a wonderful insight into one of America's most important servicemen… whilst enjoying a slower change of pace from most Chi-town museums.
29 – Chicago Sports Museum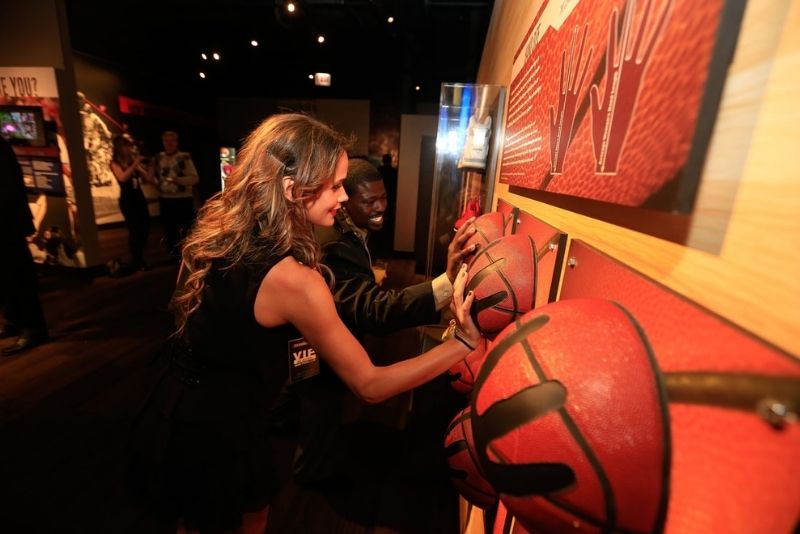 A non-negotiable stop on any sports-lover's Windy City itinerary, the Chicago Sports Museum is a temple of all things sports-related.
From iconic jerseys and bats to trophies and medals, this museum houses an impressive collection of artifacts from some of the city's most iconic sporting moments and athletes over the years.
What's more, it doesn't just focus on baseball, basketball, and NFL… there are also sections dedicated to ice hockey, soccer, figure skating, and a whole lot more — with myriad hi-tech simulated experiences that ensure hands-on fun for the whole family!
So whether you're a diehard fan or simply looking for something interesting to do on a rainy day, this place at the Water Tower Place mall is sure to please.
30 – Intuit: The Center for Intuitive and Outsider Art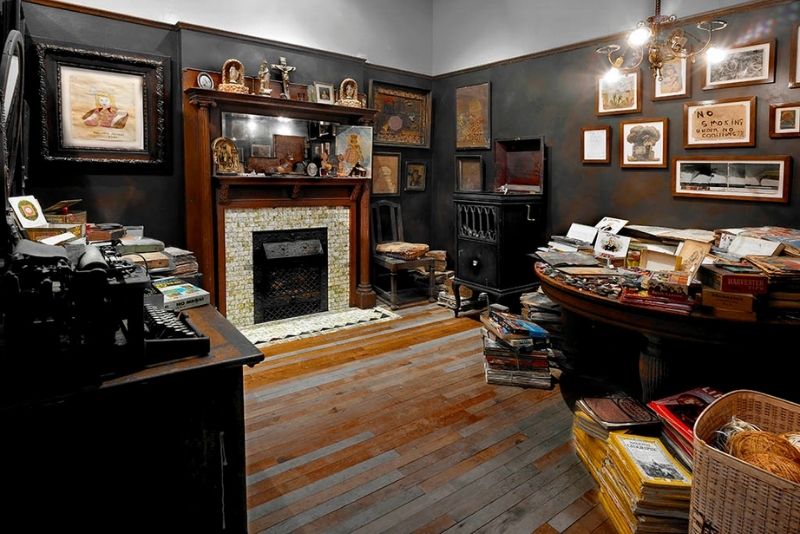 Quirky and delightful, Intuit: The Center for Intuitive and Outsider Art is a must-visit for anyone with an interest in the unconventional or offbeat.
Featuring exhibitions of art made by self-taught creators (or 'outsiders', as they're often called), this museum is dedicated to showcasing diverse artistic voices and pathways, resulting in 1,200 unique and fascinating pieces you won't see at the MCA or the Field Museum.
From folk paintings, drawings, and sculptures to occasional live performances and educational programs, the range of styles on display is impressive, making it a great place to go if you're looking for something completely different from the traditional art world.
31 – Betty Brinn Children's Museum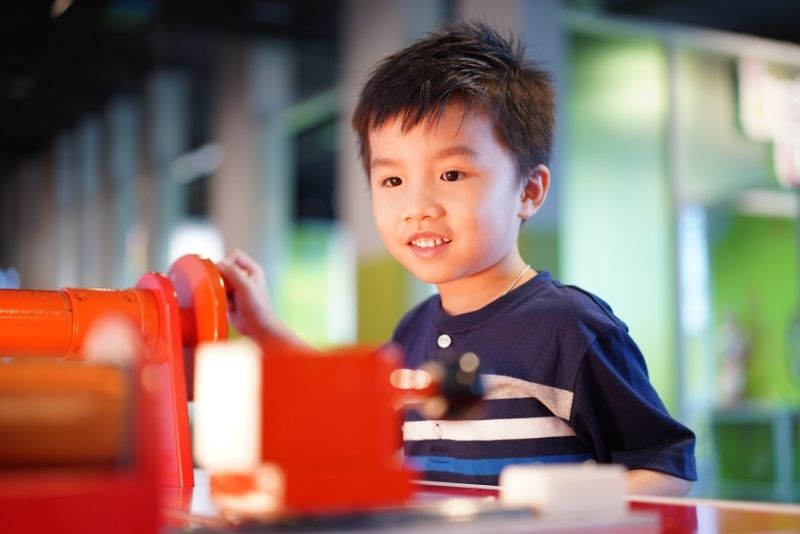 A beloved non-profit institution, the Betty Brinn Children's Museum is all about hands-on fun and learning for kids aged 0-12.
With exhibits that focus on everything from science and technology to art and culture, this museum provides a wealth of opportunities for children to explore, play, and ignite creativity in a stimulating and encouraging environment.
What's more, it also boasts an impressive range of special events and activities throughout the year (including weekly music sessions), making it THE place to go if you're looking for something fun to do with your little ones.
Betty Brin is also proud to offer regular Sensory-Friendly Sessions, programs curated for children with Autism and unique needs, offering them the chance to experience all of its exhibits in a calmer environment.
32 – Graue Mill & Museum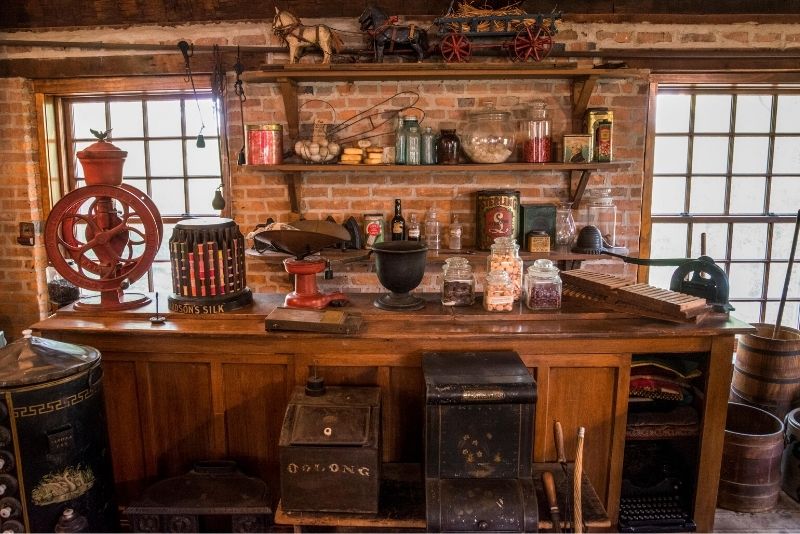 Built upon the only water-powered grist mill in Illinois, the Graue Mill & Museum is a fascinating and unique slice of local history, well off the beaten track in Oak Brook.
Staffed by friendly volunteers well-versed in the history of the area, this museum provides an interesting and educational glimpse into how things were done in rural America during the 1800s.
What's more, it also offers visitors the chance to see original machinery dating back to the mill's construction in 1852, as well as demonstrations of how the mill works.
After learning a thing or two, make sure to leave time to stroll around the surrounding Fullersburg Preserve walking trails — arguably even more of an attraction than the museum itself.
33 – Chicago Cultural Center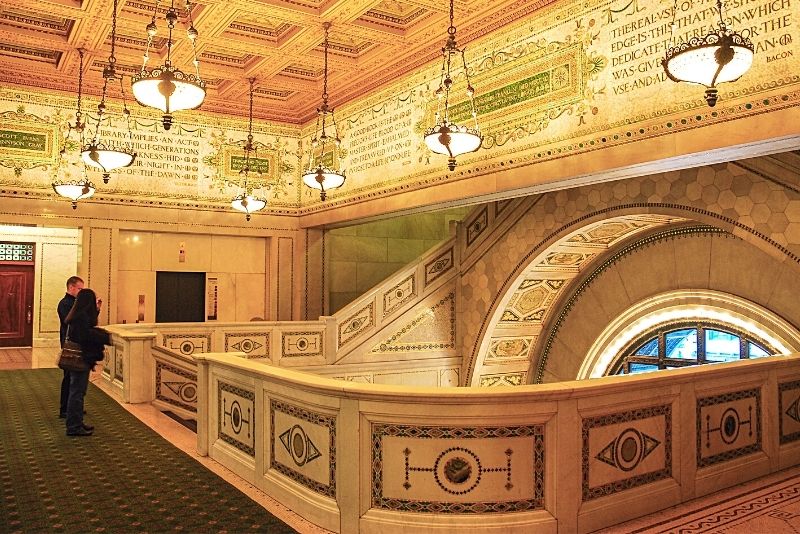 One of the city's most gorgeous landmarks and just a 3-minute stroll from snap-happy Cloud Gate, the Chicago Cultural Center is a magnificent example of public architecture and a melting pot of interesting events.
Opened back in 1897 as the original home for the central library (and since then, regularly referred to as "the people's palace"), this building boasts the massive stained glass Tiffany Dome, the mosiac-filled Washington Street Lobby, and is considered one of the finest examples of Beaux-Arts style architecture in America.
These days, however, it has been beautifully repurposed into an arts center that hosts free exhibits, music performances, and cultural events throughout the year — making it well worth stopping by if you're interested in seeing what's on during your stay.
34 – Museum of Broadcast Communications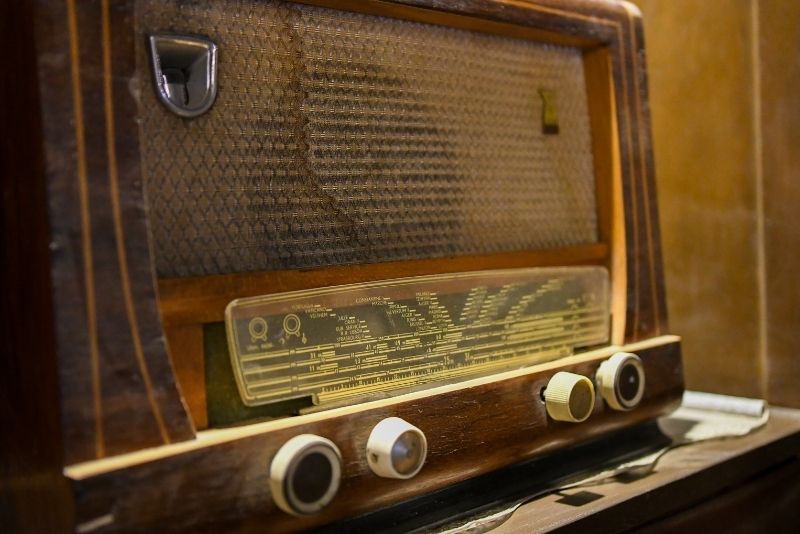 One of just a pair of broadcast museums in the US (the other being a small outfit in New York), this expansive River North museum is well worth stopping by if you're interested in the evolution of media, and the iconic moments of radio and television history.
As one of the most underrated museums in Chicago, it's packed with thousands of artifacts that cover all kinds of airwave-hitting memorabilia: from early 20th-century radio to contemporary TV units, including a host of rare and historically-significant footage. On the second floor sits the National Radio Hall of Fame, while the museum store, with movie posters, books, CDs, and games offers myriad unique souvenirs
Enjoy testing out the working television weather desk with a green screen, and check out some of the costumes and wigs from Bozo's Circus. The focal point, however, is the Media Tower sculpture — a 17-foot-tall, 1,200-pound time capsule of antique broadcasting equipment.
35 – Fox River Trolley Museum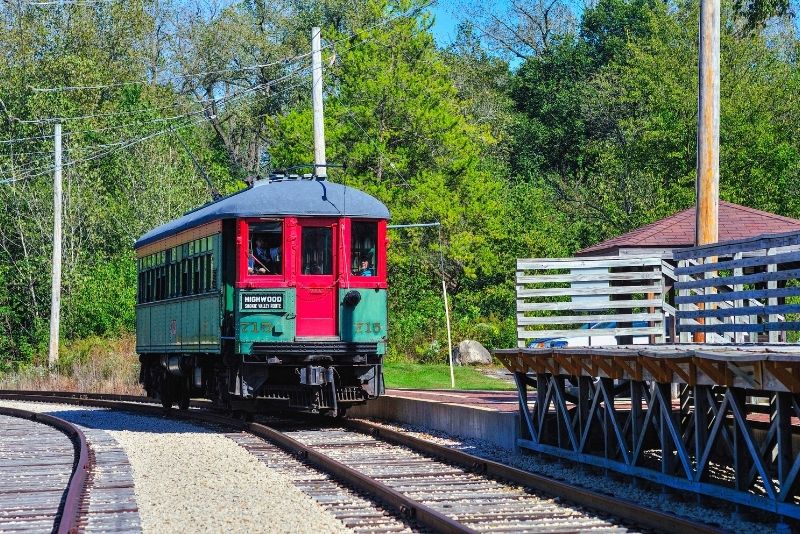 Affordable, family-friendly, and a nice hour's drive inland that begins to change from a built-up metropolis to wide and expansive nature, the Fox River Trolley Museum makes for a wonderful day of learning and history for all ages.
As the name suggests, this museum is all about recreating and celebrating the history of trolley transport in America: from early steam carriages to electric streetcars, it has over 30 different carriages and locomotives on display (many of which are still operational), making it a perfect place for kids who love anything with wheels.
What's more, the knowledgeable staff are always happy to answer questions and teach visitors about how these modes of transportation helped shape society as we know it today. With plenty of picnic areas surrounding the sprawling complex and a 4-mile heritage railroad that's both relaxing and educational, it also makes for a great day out in nature too.
36 – First Division Museum at Cantigny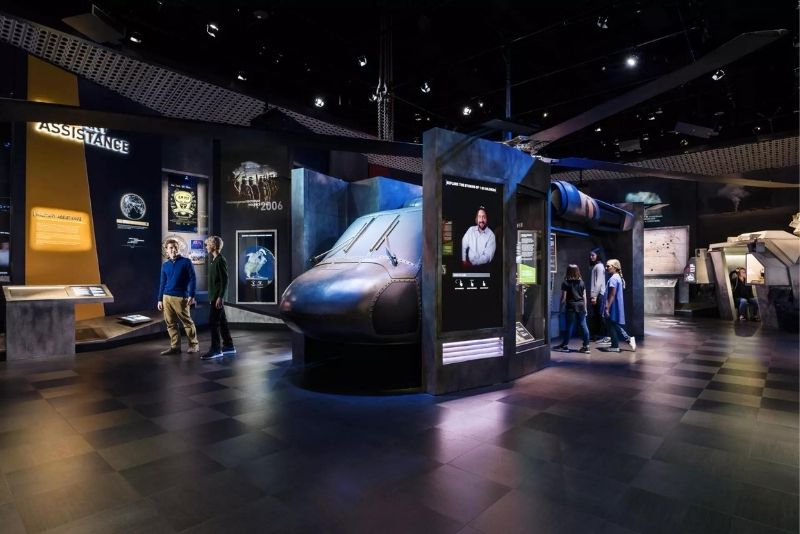 Nestled away inside the 500-acre Cantigny Park in Wheaton, a peaceful slice of greenery about 40 minutes away from Chicago proper, the First Division Museum is dedicated to showcasing the complex and fascinating history and heritage of America's armed forces through the eyes of the famed 1st Infantry Division.
Housing an extensive collection, its multiple floors are packed with military art, weaponry, memorabilia, and technology — making it one of the best museums in Chicago for those interested in military history.
Through displays, life-size dioramas, guest speakers, and state-of-the-art VR technology, guests are given a rare glimpse into specific aspects of America's wartime efforts; whether that's the trenches of WWI, the stormed beaches of WWII, or the rice paddies over in Vietnam.
What makes this experience extra interesting is how much more hands-on it feels than other museums: visitors can try on uniforms from different eras, hold replica weapons, get inside a tank simulator game and dress up like soldiers from different periods — don't miss Tank Park either, which features tanks, trucks, jeeps, and artillery from WWI to Desert Shield.
37 – DePaul Art Museum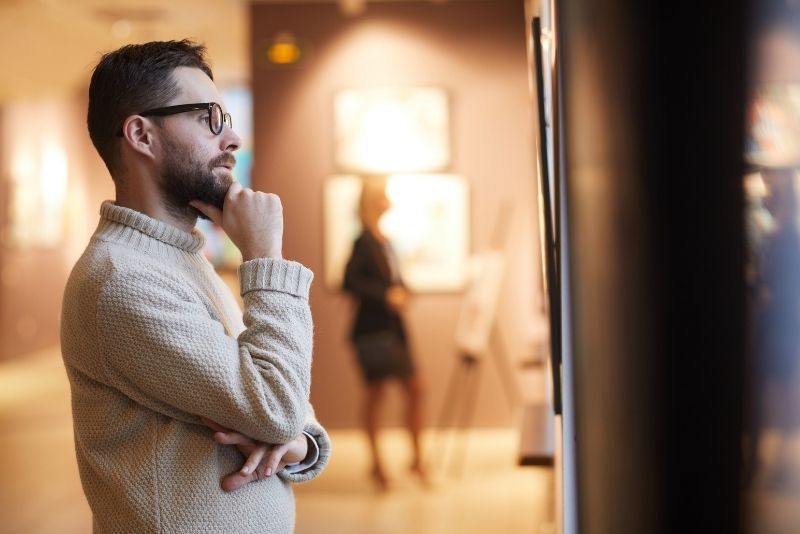 Free and open to the public, DePaul Art Museum is one of the largest university art museums in the United States and showcases a wonderful combination of both historical and contemporary artwork from all around our big blue planet.
Situated on DePaul University's Lincoln Park Campus (just north of downtown Chicago), it spans three floors of a stately building and intrigues visitors with between four and six rotating exhibitions every year, so you can ensure no two visits are the same.
Add in the permanent collection of over 3,500 items to browse, as well as a host of regular free events (artist talks, feminist mentorship conversations, yoga programs, performances, workshops, screenings
Hot tip: the Museum is right next to the Fullerton CTA station, so consider leaving the car at home and avoiding traffic with a ride on the elevated tracks.
38 – Elmhurst History Museum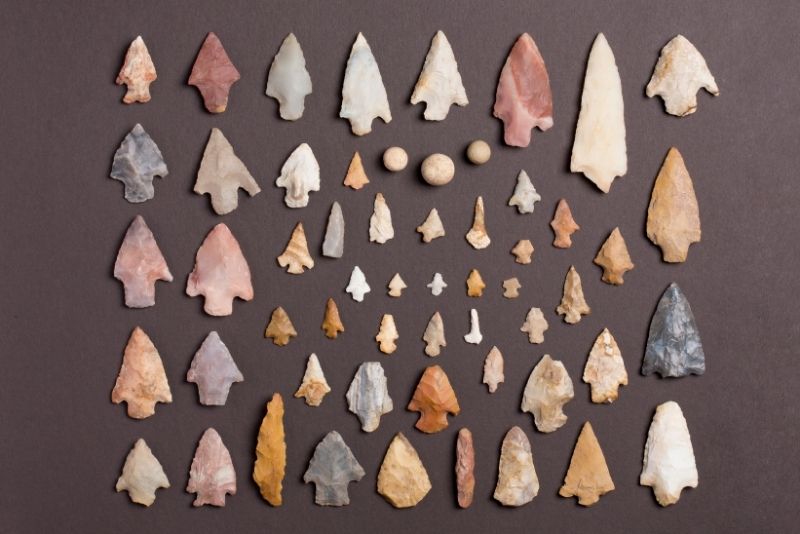 As the name suggests, Elmhurst History Museum is all about chronicling the history of this small but prosperous city just 40 minutes west of downtown Chicago.
From its humble beginnings as a tiny settlement on the banks of Salt Creek to becoming a blossoming and diverse region, this museum showcases the rise of the city (and by extension, Chicago) through over 15,000 artifacts, 10,000 historic photographs, and archives featuring letters, manuscripts and over 500 books — all housed in a beautiful historic mansion.
39 – Legoland Discovery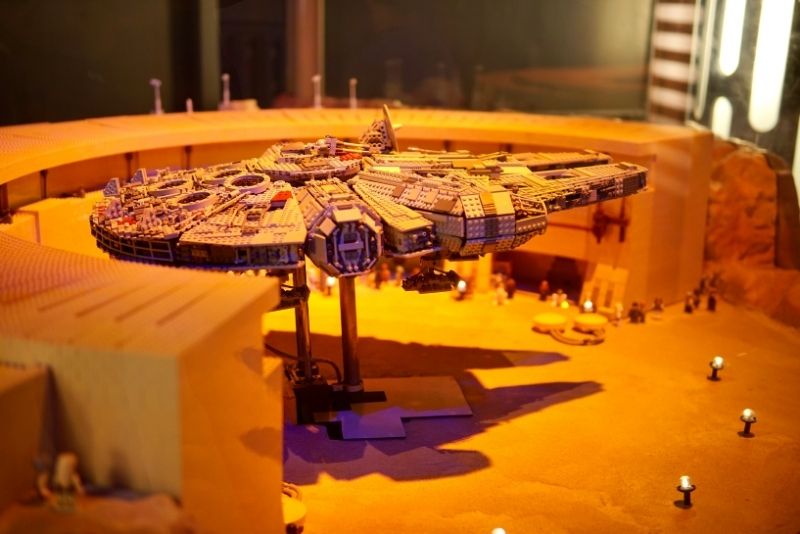 Heaven on Earth for kids of all ages, Legoland Discovery is a wondrous indoor amusement park in Schaumburg that's home to all kinds of stackable, buildable, Lego-tastic fun.
Tucked away inside Woodfield Mall (meaning it's a worthwhile visit no matter the weather), you'll find a 4D cinema, no less than 10 different hands-on play areas, and a store bursting with over 900 distinct builds and souvenirs for visitors to enjoy. Arguably the main highlight, however, is the Miniland section — a LEGO-made replica of the Windy City itself!
Hot tip: check the website and book tickets online before you go — you won't want to miss the Master Builder Workshops and special holiday celebrations.
40 – National Veterans Art Museum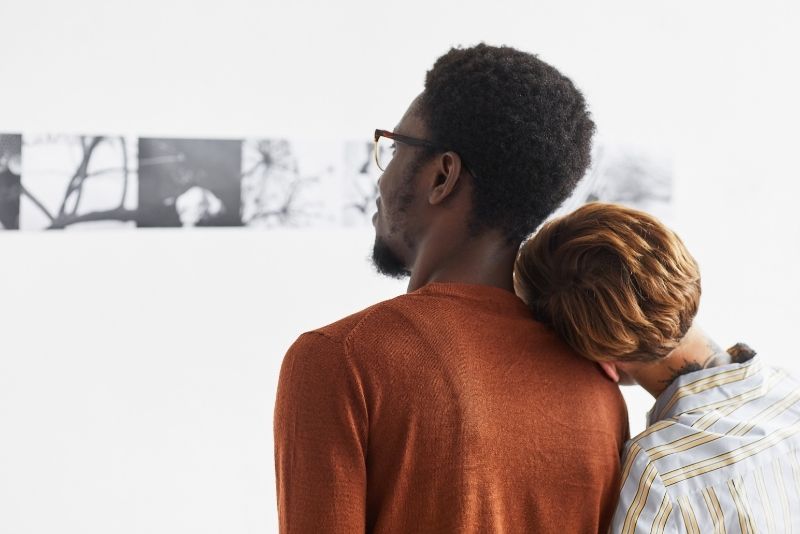 Poignant and deeply moving, the National Veterans Art Museum is one of Chicago's most insightful museums, thanks to its unique purpose of showcasing art produced by veterans from all wars and conflicts dating back to WWI, with a large focus on Vietnam.
Located in leafy Ukrainian Village — just west of downtown Chicago — this eye-opening museum is designed to spark a greater understanding of the real impact of military engagements, showing experiences through the eyes (and paintbrushes) of former front-line soldiers. And it does so spectacularly, through a collection of over 2,500 war-themed works of art by more than 250 artists, including paintings, sculptures, and even comics created by vets.
The hanging dog tag ceiling is unmissable, while the regular special events on days like Memorial Day or Veterans Day often welcome engaging guest speakers.
41 – Glessner House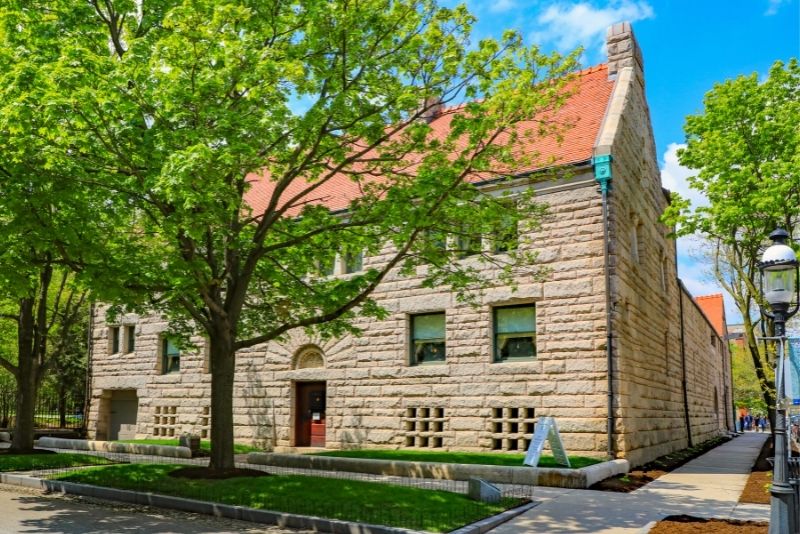 Dating back all the way to 1887, Glessner House is an elaborate yet charming residence designed by Henry Hobson Richardson (and since designated as a National Historic Landmark) that, at the time, was the pinnacle of the modern home; it's been meticulously maintained and restored over the next century and a half, helping it stand out from other beautiful homes in the surrounding Prairie Avenue Historic District.
Today, this elegant building has been converted into a living museum with tours focusing on architecture, history, or arts and crafts available for visitors of all ages — each running for about an hour and showcasing just how life was lived here back in its heyday through decorating styles, furniture and more.
If you're looking for something unique and not too far off the beaten path, then this place is certainly worth adding to the list of the best museums in Chicago.
42 – Leather Archives & Museum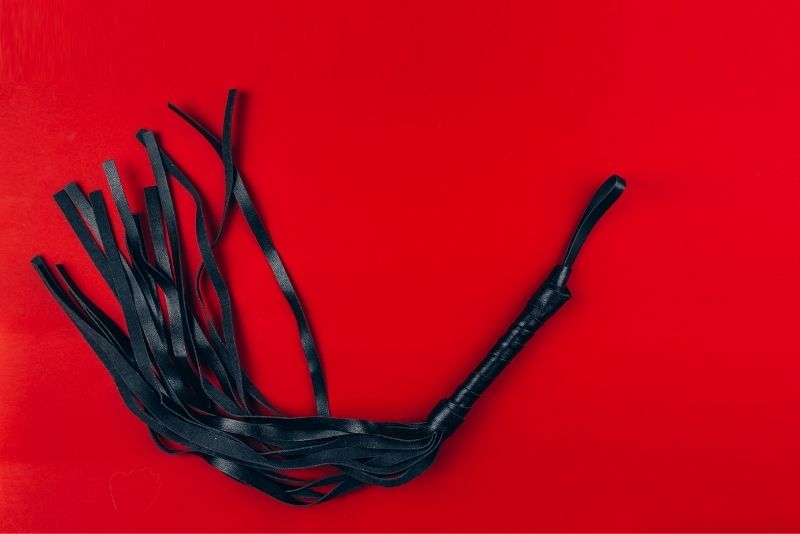 An interesting and educational institution that delivers a far different experience than your typical art or history-focused museum, the Leather Archives & Museum is dedicated to preserving and documenting what they call "leather subculture".
Inside an unassuming brick building in Rogers Park, you won't find a museum dedicated to the evolution of leather jackets or leather shoes. Nope, this spot is all about leather in the world of alternative sex, diving into kinks, fetishism, sadomasochism, and BDSM.
With all kinds of art, toys (think handcuffs, whips, and the like), literature, and other artifacts on display, it's a fascinating and eye-opening look at an often misunderstood side of human sexuality — as such, it's certainly one of Chicago's most intriguing museums, even if it is a little offbeat!
43 – Oriental Institute Museum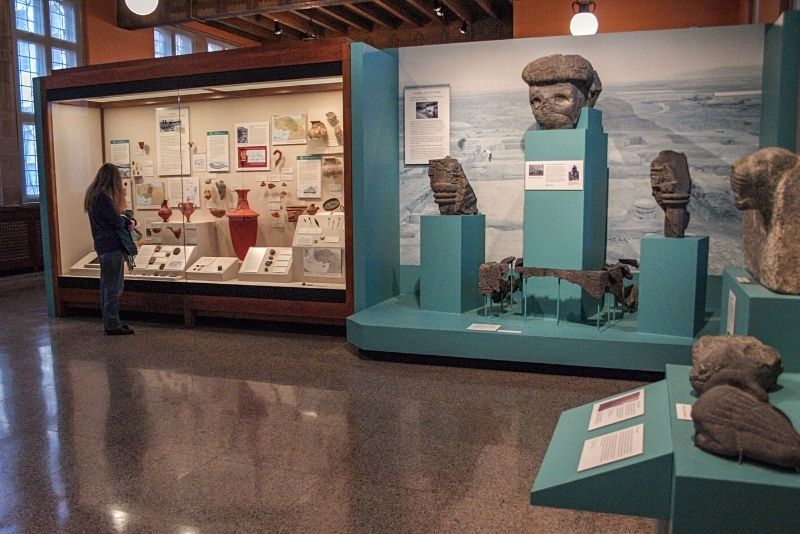 Over a century old and dedicated to the exquisite art and culture of the ancient Orient, which is broadly considered to be the modern Middle East, everything from present-day Iraq up to Turkey, Iran, Egypt, Israel, and beyond, this fascinating museum is one dedicated to showcasing and protecting the diverse ancient Middle Eastern civilizations.
With a giant library of more than 350,000 artifacts, close to 5,000 of which are on display at any one time, it's a real treat for history buffs. Located on the University of Chicago campus, the Oriental Institute Museum really does showcase another world when compared with what we know today;
Its impressive collection includes glazed brick lion friezes from Babylon, the Achaemenid clay tablets from Persepolis, A statue of Tutankhamun from ancient Egypt, and a stack of pottery dating back thousands of years.
Best of all, entry is free!
44 – Smart Museum of Art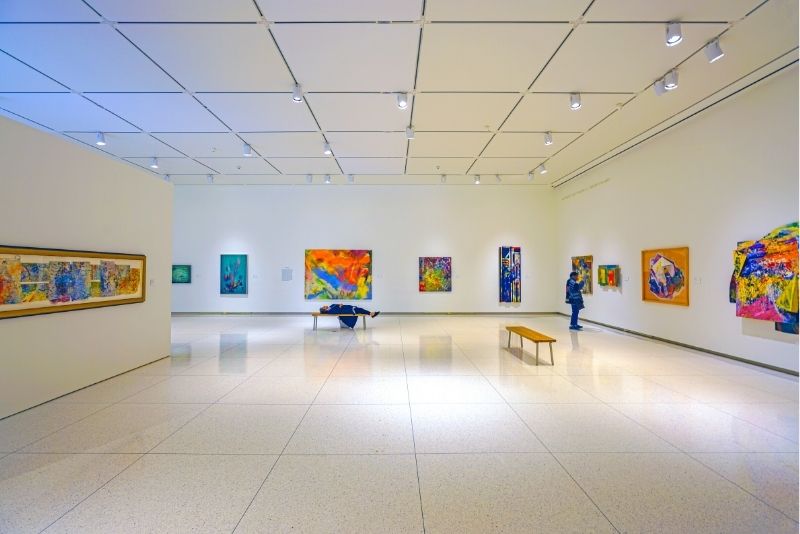 While you're wandering around the University of Chicago campus, be sure to also check out the David and Alfred Smart Museum of Art, a whimsical array of quirky and unique pieces dedicated exclusively to contemporary art.
With rotating exhibits that change every few months and a permanent collection featuring 15,000 objects from big-name artists like Andy Warhol, Sylvia Sleigh, and Edward Degas, it's an excellent place to get up close and personal with some of the most innovative minds in art history.
Spread across four different galleries, categorized into modern art, Asian art, European art, and contemporary art, guests can browse the diverse range at their own pace or, for a more in-depth look at the works, follow along with a very knowledgeable and friendly docent on a tour.
45 – Pritzker Military Museum & Library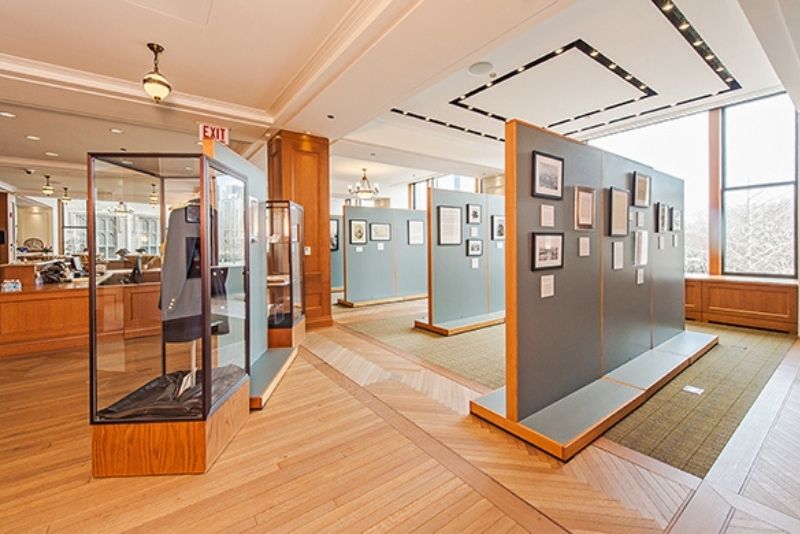 Right in the middle of the downtown action on Michigan Avenue, in the historic Monroe Building, the Pritzker Military Museum & Library is a fascinating multi-story institution that's dedicated to the preservation and education of military history, shining a light on both democracy and the 'citizen soldier', and acting as a meeting place for active military and veterans.
With rotating exhibits and events all year round, it features items like WWII propaganda posters, medals for bravery earned by soldiers across several different battles, letters sent home from soldiers at war, plus photographs both old and modern documenting key moments in history – not to mention a significant archive of educational texts.
46 – Federal Reserve Bank of Chicago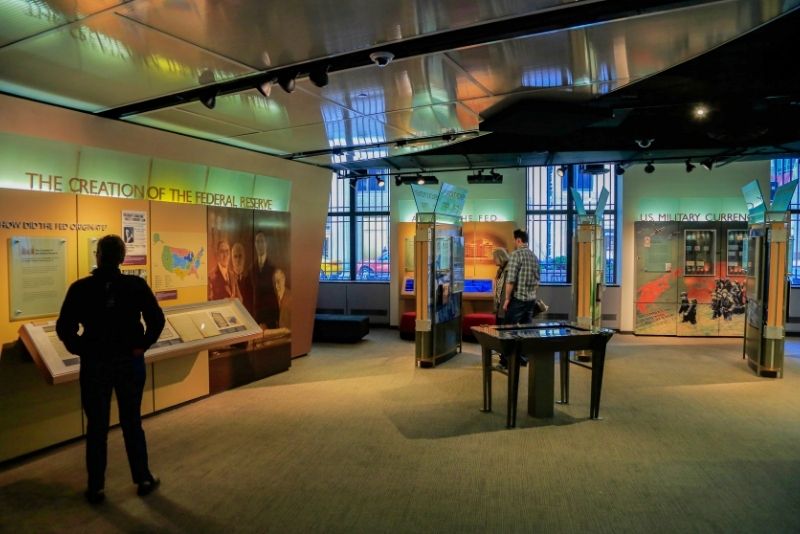 Because who doesn't love money, right? A great stop for anyone with an interest in economics, the Federal Reserve Bank of Chicago's Money Museum is a fascinating look into the financial side of life and a journey into the little-known behind-the-scenes angle of the American financial system.
A free, walk-in museum that aims to make money fun through zany exhibits and displays of 1 million dollars (how much space do you think it takes up?), the Fed's tours operate during business hours, Monday to Friday (excluding bank holidays), and offer an in-depth and visual history of money throughout the world dating back centuries.
With plenty of quirky souvenirs in the gift shop, it makes for a worthwhile stop on any day of downtown walkabout.
47 – Wonder Works Children's Museum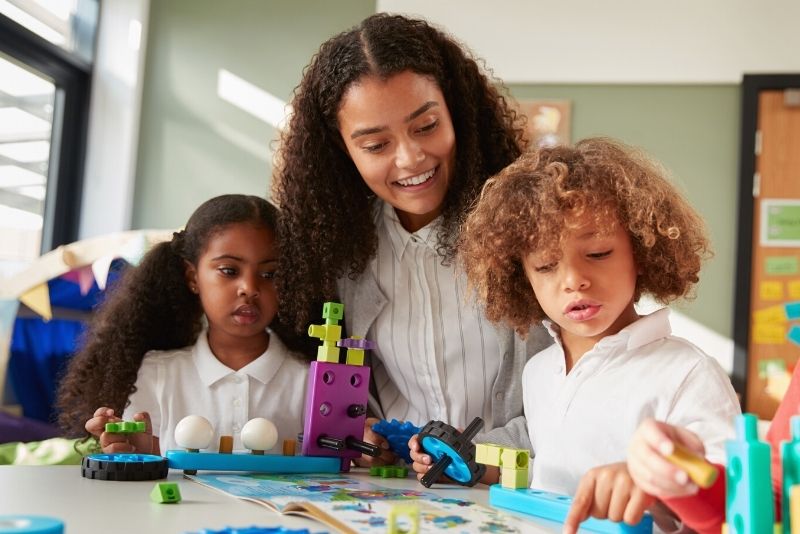 A surefire hit for youngsters (and a great break for parents too), Wonder Works is all about inspiring creativity and learning in interactive ways.
Boasting 7 experience zones on everything from how things work to the human body, nature, outer space, and a whole lot more, it provides hours of fun (and education, and perhaps a little bit of career inspiration) for the whole family.
From its inception in 1992 over in Oak Park, Wonder Works has welcomed millions of visitors, making it one of the most popular kid-oriented museums in Chicago; with an admission price of just $11 per person, it's also great value for money.
48 – Chicago Architecture Center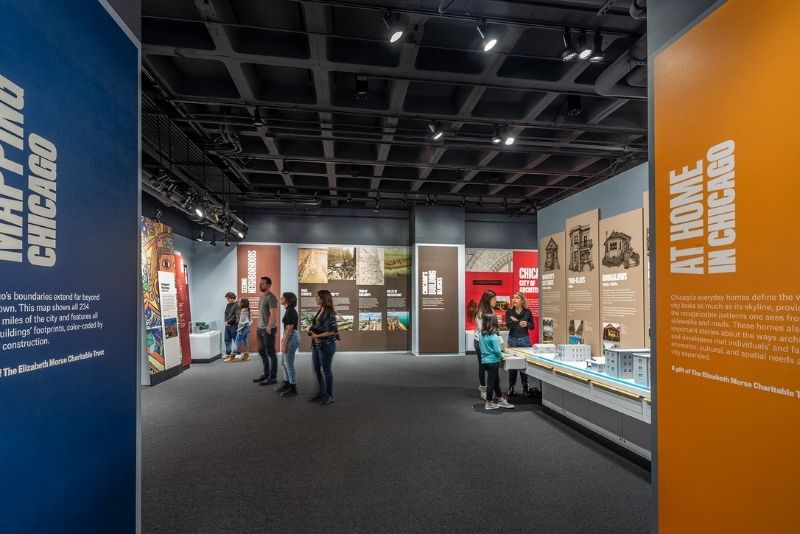 As a city renowned for its architectural brilliance, it should come as no surprise that Chicago is home to an abundance of museums and tours dedicated to the subject of all things skyscrapers, bridges, and more.
Chief amongst these is the Chicago Architecture Center (CAC), a nonprofit organization that offers no less than 85 different tours (themed around modern architecture, art deco skyscrapers, hidden gems, and plenty more), as well as talks, exhibits, and even classes on all things architecture – from beginner level to advanced design students.
The most popular of the bunch is a 90-minute walking tour that ventures through the Loop district — along the way, you'll marvel at towering buildings like the Willis Tower and John Hancock Center, as well as historical icons like Carson Pirie Scott and Company Building store.
With tours running daily (including boat tours), there's no excuse not to get schooled in Chicago architecture.
49 – Frank Lloyd Wright Home and Studio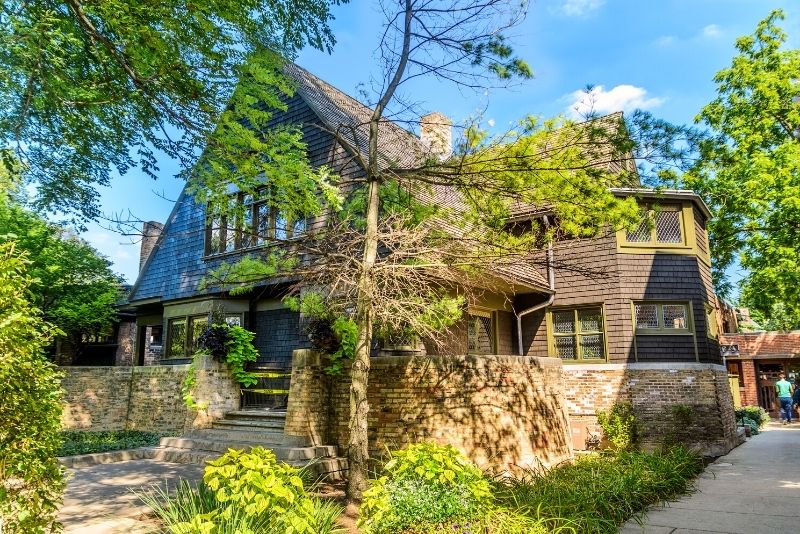 Speaking of architecture, no trip to the Windy City is complete without a stop at the former Oak Park home and studio of one Frank Lloyd Wright, widely considered to be America's most famous architect — a man who left a glowing legacy of some 150 iconic buildings nationwide.
Designed by Wright himself in 1889, the building has been lovingly preserved and meticulously restored, declared a National Historic Landmark in the 1970s and welcoming curious visitors ever since.
Showcasing treasures around every corner, highlights include period furniture and fittings plus an extensive archive of drawings, models, and photos chronicling his career – from early Prairie-style homes to later projects like the Guggenheim Museum.
50 – Swedish American Museum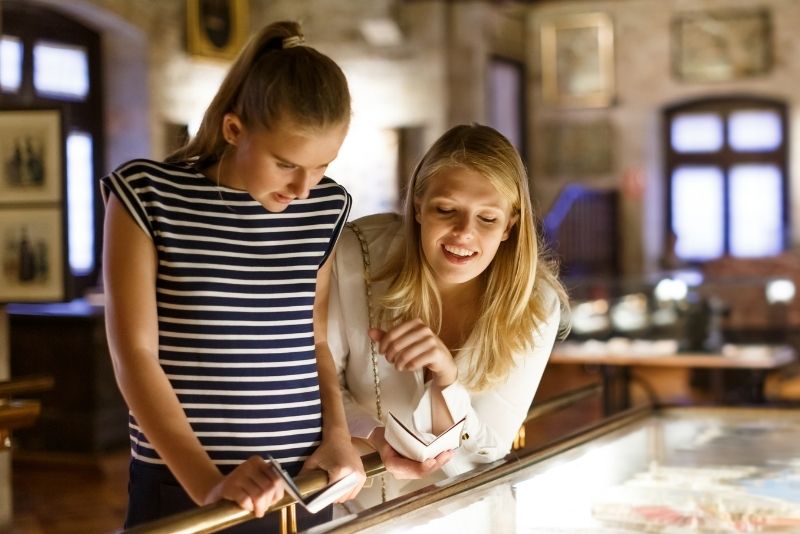 A taste of Scandinavia in the heart of Chicago, the Swedish American Museum is bursting at the seems with Swedish art, history, and culture; devoted to preserving and celebrating the emigration to mainland USA in the mid-1800s.
Tucked away on Clark Street in Andersonville (a neighborhood with strong ties to Scandinavian culture), it tells the story of Swedish immigration over the years, as well as showcasing local artists and artisans through a regular calendar of exhibitions.
The permanent collection includes everything from folk costumes to furniture, textiles, jewelry, and more; meanwhile, its educational programming brings together scholars and researchers alike for talks on everything from Norse Mythology to Viking history.
To top it all off: there's also an authentic cafe serving up traditional fare like freshly- baked nybakat (cinnamon rolls) or meatballs alongside excellent coffee – what better way could there be to round out a
Hitting up multiple museums? Save money and hassle with a city tourist pass
With a plethora of fascinating museums beckoning sports fans, culture vultures, art lovers, and more, Chicago is unsurprisingly one of America's most popular tourist destinations – and with so much on offer, it can be tough to know where to start.
One way to maximize your time (and money) in the city? Invest in a city tourist pass, which grants access to multiple attractions at a discount.
Options include the Chicago City PASS, which gets you admission to attractions including the Shedd Aquarium and The Field Museum; or the Go City Chicago Explorer Pass, which gives you your pick of dozens of different options including the Art Institute of Chicago and 360 CHICAGO Observation Deck.
No matter what type of traveler you are, there's likely a museum pass that'll suit your needs – so why not explore all that Chicago has to offer, without breaking the bank?
Final thoughts
And that's a wrap! We hope this article has given you a little taste of the best museums in Chicago, the Windy City! So whether you're visiting in the summer looking for an art fix, winter looking to dive into history, or anywhere in between, you'll be spoiled for choice for memorable activities.
If you have any other must-see suggestions, feel free to let us know in the comments! As always, happy travels.