A hop-on hop-off bus tour is a great way to explore Chicago at your leisure. With fixed routes, but no fixed schedule for you to stick to, you can disembark at your chosen stops and then hop back on to continue the route when you're ready.
While on the bus, you will learn more about the sights from the audio narrative provided by a professional guide.
Hop-on hop-off tours offer the best value for money as you can travel for as long as your ticket is valid.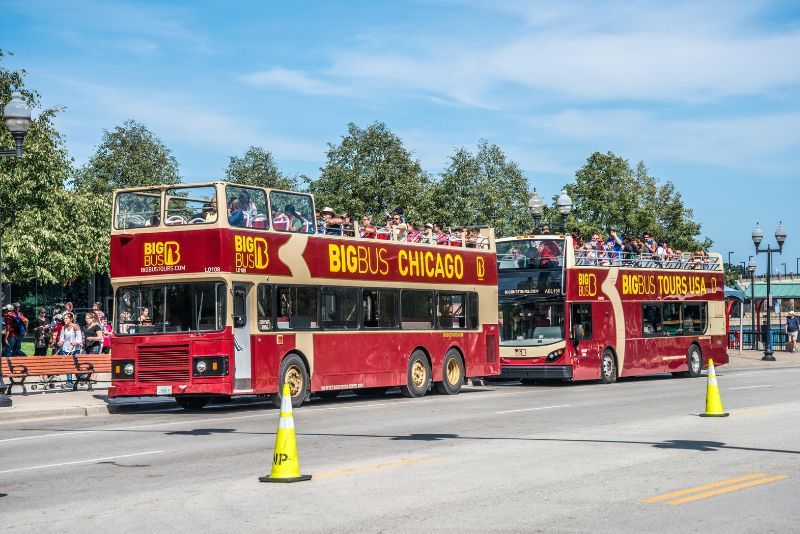 Below you'll find all the information you need to prepare for a hop-on hop-off bus experience, one of the most complete sightseeing tours in Chicago.
What are the best hop-on hop-off Chicago bus tours? What are their prices?
The Big Bus Company
The Big Bus Company Chicago is the operator of hop-on hop-off bus tours in Chicago.
Route
Known as the "Big Loop: Red Route," the hop-on hop-off bus tour follows a circular route with 11 stops:
Chicago Riverwalk
Skydeck Chicago and Willis Tower
Millennium Park and The Art Institute of Chicago
Hilton Chicago and Grant Park
The Adler Planetarium
Museum Campus
Sheraton Grand Chicago
Navy Pier
Water Tower and the Magnificent Mile
360 Chicago
Hard Rock Cafe
You can start your tour at any of the route's stops and can end your tour at any time. En route, you will bypass some of the city's best known attractions including:
The Willis Tower where you can take one of the fastest elevators in the world to the Skydeck where you can view Chicago from 103 floors above the ground from a clear glass ledge.
360 Chicago observation deck that sits 305 meters above Chicago's Magnificent Mile in the iconic John Hancock Building. 360 Chicago is also home to TILT, an enclosed platform that tilts out over the streets of the city.
At the Chicago Architectural Centre you can examine hyper-detailed scaled models of skyscrapers from the city and elsewhere in the world. At the Chicago City Model Experience you can get a cinematic and interactive view of more than 4,200 buildings.
From May to October an added non-stop 75-minute night time tour can be added to your hop-on hop-off 2-day bus ticket. This loop begins and ends at Navy Pier, travelling along the Magnificent Mile and on to Michigan Avenue before passing the magnificent architecture on the Loop skyline.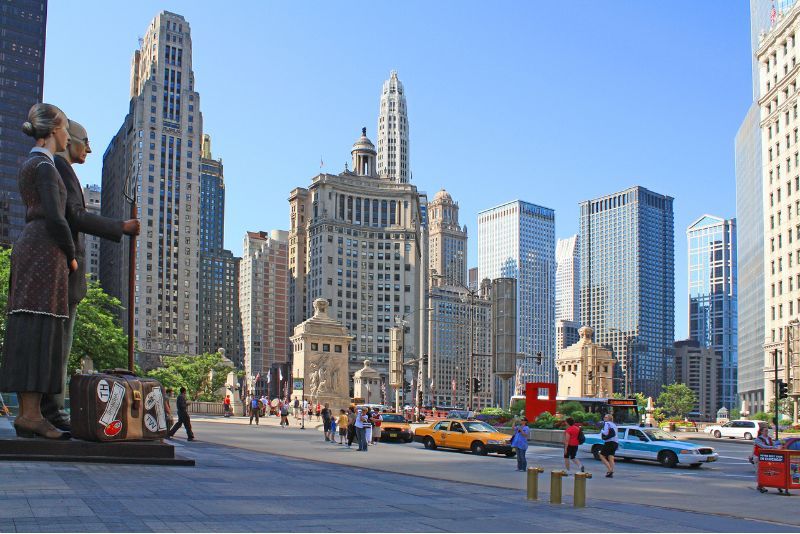 The first buses of the day begin running at 10 AM and run in a loop passing stops every 20-30 minutes. The last run of the day starts at Chicago Riverwalk at 5 PM and ends with the final pickup at Hard Rock Café at just before 6:45 PM.
Tickets
Four different types of tickets are available for a Chicago hop-on hop-off tour:
Classic Ticket: This 1-day ticket costs from US$45 per adult and gives you access to the bus for 1 day. You can start at any point on the route, and hop-off and on again as often as you like. This ticket is flexible and allows you to amend your booking up to 72 hours before your tour.
Premium Ticket: The premium ticket costs from US$55 per adult and gives you 2 successive days access to the hop-on hop-off bus, giving you more time to discover Chicago at your own pace.
Deluxe Ticket: Available from May to October, a deluxe ticket costs around US$70 and includes a panoramic night tour onboard an open-top bus and is valid for 2 consecutive days. The night-time non-stop bus tour that runs from May to October can also be booked separately at a cost of US$35.
Cruise Ticket: With a cruise ticket from US$90 per adult, you can combine your hop-on hop-off bus tour with a 75 minute scenic cruise down the Chicago River. This ticket is valid for 2 consecutive days.
Children under 12 pay half price.
How do hop-on hop-off bus tours in Chicago work? What is included?
Hop-on hop off tours allow you to start you trip at any stop on the route. The open-top buses provide a great view of the city and pre-recorded commentary ensure you are informed about the landmarks on you route.
Buses offer frequent service, passing each stop at approximately 30 minute intervals. Night tours are included between May and November and you can choose between a 1-day or 2-day pass if you want a slow and leisurely tour.
The Big Bus Cruise option also includes a 75 minute cruise along the Chicago River. Big Bus also offers a free mobile app to keep you updated with bus arrival times or to connect you to a customer service agent.
Are there any combined tickets including hop-on hop-off bus tours?
Hop-on hop-off bus tour plus Chicago River cruise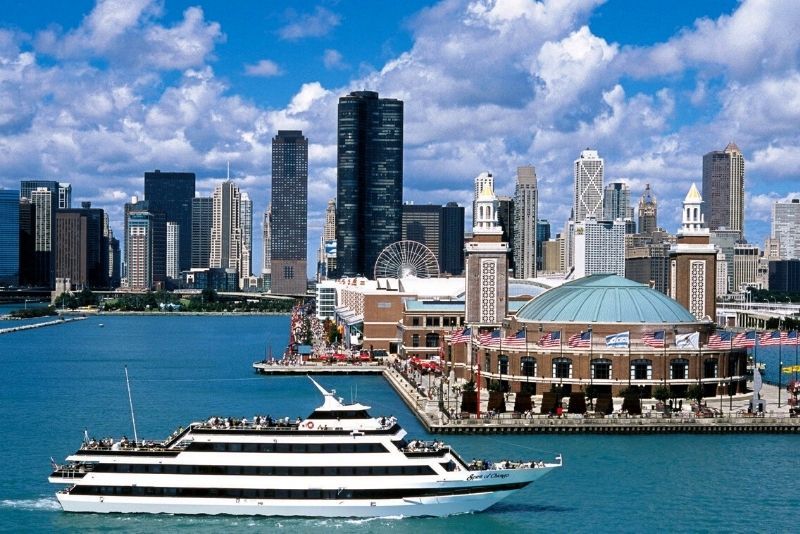 The Big Bus Cruise ticket gives you the flexibility of a 2-day hop-on hop-off bus tour and a 75-minute architectural tour along the Chicago River.
On this combo tour you will hear more about the city's hidden architectural treasures and view the most famous landmarks. Live guides on the cruise will explain how Chicago's architecture, engineering and buildings have made the city world famous.
Travel tips
Make sure to take a warm jacket for a visit to the "Windy City".
Remember to wear sunscreen for your open top bus tour.
Pack a few snacks and water for onboard the bus.
Wear a comfortable pair of walking shoes.
Prioritize your sightseeing list to make sure you see the places at the top of your list first.
Keep your valuables out of sight.