Chicago has no shortage of places to explore with everything from a historic Downtown to a sumptuous north side and ample green spaces. Pedal through the city to see it from all angles and hear all about Chicago's notorious past.
Chicago has it all: delicious food, unbeatable skylines, relaxing nature and tons of contemporary art to feast your eyes on. A bike tour in Chicago is the best way to explore the Second City, and truly feel its rhythm coursing through the streets.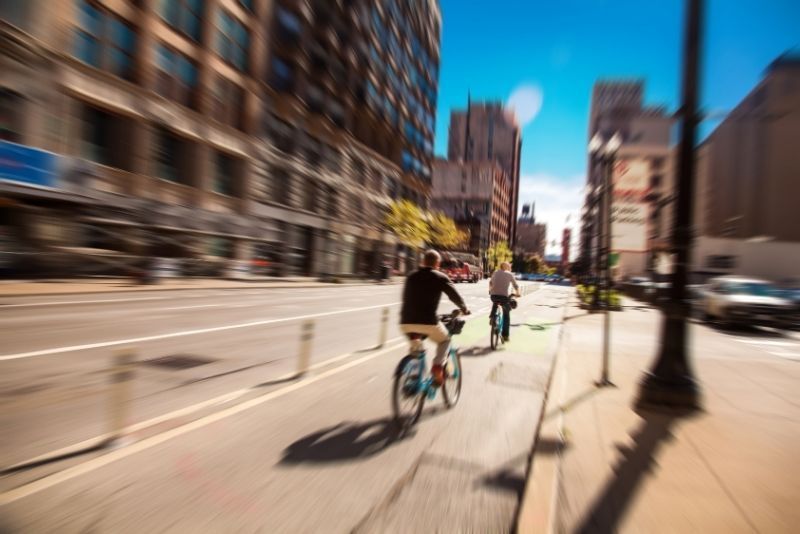 You will find below all you need to know about bike tours, one of the most fun outdoor activities in Chicago.
What are the best bike tours in Chicago?
Lakefront Neighborhood bike tour in Chicago
Chicago's Northside is one of the most desirable areas in the country and you can explore its Lakefront neighborhood by bike to experience a tranquil side of the city. A local guide will take you to lush parks and scenic beaches as you start from Lake Shore Drive and make your way to the aptly names Magnificent Mile.
Some of the prominent attractions along the ride are the original Playboy Mansion, Oprah's Penthouse and the Old Town's stunning Victorian Houses. You will also pass by Lincoln Park Zoo and cruise by North Avenue Beach.
Bikes and bites tour in Chicago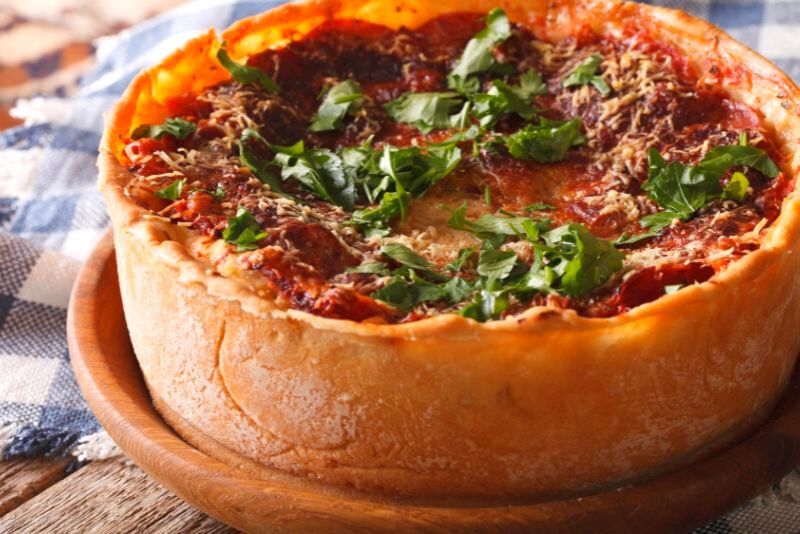 Enjoy the most delicious bites and brews in Chicago, with a bike and food tour of the Windy City. Cycle through the trendy neighborhoods of Chicago and explore the hot eats that have put the city on the foody map of America.
Sink your teeth into iconic Chicago-style pizza and hot dogs or seek out international dishes like Polish pierogi or Mexican tacos. Other highlights include brewery and bakery stops and you will also pass by some of the trendiest neighborhoods in the city, learning about their history and cultural landscape.
Fright Hike: Chicago Halloween bike tour
Chicago has no shortage of spooky and scary spots, making a bike tour the perfect activity for a frightening Halloween. You will ride past The Loop, Grant Park and Museum Campus and hear all the ghoulish and gruesome stories from the city's illustrious past.
Your guide will take you to Congress Plaza Hotel and Iroquois Theater, both places where paranormal activity has often been reported. The curse of the John Hancock Center also looms around the corner before you pass by the site of the dreadful SS Eastland shipwreck.
Ultimate Chicago attractions bike tour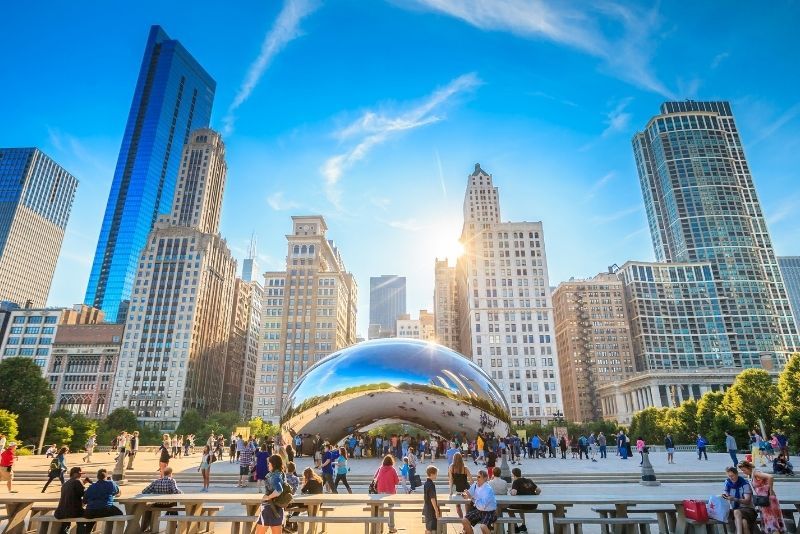 Hop on a bike to cruise past all the best sites of Chicago. The lakefront trail runs for more than 15 miles, spoiling you with spectacular skyline views and a comfortable lake breeze on your face.
Spot the Buckingham Fountain and coast through the verdant green spaces of Millennium Park and Grant Park. You will also pass by the Museum Campus and Burnham Harbor, while hearing about the city's fascinating history. End the day with an unforgettable view of the city from the lakefront, the perfect end to an already perfect tour.
How much do bike tours in Chicago cost?
The ultimate Chicago Sites Bike Tour costs $55 per person while Fright Hike Bike Tours are around $40 per person.
Lakefront Neighborhood Bike Tour cost $55 per person, but an electric bike tour is also available at $65 per person.
Bike tours in Chicago that focus on food stops cost around $80 per person for a half-day tour.
What is included in a bike tour in Chicago?
Bike tours in Chicago all include the use of a state-of-the-art bicycle and safety gear like a helmet. All tours are also led by a knowledgeable, English-speaking guide and they will provide you with water.
Tours that are specifically food-related typically include food and drink samplers and you can purchase extra snacks at your own expense.
Where do bike tours in Chicago start?
Bike tours in Chicago all have different starting points, depending on the focus of the tour. Most tours go through the west side of the city and leave from or close to Lake Shore Drive.  This location also gives access to most of the city's most notable areas.
You will get precise directions after booking your tour and your guide will be easily recognizable once you arrive at the location.
How long do bike tours in Chicago last?
Most bike tours in Chicago last between 2 and 3 hours, but food tours last around 4 hours as you have plenty of stops where you will take time to taste the delicious dishes of the city.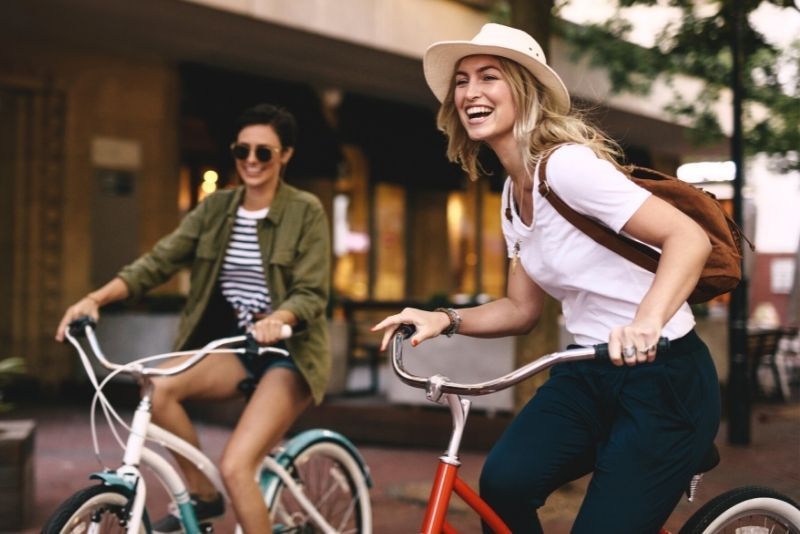 When is the best time for a bike tour in Chicago?
Plan to take a bike tour of Chicago as soon as you arrive in the city. This is the best way to get a lay of the land and create lasting memories at the same time. A food tour at the beginning of your trip is also a great way to quickly experience the best eats in town, opening your eyes to the culinary prowess of the city.
You can take bike tours in Chicago at virtually any time of the day with morning tours being more relaxed and late afternoon tours often enjoying marvelous sunsets. There is no wrong time of the day to enjoy a bike ride in Chicago.
What happens in case of bad weather?
Most biking tours in Chicago will continue even in bad weather. Speak to your tour operator to see what their policy is and whether or not they will provide a poncho in case of rain.
Are children allowed on a bike tour in Chicago?
Tour operators all have different policies for children on their tours. Most tours are family-friendly and offer infant seats for children who cannot ride on their own.
Tours that include alcohol are not suitable for children under 16, and alcohol will only be served for participants over 21 years old.
Is it safe to take a bike tour in Chicago?
Bike tours in Chicago are generally considered safe but a moderate amount of activity is involved and riders should be able to complete a ride of more than 10 miles. You are provided with a helmet and the tours follow well-marked bicycle-safe routes through the city.
Travel tips
Wear weather-appropriate clothes as Chicago can get unexpectedly windy or cool.
Wear closed-toed shoes when riding a bicycle, especially in the city.
Don't eat before a bicycle and food tour as you will be enjoying lots of delicious samplings along the way.
Notify your guide about any dietary restrictions if you are doing a food and bike tour because not all tours are allergy or vegetarian-friendly.