The mountainous terrain of Maui is a bike rider's dream and a bike tour of the island is one of the best ways to see the majestic views the island has to offer.
The mighty dormant Haleakala volcano makes up around 75% of Maui's geography and its highest peak sits over 3,000 meters above sea level.
On most of the available bike tours in Maui you will be able to experience these dizzying heights for yourself and test your nerves as you make your way downhill past winding switchbacks and scenic stretches.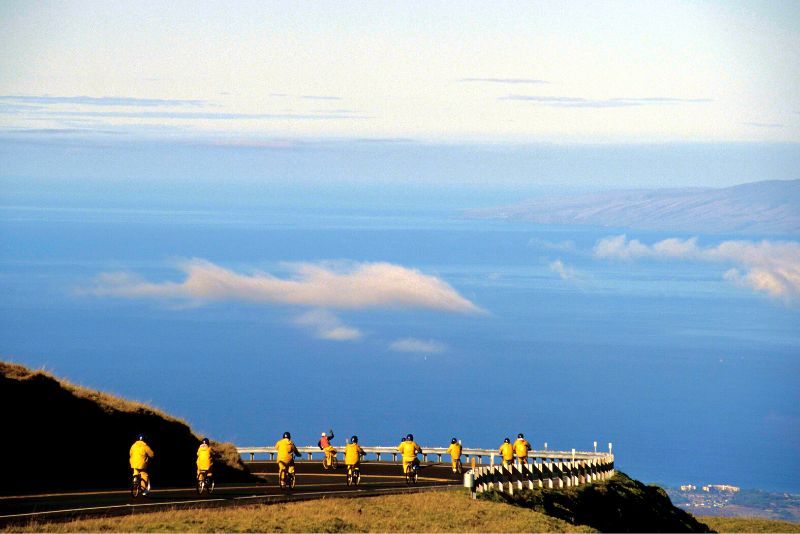 You will find below all you need to know about bike tours, one of the most fun outdoor activities in Maui.
What are the best bike tours in Maui?
Haleakala Downhill Bike Tour
Skip the daunting uphill pedal of Haleakala and hitch a ride to the top for an easy downhill cruise. This scenic  road is revered as one of the most beautiful places to cycle in the world and you can enjoy this on a self-guided excursion or with the assistance of a knowledgeable guide.
A driver will leave you at an elevation of 1,900 meters and you will wind your way down the mountain past switchbacks and viewpoints to the town of Haiku.
Water Bike Tour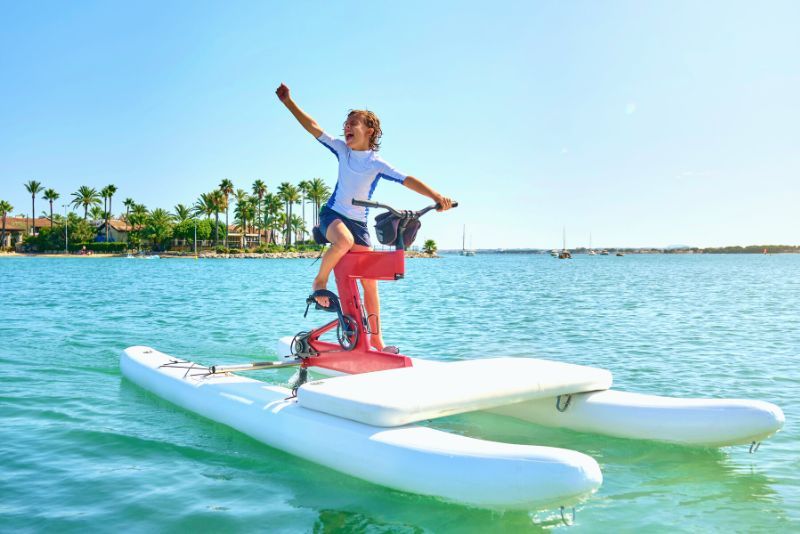 This is an exciting alternative way to get your blood pumping and your legs working in Hawaii. Take a water bike tour in Maui to get the best of land and sea with views of the mountains and the feeling of the fresh ocean breeze on your face.
You will pedal south from Makena Bay along the iconic black sand beaches of Maui, stopping at various reefs and viewpoints to admire the beauty of your surroundings. Your expert guide will tell you stories of the island's history and give you insight into Hawaiian culture and language along the way.
Haleakala Sunrise Tour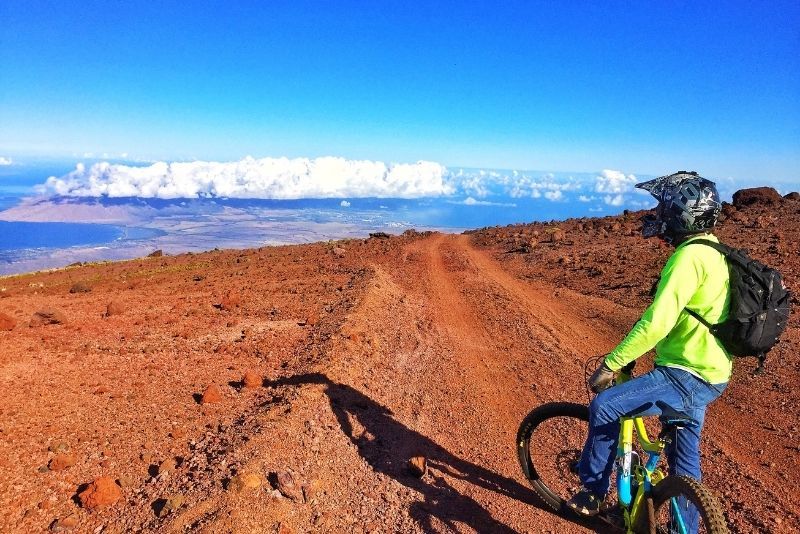 Wake up before the crack of dawn and ascend to the top of Hawaii's second tallest peak for an unforgettable bike trip. An air-conditioned vehicle will drop you at the volcano's summit more than 3,000 meters above sea level.
Watch the sun slowly creep up from below the horizon and turn the landscape into a spellbinding display of colors. Locals will welcome the new day with a traditional Hawaiian chant, an unforgettable call that echoes across the valley.
From there you will cruise downhill and soak in the panoramic views. Stop in the historic Makawao Town to browse the charming shops and grab a bite to eat before continuing on past Kula and back into Makawao.
How much do bike tours in Maui cost?
A sunrise bike tour in Maui costs around US$250 per person. A cheaper tour option of US$150 per person is available but you won't start at the summit of Haleakala.
Self-guided downhill bike tours in Maui cost around US$160 to US$210 per person, with more expensive tours lasting almost twice as long as the cheaper tours.
Guided downhill tours also vary vastly in price starting from as low as US$100 per person. Cheaper tours do not cover the whole route but could be a good option for less experienced riders or people who are strapped for time.
Water bike tours cost US$120 per person and you will have the assistance of an expert guide who takes you out to sea.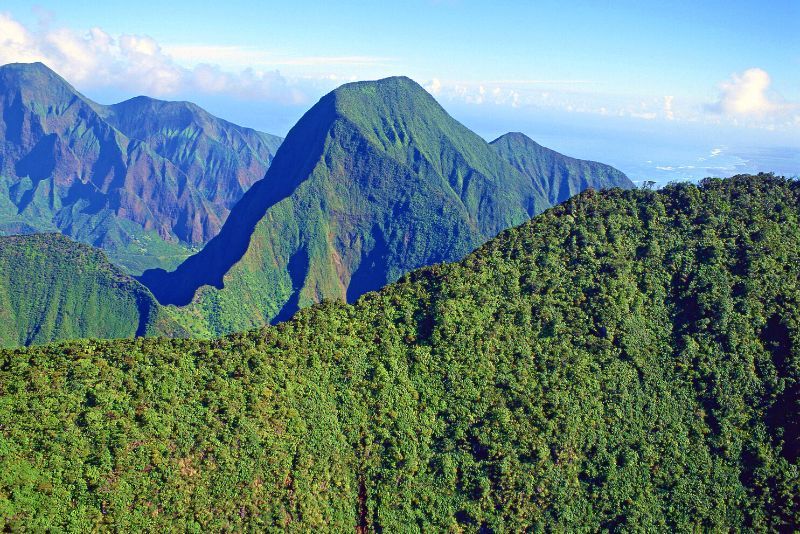 What is included?
Bike tours in Maui include transportation to the summit of Haleakala where you will start your downhill journey. These comfortable air-conditioned vehicles will take you and the bicycles to the starting point to start your journey in the best way possible.
Not all tours include a guide but your tour operator will provide guidance on where to stop if you choose to do a self-guided bike ride.
Tour prices also include the entry fee to Maui's Haleakala National Park along with the use of the bicycle and safety equipment like gloves and helmets.
Water bike tours include life jackets and there will be a guide along for the ride.
Where does it start?
Bike tours in Maui usually start from the tour operator's office in towns like Haiku or Makawao. From there the operator will transport you to your chosen starting point, either at the summit of the volcano or at the 1,800 meter mark outside the gates of the national park.
You will get clear instructions when booking your tour and your tour operator will be available to clarify the meeting point if you have any questions. Some smaller guided tours also provide hotel pickup and drop-off in certain parts of the island.
Water bike tours leave from a beach location. Your tour operator will provide GPS coordinates upon confirmation of your booking.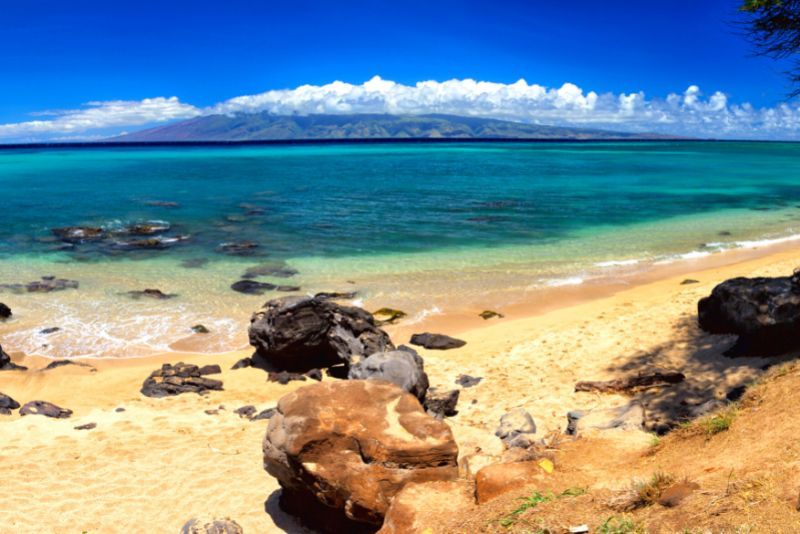 How long does it last?
Downhill bike tours in Maui last between 6 hours on average. The length of your tour will depend on where you start your tour, from the 3,000-meter summit or the 1,800 meter viewpoint.
There are bike tours as short as 2 hours and some self-guided tours as long as 9 hours. Water bike tours last around 2 hours and include plenty of 10-minute rest-stops to take pictures and enjoy the scenery.
When is the best time for a bike tour in Maui?
The sunrise bike tour in Maui is by far the most popular and seeing the sky light up in fiery shades is an unforgettable experience. Try to book this experience at the beginning of your trip to start it off on the right foot and enjoy more relaxing activities for the rest of your time on the island.
A water bike trip is a fun activity that can be enjoyed almost any time of the day and it only takes up to 2 hours so you will still have plenty of time to schedule other activities around it.
Is it safe to take a bike tour in Maui?
These bike tours in Maui are all more than 32 kilometers long and you should have some level of fitness to take on this tour. It is advised that you have some skill level as some parts of the route require some skill.
Pregnant women or people with back or heart problems are advised to not do these tours. There is a weight limit of around 127 kilograms but each tour operator dictates that number.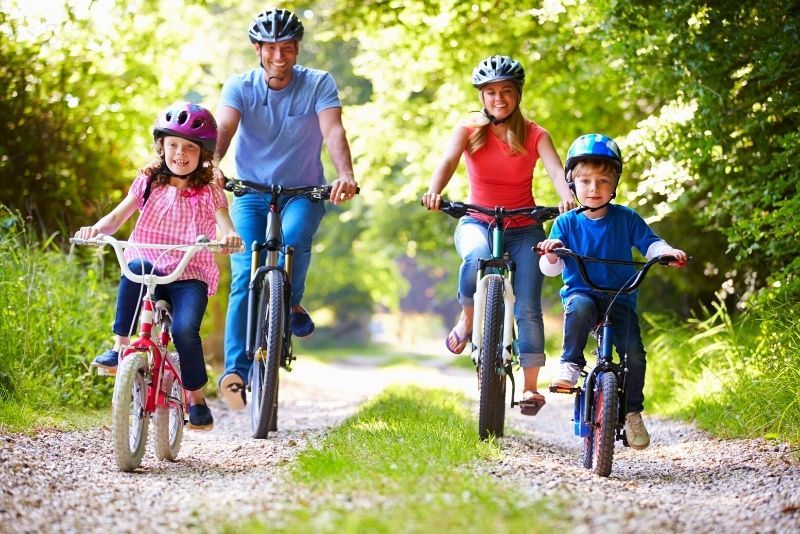 Are children allowed?
There is a height restriction of around 1.5 meters for bike tours in Maui. Most tour operators will also not allow children under the age of 12 to ride bicycles down the volcano.
What happens in case of bad weather?
Bike tours in Maui require good weather to operate. If it rains or it is too windy to safely ride a bicycle you will be given the option to reschedule your tour or you will receive a full refund.
Which other outdoor activities can be done in Maui?
Travel tips
Wear closet-toed shoes and appropriate sports attire for this tour.
If your tour operator does not provide a wind-resistant jacket you will want to bring your own.
Pack a small backpack with water, a snack, and a camera.
Wear sunscreen as you will be exposed to the sun for hours at a time.