When visiting New Zealand's North Island, Tauranga is a destination that should not be missed. The harborside city, located in the Bay of Plenty area, is known for its golden beaches and lush parks. Best of all, there are loads of exciting adventure activities on offer.
A skydiving tour in Tauranga is one of the most adventurous ways to spend a morning or afternoon. Enjoy the adrenaline rush as you jump out of a plane and view the incredible local landscape from a bird's eye view.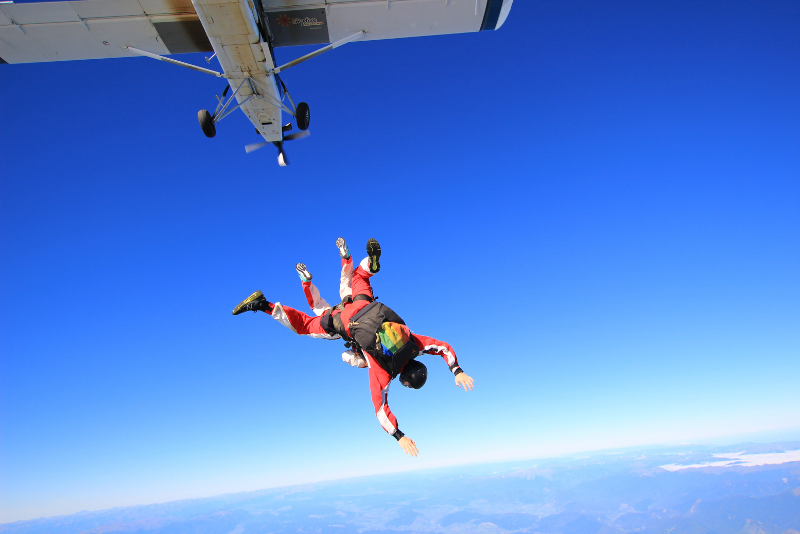 Here's all you need to know about skydiving, one of the most exhilarating outdoor activities in Tauranga.
What are the best skydiving tours in Tauranga?
12,000 feet tandem skydive in Tauranga
Make your trip to Tauranga an unforgettable one, by challenging yourself to one of the most exciting outdoor activities available. Take a leap of faith and face your fear of heights with this incredible 12,000 feet (over 3,600 meters) skydive experience over Tauranga.
Your tour begins with a safety briefing from your friendly, professional and experienced instructor. You'll board a small plane and enjoy a 20-25 minute flight over the Bay of Plenty, the area's golden beaches and Mount Maunganui.
As the plane ascends higher into the sky, you'll see White Island as well as the Rotorua Lakes and Mount Taranaki. Once at around 12,000 feet, you and your instructor will jump out of the plane and you'll experience the rush of a 40-second freefall.
The parachute is released at around 5,000 feet (over 1,500 meters), and you'll cruise at a gentle pace toward the ground, enjoying spectacular views along the way.
15,000 feet tandem skydive in Tauranga
Feel the adrenaline rush through your veins as you jump from an impressive 15,000 feet (over 4,500 meters). Tick this item off your bucket list and experience the satisfaction that comes with completing an extreme activity. The beauty of the Bay of Plenty makes for the perfect backdrop.
Meet your experienced skydiving instructor at Tauranga Airport, and receive an in-depth safety briefing before you board the plane. Your pilot will take you on a leisurely flight before you jump so that you can take in some of the amazing views on offer.
You'll keep ascending until you reach the right altitude, and then you and your instructor will jump! After an exhilarating freefall, your instructor will open the parachute and you'll enjoy a gentle descent.
This is the ideal way to experience the Bay of Plenty from a different perspective and create unforgettable memories during your trip to Tauranga.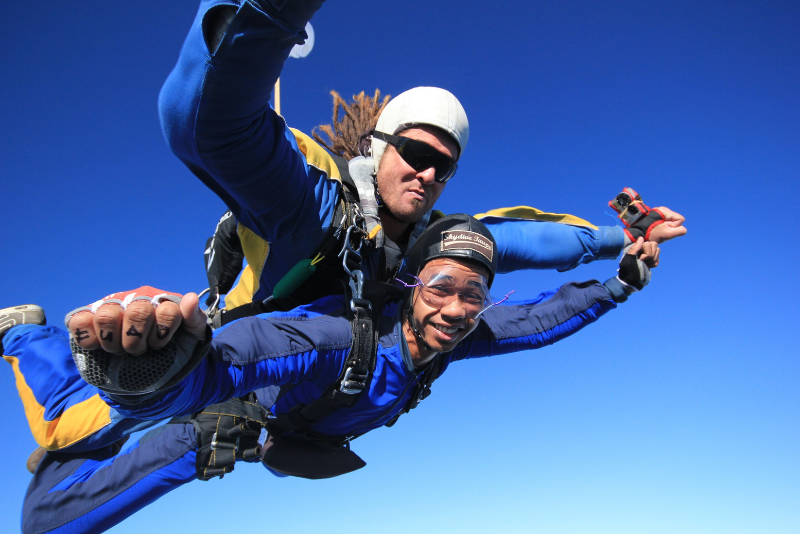 How much do skydiving tours in Tauranga cost?
The 12,000 feet tandem skydive costs around US$260 per person, and the experience lasts around 1.5 hours. This is considered the more basic option of the packages available, but you'll still enjoy a fully comprehensive skydiving experience.
If you're looking for more of a challenge, the 15,000 feet skydiving tour is available at around US$300 per person and lasts just under 2 hours.
What is included?
Your skydiving tour in Tauranga is inclusive of all safety equipment, fuel and taxes. You'll receive an in-depth safety briefing from an experienced instructor, and you'll also enjoy complimentary tea and coffee.
Photos and videos of your skydiving experience are available for an additional cost.
Where does it start?
Skydiving tours in Tauranga start from Tauranga Airport. This is a convenient starting point as it is easy to get to, even from central Tauranga.
Tours do not include hotel transfers, so you will need to get to the airport using a rental car or public transport.
Remember to arrive at the airport at least 30 minutes before your scheduled flight time so that your instructors can provide you with a comprehensive briefing.
How long does it last?
While the skydive jump itself usually lasts under 10 minutes, the entire skydiving experience in Tauranga typically lasts around 1.5 hours, including flight times and the safety briefing.
When is the best time for a skydiving tour in Tauranga?
The most popular time slot for skydiving tours in Tauranga is mid-morning. There are skydiving slots available every two hours throughout the day, so choose a tour that fits in with your itinerary.
Try checking the weather beforehand and book a tour on a clear day so that you can experience the best views of the Bay of Plenty.
Which other outdoor activities can be done in Tauranga?
Travel tips
Book your skydiving excursion in Tauranga in advance to secure your spot on your preferred tour.
Bring extra cash along to purchase the professional photos taken during your skydiving tour.
Don't eat a large meal directly before your skydiving experience.
Wear comfortable clothing and flat shoes.