Tauranga is one of the best places to stay when visiting the Bay of Plenty area, as the harborside city has everything you could need and more. The areas surrounding Tauranga are known for the plethora of adventure activities on offer, including white water rafting.
A white water rafting tour in Tauranga provides the ideal combination of adrenaline and relaxation, and makes for an unforgettable experience overall. Navigate rapids and admire the jungle flora and fauna as you float above the water.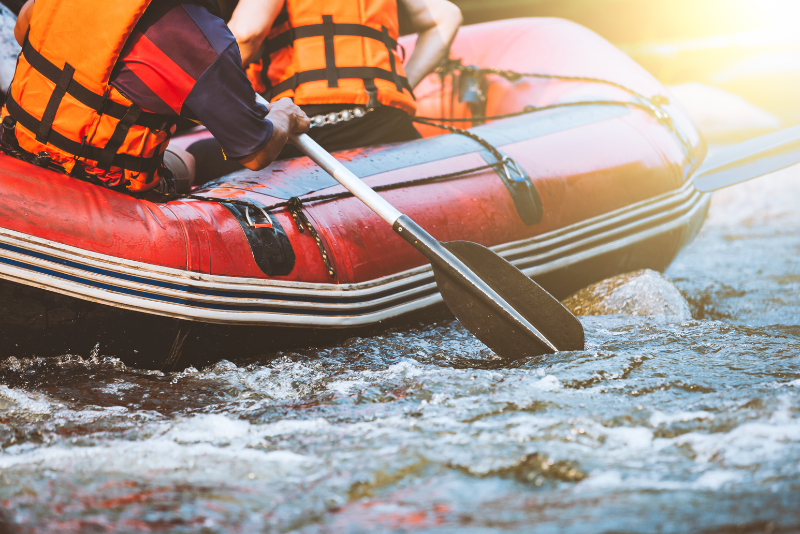 Here's all you need to know about rafting, one of the most exhilarating outdoor activities in Tauranga.
What are the best rafting tours in Tauranga?
White water rafting tours with Kaituna Cascades
Join Kaituna Cascades, one of the most experienced white water rafting tour operators in the whole of New Zealand, as you embark on an adrenaline-filled white water rafting experience on the Kaituna River near Rotorua.
Your tour begins at the rafting base near Okere Falls, just 45 minutes from Tauranga's city center. You'll meet your friendly and professional local guides, who'll give you a safety briefing and make sure you're properly kitted up before you take to the flowing river.
The action-packed ride down the river is filled with rapids and waterfalls. One of the waterfalls stands at 7 meters tall and is famous for being the highest commercially rafted waterfall in the world.
As you cruise through the jungle canyon, you'll see a wide variety of fauna and flora, and you'll learn more about the local landscape from your informative guides.
After your rafting experience is completed, you can walk around the reserve and enjoy stunning views of the river. You may also want to treat yourself to a well-deserved lunch at the local cafe.
How much do rafting tours in Tauranga cost?
White water rafting tours in Tauranga typically cost around US$70 per person for a standard white water rafting experience. This price can fluctuate slightly depending on the size of your group.
There are also a few longer rafting trips that you can participate in, which cost approximately US$90 per person and upwards.
What is included?
Your white water rafting tour includes well-maintained rafts, lifejackets, helmets, paddles, wetsuit and boots, splash jackets, fleece jackets and professional, experienced guides.
Hotel transfers are not included, and you'll have to make your own way to the tour's starting point. Souvenir photos are also not included, but you're able to purchase them for an additional fee at the end of the tour.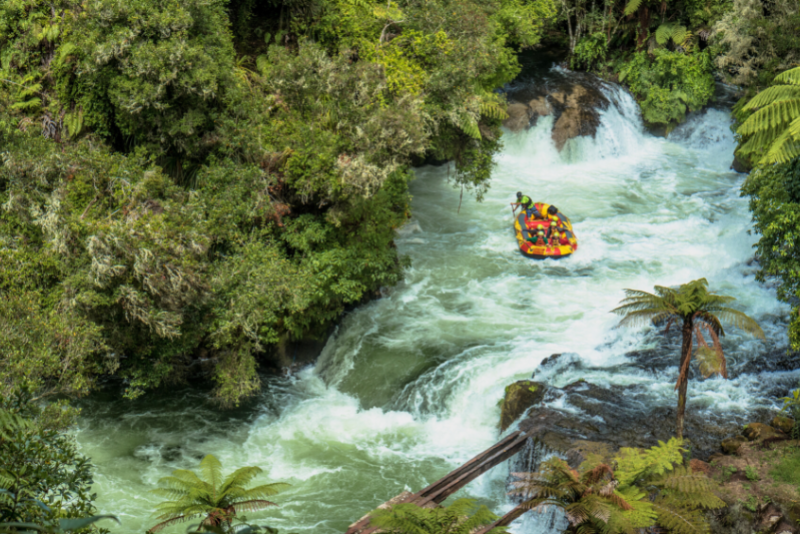 Where does it start?
White water rafting tours usually begin in the area of Rotorua, near Okere Falls. The drive from Tauranga to Okere Falls takes only around 45 minutes, and you'll see some of the North Island's most beautiful scenery along the way.
How long does it last?
Tauranga white water rafting tours usually last around 2 hours. However, there are also a few longer tours available if you are wanting to spend some more time on the water and make the most of your rafting experience.
When is the best time for a rafting tour in Tauranga?
Unlike some other water activities, white water rafting tours take place throughout the year— no matter the weather. Because you'll be wearing a comfortable wetsuit, you'll be kept warm even in winter.
There are several different time slots to choose from, so choose a time that suits you best. However, most tour participants prefer morning tours as a white water rafting experience is a great way to begin the day.
Which other water activities can be done in Tauranga?
Travel tips
Book your rafting tour in Tauranga in advance to secure your spot and avoid disappointment.
Bring a change of dry clothes to change into after your rafting experience.
Tour participants are required to have a moderate level of fitness to participate in white water rafting tours.
Bring extra money along with you to purchase your souvenir photos.