Tauranga, located on New Zealand's North Island, is known for its diverse variety of marine animals. The Bay of Plenty area is said to be home to around 450 dolphins, including Bottle-nosed dolphins and Short-beaked Common dolphins.
A dolphin watching tour in Tauranga is the ideal way to spend a day out on the water while learning more about dolphins and seeing these incredible mammals in their natural habitat.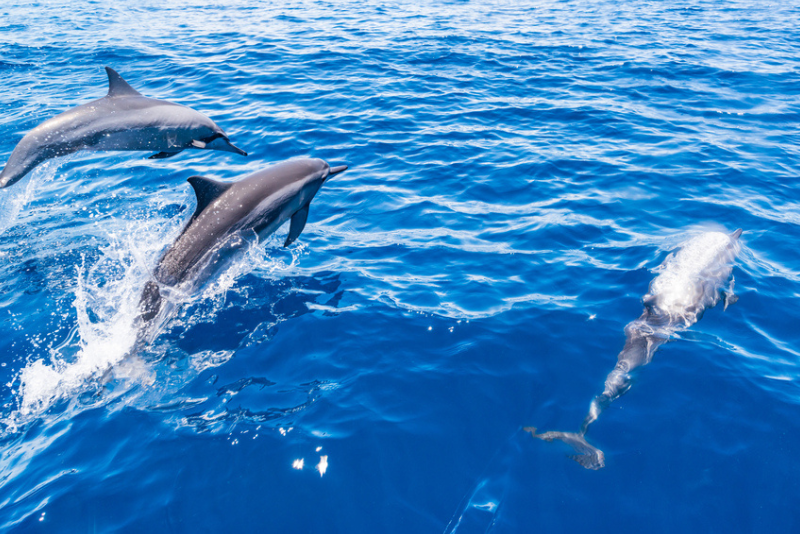 Here's all you need to know about dolphin watching, one of the most exhilarating outdoor activities in Tauranga.
What are the best dolphin watching tours in Tauranga?
Half-day dolphin & wildlife cruise in Tauranga
See some of the North Island's local marine life when you join this half-day dolphin watching tour departing from Tauranga. In addition to playful dolphins, you may spot seals, whales, orcas and even penguins.
The tour leaves from Tauranga's waterfront, and you'll be treated to stunning views of Mount Maunganui as you make your way out of the harbor. On-board commentary informs you about the marine life that you'll see during the cruise.
This boat tour from Tauranga is perfect for the whole family, with the small vessel having both indoor and outdoor seating.
Dolphin swimming and watching in Tauranga
Enjoy a once-in-a-lifetime experience when you swim with wild dolphins in the clear Pacific Ocean. The tour is both fun and informative and is the perfect way to spend a day outdoors in Tauranga.
Your tour begins by boarding a luxury 15-meter catamaran in Tauranga. As you make your way out to sea, the skipper and onboard marine biologists will provide interesting information about all the marine life that you see along the way.
Once a pod of dolphins has been located, you'll have the opportunity to get into the water to swim with them. The experience is completely sustainable and the tour operator is licensed by the Department of Conservation.
5-hour dolphin and wildlife cruise in Tauranga
Explore the Bay of Plenty coastline as you scan the Pacific Ocean for wild dolphins from a comfortable cruising vessel. Leave the city behind you and spend an exciting yet relaxing day on the water.
Meet at the Tauranga waterfront, where you'll meet your guide/captain and board the vessel. As you head out to sea, you'll spot seabirds, seals, whales, fish, sharks and sometimes turtles.
The captain and crew will share their marine knowledge with you, and you'll definitely learn a thing or two about the local marine wildlife during the cruise.
How much do dolphin watching tours in Tauranga cost?
When booking a dolphin watching tour in Tauranga, you can expect to pay roughly US$100 per person. Basic packages usually cost around US$85 per person, while longer, more comprehensive tours can cost around US$115 per person.
What is included?
When booking a dolphin watching tour in Tauranga, everything you need for a comfortable and safe experience will be included. Tours include a professional guide/skipper, onboard commentary, onboard bathroom and fuel.
There are also a few tours that include lunch and drinks. If your tour does not include food and drinks, you may want to pack your own lunch and snacks for the trip.
Where does it start?
Dolphin watching tours in Tauranga usually begin at one of the harbourside city's many waterfront jetties. Many tour operators offer hotel pickup services for an additional fee if you do not have your own transport.
How long does it last?
The typical duration of a dolphin watching tour in Tauranga is between 5 and 7 hours, with most tours being described as 'half–day' tours.
When is the best time for a dolphin watching tour in Tauranga?
The best time for viewing dolphins, seals and whales in Tauranga is during the summer months (November to April) when the ocean is teeming with life.
There are a few different time slots available, but you're likely to see the most dolphin activity during the early morning tours.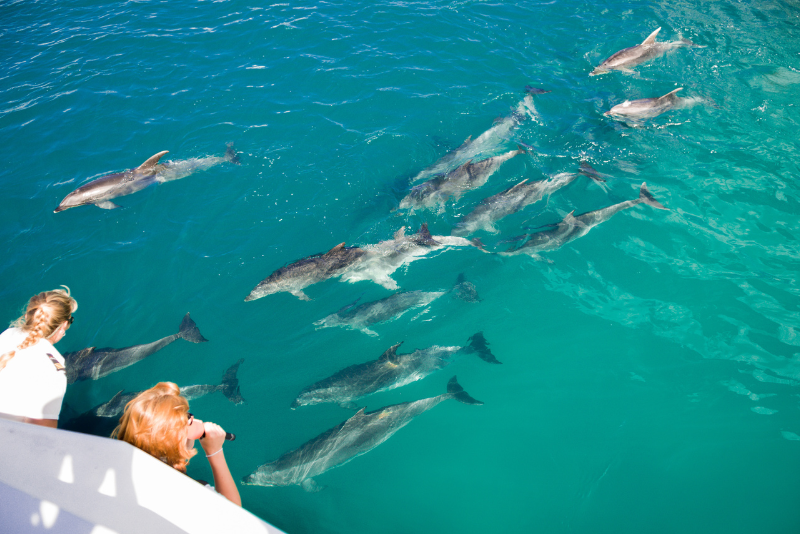 Which other outdoor activities can be done in Tauranga?
Travel tips
Book your dolphin watching cruise in advance to secure your spot on your preferred excursion.
Bring binoculars so that you can enjoy better views of the marine life.
Wear comfortable clothing and flat shoes for your dolphin watching tour.
Bring a hat, sunglasses and sunscreen to protect yourself from the sun.