While there is certainly no shortage of exciting things to do and see in the vibrant city of Taipei, there are so many charming Taiwanese towns within close proximity to the capital that are just begging to be explored.
Jiufen day trips from Taipei provide the perfect opportunity to get out of the hustle and bustle of the big city and enjoy the tranquility of the small mountain town of Jiufen. Spend the day exploring traditional teahouses and local markets as you soak up the mountain views!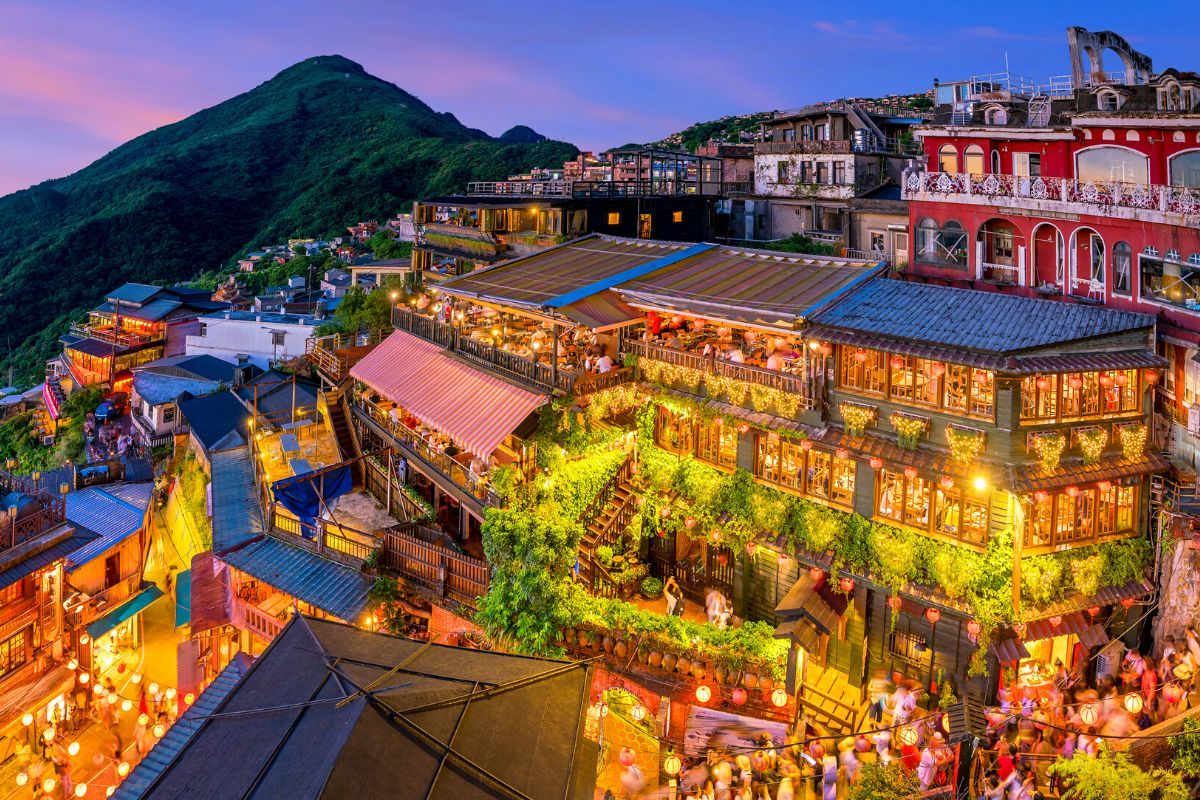 Here's all you need to know about Jiufen, one of the most exciting day trips from Taipei.
How to get to Jiufen from Taipei?
Jiufen is located in the mountains of northeastern Taiwan, around 40 kilometers northeast of Taipei.
From Taipei to Jiufen by car
If you decide to drive from Taipei to Juifen, the quickest route to take would be Highway 1, which takes around an hour. Alternatively, you could take the 106 through the mountains if you'd like to visit any of the other mountain villages along the way. This should take around 2 hours.
From Taipei to Jiufen by bus
Direct buses leave for Jiufen from Taipei around every hour on a daily basis. You can take Bus 965 from various stations in Taipei and reach Jiufen without having to transfer. The bus journey should take around 80 minutes.
Guided tour to Jiufen from Taipei
Have all your travel arrangements taken care of by a professional local tour guide when you join a guided tour to Jiufen from Taipei. You'll travel to the mountain town in a comfortable, private vehicle and enjoy a full-day experience, typically lasting 8 hours, exploring the traditional town.
What is the typical itinerary?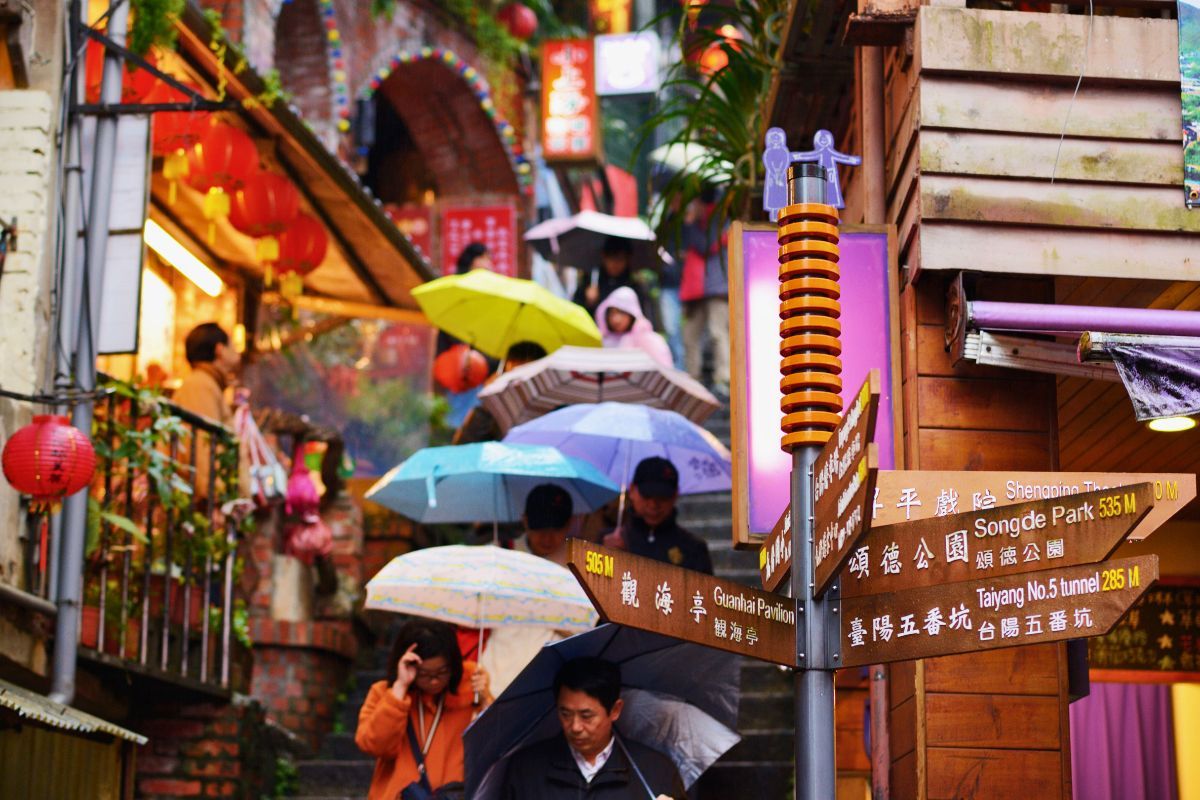 While each Jiufen day trip from Taipei is slightly different, many excursions follow a similar itinerary and begin with a pickup from your hotel in Taipei. Once in the comfortable, private vehicle, you'll make your way to Jiufen, enjoying the beautiful scenery along the way.
When you reach Jiufen, your guide will show you around the town and give you some insight into its history and culture. Many tours also include visits to the nearby attractions of Yehliu Geopark, Pingxi Sky Lantern area and the Shifen Waterfall.
You'll also stop for lunch (typically at your own cost) at a traditional eatery at some point in the day. After a full day of exploring northeastern Taiwan with your professional local guide, you'll be driven back to your accommodation in Taipei.
What kinds of tours are available to go to Jiufen?
You have many different types of excursions to choose from when it comes to Jiufen day trips from Taipei. There are shuttle transfers, group tours, private tours and tours that also visit nearby attractions.
Guided tours to Jiufen from Taipei
Guided tours to Jiufen from Taipei provide an affordable way to visit this charming mountain city with a professional guide. You'll be joined by other like-minded tourists, providing you with the perfect opportunity to meet new people and make friends.
Shuttle transfer without guide to Jiufen from Taipei
A private shuttle provides a convenient way to explore Jiufen and its surrounding areas at your own pace. Simply tell the driver which attractions you want to visit and what time you want to leave and you won't have to worry about navigating public transport.
Private tour to Jiufen from Taipei
Private tours allow you to make the most of your time in northeastern Taiwan as your guide caters solely to the needs of you and your travel companions. Create a customized itinerary and travel to Jiufen in a private vehicle.
Day trip to Jiufen plus Yehliu Geopark from Taipei
The Yehliu Geological Park is located roughly 40 minutes away from Jiufen and is known for its unusual rock formations and striking natural beauty. Opting for a combination tour allows you to see the charm of Jiufen and the natural wonders of the Yehliu Geopark in one day.
Day tour to Jiufen plus Shifen Waterfall and Pingxi from Taipei
Pingxi is known for its famous lantern festivals and charming atmosphere, while the Shifen Waterfall is one of the most popular natural attractions in all of northeastern Taiwan. Book a tour that includes both of these attractions in its Jiufen day trip itinerary for a fun-filled experience.
How much does a day trip to Jiufen from Taipei cost?
Roundtrip shuttle transfers between Taipei and Jiufen typically cost around US$125 for a private vehicle that can accommodate up to 4 passengers, therefore you can split this price with your travel companions.
There are a few basic group excursions, led by a professional local guide, that cost as little as US$40 per person, including transport.
More comprehensive Jiufen day trips from Taipei usually cost around US$70 per person for a group excursion that visits the mountain town of Jiufen as well as a few surrounding attractions, including Yehliu Geopark, Shifen Waterfall and/or Pingxi.
Private tours to Jiufen from Taipei generally cost at least US$110 per person for a customized experience in which you have some control over the itinerary, departure times, etc.
What will you see and do?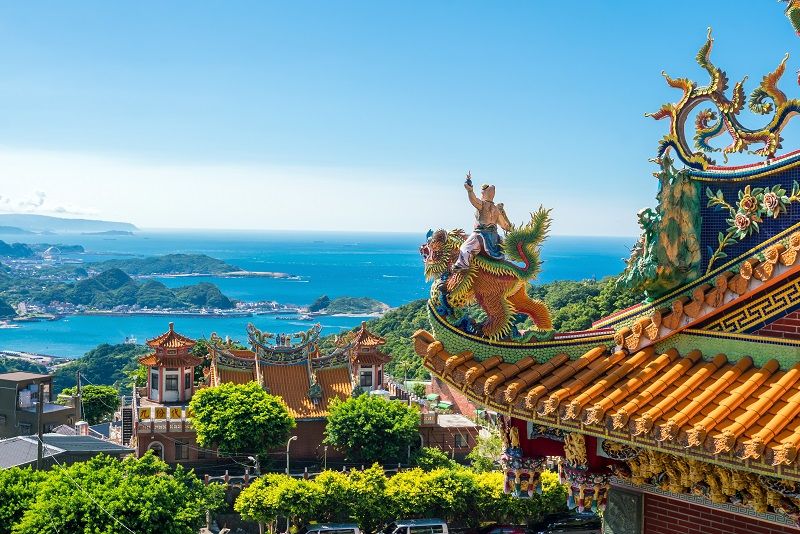 Famed for being the inspiration for many scenes in the iconic animated film 'Spirited Away', Jiufen is a charismatic mountain town known for its traditional teahouses, bustling local markets and incredible views.
Some of the things that you may see on a Jiufen day trip from Taipei include Jiufen Old Street, teahouses, museums and other attractions.
Jiufen Old Street
If you have watched 'Spirited Away', you'll immediately recognize Jiufen Old Street as the main source of inspiration for the film. The street is filled with cute shops, traditional lanterns, eateries offering delicious local food and so much more. This is the perfect place for buying souvenirs.
Teahouses
Visiting a traditional teahouse is a quintessential experience in Jiufen and most tour operators will include a stop at a teahouse on their itinerary. Teahouses provide the perfect opportunity to relax and enjoy Jiufen's charming atmosphere and beautiful views.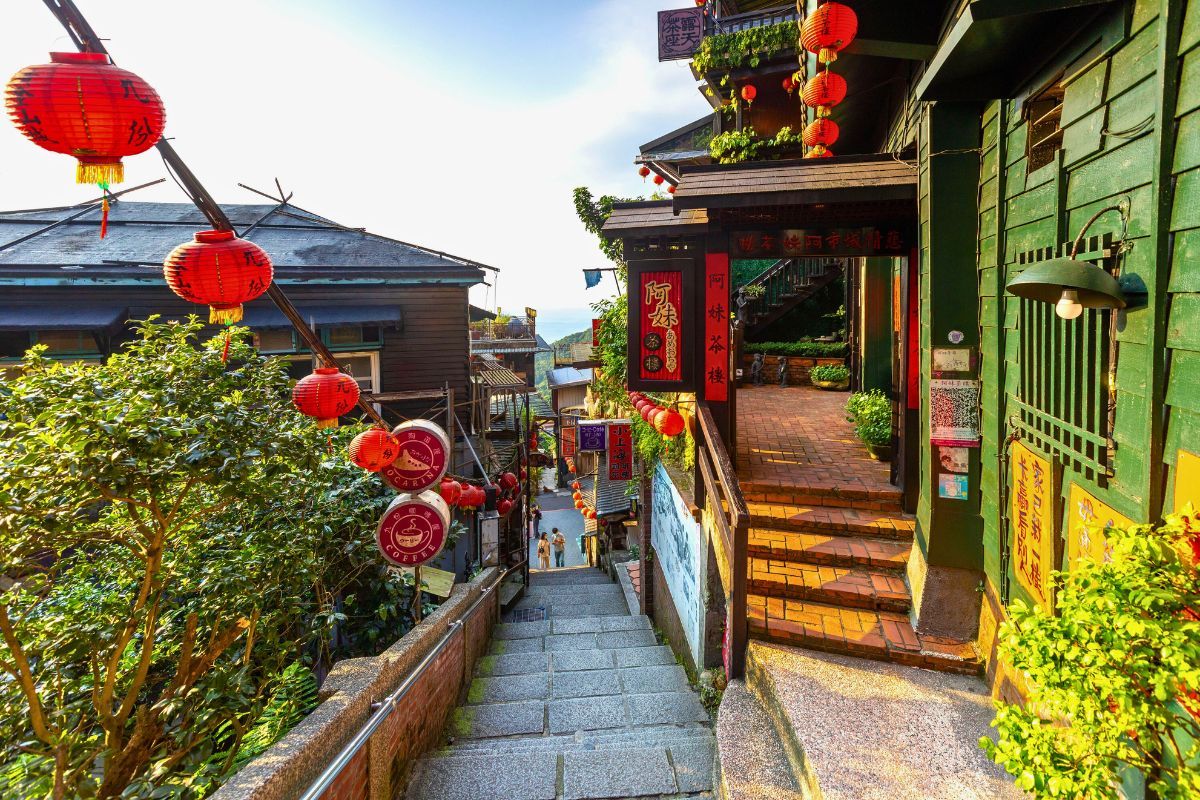 Jiufen Gold Ore Museum
Did you know that Jiufen was once a small mining town? The Jiufen Gold Ore Museum allows you to travel back in time and learn more about the town's fascinating mining history and how it has changed throughout the years.
Shengping Theater
The Shengping Theater is a beautifully-preserved movie theater that is actually the oldest movie theater in northern Taiwan. Visit the theater to see an incredible collection of film equipment, movie snacks from the wartime era and retro movie posters.
Jiufen Kite Museum
Kite flying is definitely one of the most popular pastimes in Taiwan and visiting the Jiufen Kite Museum is a great way to see how kites are made by local artisans. A handpainted kite is also a great item to take home as a gift or souvenir.
When is the best time to visit Jiufen?
Jiufen is a popular destination for tourists, both local and international. If you're looking to avoid the biggest crowds, it's best to visit on weekdays and avoid public holidays or weekends.
What other day trips can you do from Taipei?
Travel tips
The streets in Jiufen are steep and can be uneven, so wearing comfortable walking shoes is crucial.
Even if you're visiting during drier months, it's always a good idea to carry a compact umbrella or raincoat, as the weather can be unpredictable.
Don't miss out on trying local snacks and dishes. Some favorites include taro and sweet potato balls, fish ball soup, and peanut ice cream roll.