The name Taroko means magnificent and splendid, and these are just some of the many ways in which you are bound to describe this remarkable gorge. This is the deepest marble canyon in the world, and the exposed marble, gneiss and schist that make up this rugged landscape testify to the erosive power of water and the force of tectonic movement.
In the span of a few hours, you can travel from the urban bustle of Taipei to the coastal cliffs, subtropical forested canyons and sub-alpine coniferous forests that make up this dramatic environment.
The Taroko National Park covers 1,200 square kilometers and rises over over 3700 meters above sea level. The park is not only diverse in terms of its geography, it is also home to almost half the island's plant and animal species. A Taroko Gorge day trip from Taipei is a long but rewarding sightseeing experience.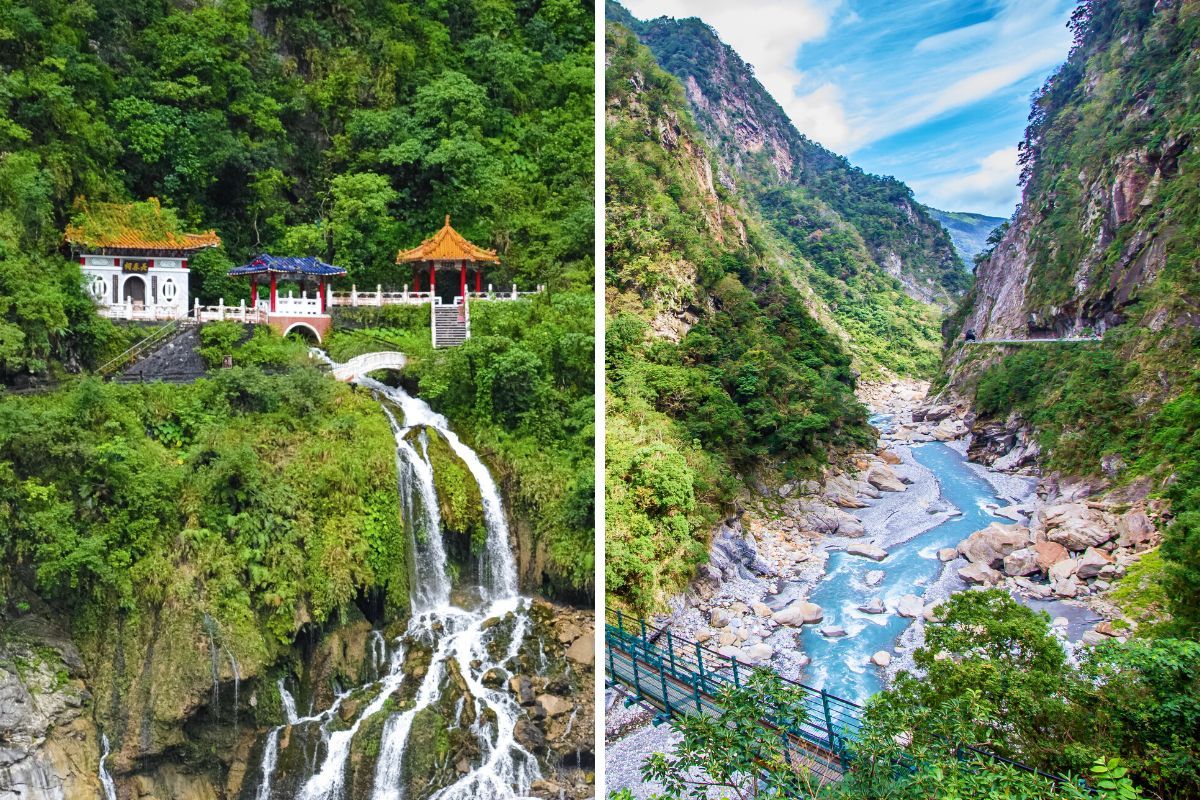 Here's all you need to know about visiting Taroko Gorge, one of the most exciting destinations for day trips from Taipei.
How to get to Taroko Gorge from Taipei?
Taroko Gorge is located in the Taroko National Park, approximately 160 kilometers south of Taipei.
From Taipei to Taroko Gorge by road
The most direct way to reach Taroko National Park is along the Suhua Highway. The 160 kilometer journey takes just over 2,5 hours.
From Taipei to Taroko Gorge by train
The fastest and easiest way to get to Taroko Gorge is on the high speed express train from Taipei main Station to Hualien (Taroko Gorge). It is best to book a round trip reserved ticket for the trip that takes 2 hours each way.
Guided tour to Taroko Gorge from Taipei
A guided tour is an easy and convenient way to visit one of Taiwan's most popular scenic attractions. Tours either travel by road directly from Taipei or by train to Taroko National Park followed by sightseeing in an air-conditioned vehicle.
Day tours last between 12 and 14 hours, but 2 and 3-day tours as well as 5-day hiking trips are also offered.
What is the typical itinerary?
Tours to Taroko Gorge depart Taipei early in the morning. You will either be collected from your hotel for your drive to the park, or you will be dropped at the train station for your high speed train journey. On a road-trip, you may stop for refreshments or to see the TCC DAKA ecological recycling factory.
Upon entering Taroko National Park, you will make your way along the route stopping to admire several sites along the park's namesake gorge. There will be a lunch stop along the route, and your meal cost may be included in our tour price.
After seeing the best of the natural Taiwanese wonder, you will return to Taipei by road or train, arriving in the city after dark. Multi-day tours from Taipei vary depending on the itinerary and tour length
What kinds of tours are available to go to Taroko Gorge?
There is a choice of tours from Taipei to Taroko Gorge. You can choose between single or multi-day excursions depending on your preference and budget.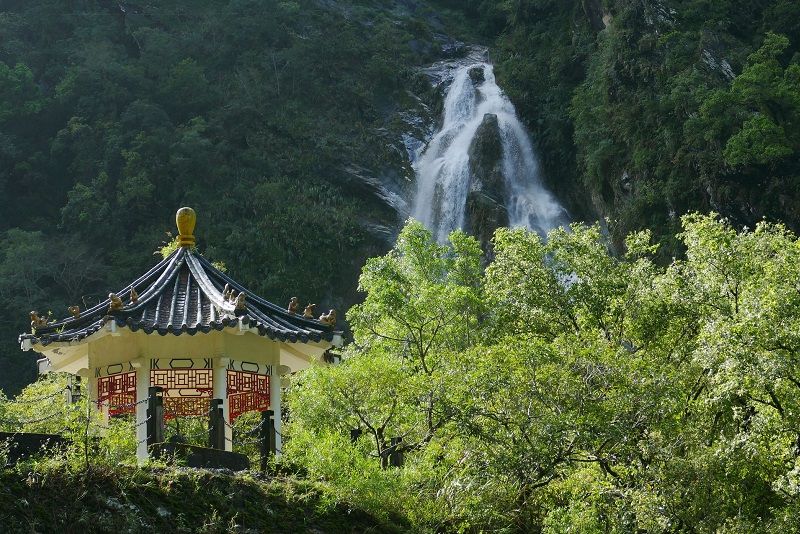 Guided Taroko Gorge day trips from Taipei by train
The fastest way to reach Taroko Gorge is by high speed train. On this type of tour, you will be transferred from your hotel to the train station in Taipei. Your guide will join you for the trip and will facilitate your smooth pickup by the minivan that will transport you within the park.

Many guided tours include a traditional lunch in the price, but even if the cost is excluded there will be a lunch stop.

In the late afternoon, you will return to the Hualien train station for your return trip to Taipei where you will catch the shuttle back to your hotel.
Full day guided tour to Taroko Gorge by coach or minibus
Full day tours by coach or minibus start with a hotel pickup. Your knowledgeable guide will share stories of Taipei's history and point out attractions and other landmarks on the 3-hour drive to the Park.
There will be ample time for photo opportunities and to stretch your legs as you travel along the gorge's length. As the day draws to a close, you will return to Taipei and be dropped off back at your hotel after a long but memorable scenic tour.
Private tours from Taipei to Taroko Gorge
On a private tour to Taroko Gorge, you have the option of traveling exclusively by road, or combining rail and road transport.
You will join your guide and learn more about the sights along the route between Taipei and the Taroko National Park. Once in the park, your guide will accompany you to all the most popular and some of the less well-known scenic and cultural park attractions.
Multi-day tours including Taroko Gorge from Taipei
There are various 2 to 5-day tours that travel to Taroko Gorge. These include hiking tours, and multi-destination scenic tours. Almost all multi-day tours are offered on a private basis. Typically, these guided tours visit Taiwan's most scenic regions and begin and end in Taipei.
How much does a day trip to Taroko Gorge from Taipei cost?
You can choose to travel between Taipei and Taroko National Park by road or train on a guided day trip.
Guided Taroko Gorge day trips from Taipei by train start at €150 per person, while a full day guided tour by coach or minibus costs from €200 per person.
Private tours from Taipei to Taroko Gorge may travel either exclusively by road, or combine rail and road transport. Private tours cost from €150 per person to €500 for groups of up to 7 people. A minimum number of participants are usually required for a private excursion to confirm.
Two-day tours including Taroko Gorge from Taipei cost from €250 per person including one night's accommodation to €760 excluding accommodation for a group of up to 7 participants.
Three-day from Taipei tours start from €280 per person for a 3-day private tour of the East Coast and Taroko Gorge, to €685 per person excluding meals and accommodation for a private 3-day hiking tour. A private 5-day tour to Taiwan's three top national parks costs €1,400 per person including 3-star accommodation for 4 nights.
What will you see and do?
Taroko Gorge, Alishan and Sun Moon Lake are Taiwan's premier scenic attractions. As one of nine national parks in Taiwan, the 19 kilometer long marble gorge has been carved over time by the Liwu river and there are many landmarks and features for you to admire on your tour.
Apart from the gorge and other natural wonders, the park also includes aboriginal settlements, museums, temples and multiple hiking trails. Among the many sights, you might expect to see: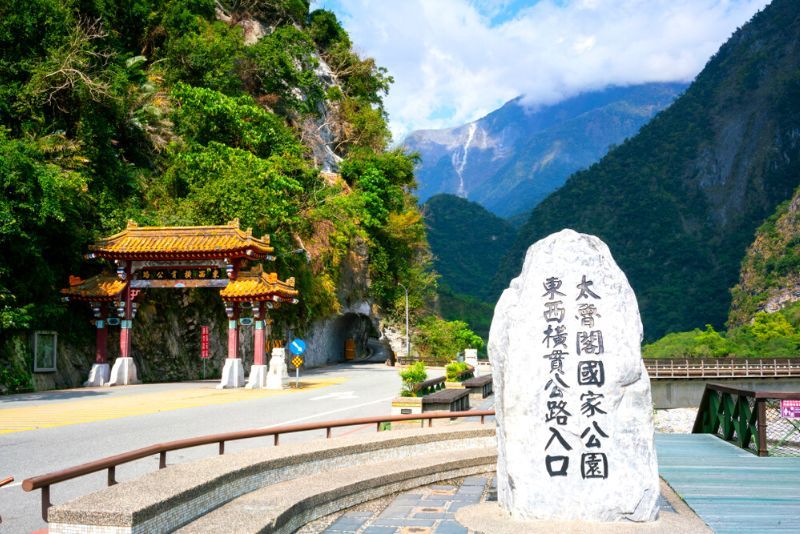 Taroko East Gate
The first site of interest on entering the park is the Taroko East gate — the official gate to the Central Cross-Island Highway. Snacks and refreshments can be purchased close to this park entrance.
Eternal Spring Shrine
The Eternal Spring Shine is a memorial to the people who died during the construction of the central Cross-Island Highway. It is not always accessible via its walkways, but can be viewed and photographed from the road.
Swallow Grotto Trail
Swallow Grotto trail is the best place to view the gorge from inside the national park. Caves dot the walls on each side of the river and form the ideal natural nesting site for the birds that give the location its name
Tunnel of Nine Turns
The tunnel of Nine turns is a man-made construction that follows the winding hillside marble facades and provides ever-changing views of the gorge and Liwu River.
Cimu Bridge and Pavillion
The Cimu Bridge, originally built in 1959, connects Lüshui and Tianxiang to Hualien and the Taroko National Park. A new bridge replaced the old one in 1995 and crosses the Laoxi River. The site is a location where tradition and modern design stand side by side.
Lüshui
Lüshui is a river terrace that was previously the site of an aboriginal tribe. Today, you can visit the Geological Exhibition Hall and view the river and gorge from a scenic platform
Tianxiang
Tanxiang is the end point for many tours to the park. This village has a visitor's center, recreation area as well as a garden, church and different types of accommodation including a youth hotel and hotel.
Cave of Water Curtains
On a 2,1 kilometer round trip walk, you can hike to the sheet water Baiyang Waterfall and make your way through many long, pitch black tunnels. The trail can be rocky and unstable and you should exercise caution if walking the route.
When is the best time to visit Taroko Gorge?
The best times to visit Taroko Gorge to be able to enjoy comfortable and hiking-friendly weather are during the spring (April to June) and autumn (October to November).
If you are looking to avoid large crowds, avoid visiting in the Summer, on holidays or weekends.
Travel tips
Check the weather forecast before visiting, especially if you're going during typhoon season (July-September).
Before setting out, check for any trail and road closures due to landslides or other natural events.
Wear sturdy hiking shoes and dress in layers, as temperatures can vary.
Carry enough water and bring some snacks.
Keep local emergency contact numbers on hand, just in case.
Don't forget sunscreen, a hat, and insect repellent.
Always stay on marked trails and be cautious near cliff edges.
Some trails, like Zhuilu Old Trail, require permits so remember to apply beforehand.
Respect the environment by packing out your trash and minimizing your impact.
For deeper insights into the gorge's history and geology, consider hiring a local guide or joining a tour.