Seville's spectacular architecture and natural beauty have led to the city featuring in several iconic Hollywood movies. However, one of the most popular appearances Seville has made is in the beloved "Game of Thrones" series, starring A-listers, such as Jason Momoa and Kit Harrington.
Game of Thrones tours in Seville take you on an exploration of the locations used to film the hit TV series, including the city's alcázar and ancient Roman ruins.
Here's all you need to know about Game of Thrones tours, one of the most captivating sightseeing tours in Seville.
What are the best Game of Thrones tours in Seville?
Real Alcázar of Seville Game of Thrones tour
Heading to the crowning jewel of the city — the Real Alcázar of Seville — you'll not only discover the filming location of the "Game of Thrones" series, but you'll also learn about the interesting history behind this ancient landmark.
From Islamic to Christian rule, you'll hear plenty of fascinating information surrounding the rise and fall of Seville throughout the ages. You'll also learn facts about the fantasy TV series and see different filming locations throughout the site, which appeared in series five, and six of "Game of Thrones."
Itálica Game of Thrones tour in Seville
This Game of Thrones tour in Seville takes you just outside the city center to the archaeological site of Itálica. These beautifully preserved ruins are over 2,000 years old and you'll wander the grounds, discovering the spots where the series was filmed.
This location was featured as the "Dragonpit" in seasons seven and eight, and you'll explore its thermal baths and ornate mosaics with your knowledgeable guide. Before returning to the city center, you'll discover the Monasterio of San Isidoro Del Campo, which was built at the beginning of the 14th century.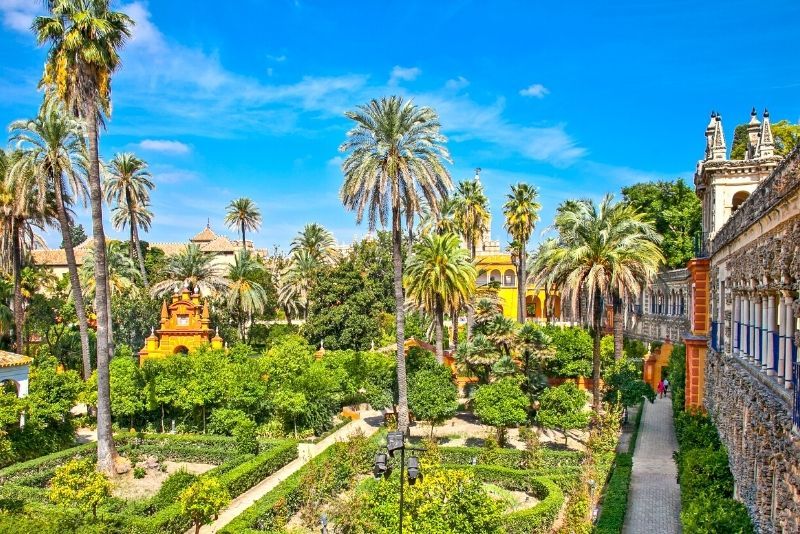 Game of Thrones walking tour in Seville plus Osuna
This combination Seville Game of Thrones sightseeing experience begins with a walking tour in the center of the city and a visit to the iconic alcázar, where some of the most thrilling scenes of the series took place.
From here, you have the option to visit Itálica to discover the "Dragonpit" or head to Osuna. This quiet hilltop town was catapulted into the spotlight after its historic bullring was used as the backdrop for "Danzak's fighting pit" in series five.
Game of Thrones bike tour in Seville
If you're a fan of pop culture, you should consider hopping on a bike and exploring the city on two wheels on this Seville bike tour. Alongside visiting the Real Alcázar of Seville where "Game of Thrones" was filmed, you'll also cycle to various other film sets for Hollywood titles.
Head to Plaza de España to see one of the sets for "Star Wars: Episode II – Attack of the Clones," which also appeared in the 2012 comedy "the Dictator," starring Sacha Baron Cohen. Roam the streets that appeared in "Lawrence of Arabia" and hear stories about these movie sets that only a local would know.
Which places are visited?
Real Alcázar of Seville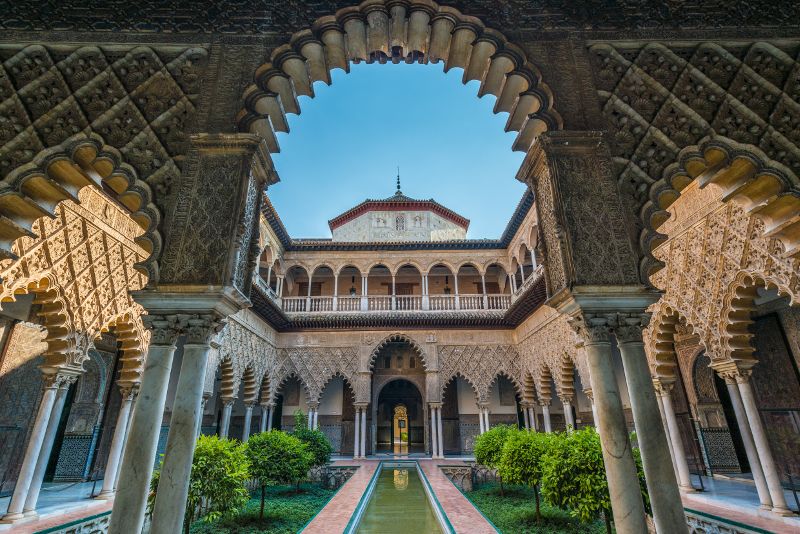 The Real Alcázar of Seville was built for King Peter of Castille who ruled during the 14th century and was just 16 years old when he ascended the throne. The palace was built on the site of an older Islamic fortress, which was destroyed when Christians captured the city in 1248.
The alcázar showcases an amalgamation of architectural elements from the Romanesque, Gothic, and Renaissance eras, and is listed as a UNESCO World Heritage Site. The landmark features as the Water Gardens of the fictional city, Sunspear, in season five of "Game of Thrones."
Itálica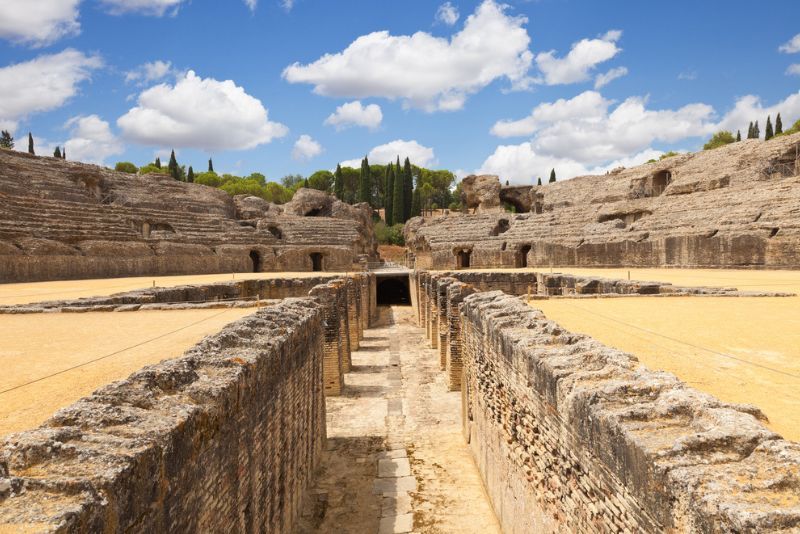 Itálica is located just outside of Seville, bordering the town of Santiponce, and was founded by the ancient Roman general Scipio over 2,200 years ago. Originally serving as a home for veterans and soldiers, the site features an aqueduct, as well as a temple dedicated to Emperor Trajan.
The amphitheater located on site was once the third largest in the Roman Empire and seated 25,000 spectators. It is this spot that featured in "Game of Thrones" as a place where dragons were held captive by the Targaryen.
How much do Game of Thrones tours in Seville cost?
The most budget-friendly Game of Thrones tour in Seville takes place on a bike, costing between €20 and €30 per person and lasting about 2 hours.
More comprehensive excursions, with a duration of up to 4 hours, typically range from €40 to €60 each, making these tours relatively accessible to most visitors.
Game of Thrones tours in Seville that also include a trip to Osuna and lunch are typically priced around €90.
What is included?
Game of Thrones tours in Seville always include a professional guide who is as obsessed with the show as you. This means they will show you each filming set with enthusiasm and be able to answer any questions you might have surrounding each location.
If your excursion visits a paid attraction, such as the Real Alcázar of Seville or Itálica, you can expect admission to be included in your tour price. Seville city tours on a bike include the rental of your equipment for the duration of your excursion, while tours that include Osuna also provide you with lunch.
Where does it start?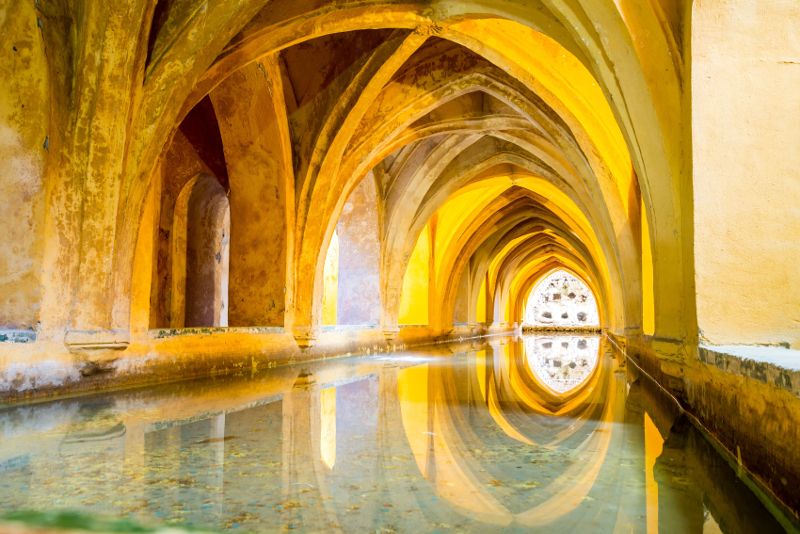 Some Game of Thrones excursions in Seville offer a complimentary hotel pickup service, however, others meet at different locations around the city. These destinations are easy to reach on public transportation and your guide will usually be holding or wearing something to identify themselves.
You can view the meeting point of each tour before booking so that you can arrange any necessary transportation before arriving in the city.
How long does it last?
The majority of Game of Thrones tours in Seville last between 1.5 and 2 hours, giving you plenty of time to explore the filming sets of the series. However, some excursions that include Itálica travel to other nearby sites and last approximately 4 hours.
When is the best time for a Game of Thrones tour in Seville?
Most Seville Game of Thrones tours take place on foot, and you may wish to consider booking your trip during the spring or fall months. During these seasons, you'll experience warm temperatures that range from 20 to 26 degrees Celsius, making for a comfortable stroll around the city.
As these tours typically last less than half a day, they can easily be slotted into most city break itineraries. This means that you can participate in this themed day trip whenever it takes your fancy.
Travel tips
Avoid booking your Seville Game of Thrones tour for the summer months of July and August, when temperatures can climb as high as 40 degrees Celsius during particularly hot spells and the streets are crowded with tourists.
Rewatch the "Game of Thrones" episodes that feature Seville landmarks before embarking on your guided walk through the filming sets so that the scenes are fresh in your mind.
As most Game of Thrones tours take place on foot, you should consider wearing comfortable shoes, such as sneakers.