Rotorua lies in the Bay of Plenty region on the shores of Lake Rotorua on New Zealand's North Island. Surrounded by mountains, rivers, forests and lakes, Rotorua sits within the pacific Rim of Fire.
Its distinctive geothermal landscape with mud pools, hot springs and other volcanic activity is the perfect backdrop for a wide variety of outdoor and adventure sports.
Rafting in Rotorua traverses some of the world's most exciting commercially rafted rapids and waterfalls. This adventure should be top of the list for anyone seeking a thrilling and adrenaline filled day.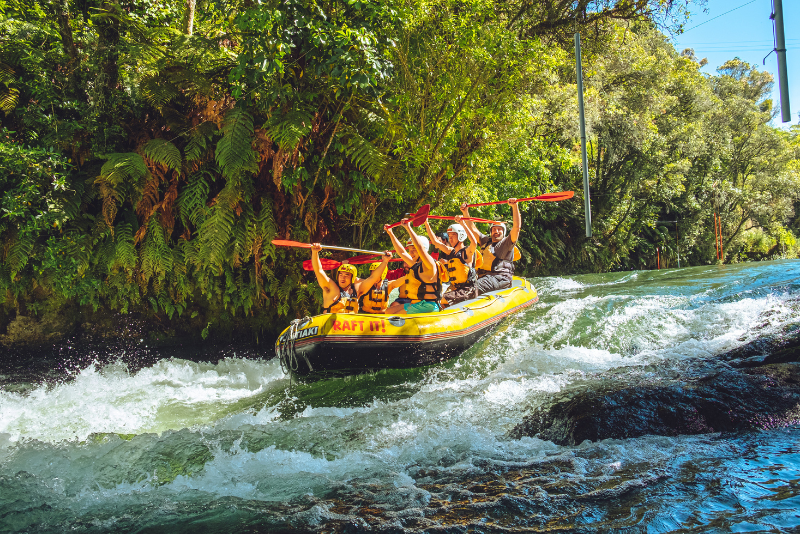 Here's everything you need to know about rafting, one of the most exciting outdoor activities in Rotorua.
What are the best rafting tours in Rotorua?
Rafting tours from Lake Rotorua cater to all levels of experience and fitness. The 45-kilometer long Kaituna River and the 155-kilometer Rangitaiki River are the two most popular waterways where rafting occurs.
Some tours are family friendly, while others are more suitable for older participants due to the degree of difficulty. Here are three of the best types of rafting tours available from Rotorua.
Grade 5 rafting tour on Kaituna River
On a rafting tour to the Kaituna River, you will have an experience imbued with touches of Maori culture. Head from Rotorua to the water entry point in a group of no more than 15 people.
Before you start your adventure, you will be kitted out with your safety equipment and given training and a safety briefing.
Rafting on the Kaituna River includes navigating more than 14 rapids and three waterfalls: the Okere Falls, Kaituna Falls and the 7-meter high Tutea Falls, the world's highest commercially rafted waterfall.
The excursion includes Grade 5 rapids, but can be enjoyed by both beginners and experienced rafters over 13 years old. Photos of your tour will be available for you to purchase.
Grade 2 rapids rafting tour on Rangitaiki River
A grade 2 rafting tour on the Rangitaiki River is an ideal family experience and permits children over the age of five who are accompanied by an adult. A comprehensive safety briefing and all the necessary equipment is provided.
To get the adrenaline flowing, you can enter the river by jumping in at one of the jump-off points or make your way to the water's edge by foot.
With gentle, rolling rapids and few rocks, this trip can be enjoyed by all participants.
Grade 3-4 rapids rafting tour on Rangitaiki River
On a 14-kilometer grade 3 to 4 rafting experience on the Rangitaiki River, you will enjoy stunning forest views as you head downstream. Most of the rapids are grade 3 level, and you will have a briefing and don your safety equipment before entering the water.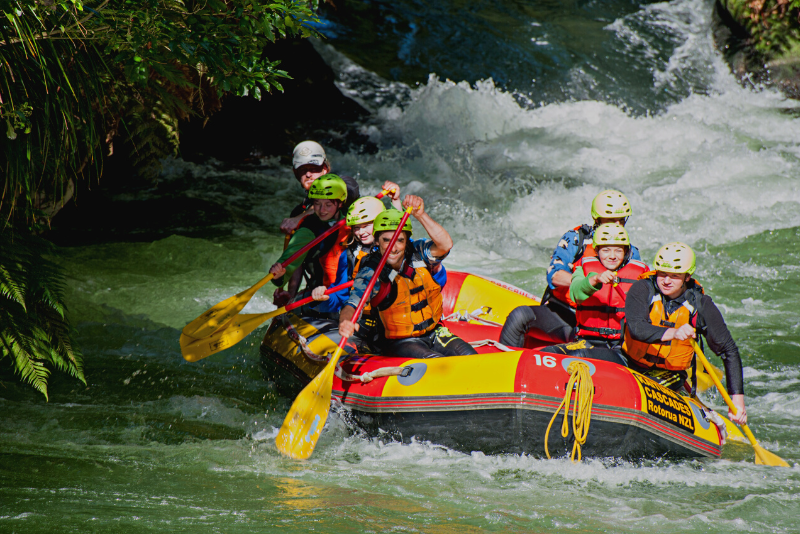 There is a calm section of water along the way where you can relax, appreciate the scenery or take a short swim before continuing on your way.
Children over the age of 10 can join this type of tour, and a moderate level of fitness is recommended for all participants.
How much do rafting tours in Rotorua cost?
A 2.5-hour Kaituna River Grade 5 rafting tour costs from US$70 per person, excluding the transfer surcharge, or US$90 per participant including return Rotorua transfers.
A Rangitaiki rafting tour with Grade 2 rapids costs from US$110 per adult and US$80 per child aged 5 to 15. It takes around 5 to 6 hours and includes transfers and lunch.
Rangitaiki rafting tours with Grade 3 and 4 rapids last around 6 hours and cost US$110 per adult and US$100 for children aged 10 to 15. A light lunch and return transfers are included.
What is included?
A rafting tour in Rotorua usually includes professional river rafting guide, the use of wetsuit, booties, helmet and buoyancy aids. Most tours also provide return transfer from Rotorua (a surcharge may be applied).
Some rafting tours also include lunch and may have a professional photographer taking action photographs. The end point of many tours often also have warm shower facilities.
Where does it start?
Rafting tours in Rotorua usually begin with a pickup from your hotel in the city. Some operators include these transfers in the price and others charge a small surcharge.
Rafting tours in the area take place on either the Kaituna River or the Rangitaiki River. The start point of each tour will depend on the grade of rapids being navigated as well as the water levels and conditions.
Your operator will provide you with detailed directions to a central meeting point if you are coming from outside of Rotorua.
How long does it last?
Typically, rafting in Rotorua last between 2 and 5 hours. Tour length differs based on rafting location, grade of rapids and whether lunch or any additional activities are included. Combo tours are generally six to nine hours long.
When is the best time for a rafting tour in Rotorua?
Summer is the best time for rafting in Rotorua, as the weather is warm and ideal for water-based activities. In the summer months, rafting tours may operate for longer hours than in the winter.
Although Rotorua is a year-round tourist destination most notably due to its geothermal activity, temperatures can get quite cool during the winter months.
It's also best to book a rafting tour once you have taken the time to orientate yourself in the city and surrounding areas.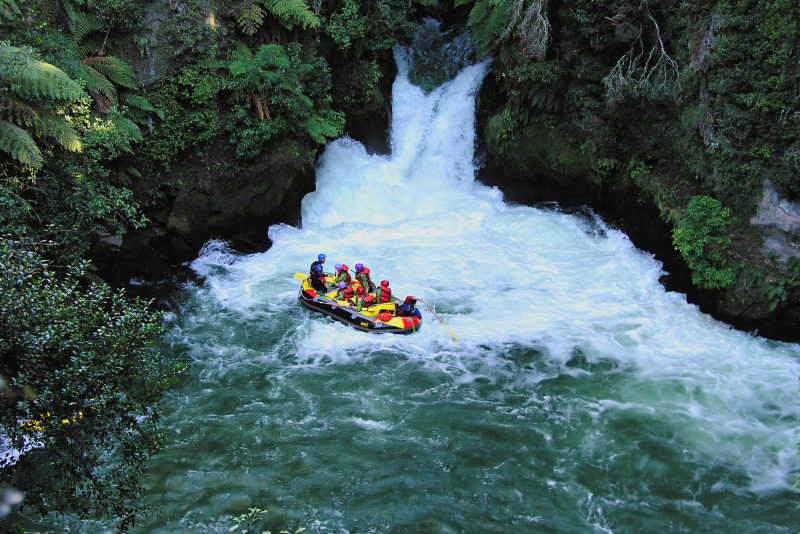 Are there any combo available with rafting tours in Rotorua?
Mount Tarawera and Kaituna whitewater raft combo tour
For a combined hiking and rafting adventure, you can choose a guided tour that combines rafting on the Kaituna River with a unique walking experience on the Mt. Tarawera crater.
The tour includes return Rotorua hotel transfers, entrance fees and all safety equipment.
Kaituna River raft and sledge combo tour
Join a small group for an action-packed day, rafting the Kaituna River rapids and the 7-meter high Tutea Falls and then sledging along the river banks along with your experienced Kiwi guides.
Entrance fees, safety equipment and Rotorua hotel transfers are included in this package.
Is it safe?
Guided rafting tours in Rotorua are generally safe, but like all water sports should only be attempted with the correct safety equipment and expert guidance.
If you have a pre-existing health condition such as heart problems, back or neck problems or any mobility problems, or if you are pregnant, this type of tour may be unsuitable.
You should check with the tour operator about their requirements. For safety reasons, some tours also have a maximum weight restriction.
Are children allowed?
Children older than 10 years old are allowed to join rafting tours that navigate Grade 3 rapids. Rafting tours that include Grade 5 rapids only allow children who are aged 13 or older.
A family friendly rafting tour is available at Rangitaiki in which children over aged 5 are able to participate.
What happens in case of bad weather?
In the event of bad weather or if the water conditions are unsafe, your rafting excursion in Rotorua may be postponed or canceled. If this happens, you will either get a refund in full or book your tour on a different day.
Which other water activities can be done in Rotorua?
Travel tips
Reapply sunscreen regularly.
Wear a swimsuit underneath your clothes and closed shoes.
Bring a towel along.
Pack your valuables in a waterproof bag.
Leave any unnecessary valuables at your hotel or accommodation.