The New Zealand city of Rotorua is known not only for its fascinating geothermal sites including geysers, mud pools and thermal springs, but for its 17 lakes collectively known as the Lakes of Rotorua.
Water sports including boating, fishing, swimming and water skiing are popular summer activities, and Lake Rotorua also serves as a float plane landing and departure site.
A short boat tour in Rotorua or a longer tour on multiple lakes is a great way to see the region from another viewpoint.
Tours include information about the area's natural and cultural history and how volcanic activity has created this magnificent landscape. Rotorua's local landmarks are also a feature of many tours.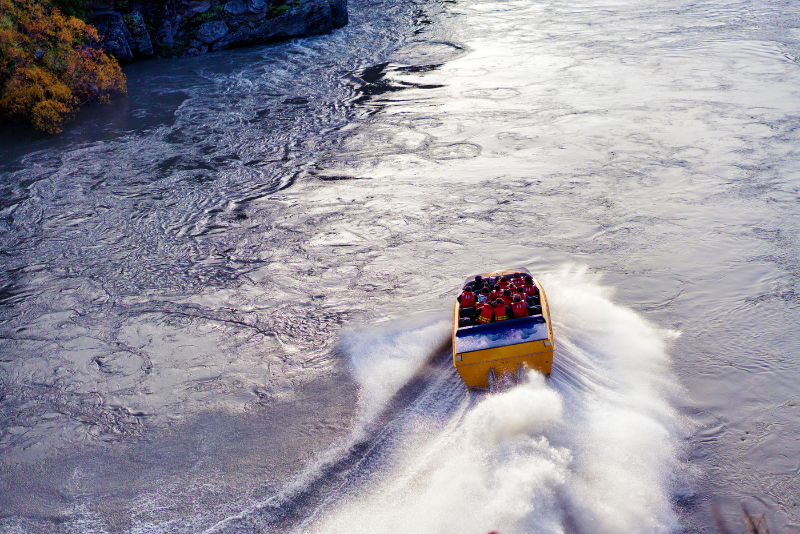 Here's all you need to know about a bout tour, one of the most invigorating outdoor activities in Rotorua.
What are the most popular boat tours in Rotorua?
With many lakes and a host of intriguing volcanic and geothermal attractions around Rotorua, there are a variety of boat tours to choose between.
You can opt for a scenic tour or consider a high adrenaline boating experience. Here are some of the most popular boat tours available in Rotorua.
Rotorua Duck Boat guided city and lakes tour
Board a World War II amphibious vehicle and begin your tour with a Rotorua city tour passing the Government Gardens and Blue Baths, before entering the waters of Lake Tikitapu and Lake Okareka.
This 90-minute tour includes live commentary and you will learn about Rotorua's fascinating history and the geographical events that have shaped this volcanic region.
Before returning to central Rotorua you will have a few minutes to appreciate views of Mount Tarawera from an amazing vantage point.
Tarawera and Rotorua Lakes guided eco-tour
This interesting eco tour begins with a road trip past some of the area's most scenic lakes. The tour takes around two hours and passes the Redwoods Treewalk before stopping at Lake Okareka and then heading to Blue Lake for a boat trip and photo opportunity.
After passing the buried village of Te Wairoa, the tour stops for a refreshment break at Lake Tarawera's Hot Water Beach before passing Mount Tarawera on the way back to Rotorua.
Lake Rotorua Jet boat tour
On a short 30-minute speedboat tour on Lake Rotorua, you will experience a thrilling high-speed spin across Lake Rotorua. Live narration about the area's history from your expert driver rounds off this memorable excursion.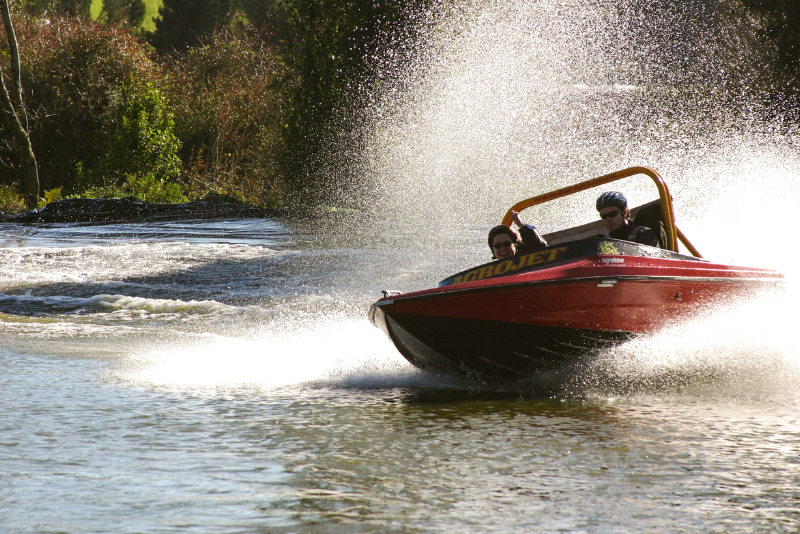 Lake Rotorua and Lake Rotoiti hot pools tour
This 2.5-hour tour starts with a high-speed jet boat ride across Lake Rotorua and includes some exhilarating turns and spins to get your adrenaline pumping. After the excitement of this part of the activity, your tour heads to the Manupirua Thermal Springs.
Accessible only by boat or seaplane, this attraction on the edge of Lake Rotoiti is perfect for relaxing and you will be able to enjoy a soak in the hot mineral pools or cool off in the lake.
How much do boat tours in Rotorua cost?
The prices for boat tours like the Rotorua Duck Boat guided city and lakes tours cost US$60 for adults and US$35 for children aged 3 to 16. Children under the age of 3 do not pay, but strollers are not permitted.
A Tarawera and Rotorua Lakes guided eco-tour starts from US$70 per adult. Children between the age of 3 and 16 pay around US$40 when accompanying an adult, and infants are free.
Lake Rotorua jet boat tours start from around US$70 per person and are suitable for persons over two years of age.
Lake Rotorua and Lake Rotoiti hot pools tours start at US$110 per adult. Children must be accompanied by an adult and will pay around US$80 if they are between the age of 5 and 14. Children under the age of 5 can join the tour for free.
A minimum of 6 people are required for this tour to operate.
Which places are seen with a boat tour from Rotorua?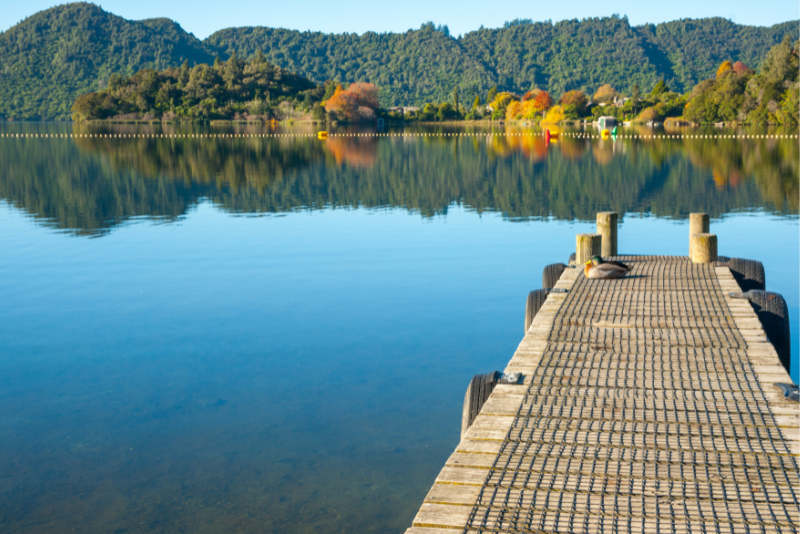 The scenery of the Lakes of Rotorua has been shaped by volcanic activity and this can be seen when visiting or passing some of the sites on a Rotorua boat tour. Among the natural attractions around Rotorua, you might see some of these sights.
Mokoia Island
Mokoia Island is an uninhabited rhyolite lava dome that rises out of Lake Rotorua. This mysterious island is a sanctuary for endangered wildlife and considered sacred to the Te Arawa people.
Sulphur Bay
Sulphur Bay is a wildlife refuge located on the south-eastern corner of Lake Rotorua. The area gets its name from the strong sulfur smell that emanates from the volcanic activity of the region.
Kawaha Point
Kawaha Point is set among the Government Gardens on the Lake Rotorua shoreline. Redwood forests and hot pools are a defining feature in this area.
Rotorua's local landmarks are also a feature of many tours, and if your trip includes a city tour, you may also visit the Rotorua Museum and Art Gallery to learn more about Rotorua's volatile landscape.
Spend some time in the Government Gardens, admiring the natural beauty from the land.
How long does a boat trip last?
Boating experiences from Rotorua can be as short as 30 minutes. The average tour lasts 1 to 2 hours, but there are longer excursions.
Where do boat tours leave from?
Depending on which boat tour you choose and which lake is visited on the tour, departure points of boat tours in Rotorua will differ. Most tours will notify you of the meeting point along the lakeside and will provide you with directions.
If your accommodation is close to the lakeside, you may be able to walk to the departure point for your tour.
When is the best time for a boat trip in Rotorua?
January to March offer the best weather for boat tours in Rotorua, but they are also the busiest season. Spring is ideal if you prefer a quieter experience. There is less chance of rain during the summer months.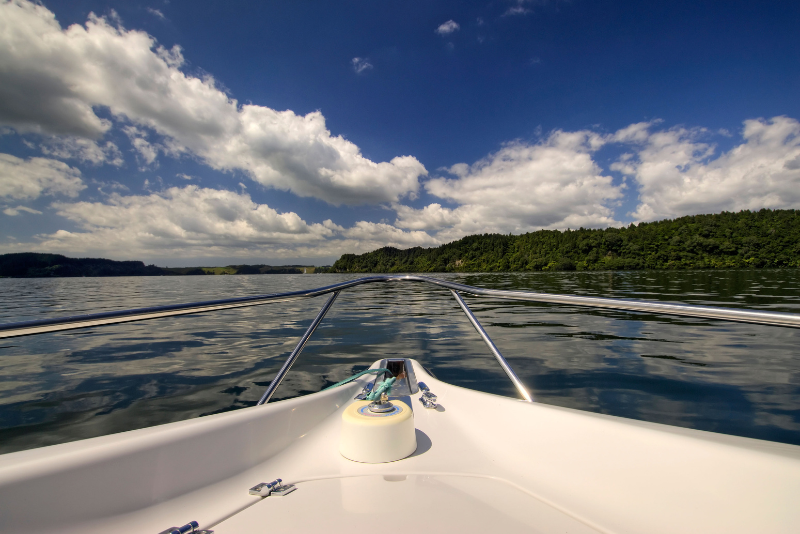 Rotorua boat tours earlier in the morning and later in the afternoon are better for photography, as there is softer light and less glare on the water.
Which other water activities can be done in Rotorua?
Travel tips
Advise your tour operator if you require wheelchair accessibility.
Bring a rain jacket as many tours operate in all weather conditions.
If you are pregnant or have a serious medical condition, a jet boat tour is not recommended.
Apply sunscreen regularly.
Pack a swimwear and a change of clothing if a visit to a hot spring is included in your tour.