Kayaking in Rotorua is an exhilarating experience that combines adventure, nature and local Māori culture. Located in the Bay of Plenty region of New Zealand's North Island, Rotorua is a city known for its geothermal activity and breathtaking lakes. With numerous waterways, Rotorua provides the perfect location for kayakers to explore and appreciate the region's beauty.
Whether you are a beginner or have kayaking experience, kayaking tours in Rotorua offer options suitable for all skill levels. You can paddle through clear waters, surrounded by stunning scenery and discover hidden coves and hot pools, while learning more about the region's fascinating geographical and cultural history.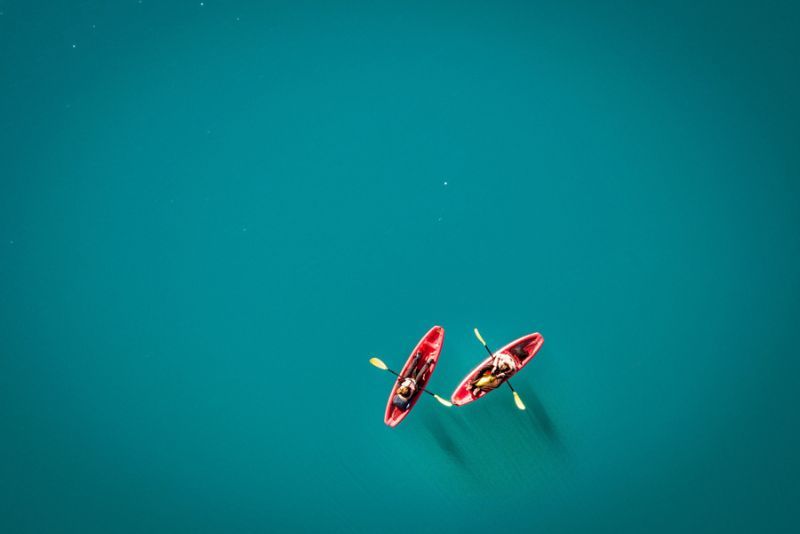 Here's all you need to know about kayaking tours, one of the most exhilarating outdoor activities in Rotorua.
What are the best Kayaking tours in Rotorua?
With an abundance of lakes, hot springs and geothermal cave systems in and around Rotorua, it is the perfect place for a kayaking tour. Depending on your interests and the time you have available, you can choose from a variety of kayaking experiences. Here are some of the most highly rated kayaking tours in Rotorua.
Twilight kayak glow worm tour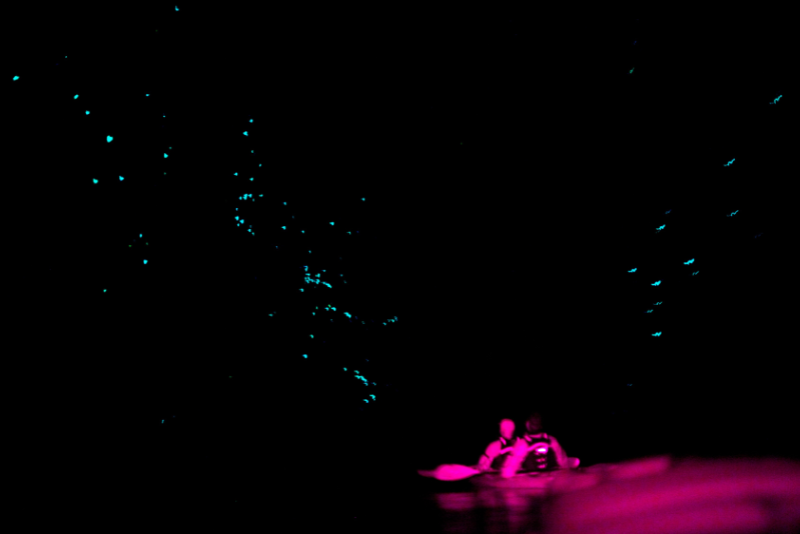 This type of small-group adventure begins a short while before sunset. After a safety briefing and some practice for novice kayakers, you will set out on your tour. Lake Karapiro and Pokaiwhenua Stream, Lake Okareka, and Lake Rotoiti are all popular sites for this type of excursion.
Your guide will point out the abundant native plants, bird and rock formations during your trip. As the skies darken or as you enter some of the small waterside caves, glow worms will create pin pricks of light along your route. This is a great activity for families.
Steaming Cliffs kayaking
This one-of-a-kind experience gives you the chance to witness the steam rising from the cliffs at Lake Rotomahana in the Waimangu Volcanic Valley. On a small-group basis with a maximum of six participants, your guide will escort you as you explore this special destination by kayak.
This type of tour is recommended for people with moderate fitness who are looking for a tranquil outdoor excursion from Rotorua. With only one tour operator permitted to access the lake by road, you can expect a peaceful and exclusive experience.
Lake Rotoiti guided hot pools kayak trip
An excursion to Lake Rotoiti would not be complete without stopping to soak in the warm waters of the Manupirua Springs Hot Pools. You can join a small group tour that includes complimentary Rotorua hotel transfers, and paddle across the lake to the thermal hot springs only accessible from the water.
Your experienced guide will ensure that you are comfortable guiding your kayak before heading out, and during your time on the water will tell you more about the area's history and local Māori legends.
Are there any combo available with Kayaking tours in Rotorua?
You can combine kayaking with other activities in and around the water's edge. Caverns, coves and waterways all provide opportunities to explore the scenic beauty around Rotorua.
Kayak tours with hot springs, glow worm caves and barbeque dinner
This tour offers a twilight kayaking experience on Lake Rotoiti with an expert guide that includes a visit to magical glow worm caves, and time to soak in the nearby Manupirua Hot Pools. The tour ends with a barbeque picnic dinner before returning to Rotorua.
How much do Kayaking tours in Rotorua cost?
A twilight kayak glow worm tour starts from US$80 per person and costs up to US$100 per person depending on what kind of tour you choose.
Steaming Cliffs kayaking tours cost from US$80 per person on a small group basis, while Lake Rotoiti guided hot pools kayak trips cost around US$100 per person and last up to four hours.
Longer tours that include hot springs, a visit to the glow worm caves or a barbeque picnic dinner can cost up to US$120 per person.
What is included?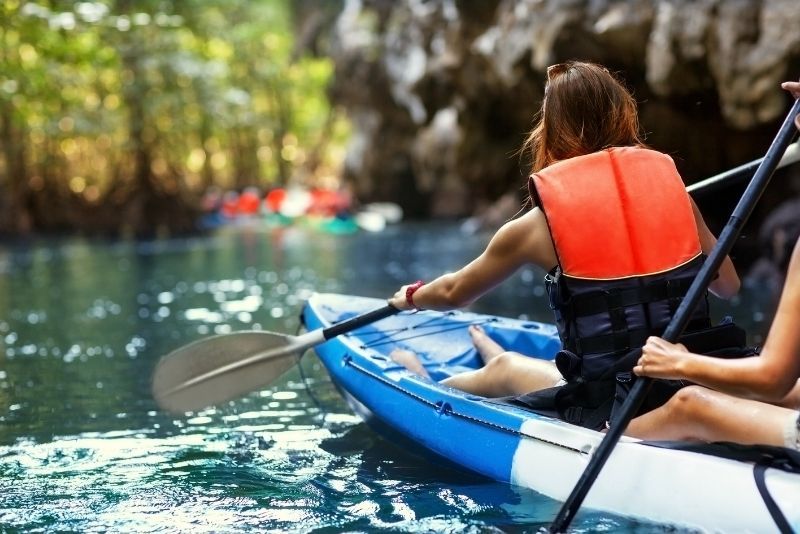 Kayaking tours often include the option of a hotel pickup and drop off, although there may be an extra cost for this service. All kayaking equipment including kayaks, paddles, booties or wet-shoes and safety equipment are covered by the tour price.
Your professional guide and service fees and taxes are also included. Some tours offer refreshments or snacks as part of the tour package, while for other tours, these costs are for your own account.
Where does it start?
If your tour includes a return hotel transfer, you will be collected by your guide or tour operator and driven to the launch point for your tour. Otherwise, you will be asked to make your own way to the tour operator's central meeting point in Rotorua, or the specific starting point of your chosen kayaking experience.
How long does it last?
The typical duration of a kayaking excursion is around three to four hours. If your tour includes a stop at the hot pools or a barbeque dinner, then you can expect a tour that lasts from five to seven hours.
When is the best time for a kayaking tour in Rotorua?
Rotorua is a year-round destination for visitors with the area's ongoing geothermal activity. Temperatures can, however, get quite cool during the winter months and so summer, late spring and early autumn are best for water-based activities like kayaking.
Once you have had the opportunity to orientate yourself and explore the city, a kayaking tour is a great way to experience one or more of the lakes in the region.
Is it safe?
Kayaking tours in Rotorua are safe, but are not recommended for travelers with back problems, heart problems or serious medical conditions. A moderate level of fitness is recommended.
Are children allowed?
Children are allowed on kayaking tours in Rotorua, but must be accompanied by an adult. Check with your tour provider for relevant age restrictions.
What happens in case of bad weather?
Kayaking tours require good weather. In the case of bad weather, your tour provider will offer an alternate date or full refund.
Which other water activities can be done in Rotorua?
Travel tips
Bring a light jacket along on twilight and evening tours.
You may want to pack a change of clothes for after your activity.
Remember sunscreen and a hat.
Carry your valuables in a waterproof pouch.
Book your tour online in advance.
Advise the tour operator if you have any food allergies where necessary.