The Kaituna River empties into the Bay of Plenty on New Zealand's North Island. The upper reaches of the Kaituna River are also known as the Okere River and offers some of the finest white water rafting conditions on the planet.
The relatively warm waters of the river and the temperate rainforest along the banks add to the Kaituna River's popularity.
Solo and tandem kayaking, rafting and sledging are all recreational and commercial activities that take place along the river's length.
The Kaituna River tour is a premier water activity in the Bay of Plenty region and is a worthwhile addition to your itinerary.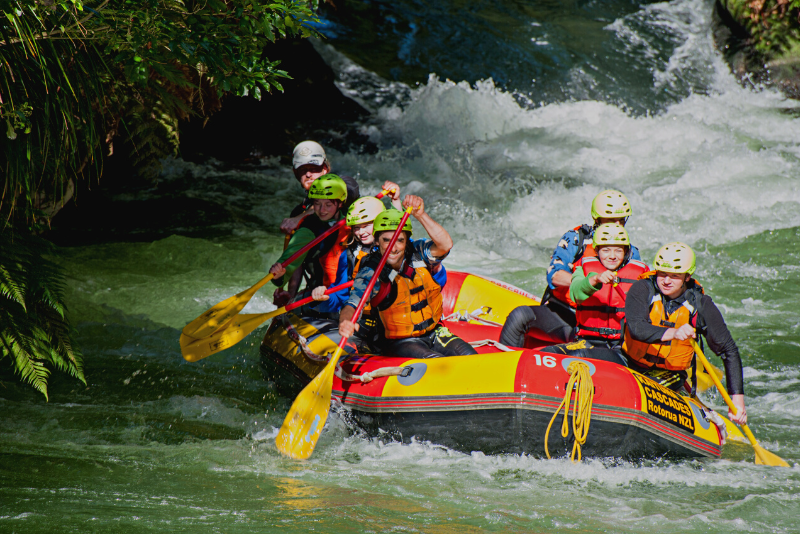 Here's all you need to know about the Kaituna River, a popular destinations for outdoor activities in Rotorua.
What are the best Kaituna River outdoor activities?
Rafting and sledging are the top two activities along the 45 kilometer long Kaituna River. Some tours are suitable for younger participants while others are more challenging and suited to adults and more experienced participants.
Kaituna River rafting experiences
On a Kaituna River rafting experience, you can expect an adventure filled day. Tours include the services of an expert river guide who is knowledgeable about the region and Māori culture.
You'll learn about the area's natural and cultural history with a guided bush walk as you head to the water entry point.
Rafting activities typically take place in small groups. Before the rafting begins, you will have a comprehensive safety briefing and gear up with your safety equipment.
The exhilarating Grade 5 rafting excursion includes over 14 rapids and three waterfalls. Together with the Okere Falls and Kaituna Falls, the 7-meter high Tutea Falls is on the rafting route.
Guides ensure that even inexperienced rafters can safely complete the route with confidence.
Kaituna River sledging experiences
A sledge or riverboard provides you with an eye-level experience of the river, as you maneuver yourself through the water. A sledging tour starts with a short history of the Kaituna River before your comprehensive safety briefing and sledge instruction.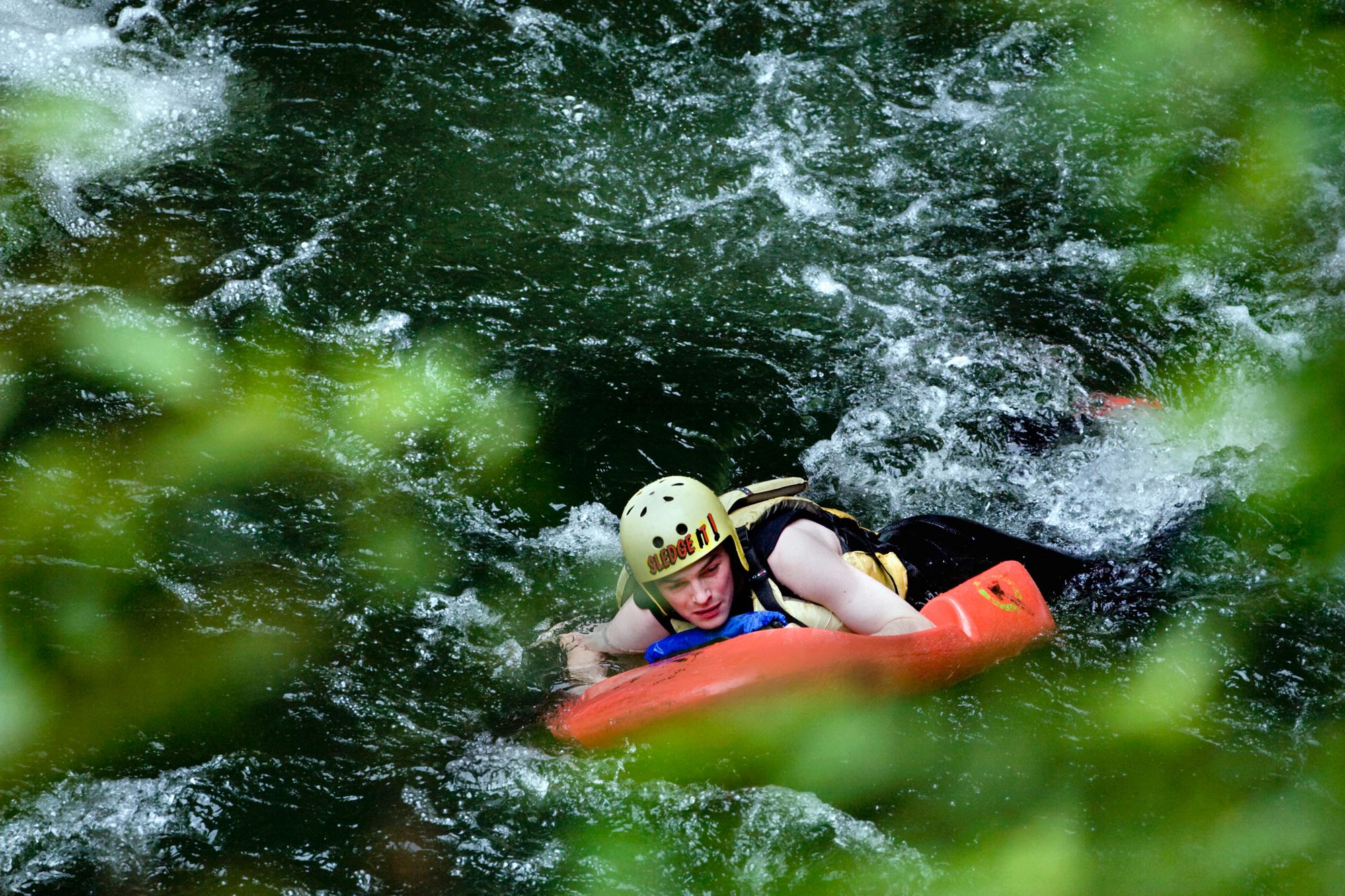 After being fitted with your helmet, flippers, lifejacket, wetsuit and booties, enter the water for a short practice session. Navigating the river and rapids this way is not for the faint-hearted, and you should be moderately fit and without any pre-existing medical conditions to participate.
Your guide will lead the way and be on hand to assist if you run into any difficulties. On the route, there are calm patches of water where you can relax, float and marvel at the surrounding forests.
Polar fleece tops and spray-jackets are provided for the tour if the weather requires them.
Kaituna River raft and sledge combo tour
Combine the excitement of rafting and the thrill of sledging on the Kaituna River with a combo tour that offers both of these memorable activities. Experienced local guides join you and your small group for a full day experience.
Entrance fees, safety equipment and Rotorua hotel transfers are included in this package.
How much do Kaituna River outdoor activities cost?
Kaituna River rafting tours cost in the region of US$70 per person excluding return transfers or US$90 per person including return transfers.
Sledging on the Kaituna River costs from US$90 per person, including all equipment but excluding transfers, meals and refreshments.
Kaituna River raft and sledge combo tours cost about US$130 per person.
What is included?
Most Kaituna River tours usually include a professional guide and the use of helmet, wetsuit and booties.
Some tours include return transfers in the price, while others may offer transfers at additional cost. Certain tours include lunch and you may be able to purchase action photographs of your activity.
Where does it start?
Kaituna River tours usually start at the meeting point meeting point for your tour. Water levels and conditions may determine your entry and exit points. If your tour includes a return transfer, you are collected from your Rotorua.
How long does it last?
Rafting tours typically last between 3 and 5 hours of which approximately 1.5 hours will be in the water.
Excluding any transfer time, sledging experiences are around 2.5 hours long. Combo tours can take up to 9 hours but generally take about 7 hours.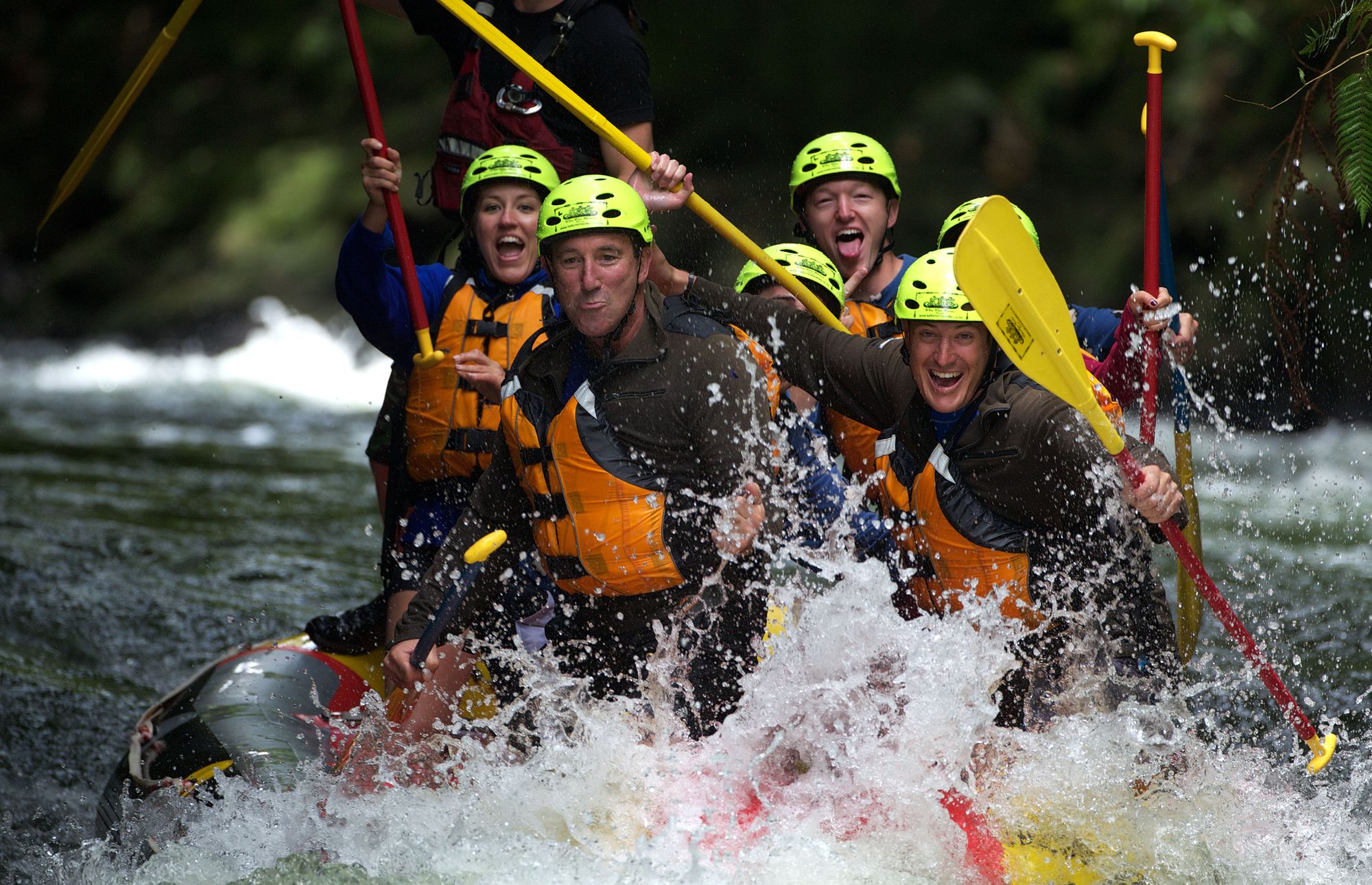 When is the best time for outdoor activities at Kaituna River?
The summer months are ideal for water activities on Kaituna River. The region is a year-round tourist destination but temperatures can be cool during the winter months.
During the summer, rafting and sledging tours operate for longer hours than in the winter.
Is it safe?
As with all water based activities, there are risks associated with rafting and sledging at Kaituna River. Choose a reputable operator with a good safety record. If you have impaired mobility, are pregnant or have a medical condition like a heart condition, epilepsy or back or neck problems this type of tour is not recommended. Certain weight restrictions may apply for safety reasons.
Are children allowed?
There are age limits for rafting and sledging at Kaituna River. Children under 13 may not join a rafting excursion. For sledging, participants need to be at least 15 years old.
What happens in case of bad weather?
In the case of bad weather or unsafe water conditions, your tour operator may cancel your trip. If this happens, you will be offered a full refund or the chance to reschedule on another day.
Where else can you do other water activities in Rotorua?
Travel tips
Book your transfer in advance if necessary.
Bring swimwear and a towel.
Pack your valuables in a waterproof bag.
Sunscreen is recommended in the summer.