From the thriving city of Palma to the orange haven of Sóller, Mallorca is home to some extraordinary sites. The best way to get a taste of its varied landscapes and traditional lifestyle is through one of the many free walking tours in Mallorca.
Roaming the streets and learning about Mallorcan culture via its tapas, architecture and fascinating legends provides an experience like no other.
And, the best part of being guided around the island on foot is that it's not going to break the bank!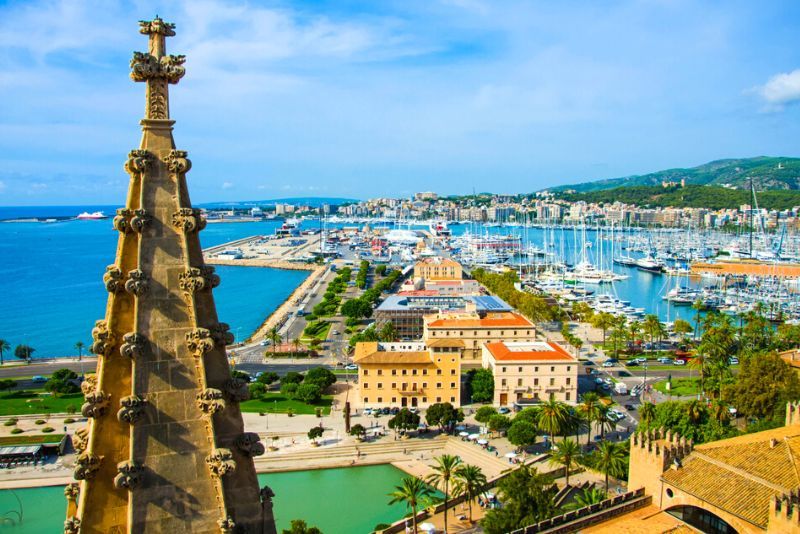 You will find below everything you need to know about free walking tours, one of the best budget-friendly sightseeing experiences in Mallorca.
How do free walking tours in Mallorca work?
You decide the worth of free walking tours in Mallorca. They work on a pay-as-you-wish basis, which means it's free to book and participate in a tour. However, you'll be expected to tip your guide at the end.
Free walking tours are an excellent sightseeing experience while on a budget as they typically cost less overall than more traditional walking tours.
How much should you tip for a free walking tour in Mallorca?
It is your decision how much to tip your guide on free walking tours in Mallorca. You should base your decision on how much you enjoyed your excursion and the length of it.
Participants may decide to tip anything from €5 to €50 on these tours, however, most people choose to tip between €10 and €15 per person.
If your guide is exceptionally knowledgeable, you may consider tipping a little more.
What are the best free walking tours in Mallorca?
Free historical tour of Palma plus tapas
This tour combines Mallorca's varied history with its traditional cuisine for a fully-immersive experience.
Itinerary
On this free walking tour in Mallorca, you'll weave your way through the Old Town of Palma — the capital city. The historic center of the city is full of magnificent religious buildings, such as the 14th-century La Seu Cathedral, which is an emblem of Palma.
Other sites you may see along your amble of the city streets include the Royal Palace of Almudaina and Parc de la Mar. You'll end the tour with a food tasting by sampling local tapas, such as ramillette tomatoes and tumbet — a flavorful vegetable dish that is baked and fried.
Mystery and legends free tour of Palma
As the lights dim and the tourist bustle quietens down, you'll take to the streets of Palma to discover the stories and legends behind the city.
Itinerary
You'll stop by several renowned buildings before reaching the Town Hall, which is a beautiful example of baroque architecture. Continuing on, you'll saunter through iconic squares and religious grounds that include the churches of Santa Eulàlia and San Francisco.
You'll travel through the Jewish Quarter, hearing remarkable tales and historical tidbits before reaching the jewel of the city — La Seu Cathedral. What sets this tour apart is its commentary on myths, legends and crimes that date back hundreds of years.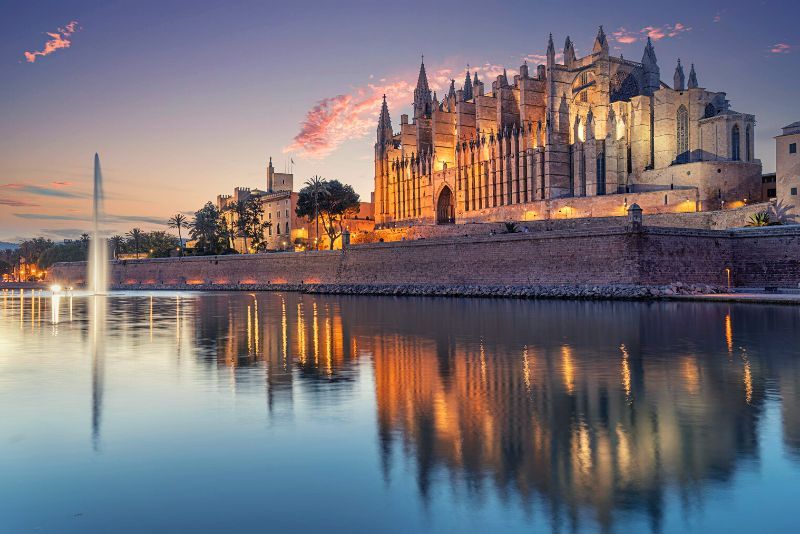 Free walking tour of Sóller
Further up the coast lies the wealthy town of Sóller, which many locals refer to as the "valley of gold."
Itinerary
This comprehensive tour of one of Mallorca's lesser-known towns kicks off with a visit to the church of Sant Bartomeu. This grand religious landmark sits upon Constitution Square, which is also home to the city's town hall.
You'll discover Sóller's claim to fame — its juicy and sweet oranges — as well as its local, botanical gin. You'll learn about the background of this luxury town through its buildings, and hear tales about the monuments you see en route.
Free walking tour of Valldemossa
This village was described as the "most beautiful place" in the world by the composer Chopin and it's easy to see why. With its cobbled streets and 13th-century monastery, Valldemossa is abundant with historical charm.
Itinerary
You'll hear extraordinary stories of aristocrats and princes as you wander through the village of Valldemossa. Surrounded by tree-studded cliffs, the town may be small but what it lacks in size, it makes up for in history.
Valldemossa's picturesque streets have inspired many poets, composers and artists over the years, including Rubén Dario and Joseph Horovitz. You'll explore the town's scenic viewpoints and try its delicacies, which include potato cakes, and almond slush.
Modernism, dragons and colors tour of Palma
This free walking tour looks deeper into the artistic influence of the buildings that line the city.
Itinerary
You'll stroll through the center of Palma on foot and discover the most striking buildings in the city. You'll see the imprint that the great Catalan architect — Antoni Gaudi — left on the city, most notably through his work inside the grand cathedral.
You'll learn about the polychrome ceramics factory, which is known for producing the mosaic tiles that lace the city. Points of interest along the tour include the Palace Museum, the Paseo del Born and the Plaza Mayor. You'll also hear about the history of the first hotel on the island, which opened in 1901 and gave Mallorca its first taste of tourism.
In which languages are free walking tours in Mallorca offered?
Most free walking tours in Mallorca operate in English or Spanish. These tours often offer both languages as an option, which makes it easy to select the tour you like.
Occasionally, walking excursions offer a selection of other European languages, such as German, Catalan, French or Dutch.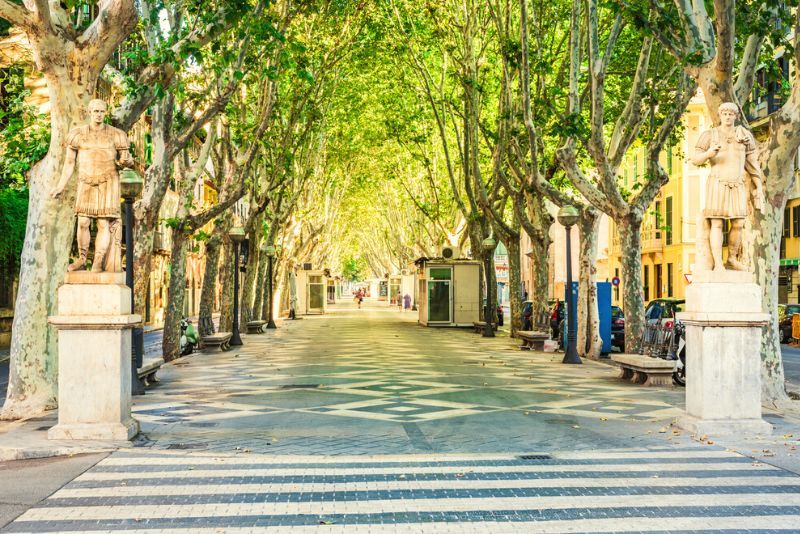 Where do free walking tours in Mallorca start?
The starting point of your tour is dependent on the part of the island you'll be exploring.
However, most tours take place in the island's capital city — Palma — and meet at one of its significant landmarks. These starting locations include the statue of King Jamie I in Plaza de España and the Basilica of San Francisco.
You will always be informed of the tour's meeting point prior to booking, which enables you to organize your transportation ahead of time.
How long do free walking tours in Mallorca last?
Typically, free walking tours in Mallorca last around two hours and cover many sites around the neighborhood or city you're based in.
If you have an exceptionally packed itinerary with very little time to spare, it's possible to book a tour that lasts just over an hour.
When is the best time to join a free walking tour in Mallorca?
Some free tours in Mallorca operate once the sun has set. This is the best time to take a walking tour as the scorching heat of the day gives way to mild and pleasant walking conditions. You also won't risk becoming sunburned or dehydrated on a nighttime tour.
Walking tours are the best way to explore the island so take to its streets on foot on your first day.
Should Mallorca free walking tours be booked online?
Free tours in Mallorca should be booked in advance for a number of reasons. Firstly, you'll be able to secure a spot at a time that suits you, quickly and easily.
There will also be no need to scour the streets, looking for a tour guide. You'll be able to see reviews online before booking to ensure your guide is knowledgeable and professional.
Lastly, it's free to reserve a place on a walking tour and you can cancel your booking at any time.