If you want to explore more of Mallorca than is possible on foot, take a quad tour. Quad bikes are a type of four-wheeled off-road motorcycle, designed to cope with rough terrain. Riding one is an adrenaline-spiking and fun activity that the whole family can enjoy.
If you're looking for an exciting way to experience the island's jagged coastlines and charming villages, book a quad tour in Mallorca.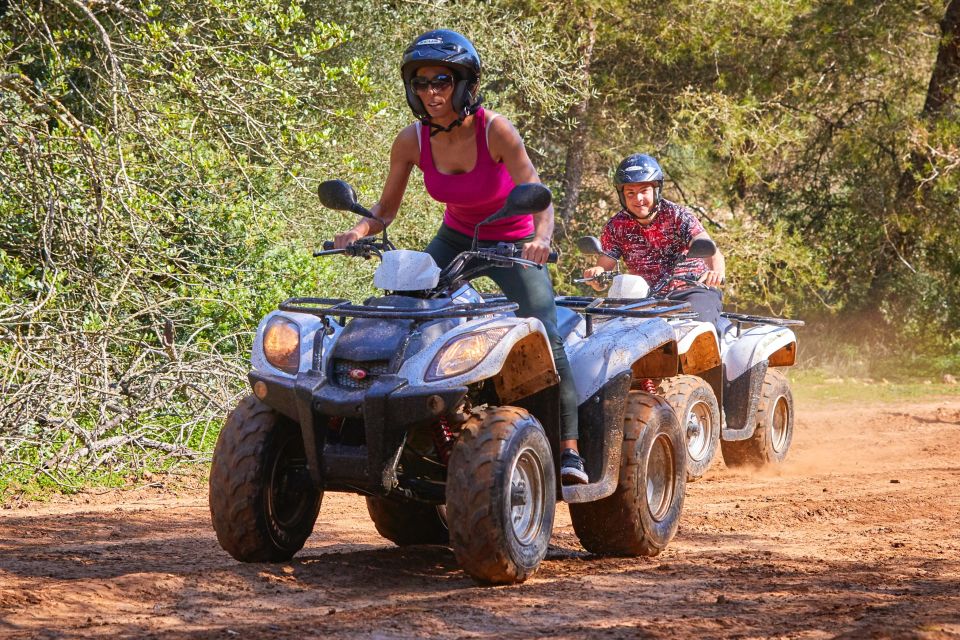 You will find below all you need to know about quad biking, one of the most invigorating outdoor activities in Mallorca.
What are the best quad tours in Mallorca?
South Mallorca quad bike tour
If you wish to experience the rugged wilderness and picturesque towns on the island, take a quad bike tour in the south of Mallorca. You'll begin at the family-friendly vacation town of El Arenal, where you'll mount your bike and get to grips with how to ride it.
You'll head towards Llucmajor through a scattering of traditional houses and striking Mediterranean countryside. You'll pay a visit to the racing hub of Llucmajor's Rennarena before enjoying the views of Bahía de Palma from the seat of an ATV.
On your return to El Arenal, you'll peek inside Cala Blava Cove and enjoy swimming, as well as cliff jumping, from neighboring rocks.
Cala Millor plus Rancho Grande Mallorca quad bike tour
This quad tour explores the wild east coast. Starting off in the lively town of Cala Millor, you'll begin your exhilarating journey towards Rancho Grande — a family-friendly ranch with over 100 horses. On arrival at Rancho Grande, you'll enjoy a freshly-prepared barbecue before heading off-road where the real fun begins.
The private estate is the ideal place to hone your ATV-riding skills, over lumps and bumps, sand, and other difficult terrains. If you'd prefer to leave off-roading to other members of your party, you can spend your time in the company of the plethora of farmyard animals who reside at the ranch.
Serra de Tramuntana quad bike tour in Mallorca
This quad biking tour takes you off-roading in the spectacular Tramuntana Mountains. The region is known for its uneven terrain, which makes traveling through its bumps and dips on an ATV even more thrilling.
You'll begin in Santa Ponsa, where you'll jump on your vehicle and rev your engine, ready for adventure. As you travel through the Mallorcan countryside, you'll catch a glimpse of Dragonera Island. You'll stop for a refreshing beverage and admire the scenic vistas surrounding you.
When you're ready, you'll climb back on your quad bike and journey to the bustling Puerto Andratx, which is full of local fishermen, and delicious eateries. At this point, you'll begin the ride back to Santa Ponsa, stopping at the seaside town of Camp de Mar and Paguera along the way.
How much do quad tours in Mallorca cost?
Tours of the south coast of Mallorca usually cost around €100.
You'll pay approximately €160 for a quad tour that travels between Santa Ponsa and Puerto Andratx.
All-inclusive quad tours in Mallorca also cost around €160. You will also need to purchase insurance for the excursion separately, which costs between €20 and €30.
What is included in a quad tour in Mallorca?
Quad tours in Mallorca include rental of your ATV, as well as a professional guide who will provide you with a safety briefing. You'll also be supplied with safety equipment, including a helmet.
Some tours provide insurance, although, on others, you'll be expected to purchase this separately.
Several excursions include drinks or lunch once you arrive at your destination.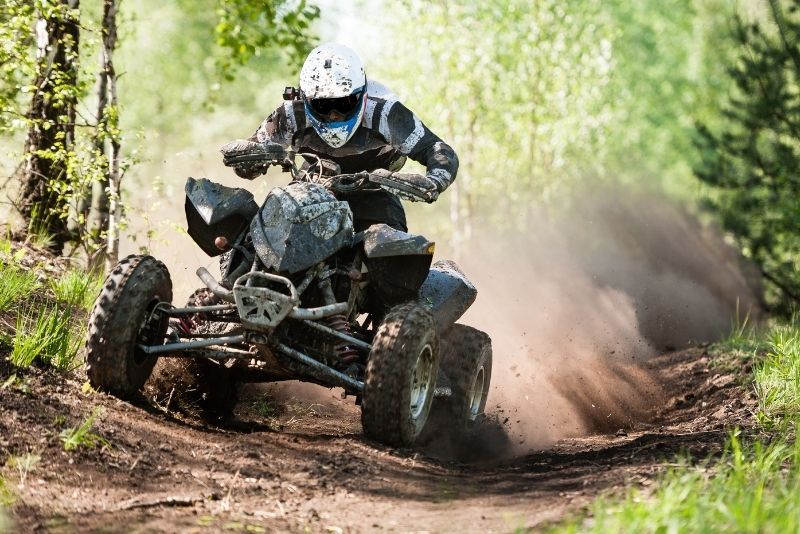 Where do quad tours in Mallorca start?
Quad tours in Mallorca begin at a range of destinations across the island. If your itinerary takes you on an adventure across the south of Mallorca, you'll usually meet at El Arenal. If you're exploring other regions, you may meet at a variety of locations, including Cala Millor and Galatzó.
Regardless of which town you meet your guide in, the gathering point will be at the tour operator's office, where you'll pick up your ATV.
How long do quad tours in Mallorca last?
Mallorca ATV tours normally last approximately 3 hours. If yours includes lunch, expect it to last closer to 4.5 hours.
When is the best time for a quad tour in Mallorca?
The best time to participate in a quad-riding excursion in Mallorca depends on the time of year you visit. If you're heading to the island in the middle of summer, take a tour early in the day to avoid the sweltering heat.
However, temperatures are more comfortable during the months of May, June, September and October. During this time, you may wish to ride in the middle of the day to soak in the sun.
Are there any combo available with quad tours in Mallorca?
Mallorca quad bike and snorkel tour
This ATV ride takes you on a whirlwind discovery tour of several traditional Mallorcan villages. You'll enjoy panoramic vistas and striking landscapes as you travel toward the coastal destination of Son Veri.
Here, you'll have free time to participate in swimming and snorkeling. If you're feeling brave, you can plummet into the water from nearby cliffs that measure up to 10 meters in height.
Is it safe to take a quad tour in Mallorca?
Quad tours in Mallorca are a safe and exciting activity to participate in while on vacation. However, because of the bumpy nature of ATV riding, pregnant persons are advised against joining in. It is not recommended for those with serious medical conditions or back problems to participate.
Are children allowed on a quad tour in Mallorca?
Generally, children over the age of 7 are welcome to join a quad biking tour in Mallorca. However, they will be required to sit as a passenger on the vehicle. If you wish to drive the quad bike, you'll need to be aged 18 or over.
Do I need a driving license to take a quad tour in Mallorca?
In order to drive a quad bike on the island of Mallorca, you'll need to be in possession of a type B driving license. This is a standard-issue permit that allows you to drive vehicles up to 3,500 kilograms.
What happens in case of bad weather?
The weather in Mallorca is mostly reliable and dry. However, if you do get caught in bad weather, your tour will be canceled and rebooked for another day. If this doesn't suit your plans, you can request a full refund.
Which other outdoor activities can be done in Mallorca?
Travel tips
Remember to take your driver's license with you on your quad tour in Mallorca, as photocopies will not be accepted. If you're from a country that doesn't use the Latin alphabet, you'll also need an international driver's permit.
Remember your swimwear and a beach towel if your tour includes a swimming or snorkeling stop.
If your excursion includes lunch, let your tour operator know of any dietary requirements upon booking.